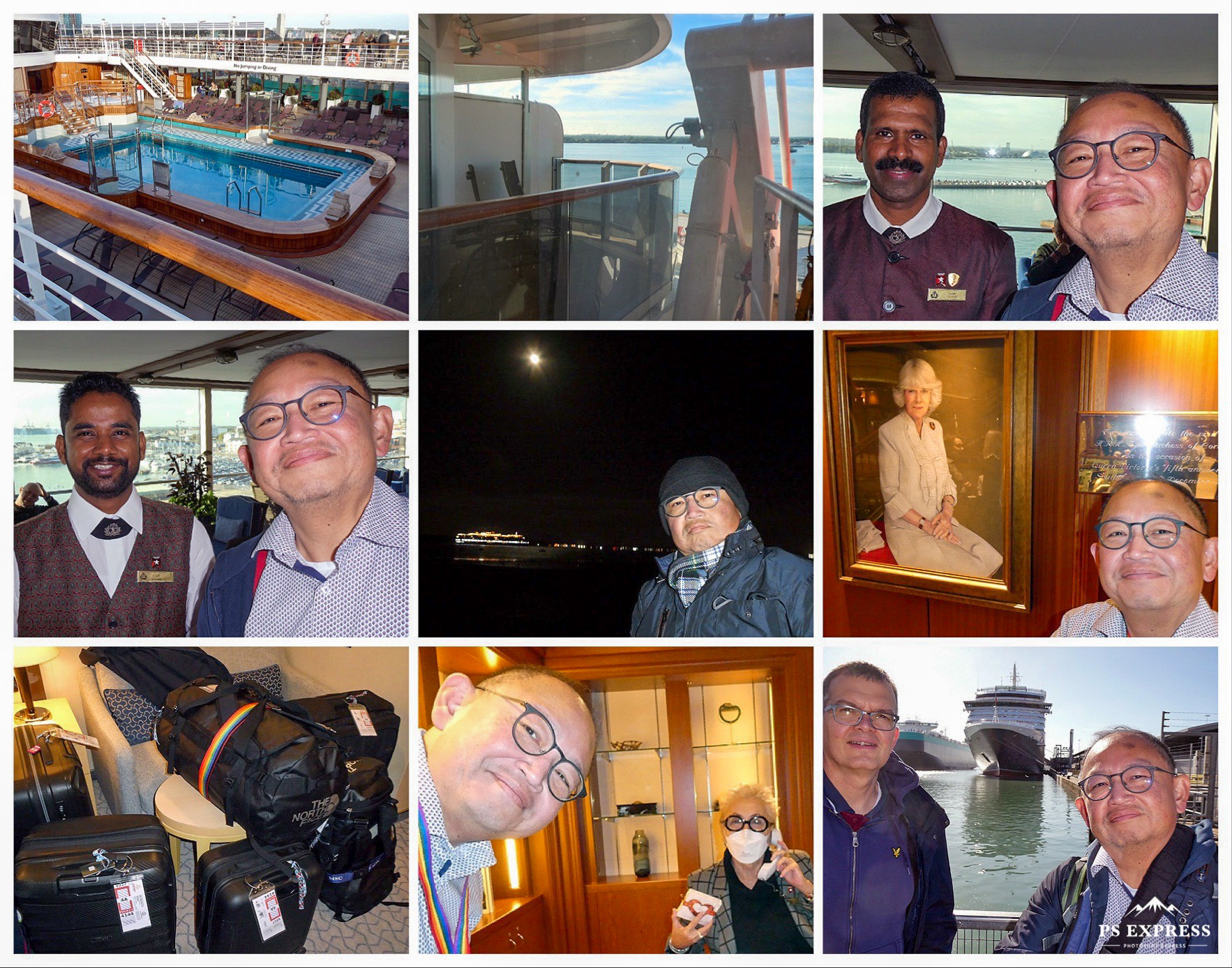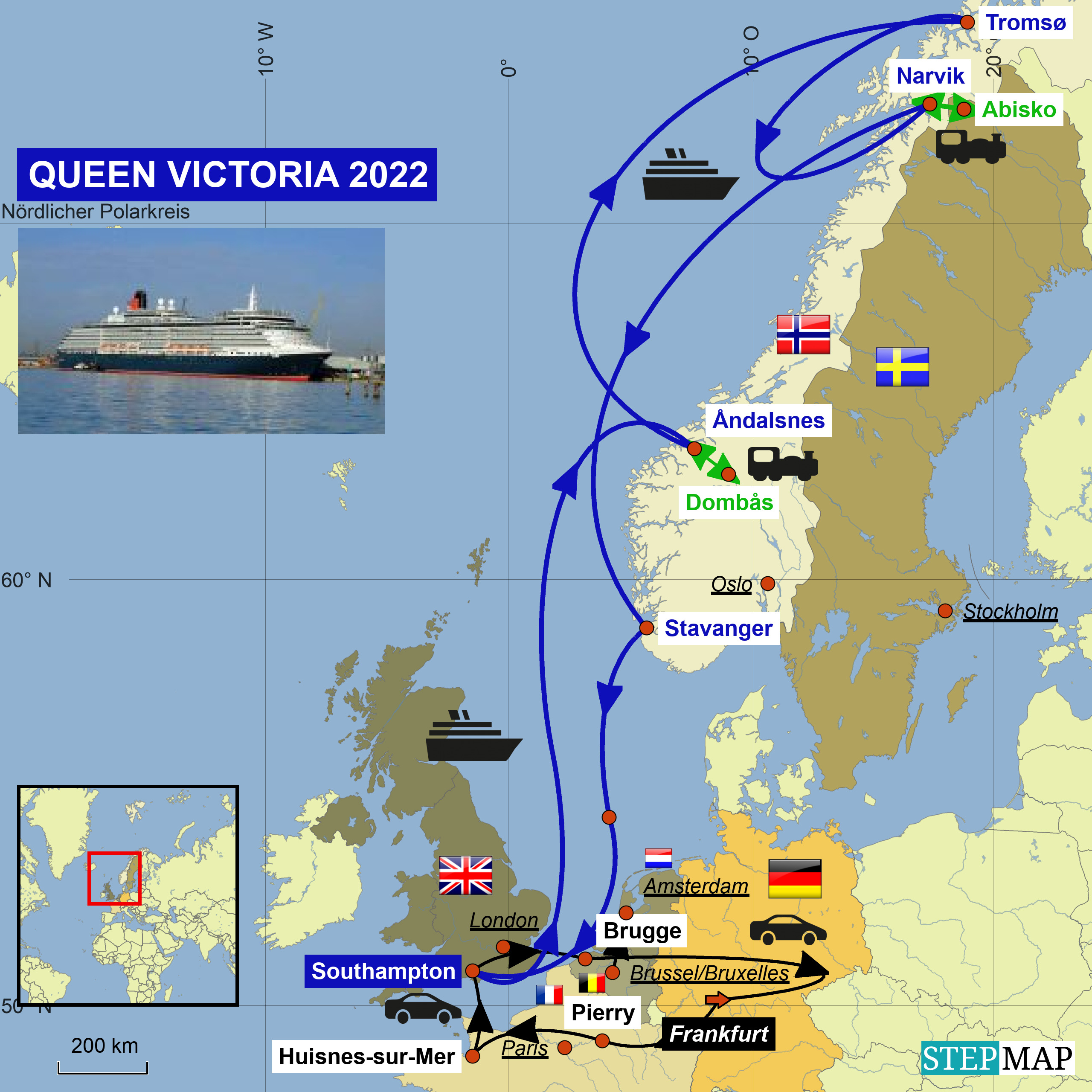 Ich bin froh, dass ich nicht zu Fuß zum Strand muss und ich über eine Standheizung verfüge. So staune ich über die Läufer in kurze Hosen, die schon mit Taschenlampe unterwegs sind. Am Horizont sehe ich bereits die QUEEN VICTORIA in den Solent einlaufen. Es muss sein! Immer wieder, obwohl wir schon so oft mit ihr unterwegs waren.

I'm glad I don't have to walk to the beach and have a parking heater. So I marvel at the runners in shorts who are already on the move with a flashlight. On the horizon, I can already see QUEEN VICTORIA entering the Solent. It must be! Again and again, although we have been on the seas with her so often.

There is a lovely full English breakfast here in the morning. A beautiful card awaits us. I am still trying to decide what to try, so this time classic.

Es gibt morgens hier ein schönes englisches Frühstück. Eine schöne Karte erwartet uns. Ich weiß gar nicht, was ich probieren soll, also dieses Mal klassisch.
Es gab ja wieder Papier. Also testen wir uns selbst nochmals und können so ohne schlechtes Gewissen den Gesundheitsbogen später abgeben.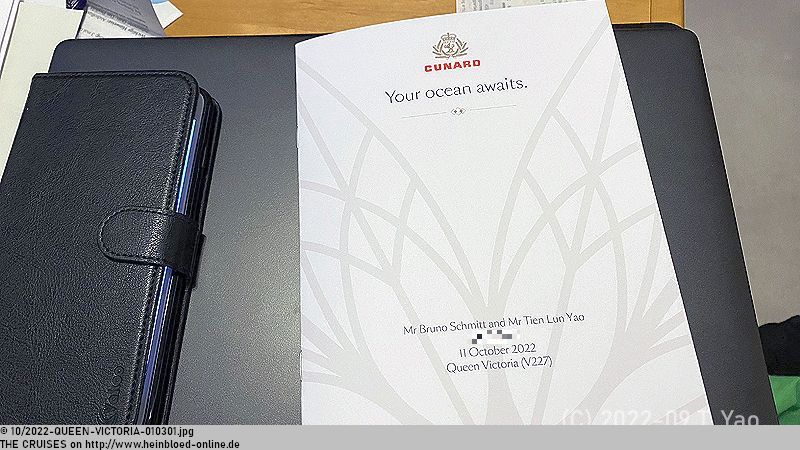 There was paper again. So we test ourselves again and can submit the health sheet later without a guilty conscience.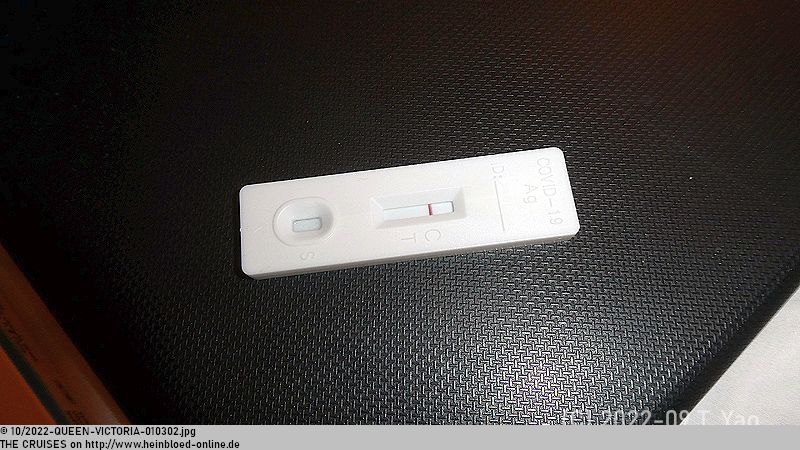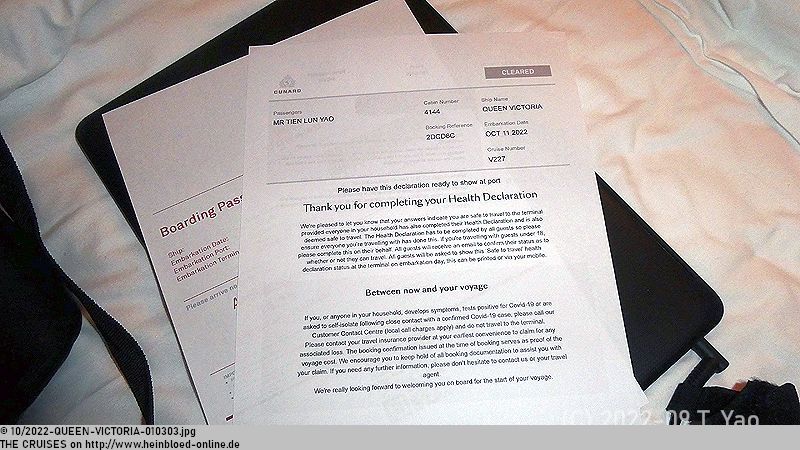 We drive again to West Quay for shopping. Although we have been here many times, we lose our bearings in the parking garage. The parking garages have different names, and it is not enough to remember the parking deck. Now I also know that we are in the Podium car park.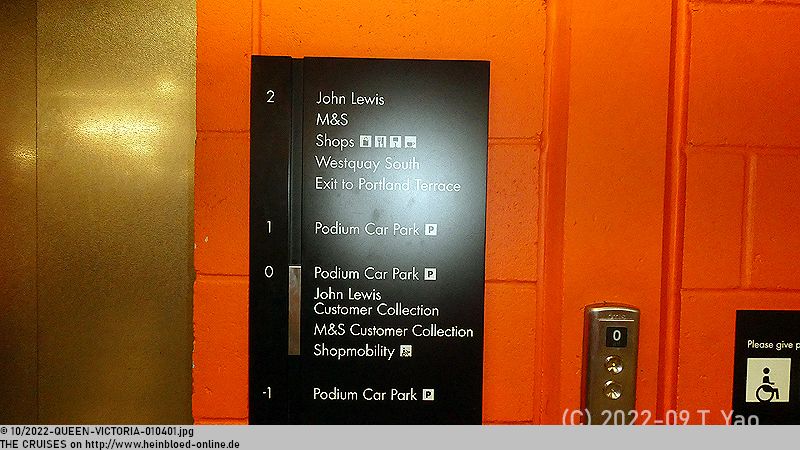 Wir fahren nochmals zu
West Quay
zum Einkaufen. Obwohl wir schon viele Male hier waren: im Parkhaus verlieren wir die Orientierung. Die Parkhäuser haben unterschiedliche Namen. Es ist nicht damit getan, sich nur das Parkdeck zu merken. Jetzt weiß ich auch, dass wir im
Podium
Parkhaus stehen.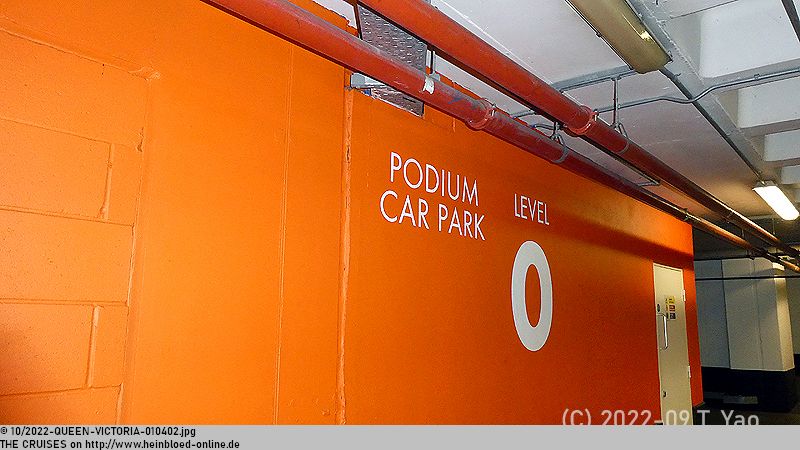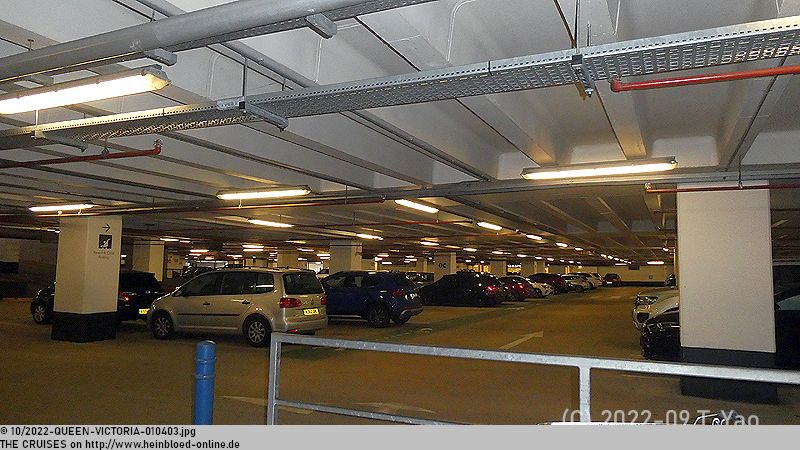 Nach dem wir das Auto wiedergefunden haben, müssen wir schnell zurück zum Terminal, da wir hier mit dem Valet Parkdienst von
Parking4Cruises
verabredet sind, die schon auf mich warten. Das ist immer etwas witzig: ein Auf und Ab der Preise. Mal sind die ganz weit oben und mal ganz weit unten. Hier war es dieses Mal richtig gut: Sie waren die günstigsten und ich gebe das Auto hier am
Ocean Terminal
ab und bekomme es am
Mayflower Terminal
wieder zurück. Praktischer geht es nicht. Da ich die Meilenstand angeben muss, muss ich noch schnell umrechnen.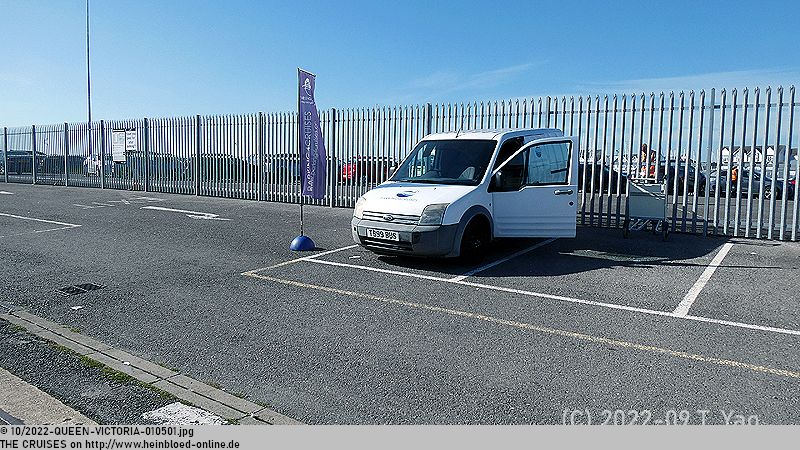 After we have found the car again, we have to quickly return to the terminal since we have an appointment with the valet parking service from Parking4Cruises, who are already waiting for me. It's always a little funny: prices go up and down, and sometimes they are way up and sometimes down. It was excellent here this time: They were the cheapest, and I dropped off the car here at the Ocean Terminal and got it back at the Mayflower Terminal. It couldn't be more practical. Since I have to enter the mileage, I must convert it quickly.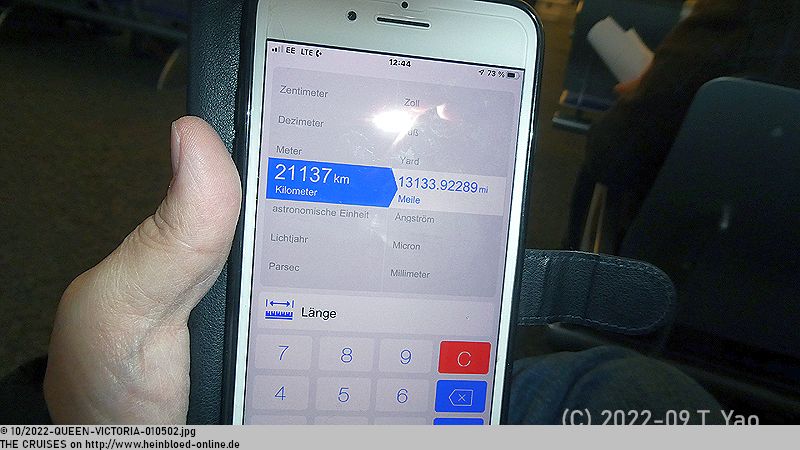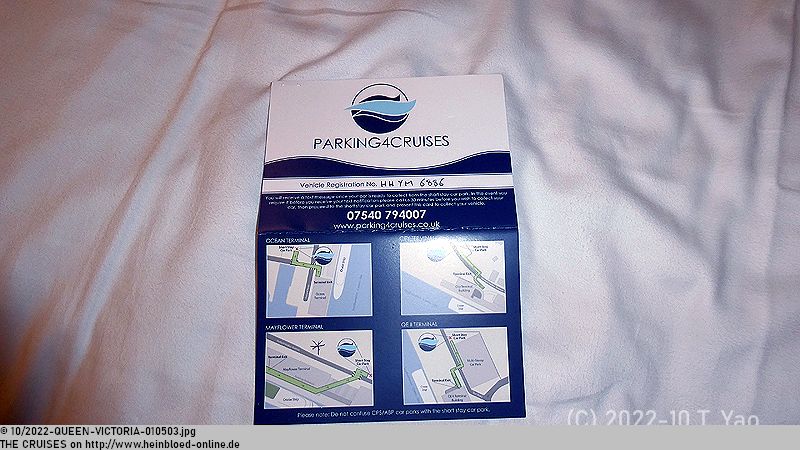 Of course, we must get back to the ship to take pictures. After QUEEN VICTORIA 2008, QUEEN VICTORIA 2016, and QUEEN VICTORIA 2018, here for the fourth time.

Wir müssen natürlich nochmals kurz vor das Schiff, um zu fotografieren. Nach
QUEEN VICTORIA 2008
,
QUEEN VICTORIA 2016
,
QUEEN VICTORIA 2018
zum vierten Mal hier.
Eigentlich hätten wir einen Zeitslot für den späteren Nachmittag. Aber da wir Platinum sind, wollte ich es probieren. NOCH stellte es kein Problem dar. Da aber die Einschiffung sich verzögert hat, wurden später Passagiere erst wieder abgefertigt, als wieder Sitzplätze frei wurden. Es gab keine Einschiffungsgruppen, sondern Sitzbereiche wurden Einschiffungsgruppen zugeteilt. Wir mussten im Bereich der Einschiffungsnummer 7 verweilen. Sehr praktisch: sehr nah an der Bar, um sich nochmals zu stärken. Die Chips waren vor dem Brexit auch mal besser. Dann geht es wie folgt: Zunächst werden alle Queen Grill Gäste aufgerufen, egal in welcher Einschiffungsgruppe sie sich befanden, dann alle Princess Grill Gäste. Weiter kommen die Diamond Gäste ran und dann wurden wir aufgerufen. Danach kamen dann die restlichen Gäste der Gruppe 1. Als deren Sitze dann geleert waren, wurde daraus der Sitzbereich für die Einschiffungsgruppe 9. Tolles System: ohne Karten, die man austeilt und wieder einsammeln muss.

We would have a time slot for the later afternoon. But since we're Platinum, I wanted to try it. It was not a problem YET. However, since embarkation was delayed, passengers were later only checked in when seats became accessible again. There were no embarkation groups. Instead, seating areas were allocated to embarkation groups. We had to stay in the place of embarkation number 7. Very practical: very close to the bar to regain your power. The chips used to be better before Brexit. Then it works as follows: First, all Queen Grill guests are called, regardless of which embarkation group they were in, then all Princess Grill guests. Then the Diamond guests came up, and then they called us. After that came the rest of the guests of group 1. When their seats were empty, it became the seating area for embarkation group 9 — great system: no cards to be dealt and collected again.

We usually only book a cruise at the prices. But we had two cruises canceled during Covid-19. So our future cruise credit increased with corresponding bonuses because we waived the repayment of the deposits, and the costs of the trip here fit back into the framework in which we usually move. We are more willing to pay for trips with routes that we particularly like or if we know that we will get comparatively more than with others. And since the CELEBRITY REFLECTION 2022 trip was very "cheap" (cancellation of the entire CELEBRITY INFINITY European season), the OOSTERDAM will also be very cheap. We got a 1 USD down payment campaign and a special promo; we're sticking on QUEEN VICTORIA.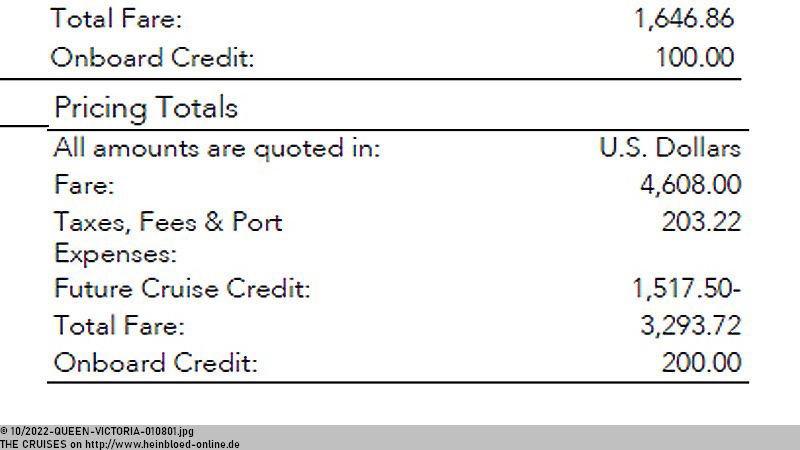 Normalerweise buchen wir keine Cruise zu den Preisen. Aber wir uns wurde während Covid-19 zwei Kreuzfahrten abgesagt. So stieg unser Future Cruise Credit mit entsprechenden Boni, weil wir auf die Rückzahlung der Anzahlungen verzichtet haben, und die Kosten der Fahrt hier passte wieder in den Rahmen, in dem wir uns normalerweise bewegen. Eine höhere Zahlungsbereitschaft haben wir für Fahrten mit Routen, die uns besonders zusagen oder wenn wir wissen, dass wir vergleichsweise mehr bekommen, als bei anderen. Und da die
CELEBRITY REFLECTION 2022
-Reise sehr "preiswert" war (Absage der CELEBRITY INFINITY) und die OOSTERDAM auch sehr preiswert wird, weil wir 1-USD-Anzahlung-Aktion und eine besondere Promo erwischt haben, bleiben wir bei der QUEEN VICTORIA.
Es war auch schon interessant, wie sich die Kosten der Reise entwickelt hat. Zeitweise gab es einen Verkaufsstopp. Aber unsere Einkaufsstrategie lohnt sich i.d.R. schon.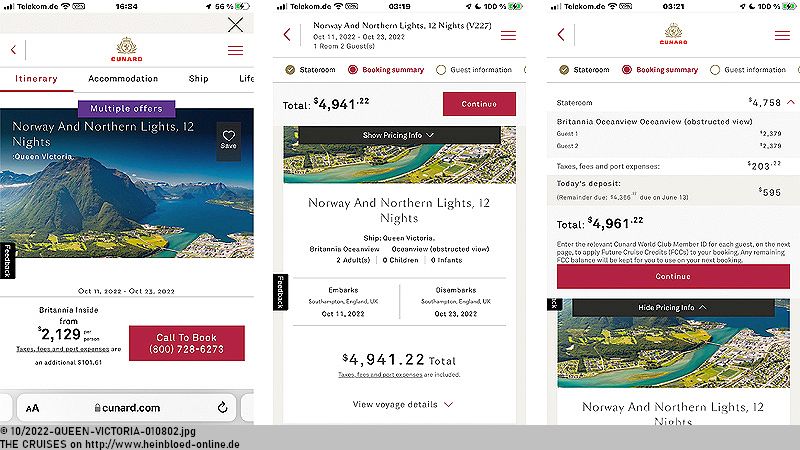 It was also interesting how the costs of the trip developed. At times there was a sale stop. But our purchasing strategy is usually worth it.

We're finally allowed on board. I miss the smile, and it still needs to be a different welcome than usual.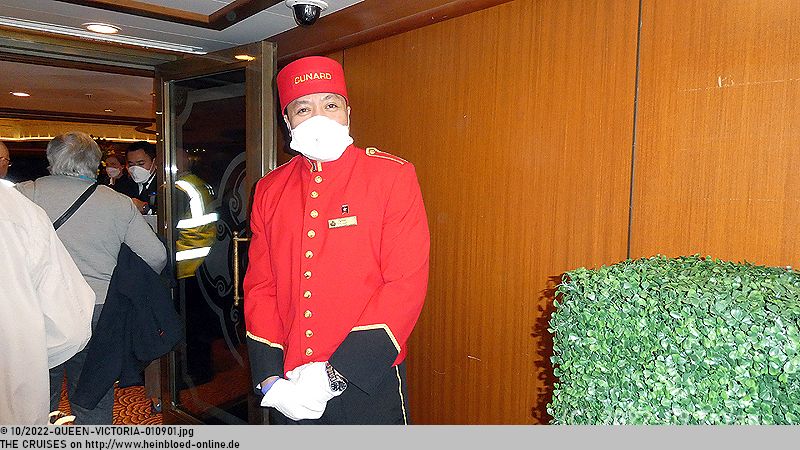 Wir dürfen endlich an Bord. Das Lächeln fehlt mir. Es ist immer noch nicht das gleiche Willkommen, wie sonst.
Wir zunächst zur Sammelstation. Wir sind bei D. Wir werden zum Britannia-Restaurant geschickt. Die Sammelstationen A, B und C sind auf Deck 2. Nur unsere Sammelstation D ist auf Deck 3. Wir sind verwundert, dass eben niemand steht. Als wir nachfragen, werden wir nach oben geschickt und es wird jemand unten hingestellt, der die betroffenen Gäste hochschickt.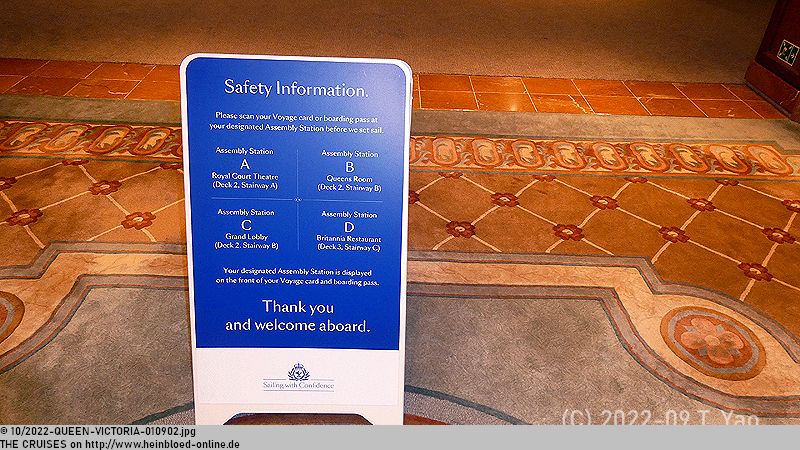 We first went to the muster station. We're at D. We're being sent to the Britannia restaurant. Muster stations A, B, and C are on deck 2, and only our muster station, D, is on deck 3. We are surprised that no one is standing. When we ask, we are sent upstairs, and someone is placed downstairs to send the affected guests.

When we get to our cabin afterward, we already find five out of six pieces of luggage in front of the door. A short time later, the last piece of luggage is there.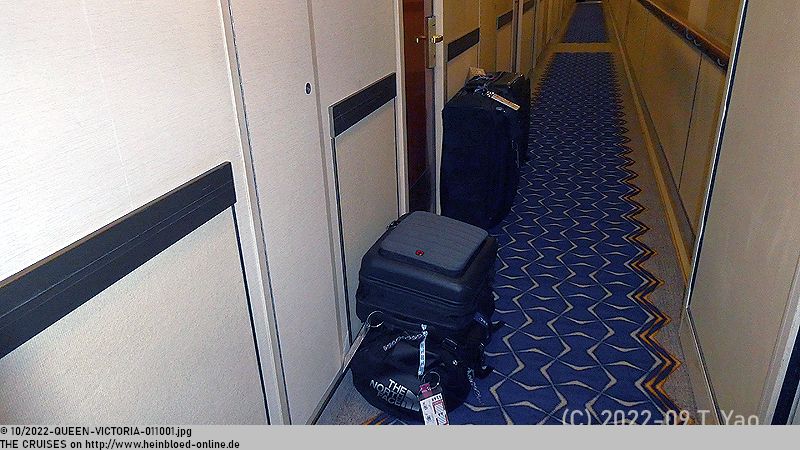 Als wir danach oben zu unserer Kabine kommen, finden wir bereits fünf von sechs Gepäckstücken vor der Tür. Kurze Zeit später ist auch das letzte Gepäckstück da.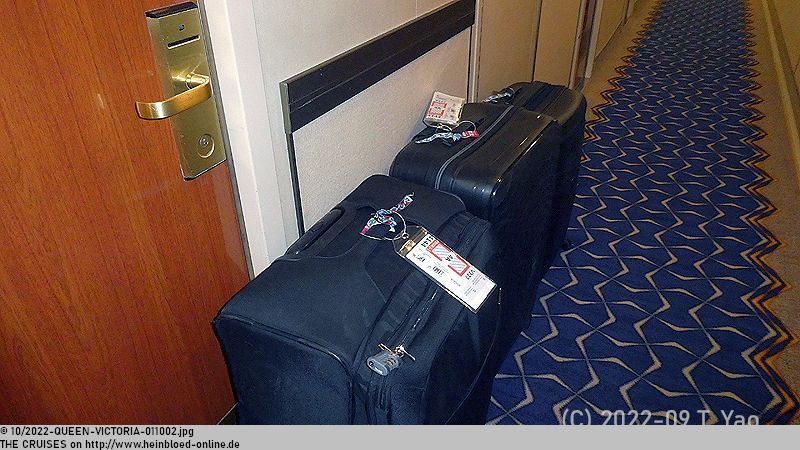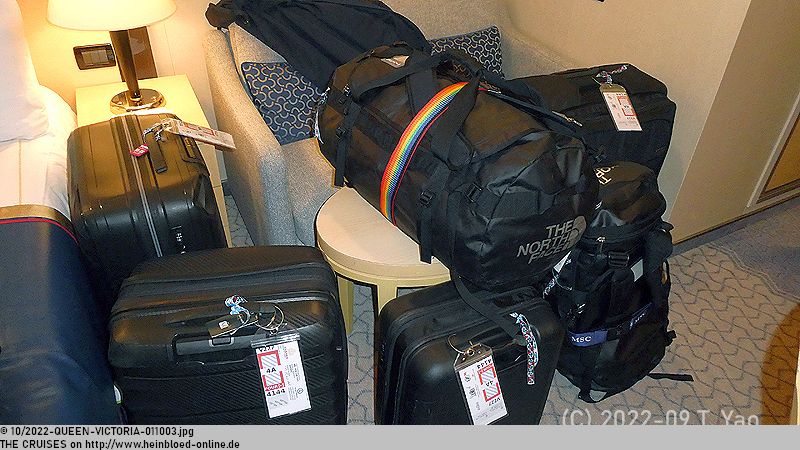 Den ersten
2-USD-Schein
bekommt der Gepäckträger. Die
2-USD-Scheine
kommen gut bei der Crew an. Sie sind wohl begehrte Tauschobjekte an der Crewbar. Ich werde sogar gezielt angesprochen, ob ich bereit wäre, welche zu tauschen. Für einen Teil der Crew gelten sie als Glücksbringer. Sie freuen sich daher auch über mehr als einen Schein um mit ihren Familien ihr Glück teilen zu können.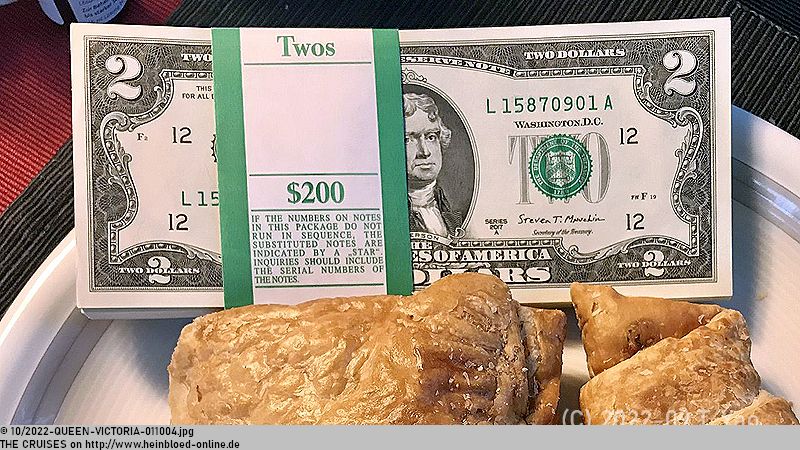 The porter gets the first 2 USD bills. The crew will receive the 2 USD bills. They have probably coveted barter items at the crew bar, and I'm even explicitly asked if I'd be willing to swap some. Some of the crew are considered lucky charms, and they are happy to have more than one note to share their happiness with their families.

As on QUEEN VICTORIA 2008, we are accommodated in an outside cabin with a restricted view. The key cards, which are deposited in the envelope at the door, are new.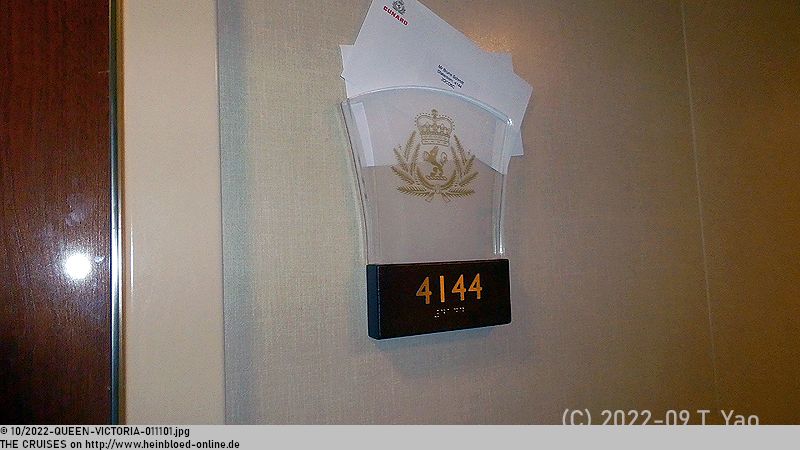 Wir sind wie damals auf der
QUEEN VICTORIA 2008
in einer Außenkabine mit Sichteinschränkung untergebracht. Neu sind die Schlüsselkarten, die an der Tür im Umschlag hinterlegt sind.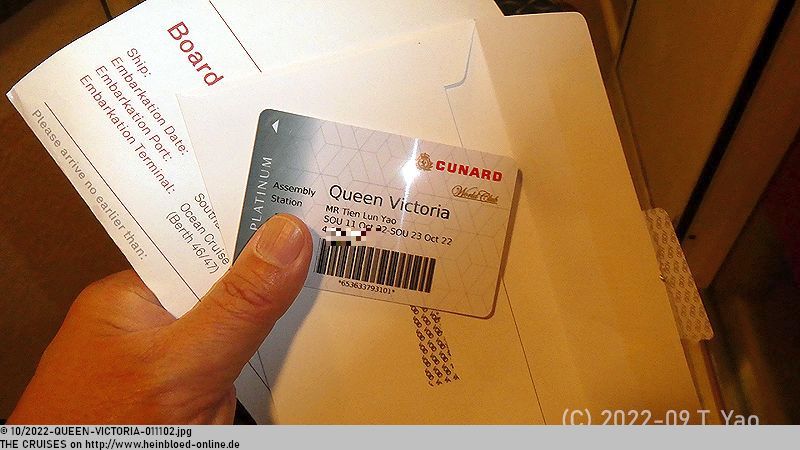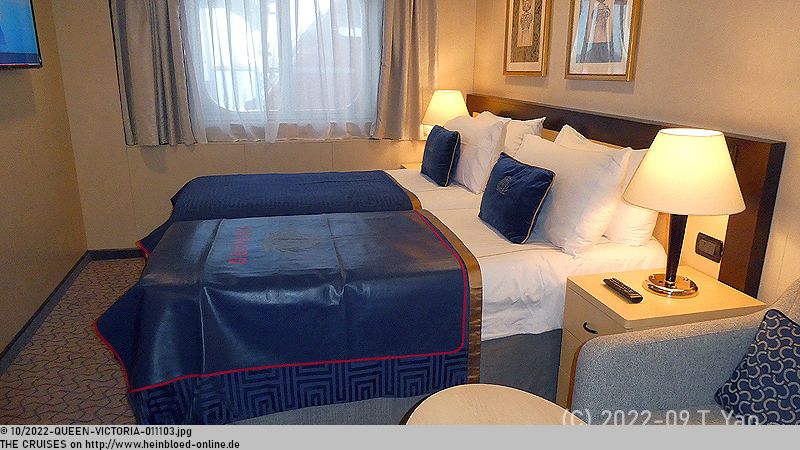 Unsere Kabine ist wie damals auf der
QUEEN VICTORIA 2008
. Nur die schwarze Ledermappe gibt es nicht mehr. Sie war Grund für viel Ärger damals. Der Fernseher ist neu. Es gibt kein Wasser mehr. Die Minibar wird nur auf Bestellung aufgefüllt. Den Sekt trinken wir eh nicht. Also ist das für uns ok, dass er nicht mehr im Sektkübel serviert wird, sondern im Kühlschrank steht. All die Eisberge, die für die Eiswürfel im Sektkübel "umgebracht" werden, müssen ja nicht sein. Wir freuen uns aber, dass hier die Gepäckmatten noch nicht abgeschafft wurden. Immer noch zu wenig Steckdosen, obwohl wir zahlreiche Adapter mitführen. Schade, dass es noch immer keine Steckdosen oder USB-Ports an den Betten gibt. Das war aber 2007 noch nicht üblich, wie heute. Der Blick ist ok. Unsere Nachbarn, die bei uns reingucken könnten, sehen wir ein einziges Mal auf dem Balkon.

Our cabin is like it was on QUEEN VICTORIA 2008. Only the black leather folder is no longer there. It was the cause of much trouble at the time. The TV is new. There is no more water. The minibar is only refilled on request. We're not drinking the champagne anyway. So it's ok for us that it's no longer served in a champagne bucket but in the fridge. All the icebergs that are "killed" for the ice cubes in the champagne bucket don't have to be there. However, we are pleased that the luggage mats have yet to be abolished here. It still needs more sockets, although we carry numerous adapters. Too bad there are still no sockets or USB ports by the beds. But that wasn't as common in 2007 as it is today. The view is ok. We see our neighbors, who could look at us only once on the balcony.

Everything in the bathroom is still the same and needs more space. The stupid fixed showerhead is still there, and only the tiny bottles are replaced by large dispensers that we cannot operate properly. Additional baskets were installed in the shower cubicles without further ado to accommodate the dispensers.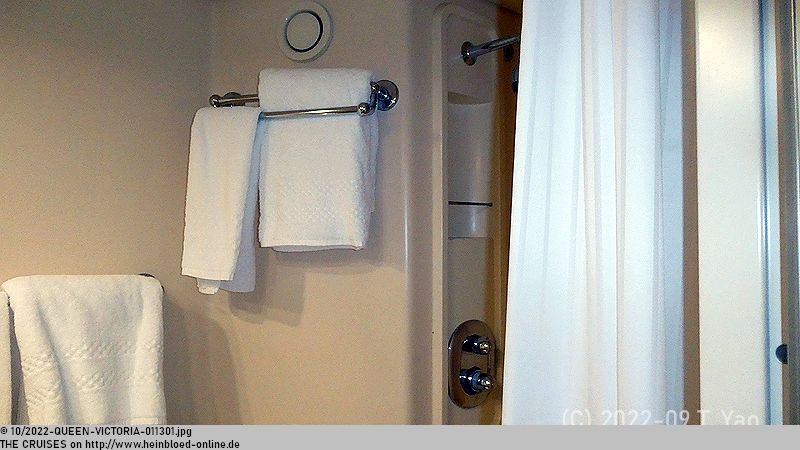 Im Bad ist immer noch alles gleich geblieben. Immer noch viel zu wenig Platz. Der blöde feste Duschkopf ist immer noch da! Nur die kleinen Flaschen werden durch große Spender ausgetauscht, die sich überhaupt nicht vernünftig bedienen lassen. Kurzerhand wurden zusätzliche Körbe in die Duschkabinen installiert, um die Spender unterzubringen.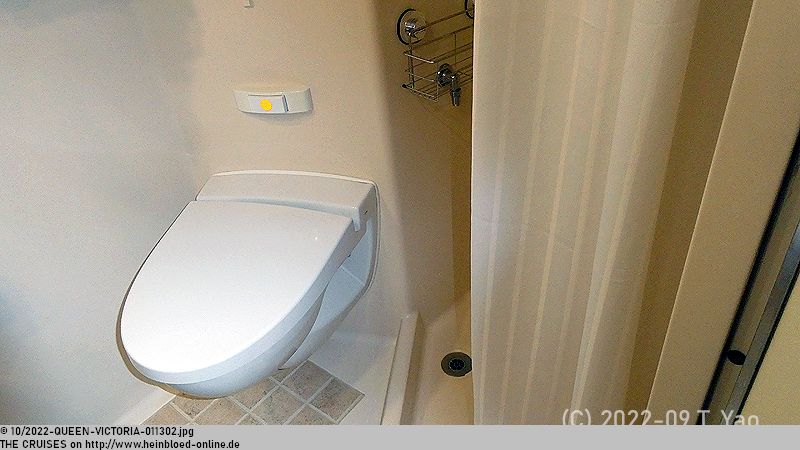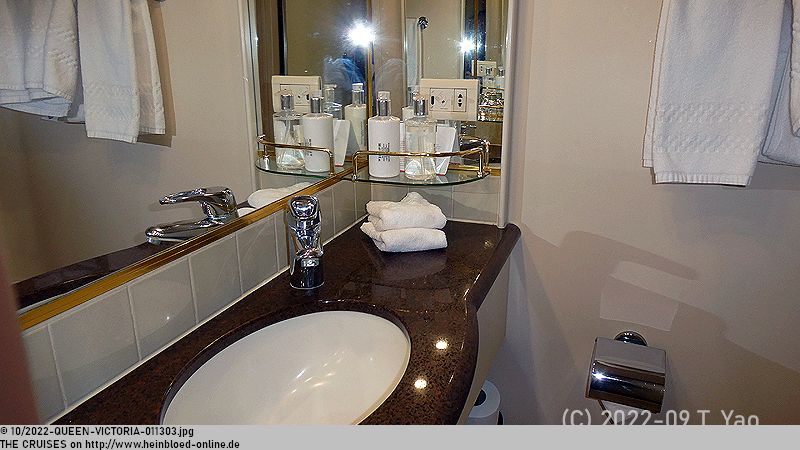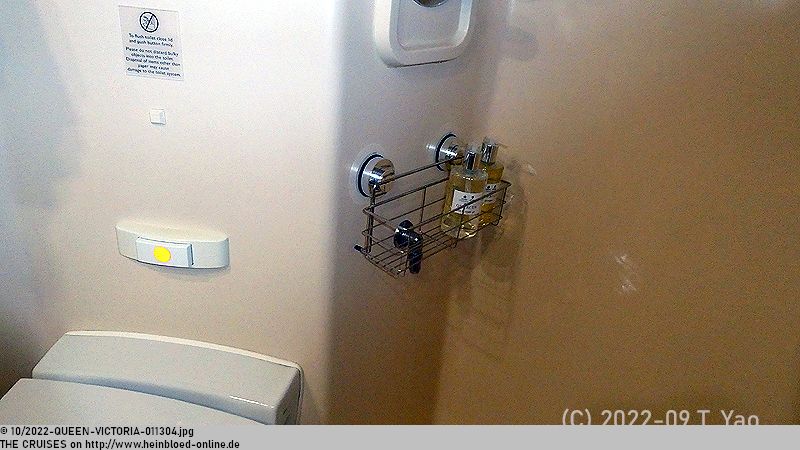 We booked dinner at The Verandah online.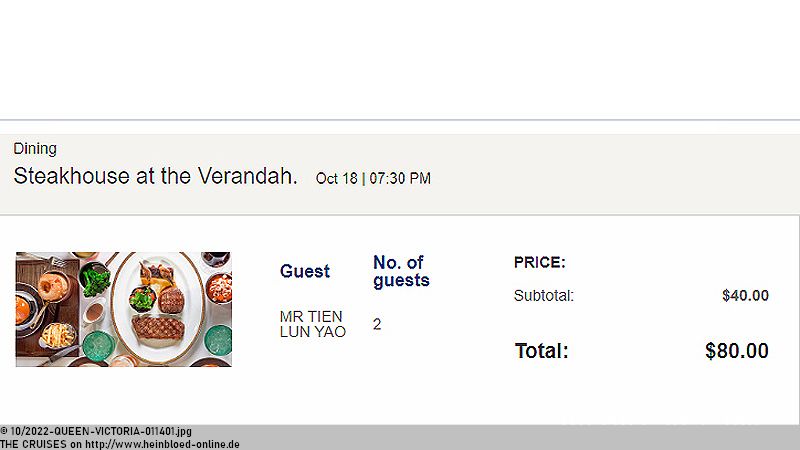 Wir haben online ein Abendessen in The Verandah vorbestellt.
Das werden vermutlich die Gutscheine dafür sein.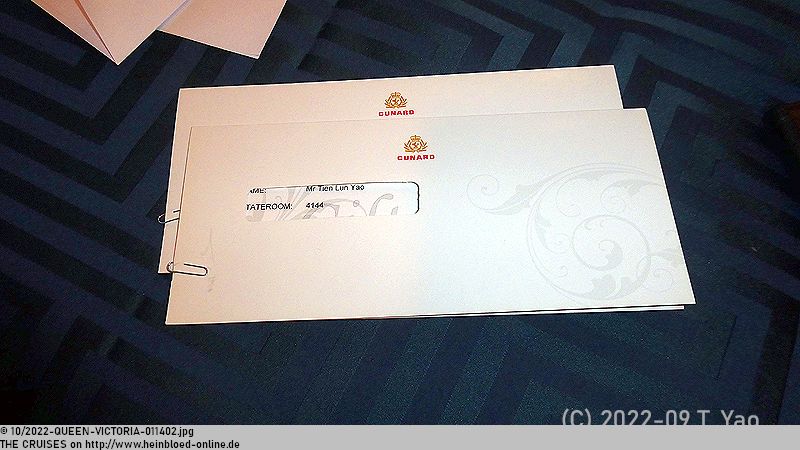 These will probably be the vouchers for it.

But for Lido dining? We didn't book that this time because you needed to see the themes online. I pay 80 USD online and get 50 USD coupons. I have to go to the reception! I wouldn't say I like the reception. Even then, on QUEEN VICTORIA 2008, we weren't best friends because that stupid black folder was missing, and we had to call reception about every little thing. Only the black folder said how to reach the reception. Ninety-seven trips within 14 years later, of course, I know what works and doesn't. Only then, as Cunard newcomers, were we very helpless when the "instruction manual" was missing. But, since QUEEN VICTORIA 2018, I have made amends with the reception, thanks to Agata and Marie, who helped me a lot at the time. The problem now: I can, unfortunately, see the faces of the employees right away. That's why I don't see: do you take me seriously? Did you understand it? I only have the field of vision for the eyes, which are rolled from time to time. It's high time the masks went away. So far, we have always found "basic equipment" in the cabin, like most recently at the CELEBRITY REFLECTION 2022: masks and hand disinfection - here, we have to ask for covers at the reception. By the way, passengers on board do not have to wear masks, only crew members. In total, we see maybe ten a day walking around with masks.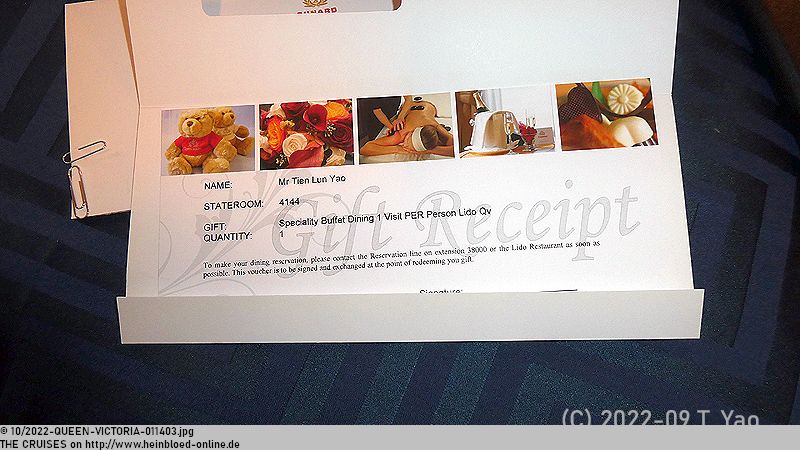 Aber für das Lido-Dining? Das hatten wir dieses Mal nicht gebucht, weil man online die Themen nicht sehen konnte. Ich zahle 80 USD online bekomme Gutscheine im Wert von 50 USD. Schon muss ich zur Rezeption! Dabei hasse ich die Rezeption. Schon damals
QUEEN VICTORIA 2008
waren wir nicht die besten Freunde, weil diese blöde schwarze Mappe fehlte und wir wegen jeder Kleinigkeit bei der Rezeption damals anrufen mussten. Nur in der schwarzen Mappe stand, wie wir die Rezeption erreichen. 97 Reisen innerhalb von 14 Jahren später, weiß ich natürlich auch Bescheid, was geht und was nicht geht. Nur damals als Cunard-Neulinge waren wir sehr hilflos, als die "Gebrauchsanleitung" fehlte. Aber eigentlich hatte mich ja seit der
QUEEN VICTORIA 2018
auch mit der Rezeption versöhnt, dank Agata und Marie, die mir damals sehr weitergeholfen haben. Das Problem jetzt: ich kann leider auf Anhieb die Gesichter der Mitarbeiter sehen. Deswegen sehe ich nicht: nehmen Sie mich ernst? Haben sie es verstanden? Ich habe nur das Blickfeld für die Augen, die ab und zu verdreht werden. Höchste Zeit, dass die Masken wegkommen. Während wir bislang immer in der Kabine wie zuletzt auf der
CELEBRITY REFLECTION 2022
eine "Grundausstattung" gefunden haben: Masken und Handdesinfektion - hier müssen wir an der Rezeption nach Masken fragen. Übrigens müssen Passagiere an Bord keine Masken tragen, sondern nur Crew-Mitglieder. Insgesamt sehen wir vielleicht am Tag max. zehn, die mit Masken herumlaufen.
Wir gehen zum Lido zum Mittagessen. Man merkt hier schon, warum die QUEEN VICTORIA und die QUEEN ELIZABETH einen Stern weniger haben, als die QUEEN MARY 2. Das Angebot ist qualitativ gut, aber nicht so umfangreich und abwechslungsreich, wie auf der QUEEN MARY 2. Frische Burger gibt es nur draußen, wenn gutes Wetter ist.

We are going to the Lido for lunch. Here you can see why QUEEN VICTORIA and QUEEN ELIZABETH have one star less than QUEEN MARY 2. The offer is of good quality but less extensive and varied than on QUEEN MARY 2. Fresh burgers are only available outside when the weather is good.

Cappuccino No. 1 - we would have liked to have bought a hot drink package (10.00 USD/day (2022)), but they don't sell us any through the waitpersons. Without further ado, we are billed à la carte but credited back later when we complete the purchase of the drinks package.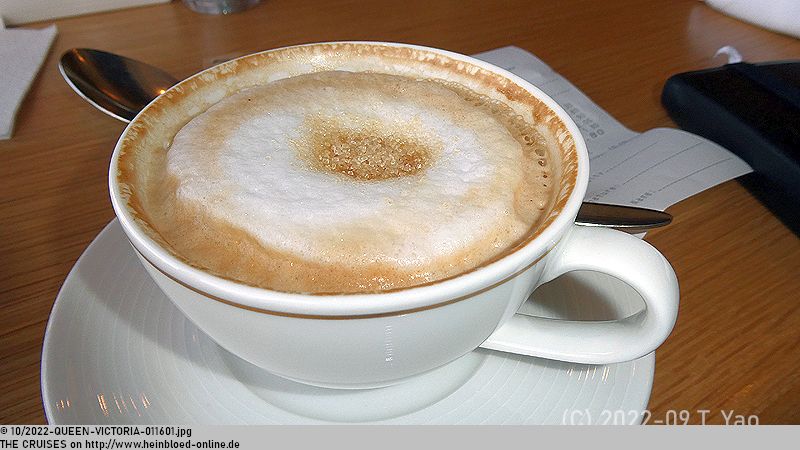 Cappuccino Nr. 1 - eigentlich hätten wir gerne eine Getränkepaket für Heißgetränke gekauft (10,00 USD/Tag (2022)), aber sie verkaufen uns keine durch die Bedienungen. Kurzerhand wird uns à-la-carte abgerechnet, aber später wieder gutgeschrieben, als wir den Kauf des Getränkepakets abschließen.
Wir bekommen nicht nur den Sticker, sondern auch das "Kleingedruckte". Das hatten wir auch noch nie: niemals zwei Getränke und frühestens nach zehn Minuten das nächste... Da wir von zwölf Tagen nur vier Hafentage haben, lohnt sich das Paket.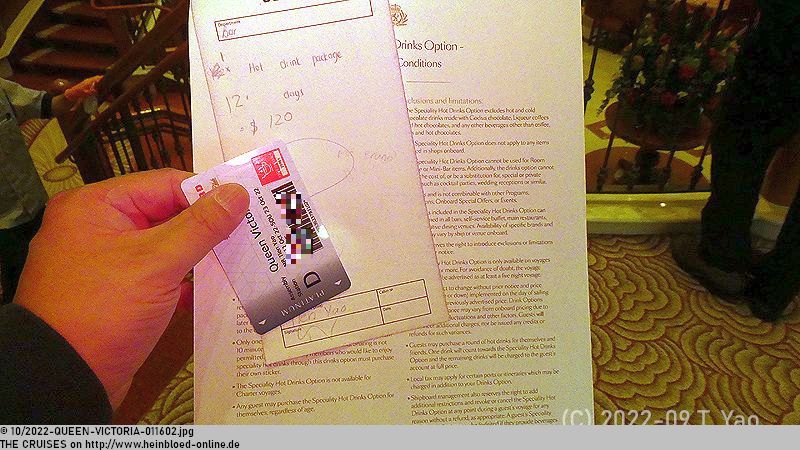 We get not only the sticker but also the "small print". We've never had that either: never two drinks and the next after ten minutes at the earliest... Since we only have four port days out of twelve, the package is worth it.

We are going to the winter garden and ask you to cancel the sale. We see Cunard's gin. You cannot cancel now, but we are promised they will take care of it. And they keep their promise.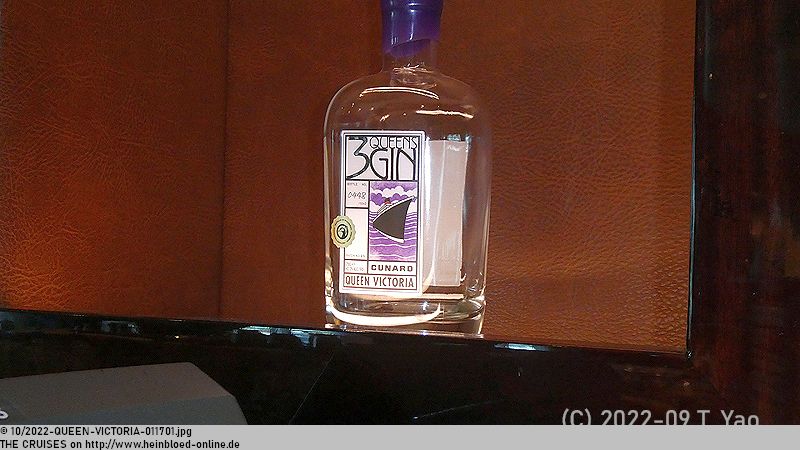 Wir gehen in den Wintergarten und bitten darum den Umsatz zu stornieren. Dabei sehen wir den Cunard-eigenen Gin. Sie können nicht jetzt sofort stornieren, aber man verspricht uns, dass sie sich darum kümmern. Und sie halten sich an ihr Versprechen.
Und sofort sind wir zu Hause: Sojan kennen wir seit der
QUEEN VICTORIA 2016
-Reise. Bislang kennen wir ihn als Restaurantkellner. Nun arbeitet er als Barkellner. Die Freude ist groß, als wir ihn entdecken.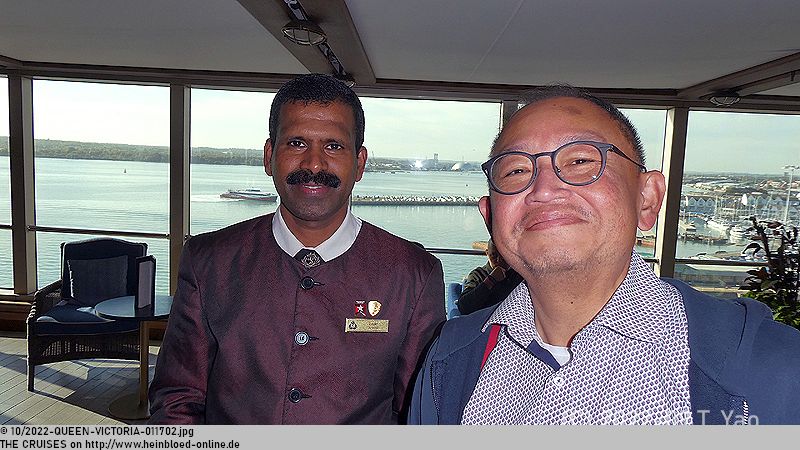 And we're home straight away: We've known Sojan since the QUEEN VICTORIA 2016 trip. So far, we know him as a restaurant waiter, and now he works as a bartender. The joy is great when we discover him.

And we know Jugal from the QUEEN MARY 2 2022. He served us on Luis' team in The Verandah and remembered I didn't drink alcohol. So he serves me ice water as if I had the highest sales on the 290 USD cognac.

Und Jugal kennen wir von der
QUEEN MARY 2 2022
. Er hatte uns damals im Team von Luis in The Verandah bedient. Er erinnert sich daran, dass ich keinen Alkohol getrunken habe. So serviert er mir selbst Eiswasser, als ob ich den höchsten Umsatz mit dem 290 USD-Cognac gemacht hätte.
Direkt am ersten Tag erleben wir die Achillessehne der Reise: das Internet! Wir fragen nach, was 3 x schneller bedeutet: über welche Bandbreite sprechen wir. Wir bekommen keine akkurate Antwort. Es gibt keine fachliche Betreuung mehr an Bord. Nur noch die Bibliothekarin, die ein paar allgemeinen Tipps hat und ich überlege mir schon, ob ich nicht Bruno an Cunard vermieten soll, weil er auch in unseren Elternhäuser für die Satellitenanbindung zuständig ist. Wir haben den Router direkt vor unserer Kabinentür. Wir kommen in drei interne WLAN-Netze rein, aber nur im Türrahmen bekommen wir manchmal das Gäste-WLAN-Netz. Internet wie damals auf der
QUEEN VICTORIA 2008
: nur in öffentlichen Räumen aber nicht in den Kabinen. Mangels Fachpersonal gibt es auch nur eine Lösung: nachträgliche Preisanpassung. Wir fragen nach, ob wir wir mal testen können, wie die Leistungen sind: und ob man dann für den Rest der Reise "umsteigen" kann. Wir bekommen die falsche Antwort. Man kann jederzeit umsteigen. Ich versuche den Standardzugang. Soweit gut, so wie wir es kennen. Und Bruno nutzt den Premiumzugang. Wenn es funktioniert, dann sehr gut. Leider beschränkt sich das gute Netz vielleicht auf gefühlt 10% der Reise. Sogar als alle Gäste ihre Bordkarten für den Rückflug nutzen müssen, funktioniert es nicht. Neu: statt 8 Stunden kostenlose Nutzung bekommen wir 80 USD Guthaben. Theoretisch müssten wir dann für die gesamte Reise 100 USD noch für die Gesamtreise zahlen. Bzw. 160 USD mehr für den Premiumzugang. Wenn es zu 100% funktioniert hätte, wären wir auch bereit gewesen, es zu zahlen.

Right on the first day, we experience the Achilles tendon of the journey: the internet! We ask what 3x faster means: what bandwidth are we talking about? We need an accurate answer. There is no longer any professional support on board. Only the librarian, who has a few general tips, and I'm already thinking about renting Bruno out to Cunard because he's also responsible for the satellite connection in our parents' house. We have the router right in front of our cabin door. We can get into three internal WiFi networks, but sometimes we only get the guest WiFi network in the door frame. It is the internet like back then on the QUEEN VICTORIA 2008: only in public rooms but not in the cabins. If there is a lack of specialist staff, there is only one solution: subsequent price adjustment. We ask if we can test how the services are: and if you can, then "change" for the rest of the trip. We need the correct answer. You can upgrade at any time. I try the standard access. So far, good as we know it. And Bruno uses premium access. If it works, then very well. Unfortunately, the excellent network is limited to 10% of the trip. Even when all guests have to use their boarding passes for the return flight, something else is needed. New: instead of 8 hours of free use, we get a credit of 80 USD. Theoretically, we would have to pay 100 USD for the trip. Or 160 USD more for premium access. If it had worked 100%, we would have been willing to pay for it too.

We're going out to set sail. The work won't let me go: that's where the MOL TRUTH is, for which I had previously booked. Nice weather and we're lucky.

Wir gehen raus zum Ablegen. Die Arbeit lässt mich nicht los: dort liegt die MOL TRUTH für die ich noch zuvor gebucht habe. Schönes Wetter. Irgendwie haben wir Glück.
17:00 Uhr - Zeit für das Friends of Dorothy-Treffen bzw. neu: LGBTQ+-Treffen im Commodore Club. Leider ohne Markierung einer reservierten Fläche. Wir sehen ein paar andere Schwule (vermutlich), aber quer über den Club verteilt. So trinken wir nur etwas: wir nehmen einen Virgin Mary. Der kratzt so im Hals: wenn wir den täglich trinken, haben keine Bakterien und Viren eine Chance sich im Hals festzusetzen.

17:00 hrs - Time for the Friends of Dorothy meeting or new: LGBTQ+ meeting at the Commodore Club. Please mark a reserved area. We see a few other gays (probably), but they spread across the club. So let's drink: we'll have a Virgin Mary. It's so scratchy in the throat: if we drink it every day, no bacteria and viruses can settle in the throat.

I'm looking at the senior officers. A lot of vacancies! That's why the shop in West Quay Shopping Center: I can apply here!!! Later I find out: because there are currently no onboard photographers, there are no photos either. At least there is one captain on board: Evans Hoyt. I only found out on the very last day that we have a hotel director and that the entertainment director is Ashley Clay (related or related by marriage to Lucius D. Clay - the hero of the Berlin Airlift???). It's hard to say whether the other pictures are up to date: everyone is running around with a mask, and there is no round of introductions, as was the case at CELEBRITY REFLECTION 2022 or REGAL PRINCESS 2022. We met them there and exchanged ideas.

Ich gucke mir die Senioroffiziere an. Sehr viele Vakanzen! Deswegen auch der Shop im
West Quay Shopping Center
: ich kann mich hier bewerben!!! Später erfahre ich: weil es derzeit keine Bordfotografen gibt, gibt es auch keine Fotos. Wenigstens ist ein Kapitän an Bord: Evans Hoyt. Dass wir eine Hoteldirektorin haben, erfahre ich erst am allerletzten Tag und Entertainment Director is Ashley Clay (verwandt oder verschwägert mit Lucius D. Clay - der Held der Berliner Luftbrücke???). Ob die anderen Bilder aktuell sind, kann man kaum sagen: alle rennen mit Maske herum und es gibt keine Vorstellungsrunde, wie zuletzt auf der
CELEBRITY REFLECTION 2022
oder
REGAL PRINCESS 2022
. Dort haben wir sie auch mal getroffen und uns ausgetauscht.
Bereits am ersten Tag treffe ich eine gute Freundin von Petra. Sie war damals im Bordreisebüro der
QUEEN MARY 2 2017
. Sie war mal ein gute Botschafterin, die von überall gepostet hat, wo Cunard Schiffe angelegt haben. Ständig überlegte ich mir: buchst du um, damit du das auch mal siehst. Heute ist sie eine gute Berlin-Botschafterin und ich kann immer nachfragen, an wen ich mich wenden soll. Sie schreibt mir, dass ich auf der QUEEN VICTORIA jemand sehr nettes treffen werde: Dragana. Ich grüße sie von Petra. Sie nimmt sich auch prompt die Zeit, mir doch mal alles in Ruhe zu erklären. Zuletzt auf der
QUEEN MARY 2 2022
wollten die mich so schnell loswerden, weil ich nur gefragt, aber nichts gebucht habe, dass ich eigentlich dachte, dass es nicht mehr interessant für uns sei, Cunard zu buchen. Nun haben wir sofort wieder angezahlt und freuen uns auf die nächste Reise mit Cunard.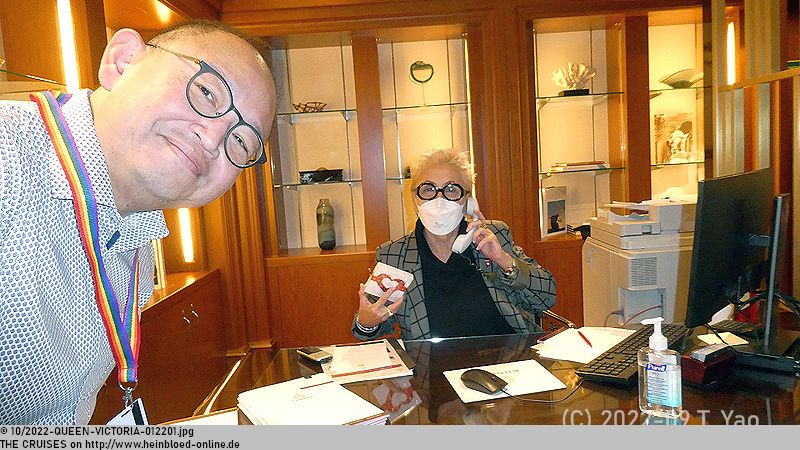 On the first day, I met a good friend of Petra's. She was then in the onboard travel office of the QUEEN MARY 2 2017. She used to be a good ambassador, posting everywhere Cunard ships docked. Do you rebook so you can see it too? Today she is a good Berlin ambassador, and I can always ask who to contact. She tells me I will meet someone amiable on QUEEN VICTORIA: Dragana. I greet you from Petra. She also promptly takes the time to explain everything to me calmly. Most recently, on QUEEN MARY 2 2022, they wanted to get rid of me so quickly because I only asked but didn't book anything that I thought was no longer interesting for us to book Cunard. We have paid again immediately and look forward to the next trip with Cunard.

A name to remember.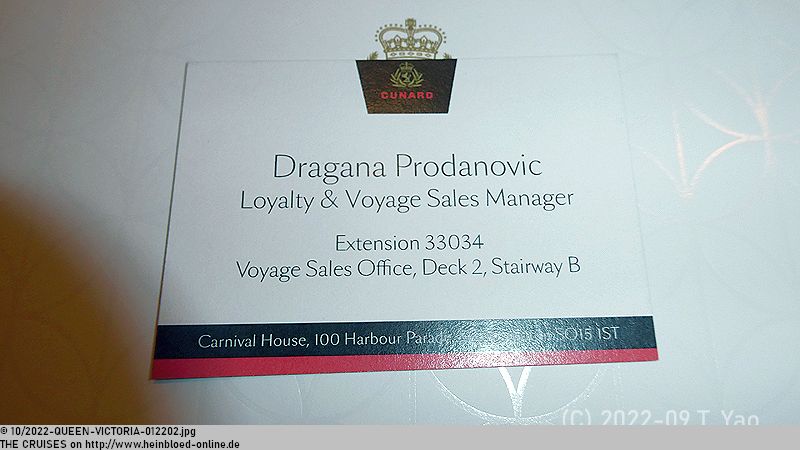 Ein Name, den man sich unbedingt merken muss.
Plastik-Wasserflaschen sind mittlerweile bei Holland America verboten. Das trifft nicht für wiederverwendbare Plastikflaschen zu. Da es sowieso keine Wasserflaschen in den Kabinen gibt, probieren wir etwas neues aus: wir haben zwei kleine Tupperware-Kannen mit, die sehr gut in den Kühlschrank passen. Bruno mag sein Wasser Raumtemperatur und ich Kühlschranktemperatur. Wir haben noch spülmaschinenfeste Trinkflaschen mit abschraubbaren Mundstücke mit: so können wir jederzeit im Lido Wasser für die Kabine, das Fitnessstudio, für unterwegs holen und hygienisch auffüllen.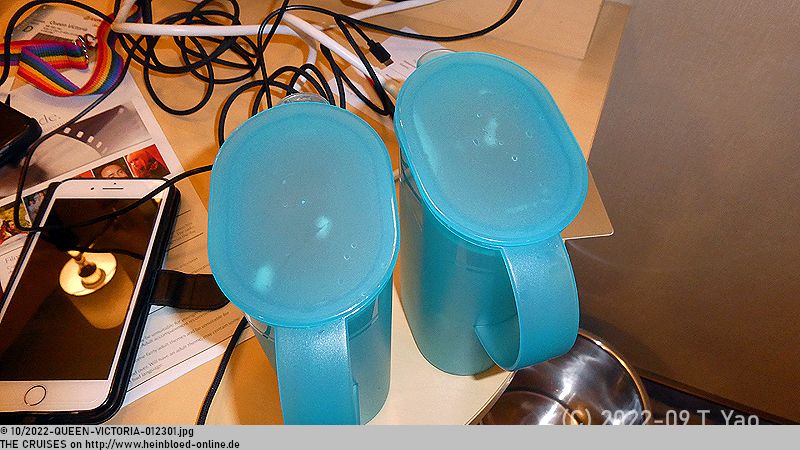 Plastic water bottles are now banned by Holland America, which does not apply to reusable plastic bottles. Since there are no water bottles in the cabins, we try something new: two small Tupperware cans fit very well in the fridge. Bruno likes his water at room temperature, and I like it at refrigerator temperature. We also have dishwasher-safe drinking bottles with detachable mouthpieces: so we can always get water from the Lido for the cabin, and the gym, on the go and fill it up hygienically.

The spiral staircase in the library is still as beautiful as it was 15 years ago.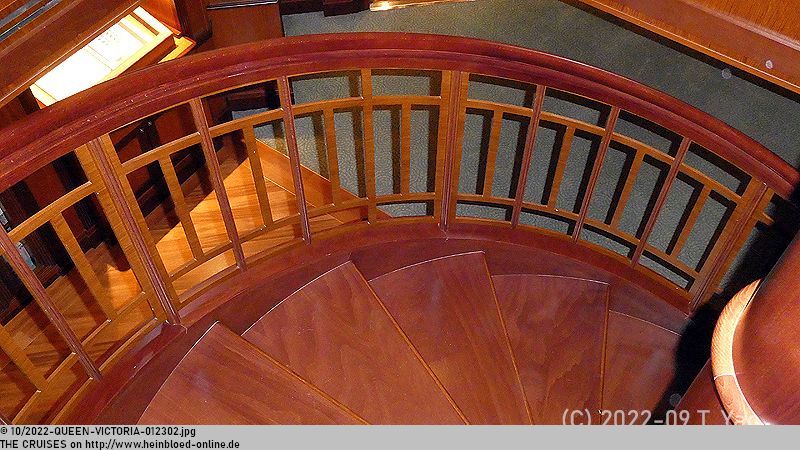 Die Wendeltreppe in der Bibliothek ist immer noch sehr schön, wie damals vor 15 Jahren.
Und die Klassik ist an Bord auch vertreten. Es gibt die Streicherinnen, die das Atrium beschallen.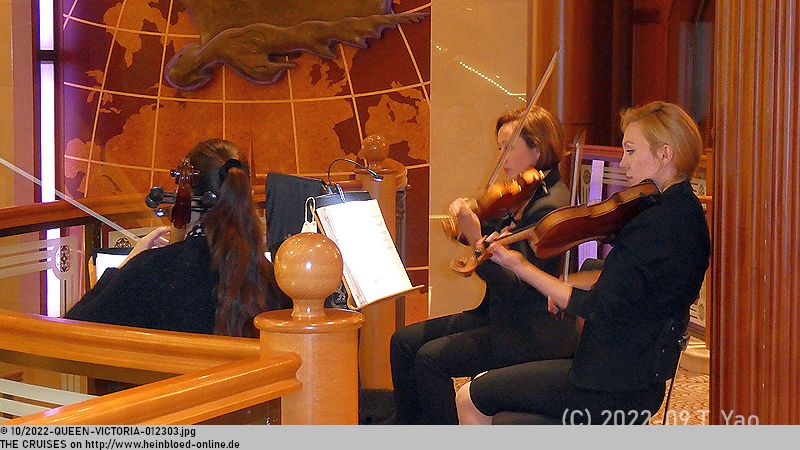 And the classics are also represented on the board. Some strings fill the atrium with sound.

And now a picture with the Queen Consort, as Camilla is called today.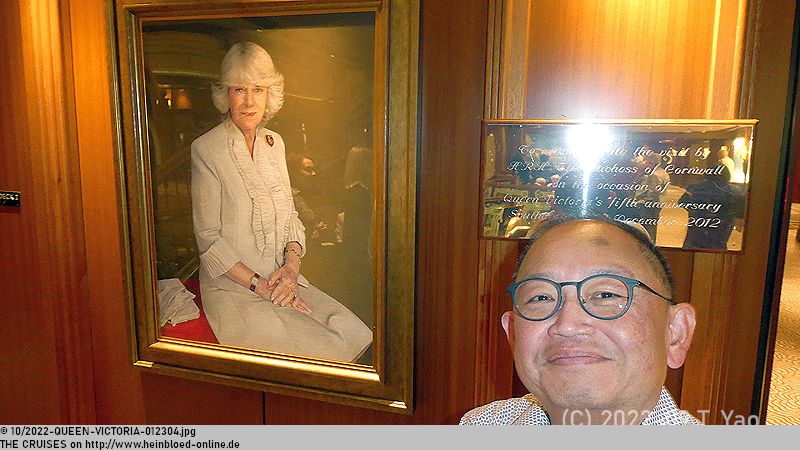 Und nun ein Bild mit der Queen Consort, wie Camilla heute betitelt wird.
Wir gehen mal rauf in den Lido, um zu sehen, was es hier abends gibt.

Let's go to the Lido to see what's on in the evenings.

It's time for dinner: we're unlucky: that's the last departure without flexible dining. You can then reserve tables online at the desired time. I don't like that anymore! The processes at our table are also based on the operations at the other tables. We've gotten too used to flexible dining. We last had it on QUEEN MARY 2 2022. Otherwise, the food is good, but after the CELEBRITY REFLECTION 2022, you won't notice a big difference. It went more smoothly than I'm used to. But I contact the head waiter in charge after the meal. Should I fret for another eleven nights? Something happens not to go the way you expect it to. You can go home frustrated and disappointed and tell everyone how bad it was, or start making changes now. That damn mask: I know the eyes that look at me, that watch me. He doesn't seem to know me. But his name tag. Dominic. QUEEN ELIZABETH 2 2007: a head waiter Domenic takes the trouble to explain the differences between the different restaurants back then. At that time, still in the Mauretania Restaurant. But he wanted to show me what to expect if I booked the other classes. But this Domenic tells me he was already on the QUEEN MARY 2 in 2007. So he's already out. But I know that look! Like an eagle that keeps track of the situation and keeps an eye on everything.

Es geht zum Abendessen: wir haben Pech: das ist die letzte Abfahrt ohne flexible Dining. Danach kann man in online sich Tische zur Wunschzeit reservieren. Ich mag das ja überhaupt nicht mehr! Die Abläufe an unserem Tisch orientieren sich eben auch an den Abläufen der anderen Tische. Wir haben uns zu sehr an das flexible Dining gewöhnt. Wir hatten es ja schon zuletzt auf der
QUEEN MARY 2 2022
. Ansonsten ist das Essen gut, aber nach der
CELEBRITY REFLECTION 2022
fällt kein großer Unterschied auf. Es lief nicht so ganz rund, wie ich es gewohnt bin. Aber ich wende mich nach dem Essen an den zuständigen Head Waiter. Soll ich mich weitere elf Nächte ärgern? Es passiert nun einmal, dass etwas nicht so läuft, wie man es erwartet. Man kann frustriert und enttäuscht nach Hause fahren und jedem erzählen, wie schlimm es war, oder man setzt jetzt an, um etwas zu verändern. Diese verdammte Maske: ich kenne die Augen, die mich ansehen, die mich beobachten. Er scheint mich nicht zu kennen. Aber sein Namensschild. Domenic. Damals
QUEEN ELIZABETH 2 2007
: ein Head Waiter Domenic macht sich die Mühe, uns damals die Unterschiede der unterschiedlichen Restaurants zu erklären. Damals noch im Mauretania Restaurant. Er wollte mir aber zeigen, was mich erwarten könnte, wenn ich die anderen Klassen buche. Aber dieser Domenic sagt mir, dass er 2007 bereits auf der QUEEN MARY 2 war. Also scheidet er schon mal aus. Aber ich kenne diesen Blick! Wie ein Adler, der die Lage im Überblick behält und alles im Auge behält.
Mich beschäftigt die Begegnung mit dem Head Waiter so sehr, dass ich nur kurz in die Show von
Jenny Williams
reingehe. Ich bleibe nur wenige Minuten und gehe lieber in die Kabine in mein Fotoarchiv.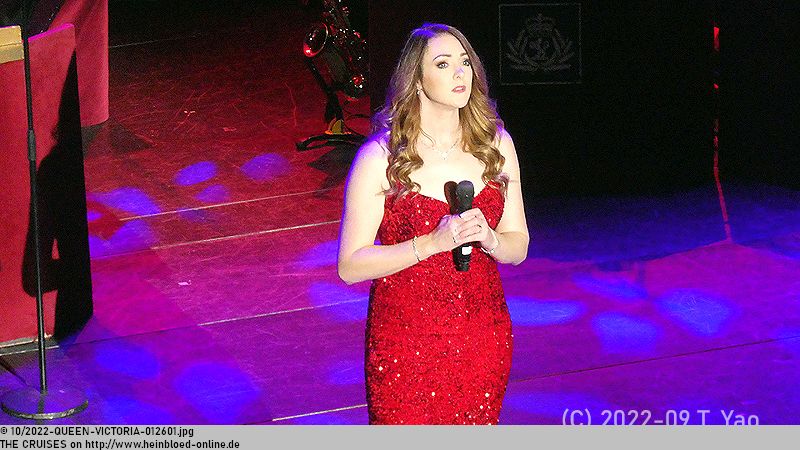 The encounter with the head waiter occupies me so much that I only go into Jenny Williams' show for a short time, and I only stay a few minutes and prefer to go to my photo archive in the stateroom.
Die anderen Reisen in diesem Blog/
The other voyages in this blog: