Wir übernachten ja im Hilton Garden Inn, wenn wir einen frühen Flug haben, sonst brauchen wir 45 Minuten bis Frankfurt. Aber die Nutzung des Vorabend-Check-Ins machte die Sache sehr interessant. Das letzte Mal haben wir einen Tarif mit Frühstück gebucht. Weil aber das Restaurant nicht so früh aufgemacht hatte, bekamen wir Lunchboxen mit. Die Küche wiederum hatten leider die 100 ml-Mitnahme-Regelung für Flüssigkeiten mißachtet. Wir mussten alles austrinken, bevor wir durch die Sicherheitskontrolle waren. Außerdem habe ich die Pfandflaschen vergessen. Hätte ich mitbringen sollen. Ich war übrigens noch schnell meinen Rucksack einchecken: Halle 1 C. Abflug Halle 1 B. Und wir treffen uns Halle 1 A. Nach dem wir bei der letzten Reise geklärt hatten, dass wir in 1 A bei
Hausmann's
im Sicherheitsbereich frühstücken dürfen und anschließend durch den Transittunnel nach 1 B dürfen, gehen wir hierher frühstücken. Es ist für einen Flughafen günstig und sehr lecker. Das einzige, was mich zur Verzweiflung bringt: sie vergessen oft, dass man sich an einem Flughafen befindet und man es doch eilig hat... und das passiert immer wieder mir. Das letzte Mal hatte ich alles einpacken lassen und mitgenommen: das war auch in soweit ok, weil es bei Lufthansa auf Europa-Flügen in der Economy-Class ein bisschen mehr als "nichts" gibt. Aber bei Singapore Airlines wäre mir das doch zu peinlich. Ein perfekter Start für Silvester 2016.

We usually stay in the Hilton Garden Inn when we have an early flight otherwise we need 45 minutes to Frankfurt. But using the check-in the night before made this solution very interesting. Last time we booked a fare with breakfast. Because the restaurant did not open so early we got some lunchboxes. The kitchen disregarded the 3 1/3 oz. rules for liquids. So we had to drink everything before we reached the security check. Furthermore I forgot the bottles as they had a deposit. I should had with them. By the way I was quickly checking in my backpack: Hall 1 C. Departure Hall 1 B and we met us at Hall 1 A. After we checked the situation when we travelled the last time we knew that we can have breakfast in Hall 1 A in the secured area with Hausmann's and walk later through the transit tunnel to Hall 1 B. For a breakfast it was quite cheap and very yummy. Only one issue which made me desparate: they often forgot that they were based at an airport and you were in hurry... and it happened again with me. The last time I let them wrapped everything to go: that was ik because you get with Lufthansa on their European flights in Economy-Class a little more but "nothing". But with Singapore Airlines it might be to embarrassing. A perfect start for New Year's Eve 2016.

Through the tunnel we headed on to Terminal 1 B. The automated passport check did not like my passport. Few minutes before we were allowed to board we arrived at the gate. The first check was just moving closer to the gate check. For less than 500 EUR we could fly at the exit row one-way to New York. The extra leg room hat advantages but also disadvantages: foldable table and screen in the armrest and no stowage made the also not very attractive. They had aslo a small amneties-kit. I ordered anyway a special diabetic meal because I hoped to get a steak again. It was party miscalculated: 1. they still had a great a holiday menu and 2. I got again the omelette with the poultry saussages for brunch. But I dogt indeed my steak just before arrival in New York. Anyhow we enjoyed the legendary service even other airlines were talking of... And we a very nice "Singapore Girl": Putri read our wishes from our eyes. Using the call botton might occur a slight. I called Singapore Airlines to order and pay for a birthday cake: No chance. Ordering yes. Paying no. We had a birthday girl and she got here the cake which was sufficient for all five of us. Very intensed chocolate flavor... Only with the selection of the moves: I cannot remember what I saw. Maybe it was because I had the center seat so I could annoy two others... And they could not move away... until New York... And the question: might it be more annoying when I sleep or when I speak too much... Christoph and Karl had their seats three rows behind us...

Durch den Tunnel geht es dann nach Terminal 1 B. Die automatische Passkontrolle mag meinen Pass nicht. Wenige Minuten bevor wir einsteigen dürfen, kommen wir auch am Ausgang an. Die 1. Kontrolle wird gerade abgebaut und direkt zum Ausgang verlegt. Für weniger als 500 EUR fliegen wir am Notausgang einfach nach New York. Die Beinfreiheit hat Vorteile, aber auch Nachteile: Klapptisch und Bildschirm in der Armlehne und keine Ablage machen ihn auch unattraktiv. Es gibt ein kleines Amneties-Kit. Ich hatte eh Sonderessen für Diabetiker bestellt, weil ich gehofft habe, wieder ein Steak zu bekommen. Die Rechnung ist nicht so ganz aufgegangen: 1. hatten sie noch ein tolles Feiertagsmenü und 2. gab es doch wieder dieses Omelette mit Geflügelwürstchen zum Brunch. Aber in der Tat gibt es vor Ankunft in New York mein Steak. Ansonsten genießen wir den legendären Service über den sogar andere Airlines sprechen... Und wir hatten ein sehr nettes "
Singapore Girl
": Putri liest uns im wahrsten Sinne des Wortes jeden Wunsch von den Augen ab. Den Rufknopf zu bedienen hätte sicherlich zum Affront geführt. Ich hatte Singapore Airlines angerufen, um eine Geburtstagstorte zu bestellen und zu bezahlen: Kein Chance. Bestellen ja. Bezahlen nein. Wir haben ein Geburtstagkind und sie bekommt dann eben hier die Torte, die für uns fünf reicht. Sehr schokoladig... Nur bei der Filmauswahl: ich habe nicht mehr die leiseste Ahnung, was ich überhaupt gesehen habe. Vielleicht lag es ja auch daran, dass ich den Mittelsitz hatte und dadurch zwei Leuten auf die Nerven gehen konnte... Und die können ja nicht abhauen... bis New York... Und die Frage ist: ist es nerviger, wenn ich schlafe oder wenn ich sie zutexte... Christoph und Karl haben sich ja drei Reihen abgesetzt...
Anflug auf New York. Bilder bis nach der Gepäckausgabe gibt es nicht. Gibt nur Ärger, wenn man dabei erwischt wird. Neu ist allerdings, dass man sich selbst am Bildschirm anmeldet. Leider ging der Scanner für die Fingerabdrücke nicht. So muss ich mich nochmals anstellen. Ich nehme bei so vielen einen Gepäckträger. Der bringt einen schnell durch die Schlange. Und beim Anblick der vielen Koffer, hatten die auch keine große Lust, nachzusehen, wie genau die Entenleber verpackt war, die ich ordnungsgemäß angemeldet ist und winken uns durch.

Approach in New York. There would be no pictures until behind the baggage claim. You have trouble if you are caught. New was self-registration on screen of automatic kiosks. Unfortunately the scanner for finger prints did not work. So I had to queue up again. I took a porter since we were so many. He normally get you quickly through the lines. When they saw so many bags I think they were not interested to find the way the Foie Gras was packed which I registered ordinary and let us go.

I did not want to go with all of them and with all the bags to the Federal Circle to pick-up the car. So I went alone by Sky Train (complimentary - only when you exit for the subway or commuter train Metro North it would costs a little money - for my taste the train did not run frequently enough) for Hertz. I booked on our German automobilists club (like AAA) ADAC Mietwagen. Unbelievable but true: all five of us fit into a Nissan Pathfinder. According to the specs of the manufacturer it had 45 cu ft. The average volume of a "standard" bag: 3 1/4 cu ft. = 8 x 3 1/4 cu ft. = 26 cu ft. and I cannot load conclusively like boxes plus hand bags which fit mostly into the trunk too: every lesson I had in container stowage and securing and lashing became priceless. Wow.

Ich wollte nicht mit allen und dem ganzen Gepäck zum Federal Circle fahren, um das Auto zu holen. So fahre ich alleine mit dem
Sky Train
(kostenlos - erst wenn man zur
U-Bahn
oder Regionalbahn
Metro North
will, kostet es - sie kommt für meinen Geschmack zu selten) zu
Hertz
. Gebucht hatte ich über
ADAC Mietwagen
. Unglaublich aber wahr: wir passten tatsächlich zu fünft in einen
Nissan Pathfinder
. Lt. Herstellerangaben hat er 45 cu ft (= 1.250 Liter). 90 Liter hat so ein "Normaler" Koffer = 8 x 90 = 720 Liter und ich kann ja nicht bündig laden, wie Kartons plus Handgepäck, das größtenteils auch noch rein passte: Da hat sich jeder Kurs im Containerstau und Ladungssicherung bezahlt gemacht. Wow.
Der erste Eindruck von New York ist fantastisch.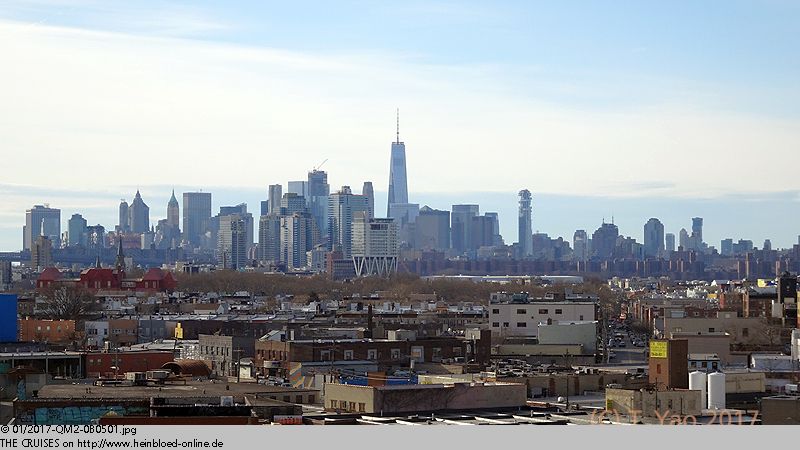 The first impression of New York was fantastic.

We had a nice view of the skyline.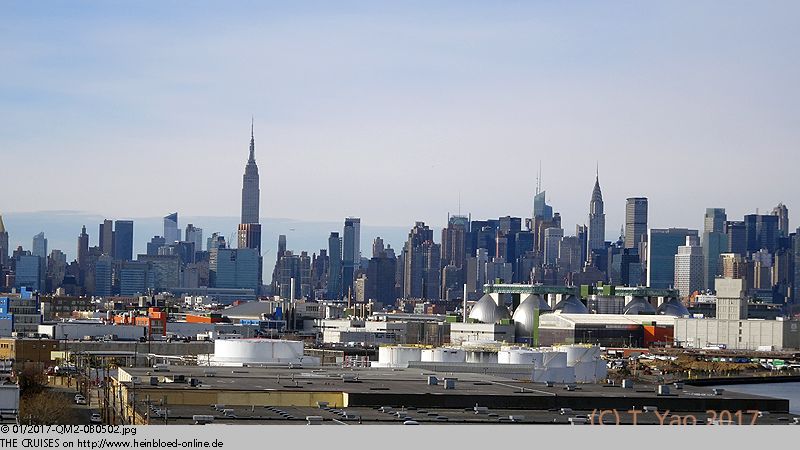 Wir haben einen schönen Blick auf die Skyline.
Über die Williamsburg Brücke quer durch Manhattan geht es in den Holland Tunnel nach New Jersey.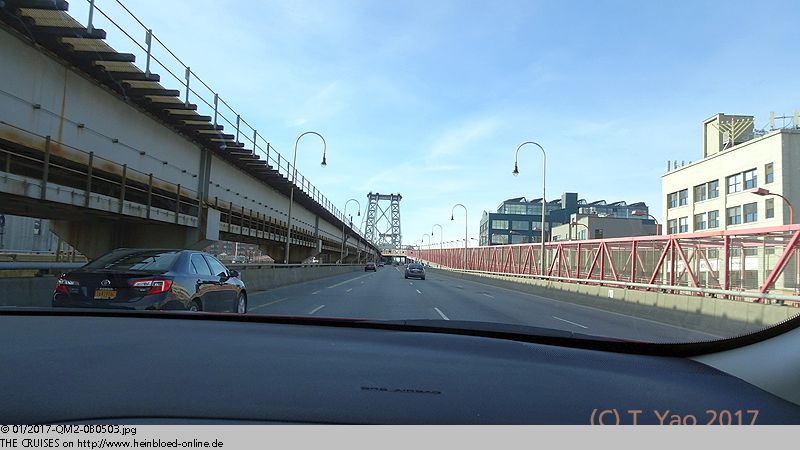 We went on Williamsburg Bridge cross Manhattan into the Holland Tunnel to get to new Jersey.

I ordered something with Best Guy for collection but it was not available. The message came unfortunately this morning. So we went to the ACME to buy some beverages and snacks for the night time. The first orders from Swiss friends were already fulfilled.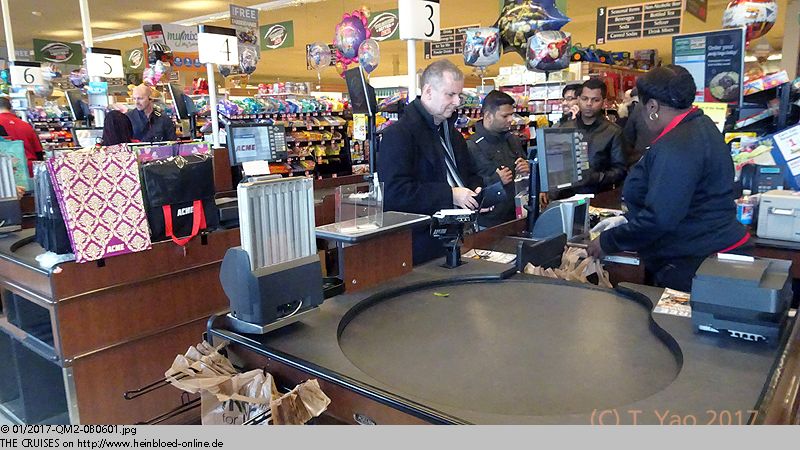 Ich hatte etwas bei Best Guy zur Abholung bestellt, aber es war nicht lieferbar. Die Nachricht kam leider erst am Morgen. Also gehen wir neben an zu
ACME
um etwas zu trinken und für nachts Snacks zu kaufen. Die ersten Bestellungen von Freunden aus der Schweiz werden schon erledigt.
I. d. R. wacht man nachts auf und will Frühstück.... und dann ist es gut, wenn man etwas zu essen hat. Der Jet Lag.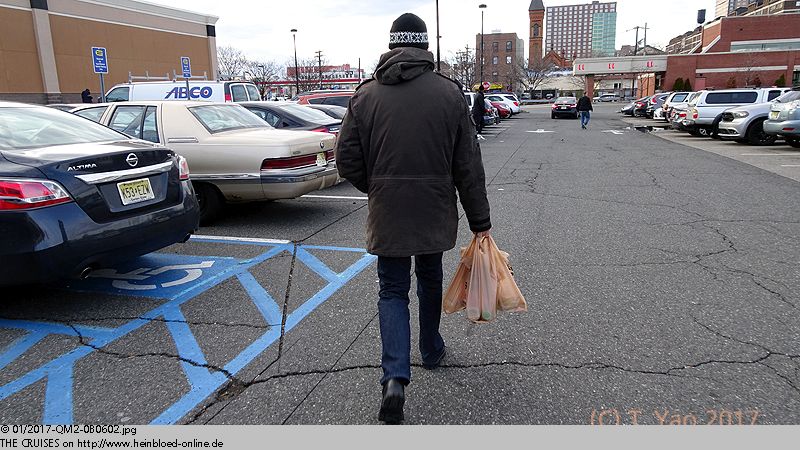 Usually you are waking up in the middle of the night... and then it would be good to have some food. The Jet Lag.

We were staying again in Candlewood Suites in Jersey City. We stayed here before. But then it was better. Then after NORWEGIAN DREAM 2008 it was much better. Somehow many buildings were erected around and somehow the staff members were everything... but not very friendly and compentent. It was not my fault as guest that they had to work New Year's Eve. It was extremely loud: because the tram went more or less through the room and also fridge, microwave and air-condition were relatively loud. I disliked the dispenser for ear-plugs and the sign that you can take as many as you want. You could also improve the maintenance and replace the windows with noise-reduction. Unfortunately I forgot one little thing: With Candlewood Suites you get housekeeping after 7 nights. Alt least we got a second blanket which we had to set ourselves. As I hate soap bars in a hotel and prefered body wash: I was happy that I still had some from our last cruise in my sponge bag. It was nice to have a little kitchen and a fridge. Most of the hotels in Manhattan were unaffordable during New Year's Eve.

Wir sind wieder im
Candlewood Suites in Jersey City
. Wir waren hier schon mal. Nur damals nach der
NORWEGIAN DREAM 2008
war es noch besser. Irgendwie ist sehr viel jetzt herumgebaut worden und irgendwie ist das Personal alles... nur nicht besonders freundlich und kompetent. Ich kann als Gast leider nichts dafür, dass sie Silvester arbeiten müssen. Es ist sehr laut: weil die Straßenbahn quasi durch unser Zimmer fährt und auch Kühlschrank, Mikrowelle und Klimaanlage verhältnismäßig laut sind. Den Spender an der Rezeption, dass man sich soviele Lärmschützer mitnehmen darf, wie man will, finde ich vollkommen fehl am Platz. Man könnte besser warten und auch Fenster mit Lärmschutz wären auch nicht schlecht. Leider hatte ich eine Kleinigkeit vergessen: Bei Candlewood Suites wird erst ab 7 Nächten das Zimmer gemacht und gereinigt. Wir bekamen zumindest eine zweite Decke, die wir uns selbst beziehen dürfen. Und da ich ja die Seifen im Hotel hasse und auf Duschgel stehe: zum Glück hatte ich eine Menge noch von der letzten Kreuzfahrt im Kulturbeutel. Schön ist allerdings schon, dass man eine kleine Küche und einen Kühlschrank hat. Die Hotels in Manhattan sind zu Silvester übrigens unbezahlbar.
Das Hotel hat schon eine tolle Lage: vis-à-vis von Manhattan fast am Ufer des Hudson Rivers. Mit der
Hudson-Bergen Light Rail von NJ Transit
käme man FAST direkt zum Cruise Terminal in Bayonne - wenn man danach noch Lust hat gut 3 km mit Gepäck zum Terminal zu laufen. Ein paar Minuten mehr braucht man bis zur
PATH
(Port Authority Trans Hudson) von Port Authority of New York and New Jersey am Exchange Plaza. Und wenn man noch ein paar Meter weiter läuft steht das höchste Gebäude New Jerseys: Der Goldman Sachs Tower an der 30 Hudson Street. Leider ein reines Bürogebäude ohne öffentlichen Zugang. Wir wollen jedoch zum Abendessen und laufen weiter. Sigi braucht Geld und drei ausgestandene Männer beschützen sie, damit sie nicht ausgeraubt wird.

The hotel has a great location: adjustant to Manhattan close to the riverbanks of the Hudson River. By Hudson-Bergen Light Rail of NJ Transit you get get NEARLY to the Cruise Terminal in Boyonne - subject you like to walk 2 miles with bags to the terminal. You need few minutes more to PATH (Port Authority Trans Hudson) of Port Authority of New York and New Jersey at Exchange Plaza. And if you walk few steps more you can find the tallest building in New Jersey: The Goldman Sachs Tower at 30 Hudson Street. Unfortunately it was pure office-building without public access. We wanted to go for dinner and headed on. Sigi need mone and three strong men pretected her that she could not become victim of a robbery.

For 17.00 hrs I booked a table at Lighthorse Tavern. The 20-minutes-wakes was good for us. On the one hand we need to get as quickly as possible to the actual time zone and on the other hand it was 23.00 hrs at home. Here it was nicely decorated for the New Year's Eve. They served a very nice menu for a moderate price (for the level of New York/New Jersey). Everything was very nice and yummy. Sigi obviously celebrated her longest birthday with 30 but 24 hours and became desperated when the piano player started to play Happy Birthday. But I had the impression some more in the restaurant had birthday... Since we were full and satisfied it was good to walk 20 minutes back to the hotel. In a store around the corner of the hotel we found https://www.jagermeister.com/en-int/home/ for digestion.

Für 17.00 Uhr habe ich bereits einen Tisch im
Lighthorse Tavern
bestellt. Der 20-minütige Spaziergang tat uns gut. Einerseits müssen wir gucken, dass wir möglichst schnell in die aktuelle Zeitzone reinkommen und andererseits ist es 23.00 Uhr zu Hause. Hier ist alles für Silvester dekoriert. Es wird ein sehr nettes Menü zu moderaten Preise (für New York-New Jerseyer Verhältnisse) angeboten. Ist wirklich alles sehr nett und lecker. Sigi feiert vermutlich ihren längsten Geburtstag mit 30 statt 24 Stunden und verzweifelt, als der Klavierspieler zum Ständchen anstimmt. Aber es haben im Restaurant wohl noch mehr Geburtstag... Da wir alle satt und zufrieden waren taten uns die 20 Minuten zurücklaufen gut. In einem Laden um die Ecke vom Hotel finden wir
Jägermeister
für die Verdauung.
Kurz vor Mitternacht will ich doch raus, weil ich hoffe, dass man ein Feuerwerk über New York City sieht. ABER leider nein. 1. hat mir mehr erklärt, dass das große Feuerwerk immer nur zum Nationalfeiertag am 04.07. gibt und 2. gibt es den
BallDrop
am Times Square. Unser Concierge von der NORWEGIAN SKY Omar war wohl im letzten Jahr da. 13 Stunden angestanden. Das ist wohl nichts mehr für mich. Wir hören auf der Jersey-Seite ein paar Knaller entfernt. Es sollte auch in New York am Brooklyn Bridge, Central Park und Prospect Park Feuerwerke gegeben haben. Später hat mir jedoch erklärt, dass man sich mittlerweile doch nur auf den BallDrop beschränkt.

Shortly before midnight I wanted to go out and hoped to see some firework over the city of New York. BUT unfortunately there was not. 1. someone explained that the big fire works are for the national holiday July 4 and 2. they had the BallDrop. Our Concierge from NORWEGIAN SKY Omara was last year there. Standing there 13 hours. That was nothing for me anymore. We could listen some on the Jersey side. There should be some also firework in New York at the Brooklyn Bridge, Central Park and Prospect Park. Later I was told that meanwhile it was restricted to have BallDrop only.

We still experienced a nicely illuminated skyline of Manhattan.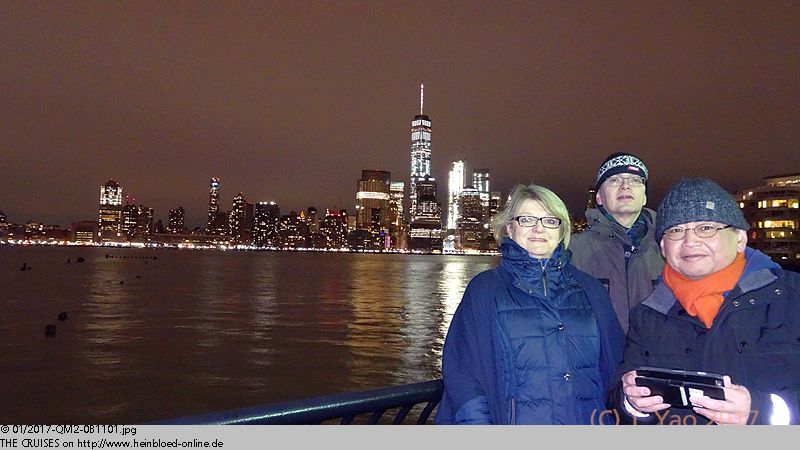 Wir erleben trotzdem eine tolle beleuchtete Skyline von Manhattan.
Und wir machen natürlich ein paar Selfies.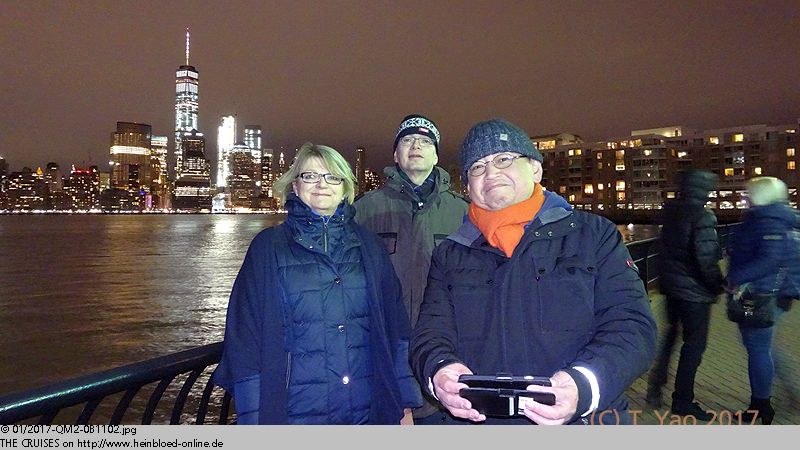 And we had to make some selfies.

Unfortunately without Christoph and Karl who were too tired.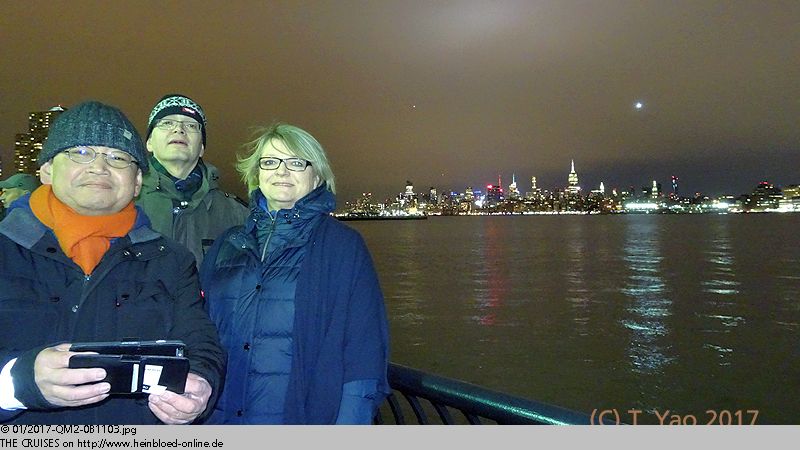 Leider ohne Christoph und Karl, die zu müde sind.
Aber es ist irgendwie auch ohne Feuerwerk toll. Wir sind nämlich nicht die einzigen am Hudson River. Viele Sprachen der Welt hören wir, wie sie ihre Familien anrufen. Nun gehen wir auch nochmals ein paar Stunden schlafen.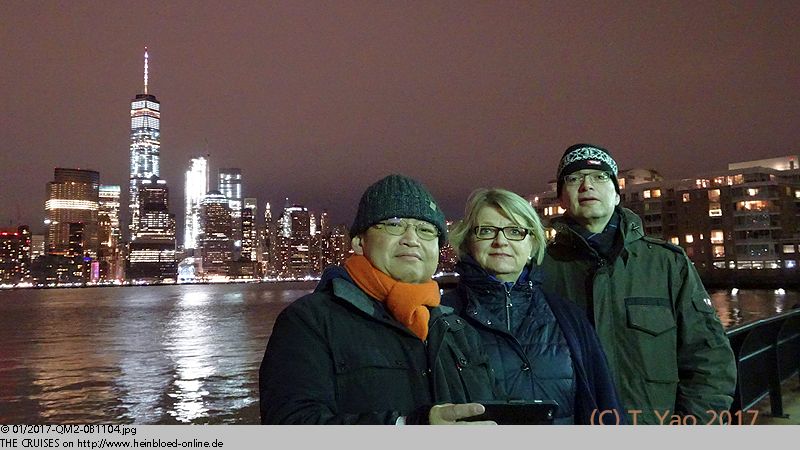 But it was somehow without firework very nice. We were not the only one at the Hudson River. We could listen many languages of the world and how they called their families. So went back to have few hours of sleep.