Es geht zum Frühstück. Voller Service auch am Tag der Ausschiffung. Man sieht hier: es gibt eine Brötchen und Schwarzbrotauswahl. Deswegen gibt es kein Brioche-Brötchen auf dem Tablett. Ich kann mir meinen eigenen Eistee machen. Und trotz Ausschiffung geht Elvis extra los, um mir meine Brioche-Brötchen zu holen. Mein Obstteller. Und Bruno bekommt auch alles, was er sich wünscht - sogar wieder die hartgekochten Eier - wieder als Pärchen.

Heading for breakfast. Full service also at the day of debarkation. You can see it: selection of rolls and pumpernickel. That was why there was no brioche-roll on the tray. I could prepare again my own iced tea. And even we had debarkation Elvis went the extra mile to get my brioche-rolls. My fruit plate. And Bruno got again why he requested for - even his hard boiled eggs - again as couple.

Entering Hamburg.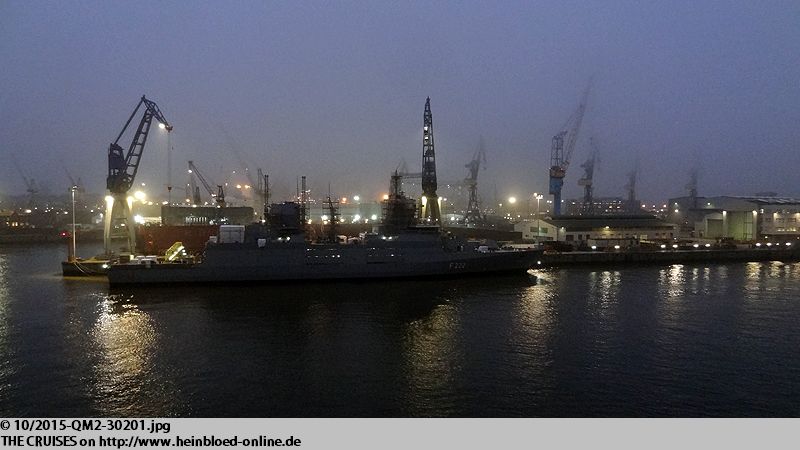 Die Einfahrt nach Hamburg.
Leider nicht mehr so schön wie früher, als wir in der Hafen City angelegt haben.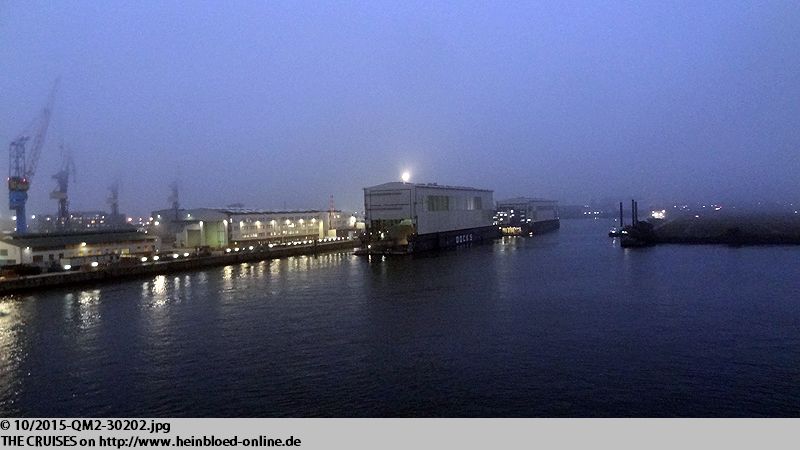 Unfortunately not so nice as befre when we docked at Hafen City.

So we made a right turn before we reached Altona and no Landing Stages (The heart of Hamburg) could be seen.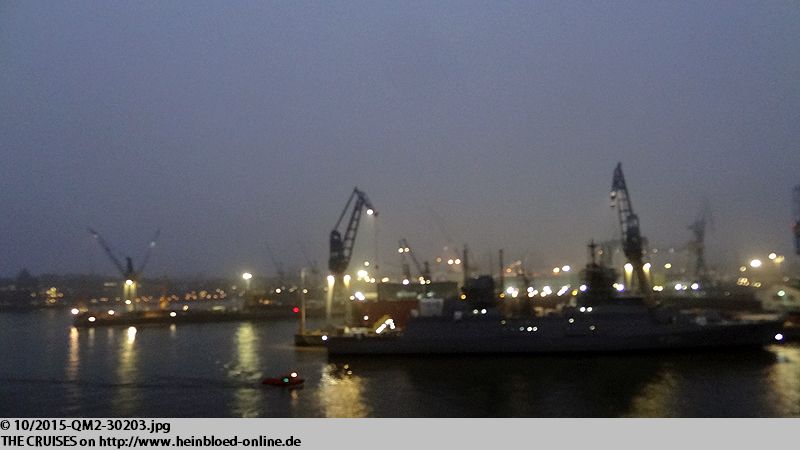 So biegen wir auf der Höhe von Altona bereits rechts ab und sehen nichts von den Landungsbrücken.
Niemand da, der uns winkt.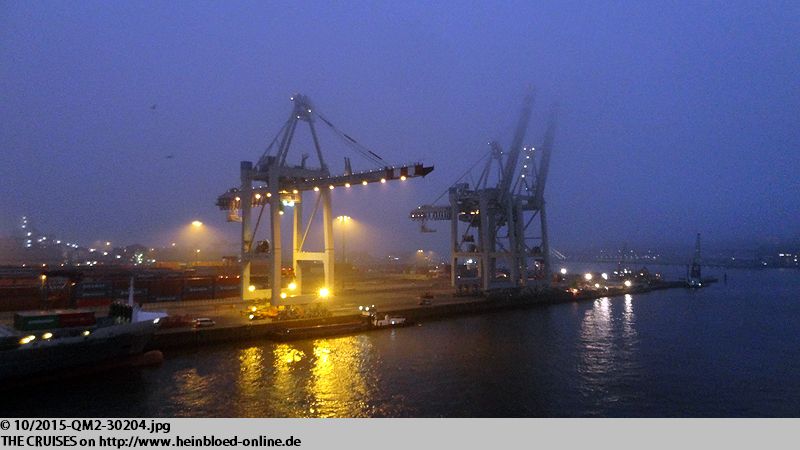 Nobody there to wave us.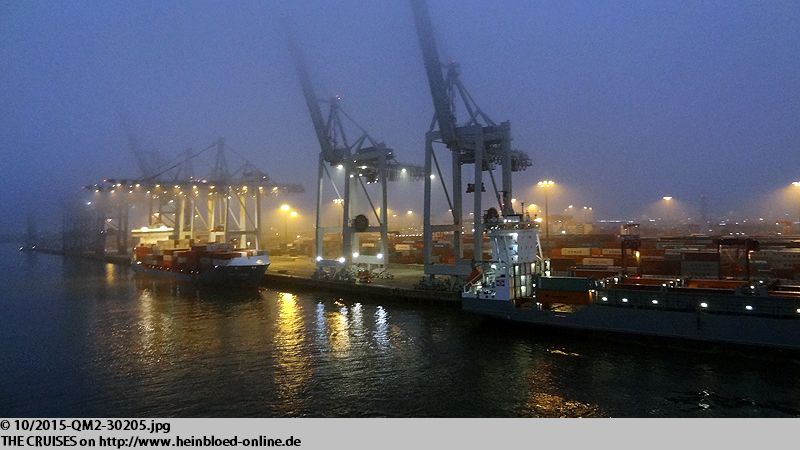 Die Rechnung zeigt leider, dass das Bordguthaben für Aktionäre bei Bruno vergessen wurde. Aber man sich darum kümmern. Die Ausschiffung warten wir im Chart Room ab. Dort bekommen wir auch noch Tee gegen Rechnung. ich fange an, meine Bilder zu bearbeiten.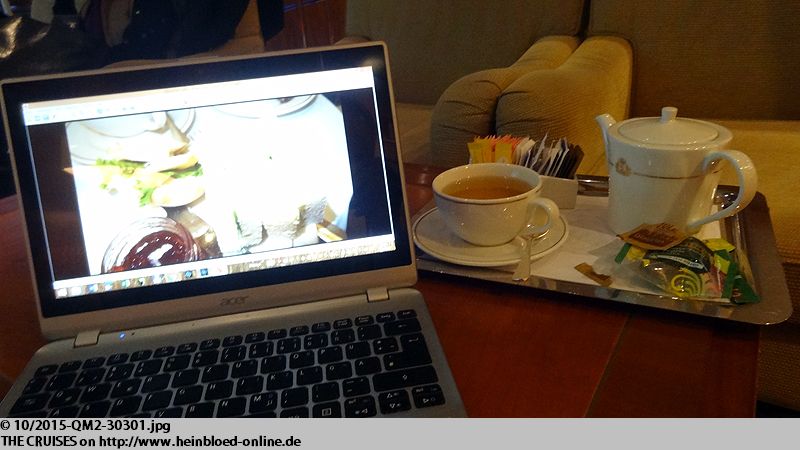 The invoice showed that they forgot unfortunately the onboard creidt for shareholders for Bruno. But they would try to fix it. The debarkation was in the chart room. There we could get some tea still against bill. I started to edit my pictures.

The new Cruise Terminal Steinwerder was set up very generous.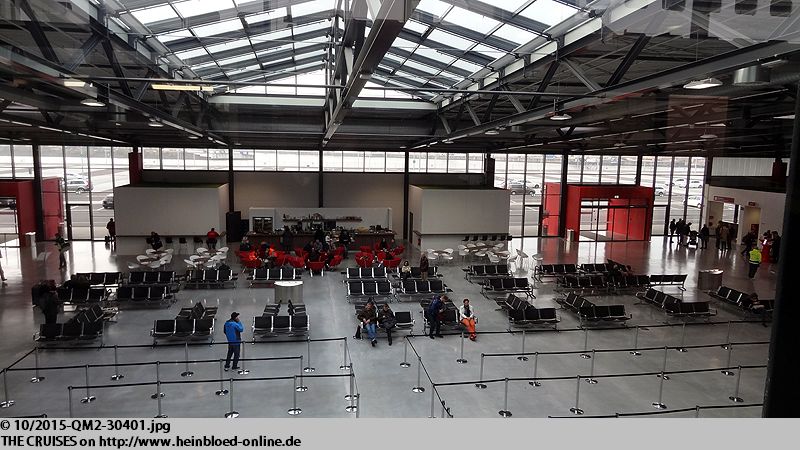 Das neue
Cruise Terminal Steinwerder
ist sehr großzügig angelegt.

In der Hafen City und in Altona musste man erst die Ausschiffung beenden, bevor man die Abfertigungshalle für die Einschiffung nutzen konnte. Hier gibt es getrennte Hallen.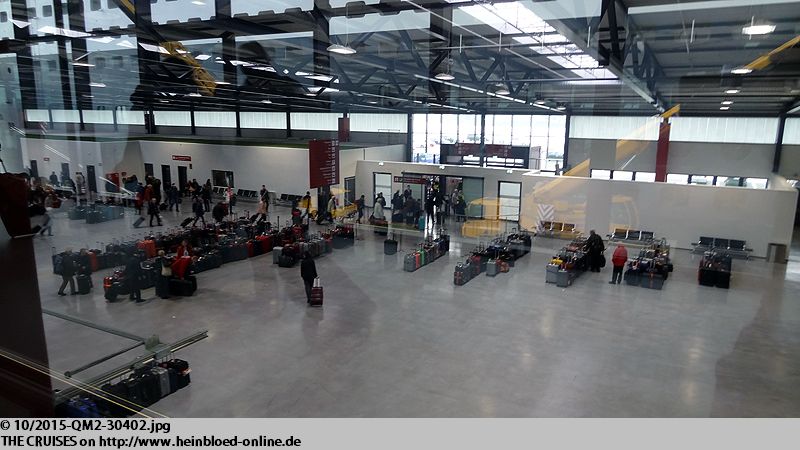 In Hafen City and Altona you must completed the debarkation before you could use the hall for check-in of the embarking guests. Here they had separate halls.

Here they had enough spaces for parking of the cruisers.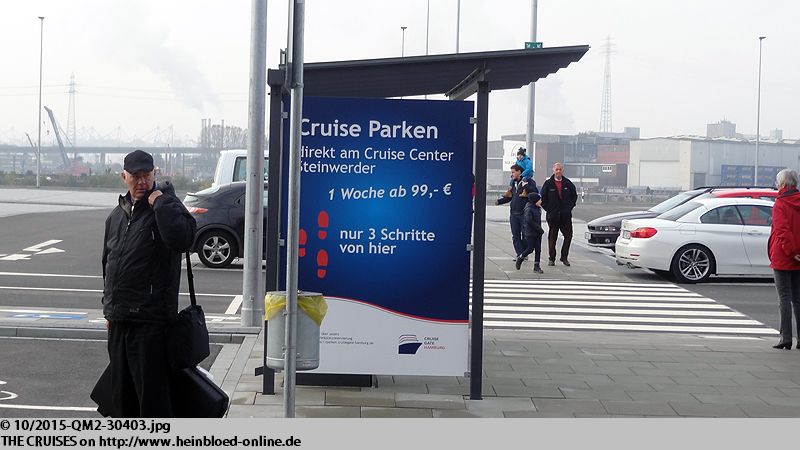 Hier gibt es ausreichend Parkplätze für Kreuzfahrer.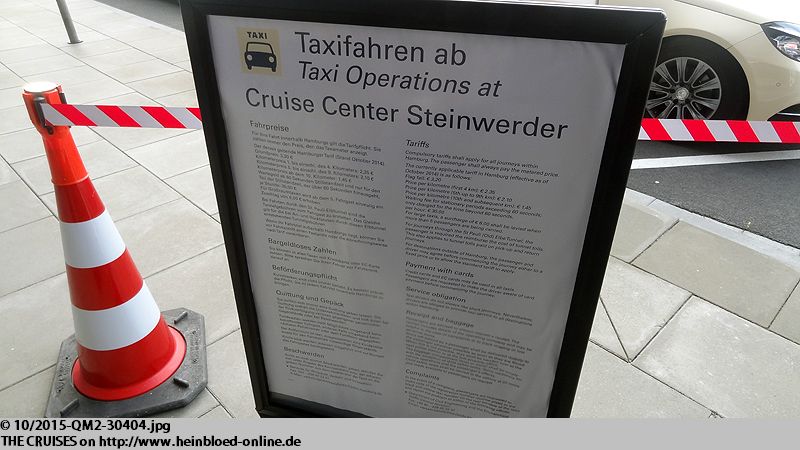 The ferry was docking at Argentinienbrücke. It was about 2/3 miles away. And unfortunately the ferry only rides during weekdays according to the schedule 2015.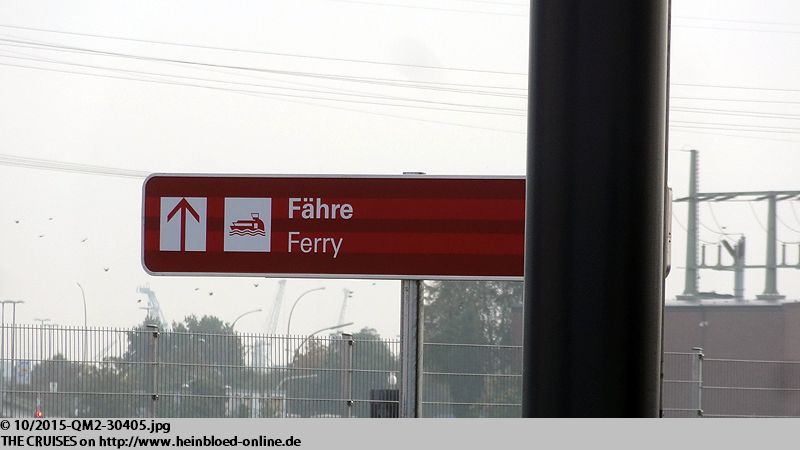 Die Fähre legt an der Argentinienbrücke an. Das liegt etwa 1 km entfernt. Und leider fährt sie nur unter der Woche gem.
Fahrplan 2015
.
CUNARD bietet für 10 USD einen Shuttle zum Hauptbahnhof an. NORWEGIAN leider gar nichts, trotz mehrerer Rückfragen.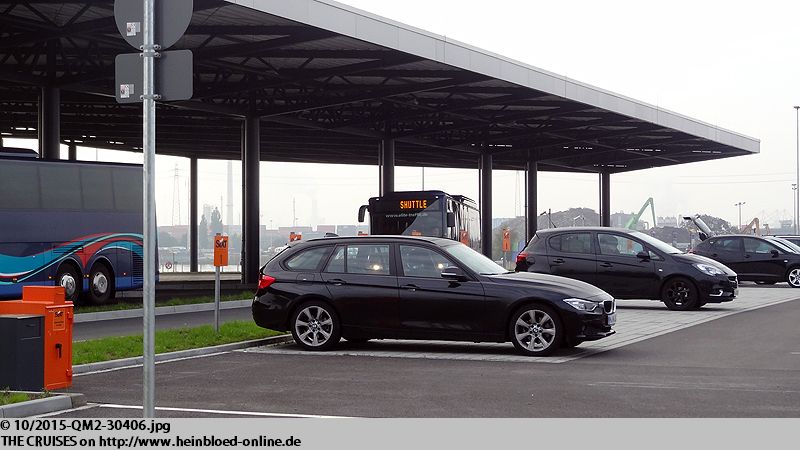 CUNARD offered of 10 USD a shuttle to the Central Station. NORWEGIAN did not offer anything - even we requested many times.

Here they a had a small bus terminal so you could wait wether protected for the bus.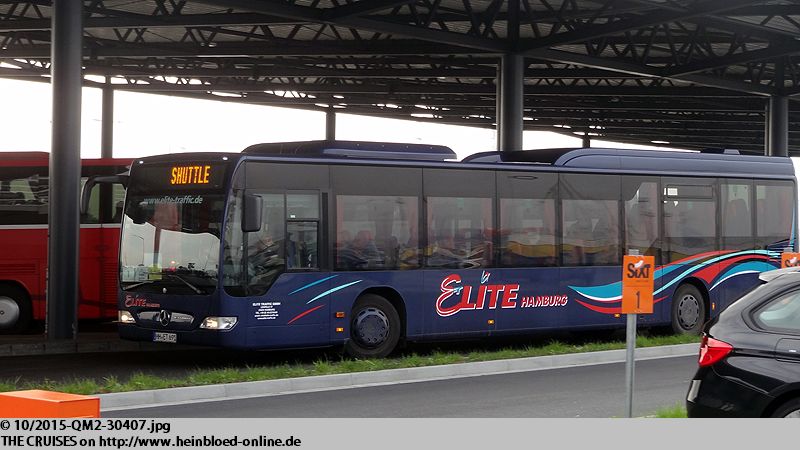 Hier gibt es einen kleinen Busbahnof, bei dem man wetterwgeschützt auf den Bus warten kann.
Wir haben uns jedoch einen Wagen gemietet. Am Cruise Terminal sind Europcar und
Sixt
vertreten. Über die
ADAC Autovermietung
konnte man nichts für Steinwerder buchen. Aber man konnte direkt bei Sixt anrufen und bekam dort auch die Rate für ADAC-Mitglieder. Billig war es trotzdem nicht: 1. Es gibt einen Zuschlag für den Standort Steinwerder und 2. wollten wir ja wieder Super Cover haben.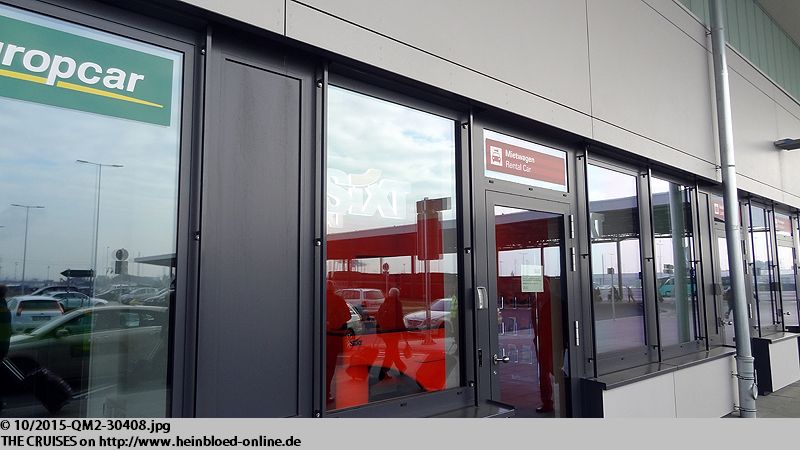 But we booked a car. At the cruise terminal they had Europcar and Sixt. You could not book anything through the ADAC (like AAA in the US) on their website for collection at Steinwerder. But you just simply call with Sixt and you could get the ADAC-member rates too. It was not cheap at all: 1. they had a surcharge for the location Steinwerder and 2. we wanted to have again our super cover.

Angry with Sixt: we wanted to call out of UK and a call to this shared-costs-number (starting 0180 in Germany) would cost 3 GBP per minute! But you could see the landline number of the location Hafen City which was in charge for Steinwerder. So we could call next time here when we found out which debarkation time slot we had.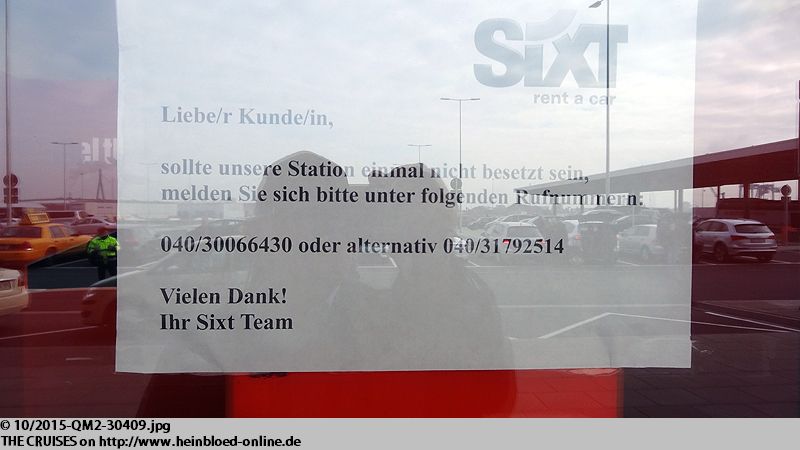 Ärgerlich bei Sixt: wir wollten von Großbritannien aus anrufen und ein Anruf auf diese Shared-Costs-Nummern (0180-was-auch-immer) kostet 3 GBP pro Minute! Aber jetzt sieht man hier ja die Festnetznummer der Station Hafen City, die für die Station in Steinwerder zuständig ist. Dort können wir das nächste Mal anrufen, wenn wir genau wissen, welche Ausschiffungszeit wir haben.
Dort steht unser Wagen.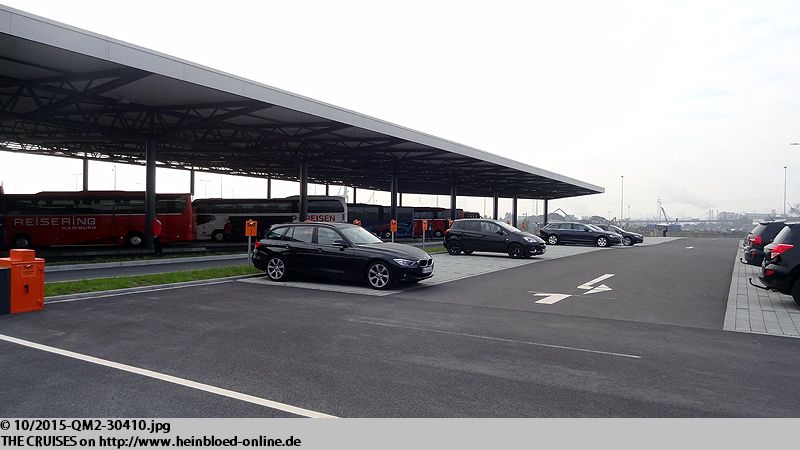 There was our car.

A Open (Vauxhall) Corsa - no upgrade.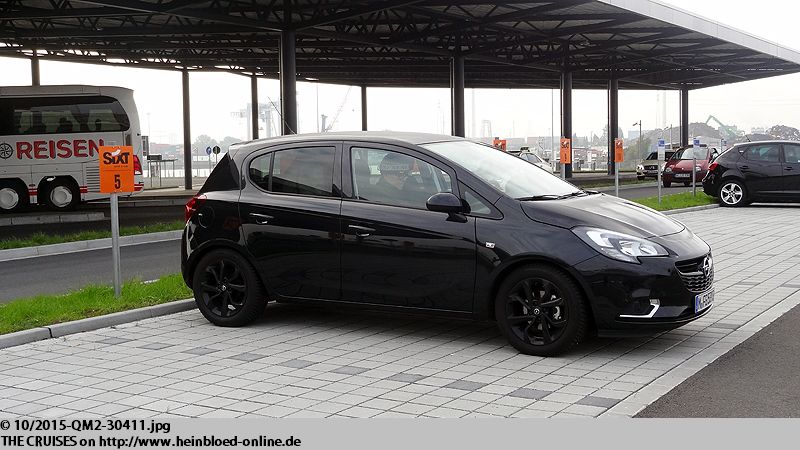 Ein Corsa - kein Upgrade.
Noch ein paar Bilder von der QUEEN MARY 2.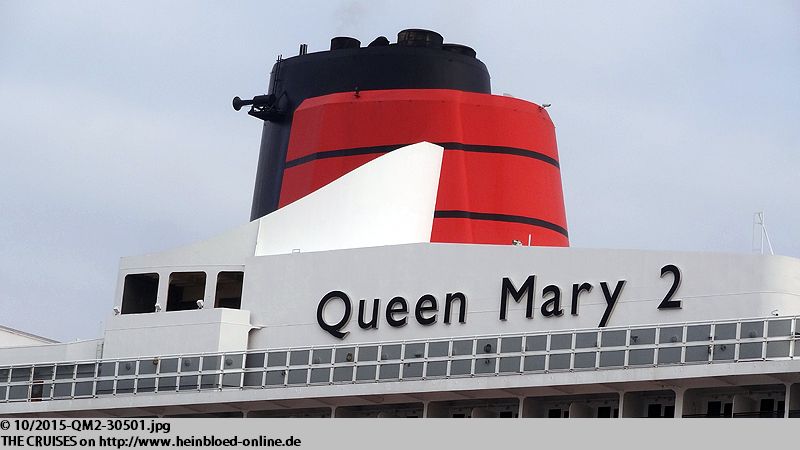 Few more pictures of QUEEN MARY 2

And so it was good that we took a car rental.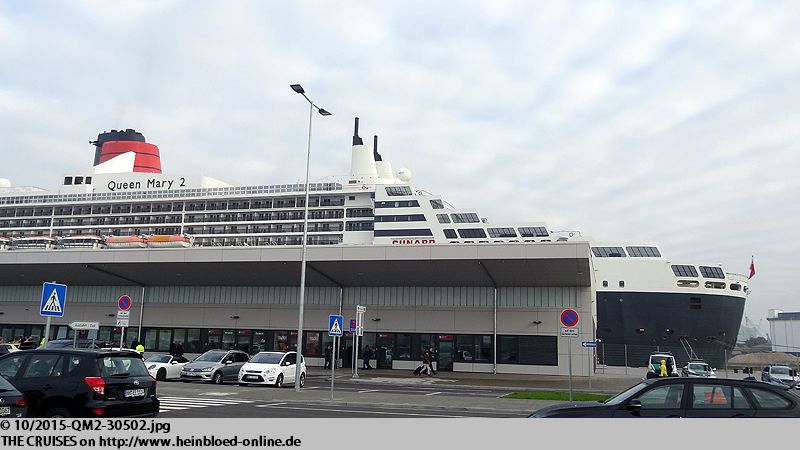 Und es ist gut, dass wir mit dem Mietwagen unterwegs sind.
So können wir spontan wenden und zum Auguste-Victoria-Kai fahren und von dort aus fotografieren.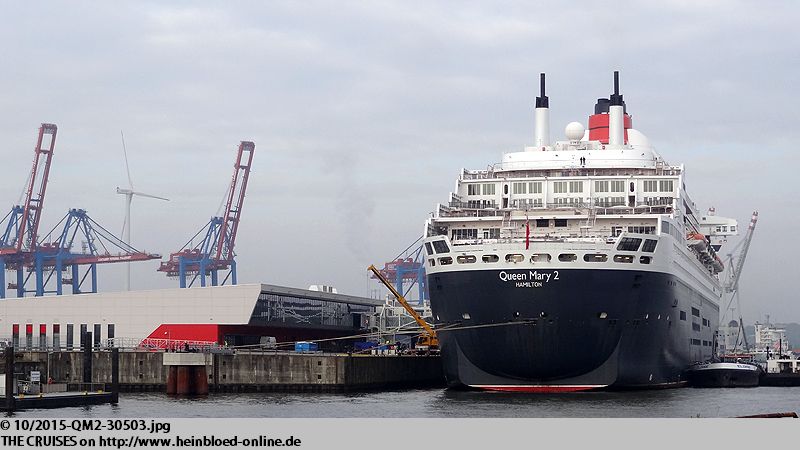 So we can made a U-turn spontaneously and went for Auguste-Victoria-Quay to take pictures.

A nice farewell until January 2017 hopefully.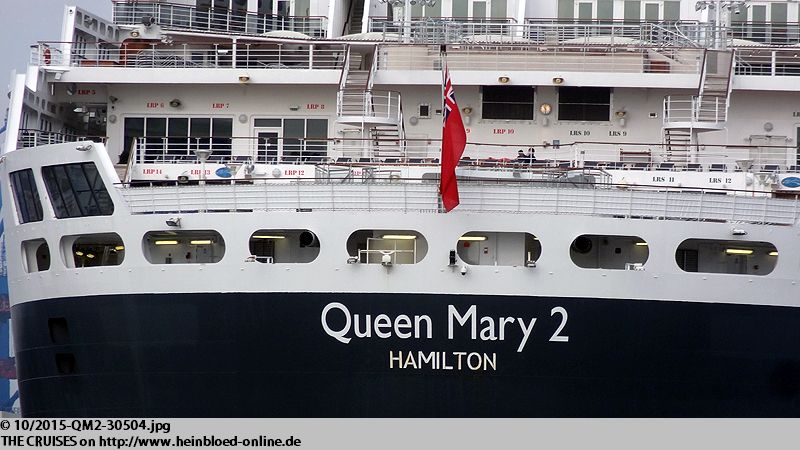 Ein schöner Abschied bis Januar 2017 hoffentlich.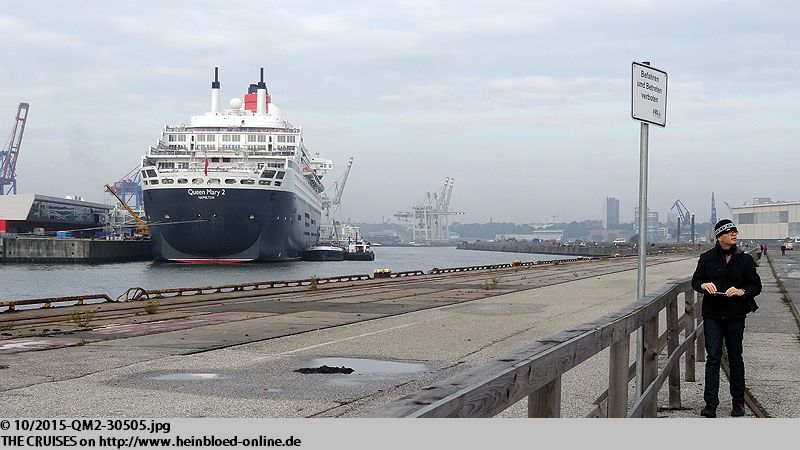 "Keep Calm and Sail On."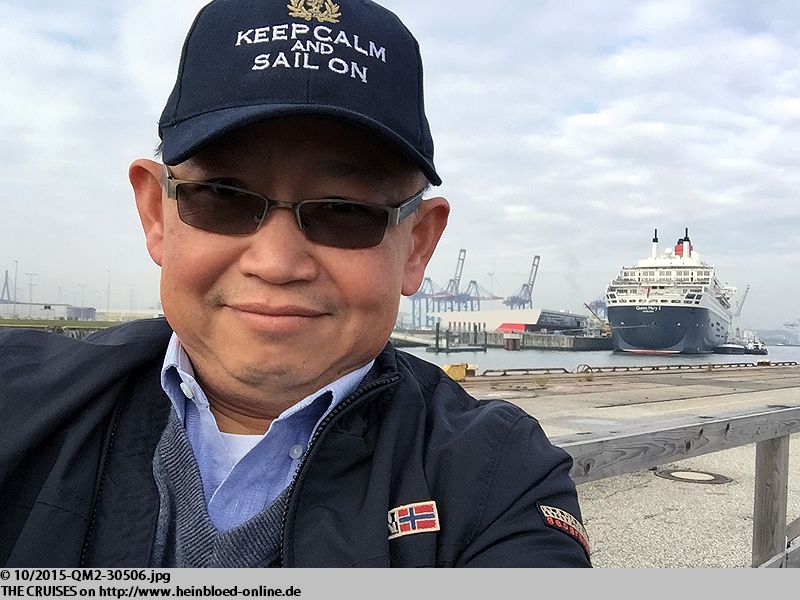 "Keep Calm and Sail On".
Wir fahren kurz in die Hamburger City. Unsere Anzüge brauchen wir auf der ALLURE OF THE SEAS und NORWEGIAN ESCAPE nicht. Also bringen wir sie kurzerhand zu Sigi vorbei, die mit uns schon mehrfach mit uns gemeinsam unterwegs war. Und so bleiben unsere Anzüge bis
QUEEN VICTORIA 2016
bei ihr unter Gewahrsam. Mittags gehen wir schnell bei
Daniel Wischer
essen: eine alte traditionelle Fischgaststätte. Endlich mal wieder Faßbrause. Endlich mal wieder Labskaus (schmeckt aber nicht so gut hier). Und von hier hat man einen Blick auf Hamburgs Olympia-Bewerbung 2024.

We went quickly to Hamburg City. We did not need to wear suits on ALLURE OF THE SEAS and NORWEGIAN ESCAPE. So we took them to Sigi whom we went together multiple times. Our suits could stay until QUEEN VICTORIA 2016 unter her storage. For lunch we went quickly to Daniel Wischer: an old traditional Hamburg fish-restaurant. Finally again a "Fassbrause" (cider-like non-alcohol fermented lemonade). Finally again Labskaus (was not so good here as expected). So we had a view to Hamburgs application for the Olympics 2014.

But coming closer you could see it was no application for Olympics 2014 but it was till from the Olympics 1936 in Berlin, Germany.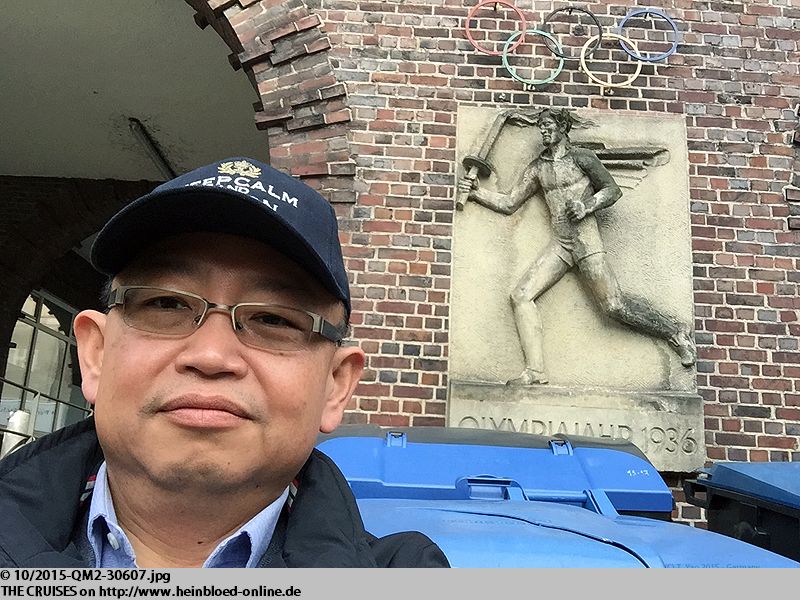 Beim näheren Hinsehen: das ist keine Werbung für die Olympischen Spiele 2024, sondern stammt noch von den Olympischen Spielen 1936 in Berlin.
Weiter geht es nach Fuhlsbüttel zum
Flughafen
. Und es geht mit
Brussels Airlines
nach Brüssel.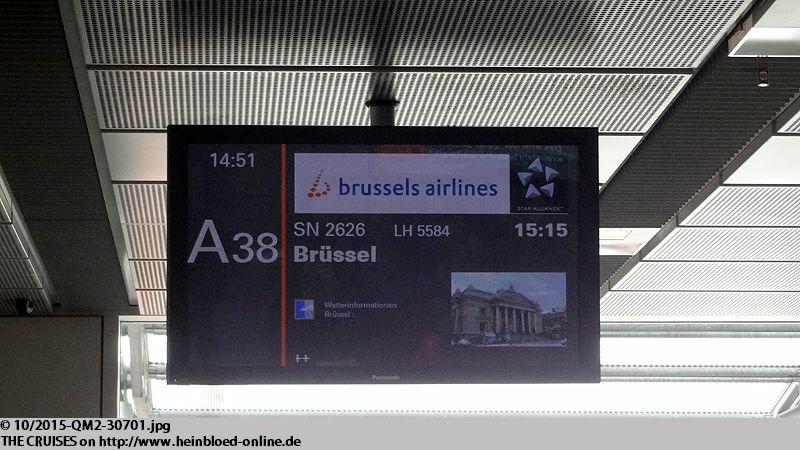 We were heading on to Fuhlsbüttel Airport. And then we went to Brussels, Belgium by Brussels Airlines.

Unbelieveable. I did not know any other anymore wher you still had soap bars.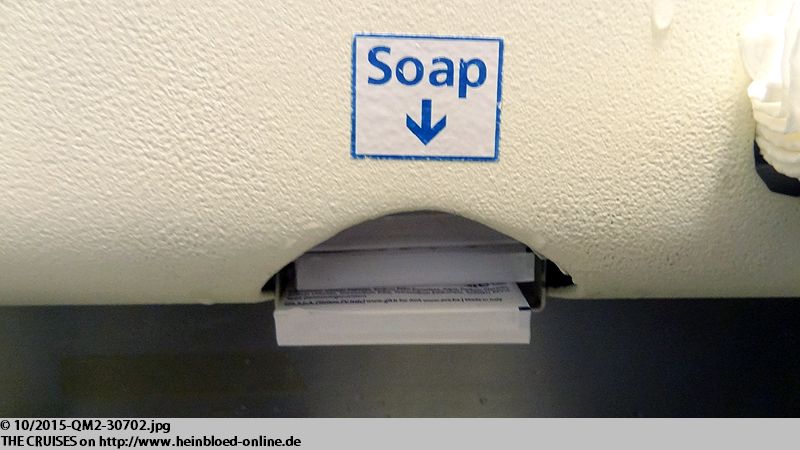 Das gibt es ja gar nicht. Ich kenne keine Fluggesellschaft mehr, bei der es noch die Seifenstückchen gibt.
Interessant: der Spuckbeutel.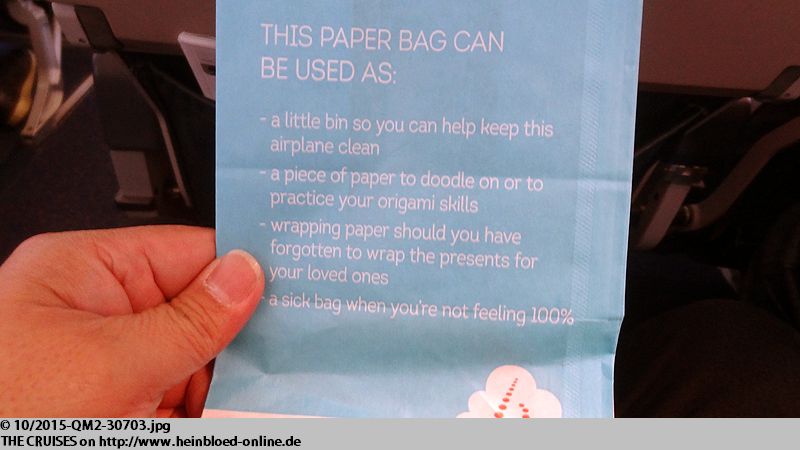 Interesting was the waste bag.

At Brussels Airport we could find the juice bar Helixir.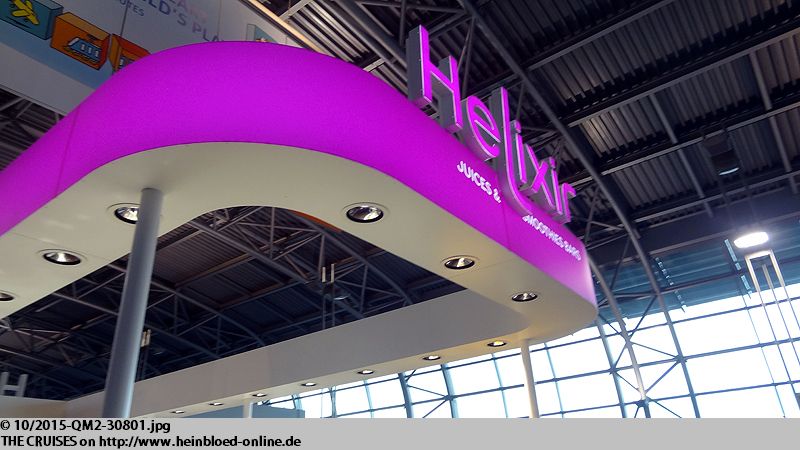 Am
Brüsseler Flughafen
finden wir zunächst einmal die Saftbar
Helixir
.
Auch hier: erst durch den Entsafter und dann nochmals durch den Mixer.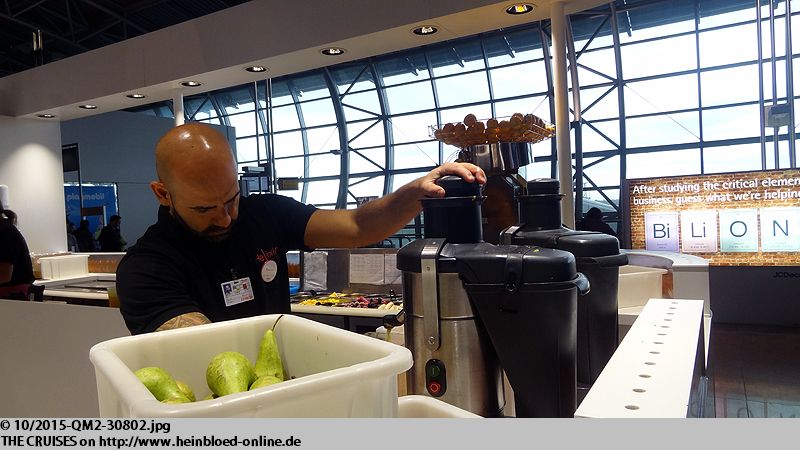 Here too: first through the juicer and then trough the blender.

Here you could cycle to produce electric power.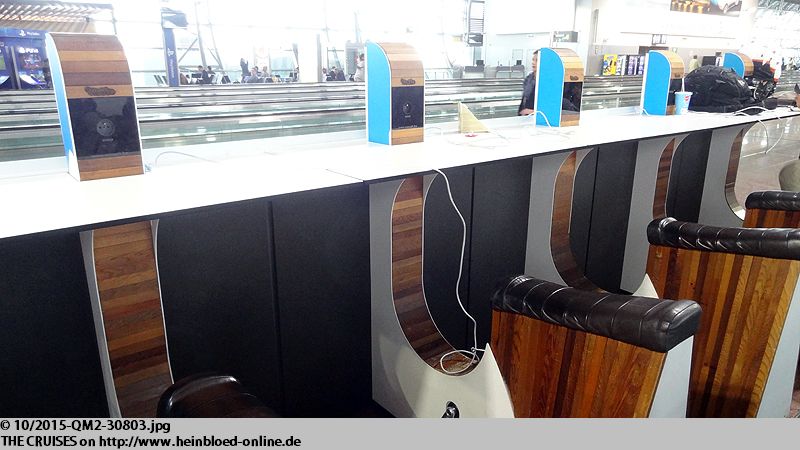 Hier kann man strampeln und Strom erzeugen.
Nachdem es in Hamburg kein Steckdosen gab, waren wir froh, dass es hier Steckdosen gab.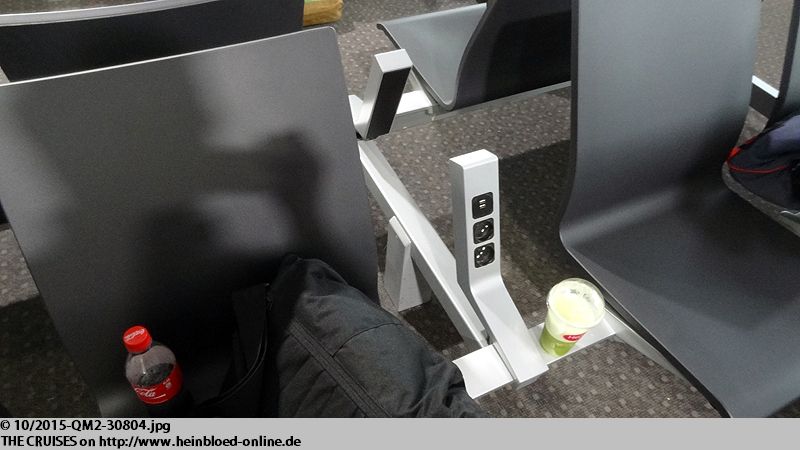 After there was non electric power outlets in Hamburg we were happy to have some here.

It was quite impressive in Brussels.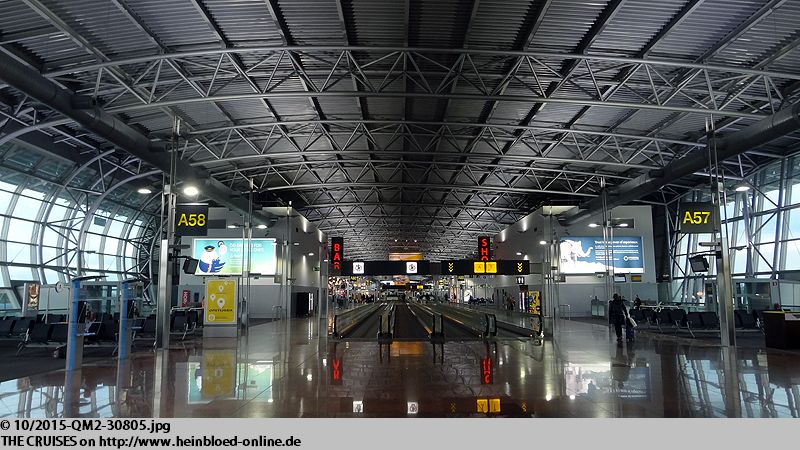 War schon beeindruckend in Brüssel.
Eine belgische Waffel muss sein.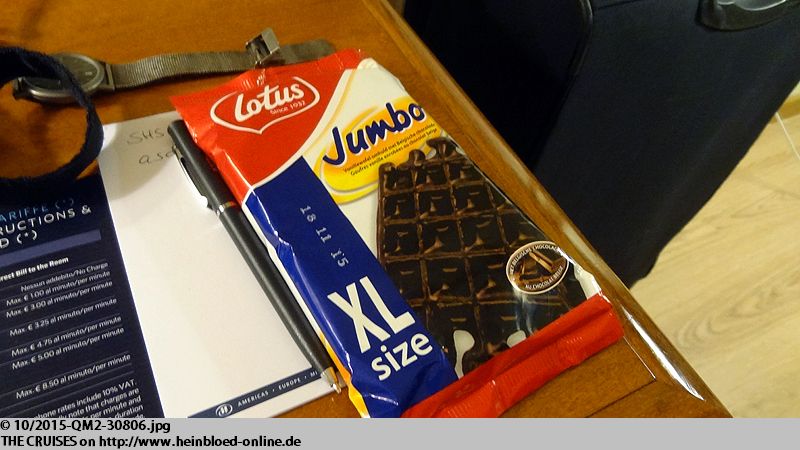 A Belgian waffle was a must.

We headed for Rome.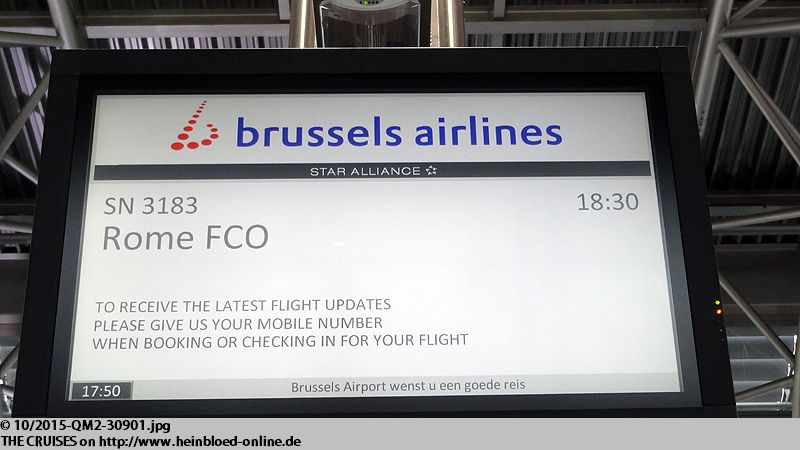 Es geht weiter nach Rom.
An Bord muss man alles kaufen. So gönne ich mir einen Tee und eine Tapas-Box.

You need to buy everyting onboard. So I had a cup of tea and a tapas-box.

We had no priority tag but with our gold-debarkation baggage tags of CUNARD our bags arrived first at Fiumicino-Leonardo da Vinci Airport in Rome.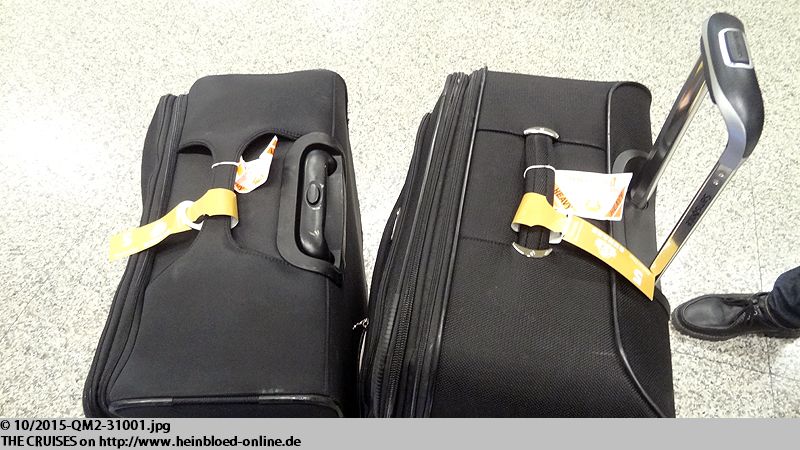 Ohne Priority-Zeichen aber mit den Ausschiffungsanhängern in Gold von CUNARD kommen unsere Koffer als erste am
Flughafen Fiumicino-Leonardo da Vinic
in Rom an.
Leider fährt der öffentliche Bus von
Cotral nach Civitavecchia
nur um 15.20 Uhr einmal am Tag (außer an Sonn- und Feiertagen / 2015). Zurück von Civitavecchia immer bereits um 05.50 Uhr. Also leider nichts für den gemeinen Kreuzfahrer ohne Vor- und Nachübernachtung.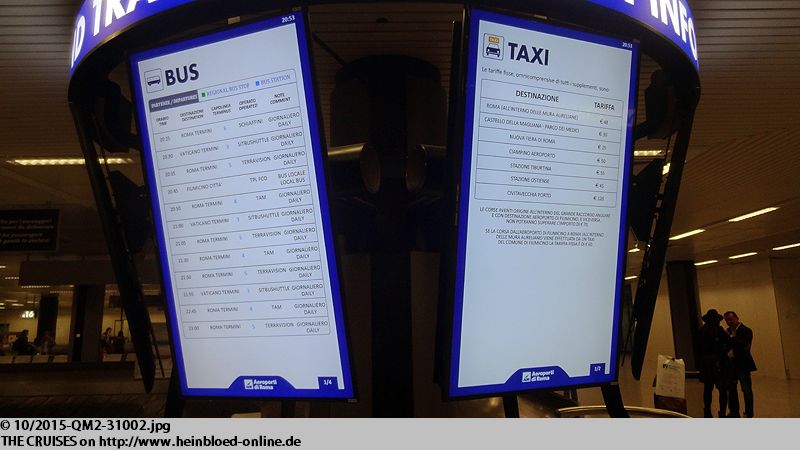 Unfortunately the public bus of Cotral to Civitavecchia went once per day (except Sunday and public holidays / 2015). Back from Civitavecchia already at 05.50 hrs. So no option for the general cruiser without pre- and post-night-stay.

As it was quite late I changed my plan before and canceled our hotel in Civitavecchia for the first night.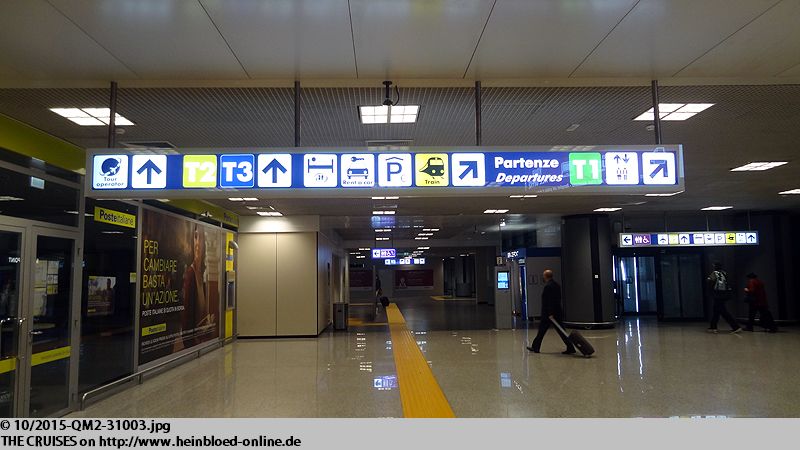 Da es schon spät war, hatte ich vorab umdisponiert, und das Hotel in Civitavecchia für die 1. Nacht abgesagt.
Das einzige Hotel direkt am Terminal ist das
Hilton
.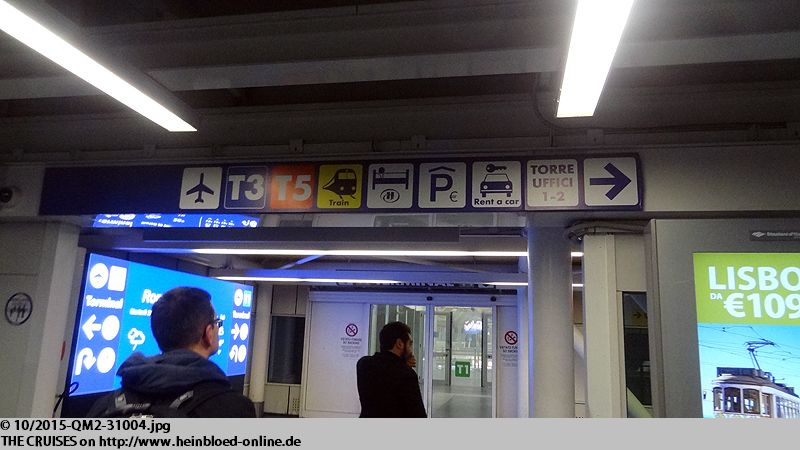 The only hotel directly at the terminal was the Hilton.

I did not want to move by shuttle anymore.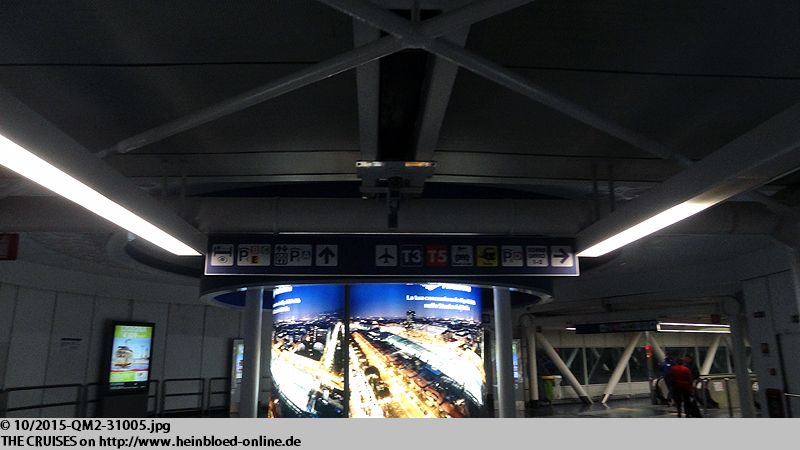 Ich hatte keine Lust mehr auf einen Shuttle.
Ich hatte allerdings auch keine Lust mit dem Gepäck rund 15 Minuten an sämtlichen Parkhäusern vorbei und mit Laufbändern, die nicht liefen, entlang zu laufen.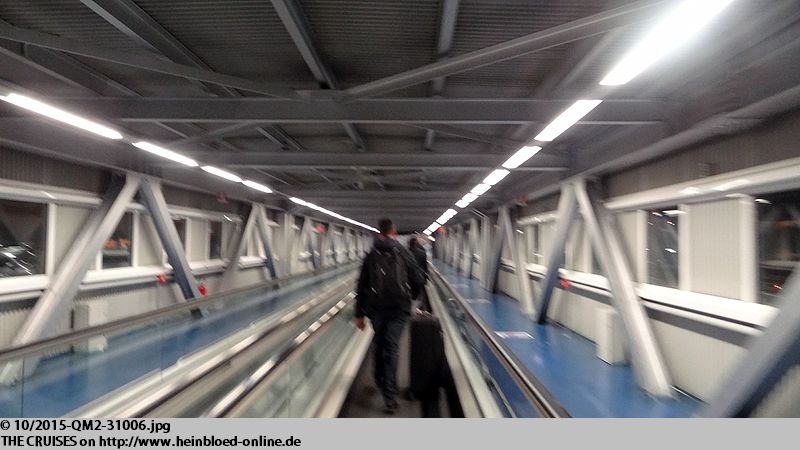 But I did not like either to walk with all our bags about 15 minutes passing all parkings and moving sidewalks which did not move.

The last yards was outdoor. I did not have enough points. So I need to pay a part in cash. A "regular" Standard-Hilton-Room. So the first part of the our voyage which was allocated to QUEEN MARY 2 came to the end. The next part will be allocated to ALLURE OF THE SEAS and you can find it in the Blog of the Mini-Cruises(CLICK HERE). Would it be possible to compare QUEEN MARY 2 with ALLURE OF THE SEAS? You could, if you can explain, what you get for your money. I will come back from ALLURE OF THE SEAS in my blog. QUEEN MARY 2 was so fantastic that we loved to come back to sail with her but on her signature route as the best of the bests: the Transatlantic.

Die letzten Meter liegen dann draußen. Ich hatte nicht genügend Punkte. So musste ich einen Teil in bar zahlen. Ein "normales" Standard-Hilton-Zimmer. Damit endet der 1. Teil der Reise, der der QUEEN MARY 2 zugeordnet wird. Der nächste Teil der Reise wird dann ALLURE OF THE SEAS zugeordnet und findet sich dann im
Blog der Mini-Reisen
(HIER KLICKEN)
. Kann man überhaupt die QUEEN MARY 2 mit der ALLURE OF THE SEAS vergleichen. Man kann, wenn man auch argumentieren kann, was wer für welches Geld bietet. Ich melde mich dann später von dem ALLURE OF THE SEAS-Blog wieder. QUEEN MARY 2 ist auf jeden Fall so klasse, dass wir gerne wieder mit ihr fahren und zwar auf der Route, die sie am Besten beherrscht: die Transatlantik.