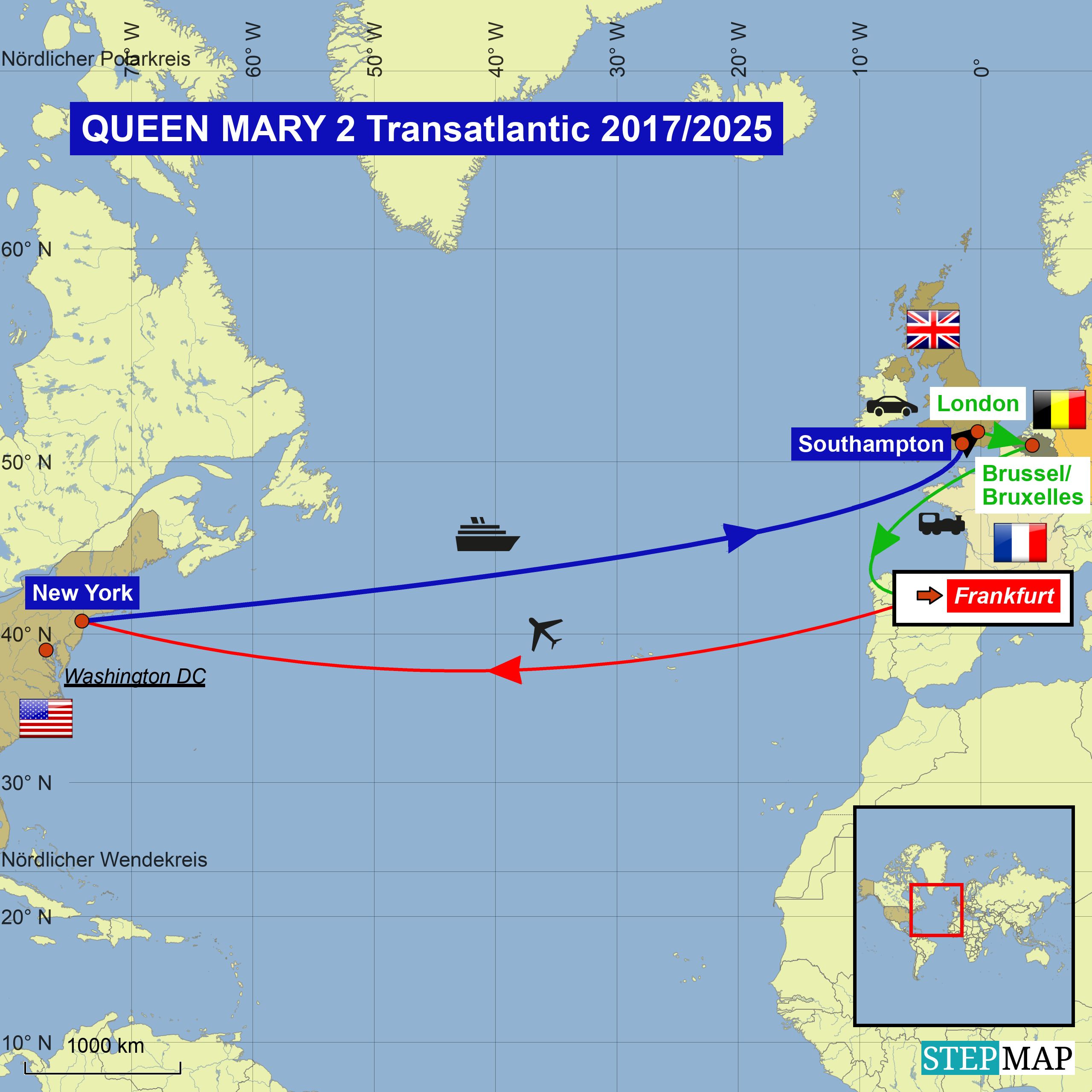 Was ist denn hier los? QUEEN MARY 2 kurz vor der Ankunft. Ich muss mal abschätzen, wann ich los muss. Aber was macht die NORWEGIAN BREAKAWAY noch hier???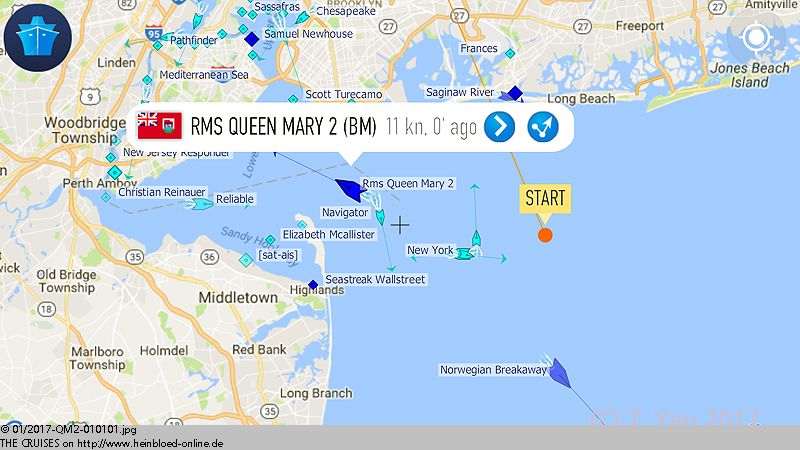 What was going on here? QUEEN MARY 2 soon before arrival. I need to estimate when I need to leave. But what was NORWEGIAN BREAKAWAY doing still here?

The day began crappy. My hotel card did not work anymore to get off the parking lot. The front desk agent refused to release a new card because the front desk agent changed all rooms to Christoph's name. I could prevent with a lot of effort that he called Christoph to show his passport and to confirm that we were a party. So I lost some valuable minutes.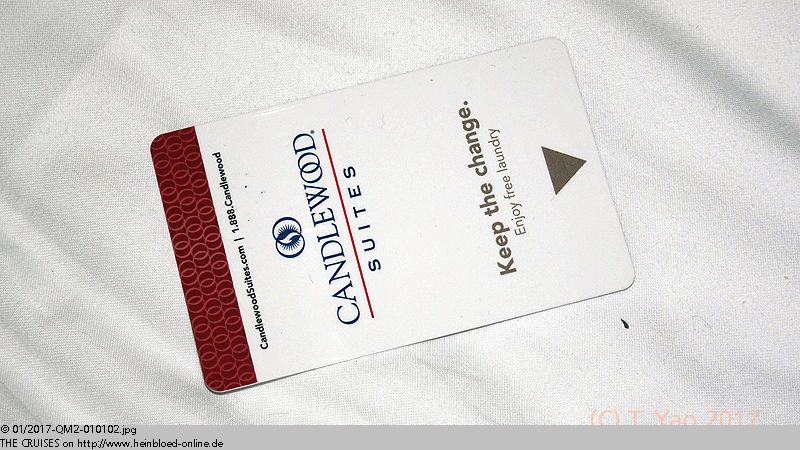 Der Tag fängt beschissen an. Meine Hotelkarte funktioniert nicht mehr, um vom Parkplatz zu kommen. Der Mitarbeiter an der Rezeption weigert sich, mir eine neue Karte auszustellen, weil der Mitarbeiter bei der Anreise alle Zimmer, die ich gebucht hatte, auf Christophs Namen umgeschrieben hat. Ich konnte gerade mit Mühe und Not noch verhindern, dass er bei Christoph anruft, um sich den Reisepass zeigen zu lassen und zu bescheinigen, dass wir zusammengehören. Dadurch verliere ich sehr wichtige Minuten.
Wieder am Teardrops Denkmal.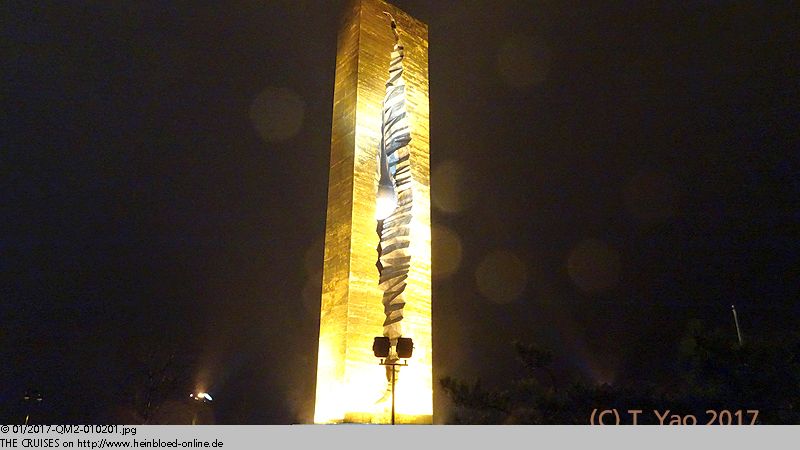 Again at the Teardrops Memorial.

That day it was nicely illuminated.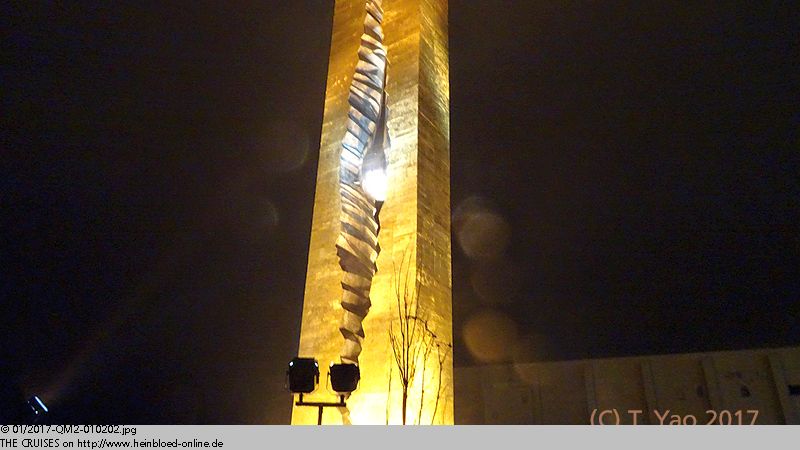 Heute sogar schön erleuchtet.
Leider komme ich genau die Minuten zu spät, die ich im Hotel verloren habe, um die QUEEN MARY 2 gut einlaufen zu sehen. Aber das diesige Wetter hätte auf dieser Seite kaum schärfere Aufnahmen unter diesen Umständen zugelassen.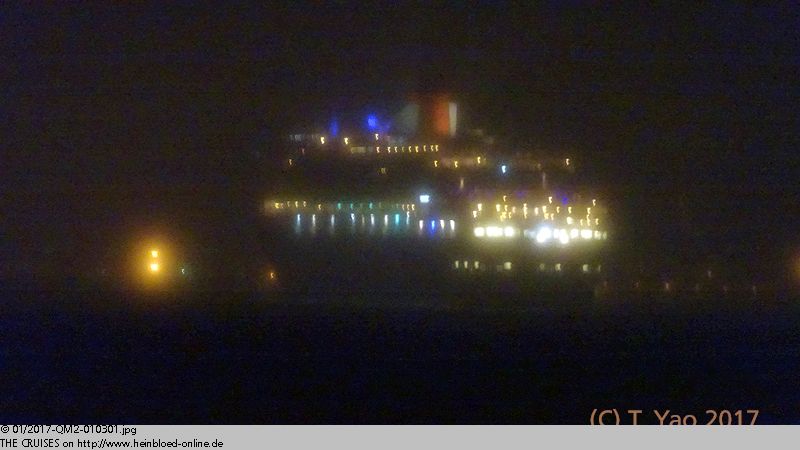 Unfortunately I came exactly those minutes too late which I lost in the hotel before to see well the arrival of QUEEN MARY 2. But that misty weather would not have allow any better and more pricise pictures under those circumstances.

2012 I could take from the Brooklyn-Side at Red Hook this picture. I should have gone there too that morning. But as misty as it was I doubt to have a chance to have the Statue of Liberty on the same shot again.

2012 konnte ich von der Brooklyn-Seite bei Red Hook diese Aufnahme machen. Ich hätte heute Morgen wieder da hin fahren sollen. Aber so diesig, wie es war, hätte ich wohl dann die Freiheitsstatue auch nicht darauf bekommen.
Ohne Shipspotting läuft bei mir nichts. Aber zum Glück habe ich sie ja wenige Monate zuvor in Hamburg im Trockendock gesehen. Also spiele ich ausnahmsweise mal die Bilder hiervon ein, weil ich auch später in Southampton keine Gelegenheit habe, viele Bilder zu machen.

I could not live without shipspotting. But I was lucky that few months ago I could see here in the drydock in Hamburg. So by exception I am adding those pictures since I should not have a chance again to take pictures in Southampton.

Bruno and I got an invitation to join Global Entry if we like when we arrived last time in Chicago. For 100 USD (non-refundable) we applied. Unfortunately we wrongly understood one little item: the interview we should not have in Frankfurt, Germany but the verification of our passport by the German authorities only. No appointments in London, England were avaialble. We could get December 31, 2016 at JFK but after many many new requests we got two appointments at January 3, 2017 in Newark, NJ. That was o.k. for us. The others had the half day for their "free disposal of their own" and must find a way to get themselves to the ship.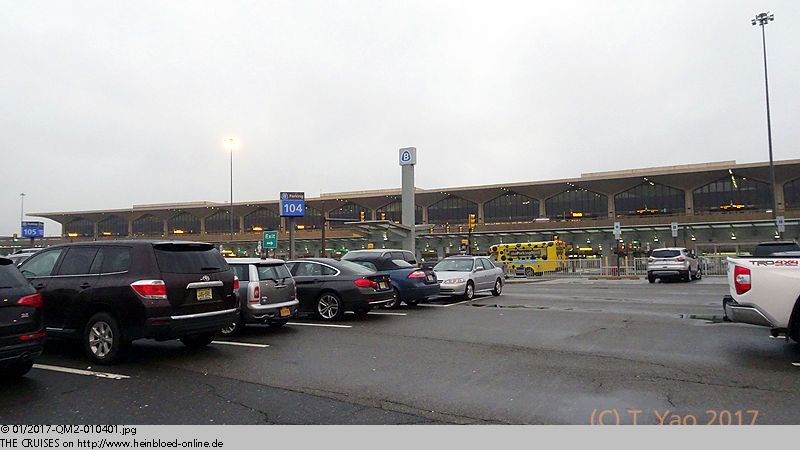 Bruno und ich hatten bei der Anreise zuletzt in Chicago eine Einladung erhalten, dass wir am
Global Entry-Programm
teilnehmen dürfen. Für 100 USD (nicht erstattbar) haben wir den Antrag gestellt. Leider habe ich eine Kleinigkeit falsch verstanden: die Interviews finden nicht in Frankfurt statt, sondern nur die Verifizierung des Reisepasses durch die Bundespolizei. Es gab keine Termine in London. Nur JFK hätten wir am 31.12.2016 haben können, aber nach vielen vielen Anfragen, haben wir noch zwei Termine am 03.01.2017 in Newark erhalten. Das war in Ordnung. Die anderen haben den Tag "zur freien Verfügung" und müssen selbst zum Schiff kommen.
Schnell suchen wir mal den Ort, an dem wir uns melden sollen.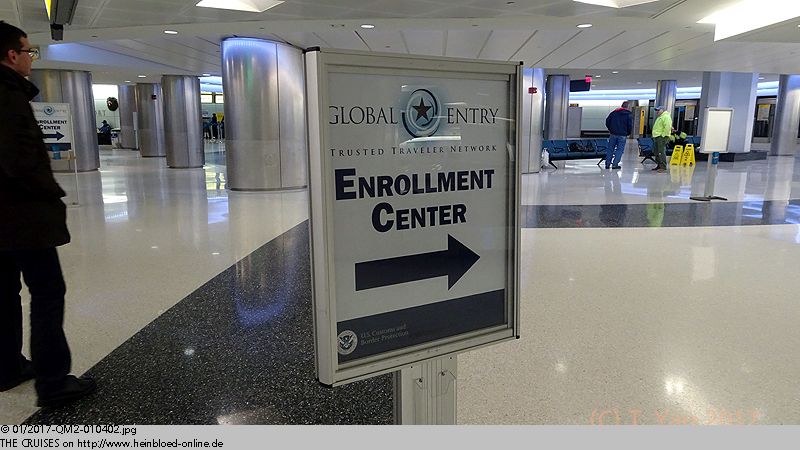 Quickly we were looking for the place we should report.

The interview took only few minutes. And then we got a little card and we were entiteld to join TSA Pre-Check. For another 85 USD. Another interview in the US. But we will not use this.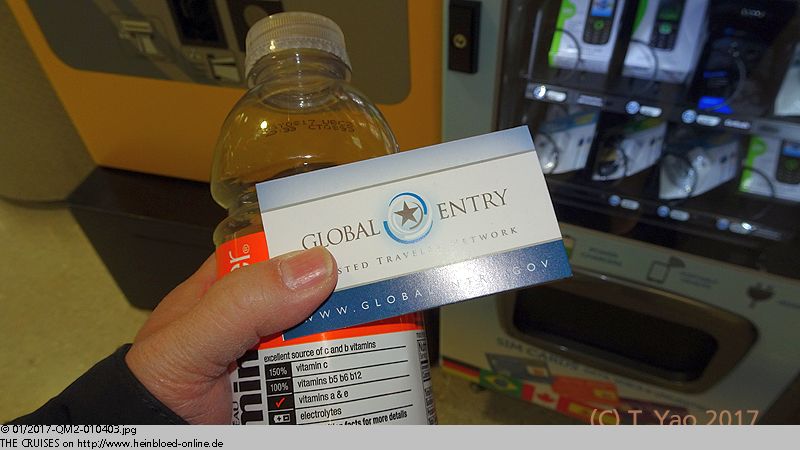 Das Interview dauert einige Minuten. Und dann bekommen wir ein Kärtchen und wir dürfen dann auch bei
TSA Pre-Check
mitmachen. Kostet wieder 85 USD extra. Noch ein Interview in den USA. Aber das machen wir nicht.
Zeit zum Frühstück: mexikanisch.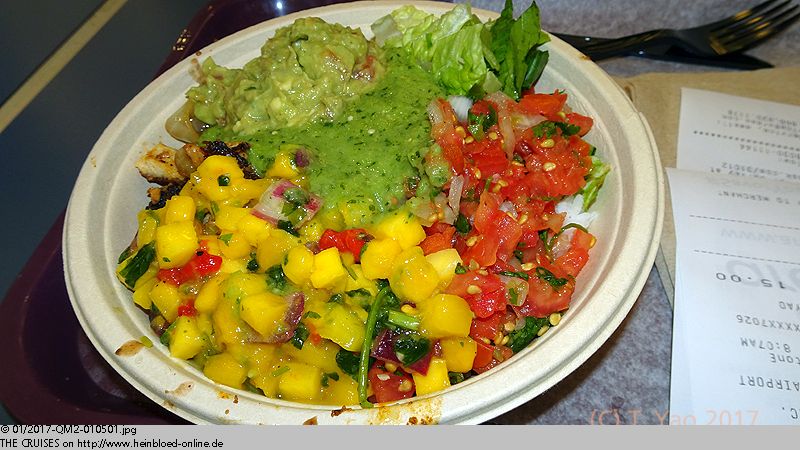 Time for breakfast: Mexican.

Bruno prefered to have a bagel, cream cheese, coffee...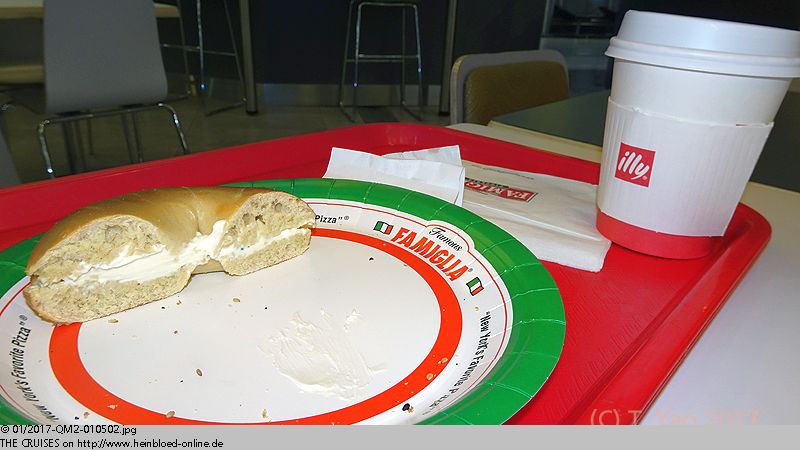 Bruno nimmt lieber Bagel, Frischkäse, Kaffee...
und einen frischen Saft...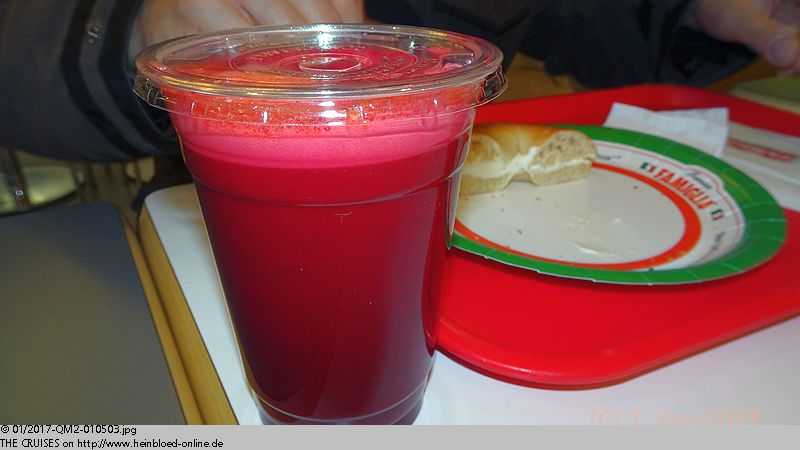 and a fresh juice...

As long as the coffee was from illy.

Hauptsache Kaffee von
illy
.
Zurück merkt man: Berchtoldstag vorbei. Alles fährt wieder zur Arbeit.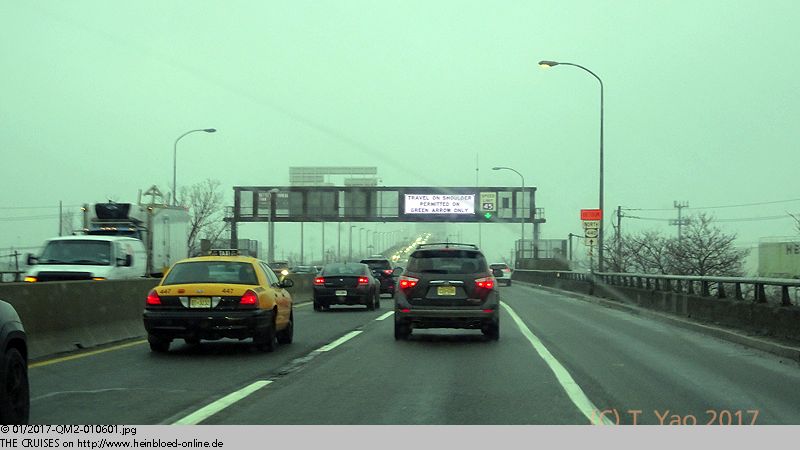 On the return way we could noticed: "Berchtoldstag" (Day after New Year) was over. Everyone went back for work.

Even the breakdown lane was open for traffic. We felt like home at our local interstate in Germany. There we could also go during the peak-time.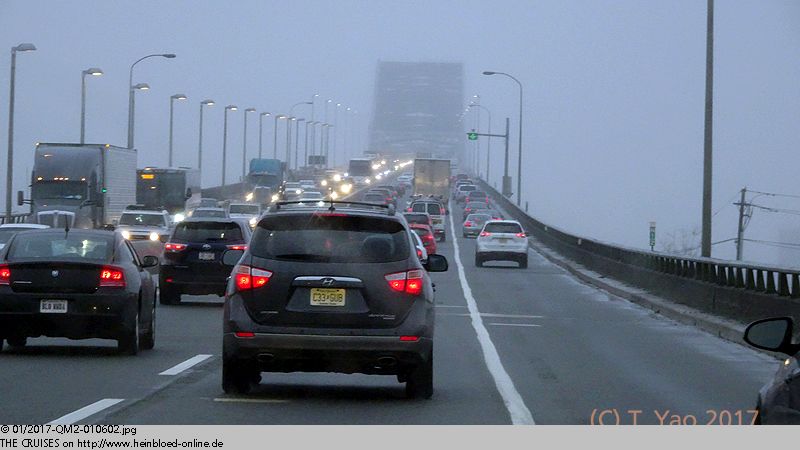 Sogar die Standspur wird freigegeben. Wir fühlen uns wie zu Hause auf der A5 zwischen Darmstadt und Seeheim-Jugenheim. Da dürfen wir das während der Hautpverkehrszeit auch.
Auch in Jersey City stoßen wir auf einen normalen Arbeitstag: Straßensperre wegen Baustelle. Im Hotel holen wir Sigi und das Gepäck von uns allen ab. Christoph und Karl sind nochmals nach Manhattan losgezogen. Sigi wollte nicht wegen der starken Regenfälle.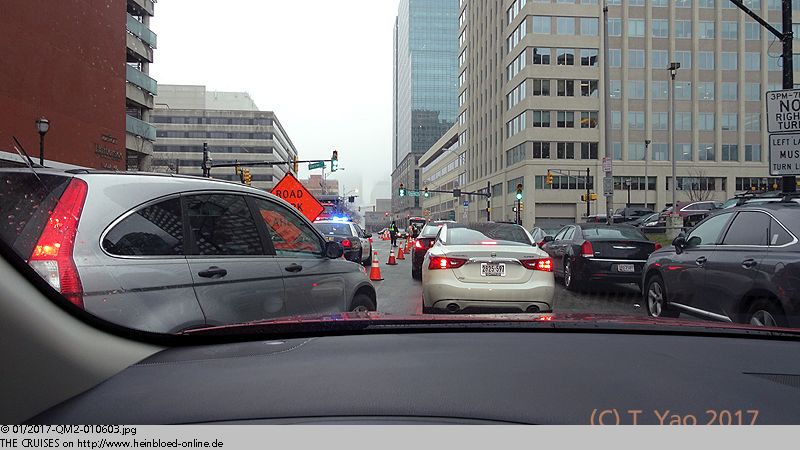 When we arrived in Jersey City we hit the regular working day: road closure due to road construction. In our hotel we picked up Sigi and the baggage from our party. Christoph and Karl went again to Manhattan. Sigi did not like because of the heavy rain.

We need to find a post office. Need to send a parcel to Frances.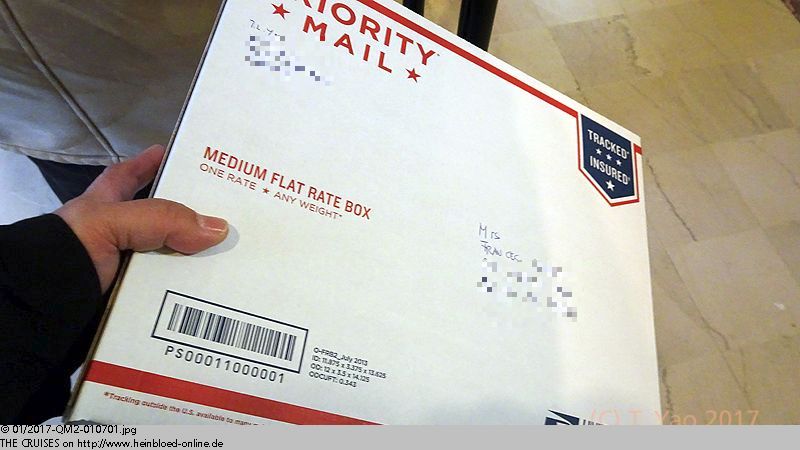 Wir müssen eine Post finden. Ein Paket an Frances schicken.
Schnell gehen wir noch zu
Shop Rite
, um uns mit Medikamenten einzudecken, die wir in Deutschland nicht bekommen. Mein Lieblings-Schleimlöser: Guaifenesin - in Deutschland nicht zugelassen. Gibt es daher nur in spezialisierten Import-Apotheken auf Rezept, wenn man mit deutschen Mitteln austherapiert ist und man es selbst zahlt. Etwas zuviel davon und man wird ein wenig entspannter und lustiger. Speziell als Sirup, wie wir damals in Alaska mit der
ISLAND PRINCESS 2013
feststellen konnten. Den kurzen Besuch bei
Macy's
kann man getrost vergessen. Das muss gestern wie Schlussverkauf gewesen sein. Die Verkäuferinnen sind sehr genervt und unfreundlich. Da helfen auch
10% Rabatt für Touristen
nichts. Hier macht im Moment Einkaufen keinen Spaß.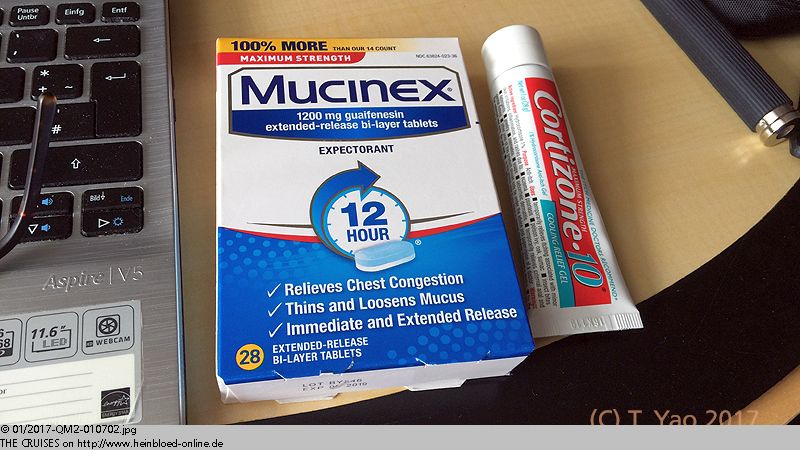 Quickly we went to Shop Rite to buy some medication we cannot buy in Germany. My favorite Chest Congestion Reliever: Guaifenesin - not permitted in Germany. You can only get in specialised pharmacy who arrange importation of medication against prescription if nothing else worked with German medication and you had to pay yourself. A little too much and you become a little more relaxed and funny. Especially as syrup as we could find out ourselves during our travel in Alaska on ISLAND PRINCESS 2013. The short visit with Macy's we should forget as soon as possible.. The day before it was obviouls big sale. The sales agents were annoyed and very unfriendly. So even 10% discount for foreign tourists did not help to keep us shopping. Actually shopping here was no fun.

We had extreme unluck. The direct way would allow us to fill our car before returning to the car rental. Exactly three lenghts of cars before we reached the ramp of the Hugh L. Carey Tunnel (better known as Brooklyn-Battery-Tunnel) nothing went anymore. We had luck that we could exit the ramp and made it over the Brooklyn Bridge. But now everybody went here and there was a construction site: only half of the lanes were available for the traffic. Originally I considered to use the IKEA-Express of NY Water Taxi to get to QM2. You would just passed her. But it was raining dogs and cats. So it would not made any sense that day.

Wir hatten ausgesprochenes Pech. Der direkte Weg hätte uns noch erlaubt, den Wagen voll zu tanken, bevor wir ihn zur Autovermietung zurückbringen. Genau etwa drei Wagenlängen bevor wir die Rampe des
Hugh L. Carey Tunnel
(besser bekannt unter Brooklyn-Battery-Tunnel) erreichen geht hier nichts mehr. Wir haben Glück, dass wir wieder von der Rampe wegkommen und über die
Brooklyn Brücke
fahren. Leider fahren hier jetzt alle entlang und es ist eine Baustelle: nur die Hälfte der Spuren steht zur Verfügung. Ursprünglich hatte ich mir überlegt mit dem
IKEA-Express
von NY Water Taxi zur QM2 zu fahren. Man wäre direkt an ihr vorbeigefahren. Aber es regnet in Strömen. Das macht heute keinen Sinn.
Bis 13.30 Uhr hätten wir bei
Hertz Atlantic Avenue
abgeben müssen, aber wir schaffen es erst um 13.38 Uhr. Man muss rechts zum Parkhaus in der Boreum Plaza.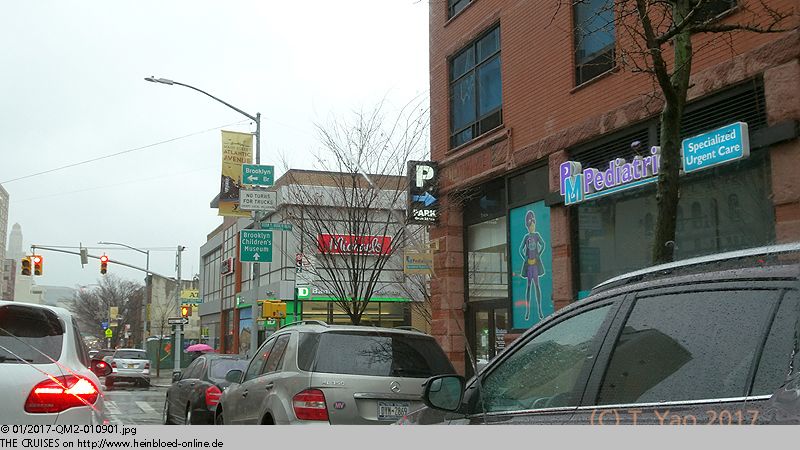 Until 13.30 hrs we should be with Hertz Atlantic Avenue to return the car. But we made it at 13.38 hrs. You need to make a right turn into Boreum Plaza to get to the parking.

Here you find the Hertz-sign to know that you have to get in here.

Hier sieht man erst das Hertz-Schild, dass es hier rein geht.
Wir kommen zu spät und wir haben nicht getankt. Beides möchte man berechnen.

We came to late and did not fill. Both should be charged to us.

After longer discussion they accomated my request: we only paid the fuel and they set the return time back to 13.30 hrs. 98.06 USD for filling. I was curious to know how much they would charge for the toll. Thy forgot to gell me that they would charge automatically by PlatePass. To deactivate you need to push the little grey box under the mirror. So I paid automatically my toll by using E-ZPass. I remeber they had before a sticker to attrack the attention that you should close if you do not want to use. The bill came in February: 45 USD. 15 USD was for the use. 15 USD just for the Holland Tunnel. The remain was fine. So we had no congestions and no handling of change for 15 USD more.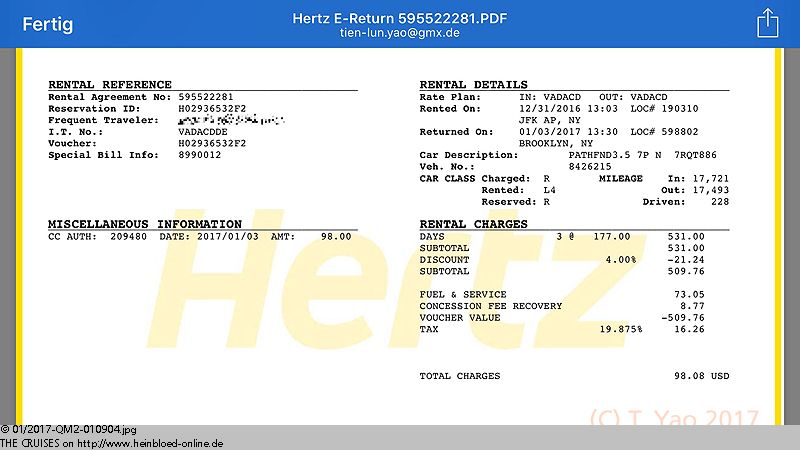 Nach etwas längerer Diskussion kommt mir entgegen: wir zahlen nur das Benzin und setzt die Rückgabezeit auf 13.30 Uhr zurück. 98,06 USD für das Nachtanken. Ich bin noch gespannt, welche Nachbelastung ich für die Maut bekomme. Man hatte mir vergessen zu sagen, dass automatisch der
PlatePass
aktiviert ist. Man muss das graue Kästchen unter dem Rückspiegel zu schieben, um es zu deaktivieren. So habe ich automatisch meine Maut über
E-ZPass
bezahlt. Früher gab es noch einen Aufkleber, der darauf aufmerksam machte, dass man es zu machen sollte, wenn man es nicht nutzen will. Die Abrechnung kommt dann im Februar: 45 USD. Davon 15 USD für die Nutzung. Und 15 USD für den Holland Tunnel. Der Rest hält sich in Grenzen. Dafür keine Staus und kein Kleingeldzählen für 15 USD mehr.
Bei unserer Reise
QUEEN MARY 2 2014
waren sie noch nett und haben uns zum Terminal gefahren. Heute müssen wir ein Taxi suchen. Wir erwischen ein grünes Taxi. Kein klassisches "
Yellow Cab
": ein
Kieztaxi
. Die klassischen gelben Taxis fahren nicht gerne in die Außenbezirke für kürzere Strecken, weil man dort keine großen Umsätze machen kann. Die grünen Taxis bedienen vorrangig kurze Strecken innerhalb eines Kiezes. Passt also perfekt zu uns.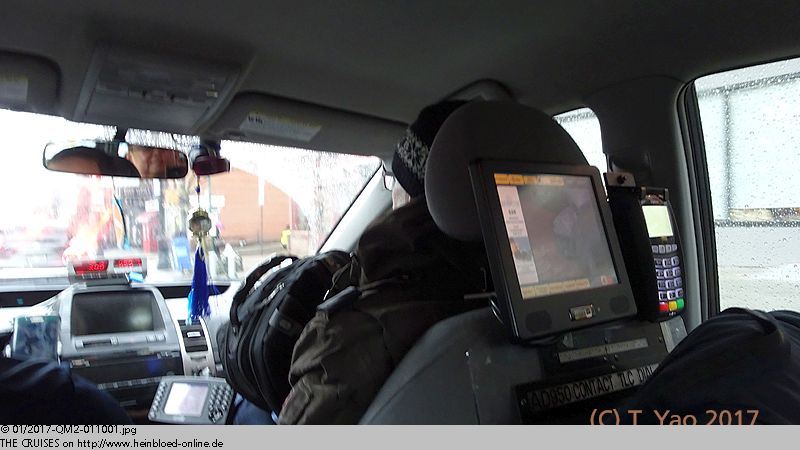 With our voyage on QUEEN MARY 2 2014 they were nice yet and took us to the terminal. Today we need to find a taxi. We got a Green Cab. Not a classical "Yellow Cab": a ein Boro Cab. The classical yellow cab do not like to go for short rides in the boroughs since you cannot make big revenues. So the green cabs served mainly short rides within a borough. So fit perfect to us.

We had space and were happy. We were shouting loud out of the last night in the other taxi on the way to our friends.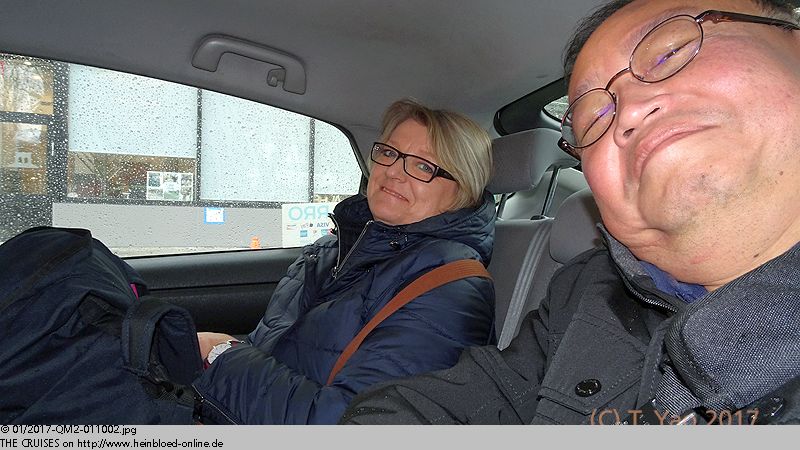 Wir haben Platz und sind glücklich. Wir lachen noch über den gestrigen Abend in dem anderen Taxi mit dem wir zu unseren Freunden unterwegs waren..
Wieder am Brooklyn Cruise Terminal. Prima: wir haben die Steuerbordseite und damit den Blick auf die Skyline von Manhattan und die Freiheitsstatue.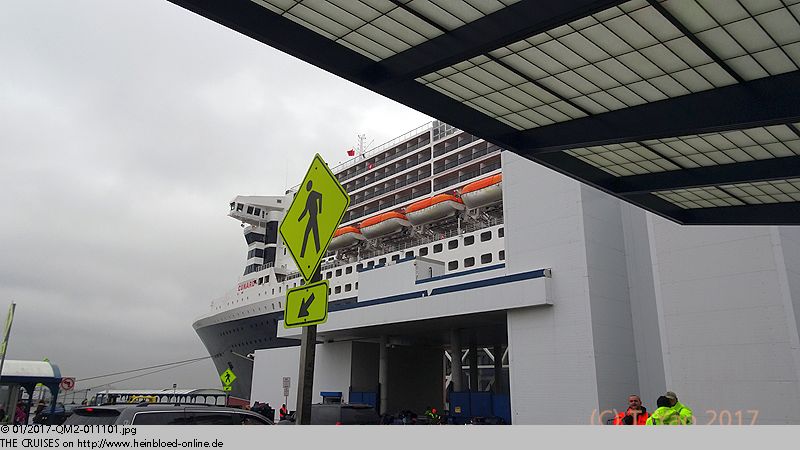 Back at the Brooklyn Cruise Terminal. Great: we have the starboard side and so we had the view to Manhattan and the Statue of Liberty.

No more queues.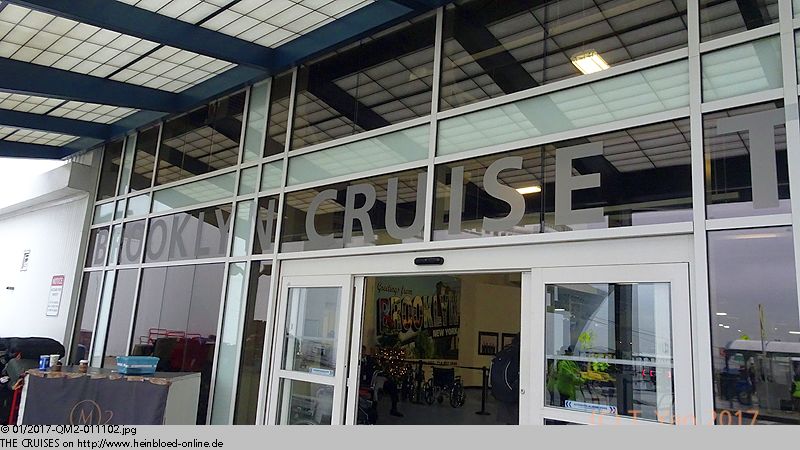 Keine Schlangen mehr.
Alles leer.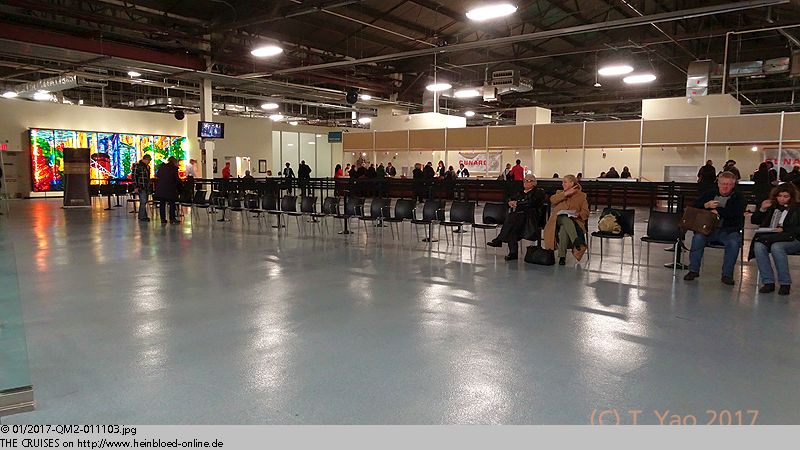 Everything was calm.

Responding the health questionaire.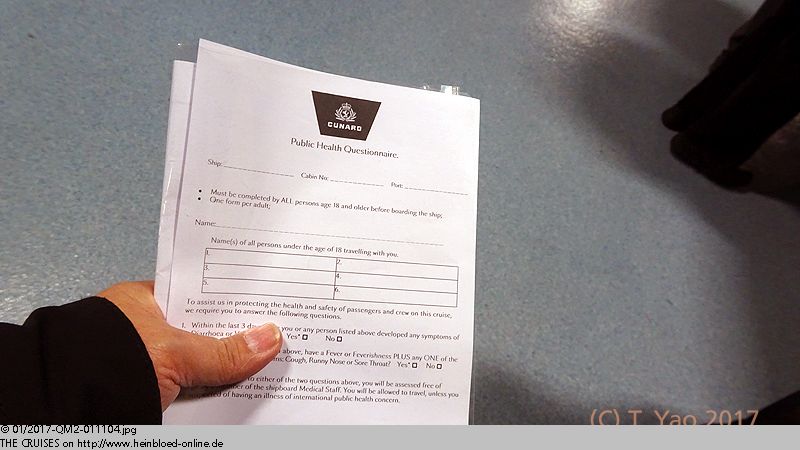 Gesundheitsfragen beantworten.
Und direkt in die Schlange für Platinumgäste.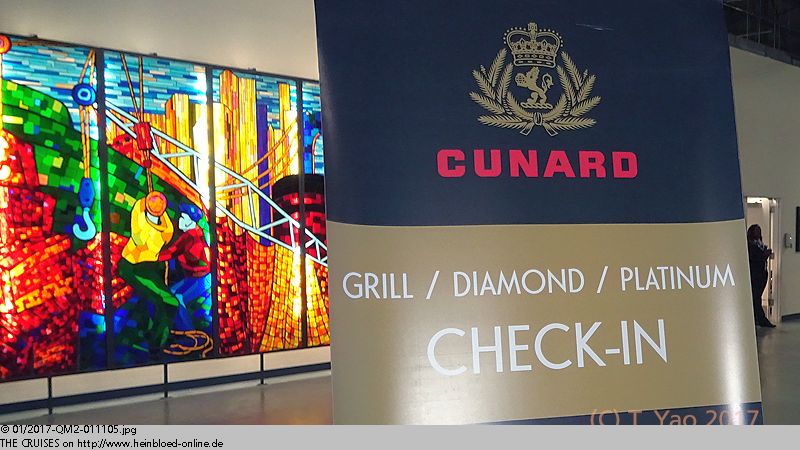 So directly to the queue for Platinum guests.

We booked our cabin onboard of our voyage on QUEEN MARY 2 2015. Originally we booked for a price of 2,853.50 USD for the cabin incl. 500 USD onboard credit. Thanks to Dorothy of cruisebrothers.com we paid finally 1,736.44 USD and had 850 USD onboard credit. It would be more expensive to stay at home.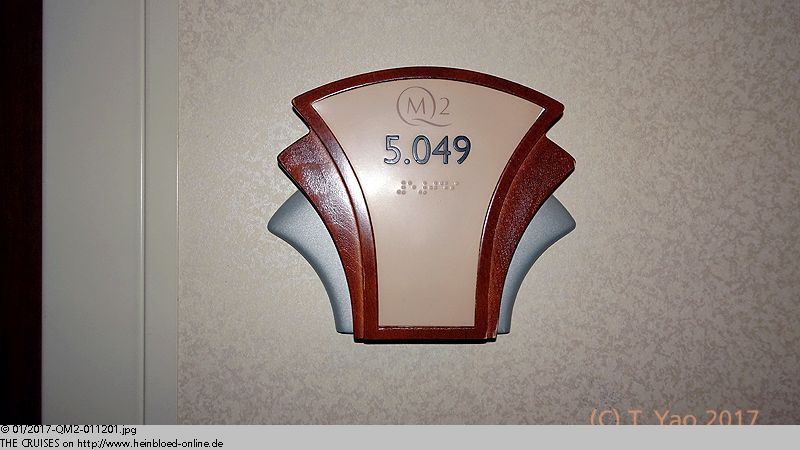 Unsere Kabine haben wir damals an Bord auf der
QUEEN MARY 2 2015
gebucht. Ursprünglich sollten wir 2.853,50 USD für die Kabine bezahlt und hätten 500 USD Bordguthaben bekommen. Dank
Dorothy
von
cruisebrothers.com
haben wir am Schluss 1.736,44 USD bezahlt und 850 USD Bordguthaben bekommen. Zu Hause bleiben wäre teurer gewesen.
Als wir ankommen steht unser Gepäck bereits in der Kabine.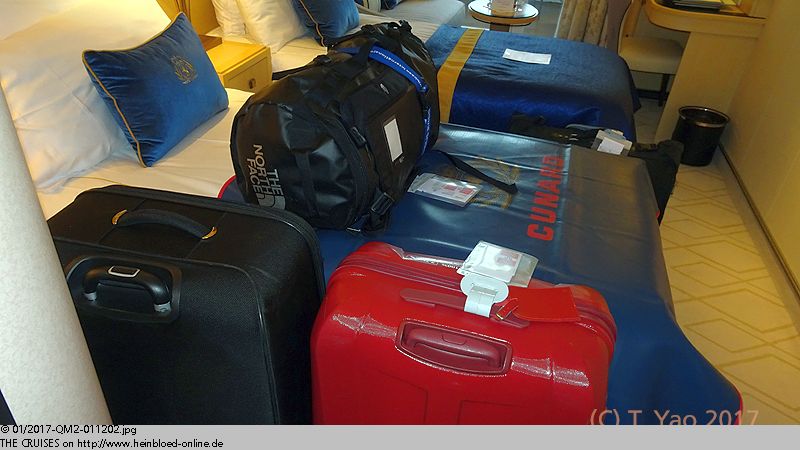 When we arrived our bags made it already into our cabin.

We got our champagne. I did not ask for exchange against water since we have enough fellow-cruisers who drank.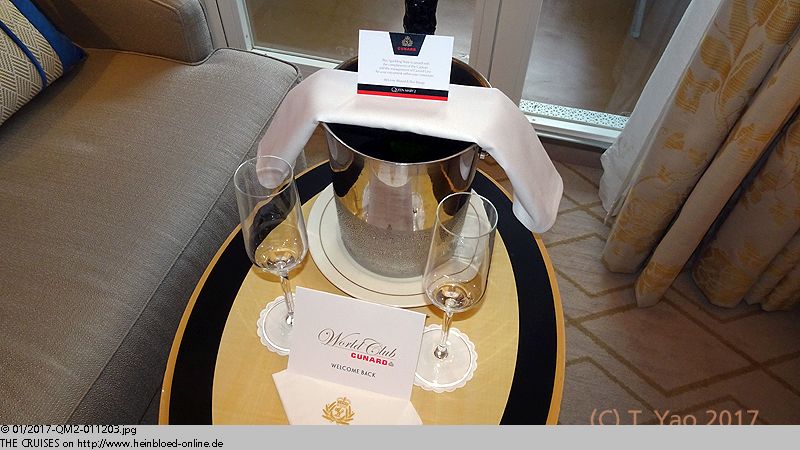 Wir bekommen unseren Sekt. Ich habe nicht um Austausch gegen Wasser gebeten, weil wir genügend Mittrinker haben.
Viele Neuerungen: Flach-Bildschirm an der Wand, der Wasserkocher dort, wo der Fernseher vorher stand. Und ganz klasse: Wasserpakete für die Kabine.

Many new changes: flat-TV on the wall, the water boiler there where the TV was before. And very good: water packages for the cabin.

The sheltered balcony. Very practical if you have worse weather as you could stay there some times with beeing wind-protected.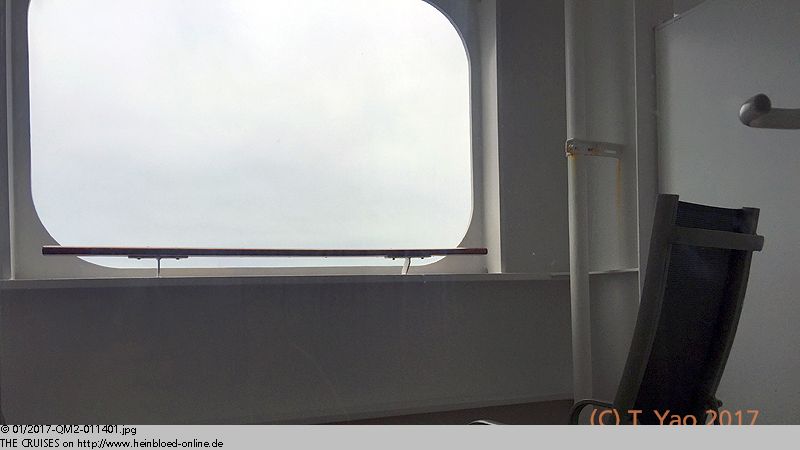 Der umbaute Balkon. Sehr praktisch bei schlechterem Wetter, weil man doch windgeschützt dort etwas Zeit verbringen kann.
Leider haben wir Pech mit dem Ausblick: immer noch diesig. So sah es vor drei Jahen aus, als ich mit meinen Eltern unterwegs war:
QUEEN MARY 2 2014
.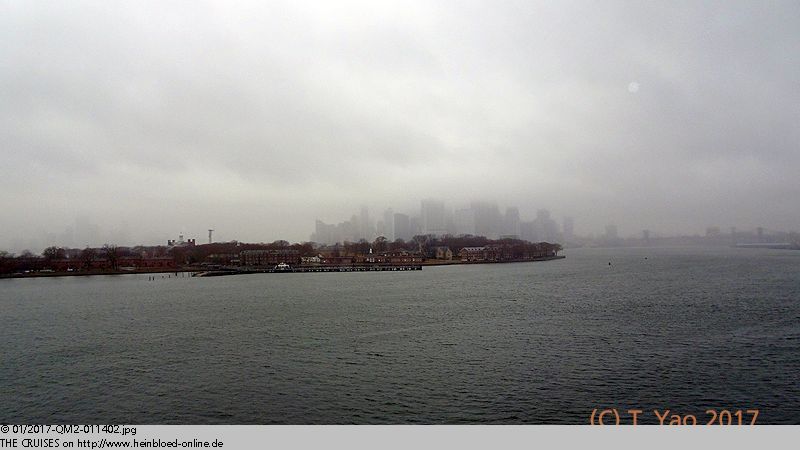 Unfortunately we had unluck with our view: still misty. That it was look like three years ago when I was with my parents on QUEEN MARY 2 2014.

A little later it became better. But the Statue of Liberty was hardly to see.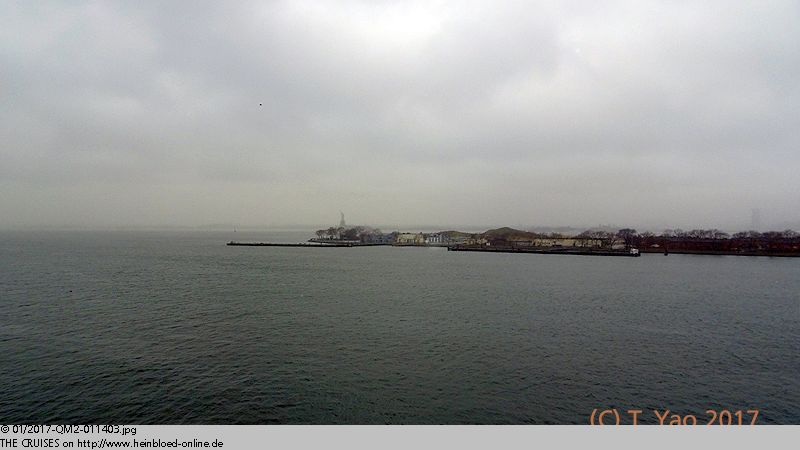 Wenig später wird es etwas besser. Aber die Freiheitsstatue bleibt kaum zu sehen.
Und es wird immer dunkler.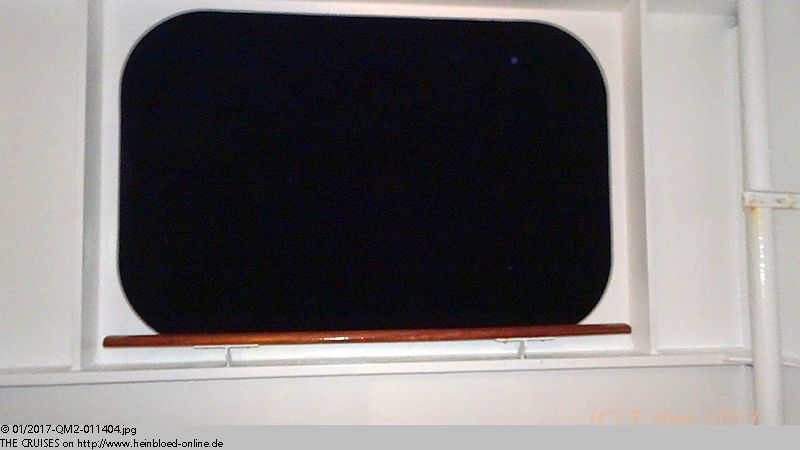 It became darker.

Litte table or little stool?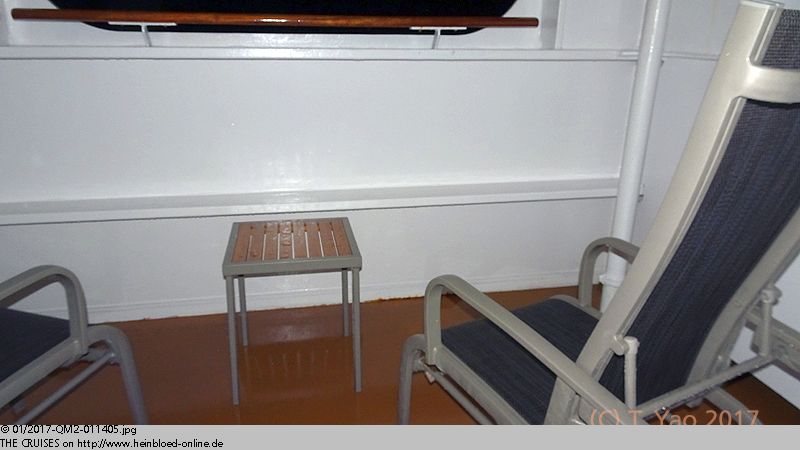 Kleiner Tisch oder kleiner Hocker?
In der Dusche hat sich nichts verändert.

Nothing has changed in the shower.

QUEEN MARY 2 had no fix shower heads like we had on QUEEN VICTORIA or QUEEN ELIZABETH.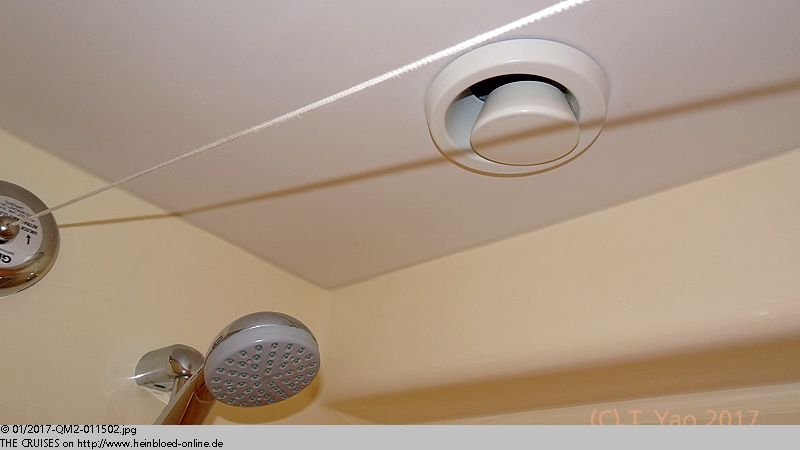 QUEEN MARY 2 hat keine festen Duschköpfe, so wie auf der QUEEN VICTORIA oder QUEEN ELIZABETH.
Wir gehen eine Kleinigkeit im King's Court essen.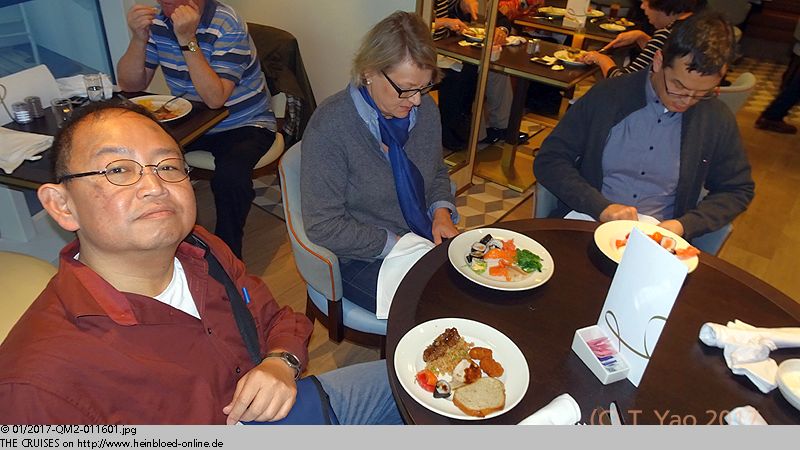 We went to have a small bite in the King's Court.

New conception but food was as good as before.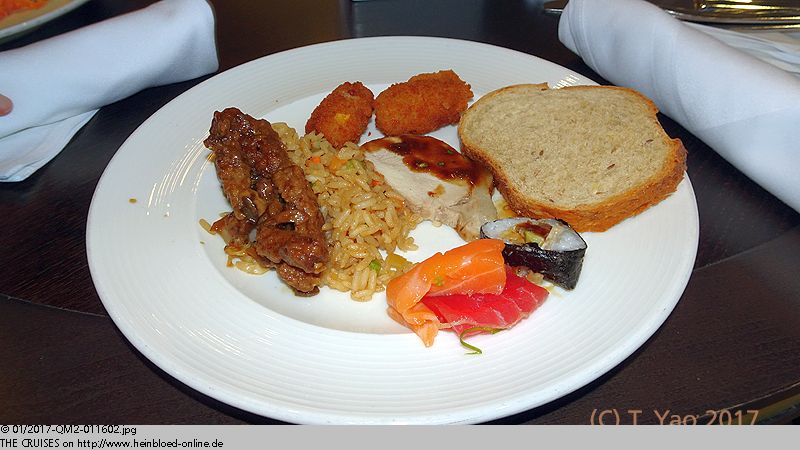 Mit neuem Konzept. Aber gleich gutes Essen wie früher.
Viel zu lecker.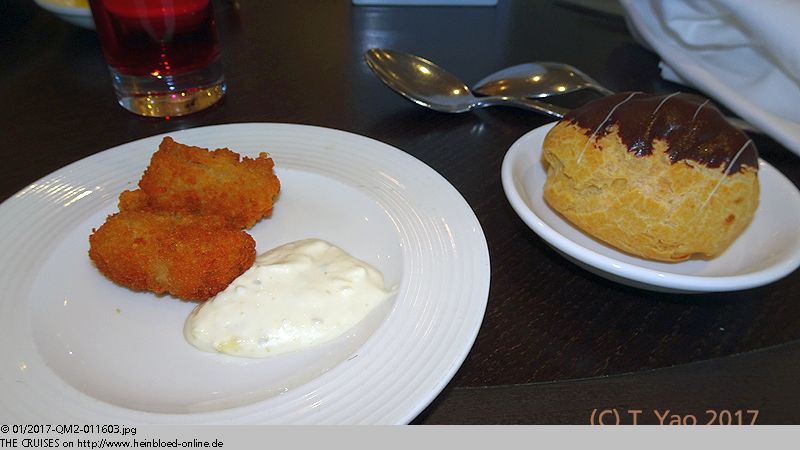 Too tasty.

Fruits and pudding.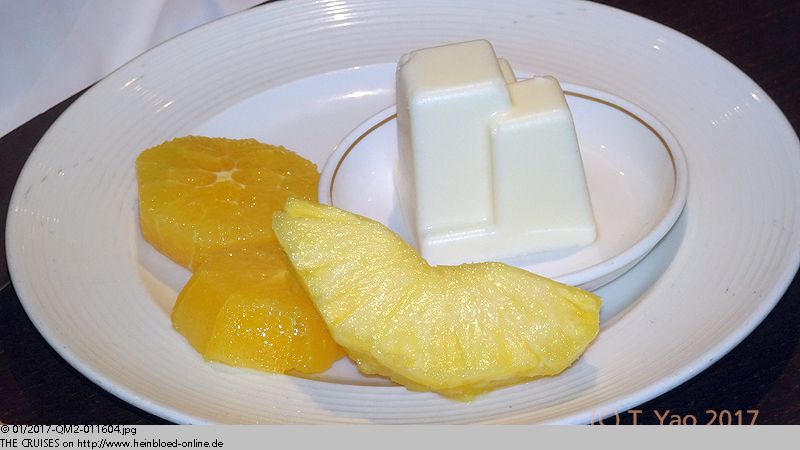 Obst und Pudding.
Neu ist die Carinthia Lounge an der Stelle des Wintergartens.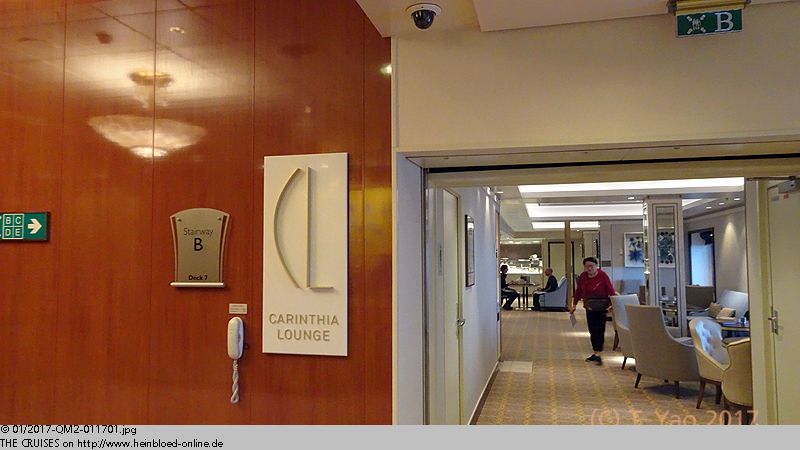 New was the CarinthiaLounge instead of the Winter Garden.

Here you can also get some small bites to eat.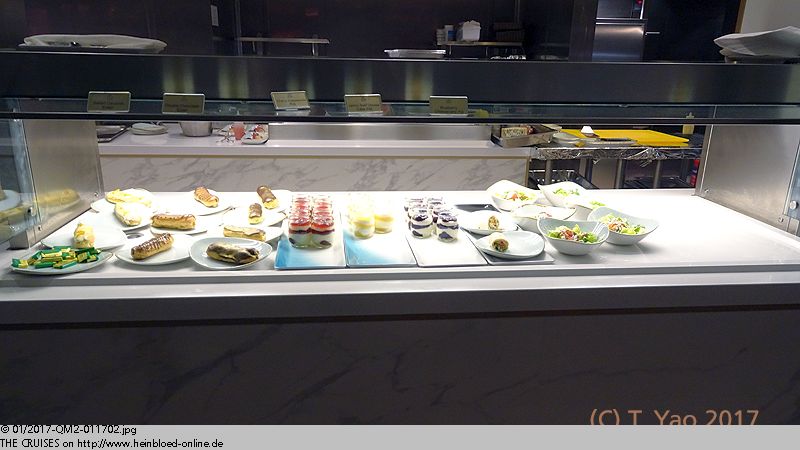 Auch hier bekommt man Kleinigkeiten zu essen.
Auch warme Kleinigkeiten.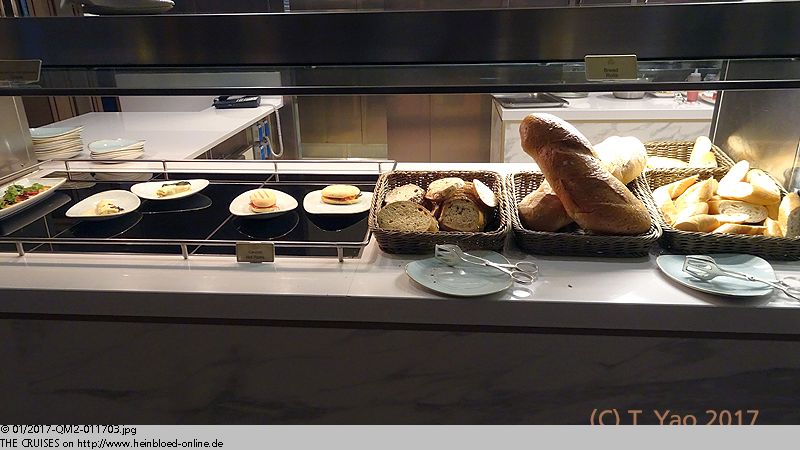 Also hot bites.

Here we need to have a coffee.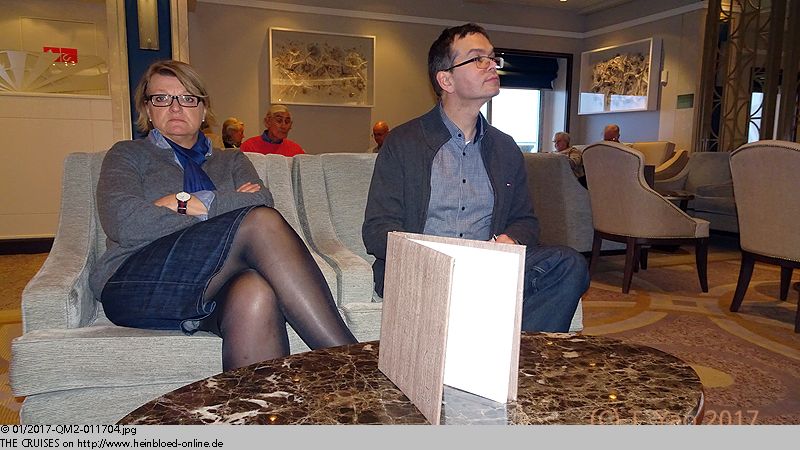 Hier trinken wir mal Kaffee.
Und nehmen direkt eine rabattierte Kaffeekarte.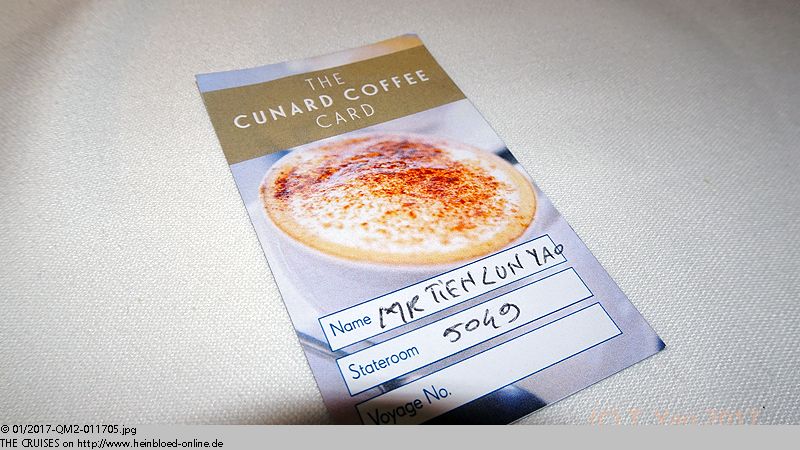 And we took immediately a discounted coffee card.

We went to see the Spa-area. There we all decided to buy a weekpass for the saunas, steam bath, thalasso-pool and resting rooms. Four single admissions would be more.

Wir gehen in den Spa-Bereich. Dort entscheiden wir uns für einen Wochenpass für die Saunen, das Dampfbad, Thalasso-Bad und Ruheräume. Vier Einzeleintritte kosten mehr.
Ein kurzer Blick in das Royal Theater.

A quick view into the Royal Theater.

CUNARD PRINCESS... sad... not CUNARD COUNTESS... later OCEAN COUNTESS und sometime in between also LILI MARLEEN 2006... Here our passion for cruising began.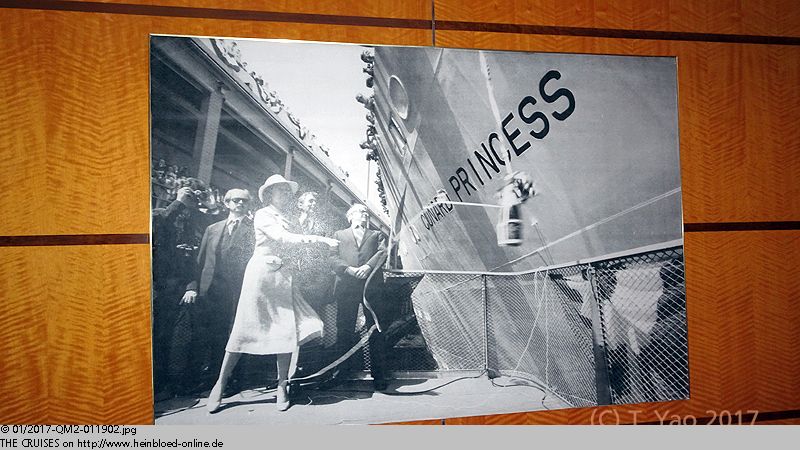 CUNARD PRINCESS... schade... nicht die CUNARD COUNTESS... später
OCEAN COUNTESS
und irgendwann dazwischen auch mal
LILI MARLEEN 2006
... Hier begann unsere Kreuzfahrtleidenschaft.
Auf zur Seenotrettungsübung. Damit wir uns mit dem kürzesten Weg zur Sammelstelle vertraut machen, dürfen wir direkt die Crew-Treppenhäuser benutzen.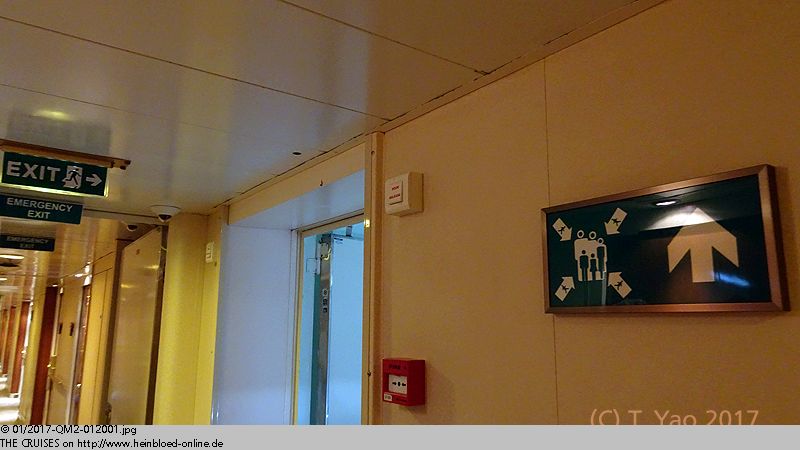 We were heading for the life drill. To make us familiar with the shortest way to the muster station we were allowed to use the crew-stairways.

Somehow not familiar for us. We experienced this only the 3rd time. Recently on DISNEY DREAM.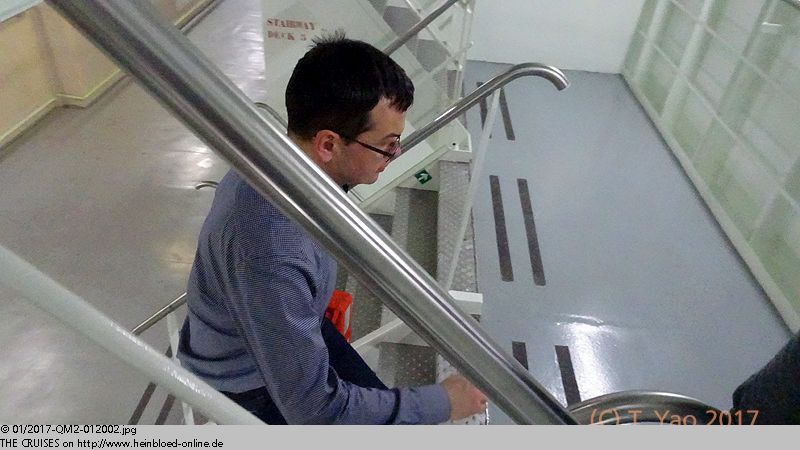 Ist auch für uns ungewohnt. Haben wir bislang nur 3 x erlebt. Zuletzt auf der DISNEY DREAM.
Klassisch noch mit Rettungsweste.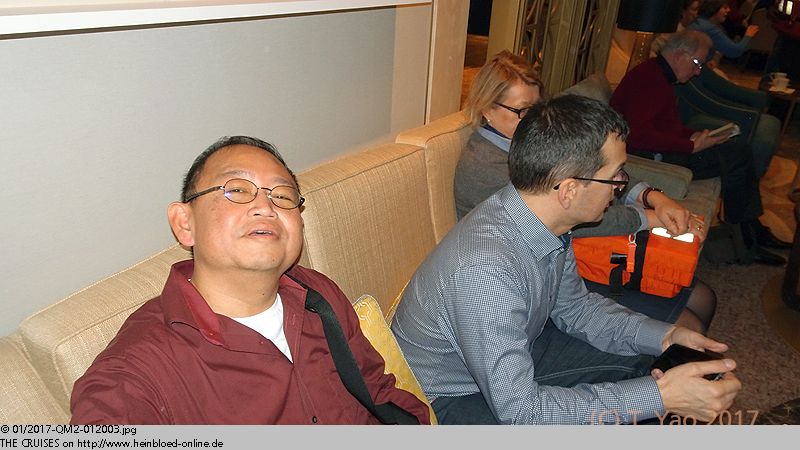 Classical way still with life vest.

We observed our neighbours through a visible protection.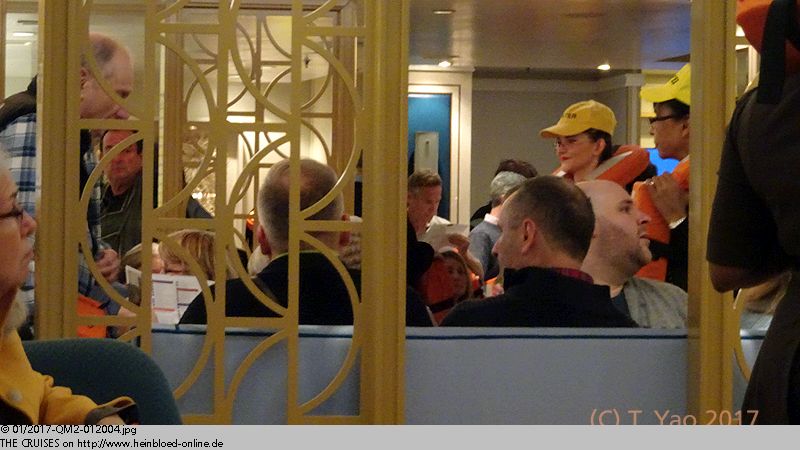 Die Nachbarn beobachten wir durch den Sichtschutz.
Wie gesagt: die Ausfahrt 2014 war schöner.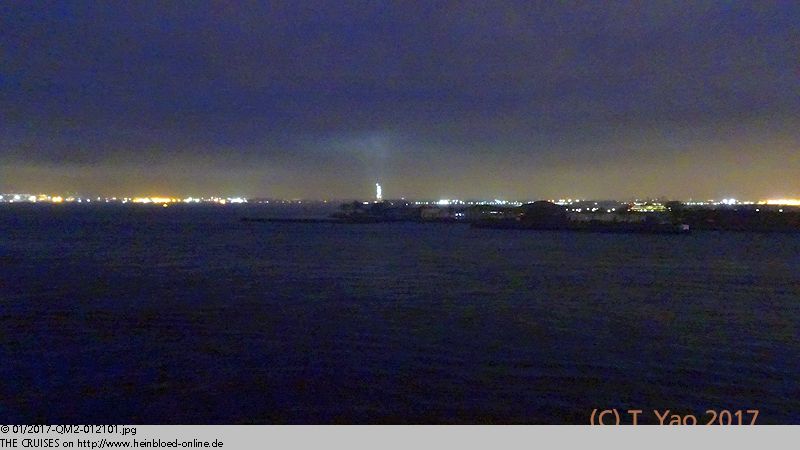 As said before: set sail 2014 was nicer.

You could see that the camera was unable to work properly and deliver clear pictures.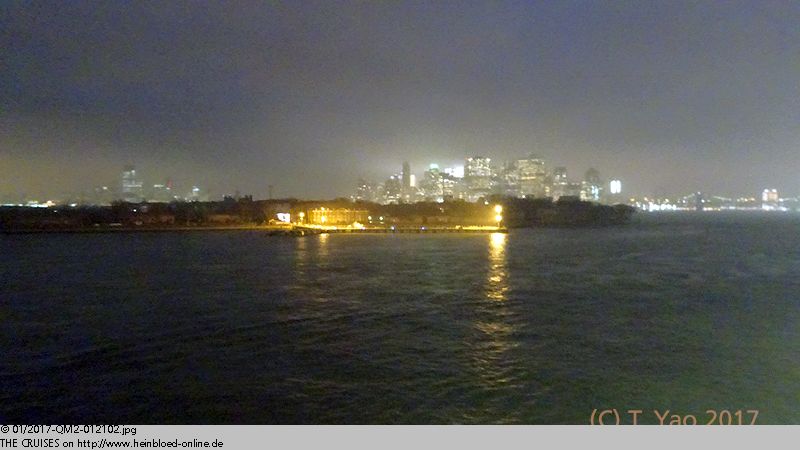 Man merkt, dass die Kamera nicht klar kommt und keine scharfe Bilder liefert.
Deswegen nochmals der Verweis zur
QUEEN MARY 2 2014
.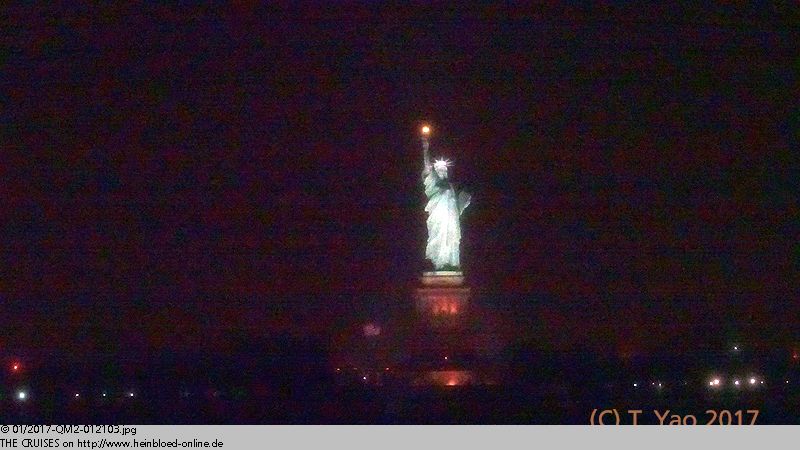 So again a reference to our voyage on QUEEN MARY 2 2014.

Due to the reflexion of the bright city lights of the Big Apple in the skies you had also such effects.

Durch die Reflexion der Großstadtlichter des Big Apples in den Wolken gab es dann auch solche Effekte.
Es geht zum 1. Abendessen im Britannia Restaurant. Hier haben wir schon einen tollen Sommelier Abelardo. Die anderen stelle ich nach und nach vor.

We went for our first dinner in Britannia Restaurant. Here we had a great sommelier Abelardo. The other who took care of us I will introduce by and by.

And I was celebrating reunion with Olexander whom we knew from our voyage on QUEEN VICTORIA 2008. I felt like with "Hello Dolly" when Barbara Streisand was welcomed in her favorite restaurant again. But with the act on the show staircase. For that Christoph was more in charge...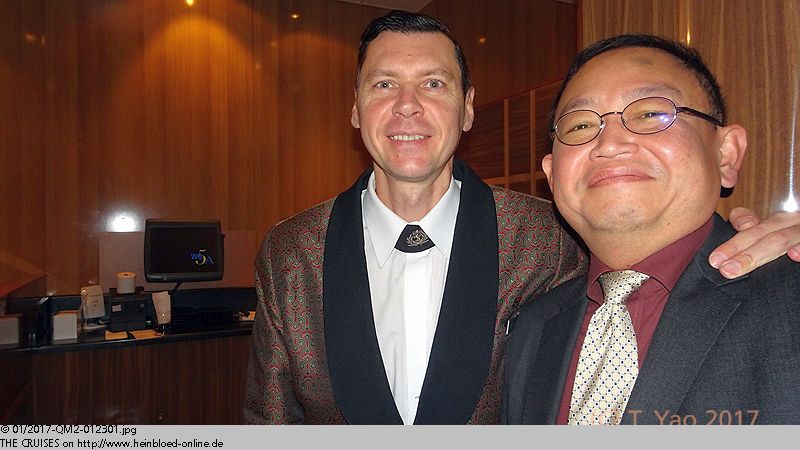 Und ich feiere Wiedersehen mit Olexander, den wir seit unserer Reise auf der
QUEEN VICTORIA 2008
. Ich komme mir vor wie bei "
Hello Dolly
" als Barbara Streisand so in ihrem Lieblingsrestaurant wieder begrüßt wird. Allerdings ohne die Einlage auf der Show-Treppe. Für so etwas ist dann Christoph zuständig...
Elvis gehört zur Crew von meiner
QUEEN MARY 2 2014
-Reise.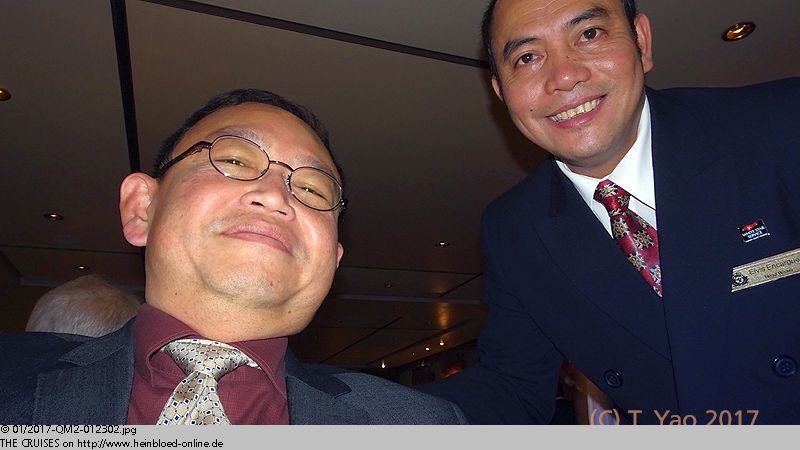 Elvis was part of the crew of my voyage on QUEEN MARY 2 2014.

Attila we knew from our voyages on QUEEN MARY 2 2014 and QUEEN MARY 2 2015.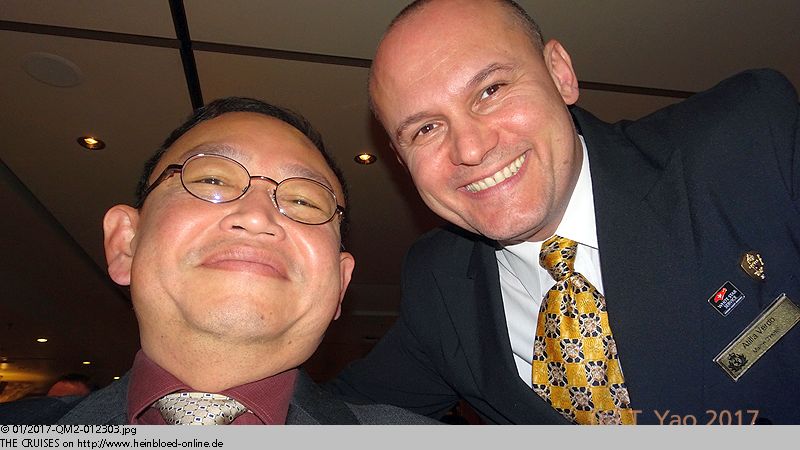 Attila kenne ich von den Reisen auf der
QUEEN MARY 2 2014
und
QUEEN MARY 2 2015
.
Abdulsharief von der
QUEEN MARY 2 2015
mit meinem allerletzten Essen im Todd English.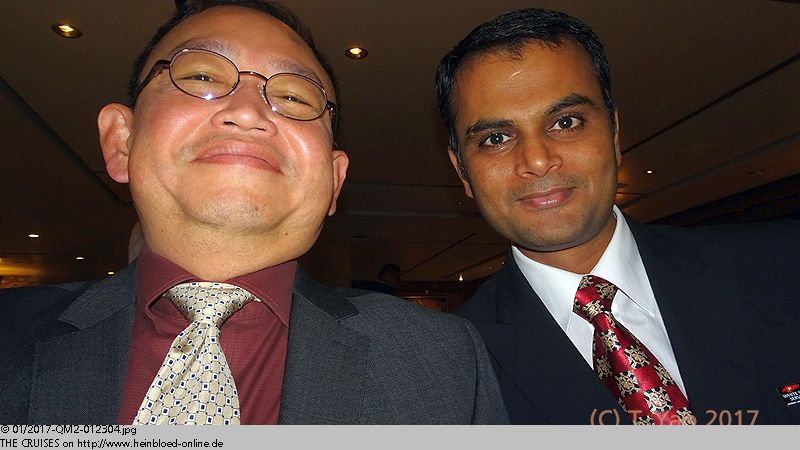 Abdulsharief from QUEEN MARY 2 2015 with my very last meal in Todd English

And Rommel from QUEEN MARY 2 2014. And I need to apology to everyone that I did not make it to translate in the last three years. I reilled my power with them to enter the next section of my life and which made me a making a longer creative break but I promise to work on the translatation as still the whole world should know how wonderful you treated my family, my friends and me.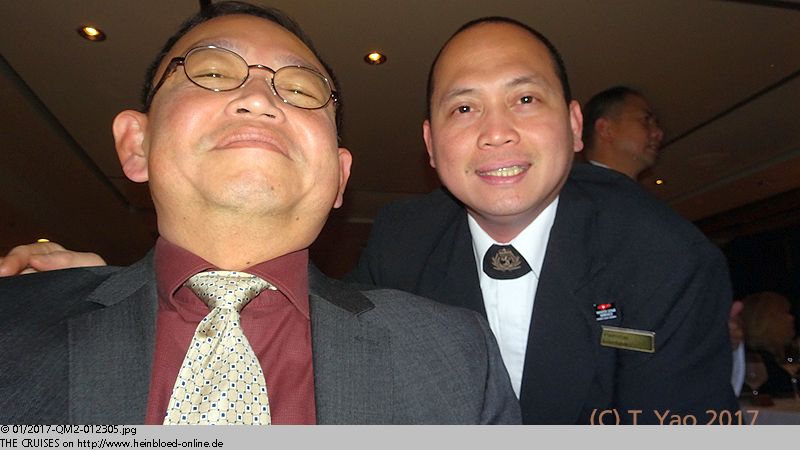 Und Rommel von der
QUEEN MARY 2 2014
. Ich muss mich bei denen allen entschuldigen, dass ich es auch in drei Jahren bislang die Übersetzung nicht geschafft habe. Ich habe bei denen Kraft getankt, um in die nächste Phase meines Lebens einzutreten und das führte dazu, dass ich eine längere schöpferische Pause brauchte, aber ich verspreche, dass ich die Übersetzungen nachhole weil die ganze Welt ruhig wissen soll, wie wunderbar ihr meine Familie, meine Freunde und mich behandelt habt.
Wir buchen uns noch das Internetpaket.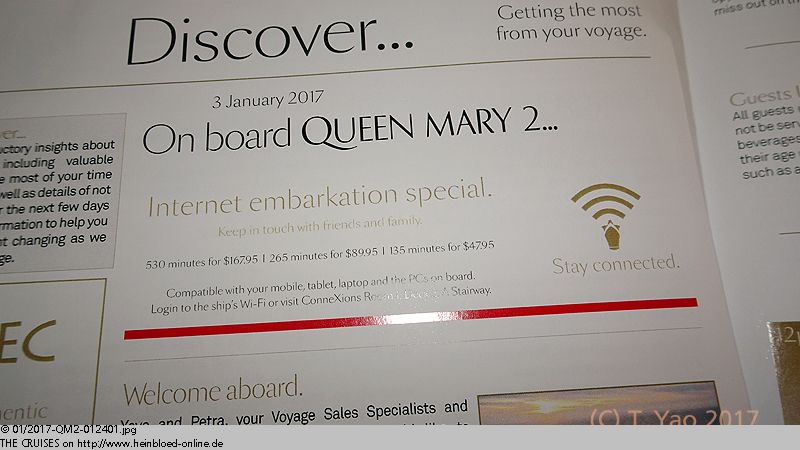 We booked the internet package.

Something changed.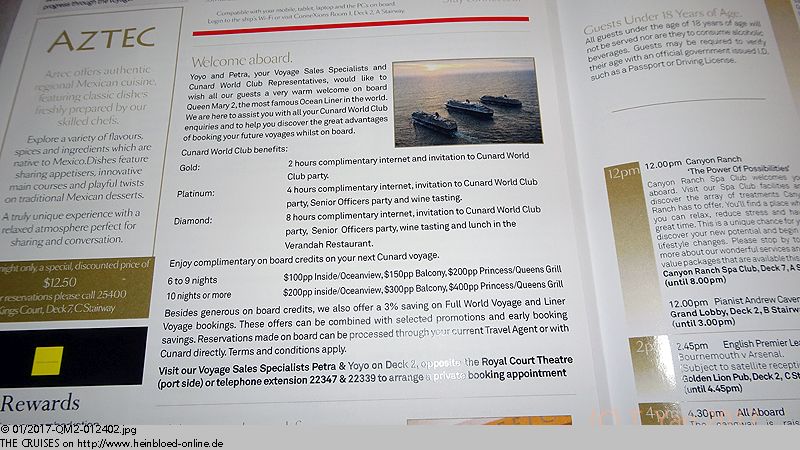 Irgendwas hat sich verändert.
Es ist schneller und billiger geworden. Klasse. Wobei wir die ersten 240 Minuten sowieso kostenlos haben, weil wir Platinstatus beim Cunard World Class haben. Und jetzt geht die Erholung los: Sechs volle Seetage stehen uns bevor.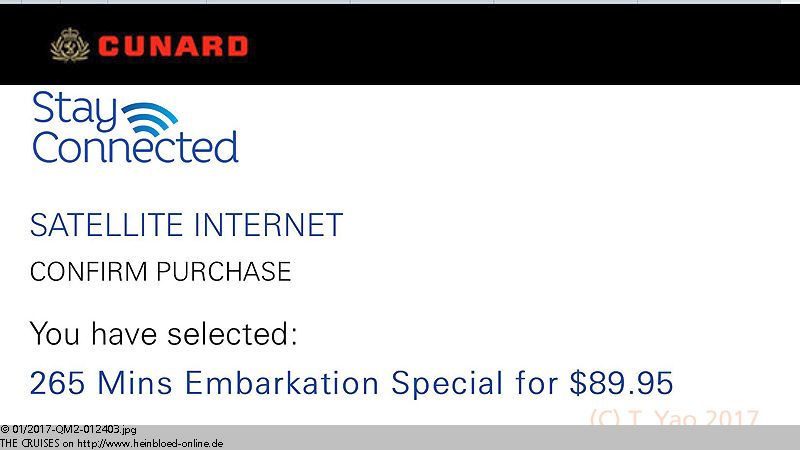 It become faster and cheaper. Great. As we had the first 240 minutes free of charge because we are Platinum tier of Cunard's World Club. And now the relation started: six full days of sea were waiting for us.