Der letzte Seetag. Ich bin ja schon froh, dass wir nicht wie früher mit einem Seetag weniger auskommen müssen. Mein selbstgemachter Eistee: was werde ich den vermissen.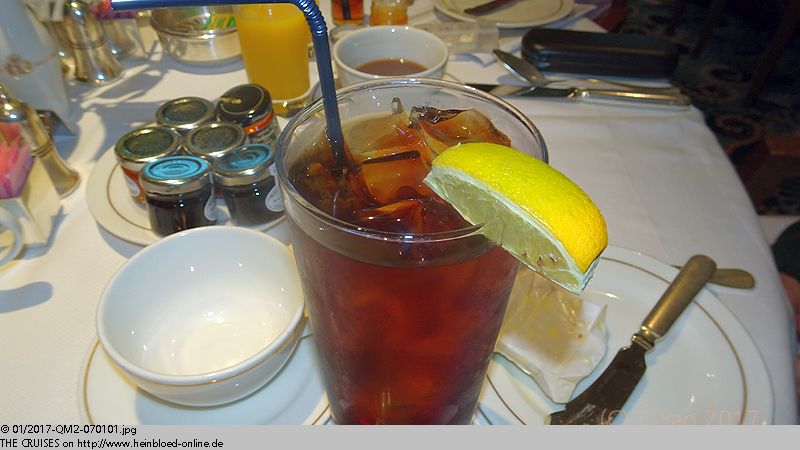 The last day at sea. I was quite happy that we had not anymore one day less to spend like then. How much will I miss my selfmade iced tea.

And I was the happiest guest onboard. Thanks for the congee which I also could get in the Britannia-Restaurant.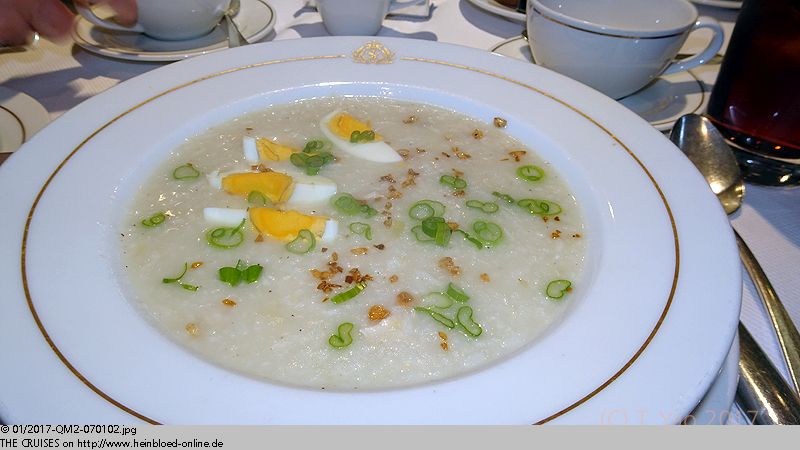 Und ich bin der glücklichste Gast an Bord. Dank des Congees, den ich jetzt auch im Britannia-Restaurant bekomme.
Das ist übrigens der Unterschied zwischen einem Rührei aus Tetra-Box-Eiern und unten frischen Eiern.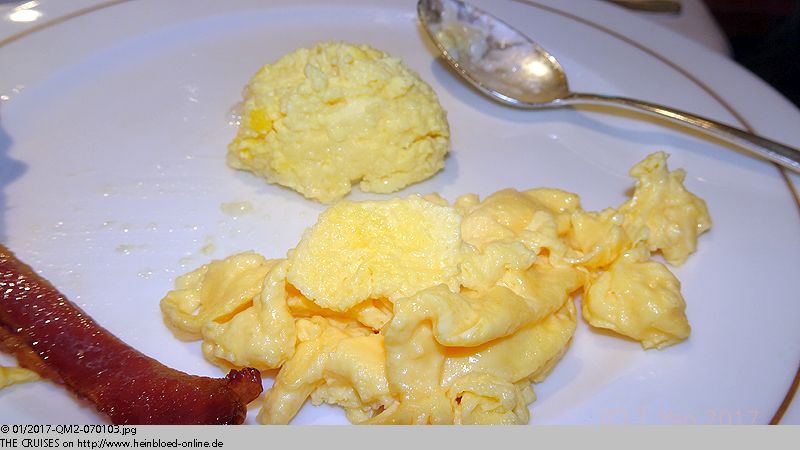 Here you could see the difference between scrambled eggs made of boxed eggs and the fresh eggs at the bottom.

The very last coffee with james and Sinobuhle. She got out the lactose free milk when she saw me coming in. I was not the morning coffee drinker.
But in the relaxed atmosphere on board I enjoyed it in Sir Samuel's.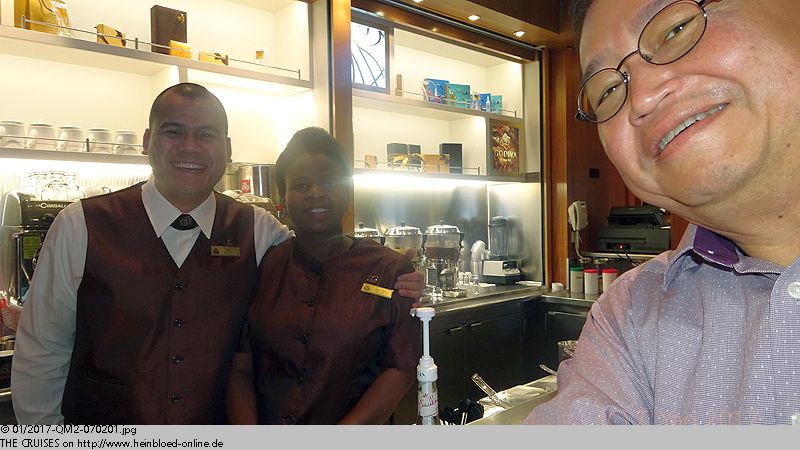 Zum letzten Kaffee mit James und Sinobuhle. Sie hat ja schon die laktosefreie Milch schon rausgeholt, wenn sie sah, dass ich komme. Ich bin ja nicht der morgenliche Kaffeetrinker. Aber hier in der Ruhe des Seetags habe ich ihn gerne im Sir Samuel's genossen.
Unsere Wäsche kommt so zurück, dass wir es direkt in den Koffer packen können.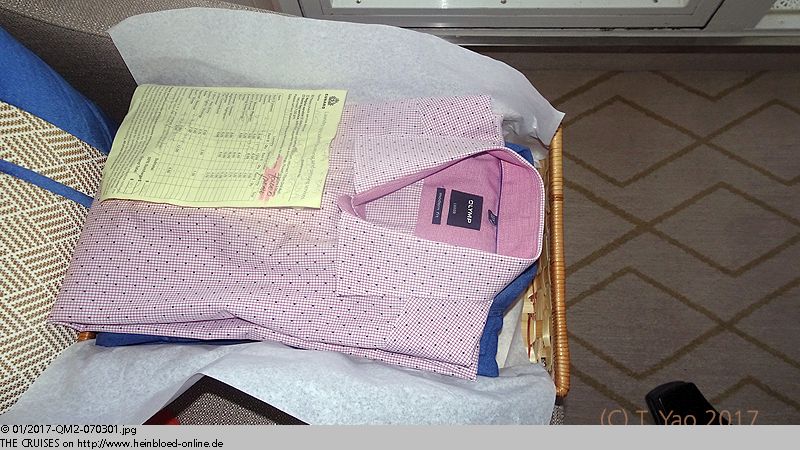 Our laundry came back in a way we could just simply put it into our bags.

You could see with the little details that they were playing in a different ligue. I love those details.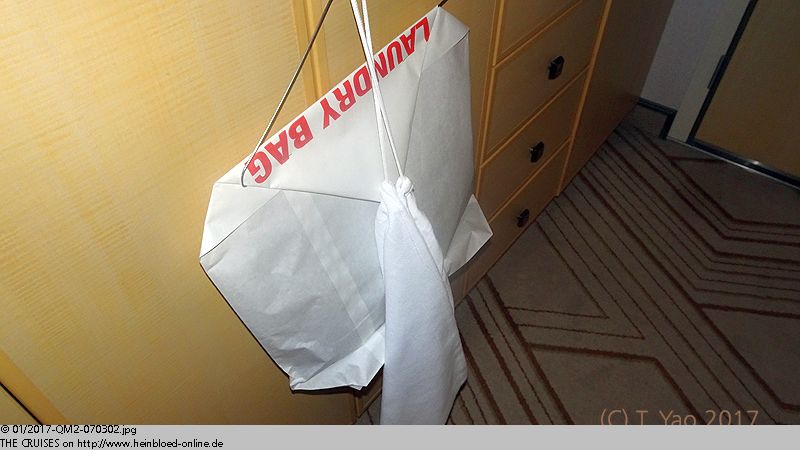 An den kleinen Details merkt man, dass wir hier in einer anderen Liga spielen. Ich mag diese Details.
Ein fataler Fehler ist der Blick nach Hause.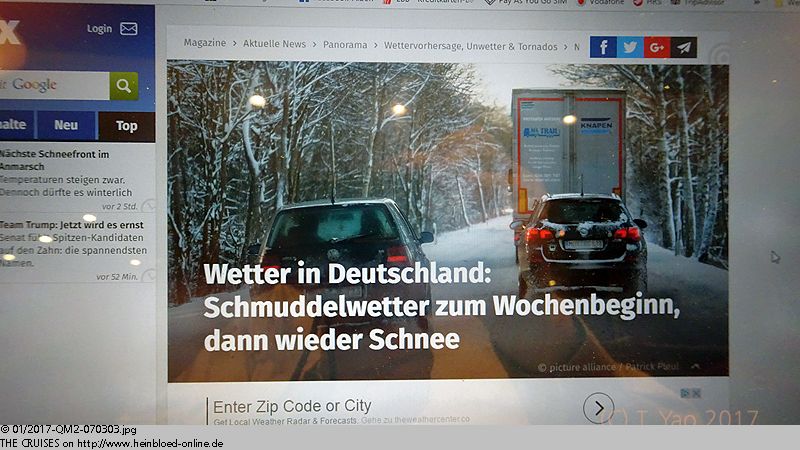 A real mistake was checking was was going on at home ("Weather in Germany: Grim weather at the begin of the week and followed by snow").

I wanted to say good-bye to Marco for taking care very well of me and for all his support during my voyage... Was it so boring that he could play puzzle or did someone just occupy his table?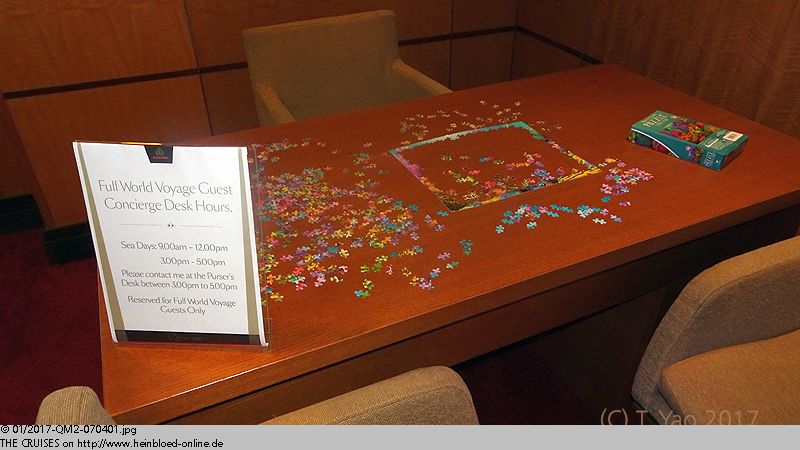 Ich wollte mich von Marco verabschieden, der mich ganz toll auf der Reise unterstützt hat... War es so langweilig, dass er gepuzzelt hat oder hat jemand einfach seinen Tisch besetzt?
Noch ein kurzer Blick ins Illuminations.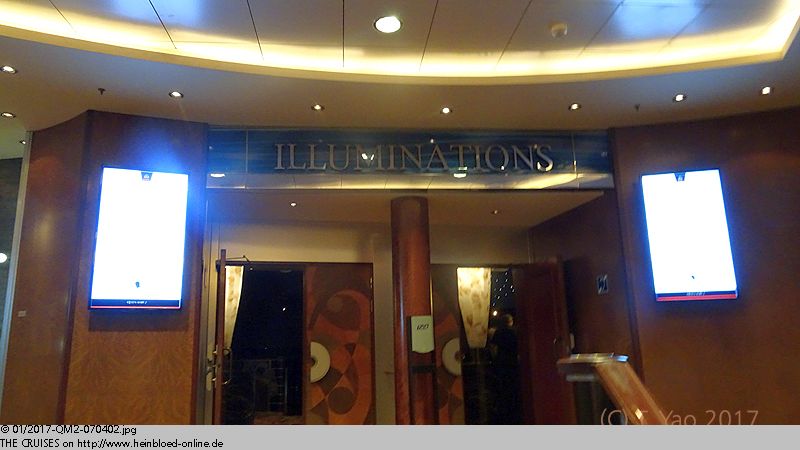 Having a short look into the Illuminations.

A lector on Princess Margaret, the last true princess.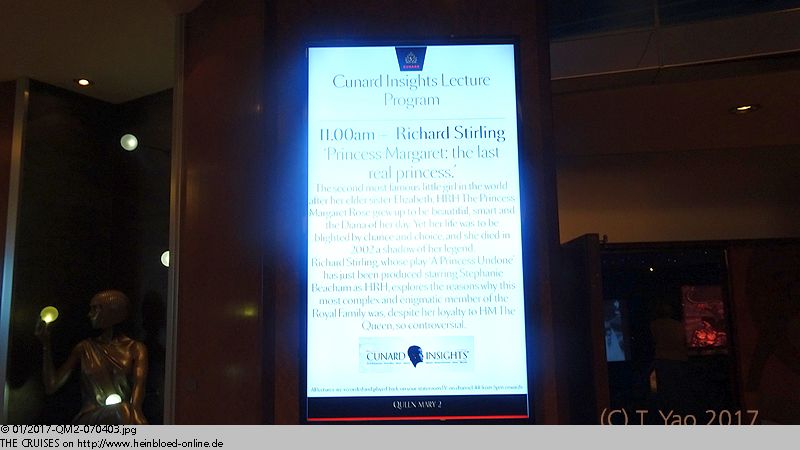 Ein Vortrag über Prinzessin Margaret, die letzte wahre Prinzessin.
Aber ich bleibe nicht.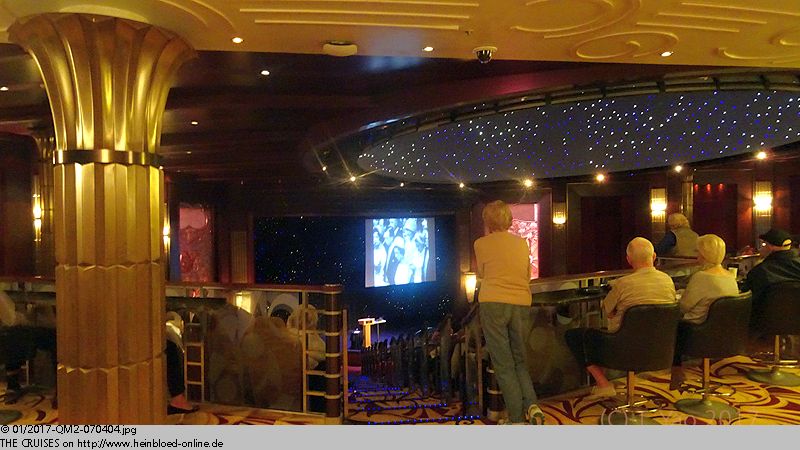 But I did not stay.

Here we could have still tickets for the planetarium show but we had no more time for that.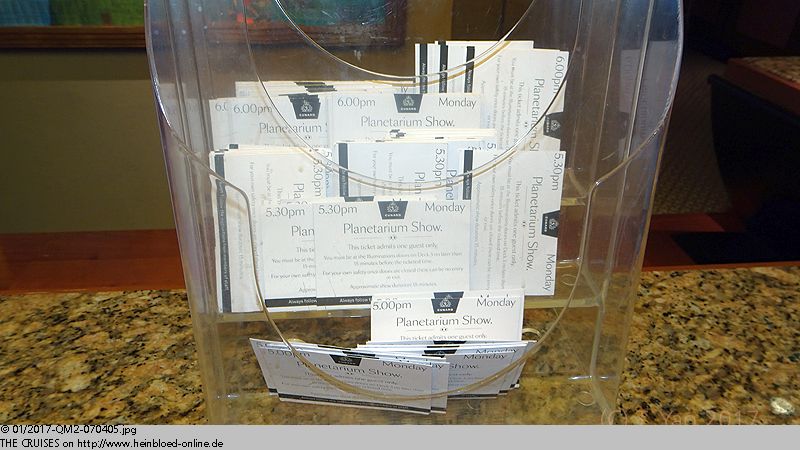 Hier hätten wir noch Karten für die Planetariumsshow haben können, aber dafür ist jetzt auch keine Zeit mehr.
Mal gucken, was es so im King's Court bzw. in der Carinthia Lounge zum Mittagsessen gegeben hätte.

Checking out in the King's Court and in the Carinthia Lounge for the lunch they offered.

We prefered to see the Britannia-Restaurant for our "last meal"... With our waiters Nikhil and Sasa we had a lot of joy. Especially it was fun to see Sasa's facial expressions and gesturing... nearly as good as a popular British movie- and TV-comedian... It was hard to concentrate on my food.

Wir gehen lieber wieder ins Britannia-Restaurant zum "letzten Mahl"... Mit unseren Kellnern Nikhil und Sasa haben wir sehr viel Freude. Speziell macht es Spaß die Mimik und Gestik von Sasa zu verfolgen... schon fast so gut, wie ein bekannter britischer Film- und Fernsehkomiker... Es fällt mir schon schwer mich auf mein Essen zu konzentrieren.
Probleme gibt es immer wieder mit dem Ein- und Ausloggen.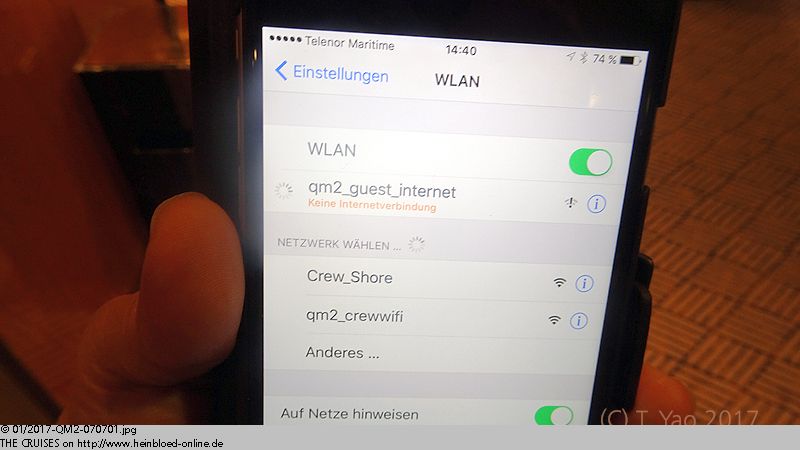 There were a lot of problems to log in and out.

Three years ago I had unluck and it was reason to have a discussion with the Hotel Director on an impossible internet-manager we had then. That we had luck: Genny. She apologized for the problems and released credits. We could not use them off until the end of the voyage but she did not treat the guests like an idiot. On the contrary: she made the problems of the guests her problems of her own and I was not the only in the internet-room who was happy to see her way.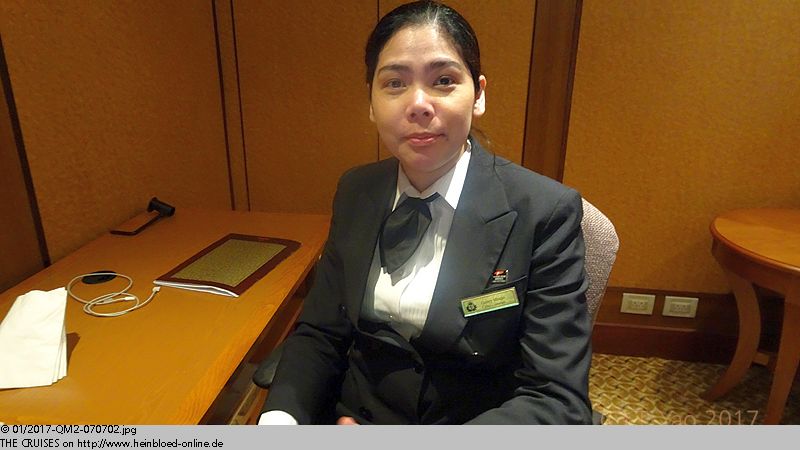 Vor drei Jahren hatte ich Pech und es war der Grund für ein klärendes Gespräch mit dem Hoteldirektor über den unmöglichen Internet-Manager von damals. Heute haben wir Glück: Genny. Sie entschuldigt sich für die Probleme und erteilt Gutschriften. Die können wir zwar auch nicht bis zum Ende der Reise alle aufbrauchen, aber sie behandelt keinen Gast wie einen Idioten. Im Gegenheit: die Probleme ihrer Gäste macht sie zu ihren Problemen und ich bin nicht der einzige im Internet-Raum, der sich über ihre Art freut.
Noch ein Scone und ein leckere Sandwiches zur Tea-Time...

One more scone and a yummy sandwich for tea-time...

I got the received call of Entertainment Director Jo.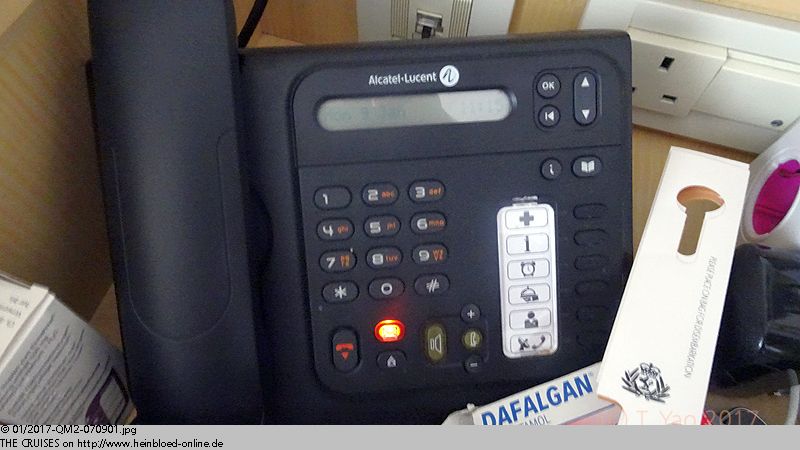 Ich erhalte den versprochenen Anruf von Kreuzfahrtdirektorin Jo.
Und ich bekomme wie versprochen die Liste der Lieder aus der letzten Show.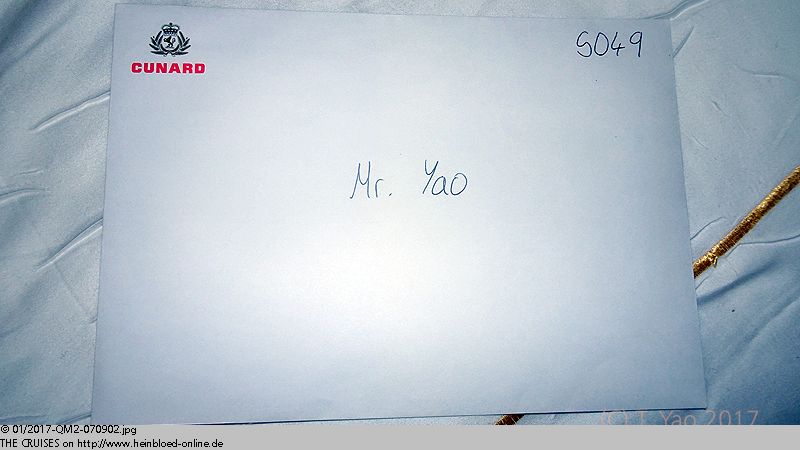 And I got the promised list of the songs of the last show.

I was happy to get her greeting.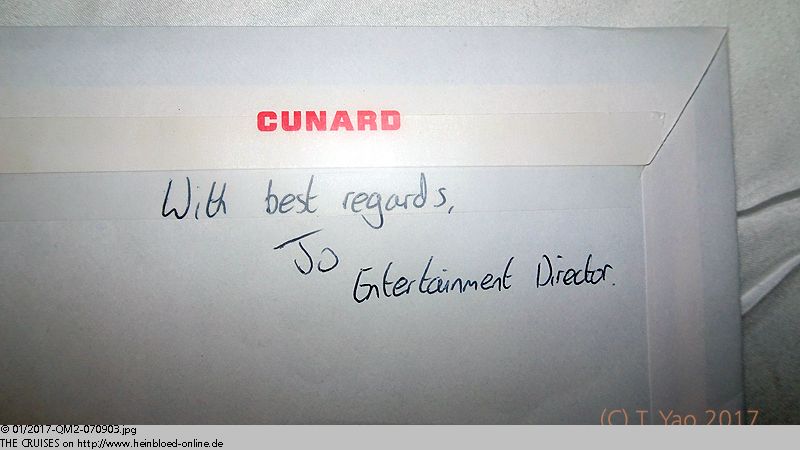 Über den Gruß freue ich mich.
Und zu Hause kann ich wieder alles in eine Playlist in meinem iPhone zusammenstellen und wenn ich die Musik höre, bin ich wieder zurück an Bord der QUEEN MARY 2.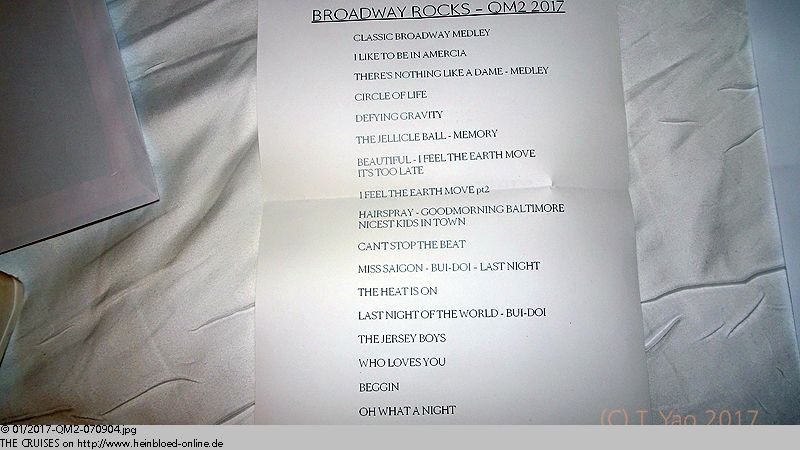 At home I can set a playlist on my iPhone and when I listen the music I am back onboard on QUEEN MARY 2.

That night they had a very special show: a Whitney-Houston-Tribute-Show with Stephani Parker from Las Vegas, Nevada. You cannot describe the show with words. You must experience it yourself.

Heute Abend gibt es eine ganz besondere Show: eine Whitney-Houston-Tribute-Show mit
Stephani Parker
aus Las Vegas. Die Show kann man nicht mit Worten beschreiben. Man muss sie erlebt haben.
Damit wir heute flexibler sind und weil ich unbedingt das "Smokehouse" ausprobieren wollte, essen wir heute Abend nochmals im Zuzahl-Teil des King's Court. Aber ganz ehrlich... für 17,50 USD (2017) hätte ich doch lieber etwas anderes noch ausprobiert, als Premium US-Finger-Food. Es war unbestritten gut, aber jetzt nicht so aufregend. So können wir auch nochmals ein Bild von Mercy und Dragoslav aufnehmen, die uns beim ersten Besuch bedient hatten, aber beim Gruppenbild nicht mit dabei waren. Für Bruno und Sigi bedeutet das auch sich von Karl und Christoph zu verabschieden, das sie nicht mit uns am Nachprogramm in London teilnehmen. Ich sehe beide ja in Basel bald wieder. Aber leider geht jede noch so schöne Reise zu Ende. Und auf der QUEEN MARY 2 ist es besonders schön und erholsam.

To be more flexible the last night and because I wanted to try the "Smokehosu" we had dinner again in the cover-charge part of the King's Court. But honestly... for 17.50 USD (2017) I would love to try something different but Premium US-Finger-Food. It was undisputed good but it was not so exited. So we could take a picture yet of Mercy and Dragoslav who served us with our first visit but not part of my group picture. For Bruno and Sigi it was time to say good-bye from Karl and Christoph as they would not join us for the post-cruise programme in London, England. I would see both of them soon again in Basle, Switzerland. But unfortunatly even the most beautiful voyage will come to the end. And on QUEEN MARY 2 it was very nice and relaxing.