Der nächste Morgen: Endlich mal schön, aber doch noch kalt. Ich bleibe lieber drinnen, während die anderen draußen laufen... Ich überlege mir, in welcher Reihenfolge ich die Säfte von Gerhalt trinke... Ich trinke alle drei, aber das ist zu gesund! Den Rest des Tages geht es mir nicht gut. Ansonsten freue ich mich mal endlich Dean Marco zu erwischen und mal persönlich die Hand zu geben. Er hat mir im Vorfeld geholfen meine Reise vorzubereiten. Ich habe ihn immer mal zwischendurch über Facebook ein paar Fragen zu Abläufen usw. gestellt, die er mir geduldig beantwortet hat. Ein guter Botschafter für den legendären White Star Service, der über die Schiffsrailing hinaus reicht.

The next morning: finally nice but it was still cold. I prefered to stay inside while other walked outside... I considered in which order of row I should drink Gerhalt's juices... I drank all three but that was too healthy! The rest of the day I did not feel so well. Apart from that I was happy to caught Dean Marco finally and to shake personally his hand. He was so kind and helped me to prepare the voyage ahead of the voyage. On Facebook I could meantime ask some questions to the procedures etc. and he was kind enough to give me answers. A very good ambassador for the White Star Service which went beyond the ship's railing.

Together we started again the day. As 4th juice of the day I wanted to try the prune juice. But that did not taste well. We got wholegrain bread and a cold cut plate. I wanted to have an omelette of egg white and we got scrambled eggs made of fresh eggs. If you do not say anything you get boxed liquid eggs. We enjoyed very much the great service by Vinay and Petros.

Gemeinsam starten wir nochmals in den Tag. Als 4. Saft des Tages will ich endlich mal einen Plaumensaft probieren. Aber der schmeckt nicht. Wir bekommen Vollkornbrot und eine Wurstplatte. Ich wollte ein Omelette aus Eiweiß haben und es gibt Rühreier aus frischen Eiern. Wenn man nichts sagt, bekommt man das Industrie-Ei aus dem Tetra-Pack. Den tollen Service von Vinay und Petros genießen wir in ganzen Zügen.
Jetzt wird es langsam wärmer. Ich gönne mir einen geeisten Kaffee.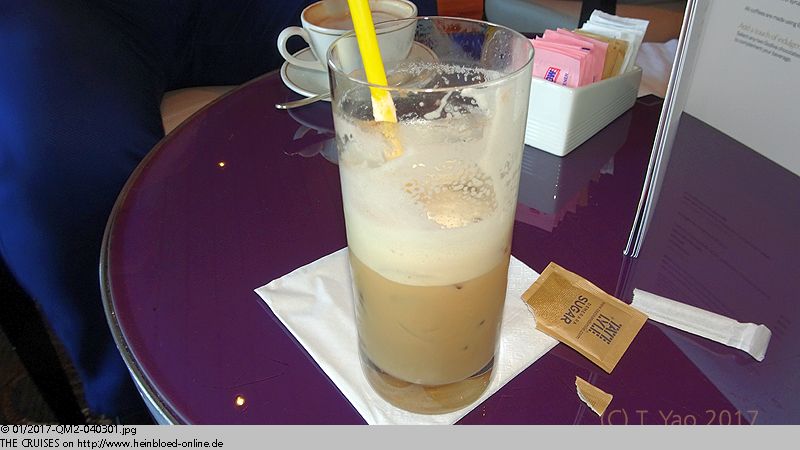 Now it became slowly warmer. So I had to have an iced coffee.

Any events in the morning had no chance to be attended by us. We really enjoyed event-free mornings.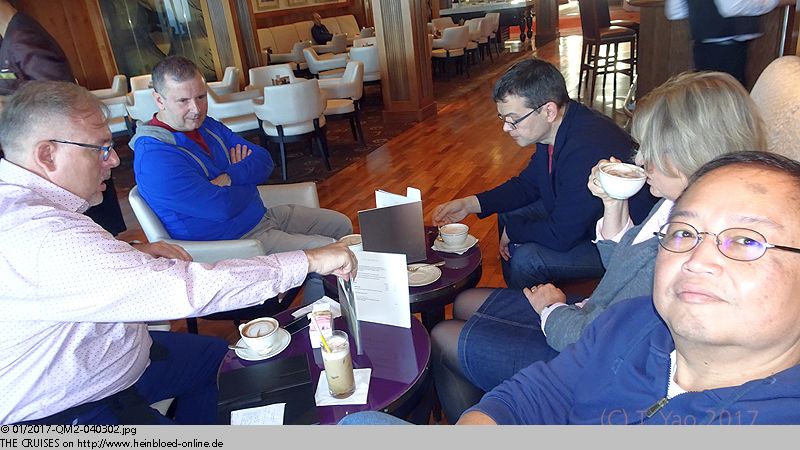 Veranstaltungen am Vormittag haben keine Chance von uns wahrgenommen zu werden. Wir genießen den terminlosen Vormittag.
Und haben einfach Spaß miteinander.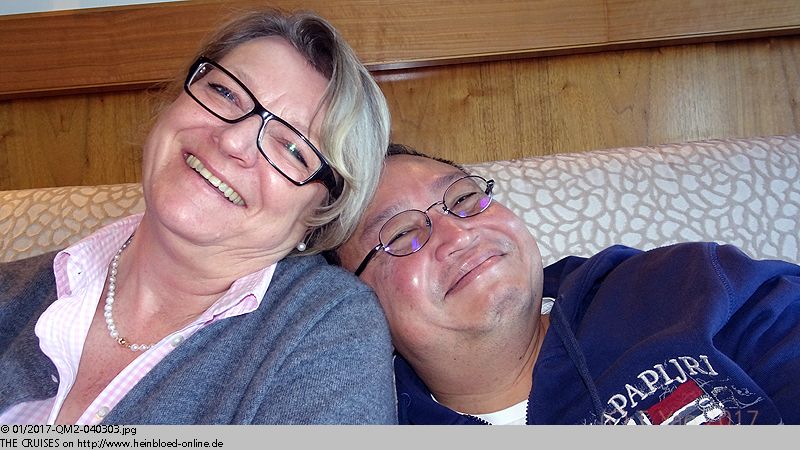 We only had a lot fun together.

We spent most of the day in our cabin. We handeled our mails. We enjoyed our sheltered balcony. We "made" laundry or better let them made our laundry. The only problem I had: on which timezone did I need to set my iPhone to be in the right time zone? Nuuk on Greenland.

Wir verbringen den größten Teil des Tages in Kabine. Wir bearbeiten unsere Post. Wir genießen unseren ummantelten Balkon. Wir "waschen" besser wir lassen waschen. Die einzigen Probleme: auf welche Zeitzone muss ich mein iPhone stellen, damit wir in der richtigen Zeitzone sind? Nuuk auf Grönland.
Mittags geht es in The Verandah zum Essen. Ich vermisse Todd English. Es ist sehr gut, aber zu üppig für mittags. Damals bei Todd English mittags... Fladenbrot... Salat... Kebab... ganz leicht... und jetzt so oppulent... vor allem das Mittagessen kostet so viel, wie früher damals das Abendessen bei Todd English. Heute Morgen ging es um die
Little Scarlett Marmelade von Tiptree Wilkin & Sons
. Sie wird aus wilden Erdbeeren hergestellt. Sigis Lieblingsmarmelade. Und unsere zwei Kellner beim Frühstück heute Morgen haben sich die Mühe gemacht, die Little Scarlett für Sigi zu suchen. Und hier bekommen wir zum Dessert quasi ein Little Scarlett... Der Service ist unverändert gut.

For lunch we went to The Verandah. I was missing Todd English. It was very good but it was too lush for a lunch. Then with Todd English for lunch.. flat bread... salad... kebab... very light... and now so sumptuous... especially the lunch was as expensive as the dinner was before with Todd English. That morning we talked of Little Scarlett Marmelade of Tiptree Wilkin & Sons. It was made of wild strawberries. Sigi's favorite marmelade. And our two waiters at breakfast spent the effort to get some for Sigi. And here we got more or less Little Scarlett for dessert... The service was unchanged good.

Again to the team in the alternative dining part of the King's Court. On my voyage QUEEN MARY 2 2014 I remembered the team was very small. This area was much more larger and it was mostly every night sold out.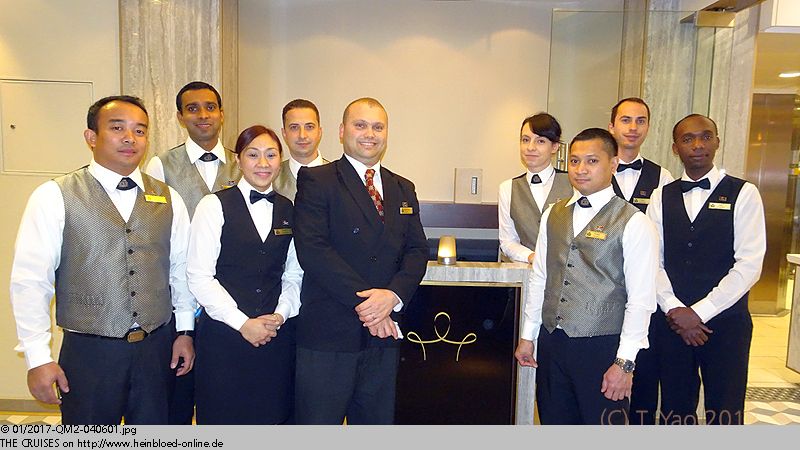 Nochmals zum Team im Zuzahlungsteil im King's Court. Auf der
QUEEN MARY 2 2014
habe ich das Team sehr klein in Erinnerung. Der Bereich ist größer und vor allem fast jeden Abend ausgebucht.
Beim Erstellen des Blogs fällt mir auf: einen kenne ich bereits: den Head Waiter... hatte damals auf der
QUEEN MARY 2 2014
die Crepes im King's Court flambiert.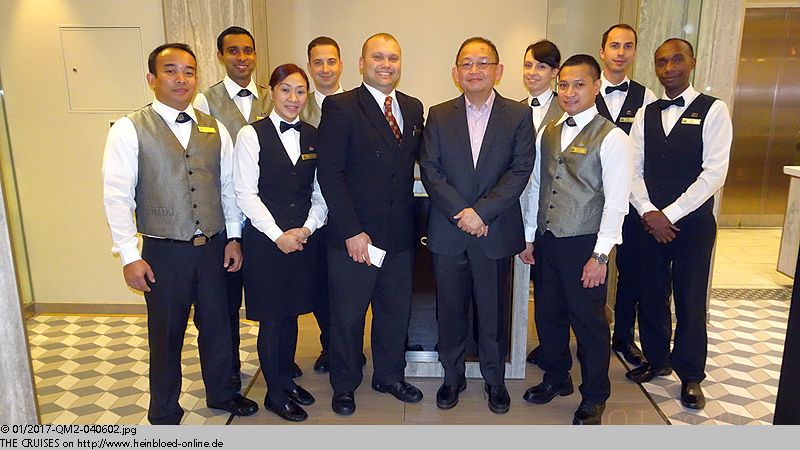 When I was creating this blog I noticed: I knew already one: the Head Waiter... then he flamed the crepes in the King's Court on QUEEN MARY 2 2014.

Shafiek and his team Aleksandra, Ardy, Dragoslav, Paul, Ronald, Sherielyn, Shinto, Timea, Vasko (in alphabetic order / unfortunately some were missing on the picture).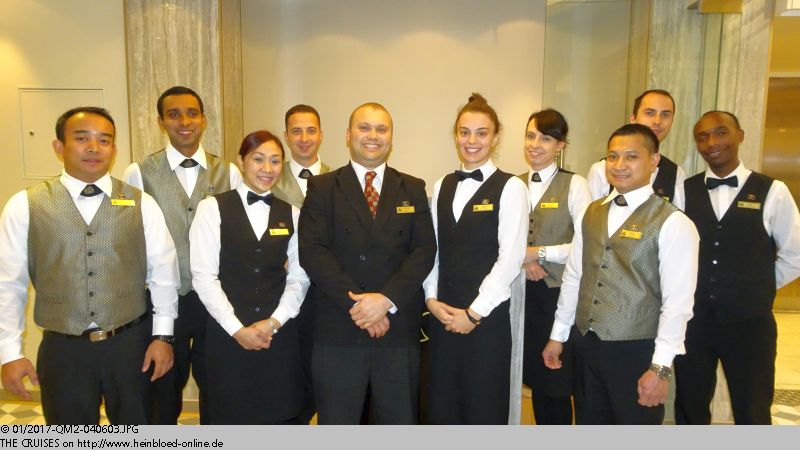 Shafiek und sein Team Aleksandra, Ardy, Dragoslav, Paul, Ronald, Sherielyn, Shinto, Timea, Vasko (in alphabetischer Reihenfolge / leider fehlen einige auf dem Bild).
An den Stäbchen erkennt man: es ist Bamboo-Abend.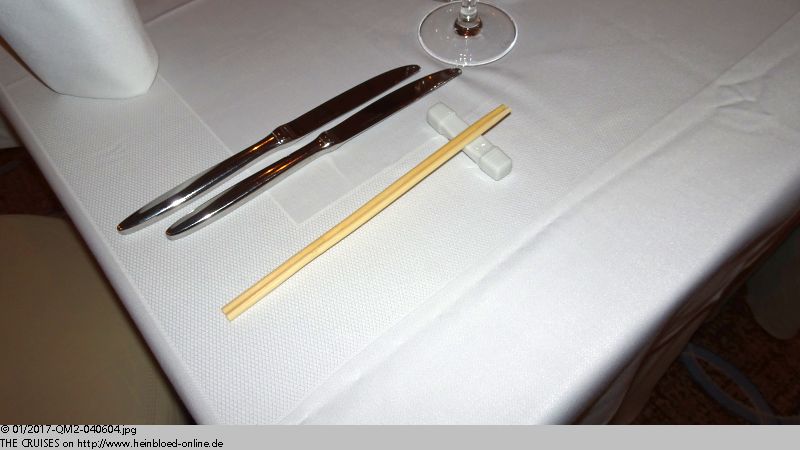 You could see with the chopstick: it was Bamboo-Night.

You had coincidences... Christoph and I had the same shirt with us... So we had to act as Kessler-Twins... Actually Karl and Christoph or Bruno and I should walk around that way...

Zufälle gibt es... Christoph und ich haben das gleiche Hemd mit... Da müssen wir natürlich als
Kessler-Zwillinge
auftreten... Eigentlich hätten ja Karl und Christoph oder Bruno und ich so herumlaufen müssen...
Kateryna Sychova ist die Gastkünstlerin des Abends. Eine ganz tolle Geigerin, die mich sehr begeistert hat. Ganz toll: das Stück bei dem sie die Geige gezupft hat. Ich bin sehr froh, dass man bei Cunard nicht mit Bauchplatscher- oder Mister-Sexy-Leg-Wettbewerben unterhalten wird und auch anspruchsvolles für Geist und Seele geboten wird.

Kateryna Sychova was guest performer of the night. A great violinist which fascinated me a lot. Absolutely great: the music play when she snicked the violin. I was quite happy that you had no entertainment like belly splash or Mister-Sexy-Leg competition with Cunard and you had also entertainment or spirit and soul.

The music before with Kataryna and the many great pianos and bands and other pianists onboard remembered him to tell us that he also plays piano. He would like to have some pictures with the beautiful pianos for himself. Few days later we had luck: not just we could see him again on the piano to take pictures but also to listen he was playing. I act now prematurely: you could read in two days more.

Die Musik vorhin bei Kataryna und die vielen tollen Klaviere und Bands und andere Pianisten an Bord erinnern Karl daran, uns zu erzählen, dass er auch selbst Klavier spielt. Er möchte ein paar Bilder für sich an den schönen Klavieren haben. Wenige Tage später haben wir Glück: wir sehen ihn dann nicht nur am Klavier, um sich fotografieren zu lassen, sondern haben Gelegenheit ihn spielen zu hören. Ich greife mal vor: in zwei Tagen gibt es mehr dazu.
Christoph hat eine Passion für Brasilien.
H. Stern
steht für Hans Stern und ist wohl demnach der drittgrößte Juwelier der Welt mit deutsch-jüdischen Wurzeln aus Essen. Christoph hält uns darüber einen Vortrag. Mir fehlt das Wissen, da a) absolut kein Interesse an Schmuck, b) Brasilien mir zu fern ist, um dort Juweliere zu kennen und c) ich auch keine Verbindungen zu jüdischen Familien habe, die früher emigrieren mussten. So hat er sich mit der brasilianischen Verkäuferin an Bord angefreundet und parliert mit ihr auf portugiesisch. Ich freue mich Monica wiederzusehen. Früher im Todd English auf der
QUEEN MARY 2 2014
: es konnte in Kübeln schütten und der heftigste Sturm draußen toben: wenn Monica einen anlächelt ist immer sofort überall strahlender Sonnenschein herum. Von der gleichen Reise kenne ich Miguel, der mir jeden Morgen meinen Cappucino bei Sir Samuel's gemacht hat. Warum der Herr unbedingt als Fotobomber mit auf das Bild wollte, weiß ich bis jetzt nicht. Auch zur Hälfte der Reise hat niemand schon das Bedürfnis an Land zu gehen.

Chistoph had a passion for Brazil. H. Stern stands for Hans Stern and is accordingly the 3rd largest juweler of the world with Jewish-German roots from Germany. Christoph hold a lecture. I did not have the knowledge because a) I was absolutely not interested in Jewelery, b) Brazil was too far way for me to know any jeweler and c) I had no connections to Jewish families who need to emigrate then. So he became friend with the Brazilian sales agent on board and spoke with her in Portuguese. I was happy to see Monica again. Before in Todd English on QUEEN MARY 2 2014: it could rain cats and dogs and you could have the heaviest thunderstorm outside: if Monica smiled you had sunshine everywhere. From the same voyage I knew Miguel who made me every morning my cappucino with Sir Samuel's. No idea until today why the gentleman wanted to be as photo-bomber on my picture. Even after half of the voyage nobody had the wish to be ashore.

Again food... but we wanted to join QUEEN MARY 2 to start fasting should be part of the group of masochists. We enjoyed again our dinner and the nice service.

Schon wieder Essen... aber wer zur Fastenkur auf die QUEEN MARY 2 kommt, gehört wohl zu der Fraktion der Masochisten. Wir genießen unser Abendessen und den netten Service.
Ein kurzer Blick in den Queen's Room. Da aber ein "normales" Programm läuft bleibt es bei dem Blick.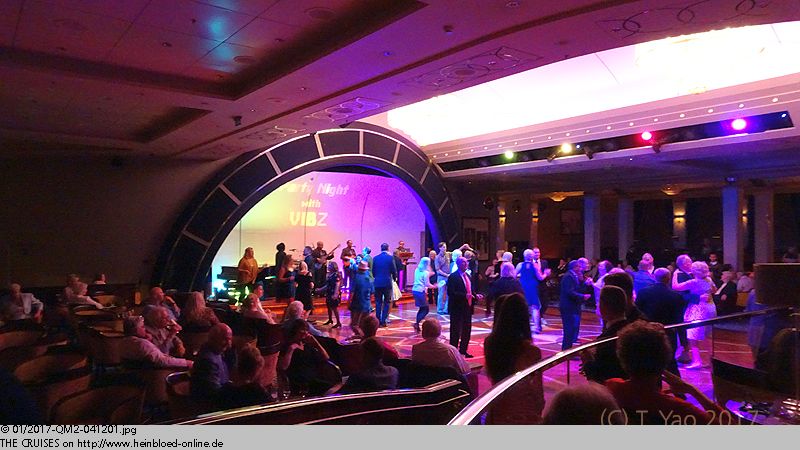 A quick view in the Queen's Room. As they had a "standard" programme we kept it with a view.

We went again to the Carinthia Lounge. Actually they were about to close the lounge. But we met a very nice waiter: Jay. He got us something to drink that we must not leave thirsty the lounge. Very kind... and after the good-night-drink we went to bed.

Wir gehen nochmals in die Carinthia Lounge. Eigentlich schon fast geschlossen. Aber wir erwischen einen sehr netten Kellner: Jay. Er besorgt uns noch etwas zu trinken, damit wir nicht durstig die Lounge verlassen müssen. Sehr nett... und nach dem Schlummertrunk geht es ins Bett.