Grauenhafte Aussicht: 50 Shades of Grey...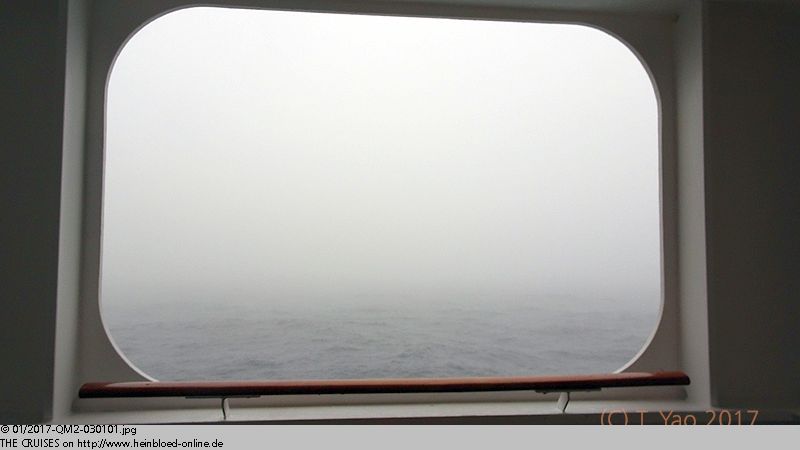 Grimly view: 50 Shades of Grey...

That was the forecast. It was part of a Transatlantic crossing in January.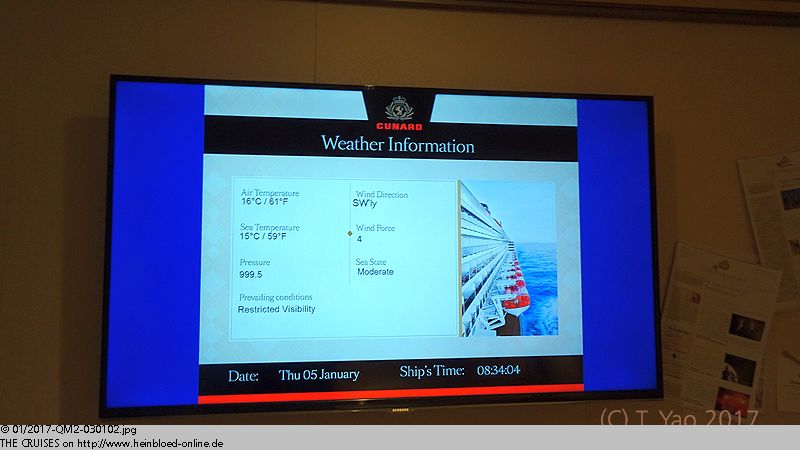 So sind also die Aussichten. Gehört zur Translantik im Januar dazu.
Sogar Außendecks sind geschlossen.

Even open decks were closed.

Well... that day they finally had cups and silverware on the tables.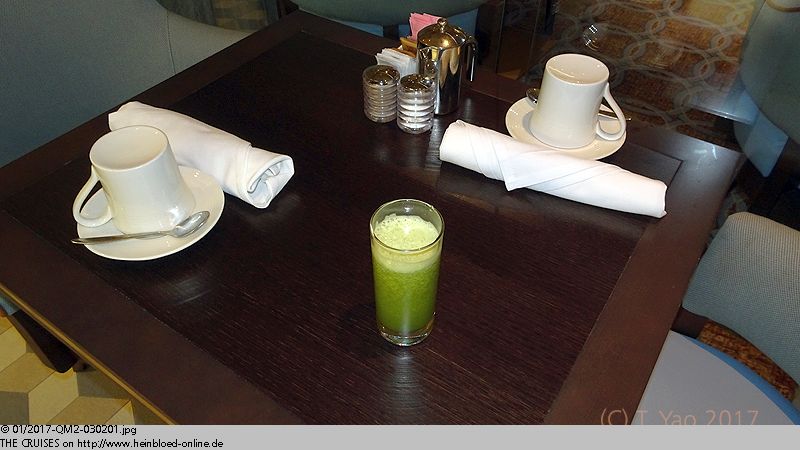 Aha... heute gibt es endlich schon die Tassen und das Besteck am Tisch.
Der grüne Saft ist gut.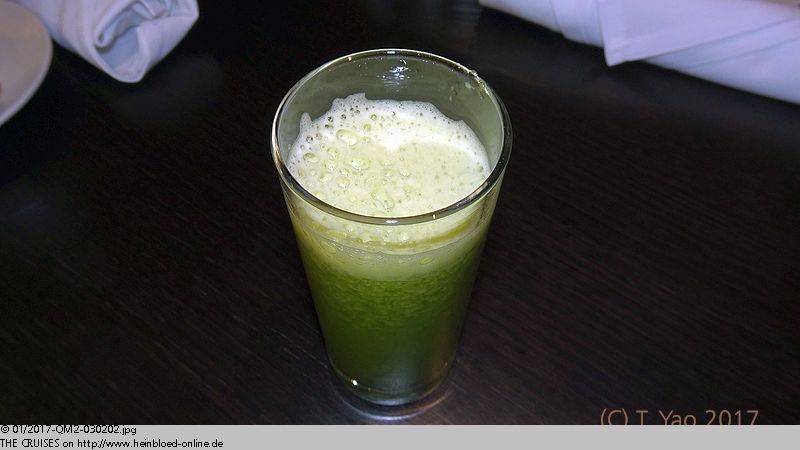 The juice was very good.

Camomile tea and honey were missing with the water boiler in the cabin. So you need to find a supply.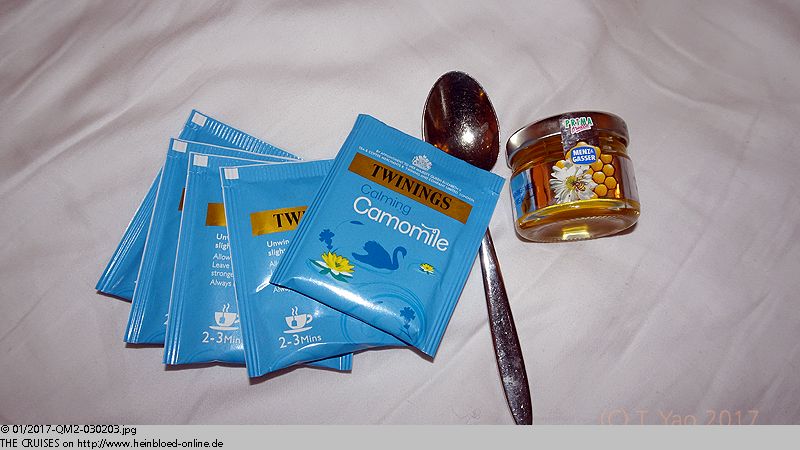 Kamillentee und Honig fehlen am Wasserkocher in der Kabine. Also wird etwas beschafft.
Die Bilder Hochladen... dauert ewig...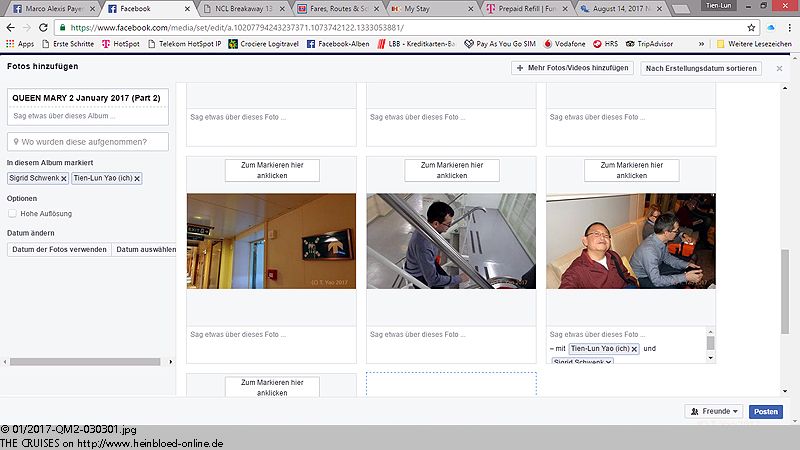 Uploading the pictues... took an eternity...

I need to get down to ask for a credit of minutes.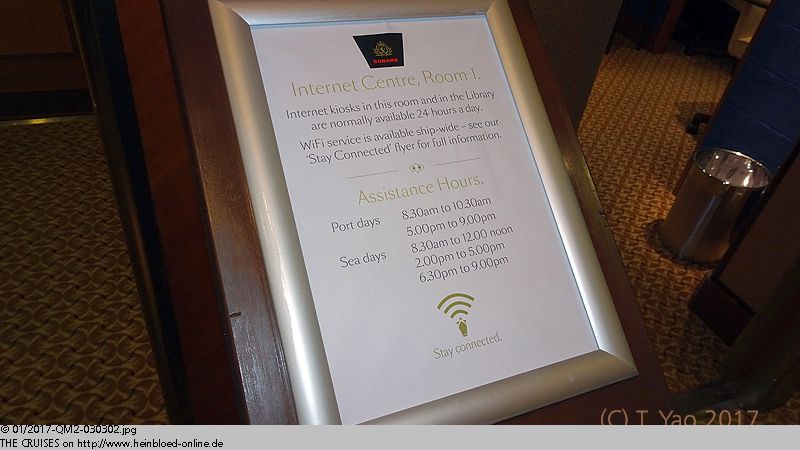 Ich muss mal wieder runter, um mir Minuten gutschreiben zu lassen.
Wir haben ja nur britische und US-Steckdosen. Also muss der Wasserkocher auch einen Adapter haben, aber der sieht so aus, als ob der so ist, dass er nicht geklaut werden kann.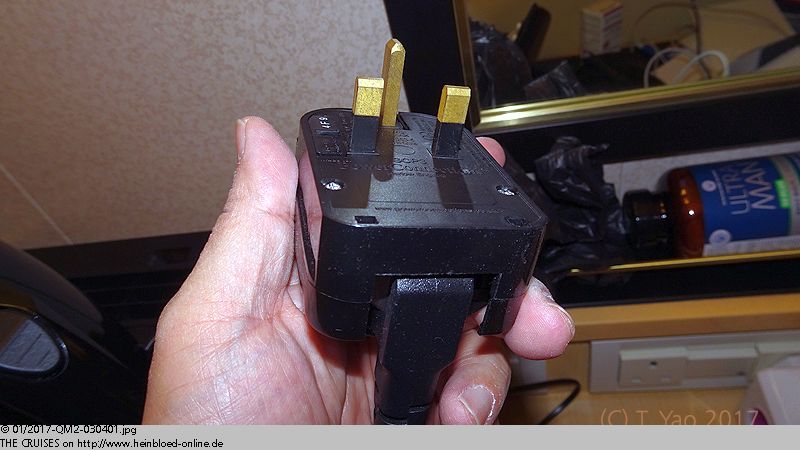 We had only British and US power outlets. So the water boiler need an adapter but this one looked that they had specials here which were more fixed to avoid they would be stolen.

Somehow we could not get the door signs right easily in our fingers.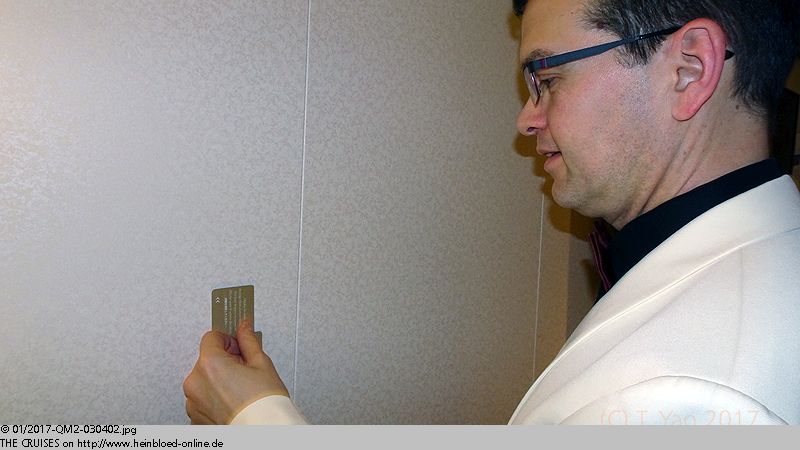 Irgendwie bekommen wir die Türschilder nicht richtig in die Finger.
Jeden Abend wie immer toller Service mit Schokolade.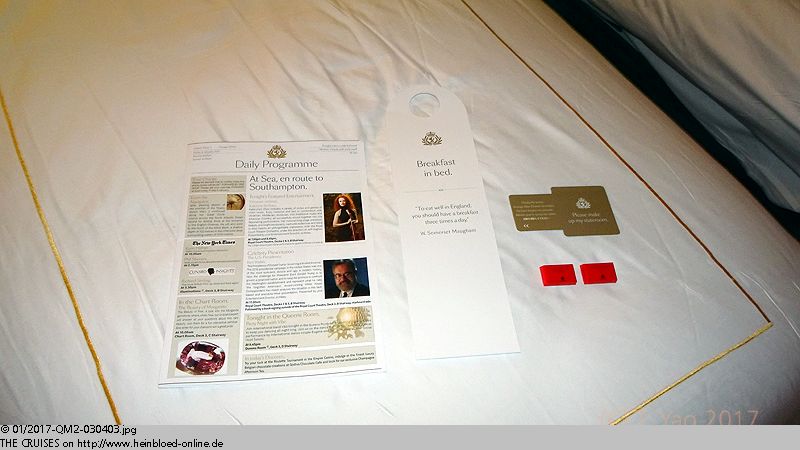 Every night we got a great service with chocolate.

We went again for breakfast. They had French croissants but Swiss croissants. A single hard boiled egg for Bruno came as single. A great service provided by Pastor and Ray.

Es geht wieder zum Frühstück. Es gibt auch hier Croissants und keine Gipfeli. Ein hartgekochtes Ei für Bruno gibt es auch einzeln. Ein toller Service dank Pastor und Ray.
Wir gehen wieder zu Sir Samuel's und ich hatte Lust auf einen kleinen Eisbecher mit heißer Godiva-Schokoladensauce... Klein bedeutet soviel: es reicht für uns drei... Auch der Tee ist hier lecker... Kein normaler Beuteltee, auch wenn er von
Twinings
ist. Allerdings Sorten, die es in Deutschland nicht gibt.

We went again to Sir Samuel's and I was interested to try a little cup of ice cream with hot Godiva-chocolate sauce... Small meant: it was enough for three... But also tea was nice here too... Not a regular tea bag even it was from Twinings. But varieties which we cannot get in Germany.

I was asking at the front desk why Deck 4 and 5 was not showed in the decks plan. Reason: no changes after drydock-stay, cabins only and no public rooms. I got a photo copy from the catalogue. Was the launderette no public room?

Ich frage an der Rezeption nach, warum die Decks 4 und 5 im Deckplan nicht enthalten sind. Begründung keine Veränderungen nach dem Trockendock-Aufenthalt, nur Kabinen und keine öffentlichen Räume. Ich bekomme kurzerhand eine Kopie aus dem Katalog. Ist denn der SB-Waschsalon kein öffentlicher Raum?
Der Vormittag ist schon vorbei. Wir sitzen bereits beim Mittagessen im Golden Lion Pub.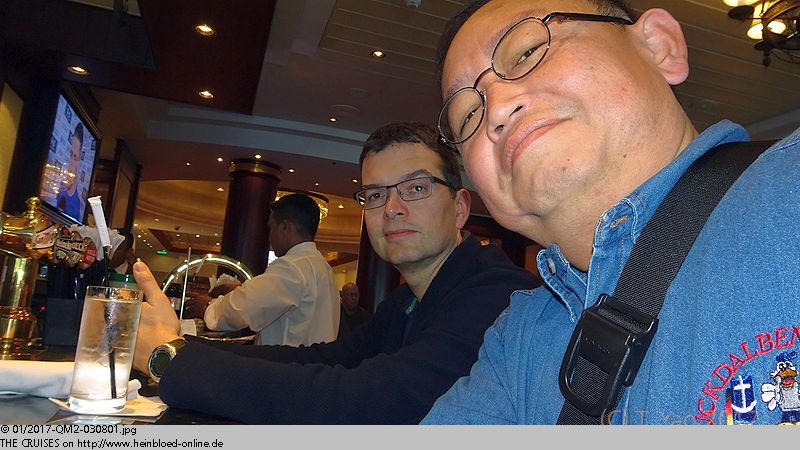 The morning was over. We sat already in the Golden Lion Pub for our lunch.

Coke from Great-Britain. Everything vegetarian. How should it work with the deposit bottles? OK - now they could return the bottles in Southampton. But later on the world voyage? Would all bottles collected and returned once they supposed to be back in Great Britain? Any need to buy new supply on the way? What should happen with the bottles which were not bought from Great Britain?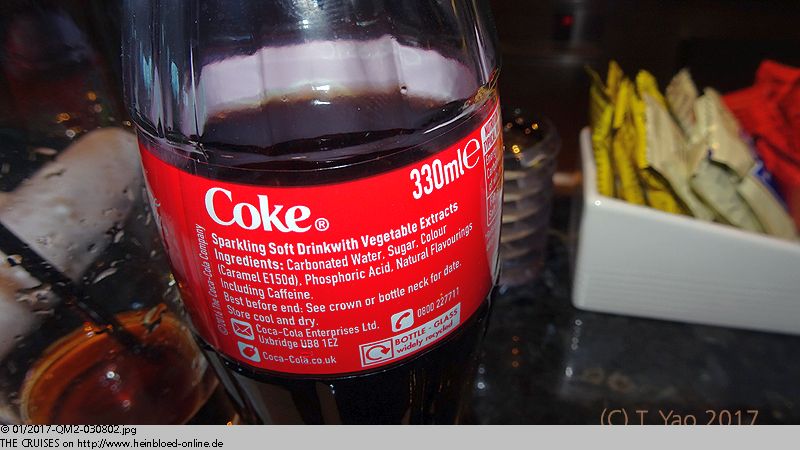 Coca-Cola aus Großbritannien. Alles vegetarisch. Und wie funktioniert das mit den Pfandflaschen? OK - jetzt können die Flaschen in Southampton zurückgegeben werden. Aber später auf der Weltreise? Werden alle Flaschen gesammelt, bis sie wieder zurück in Großbritannien sind? Muss man Flaschen unterwegs nachkaufen? Was passiert mit den leeren Flaschen, die nicht aus Großbritannien kommen?
Englischer Senf... Bei
Heinz in Großbritannien
gibt es das gar nicht. Den Senf gibt es nur für Großverbraucher.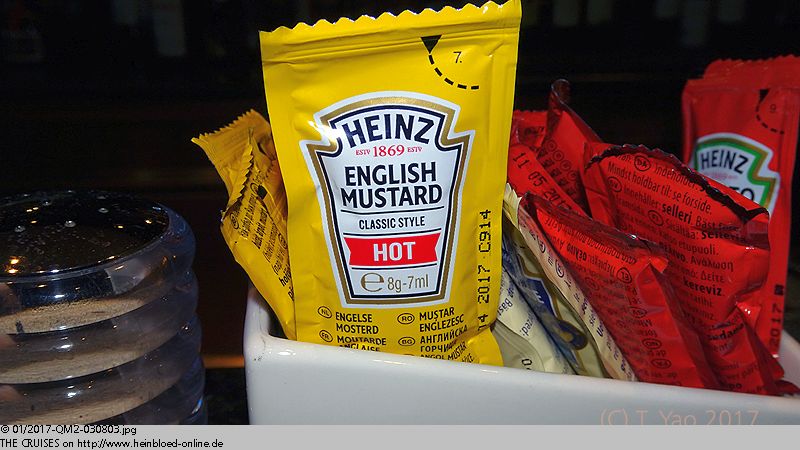 English mustard... With Heinz in Great Britain they did not have it. This mustard was only available for professional consumers.

Bruno took as always the Indian chicken dish.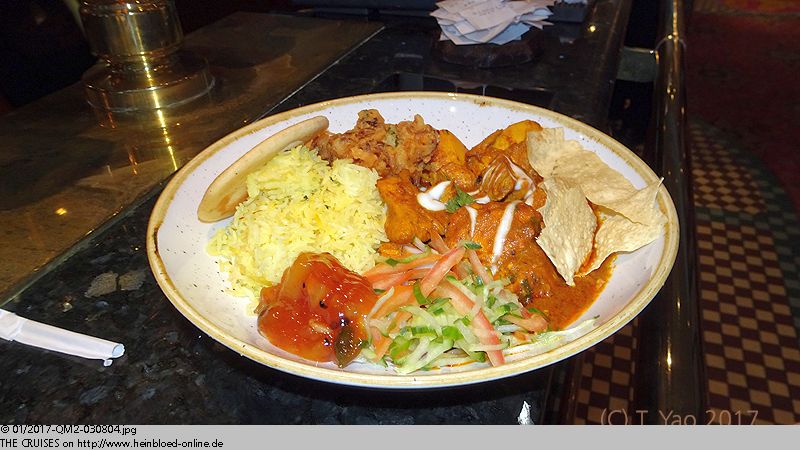 Bruno nimmt wie immer das indische Hühnchen-Gericht.
Und ich wie immer mein Cottage Pie.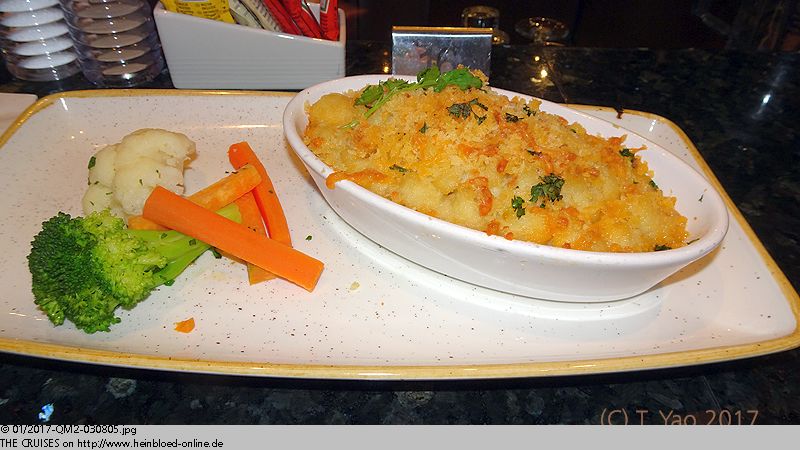 And I took as always my Cottage Pie.

I still had not the desire to check the programme. It was so relaxing not to do anything. So I could easily live that there was no tickets for the planetarium. You need to collect them yourself around the conference room area/internet center.

Ich habe immer noch keine Lust, mich mit dem Programm zu befassen. Es ist so schön erholsam, mal gar nichts zu tun. Deswegen ist es nicht schlimm, dass keine Planetariums-Karten mehr verfügbar sein. Diese muss man selbst im Bereich der Konferenzräume, Internet-Center abholen.
Hier kann man sich für einen Kurs mit Mikee eintragen.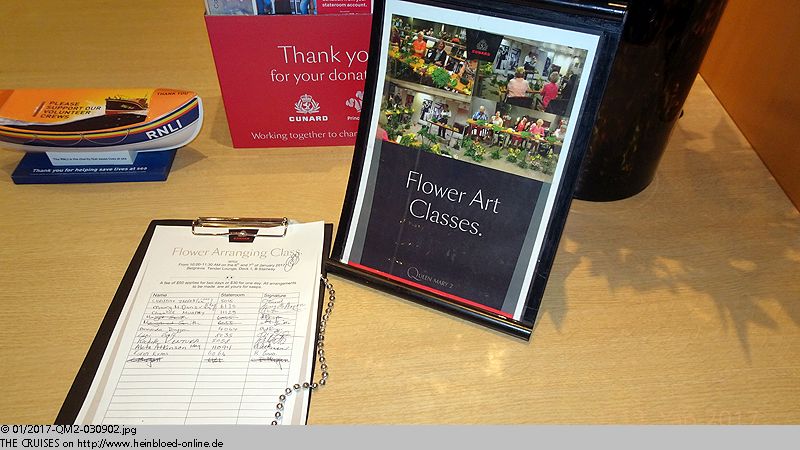 Here you could register for the lessons with Mikee.

The senior officers.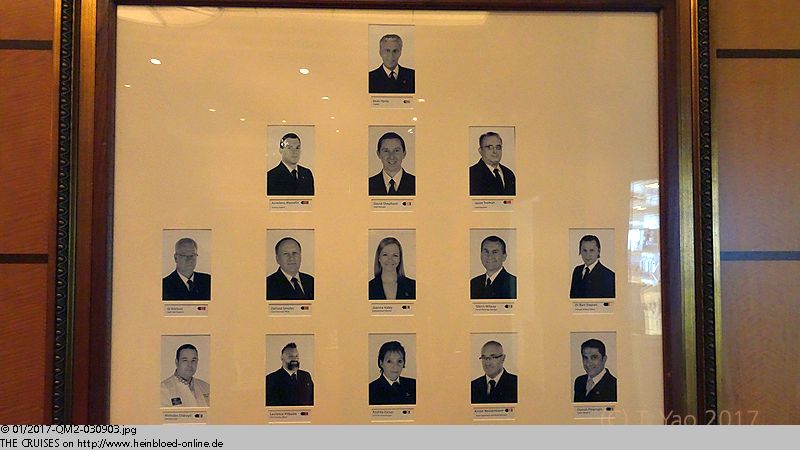 Die Senioroffiziere.
An Bord bekommt man rezeptfreie "over-the-counter"-Medikamente einfach im Shop, ohne zum Arzt zu gehen.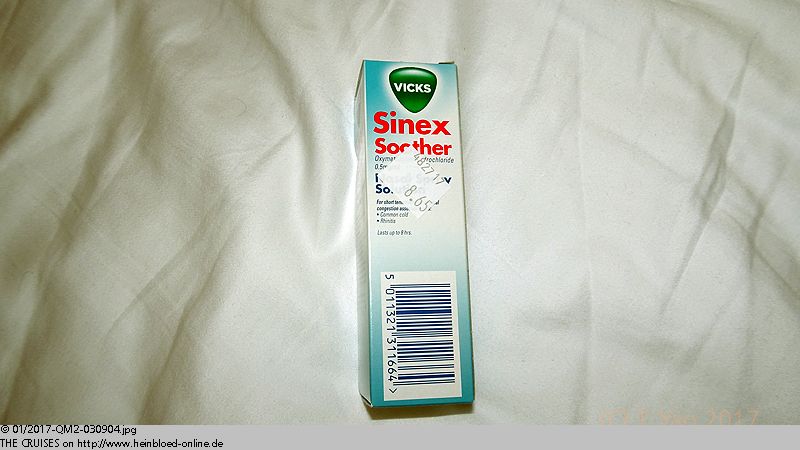 You could get onboard prescrition-free "over-the-counter"-medication easily in the shop without seeing the doctor.

I met Jane again: she served my last meal in Todd English on QUEEN MARY 2 2015.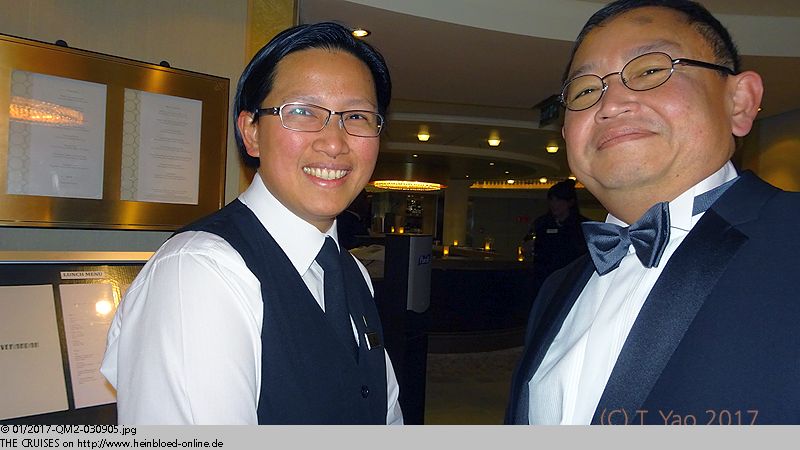 Ich treffe Jane wieder: sie hatte mir mein letztes Mahl im Todd Englisch auf der
QUEEN MARY 2 2015
serviert.
Es gibt ein Nachmittagsklavierkonzert mit Hugh Petter.

They had an afternoon piano concert with Hugh Petter.

I stayed for few minutes in the concert.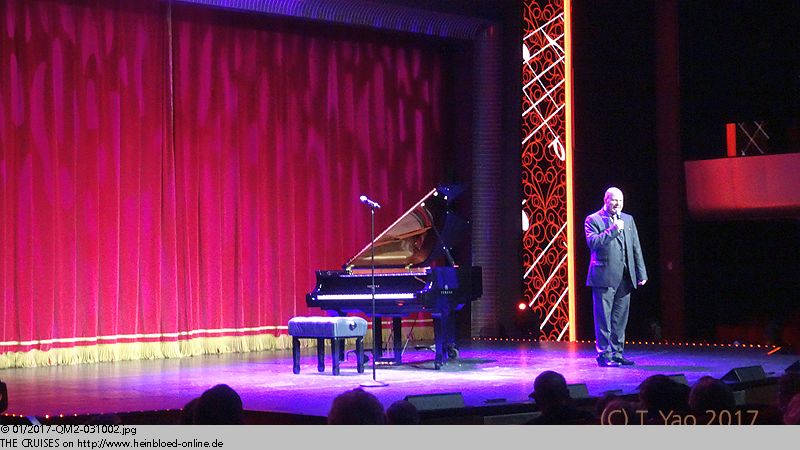 Ich bleibe für wenige Minuten im Konzert.
Er spielt sehr gut.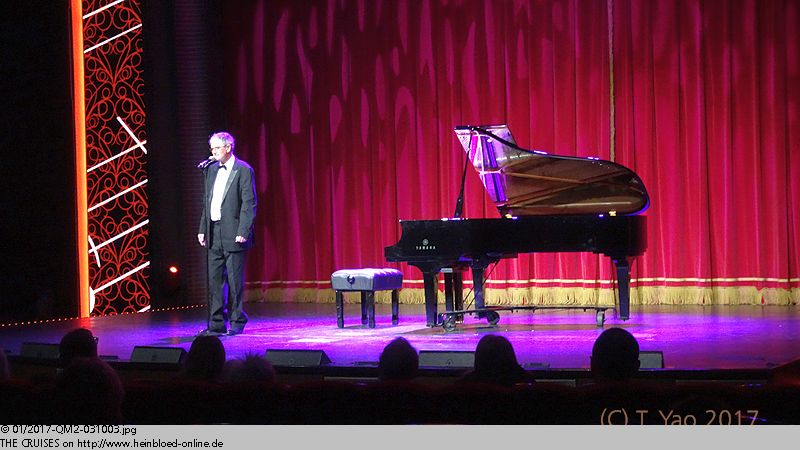 He was playing very good.

During the voyage he had more performances. And he was very visible and accessible.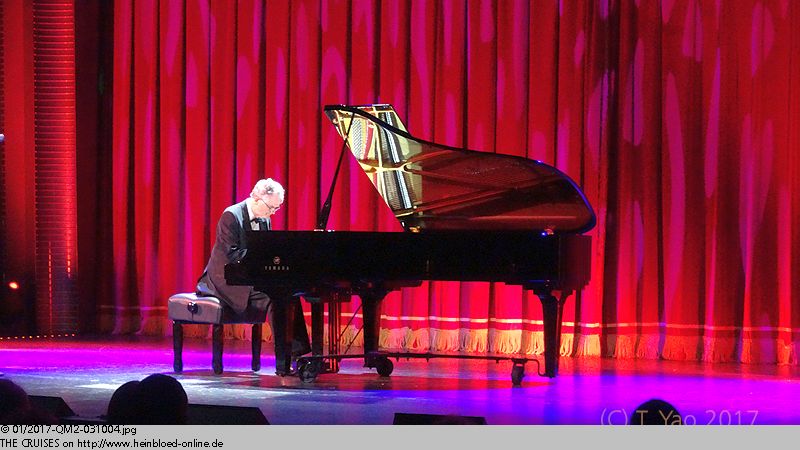 Im Laufe der Fahrt tritt er noch mehrmals auf. Und er ist an Bord sehr sichtbar und ansprechbar.
Ich habe mein Hemd vom
Duckdalben
in Hamburg an. Das ist eine Seemannsmission in Hamburg-Harburg.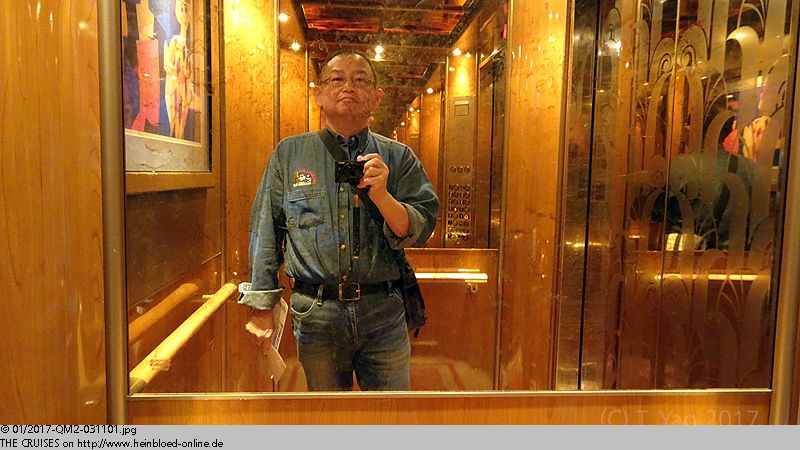 I weared my shirt from Duckdalben in Hamburg. That was a seamen's mission in the Southern part of Hamburg.

I was on business trip in Hamburg while QUEEN MARY 2 was in drydock. We had a break there during our tour. I saw how many seamen of QUEEN MARY 2 stayed there to have a time out with internet. During my stay there I paid for all beverages and internet-accesses. They should not spend their little wages for such kind of goods. They took care of us behind the curtains that we had a good time on QUEEN MARY 2. So I could thank them by this way.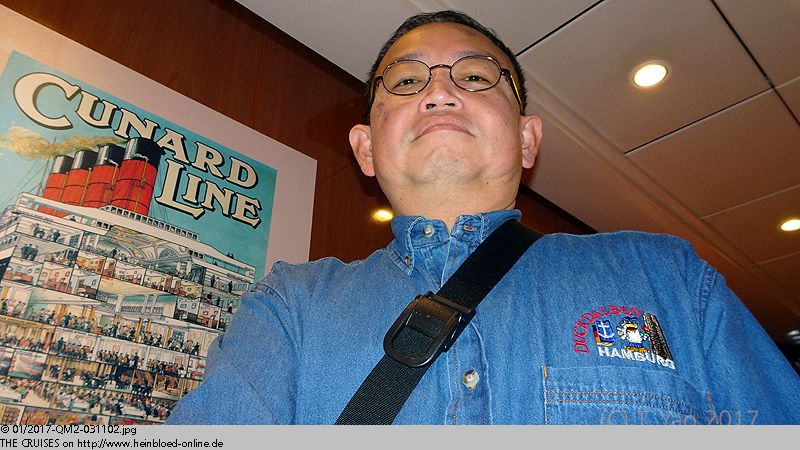 Ich war beruflich in Hamburg während die QUEEN MARY 2 im Trockendock war. Wir hatten dort eine Pause auf unserer Tour. Ich sah, dass viele Matrosen der QUEEN MARY 2 sich dort eine Auszeit mit Internet gönnten. Für die Dauer meines Aufenthaltes hatte ich dann kurzerhand alle Getränke und Internet-Pässe übernommen. Sie sollten nicht ihr geringes Gehalt für so etwas ausgeben. Sie sorgen hinter dem Vorhang dafür, dass wir eine gute Zeit an Bord der QUEEN MARY 2 haben. Und dafür kann man sich mal so bedanken.
Arcelle erkennt das Logo vom Duckdalben und spricht mich an, ob ich dort arbeiten würde. Ich habe mich sehr gefreut, dass eine Institution wie eine Seemannsmission so eine wichtige Bedeutung hat, dass man sich gerne erinnert.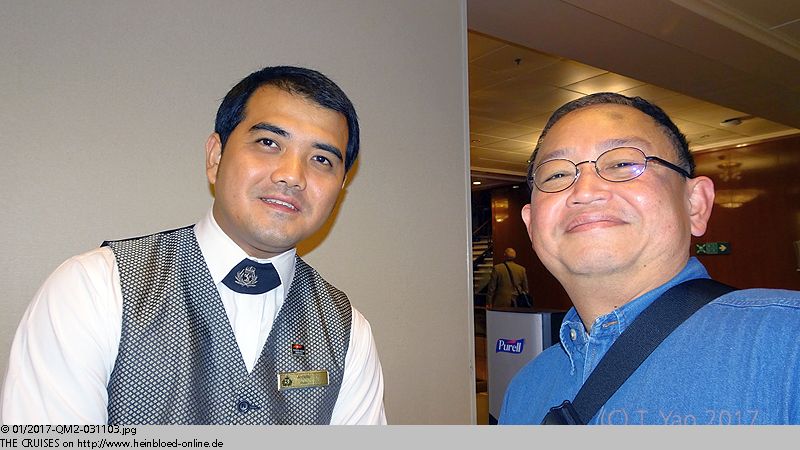 Arcelle identified the logo of Duckdalben and asked me if I was working there. I was very happy to see that an institution like a seamen's mission had such an important meaning that they liked to remember.

Today we went for tea-time. Everything yummy, everything good, everything much too much. Here I made acquaintance with Binu who took care that we had a good time onboard of QUEEN MARY 2. And all with some harp music in the background.

Heute geht es zur Tea-Time. Alles lecker, alle gut, alles viel zu viel. Hier lerne ich auch Binu kennen, der dafür sorgt, dass wir eine gute Zeit an Bord der QUEEN MARY 2 haben. Und alles mit Harfenmusik im Hintergrund.
Ohne Show im Queen's Room bekommt man im King's Court auch ganz nette Sachen zur Tea-Time.

Even without a show you get very nice goodies for tea-time in the King's Court.

We went to the Commodore Club for the Friends-of-Dorothy-Meeting.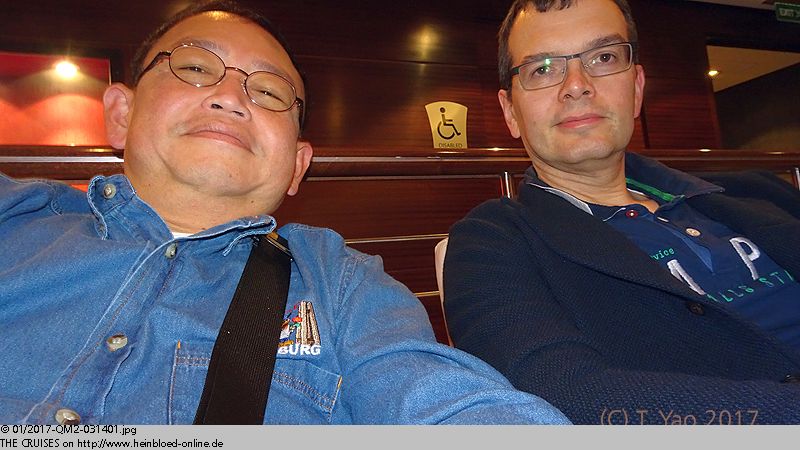 Wir gehen in den Commodore Club zum Friends-of-Dorothy-Treffen.
Zwischendurch werden warme Häppchen serviert.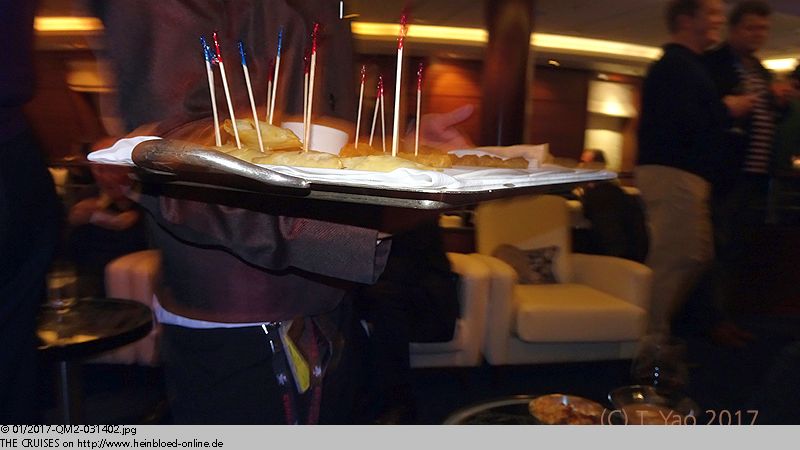 In the meantime they served small hot canapés.

Little Satay-skewers. Yummy.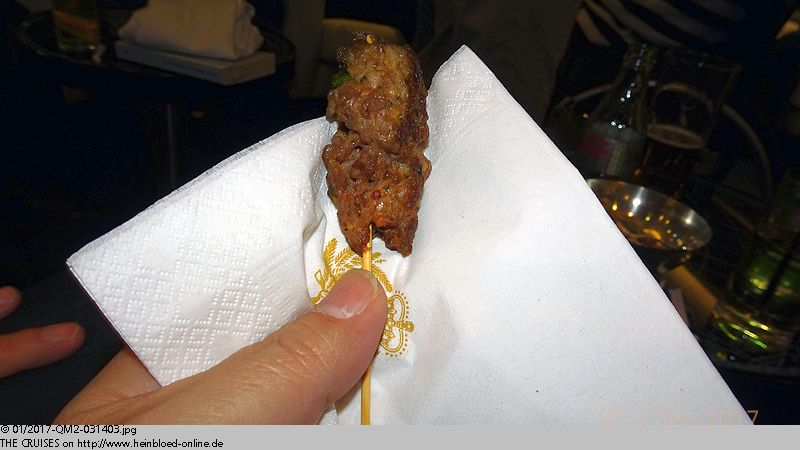 Saté-Spießchen. Lecker.
Und noch ein paar kalte Häppchen.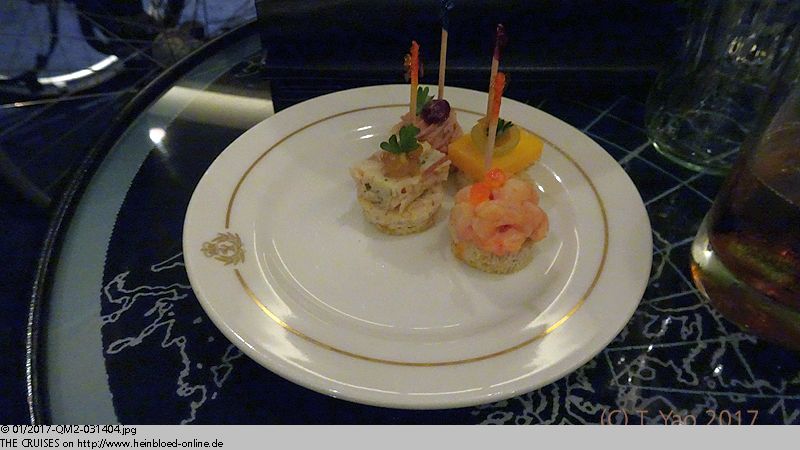 And some more cold canapés as well.

Our waiter Scott had birthday. He got chocolate and a greeting on the bill.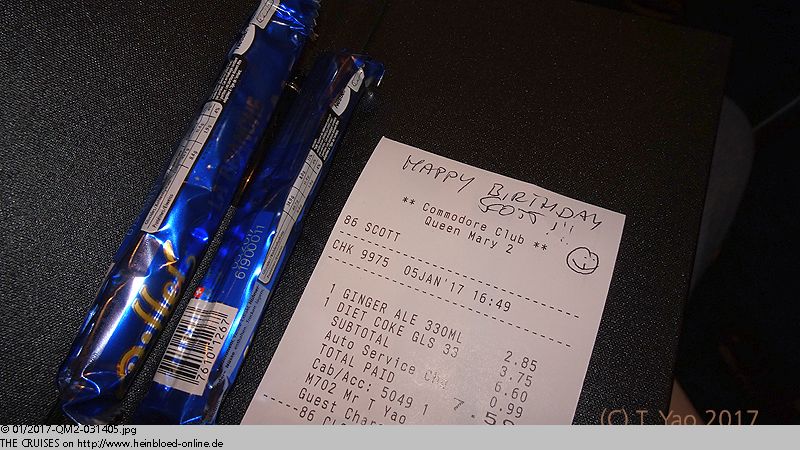 Unser Kellner Scott hat Geburtstag. Er bekommt Schokolade und einen Gruß auf die Rechnung.
Mal gucken, was es abends im King's Court gibt. Es ist ja wieder formeller Abend. Auch hier gibt es ein tolles Angebot. Sogar einen Schokoladenbrunnen. In der Chef's Galley gibt es jetzt ein Pizza Angebot. Nervig: die neue Lage der Zuzahlrestaurants. Es führt zu einer Sackgasse auf Deck 7 und wenn man in den Grill-Bereich möchte, muss man rauf über Deck 8 und wieder runter. Speziell die Raucher: rauf, runter, rauf. Die alte Lage zwischen dem ehemaligen Winter Garden und Chef's Galley war besser. Das musste man zwar auch umlaufen, aber ohne, dass man rauf und runter musste.

Checking again what they had for dinner in the King's Court. And here again they a great offer. Even they had a chocolate fountain. In the Chef's Galley they had a pizza offer. Annoying: the new location of the alternative dining venue. It took you to a dead end on Deck 7 and if you need to see the Grill-area you must walk up to Deck 8 and again down. Especially smoker: up, down, up. The previous location between the former Winter Garden and Chef's Galley was great. There you need to by-pass as well but no need to walk up and down.

Again we went for dinner.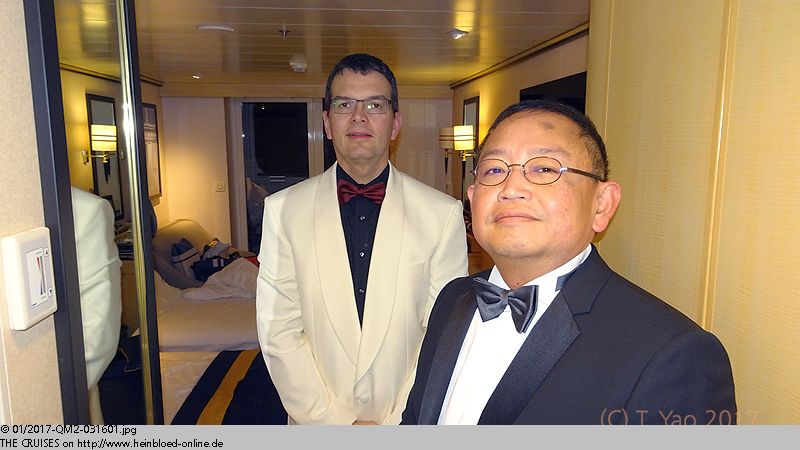 Wieder geht es zum Abendessen.
Brunos Dinner-Jacket haben wir als Erinnerung an die
EUROPA 2014
. Da wurde extra darum gebeten sich in weiß für ein besonderes Ereignis zu kleiden. Es war eine andere Welt. Niemand auf der QUEEN MARY 2 rennt uns hinterher, um uns das Brötchen aufzuschneiden...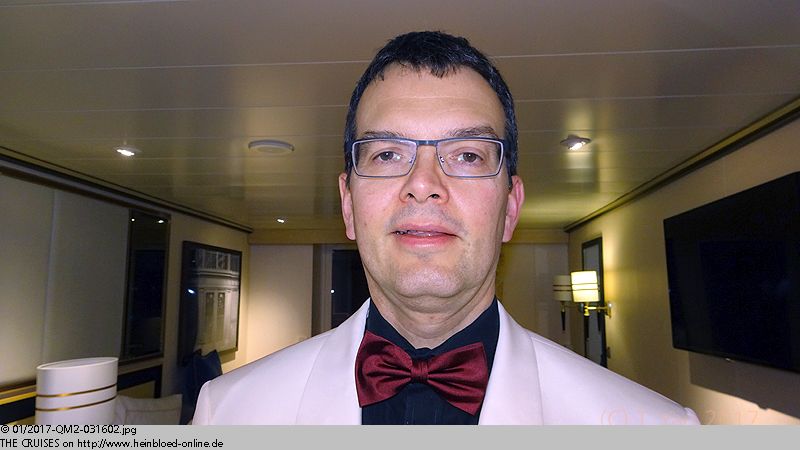 Bruno's dinner-jacket we had as souvenir of the voyage on EUROPA 2014 (rated as second best cruise ship worldwide by Douglas Ward). Then they kindly asked to dress up for a special event in white color. It was a different world. Nobody on QUEEN MARY 2 ran behind us to cut off a role...

Christoph and Karl was not with us on EUROPA... but had some dinner-jackets with them.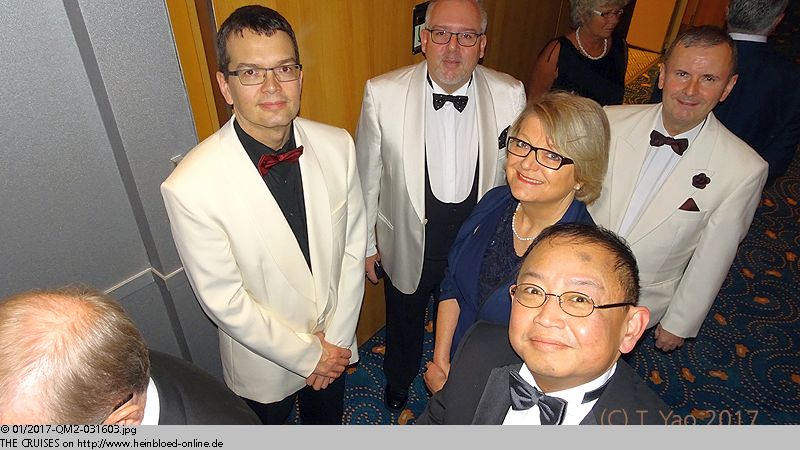 Christoph und Karl waren auf der EUROPA gar nicht dabei... aber haben auch noch ihre Dinner-Jackets mit.
Es geht zum Kapitänsempfang. Händeschütteln gibt es nicht. Früher gibt es auf der anderen Seite rein, wenn man ein Bild mit dem Kapitän wollte. Aber dort sind ja jetzt Einzelkabinen, so dass man dort nicht mehr so gut anstellen kann. Der Service ist jedoch so schlecht. Häppchen bekommen wir keine ab. Und ein 2. Getränk nur, wenn wir selbst laufen.

We went for the Captain's repection. No handshakes. Before we entered the other side if we wanted to have a picture with the captain. But now they have single cabins there so queuing was not so easy now. The service was so bad. No canapés for us. And a second beverage only we we walked ourselves.

We headed for our dinner to the Britannia-Restaurant. Again first class: food and service. Our waiters Joseph, Mladen and Rommel (a different one). The 2nd sitting was nicer because you can enjoy without pressure. We had been thrown out on QUEEN ELIZABETH 2012 (1st voyage) when it took too much time in the 1st sitting and they need to set the table for the 2nd sitting.

Es geht wieder zum Abendessen im Britannia-Restaurant. Wieder erstklasig: Essen und Service. Unsere Kellner Joseph, Mladen und Rommel (ein anderer). Die 2. Tischzeit ist angenehmer, weil man in Ruhe genießen kann. Wir wurden ja auch schon mal auf der
QUEEN ELIZABETH 2012 (1. Reise)
rausgeworfen, weil wir während der 1. Tischzeit zu lange brauchten und der Tisch für die 2. Tischzeit hergerichtet werden musste.
Am Schluss geht es noch in eine tolle Production-Show: Apassionata. Eine tolle Show, die bei allen gut ankommt und viel Spaß macht. Dieses Mal haben sie oder vor allem ich Glück! Dieses Mal komme ich nicht direkt von einem Disney Schiff und ich habe Entzugserscheinungen, weil ich schon so lange nicht mehr auf einem Schiff war: Oktober, November, Dezember... Daher gefällt mir die Show ohne Einschränkung. Ich brauchte das wieder für Augen, Ohren und Seele.

Finally we went for an amazing production show: Apassionata. A great show which everybody liked and made a lot of fun. This time they or especially I had luck! This time I was not arriving right from a Disney ship and I had withdrawal notice because I was not on a ship during such a long time: October, November, December... So I liked the show without obstruction. I need it for my eyes, ears and soul.