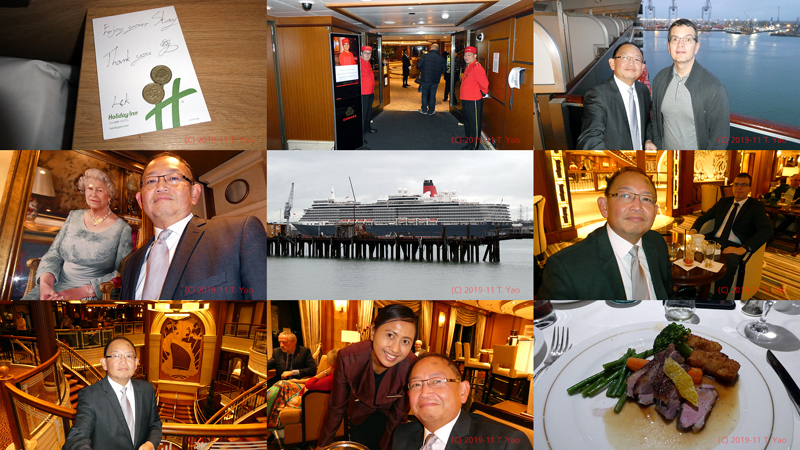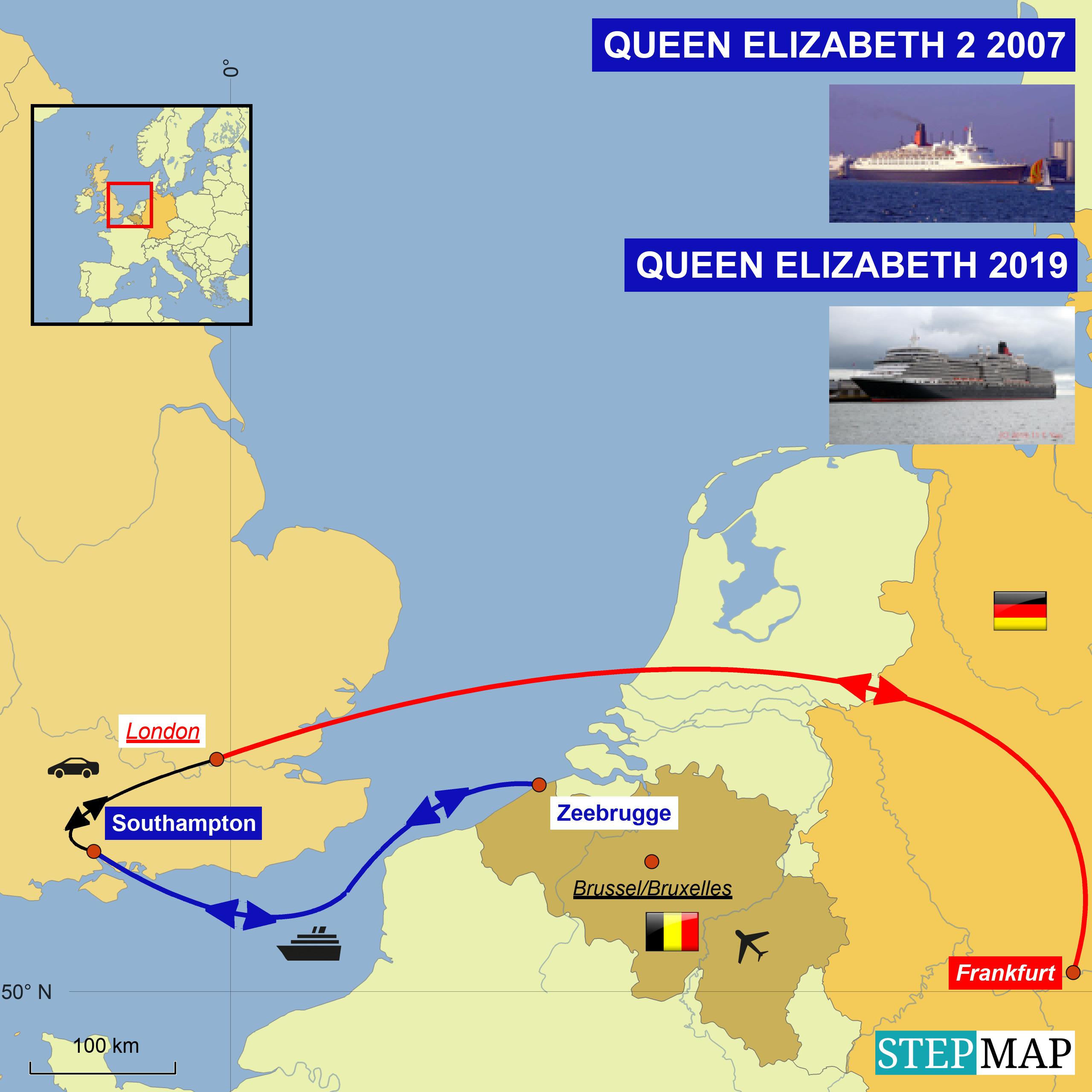 Ich habe Pech! Die neue Kamera dabei und es regnet plötzlich. Und ich komme nicht direkt in den Mayflower Park, weil der Seiteneingang vis-à-vis vom Hotel eingezäunt ist! Es war Halloween und dort fand das Feuerwerk statt. Ich muss daher im Regen und ohne Schirm einen großen Umweg laufen. In der Zeit fährt QUEEN ELIZABETH an mir vorbei.

I was unlucky! The new camera was there, and it suddenly rained. And I did not come directly to Mayflower Park because the side entrance was fenced in opposite to the hotel! It was Halloween, and there were fireworks. I, therefore, had to make a long detour in the rain and without an umbrella. In time, QUEEN ELIZABETH passed me.

Now I could see why the pictures from the hotel became nothing at night: it was still very foggy. It could always happen when you were in England.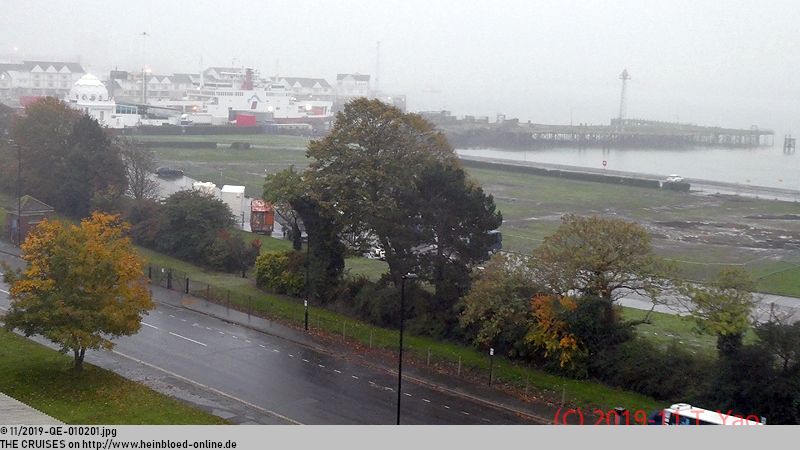 Nun sehe ich, warum die Bilder nachts aus dem Hotel nichts geworden sind: es ist noch sehr neblig. Kann eben auch passieren, wenn man in England ist.
Bis zum Auto vor dem Hotel habe ich klare Sicht, aber so nah ist QUEEN ELIZABETH nicht vorbeigefahren.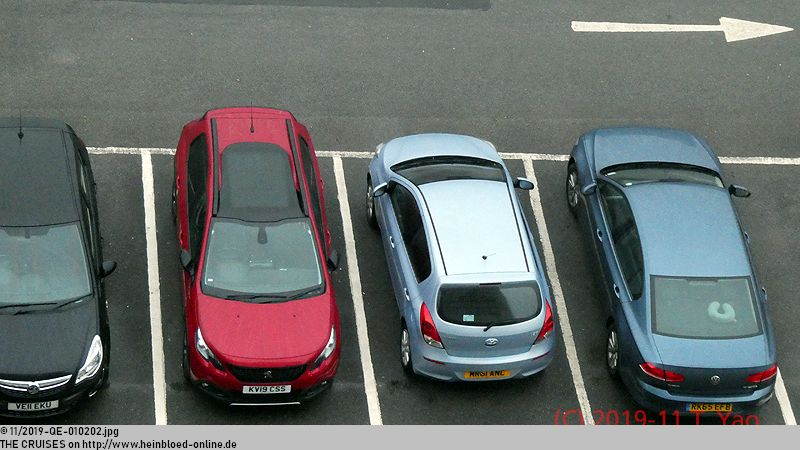 I had a clear view as far as the car in front of the hotel, but QUEEN ELIZABETH did not pass that close.

The Grand Harbor Hotel vis-à-vis was now a Leonardo Royal Hotel.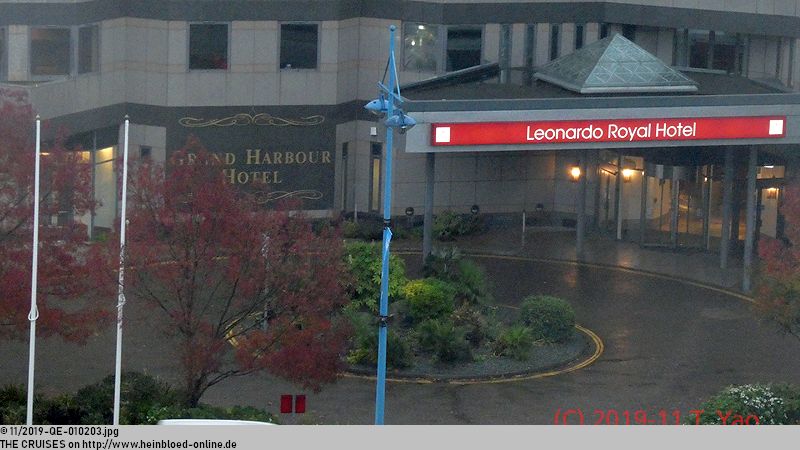 Das Grand Harbour Hotel vis-à-vis ist jetzt ein
Leonardo Royal Hotel
.
Wir gehen zum Frühstück. Es ist o.k.. Es ist alles da und als die Neuseeländische Rugby-Mannschaft ihren Haka-Tanz aufführt, wird der Service kurzerhand eingestellt. Alle Gäste und Angestellten aus Rugby-Nationen hängen in der Zeit vor dem Fernseher.

We were going to breakfast. It was ok. Everything was there, and when the New Zealand rugby team performed their Haka dance, the service was stopped without further ado. All guests and employees from rugby nations hang out in front of the television in time.

I missed the first use for my umbrella earlier.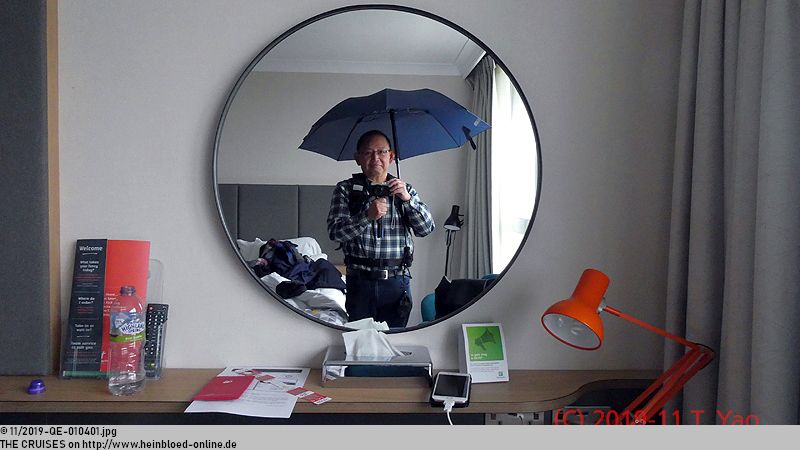 Den ersten Einsatz habe ich vorhin für
meinen Schirm
verpasst.
Man braucht etwas Zeit, um sich alles anzuschnallen und wenn man laufen muss, dann stört er leider auch nur.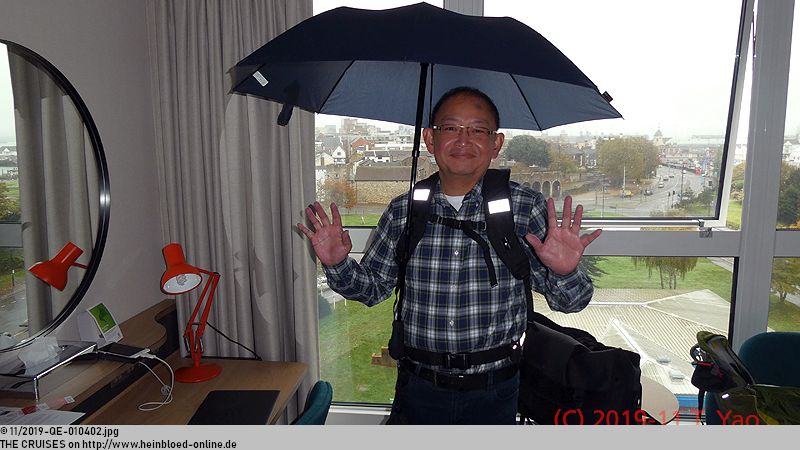 You needed a little time to buckle everything up, and when you had to walk, it just bothered me.

We drove over to Marchwood, England, to find the right corner to take photos here. However, in a hurry, we did not find anything.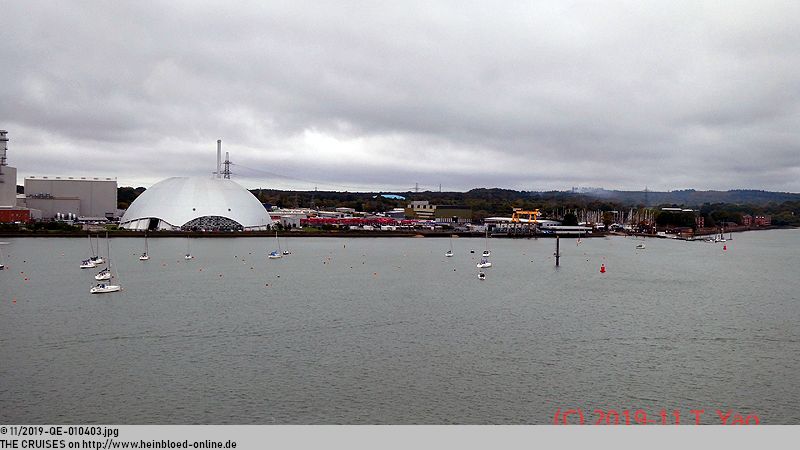 Wir fahren rüber nach Marchwood, um eine gute Ecke zu suchen, um hier fotografieren zu können. In der Eile finden wir jedoch nichts.
In dieser Ecke könnte etwas sein. Wir müssen mal weiter recherchieren.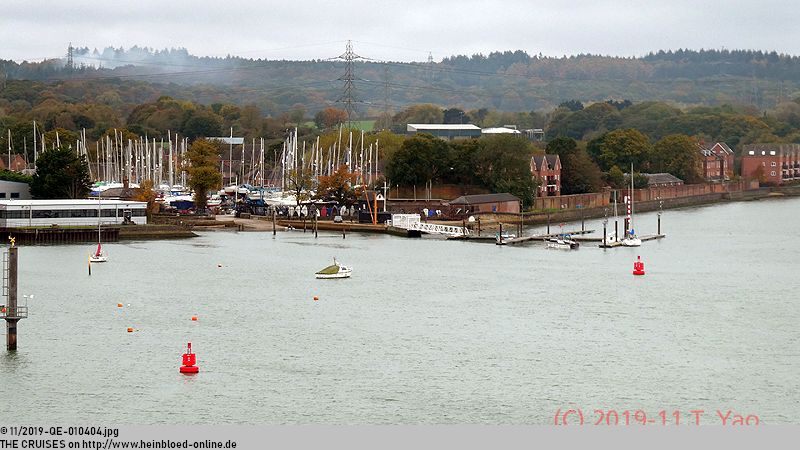 There could be something in this corner. We needed to continue our researchs.

Since we docked at the Mayflower Terminal, and I only knew my known point at Cracknore Hard, this stupid pier was always in between.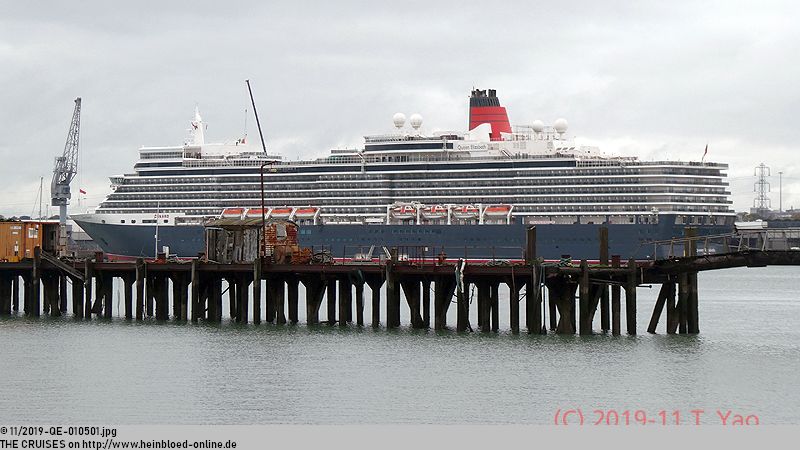 Da wir am Mayflower Terminal liegen und ich nur meinen mir bekannten Punkt an der Cracknore Hard kenne, liegt immer dieser blöde Pier dazwischen.
Alle anderen Terminals sind frei. Warum gehen wir daher "fremd"? Heimat für Carnival ist ja eigentlich das
Ocean Terminal
.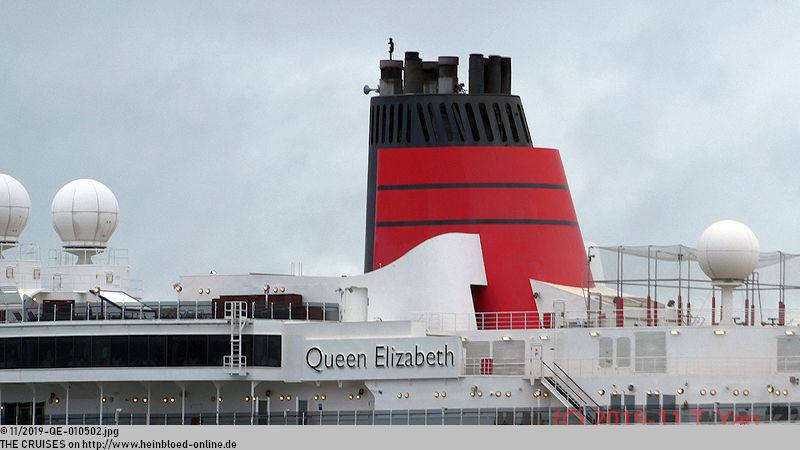 All other terminals were vacant. So why should we go "strange"? Carnival was actually home at the Ocean Terminal.

We had the problem: we departed from the Mayflower Terminal and should arrive back at the Queen Elizabeth II Terminal. Park, stay and cruise from our hotel Holiday Inn was not worth it for two nights only. Regular parking at the hotel should cost 15.00 GBP per day, but as a cruise ship and overnight guest, I only needed to pay 10.00 GBP at the reception. The others would charge more, and I would not have the flexibility. I still had to add Uber into the calculation (5.30 GBP and 5.50 GBP), but it worked best because I even did not have to call the shuttle service.

Wir haben das Problem: wir legen am
Mayflower Terminal
ab und kommen am
Queen Elizabeth II-Terminal
wieder an.
Park, Stay and Cruise von unserem Hotel Holiday Inn
lohnt sich nicht für zwei Nächte. 15,00 GBP kostet reguläres Parken am Hotel pro Tag, aber als Kreuzfahrer und Übernachtungsgast zahle ich an Rezeption nur 10,00 GBP. Die anderen kosten mehr und ich hätte nicht so die Flexibilität. Ich muss zwar noch
Uber
mit einrechnen (5,30 GBP bzw. 5,50 GBP), aber so passte es am Besten, weil ich nicht auch noch immer den Shuttle-Dienst anrufen musste.
Wir fahren mit, weil ich zufällig auf eine Fehlpreis gestoßen bin: 269,00 USD für zwei Nächte in einer Club Balkonkabine: das zahle ich ja manchmal sogar für eine Innenkabine (hier wären es 139,00 USD gewesen). Für den Preis bleibe ich nicht zu Hause! Da muss ich sofort zuschlagen. Und ich habe Glück: kurz danach wird der Fehler wohl entdeckt und es geht weltweit auf allen Märkten nur noch nach oben.

We went because it happened to come across a low price: 269.00 USD for two nights in a Club Balcony cabin: I sometimes even paid for an inside cabin (here it would be 139.00 USD). I did not stay at home for the price! I had to strike immediately. And I was lucky: shortly afterward, the error was discovered, and the prices were only going up in all markets worldwide.

I still received a welcome email from Commodore Christopher Rynd as a booking confirmation. I even knew him from our voyage on QUEEN ELIZABETH 2012 (2). Unfortunately, he was now retired when we embarked. It was a shame. While cleaning up, I found my Deilmann passport cover from DEUTSCHLAND. She was the TV-star in the German version of "Love Boat" - "ZDF Traumschiff". The trip was canceled because of bankruptcy. We did not need to print out the luggage tags ourselves. We got it classically by post. They were so stable that we should also use them for disembarkation. Because we were platinum guests, we immediately received embarkation card H and were allowed to pass through. Attractive: "debit card" was now probably also accepted as a means of payment. Would this also mean German Maestro or VPay cards? We had to try that next time because we now had a vast onboard credit. You could also withdraw 500.00 USD of cash every day from your credit card. However, a prepaid credit card was excluded: for cash withdrawals or generally on board? Our "big" problem: Cunard and Holland America used different holes for the lanyards. Only "slots" would go on our hooks. That was, either get another lanyard or two days without one. Our luggage was very quickly in the cabin.

Ich bekomme noch von Commodore Christopher Rynd eine Willkommensmail als Buchungsbestätigung. Ich kenne ihn noch von der Reise auf der
QUEEN ELIZABETH 2012 (2)
. Leider ist er jetzt im Ruhestand, als wir einschiffen. Sehr schade. Beim Aufräumen habe ich meine Deilmann-Passhülle von der DEUTSCHLAND gefunden. Die Fahrt wurde ja damals wegen Insolvenz abgesagt. Die Gepäckanhänger haben wir nicht selbst ausgedruckt. Wir bekamen sie klassisch mit der Post. Sie sind so stabil, dass wir sie auch für die Ausschiffung nutzen sollen. Weil wir Platingäste sind, bekommen wir sofort die Einschiffungskarte H und dürfen quasi durchlaufen. Interessant: "DebitCard" sind wohl jetzt auch als Zahlungsmittel zugelassen. Sind damit auch deutsche Maestro oder VPay-Karten gemeint? Das müssen wir das nächste Mal ausprobieren, da wir jetzt ein hohes Bordguthaben haben. Man darf auch 500,00 USD jeden Tag an Bargeld über die Kreditkarte beziehen. Ausgeschlossen jedoch eine Prepaid-Kreditkarte: für den Bargeldbezug oder allgemein an Bord? Unser "großes" Problem: Cunard und Holland America verwenden unterschiedliche Lochungen für die Lanyards. An unseren Haken gehen nur "Schlitze". D. h. entweder noch ein Lanyard holen oder zwei Tage ohne leben. Unser Gepäck ist sehr schnell auf der Kabine.
Irgendwie ist es fast wie Ankommen zu Hause.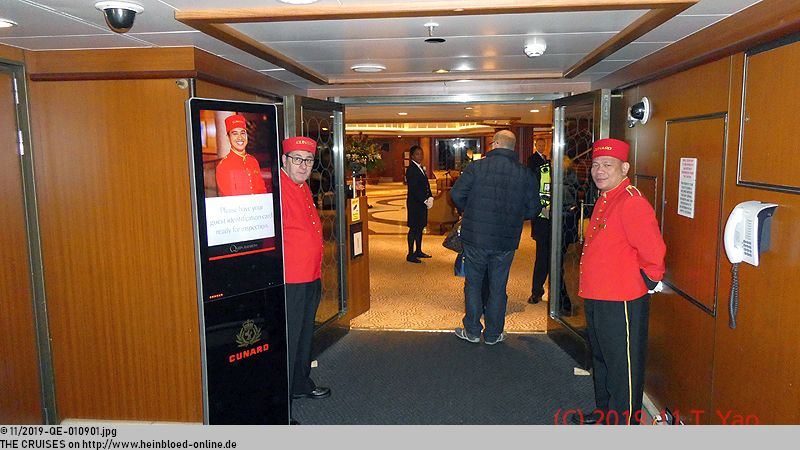 Somehow it was like returning home.

Somehow, it was so calm.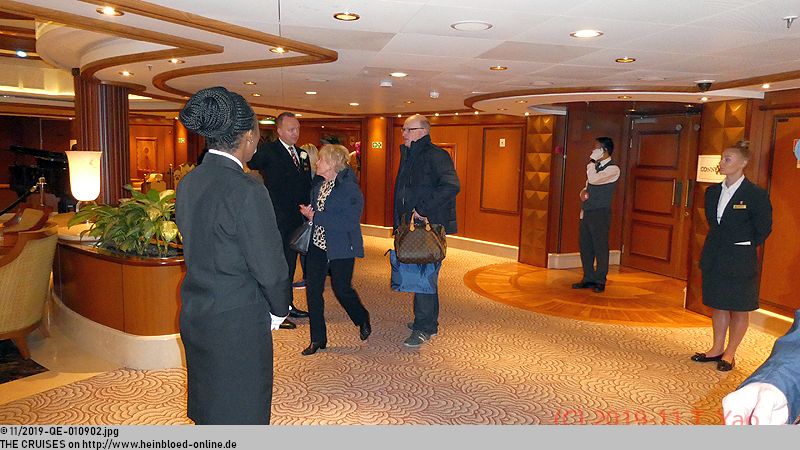 Irgendwie ist so wenig los.
Die Fahrstühle sind gesperrt.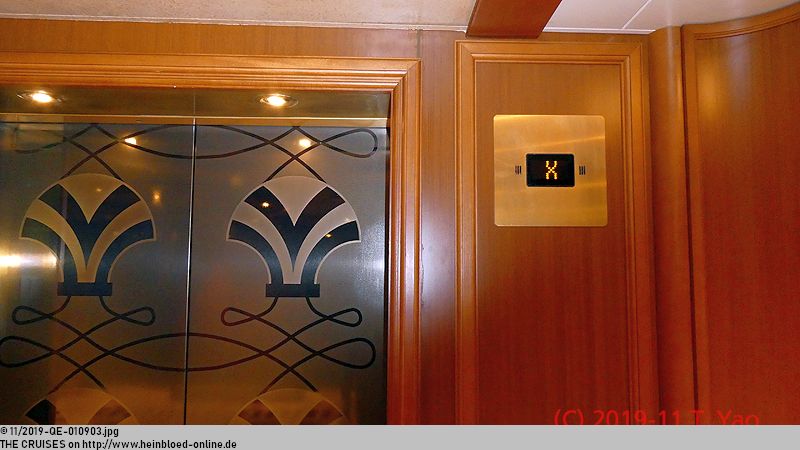 The elevators were locked.

But they were operated with "Lift boy" Jamison. To ensure that the new guests would not always push "up" and "down" and thus unnecessarily would slow down operations. Lift boys could also get guests to their destinations faster because they asked where the guests would like to go.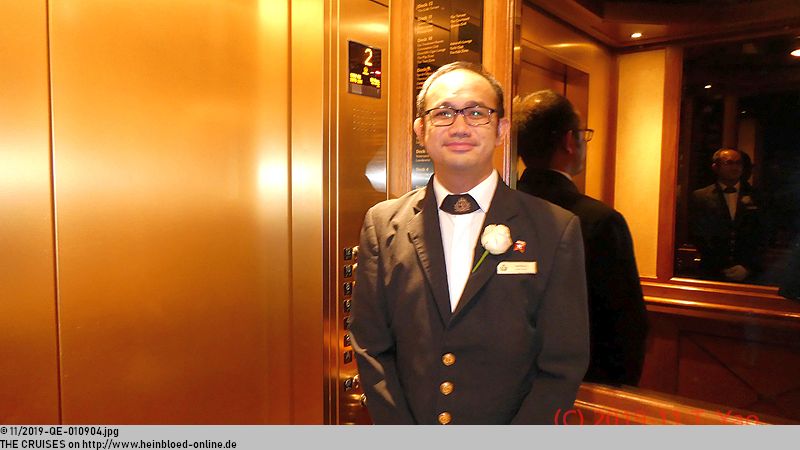 Aber sie fahren mit "Liftboy" Jamison. Damit man sicherstellt, dass die neuen Gäste nicht ständig "rauf" und "runter" drücken und so unnötigerweise den Betrieb aufhalten, können Liftboys eben auch Gäste schneller zum Ziel bringen, weil sie fragen, wohin die Gäste wollen.
Die Seekarte.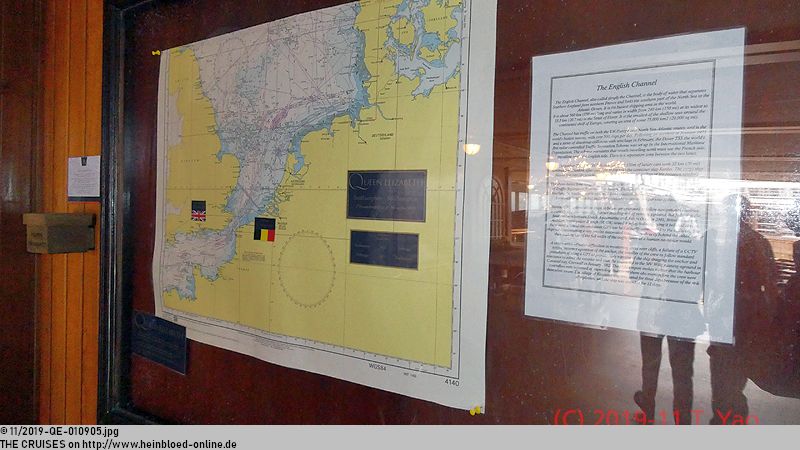 The nautical chart.

Nobody was in the self-service laundry yet. A popular hobby: washing and drying were free onboard Cunard. Many came on board with the dirty laundry and washed it here. On QUEEN ELIZABETH 2 2007, however, it was "more comfortable": there were still tables and chairs, and while they were waiting for the laundry, they played cards and talked. Was there a cheaper way to keep passengers entertained and happy?

Noch ist keiner in der SB-Wäscherei. Ein beliebtes Hobby: waschen und trocknen ist kostenlos an Bord von Cunard. Viele kommen mit der dreckigen Wäsche an Bord und waschen sie eben hier. Auf der
QUEEN ELIZABETH 2 2007
war es jedoch "gemütlicher": dort gab es noch Tische und Stühle und während man auf die Wäsche gewartet hat, hat man noch Karten gespielt und sich unterhalten. Gibt es einen preiswerteren Weg, Passagiere zu unterhalten und glücklich zu machen?
Bei uns gibt es einen Knick im Gang, weil unser Balkon etwas größer ist.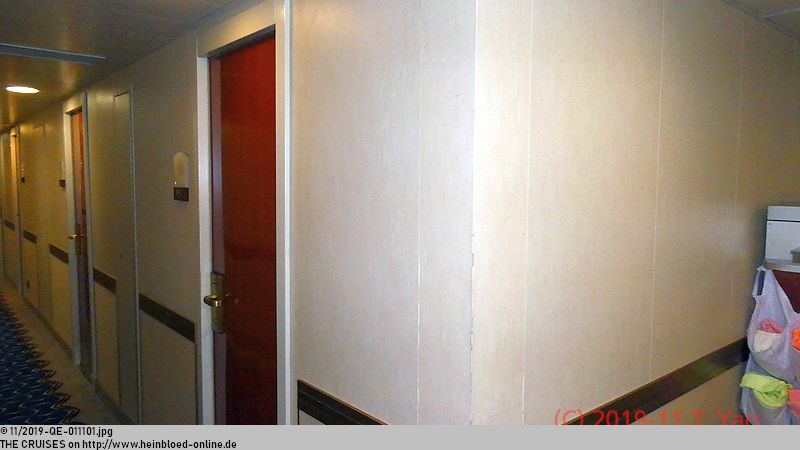 We had a kink in the hallway because our balcony was a little bigger.

Cabin 8032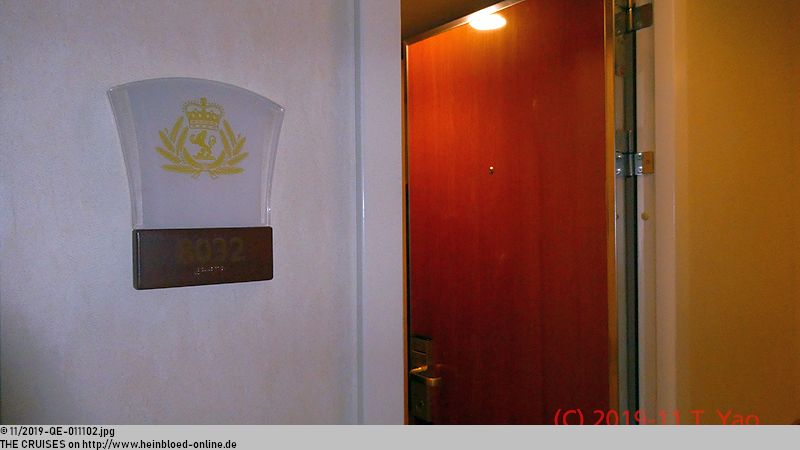 Kabine 8032.
Damit können wir leben: zwei getrennte Decken.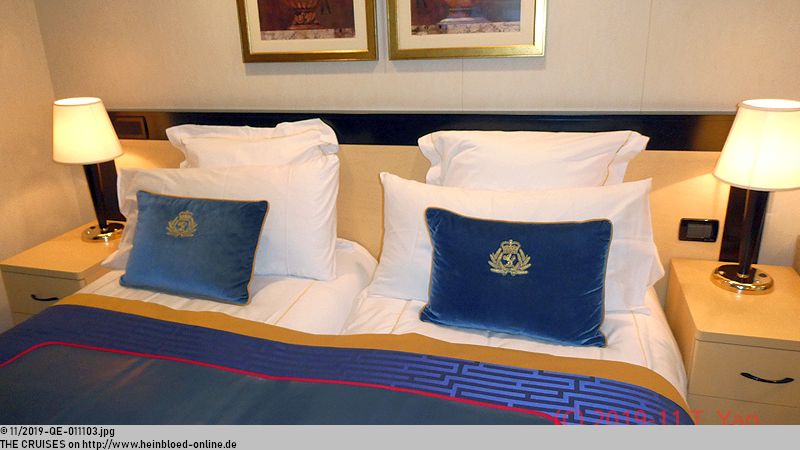 Something we could live with: two separate blankets.

And an emergency sofabed.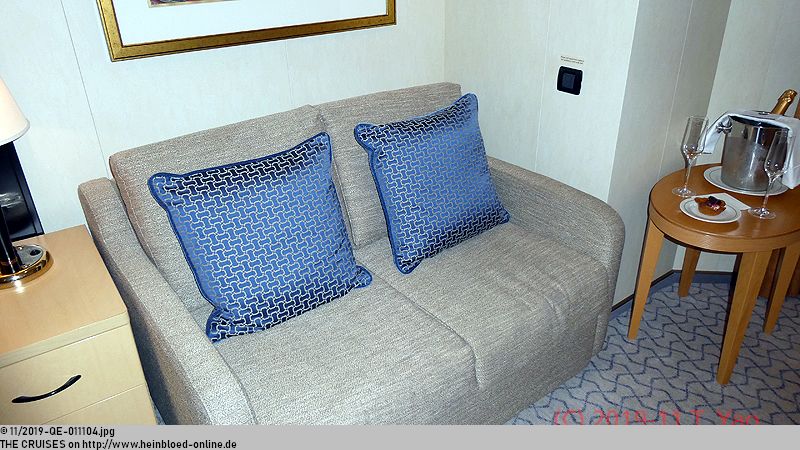 Und noch ein Notsofabett.
Alles vorbereitet. Nun gibt es endlich auch Wasserkocher usw.. Früher haben wir ja für jede Tasse Kaffee den Kabinenservice anrufen müssen. Damals noch auf der
QUEEN VICTORIA 2008
.

Well prepared. Now finally we had a water kettle etc.. Then, you had to call for each cup of coffee, the cabin service. Then on QUEEN VICTORIA 2008.

No changes on the terrible fixed showerheads at the wall even you were in a Club Balcony cabin. Everything else appeared like we used to know it.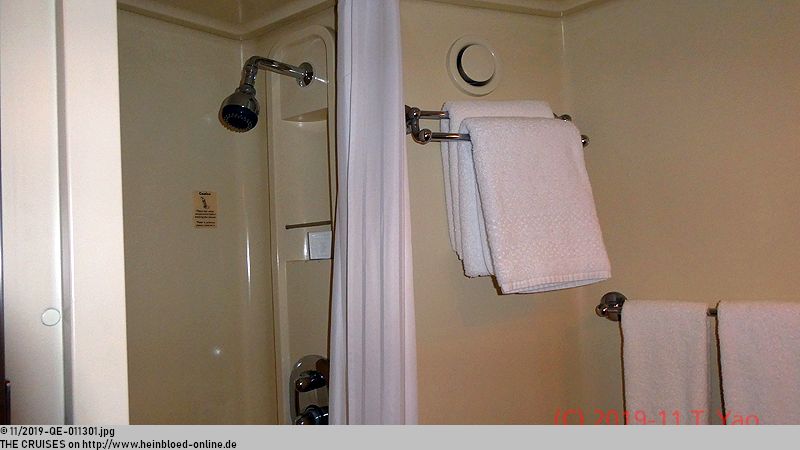 An dem furchtbaren festen Duschkopf an der Wand hat sich auch im Club Balkon nichts geändert. Sonst ist es wie immer.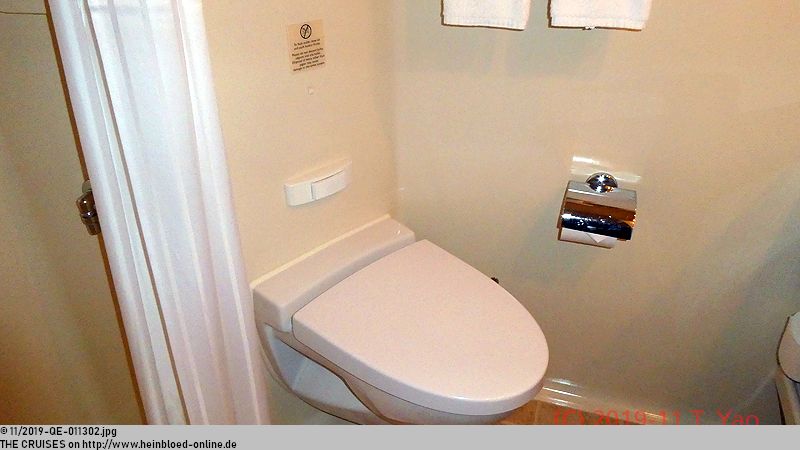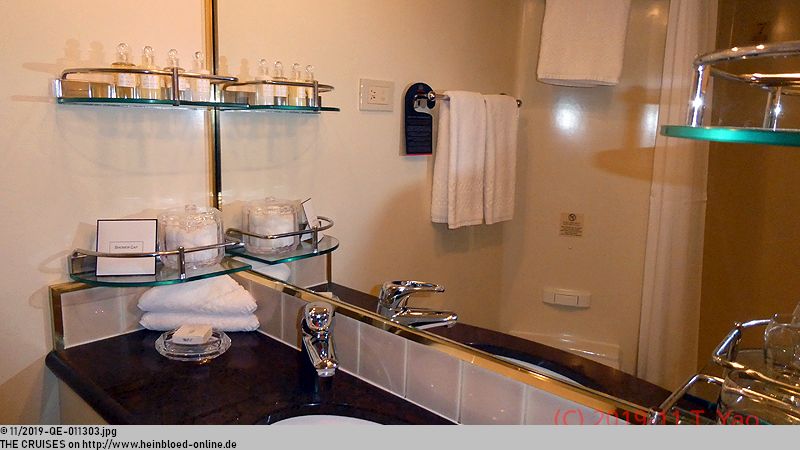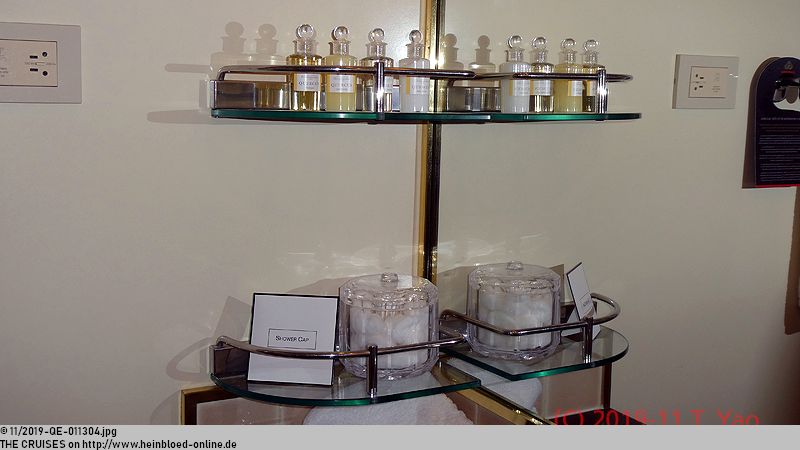 Our balcony was larger, since it was located at a corner.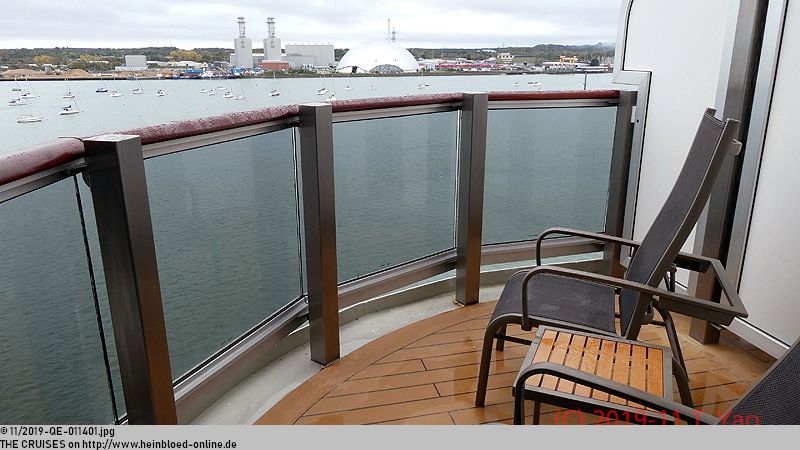 Unser Balkon ist größer, weil er an einer Ecke liegt.
Unten drunter hängen die Rettungsboote. Daher wird es hier "enger".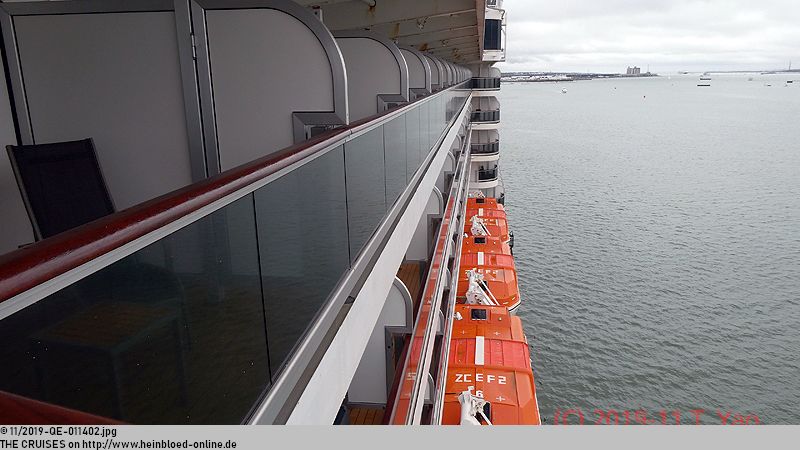 There below, the rescue boats were hanging. So it became more "narrow" here.

We were looking over to Hythe, England.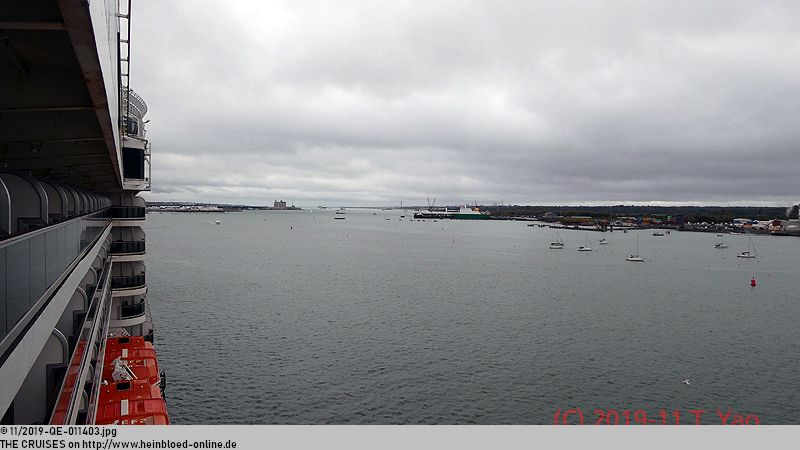 Drüben gucken wir auf Hythe.
Immer sehr gut erklärt: wie wir Statuskunden an unsere kostenlosen Internet-Minuten kommen.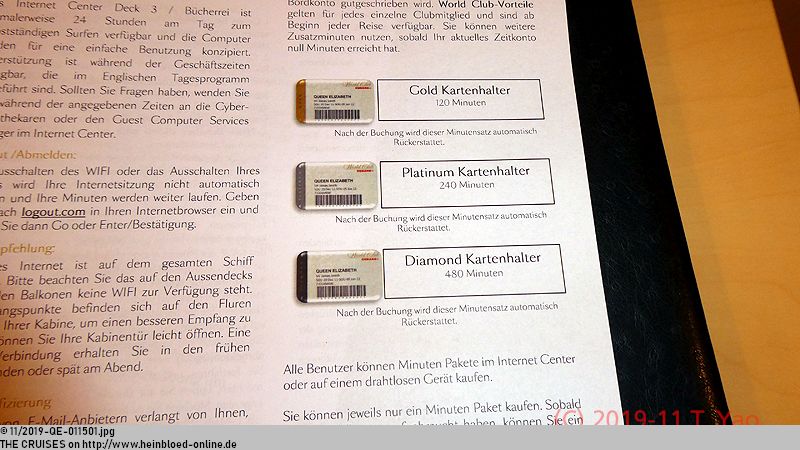 That was always well explained: how we would have access to our complimentary internet minutes as status customers.

As a platinum customer, I was now allowed to use 4 hours free of charge. You simply needed to buy the pass and then later got a reimbursement to the onboard account: no queuing with the internet manager.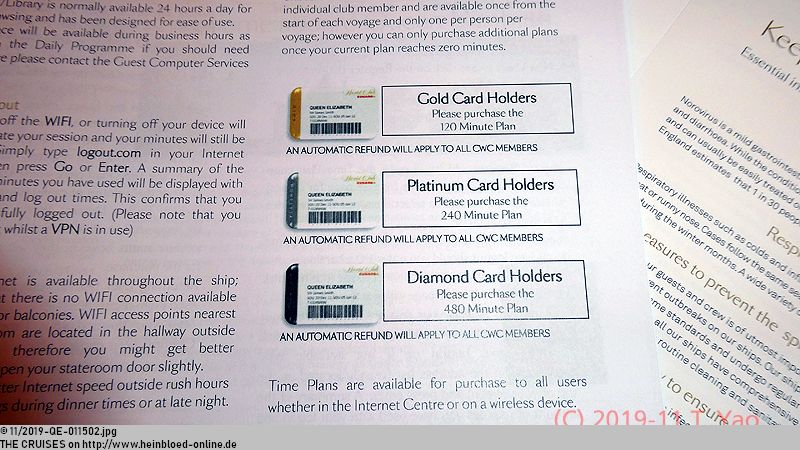 Als Platin-Kunde darf ich mittlerweile 4 Stunden kostenlos surfen. Man kauft einfach den Pass und bekommt danach eine Erstattung auf das Bordkonto: kein Anstellen beim Internet-Manager.
Ganz einfach.

Very easy.

We went for a small bite for lunch into the Lido.

Wir gehen eine Kleinigkeit zum Mittagessen ins Lido.
Es gibt jetzt auch die englischen Limonaden von Fentimans an Bord. Wir müssten mal Brunos Vater wieder hierher kommen: Hier gibt es den
Louis XIII.
für 240,00 USD plus 15% das Glas. Auf der
VEENDAM 2019
gab es ihn ja nicht mehr. Aber damals auf der
WESTERDAM 2010
. Er hat ihn sehr genossen. Ich bleibe bei Coca-Cola in Glasflaschen, die teurer ist, als die Pepsi aus der Zapfanlage. Und Bruno ist mit seinem illy-Kaffee glücklich.

Fentimans' English sodas were now on board. We needed to get Bruno's father back here: here was his beloved Louis XIII. available - for 240.00 USD plus 15% per glass. It no longer existed on VEENDAM 2019. But back then on WESTERDAM 2010. He really enjoyed it. I stayed with Coca-Cola in glass bottles, which was more expensive than the Pepsi from the tap. And Bruno was happy with his illy coffee.

Due to a very high onboard credit and the need to make myself "beautiful" for my job interviews, I took the opportunity for treatment. They advertised that they had a new operator: Mareel instead of Canyon Ranch. However, in further discussions, it came out: Mareel was part of Canyon Ranch. Pure marketing reasons. The manicure was wasting money! It was cheap, but no cuticles were removed, for example, so you could get more for your money at every Vietnamese nail salon in Germany for 10-15 EUR. Of course, they tried to sell a pedicure too. When I declared that I was diabetic, they immediately withdrew the offer. I did a short facial for 30 minutes so that I looked fresher. Since I quickly pretended to have fallen asleep, I avoided unnecessary discussions about why their sales products would be better than mine from Kiehl's and ClarinsMen. For two days I did not want to buy a pass for 35.00 USD for the pool area and steam baths either: it was simply too small here.

Aufgrund eines sehr hohen Bordguthabens und der Notwendigkeit mich für meine Bewerbungsgespräche "schön" zu machen, nutze ich die Gelegenheit für eine Behandlungen. Sie haben damit geworben, dass sie einen neuen Betreiber haben:
Mareel
statt
Canyon Ranch
. In weiteren Gesprächen kommt jedoch raus:
Mareel
gehört zu
Canyon Ranch
. Reine Marketinggründe. Die Maniküre ist für die Katz! Sie ist günstig, aber es wird beispielsweise keine Nagelhaut entfernt, so dass man für 10-15 EUR bei jedem vietnamesischen Nagelstudio in Deutschland mehr für sein Geld bekommt. Natürlich versuchen sie eine Pediküre mitzuverkaufen. Als ich erkläre, dass ich Diabetiker bin, nehmen sie das Angebot sofort zurück. Ich mache noch eine kurze Gesichtsbehandlung für 30 Minuten, damit ich frischer wirke. Da ich sofort tue, als ob ich eingeschlafen bin, entziehe ich mich der unnötigen Diskussionen, warum deren Verkaufsprodukte besser sind als meine von
Kiehl's
und
ClarinsMen
. Für zwei Tage möchte ich auch keinen Pass für 35,00 USD für den Pool-Bereich und Dampfbäder kaufen: der ist hier einfach zu klein.
Bruno ist in seinem Metier im Fitness Studio und stellt fest, dass sie sehr aktuelle Geräte haben.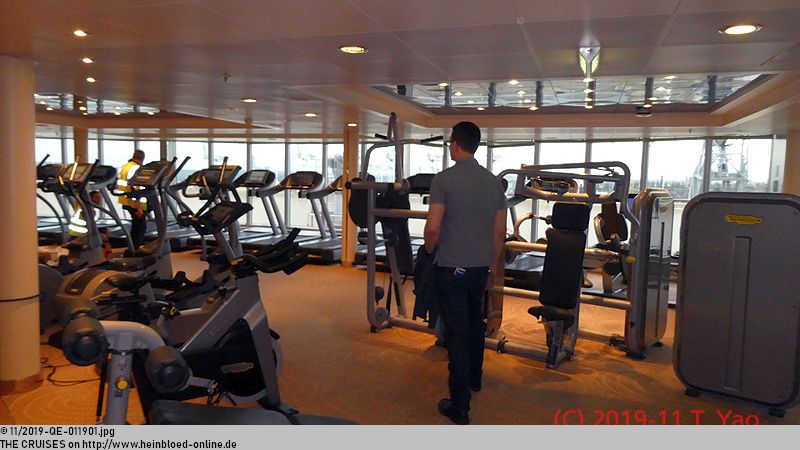 Bruno was in his profession in the gym and realizes that they had the most up-to-date equipment.

That was, why he was quickly back in the cabin, to change his dresses.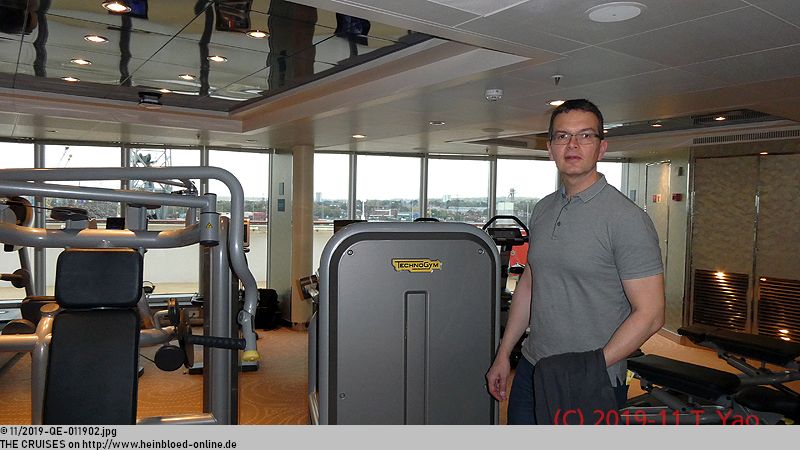 Deswegen ist er auch wieder schnell zurück in der Kabine, um sich umzuziehen.
Während er trainiert, bin ich neben an im Schönheitssalon.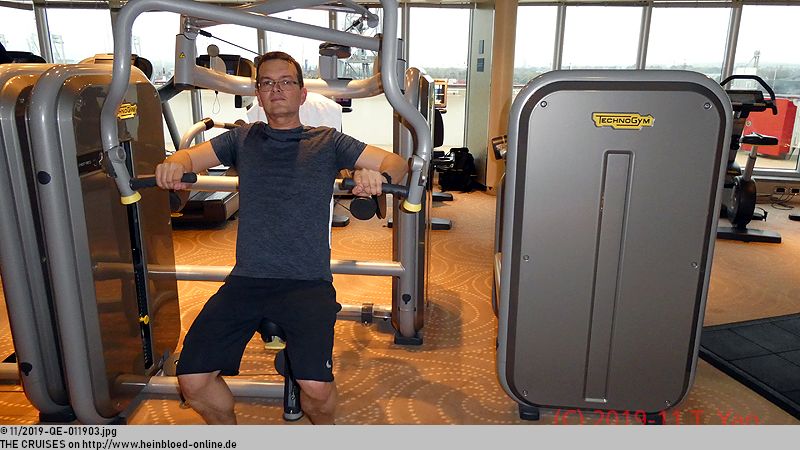 While he was exercising, I was next to him in the spa.

Beautiful colors.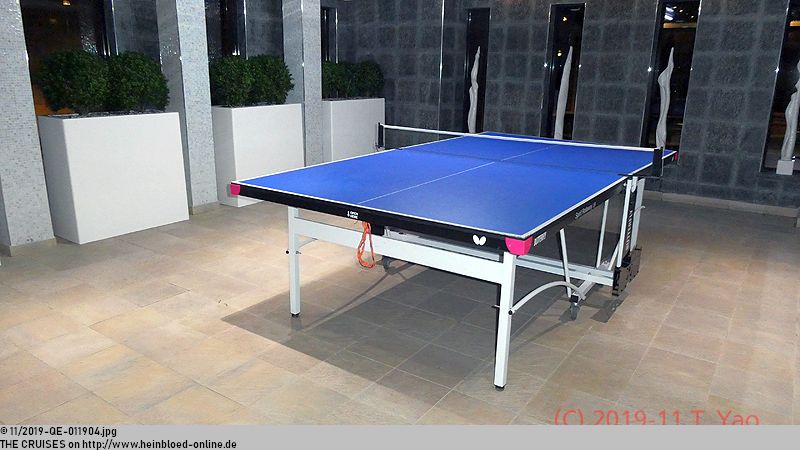 Schöne Farben.
Der übliche Rundgang. Kein formeller Abend.

The usual walk around. No formal night.

And again outside.

Und auch nochmals draußen.
Drinnen alles unverändert.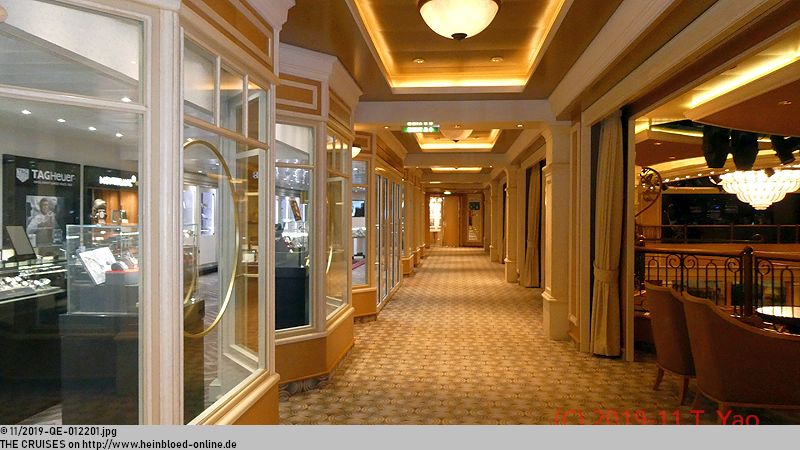 Inside, it remained unchanged.

And outside everything was wet.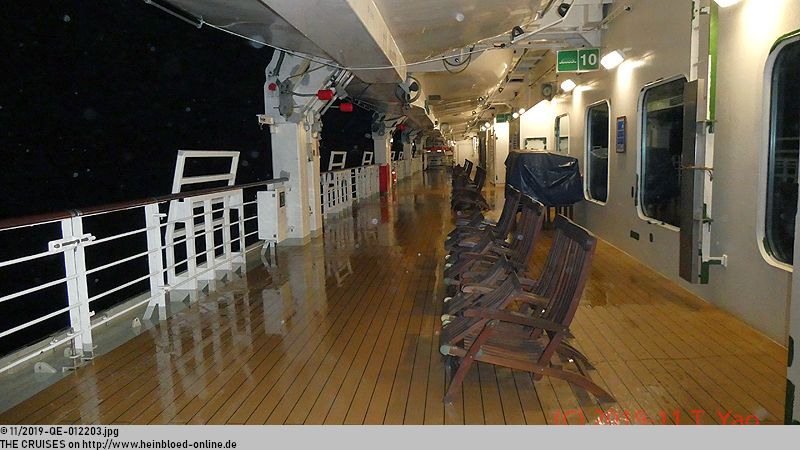 Und draußen alles nass.
16:00 Uhr Seenotrettungsübung.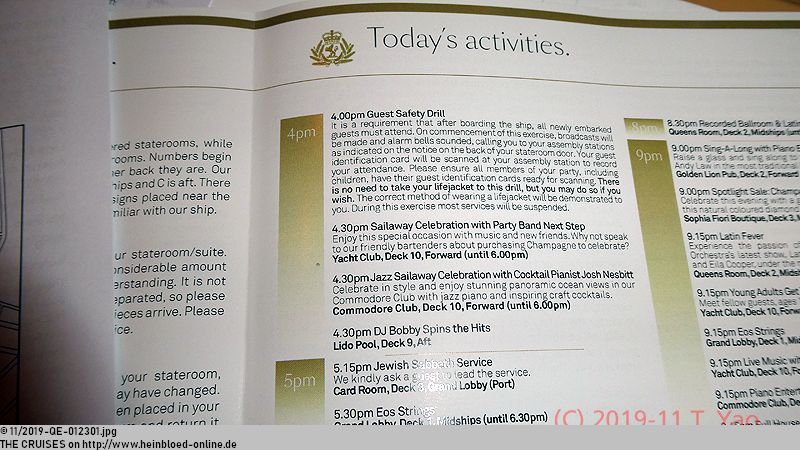 16:00 hrs life drill.

It was a pity: no more separate for German guests, which usually lasted five to ten minutes only. We had to attend the "regular".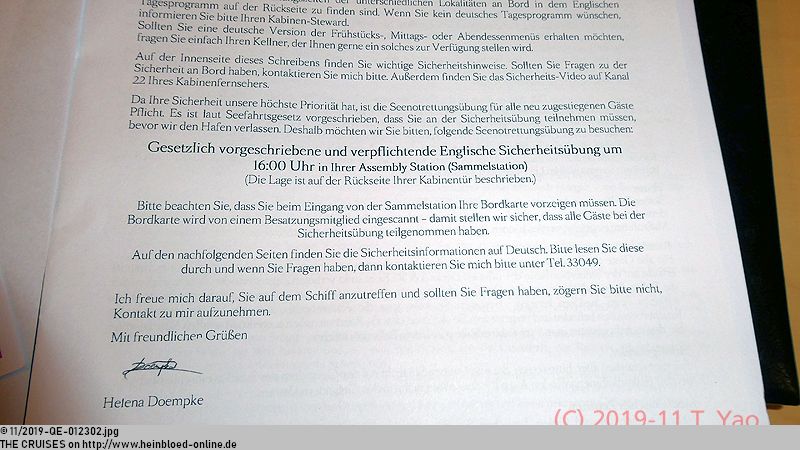 Schade: es gibt keine mehr für deutsche Gäste, die meistens in fünf bis zehn Minuten wieder vorbei ist. Wir müssen also zur "normalen".
Auf zur Sammelstelle im Theater.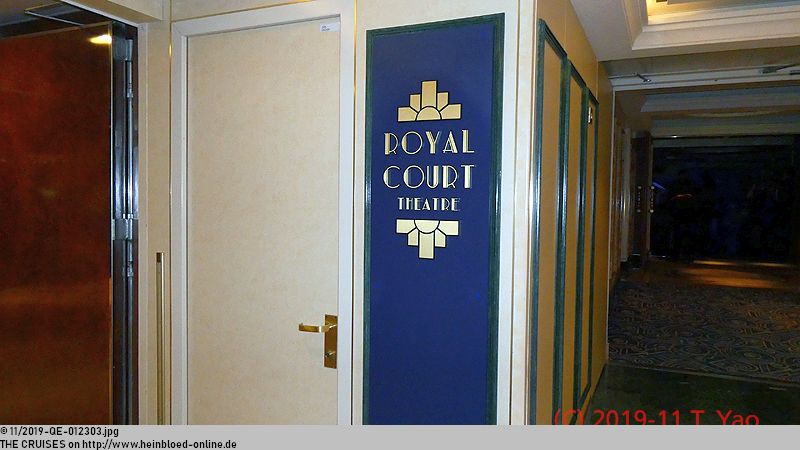 We were heading for the muster station in the theater.

We had luck as there was no more need to have our life vests with us.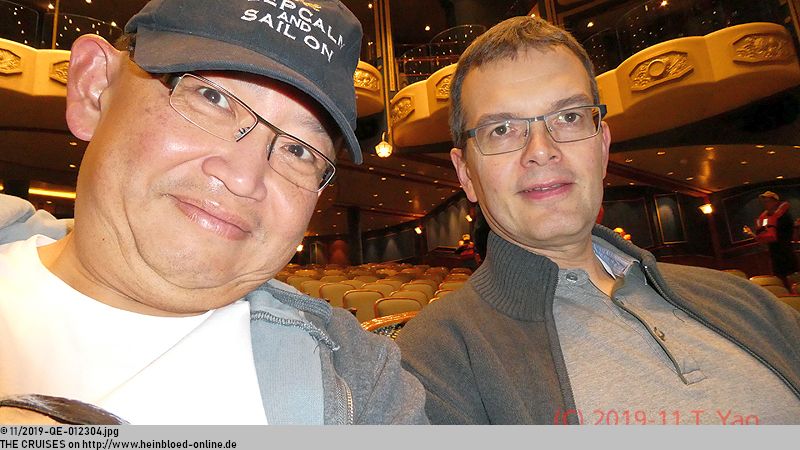 Wir müssen aber zum Glück keine Rettungswesten mehr mitnehmen.
In der Kabine gucke ich mir das Kabinenmenü an. Man kann hier wirklich tagelang hier drinhängen und kann trotzdem gut essen. Nur in einem Punkt bin ich überrascht: Wir sind vor dem Brexit und es gibt französische Kekse aus der EU statt Shortbread aus Großbritannien. Aber leider ist das auch in unseren deutschen Supermärkten so: immer mehr britische Produkte verschwinden aus den Regalen und dafür können wir Shortbread aus Frankreich oder Irland kaufen.

In the cabin I checked the cabin menu. You could really hang in here for days and still could eat well. I was only surprised at one point: we were before Brexit, and there were French cookies from the EU instead of shortbread from Great Britain. But unfortunately, this was also the case in our German supermarkets: more and more British products were disappearing from the shelves, and for that, we could buy shortbread from France or Ireland.

In the evening a Smart Attire appearance was mandatory.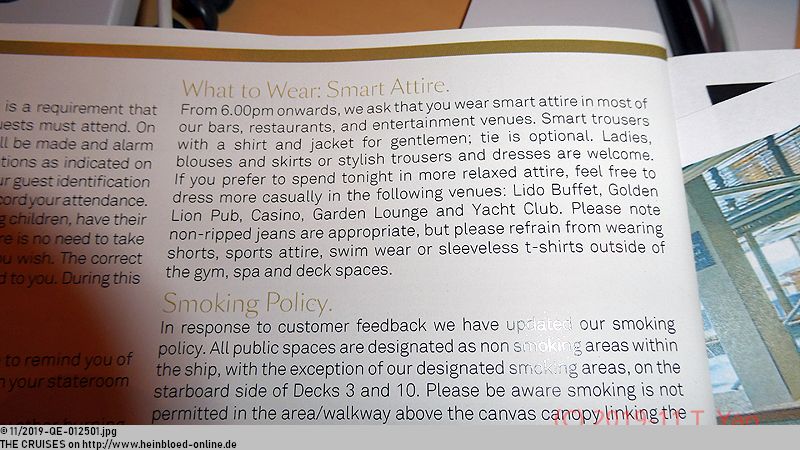 Abends ist Smart Attire vorgeschrieben.
Überall die Hinweise.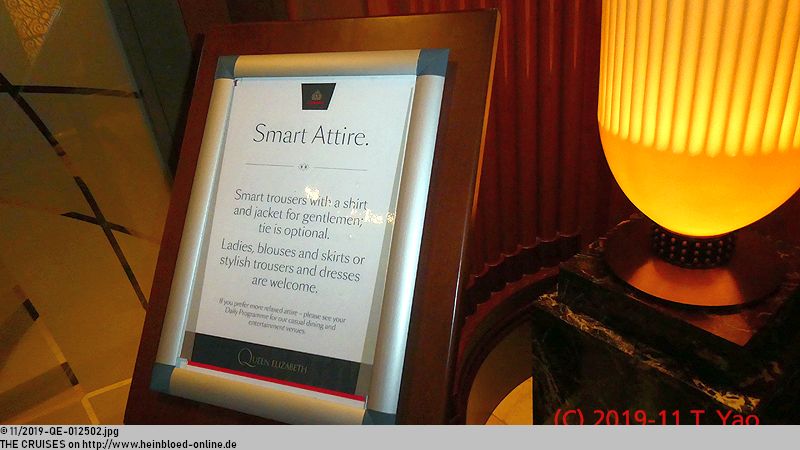 Everywhere, you could find it published.

We were with Cunard, and so I follow their guideline with pleasure.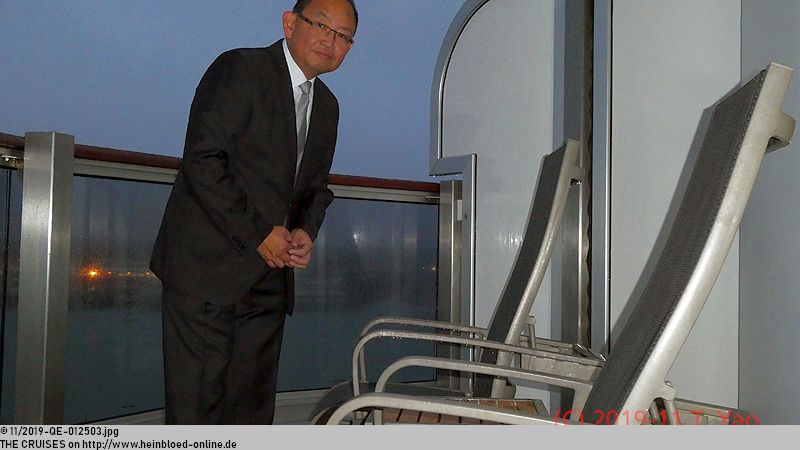 Wir sind bei Cunard und da halte ich mich gerne daran.
So gucke ich mir eben im Anzug die Abfahrt in Southampton an.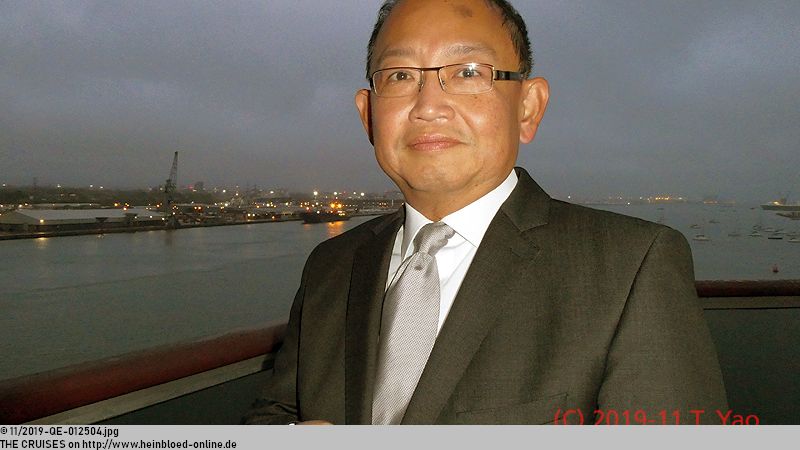 So I was already dressed up with my suit and watching the set sail in Southampton, England.

Bruno still needed to change his clothes. But since we had in Club Britannia flexible dining, it did not bother anyone, when we would come.

Bruno muss sich noch umziehen. Aber da wir im Club Britannia flexible Tischzeit haben, spielt das keine große Rolle, wann wir kommen.
Ich will weitere Bilder, aber es ist niemand in der Fotogalerie.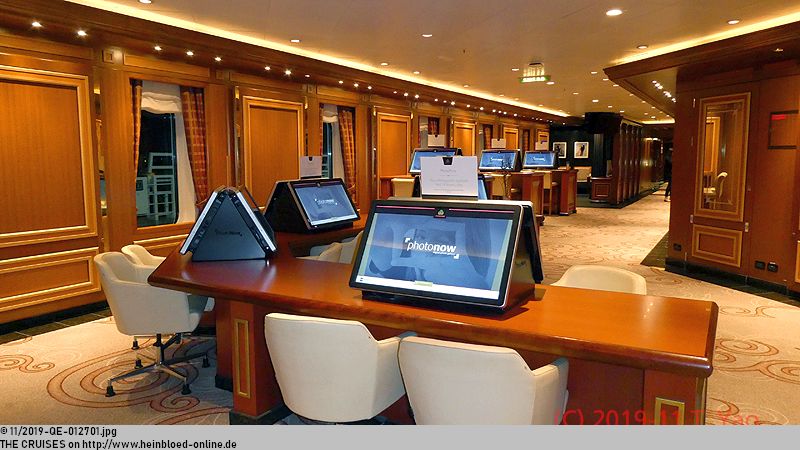 I wanted to have more pictures, but there was none in the photo gallery.

But they had a display, where I could find them.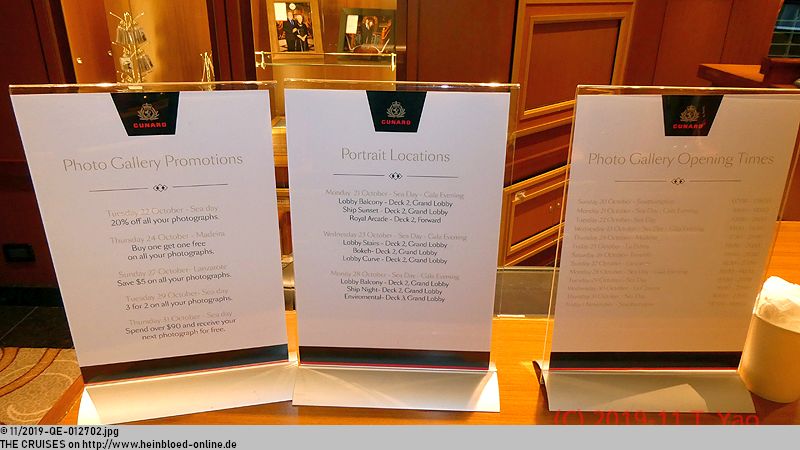 Aber zum Glück ist ein Schild, wo ich sie finde.
Das sind jedoch die typischen Hintergrundmotive, die ich nicht will.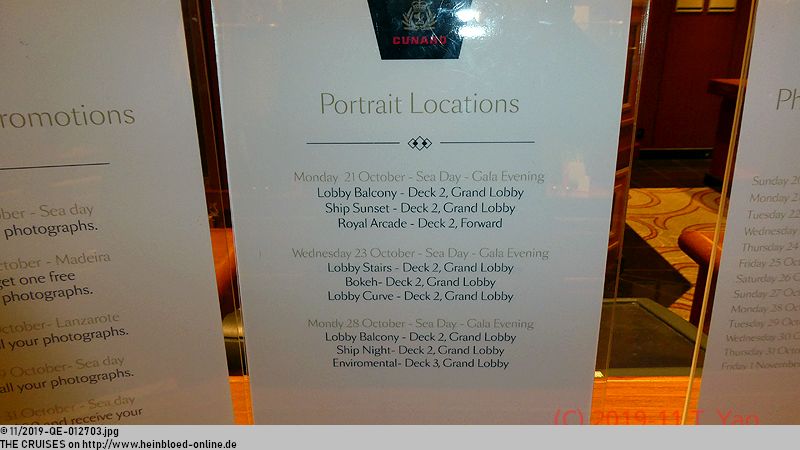 But there they had only the typical background shots, which I did not like.

And I did not like the photo studio either.

Und das Fotostudio gefällt mir auch nicht.
Auch wenn ich schon hunderte Bilder vom Atrium habe: man muss einfach wieder und wieder. Es ist einfach immer wieder schön und elegant hier. Auch die Musiker sind sehr gut, die hier spielen.

Although I had hundreds of pictures from the atrium: I had to do it again and again. It was still beautiful and elegant here. Also, the musicians who were playing here were all fantastic.

Also a view into the Queens Room.

Auch ein Blick in den Queens Room.
Unsere Stammbar (weil hier auch eine Barista-Kaffeemaschine steht) ist Café Carinthia. Bei Juni bekommen wir sofort ohne langes Nachfragen Snacks. Das war ja auf der
VEENDAM 2019
schon zum Problem ausgeartet. Ich nehme auch gerne die Mixer-Größe, weil ich manchmal wirklich nur einen winzigen Schluck will.

Our regular bar (because there was also a barista coffee machine here) was Café Carinthia. From June, we immediately got snacks without asking. That was already a problem on VEENDAM 2019. I also liked to take the mixer size because sometimes I really just want a tiny sip.

NORWEGIAN ENCORE should arrive on the following day. In the mornings at the hotel, there were already a lot of guests who showed everyone that they would be guests of the NORWEGIAN ENCORE. We learned from the Uber driver: due to the weather forecasts, she would already be in Southampton this evening. We insured ourselves briefly with Raoul from kreuzfahrten-treff.de or Sonnendeck Seereisen, and we actually met each other on the way.

Eigentlich sollte NORWEGIAN ENCORE erst am Folgetag eintreffen. Morgens im Hotel treffen schon jede Menge Gäste, die es auch allen zeigen, dass sie Gäste der NORWEGIAN ENCORE sind. Vom Uber-Fahrer erfahren wir: Aufgrund der Wetterprognosen erreicht sie Southampton bereits heute Abend. Wir versichern uns kurz bei Raoul vom
kreuzfahrten-treff.de
bzw.
Sonnendeck Seereisen
und wir begegnen uns tatsächlich unterwegs.
Britannia Club bedeutet freie Tischzeit in einem separaten Restaurant. Wahrscheinlich hat man angenommen, dass wir hier im Club Britannia schon öfters waren, da wir ja als Platingäste einen hohen Status bei Cunard haben. Auf jeden Fall haben wir Glück, dass am Nachbartisch einem Gast, der zum allerersten Mal mit Cunard unterwegs ist, erklärt wird, wie die Speisekarte im Club Britannia aufgebaut ist: Grundsätzlich ist es identische Karte im regulären Britannia Restaurant. Dazu gibt es aber noch eine à-la-carte Auswahl für Club Britannia Gäste. Ein Gericht mit Ente und Kirschen muss jedoch im Voraus bestellt werden. Da ich Kirschen und Ente liebe, muss ich es natürlich für den nächsten Tag machen. Ein bisschen fühlen wir uns aber schon wie damals auf der
QUEEN ELIZABETH 2 2007
zurückversetzt: Die Kurzkreuzfahrten sind bei der Crew nicht besonders beliebt und das spürt man auch an dem einen oder anderen Punkt. Oder was auch sein könnte: sind die Erfahrungen auf der
VEENDAM 2019
eher allgemeiner Natur bei allen Carnival-Gesellschaft, dass alles ein wenig zurückgefahren wurde? Ich bin mir nicht so sicher, was ich von der einigen Reaktion halten soll. Früher hatte es lt. Douglas Ward einen Stern Unterschied zwischen QUEEN MARY 2 und den anderen beiden Schiffen gegeben. Nun haben beide Schiffe 4*+. QUEEN MARY 2 allerdings ca. 100 Punkte mehr. Auf der
QUEEN MARY 2 2018
lag es sicherlich an den vielen Freunden auf der Crewseite, dass die Reise aus Anlass von Brunos 50. Geburtstag unvergesslich blieb. Aber kurz davor waren wir ja auch auf der
QUEEN VICTORIA 2018
. Aber zwischen
QUEEN VICTORIA 2018
und
QUEEN MARY 2 2018
konnte ich vom Servicelevel keinen Unterschied feststellen. Aber jetzt habe ich so ein wenig den Eindruck: wir rücken nur noch etwas raus, wenn der Kunde ausdrücklich danach fragt und darauf besteht. Eben derselbe Eindruck, den ich auch auf der
VEENDAM 2019
auch hatte.

Britannia Club meant flexible dining time in a separate restaurant. It was probably assumed that we were to Club Britannia several times before since we as platinum guests had a high status with Cunard. In any case, we were lucky that at the neighboring table, a guest who was traveling with Cunard for the first time got an explanation of how the menu at Club Britannia was structured: Basically, it was the same menu of the regular Britannia Restaurant. There was also an à la carte selection for Club Britannia guests. A duck and cherry dish needed to be ordered in advance. Since I loved cherries and duck, of course, I had to do it for the next day. We felt a little bit like we did back then on QUEEN ELIZABETH 2 2007: the short cruises were not particularly popular with the crew, and you could feel that at one point or another. Or what could also be: were the experiences on VEENDAM 2019 more general in nature at all Carnival companies that everything was reduced slightly? I was not so sure how to value some reactions from the crew. According to Douglas Ward, there used to be a star difference between QUEEN MARY 2 and the other two ships. Now both ships have 4*+. QUEEN MARY 2, however, about 100 points more. On QUEEN MARY 2 2018, it was certainly due to the many friends on the crew side that the trip on the occasion of Bruno's 50th birthday was unforgettable. But shortly before, we were also on QUEEN VICTORIA 2018. But between QUEEN VICTORIA 2018 and QUEEN MARY 2 2018, I could not see major differences in the service level. But now I had a little impression: we only hand out something if the guests specifically would ask for it and insisted. The same impression that I also had on VEENDAM 2019.

It was such a moment that I wished for Brexit. Then we would not have to pay any additional 20% UK VAT when we would buy things.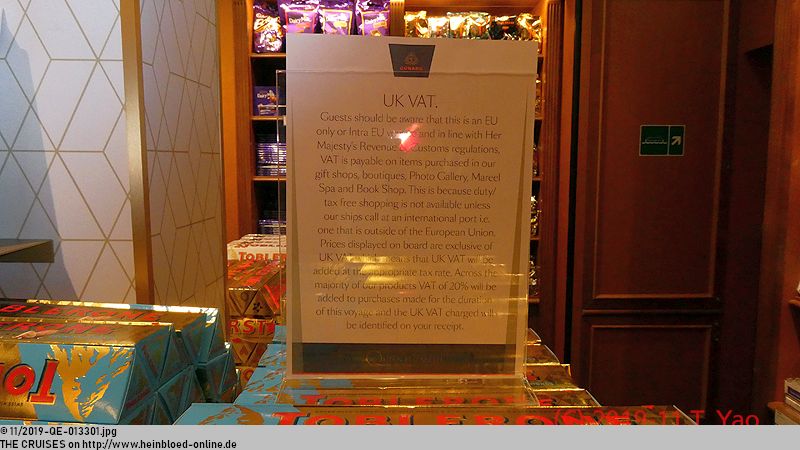 Das ist ja so ein Moment, dass ich mir den Brexit herbeiwünsche. Dann müssten wir jetzt keine 20% britische Mehrwerststeuer noch zusätzlich zahlen, wenn wir Sachen einkaufen.
"Leider" ist es so: sie haben im Moment wirklich tolle Sachen in den Bordgeschäften.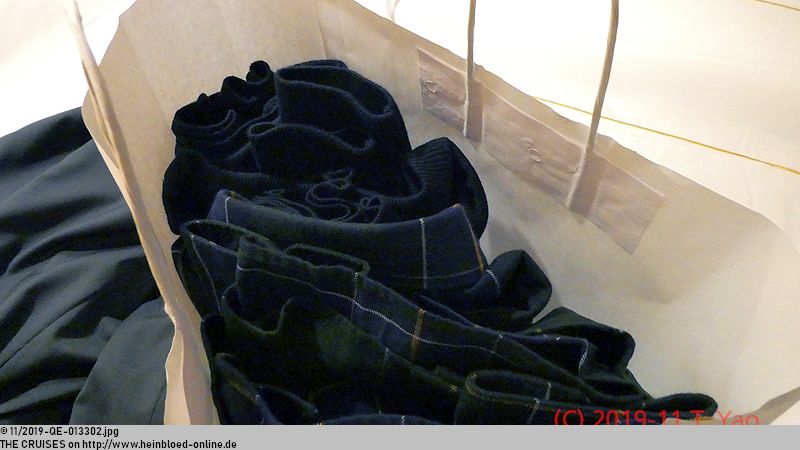 "Unfortunately" it was like this: They had really great things in the on-board shops at the moment.

I liked the sweater from Barbour, but I left it to Bruno because again the shirt of his choice would not be available in his size.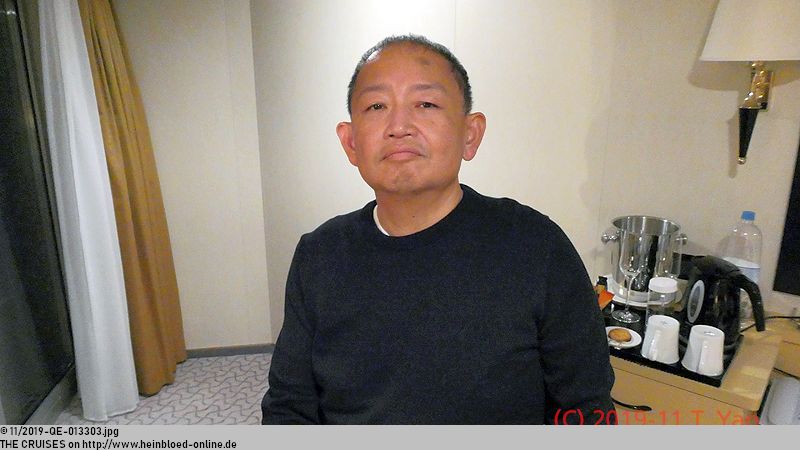 Der Pullover von
Barbour
gefällt mir, aber ich überlasse ihn Bruno, weil wiederum sein Wunschhemd nicht in seiner Größe da wäre.
Aber das Hemd von
Barbour
gefällt mir gut und so hat jeder von uns noch etwas von unserem Bordguthaben. Das schöne: wir dürfen ja alles in Ruhe auf die Kabine mitnehmen und bis zur Schließung der Bordläden in Ruhe ausprobieren. Alles, was wir wieder zurückbringen, wird uns auch wieder gutgeschrieben.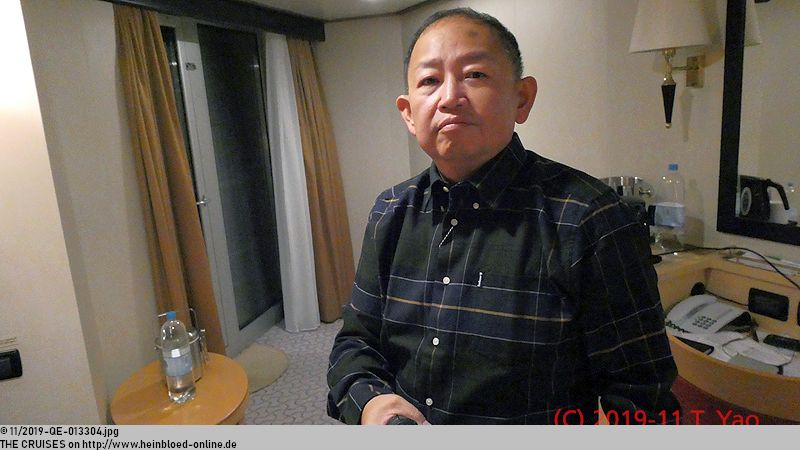 But I liked the shirt from Barbour, and so each of us still had some of our on-board credit. This was pleasant: we could take everything with us to the cabin and could try it out until the closure of the onboard shops. Everything we took back would be credited back to us.

In the evening the show "The 4Tunes" was running.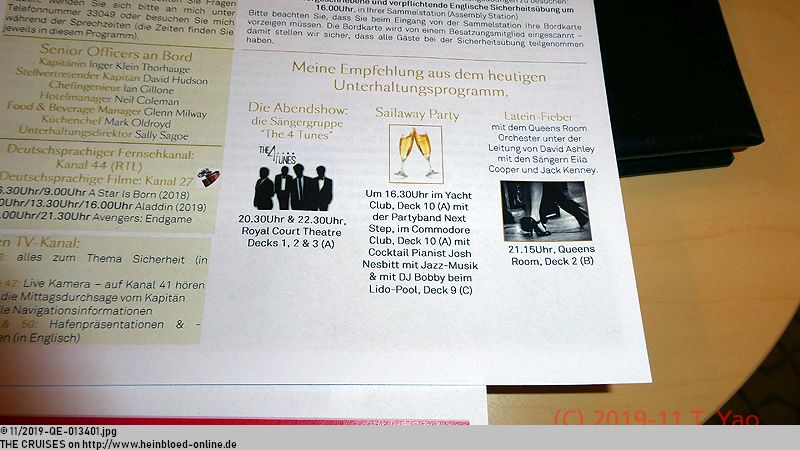 Abends läuft die Show "
The 4Tunes
".
Ich gehe nur kurz hinein. Mir ist es zu voll, um mir noch einen freien Sitz zu suchen und die 2. Show beginnt erst um 22:30 Uhr. Ich bin hundemüde, weil ich ja so früh heute Morgen aufgestanden bin. Also gute Nacht.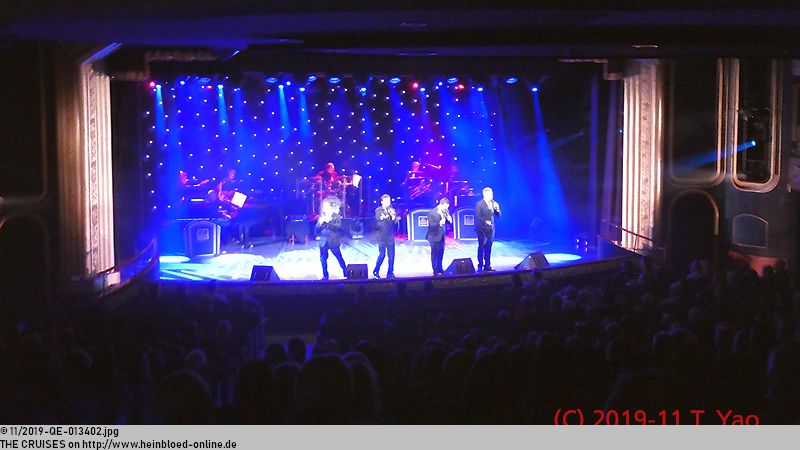 I only went in briefly. It was too crowded for me to find a free seat and the second show did not start until 22:30 hrs I was tired because I got up so early this morning. So good night.
Die anderen Reisen in diesem Blog/
The other voyages in this blog: