Das letzte Frühstück an Bord machte auch meine Eltern etwas traurig. Noch einmal bekommt mein Vater sein geliebtes Eiweiß-Omelette, an der er sich gewöhnt hat.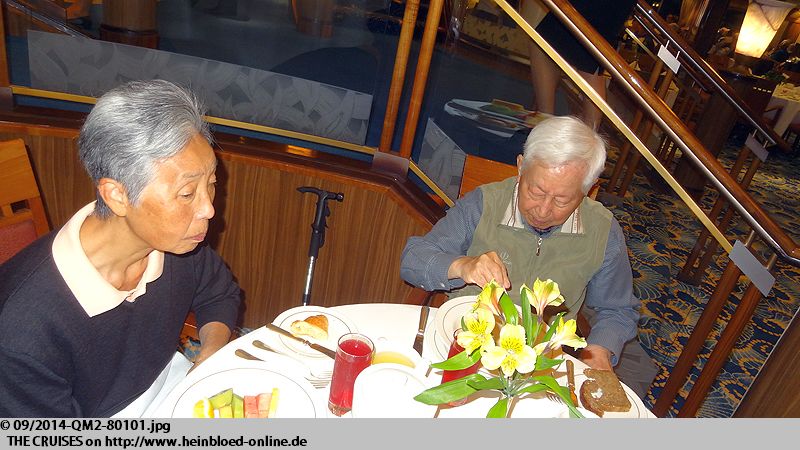 The last breakfast on board made even my parents sad. One more time my father got his beloved egg-white omelette which became familiar to him.

I got one more time the last mini-omelette made of one fresh egg.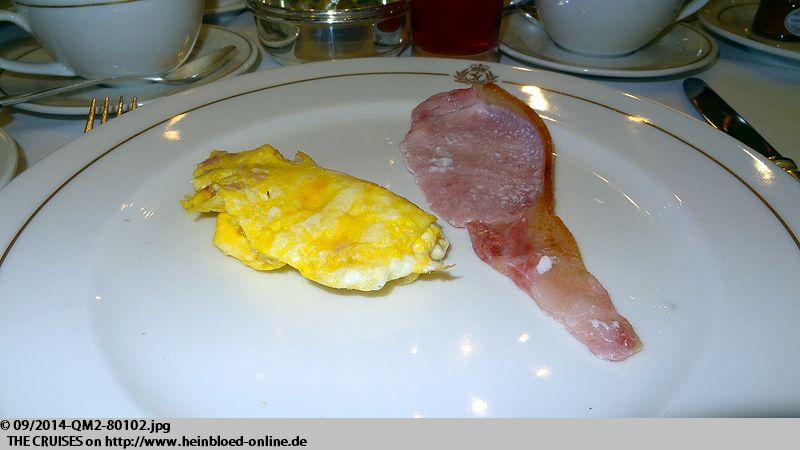 Ich bekomme noch einmal ein letztes Mini-Omelette aus frischem Ei.
Das nehmen wir mit nach Hause.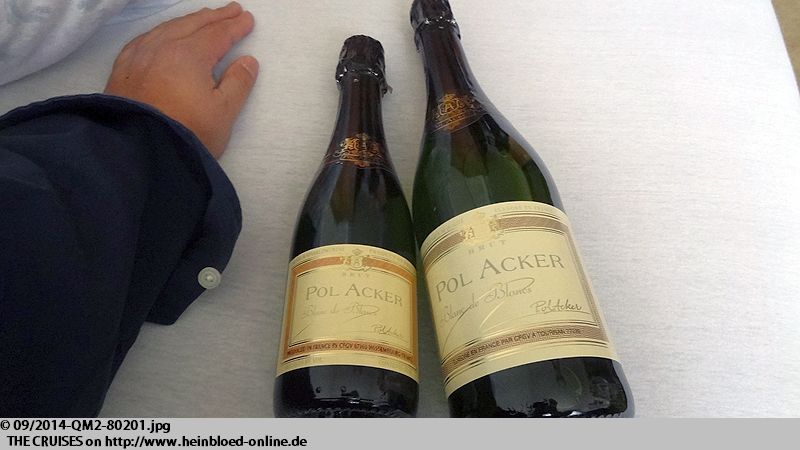 That we took home.

On board they already started to sell British newspaper.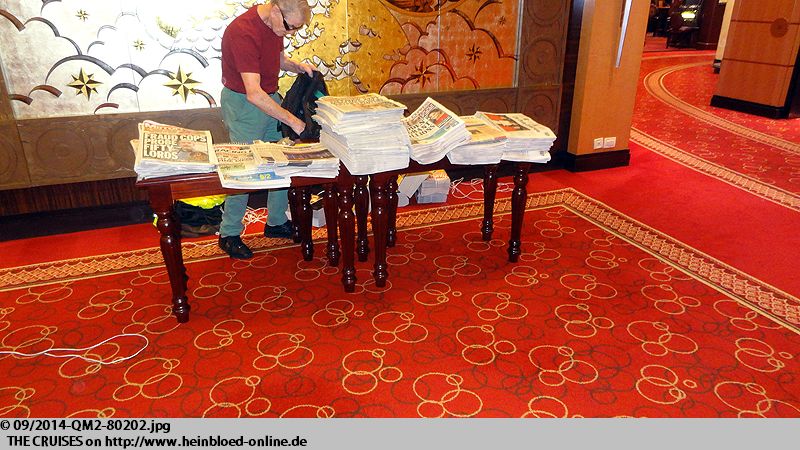 An Bord werden schon englische Tageszeitungen verkauft.
Mit dem Valet-Service von
Parking4Cruises
klappt es echt gut.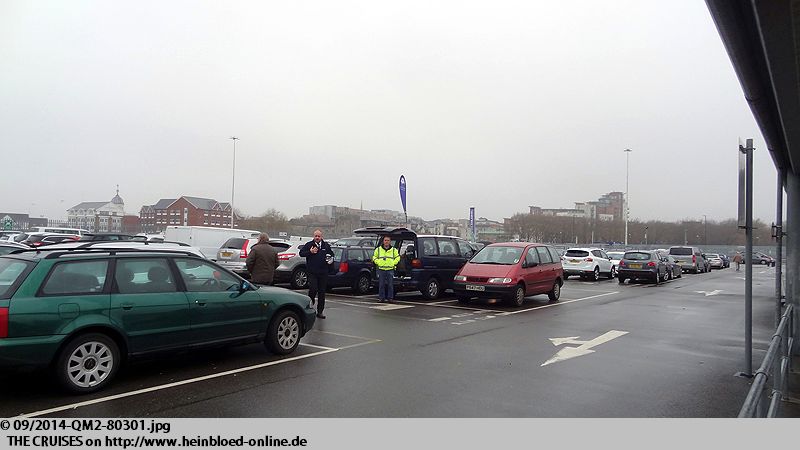 With the valet-service of Parking4Cruises it worked very well.

In the future I would do it again.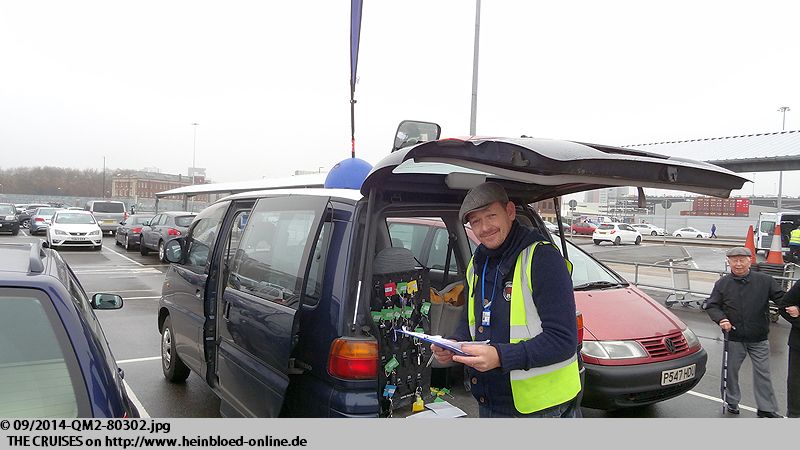 Also in Zukunft würde ich das immer wieder machen.
Alles ist sehr gut vorbereitet.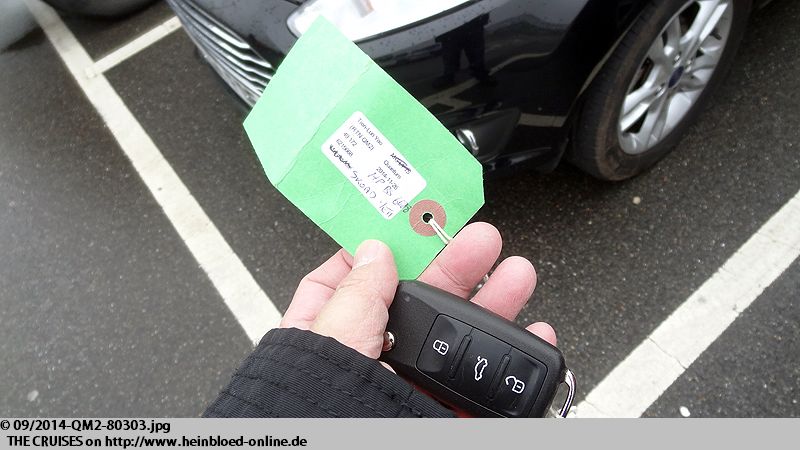 Everything was well prepared.

Remember: enterprise came to the Ocean Terminal too when you notified them before.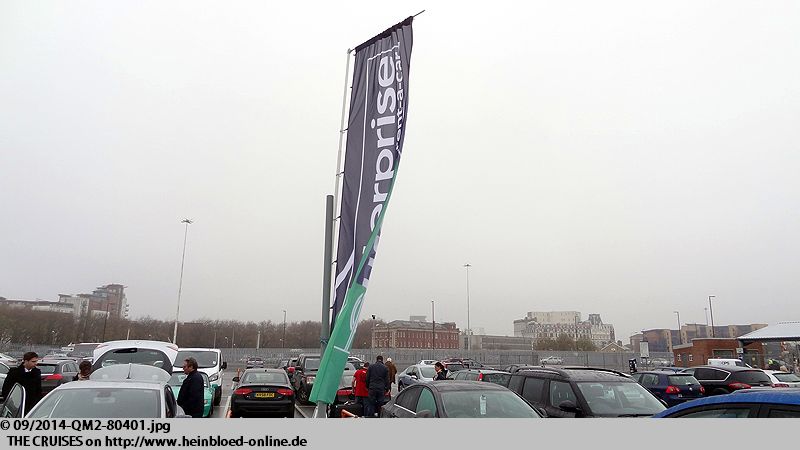 Man merke sich: auch
enterprise
kommt an den Ocean Terminal, wenn man vorher Bescheid gibt.
Irgendwie bin ich hier schon fast heimisch.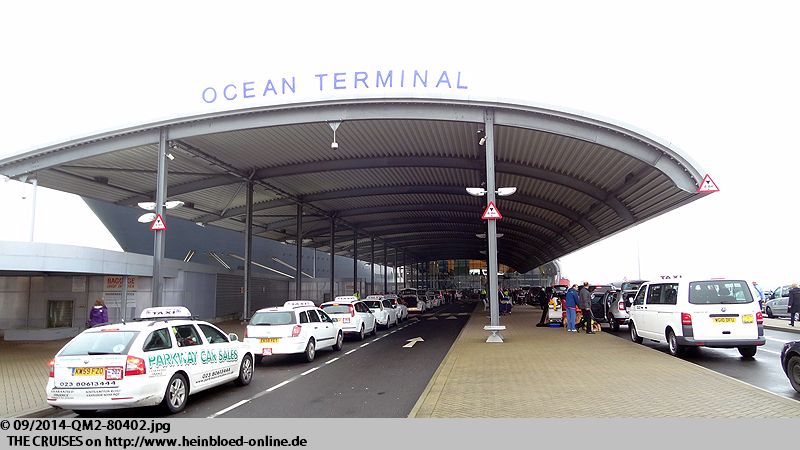 Somehow I felt like being home.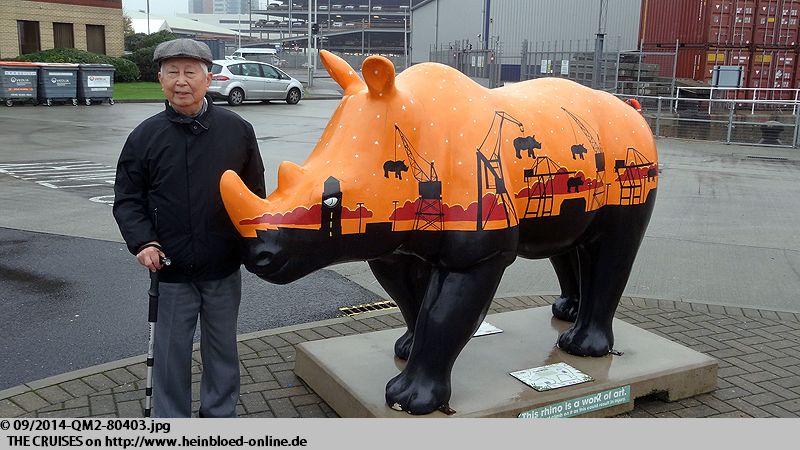 Ein paar letzte Bilder noch von der QUEEN MARY 2 bevor es wieder nach Hause geht.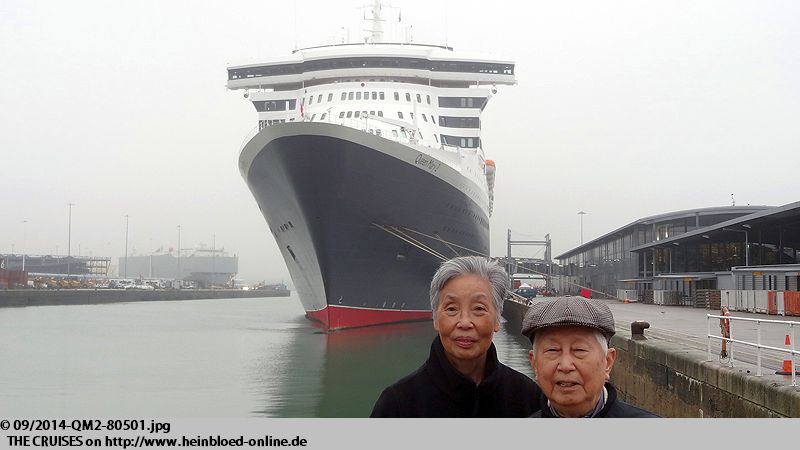 Few last pictures of the QUEEN MARY 2 before returning home.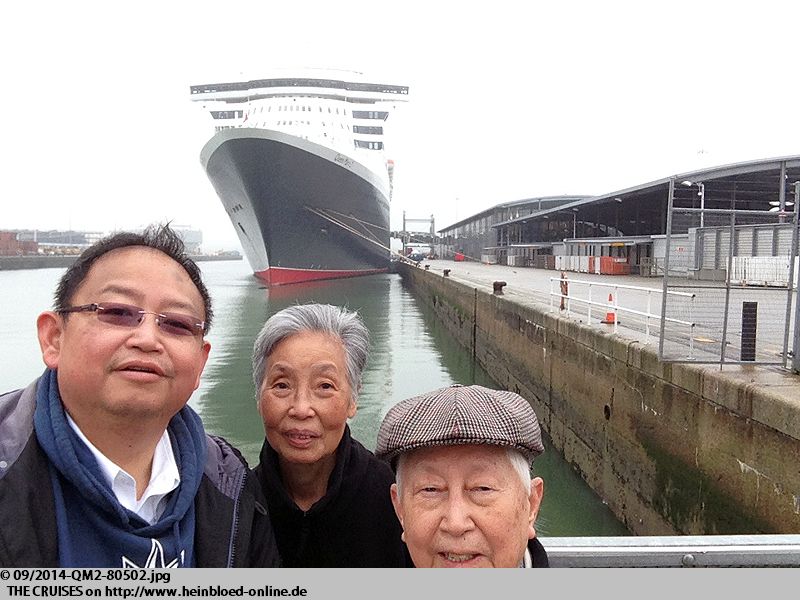 Und von mir noch ein letztes Mal von einem tollen Schiff.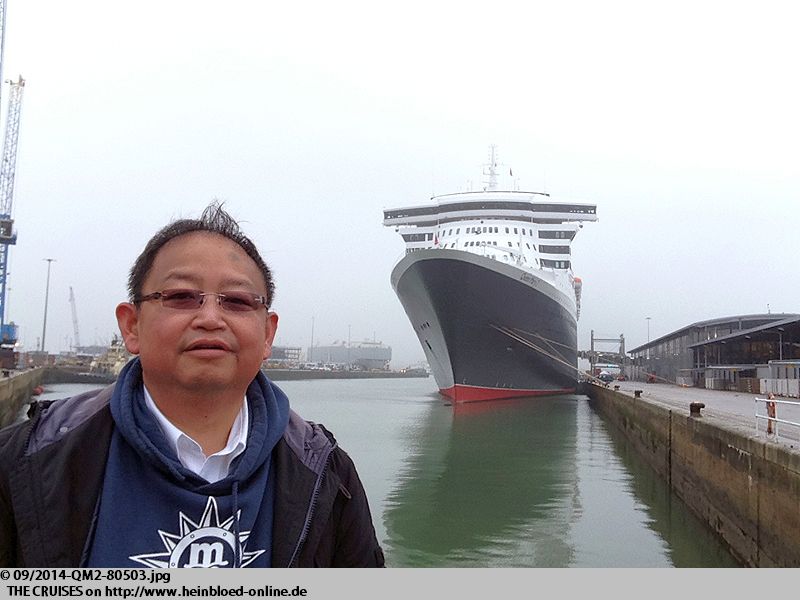 And more time me with a great ship.

Eleven months later (Oktober 2015) at the same place in front of the same ship.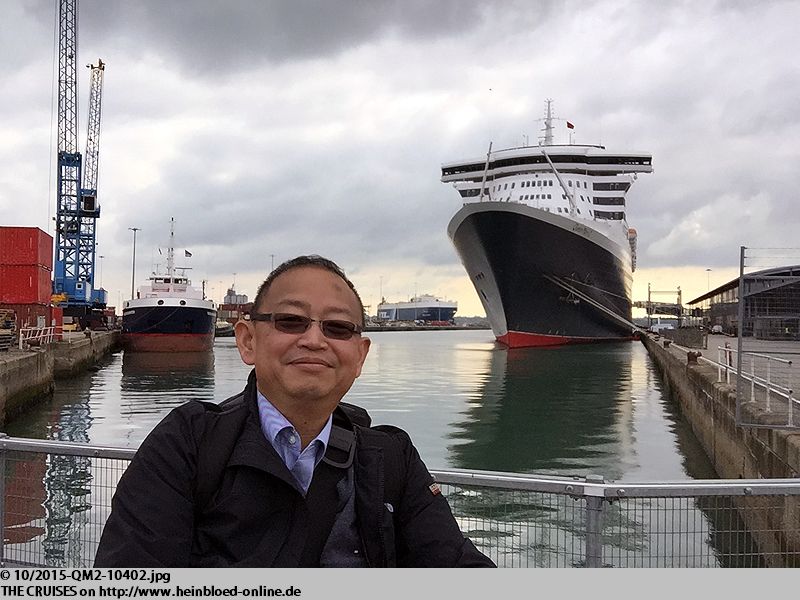 Elf Monate später (Oktober 2015) an der selben Stelle vor dem gleichen Schiff.
Zurück geht es über die Fähre.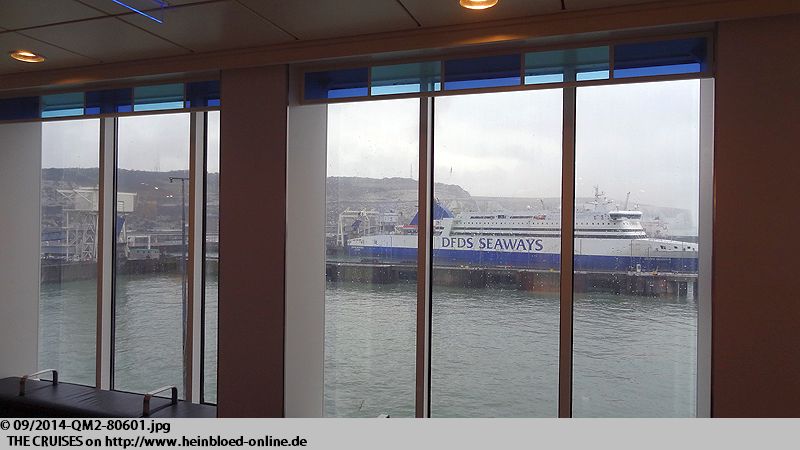 We returned home by ferry.

Passing one more time the White Cliffs of Dover.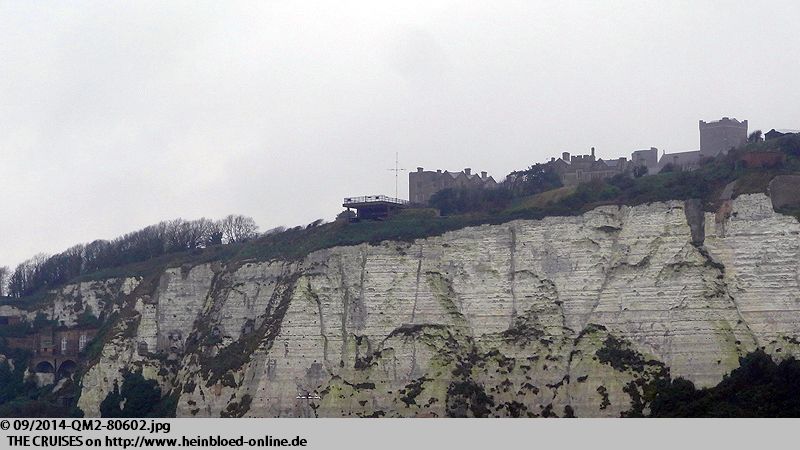 Nochmals an den Kreidefelsen von Dover vorbei.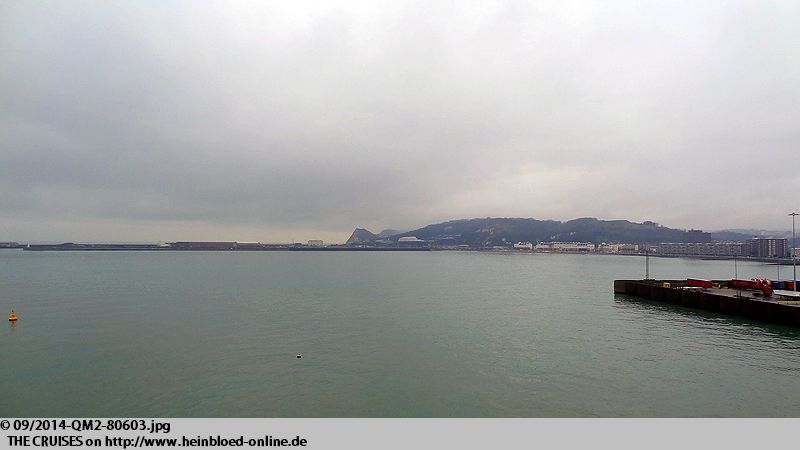 I did not prebook because I wanted to be flexible. So no more priority places were available. But there was a lot space available on board. We were again crossing by P&O: SPIRIT OF BRITAIN. The migrant birds went Southbound while we were heading Northbound.

Ich hatte nicht vorausgebucht, weil ich flexibel sein wollte. Deswegen gab es keine Priority Plätze mehr. Aber es war sehr viel Platz an Bord. Wir sind wieder mit P&O unterwegs: SPIRIT OF BRITAIN. Uns kommen die Zugvögel entgegen, die nach Süden wollen, während wir wieder in den Norden wollen.
Ein letztes Mal Mushy Peas.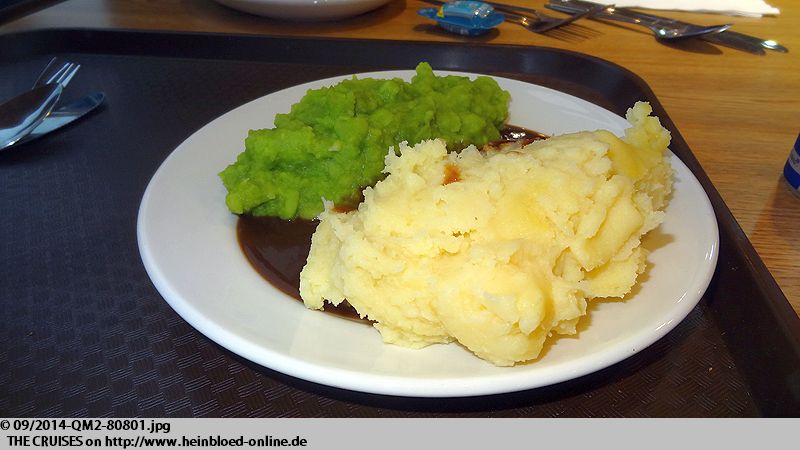 A very last time mushy peas.

My parents enjoyed the passage.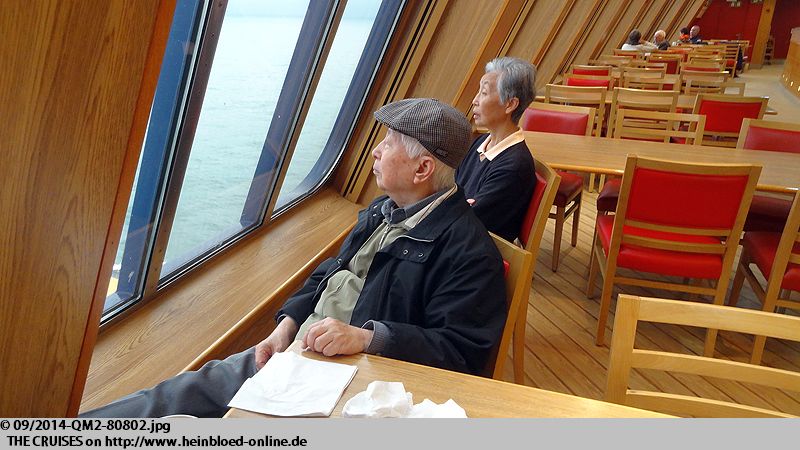 Meine Eltern genießen die Überfahrt.
Obwohl die Sparten Kreuzfahrt und Fähren heute rechtlich zwei unterschiedliche Gesellschaften sind, greift man auf ein gemeinsames Erbe zurück und hat 2012 auch die 175 Jahre gefeiert.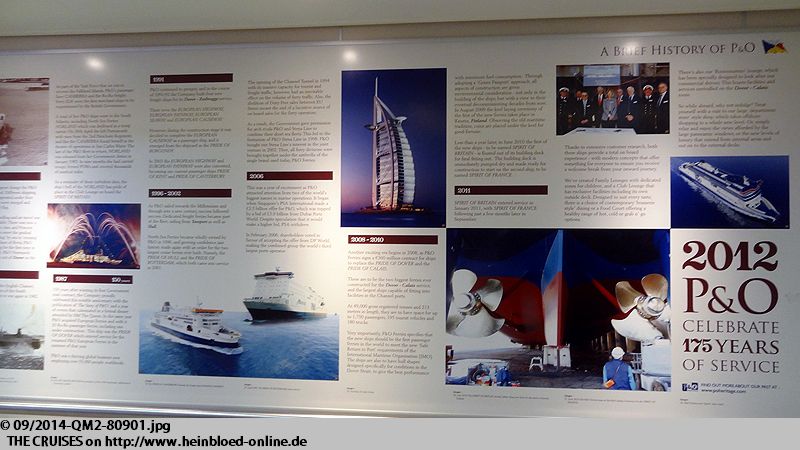 Although the cruise and the ferry divisons were nowadays two separate companies they based on one common heritage and also celebrated 175 years in 2012 too.

So I was happy to learn more of the story of P&O.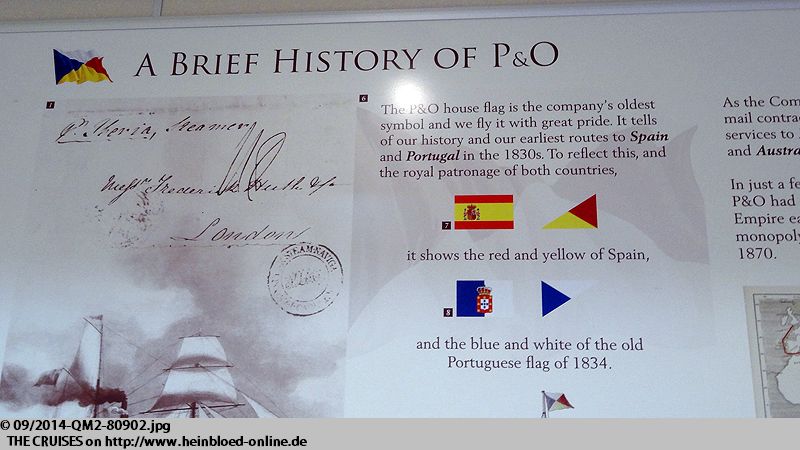 So freue ich mich hier mehr von der Geschichte von P&O zu erfahren.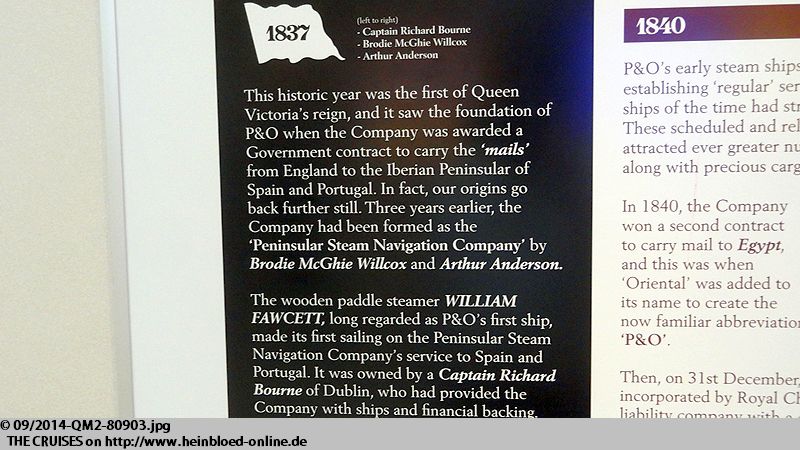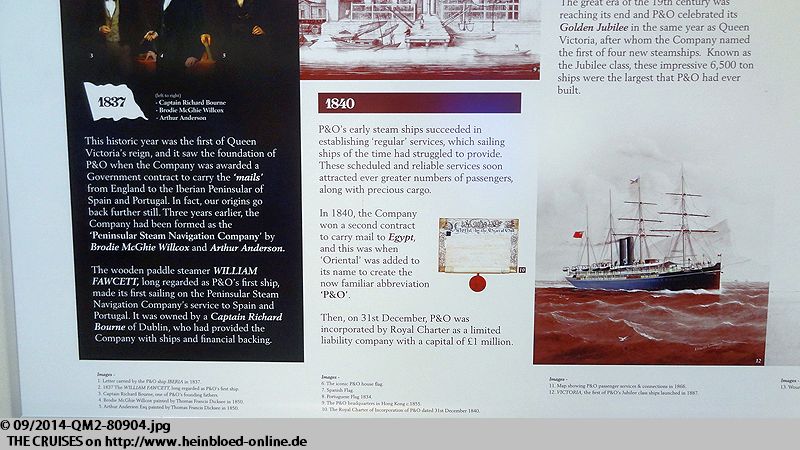 Und viele vertraute Schiffsnamen, die ich bereits als Kreuzfahrtschiffe her kenne, werden hier auch vorgestellt.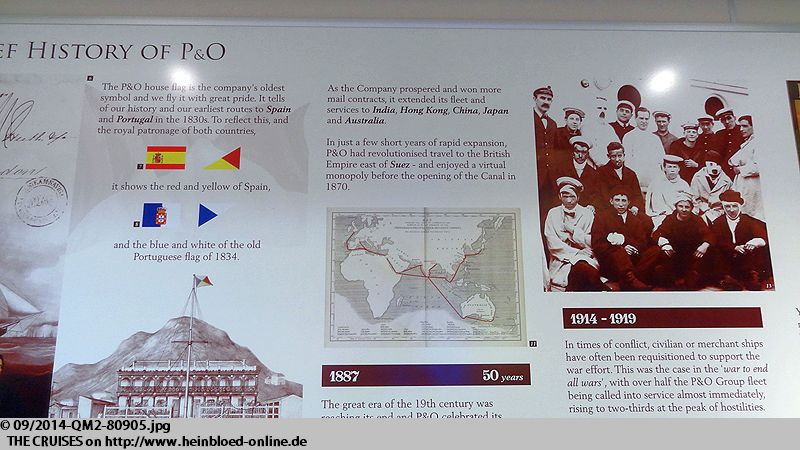 Many familiar ship names they introduced here which I knew from many cruises.

On the way back we wanted to buy again with Dumon Chocolate. But they were closed already when we arrived. So we stayed another night in Bruges for short-notice. I had the van der Valk Hildesheim, Germany in very good memories. I celebrated my farewell from my Goslar friends at this place. They prepared the menu like on a cruiseship. That was why I decided quickly for the van der Valk Bruges, Belgium Oostkamp.

Auch auf der Rückfahrt wollten wir wieder bei
Dumon
Schokolade kaufen. Der hatte aber schon geschlossen, als wir ankamen. So haben wir noch in Brügge kurzfristig übernachtet. Das
van der Valk Hildesheim
hatte ich in sehr guter Erinnerung. Dort hatte ich meinen Abschied von meinen Goslarer Freunden gefeiert. Sie haben uns das Essen, wie auf einem Kreuzfahrtschiff hergerichtet. Deswegen hatte ich mich schnell für das
van der Valk Brügge Oostkamp
entschieden.
In Hildesheim hatten mich die vielen kleine Details überzeugt, gerne weitere Häuser zu testen. Schade bloß, dass es hier keine Meilen bei Fluggesellschaften gibt.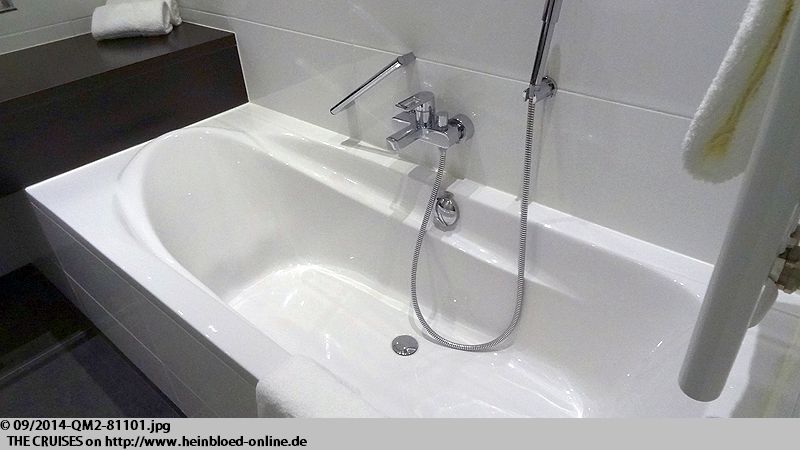 In Hildesheim many little details convinced me to try more locations. It was said that you cannot get any miles with airlines.

The hotel is as nice as the one in Hildesheim.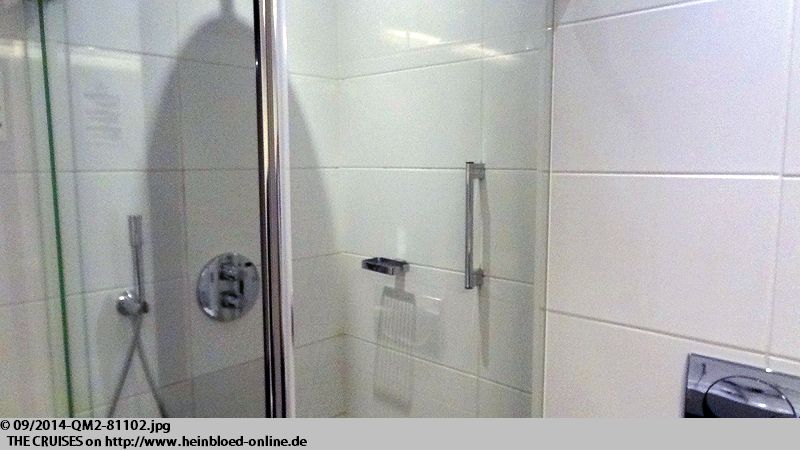 Das Hotel ist genauso schön, wie in Hildesheim.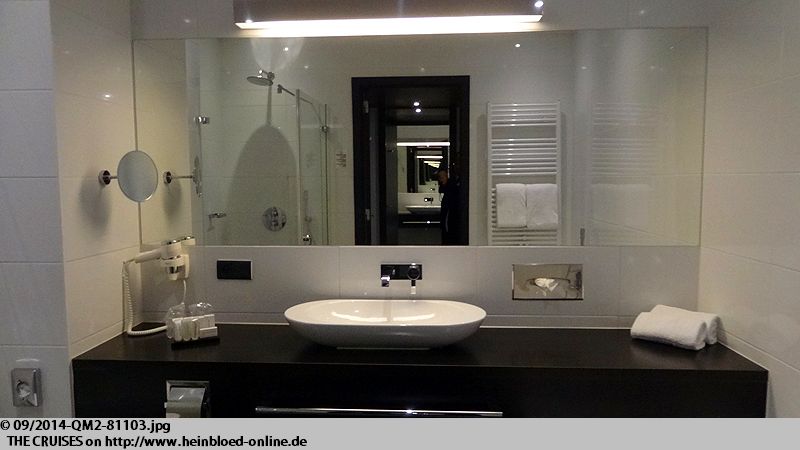 Everywhere was glittering like Christmas.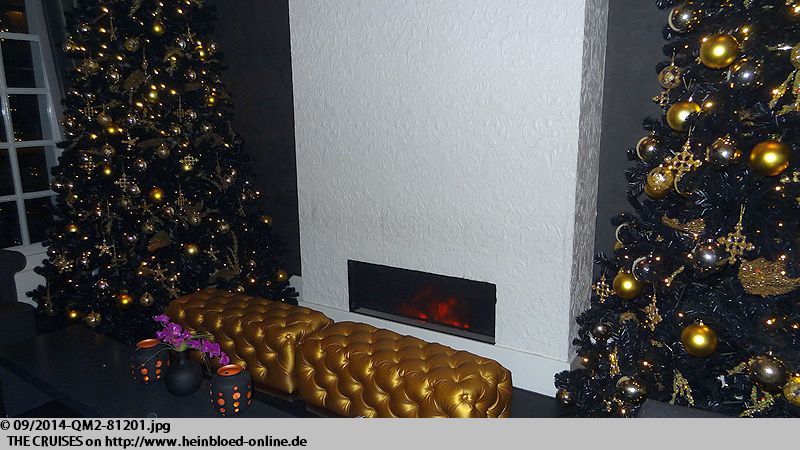 Überall im Hotel glänzte es nach Weihnachten.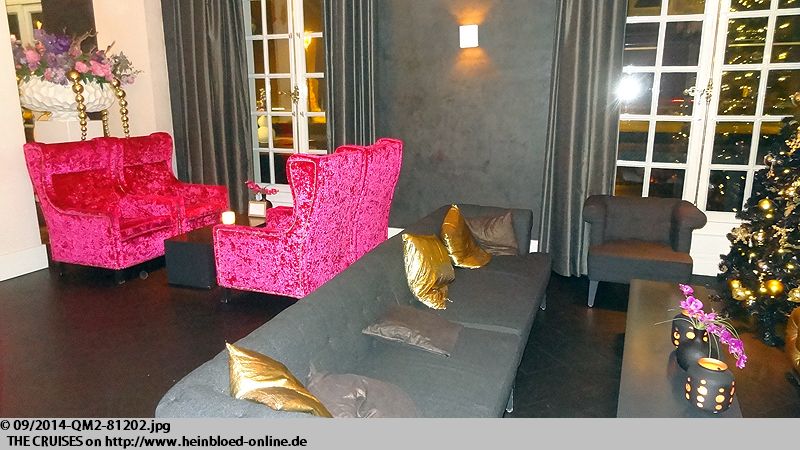 My parents liked the athmosphere and did not notice that I had some trouble.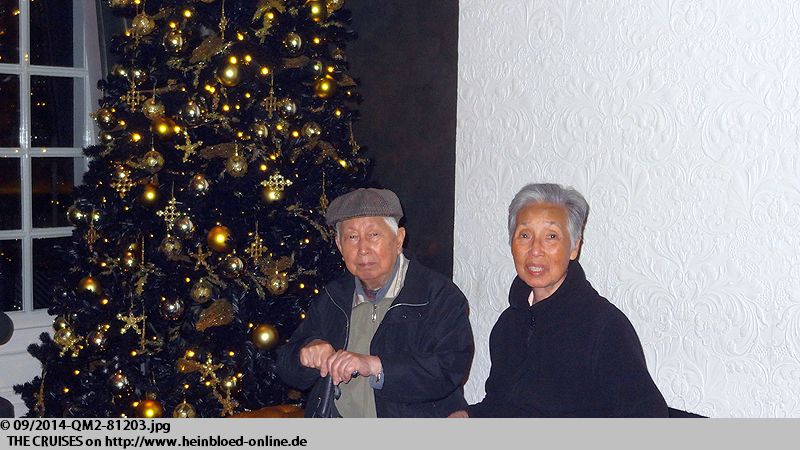 Meine Eltern hatte das Ambiente gut gefallen und hatten von meinem Ärger nichts mitbekommen.
Wir hatten keine Lust weit zu fahren. Ich hatte keine Lust auf belgische Pommes Frites. Ich hatte keine Lust auf Anzug. Also haben wir ein China-Restaurant in der Nähe gesucht.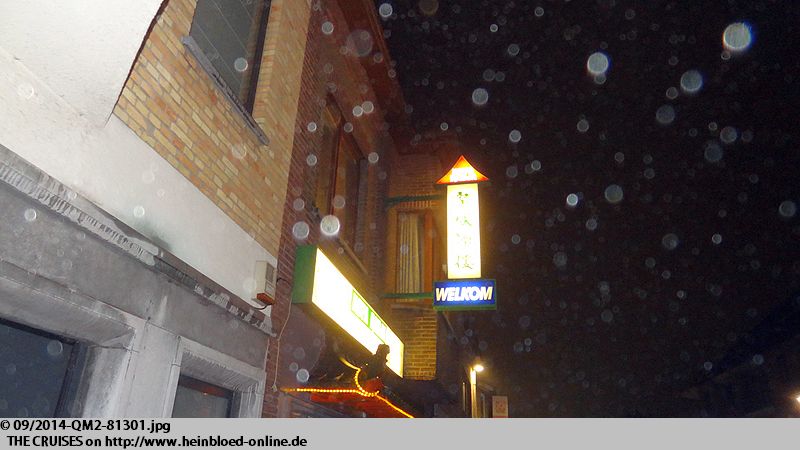 We did not like to have a long ride. I did not like to have Belgian French Fries. I did not like to wear a suite. So we found a Chinese restaurant close-by.

Nothing exiting: Kota Radja in Oostkamp.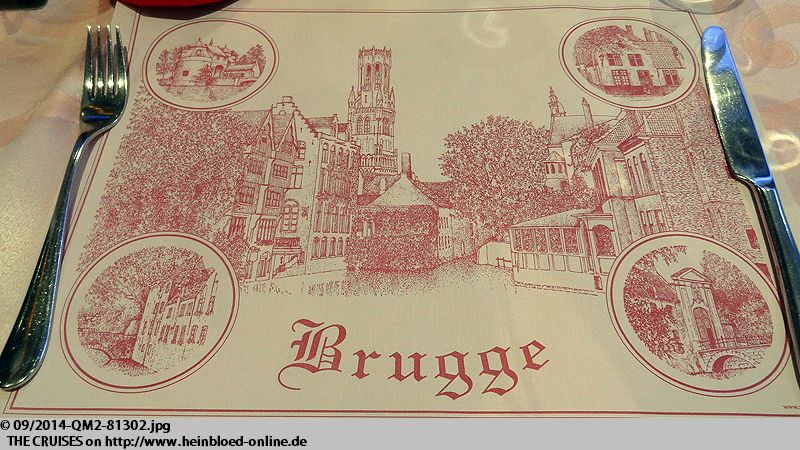 Nichts aufregendes:
Kota Radja
in Oostkamp.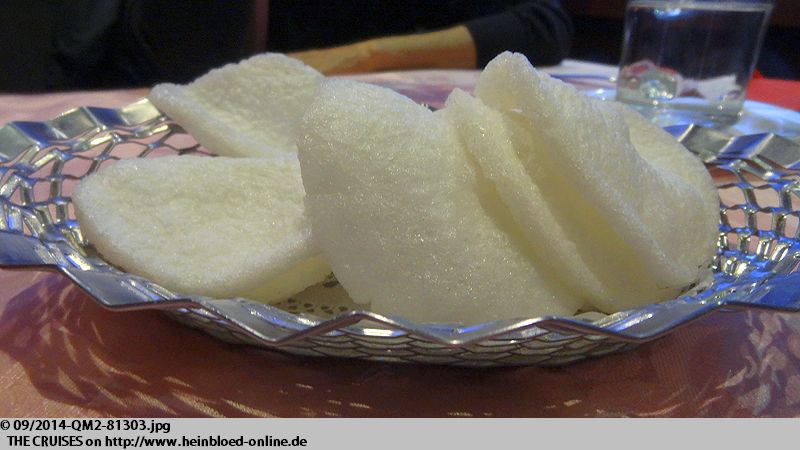 I wanted to have a soup only anyway.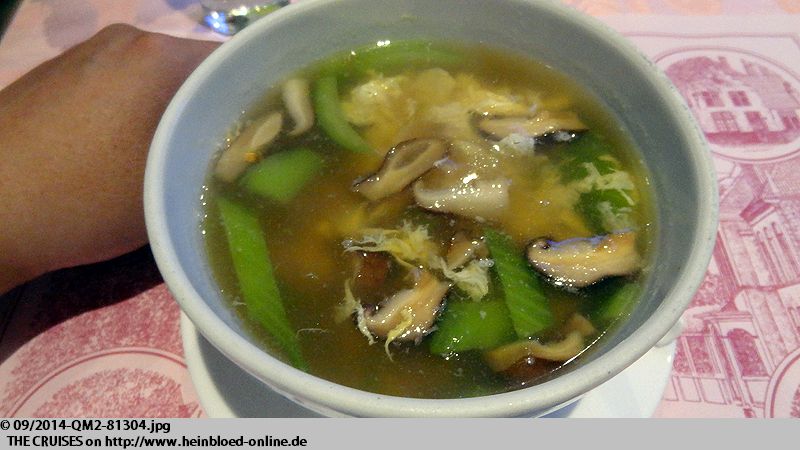 Ich wollte eh bloß eine Suppe haben.
Und meine Eltern etwas chinesisches. Also keine großen Ansprüche.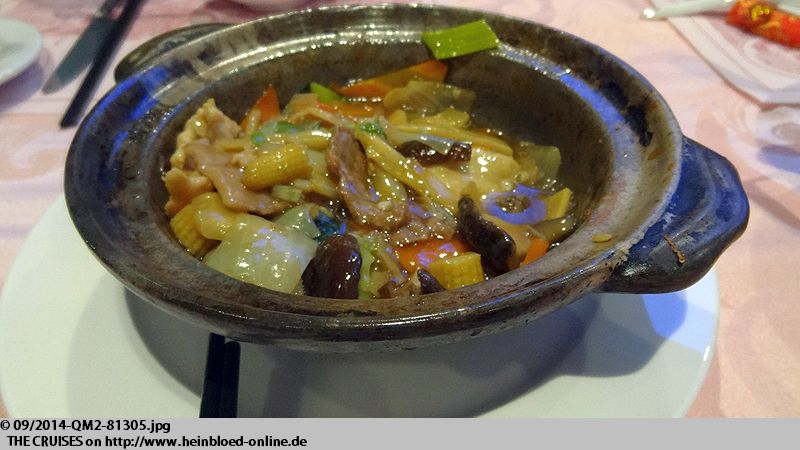 And my parents only wanted some Chinese food. So no high demand.

Back in the hotel the anger started right now: WiFi did not work. TV did not work. What I did not like at all: A heating which did not run and the way the recptionist commented the situation: She should let the sun shine to let me have a warm room. Luckily the night receptionist that they had a mobile heater. That all made me stayting the next day until the General Manager arrived and told time what I thought and suggested to run the hotel only in the summer time with staff members like those. I did need to pay for my hotel room.

Zurück im Hotel ging der Ärger dann erst los: WLAN fuktioniert nicht. Fernsehen funktioniert nicht. Was ich allerdings gar nicht mochte: Eine Heizung, die nicht läuft und die Art, wie die Rezeptiionistin meine Situation kommentiert: Sie könnte die Sonne schlecht für mich scheinen lassen, damit es warm wird. Zum Glück wusste der Nachtportier, dass das Haus auch Radiatoren besaß. Das ganze führte zur Konsequenz, dass ich am nächsten Morgen so lange geblieben bin, bis dass der Hoteldirektor da war und ihm dazu ein paar passende Worte gesagt und ihm vorgeschlagen habe, dass er doch bei der Einstellung des Personals nur im Sommer offen halten sollte. Für mein Hotelzimmer musste ich nichts zahlen.
Schön ist das Hotel allemal. Uns erwartet ein tolles Frühstücksbüffet. Sogar frisch-gepresster Orangensaft. Und ich bekam mein Mini-Omelette. Mein Vater war auf jeden Fall zufrieden. Die Reise hat uns insgesamt näher gebracht. Aber leider war das auch schon zuviel für mich.

Anyhow the hotel was nice. They had a great breakfast buffet. Even freshly-squeezed orange uice. And I got my mini-omelette. My father was satisfied at all. The voyage made us coming closer. But I had somehow too much for the day.

So back again to Torhout to see Dumon. It was like paradise again... Bought much more than necessary. I could buy something for my Goslar friends.

Also wieder nach Torhout zu Dumon. Es war wieder im Schlaraffenland... Viel mehr gekauft, als notwendig. Ich könnte ja etwas für meine Goslarer Freunde mitnehmen...
Noch eine Pause unterwegs auf einer Brückenautobahnraststätte.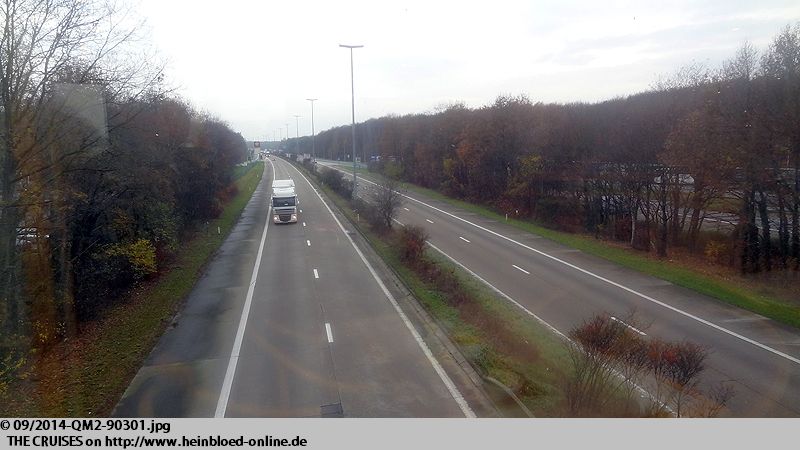 Another break on a bridge shaped service station along the interstate.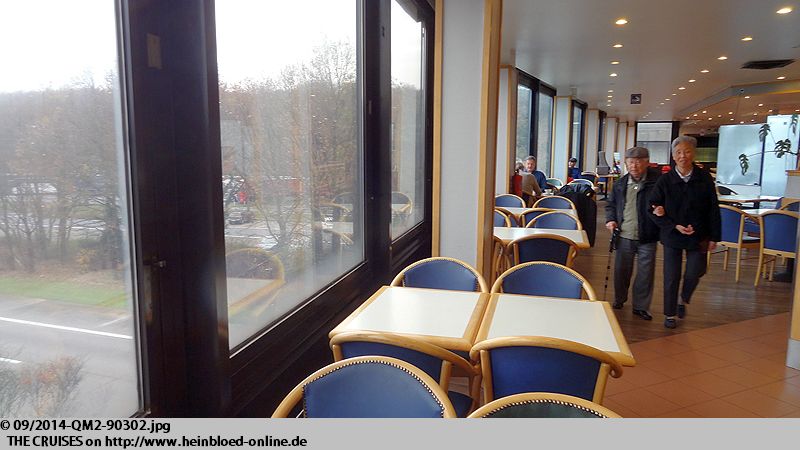 Ein bisschen Suppe für mich.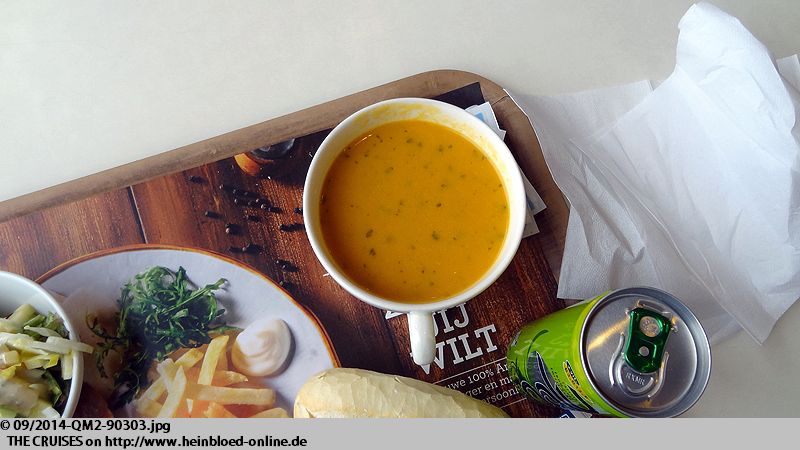 Some soup for me.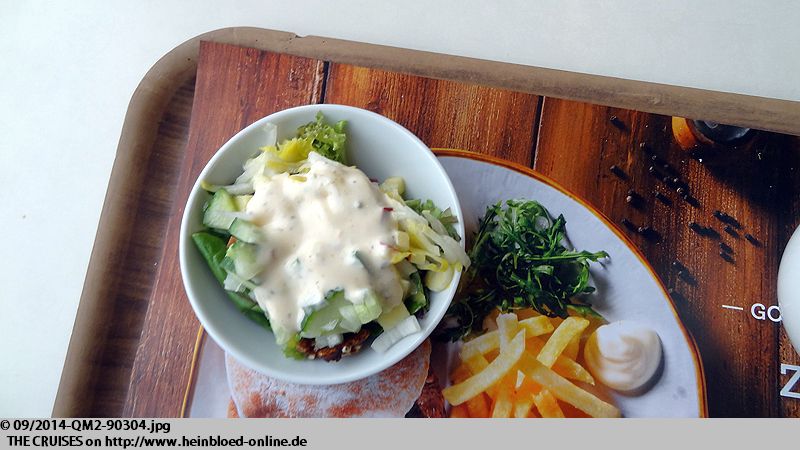 Die Mini-Poppadums (Linsenmehl-Chips) haben mir das Leben gerettet.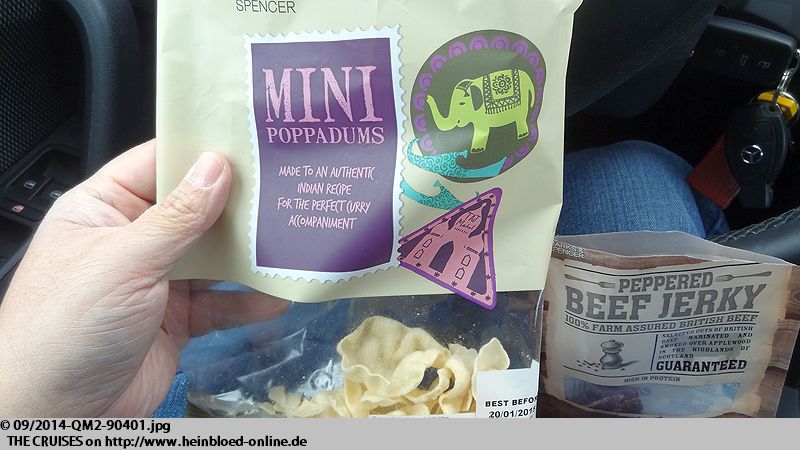 The Mini-Poppadums (Lentil flour chips) saved my life.

Beef Jerky...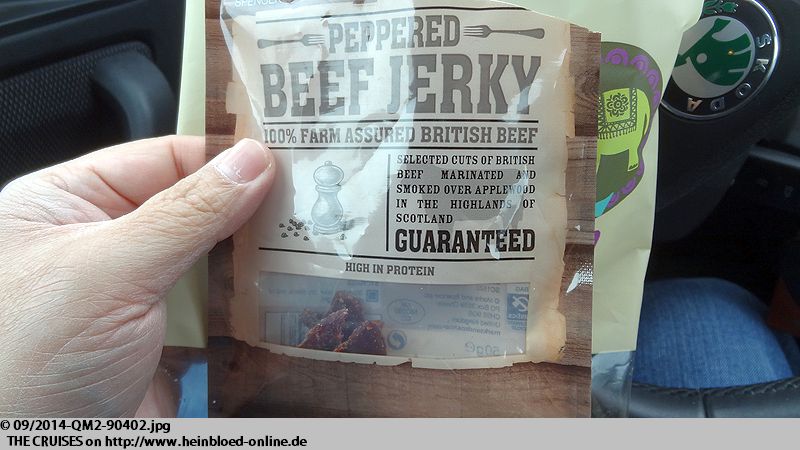 Trockenfleisch... Beef Jerky...
Und auf jeden sind die ersten 15 kg schon runter.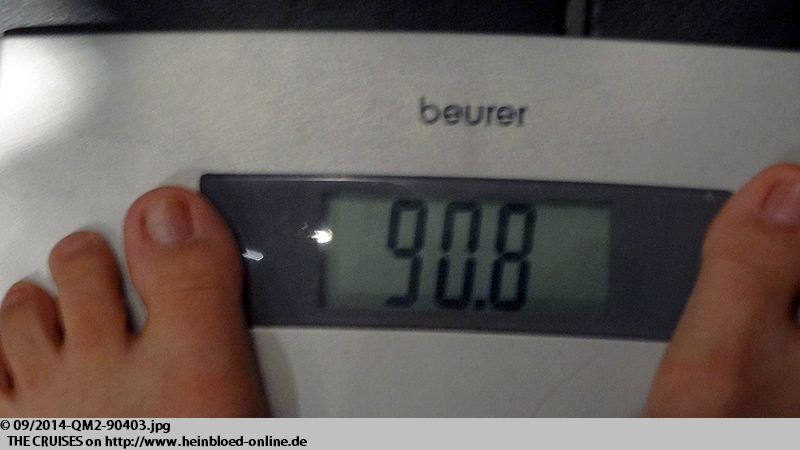 Anyhow the first 33 lbs. were lost.

My insuline I could withdraw and I still need to take some other medication.

Mein Insulin kann ich wohl absetzen und muss noch eine Zeit lang Metformin nehmen.
Passt alles.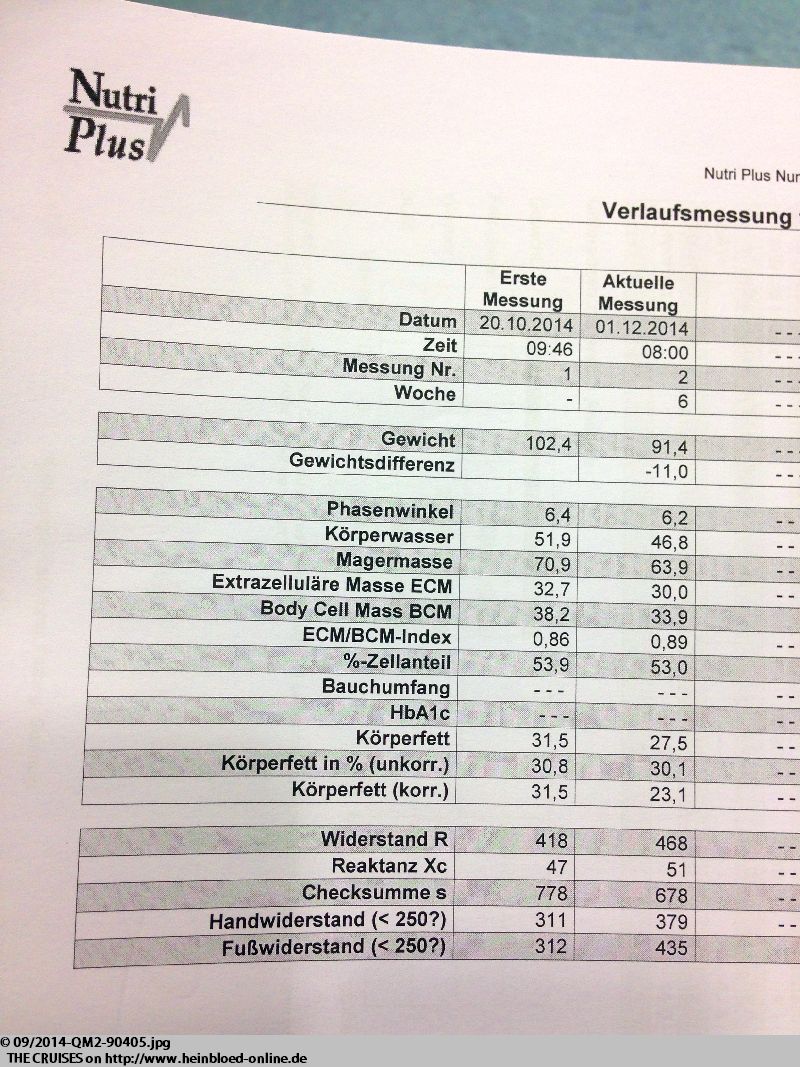 Fitted everything.

I need to say: perfectly made: the surgery, the voyage, the professional changes. Thanks to Mr Dr. Mirko Otto of the University Clinics in Mannheim, Germany. Now I need to find a new job and must change to the State run health insurance. Actually it was the best decision of my life: a reset, a restart. The cruises helped me: I could eat "much" (large variation) and I could just stop if I couldnot eat anymore. The many days at sea made it possible that I had a bed, a toilet and a doctor with me. I could only recommend to consider on a surgery if it became as bad a with me. My blood pressure and my gout disappeared too. I felt well with my health. And regarding the single sailings: Disney made additcted: that was the right prepareation for the next section of my life. I need a positive basic athmosphere and a brain wash. Cunard was a great product on the Transatlantic. And Royal Caribbean? I still cound not become really friend with them. I got a credit for the next voyage. I can use it to see further. I got many 2nd chances in many cases. Ohter deserve them too.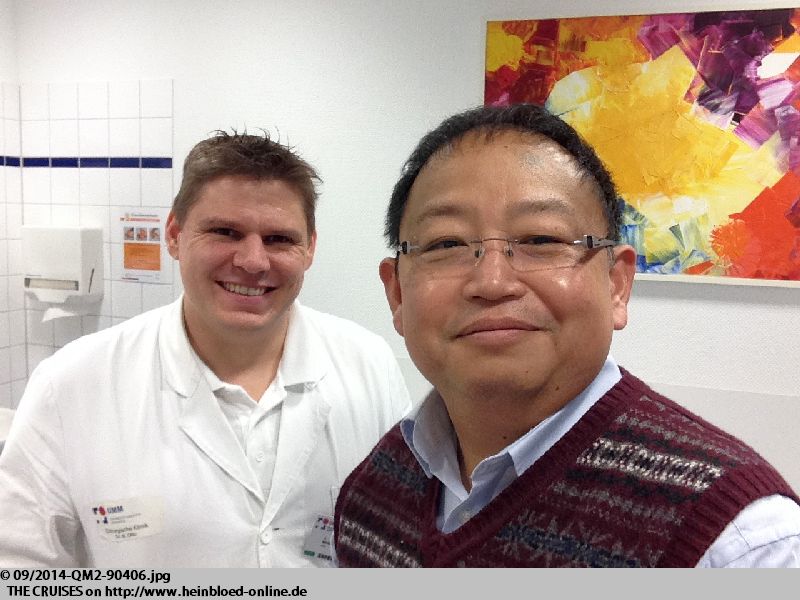 Ich muss sagen: alles richtig gemacht: Die OP, die Reise, die berufliche Veränderung. Vielen Dank an Herrn
Dr. Mirko Otto
von der Universitätsmedizin Mannheim. Nun brauche ich nur noch einen neuen Job und muss zurück in die gesetzliche Krankenkassen kommen. Insgesamt war es die beste Entscheidung meines Lebens: ein Reset, ein Neuanfang. Die Kreuzfahrten helfen mir dabei: ich kann "viel" (große Auswahl) essen und ich kann noch viel mehr stehen lassen. Die vielen Seetage machten es möglich, dass ich immer ein Bett, eine Toilette und einen Arzt dabei hatte. Ich kann jedem nur empfehlen über so einen Eingriff nachzudenken, wenn es mal soweit ist. Mein Bluthochdruck und meine Gicht sind ebenfalls weg. Mir geht es gesundheitlich gut. Und was die Fahrten betrifft: Disney macht süchtig: das war die richtige Vorbereitung auf den nächsten Abschnitt meines Lebens. Und dafür brauche ich eine positive Grundstimmung und eine Gehirnwäsche. Cunard ist auf der Transatlantik einfach ein tolles Produkt. Und Royal Caribbean? Ich kann mich leider immer noch nicht so richtig damit anfreunden. Ich habe ja eine Gutschrift für die nächste Reise. Die kann ich ja zumindest mal nutzen und weitersehen. Eine 2. Chance habe ich ja auch bekommen. In vielen Fällen. Andere verdienen sie auch.