Nach dem Aufwachen im Zug beginnt der nächste Abschnitt der Reise: der Heimweg. Wieder so ein Moment, in dem man feststellt, wie
Amtrak
im Vergleich zu
VIARail Canada
ist. Es gibt nämlich nur Continental Breakfast. Damals auf dem Weg zur
ISLAND PRINCESS 2013
waren wir von Jasper nach Vancouver in "
The Canadian
" unterwegs.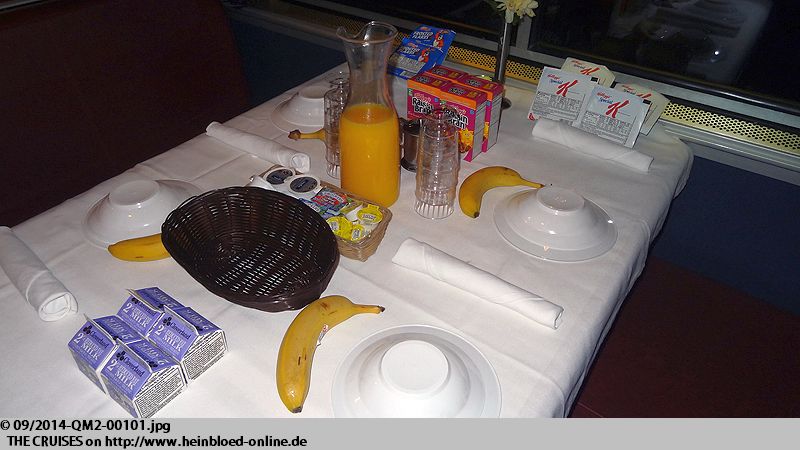 After waking-up in the train the next section of the voyage started: the way home. Another moment to find out how Amtrak was compared to ViaRail Canada. You had only Continental Breakfast. Then on our way to ISLAND PRINCESS 2013 we used "The Canadian" to get from Jasper to Vancouver.

For me it meant only having a banana because everything else I could not eat.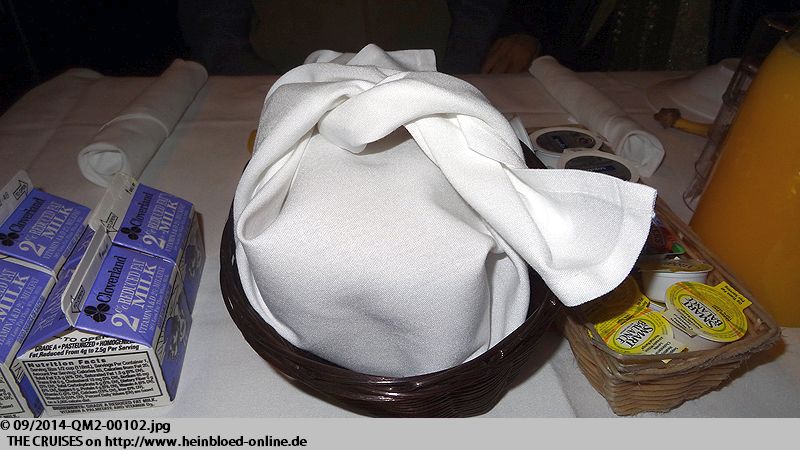 Für mich heißt das bloß eine Banane, weil ich alles andere nicht essen kann.
Bagles haben zuviel Kohlenhydrate.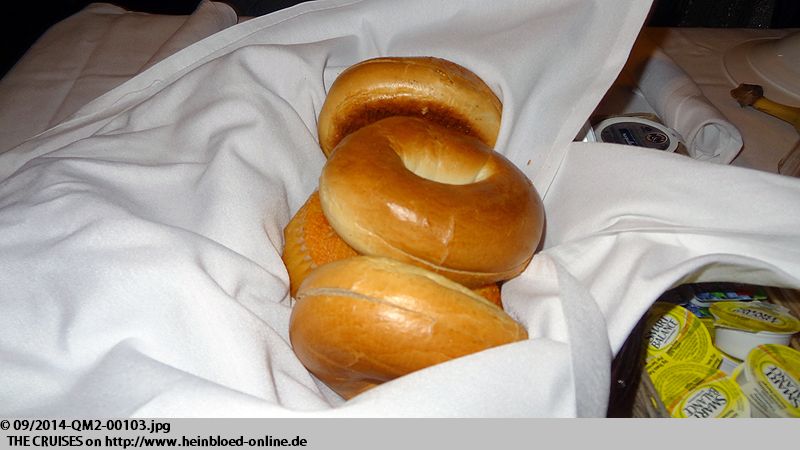 Bagles had to many carbs.

And the acid of the orange juice attacted my stomach. Cereals I could not have either due to my lactose intolerance. But I still had enough fat reserves.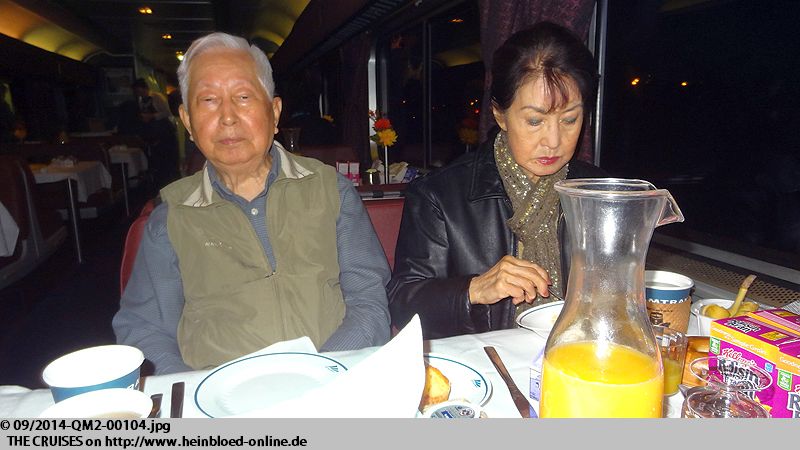 Und die Säure des Orangensafts greift meinen Magen an. Cerealien kommen wegen der Laktoseintoleranz auch nicht in Frage. Aber zum Glück habe ich genügend Fettreserven.
Wir fahren nach dem Sonnenaufgang durch die Landschaft Virginias. Irgenwie sind immer noch Spuren des Indian Summers zu sehen.

After sunrise we were passing the Virginia landscape. Somehow we could still see some traces of the Indian Summer.

And then we finally arrived: Lorton, VA - one hour South of Washington, DC. Here we learned that the Amtrak Auto Train was the World's longest passenger train. Quickly our car was ready to collect. So quickly my family could not get back from the restrooms.

Und dann sind wir auch schon da: Lorton, VA - eine Stunde südlich von Washington, DC. Hier erfahren wir, dass es sich beim
Amtrak Auto Train
um den längsten Personenzug der ganzen Welt handelt. Ruckzuck ist unser Auto draußen. So schnell kommen nicht mal meine Familie aus der Toilette zurück.
Meinem Vater gönne ich noch eine letzte Nacht bei meiner Tante. Wäre jetzt Schnee wäre ich vermutlich weiter Richtung New York gefahren, um auf der sicheren Seite zu sein. Mittags treffen wir uns noch einmal mit meiner Cousine Angela zum Mittagessen bei
Mark's Duck House
. Unter normalen Umständen hätte ich mich sehr gefreut. Aber dort gibt es all meine Lieblingsspeisen, die ich kaum essen kann. So kann ich nur ein bisschen Gemüse essen. Die Reissuppe Congee wird leider in so einer großen Schale serviert, dass ich damit nicht so ganz klar komme. Je mehr Essen ich direkt vor mir sehe, desto schlechter geht es mir, weil einfach Kopf und Magen derzeit unterschiedliche Informationen über die Mengen verarbeiten, die ich theoretisch essen könnte bzw. in Realität tatsächlich kann.

I allowed my father to stay one more night with my aunts. Would we had snow we would head on towards New York to be on the safe side. For lunch we met one more time with my cousin Angela with Mark's Duck House. Under regular circumstances I would love to be here. But there they had all my favorite dishes which I cannot eat barely yet. So I had only some vegetables. Congee was only served in big bowls that I could not handle it. The more food I see in front of me the worse I felt because brain and stomach did not synchronize properly with all information what I could eat theoretically and in reality.

I used my "vacant" afternoon and let me taken to King Street-Old Town to Alexandria. The driver was already in Dusseldorf, Germany before and it was a nice talk. He also told me to ensure to leave Washington DC before 06.30 hrs otherwise I would stay for few hours in congested roads. I accepted the advise. As it was too cold I did not like to see Smithsonian and doing a walking tour around. My standard program for Washington DC.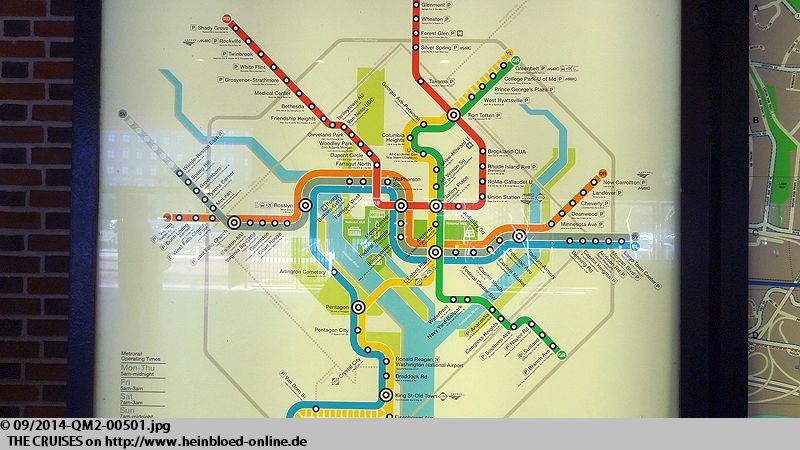 Ich nutze den "freien" Nachmittag, und lasse mich zur
King Street-Old Town
nach Alexandria fahren. Der Fahrer war sogar schon mal in Düsseldorf und wir unterhalten uns nett. Er sagt mir allerdings, dass ich gucken soll, dass ich vor 06.30 Uhr Washington DC verlasse, weil ich sonst für einige Stunden im Stau stehen werde. Diesen Rat nehme ich gerne an. Da es mir zu kalt ist, habe ich keine Lust nach
Smithsonian
zu fahren und eine kleine Stadtbesichtigung zu Fuß zu machen. Mein Standardprogramm für Washington DC.
Von hier fahren zum Glück zwei
U-Bahn-Linien
nach Washington und ich entschließe mit die kürzere gelbe Linie zu nehmen.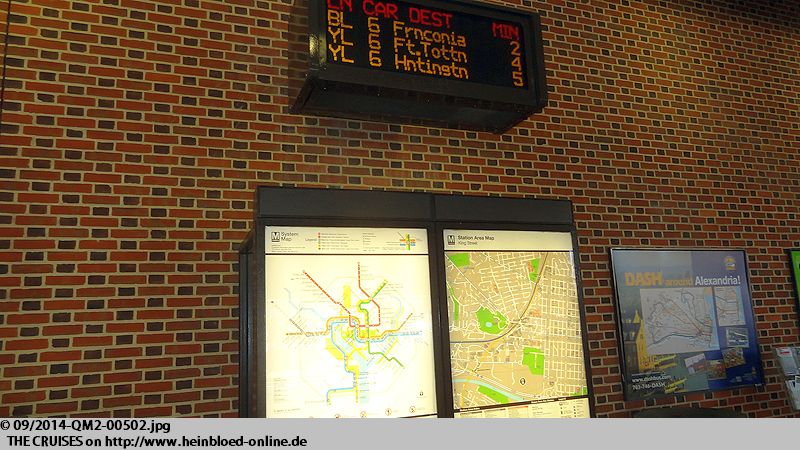 From here I had luck and two Metro routes would take me to Washington and I decided to take the shorter yellow route.

In Washington you buy a credit which you can use off by and by.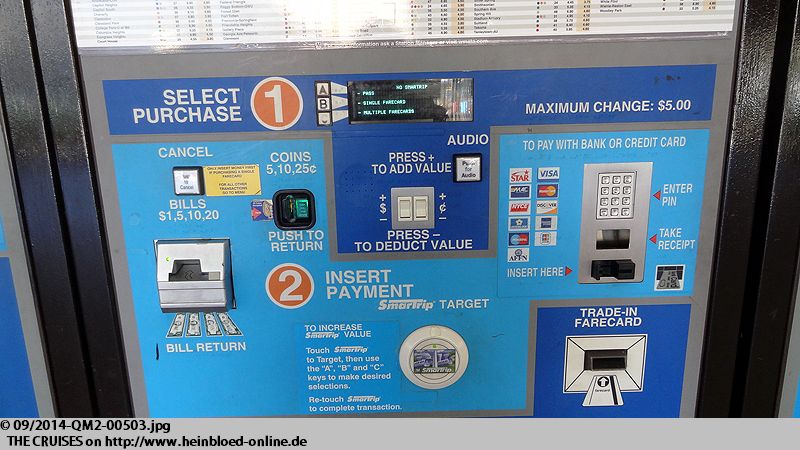 In Washington kauft man ein Guthaben, das man dann nach und nach abfahren kann.
So muss man jedes Mal beim Betreten und Verlassen der Bahnsteiganlagen, die Karte einführen und dafür sorgen, dass ausreichend Guthaben vorhanden ist. Problem: je nach Uhrzeit der Fahrt, gelten unterschiedliche Fahrpreise.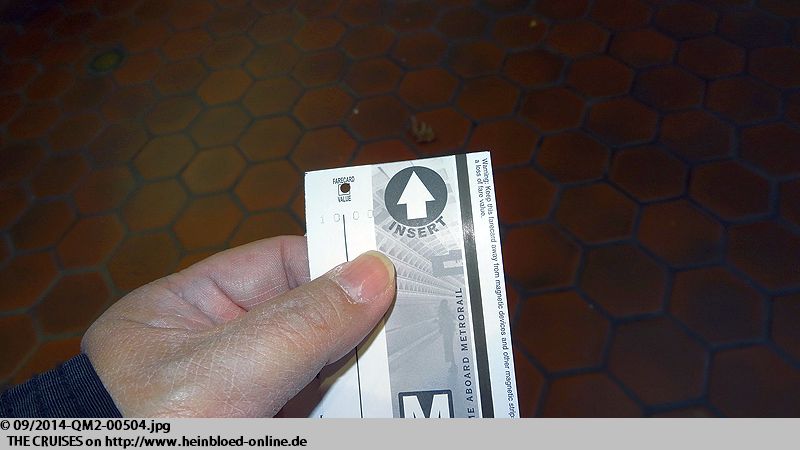 So you need to insert your card every time you were entering and exiting the platform area and to make sure that you have enough credit. Problem: depending to the time of travel you had different prices.

I grabbed a taxi and my taxi driver whose name I could not remember liked very much my selfie-stick.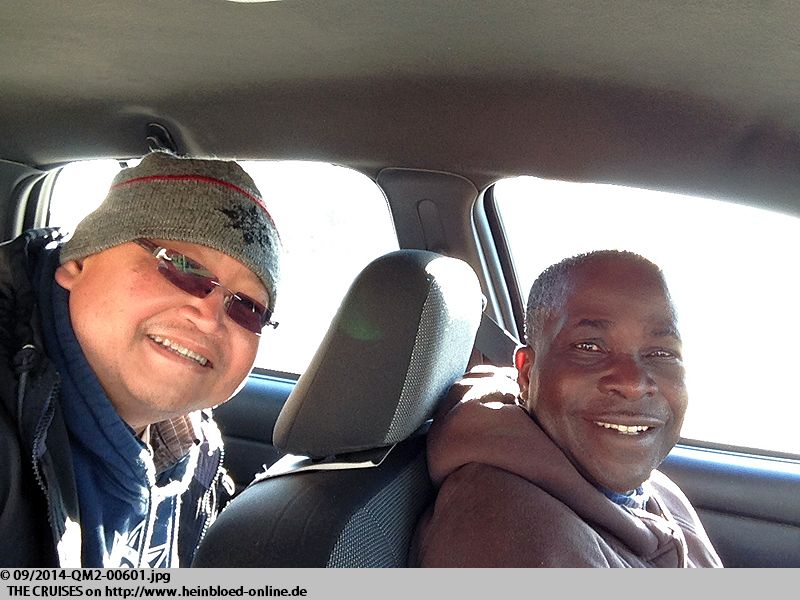 Ich schnappe mir ein Taxi und mein Taxifahrer, dessen Namen ich mir leider nicht merken konnte, ist von meinem Selfie-Stick begeistert.
Da es mir zu kalt ist, will ich bloß ein paar Fotostops.

As it was too cold I only wanted to have some photo stops.

We started with the Capitol which was partly fenced due to renovation.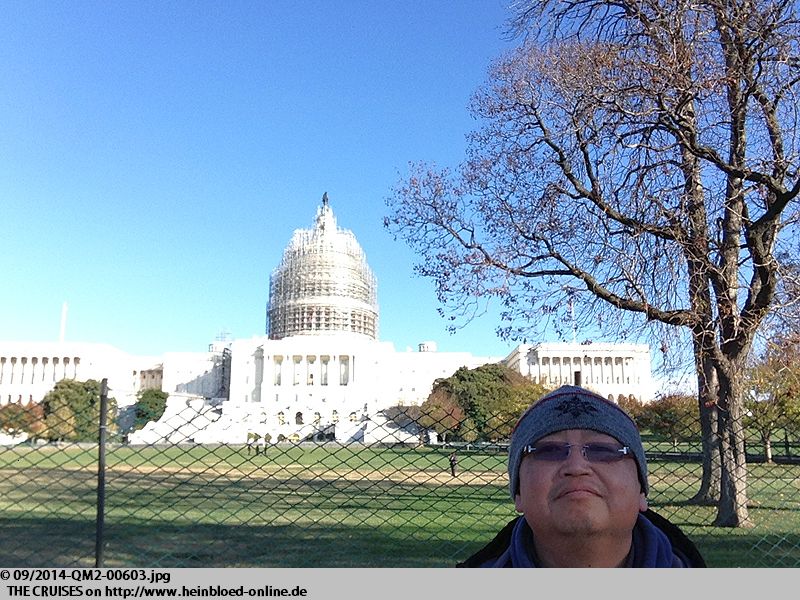 Wir fangen mit dem
Capitol
an, allerdings ist das gerade wegen Renovierung eingezäunt.
Vor das
Weiße Haus
kann man gar nicht mehr fahren. So muss mein Taxi in einigem Abstand auf mich warten.

You cannot drive anymore in front of the White House. So my taxi need to wait with a certain distance for me.

Quickly another selfie in front of the Washington Monument. But I suspended the tour at this time as it was too cold to me.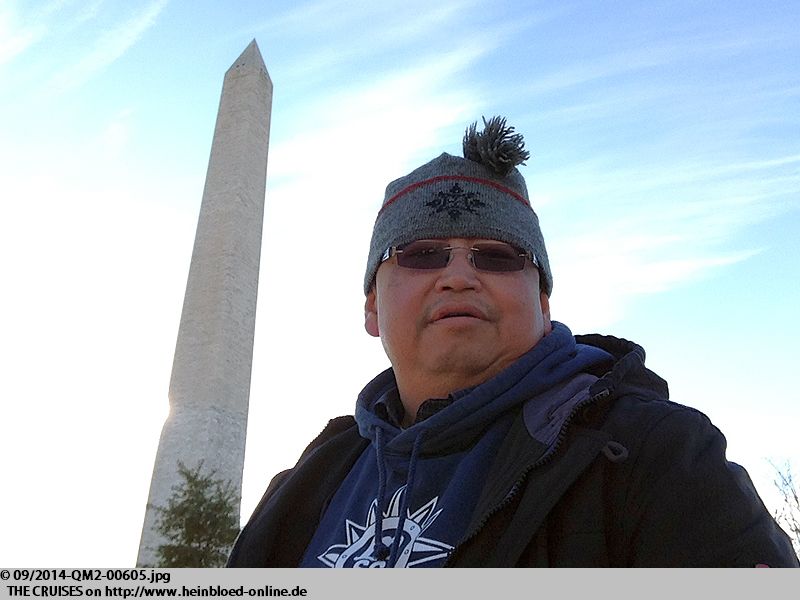 Schnell auch noch ein Selfie vor dem
Washington Monument
. Aber ich breche an dieser Stelle die Tour ab, weil es mir zu kalt ist.
Auch der kleine Bruno will ins Weiße Haus. Obwohl er sich auf den Kopf stellt und behauptet, dass er von Frau Merkel ein Einschreiben mit Rückschein und Nachnahme für President Obama hat: er kommt nicht rein. Dabei hat er sich extra seine Schuhe ausgezogen, um nicht den Teppich im Weißen Haus dreckig zu machen.

Little Bruno wanted to get into the White House too. Although he went upside down and said that he had a Special D Registered Letter incl. Cash on Delivery for President Obama: no chance to get in. There he took off his shoes to avoid to make the carpets dirty in the White House.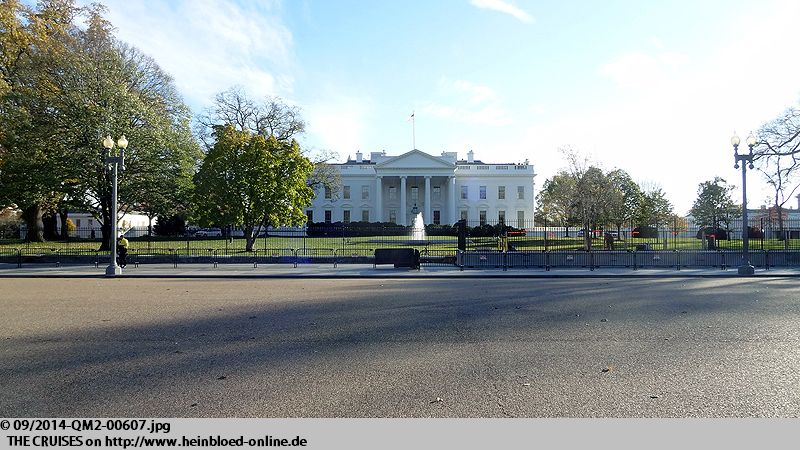 Am
Thomas Jefferson Memorial
halten wir nicht mehr. Das nehme ich nur aus dem Autofenster mit. Es ist mir echt zu kalt.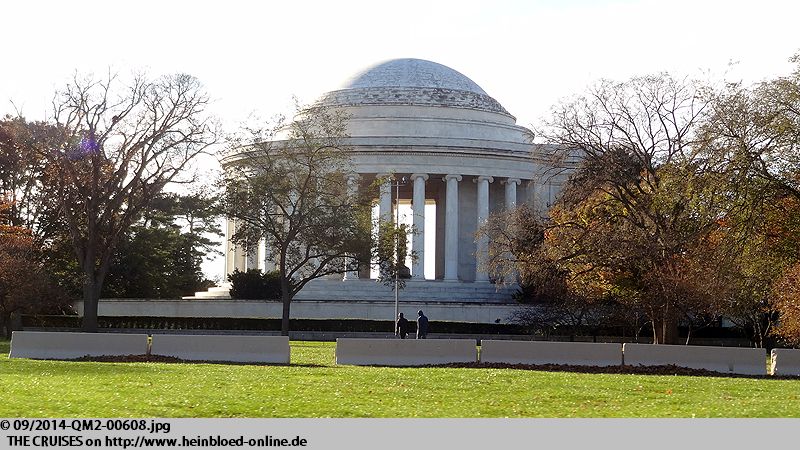 At Thomas Jefferson Memorial we did not stop anymore. I only took the picture out of the car. It was too cold for me.

So in the background the flat building of the Pentagon. 25 years ago you could simply enter and join a tour. Nowaday you need a background check and you must book at least two weeks ahead the tour.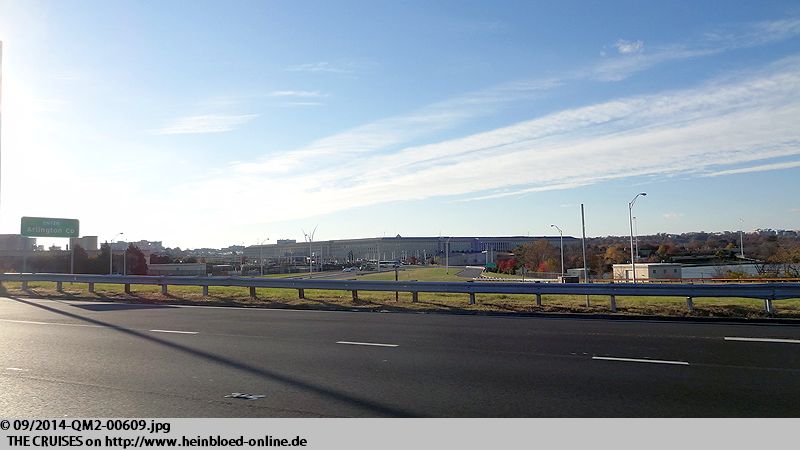 So im Hintergrund sieht man noch das flache Gebäude des
Pentagon
. Vor 25 Jahren konnte man einfach rein und sich einer Tour anschließen. Heutzutage muss man eine Sicherheitsprüfung über sich ergehen lassen und mindestens zwei Wochen vorher die Tour buchen.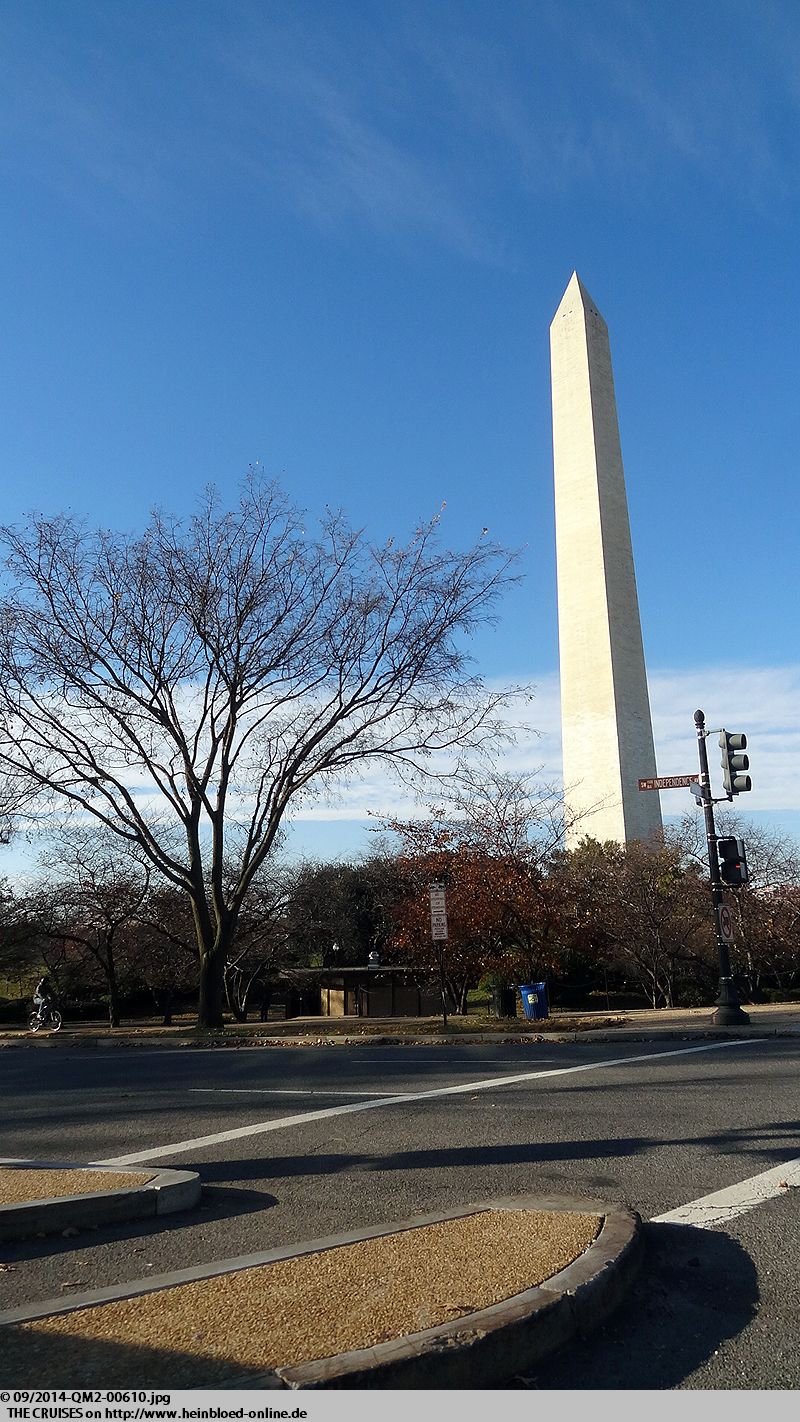 I went into the Food Court of the Pentagon City to have a soup. Like usually in the US it was so enriched that I could not eat it.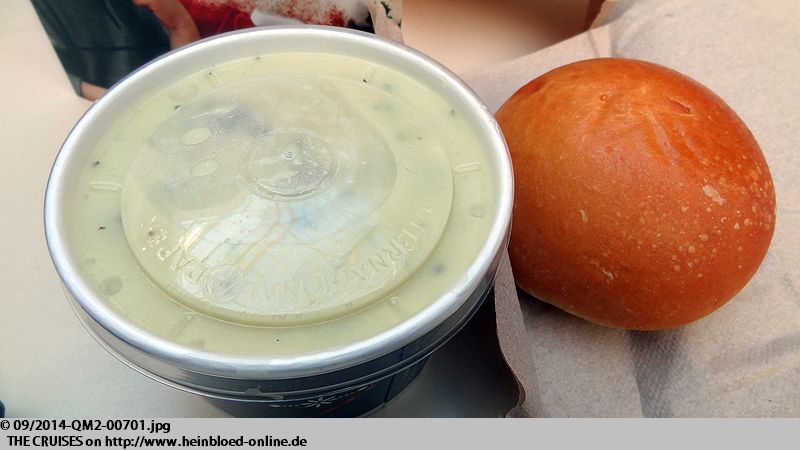 Im
Pentagon City
gehe ich kurz in den Food Court eine Suppe essen. Wie üblich in den USA so richtig schön angereichert, dass ich davon kaum etwas runter bekomme.
Da es im
Nordstrom
-Kaufhaus keine
Rabattkarten für Touristen
gibt, gehe ich kurzerhand wieder zu
Macy's
einkaufen: Zu meinem Erstaunen passe ich in eine 36-er Nautica-Jeans rein. Außerdem kaufe ich mir noch einen Schal. Wie soll das bloß mit mir weitergehen?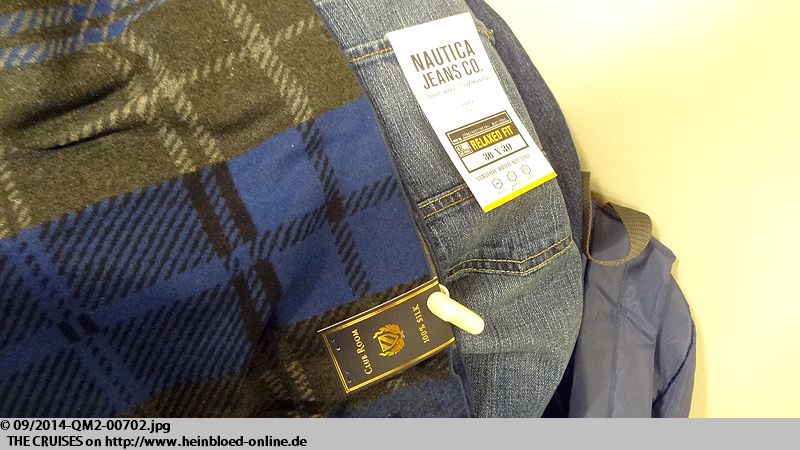 As there was no discount pass for visitors with Nordstrom">Nordstrom Department Store I went to Macy's to shop: I was surprised to fit now in a 36 Nautica-Jeans. Furthermore I urgently need a scarf. How should it work out with me?

In the evening we went to a Vietnamese for dinner: Vinh Loi in Falls Church.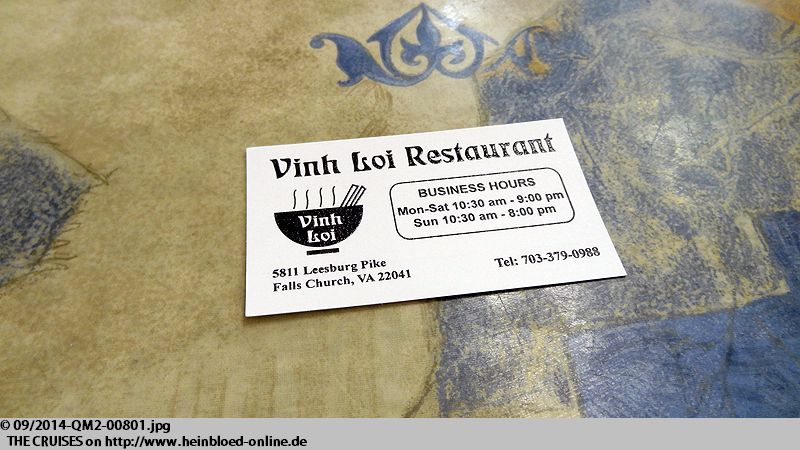 Abends geht es nochmals zu einem Vietnamesen essen: Vinh Loi in Falls Church.
Es gibt so Riesen-Nudelsuppen, die bequem auch für 3-4 Personen gereicht hätten. Wer soll das alles essen? Mehr als 3-4 Löffel kann ich leider eh nicht essen. Sehr schade. Das ist einfach normal, dass man in den USA alle Reste mit nach Hause nimmt und dort weiter isst. Da ich aber im Hotel wohne und morgen zurück nach Europa will, ist das keine brauchbare Lösung. Das bisschen, das ich essen kann, ist sehr lecker.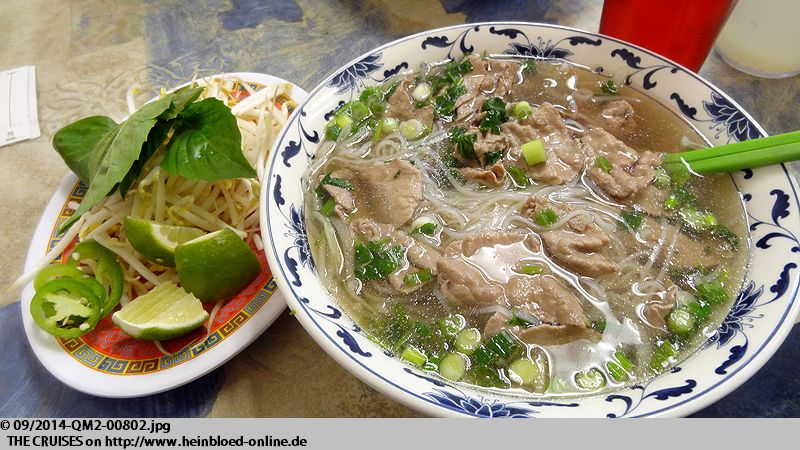 They had so giant noodle soups which could be eaten by 3-4 persons. Who should eat it all? More than 3-4 spoons I could not eat anymore. Very sad. As it was quite normal to have doggy bags and continue to eat when you were home. As I was staying in a hotel and wanted to return to Europe the next day it was no suitable solution. The little I ate was very yummy.

So it was also time to bid fare-well to my cousin Bob.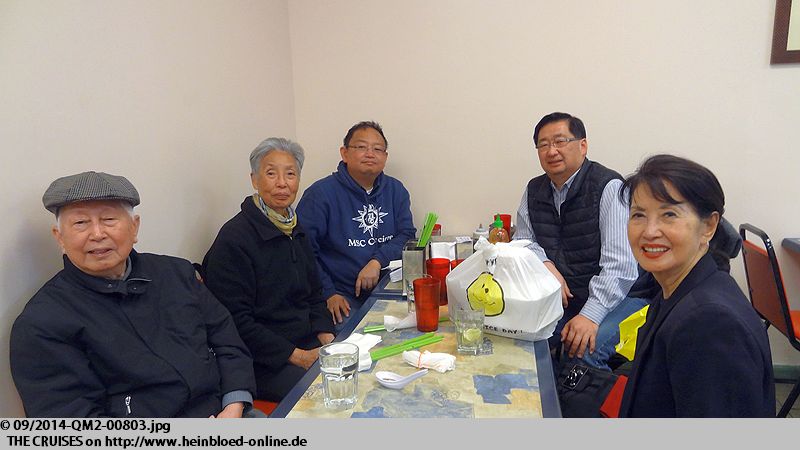 So ist es denn auch an der Zeit, mich von meinem Cousin Bob zu verabschieden.