Und wieder ein bekanntes Gesicht von der
QUEEN VICTORIA 2008
: Unser damaliger Sommelier Oleksander.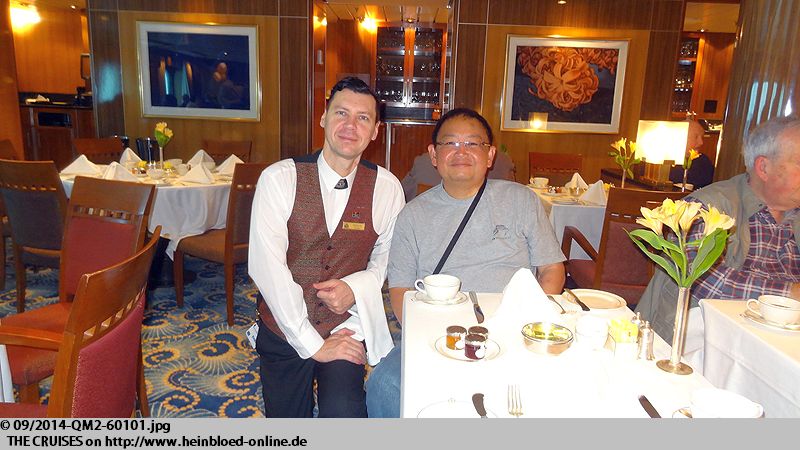 And another familiar face of QUEEN VICTORIA 2008: Our sommelier from then Oleksander.

That morning I got again a giant omelette.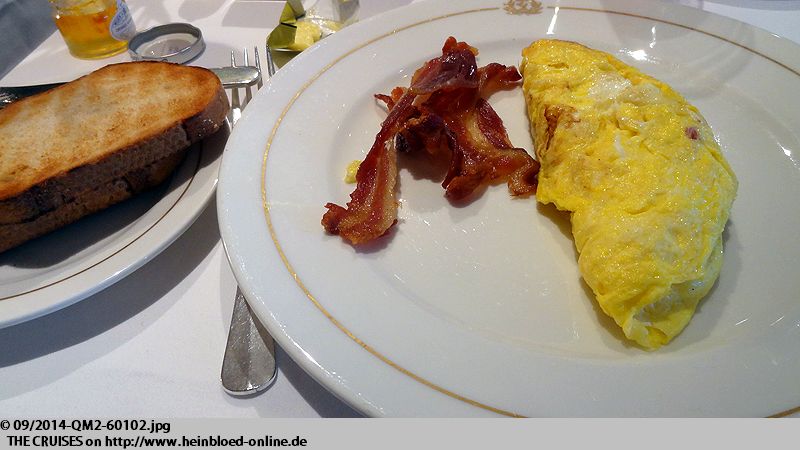 Heute Morgen kam wieder ein Riesenomelette.
Da mir schon alleine der Anblick solcher Mengen Probleme bereitet, halte ich doch Rücksprache mit dem Maître und erkläre ihm die Situation, dass ich auch wirklich nur ein einzelnes Ei will. Es geht AUCH darum, dass nicht Sachen notwendiger produziert werden müssen, die ich nicht esse. Es geht in erster Linie darum, dass sich mein Kopf auf geringere Mengen einstellen muss.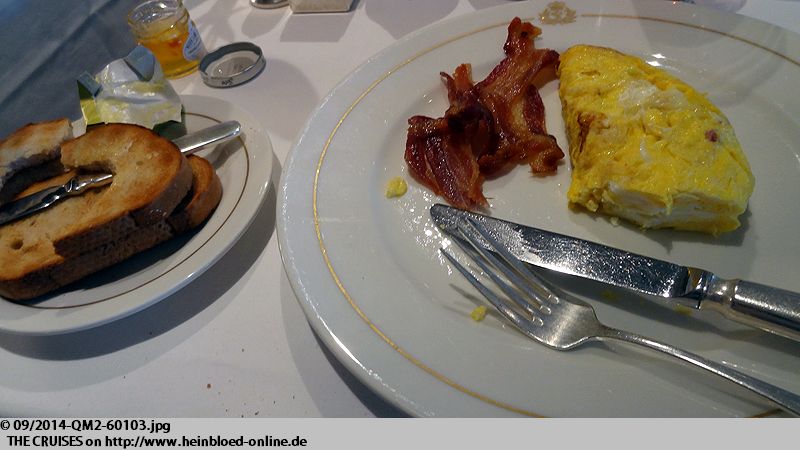 As just seeing such quantities occured some trouble I had to speak with the Maître and explained my situation that I really only want a single egg. It was ALSO that they should not prepare anything I would not eat anyway. First of all I wanted my brain to learn to deal with smaller quantities.

Now I saw that one corner of the Britannia Restaurant was set up as Britannia Club.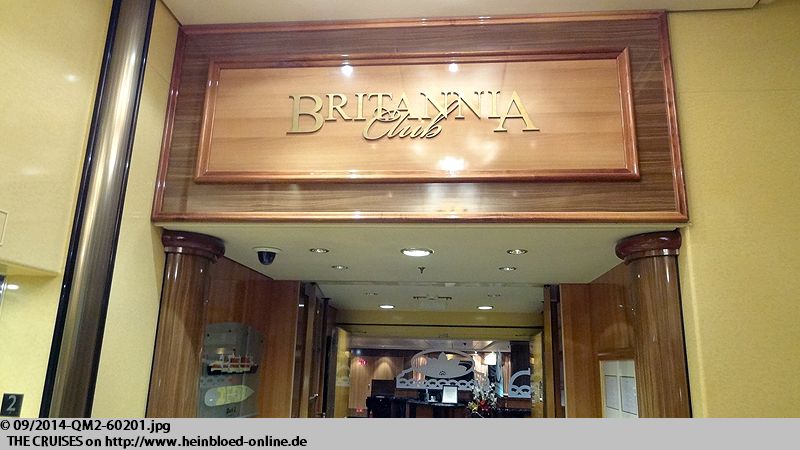 Erst jetzt fällt mir auf, dass eine Ecke des Britannia Restaurants als Britannia Club hergerichtet ist.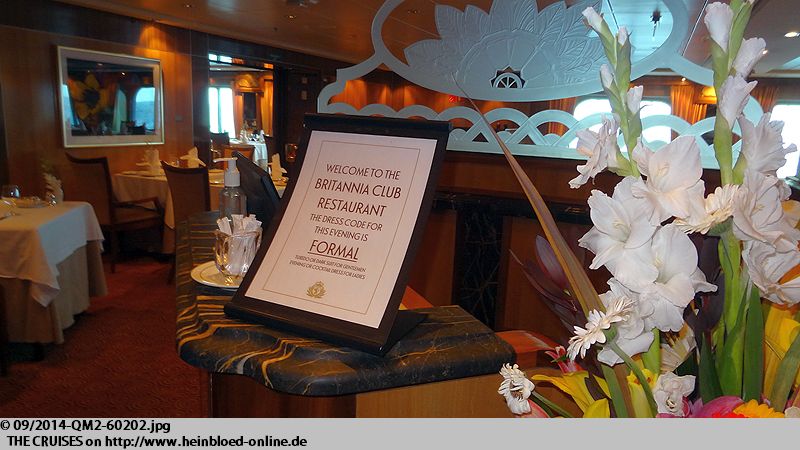 Here you had open dining like above in the Princess or Queens Grill.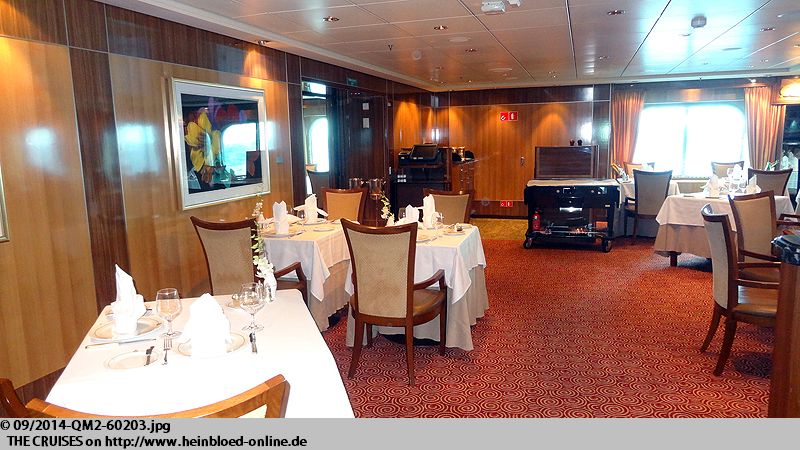 Hier ist offene Tischzeit, wie oben im Princess und Queens Grill.
Ich laufe bei der Galley Tour mit. Das ist allerdings etwas enttäuschend, wenn man schon andere Galley Touren mitgemacht hat. Man läuft einen vorlegten Parcour und bekommt einen Zettel mit ein paar Informationen über den Chefkoch. Leider darf man nichts probieren. Außerdem läuft es zu einer Zeit, in dem eigentlich kaum etwas los ist.

I walked with the Galley Tour. That was quite disappointing if you made other Galley Tours before. You walked a pre-set show course and you get finally a sheet of paper with some information of the executive chef. You were not allowed to test anything. Furthermore it was a time there was not very much any action.

When I get out I knew why it was so calm in the galley: It was crew-life drill. So I asked if we should expect with some restricted service with the lunch that day. They were upset on this question and asked why I was wondering: I told them of the QUANTUM OF THE SEAS and they relaxed me by telling that everything was well organised even a crew-life drill was conducted the guest should not notice any restriction. Partly some would continue to work with their life vests and partly they started earlier in the Galley to be sure that lunch will be served on time.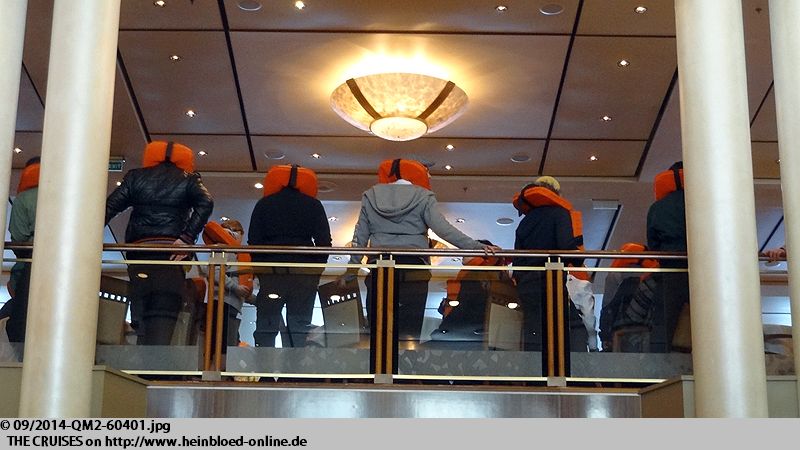 Als ich rauskomme, weiß ich dann auch den Grund für die Ruhe in der Galley: Es ist Crew-Seenotrettungsübung. Ich frage nach, ob wir dann heute Mittag mit eingeschränktem Service rechnen müssen. Über diese Frage ist man ganz entsetzt und fragt nach, wie ich darauf käme: Ich erzähle von der QUANTUM OF THE SEAS und beruhigt mich: hier würde man es so organisieren, dass trotz einer Crew-Seenotrettungsübung, für den Gast keine Einschränkungen gäbe. Zum Teil arbeitet man mit der Rettungsweste weiter und zum Teil wurde in der Galley schon früher begonnen, um alles auch mittags pünktlich auftischen zu können.
Es wird wohl simuliert, dass ich meine Kabine verlassen hätte und an der Sammelstation stehe...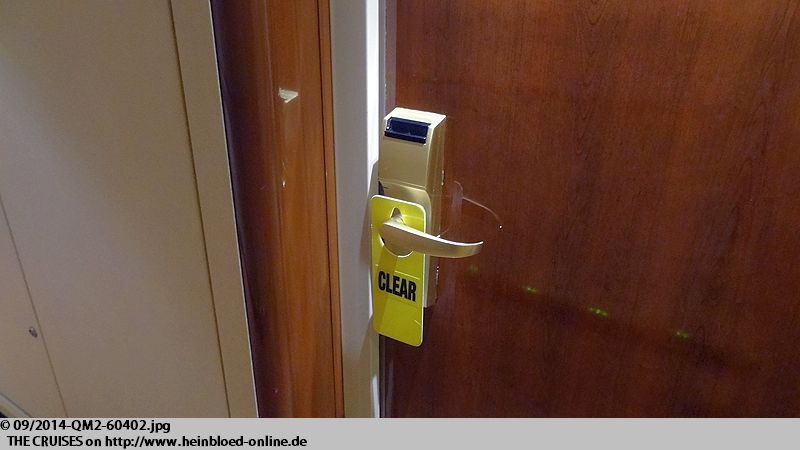 It was a simulation that they checked if guests left their cabin and wait at the muster stations...

Anyone of you familiar with Greenland and could explain immediately which place was in which time zone. I need a time zone but this and the next do not have so many settlements.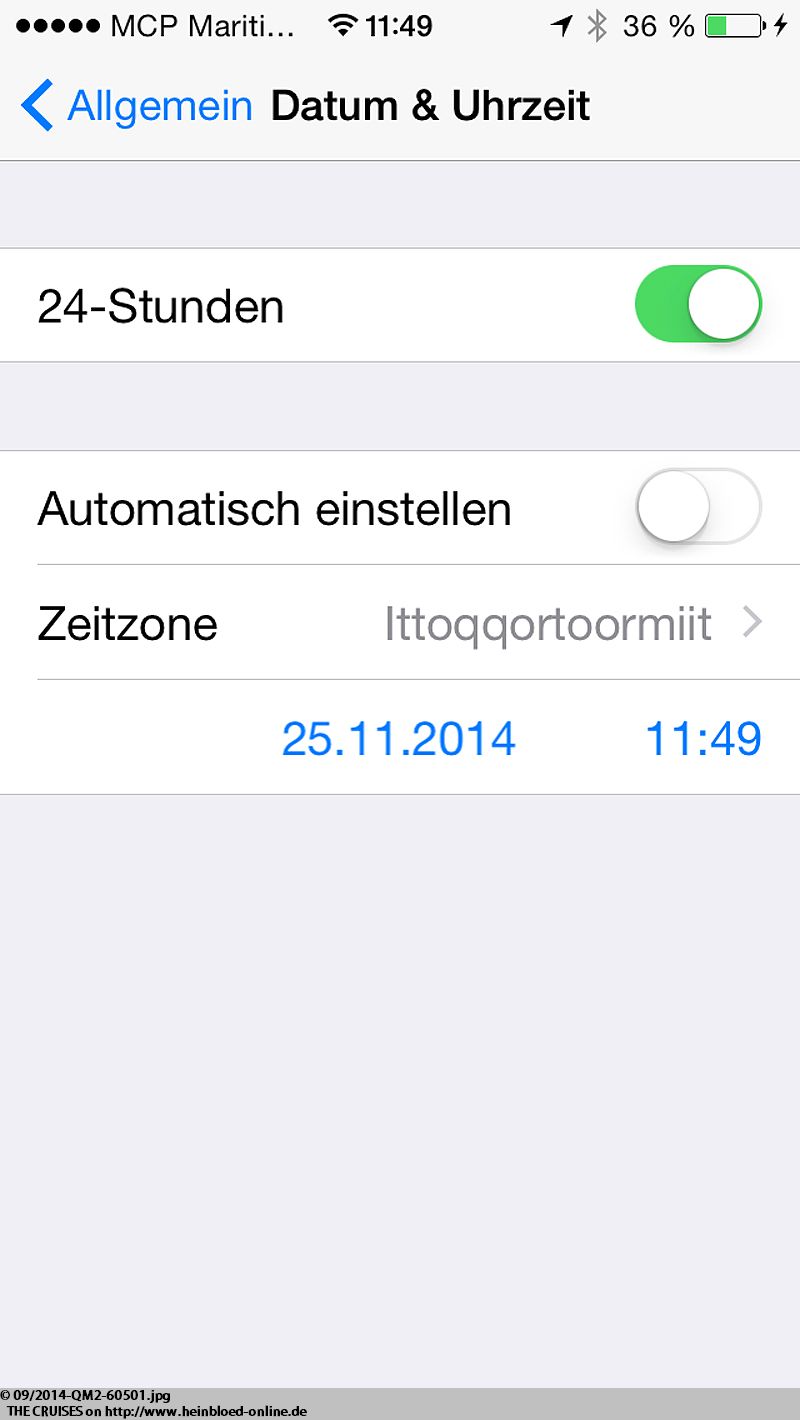 Kennt jemand sich gut in Grönland aus und kann mir auf Anhieb erklären, welcher Ort in welcher Zeitzone liegt. Ich brauche eine Zeitzone, aber diese und die nächste Zeitzone sind kaum richtig besiedelt.
Ich laufe wieder herum, weil es sonnig ist. Leider ist es auch kalt. RADA zeigt "Der Kaufmann von Venedig", aber das ist mir zu schwere Kost. Bei der Gelegenheit gehe ich unser Foto abholen.

I was walking around because it was sunny again. But it was cold again. RADA presented "The Merchant of Venice" but it was too heavy for me. I used the occasion to collect our pictures.

I had just fun to take same selfies of the beautiful QUEEN MARY 2 and me: Just like "The Beauty and the Beast"... FInally I saw the area for the dog owners who visited their dogs.

Ich habe einfach Spaß einige Selfies von der schönen QUEEN MARY 2 und mir zu machen: Frei nach "Die Schöne und das Biest"... Endlich sehe ich auch die Fläche für die Hundebesitzer, die ihre Vierbeiner besuchen.
Mittags treffe ich mich mit David, den ich aus dem Commodore Club kenne. Er lebt mitten in New York City.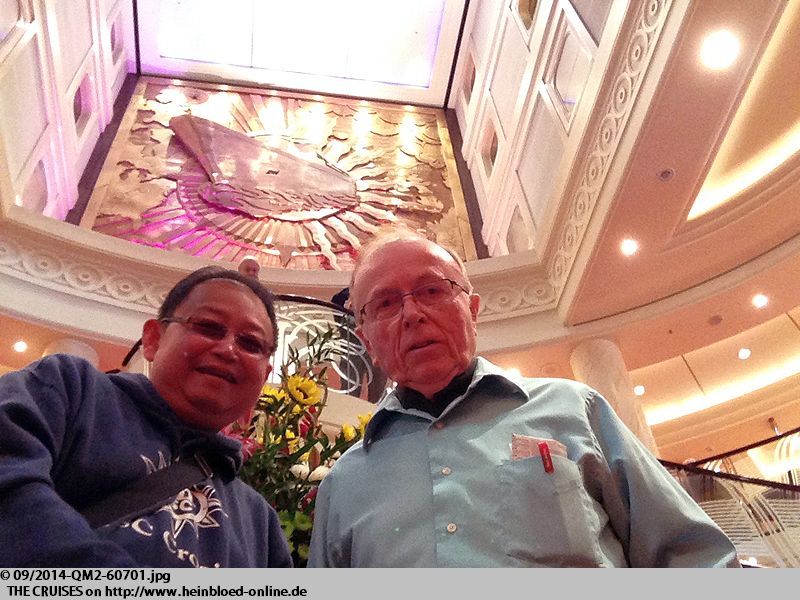 In the noon I met David whom I knew from the Commodore Club. He was living in the center of New York City.

So we went together to Todd English to have lunch.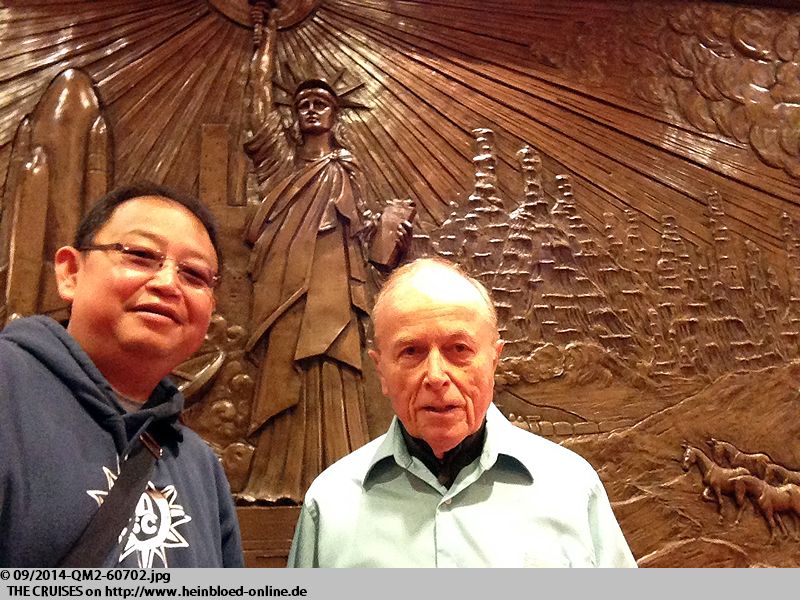 So gehen wir heute Mittag zusammen zu Todd English essen.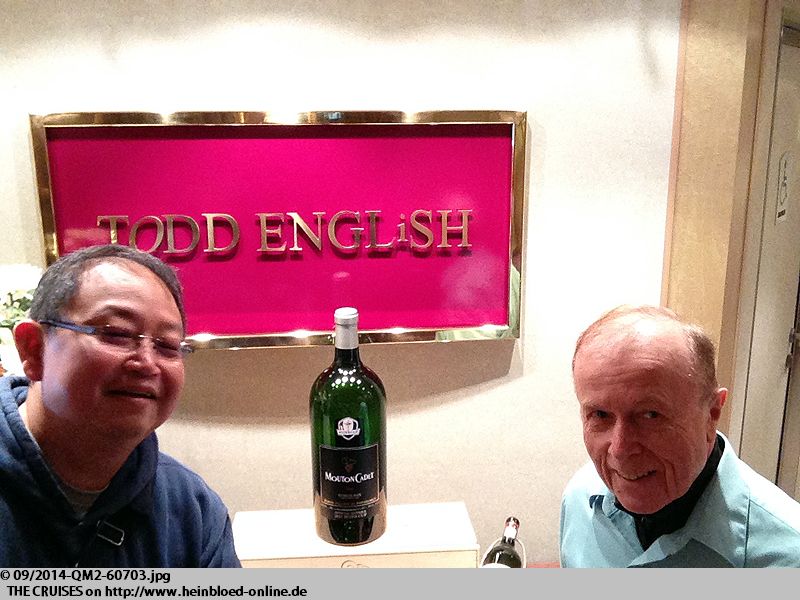 David was also exited of the food and the service.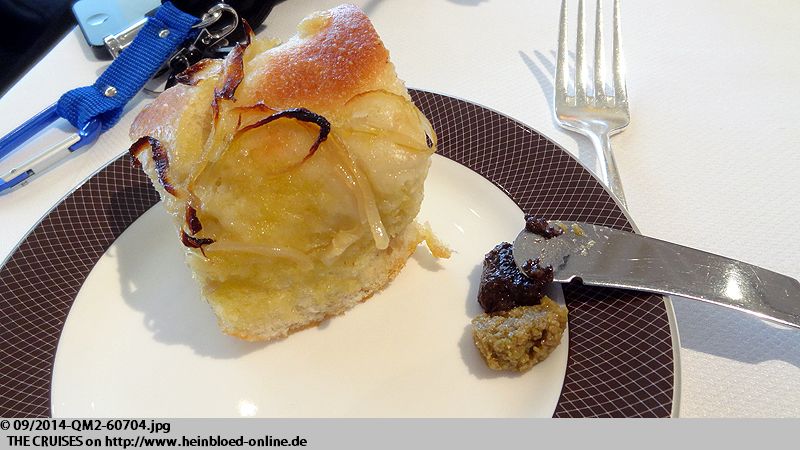 David ist ebenfalls sehr von dem Essen und dem Service begeistert.
Obwohl er schon oft mit der QUEEN MARY 2 unterwegs war: hier war er bislang noch nicht.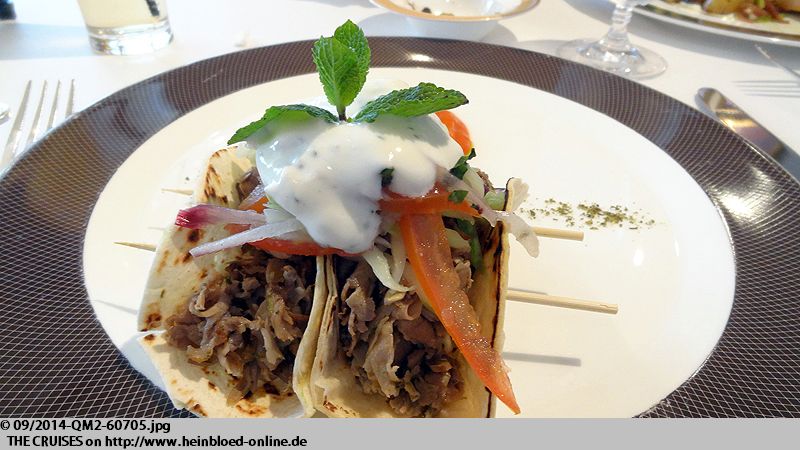 Although he was many time before on QUEEN MARY 2: here he has not been here before yet.

I took again my mango-sherbet.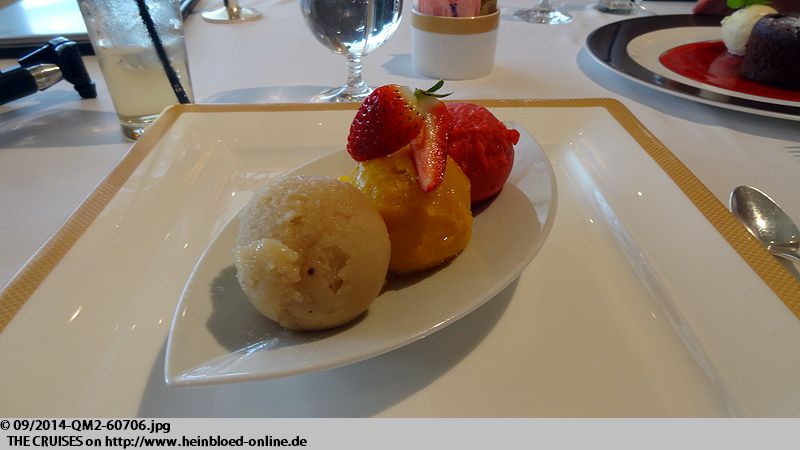 Ich nehme wieder mein Mango-Sorbet.
Sie ist übrigens der Sonnenschein an Bord: Monica. Selbst wenn sie unten im Britannia-Restaurant serviert: Sie hat immer ein Lächeln für ihre Gäste und sogar für solche, denen sie unterwegs auf dem Weg zur Galley begegnet und ihr Lächeln steckt an. Ich war im Britannia Restaurant richtig neidisch, dass ich nicht ihr Gast war.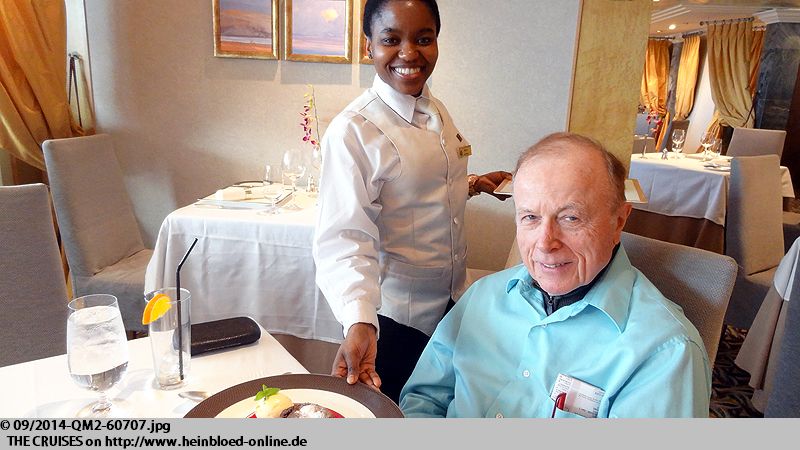 She was the sunshine on board: Monica. Even she was working downstairs in the Britannia-Restaurant: she always had a smile for her guests and even for those she met on her way to the galley and infected them by her smile. I was really jealeous that I was never her guest there in the Britannia Restaurant.

David told me that the should come back when he will be on his way back to New York.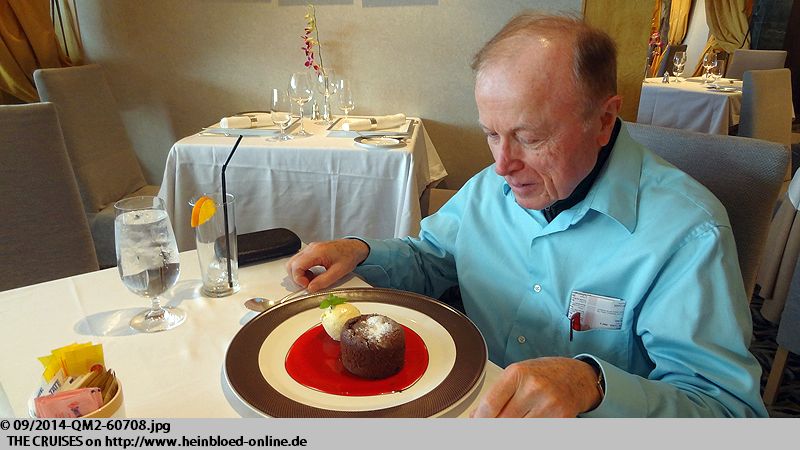 David sagt mir, dass er auf der Rückfahrt nach New York hierher wieder kommen wird.
Im Queen's Room findet wieder der Tanzkurs statt, aber auch heute sind viel zu viele Männer da, so dass ich mich wieder entschließe, nicht daran teilzunehmen.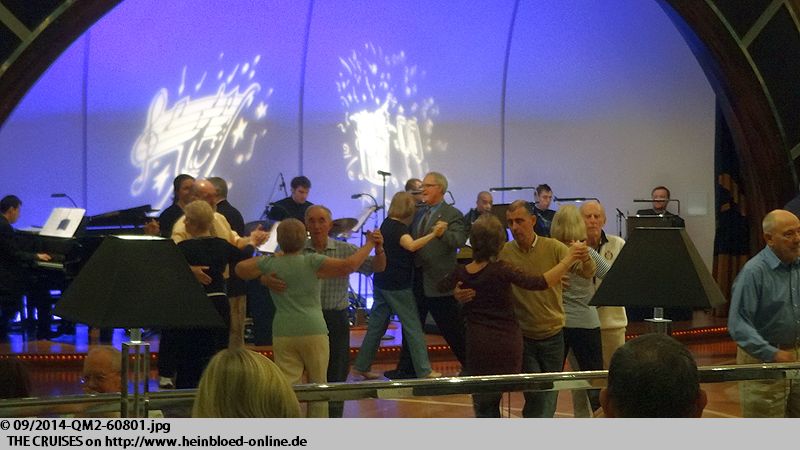 In the Queen's Room they had again dance lesson but that day there were too many men so that I decided not to join.

One more time I need to have tea-time.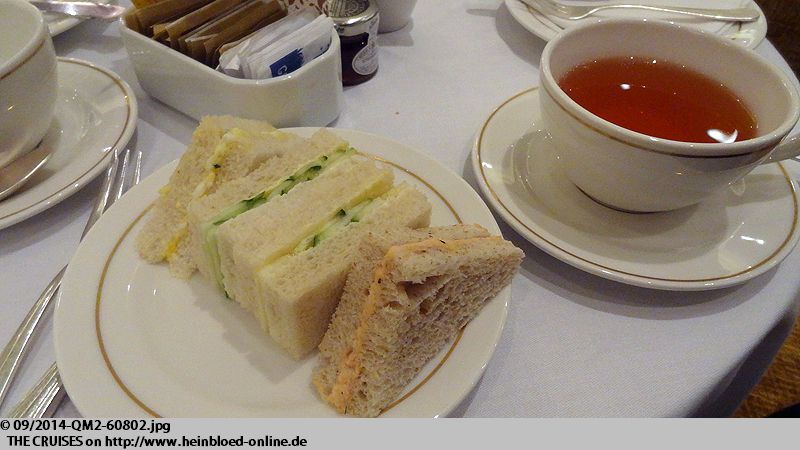 Noch einmal muss ich später Tea-Time mitmachen.
Und wieder begegne ich den gleichen Canapés im Commodore Club...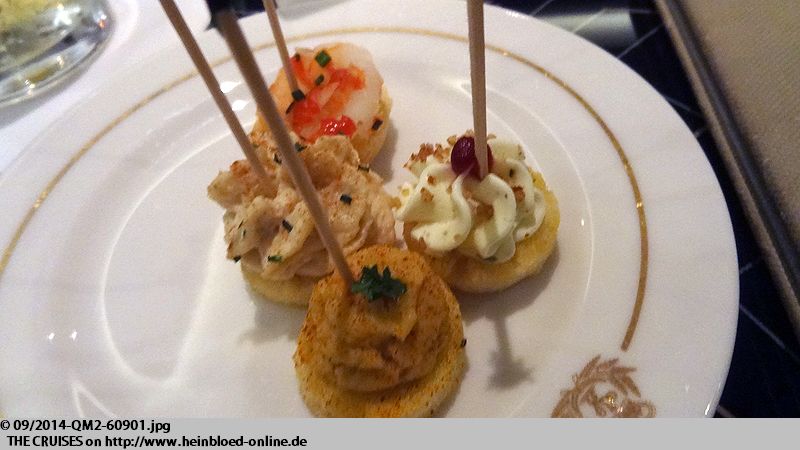 And I met again the same canapés in the Commodore Club...

And then we went again for dinner in the Britannia Restaurant. That night they had the parade of the chefs. They even had Baked Alaska - but without table firework or miracle candles.

Und dann geht es auch wieder zum Abendessen in das Britannia Restaurant. Heute findet auch die Parade der Köche statt. Es gibt sogar Baked Alaska - nur ohne Tischfeuerwerk oder Wunderkerzen.
Abends kommt auch schon der Fragebogen.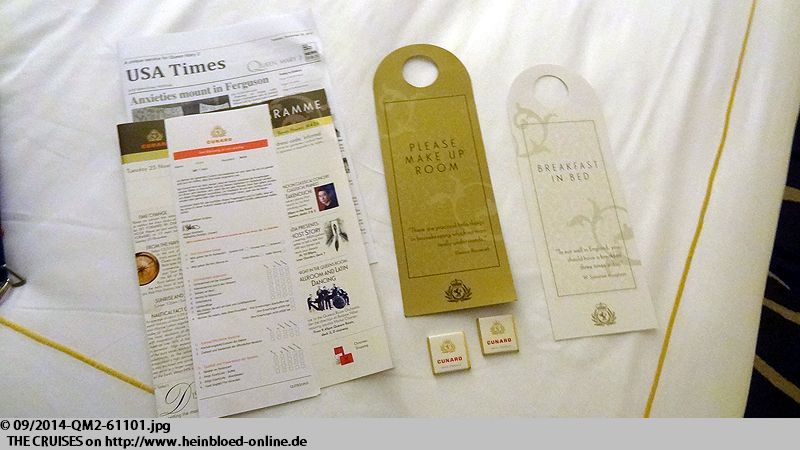 In the evening they delivered already the questionaire.

And followed by the debarkation information.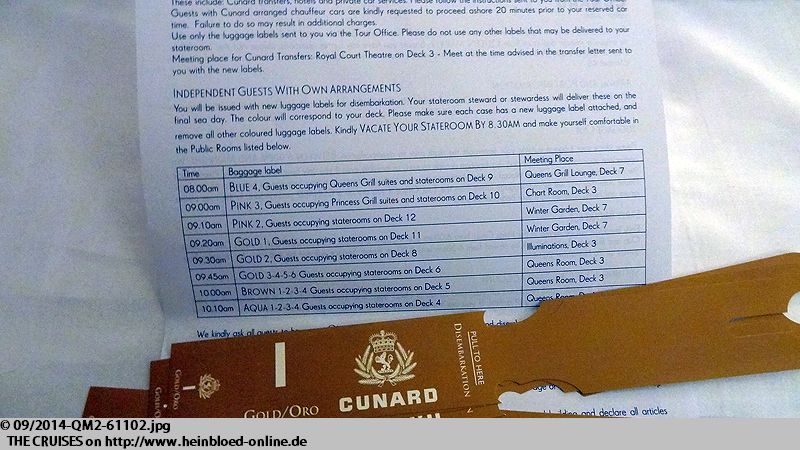 Und auch schon die Ausschiffungsinformationen folgen.
Für Gäste, die in Southampton von Bord gehen, gibt es keinen Frühstücksservice in der Kabine.

For guests who supposed to debark in Southampton no cabin breakfast would be offered.

The show was quite o.k. - looked liek they had it the last time. Was nice to see but nothing special compared to other shows on other ships (but DISNEY DREAM).

Die Show ist ganz o.k. - sie lief wohl zum letzten Mal. Nett anzusehen, aber eben nichts außergewöhnliches im Vergleich zu anderen Shows auf anderen Schiffen (außer DISNEY DREAM).
Ich gehe nochmals für einen kleinen Snack in den King's Court.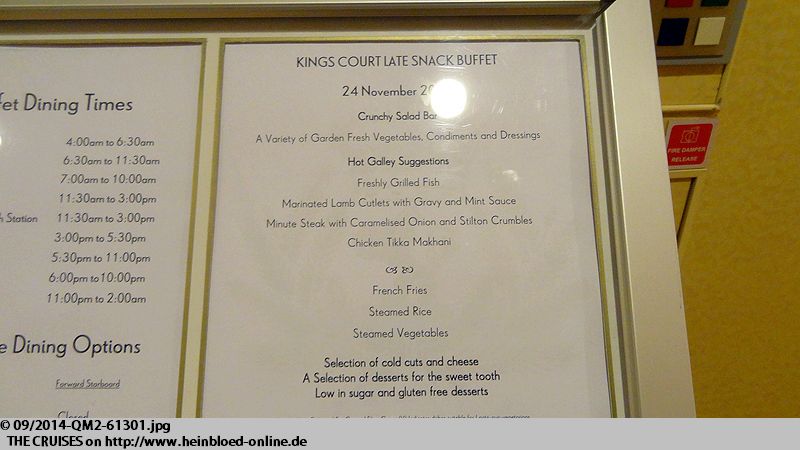 I went for a small snack in the King's Court.