Alles ist gut heute Morgen. Ich bekomme tatsächlich ein Omelette aus einem frischem Ei.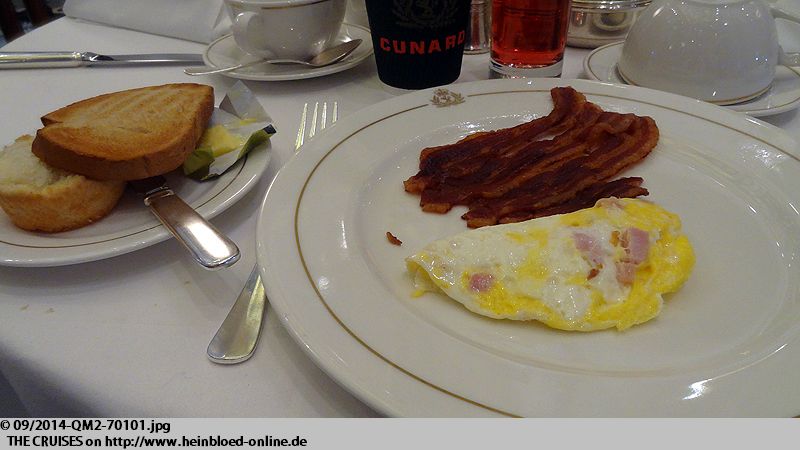 Everything was fine that morning. I really got an omelette made of one single fresh egg.

But even the omelette made of one single egg was too much.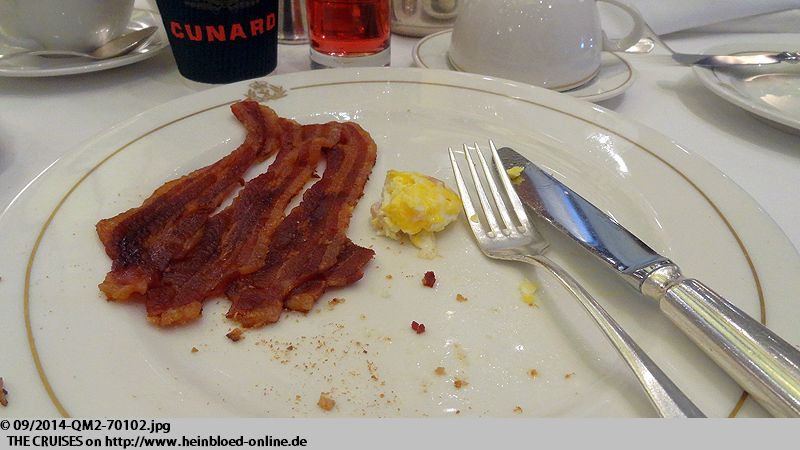 Aber selbst ein Omelette nur aus einem Ei schaffe ich nicht.
Maître D'Hotel Attila Verdo und Head Waiter Roy Maghinang meinten, dass sie für mich ein Tisch in deren Nähe blocken, damit sie dort die entsprechenden Instruktionen geben können, damit ich auch nicht zu große Portionen bekomme. Einige Crew-Mitglieder fragen mich, ob Roy und ich Geschwister sind.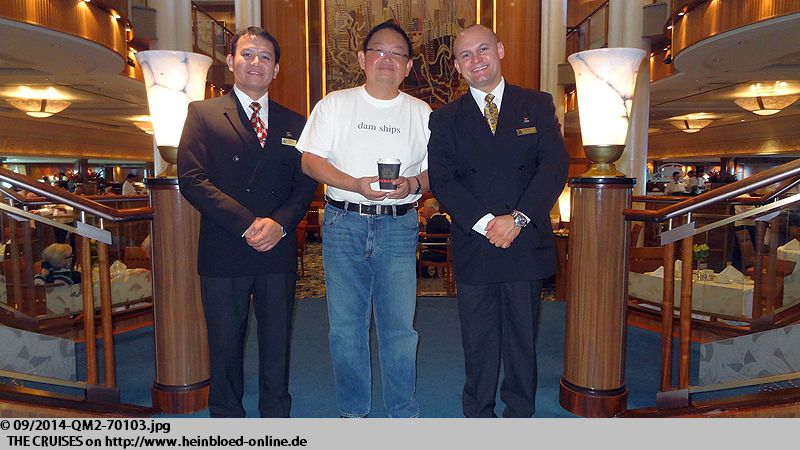 Maître D'Hotel Attila Verdo and Head Waiter Roy Maghinang said that they blocked a table for me around them so they could give appropiate instructions that I would not get too large portions. Some crew-members asked if Roy and I might be brothers.

One of the most important crew-members on QUEEN MARY 2: Mikee the florist. It was fantastic like a magician what he did. A view to the board of the Senior Officers. In the Royal Court Theater Entertainment Director Jo Haley leaded a discussion with BBC-author Jane Corbin. I was happy that my new jeans width 36 also fit after laudry. So far I walked all the time upwards but now they had a sign at the bottom that the next was reserved for Grill-guests only. Last not least I got my booking confirmation for two mini-cruises on QUEEN MARY 2 and QUEEN VICTORIA for 2015 and 2016. I like it too much.

Einer der wichtigsten Crew-Mitglieder auf der QUEEN MARY 2: Mikee, der Florist. Das ist einfach fantastisch, was er so zaubert. Ein Blick auf die Tafel der leitenden Offiziere. Im Royal Court Theatre führt Entertainment Director Jo Haley eine Geprächsrunde mit der BBC-Autorin Jane Corbin. Ich freue mich darüber, dass die neue Jeans in Größe 36 auch nach dem Waschen passt. Bisher bin ich über diese Treppe nach oben gelaufen, aber jetzt steht auch ein Schild unten, dass das nächste Deck nur für die Grill-Gäste ist. Last not least kommen noch die Buchungsbestätigungen für zwei Kurzreisen auf der QUEEN MARY 2 und QUEEN VICTORIA für 2015 und 2016. Es hat mir einfach zu gut alles gefallen.
Wir haben die letzte Zeitumstellung: von Ittoqqortoormitt nach London.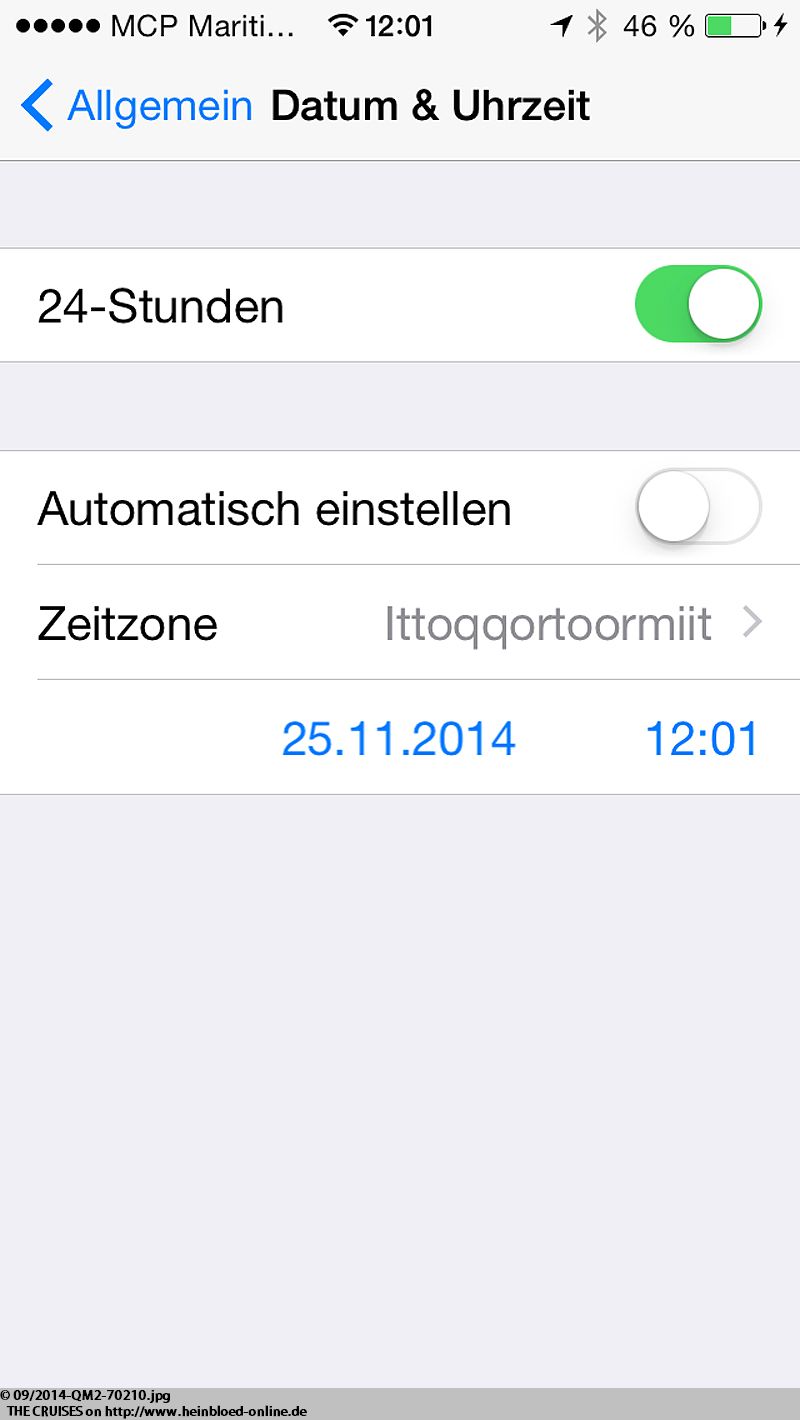 We had the last time change: from Ittoqqortoomitt, Greenland to London, England.

And we had the last time change on QUEEN MARY 2.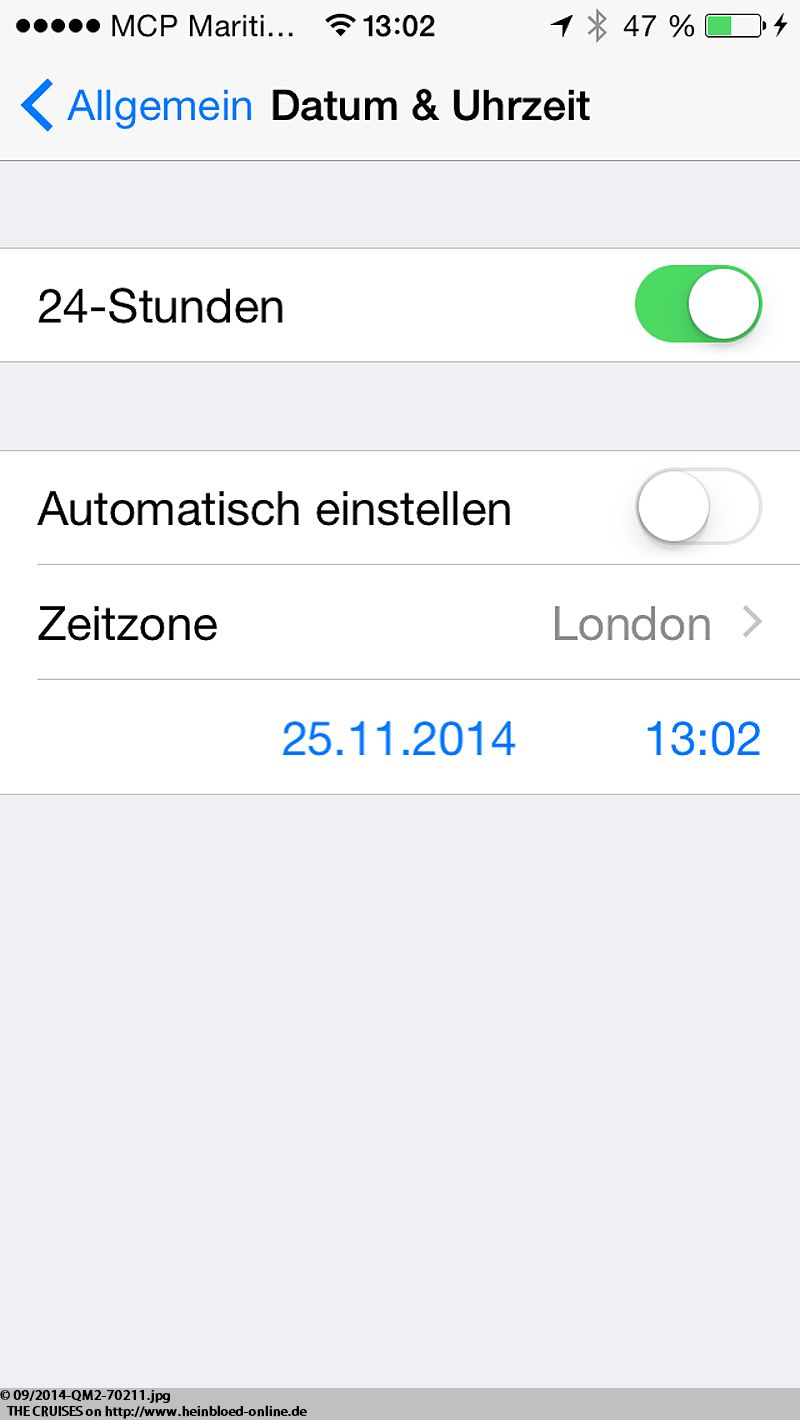 Und haben wir zum letzten Mal eine Zeitumstellung auf der QUEEN MARY 2.
Und noch eine letzte Runde Selfies mit den Berühmtheiten, die schon mit Cunard gereist sind und anderen interessanten Objekten.

And a last round with selfies with all the celebrities who travelled with Cunard and other interesting items.

One more time I was walking through the Britannia Restaurant and we made another selfie with Ralph and some waiters who were there before lunch service started.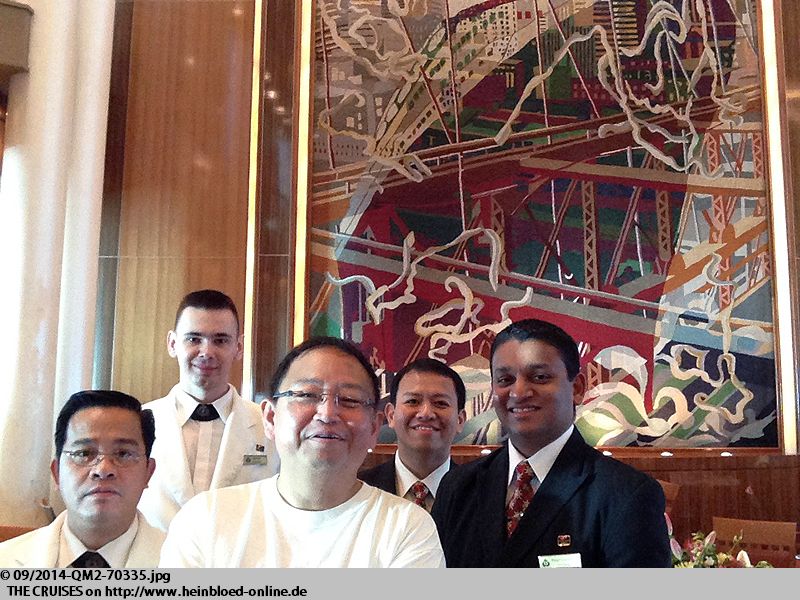 Noch einmal laufe ich durch das Britannia Restaurant und wir machen noch ein Selfie mit Ralph und einigen Kellnern, die schon da sind, bevor die Mittagszeit losgeht.
Und das ist Albert Perete vom Zahlmeisterbüro, der mir direkt am ersten Tag bei der Rückerstattung meiner Todd-English-Zuzahlung geholfen hat.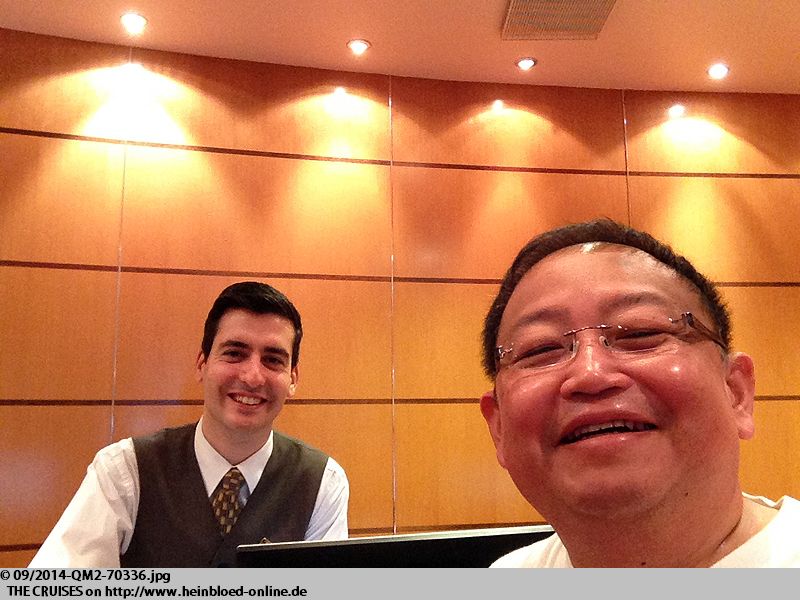 And that was Albert Perete of the Purser's Office who helped me the first day to the refund of my Todd-English-cover charge.

Now I was in trouble with my concience because Attila prepared for me a table in his corner so he could do everything for me regarding size of portion or way of preparation. And Ralph said that the team of Todd English would be very happy if I would come by again. So I had to share myself and had a soup first here in the Britannia restaurant.

Nun bin ich in einem Gewissenskonflikt, weil Attila ja extra für mich einen Tisch in seiner Ecke einen Tisch vorbereitet, damit mir jeder Sonderwunsch bezüglich der Portionsgrößen oder Zubereitung erfüllt wird. Und Ralph hat mir gesagt, dass sich das Team im Todd English sich darüber freuen würde, wenn ich nochmals da vorbei käme. Also muss ich mich teilen und nehme ich hier im Britannia Restaurant eine Suppe.
Leider kann ich die Suppeneinlage der asiatischen Brühe nicht essen.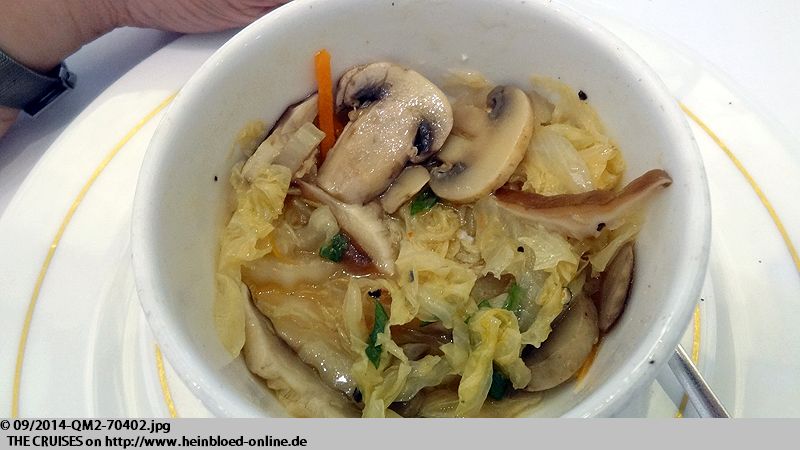 Unfortunately I could not eat the soup ingredients of the Asian broth.

The broth was so yummy so I asked for another cup of broth - without soup ingredients.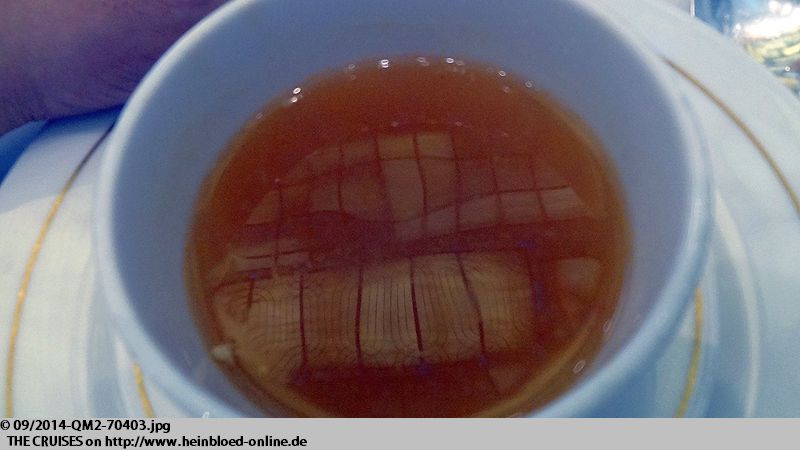 Die Brühe ist jedoch so lecker, dass ich kurzerhand noch um eine 2. Tasse Brühe bitte - ohne Einlage.
Und das hätte es im King's Court gegeben.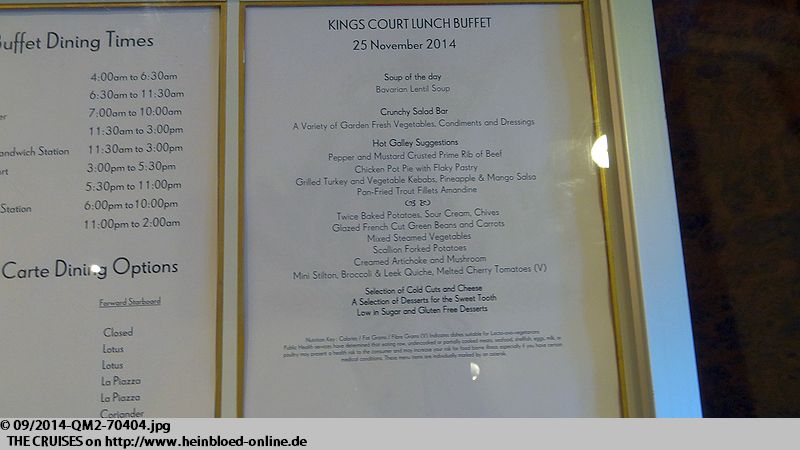 And that was what I could have in the King's Court.

A small thing I did not like with the King's Court: The smokers who blocked the nice view. I promised Ralph to stop by: but more than a salad (soft like a baby butt) and a mousse and after I got a mango-sherbet in the Britannia-Restaurant for normal guests I had to go again for dinner to have another scope of the Todd-English-Mango-sherbet. Here I saw that they offered also wine and tapas.

Es gibt ja eine Kleinigkeit, die mir bei Todd English nicht gefällt: Dass die Raucher den schönen Blick versperren. Ich hatte Ralph versprochen vorbeizukommen: aber mehr als einen Salat (butterweich!!!) und ein Mousse und nach dem ich im Britannia-Restaurant ein Mango-Sorbet für Normalsterbliche bekommen habe, musste ich abends nochmals hin, um noch eine Kugel Mango-Sorbet von Todd English zu genießen. Hier sehe ich, dass abends wohl auch Wein und Tapas angeboten wird.
Ich genieße den Nachmittag einfach auf dem Balkon und auch noch einen schönen Sonnenuntergang.

I enjoyed the afternoon on my balcony and also a very nice sunset.

A very last time dining in the Britannia-Restaurant. Farewell from our team and from Mariano and our Sommelier Andrea who treated us very nice although we had no wine. Unfortunately not accepted by all sommeliers on all ships. Later I had to check what I missed in the Coriander and said also good-bye to Domenic and to the Maître D'Hotel of the Pricess Grill Grzegorz Makarewic.

Ein letztes Abendessen im Britannia-Restaurant. Abschied von unserem Team und Mariano und unserem Sommelier Andrea, die uns ganz toll behandelt hat, obwohl wir keinen Wein trinken. Leider nicht immer selbstverständlich auf allen Schiffen. Später gucke ich noch, was ich leckeres im Coriander verpasst habe und verabschiede mich auch von Domenic und vom Maître D'Hotel des Princess Grill Grzegorz Makarewic.
Noch ein letztes Mal in den Commodore Club, um mich dort vom Team und von den leckeren Canapés zu verabschieden.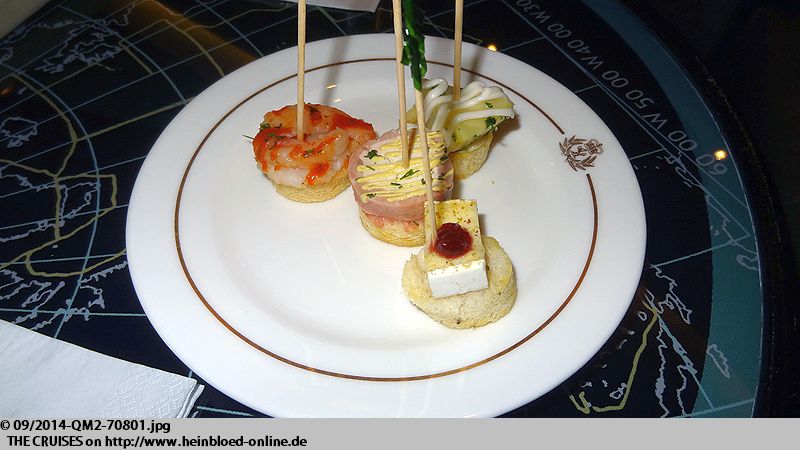 A very last time in the Commodore Club to say good-bye to the team and to the yummy canapés.

One more time an appetizer...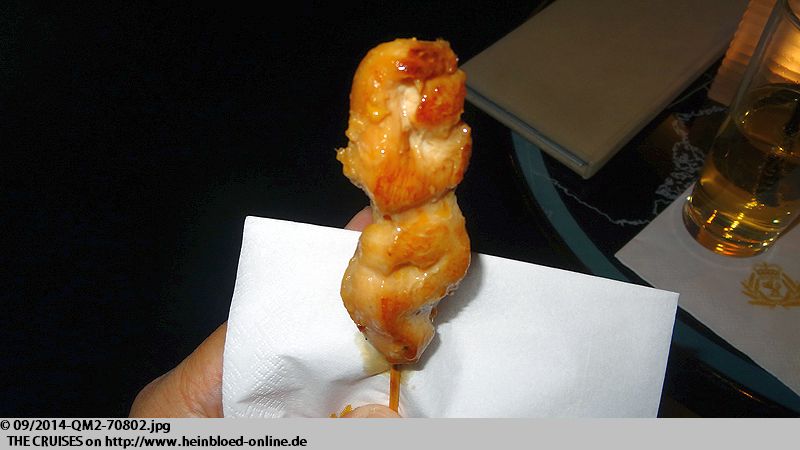 Noch mal ein letzter Appetizer...
Und ein letzter alkoholfreier Cocktail aufs Haus, weil ich so nett über das Team auf der Facebook-Chronik von Cunard geschrieben habe.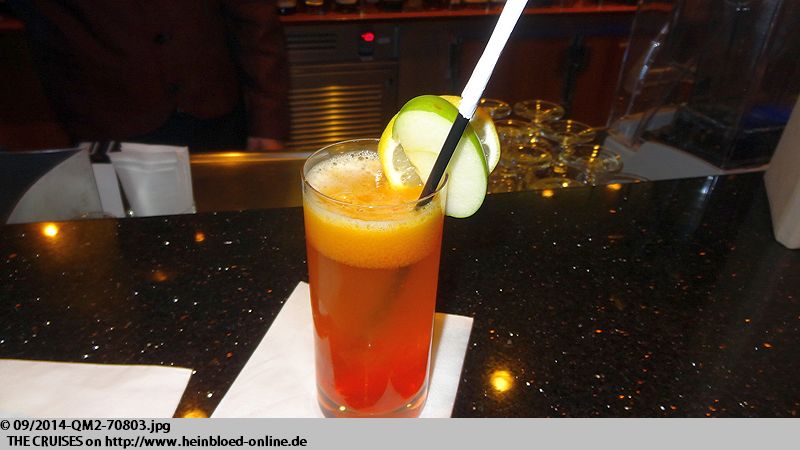 And a last alcohol-free cocktail on the house since I was writing very nice on the team on Cunard's Facebook-Chronicle.

Unfortunately I could not say good-bye to Bernadette Bihari since that night Campbell Simpson was playing.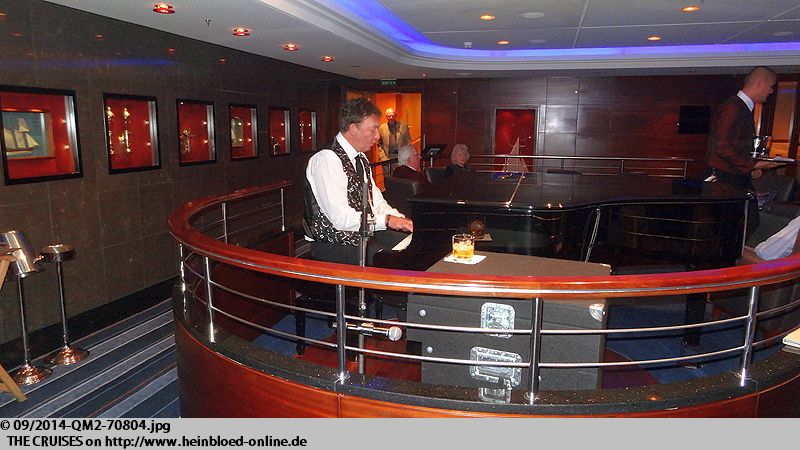 Von
Bernadette Bihari
kann ich mich leider nicht mehr hier verabschieden, weil heute Abend Campbell Simpson spielt.
Ein letztes Mal auch ins Theater, um die Abschiedsshow zu sehen, mit der sich die Royal Dancers und Singers sich auch von der QUEEN MARY 2 verabschieden, weil eine neue Truppe mit neuer Show an Bord kommt. Einer der Gastkünstler Mike Doyle bestreitet dann die andere Hälfte. Aber Englische Comedy ist nichts für mich. So gehe ich dann.

A very last time to the theater to see the farewell-show to let the Royal Dancers and Singers say good-bye to QUEEN MARY 2 because a new cast will join the ship. One of the guest artist Mike Doyle performed in the other half of the show. But English comedy was nothing for me. So I went out.