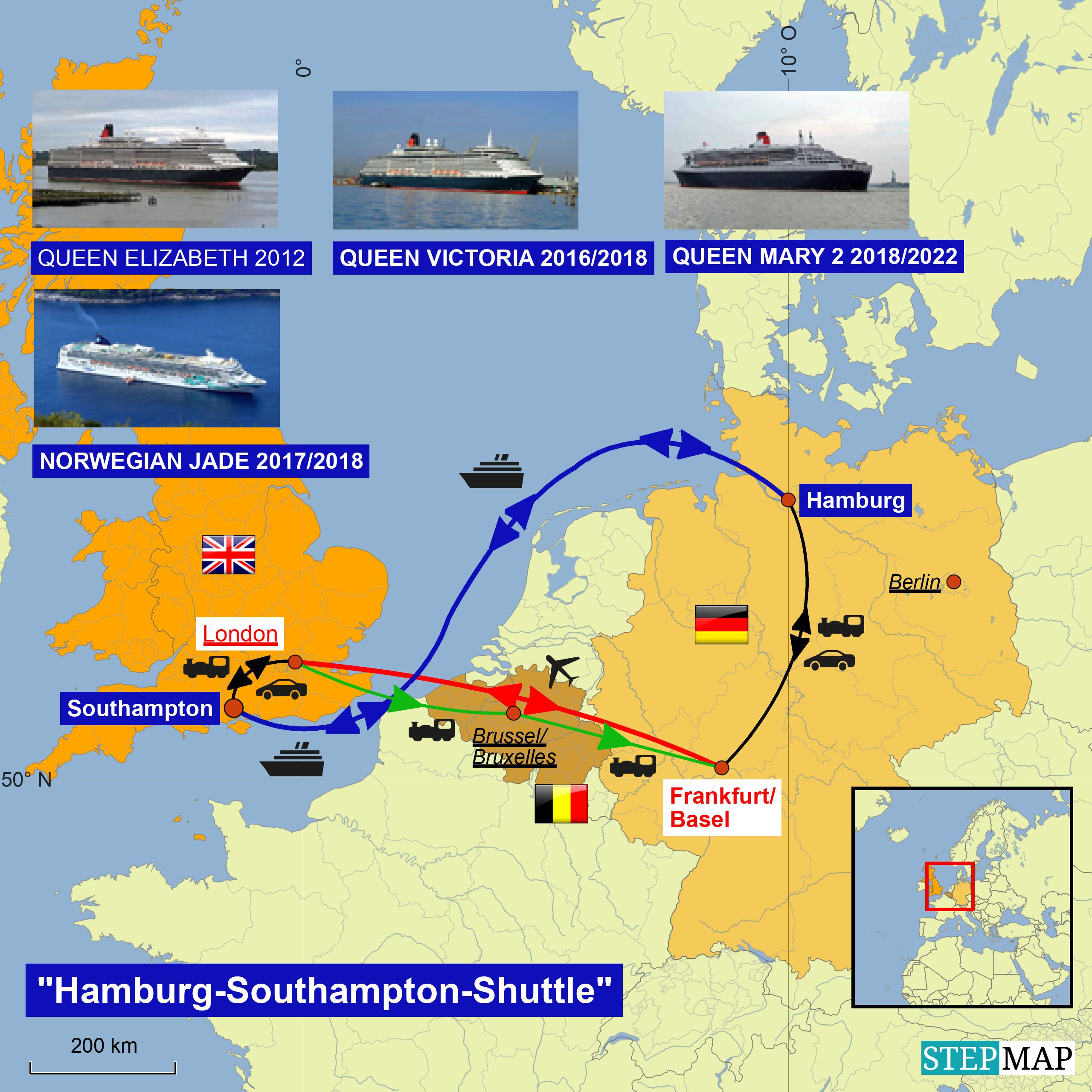 Die Fahrt beginnt schon am Vorabend mit dem Flug LH 922 nach London-Heathrow. Lufthansa servierte eine Butter-Laugenstange, bei der die Butter irgendwie automatisch eingespritzt wurde...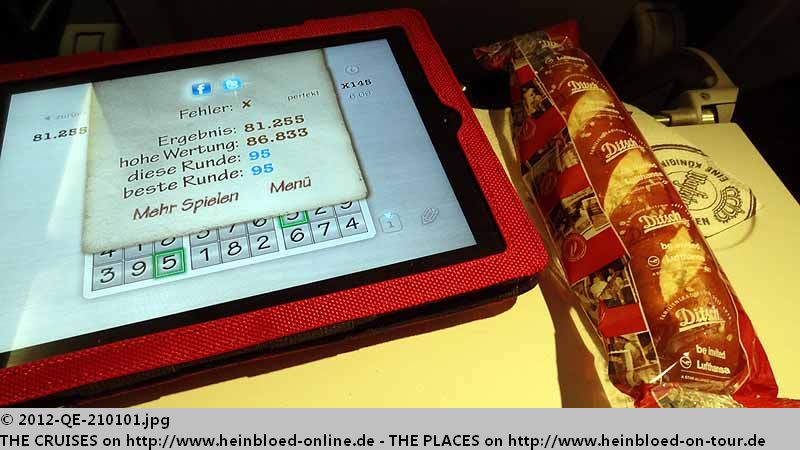 Our voyage started already the night before on flight LH 922 to London-Heathrow. Lufthansa served a buttered pretzel-roll but the butter was somehow injected into the bread.

Very nice was the attentive service. Miss Bellack noticed my birth mark when I boarded and she said something on it. It was nice not just to hear a "Good Evening - Welcome onboard" like a robo but some personal words. It was a sh... day: the whole day it was raining, we had to wait for the check-in until the flight was open again, staff members of Frankfurt airport did not know which sense "Fast Lanes" make if your flight is already displayed to them and they put the slowest staff members at the security check in one team. Last not least the Iris-Line with the automated immigration control did not work as usual. So it was great to meet someone like Miss Bellack.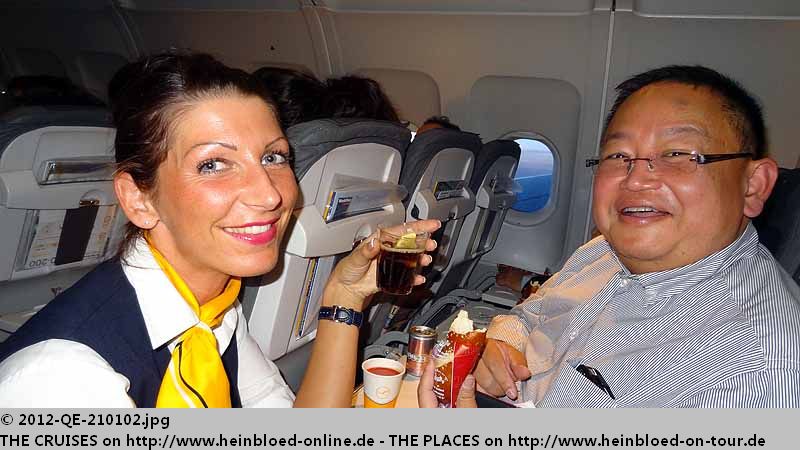 Schön war allerdings der aufmerksame Service. Frau Bellack fiel beim Einsteigen mein Muttermal auf und bemerkte hierzu etwas. Es war schön, dass nicht nur das "Guten Abend - Willkommen an Bord" eines Roboters kam, sondern ein paar persönliche Worte. Das war schön: den es war ein Sch... Tag: den ganzen Tag regnete es, beim Check-in mussten wir warten, bis dass der Flug wieder geöffnet war, Fraport-Mitarbeiter wusste mal wieder nicht, welchen Sinn "Fast Lanes" machen, wenn der Flug schon angezeigt ist und die lahmste Truppe bei der Sicherheitskontrolle wird in einer Spur als Team zusammengestellt. Last not least funktionierte die Iris-Spur auch nicht so. Deswegen tat es gut, jemandem wie Frau Bellack zu begegnen.
In London mussten wir dann 20 Minuten vor dem Gate auf dem Vorfeld warten. Drinnen ging mal wieder die e-Pass-Spuren nicht. Von Olympia war nicht allzu viel zu bemerken. Außer hier die Ecke mit den Akkreditierungen.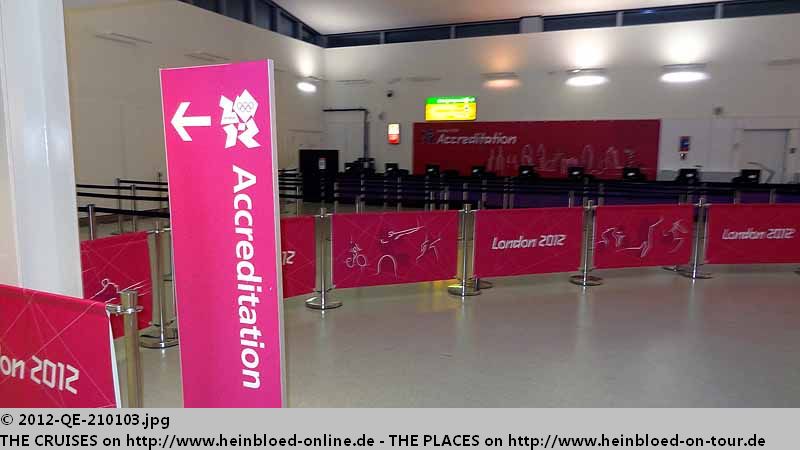 In London we need to wait 20 minutes on the airfield before we could move to our final gate position. Inside the e-Pass lanes did not work again. You did not notice too much from the Olympic Games. Except this little corner for accreditation.

But the bags came immediately.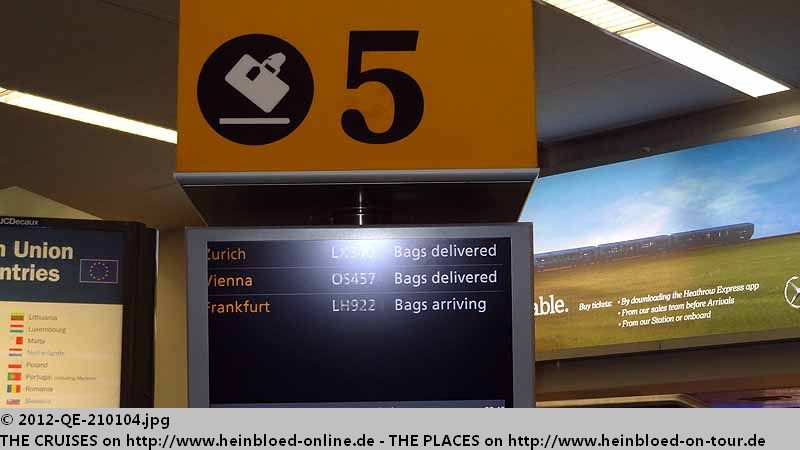 Immerhin kam das Gepäck sofort.
Wir hatten einen Wagen wieder bei Tariq bei
Sterling Executive Travel
gebucht: 90 GBP (2012) für einen privaten Transfer ist echt günstig.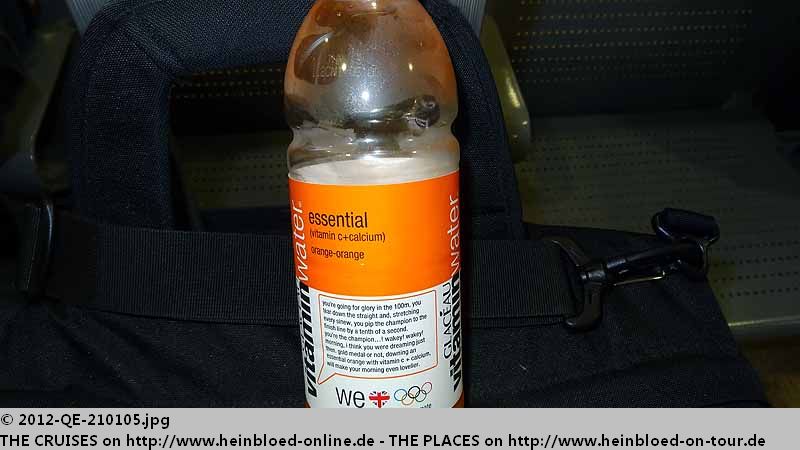 We booked again a car with Tariq of Sterling Executive Travel: 90 GBP (2012) for a private transfer was a very reasonable.

Unfortunately he could not deliver his customer from the previous ride right on time. So he need to send a different driver. So we got a full-leather upscaled Mercedes-Benz which took us with a small delay to Southampton. Due to our very late arrival in Heathrow we did not want to get once around the port to Hythe and stayed this time at the Holiday Inn.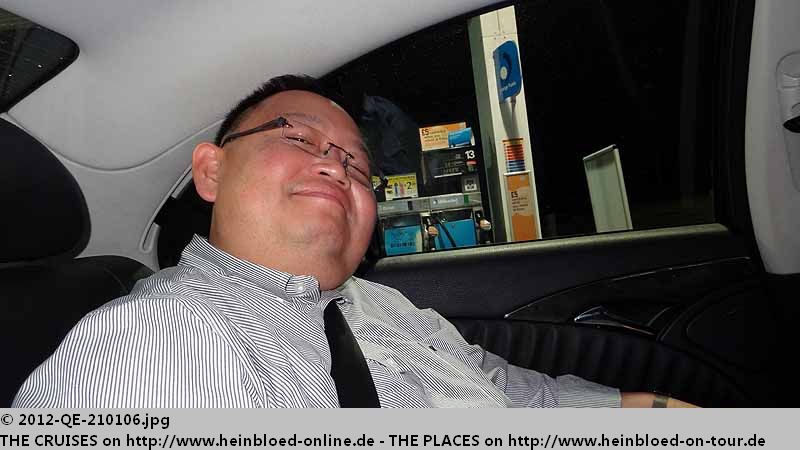 Leider wurde Tariq seinen Kunden vorher nicht rechtzeitig los. So musste er einen anderen Fahrer schicken. Aber so gab es einen schicken Mercedes-Benz mit einer Volllederausstattung, der uns mit etwas Verspätung dann nach Southampton brachte. Da wir wieder sehr spät ankamen und nicht noch einmal rund um den Hafen nach Hythe wollten, ging es ins
Holiday Inn
.
Meinem Wunsch nach einem Zimmer in Richtung Town Pier in einer hohen Etage wird gerne gefolgt.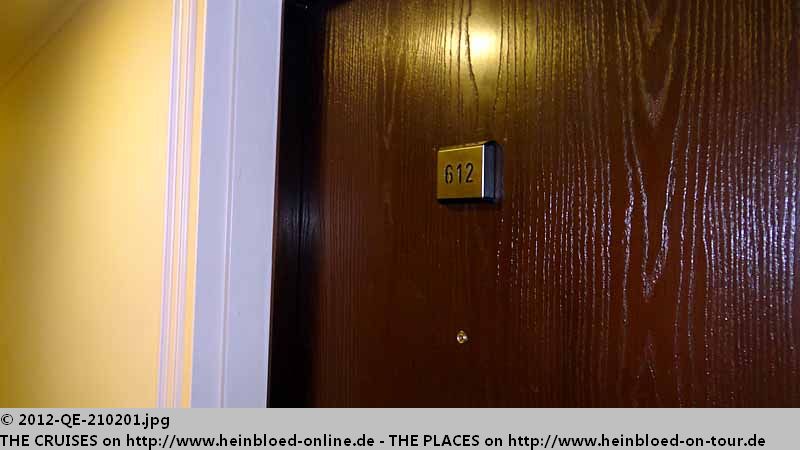 I asked to have a room facing the Town Pier on an higher floor and I got it.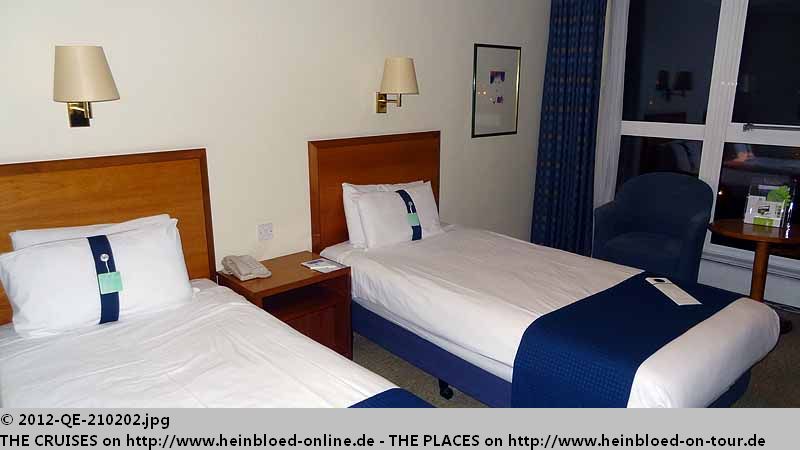 Sie entschuldigen sich für etwas Chaos im Hotel, da es gerade renoviert wird. So läuft derzeit nur einer von zwei Fahrstühlen.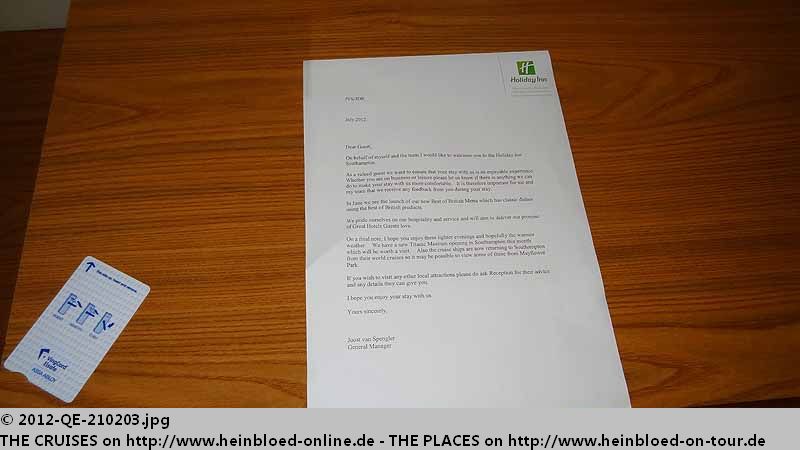 They excused for the mass in the hotel as they just have their renovation works. So only one of two elevators was working.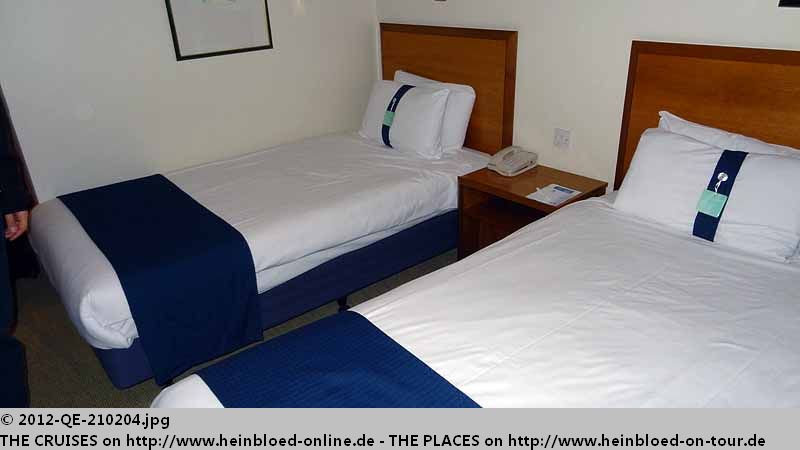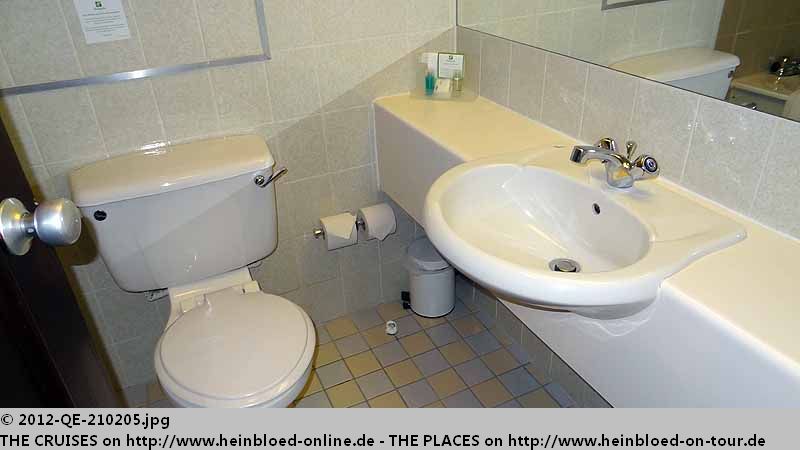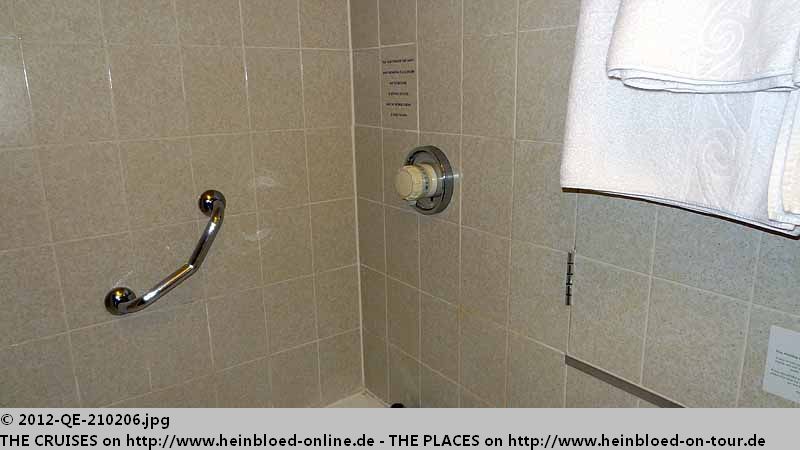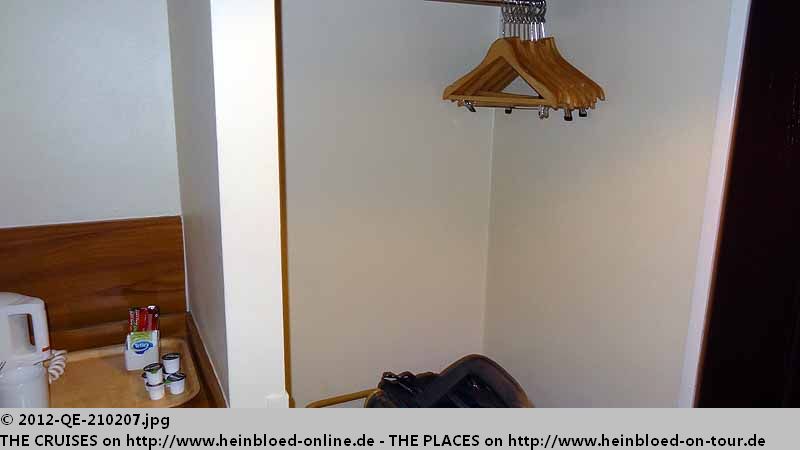 I was glad to have the look over the city to Town Pier.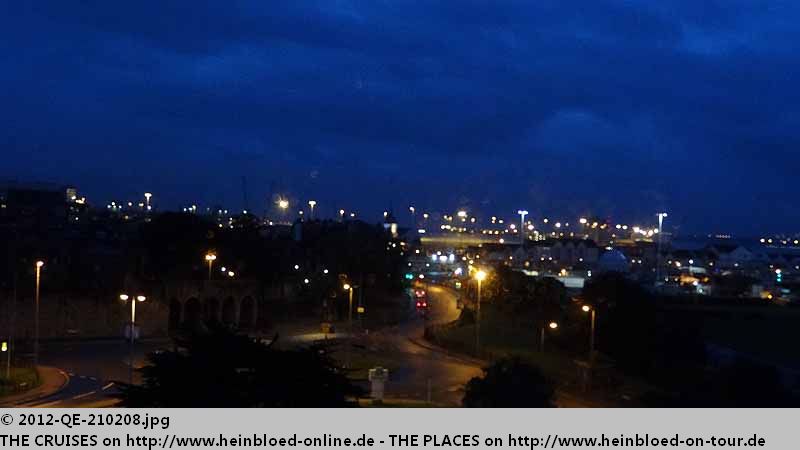 Ich freue mich über den Blick direkt auf die Town Pier.
Es gab zum Frühstück alles was ein englisches Herz begehrt. Aber auch was ein zentraleuropäisches und amerikanisches Herz begehrt. Nur die Käseauswahl wahr ziemlich schwach. Für gut 14,00 GBP allerdings auch ziemlich heftig. Und wie üblich beim Holiday Inn: Sie versuchen sofort wieder mitzuverdienen, in dem die Rechnung in Euro abgebucht wird. So schnell kann man gar nicht gucken, wie hier die Finger bedient werden.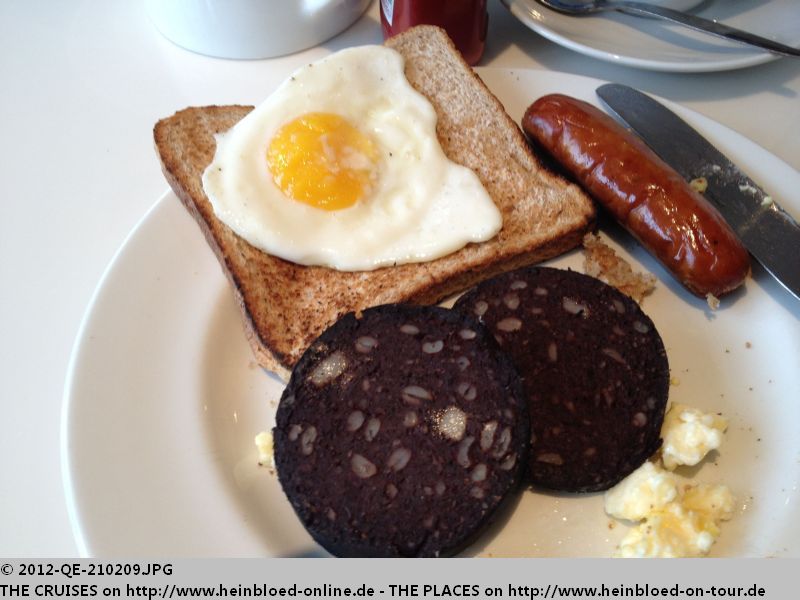 For your breakfast you got everything what your heart wanted. Even for a Central European or American heart. Only the selection of cheese was somehow weak. But for 14.00 GBP it was quite expensive. And as usual at Holiday Inn: they tried to make extra money by charging you in Euro. You cannot notice it as quickly as they enter the keys.

The nice view from our room: The three Queens arriving in Southampton: QUEEN ELIZABETH, then QUEEN VICTORIA and finally QUEEN MARY 2.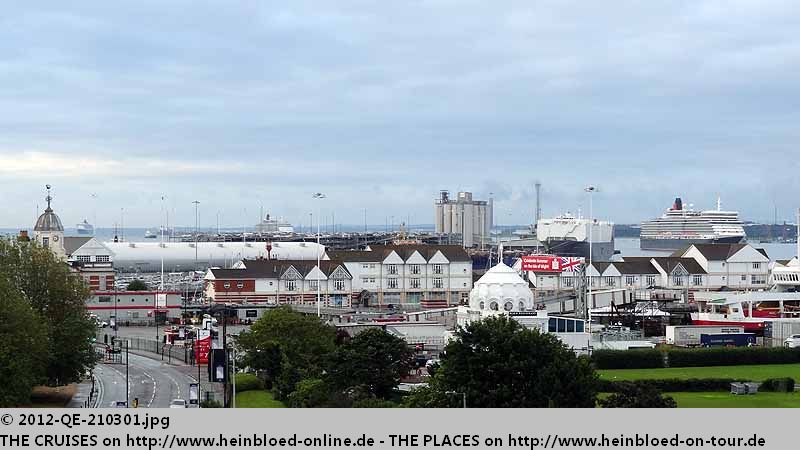 Das war das schöne an unserem Zimmer: Der Anblick der drei Queens bei der Einfahrt in Southampton: QUEEN ELIZABETH, dahinter QUEEN VICTORIA und am Schluss QUEEN MARY 2.
Schade: sie haben das Terminal gewechselt. Vorher hätte die QUEEN MARY 2 am City Centre Terminal anlegen sollen. Dann wäre sie nochmals bei uns am Hotel vorbeigefahren.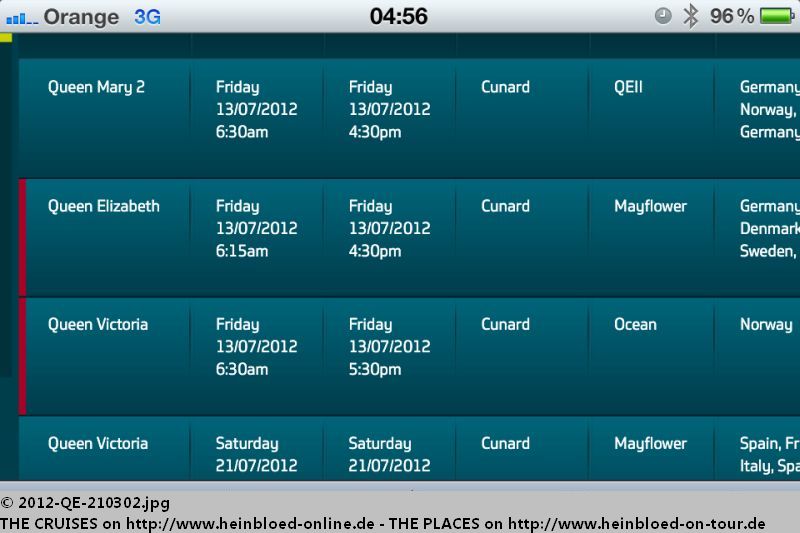 What a shame: they changed the terminals. Originally QUEEN MARY 2 should berth at the City Centre Terminal. Then she would have passed the hotel.

It was interesting to see how the formed the formation.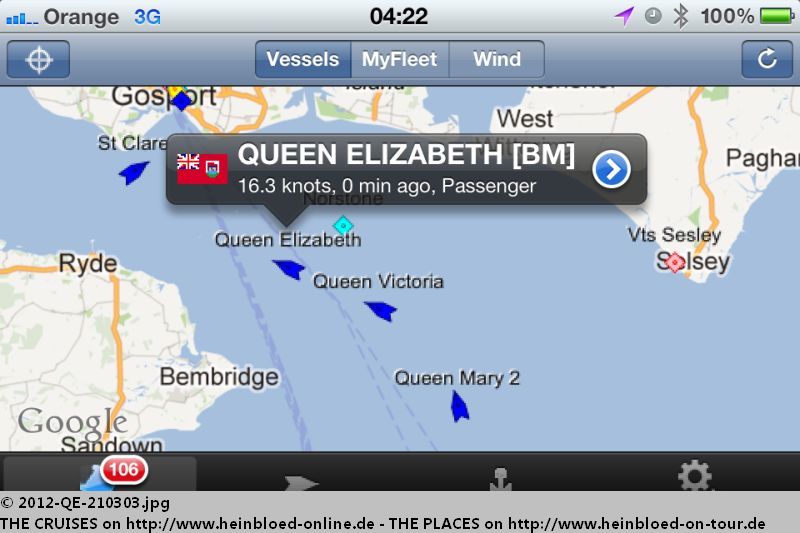 Es war interessant zu sehen, wie die Formation entstanden ist.
Vielleicht sollte ich mich das nächste Mal in Northwood niederlassen.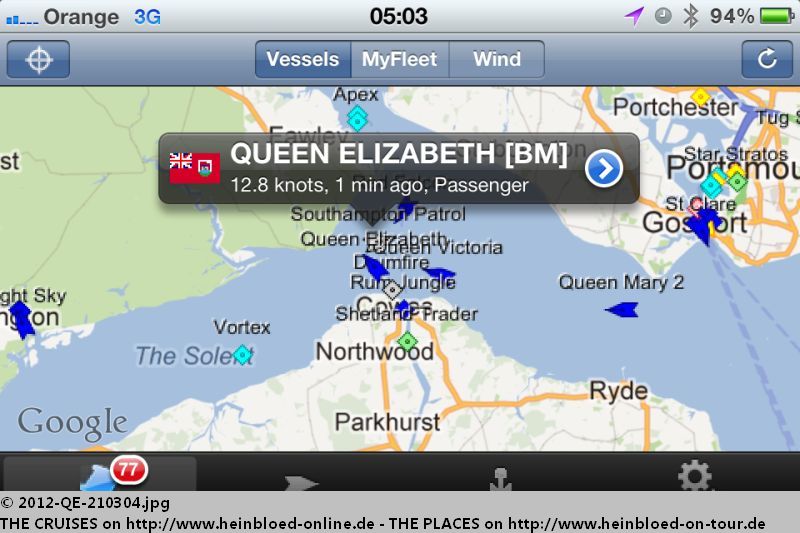 Maybe we better should stay at Northwood the next time.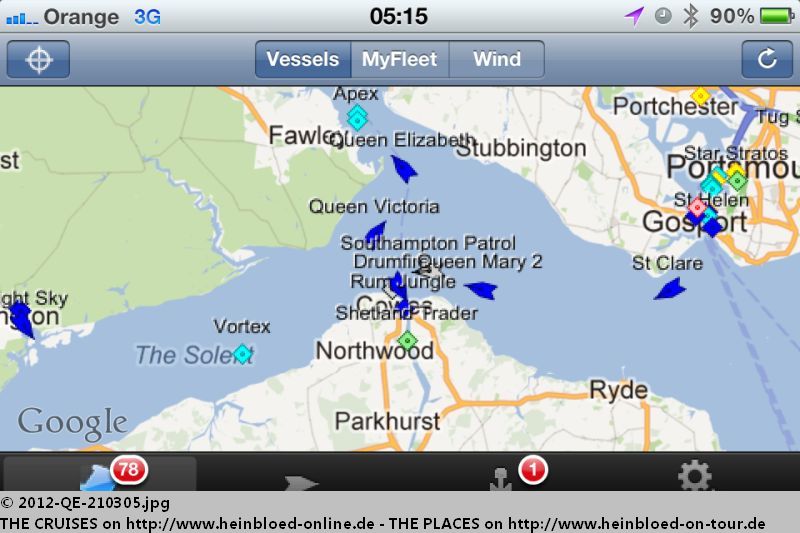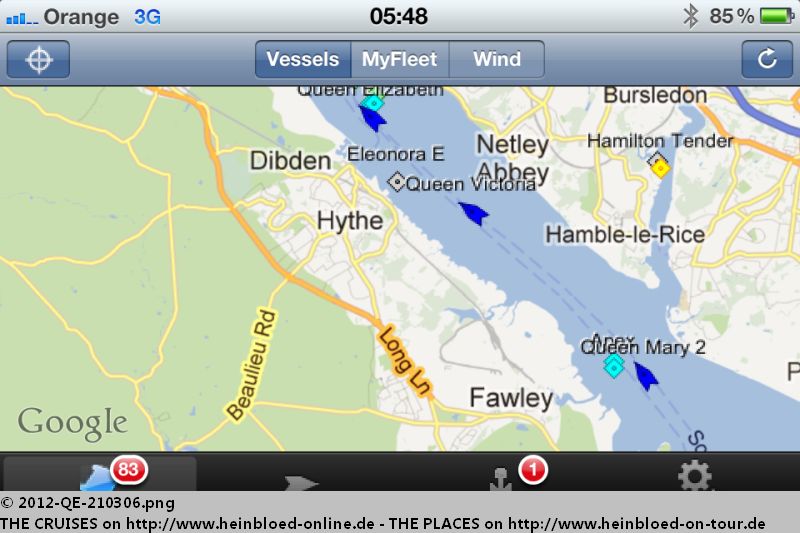 QUEEN ELIZABETH...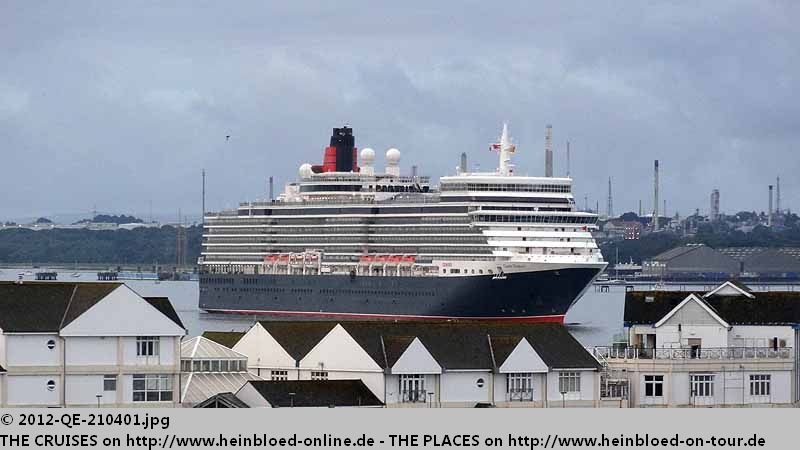 QUEEN ELIZABETH...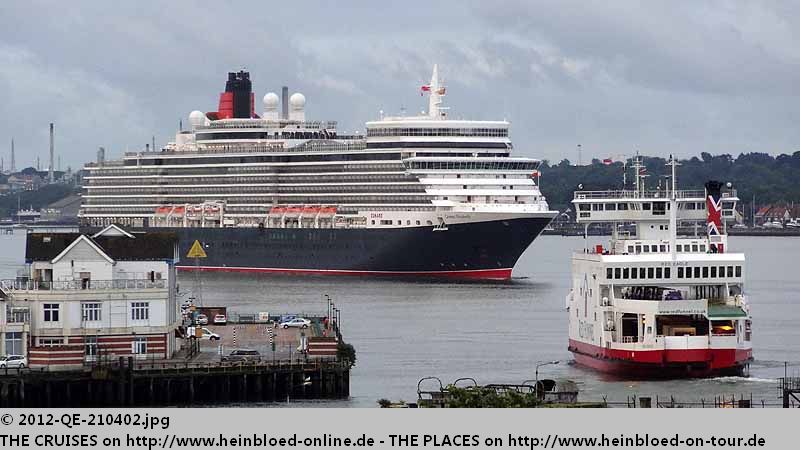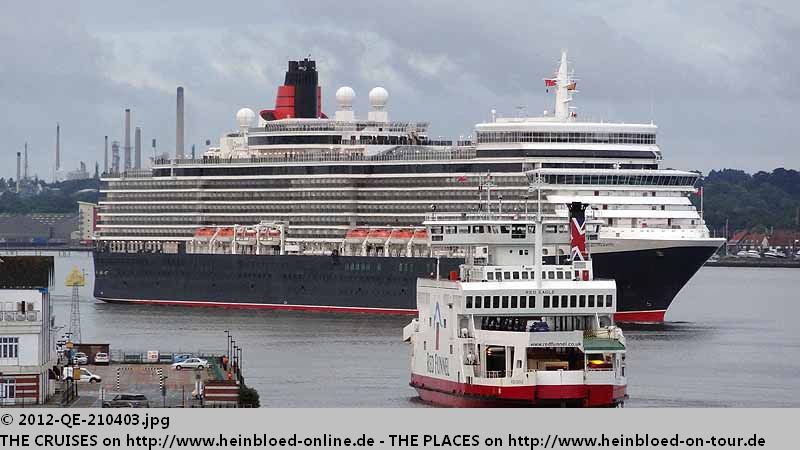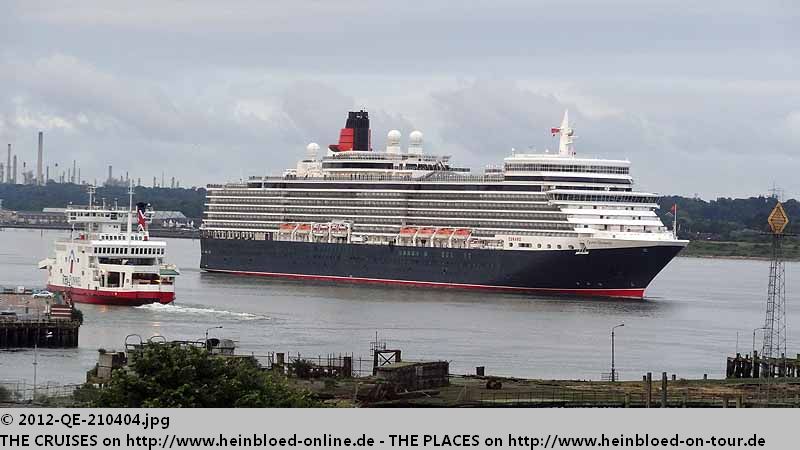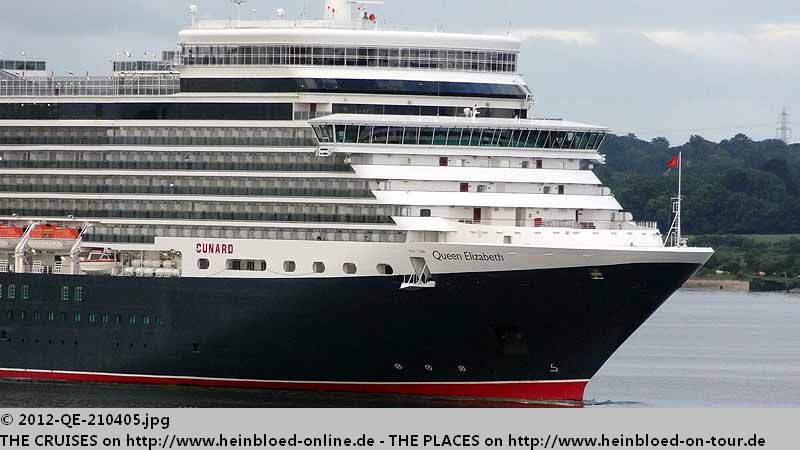 Und dann musste ich mal schnell auf den Flur hinaus zu einem Seitenfenster.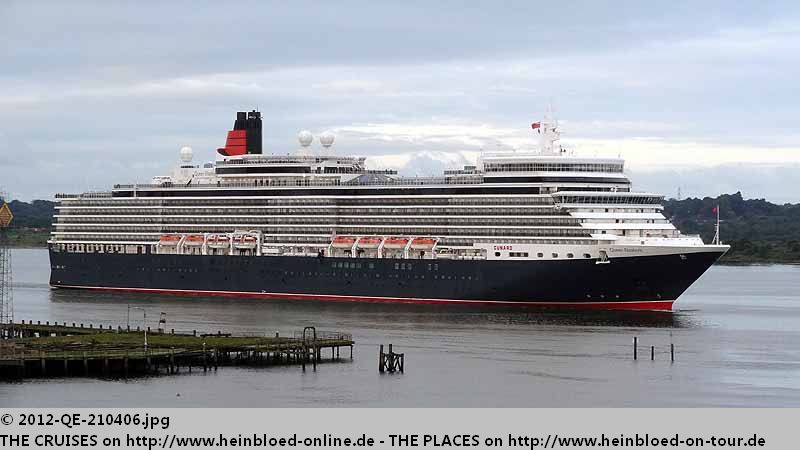 I need to change quickly my location to the side window of our hallway.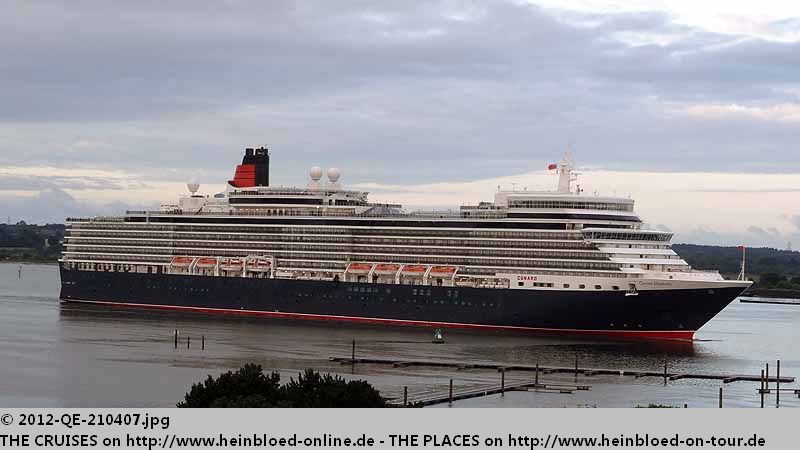 Hier ein Bild für Dennis Behringer (aus Facebook und anderen Foren), der mit an Bord ist. Damit er schon mal seine Kabine sieht, schicke ich ihm dieses Bild auf Facebook.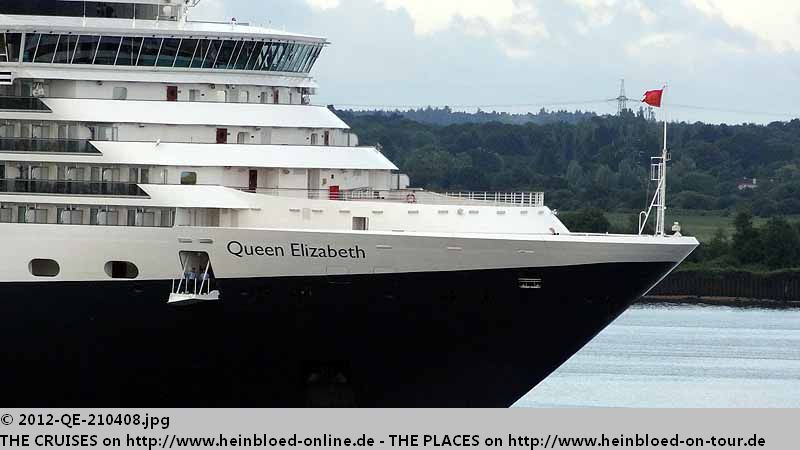 Just a picture for Dennis Behringer (from Facebook and other internet forums) who should onboard too. So he could see the cabin on Facebook before he arrives.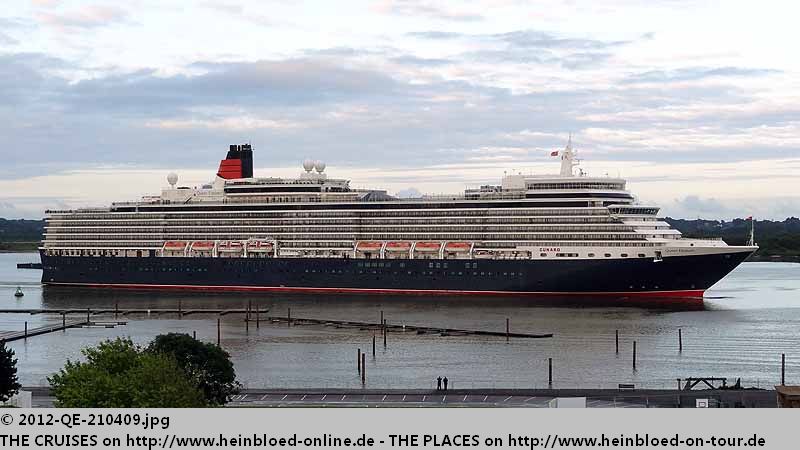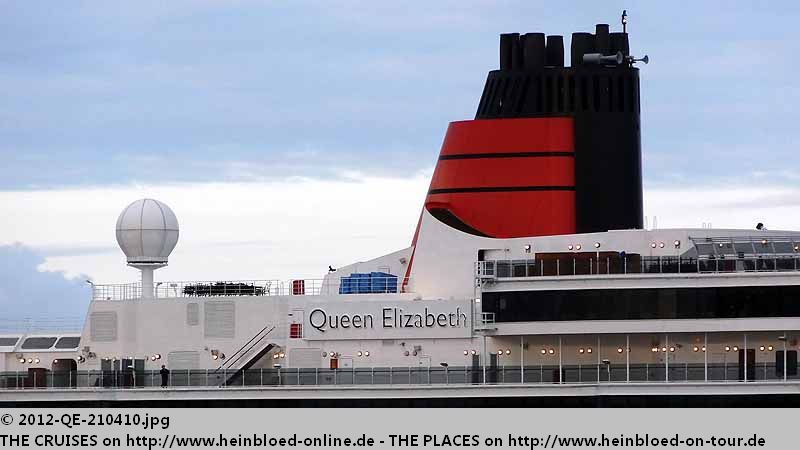 Check the aft of QUEEN ELIZABETH...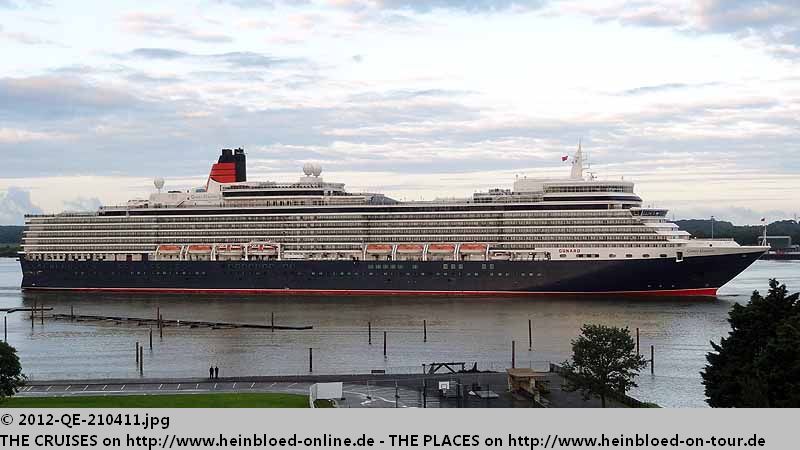 Man achte mal auf das Heck der QUEEN ELIZABETH...