Scroll down for English explanations - alternates with German explanations.

Wir fahren nach oben und benötigen dafür die Karte, aber meine funktioniert im Fahrstuhl nicht.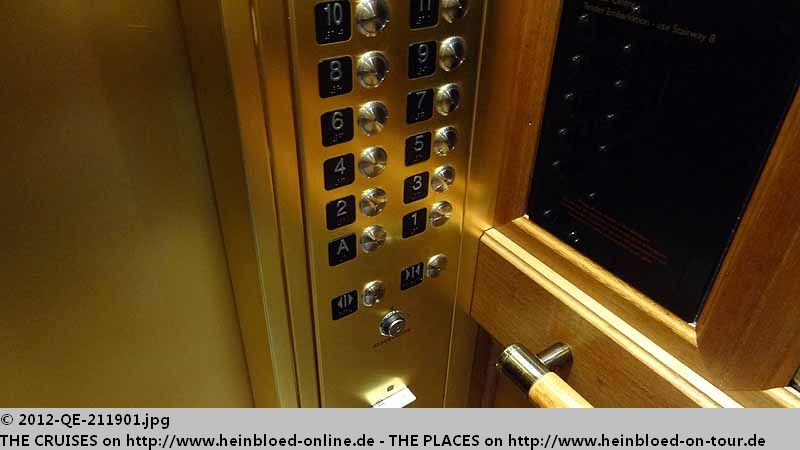 We wanted to go upwards and we need the card but my card did not work.

When we arrived no concierge was available. But minutes later she came: Marlene and her English was so clear that I did not notice that she is from Germany. She got me a new card.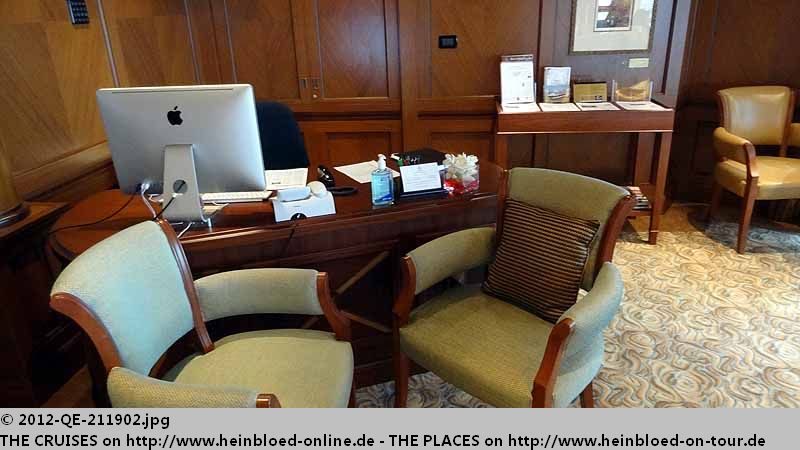 Als wir in der Grill Lounge ankommen, kein Concierge da. Aber wenige Minuten kommt sie: Marlene und ihr Englisch ist so klar, dass wir zunächst gar nicht mitbekommen, dass sie aus Deutschland ist. Sie besorgt mir eine neue Karte.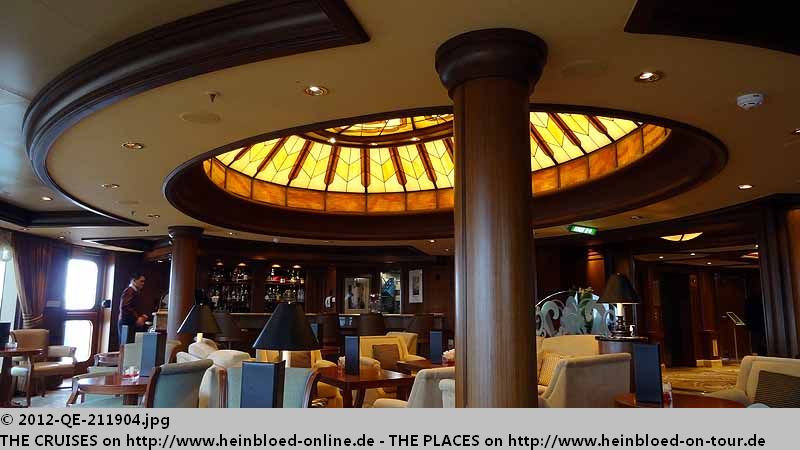 Mal gucken, ob es hier besonders teuer ist. Eigentlich nein... 280,00 USD pro Flasche für die bevorzugte Marke von James Bond: Dom Perignon...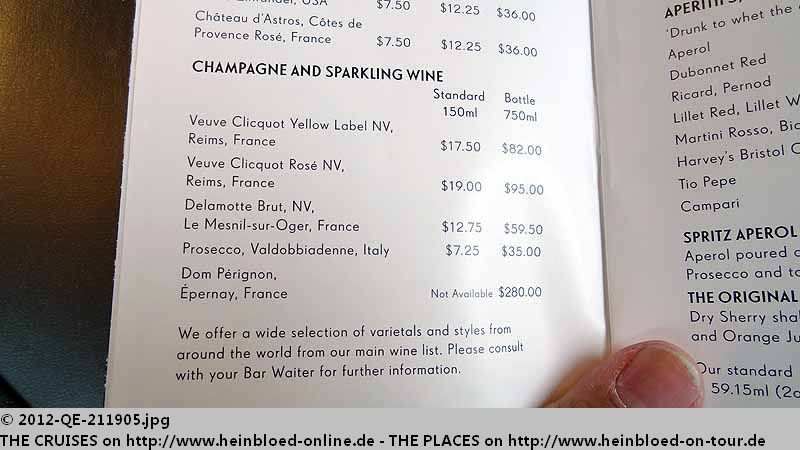 Let's see if everything here was more expensive... no... 280.00 USD for the bottle of James Bond's preferred champagne: Dom Perignon...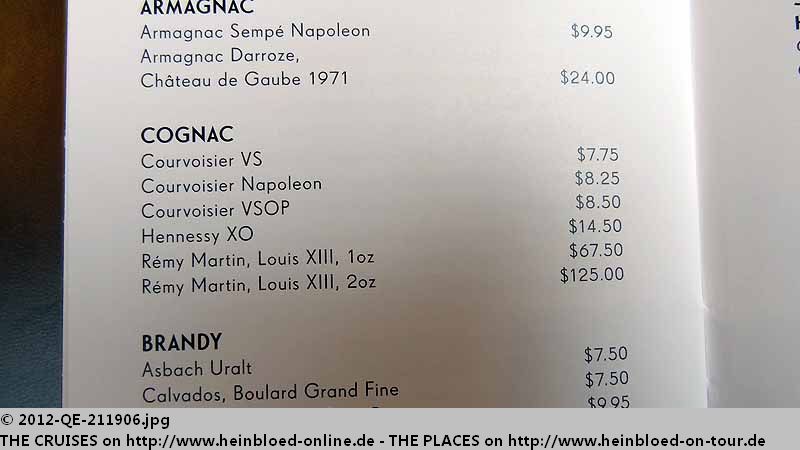 Draußen war alles aufgebaut. Aber es fängt an zu regnen. So wird alles draußen wieder abgebaut. Schade.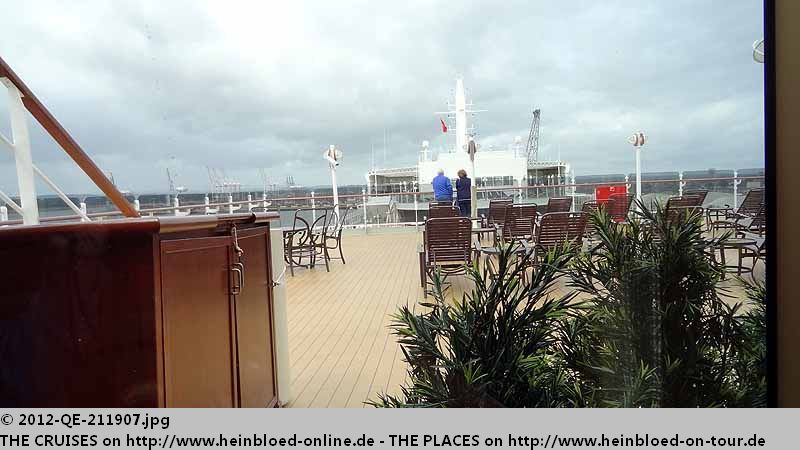 Everything was set outside. But it started to rain. So they removed everything. How sad.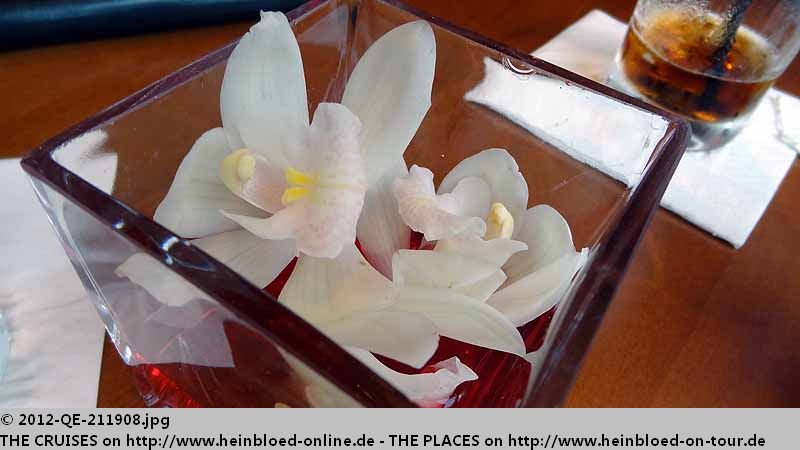 Wir gehen zum Lunch.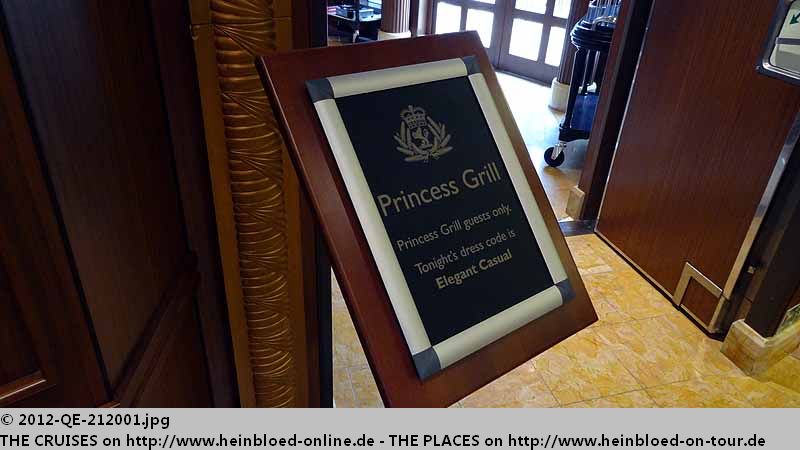 We went for lunch.

Our table was just next to the window to the Courtyard. So sad that you cannot use it actually.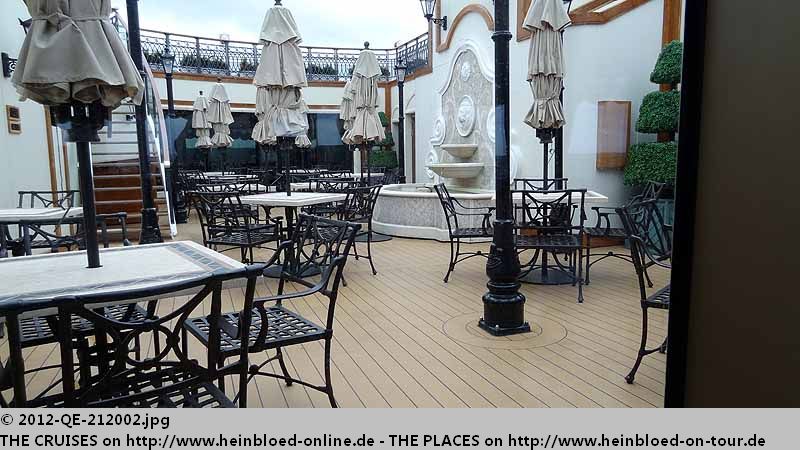 Unser Tisch liegt zum Fenster zum Courtyard. Schade, dass man ihn nicht nutzen kann.
Der Nachbartisch sieht genauso aus wie unser.

The table next to us looked exactly same.

After I was upset on the last crusie they used a better wording for the short-cruise guests: You can buy a soda-pass for 2 days but they charge you for the whole length of the full cruise...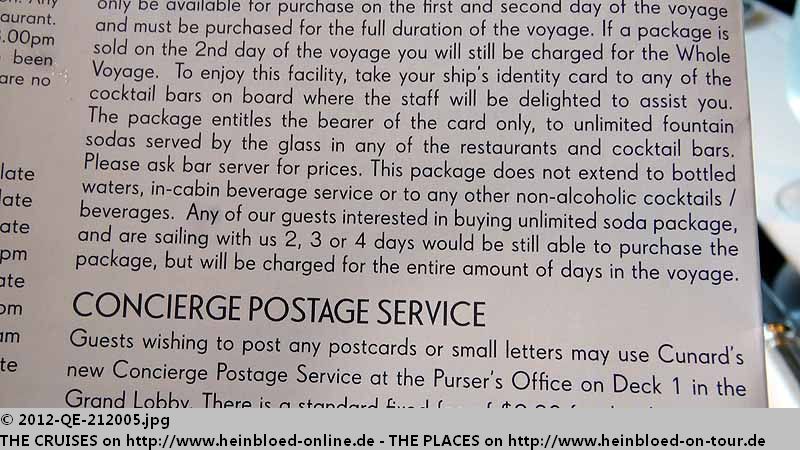 Nach dem ich mich ja auf der letzten Reise aufgeregt hatte, haben sie wohl das Programm für die Kurzkreuzfahrten besser beschrieben: Man kann einen Soda-Pass kaufen, wenn man nur 2 Tage fährt, aber man muss für die Länge der gesamten Kreuzfahrt, die darüber hinausgeht kaufen...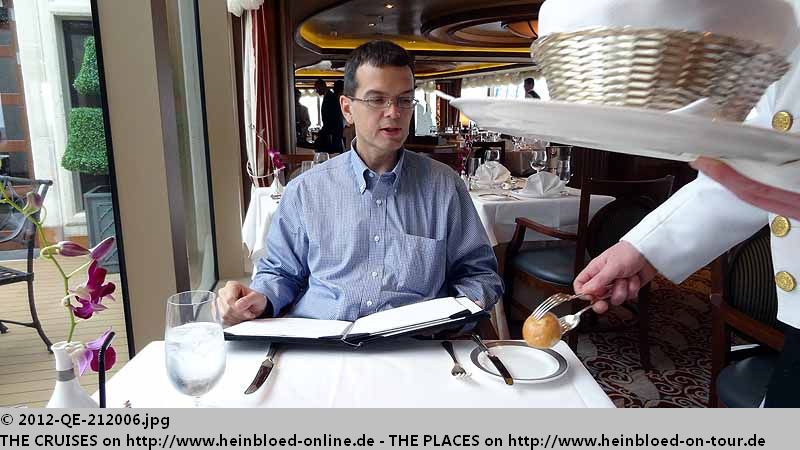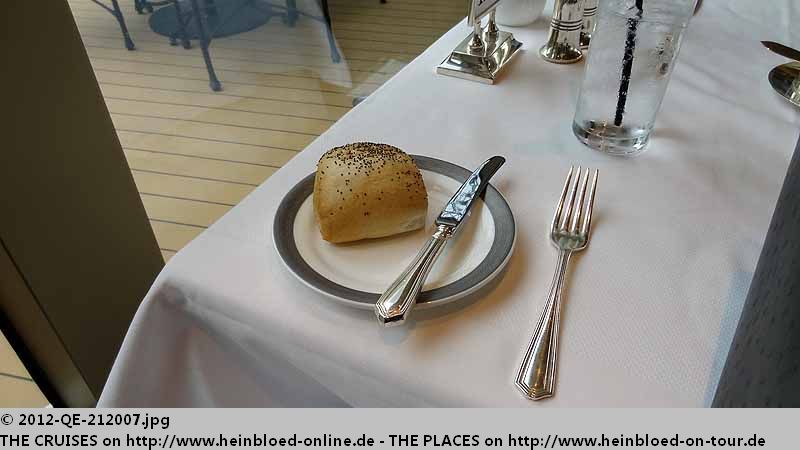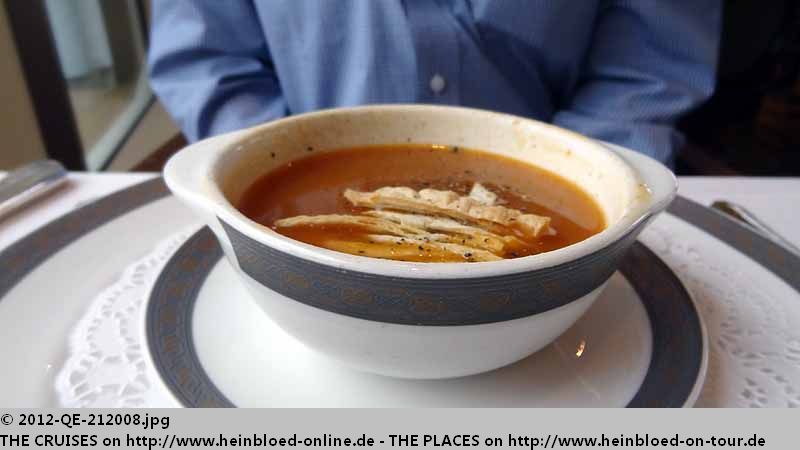 My mushroom mousse... yummy...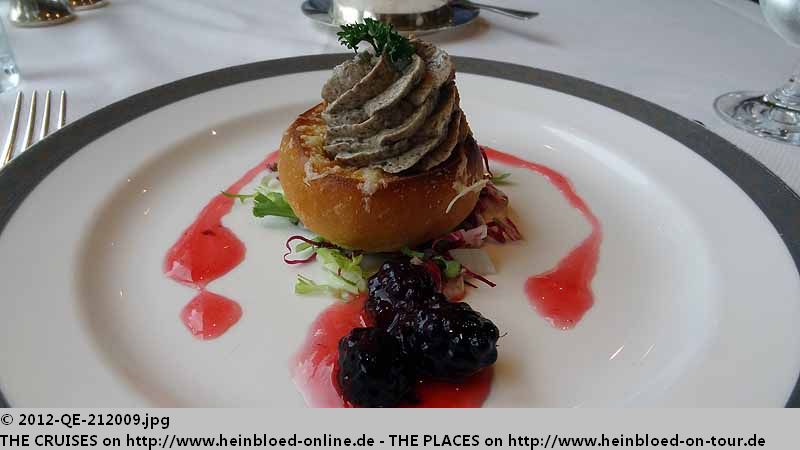 Meine Pilz-Mousse... lecker...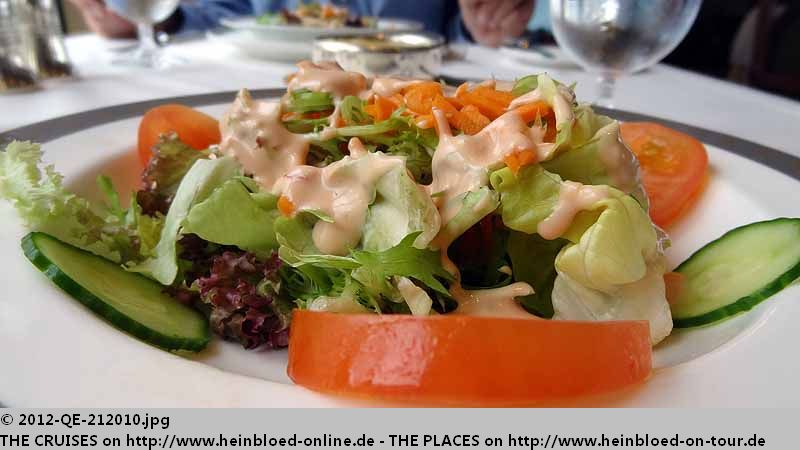 The salt sticks... as good as in Austria...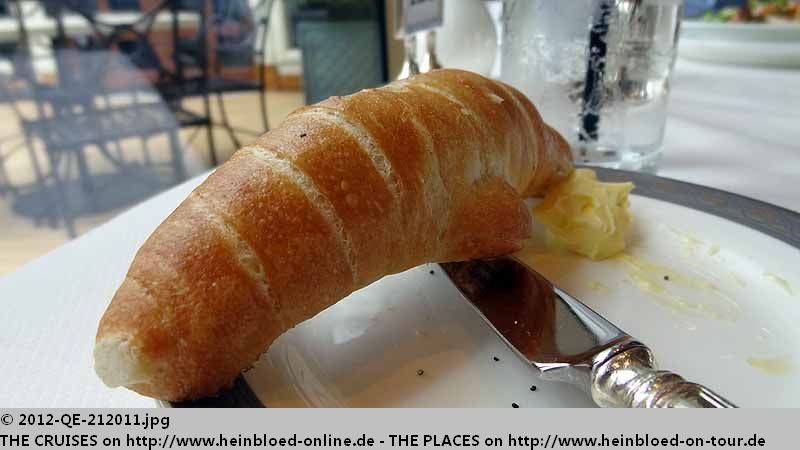 Die Salzstange... genauso gut wie in Österreich...
Pfefferservice...

Pepper service.

I got a veal escalope.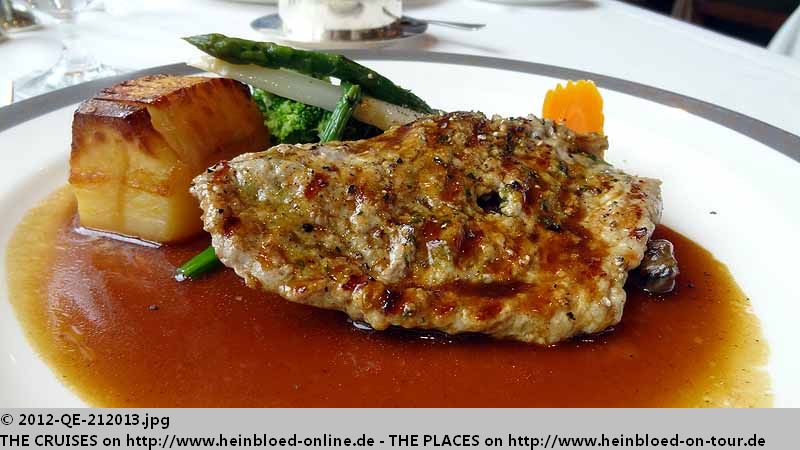 Ich bekomme ein Kalbsschnitzel.
Bruno wie üblich seinen Fisch...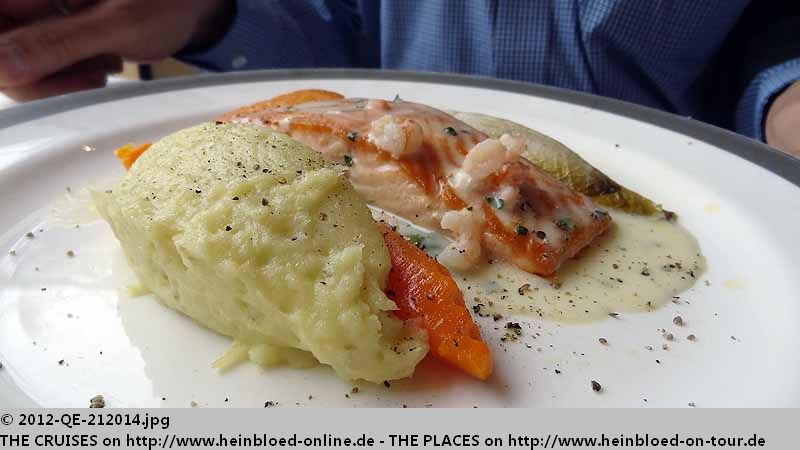 Bruno took as usual his fish...

Espresso (and Espresso Macchiato) were free in Princess Grill. Bruno said that it was very good.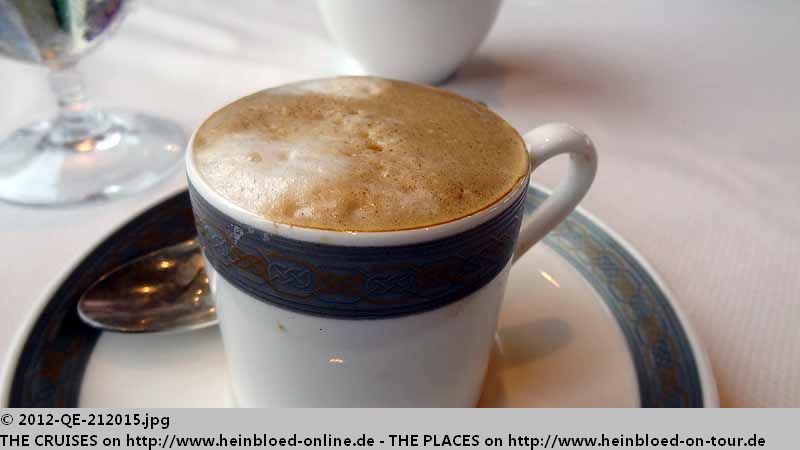 Espresso (und Espresso Macchiato) gibt es im Princess Grill kostenlos. Bruno meint, dass er sogar gut ist.
Nur Stevia gibt es nicht... schade...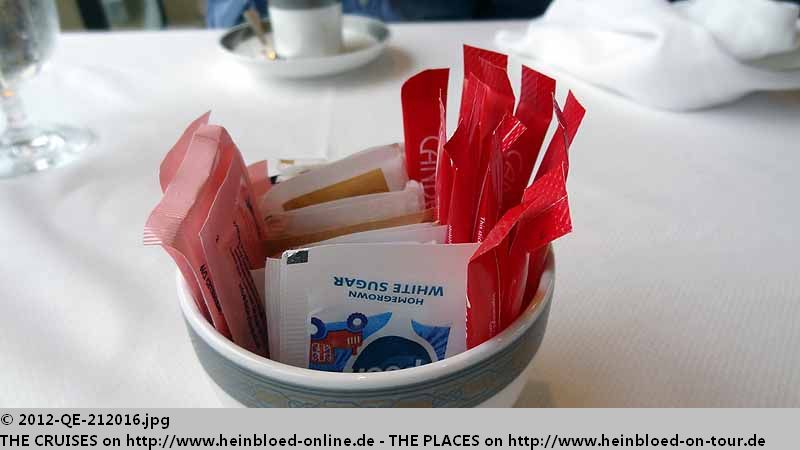 They had no stevia which was sad...

They reduced the service for the day of embarkation. Tea was not available in the Grill Lounge. You can buy tea in Café Carinthia. As we had no dessert I was shocked that there was nothing available. All suspended. A little too much for my taste.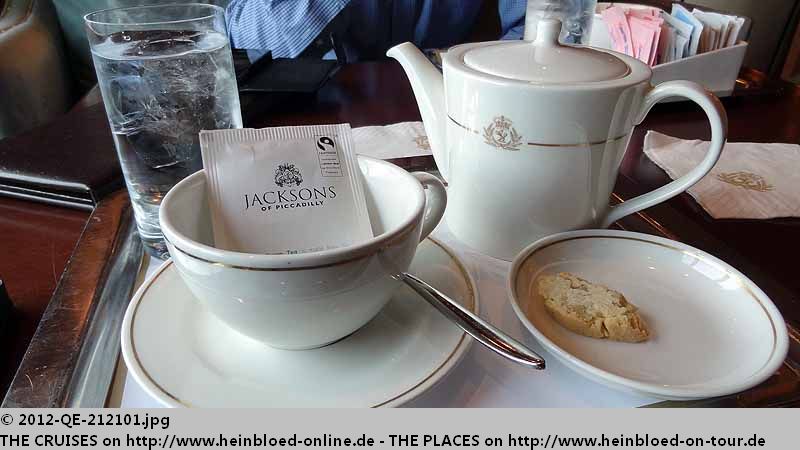 Am Einschiffungstag ist vieles zusammengestrichen. Tee in der Grill Lounge gibt es nichts. Im Café Carinthia gibt es Tee gegen Zuzahlung. Da wir aber auf das Dessert verzichtet haben, bin ich etwas geschockt, dass es gar nichts gab. Alles eingestellt. Etwas überzogen für meinen Geschmack.
Hier wird auf die Alkohol-Veranstaltungen hingewiesen.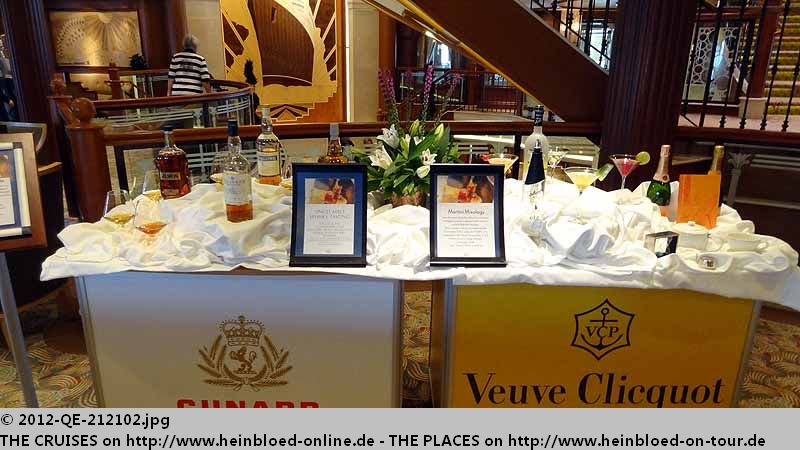 Here they advertised for some alcoholic events.

The cover charge restaurants in the Lido-area introduced themselves. 10 USD... Each night a different one. Before I would have fixed dining every night in the Britannia Restaurant I would see them frequently.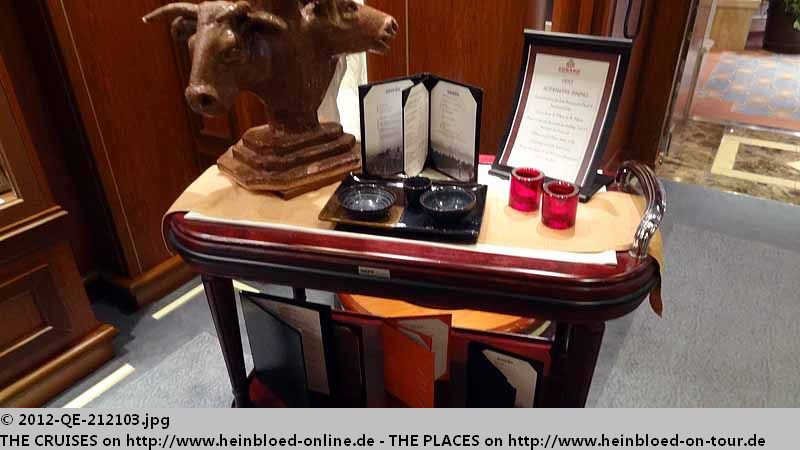 Die Zuzahlrestaurants im Lido-Bereich stellen sich vor. 10 USD. Jeden Abend ein anderes. Bevor ich jeden Abend feste Tischzeit im Britannia-Restaurant hätte, würde ich u. U. auch mal öfters dahin gehen.
Während der Seenotrettungsübung im Queen's Room stellen wir fest, dass die Nachfrage nach den Rundfahrten mitlerweile so groß ist, dass die Schwesterfirme Red Funnel ein Schnellboot stellt. Zum Glück waren wir bereits um 09.30 Uhr unterwegs.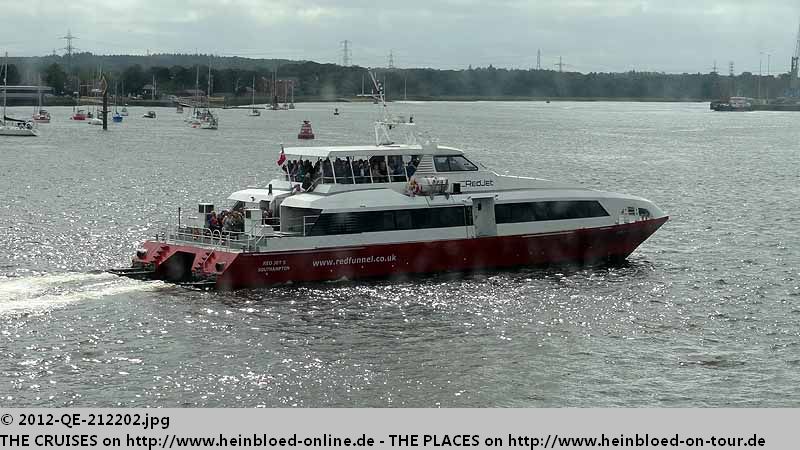 During the life drill in the Queen's Room we noticed that the demand for harbour cruises was so high that the sister company Red Funnel need to help out with a Cat. We were lucky to have the tour at 09.30 hrs.

Well with Cunard they did not check our presence. The translations were not very good. Nothing changed so far. But when they noticed that nothing can be heared through the loudspeakers they just stopped the life drill and started again to make sure that everyone could here everything. This time they did not tight Bruno up in the life vest that he felt in trance.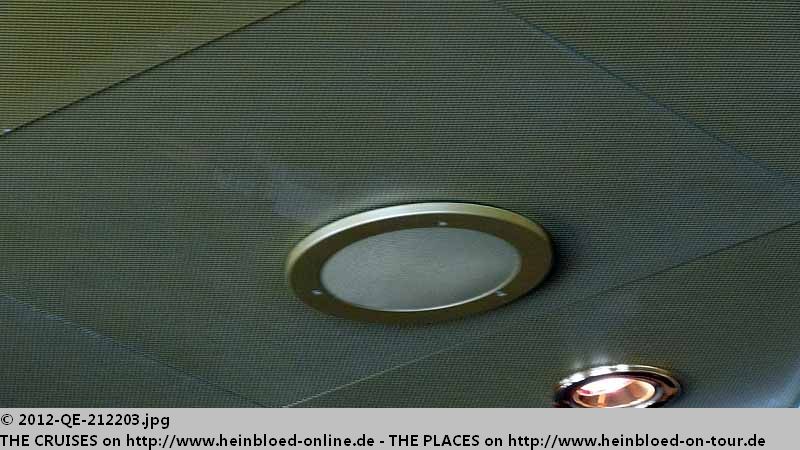 Nun bei Cunard wird nicht die Anwesenheit überprüft. Die Übersetzungen sind leider nicht besonders gut. Da hat sich nichts geändert. Als man merkt, dass aus den Lautsprechern nichts kommt, wird die Seenotrettungsübung abgebrochen und man beginnt wieder von vorne, um sicherzustellen, dass auch wirklich jeder alles hört. Bruno wird dieses Mal nicht abgeschnürt, dass er wieder in Trance verfällt.
Zum Ende hin werden wir hingewiesen, dass wir auch die Nottreppen nutzen können. Das fand aber nicht jeder und man zog uns wieder raus. So müssen wir uns mit durch die engen Treppenhäuser mit Rettungswesten zwängen.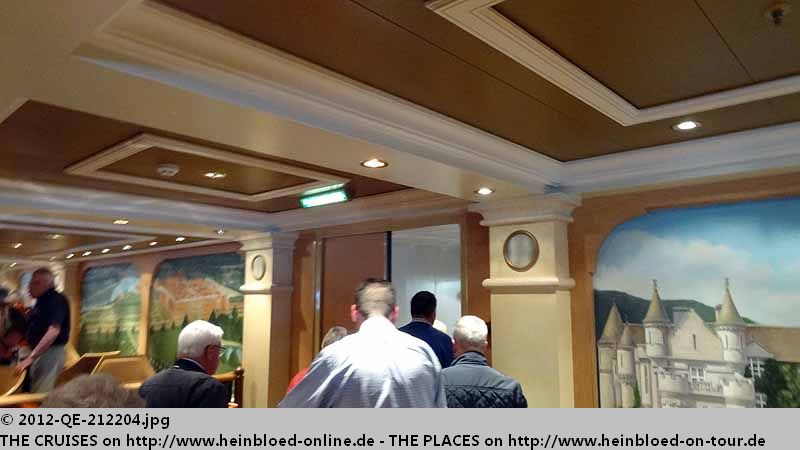 Finally they told us that we can use the emergency stairways. Not everyone of the crew liked it and so they took us out. So we had to walk all the narrow staircases with the life vests.

We set sail.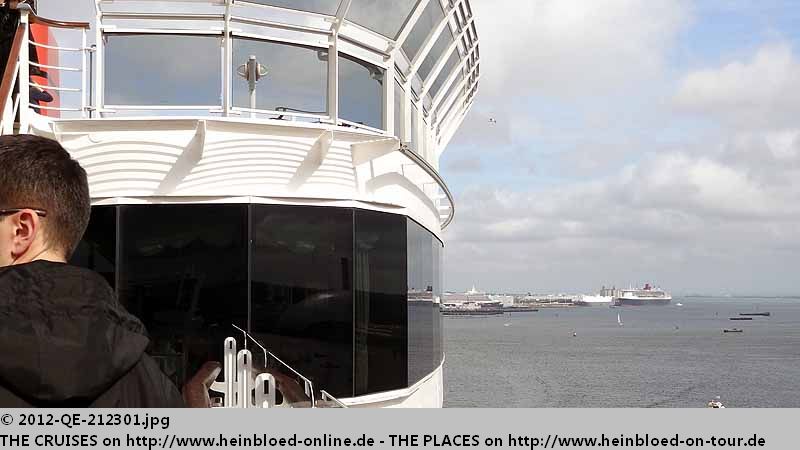 Wir fahren ab.
Ob Grill oder nicht. Im Moment darf jeder auf die Grill Terrasse.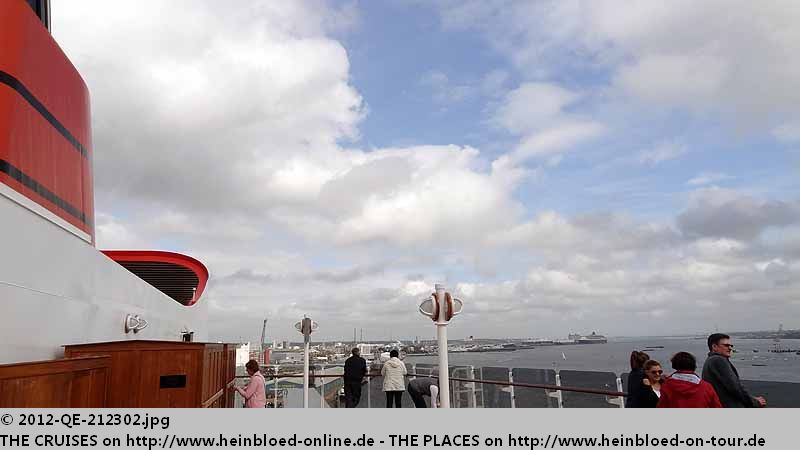 Grill guests or not: Actually everyone was allowed on the Grill Terrace.

Sad... even after the life drill nothing was set in the Courtyard.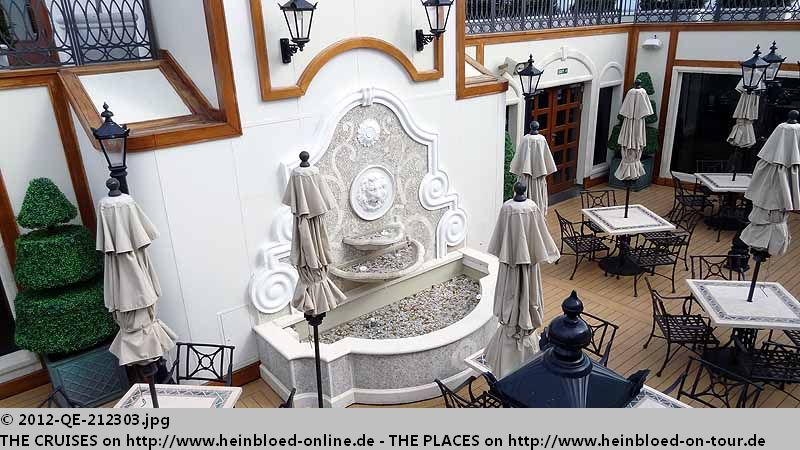 Schade: auch nach der Seenotrettungsübung ist im Courtyard nichts aufgebaut.
Es wird immer voller auf der Grill Terrace.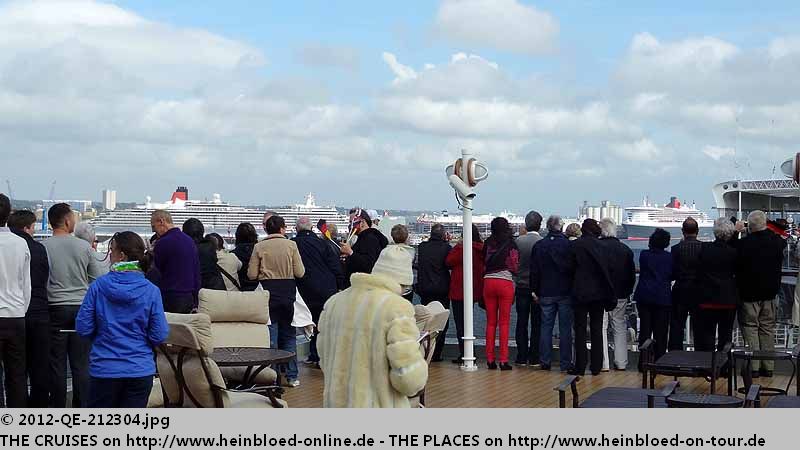 It became more packed and packed on the Grill Terrace.

They distributed flags and transit guests beyond Hamburg were kindly asked to keep the flags. Everytime we passed a ship a Hipp, Hipp, Hooray was announced.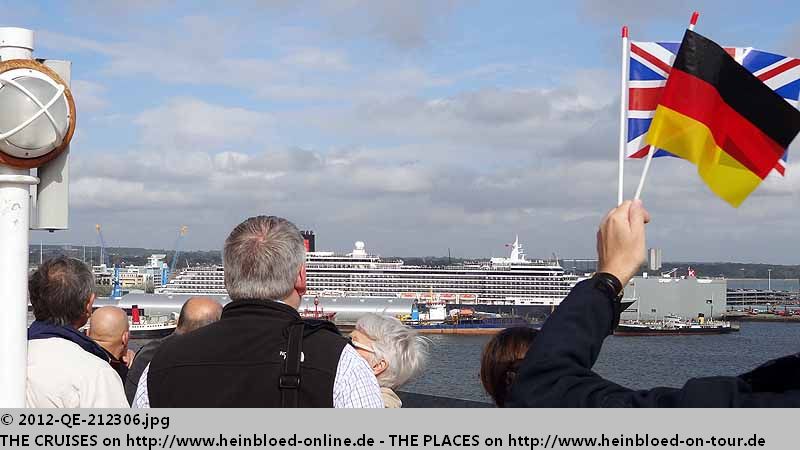 Es werden Flaggen verteilt und Transitreisende in Hamburg werden gebeten, die Flaggen aufzubewahren. Bei jedem Schiff bei dem wir vorbeifahren, wird ein dreifaches Hipp-Hipp Hurra ausgerufen.
Mir ist es zu voll draußen. Ich hatte das Ereignis ja schon damals in New York mit der QUEEN ELIZABETH 2 mitgemacht. Also feiere ich alleine bei einem Cocktail in der Grill Lounge.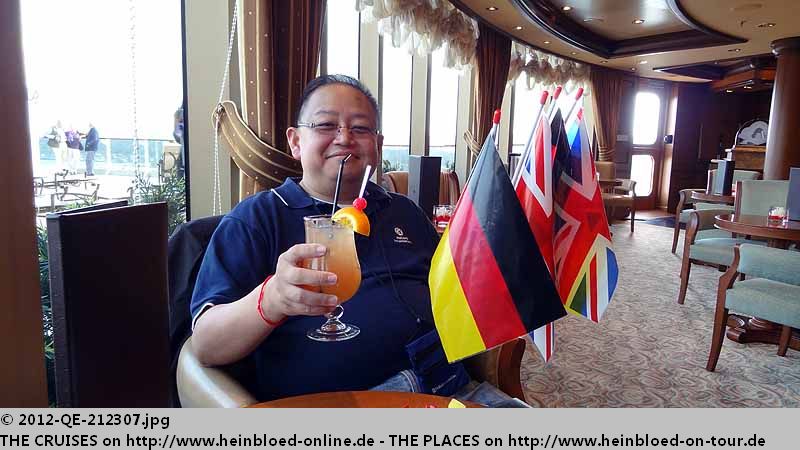 It was too crowded outside. I saw the three Queens before in New York with QUEEN ELIZABETH 2. So I celebrated by myself with a cocktail in the Grill Lounge.