Scroll down for English explanations - alternates with German explanations.

Genießen wir die Ausfahrt... QUEEN VICTORIA...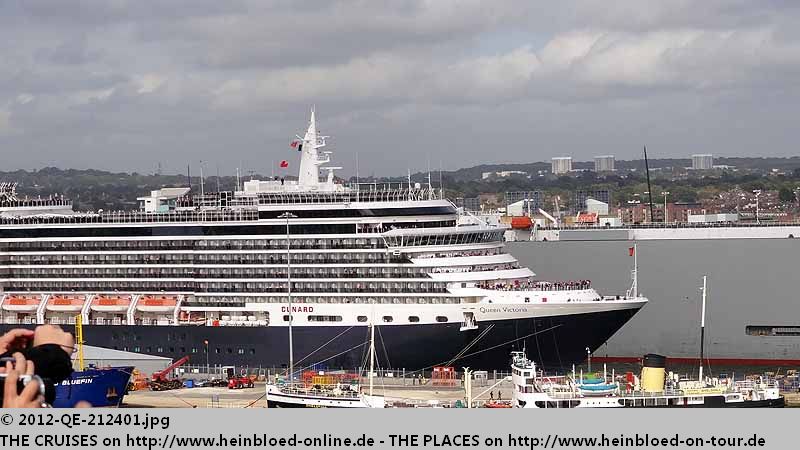 Let's enjoy the set sail... QUEEN VICTORIA...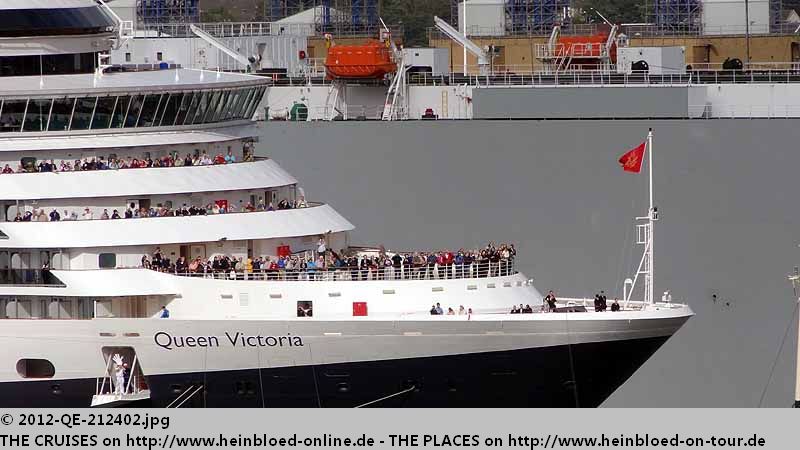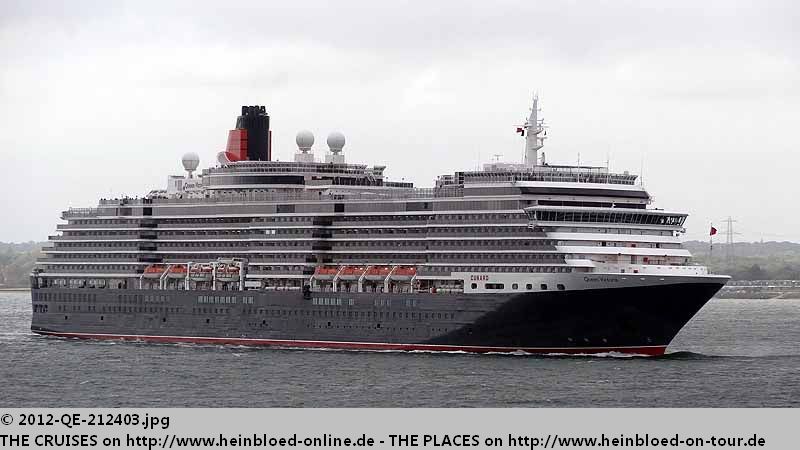 QUEEN MARY 2...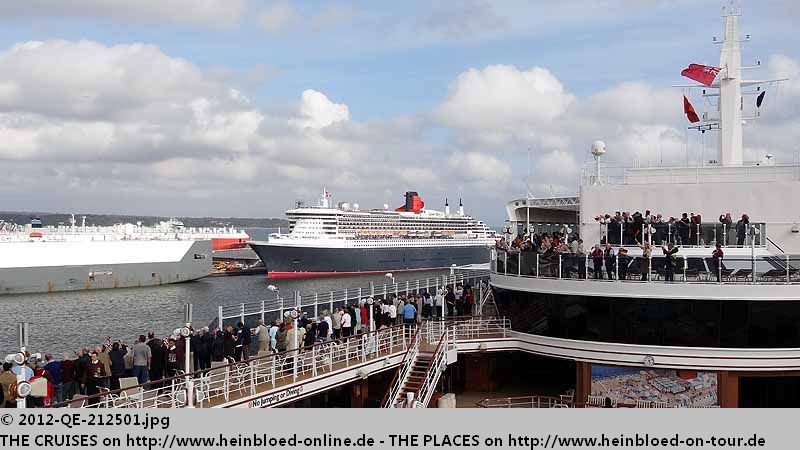 QUEEN MARY 2...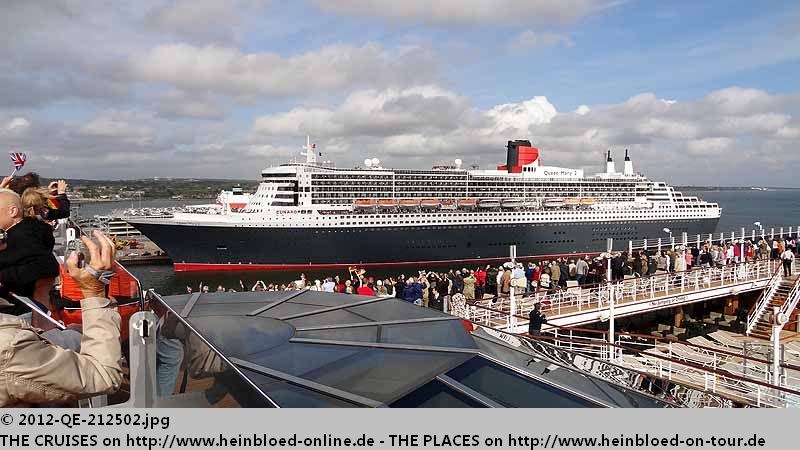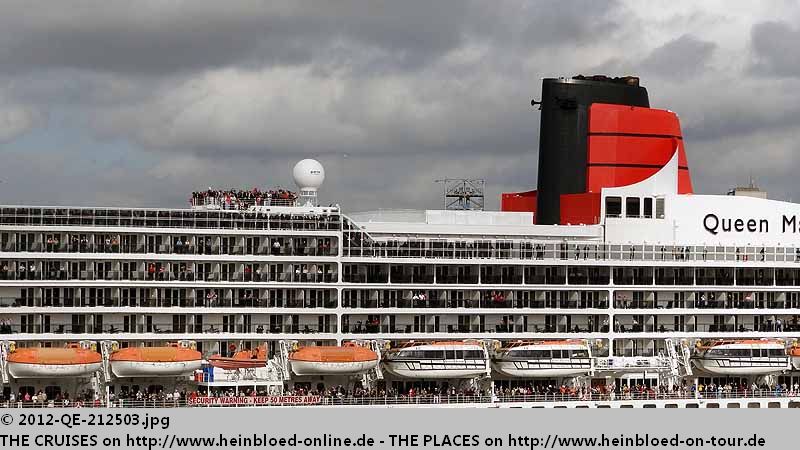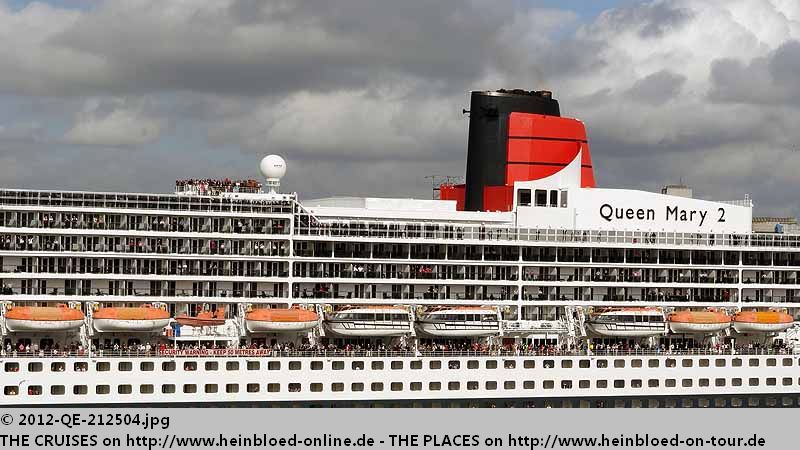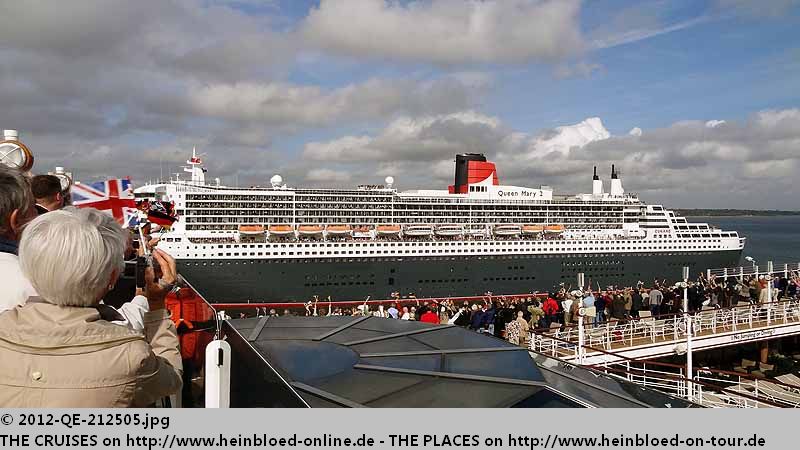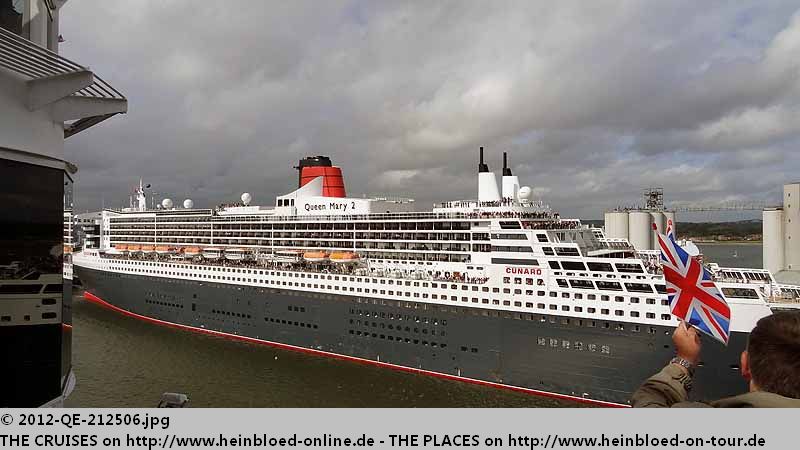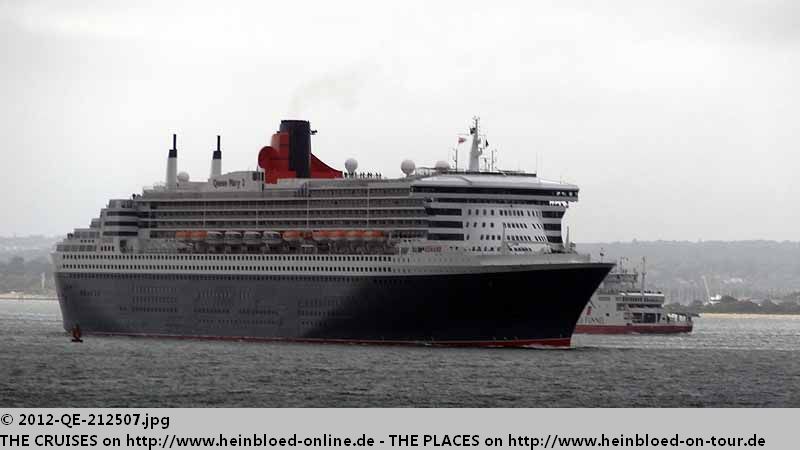 Bis zur offenen See fahren wir noch ein wenig in Formation.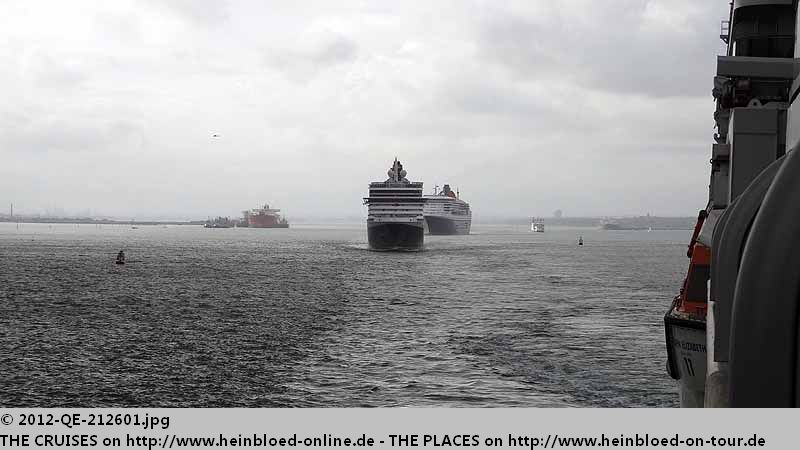 Until we reached the open sea we sailed in a formation.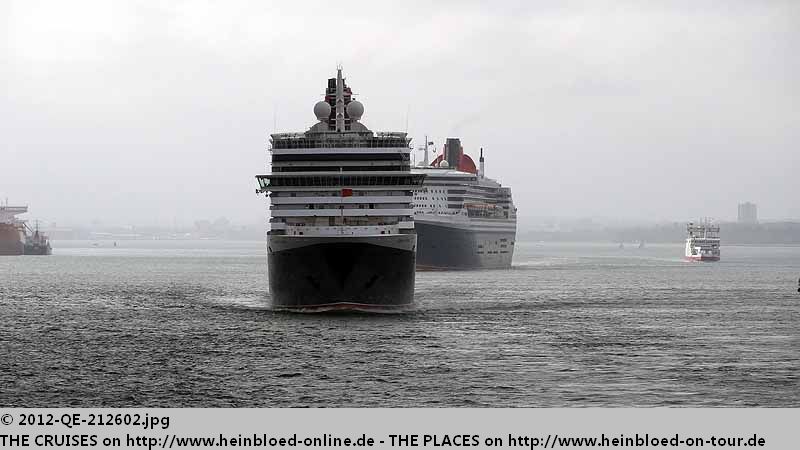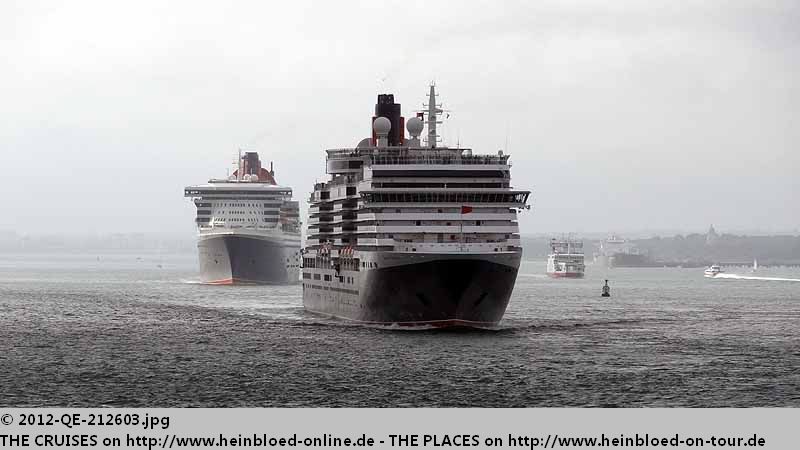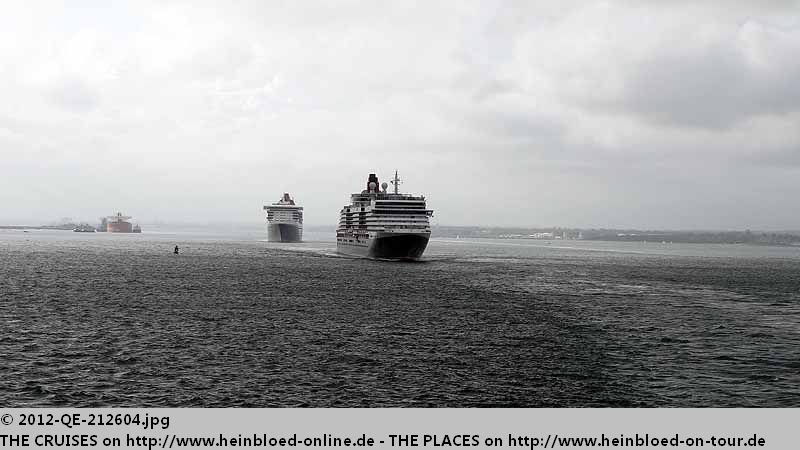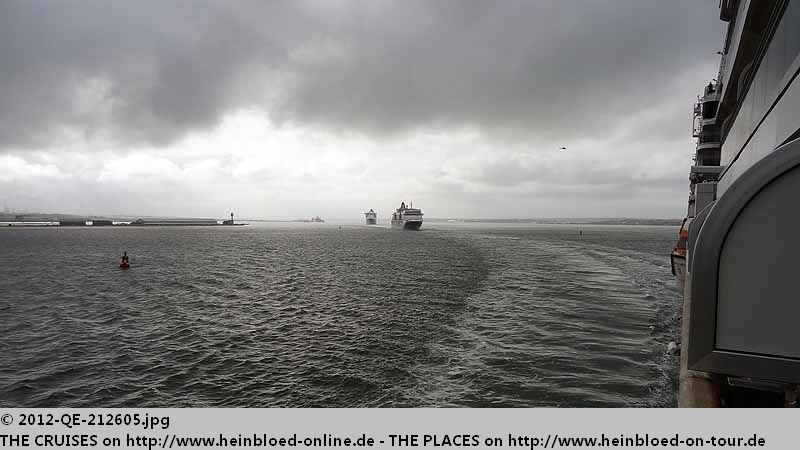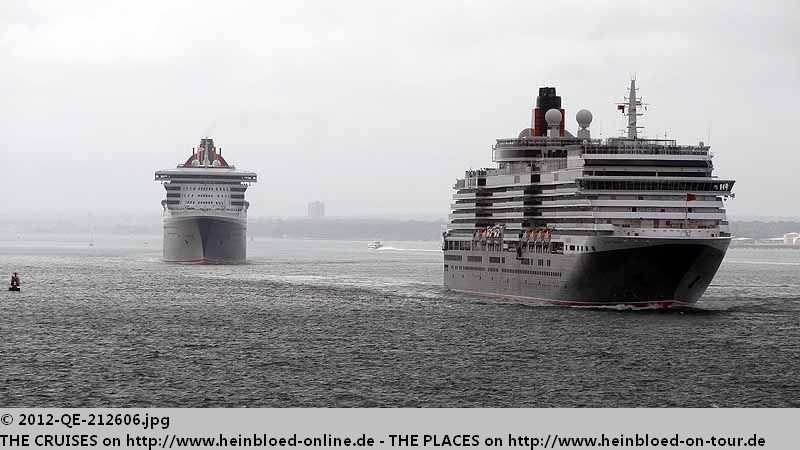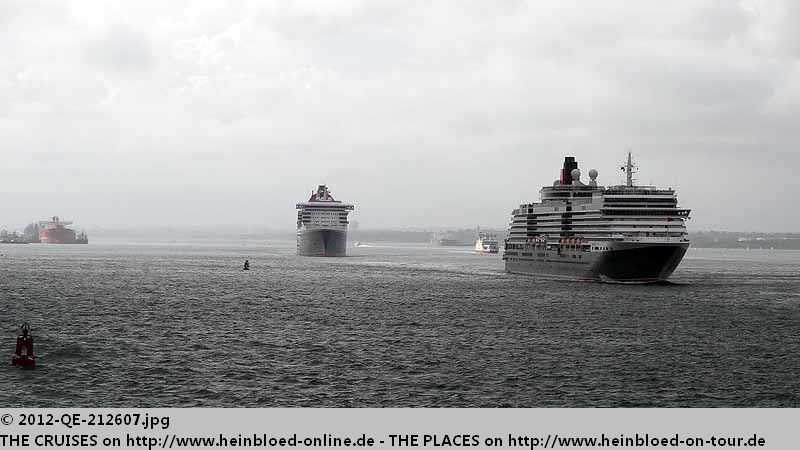 Above there was the helicopter from where they took pictures on behalf of Cunard.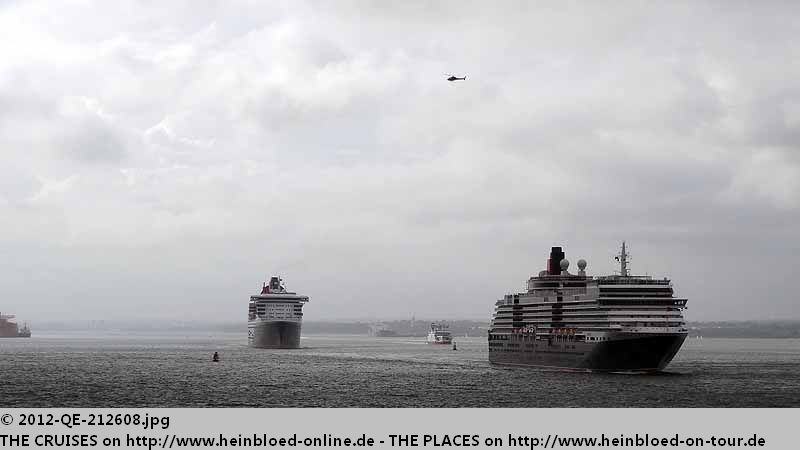 Und über uns kreist der Hubschrauber, der im Auftrag von Cunard die Fotos macht.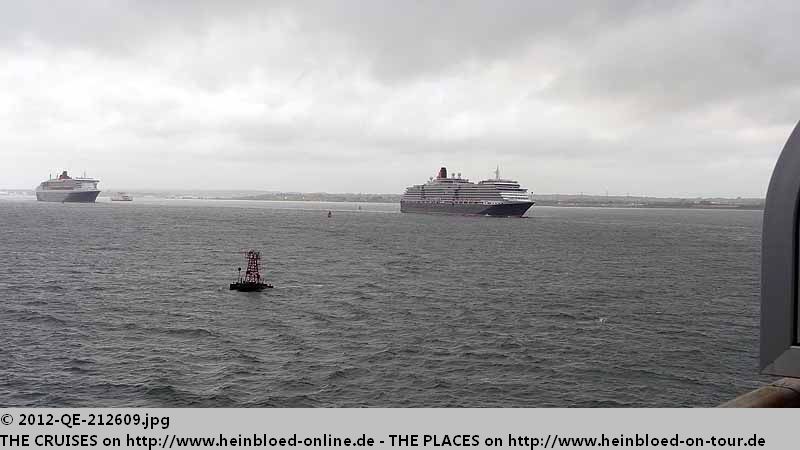 There were very FEW LITTLE offences... 1. Welcome Service at the decks was only available on decks where you had the large suites. At all other decks nobody standed to show you the way to your cabin.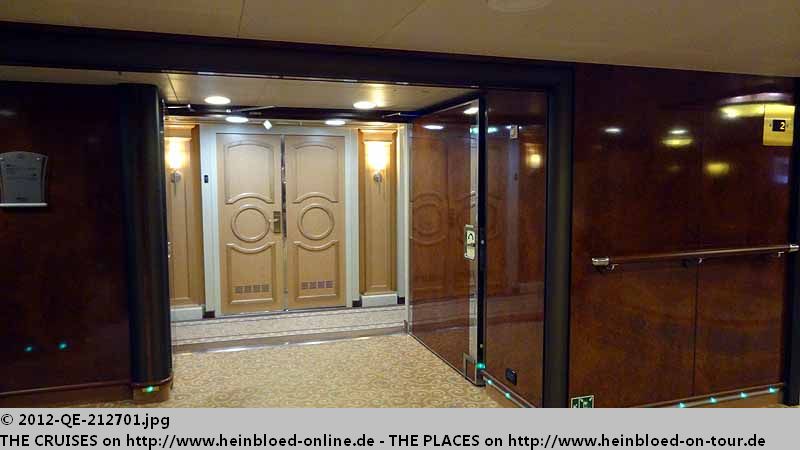 Übrigens gab es auch ein paar KLEINE Ärgernisse... 1. Welcome Service an den Decks gab es nur für die Decks, an denen direkt die großen Suiten lagen. An den anderen Decks stand niemand, um einem den Weg zur Kabine zu zeigen.
2. Ganz blöd: um an Deck 11 und 12 zu kommen, musste man eine Kabine erwischen, die auch dahinfuhr. Nur waren diese zwei nicht zusammensteuert, sondern gegenüber und einzeln gesteuert. So musste man immer auf beide Knöpfe drücken, und hoffen, dass einer schnell zur Verfügung steht. 7 Decks zu laufen war mir echt zu viel.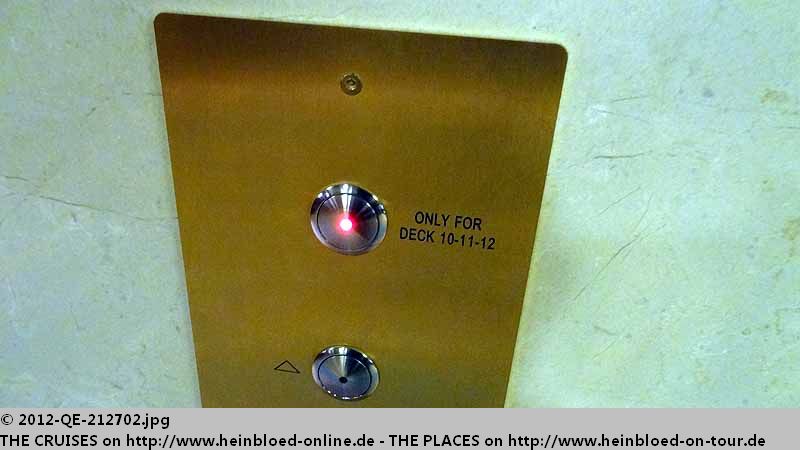 2. Very stupid: to get access to Deck 11 or 12 you need to catch an elevator which calls these decks. But the two were not connected in the control tower and were opposite and seperately controlled. So you had to push on both side's bottom and hope that one of them would be soon with you. To walk 7 decks was too much.

3. Very angry: one of the two elevators was out of order... so most of the time there was only one elevator available.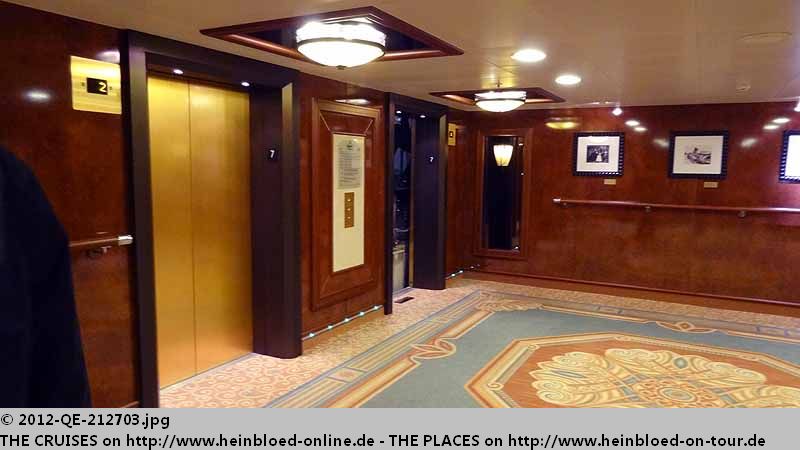 3. Ganz ärgerlich: ausgerechnet dieser Fahrstuhl war ständig defekt... also stand oft nur ein Fahrstuhl zur Verfügung.
4. Die falsche Kleiderordnung: es hieß in unseren Unterlagen: 1 x smart casual und 1 x formell (Cunard Ball)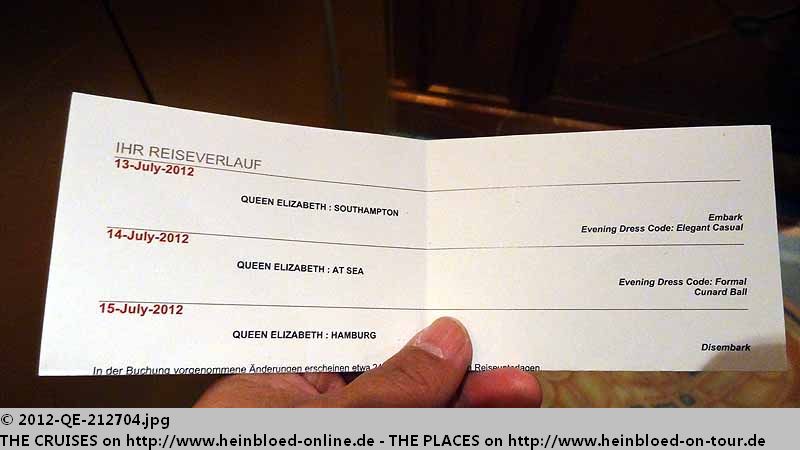 4. The wrong dress code: in our records: 1 x smart casual and 1 x formell (Cunard Ball)

But this was wrong again. Instead of formal we should have semi-formal with us. It was somehow angry that we carried again the tuxedo bag for nothing with us. More angry: we had no semi-formal with us. Angry: some airlines ask for extra money if you have an extra suitcase: my money.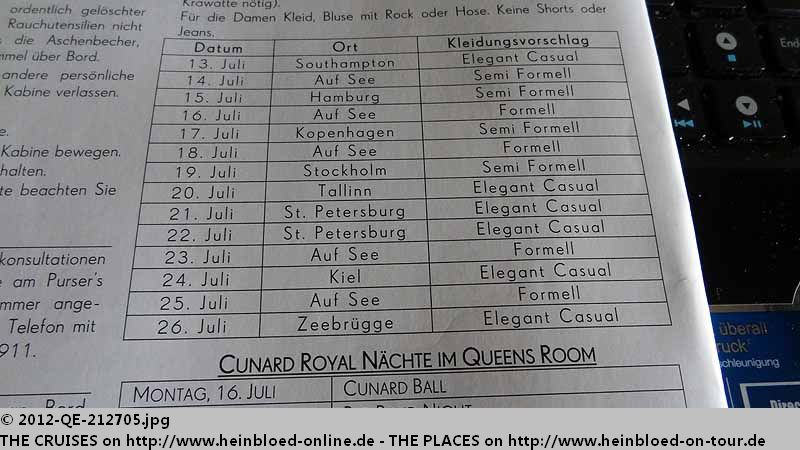 Aber das stimmte mal wieder nicht. Wir brauchten statt formell einmal semi-formell. Ärgerlich, weil wir wieder mal den Smoking-Koffer vergeblich mitgenommen haben. Ärgerlich, weil wir kein semi-formell mithatten. Ärgerlich, weil es bei manchen Airlines ja auch zusätzlich Geld kostet, wenn man einen extra Koffer hat: und zwar mein Geld.
5. Wir hatten ja 120 Minuten Internet frei (aufgrund unseres Gold-Statuses), aber man kam am 1. Tag erst spät abends rein, weil die Passagierdaten noch nicht überspielt wurden.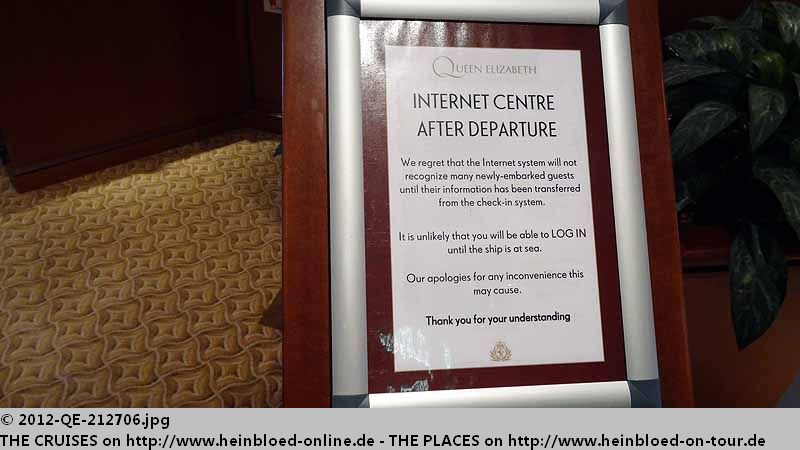 5. We had 120 minutes internet complimentary (due to our Gold-Status) but you cannot get in on the 1st day but very late as no passenger records were transferred so far.

We went to dinner. Bruno weared his new jacket which we bought for him for this occasion.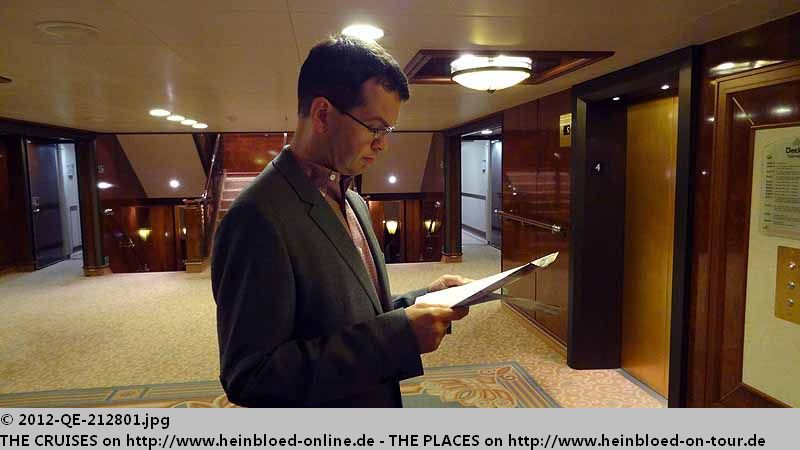 Wir gehen zum Abendessen. Zunächst einmal führen wir Brunos neues Jacket aus, das wir extra für smart casual gekauft haben.
Silberne Platzteller, die allerdings auch sofort weggenommen werden.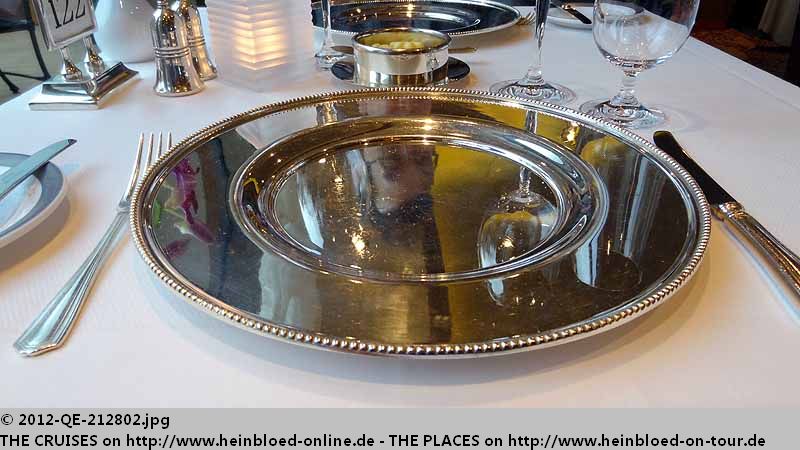 Silver underplates which were taken immediately away.

Immediately we grabbed the salt sticks.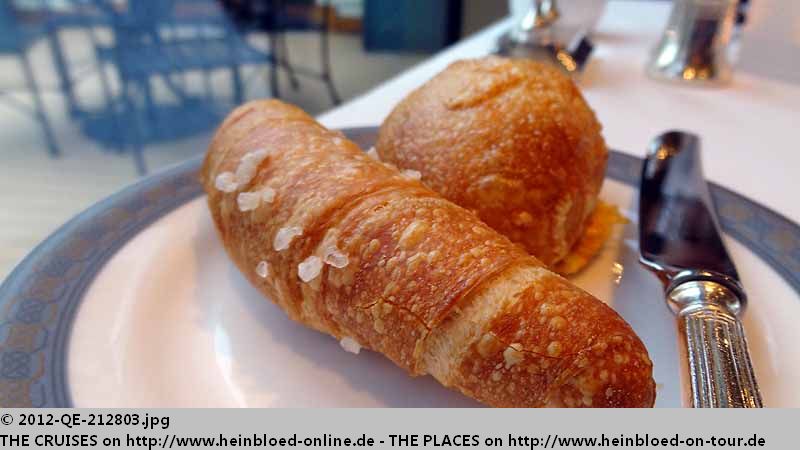 Sofort stürzen wir uns auf die Salzstangen.
Eigentlich hatte ich mich die letzten drei Wochen damit befasst, was ich heute Abend esse und hatte mir vorgenommen, alles aus der täglich verfügbaren Karte zu nehmen. Aber man sollte dieses Karte in theoretisch-täglich verfügbare Karte umbenennen. Heute am Tag der Einschiffung gibt es nichts daraus, mit der Begründung, dass der Quartiersmeister noch nicht alle Lebensmittel, die geladen wurden, begutachten konnte und daher noch nicht alle Lebensmittel zur Verfügung stehen... habe ich auch noch nie gehört... Sind das jetzt Reste von der letzten Kreuzfahrt, die wir essen müssen?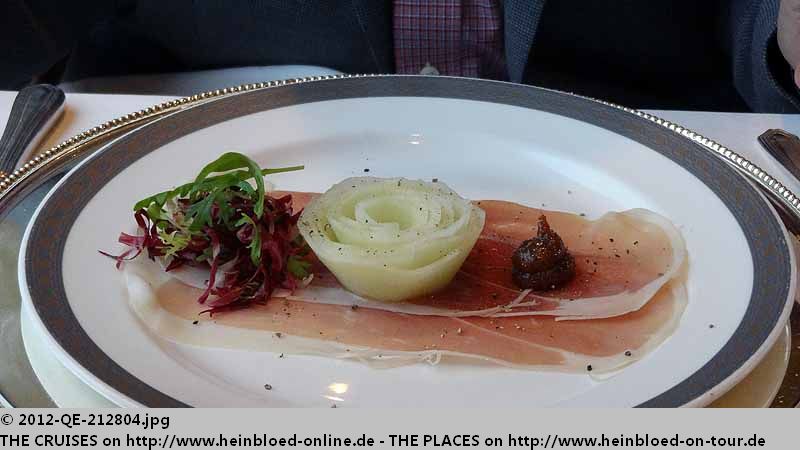 I used the last three weeks to check what I would like to eat today and decided to have something from the daily available menu. They should rename the menu to in-theory-daily available menu. At th day of embarkation you cannot get anything from this menu because the Quartermaster has not finished his inspection of all food which were loaded today... Never heared this before... Were these the left over of the last cruise we had to eat?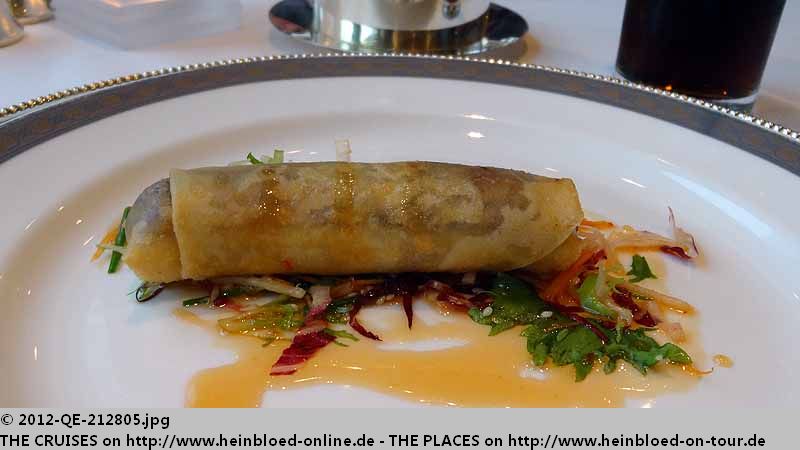 I was more interested to hear the table behind me because a group did not show up as group because they booked with the same travel agent. The group members did not see themselves as group and so they wanted to have a table by themselves. But those were not available anymore. So they showed up at different times and each of them got serviced upon their appearence so one might have the dessert while the other were still having their starter. But it was not Cunard's fault if the travel agent booked them one table.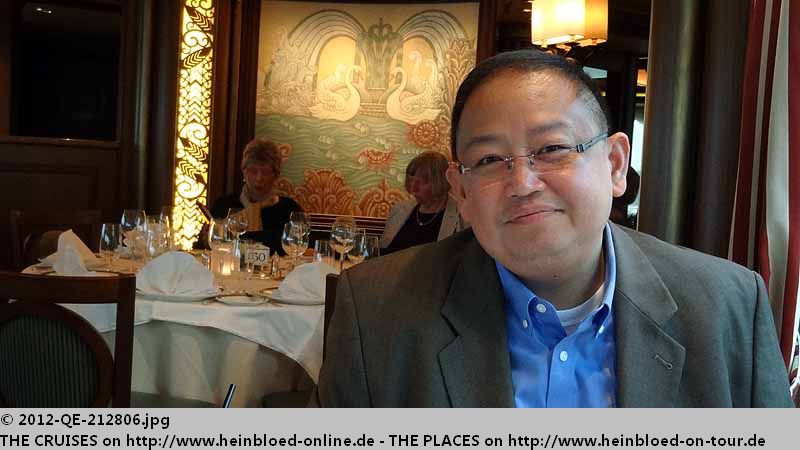 Mein Interesse gilt einem Nachbartisch: eine Gruppe will nicht zu einer Zeit erscheinen, weil sie nur "zufällig" im gleichen Reisebüro gebucht haben und sich nicht als Gruppe betrachtet. Einige wollen lieber Einzeltische. Die gibt es natürlich nicht mehr. So kommen sie zu unterschiedlichen Zeiten und jeder wird nach Ankunft bedient, so dass einer am Tisch bereits den Nachtisch hat und andere noch bei der Vorspeise sind. Aber dafür kann ja nun Cunard nichts, wenn das Reisebüro den Tisch gebucht hat.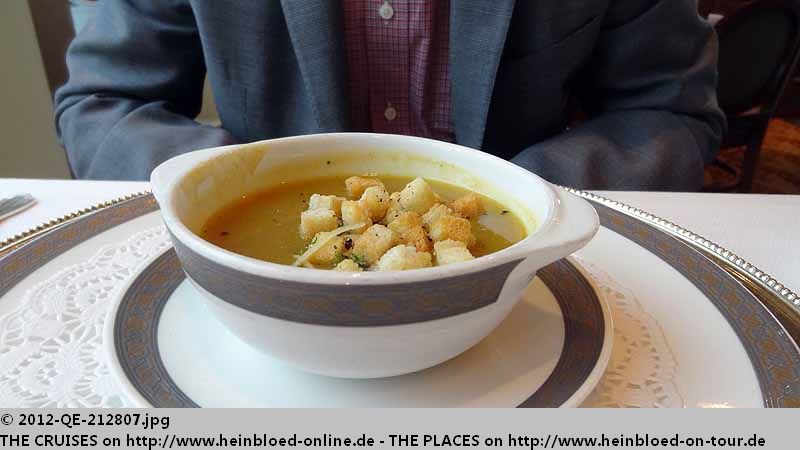 My consommé: the best what I ever had so far. And what you cannot see: tasty little chicken dumplings.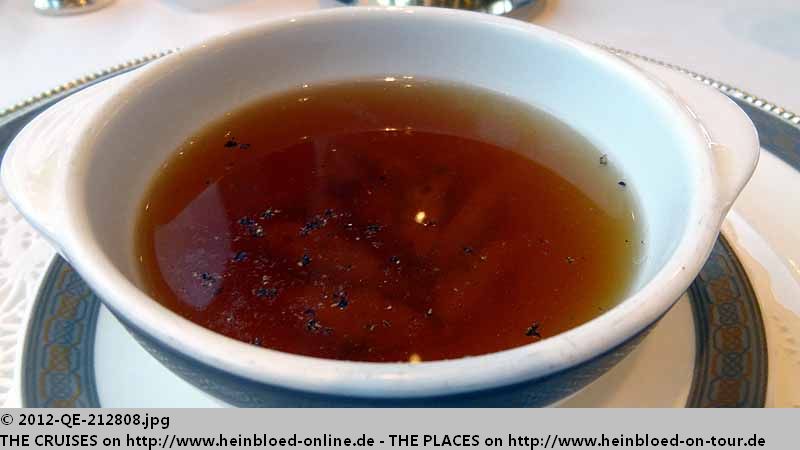 Meine Consommé: die beste, die ich bisher gegessen habe. Und wie man hier (nicht) sieht: leckere kleine Hühnerfleischklößchen...
Auch hier wird der Dressing im Silverservice-Stil serviert.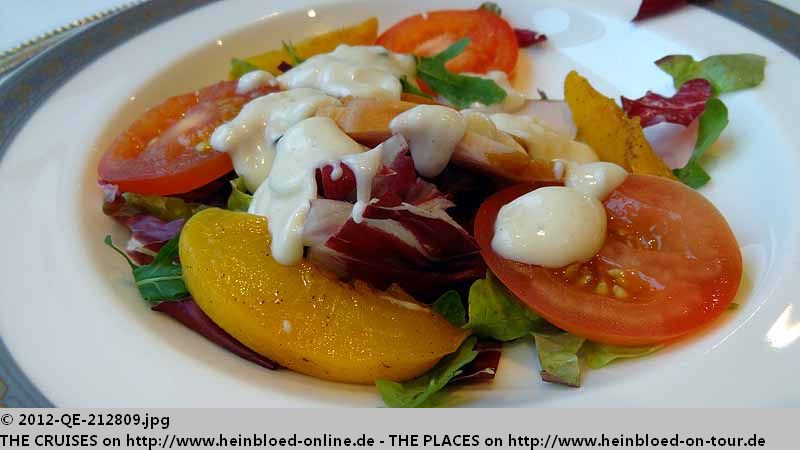 Bruno took his beef fillet.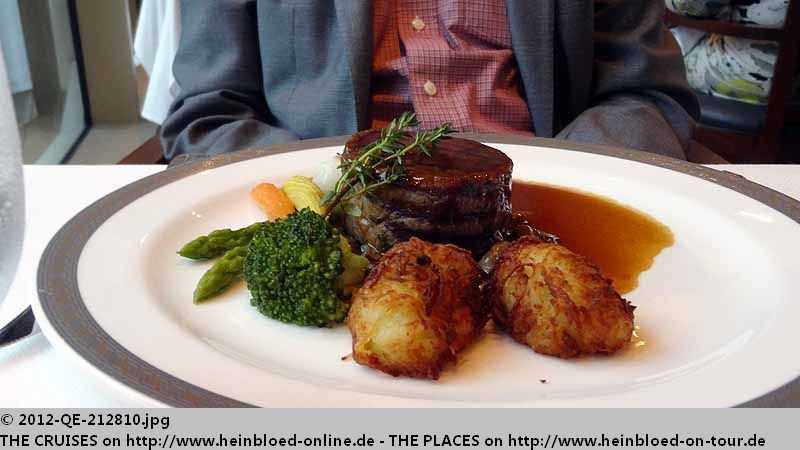 Bruno nimmt sein Rinderfilet.
Und ich hatte ausnahmsweise mal Muscheln (wir haben ja dank Plusminus gelernt, dass nicht jeder Scallop eine Jacobsmuschel ist... und man das auch mit Hilfe der DNS bestimmen kann...) mit "Schwabbel". Den habe ich gar nicht so rausgelesen. Aber der war lecker... Knusprige Haut... Ungewöhnliche Kombination, aber lecker...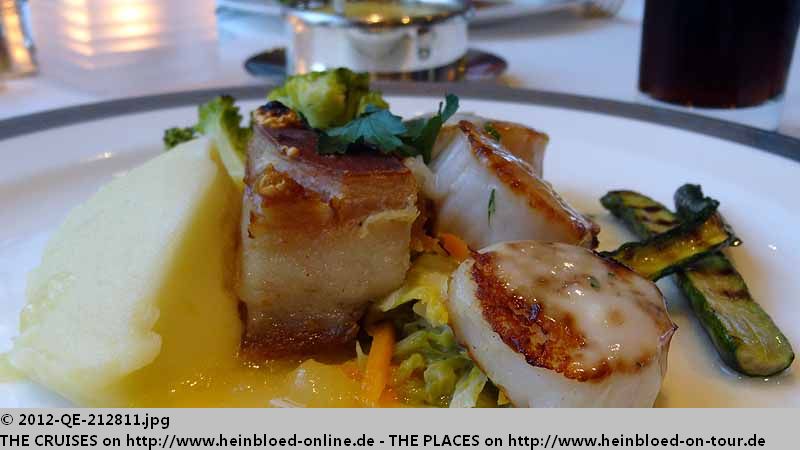 And by exeption I had scallops (we learned on German TV that not every scallop is St. Jacques and you need an DNA-test to find it out...) with a piece of pork belly. I did not notice it when I ordered. But it was yummy... Crispy skin... Strange combination but yummy...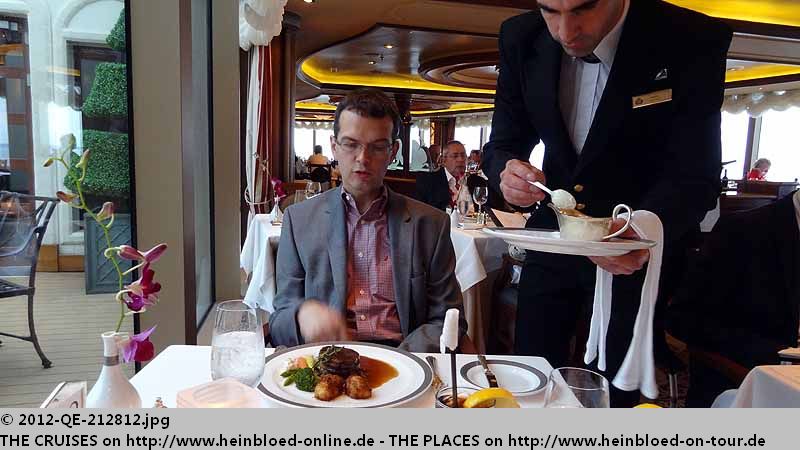 Das Dessert: nicht wie bei HAL schön leicht - sondern eher wie bei Horst Licher: noch ein Becherchen Sahne... Dafür zerlief es im Mund.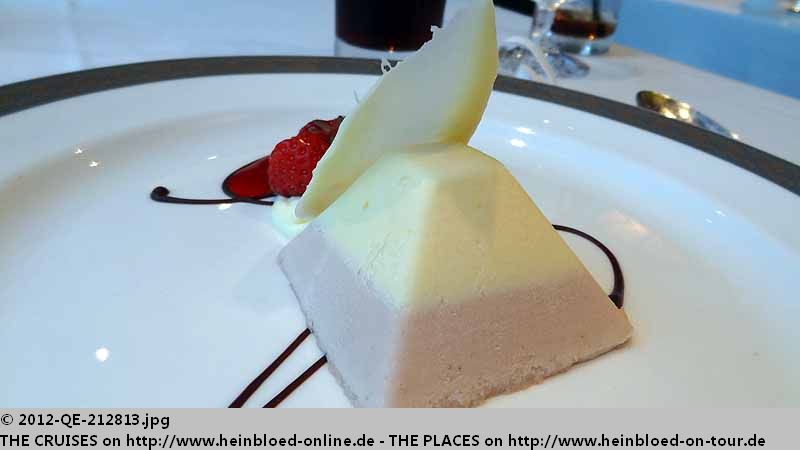 The dessert: not as light as with HAL - more like the German TV-cook Horst Licher who loves to add a little more cream or butter... So it was melting in your mouth.

Bruno's Tirami-Su - by the way it was not so easy to find something without alcohol. But in this quantities I can live with it.

Bruno's Tirami Su - übrigens war es schon problematisch, wenn man keinen Alkohol will etwas passendes zu finden. Aber in den Mengen ist es für mich in Ordnung.
Für Bruno noch eine Coffee Card zu besorgen bringt ja nichts: wir bekommen ja den Kaffee in der Grill Lounge umsonst, wenn die Lounge besetzt ist.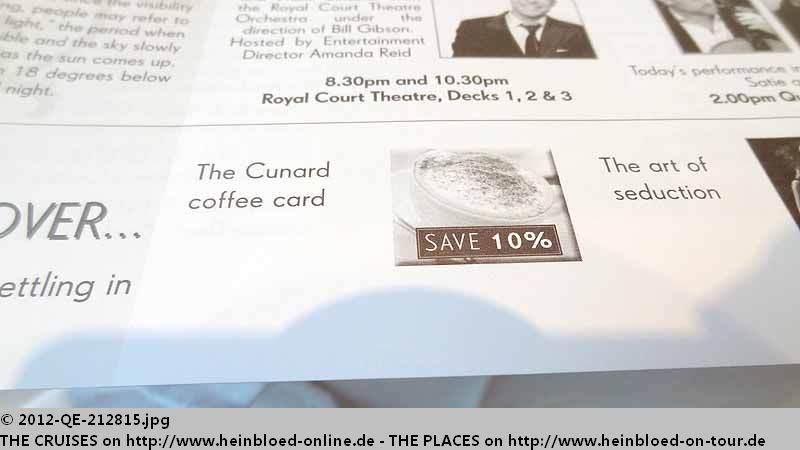 To buy Bruno a coffee card did not make too much sense: we get the coffee in the Grill Lounge for free subject the Lounge was manned.