Scroll down for English explanations - alternates with German explanations.

Abends funktionierte das Internet und wir konnten uns beide einloggen und jeder von uns 120 Minuten kostenfrei surfen.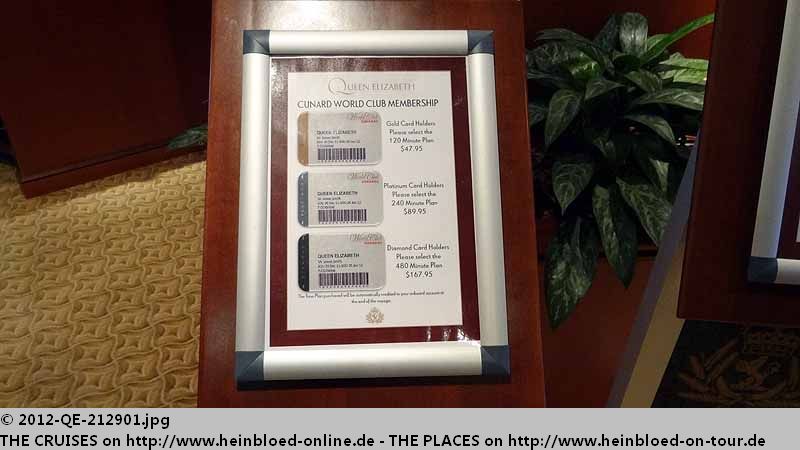 In the evening the internet worked and we both could logged-in and used our 120 minutes free internet.

Here I need to think of Christoph Lemm (from Facebook) who loves harp music.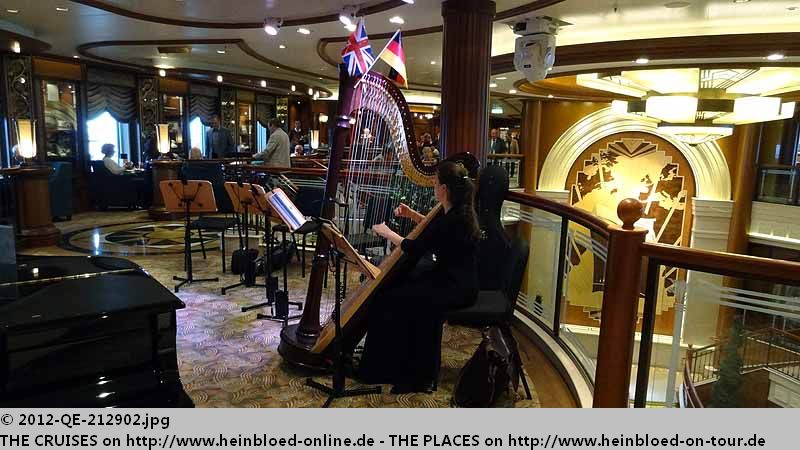 Hier muss ich immer an Christoph Lemm (aus Facebook) denken, der ja so auf Harfen-Musik steht.
Im Queen's Room spielt wieder die Band.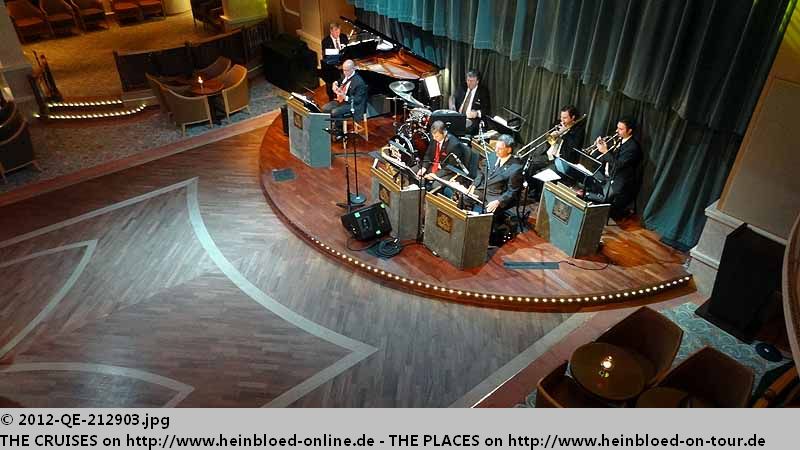 The band was playing in the Queen's Room.

And this time we wanted to see the welcome-show... but... 70s... that was not my world...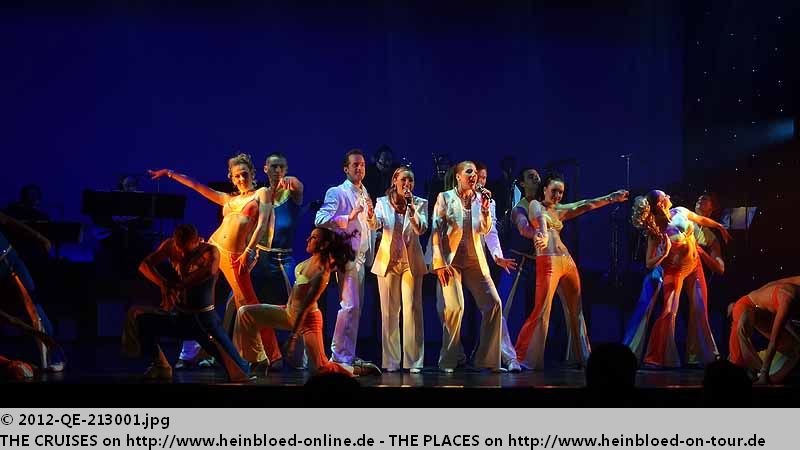 Dieses Mal wollten wir zur Willkommens-Show... aber... 70-er... gar nicht meine Welt...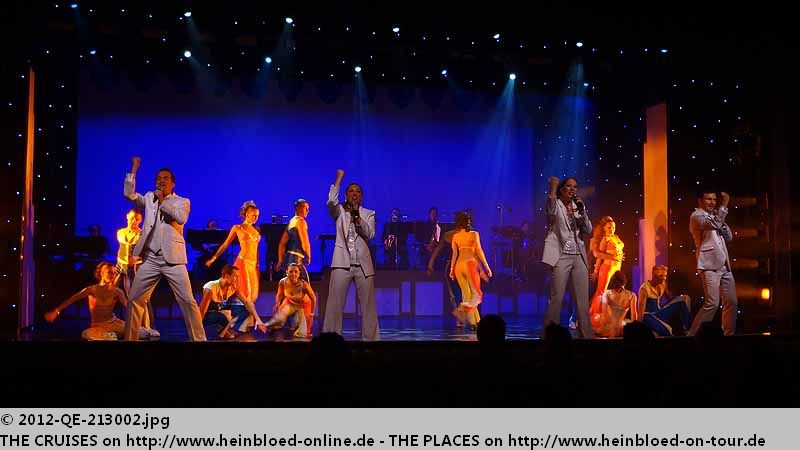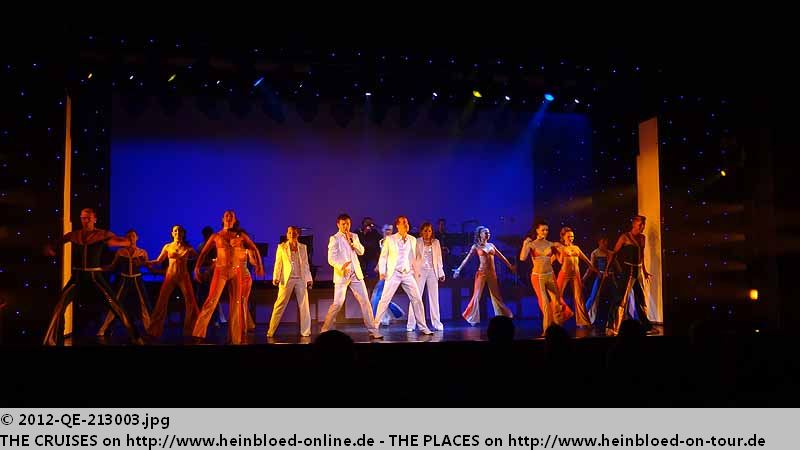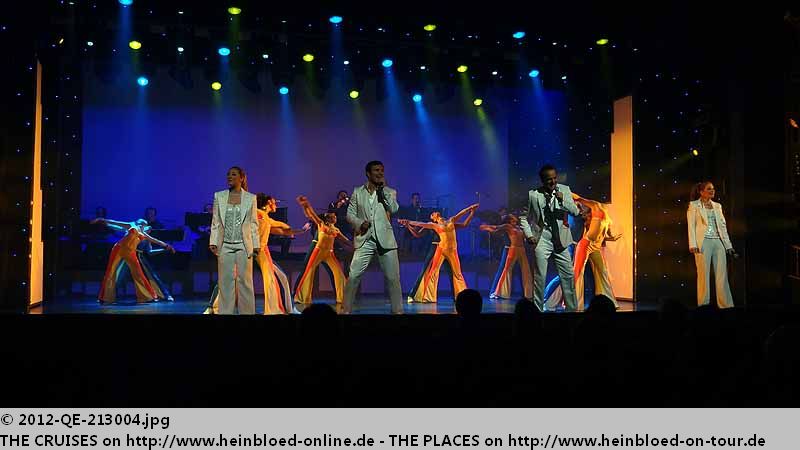 And then the Cruise Director Amanda came and introduced the ship and the fascilities... If we would have known this before...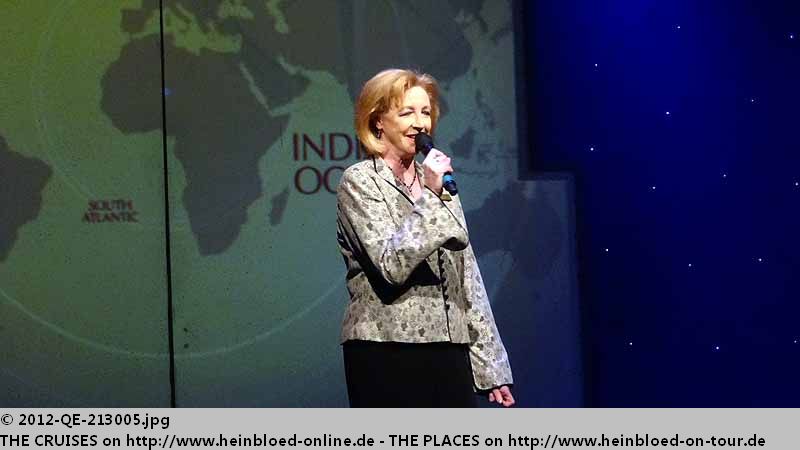 Und dann kommt Kreuzfahrtdirektorin Amanda und stellt das Schiff vor und die Einrichtungen vor... Wenn ich das gewusst hätte...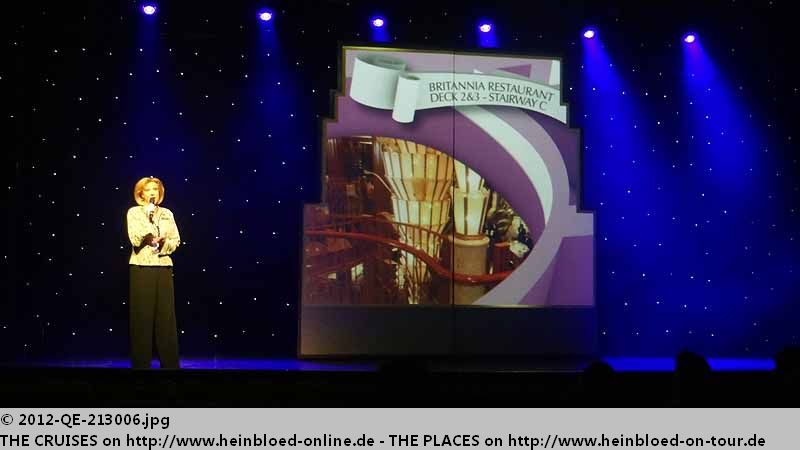 Somehow we did not get out of the 70s...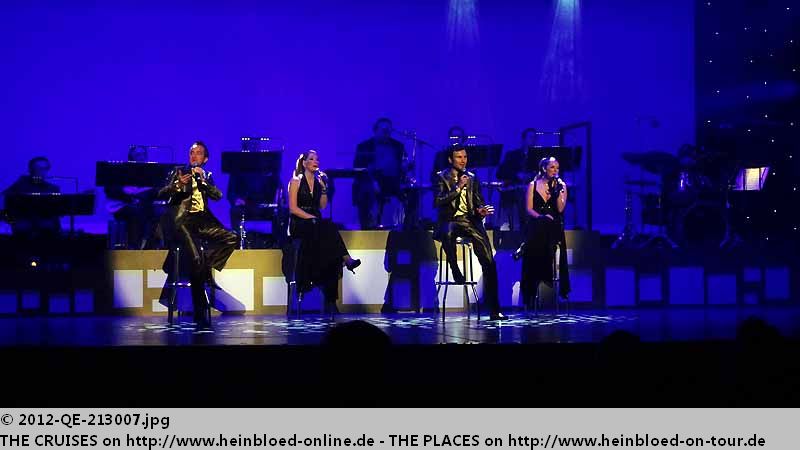 Irgendwie kommen wir aus den 70-er nicht mehr raus...
Dann werden die internationalen Hostessen vorgestellt, die kurz die Gäste begrüßen...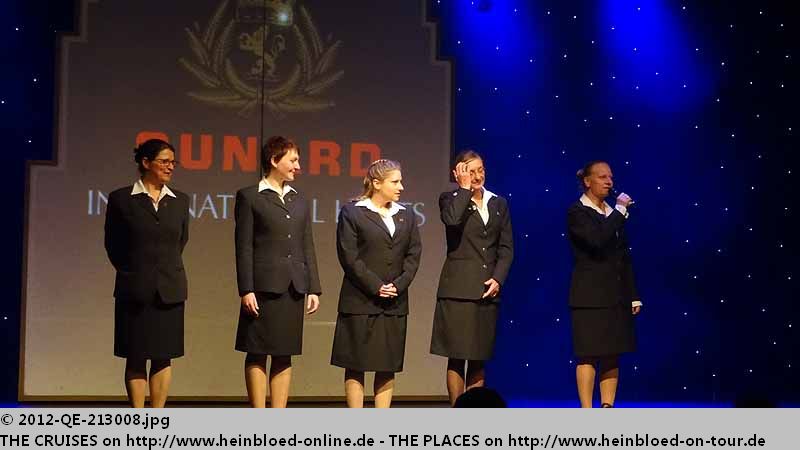 Then the international hostesses were introduced who welcomed the guests...

And then the Entertainment-Crew came and they started the favorite game of the Englishmen: from which corner are they from and is there anyone else onboard who is from there. No matter you are going on P&O or Fred Olsen. We only have no knowledge on Cruise and Maritime as we did not see the show.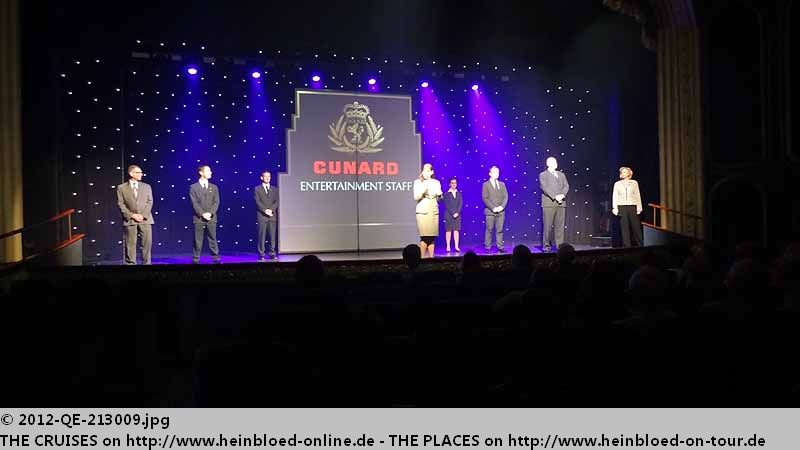 Dann kommen die Entertainment-Crew und es beginnt das Lieblingsspiel der Engländer: aus welcher Ecke sie kommen und ob es weitere an Bord gibt. Spielt keine Rolle, ob man mit P&O oder Fred Olsen fährt. Nur bei Cruise and Maritime wissen wir es nicht, da wir ja nicht in der Show waren.
Und es geht dann mit 70-er weiter...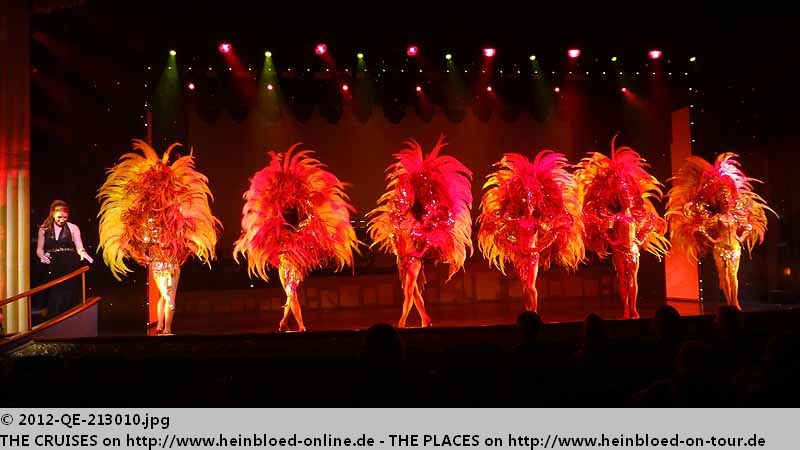 And the 70s continued...
Was nice to see... but with others you get extracts from the many shows which should follow so you can anticipate what might come and you know that it would be worth to come again and again.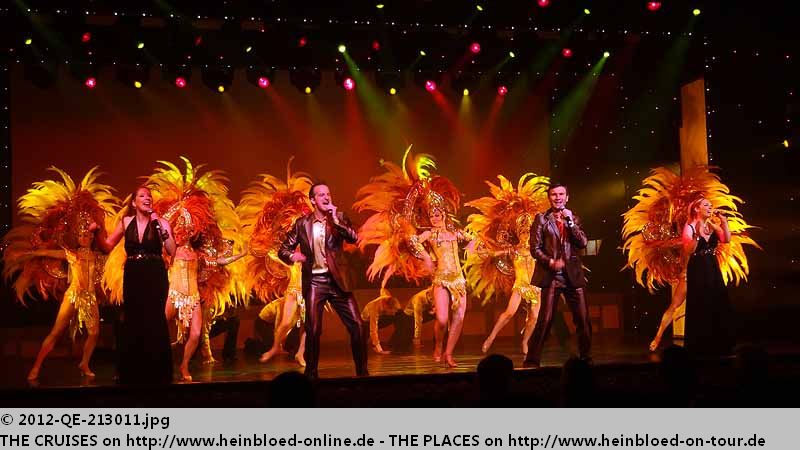 War je nett zum Gucken... Nur bei anderen gibt es Auszüge aus vielen Shows, die noch folgen, damit man sich darauf freuen kann, was noch so einen erwartet und dass man weiss, dass es sich lohnt jedes Mal wiederzukommen.
Wir ziehen uns zurück.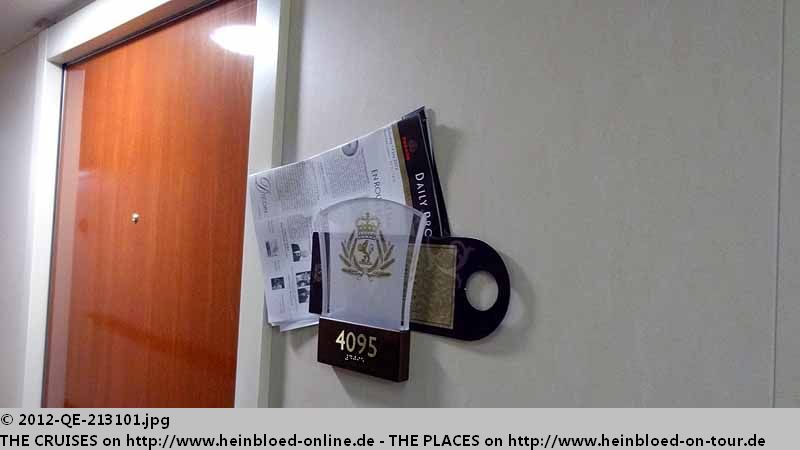 We went to bed...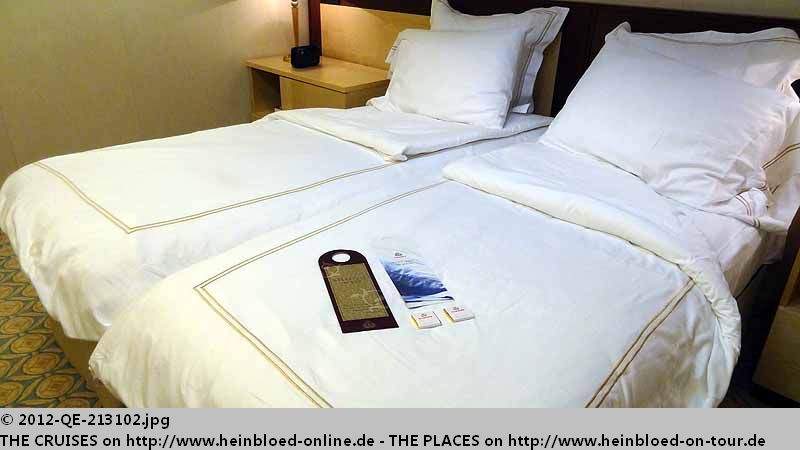 Auf Bitte beim Concierge Marlene bekamen wir den Sekt gegen das Wasser getauscht. Wir hatten allerdings nicht bemerkt, dass trotz Blubber am Flaschenrand es doch stilles Wasser war und das bekommen wir dann nicht weiter getauscht.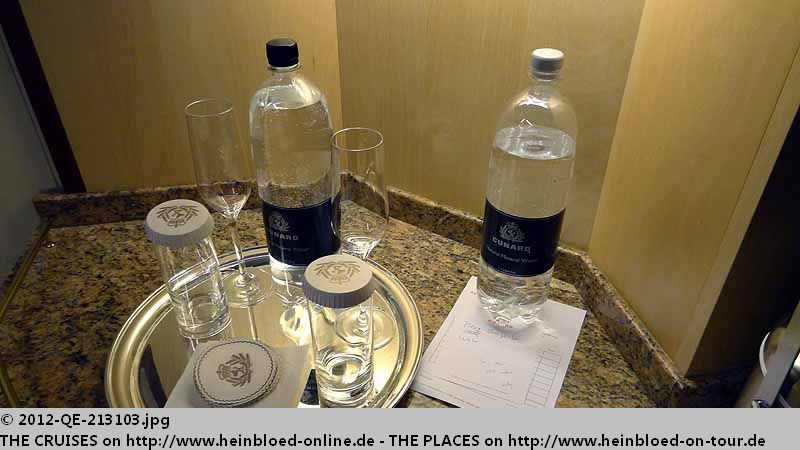 Due to the request of the Concierge they replaced the campagne by water. We did not notice that still water still have some bubbles and so we did not aked for further replacement.

Nice that we had to chang the time already this night...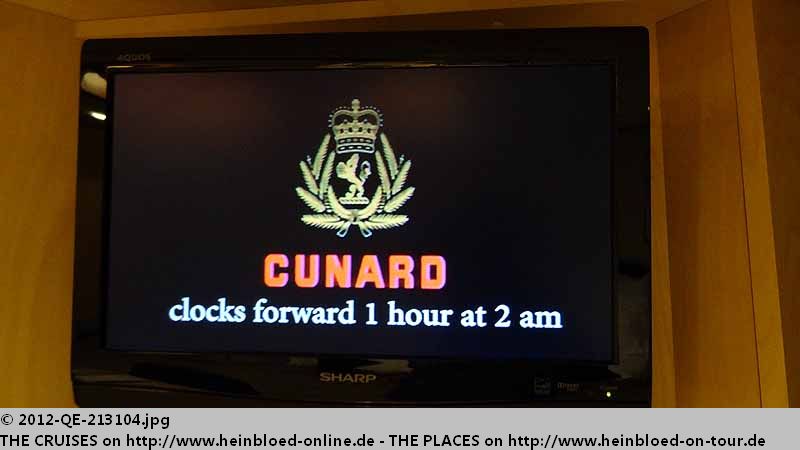 Schön, dass wir bereits heute die Uhr umstellen.
Schön, dass das die erweiterte Frühstückskarte für die Grill-Gäste ist.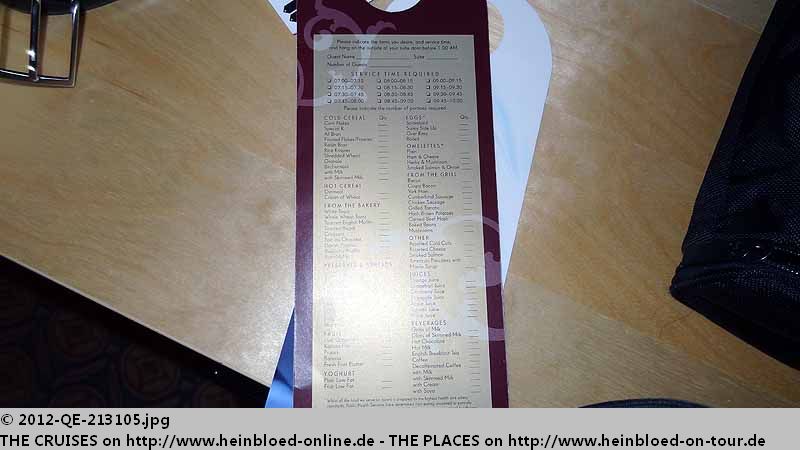 Nice to have an extended breakfast menu for the Grill-guests.

And behind the pillows there was the emergency bottom. I hope that I will not hit it this night again and release an alert...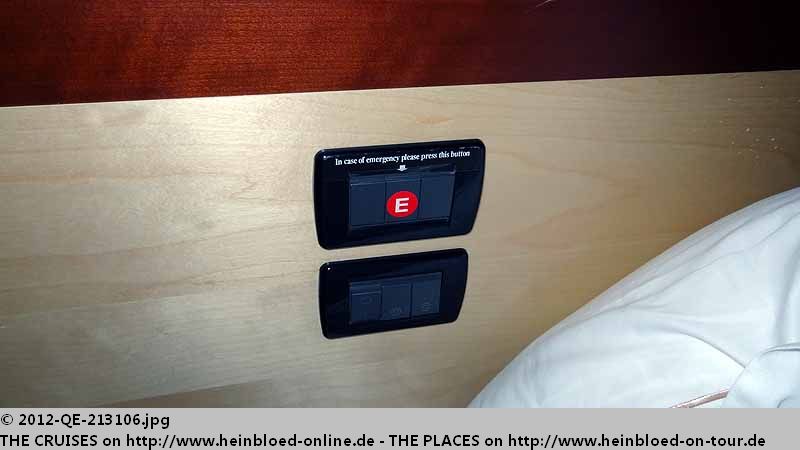 Und hinter dem Kissen ist der Notrufknopf. Hoffentlich komme ich heute Nacht nicht wieder dran und löse einen Alarm aus...