Scroll down for English explanations - alternates with German explanations.

Man gönnt sich ja sonst nichts. Nach der Junior Suite auf der MEIN SCHIF 2 haben wir dieses Mal Princess Grill auf der QUEEN ELIZABETH gegönnt. Wir wollten eigentlich QUEEN MARY 2, aber da gab es bloß zum Zeitpunkt der Buchung nur Wartelisten und angesicht der Olympischen Spiele mussten wir noch günstige Flüge. Da eine Umbuchung von einer fixen Buchung von QUEEN ELIZABETH zur QUEEN MARY 2 ziemlich teuer geworden wäre, bleiben wir bei QUEEN ELIZABETH und für den Preis von ca. 300 EUR/Nacht interessiert es uns schon, ob wir damit billiger liegen als 370 EUR/Nacht mit all inclusive auf MEIN SCHIFF 2.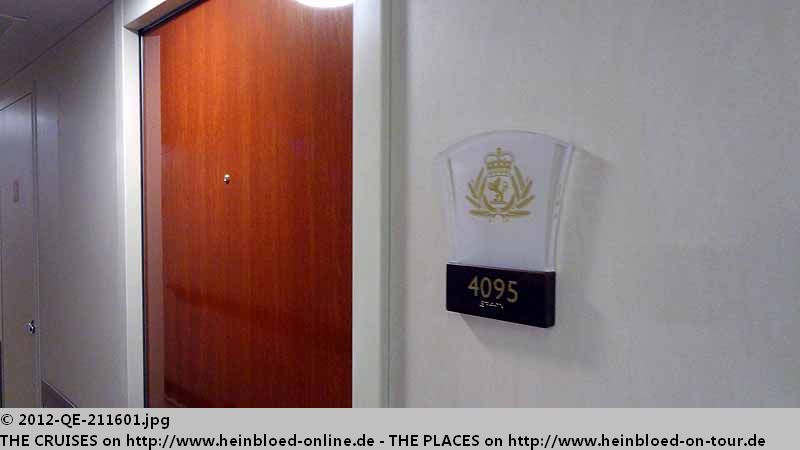 I wouldn't normally treat myself to anything. After the Junior-Suite on MEIN SCHIFF 2 we allowed ourselves to book Princess Grill on QUEEN ELIZABETH. We wanted to go on QUEEN MARY 2 but at the time of booking only waitlist bookings were accepted but due to Olympic Games we need some cheap flights to be booked soon. The rebooking of a fixed booking from QUEEN ELIZABETH to QUEEN MARY 2 would be very expensive so we stayed with QUEEN ELIZABETH and for the price of about 400 USD/night we were highly interested to learn if we would get something better than on MEIN SCHIFF 2 with about 475 USD/night.

"Unfortunately" we got a handicapped cabin. Since we had one on NORWEGIAN JADE I was no more friend of them since I hit all the night the alarm key and the furniture need us to crawl into.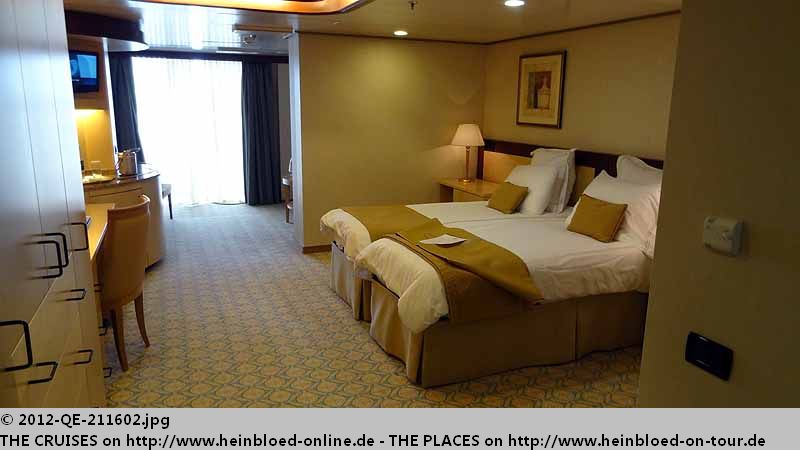 "Leider" bekamen wir eine Behindertenkabine. Seit damals auf der NORWEGIAN JADE bin ich nicht mehr so ein Fan von, nachdem ich nachts an den Alarm gekommen bin und es eine andere Möblierung gab, bei der wir immer kriechen mussten.
Hier ist sie jedoch 1 1/2 mal so groß, wie eine normale Suite. Aber nach der OCEAN COUNTESS tat diese Kabine einfach gut...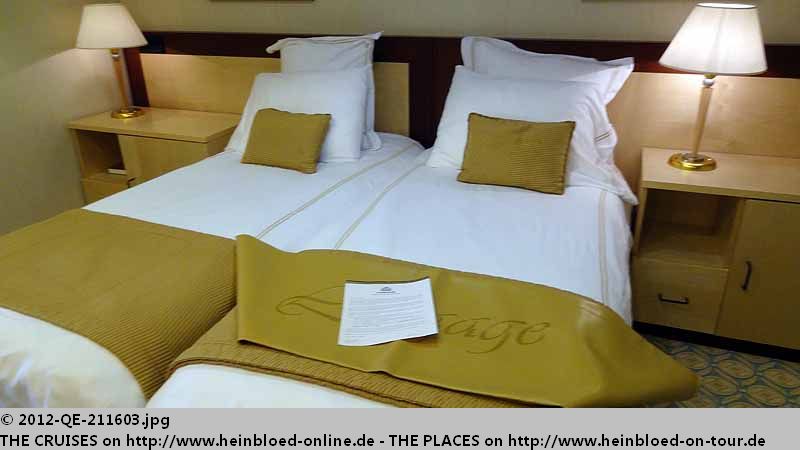 Here the cabin had 1 1/2 times of the regular size of a suite. But after OCEAN COUNTESS having so much space was just a great feeling...

A bottle of water was there anyway.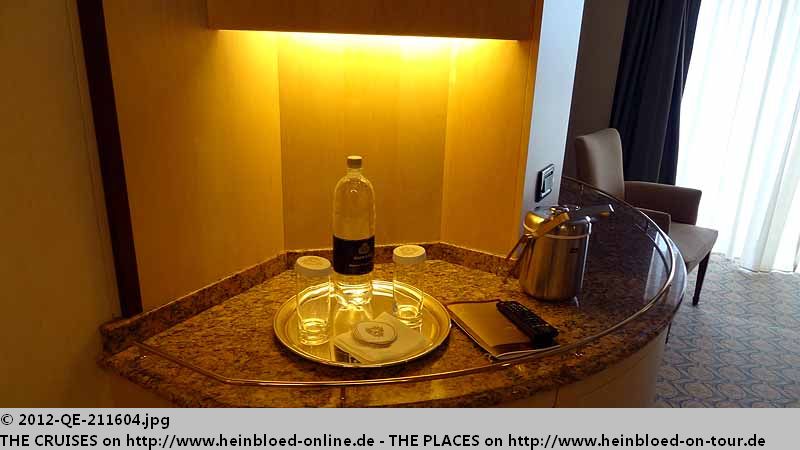 Eine Flasche Wasser steht eh bereit.
Und auch den Sekt, den wir zugunsten einer weiteren Flasche Wasser abbestellt haben.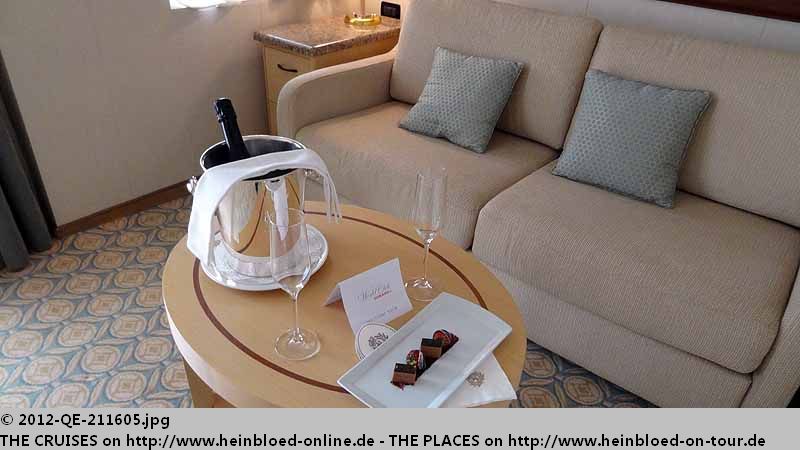 And also the champagne which we cancelled for another bottle of water.

This time Bruno looked more satisfied...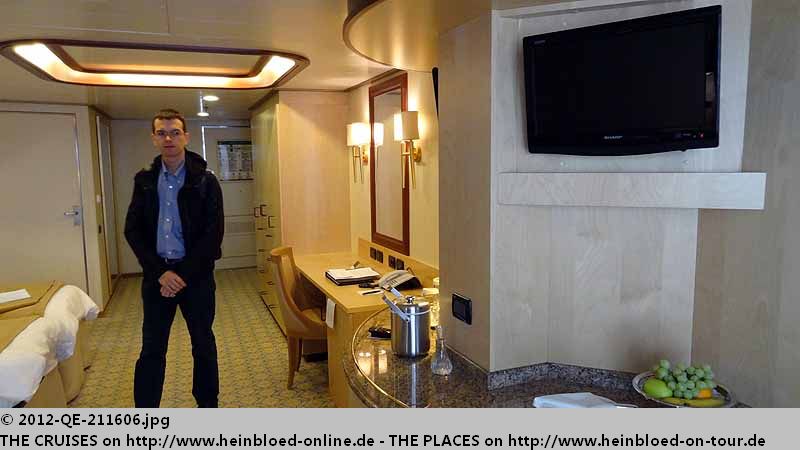 Dieses Mal wirkt Bruno zufriedener...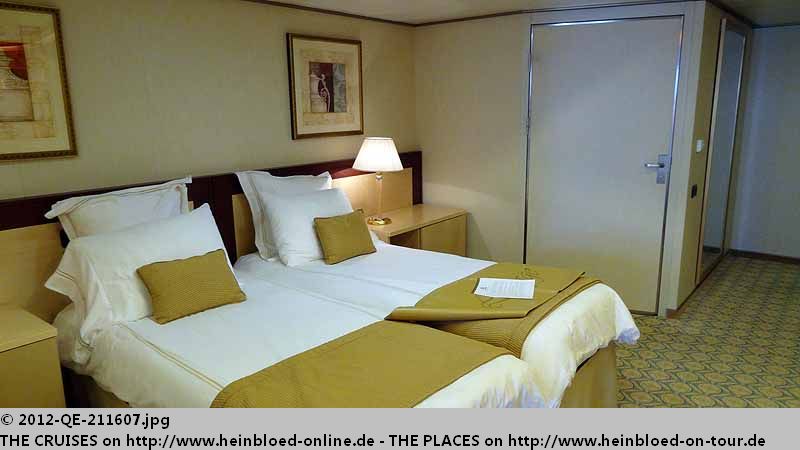 And again mail...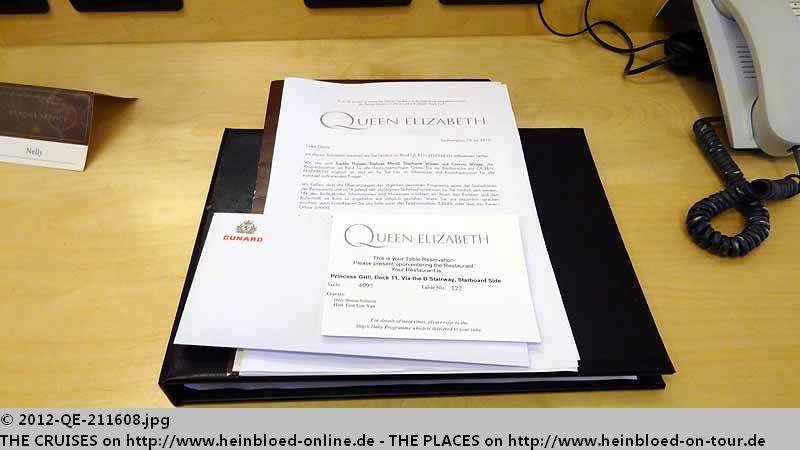 Und wieder Post...
Tischreservierung: Tisch für 2.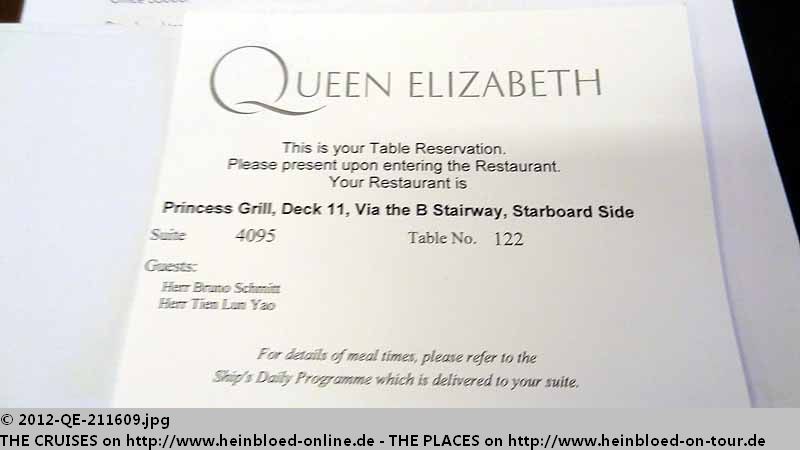 Table booking: table for 2.

Nelly was our cabin stewardess.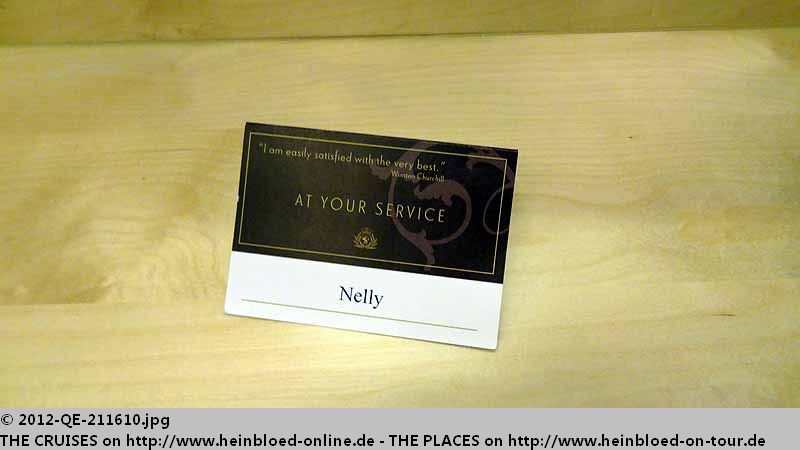 Nelly ist unsere Kabinenstewardess.
Bademantel (aber dieses Mal der ganz dicke) und Pantoffeln. Aber dieses Mal lasse ich sie da. Wir wissen nicht mehr wohin damit zu Hause.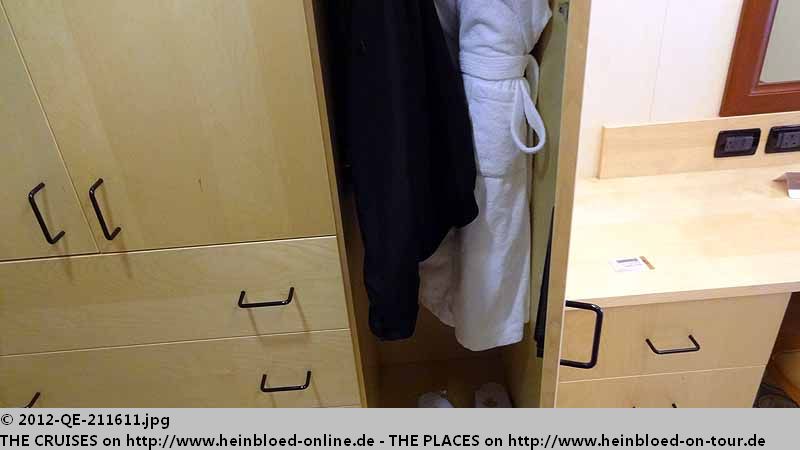 Bathropes (but this time very thick and fluffy) and slippers. But this time I let them go. We had no idea where to stow them at home anymore.

Very nice: regular hangers.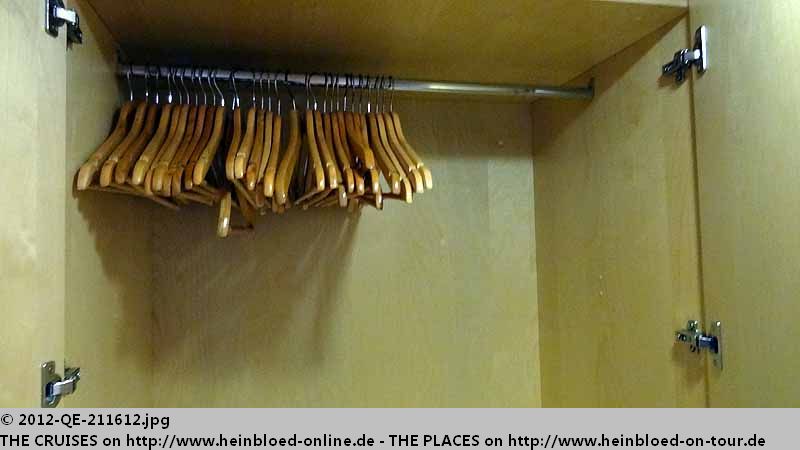 Sehr schön: normale Bügel.
Wäschebeutel aus Stoff und Liegetücher.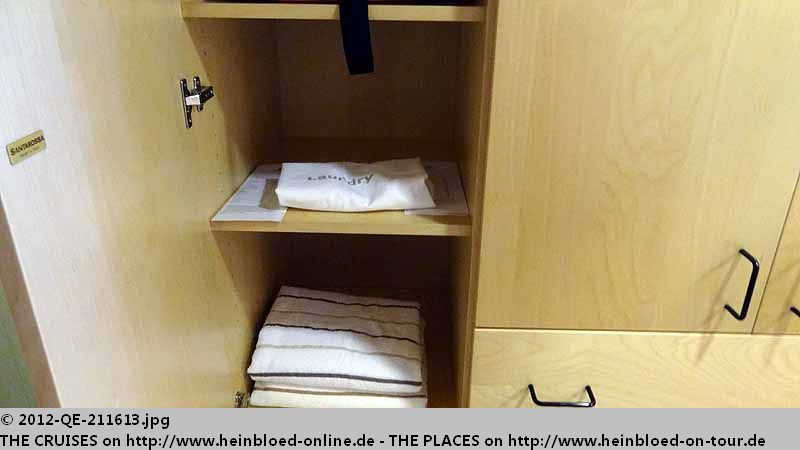 Laundry bags made of textile fibre and beach towels.

The mini-bar.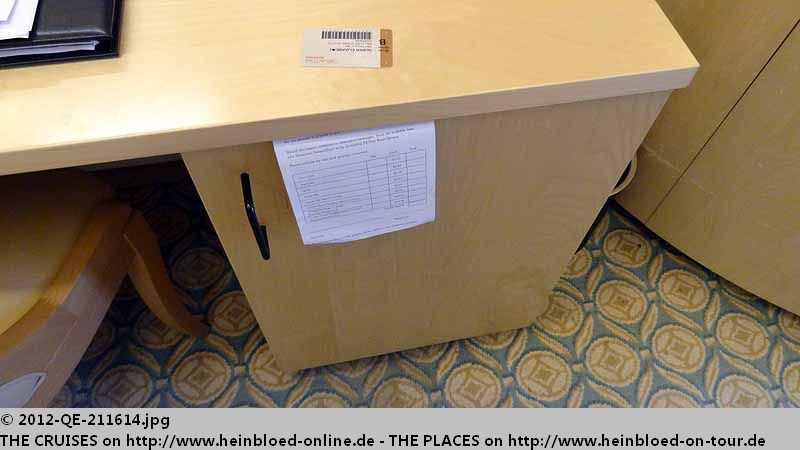 Die Mini-Bar.
Und ein persönliches Willkommensschreiben.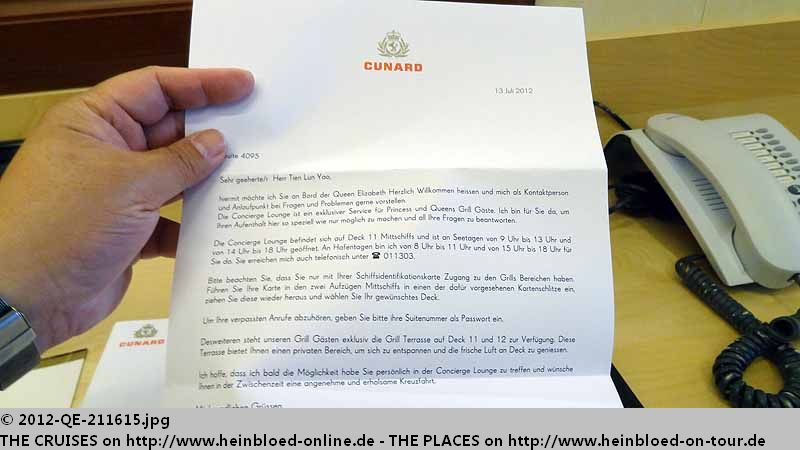 Our personal welcome letter.

Life drill should be at 16.00 hrs.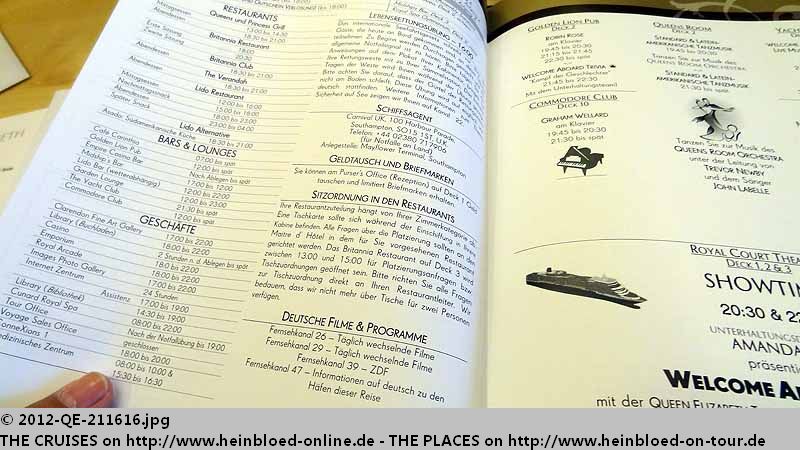 Seenotrettungsübung 16.00 Uhr.
Die Mini-Bar dürfen wir kostenfrei "plündern". Später stelle ich eine Flasche Cola Light rein, die ich noch nicht ausgetrunken hatte. Unsere Perle hat es bemerkt und hinterher uns Light-Getränke reingestellt.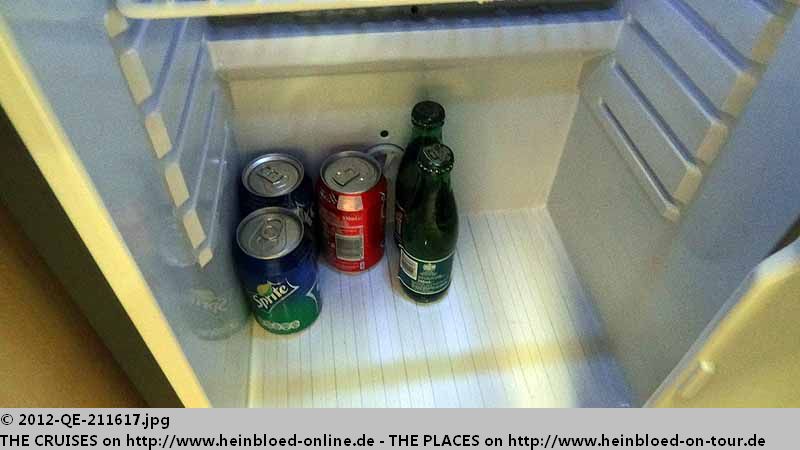 We were allowed to drink everything in the mini-bar for free. I just put a half-full bottle of Diet Coke into the fridge. Our pearl saw this and put more Diet-beverages into the fridge.

Finally as safe without magnetic stripes.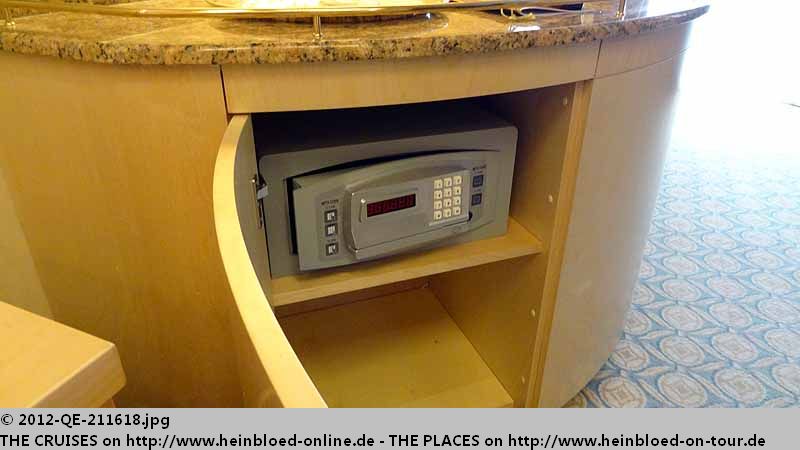 Endlich mal wieder ein Safe ohne Magnetkarte.
Und die Leckerlis zum Willkommen.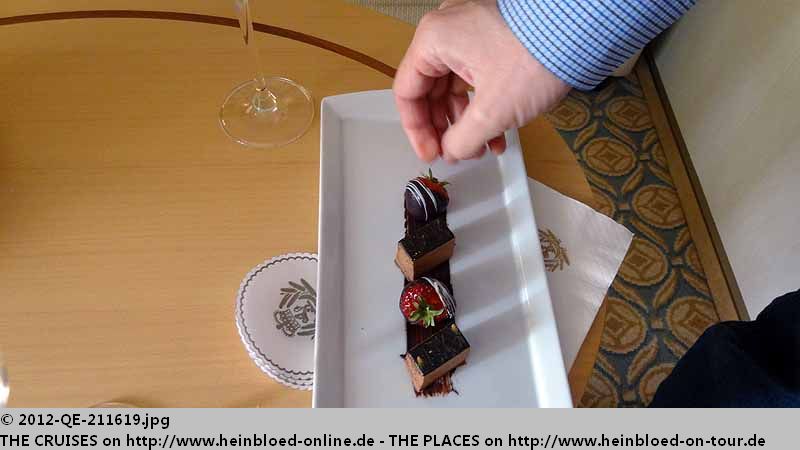 And sweet indulges to welcome us.

Wow... the Commodore himself... we were happy because of the words of welcome.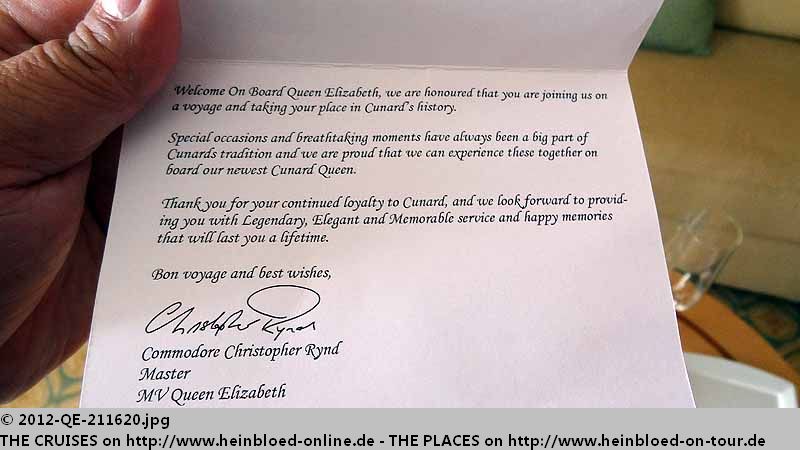 Wow... der Commodore persönlich... wir freuen uns über die Willkommensworte.
Es hätte perfekt sein können... Nur von der Seite... wie soll man an die Lampe kommen (Schalter am Fuß der Lampe) und Schublade... und wenn man den Schrank aufmacht, kommt man auch nicht ungehindert dran.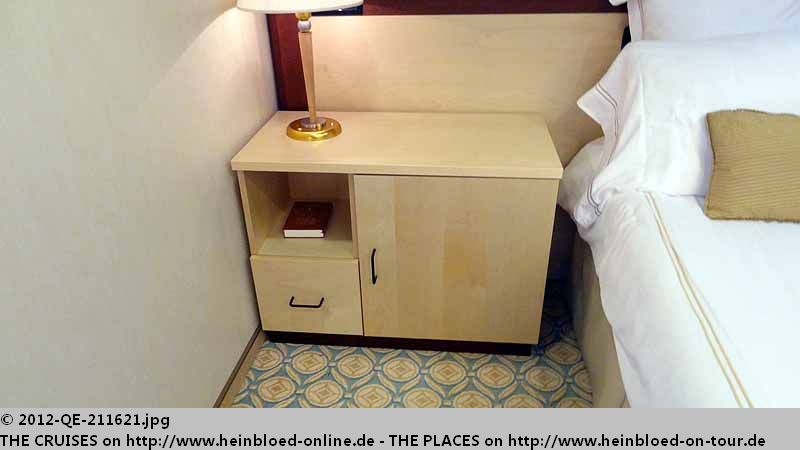 It could be so perfect... but from this side of the bed... how should you get to lamp (the switch is at the feet of the lamp) and to the drawers... If you open the closet you have no direct access.

On the other side of the bed everthing makes a lot of sense.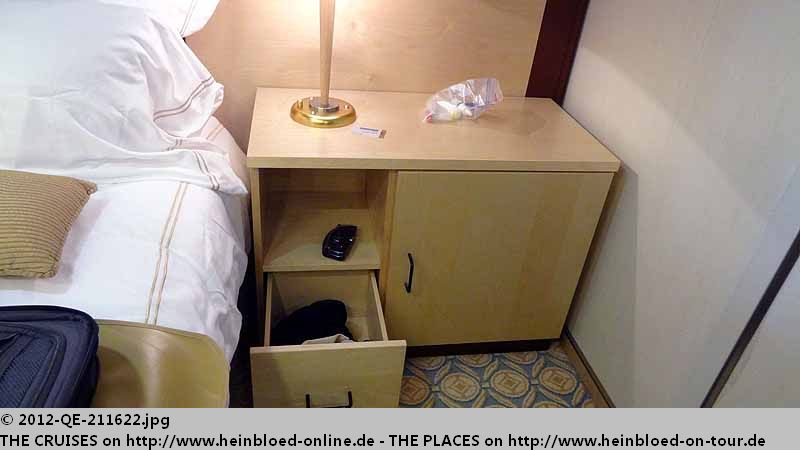 Hier auf der anderen Seite ist es richtig angeordnet.
Schön auch hier gibt es die Schubladen unter dem Bett.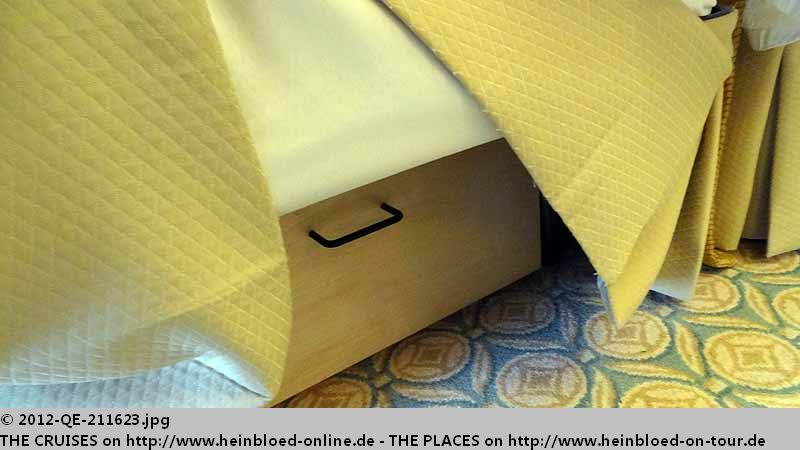 Very nice: the drawers under the beds.

We had enough adapters with us. So we could use all power outlets: UK- and US-outlets can be used as Euro- and USB-outlets.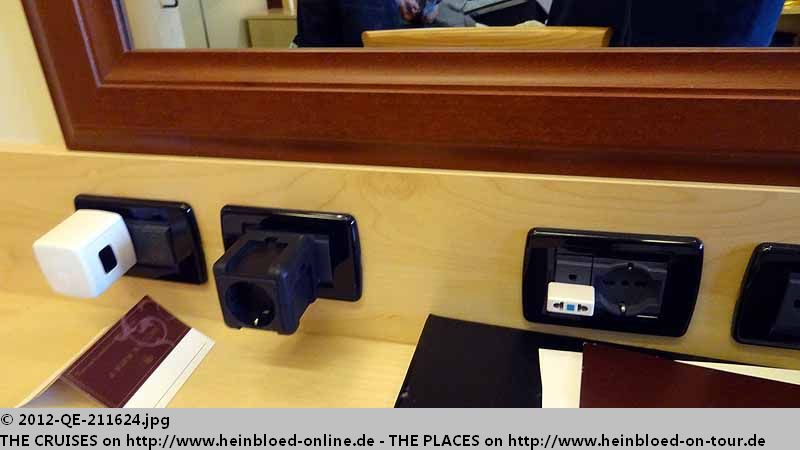 Wir haben genug Adapter mit. So können wir alle Steckdosen nutzen: UK- und US-Stecker stehen jetzt als Schuko-Stecker bzw. USB-Ports zur Verfügung.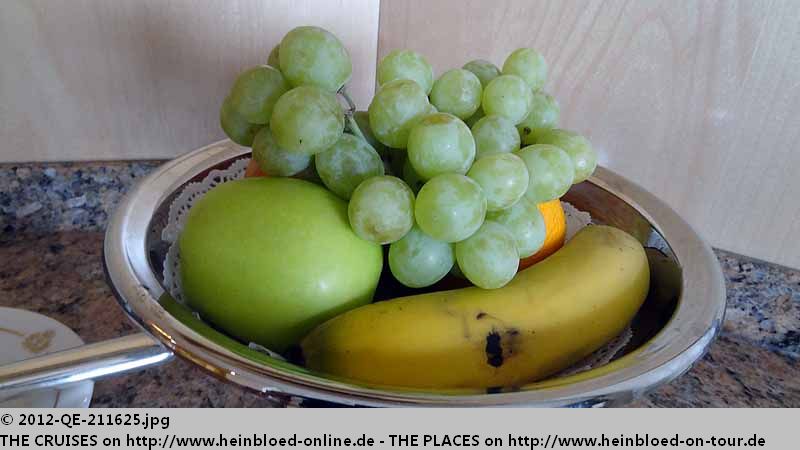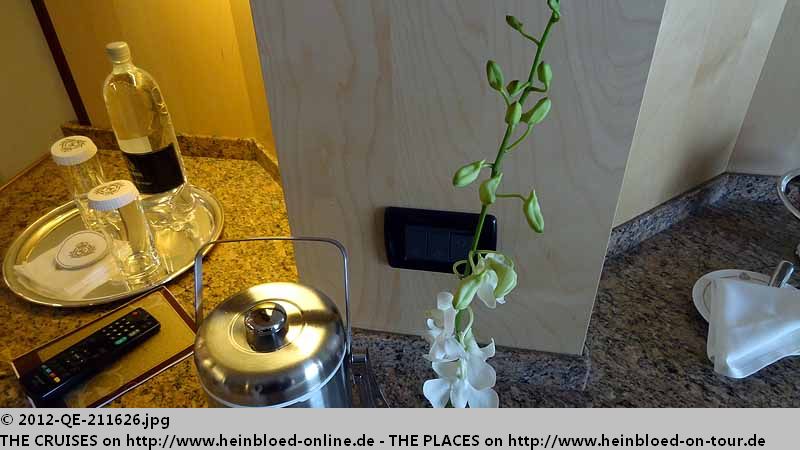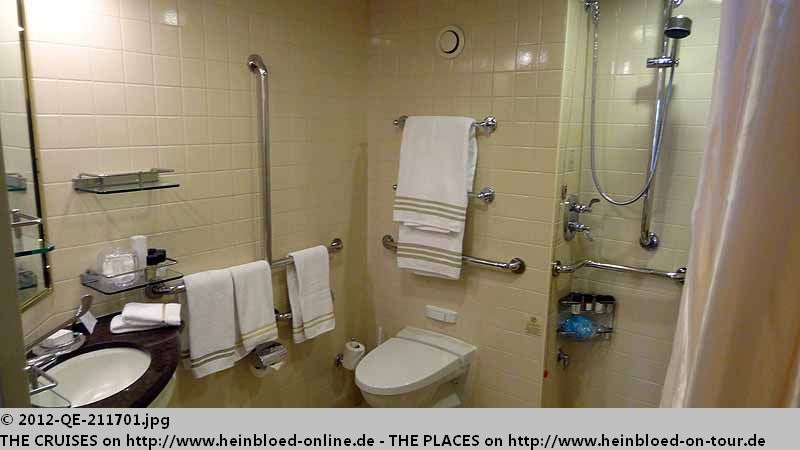 Unter dem Waschbecken fehlt leider die Ablage, weil sonst ein Rollstuhlfahrer nicht hinkommt. Wir hatten übrigens ausdrücklich nachgefragt, ob wir eine andere Kabine haben können, aber das ging wohl nicht, vielleicht weil hier der Boden nicht kalt war und auch die Klimaanlage so gut funktionierte, dass wir nichts abkleben mussten. Die Kritik von der letzten Fahrt hat man sich sehr zu Herzen genommen und dafür gesorgt, das alles in Ordnung ist.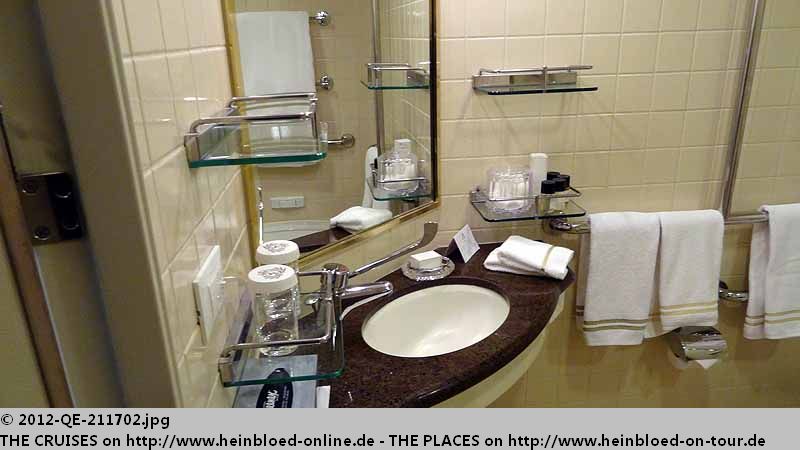 We missed some storage fascilities under the sink but otherwise a wheelchair user cannot reach the sink. We asked to get a different cabin but they could not grant our wish maybe because the floor of the bathroom was not cold and the air-condition worked fine that we did not to change any arrangements. Obviously they listened to our last complaint and made sure everything was working fine.

Anyhow: small critics: for wheel chair users very important that towelswere not hanging high. I dislike the idea that the towels had a contact with the toilet seat.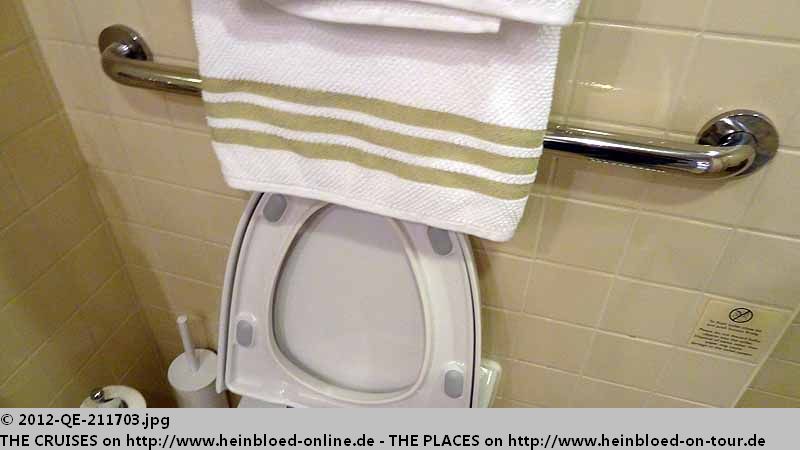 Trotzdem: kleine Kritik: für einen Rollstuhlfahrer sicherlich wichtig, dass die Handtücher nicht so hoch hängen. Ich finde den direkten Kontakt zwischen dem Handtuch und dem WC-Sitz nicht so schön.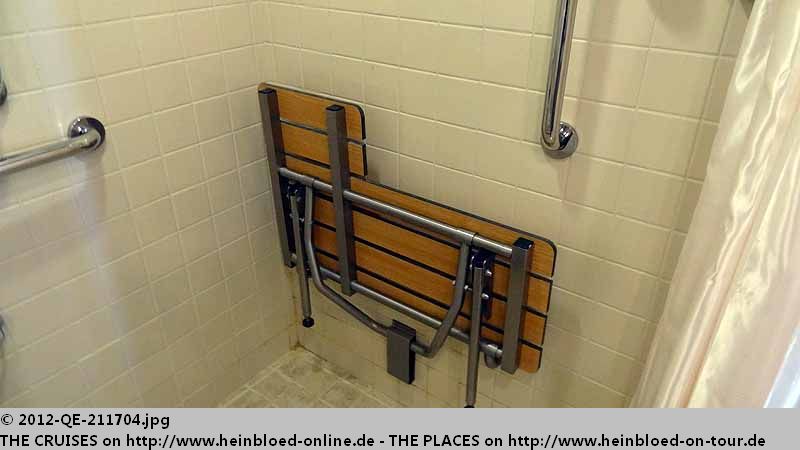 Due to the size of the cabin we had one window more.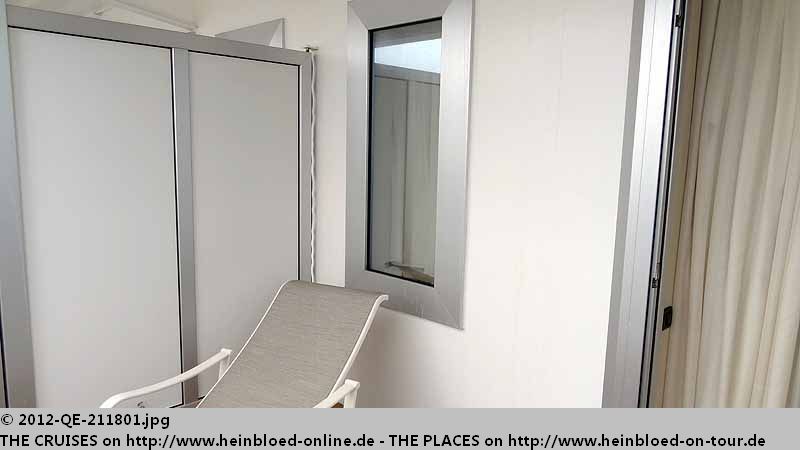 Die Breite unserer Kabine führt dazu, dass wir das Fenster mehr haben.
Es sind keine Liegen da, aber Beinablagen.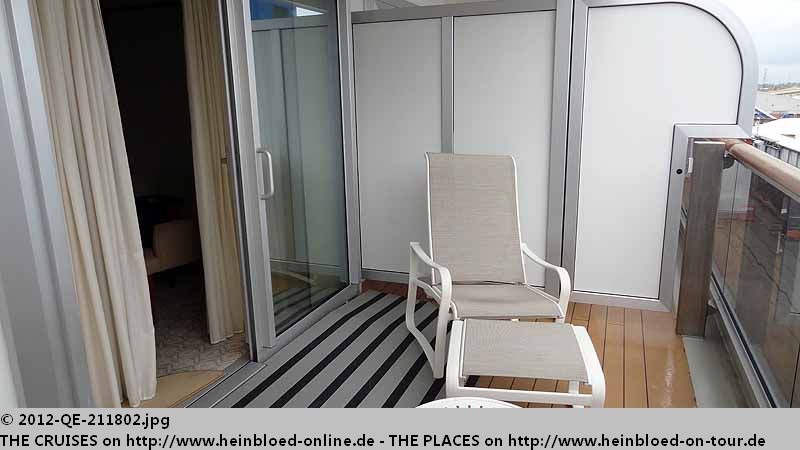 We had no sun lounger but a seperate seat which can be used for our feet.

The gap was closed for wheel chairs. But only if the door is completly open.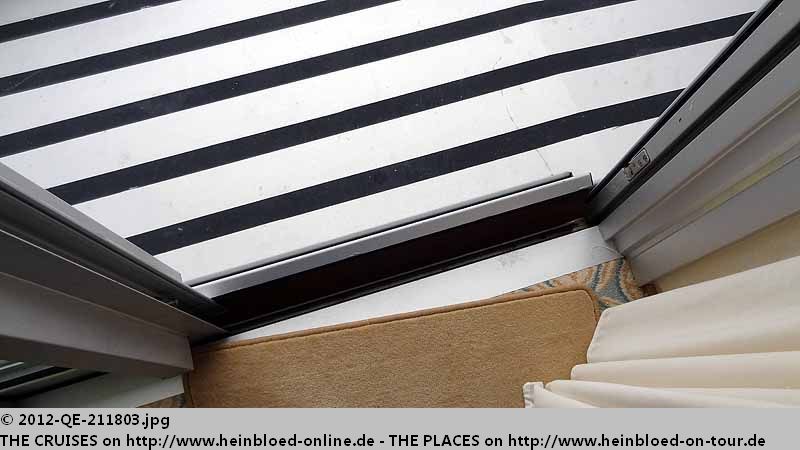 Die Lücke für Rollstuhlfahrer wird geschlossen. Allerdings nur, wenn man die Tür vollständig geöffnet hat.
Dann klappt es runter.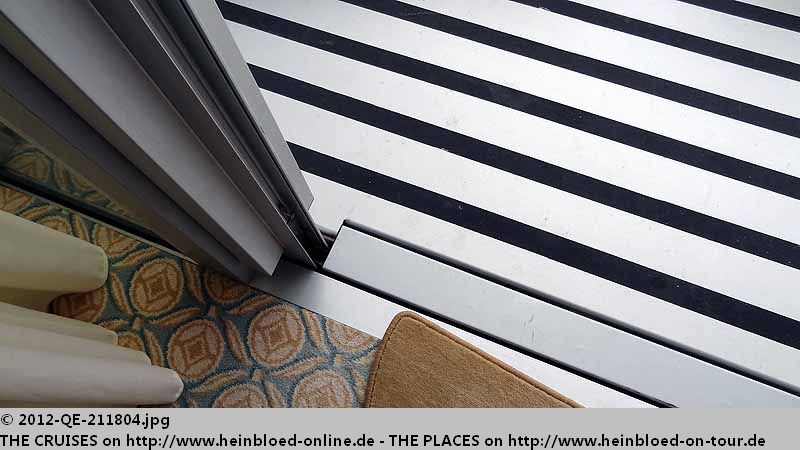 Then it flapped down.

I was too stupid to understand that you need put the position of the handle upright to flap it off. I used my fingers to close the door.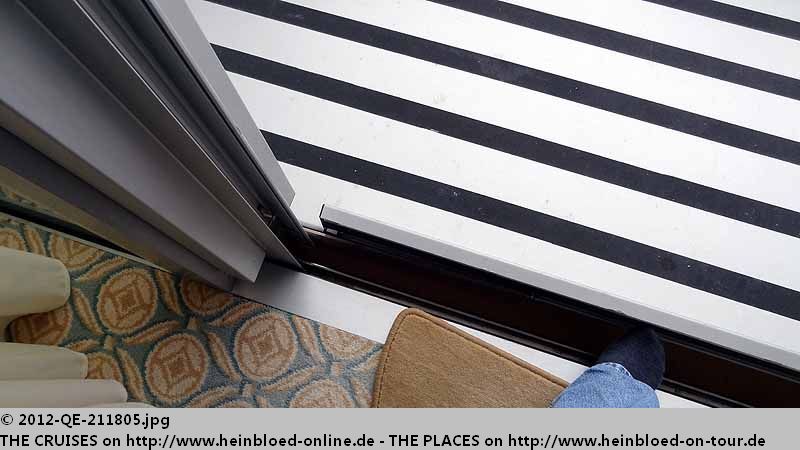 Ich war aber zu blöd, um zu begreifen, dass man den Griff nach unten klappen muss, damit es auch wieder hochklappt. Ich hatte es manuell angehoben, um die Tür wieder schließen zu können.