Scroll down for English explanations - alternates with German explanations.

Wir verbringen den Vormittag in der Grill's Lounge und ich probiere die alkoholfreien Cocktails durch.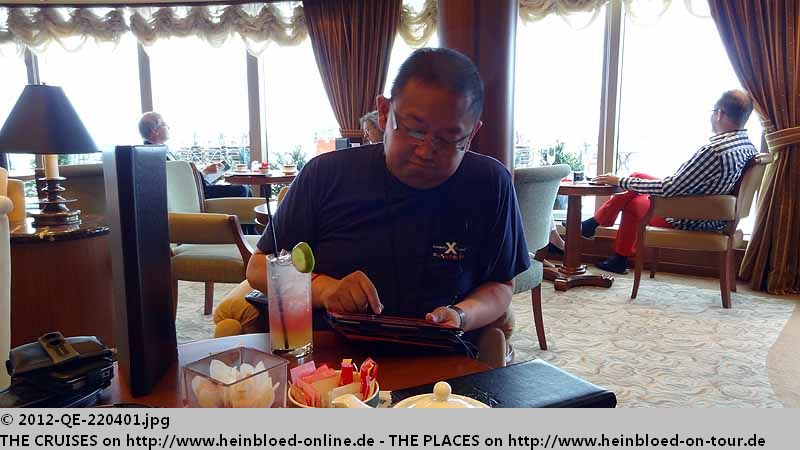 We stayed the morning in the Grill's Lounge and tried few alcohol-free cocktail.

The public toilets were supplied with towels and potpourri.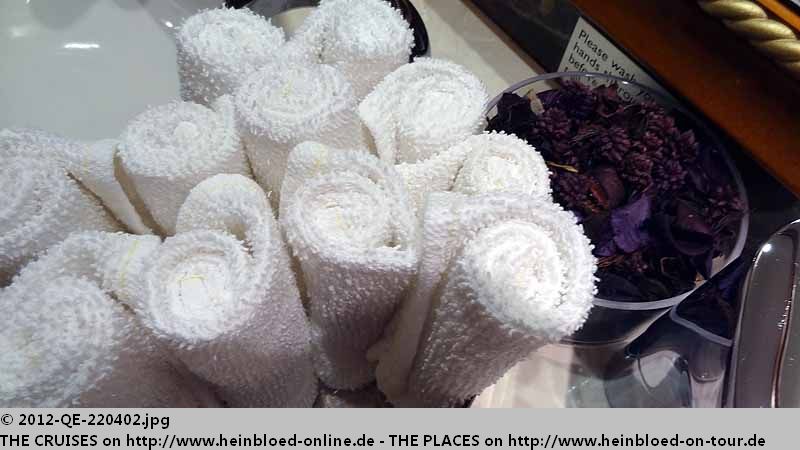 Die öffentlichen Toiletten sind hier mit Handtüchern und Potpourri ausgestattet.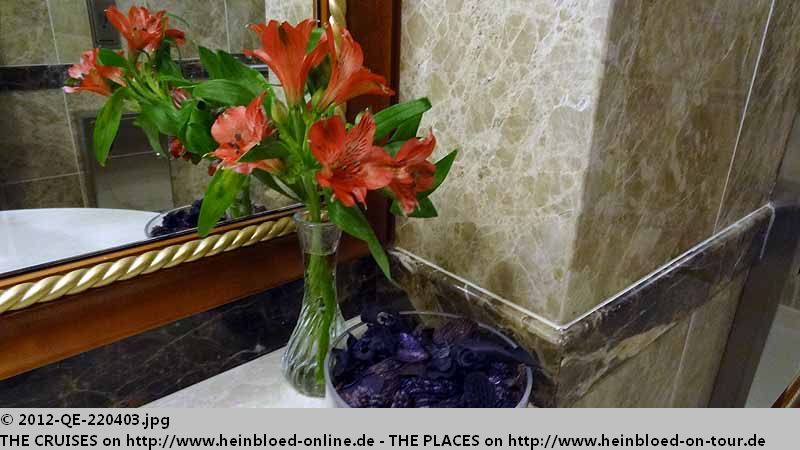 I had a look if I could discover QUEEN MARY 2 somewhere...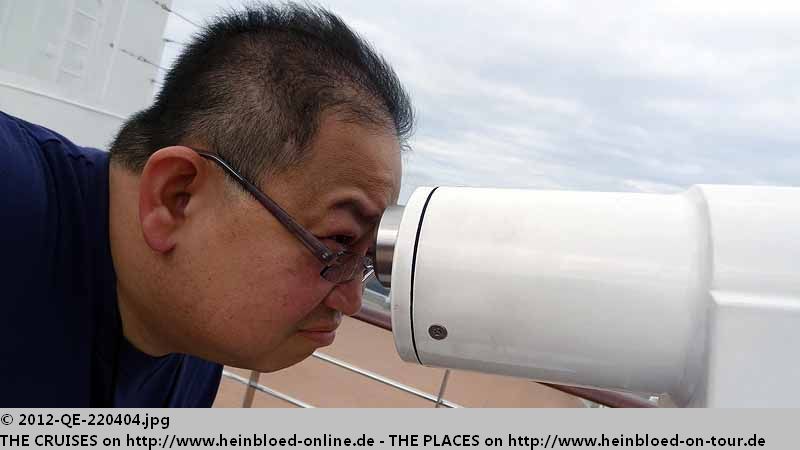 Ich gehe mal gucken, ob ich irgendwo die QUEEN MARY 2 entdecke...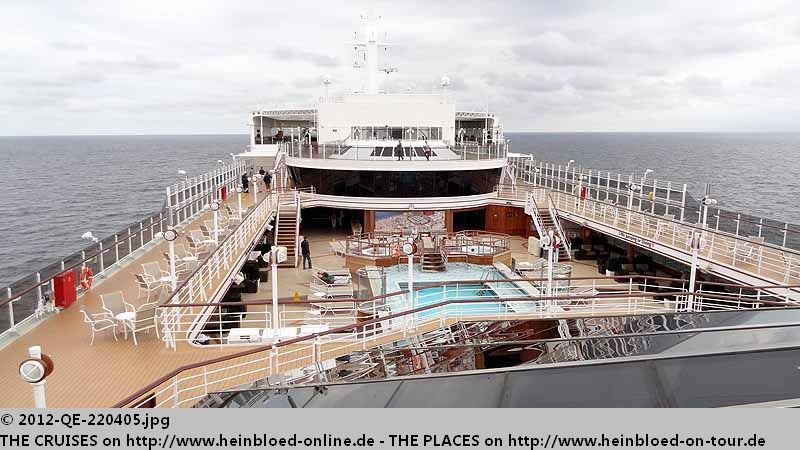 The picture was not bad. But we did not like the frame because we did not go for St. Petersburg. Since we learned on OCEAN COUNTESS we knew that we could ask for a copy without frame. That what we did again.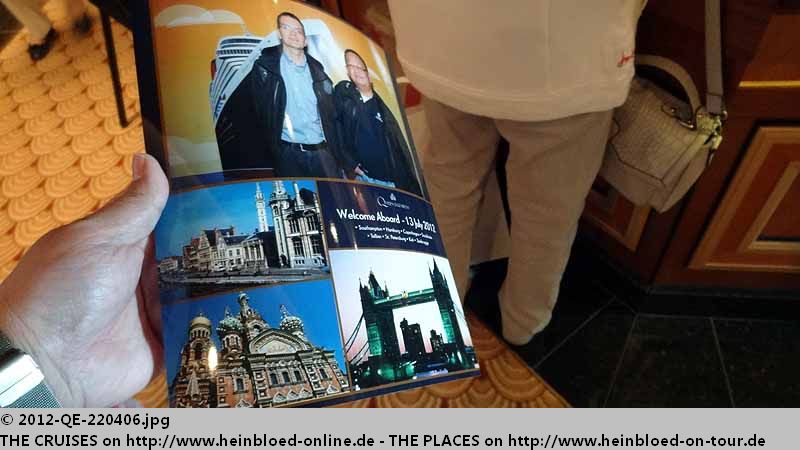 Das Bild ist nicht schlecht. Nur der Rahmen ist blöd, weil wir ja gar nicht bis St. Petersburg fahren. Seit der OCEAN COUNTESS wissen wir ja, dass wir einfach um einen Abzug ohne Rahmen bitten können. Das machen wir auch dieses Mal.
Noch immer will Bruno keine Coffee Card.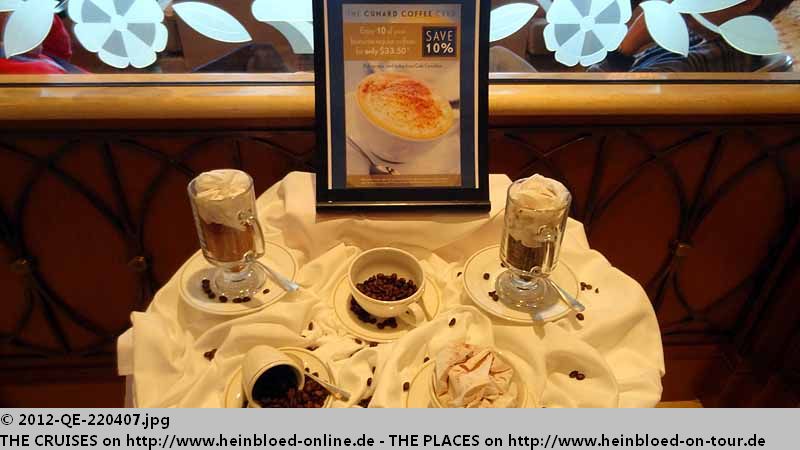 SBruno still did not want to have a coffee card.

From the welcome show we knew that we could see a silver model of QUEEN ELIZABETH 2 in the Yacht Club.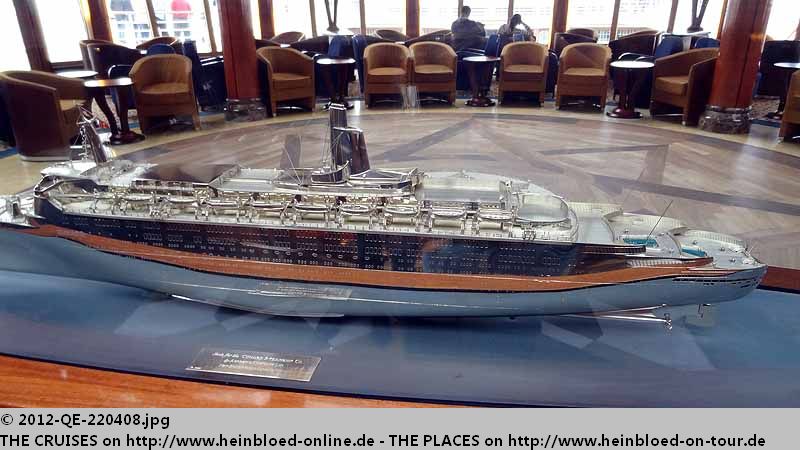 Durch die Willkommensshow wissen wir, dass hier oben im Yacht Club das silberne Modell der QUEEN ELIZABETH 2 steht.
Und das ist noch die Schiffsglocke von der alten QUEEN ELIZABETH...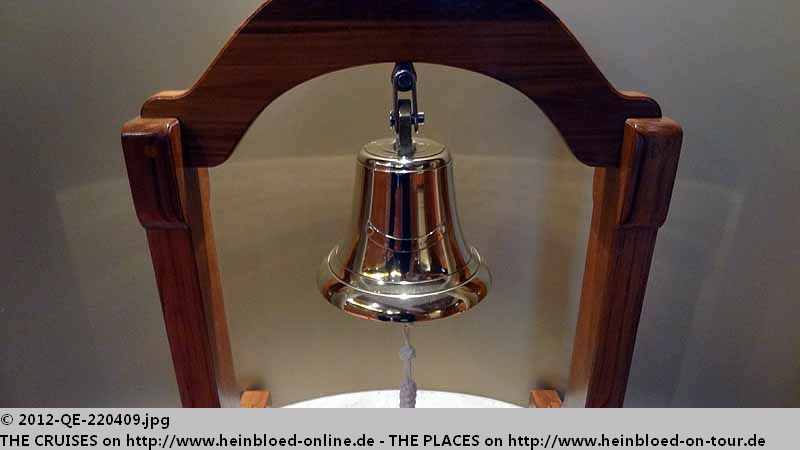 Here is the ship bell of the previous QUEEN ELIZABETH...

from James Bond 007 "You only live twice"... which sank near Hong Kong.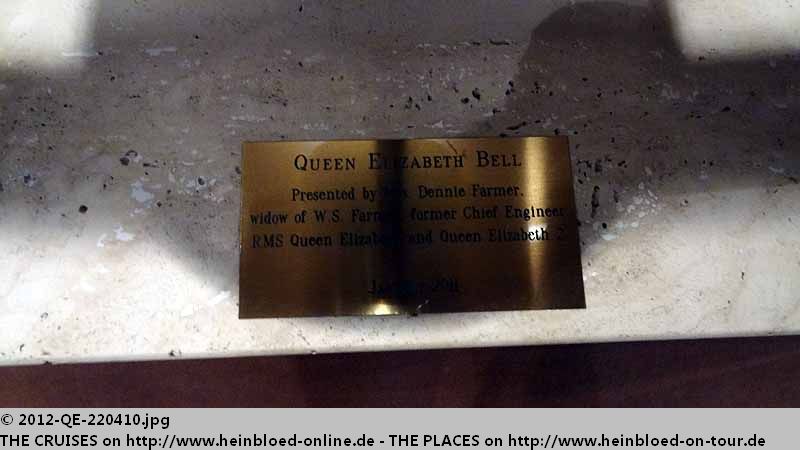 aus James Bond 007 "Man lebt nur zweimal"... die vor Hongkong gesunken ist.
Und hier die Aufstellung der Masters der QUEEN ELIZABETH 2.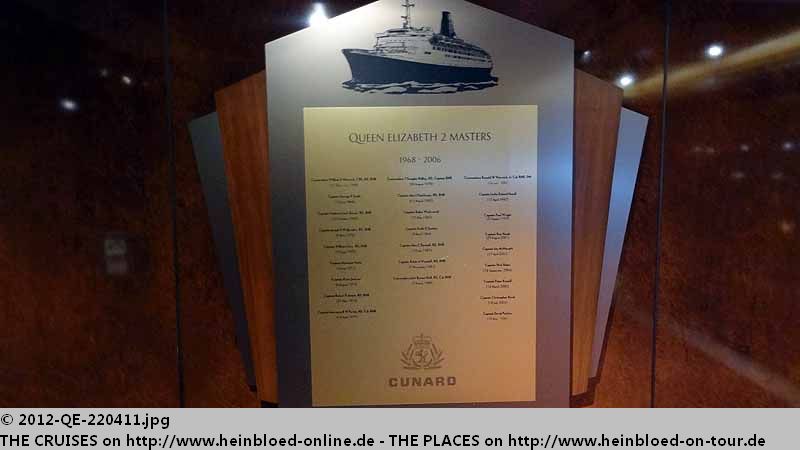 And here a list of all masters of QUEEN ELIZABETH 2.

So in Dubai there is no ship bell as it is here.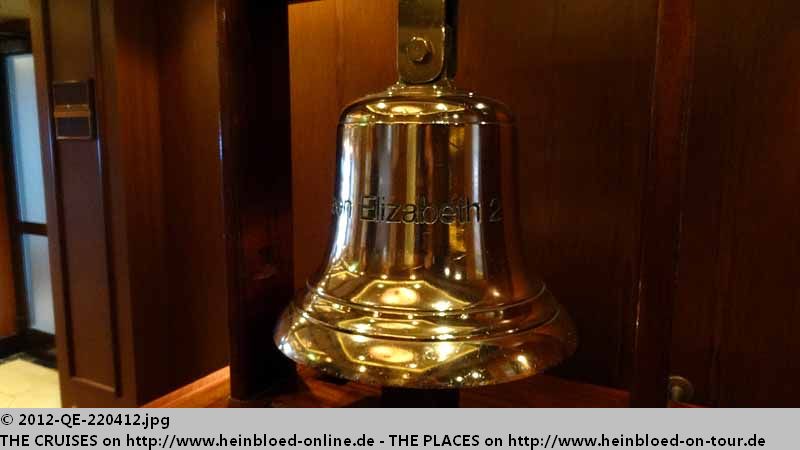 Und dazu die Schiffsglocke. D. h. in Dubai fehlt also die Schiffsglocke.
Richtig schön: Commodore Christopher Rynd und Sophia Thyssen (übrigens nicht aus dem Siegerland) gehen durch das Schiff und begrüßen ihre Gäste und sind für offen für die Fragen. Etwas, das wir zuletzt doch schmerzlich auf der ZAANDAM vermisst haben. Uns erklärt er an dem Modell den Unterschied zwischen der QUEEN VICTORIA und QUEEN ELIZABETH.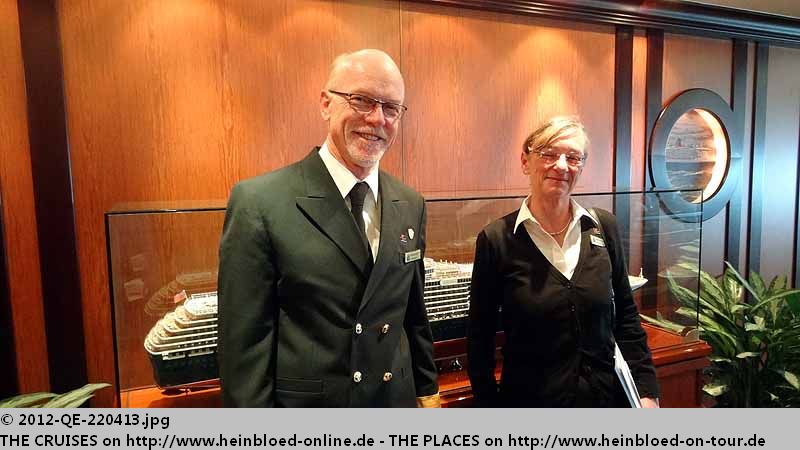 Very nice: Commodore Christopher Rynd and Sophia Thyssen (by the way not from the German region around Siegen) went through the ship and greeted all their guests and were open for questions. Something we really missed recently on ZAANDAM. He explained here at the model the difference between QUEEN VICTORIA and QUEEN ELIZABETH.

Just behind us: QUEEN MARY 2.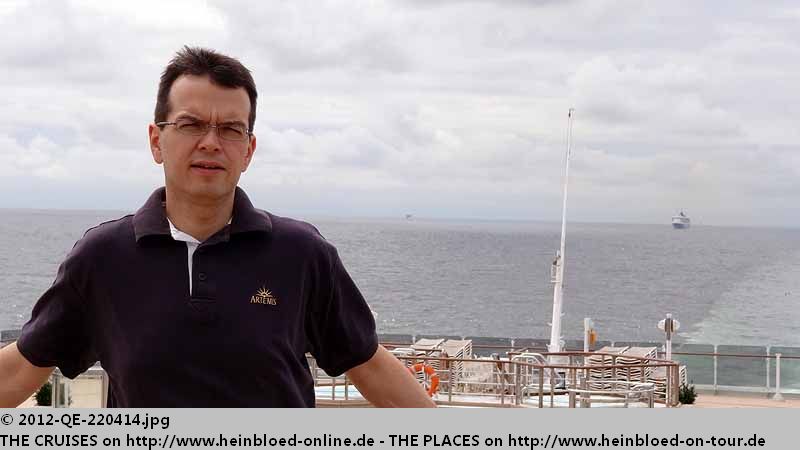 Hinter uns immer noch die QUEEN MARY 2.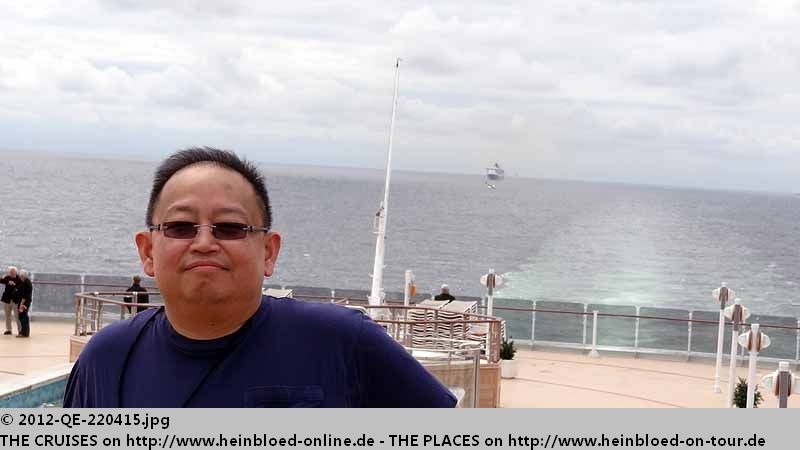 Can I deliver Bruno here?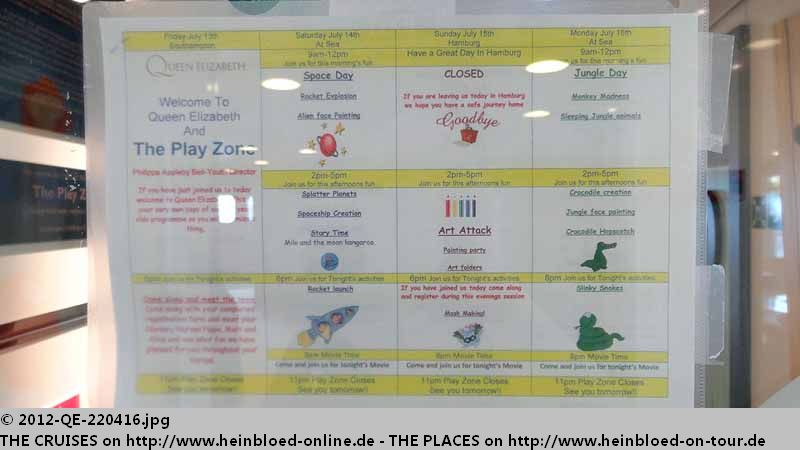 Ob ich hier Bruno abgeben kann?
Hier gäbe es aber eine Ecke, in der ich ihn platzieren kann, bis dass das Restaurant öffnet.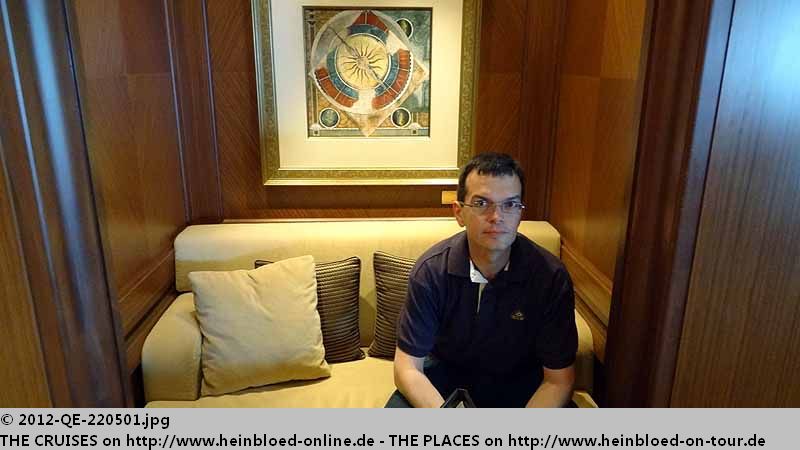 Or here I could place him in this corner to wait until the restaurant opens.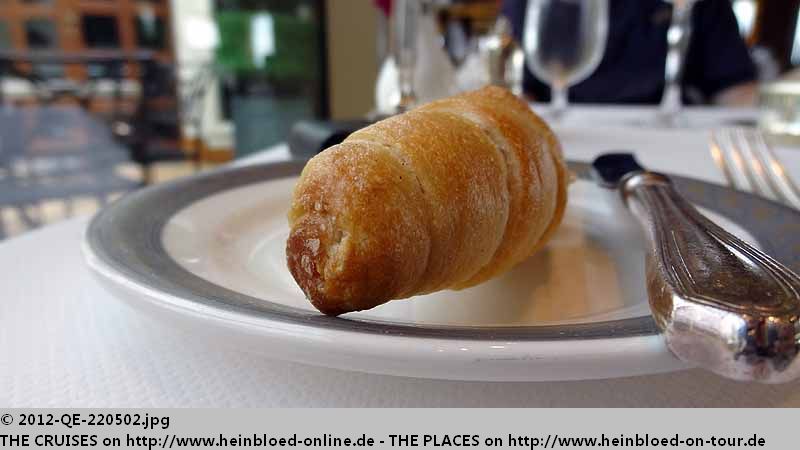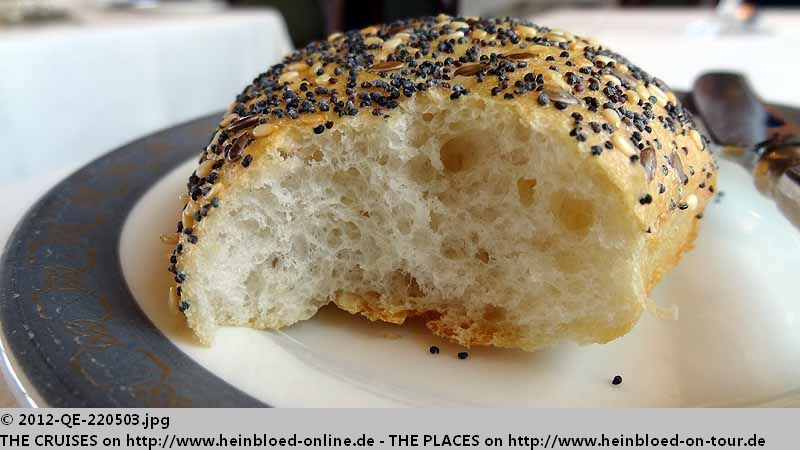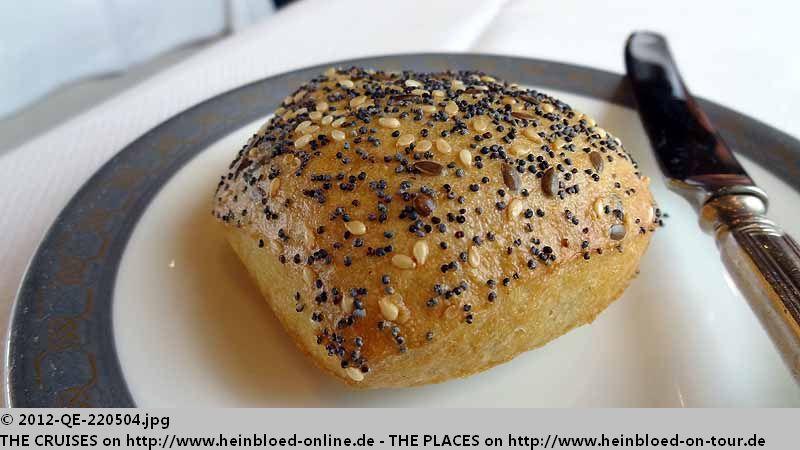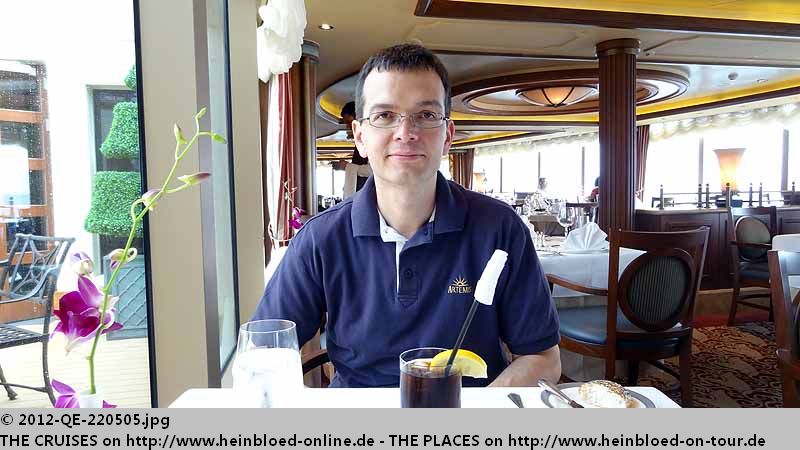 Indian food... was also available in the Britannia Restaurant.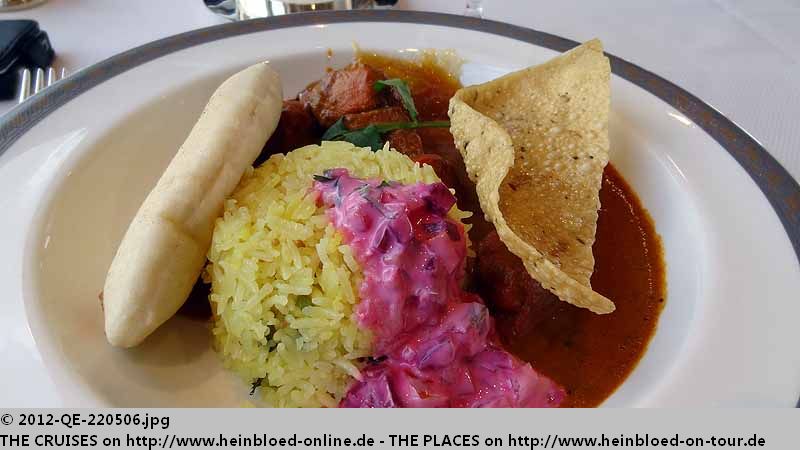 Indisch... gab es aber auch im Britannia Restaurant.
Als ich das letzte Mal Chutney zum Curry haben wollte, hieß es, dass es keines an Bord gibt. Mal gucken, ob sie für mich das nächste Mal zum Princess Grill laufen...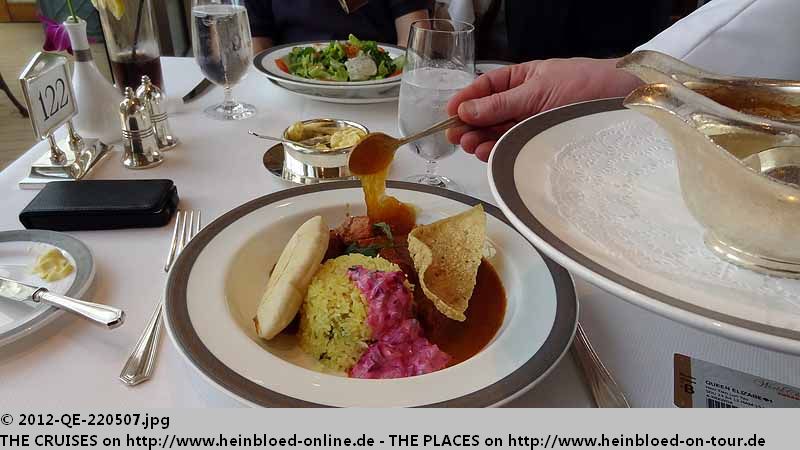 When I wanted to have some chutney last time for the curry they told that there was none on the ship. Let's see if I could ask them to find some in the Princess Grill for me...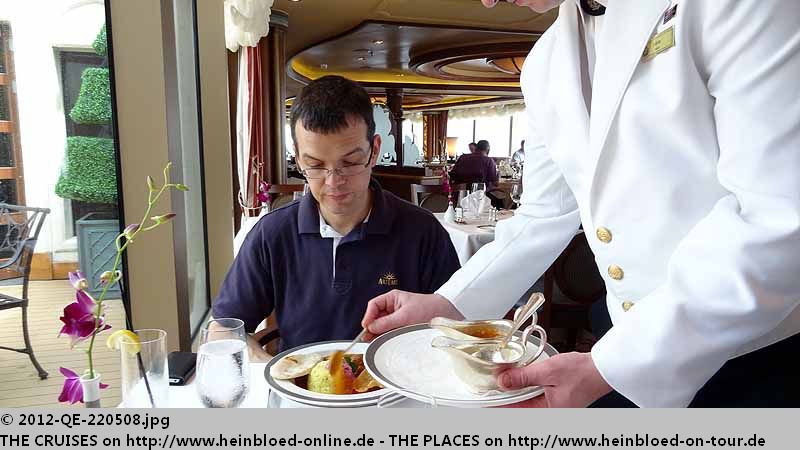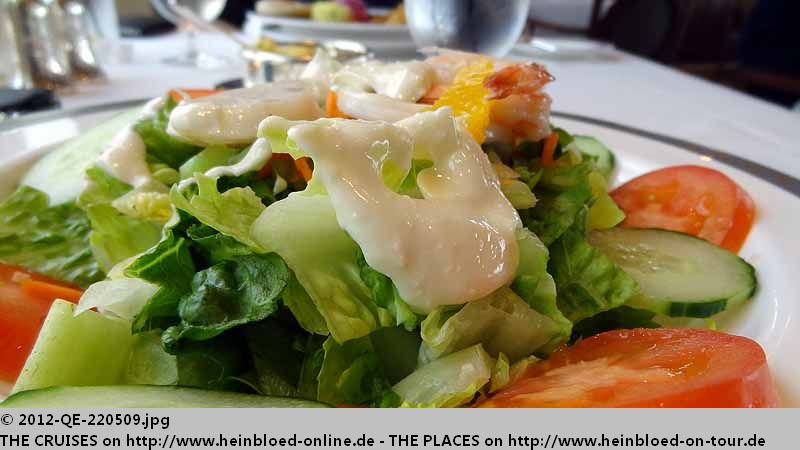 By the way: juices (incl. freshly squeezed orange juice) was free of charge in the Princess Grill during the meals.

Übrigens die Säfte (inkl. frisch-gepresster Orangensaft) gibt es im Princess Grill kostenlos zu den Mahlzeiten.
Den Nachmittag verbringen wir auf dem Balkon.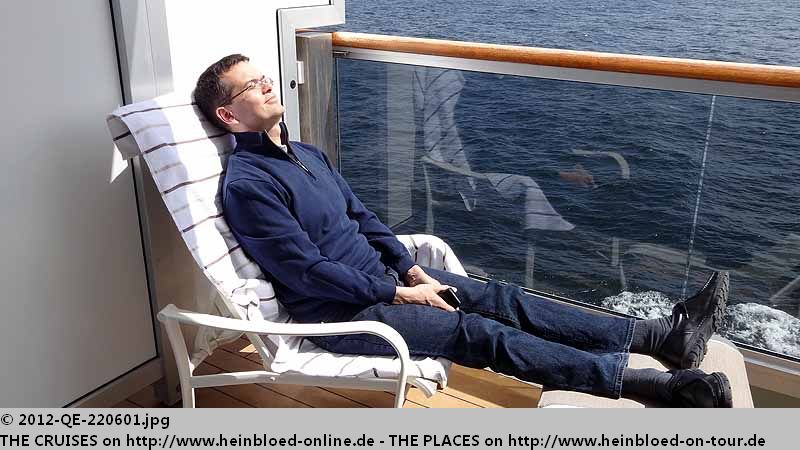 We stayed the afternoon on our balcony.

Many others too stayed outside.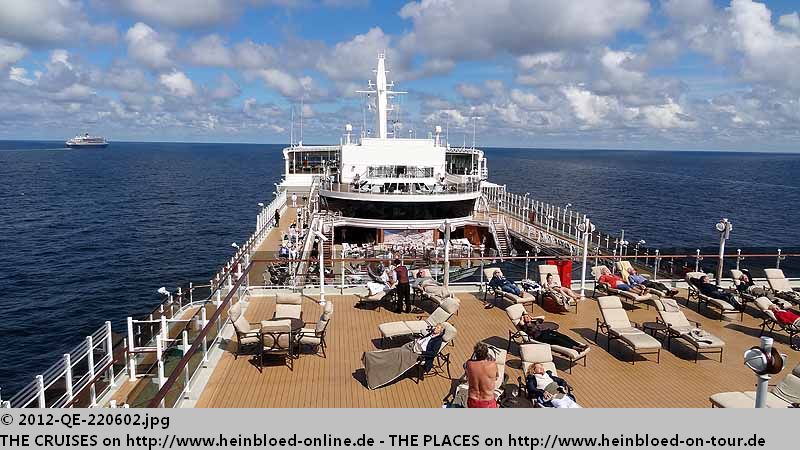 Viele andere bleiben auch draußen.
Ich hatte mittags Probleme mich mit meinem iPhone einzuloggen. 56 Minuten gehen so verloren.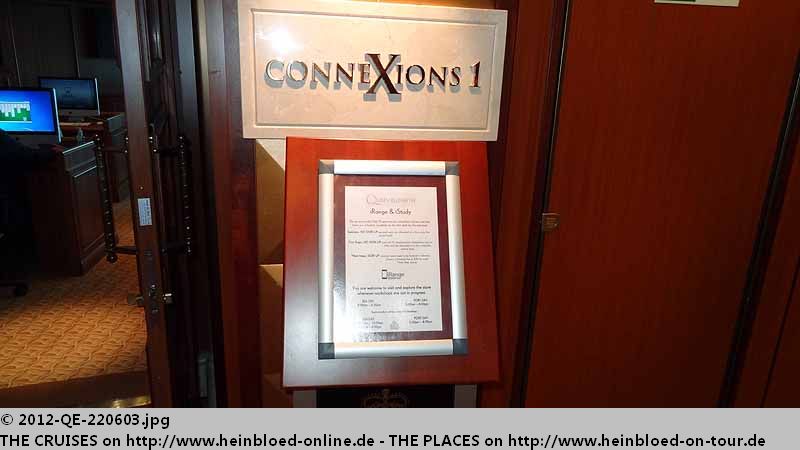 I had during noon some problems to get logged in with my iPhone. 56 minutes got lost.

But I got a credit when I said that I had not browsed.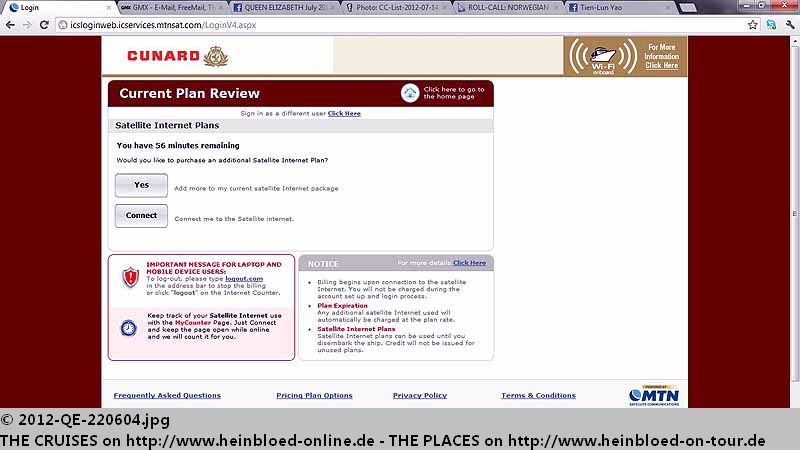 Aber man schreibt sie mir wieder gut, als ich erkläre, dass ich nicht surfen konnte.
Post...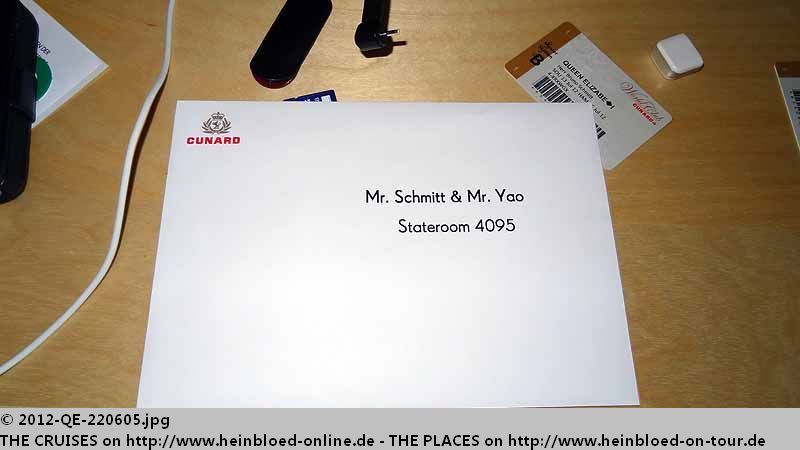 Mail...

Our tickets for the theater boxes... Hope it works this time.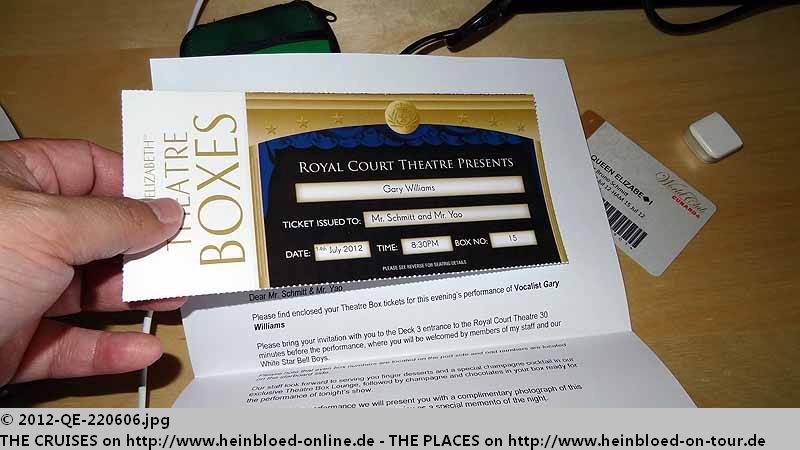 Unsere Tickets für die Theaterloge ist da... Hoffentlich klappt es dieses Mal.
Bloß als wir gerne einen Reisescheck einlösen wollten, damit die Kreditkartenrechnung nicht unnötig hoch ausfällt, hieß es, dass bei Cunard auch keine Reiseschecks mehr angenommen werden.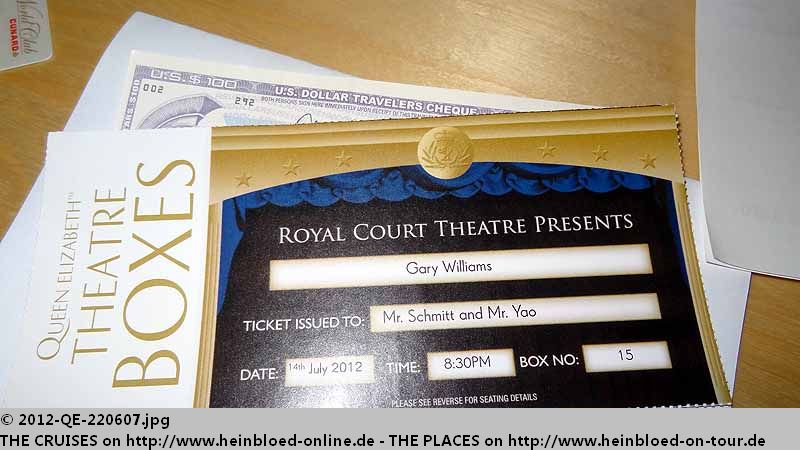 When we wanted to add a traveller's check to our account to decrease the charge to our credit card we learned that Cunard does not accept traveller's check anymore.