Scroll down for English explanations - alternates with German explanations.

Auf in unsere Theaterloge: für zwei Personen 55,00 USD... zzgl. 15% und jede weitere Person noch etwas... aber da die weitere Person mitliest, nennen wir die Summe nicht... Sie sind nämlich eingeladen.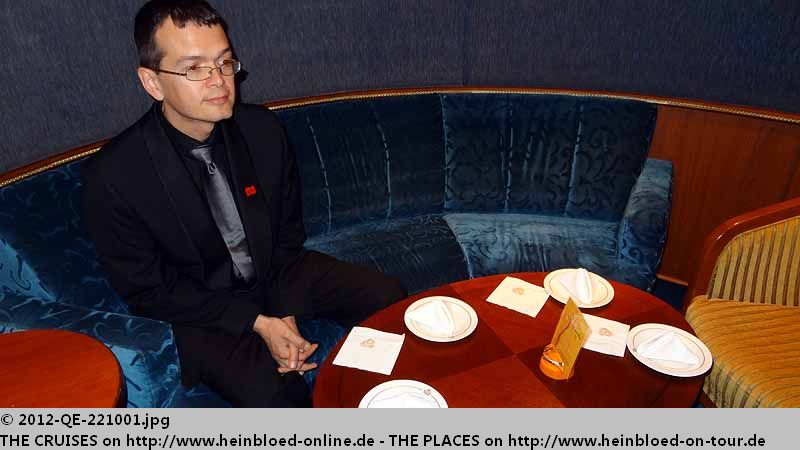 Let's see our theater box for two persons 55.00 USD plus 15% plus a surcharge for each additional person but as they were invited we do not mention the amount.

If we would know this before we would go the 2nd show.... Who should eat this all?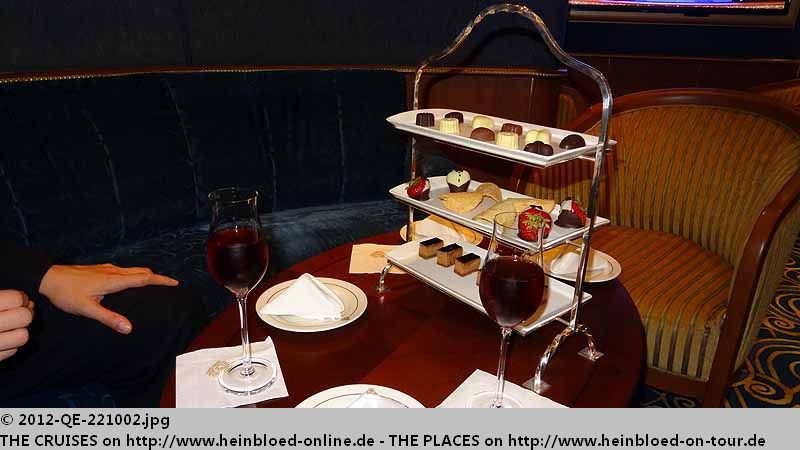 Hätte ich das gewusst: wir wären zur 2. Show gegangen... Wer soll denn das alles noch essen?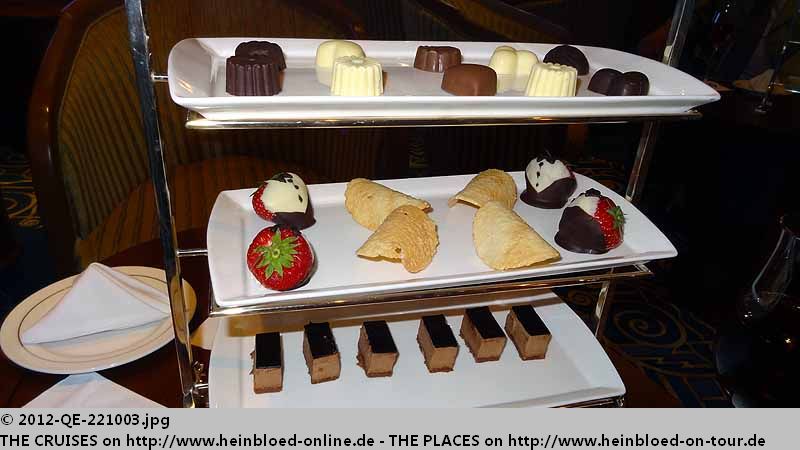 Our guests were Dennis Behringer and Verena Mauch. Dennis was with us 2007 on JEWEL OF THE SEAS but we did not meet then. Nowadays we meet more in Facebook and other internet boards. The Bellboys bring the sweets and our glasses to our box.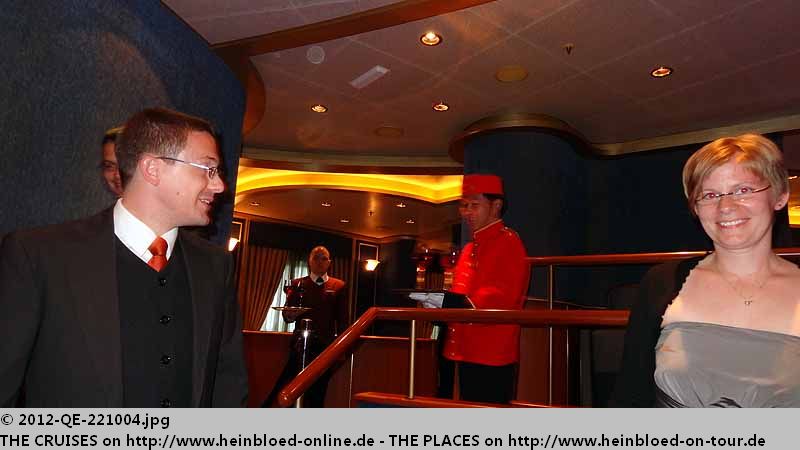 Unsere Gäste sind Dennis Behringer und Verena Mauch. Dennis war mit uns schon 2007 auf der JEWEL OF THE SEAS mit an Bord, aber damals sind wir uns nicht begegnet. Mitlerweile treffen wir uns mehr bei Facebook als in den Foren. Die Bellboys bringen uns die Süßigkeiten und Gläser hinterher.
Wir hatten die Royal Box für 4 Personen...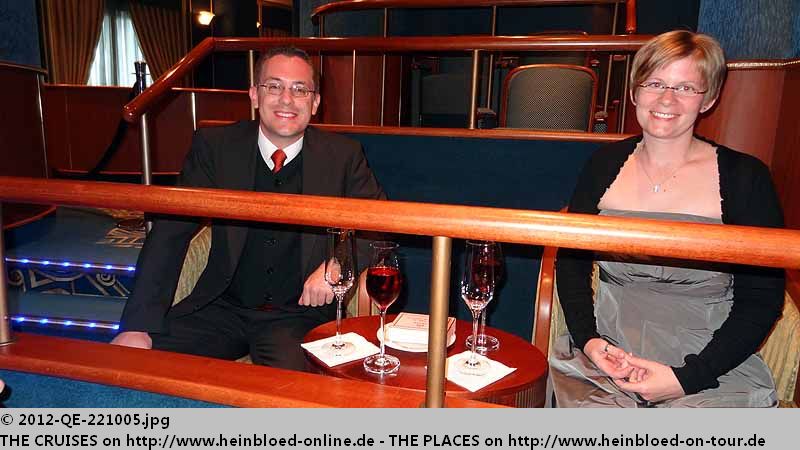 We booked the Royal Box for 4 persons...

For them and for us we got each 1/2 bottle of Veuve Cliqot... I thought if this would be a good start to drink.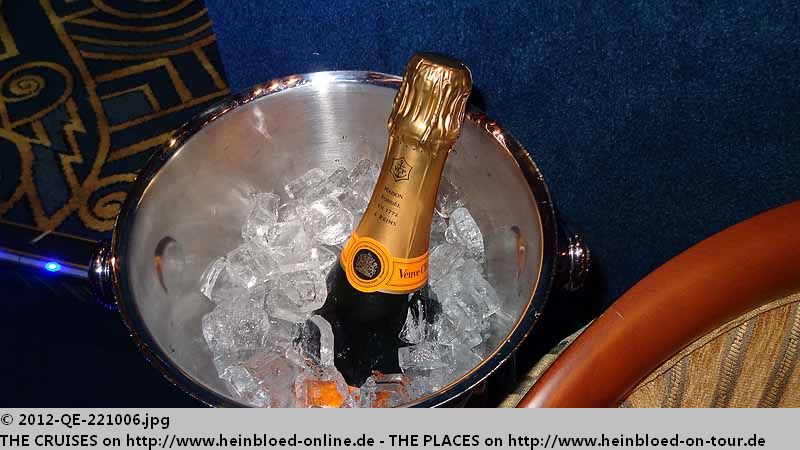 Für sie und für uns gab es noch eine 1/2 Flasche Veuve Cliqot... Ich überlege mir schon, ob ich heute Abend mit dem Trinken anfangen soll...
Es liegen für uns Champagner-Trüffel bereit... und ich trinke doch ein wenig vom Apéritiv...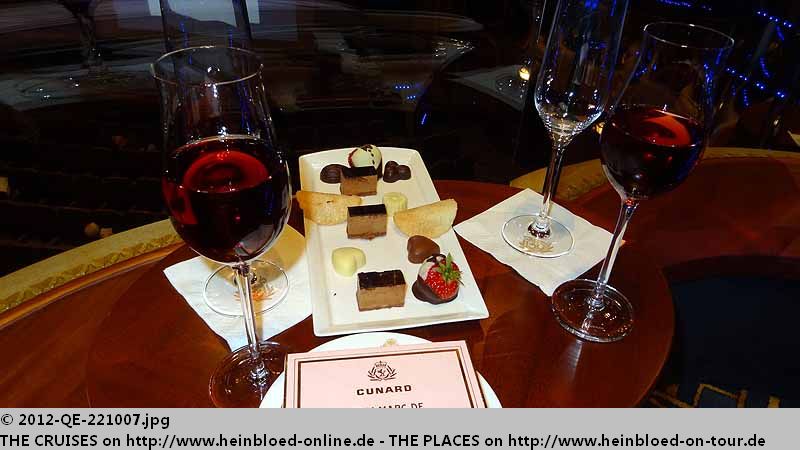 On the stage was Gary Williams. A star from London's West End who became famous due his performance as Frank Sinatra in the Rat Pack... Interesting: the Rat-Pack-Era ended 1966 and the show came 2000 on London's stage... I had always the impression that he wanted to beat Holland America with his selection of the music... He caugth me finally with the 3rd in the team: Sammy Davis Jr.'s Candy Man... The song before Volare by Dean Martin might be something for my grandparents - just to quote our Cruise Director from ZAANDAM...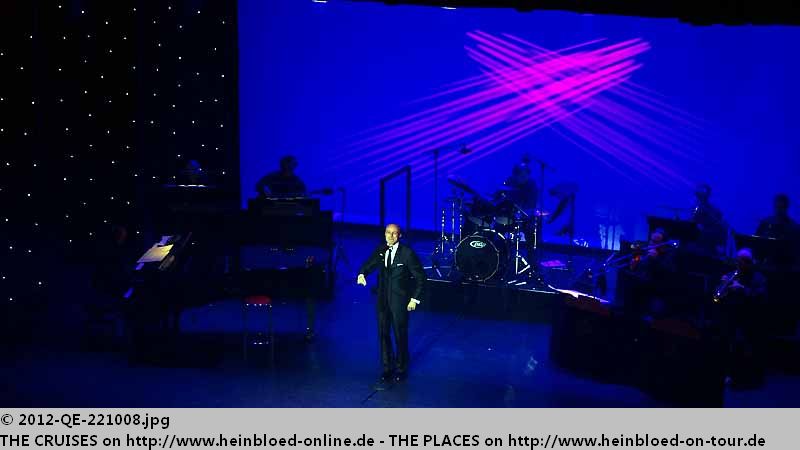 Auf der Bühne stand
Gary Williams
. Ein Star des Londoner West Ends, der durch seinen Auftritt als Frank Sinatra in the Rat Pack bekannt wurde... Interessant: die Rat Pack-Ära endete eigentlich 1966 und 2000 ist das Stück erst in London auf die Bühne gekommen... Ich hatte immer den Eindruck gehabt, dass er heute Abend in Auswahl Musik Holland America schlagen wollte... So richtig in Stimmung gekommen, bin ich erst beim 3. im Bunde der Rat-Packs: Sammy Davis Jr. mit seinem Candy Man... Volare zuvor von Dean Martin war etwas für unsere Großeltern, wie so schön damals unser Cruise Director von der ZAANDAM meinte...
Er kam dann zwischendurch runter... und konnte sich frei zwischen den Reihen bewegen...
Dann wurde es leider immer schlimmer... Ich liebe ja eigentlich "Get your kick on Route 66", ABER... nicht wenn man dann eine nordenglische Version spielt, die irgendwo zwischen
Middle Fritham und
Nether Addlethorpe spielt statt zwischen St. Louis und San Bernandino... und natürlich nicht ohne vorher abzufragen, woher die englischen Landsmannschaften her kommen... nur Grimsby kannte ich zufällig: Aus Enids Blytons "Geheimnis um"-Bücher (Kennt sie eigentlich noch jemand angesichts von Harry Potter und Super Mario? - Es war Teil meiner Kindheit).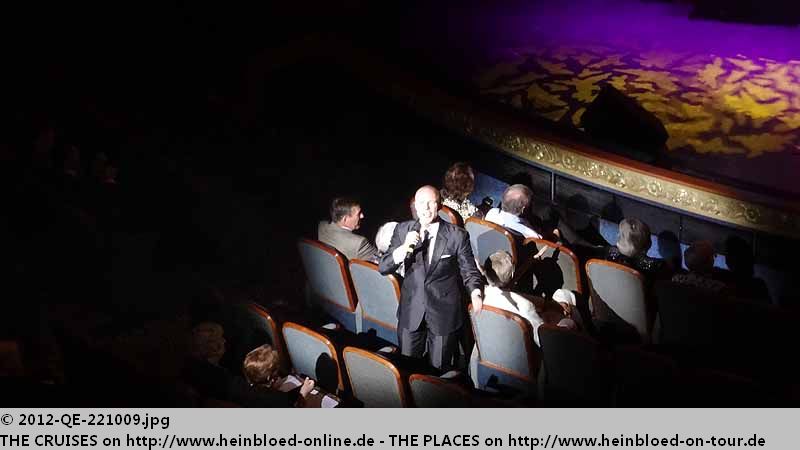 From time to time he came down to move between the rows... Then it became worse and worse... Normally I love "Get your kick on Route 66" BUT not if it is a Norther English version which happens somewhere between villages a non Englishmen never heared before but St. Louis and San Bernandino... and of course with asking where the different English guests were coming from... The only place I knew was Grimsby due to Enid Blyton's Mystery books from my childhood (Does anyone know the books as we have nowadays Harry Potter and Super Mario?)

He had the honour to sing Burt Bacharach songs in front of Burt Bacharach during a show... Tonight he choosed the three songs which I mostly dislike: Perry Como's Magic Moment, Do you know the Way to San José? and Close to you... Und my favorite songs would be: Dusty Springfield: The Look of Love, Aretha Franklin: I say a little Prayer and the Oscar awarded Arthur's Theme by Christopher Cross. But I guess it was my individual problem and a question of personal taste and others in the audience might love his selection.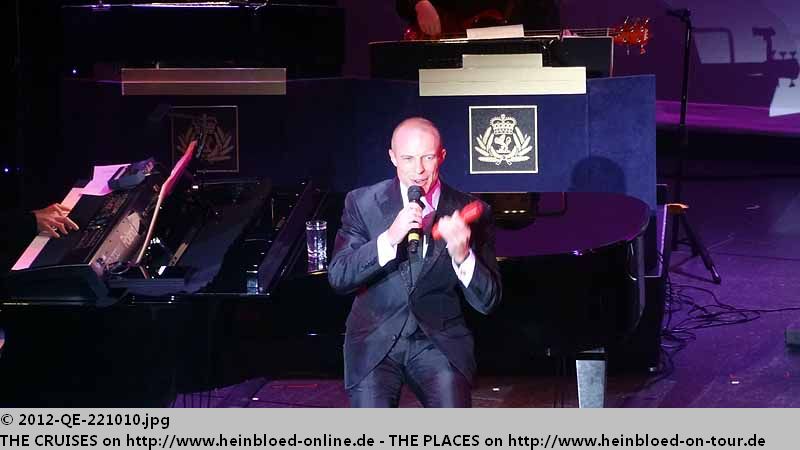 Er hatte mal die Ehre im Rahmen einer Burt Bacharach Show vor Burt Bacherach zu singen... Heute Abend wählt er so ungefähr die drei Hits aus, mit denen ich am Wenigsten anfangen kann: Perry Comos Magic Moments (Jacobs Kaffee-Werbung zu Weihnachten...), Do you know the Way to San José? und Close to you... Und meine Lieblinge wären gewesen... Dusty Springfield The Look of Love, Aretha Franklin I say a little Prayer und natürlich ein Oscar-Hit: Christopher Cross Arthur's Theme. Vermutlich war es aber mal wieder ein persönliches Problem. Ich könnte mir schon vorstellen, dass der Rest vom Publikum der Auswahl ganz angetan war.
Zum Schluss gab es natürlich Frank Sinatras My Way... wobei es ja schön gewesen wäre, wenn man eine Strophe angesichts des hohen Anteils deutscher Gäste, vielleicht auch in einer Fassung von Harald Juhnke gesungen hätte. Insgesamt war der Abend o.k., aber die Box hat schon den Nachteil, dass man im Glas die Nottreppenlichter sieht und man eigentlich recht voll ist, wenn man vom Essen kommt.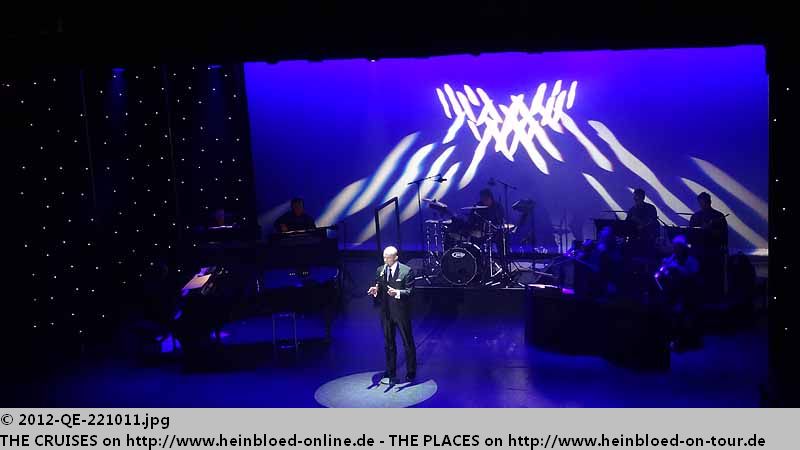 Finally we had Frank Sinatra's My Way... although it would be nice to have this in a German version of Harald Juhnke due to the high number of German guests. The evening was o.k. but the box had the disadvantage that the emergency lights of the stairs were always visible in the glass and you were full when you come from dinner.

With the selection of the cabin Cunard did us a favour as the balcony was much more deeper than the balconies above us.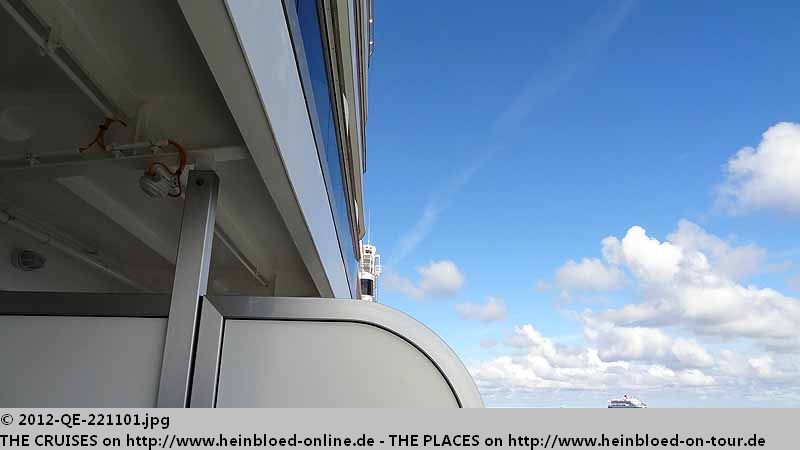 Mit der Auswahl der Kabine, über die ich zuerst gemeckert habe, hat uns Cunard doch einen großen Gefallen getan: Wie man sieht: sie ist tiefer nach oben hin...
Mit dem kleinen Nachteil... dass man von oben uns die Zigarettenkippen reinwerfen kann. Aber bei Cunard ist das eher unüblich. Da haben wir nichts gefunden. Nur einmal wurde ich Zeuge, wie einer wohl eine Flaschenpost ins Wasser geworfen hat.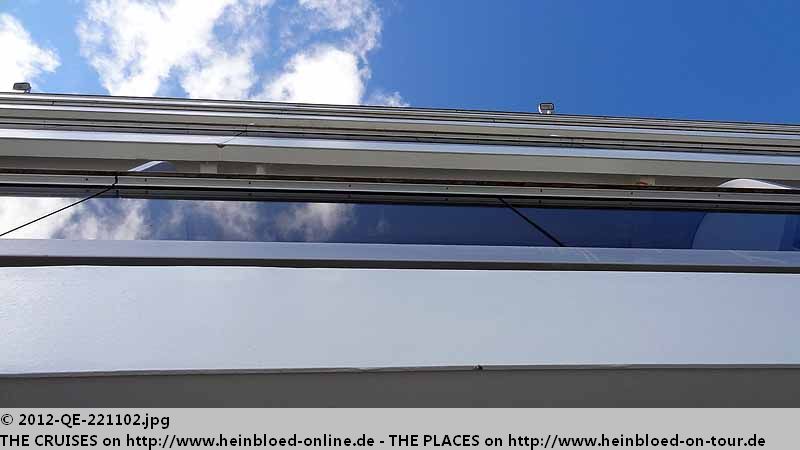 With a small disadvantage... that you can throw your cigarettes into our balcony. But with Cunard it was somehow not usual as we could not find any. Only once I became witness when someone throw a message in a bottle into the sea.

My Douglas Ward was back... Now we had no breakfast menu anymore.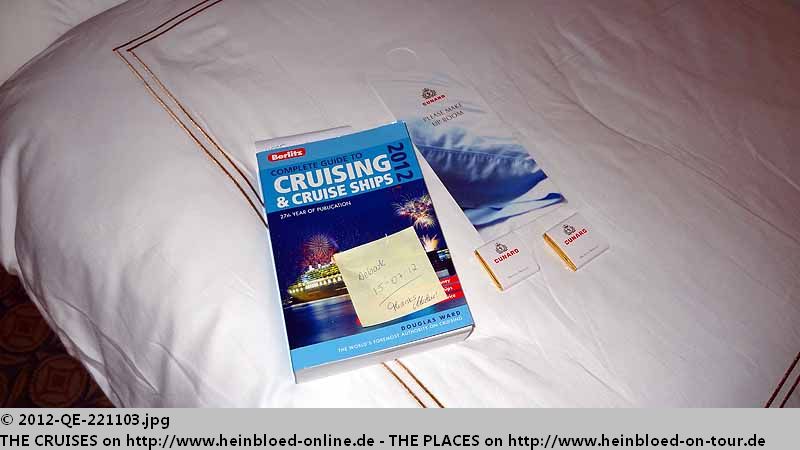 Mein Douglas Ward ist zurück... Nur es gibt keine Frühstückskarte mehr.
Der Bar-Pianist ist auch nicht übel. Nur leider kann man in zwei Tagen nicht alle Künstler sich anhören. Schade.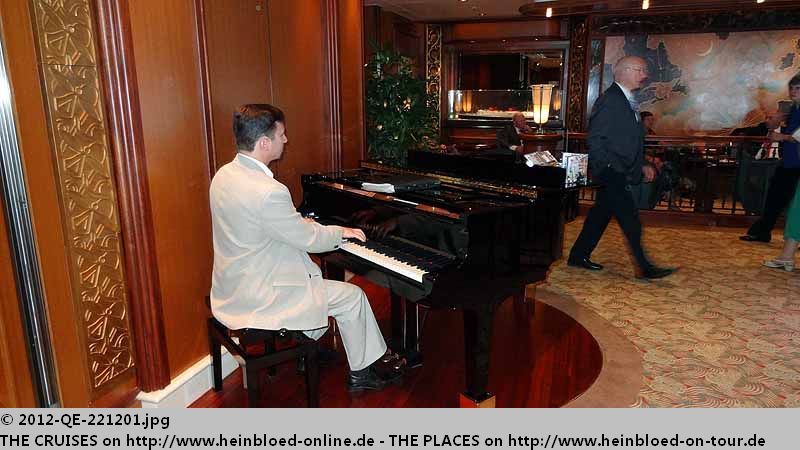 The Bar-Pianist was not bad at all. But you have no chance to listen to all artists during two days. That was sad.

We enjoyed the sunset.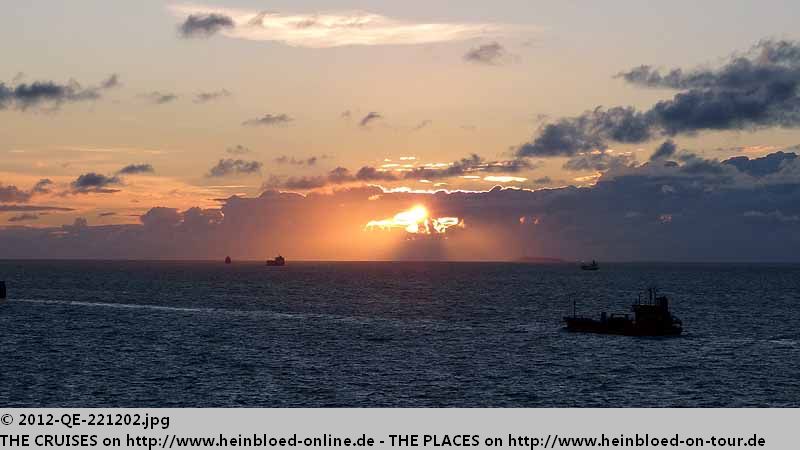 Wir genießen noch den Sonnenuntergang...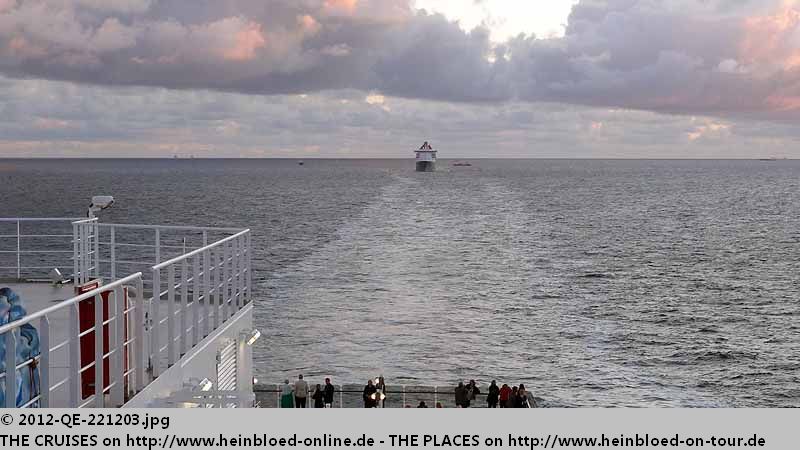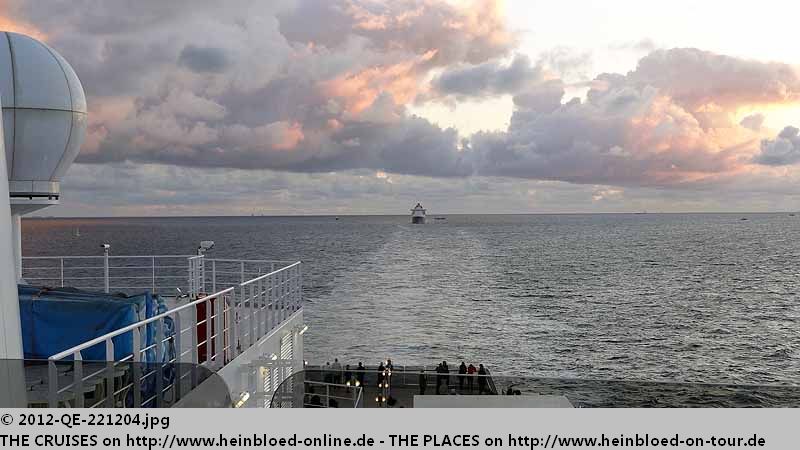 And we finally had a trink together... And Bruno wanted to test the most expensive Gin Tonic... He could do it when we use his credit card for the onboard expenses...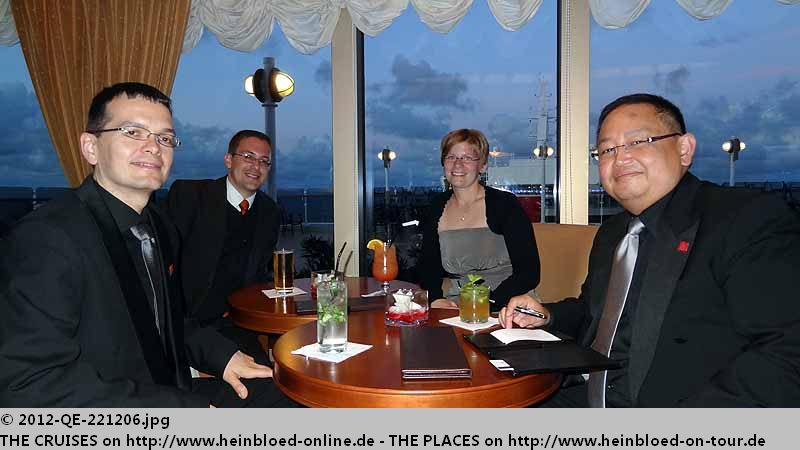 Und trinken noch etwas gemeinsam... Und Bruno will ungedingt den Unterschied zum teuersten Gin kennenlernen... Das könnte er ja auch dann machen, wenn er seine Kreditkarte hinterlegt hat...
Ja und dann laufen wir bereits in Cuxhaven ein...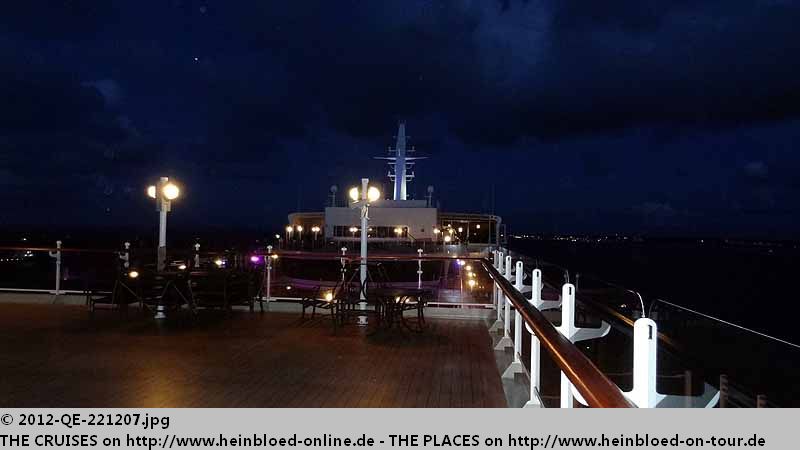 We already reached the German Bay and entered the river Elbe around Cuxhaven.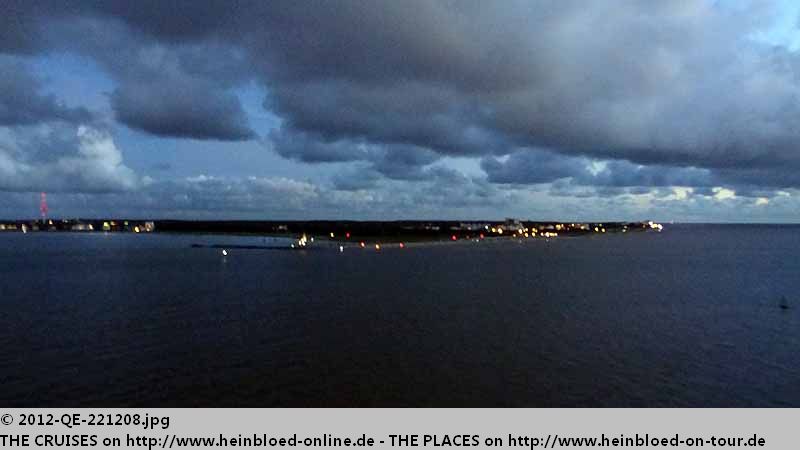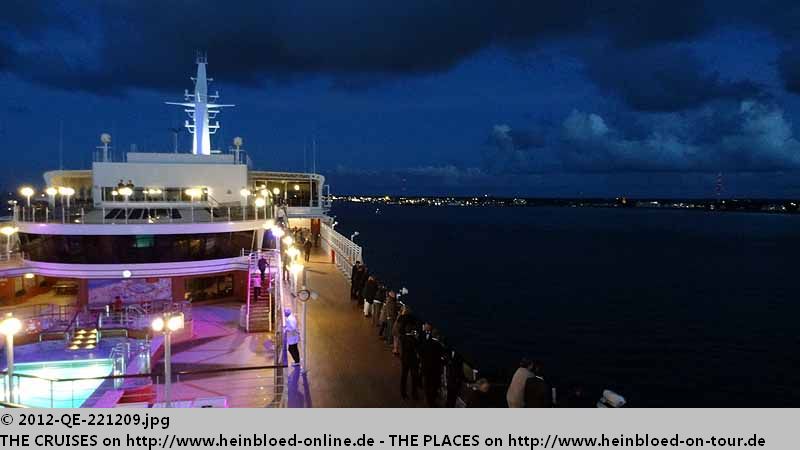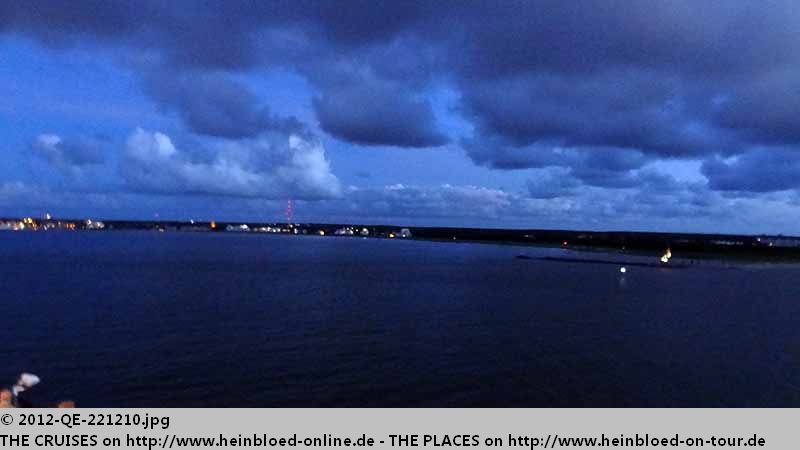 Dort sehen wir die ganzen Blitze der Fotoapperate am Strand.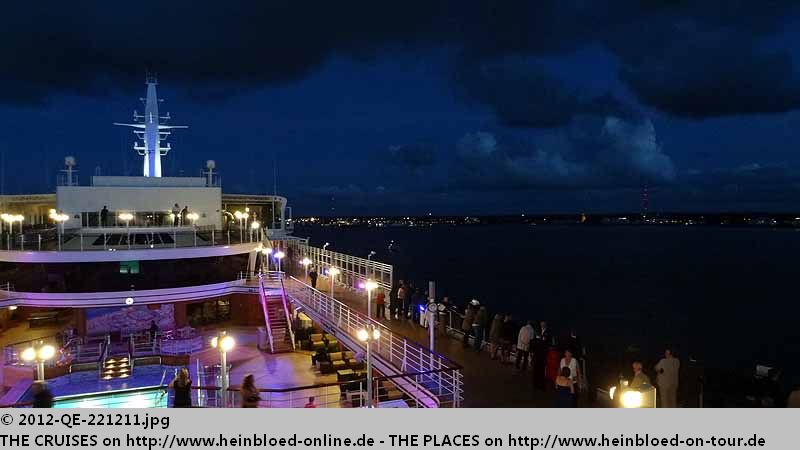 There we see all the flashlights of the photographers at the beach.

Time to say good-bye to Donovan and Migo for the great service during the last two days.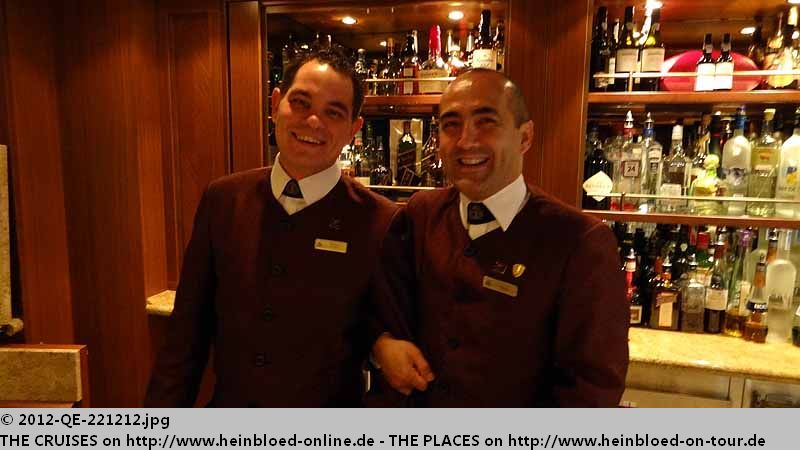 Wir verabschieden uns auch Donovan und Migo für die nette Betreuung in den letzten zwei Tagen.
Bevor wir alles einpacken, gehen wir uns noch ungerahmt, vom Fotografen holen. Bis Mitternacht muss das Gepcäck raus.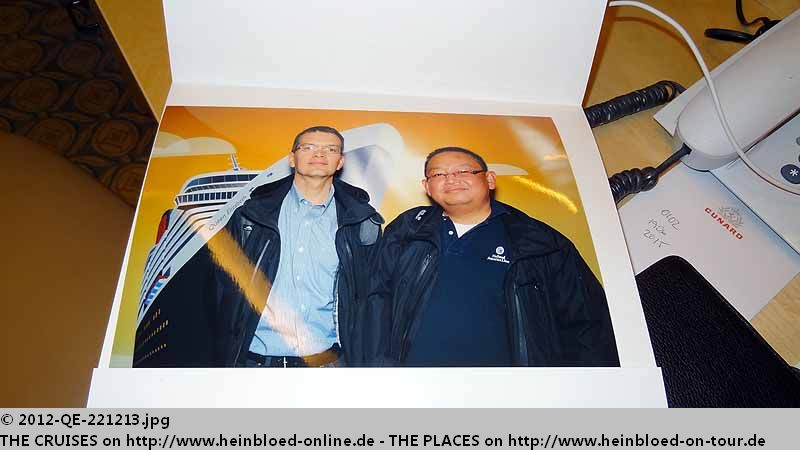 Before we finshed our packing we need to see the phoographer to get us unframed. Until midnight the bags must be placed outside.