Scroll down for English explanations - alternates with German explanations.

04.00 Uhr morgens... wir haben die A...karte, weil natürlich sich drüben in Waltershof niemand steht und uns zuwinkt.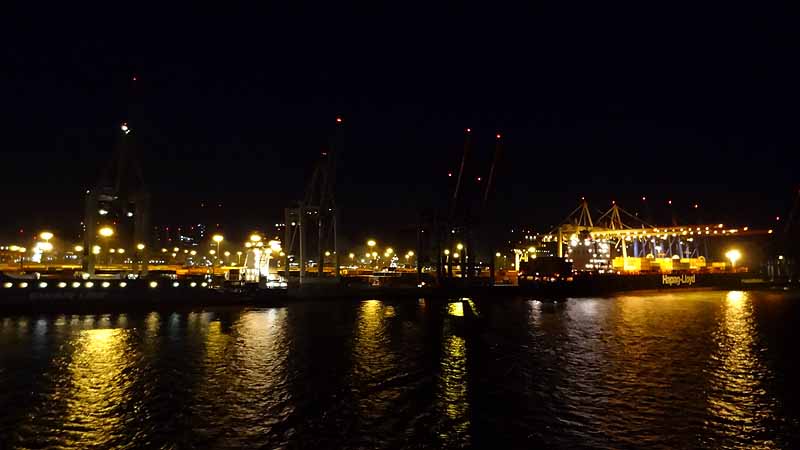 04.00 hrs in the morning... wepulled the short straw because opposite was Waltershof container terminal and nobody there to wave.

As I had no occassion to check AIS signal I was surprised how close QUEEN MARY 2 was to us.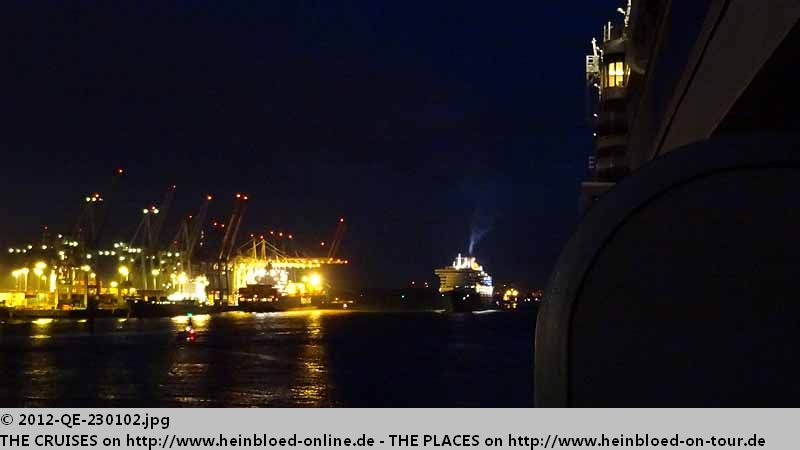 Da ich noch keine Gelegenheit hatte im AIS nachzugucken, bin ich überrascht, wie nahe uns die QUEEN MARY 2 bereits ist.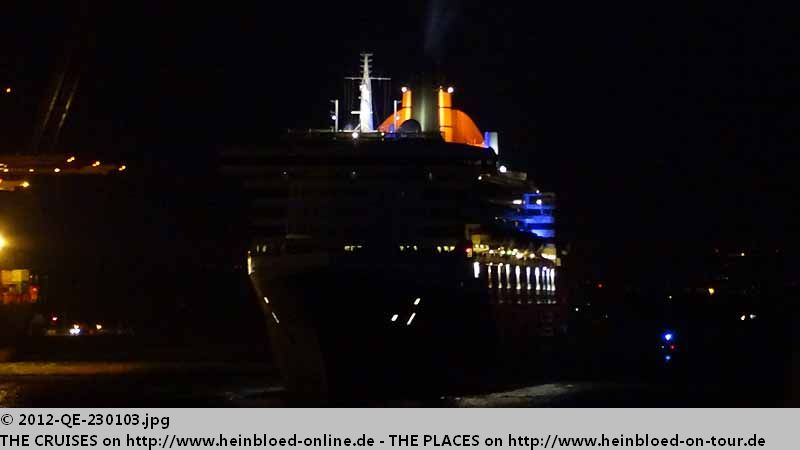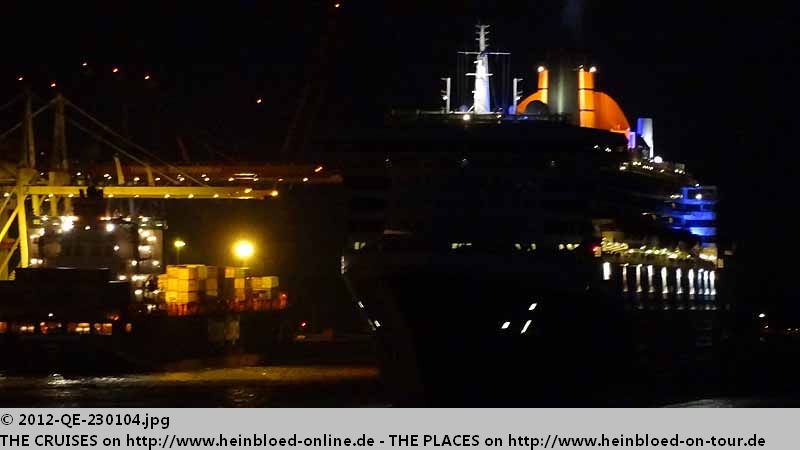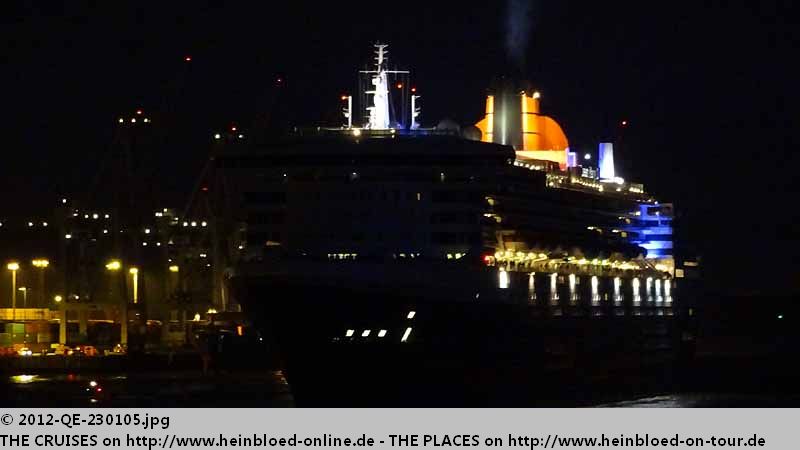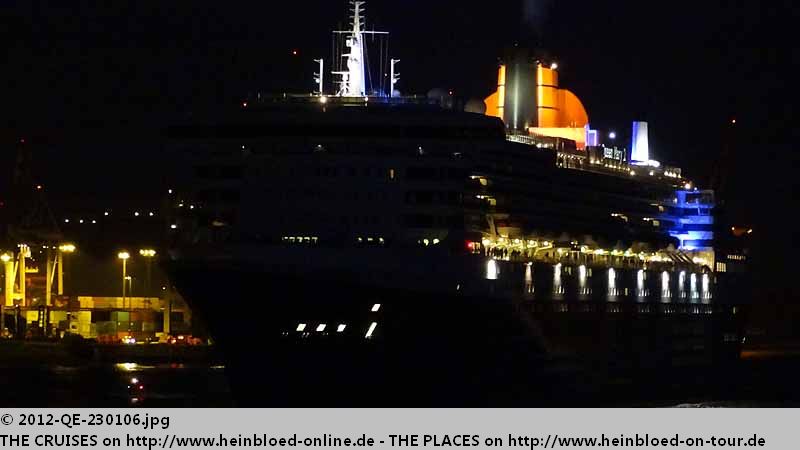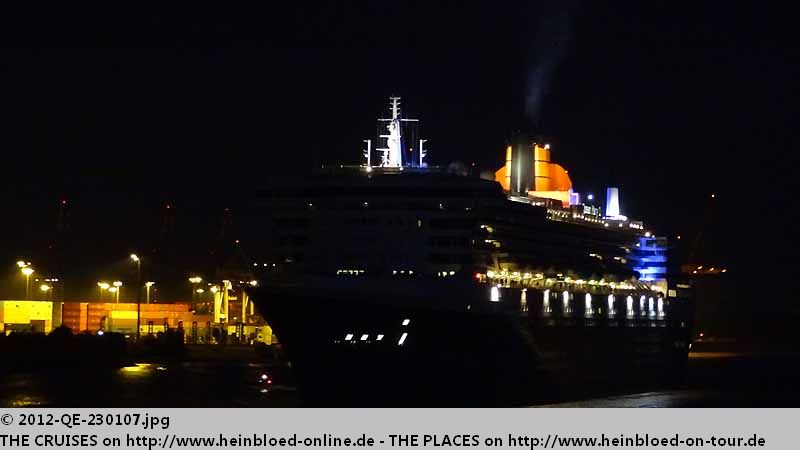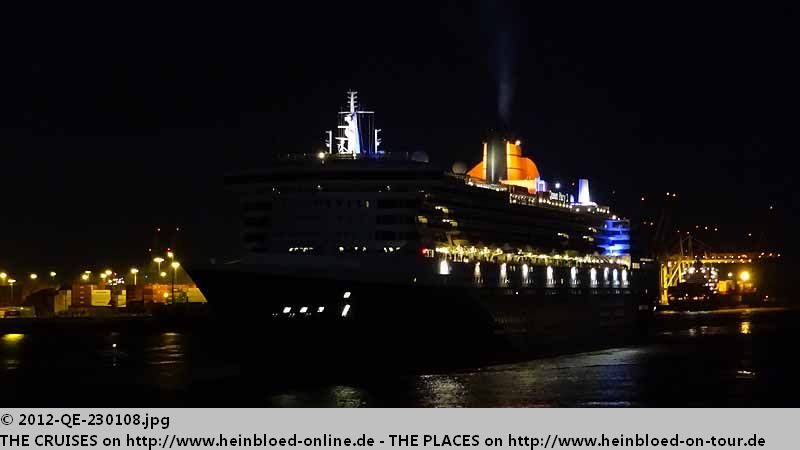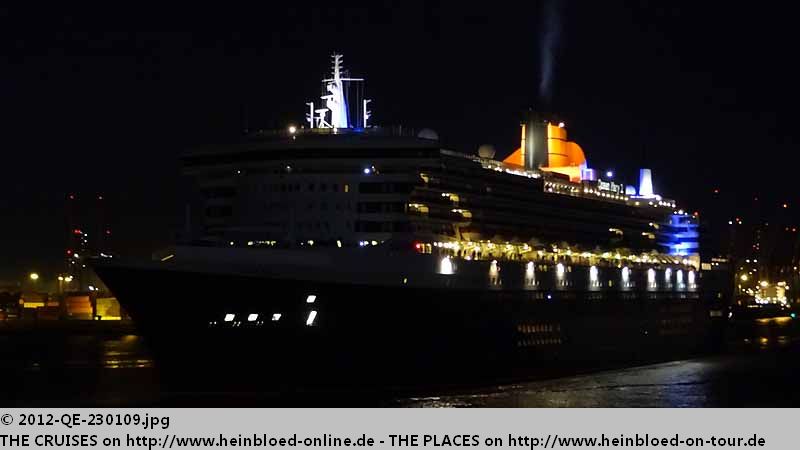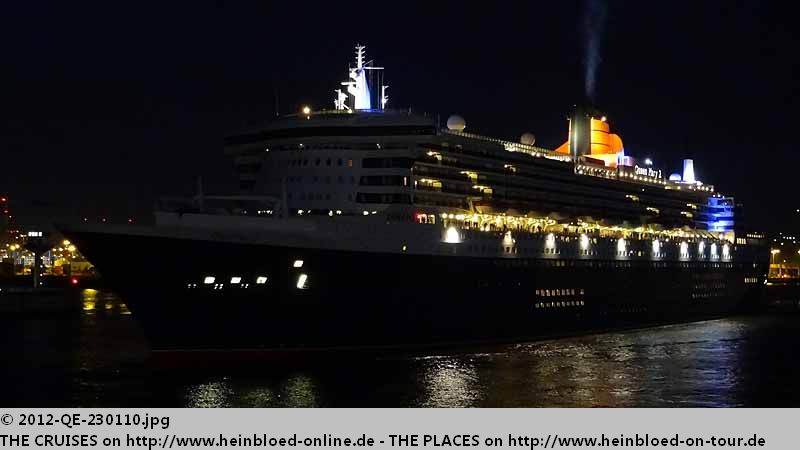 Als sie an uns vorbeizieht, grüßen sie von der QUEEN MARY 2 entsprechend in dem Hamburger Charme mit "Hummel, Hummel" und entsprechend wird es von uns auf der QUEEN ELIZABETH und vom Land her zurückgegrüßt... Ich weiß, dass es Leute gibt, die nicht vestehen, warum es so ein Hype um die QUEEN MARY 2 gibt und schon gar nicht in Hamburg, aber eine Gänsehaut bekam ich doch, als sie an mir vorbei zog.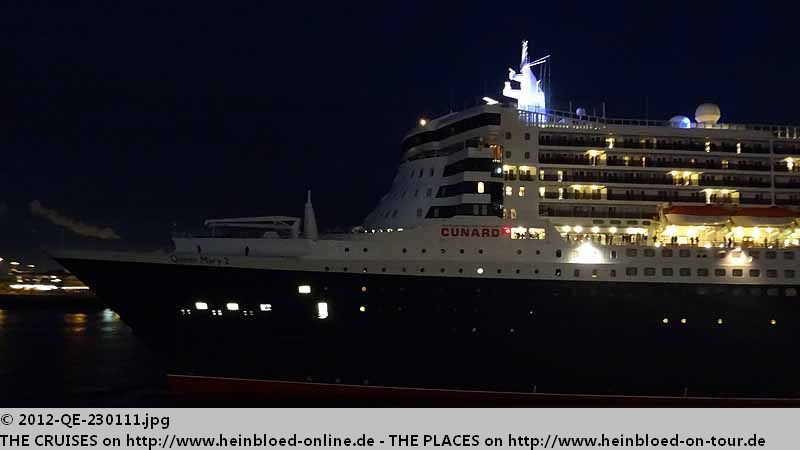 When she passed the passenger from QUEEN MARY 2 greeted us in typical Hamburg way "Hummel, Hummel" (who was a water carrier) and according they were greeted back from QUEEN ELIZABETH and from ashore... So far I never understood the hype they had in Hamburg on QUEEN MARY 2 but I got a thin skin when she passed.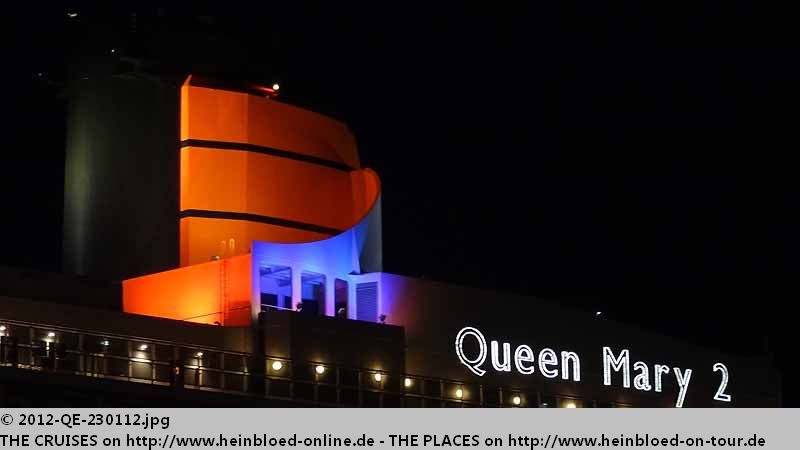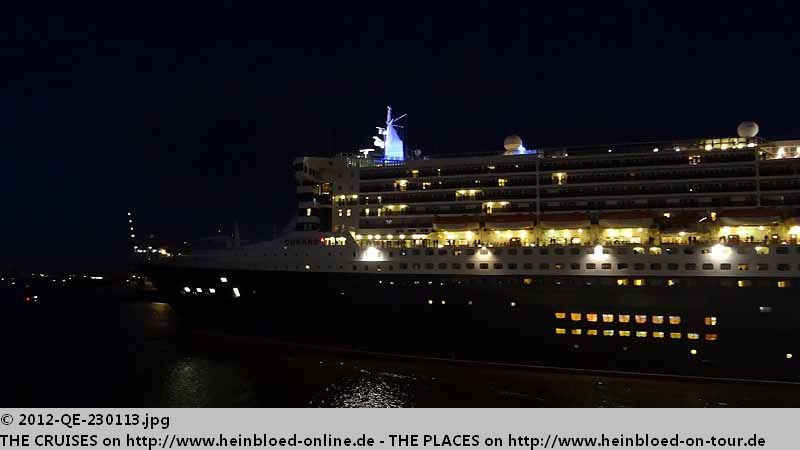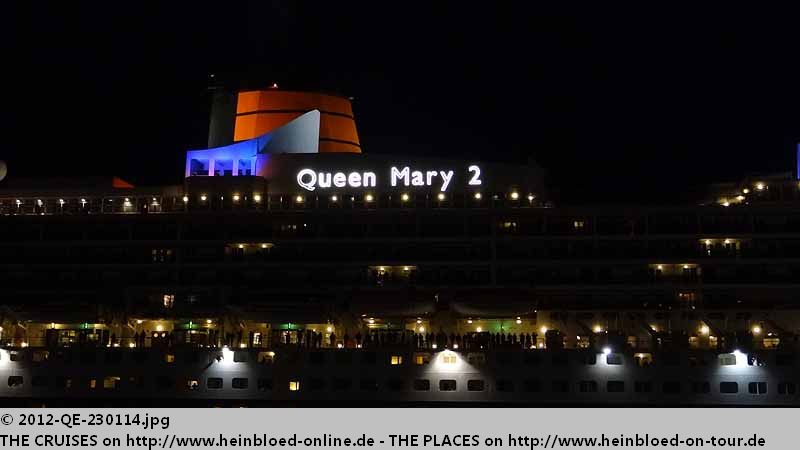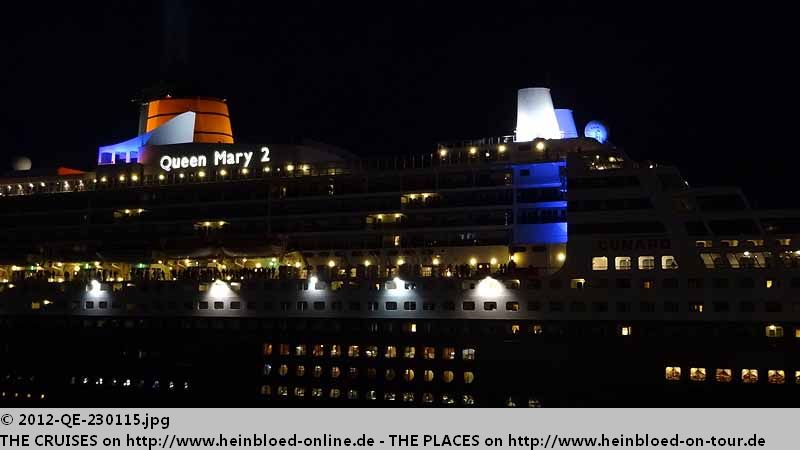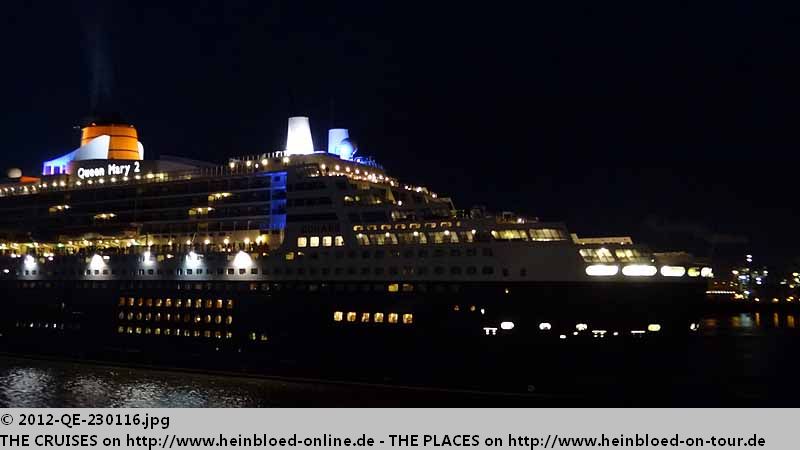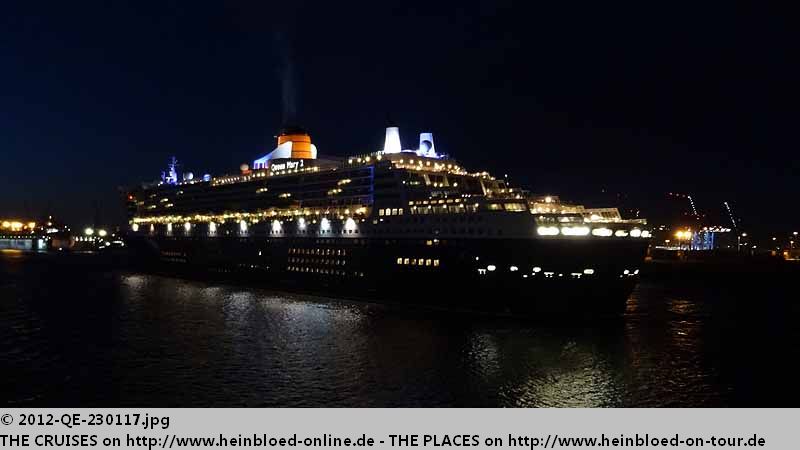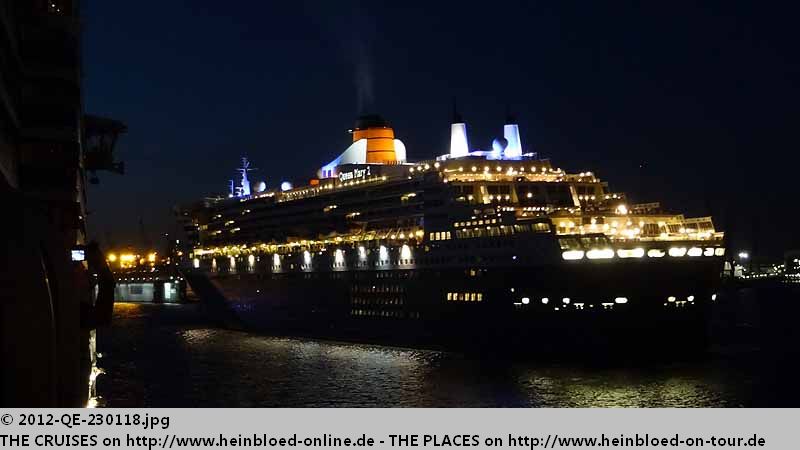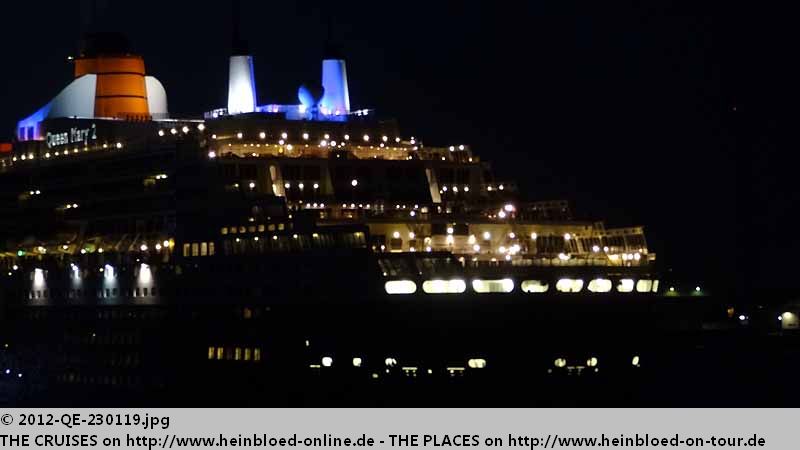 We got the ship invoice. I found out that I forgot again my ship's card in the smoking which was in the bag. So I need a new one. And so I grabbed a programme for transit guests.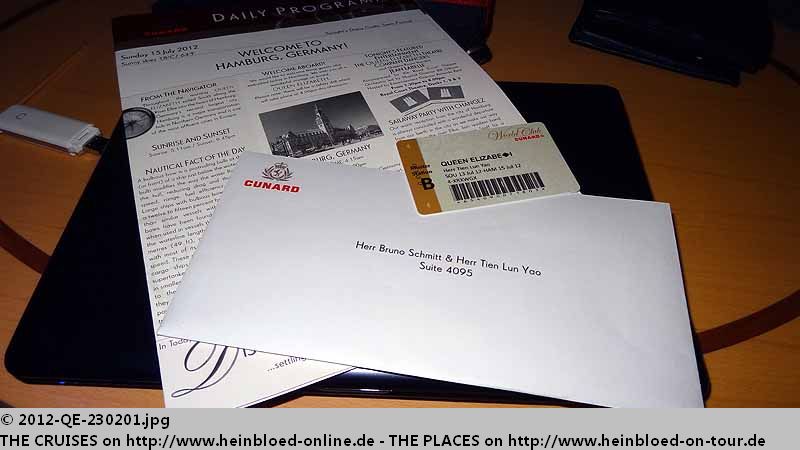 An Bord kommt die Rechnung. Mir fällt auf, dass ich ja mal wieder meine Schiffskarte im Smoking hatte, die jetzt im Gepäck ist. Also muss ich mir eine neue besorgen. Und bei der Gelegenheit hole ich mir auch mal ein Programm für die Transitreisende.
Hielt sich in Grenzen. Und wenn man mal von den Theaterloge mal absieht, dann war es immer noch günstiger, als das All-In-Konzept auf MEIN SCHIFF 2. Aber bloß, weil wir eben kaum Alkohol trinken. Wir haben die X-Lounge vermisst, aber dadurch, dass wir ja wirklich sehr gut außerhalb des Hauptrestaurants gegessen haben, mussten wir uns nirgendst satt oder alternativ zum Hauptrestaurant essen. Obwohl unsere Mini-Bar voll war: wir haben ja normal in allen Bars und Restaurants konsumiert. Der Kaffee war während der Öffnungszeiten der Grill's Lounge sehr gut, so dass wenig Anlass Bestand welchen extra zu holen. D. h. die Leistungen, die wir kostenlos in der X-Lounge beziehen konnten, wurden sehr relativiert. Der Vergleich kann durchaus im Vergleich Innenkabine Cunard gegen Innenkabine TUI Cruises komplett anders ausfallen. Aber jetzt mal im direkten Vergleich Princess Grill auf der QUEEN ELIZABETH und Junior Suite auf der MEIN SCHIFF 2, kommt uns aufgrund unseres Konsumverhaltens und dass wir Wert auf das bessere Essen und den besseren Service eindeutig die QUEEN ELIZABETH entgegen.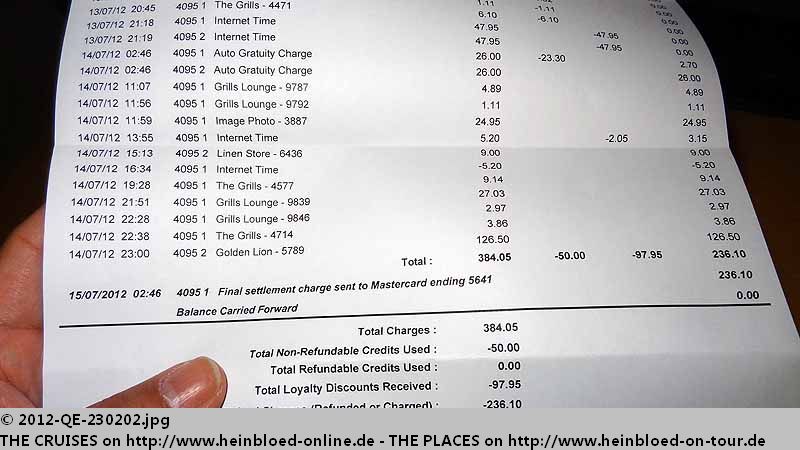 Was fine. Just cancelling the theater box it was much cheaper than having all-inclusive on MEIN SCHIFF 2. But only because we do not drink alcohol. We missed the X-Lounge but as we did not eat in the MDR we did not need to a place to eat instead or to complete our meals to be full. Although we had a full mini-bar again: we drink normally in all bars and restaurants. The coffee which we got during the opening hours of the Grill's Lounge was very good so we had less reasons to buy extra. I. e. the reasons for booking a suite on MEIN SCHIFF 2 to get access to X-Lounge was very low. But comparing other categories like inside cabins might have different results. But now just comparing the Junior-Suite on MEIN SCHIFF 2 and the Princess Grill on QUEEN ELIZABETH 2 and due to our way how we consume on the ships we had the better value due to better service and better food on QUEEN ELIZABETH.

Those not travelling in Princess Grill get their invoices not in an envelop.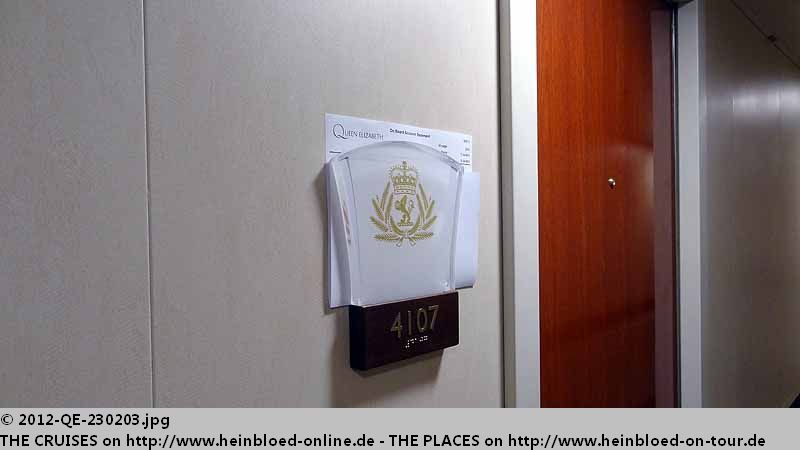 Diejenigen, die nicht Princess Grill fahren, bekommen die Rechnung auch nicht in einem Umschlag.
Was mag das "Verhüterli" unter dem Waschbecken zu bedeuten. "Chef-Installateur" hier auf Facebook Ivo Marschinke konnte hierzu auch nichts sagen...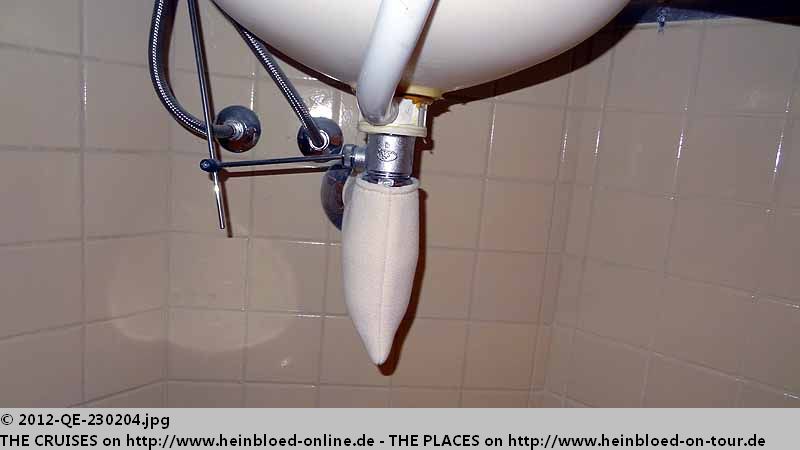 What might that for (you find it under your sink)? "Chief-Sanitary Installation Manager" Ivo Marschinke (from Facebook) had no answer...

As I did not like the tea onboard (I guess it was due to the water) I stayed with my freshly-squeezed orange juice, my vitamin water and ice water.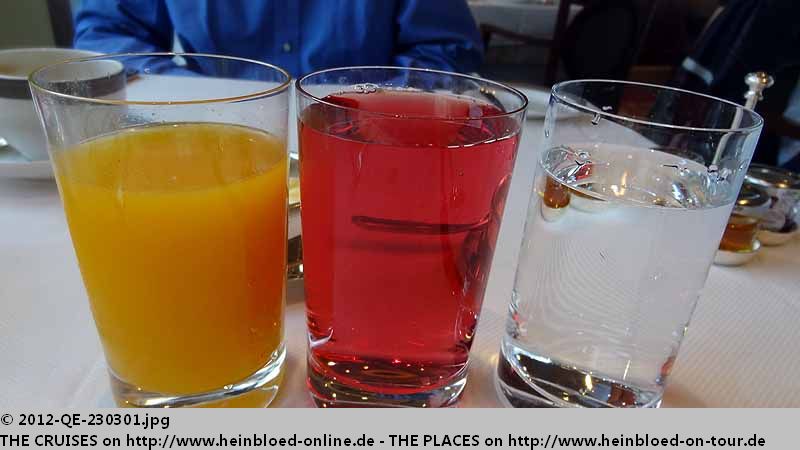 Da ich den Tee auf dem Schiff nicht mochte (was aber wohl am Wasser lag), bleibe ich beim frisch-gepressten Orangensaft, meinem Vitamin-Wasser und Eiswasser.
Bruno versucht sich doch mal am Muffin und prüft nach, ob Uschi Drechsler (leider nicht mehr bei Cunard, wie wir erfahren haben - Schade!!!) endlich jemand zu Holland America geschickt hat, um zu erlernen, wie man gut Muffins macht.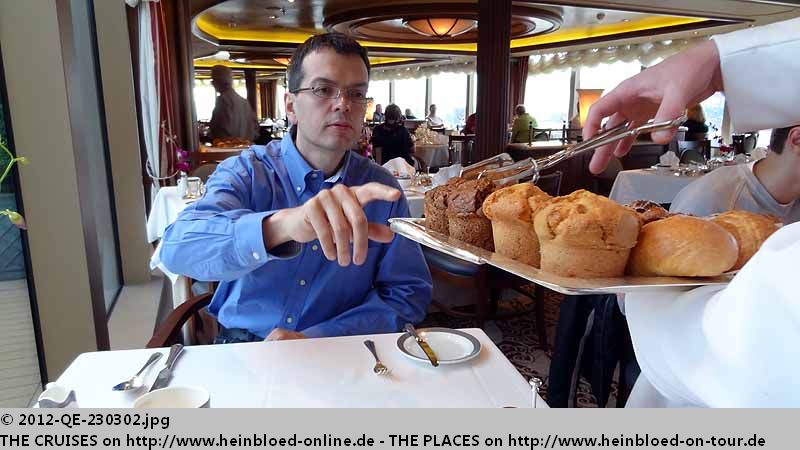 Bruno tried a muffin and wanted to see if Uschi Drechsler (formerly with Cunard Germany but not anymore as we learned - so sad!!!) sent somone to Holland America to learn how to prepare a good muffin.

His opinion: they improved the coffee but not with the muffins... Nevertheless he agreed to book a Transatlantic on QUEEN MARY 2 in general (booked now for sailing on January 03, 2014). But not anymore this year or next year. Sorry to Guenther and BJ. We loved to come with you.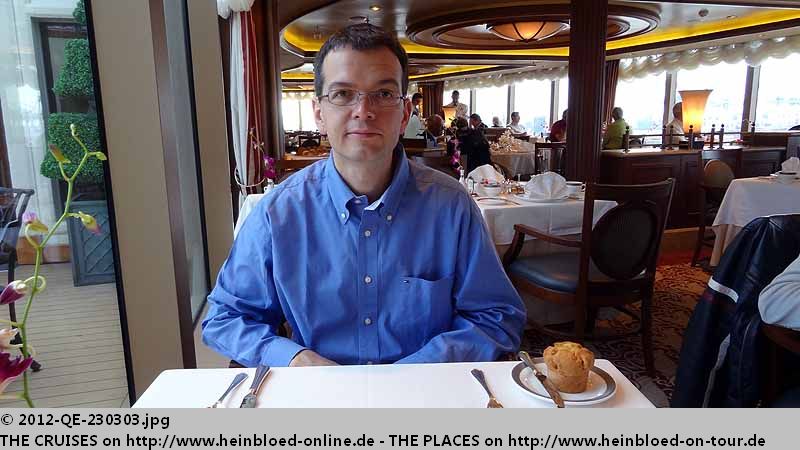 Seine Meinung: beim Kaffee sind sie nachgezogen und beim Muffin leider noch nicht... Nichts desto trotz stimmt er einer Transatlantik auf der QUEEN MARY 2 generell zu (gebucht für den 03.01.2014). Nur leider nicht mehr dieses bzw. nächtes Jahr. Tut uns leid: Guenther und BJ. Wir wären gerne wieder mit euch gefahren.

My French Toast was somehow too soft and too sweet.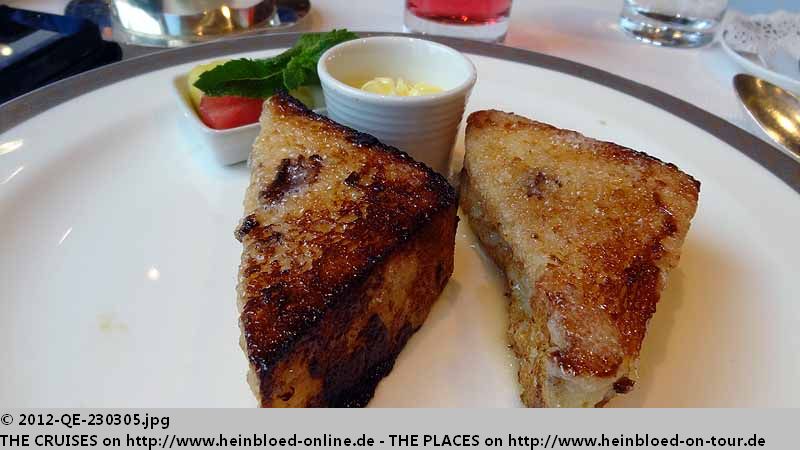 Meine French Toast sind mir zu wabbelig und zu süß.
Eigentlich bräuchte ich mal ein paar kleine Gläschen vom Ahornsirup.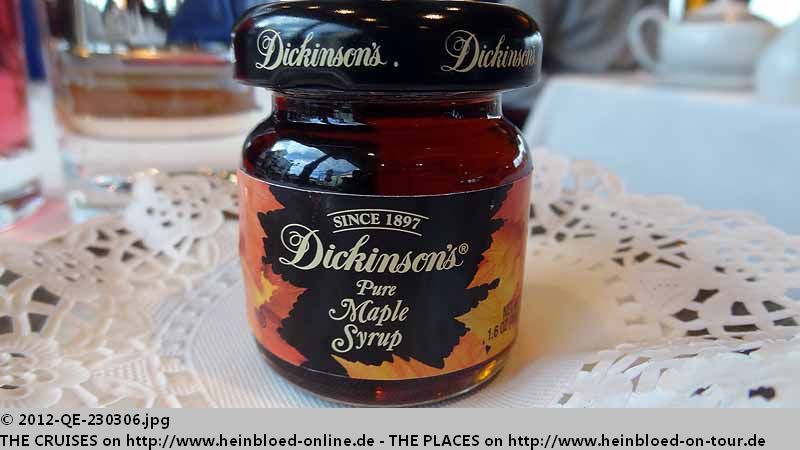 I should have few litte glasses of the maple sirup.

So cute: the litte fruit cubes...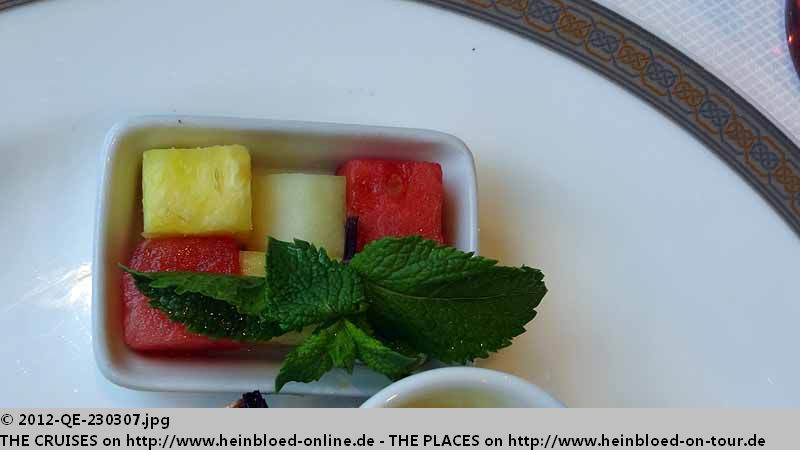 Die Fruchtwürfelchen: ganz goldig...
Bruno nimmt mal wieder Lachs mit Bagel... und da merkt man den Unterschied zwischen Cunard bzw. Grill-Klasse: woanders gibt es die Zwiebeln als Ringe... geht schneller, ist weniger aufwändig und hier eben als ganz kleine Würfelchen.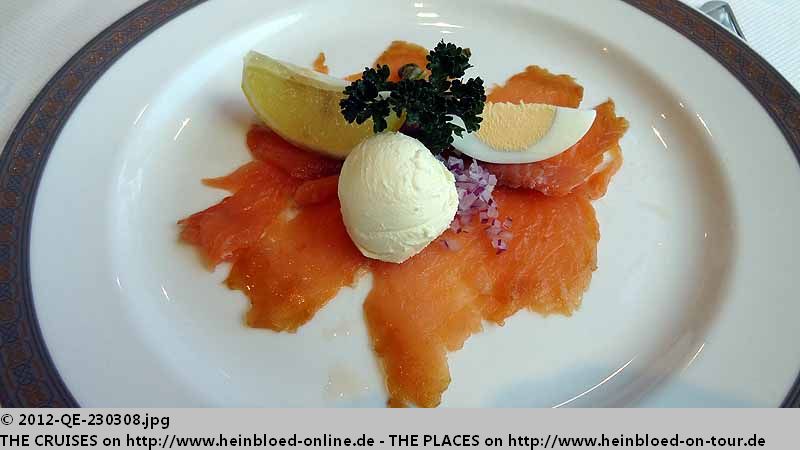 Bruno took again a lox on bagel... but here you could see the difference between Cunard or the Grill-Classes: with other you get onion rings... faster to prepare and less effort than the little cubes.

I took the lamb chops.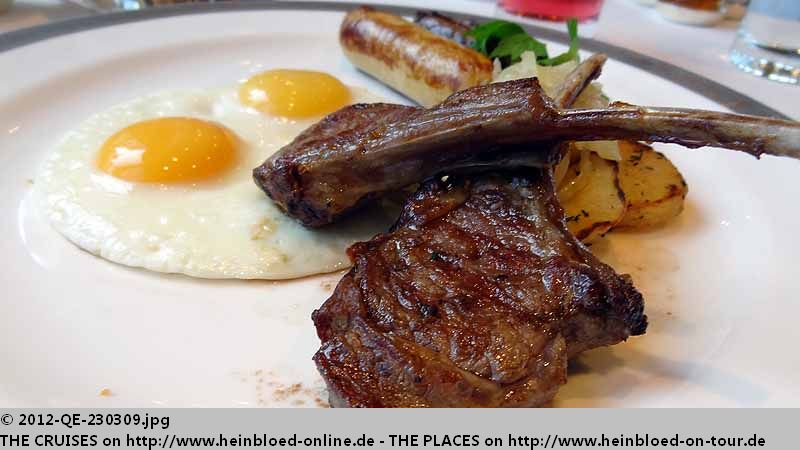 Ich nehme noch die Lammkoteletts mit...
Als ich die in Facebook poste, meldet sich meine Stamm-Griechin Jynni Marienfeld aus Braunschweig und bietet mir für Dienstag, Mittwoch, Donnerstag auch Lamm an... Mal gucken, ob sie auch die tolle Minzsauce hat... Was werde ich als Fleischliebhaber das Frühstück im Princess-Grill vermissen?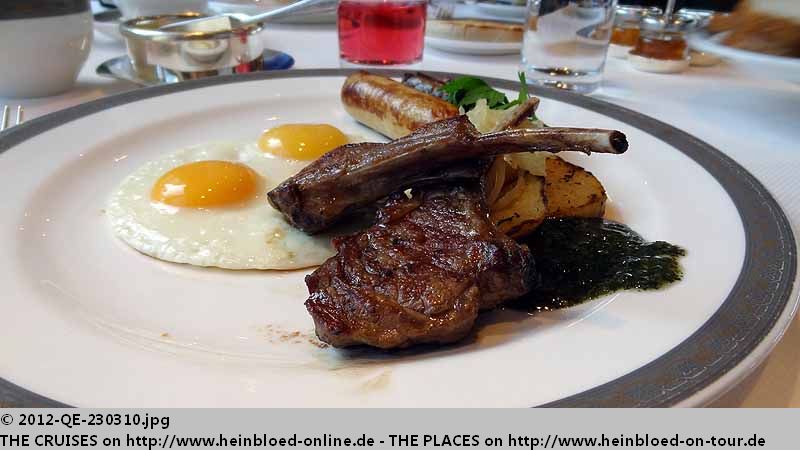 When I posted this picture on Facebook my favorite Greek inn owener Jynni Marienfeld from Brunswick posted that I could have lamb on Tuesday, Wednesday and Thursday... Let's see if she also has the great mint sauce... How would I miss the Princess grill for breakfast as meat-lover?