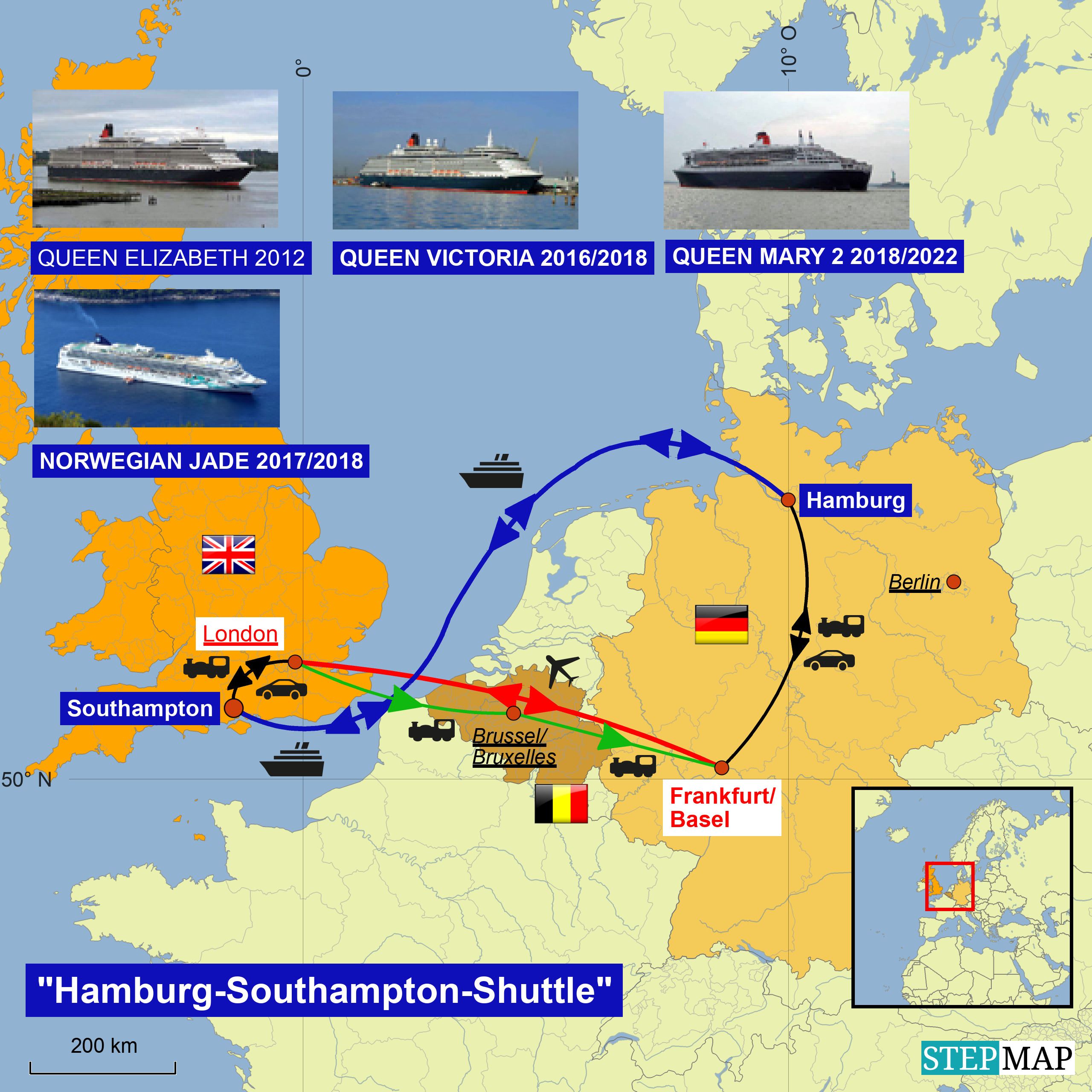 Immer, wenn die QUEEN MARY 2 einläuft, beginnt ein schöner Tag. Zuletzt hatte ich das ja bei der Reise
QUEEN MARY 2 2017
verpasst. Aber heute bin ich am perfekten Ort zur perfekten Zeit und musste nicht meilenweit fahren.

Everytime QUEEN MARY 2 was entering a town a nice day began. Last time I missed it on our voyage QUEEN MARY 2 2017. But that day I was at the perfect place at the perfect time and did not need to drive many miles.

After that COSTA MEDITERRANEA arrived. She was de-Europeanized. The Europe-Flag was removed! Wondering it was due to the new political conditions in Italy? No European company anymore but pure Italian? Let us see when AIDA would arrive in black-red-gold. On the top, you had on the sun deck an observation platform which attracted my attention.

Danach kommt die COSTA MEDITERRANEA. Sie ist enteuropäisiert worden. Die Europa-Flagge ist weg! Ob das den politischen Verhältnissen in Italien geschuldet ist? Keine europäische Gesellschaft mehr, sondern nur noch rein italienisch? Mal gucken, wann AIDA mit schwarz-rot-gold einläuft. Oben gibt es auf dem Sonnendeck eine Aussichtsplattform, die mein Interesse findet.
Ich bin ehrlich froh, dass wir das Hotel verlassen: die historischen Fenster lassen ja nicht zu, dass man das Treppenhaus lüftet. Es ist darin heiß wie in einer Sauna. Das Frühstücksbüffet ist nett. Mit viel Liebe angerichtet. Eier gibt es auf Bestellung: nur während Bruno immer das Problem an Bord hat, ein hart-gekochtes Ei zu bekommen, haben wir hier das Problem ein weich-gekochtes zu bekommen. Wir bekommen sofort angeboten, dass man uns ein neues macht: aber für mich gilt: ich habe nur Platz für einmal essen. Daher verzichte ich darauf.

Honestly I was happy to leave the hotel: the old windows did not allow to ventilate the stairway. It was as hot as in a sauna. The breakfast buffet was excellent. It was presented with love. You could get eggs on order: usually, Bruno was the one who had onboard the problem to get a hard-boiled egg and now it was us who had a problem a soft-boiled egg. They offered us immediately to prepare a new one: but I had to say that I have only space to eat at one time. So I declined the offer.

That day I took my Alcatraz-shirt which I bought on our voyage on GRAND PRINCESS 2018. After the laundry, it was so narrow that I could not wear it anymore...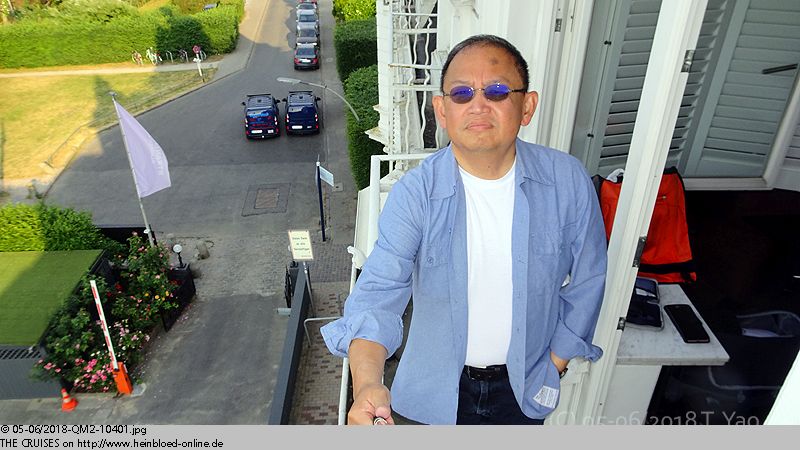 Heute nehme ich mein Alcatraz-Hemd, das ich von der
GRAND PRINCESS 2018
mitgebracht habe. Nach dem Waschen ist es so eng, dass ich es nur noch so tragen kann...
Der Abschied vom Strandhotel fällt nicht ganz so schwer. Wenn ich nachfrage, ob ich Kleingeld haben kann, um dem Zimmermädchen und der Bedienung im Frühstücksraum, etwas da zulassen, dann erwarte ich schon, dass die Dame an der Rezeption sich zu der anderen Kasse bemüht und nicht mich dahin schickt, damit ich selbst frage. Es geht dabei nicht um die 5 m Laufen, sondern eben um die Rollenverteilung: Rezeption = Dienstleister und ich bin der Gast, der bedient wird. Für 250,00 EUR die Nacht ohne Fahrstuhl und Klimaanlage, kann ich das Minimum an Dienstleistung schon erwarten.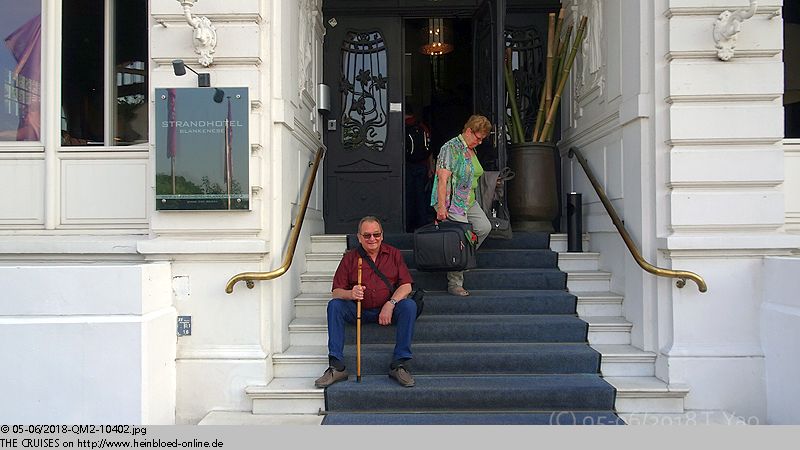 It was not so difficult to say goodbye to the Strandhotel. When I asked to exchange some change for having some for the housekeeping and the waitress in the breakfast room I would expect that the lady from the front desk would walk over to the other cashier and not sending me to find the other cashier to ask myself. It was not because about walking myself 15 feet but the roles we had: front desk = service provider and I was the guests who should get service. For about 300.00 USD per night without elevator and air-conditioning, you could expect a minimum of service orientation.

We went into the Old River Elbe Tunnel. Approx. 2.50 USD exact fare. With the elevator into the basement. And then driving over Steinwerder. Worked only for embarkation on weekdays: only between 08:00 hrs and 13:00 hrs it was open for car traffic towards Steinwerder. Towards the city after 13:00 hrs but which cruise line allows you to stay so long onboard? The view from this river bank was always gorgeous.

Es geht in den
alten Elbtunnel
. 2,00 EUR passend. Mit dem Fahrstuhl in den Keller. Und dann rüberfahren nach Steinwerder. Funktioniert nur zur Einschiffung am Wochentag: der ist nämlich nur von 08:00 Uhr bis 13:00 Uhr in Richtung Steinwerder für Autos geöffnet. In Richtung Stadt geht es erst ab 13:00 Uhr, aber welche Kreuzfahrtgesellschaft lässt einen schon so lange an Bord? Der Blick von der anderen Elbseite ist immer wieder schön.
Wir nutzen die Gelegenheit ein paar Bilder von uns vor der QUEEN MARY 2 im Kaiser-Wilhelm-Hafen zu machen und auch später sehen wir sie nochmals von der Elbphilharmonie aus. Wir geben schon einmal ein Teil des Gepäcks ab.

Wir used the occasion to take few pictures of us in front of QUEEN MARY 2 in the Emperor-William-Port and later we saw here again from the Elbhphilharmonie. We dropped off some of our bags.

Then we headed to collect Sigi to have a cup of coffee in the city center of Hamburg while I urgently need to buy a charger.

Danach holen wir Sigi ab und trinken etwas in Hamburger Innenstadt, während ich noch dringendst ein Netzteil besorgen muss.
Und dann geht es in die
Elbphilharmonie
. Dieses Mal haben wir
online
keine Karten (2,00 EUR (2018)) vorgebucht. Sondern Sigi und Bruno sind ausgestiegen, um Tickets (
max. 6 Stück je Abholer - kostenlos
) zu holen, während wir den Wagen geparkt haben. Für 5,00 EUR/Stunde (2018) darf man schon einen großzügigen Parkplatz erwarten.

Thereafter we went to the Elbphilharmonie. This time we did not book any ticket online (2,00 EUR (2018)). But we let Sigi and Bruno off the car to collect tickets (max. 6 pieces per collecting person - free of charge) while we were going to park the ca. For 5.00 EUR/hour (2018) you may expect a spacious parking lot.

We had a quick lunch in the Störtebecker Restaurant. I took the peas soup as you cannot get it in Switzerland. The bread was really yummy. I tried the Herbal Moscow Ginger Ale. It was made of true ginger, and my throat was burning. Bruno's Father and Sigi had a Beer-Tasting.

Im
Restaurant Störtebecker
essen wir eine Kleinigkeit. Ich nehme mal wieder Erbsensuppe, weil man so etwas in der Schweiz nicht bekommt. Das Brot ist auch richtig lecker. Ich probiere eine
Herbal Moscow Ginger Ale
. Der ist aber aus richtigem Ingwer gemacht und mein Hals brennt. Brunos Vater und Sigi
testen einige Biere
durch.
Danach fahren wir tanken und geben das Auto direkt am
Kreuzfahrtterminal Steinwerder
ab. In der Halle stehen ungefähr 1.000 Passagiere Schlange. Wir sind froh, dass wir Platinum-World-Club-Mitglieder sind und daher innerhalb von wenigen Minuten durch sind.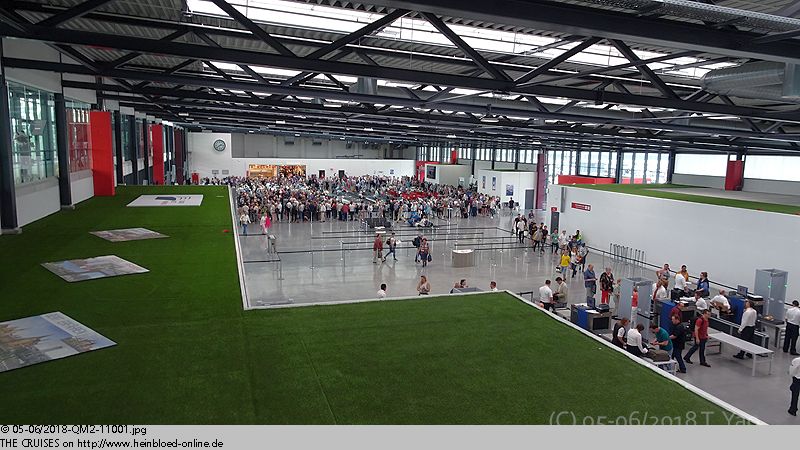 After that we filled up the car and returned it at the Cruise Terminal Steinwerder. About 1,000 passengers were queuing up in the waiting lounge. We were happy to be World-Club-Platinum-Members, and so we went through in a few minutes.

We really had luck.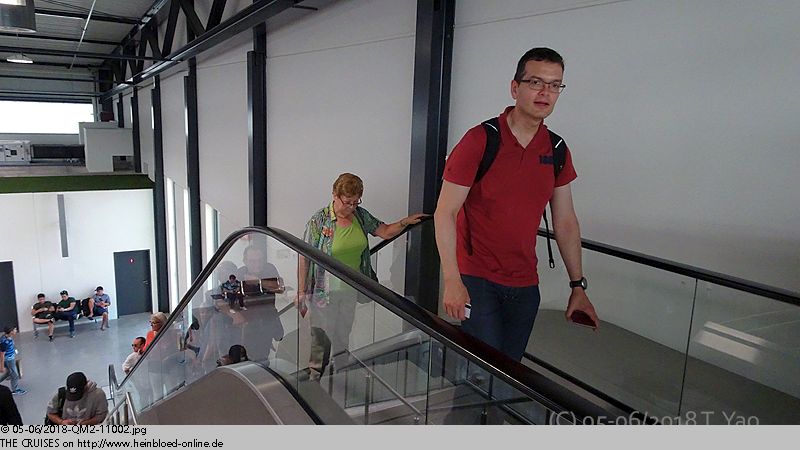 Glück gehabt.
Ursprünglich haben wir Kategorie BZ gebucht. Das wäre in Deutschland ziemlich teuer gewesen.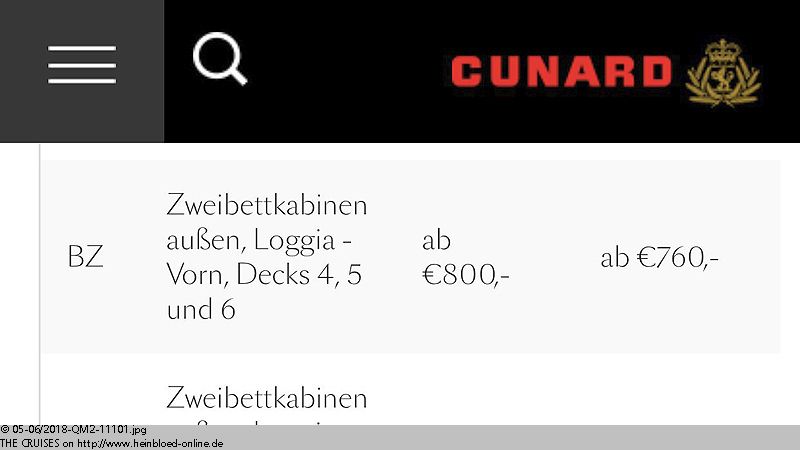 Originally we booked Category BZ. That was quite expensive in Germany.

In Great Britain, it was not worth to go either.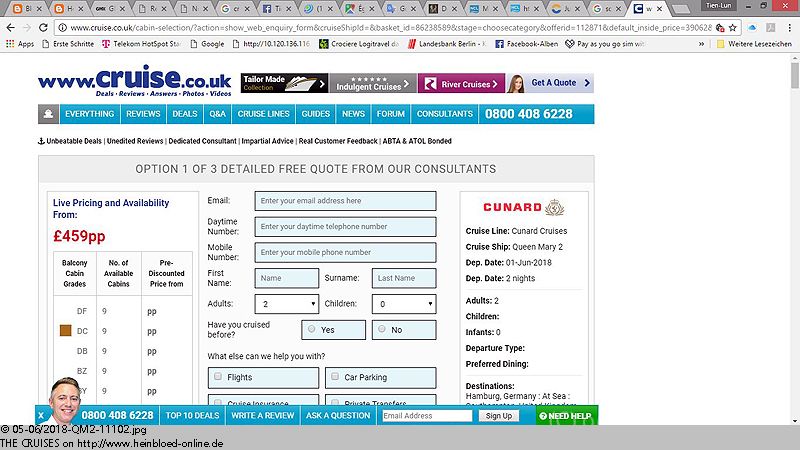 Auch in Großbritannien hat es sich nicht gelohnt.
Und dieses Mal gibt es in der Schweiz auch kein Schnäppchen.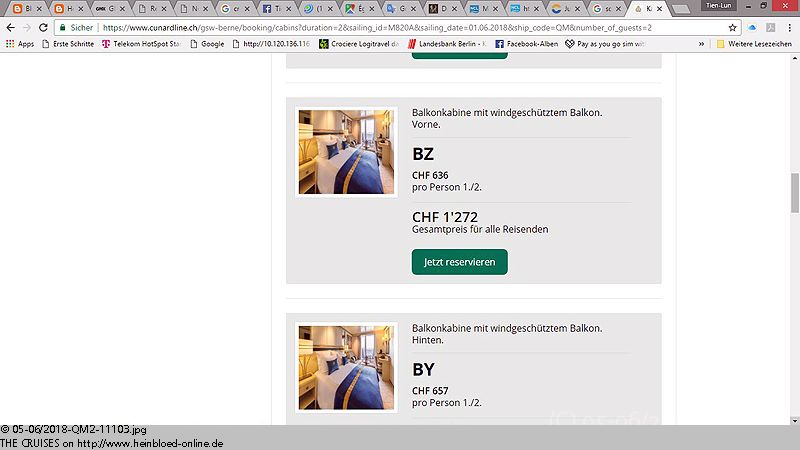 And that time Switzerland had no bargain either.

Only Dorothy had a great bargain for us: 150.00 USD OBC included and she told us not to use our deposit since we would only get only 50.00 USD
OBC.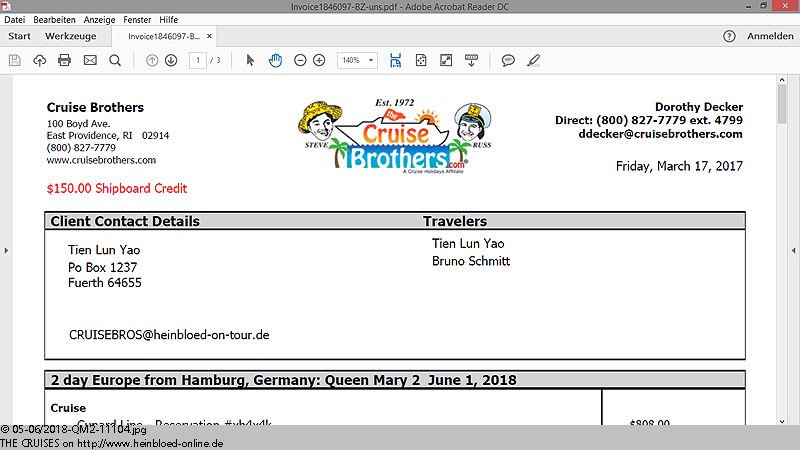 Nur
Dorothy
hat wieder ein tolles Schnäppchen für uns: mit 150,00 USD Bordguthaben und sie sagt, dass wir unsere Anzahlung nicht einsetzen sollen, da wir dann nur 50,00 USD Bordguthaben bekommen.
Etwa fünf Meter nach Betreten des Schiffes werde ich bereits mit einem "Welcome Back, Sir Tien" begrüßt: Rose erkennt mich sofort. Ein Selfie mit ihr und Allen in Page-Uniform muss sein. Dieses Mal bin ich nicht in der Kabine 11111 untergebracht, aber ich muss natürlich Joy besuchen, die mich damals auf der
QUEEN MARY 2 2014
liebevoll versorgt hat. Auch nach wenigen Schritten im Kings Court treffe ich Maître D' Attila, der dieses Mal hier zuständig ist. Alle Maître müssen bei Cunard rotieren. Puneet, den ich von der
QUEEN MARY 2 2017
kenne, erkennt mich auch sofort. Und auch Elvis und Dereck, die wir ebenfalls von den letzten Transatlantik-Fahrten kennen, treffen wir schnell wieder. Dereck ist dieses Mal in The Verandah, das ich eigentlich nicht mag. Aber die Speisekarte hat sich wohl verändert und erinnert wieder mehr an die Auswahl, die ich von
Todd English
gewohnt war.

Right after 15 feet inside the ship I was already greeted with a "Welcome Back, Sir Tien": Rose remembered me immediately. A selfie with her and Allen in the Uniform of a bell boy was a must. That time I was not allocated in cabin 11111 but certain I need to visit Joy who was taking care of me with a lot of passion on my voyage on QUEEN MARY 2 2014. After a few steps in the Kings Court, I met Maître D' Attila who was in charge here this time. All Maître need to rotate with Cunard. Puneet whom I knew from QUEEN MARY 2 2017 remembered me also immediately. And also Elvis and Dereck whom we both know from the previous Transatlantic Passages we also met very quickly. Dereck was this time in charge for The Verandah which I did not like. But the menu changed again and remembered me to the selection we had to use from Todd English.

Our bags were already in the room. After the last disaster with Hermes we decided to use Tefra-Baggage service. And it worked excellently: but the tracking service on the internet which occurred some panic attacks.

Unser Gepäck ist auch schon im Zimmer. Nach dem letzten Fiasko mit Hermes haben wir uns dieses Mal für
Tefra-Gepäckservice
entschieden. Und das hat super geklappt: bis auf die Sendungsverfolgung im Internet, die doch zu gewissen Panikattacken führt.
Am Tag der Einschiffung gibt es ja keine Tea-Time, also müssen wir wohl selbst Intitiative ergreifen und gehen ins Sir Samuel's. Wir nehmen hier ein paar Leckereien, die man allerdings bezahlen muss. Sigi isst mir mein Godiva Eis einfach weg und behauptet, dass das wegen der heißen Temperaturen in Hamburg von selbst geschmolzen wäre. Hier sieht man auch den Unterschied: Cappucino mit laktosefreier Milch und laktosehaltiger Milch. Oder liegt es nicht an der Laktose, sondern am Fettgehalt.

At the day of embarkation they had no tea-time, so we need to initiate ourselves and went to Sir Samuel's. We took here some goodies which you had to pay for. Sigi ate all my Godiva Ice Cream away and said it was because the of the hot temperatures in Hamburg it was melted. Here you could see the difference: Cappucino with lactose-free milk and milk with lactose. Or it was not because of the lactose but the milk fat.

Below us, they had the lifeboats.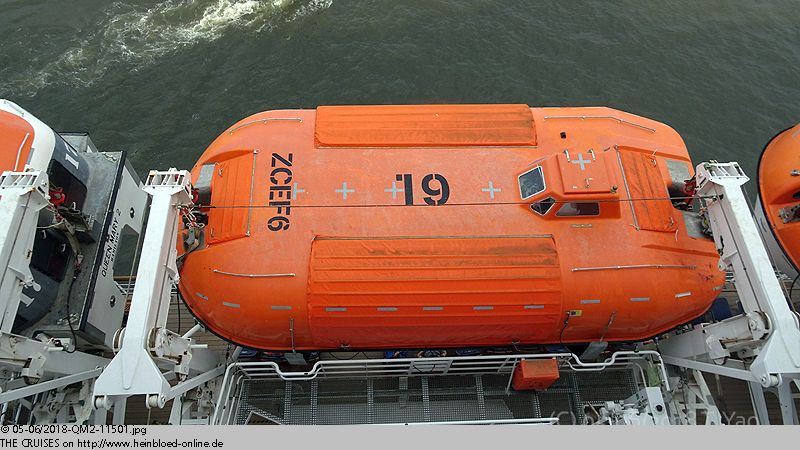 Unter uns sind die Rettungsboote.
Dort wird fleißig gearbeitet.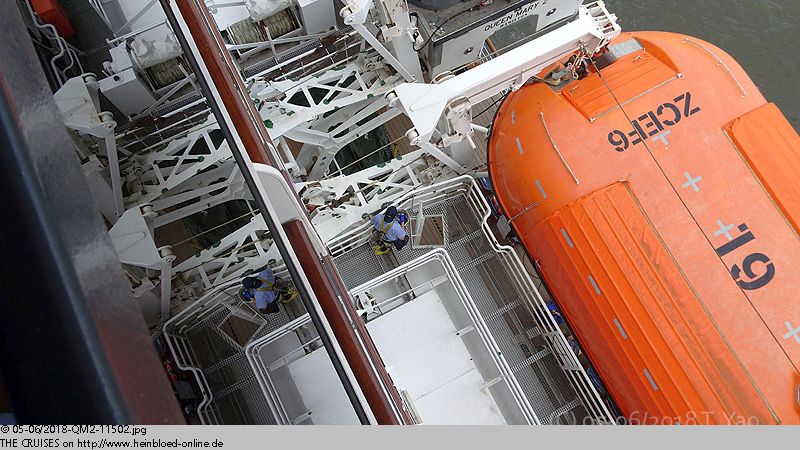 They were busy there around.

A sailor climbed upwards.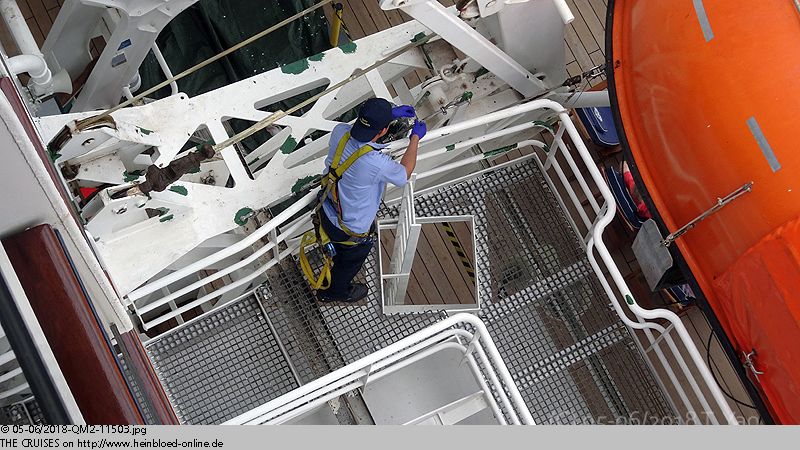 Ein Seemann steigt auf.
Und jede Minute wird genutzt, um das Schiff im guten Zustand zu halten. Auch an Stellen, die man als Passagier nicht unbedingt sieht.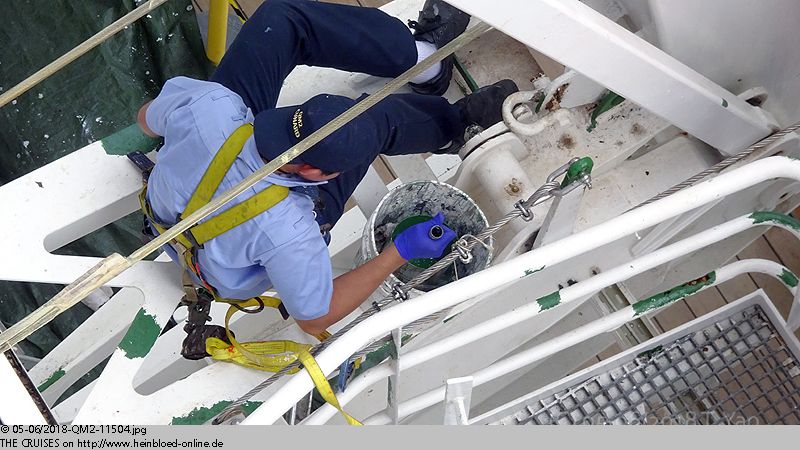 They spent every minute to keep the ship in a good condition. Even at those spots the passengers barely could see.

We went early to the life drill. We knew the congestion in the Kings Court.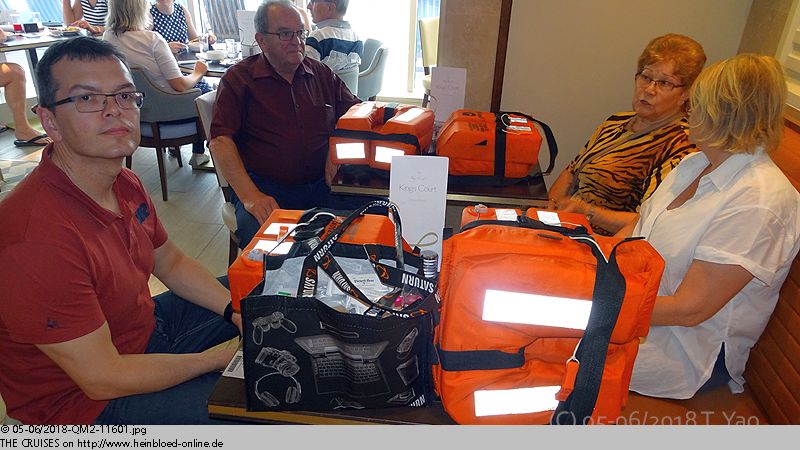 Wir gehen frühzeitig zur Seenotrettungübung. Wir kennen das Gedränge im Kings Court.
Und danach heißt es auch schon Aufstellung nehmen für die Ausfahrt.

And after that it was to time to be prepared for the set sail

Until the final set sail, they had many boats coming around to bid farewell and took pictures of us. You could see much joy on their faces to say good-bye to QUEEN MARY 2. Also among the younger generation. Due to GDPR (General Data Protection Regulation): sorry that I was not able to ask each of you personally at the river banks. Just write me if you have a problem with it - You can find my E-Mail-address in the profile. Indeed you may use all the pictures which you took of QUEEN MARY 2, and you could see me for the same purposes to be published like I am doing like blogs or social media. Suddenly it started to rain, and it became foggy. Very sad. But it was a great pleasure anyway. And thanks to Dorothy we could have three cabins next to each other on Deck 11 in a better category. So we saved long ways to find each other. No matter how many times you experienced the set sail in Hamburg: it was fun again and again, and mainly it was something extraordinary on QUEEN MARY 2.

Es kommen bis zur endgültigen Abfahrt noch jede Menge Boote vorbei, um uns zu verabschieden. Inkl. Männer-Striptease. Und man sah auch vielen die Freude an, QUEEN MARY 2 zu verabschieden. Auch viele der jüngeren Generation. Wegen DSGVO: sorry, dass ich nicht einzeln persönlich am Ufer nachfragen konnte. Einfach schreiben, wenn Sie damit ein Problem haben - Meine E-Mail-Anschrift findet sich in meinem Profil. Selbstverständlich dürfen Sie die Bilder, auf der Sie die QUEEN MARY 2 fotografiert haben und ich drauf bin, für ähnliche Zwecke wie Blogs und soziale Medien veröffentlichen, so wie ich es auch tue. Plötzlich setzt Regen und Nebel ein. Sehr schade. Aber es hat trotzdem sehr viel Spaß gemacht. Und dank Dorothy können wir in drei nebeneinanderliegende Kabinen auf Deck 11 in einer höheren Kategorie untergebracht werden. Das erspart uns lange Wege, einander zu finden. Egal wie oft man die Ausfahrt in Hamburg schon mitgemacht hat: es macht immer wieder Spaß und an Bord der QUEEN MARY 2 ist es nochmals etwas besonderes.
Übrigens auch wir wurden fotografiert.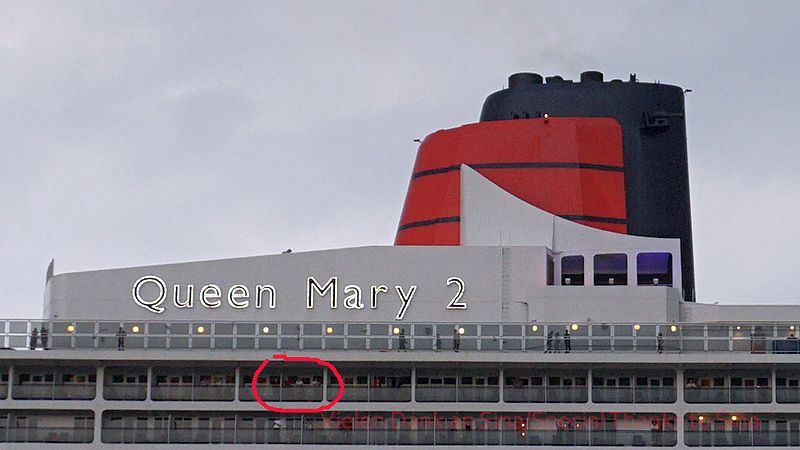 By the way some photos were taken of us too.

Sina from the German kreuzfahrten-treff.de took some pictures from Övelgönne. Thanks for letting me using the pictures.

Sina aus dem
kreuzfahrten-treff.de
hat uns ebenfalls von Övelgönne aus fotografiert. Vielen Dank für die Überlassung der Bilder.
Auch heißt es Ciao COSTA MEDITERRANEA. Sie bleibt noch bis 20:30 Uhr im Hafen. Auch hier, die an Deck der COSTA MEDITERRANEA standen: es tut mir leid, dass ich unser Kapitän nicht angehalten hat, damit ich alle einzeln befragen konnte, ob Sie mit damit einverstanden sind, dass ich Sie für meinen Blog fotografiere. Auf Wunsch bekommen Sie auch einen schwarzen Balken über die Augen wie bei Aktenzeichen XY ungelöst. Schreiben Sie mich einfach an! Alternativ: Sie können auch gerne die Bilder hochauflösend für Ihr eigenes Fotoalbum haben. Wann kommt es schon vor, dass man mal ein Bild von sich selbst auf dem Schiff hat... Wenn Sie eines von uns haben: gerne her damit: wir sind direkt unter dem Schriftzug "Queen Mary 2" (zwei Decks unter dem M) - Meine E-Mail-Anschrift ist im Profil hinterlegt.

Furthermore we had to say Ciao COSTA MEDITERRANEA. She would stay until 20:30 hrs in port. Also here those who were standing on the deck of COSTA MEDITERRANEA: I am sorry that the Captain did not stop that I could ask each of you personally whether you agree that I took pictures for my blog. By request, I can add black stripes over your eyes like in Crime Stoppers. Just write to me! Alternatively: you may also have the pictures for your own photo album in a high resolution. When would you have a chance again that you have a picture of you on the ship... If you have pictures of us: please send to me: we were just below the lettering "Queen Mary 2" (Tow decks below of the M) - My E-Mail address you can find in the profile.

At the Louis C. Jacob Hotel they bid farewell in a befitting way.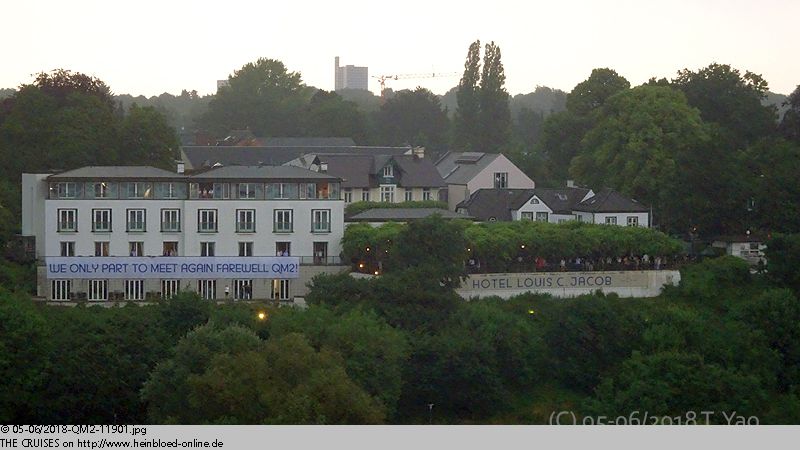 Am Hotel
Louis C. Jacob
werden wir wohl standesgemäß verabschiedet.
Es läuft Edgar Elgars
"Land of Hope and Glory"
. Leider wird nirgendst der Text an einer Hauswand projiziert, damit alle mitsingen können und auch keine Union Jacks sind vorab verteilt worden, um zurückzuwinken.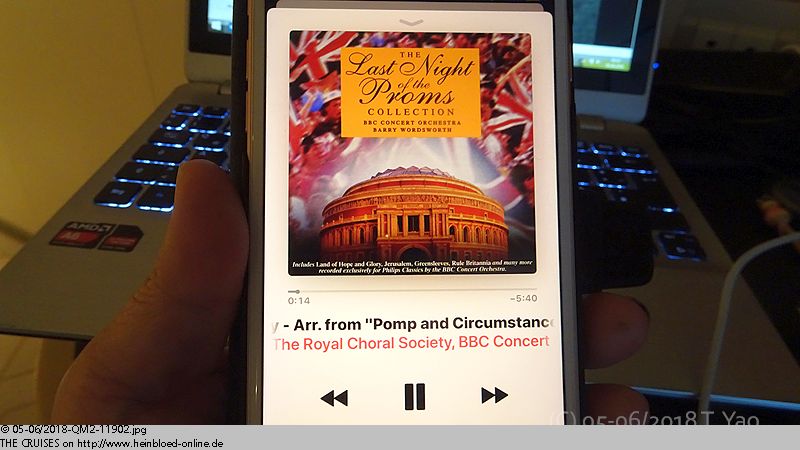 They played Edgar Elgar's "Land of Hope and Glory". Unfortunately, they did not project the lyrics on the house wall so everybody could join singing and no Union Jack was delivered in advance to wave them back.

The Sailing Ship Mercedes played for farewell "Proud Mary" of Creedence Clearwater Revival.

Das
Segelschiff Mercedes
spielt "
Proud Mary
" von Creedence Clearwater Revival zum Abschied.
Und wieder in Blankenese vorbei am Strandhotel und Fischclub. Tschüss... Die Hamburger sind "verrückt" auf
ihre
QUEEN MARY 2. Kein noch so besch... Wetter kann sie davon abhalten, uns zu würdevoll zu verabschieden.

And again in Blankenese passing the Strandhotel and Fischclub. Bye... The Hamburger were "crazy" on their QUEEN MARY 2. No sh... weather could keep them away to deliver us a dignified farewell.

We went for dinner at the Britannia-Restaurant. We really got a beautiful table: Thanks to Attila. We were happy to meet Abdulsharief and Vijay again. The food was good. With the service, we had the impression that the crew was still suffering from the Peter-Maffay-Cruise (A German rock singer was on the last voyage) and was not really ready to work again. I need to change my clothes because my jacket and my shirt got something on. I got the instructions promptly what I should write on the laundry sheet, and they promised me that my shirts would return before the next evening and the remainder of the night I could stay without a jacket in the restaurant.

Wir gehen zum Abendessen in das Britannia-Restaurant. Wir haben einen tollen Tisch bekommen: Vielen Dank an Attila. Wir freuen uns Abdulsharief und Vijay wiederzusehen. Das Essen ist gut. Beim Service haben wir den Eindruck, dass sich die Crew noch ein wenig von der
Peter-Maffay
-Kreuzfahrt wieder aufrappelt und noch nicht so vollständig wieder einsatzfähig ist. Ich muss mich umziehen, weil sowohl mein Jacket als auch mein Hemd etwas abbekommen. Ich bekomme aber sofort Anweisung, was ich bitte auf den Wäschezettel schreiben soll und man verspricht mir, dass ich morgen Abend mein Jacket wiederbekomme und darf den Rest des Abends ohne Jacket im Restaurant verbleiben.
Wir gehen danach noch auf einen Drink in den Commodore Club.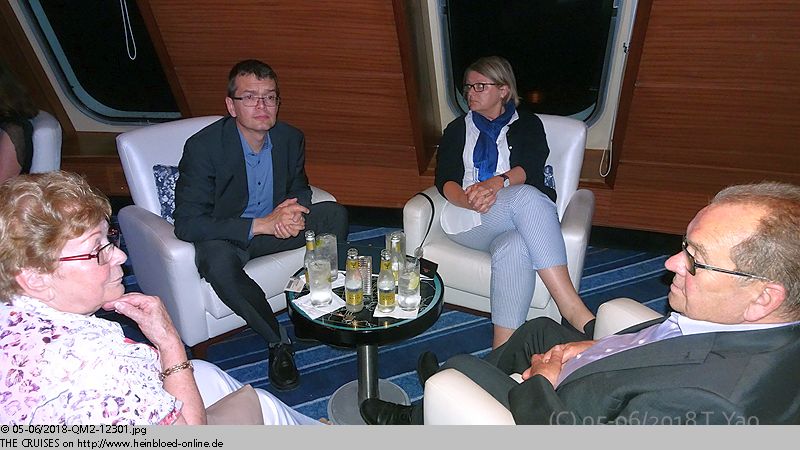 We went thereafter for a drink to the Commodore Club.

Here I was welcomed by Anna whom we already from a few cruises.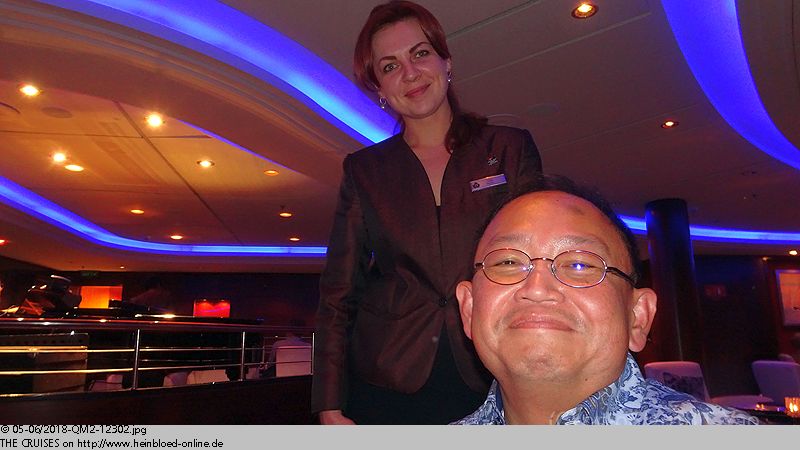 Hier werde ich sofort von Anna begrüßt, die ich von einigen Kreuzfahrten bereits kenne.
Für mich ein alkoholfreier Cocktail.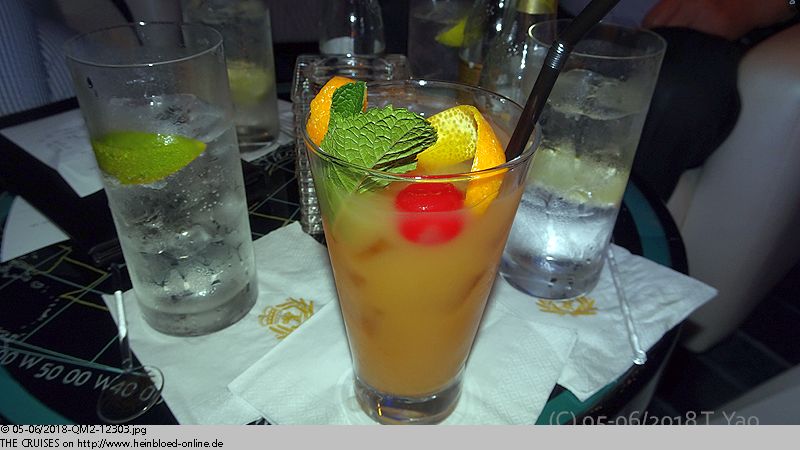 For me an alcoholfree cocktail.

The others enjoyed Gin Tonic.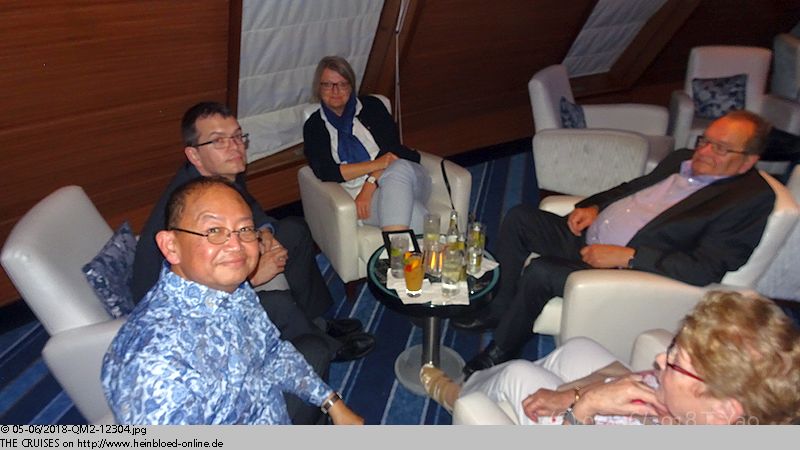 Die anderen genießen ihren Gin Tonic.
Meinen 52. Geburtstag habe ich auf der
QUEEN VICTORIA 2018
verbracht. Dort hatte ich keine Gelegenheit direkt mit dem Chef der Patisserie zu sprechen. Aber Chef Roen ist mein Facebook-Freund und so kommt er vorbei, um direkt abzusprechen, wie Brunos Torte sein soll. Also Bruno mag es sehr schokoladig, Bruno mag Vanille, Bruno mag keine Buttercreme, Bruno mag es nicht so süß und Bruno mag Beeren. Mal gucken, was er daraus macht.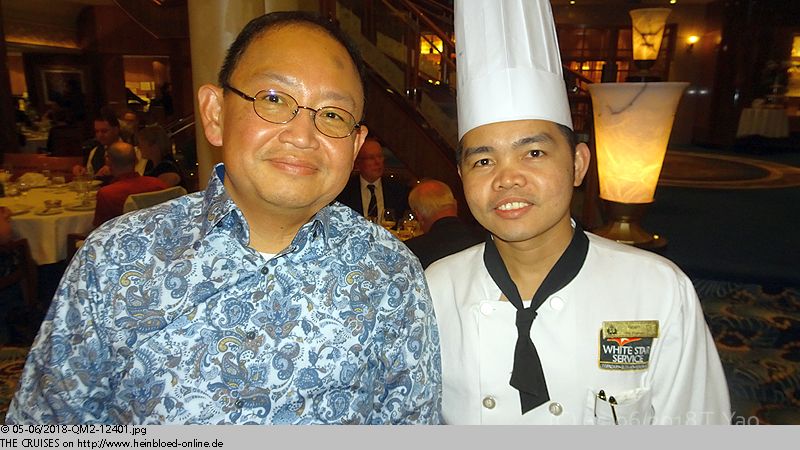 I celebrated my 52nd birthday on QUEEN VICTORIA 2018. There I had no chance to speak personally with the Chef of the Pastry Team. But Chef Roen is my Facebook-Friend, and so he came by to discuss personally how Bruno's birthday cake should be. So Bruno loved chocolate, Bruno loved vanilla, Bruno did not love butter creme, Bruno did not love it too sweet, and Bruno loved berries. Let us see what he can do for us.

From him, we had some nice greeting in the cabin. I should have my giant Tupperware box with me so I could carry home the swan.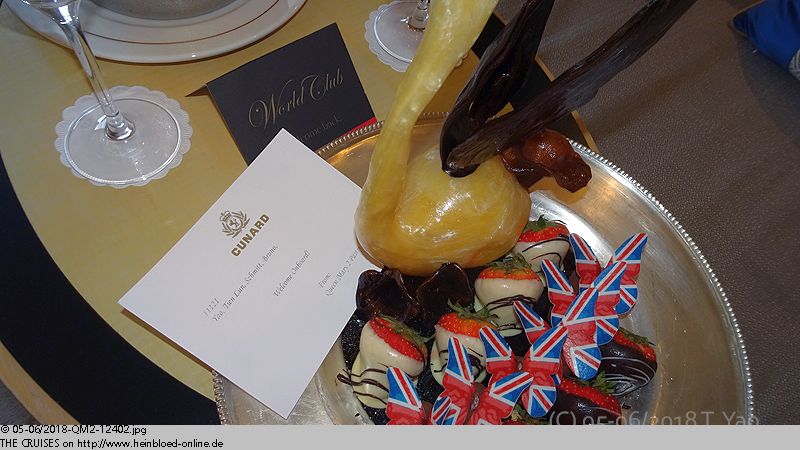 Von ihm gab es ein paar Grüße auf die Kabine. Ich hätte eine Riesentupperdose mitbringen müssen, um den Schwan heil nach Hause zu bekommen.
Wir bekommen noch ein besonderes Dessert um das Abendessen abzuschließen.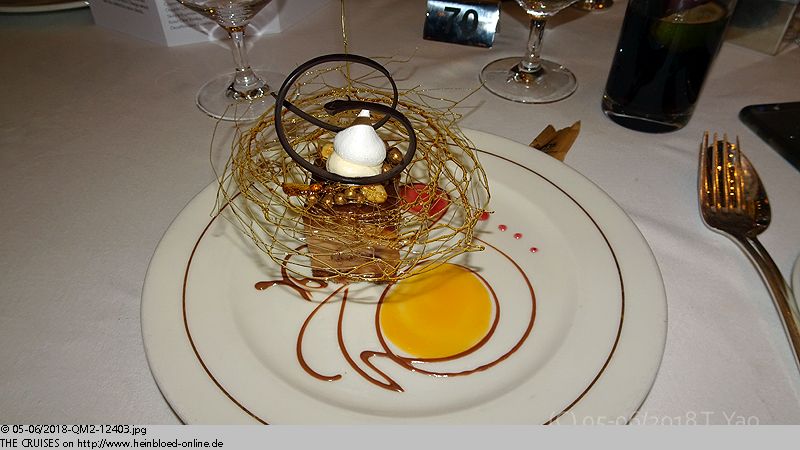 We got also a special dessert to finish the dinner.

The fruit puree: so yummy and fruity... I could clean the plate with my tongue...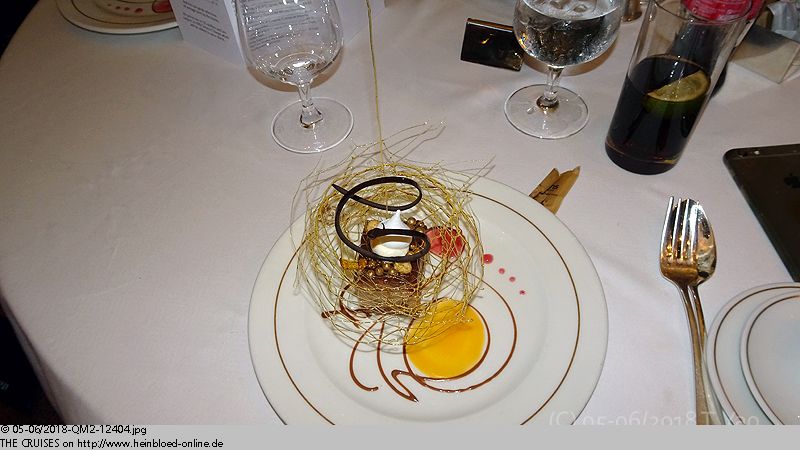 Das Fruchtmark: so lecker und fruchtig... ich könnte glatt den Teller mit der Zunge sauber lecken...
Und später in der Kabine auch noch ein süßer Gruß zur Guten Nacht von Vijay.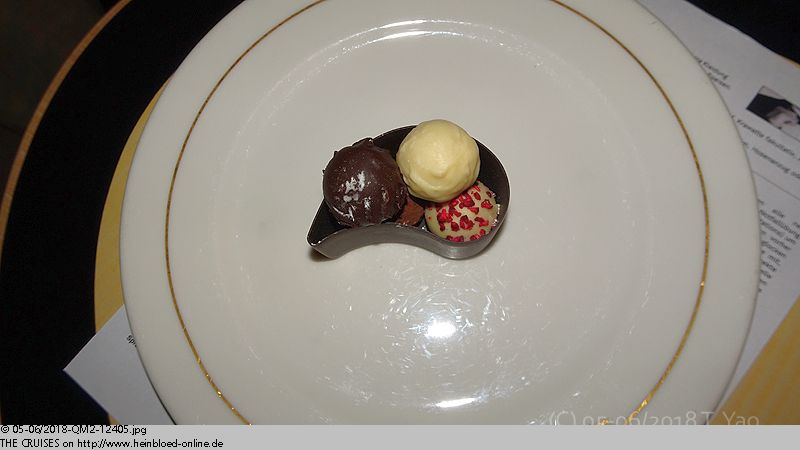 And later in the cabin we had also some sweet greetings for good night from Vijay.
Die anderen Reisen in diesem Blog/
The other voyages in this blog: