Eigentlich ist es noch viel zu früh, aber ich will eigentlich die anderen Schiffe sehen, die in der Solent einlaufen. Aber alle anderen sind wie die Katzen, die nachts grau sind. So sehe ich mich noch ein wenig um. Aber eigentlich darf ich gar nicht raus. Über den Ausgang für Raucher gelange ich auf die offenen Decks. Hier sieht man, dass die Nacht etwas unruhig war.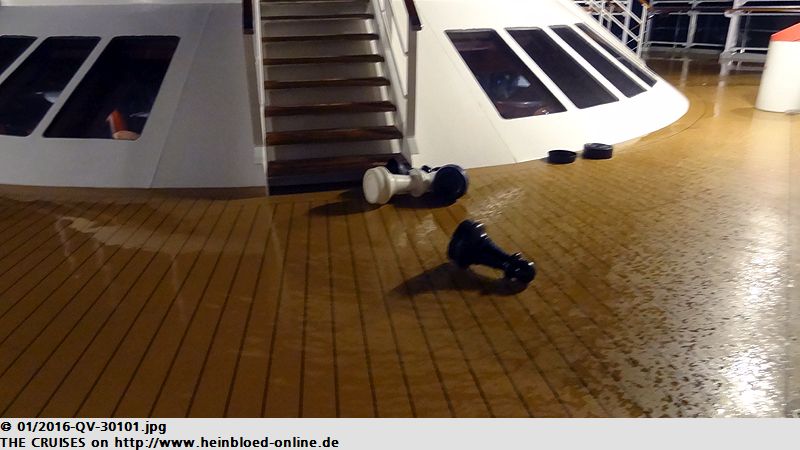 Actually it was too early yet but I wanted to see the other ships which arrived in the river Solent. But all others were like all cats which are grey by night. So I looked a little bit around. But actually I was not allow to get out. Through the exit for smokers I got on the open decks. Here you could see that the night was some uncalm.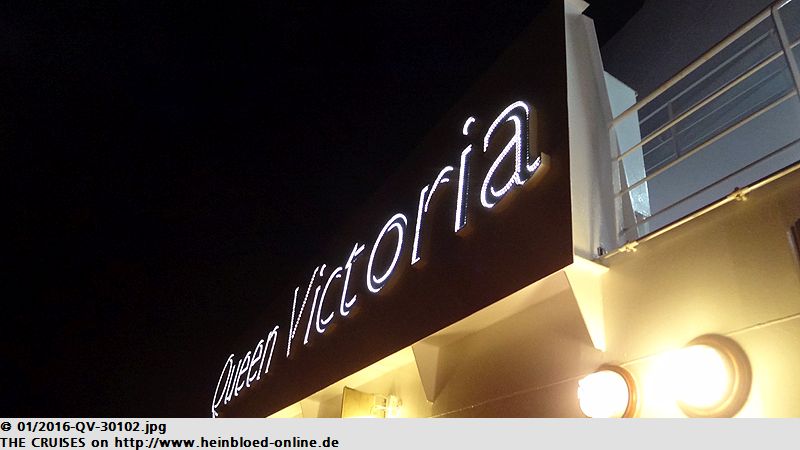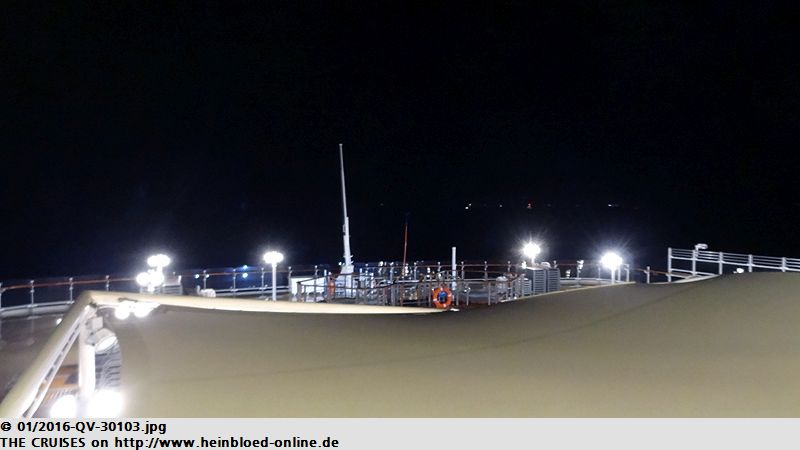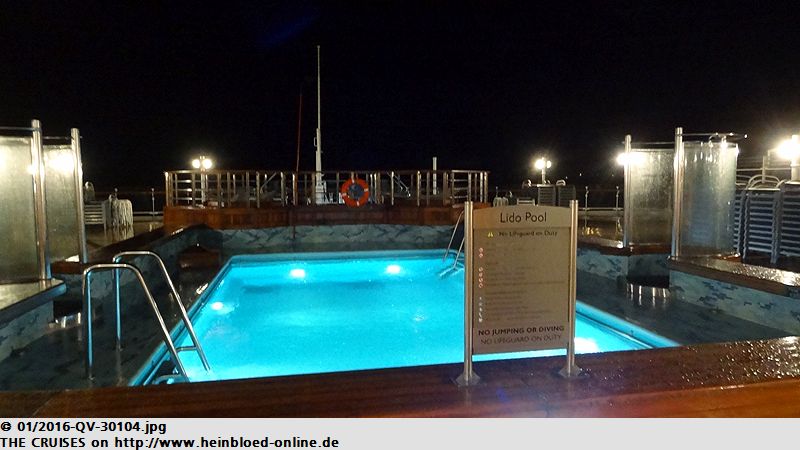 Die Bank mag ich lieber von einem HAL-Schiff mit nach Hause nehmen... Mist: ich hätte doch eigentlich für die von der RYNDAM bieten können.

I like the bench more from a HAL-Ship to take it home... Damn: Actually I should have bit for the RYANDAM one.

I had a look around in the Lido again.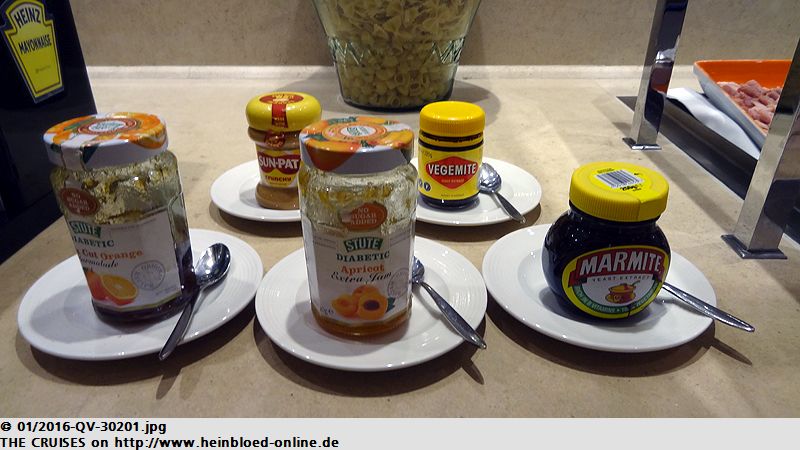 Ich gucke mich nochmals im Lido um.
Aber das Angebot im Britannia-Restaurant gefällt mir eindeutig besser.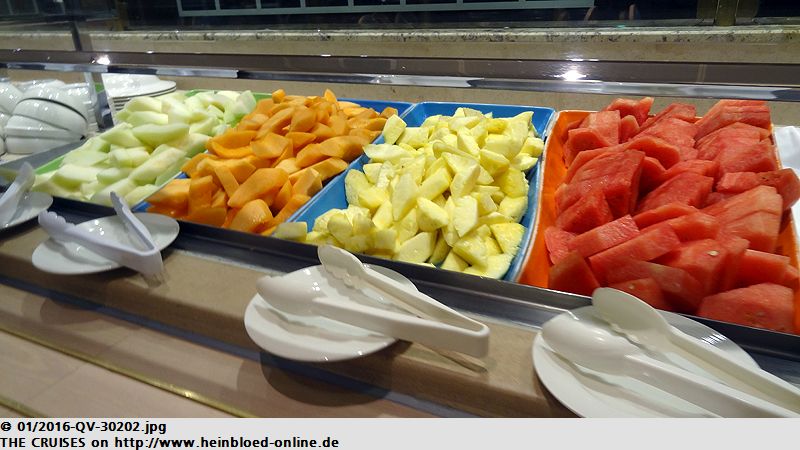 But I like more the offer they had in the Britannia-Restaurant.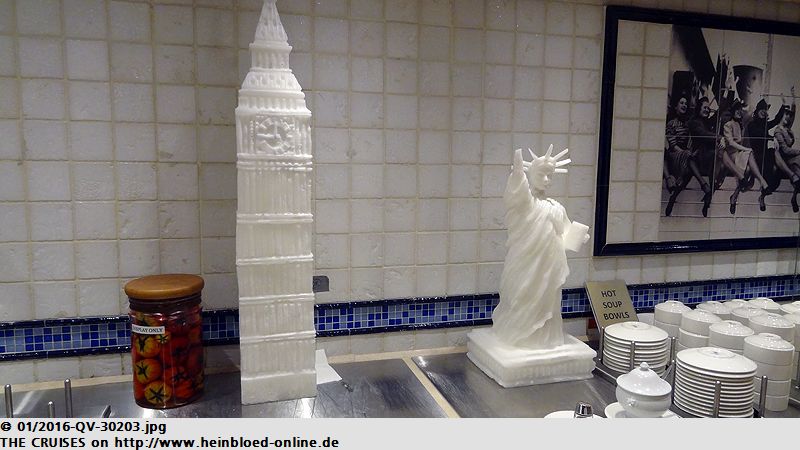 Hier gibt es doch Smoothie, aber es ist nichts aus dem Entsafter.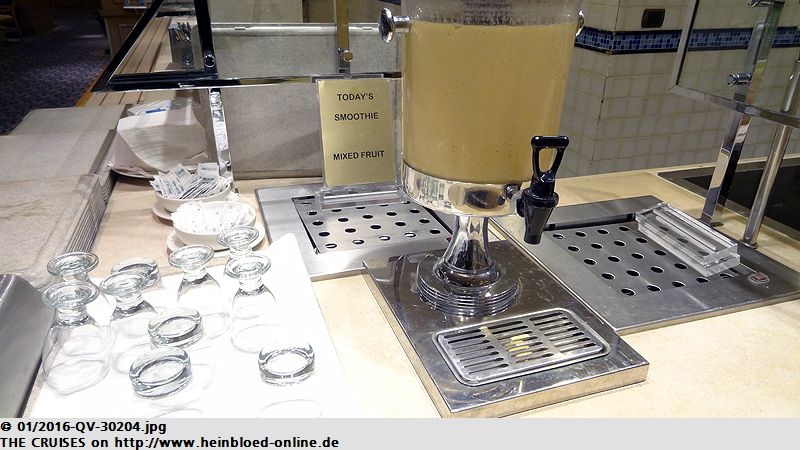 Here they had Smoothie but nothing from a juicer.

I ate a liitle bit as we wanted to go for breakfast much more later.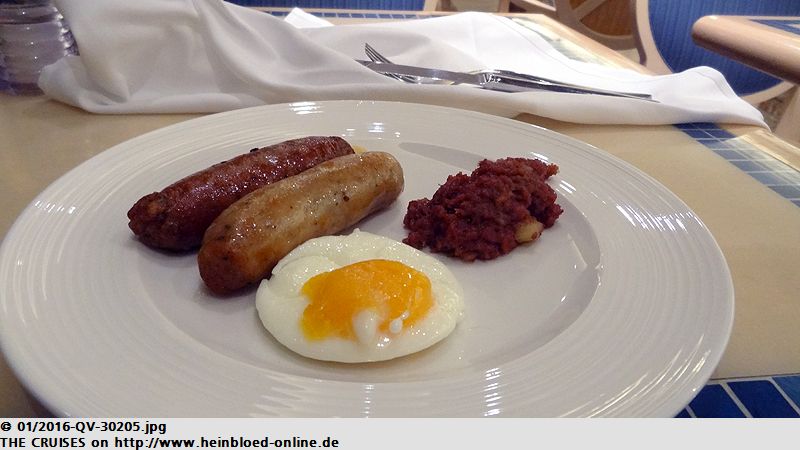 Ich esse ein klein wenig, weil wir ja noch sehr viel später zum Frühstück wollen.
Wieso können wir nicht die erste sein und am
QEII-Terminal
anlegen und alle anderen fahren an uns vorbei?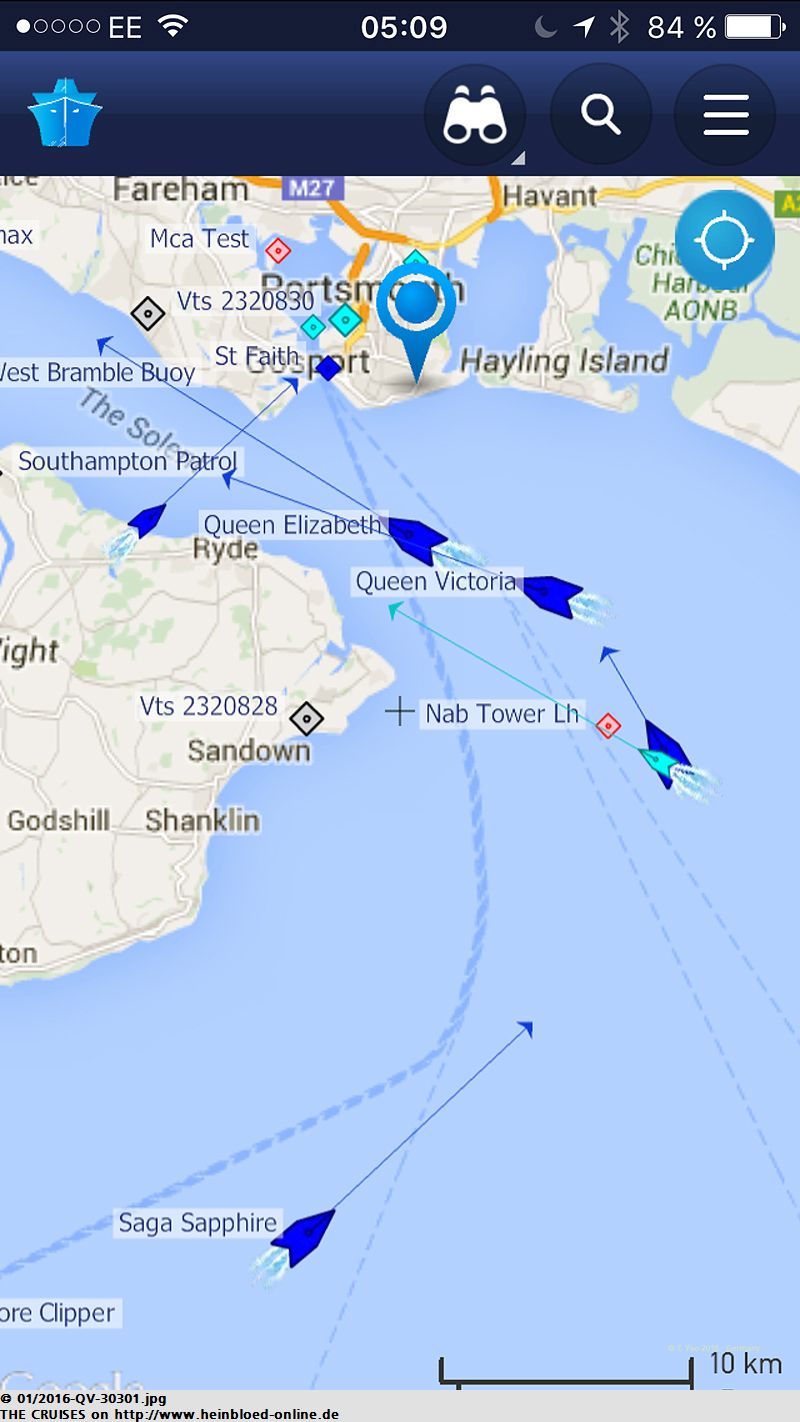 Why could not us be the first and dock at QEII-Terminal and all others had to pass us.

Onboard they still had a model of our LILI MARLEEN... went into service as CUNARD COUNTESS.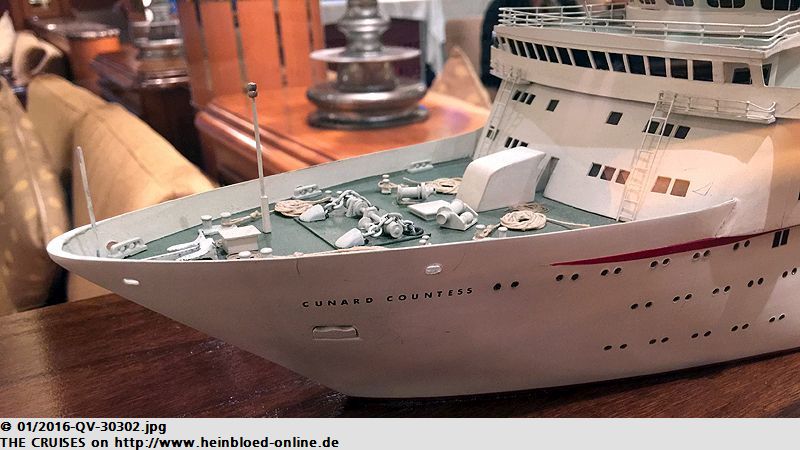 An Bord gibt es immer noch das Modell von unserer LILI MARLEEN... in Dienst gestellt als CUNARD COUNTESS.
Unsere allererste Kreuzfahrt damals als
LILI MARLEEN 2006
und unsere 50. als
OCEAN COUNTESS 2012
.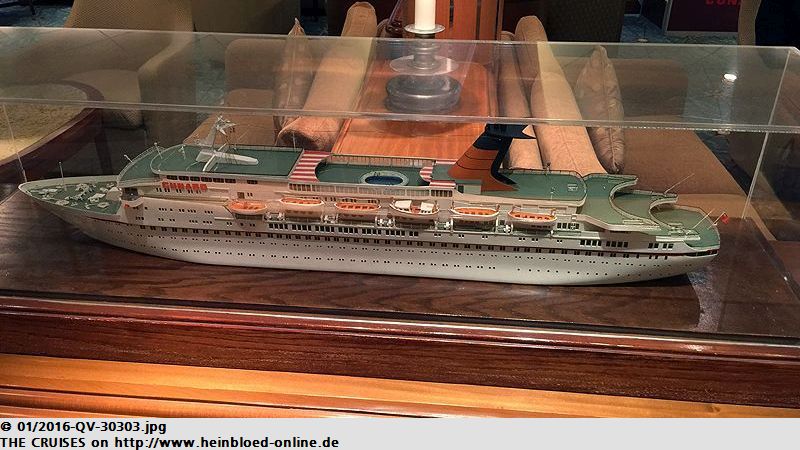 Our very first cruise as LILI MARLEEN 2006 then and our 50th as OCEAN COUNTESS 2012.

In the port QUEEN ELIZABETH already arrived.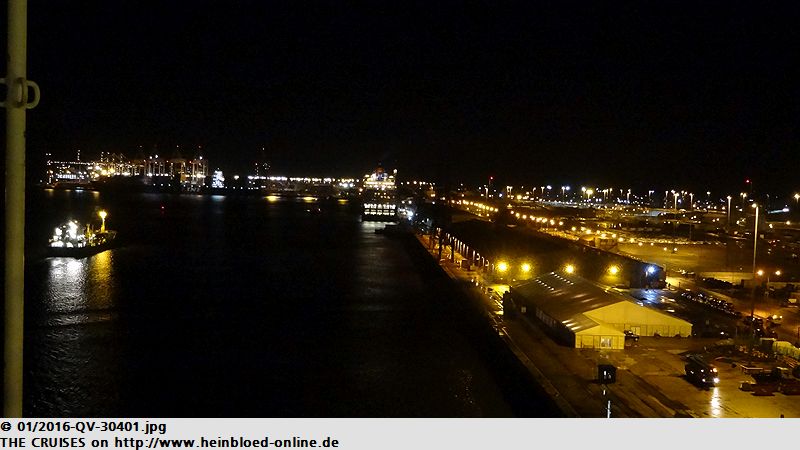 Im Hafen liegt bereits QUEEN ELIZABETH.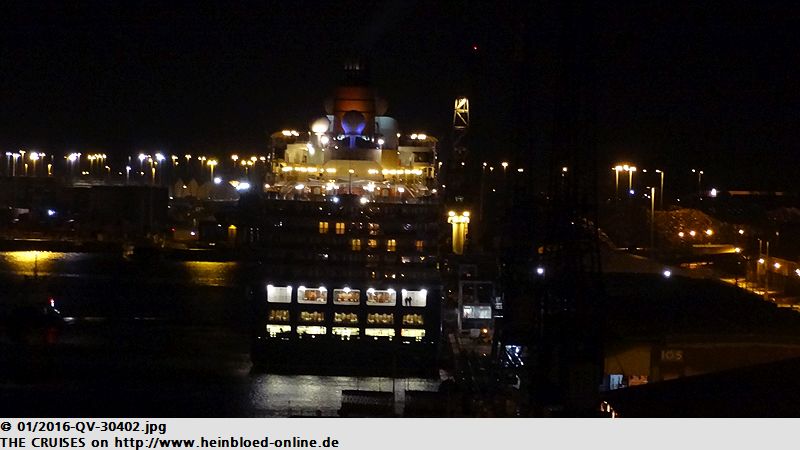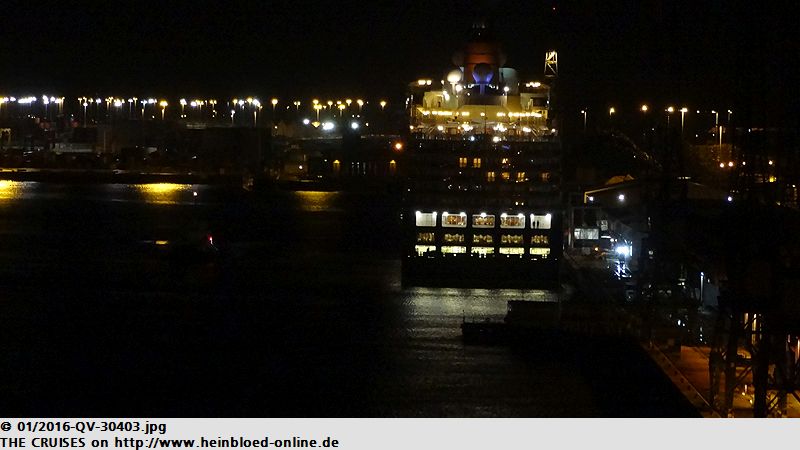 QUEEN MARY 2.

QUEEN MARY 2

SAGA SAPPHIRE. In Germany better know as EUROPA. From 1981 to 1999 she sailed under this name for Hapag-Lloyd.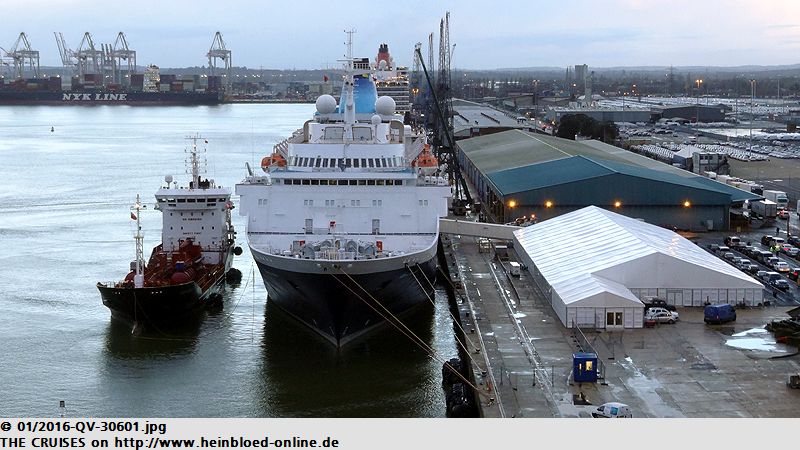 SAGA SAPPHIRE. In Deutschland besser als EUROPA bekannt. Von 1981 bis 1999 fuhr sie unter diesem Namen für Hapag-Lloyd.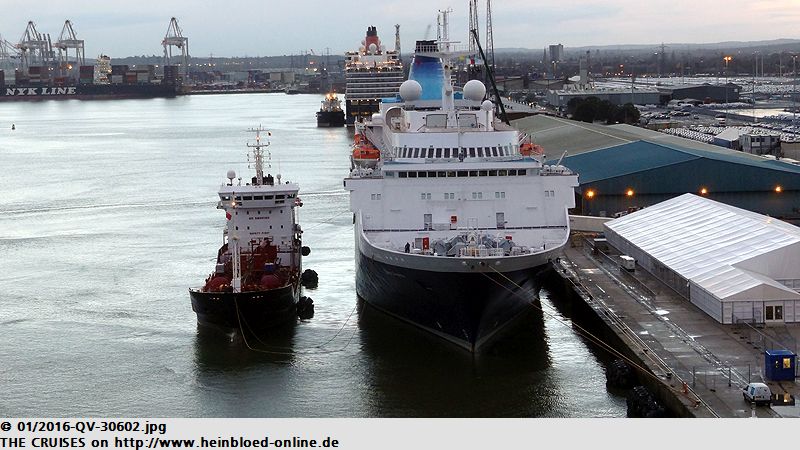 We arrived punctually for the immigration control for Southampton. But the immigration officer did not. So all groups were already assembled when they arrived. The room was too small. One thought that there was a need to help himself with those food items which were prepared for the immigration officers.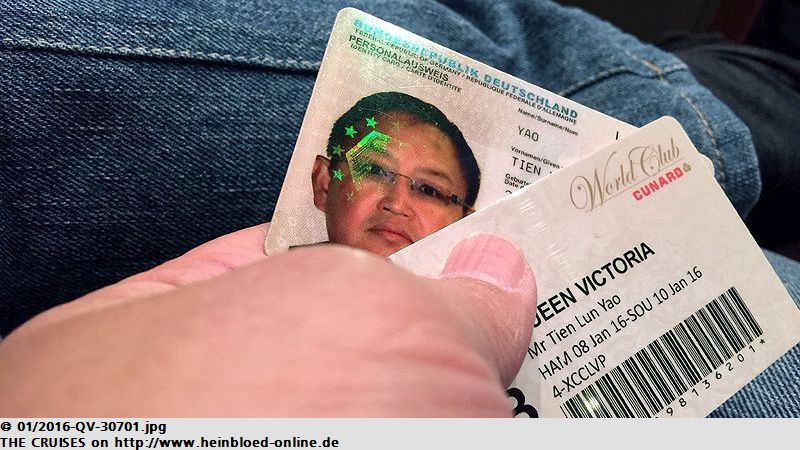 Wir sind pünktlich zur Einreisekontrolle für Southampton. Leider sind die Grenzbeamten nicht. So dass hinterher alle Gruppen da sind, als sie eintreffen. Der Raum ist viel zu klein. Einer meint einfach sich am vorbereiteten Essen für die Grenzbeamte sich bedienen zu müssen.
Ein deutscher Renter (allerdings ohne Kappe), Typ OberStudienRat i. R. fällt negativ auf. Er meint, dass er gerne Großbritannien verklagen möchte, weil es die Grenzkontrollen durchführt, obwohl es angeblich Vollmitglied im Schengen-Abkommen sei. Er spricht so laut, dass er er den gesamten Warteraum unterhält. Ich greife ein, und kläre ihn auf, dass Großbritannien bei dem Teil auf die Grenzkontrollen zu verzichten, nicht mitmacht. Dafür bekomme ich von anderen Gästen Applaus. Aber er ist unbelehrbar. Außerdem meint er, dass seine Restlebenszeit so kurz ist, dass er sofort dran kommen muss und ihn nicht interessiert, dass andere schon länger hier warten als er.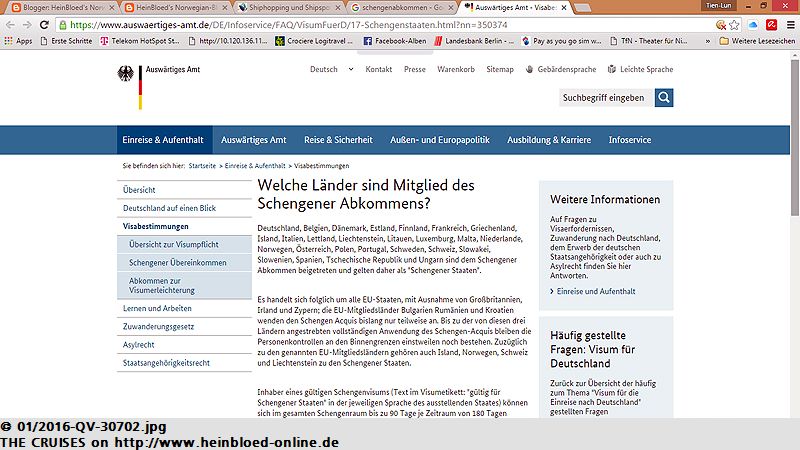 One German senior (but without a cap), retired School Principal style attracted my attention very negatively. He thought that there was a need to sue United Kingdom because were doing immigration check although it should be supposedly full member of the Schengen Accord. I intervened and clarified that United Kingdom does not participate the part of the accord to withdraw the border control. Other guests gave me applause. But he is unteachable. Furthermore he thought that his remained life time was so short that he need to be served asap and he was not interested to know that others were waiting longer but him.

We should be with our breakfast for more than 30 minutes.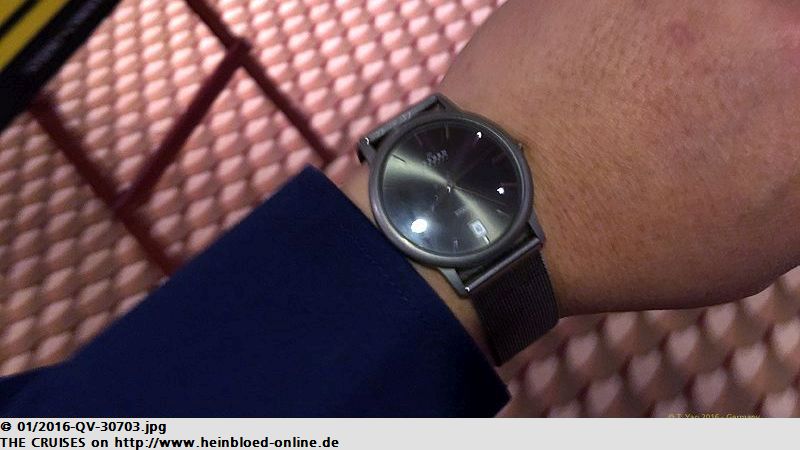 Wir müssten eigentlichs seit 30 Minuten beim Frühstück sitzen.
Unser letztes Frühstück.

Our last breakfast.

Although Sojan was not in charge for our table he came by and got me the ice tea the way I liked it.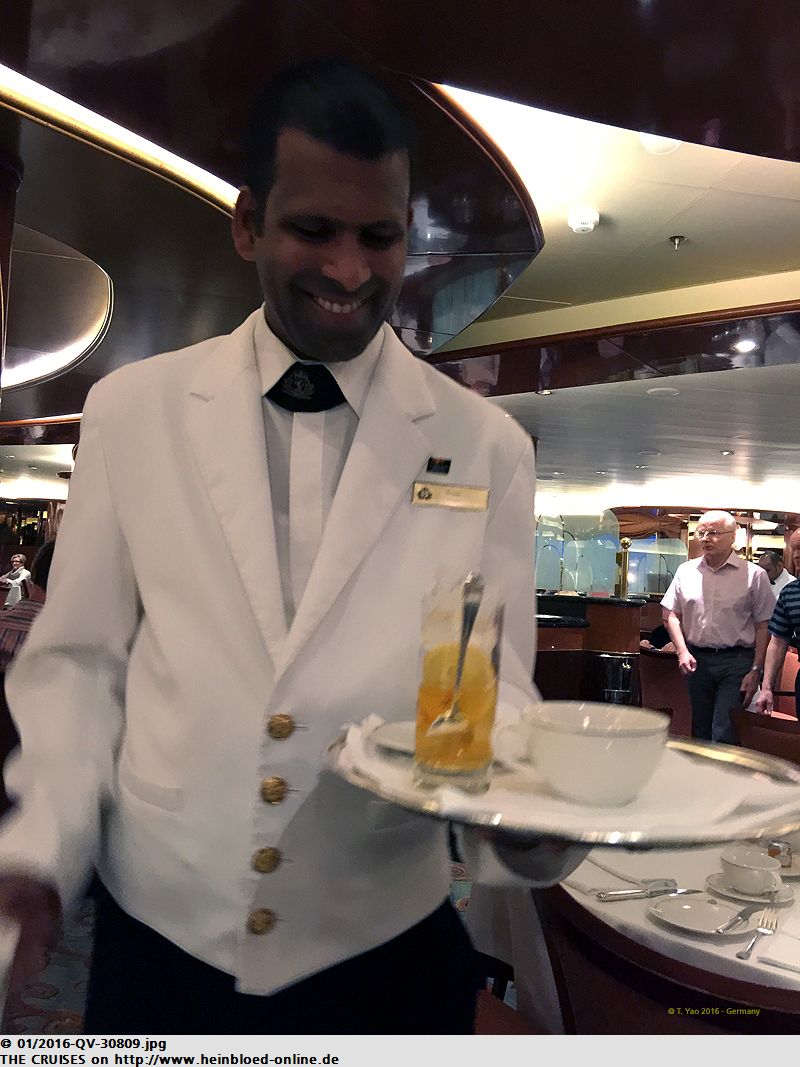 Obwohl Sojan gar nicht für unseren Tisch zuständig ist, kommt er vorbei und bringt mir den Eistee, so wie ich ihn mag.
Obwohl Sojan gar nicht für unseren Tisch zuständig ist, kommt er vorbei und schenkt mir zwischendurch nach.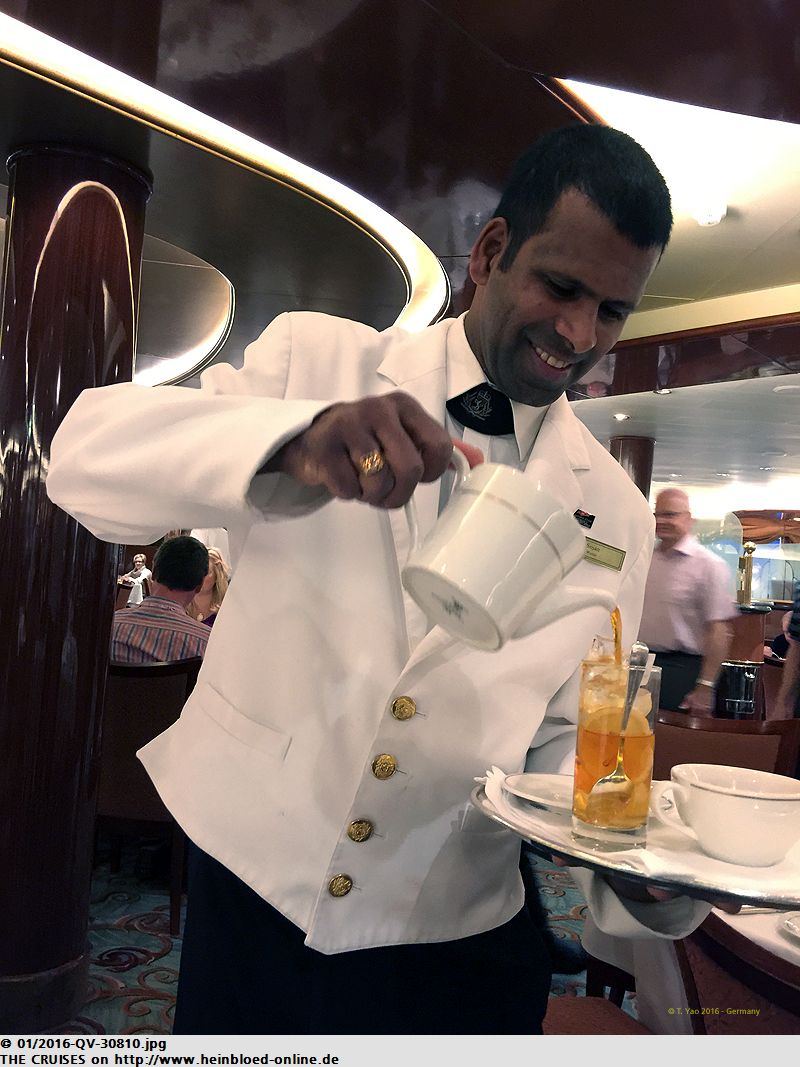 Although Sojan was not in charge for our table he came by and pour me some more.

Although Sojan was not in charge for our table he came by and exchanged my glass of ice-cubes to avoid that my ice tea became too aqueous. That you can simply call a super service.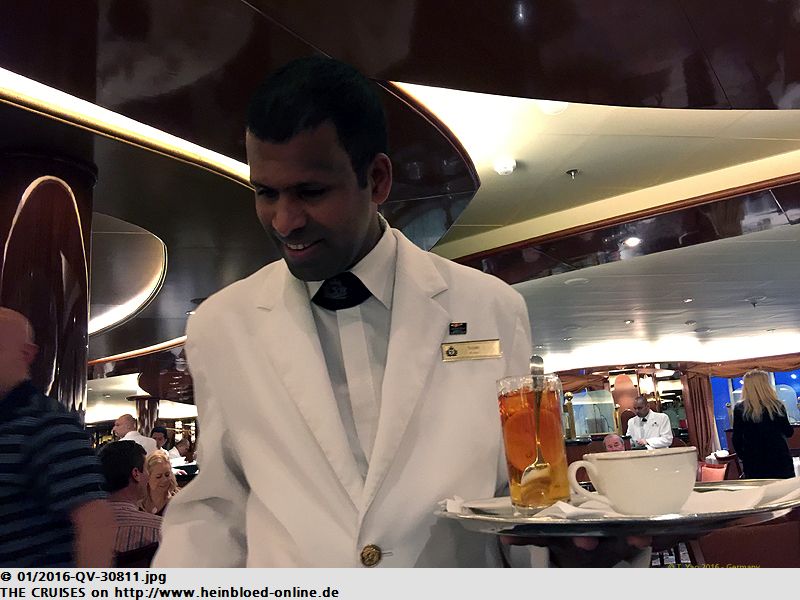 Obwohl Sojan gar nicht für unseren Tisch zuständig ist, kommt er vorbei und tauscht mein Glas mit den Eiswürfeln aus, damit mein Eistee nicht verwässert. Das nennt man einfach einen super Service.
Ich gehe nochmals nach oben, um mich nochmals im Bereich des Commodore Clubs und Hemisphere umzusehen.

I went one more time upstairs to see around in the Commodore Club and Hemisphere area.

The transfer was well managed. There was no fixed time. We could leave immediately the ship and walked to the coach.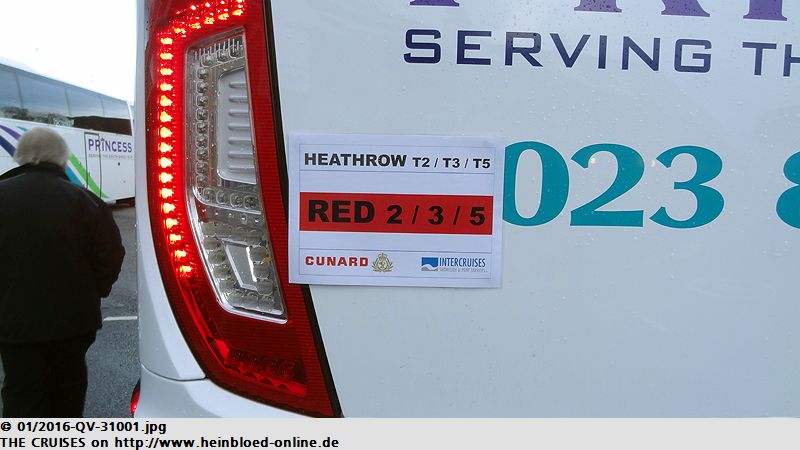 Der Transfer ist sehr gut organisiert. Es gibt keine feste Zeit. Wir können direkt das Schiff verlassen und zum Bus.
Allerdings sind nur so wenige gebuchte Gäste, dass wir sowieo bis 09.00 Uhr warten müssen. Es gibt nur ein Bus zum
Flughafen Heathrow
, der alle Terminal ansteuert.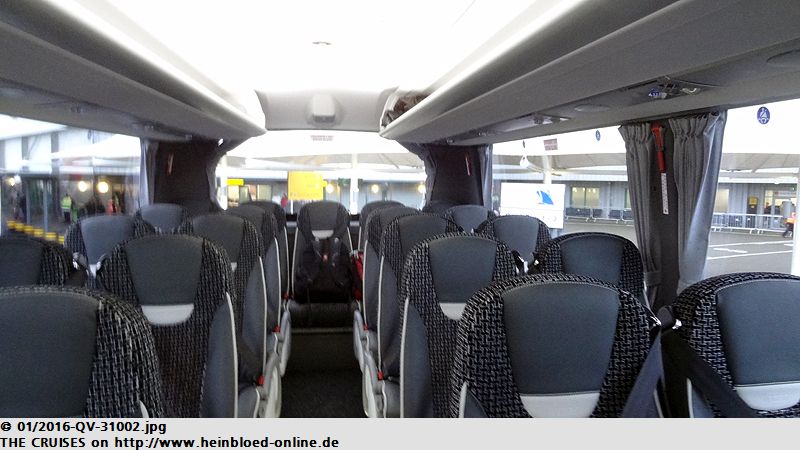 But there were only few guests so we had to wait until 09.00 hrs anyway. There was only one coach avaiable for Heathrow Airport which served all terminals.

We had the bus almost for ourselves.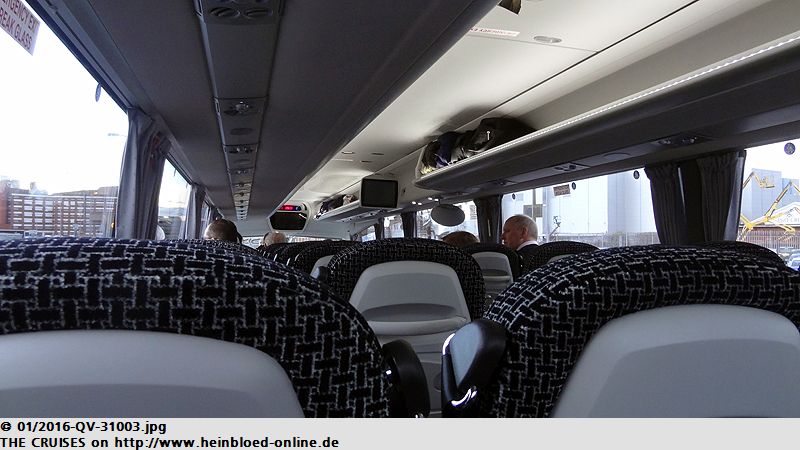 Den Bus haben wir fast für uns alleine.
Als wir in Heathrow ankommen, erwartet uns strahlend blauer Himmel.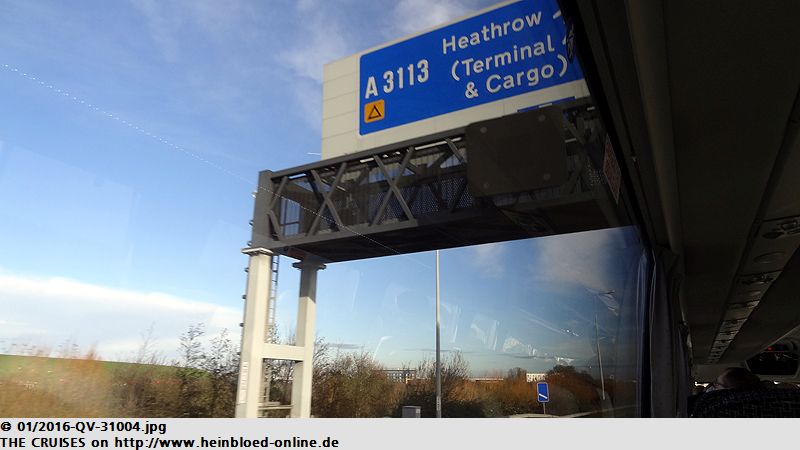 When we arrived in Heathrow we had bright blue sky.

We supposed to arrive very soon. We already reached Terminal 4.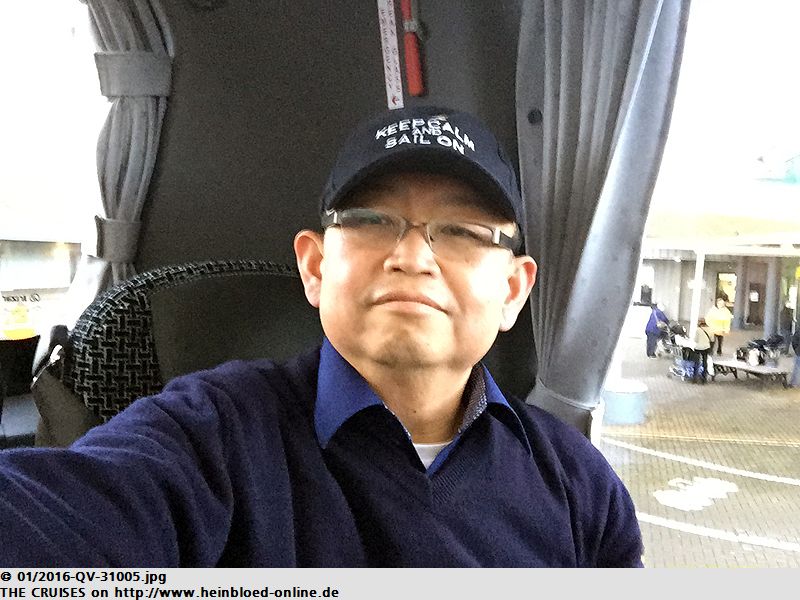 Wir sind gleich da. Terminal 4 haben wir bereits erreicht.
Aber wir müssen wieder ins Terminal 2. Der allerletzte Stop.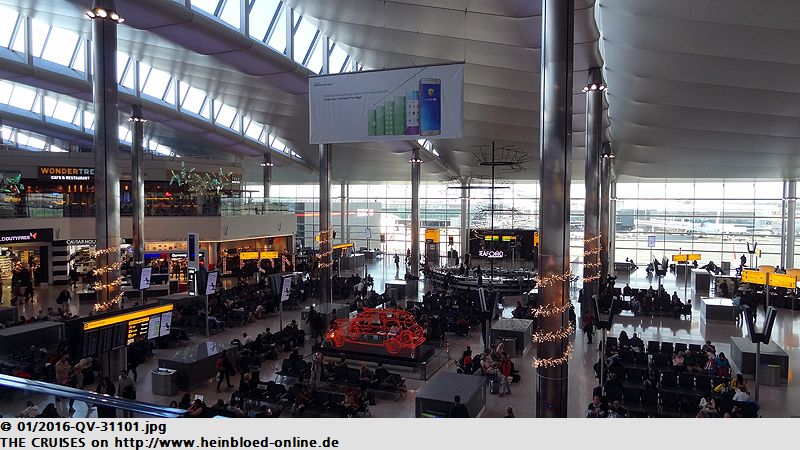 But we need to go for Terminal 2. The very last stop.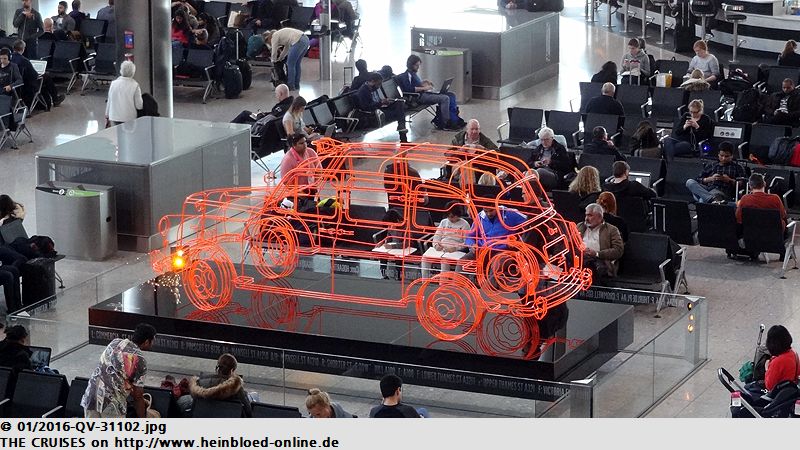 Wir nutzen die Gelegenheit in
The Gorgeous Kitchen
zu essen. Es wurde vom The Daily Meal zum
besten Flughafen-Restaurant
gewählt. Es fällt schon positiv auf, weil überall Steckdosen für Gäste da sind. Da sie eine nagelneue Wochenend-Mittagskarte haben, sind wir die ersten Gäste, die das Smoothiesangebot nutzen. Sie servieren und machen uns aufmerksam, dass sie ihn zum ersten Mal gemacht haben. Nach dem sie sehen, dass wir wohl etwas das Gesicht verzogen haben, mischen sie alles nochmals neu. Brunos Hühnchen ist sehr lecker. Ich hatte mit meinem Fish and Chips etwas Pech. Irgendwie ist zuviel Stärke im Teig. Er ist daher so fest, dass man ihn kaum schneiden kann. Vor allem nicht mit dem Messer, den alle Restaurants in den Flughafenterminals nutzen müssen, damit hiermit kein Flugzeug entführt werden kann. Der Fisch wird nicht berechnet. Es macht ja keinen Sinn, mir eine frische Portion zu braten: 1. würden wir den Flug verpassen und 2. würde es nicht mehr in meinen Magen gehen. Aber hierher kommen wir bestimmt gerne wieder.

We used the occasion to have lunch at The Gorgeous Kitchen. It was voted by The Daily Meal for being the best airport restaurant. It attracted to us very positively htat you had everywhere power outlets. As they had a brandnew weekend-lunch menu we were the very fist guest which ordered their smoothies. They served and told us that they did it the very first time. After they noticed that we grimaced slightly they mixed it one more time for us. Bruno's chicken was very delicious. I had some unluck with my Fish and Chips. Somehow there was too much starch in the batter. It was so solid like a rock that you cannot cut it. Especially not with this knife which all restaurants need to use in all airport terminals to avoid a kidnapping of a plane. They did not charge me the fish. It did not make sense to prepare me another portion: 1. we would miss the flight and 2. it would not fit anymore in stomach. But to here we would come back again.

When we had received this push-message the day before I was about to have a heart attack... Our flight was departed. Did I book the wrong flights?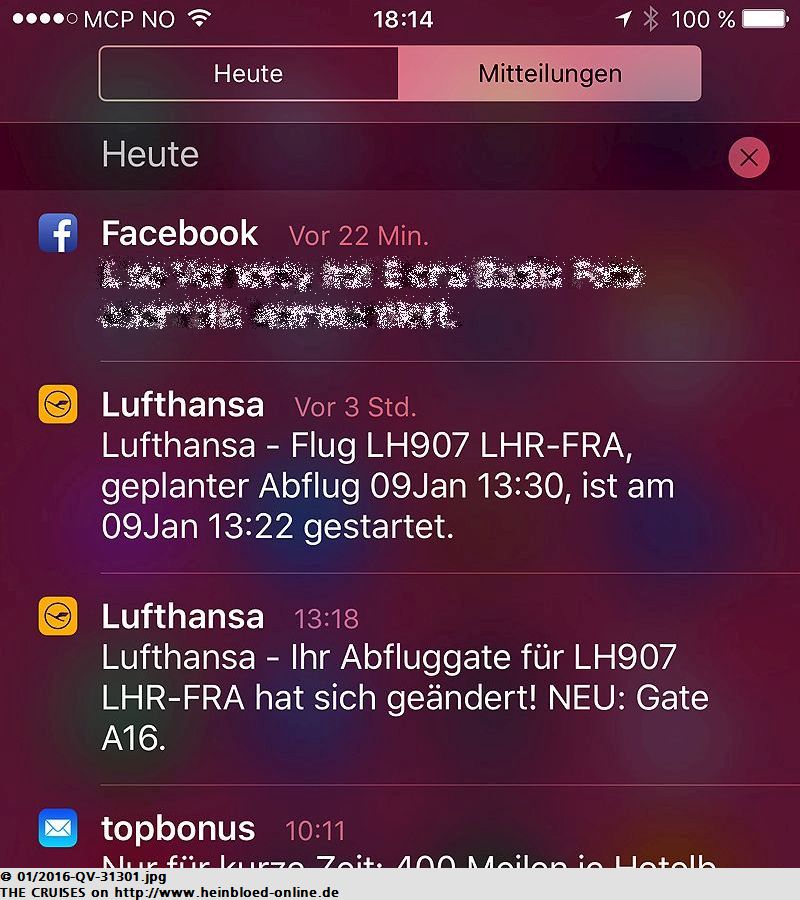 Als wir gestern diese Push-Nachricht erhalten haben, waren wir dem Herzinfarkt nahe... Unser Flug ist abgeflogen. Habe ich die falschen Flüge gebucht?
Die Situation ändert sich heute auch nicht: unsere Flüge sind angeblich gestern schon abgeflogen.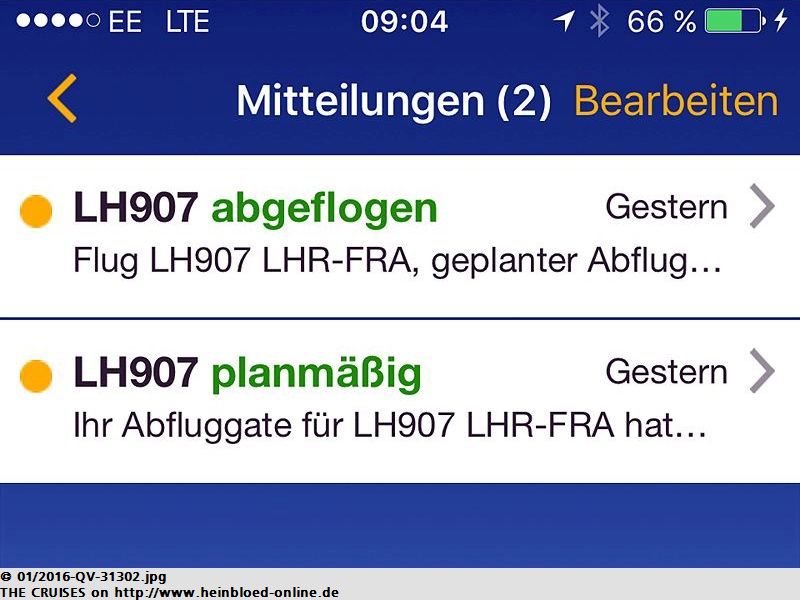 But the situation did not changed that day either: Our flights departed already yesterday.

We had luck as the information system did not work properly. We could fly as scheduled.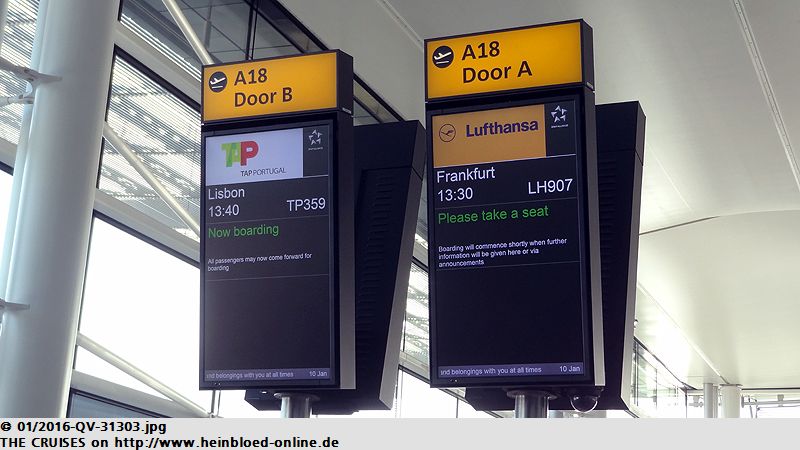 Zum Glück lief nur das Informationssystem nicht reibungslos. Wir können wie geplant mitfliegen.
Zum Glück hatten wir zuvor in The Gorgeous Kitchen gegessen.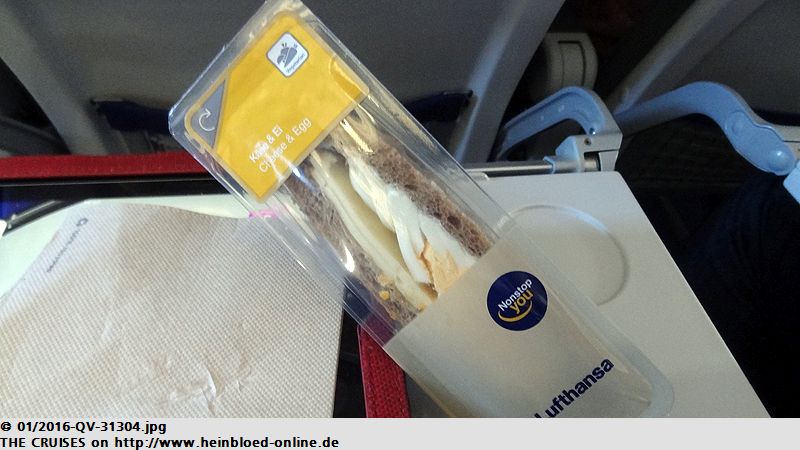 We were lucky to have lunch at The Gorgeous Kitchen before.

In the board magazine of Lufthansa I was preparing myself already for our voyage on DIAMOND PRINCESS 2016. We stay here during our Hong Kong call... For recommendations on Dim Sum I am always open especially if it has a Guide Michelin star: Tim Ho Wan which we also can see in Singapore or in Taiwan. They looked quite well.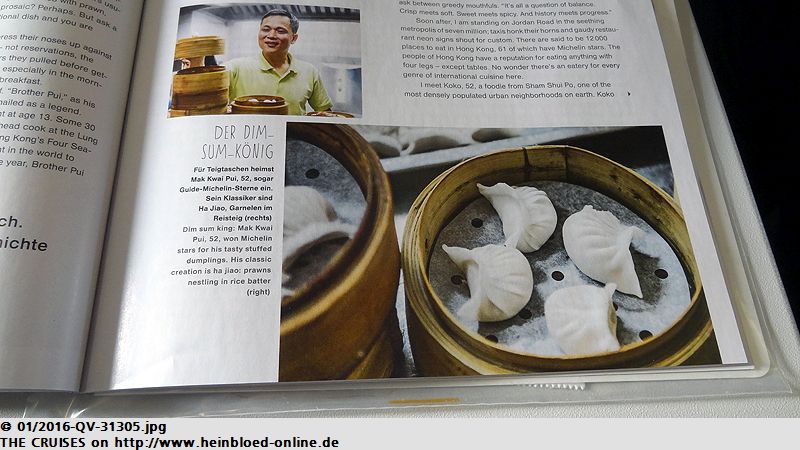 Im Lufthansa Bordmagazin bereite ich mich auf unsere Reise auf der
DIAMOND PRINCESS 2016
vor. Unseren Hongkong-Aufenthalt könnten wir ja auch hier verbringen... Für Dim Sum Tipps bin ich immer dankbar, sogar mit Michelin-Stern:
Tim Ho Wan
, den es auch in Singapur bzw. Taiwan gibt. Gut sehen sie schon mal aus.
Als wir am
Flughafen Frankfurt
ankommen, stelle ich eine wichtige Änderung fest.
Platzhirsch
und die anderen externen Parkplatzanbieter holen jetzt ihre Gäste sehr weit weg vom Terminal 1A auf dem
Busparkplatz P29
ab. Wir müssen so durch den Regen laufen.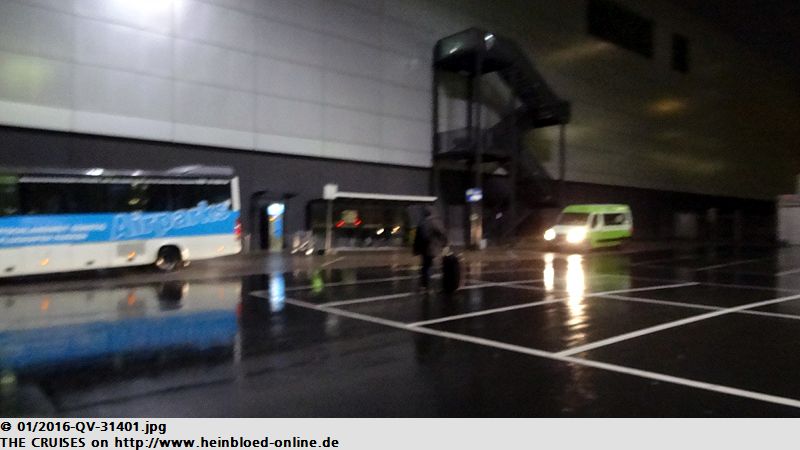 When we arrived at Frankfurt Airport I noticed a major change. Offside Parking Platzhirsch and all others provider are not collecting the guests in front of Terminal 1A but on Coach Parking P29
. We need to walk through the rain.
At home I found out that everything was fine: 176 lbs. which was very good... Somehow it does not decrease anymore. I need to go on a longer cruise.

Zu Hause stelle ich fest, dass alles gut ist: 79,8 kg ist sehr gut... Irgendwie geht es nicht weiter runter. Ich muss länger auf Kreuzfahrt.