Nach zwei Monaten auf dem letzten Schiff habe ich Entzugserscheinungen. Ersatzweise nehme ich
Cannabis Ice Tea
, den es hier in jedem Schweizer Supermarkt gibt. Aber er ersetzt doch kein Wochenende auf einem Kreuzfahrtschiff. Also fange ich schon an, mich auf die Reise mit Cunard vorzubereiten: "Keep Calm and Sail on" (Bleib ruhig und fahr weiter).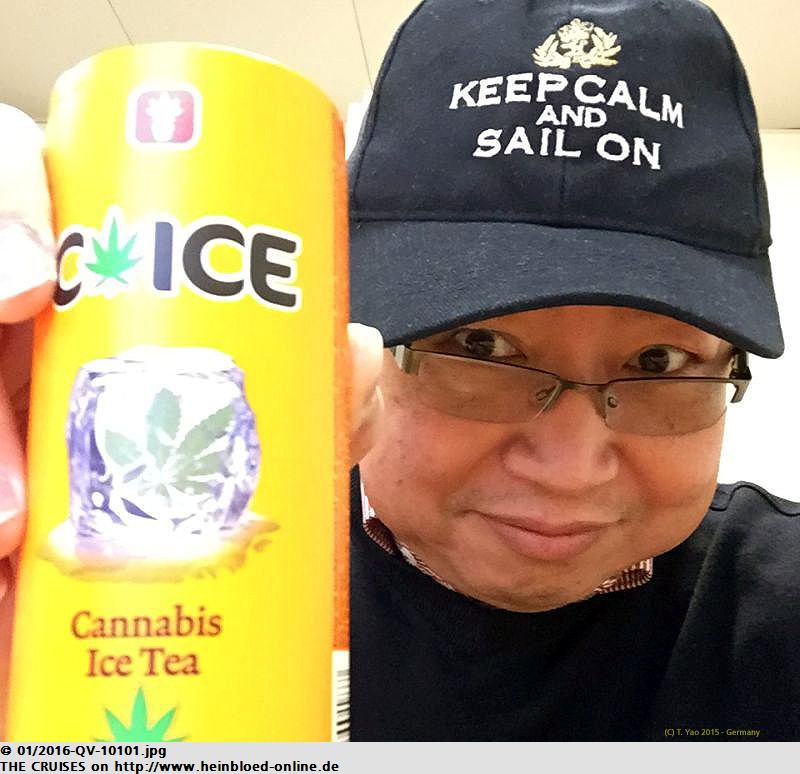 After two month on the last ship I have withdrawel symptoms. As subsitution I took Cannabis Ice Tea which you can easily buy in every Swiss supermarket. But it could not replace a weekend on a cruise ship.

That was the morning looked like in Basle, Switzerland.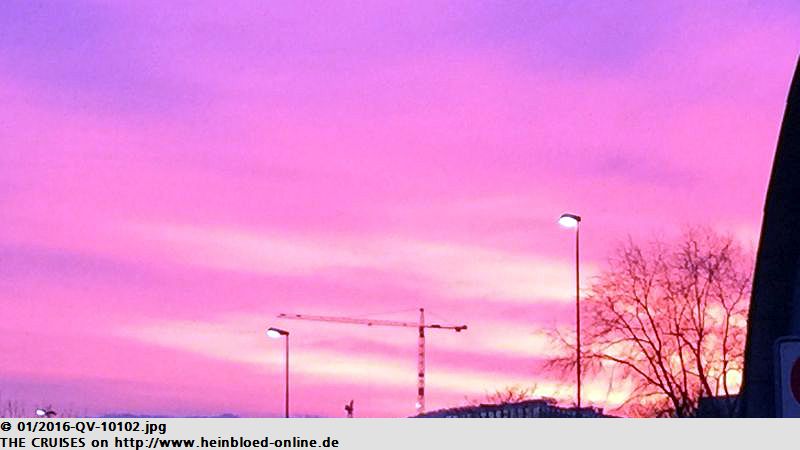 So sieht der Morgen in Basel aus.
Ich treffe mich mit Bruno in Frankfurt am Flughafen. Dort bleibt mein Schweizer Gepäck in Brunos Auto. Ich beschaffe für unterwegs ein paar Flaschen
VitaminWater
.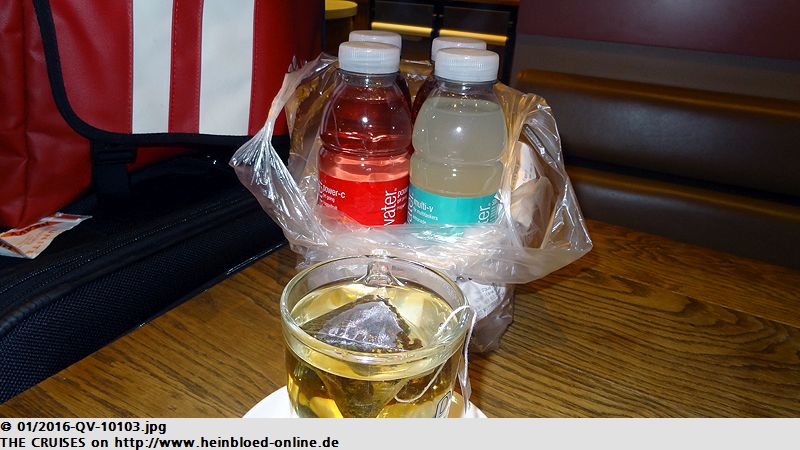 I met Bruno at Frankfurt, Germany, airport. So my Swiss bag stayed in Bruno's car. I purchsed some bottles of VitaminWater.

We headed to Hamburg, Germany.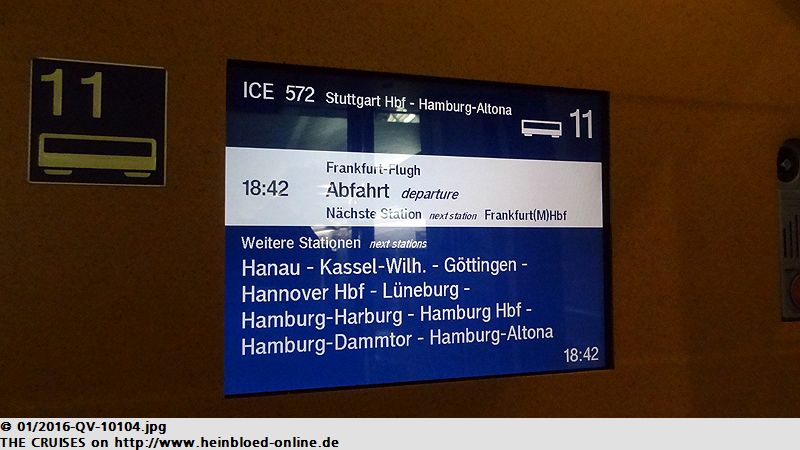 Es geht nach Hamburg.
Ekelhaft: ab Hannover schneit es.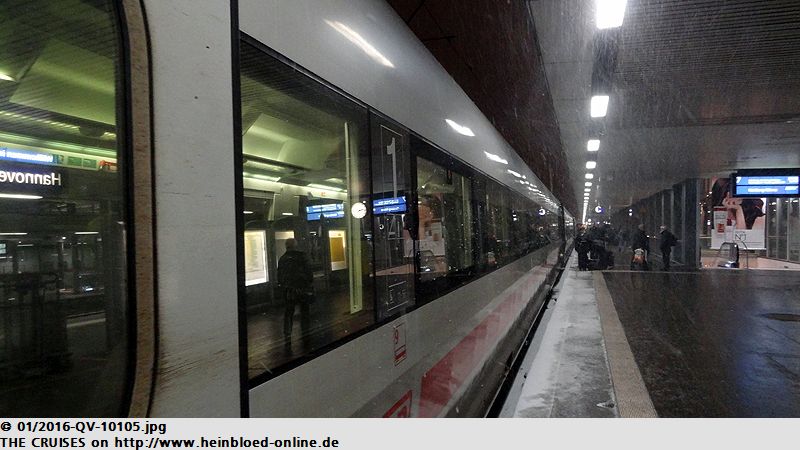 Disgusting: when we arrived Hanover, Germany it started to snow.

The first snow I could see in this winter.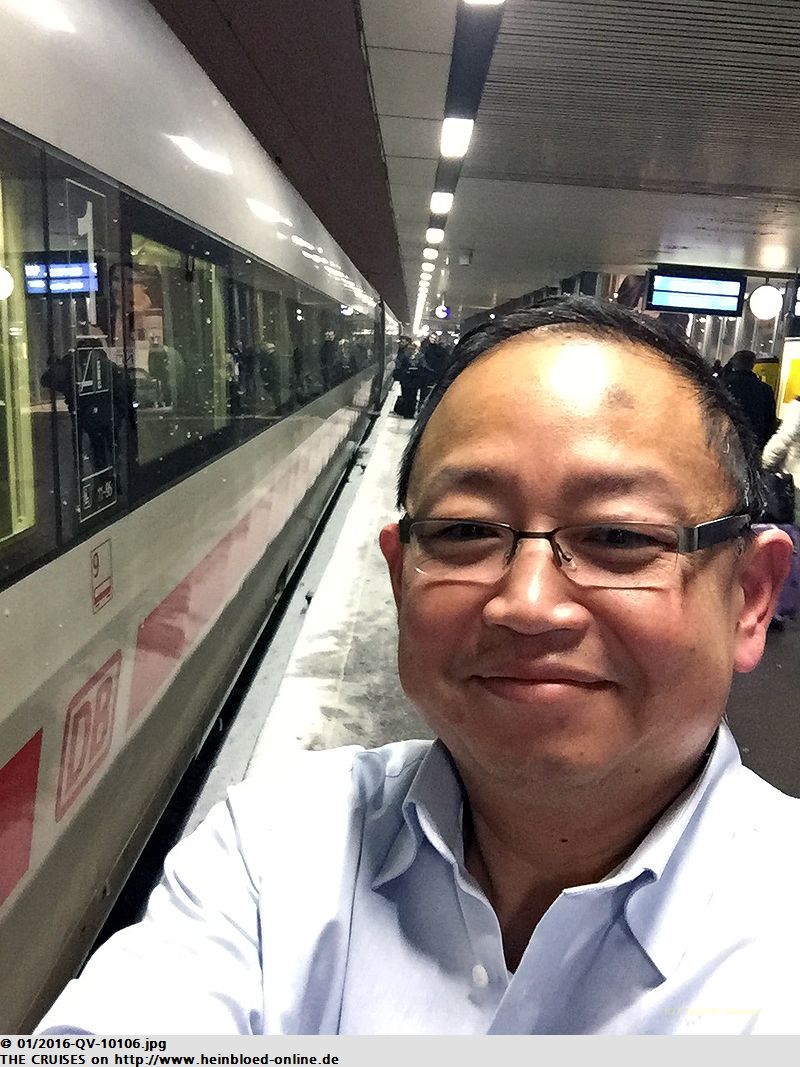 Der erste Schnee, den ich in diesem Winter sehe.
Ankunft am Gleis 12 in
Hamburg Hbf
. Irgendwie haben sie jetzt die Rolltreppen erneuert und sogar verdoppelt.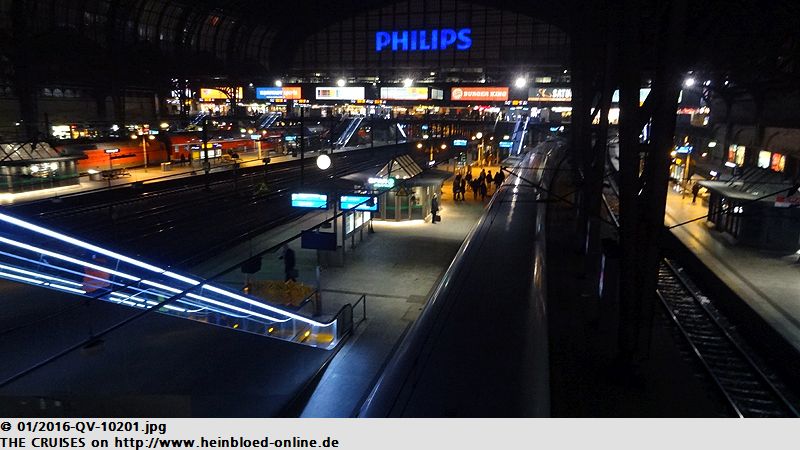 Arrival at track 12 in Hamburg, Central Station. Somehow they renewed the escalator and double them.

No idea what they set up here in the station lobby.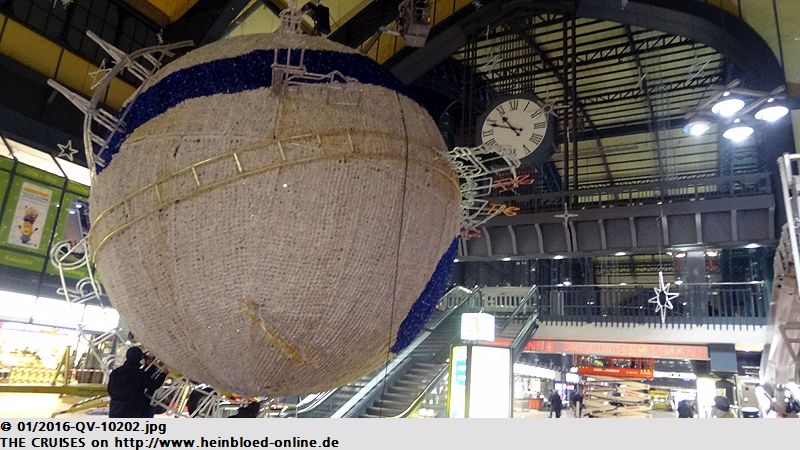 Keine Ahnung, was sie hier in der Bahnhofshalle aufbauen.
Draußen ist es ekelhaft.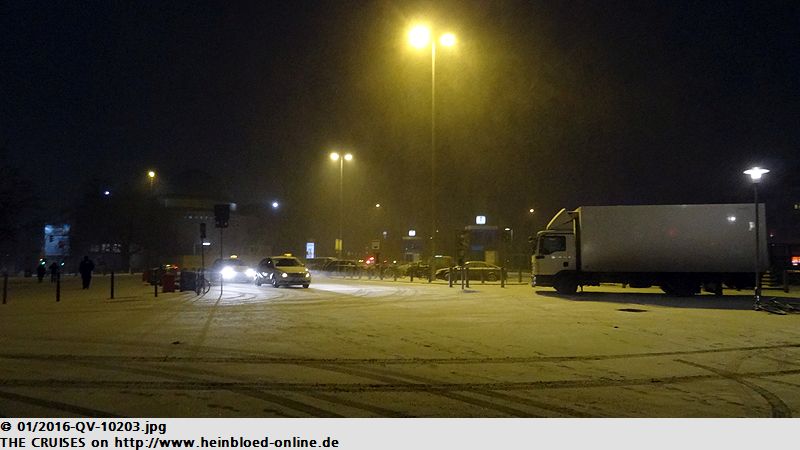 Outside it was only disgusting.

We arrived in HafenCity.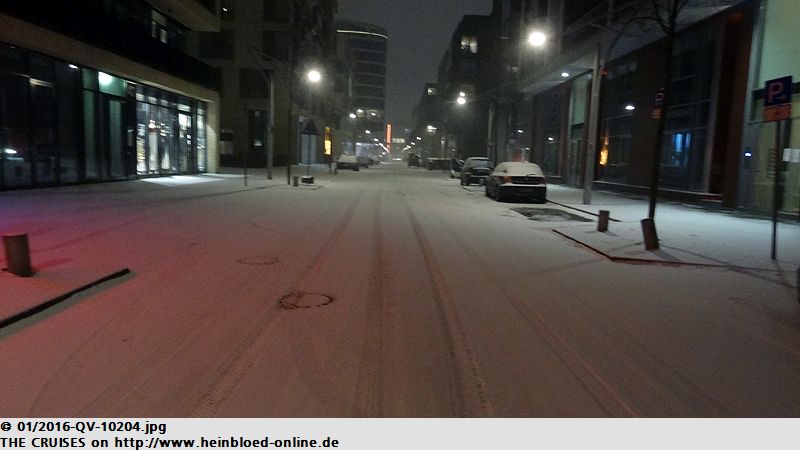 Wir kommen in der HafenCity an.
Für 99,00 EUR habe ich ein Apartment in den
Elbapartments "Am Kaiserkai"
gebucht. Es ist eine Gästewohnung einer Seniorenresidenz, die dann über die üblichen Hotelbuchungskanäle vermarktet wird, wenn es nicht gerade von den eigenen Bewohnern gebraucht wird. Die Lage ist super, weil man nur wenige Meter von der
Elbphilharmonie
weg ist und da dort gut die Schiffe einfahren sehen kann, die am Grasbrook anlegen. Das Appartment ist in Ordnung. Ein paar Details würden noch den Aufenthalt perfektionieren. Z. B. besseres Internet, eine Schmutzmatte und eine Ablage in der Dusche...

For 99.00 EUR I booked an apartment with Elbapartments "Am Kaiserkai". It was a guest accomodation of senior residents home which were sold through the usual distribution channels if none of the residents need them. The location was very superb as it was only few yards away from Elbphilharmonie (Concert hall - still not completed) to see the arriving ships if they dock at Grasbrook pier in HafenCity. The appartment was o.k. Some little details would made the stay perfect. Like better internet, a protection mat and a ledge under the shower...

At 05.30 hrs I started to move. It continued to snow. At the Elbphilharmonie everything looked quite complete. But they are ready to open in one year.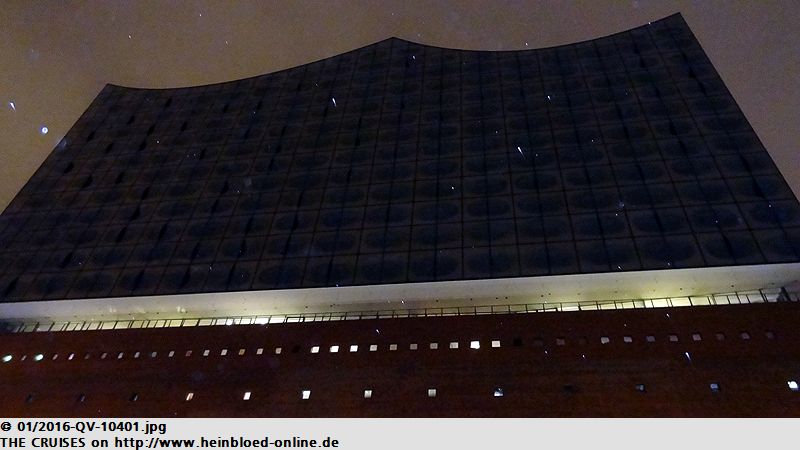 Um 05.30 Uhr ziehe ich los. Es hat weiter geschneit. An der Elbphilharmonie sieht alles schon sehr vollständig aus. Fertig sind sie aber erst in einem Jahr.
Über die gesperrte Brücke Am Kaiserkai kann ich als Fußgänger rüberlaufen. Bruno schläft noch.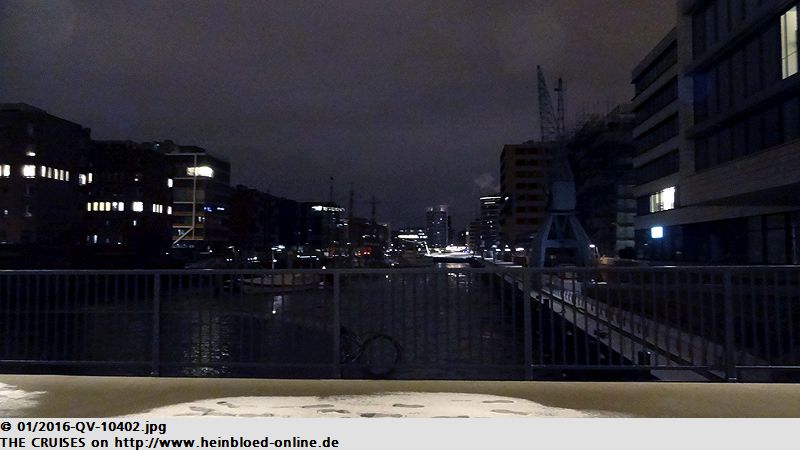 The bridge at Kaiserkai was still closed but pedestrian may cross. Bruno was still sleeping.

Ice floe on river Elbe?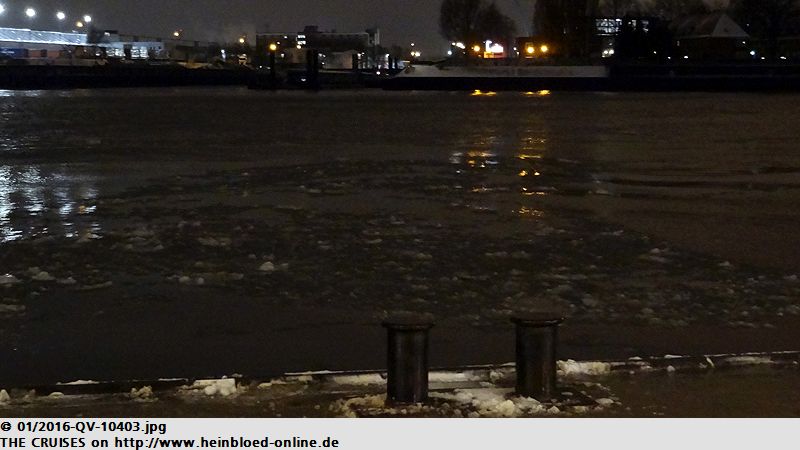 Eisschollen auf der Elbe?
Ich bin bei den
St. Pauli Landungsbrücken
und warte auf die QUEEN VICTORIA.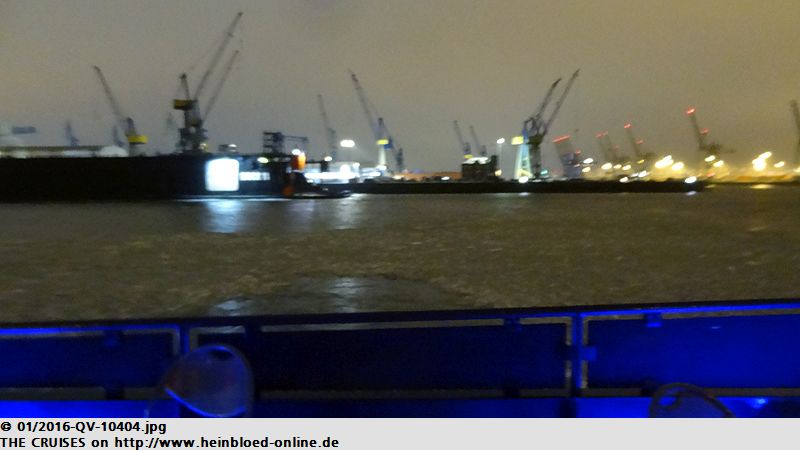 I was at the St. Pauli Landing Stages and was waiting for QUEEN VICTORIA.

And later I headed to Övelgönne by ferry boat 62 to take pictures of QUEEN ELIZABETH.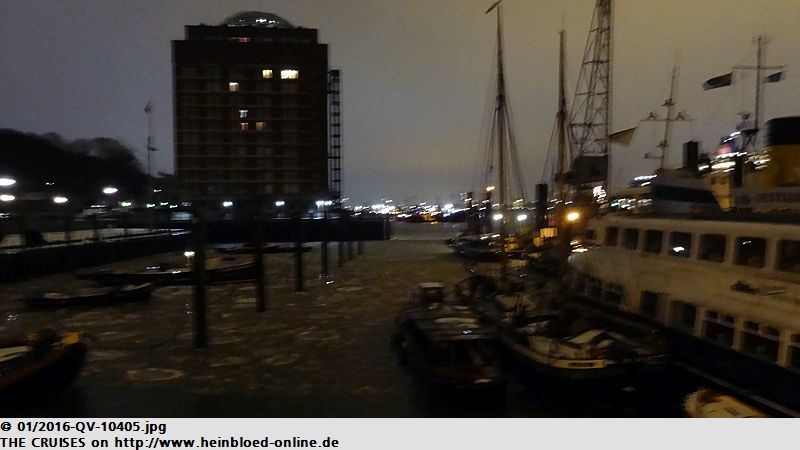 Und später fahre ich mit
Fähre 62
nach
Övelgönne
, um die QUEEN ELIZABETH zu fotografieren.
Dann kommt zunächst QUEEN VICTORIA rein.

First QUEEN VICTORIA arrived.

And later around Övelgönne I experienced the arrival of QUEEN ELIZABETH which made the turn first and headed backwards to Altona Cruise Terminal.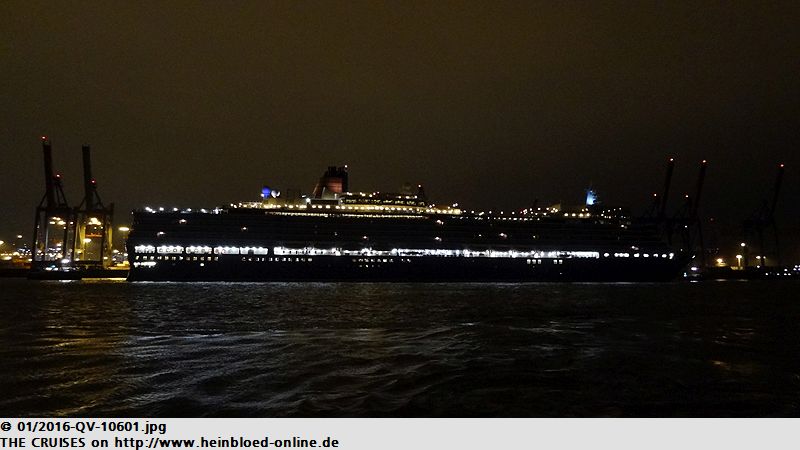 Und später bei Övelgönne erlebe ich die Einfahrt der QUEEN ELIZABETH, die zuerst gedreht hat und rückwärts nach Altona fährt.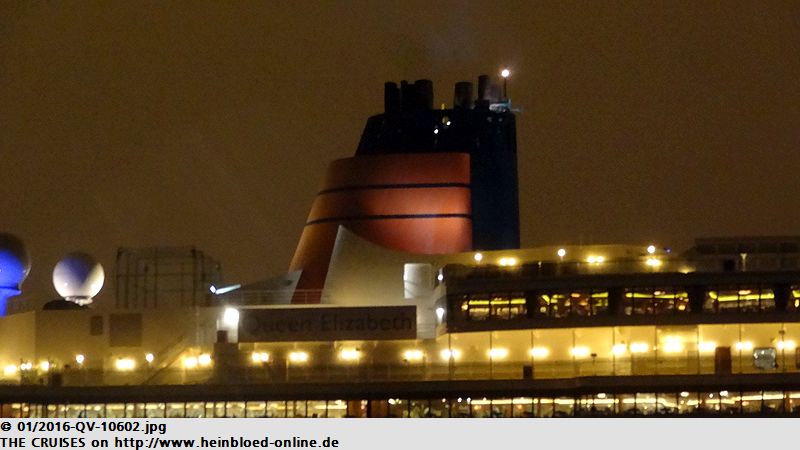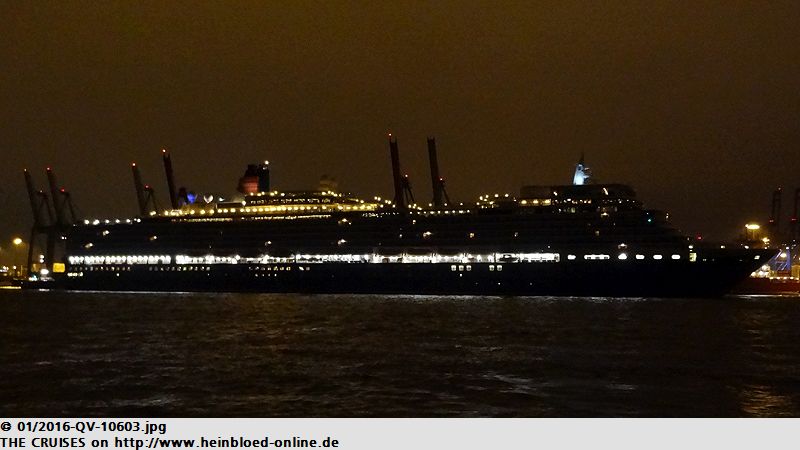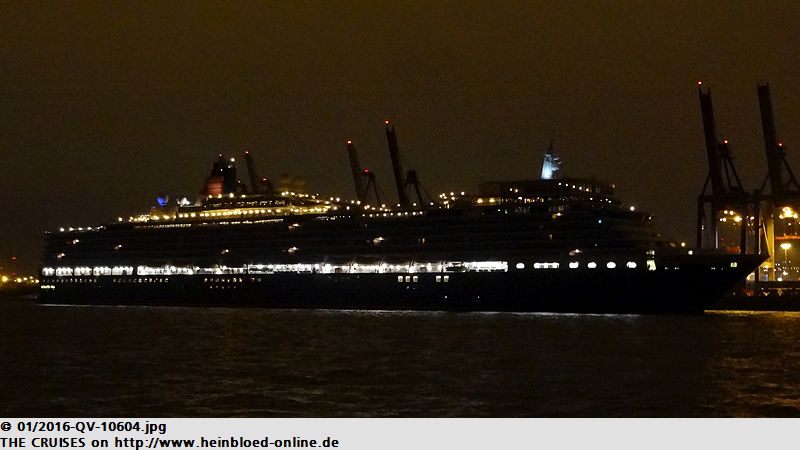 As we docked on QUEEN MARY 2 in October 2015 at Steinwerder Cruise Terminal I was surprised that none of the two ships docked there.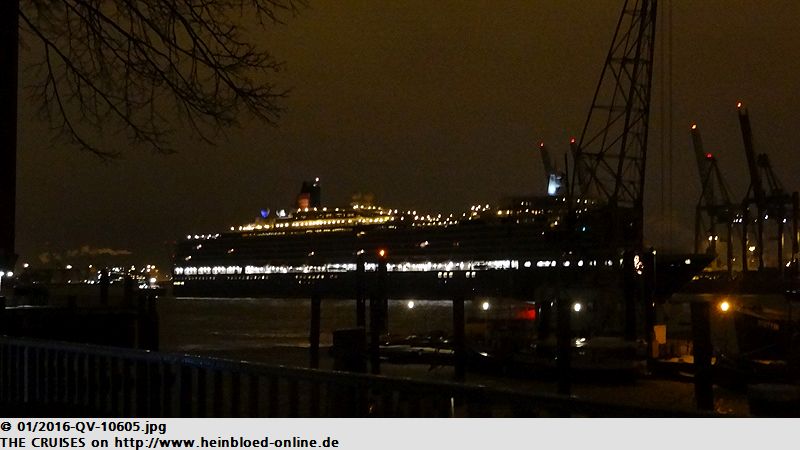 Da wir im Oktober 2015 mit der QUEEN MARY 2 in Steinwerder angelegt hat, bin ich verwundert, dass beide nicht dort anlegen.
Im Oktober 2015 haben wir unsere Anzüge kurzerhand bei Sigi gelassen. Sie holt uns ab und wir fahren ins
25 Hours HafenCity
. Hier habe ich schon mal vor einigen Jahren übernachtet. Das Frühstück hatte ich in sehr guter Erinnerung. Und so gehen wir wieder hierher zum Frühstücken. Man erlebt dort eine außergewöhnlich Atmosphäre der Seelogistik.

In October 2015 we left our suits with Sigi. She collected us and we went to 25 Hours HafenCity. He e I stayed a few years before. I had the breakfast in very good memories. And so we went here again for breakfast. You can experience there an extraorinary atmosphere of the marine logistics.

For me it was remembering too much for work as it was set up like a cargo ship or warehouse.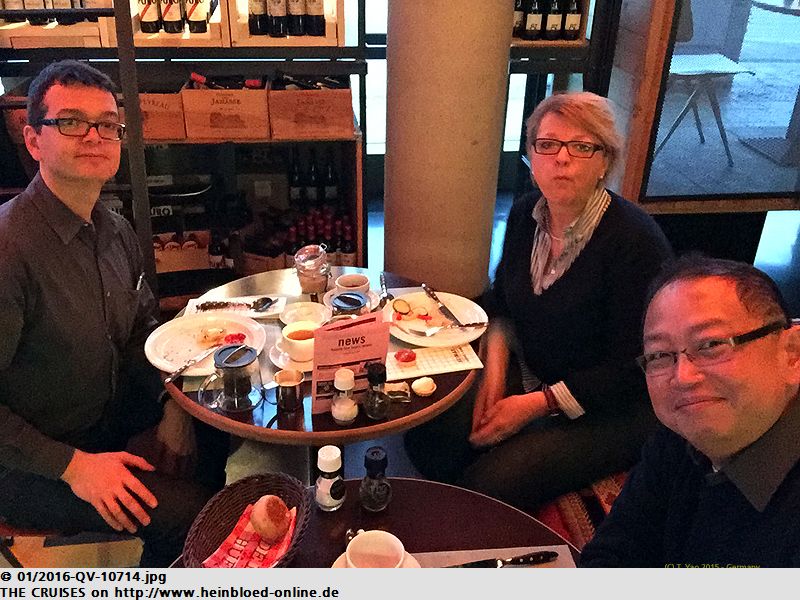 Mich erinnert es zu sehr an Arbeit, weil es ja wie ein Frachtschiff bzw. Lagerschuppen gestaltet ist.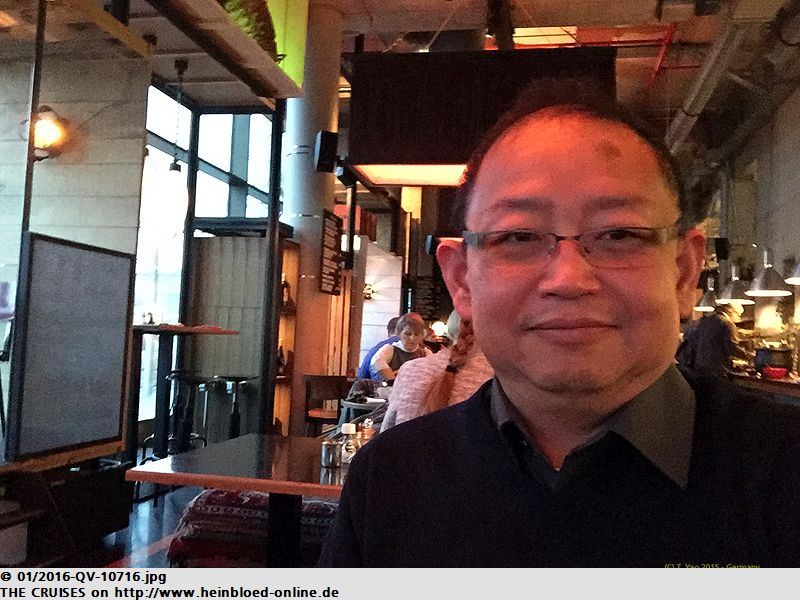 Es hat einen großen Vorteil: direkt vis-à-vis gegeünber vom
HafenCity Cruise Center
.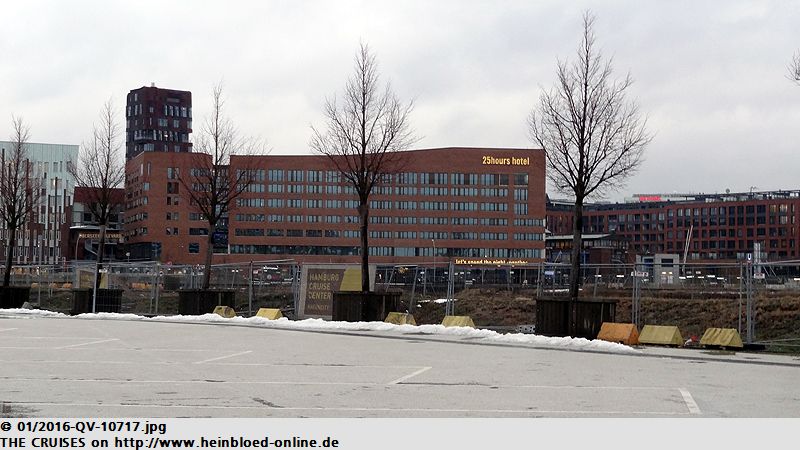 One big advantage: just adjustant of the HafenCity Cruise Center.

When I was 19 I started my carrer as trainee with a shipbroker in Hamburg. So I knew Sigi from here. With a nother friend I took the occassion to have North German food - something I could not get in Switzerland: Kale. Unfortunately my friend disappeared so quickly I had no chance to take a selfie. I was so involved with my kale and North German style of Hash Browns that I already forgot to use the chance to take one in the restaurant..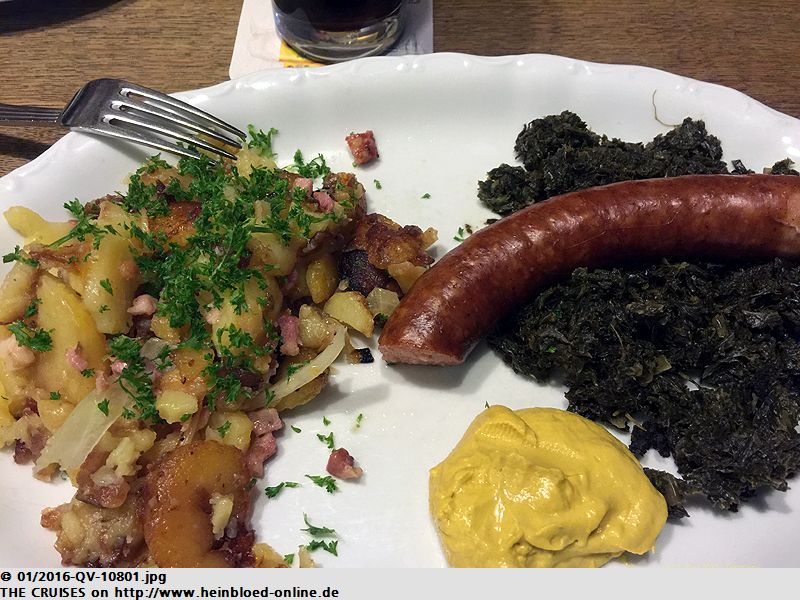 Als ich 19 war, habe ich in Hamburg als Praktikant meine Karriere bei einem Schiffsmakler angefangen. Da habe ich Sigi kennengelernt. Mit einem weiteren Freund nutze ich die Gelegenheit norddeutsch zu essen - etwas, das es in der Schweiz nicht gibt: Grünkohl. Leider verschwindet später der Freund so schnell, dass ich nicht mal die Chance auf ein Selfie habe. Ich bin so mit dem Grünkohl und nordddeutschen Bratkartoffeln beschäftigt, dass ich schon im Restaurant vergessen habe, ein Selfie zu machen.
"
Der Teufel trägt Prada...
"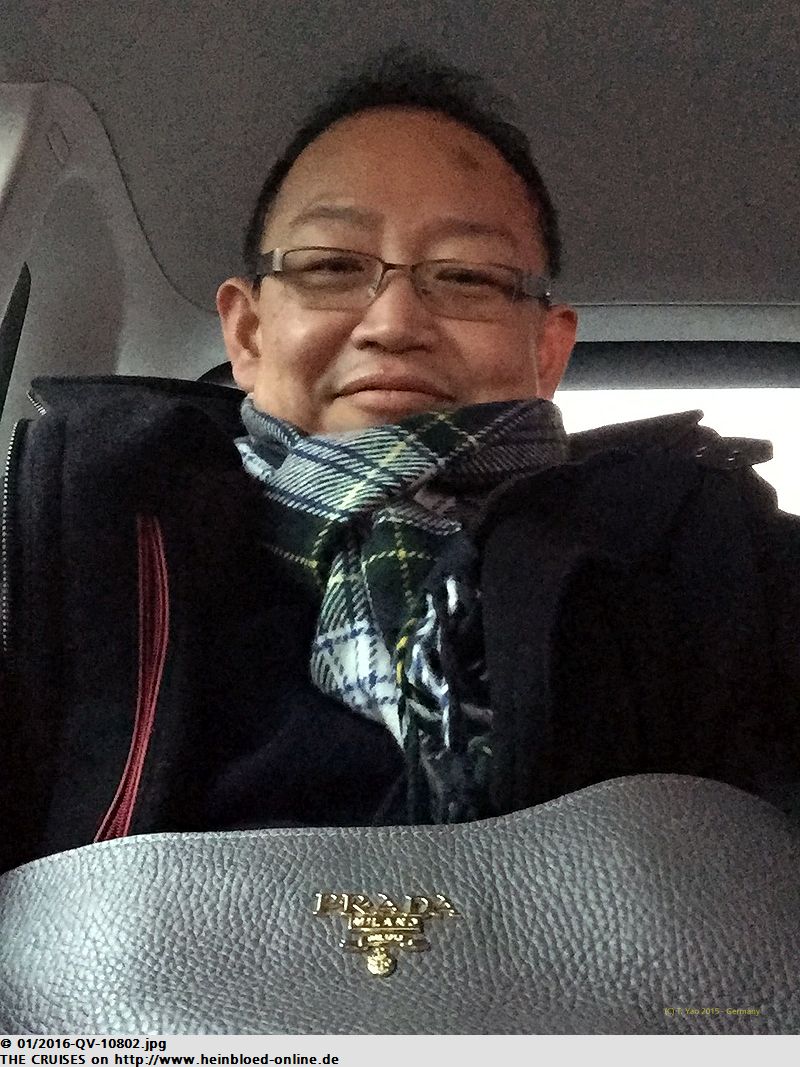 "The Devil wears Prada..."

Sigi took us a second time to the Cruise Terminal. The first time we were told at Terminal 1 that we should hand over the bags inside the terminal building. Inside we were told that we need to move to Terminal 2. But they forgot to tell us that they would not be any acceptance so early (10.30 hrs) and so we got here again.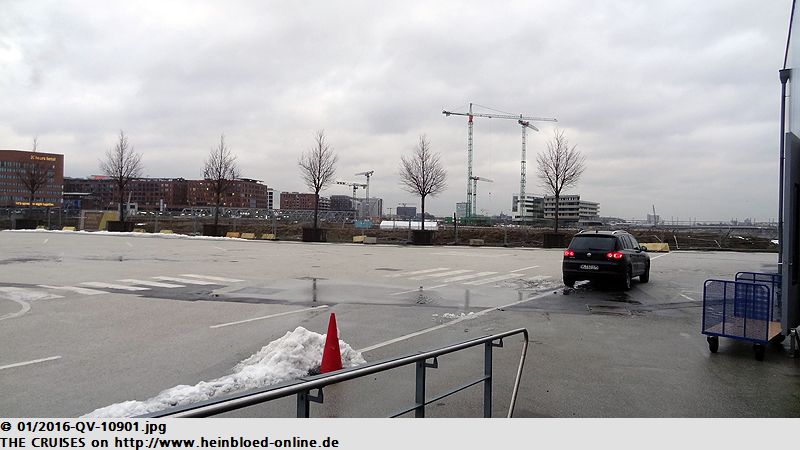 Sigi fährt uns zwei Mal zum Cruise Terminal. Beim ersten Mal teilt man uns vor dem Terminal 1 mit, dass wir das Gepäck im Terminal aufgeben sollen. Drinnen sagt man uns, dass wir zum Terminal 2 fahren sollen. Leider vergisst man uns zu sagen, dass sie so früh (10.30 Uhr) noch gar nichts annehmen und so kommen wir nochmals hierher.
Dieses Mal fahren wir direkt zum Terminal 2 vor und gehen direkt zum Terminal 1 rüber.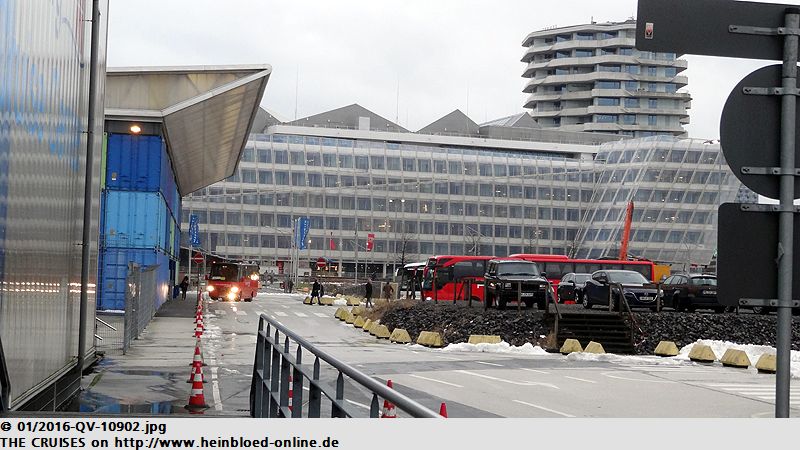 So we went directly to Terminal 2 and walked over to Terminal 1.

The very first time our attention were directed to the life drill inside the terminal by releasing a seperate letter.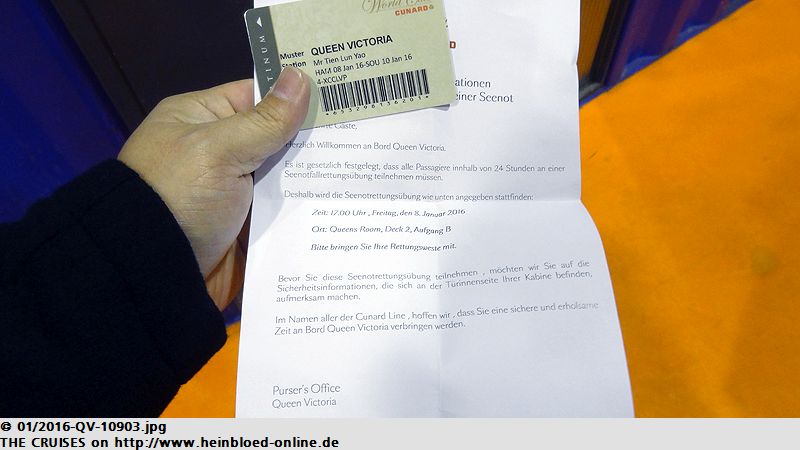 Zum ersten Mal werden wir auf die Seenotrettungsübung direkt im Terminal mit einem separaten Schreiben aufmerksam gemacht.
Obwohl wir in ein Nicht-Schengen-Land fahren, brauchen wir unsere Ausweise nicht zu zeigen. Es geht direkt zur Gangway.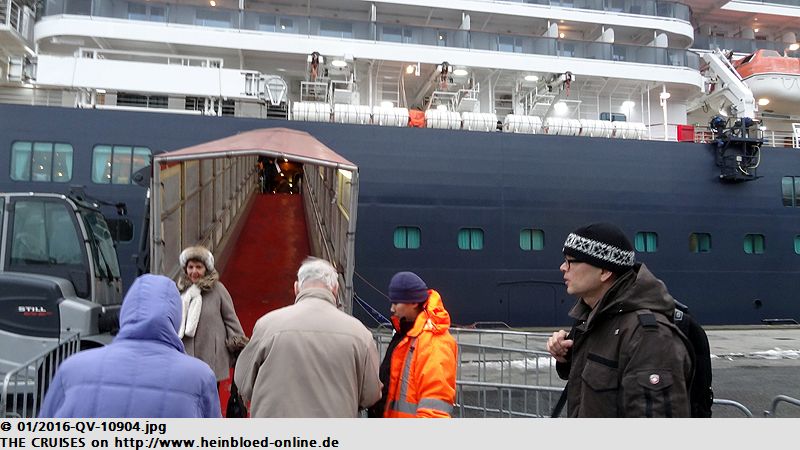 Although we were sailing to a Non-Schengen country we must not show our IDs. We could walk directly to the gangway.

Quite steep.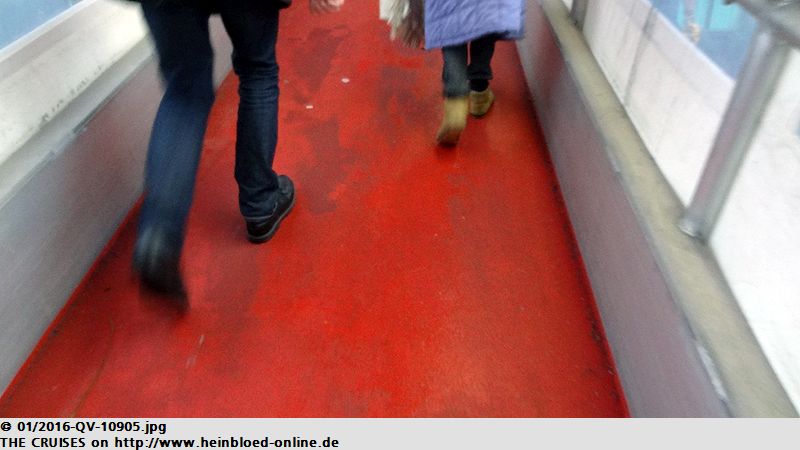 Ganz schön steil.
Leider konnte ich nicht die Kabine bekommen, die wir damals auf der QUEEN VICTORIA 2008 auf der legendären Tandem-Transatlantik mit der QUEEN ELIZABETH 2 hatten. Aber ganz in der Nähe. Ein paar kleine Verbesserungen, wie z. B. die Haken an der Wand. Aber ansonsten kann ich mir immer noch nicht vorstellen, hier eine längere Zeit zu verbringen. Irgendwie fehlt mir hier Stauraum. Dieses Mal hatten wir auch die schwarze Mappe, um uns über das Leben an Bord zu informieren. Wie es uns damals ergangen ist, kann man im
2008-er Blog
nachlesen.

Unfortunately I could not the get cabin we had on QUEEN VICTORIA 2008 on the legendary Tandam-Transatlantic with QUEEN ELIZABETH 2. But quite near by. Few small improvement like the hooks at the wall. But anyhow I still could not imagine to stay here for a longer time. Somehow I was still missing stowing space. This time we had also the black folder to keep us informed of the life onboard. What we experienced then you can find here to read in the blog of 2008 - but again: Not in English available. Please use Google Translate of other tools Sorry.

Nothing has changed in the bathroom.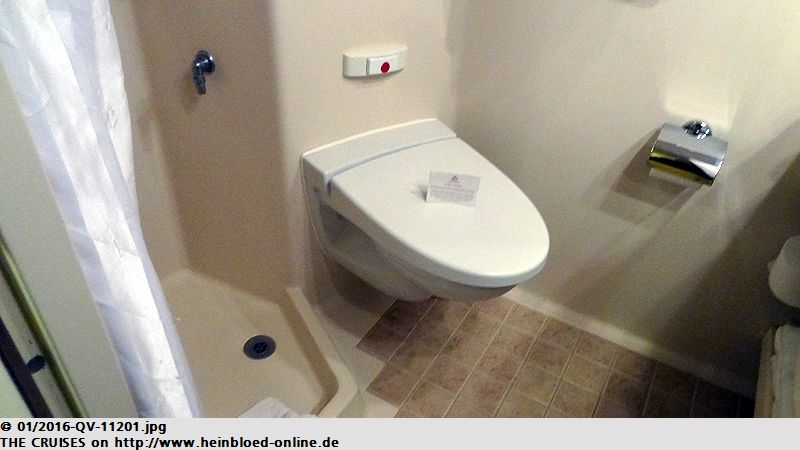 Im Bad hat sich nichts verändert.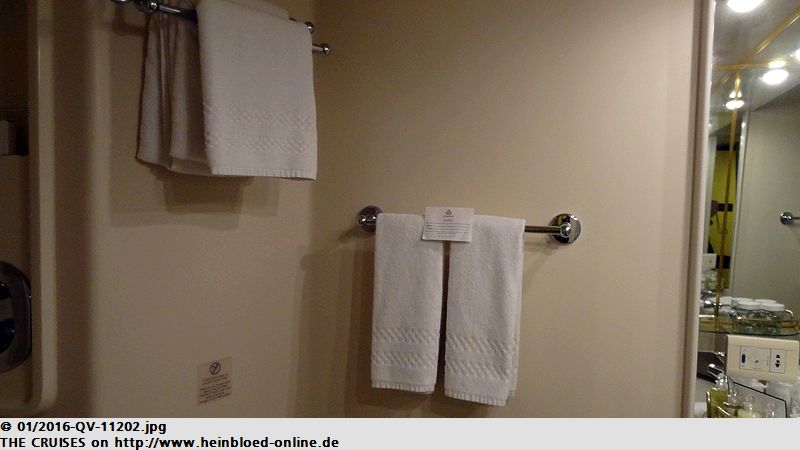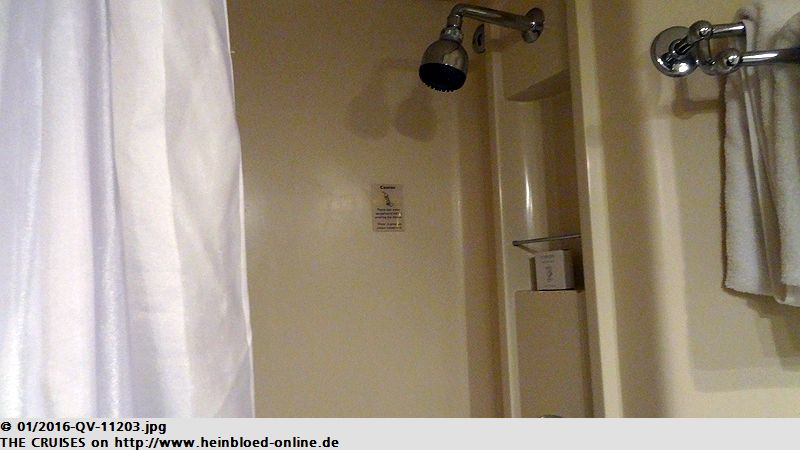 Immer noch kein Platz im Bad.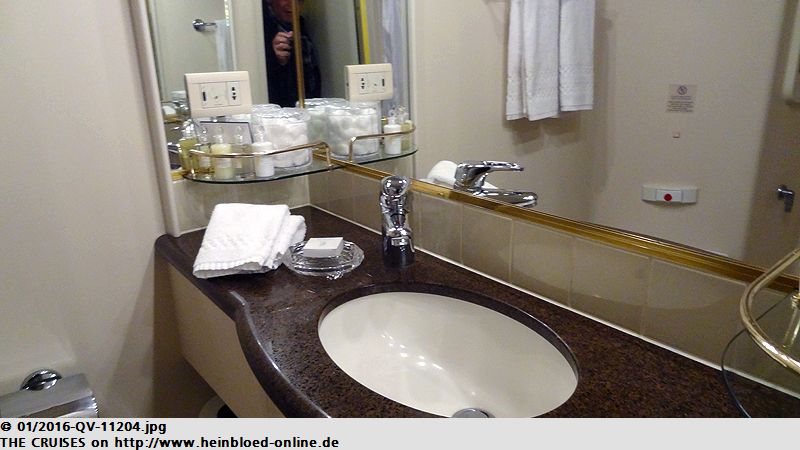 Still no space in the bathroom.

The first serie of selfies was taken. 2008 there was no selfie stick available.

Die erste Serie von Selfies entsteht. 2008 gab es ja noch kein Selfie-Stick.
Durch die Transatlantik auf der QUEEN MARY 2 habe ich eine Fahrt mehr mit Cunard als Bruno. So bin ich bereits Platinum-Mitglied im World Club.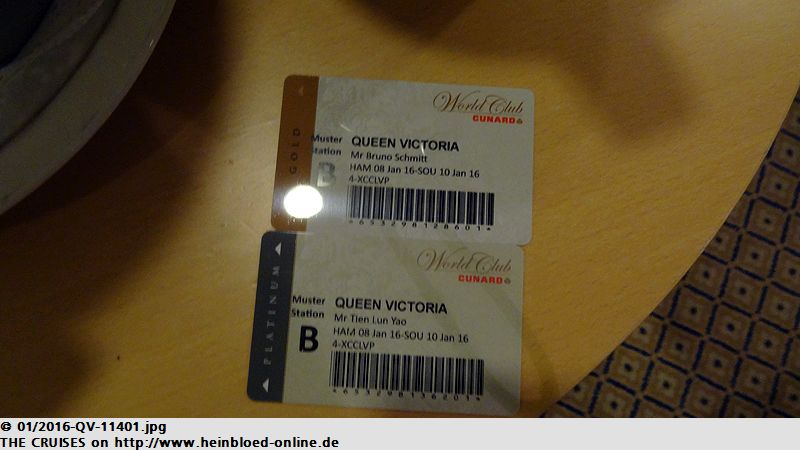 Due to the transatlantic on QUEEN MARY 2 I have one voyage with Cunard more than Bruno. So I am already Platinum-member in the World Club.

I still need to take a number to have an appointment with the future sales agent. They were also in charge for World Club members.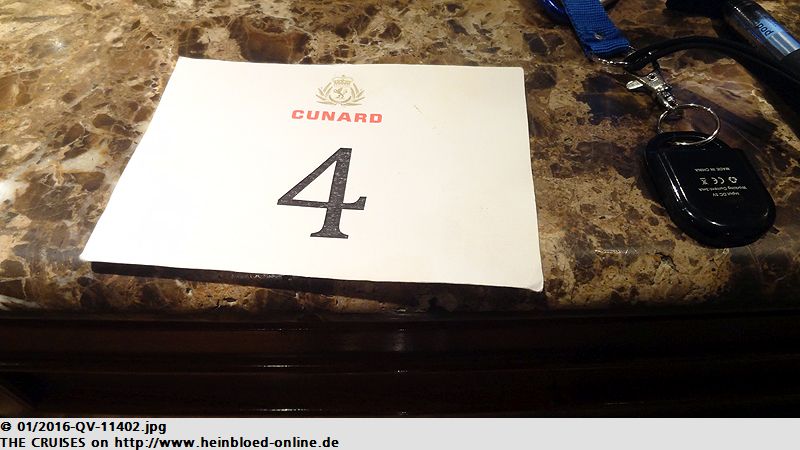 Ich muss aber trotzdem eine Nummer ziehen, um ein Gesprächstermin mit den Damen vom Bordreisebüro zu bekommen. Sie sind auch für die World Club Mitglieder zuständig.
Mir fehlt die Platinum-Nadel. Aber ich bekomme sie sofort. Dragana haben wir gebeten mal den Preis für die Transatlantik im Januar 2017 zu überprüfen, weil ich gerade eine Newsletter bekommen habe, dass es besondere Promo gibt. Aber unser Preis, den wir auf der QUEEN MARY 2 gebucht haben, war so gut, dass es sich nicht lohnt zum aktuellen Preis umzubuchen.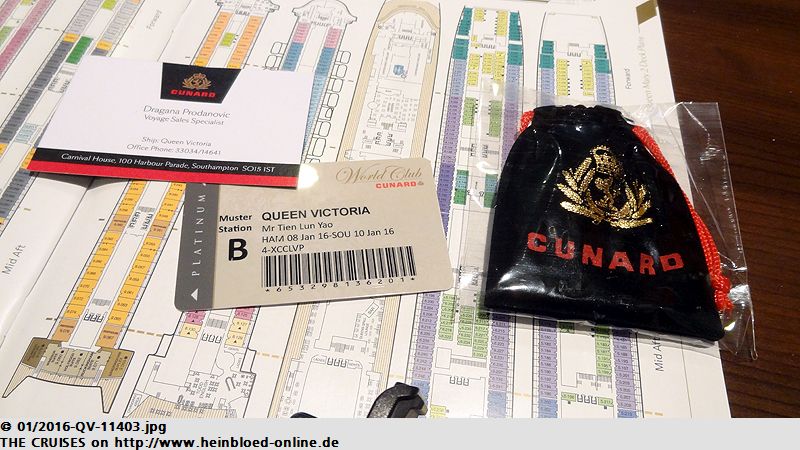 I missed the Platinum pin. But I got it immediately. Dragana we asked to check the actual rates for our transatlantic in January 2017 because I received a newsletter that there was a special promo. But the rate we booked on QUEEN MARY 2 was so good that it did not make sense to rebook for the actual price.

As Platinum Member I may book a 4 hours internet plan.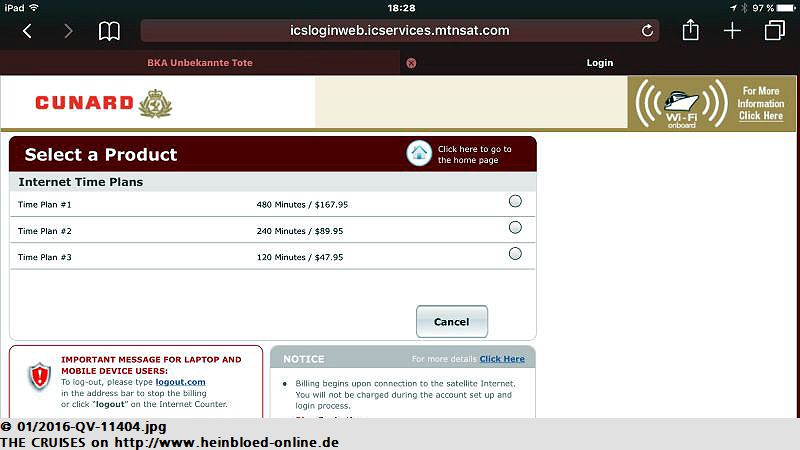 Als Platin-Mitglied darf ich kostenlos einen 4-Stunden-Internet-Plan buchen.
Zu meinem Erstaunen wird auf meinem PC Cunard angezeigt, aber die Nutzungsdaten stammen von der
NORWEGIAN ESCAPE 2015
. Komisch...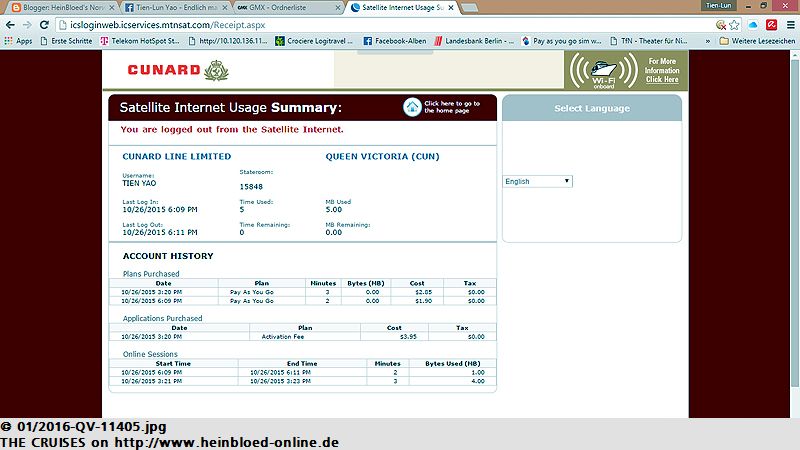 To my surprise my PC displayed Cunard but the usage information were from NORWEGIAN ESCAPE 2015. Very strange...

We went for tea-time. Before my lips could touch the tea cup I was welcomed by Allan who knew me from QUEEN MARY 2 2014 and saw me with Ray there. But somehow we were quickly back in 2008. We did not start to look around conciously but somehow they did not made it to fix all building defects.

Wir gehen zur Tea-Time. Bevor ich es überhaupt schaffe, meine Teetasse mit meinen Lippen zu berühren, werde ich bereits von Allan begrüßt, der mich von der
QUEEN MARY 2 2014
her kennt und meint, dass er mich hat mit Ray gesehen hat. Aber irgendwie sind wir sehr schnell in 2008 zurück. Wir fangen nicht unbedingt bewusst an zu suchen, aber irgendwie haben sie es immer noch nicht geschafft, alle Baumängel zu beseitigen.
Es gehört einfach mit zu einer Cunard-Reise dazu: Tea-Time.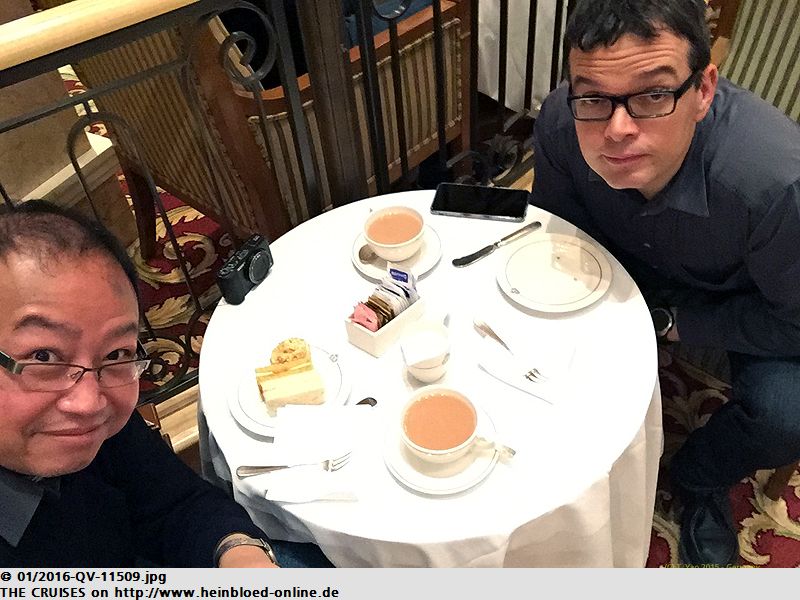 Always part of a Cunard-voyage: Tea-Time.

If you imagine that we decided never to sail Cunard again eight years on QUEEN ELIZABETH 2 before I was quite happy to sail many times Cunard again meanwhile.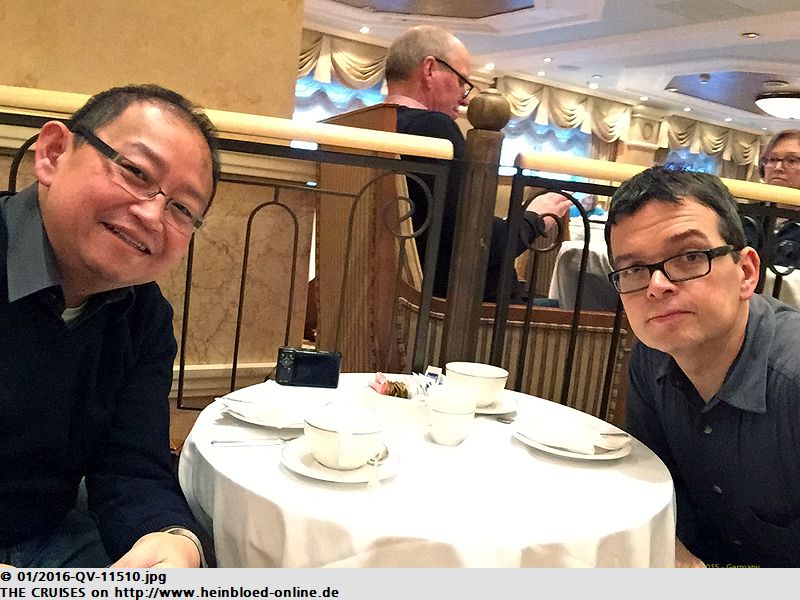 Wenn man sich vorstellt, dass ich vor acht Jahren auf der
QUEEN ELIZABETH 2007
eigentlich nie wieder Cunard fahren wollte, bin ich sehr froh, dass wir zwischenzeitlich schon öfters wieder mit Cunard unterwegs waren.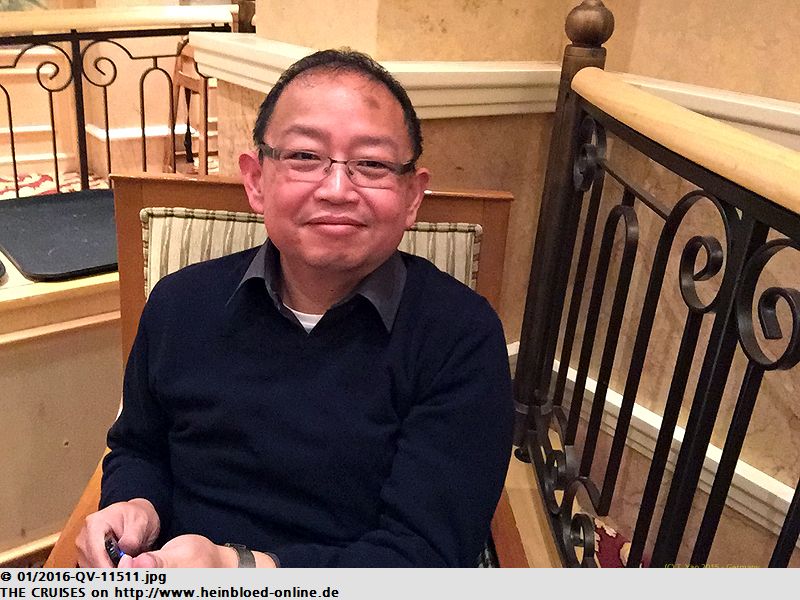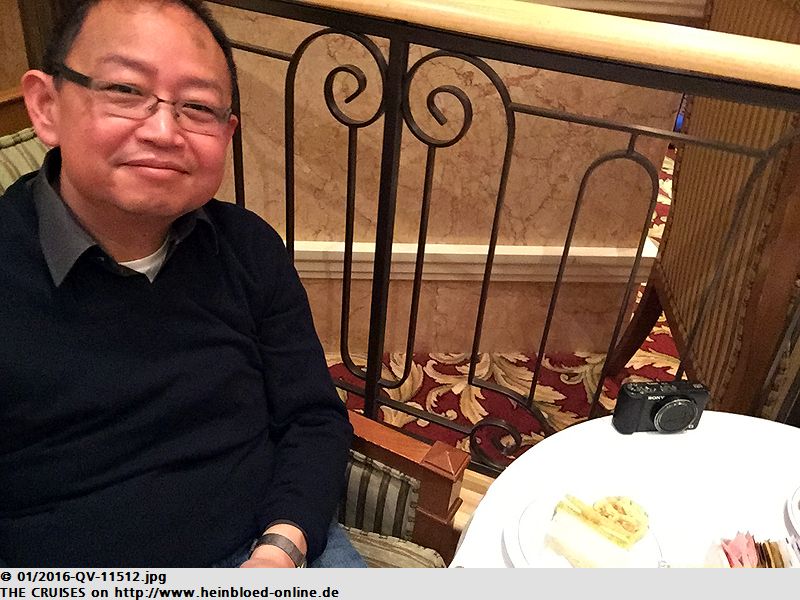 Auch ich werde bei meinen Aktivitäten beobachtet.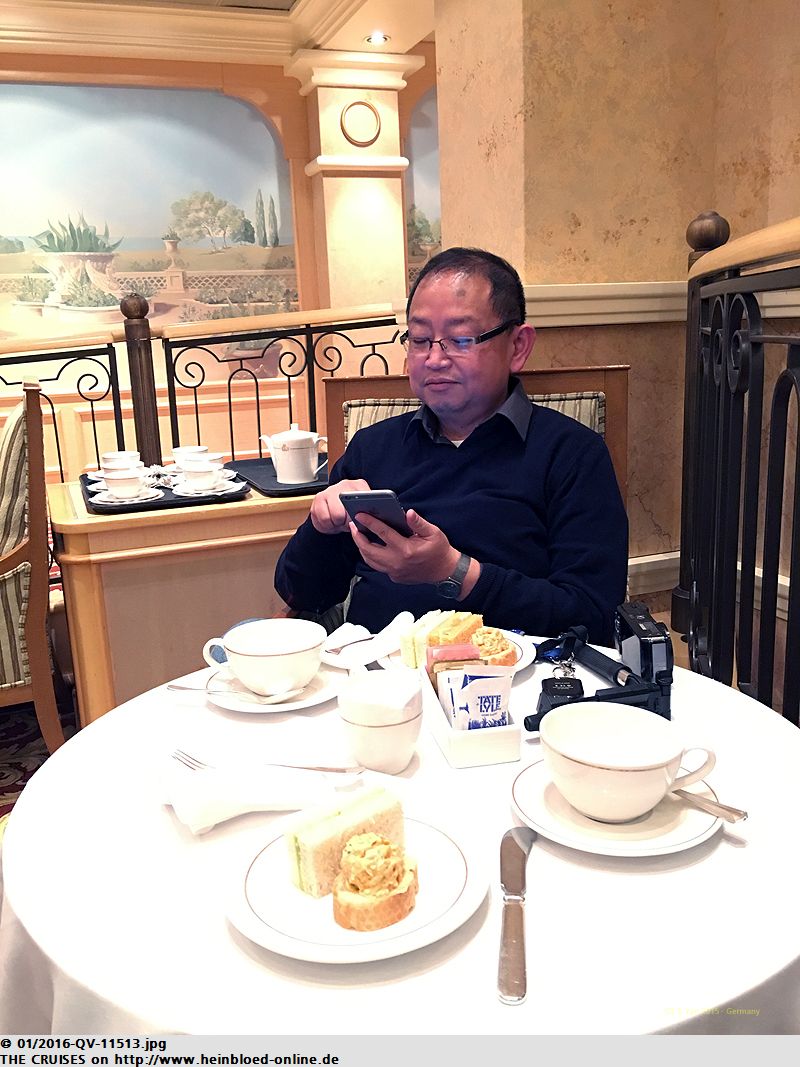 Someone observed me with my activities.

That I took pictures so close is the fault of Hans-Hermann who showed me on our first voyage on QUEEN ELIZABETH what you can do with the focus.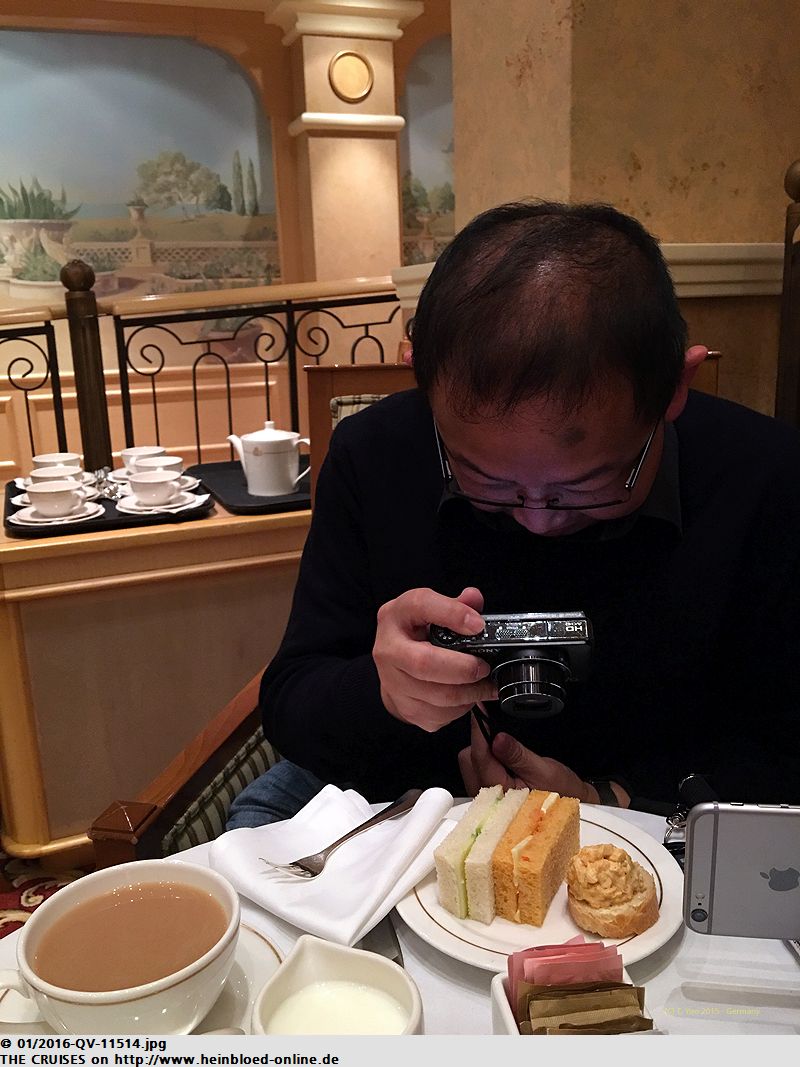 Dass ich so nahe fotografiere ist allerdings Hans-Hermann schuld, der mir damals auf
unserer ersten Reise auf der QUEEN ELIZABETH
gezeigt hat, was man alles mit dem Fokus machen kann.
Im Anschluss an die Seenotrettungsübung werden Einschiffungsinformationen angeboten.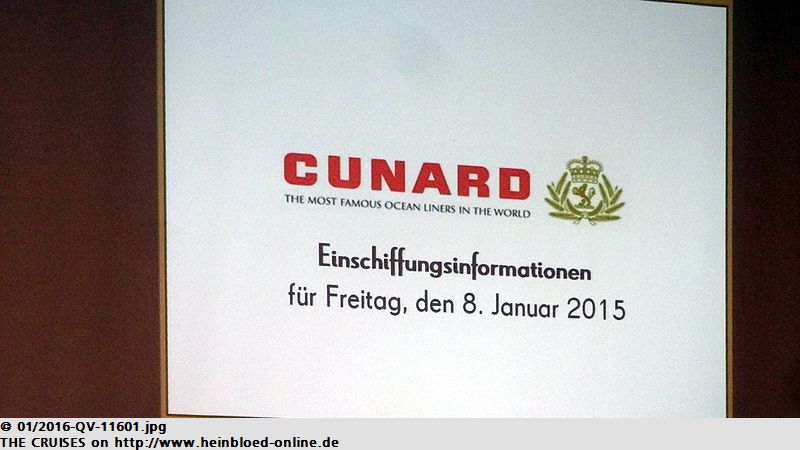 Right after the life drill they offered some embarkation information in German.

I could do it...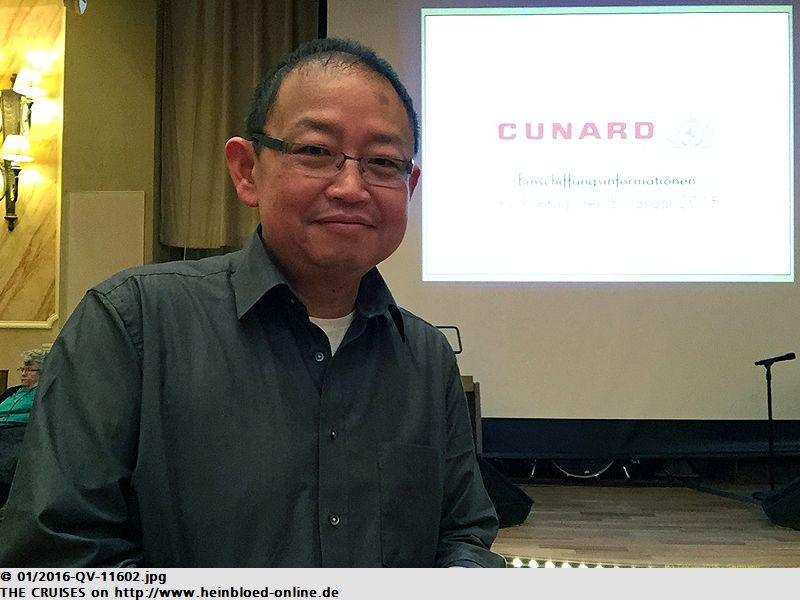 Das könnte ich ja übernehmen...
Wie damals vor acht Jahren.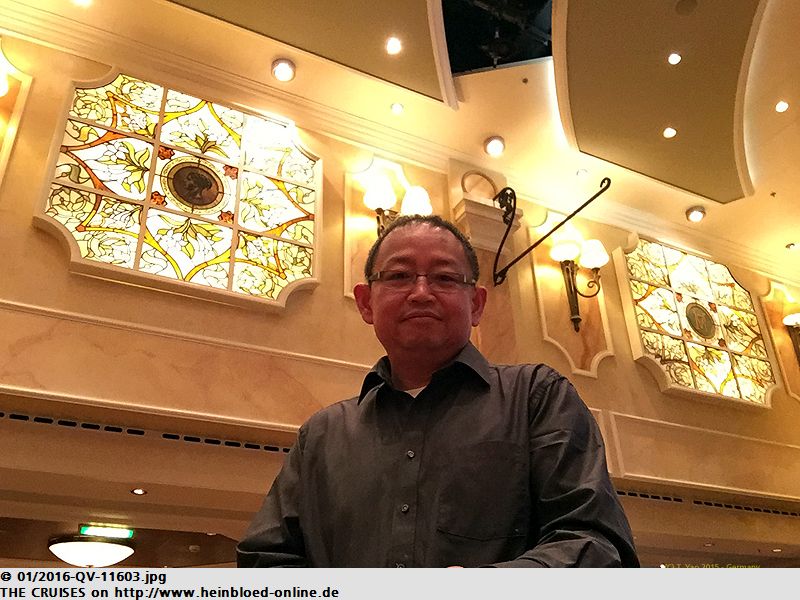 Like eight years ago.

Die Rettungswesten müssen wir mitführen.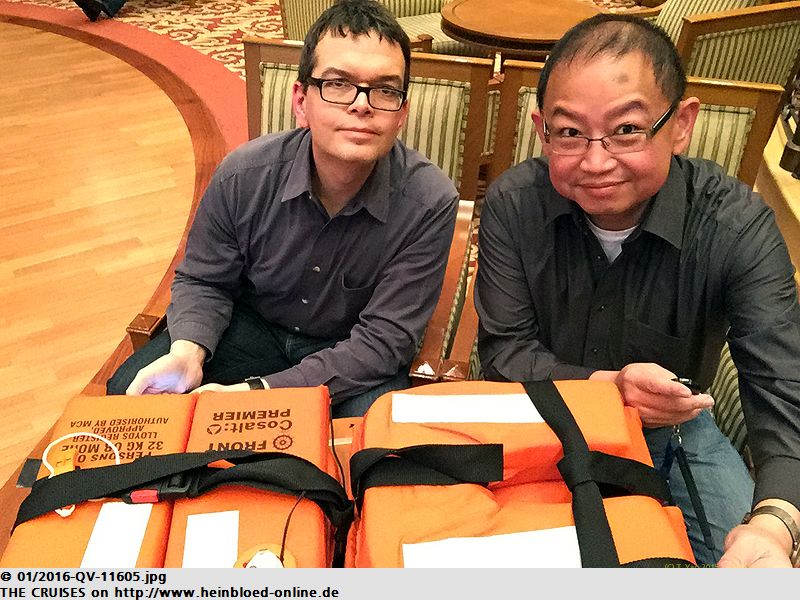 We had to carry the life vests with us.

The life drill went quite well. Natascha conducted the life drill only in German. Since we were already in our muster station we could just leave after the life drill and must not follow to see the other muster stations.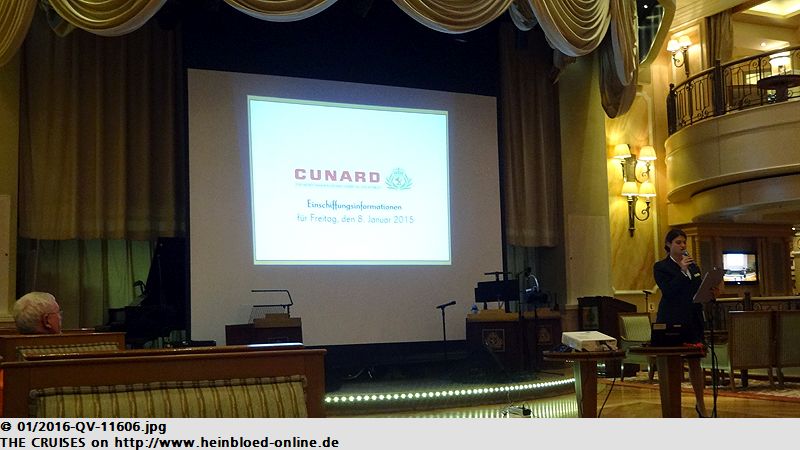 Die Seenotrettungsübung selbst läuft sehr gut ab. Natascha macht es nur in Deutsch. Etwas witzig: ein Fehler in der Übersetzung für "area" wird immer weitergegeben: Es muss "Bereiche" heißen, die nur dem Personal vorbehalten sind und nicht "Flächen" oder "Gebiete"... Das klingt irgendwie schief. Da wir Glück haben direkt in unserer Sammelstation zu sein, dürfen direkt gehen, ohne die anderen Sammelstationen aufsuchen zu müssen.
Wir gehen in den Commodore Club. Ganz schön viele Hafen-Placards mittlerweile. Es gibt wieder ein paar kleine Aufmerksamkeiten. Und die Preise sind nicht so hoch. Derzeit werden 15% Service-Charge aufgeschlagen (2016). Bei Norwegian und Royal Caribbean sind es mittlerweile 18%.

We went to the Commodore Club. Meanwhile they had lot of the port-plaques. They had again some small goodies. Currently they added 15% Service-Charge (2016). Norwegian and Royal Caribbean are charging meanwhile 18%.

Bruno would like to see the gym for a moment.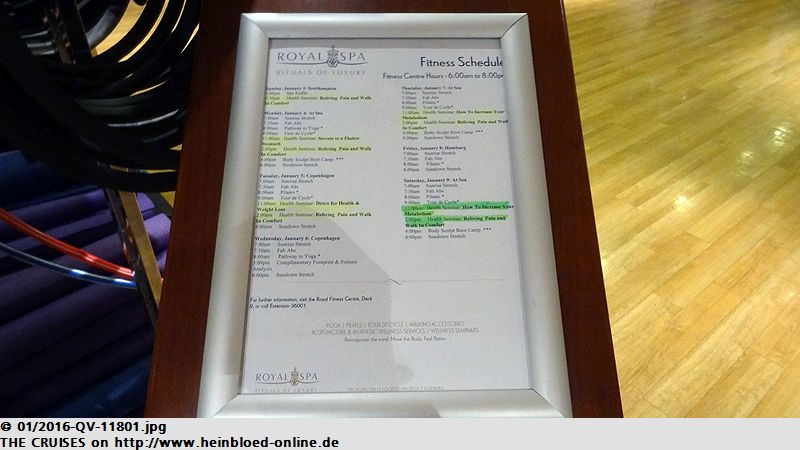 Bruno will kurz mal sich das Fitness-Studio ansehen.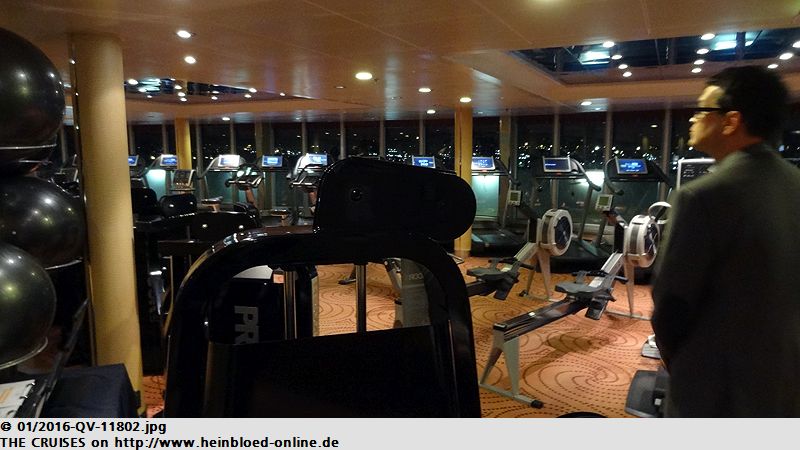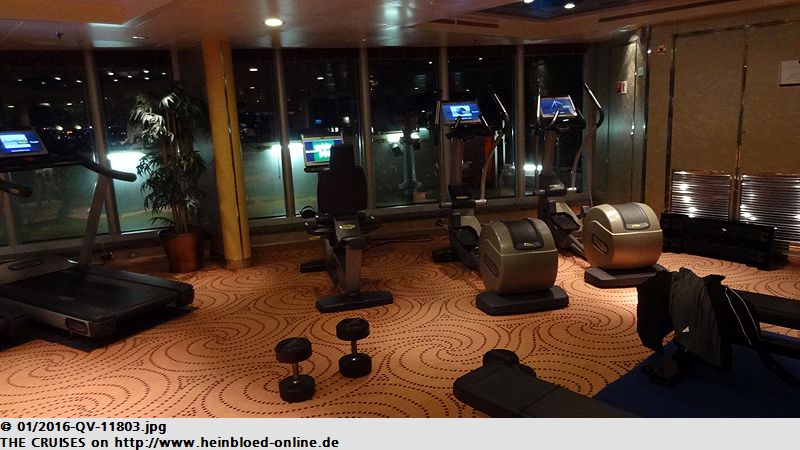 Etwas defekt... war das schon vor acht Jahren?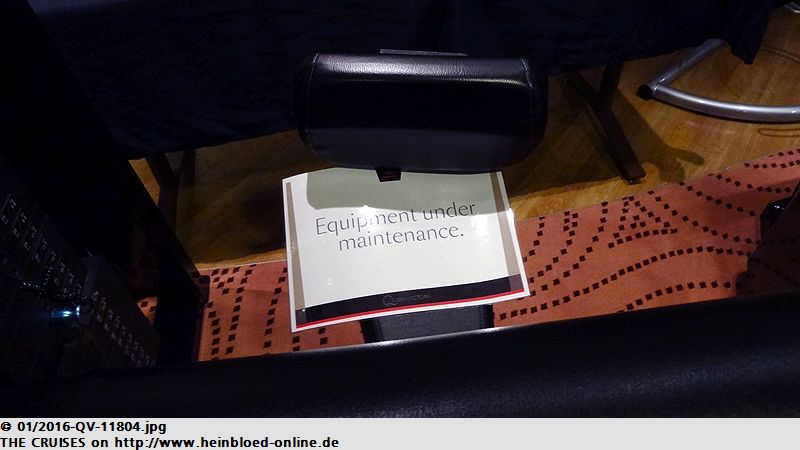 Something out of order... was that already eight years ago too?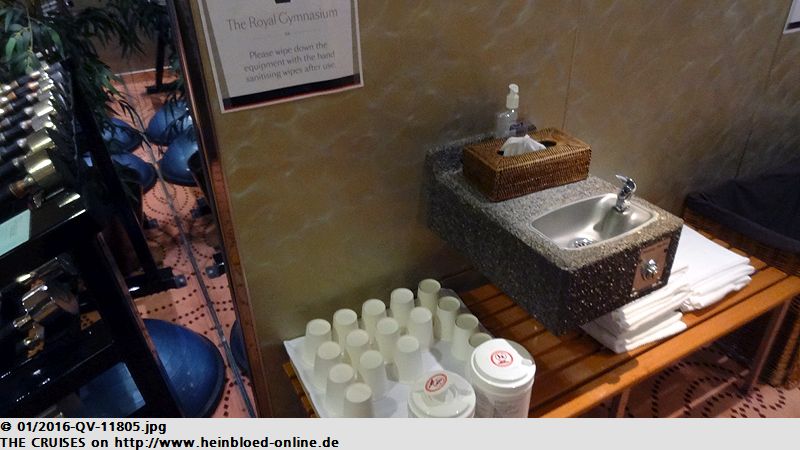 Wir hatten eigentlich einen Tisch für 2 bestellt. Aber wir finden uns wieder an einem Tisch zu 6. Zwei mittelalte Ehepaare. Ich mag die Situation nicht. Ich kann mich nicht entfalten, weil ich nicht so bestellen kann, wie ich möchte und Rücksicht nehmen muss. Ein Gespräch kommt nicht zu Stande.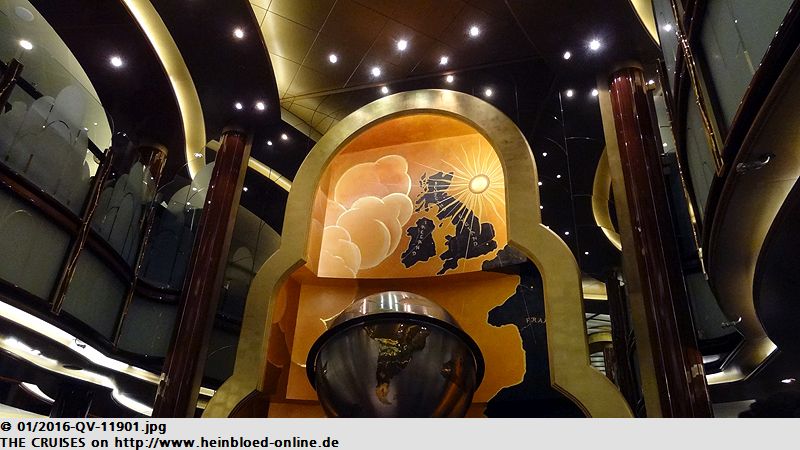 We ordered a table for 2. But we found us back at a table of 6. Two mid-age couples. I disliked the situation. I did not have the same freedom because I could not order what I wanted and must have some respect. No conversation was hold.

The consommé was very good.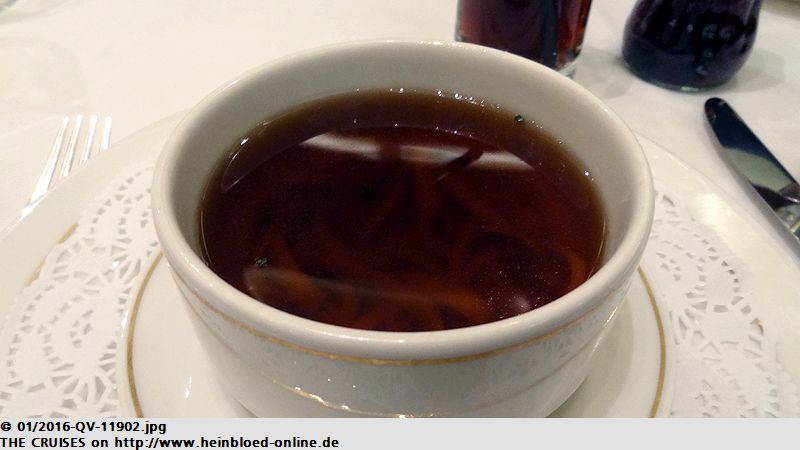 Die Brühe ist sehr gut.
Der Salat ist auch gut. Ich mag den Silver-Service mit den Salatsaucen.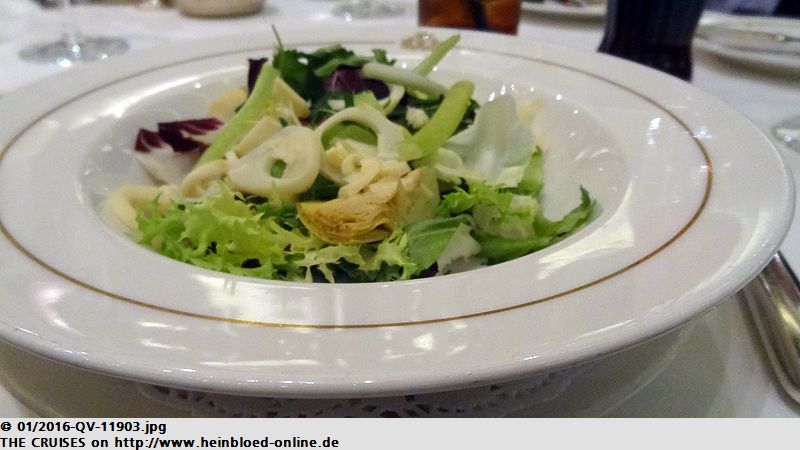 The salad was good too. I love the silver-service with the salad dressings.

The Sezuan-Chicken... from the Spa-Selection... the chicken breast was not broiled but steamed and then covered by a certain sauce.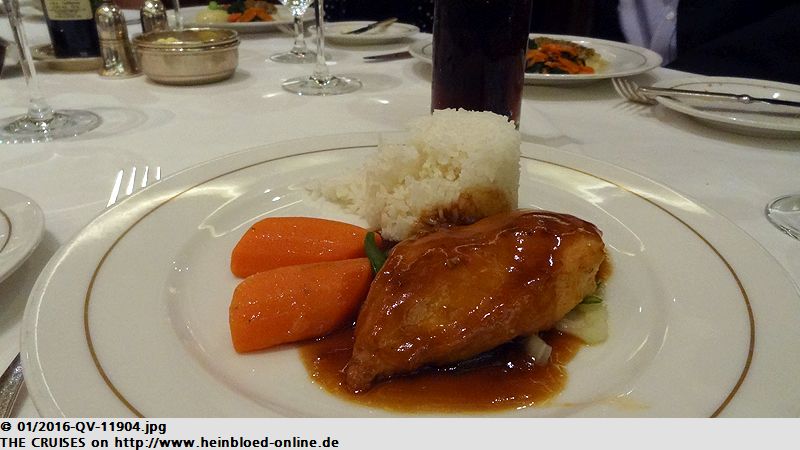 Das Sezuan-Hühnchen... aus der Spa-Selection... die Hühnerbrust ist nicht gebraten, sondern gedämpft und dann mit einer Soße überzogen.
Ich nehme nur ein wenig Pak-Choi noch. Das Hühnchen esse ich nicht auf. Auf ein Dessert verzichten wir, weil für draußen ein Feuerwerk angekündigt ist.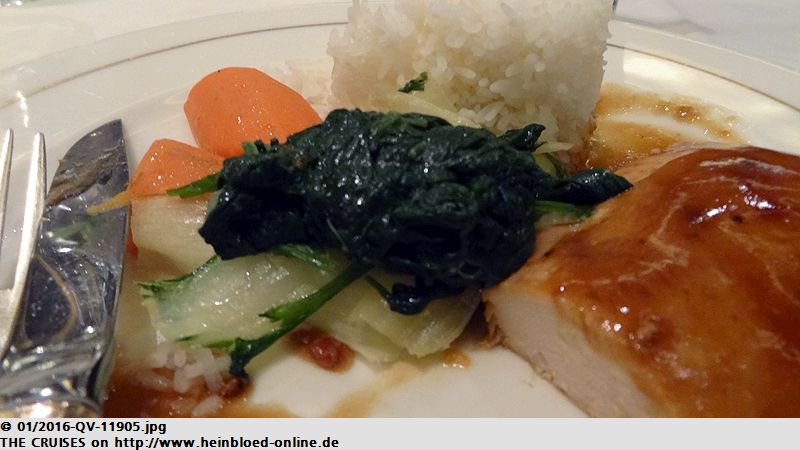 So I only took some more Pack-Choi. The chicken I did not eat. We did not take any dessert since they announced the fireworks outside.

When we arrived upstairs we missed already the firework of Louis C. Jacob Hotel.

Als wir oben ankommen, haben wir gerade das Feuerwerk bei
Louis C. Jacob Hotel
verpasst.

A second fire work should follow on portside. But at the published time there was not anything.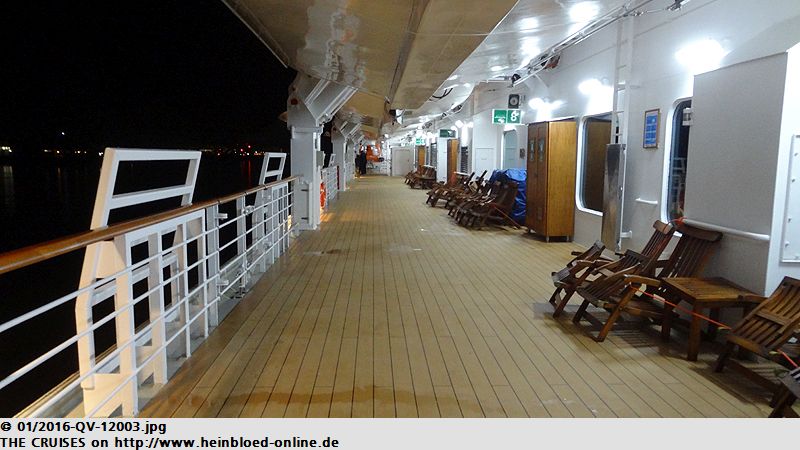 Ein 2. Feuerwerk soll noch auf der Backbordseite folgen. Aber zur angekündigten Zeit ist nichts.
QUEEN ELIZABETH folgt uns. Aber sie ist kaum beleuchtet und daher nur sehr schwer zu identifizieren.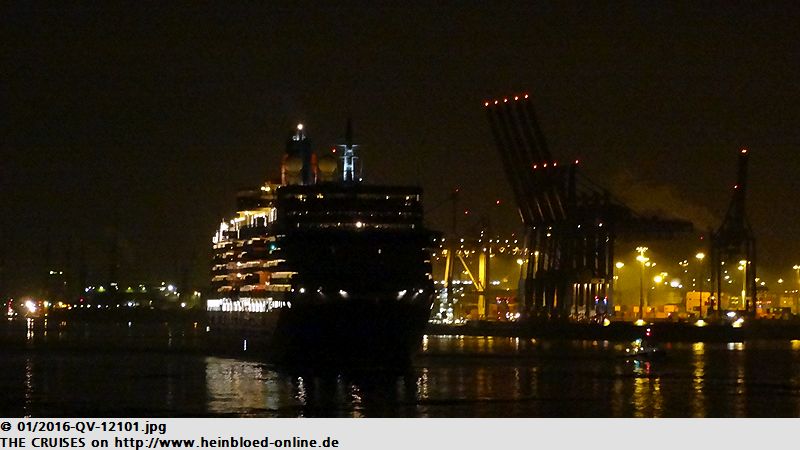 QUEEN EILZABETH was following us. But she was not well illuminated again. So barely to identify.

Then it started around Finkenwerder (Suburb of Hamburg).

Dann in Finkenwerder geht es los.
Es ist aber so kalt, dass auch Deckbereiche gar nicht besucht sind.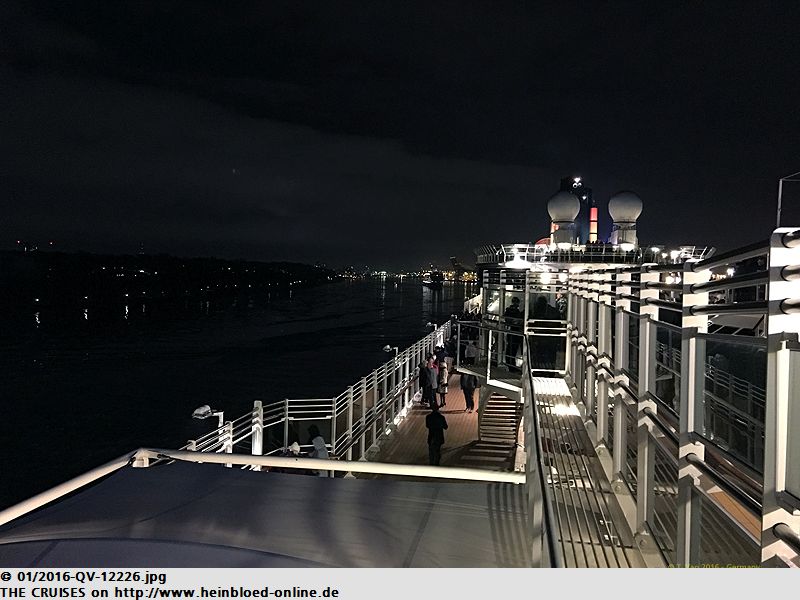 It was so cold that many deck areas were not occupied.

Bruno got with his iPhone the firework and QUEEN ELIZABETH on one shot. But here again you had barely a chance to identify QUEEN ELIZABETH since she was not well illuminated. Thereafter we went to bed. None of us was interesed to see a show because we were so tired.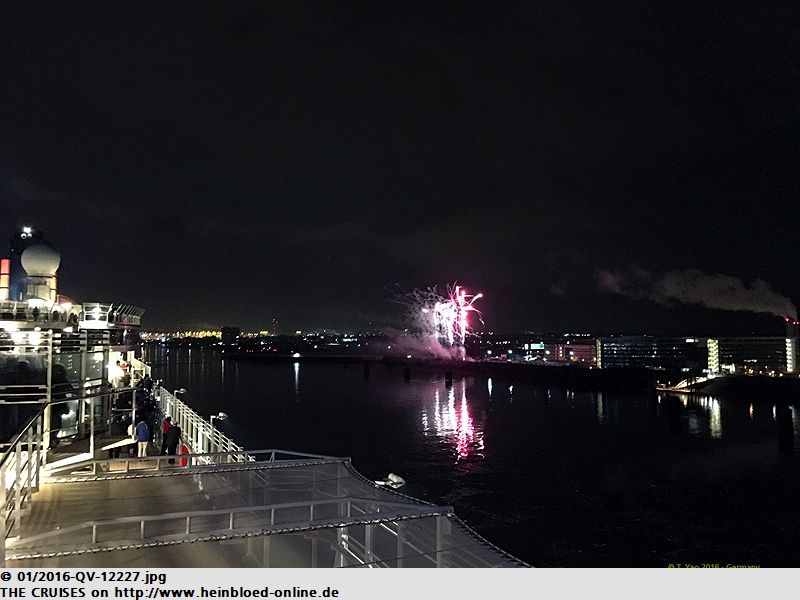 Bruno hat mit seinem iPhone das Feuerwerk und QUEEN ELIZABETH auf einem Bild. Man kann auch leider nur QUEEN ELIZEBETH kaum erkennen, weil sie so schwach beleuchtet war. Danach gehen wir sofort ins Bett. Auf eine Show hat keiner mehr von uns Lust, weil wir so müde sind.