Den Flachbildschirm gab es schon 2008.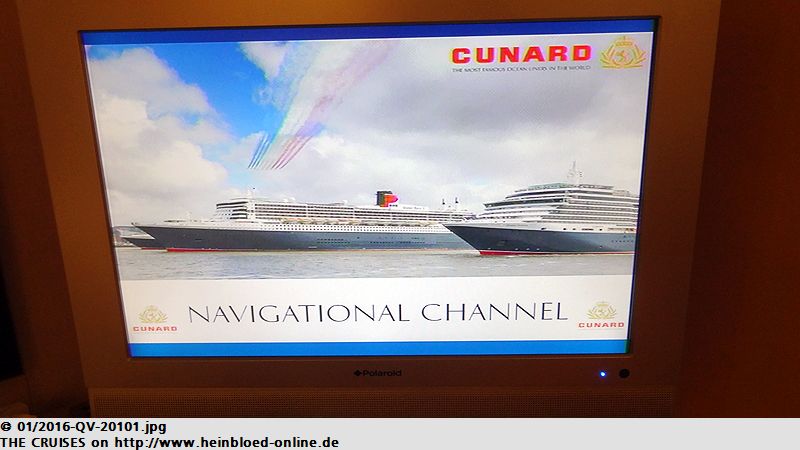 The Flatscreen-TV we had already in 2008.

But it was so loud (A continious hum in a quality of an appoaching tinnitus) that I took off the electric socket. Then we had the calm. We had no German TV either. And I was on my floating oasis.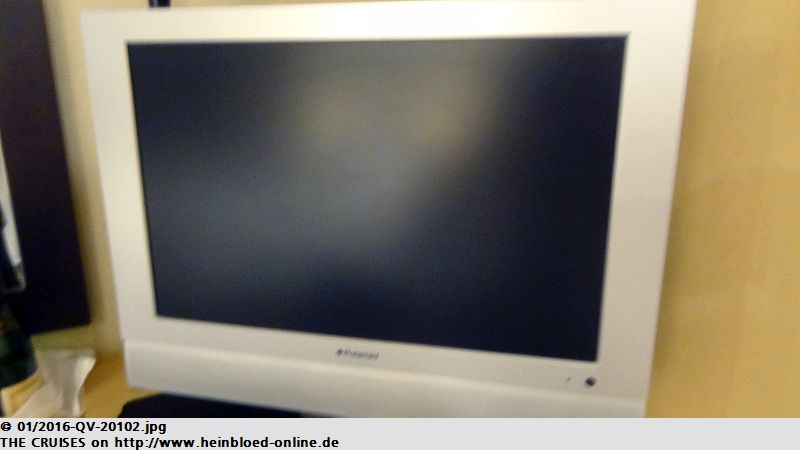 Allerdings ist er so laut (Dauerbrummen in Qualität eines bevorstehenden Tinnitus), dass ich kurzerhand die Steckdose rausziehe. Und dann ist Ruhe. Deutsches Fernsehen gibt es eh nicht. Und ich bin jetzt auf meiner schwimmenden Oase.
Wir bekommen Schokolade, aber das 175-Jahr-Jubiläum war ja eigentlich letztes Jahr.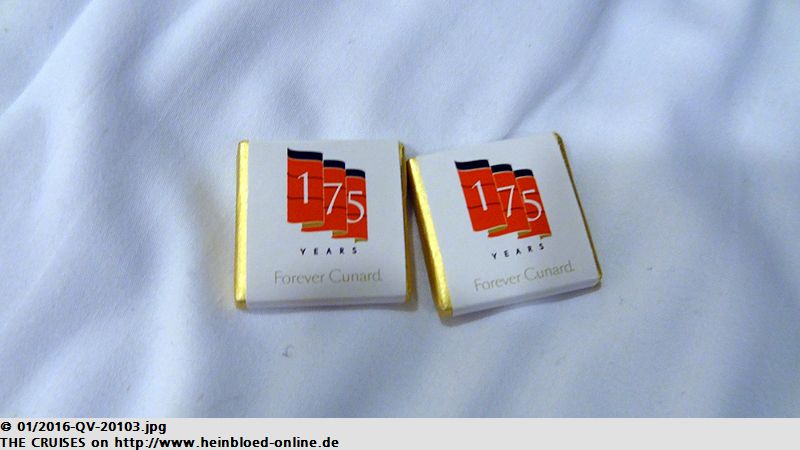 We got chocolate but was the 175-year anniversary last year.

Ernesto is our nice attentive cabin steward.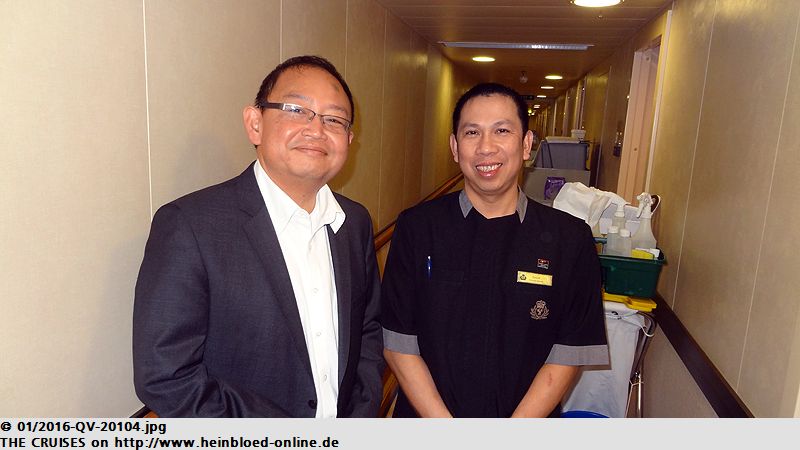 Ernesto ist unser netter aufmerksamer Kabinensteward.
Ich gehe mich im Lido umsehen. Aber hier bemerkt man die zwei Unterschiede zur QUEEN MARY 2: Es gibt keine "Gesunde Ecke" und somit kein frisch gepresster Saft. Aber es gibt schon das neue Konzept, bei dem die Getränke zum Frühstück direkt am Tisch serviert werden.

I went to see around in the Lido. But you could see the difference to QUEEN MARY 2. There was no "Healthy Corner" and so we had no fresh juiced beveraged. But you had already the new service system when beverages for breakfast were served at the table.

But we went to Britannia-Restaurant. There we were welcomed by our last night's waiters whom we want to become more familiar: Nitin and Robinson. Sojan took the picture of us and gave us a "recommendation letter" for Coriander. We did not want to return to our table of 6. They offered us a table of 2 but as I never had a chance to do Coriander on QUEEN MARY 2 we did not want and asked for a booking in Coriander. The breakfast was the regular Cunard standard and so were very satisfied.

Wir gehen jedoch ins Britannia-Restaurant. Dort werden wir von unseren Kellnern von gestern Abend begrüßt, die wir jetzt näher kennenlernen können: Nitin und Robinson. Sojan nimmt das Bild von uns auf und gibt uns direkt ein "Empfehlungsschreiben" für Coriander. Nochmals an den 6-er Tisch wollen wir nicht zurück. Uns wird ein 2-er Tisch angeboten, aber da ich es nie auf der QUEEN MARY 2 geschafft habe, Coriander zu besuchen, verzichten wir und bitten um eine Reservierung im Coriander. Das Frühstück ist auf dem üblichen Cunard-Standard und so sind wir hochzufrieden.
Ankunft Sonntag in Southampton: Irgendwie habe ich habe keine Lust auf einen teuren Mietwagen von Europcar. Die anderen haben nicht auf oder sind am Flughafen.
National Express
hätte ich machen können. Zug auch. Transfer sind etwa 120 GBP. Im Vergleich zur
NORWEIGIAN ESCAPE 2015
im vergangen Oktober ist es wirklich "preiswert". Wir hätten damals für 35 EUR buchen früher können und später haben sie auf 75 USD erhöht. Bei Cunard sind es 59 USD (2016).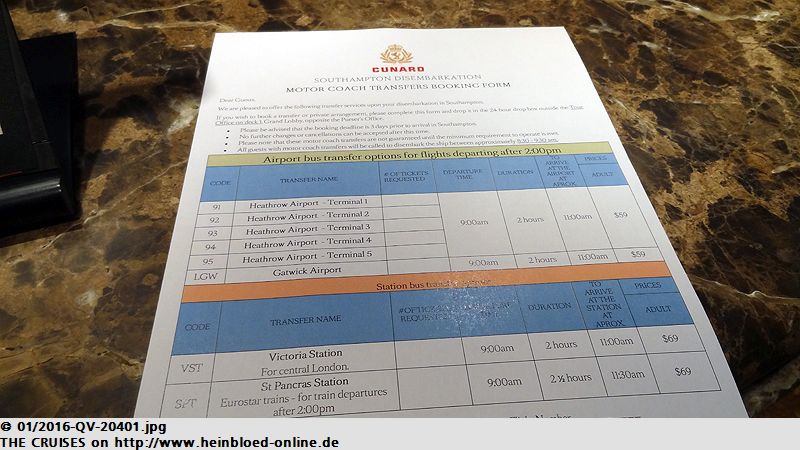 Arrival Sunday in Southampton: Somehow we were not interested to have an expensive car rental with Europcar. All others are not open on Sunday or located at the airport. We could have done coach by National Express. Train as well. Compared to NORWEGIAN ESCAPE 2015 last October it was really "cheap". We could have booked earlier for 35 EUR but they increased to 75 USD. With Cunard it was 59 USD (2016).

So far we did not get any debarkation information but we got them later directly for the transfer.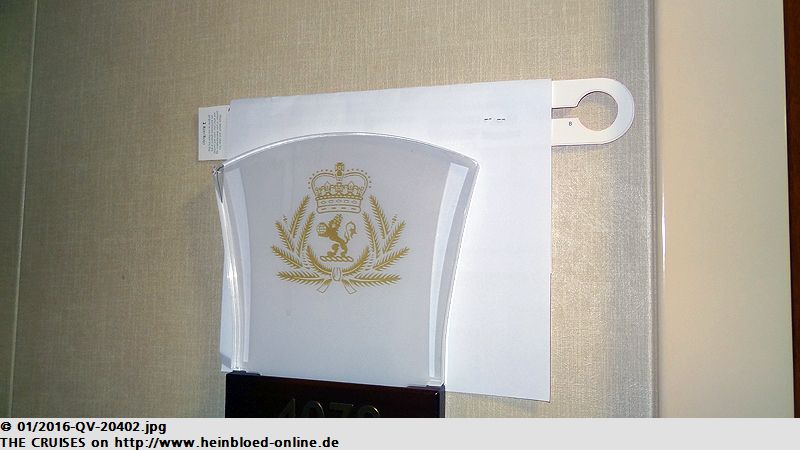 Bislang haben wir noch keine Ausschiffungsunterlagen erhalten, aber wir bekommen später direkt die für den Transfer.
Wir hätten mit individueller Abreise die Platinum-Lounge nutzen dürfen, aber nun mit dem gebuchten Transfer beim nächsten Mal im Januar 2017 auf der QUEEN MARY 2.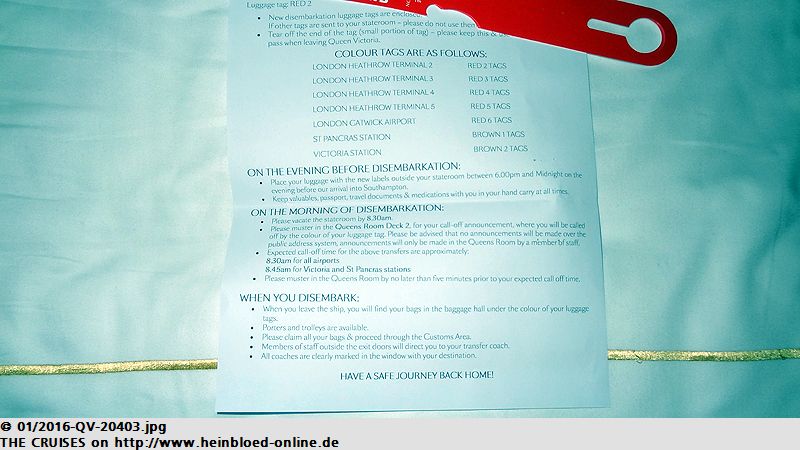 In case we have independent arrangements we might use the Platinum-Lounge but now next time on QUEEN MARY 2 in January 2017.

Bad surprise: we need to see the immigration check before debarkation. It did not fit to the sequence of events. We were too few guests which need to be checked that they could not fly in the immigration agents. Especially as three ships would have need a lot of officers available onboard.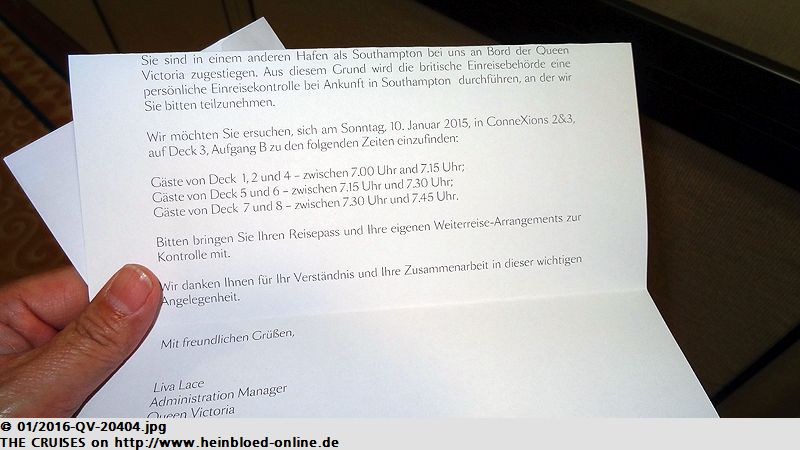 Böse Überraschung: wir müssen noch vor Ausschiffung zur Passkontrolle. Es passt vom zeitlichen Ablauf her überhaupt nicht. Aber wir sind zu wenige Gäste, die kontrolliert werden müssen, so dass man die Grenzbeamte nicht einfliegen konnte. Zumal drei Schiffe natürlich eine hohe Zahl von Beamten erforderlich gemacht hätten.
Den Vormittag verbringen wir im Café Carinthia. Dort werde ich von Brendon erkannt, der mich von der
QUEEN MARY 2 2014
her kennt. Es ist viel zu tun, aber sie kommen nicht immer hinterher. Aber wir haben ja Zeit: es ist Seetag. Für Sigi "opfere" ich mich: Sie mag Ziegenkäse und hier auf der Karte von Café Carinthia steht sie für jeden Mittag. Ich veranstalte ein Testessen: Lecker!!!

They morning we stayed with Café Carinthia. There Brendon identifed me as he knew me from QUEEN MARY 2 2014. It was very busy so they could not serve all the time. For Sigi I "sacrifce" myself: She loves goat cheese and here on the menu of Café Carinthia you can find it for every lunch. I set up a trial: Yummy!!!

Meanwhile all documents from Dragana arrived. Our additional booking we made on board was confirmed. With a view to the Statue of Liberty when leaving New York.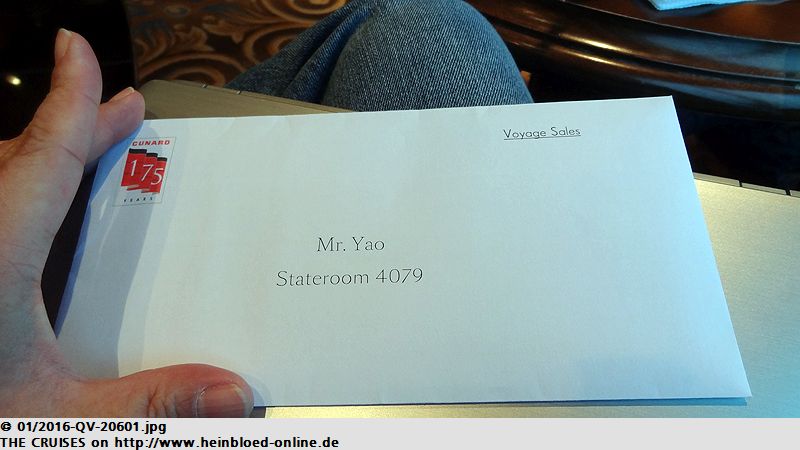 Zwischenzeitlich sind die Unterlagen von Dragana gekommen. Unsere zusätzliche Buchung an Bord hat geklappt. Sogar mit Ausblick auf die Freiheitsstatue bei der Ausfahrt aus New York.
Es geht zum Mittagessen in das Britannia-Restaurant. Die Suppenauswahl sagt uns nicht zu. So fragen wir nach einer Hühnensuppe. Eigentlich dachte ich, dass es die immer auf der Kabinenkarte verfügbar sei. Aber sie ist es gar nicht. Aber in einer guten Küche ist immer Hühnerbrühe verfügbar und so bekommen wir tatsächlich welche. Bernie ist unser Held, weil er die Extra-Meile gelaufen ist. Und weil es auch noch dazu Cottage-Pie gibt, bin ich wohl der glücklichste Gast an Bord der QUEEN VICTORIA.

We went for lunch to Britannia-Restaurant. We did not like the soup selection. So we asked for some chicken broth. I thought originally that this is always available on the cabin menu. But it was not. In a good galley you have always chicken broth available and so we really got some. Bernie was our hero who walked the extra-mile. And as I had cottage-pie I was the most happy guest on board of QUEEN VICTORIA.

During the day I was trying to make some pictures of QUEEN ELIZABETH but we were too far apart from each other. In the middle of the night we might cross the way of MIDNATSOL. There was a painting of our former Tandem-crossing 2008 with QUEEN ELIZABETH 2. The ship still excites me. There are may little details they still need to work on: like displays for the elevators. One was for sure to going up and one for going down.. but the third one? You could barely read the text. I am wondering if the red dots were still from then (2008) or actual ones.

Im Laufe des Tages versuche ich Bilder von der QUEEN ELIZABETH zu machen, aber wir sind zu weit von einander weg. Wir müssen aber in der Nacht irgendwie die MIDNATSOL gekreuzt haben. Es hängt ein Bild von unserer damaligen Tandem-Kreuzfahrt 2008 mit der QUEEN ELIZABETH 2. Das Schiff begeistert noch nimmer. Es gibt da so ein paar Details, an denen man nochmals arbeiten könnte: z. B. die Anzeigen bei den Fahrstuhlknöpfen: Eines ist bestimmt für oben und eines für unten... aber wofür ist der dritte Knopf? Die Hinweise sind kaum lesbar. Ich frage mich allerdings, ob die roten Punkte von damals (2008) stammen oder aktuell sind.
Irgendwie sollten 50 USD Bordguthaben für mich da sein, aber nichts gekommen. Und leider kann man wieder nicht fragen, weil über das Wochenende nicht gearbeitet wird. Zum zweiten Mal, dass etwas mit dem Bordguthaben nicht klappt. Aber dafür hat man schließlich eine
Dorothy
da, die für einen alles regelt.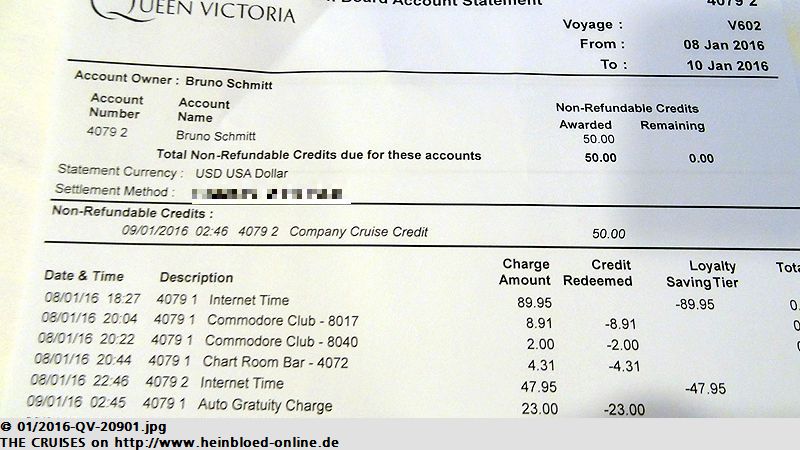 Somehow I should get 50 USD Onboard Credit for me but nothing arrived. And again we could not ask since nobody is working at the weekend. Second time that something is not working with the Onboard Credit. For this you have a Dorothy who will take care of everything.

As I could not join the public autograph session of the Captain the reception took care that my Douglas Ward will be signed.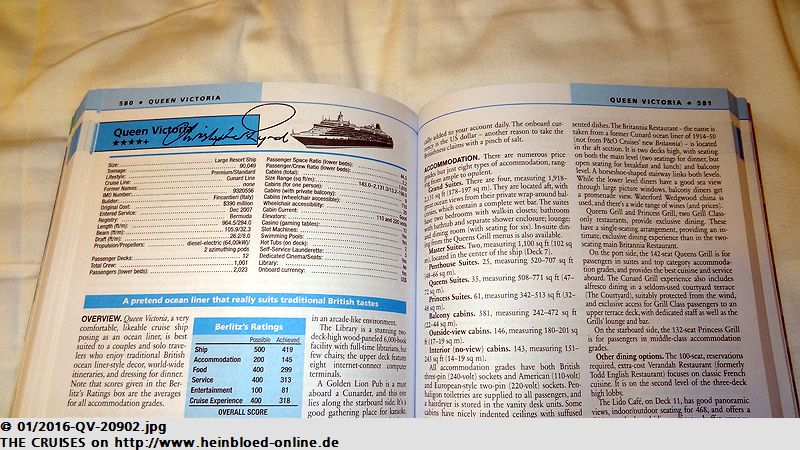 Da ich nicht an der öffentlichen Autogramm-Stunde des Kapitäns teilnehmen kann, sorgt man an der Rezeption dafür, dass mein Douglas Ward noch unterschrieben wird.
Norwegian nimmt für den Kabinenservice 7,95 USD. Mittlerweile hat Royal Caribbean tagsüber wieder Abstand davon genommen, etwas für warme Gerichte zu berechnen, wenn sich etwas auf die Kabine kommen lässt. Bei Cunard ist es kostenlos. Ich lasse mir etwas kommen.

Norwegian takes meanwhile 7.95 USD for using cabin service. Meanwhile Royal Caribbean refrained for taking extra charge for ordering hot food to your cabin during the day time. With Cunard it was still complimentaray. So I ordered something.

I ordered a steak because I need some protein. I did not ordered the French Fries.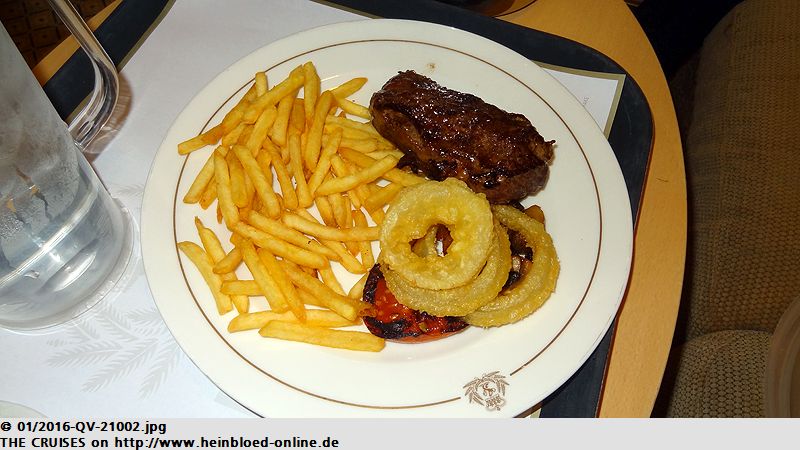 Ich lasse mir ein Steak kommen, weil ich Lust auf Proteine habe. Die Pommes Frites hatte ich gar nicht bestellt.
Ein richtig toll saftiges Hüftsteak kommt. Kein Minuten-Steak von real.

A real great juicy sirloin steak. No minute steak from Wal-Mart.

And they had even English mustard. I love it...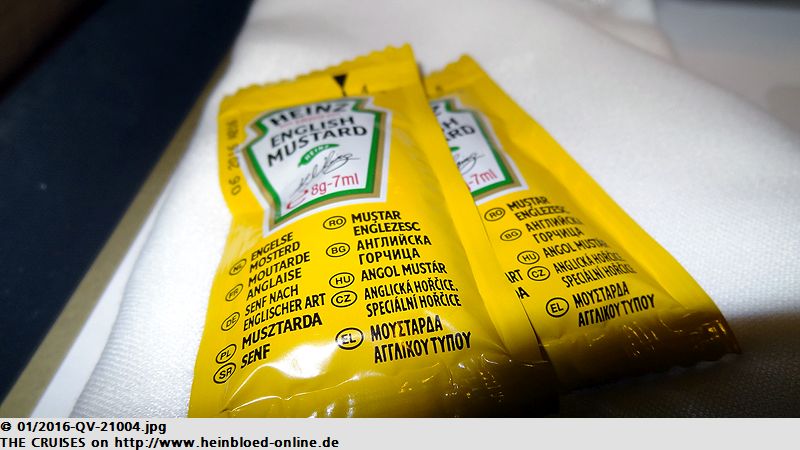 Und sogar englischen Senf. ich liebe ihn...
Ich gehe einkaufen. Bei Norwegian mussten wir 20% MWSt. zahlen PLUS 5% ANGEBLICH EXTRA FÜR GROSSBRITANNIEN, wenn man in deren Hoheitsgewässern etwas verkauft. Ich frage hier im Shop, ob so eine Regelung bekannt ist. Nicht einmal, wenn sie direkt von Übersee Großbritannien anlaufen, gibt es diese 5% Extrasteuer. Die Reise war geteilt: Southampton - Kopenhagen - Hamburg wurden 20% britische MWSt. erhoben. Und ab Hamburg galt dann 19% deutsche MWSt., weil auch die Reise von hier verkauft wurde. Norwegian in Wiesbaden ist sehr uneinsichtig und deswegen künftig einen Stammgast weniger.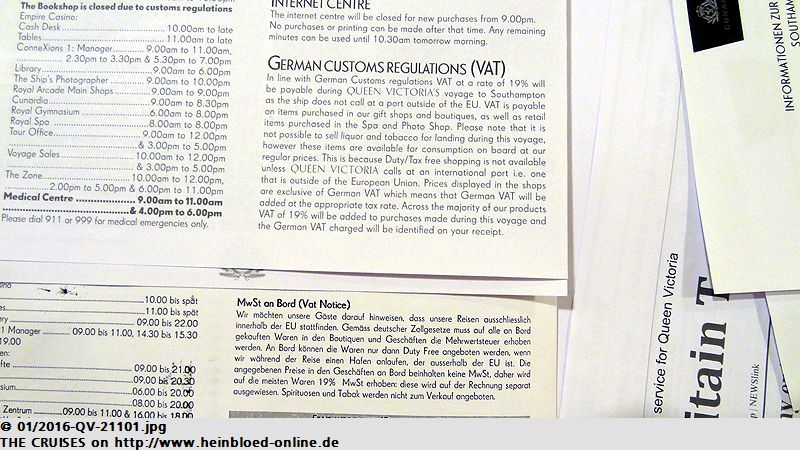 I went shopping. With Norwegian we need to pay 20% VAT PLUS 5% ALLEGEDLY EXTRA FOR UK when you arrived the British Waters. I asked here in the shop if they were familiar with such a rule. Even not when they arrived directly from overseas in UK they had any 5% extra charge. This voyage was split: Southampton - Copenhagen - Hamburg they charged with 20% British VAT. From Hamburg onwards you had 19% German VAT because the voyage was sold from here too. Norwegian in Wiesbaden, Germany was very unreasonable and so they will have one loyal guest less.

Due to different taxation (7% in Germany) on books Cunard did not like to make it too complicated and so they kept the book store closed. Very sad as we wanted to buy here something.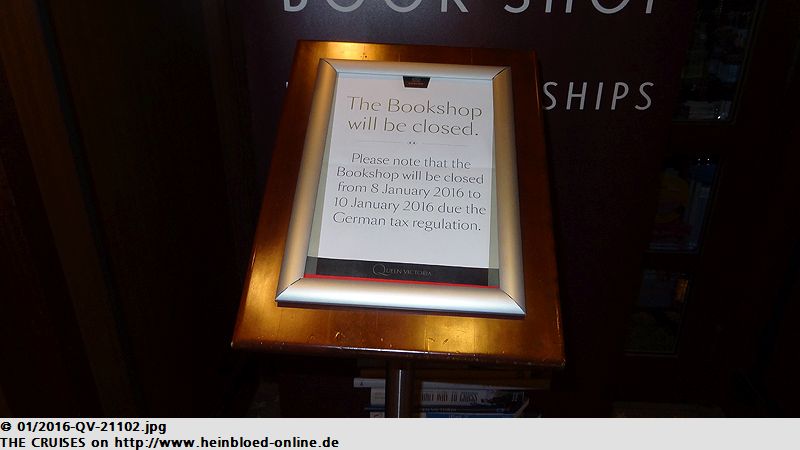 Aufgrund der unterschiedlichen Besteuerung von Büchern (7% in Deutschland) will Cunard es sich nicht zu kompliziert machen: daher bleibt der Buchladen geschlossen. Schade, weil wir eigentlich hier genau etwas kaufen wollten.
Korrekterweise werden auf meinem neuen T-Shirt 19% MWSt. dann auch aufgeschlagen. Man darf einfach es mit in die Kabine nehmen und dort anprobieren. Wenn man es nicht innerhalb von zwei Stunden zurückbringt, dann wird es endgültig berechnet und auf das Bordkonto gebucht. Ein guter Service.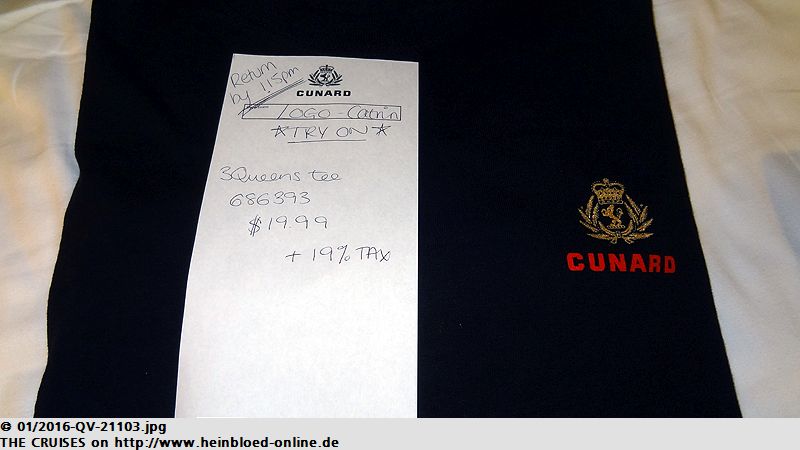 Correctly they added 19% VAT on my new t-shirt. You could easily take it to your cabin and try it on. If you do not return within two hours it will be finally charged to your on board account. A good service.

The library was still very fascinating.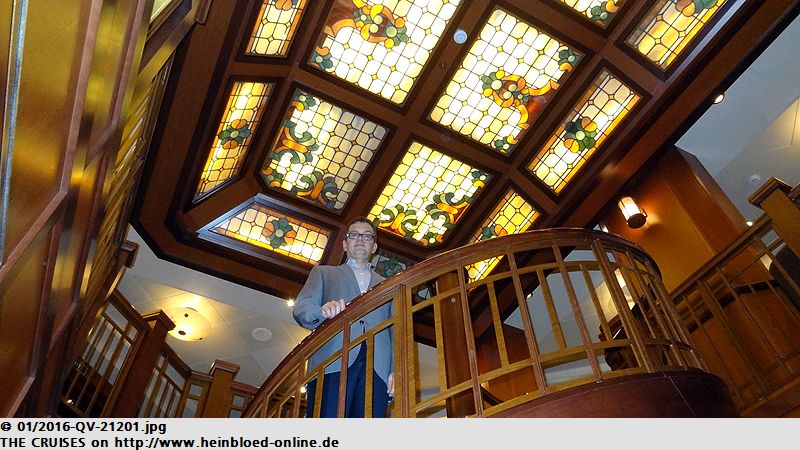 Die Bibilothek ist nach wie vor sehr faszinierend.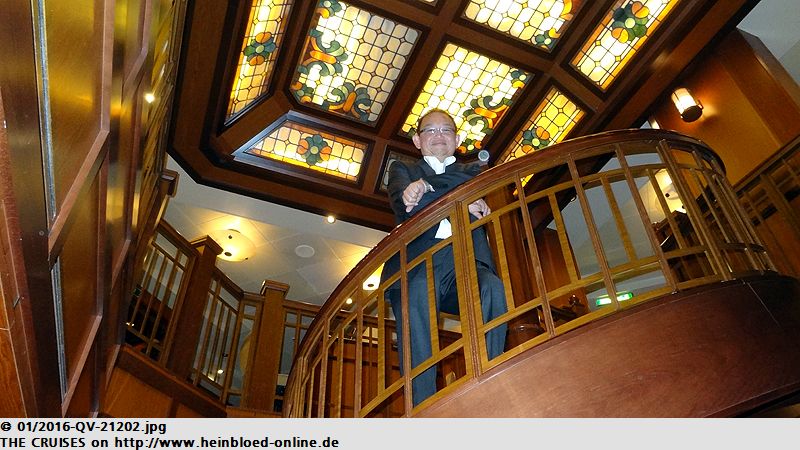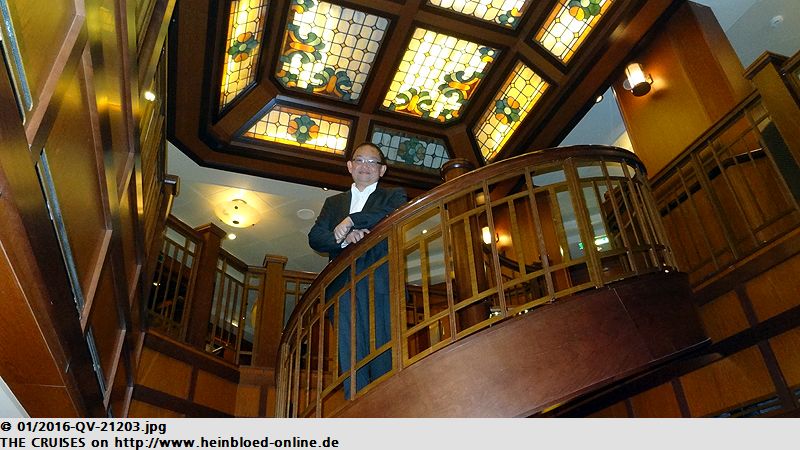 Ich versuche die Weltkugel in die Hand zu nehmen, wie damals Charlie Chaplin in "Der Große Diktator", aber sie ist dafür nicht gemacht.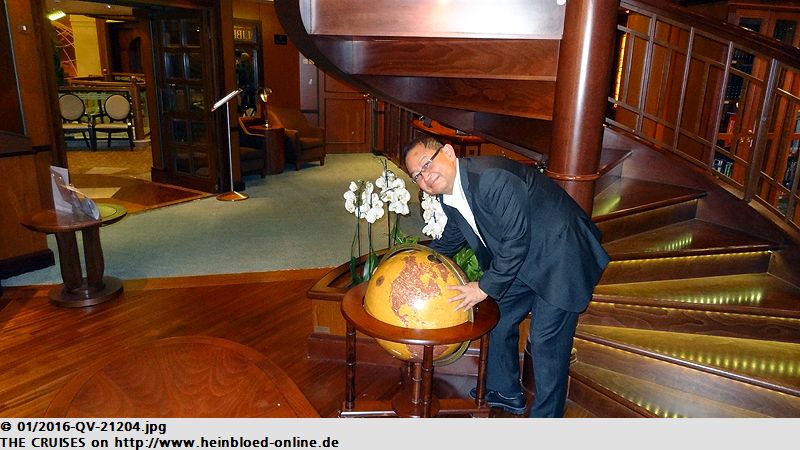 I tried to take the globe in my hands like Charlie Chaplin did it with "The Great Dictator" but it was not prepared for this.

Eight years ago we stayed just adjustant to the Laundrette. To our surprise noboby was inside. Usually they were standing here for doing laundry or playing bridge.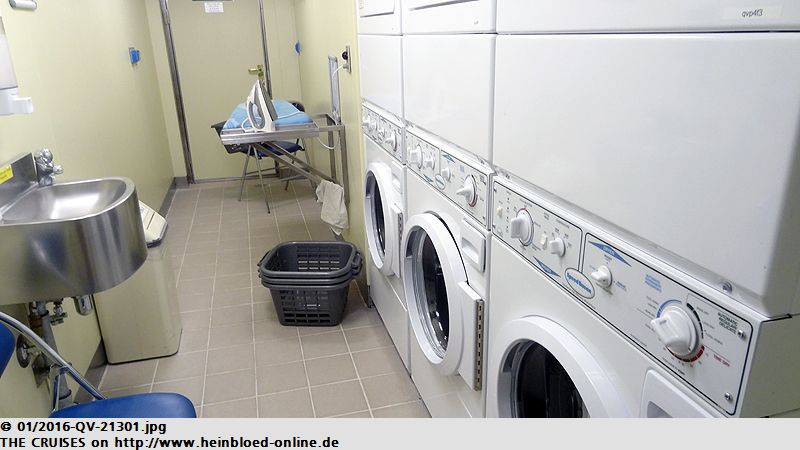 Vor acht Jahren haben wir direkt vis-à-vis vom SB-Waschsalon gewohnt. Zu unserem Erstaunen ist keiner drin. Sonst stehen sie auch schon mal hier zum Wäschewaschen und Bridge spielen.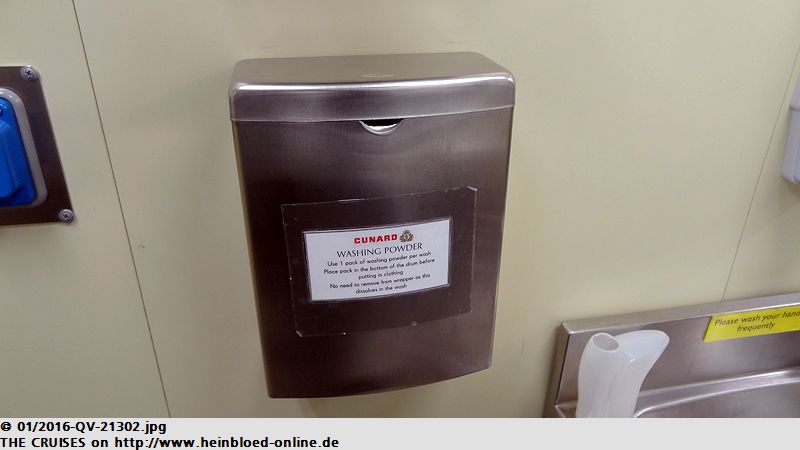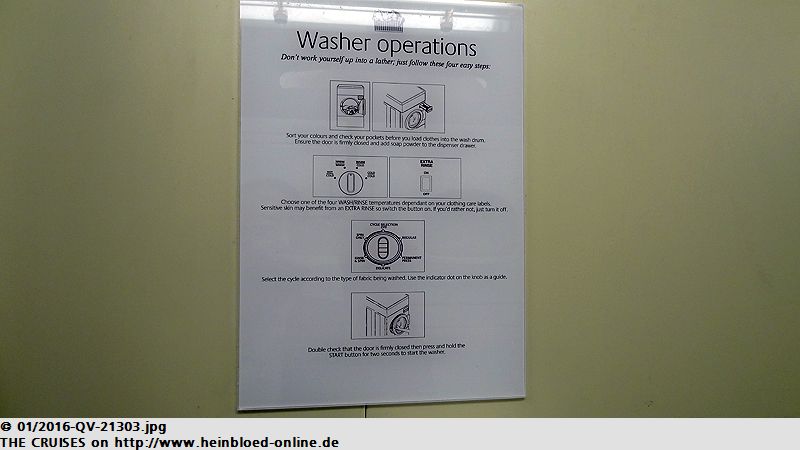 Mittlerweile gibt es Hinweise, wie lange eine Wäsche dauert.

Meanwhile they had a note how long a wash load would need.

We went quickly into the Lido to see what they offer for dinner.

Wir gehen mal kurz ins Lido gucken, was es dort zum Abendessen gibt.
Heute haben wir im Coriander gebucht. Es ist das indische Angebot. Abends wird ein Teil des Lidos zum Zuzahlrestaurant. Für 15 USD (2016) OHNE Service-Charge oben drauf (wie neuerdings bei Norwegian) bekommen wir eine Leistung, bei der ich Basel geschätzt 120 CHF zahlen müsste. Wir erleben einen tolles Essen und einen überragenden Service dank Pavel (unser Sommelier, der uns erstklassig bedient hat, auch wenn wir nur Wasser bestellt haben), Paula, Marcelito, Ashok, Mark und Oberkellner Pavel. Das Essen ist der Traum. Es hätte auch für 5-6 Personen gereicht. Wir schaffen es nur von allem ein Bissen zu probieren und danach sind wir schon voll. Zwischen unserer BZ-Balkon-Kabine und einer Britannia Club-Kabine liegen 1.000 USD pro Person. Mir geht es um die flexible Tischzeit: für den Betrag gehe dann jeden Abend in eines der Zuzahlrestaurants - selbst jeden Abend bei Todd English ist billiger als Britannia Club.

We booked for the night in the Coriander. It was the Indian offer. In the night time a part of the Lido became an alternative dining venue. For 15 USD (2016) WITHOUT service-charge on top (like recently with Norwegian) we got a performance I need to pay in Basle, Switzerland around 120 USD. We experienced great food and an outstanding service by Pavel (our sommelier, who gave us a first class service although we only ordered some water), Paula, Marcelito, Ashok, Mark and Head Waiter Pavel. The food was really a dream. It was enough for 5-6 persons. We made it only to try one bite of each and finally we were full. Between our BZ-Balcony cabin and one cabin in Britannia Club is 1,000 USD per person. I want to have the flexible dining: for this amount I can go every night to an alternative dining - even every night with Todd English is cheaper than Britannia Club.

In the crew area you still had the door mat showing QUEEN VICTORIA 2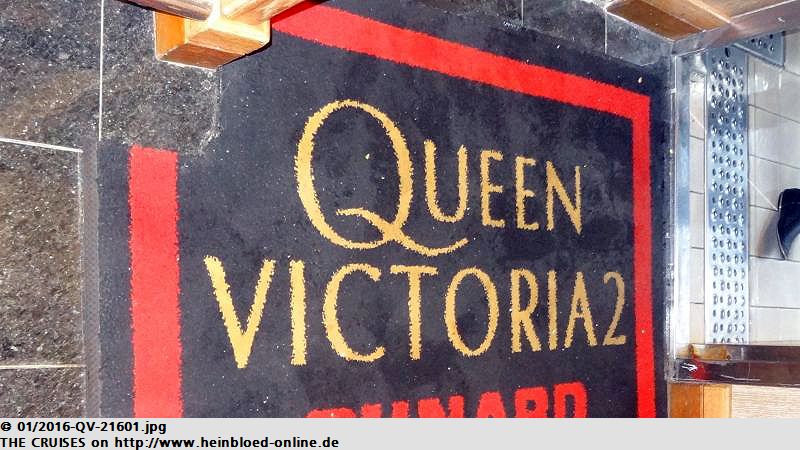 Im Crew-Bereich gibt es noch die Fußmatten mit QUEEN VICTORIA
2
.
Im öffentlichen Gästebereich gibt es mittlerweile neue mit QUEEN VICTORIA.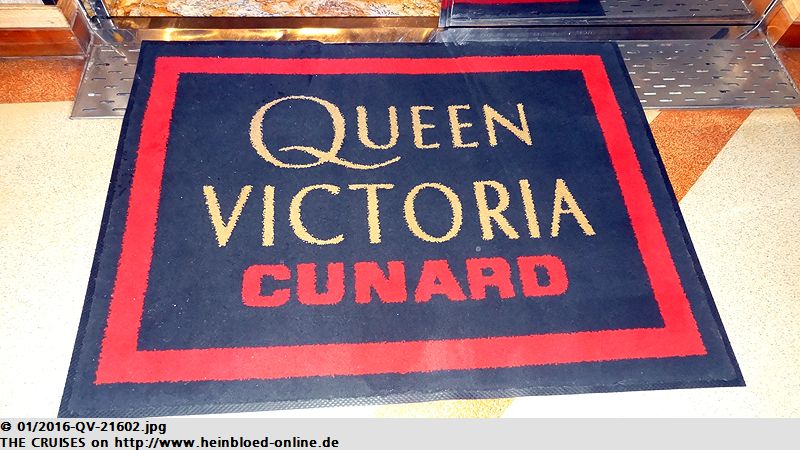 In the public guest area you had meanwhile new showing QUEEN VICTORIA.

Another short visit in the Winter Garden. But here it was too calm.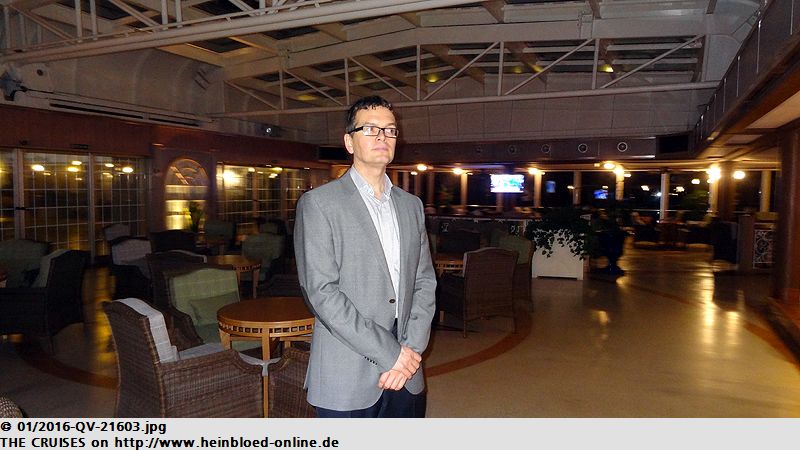 Noch ein kurzer Besuch im Wintergarten. Aber hier ist nichts mehr los.
Und der Strick- und Häkelkurs ist nicht das richtige für uns. So gehen wir ins Bett. Die Zeitumstellung erfolgt erst heute Nacht. So passt es ganz gut, dass wir jetzt eine Stunde mehr haben.

And the Needlework and Knitting lessons were not the right offer for us. So we went to bed. The time change shlould be this night. So it fit quite well that we should have one hour more tonight.