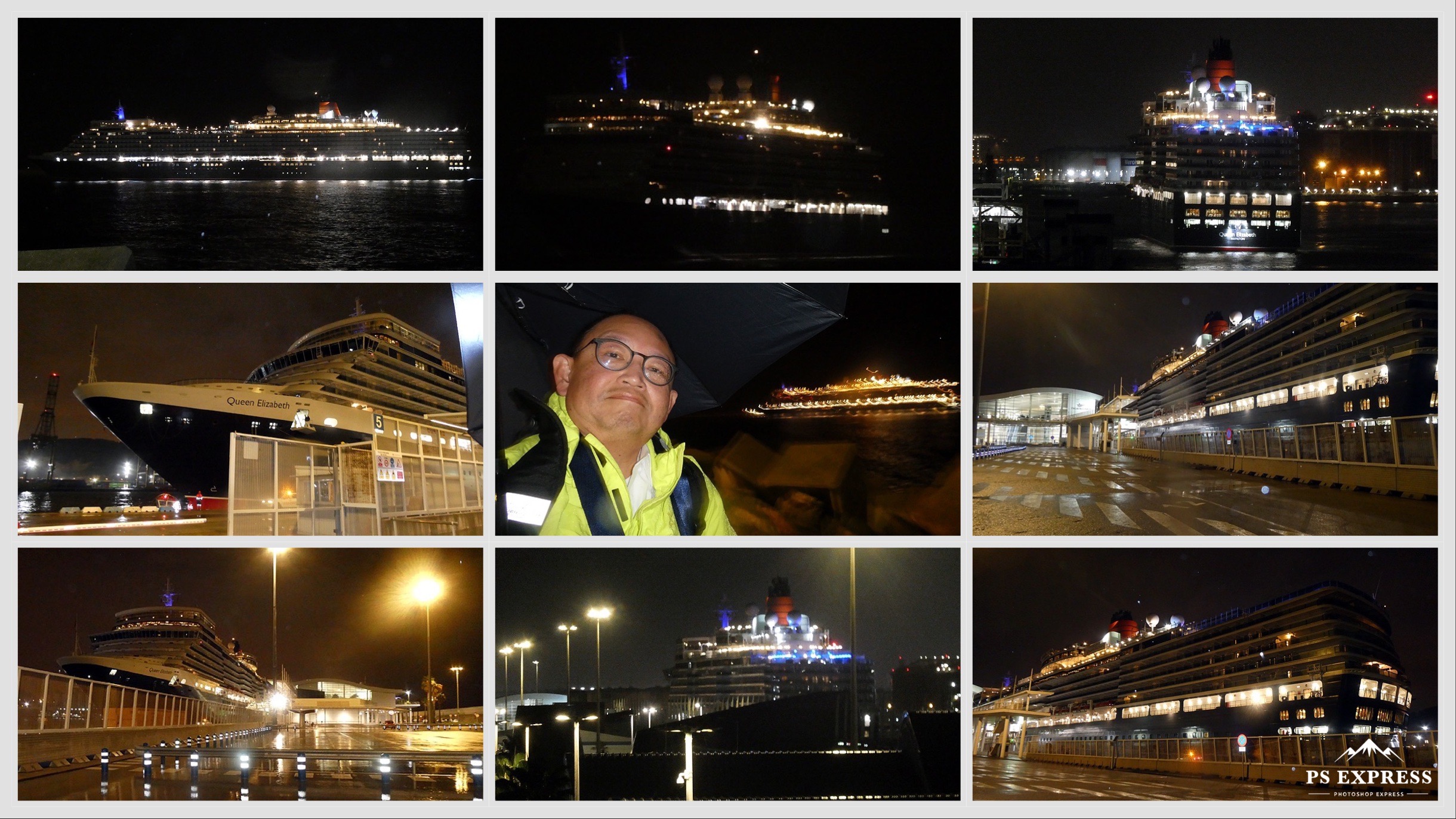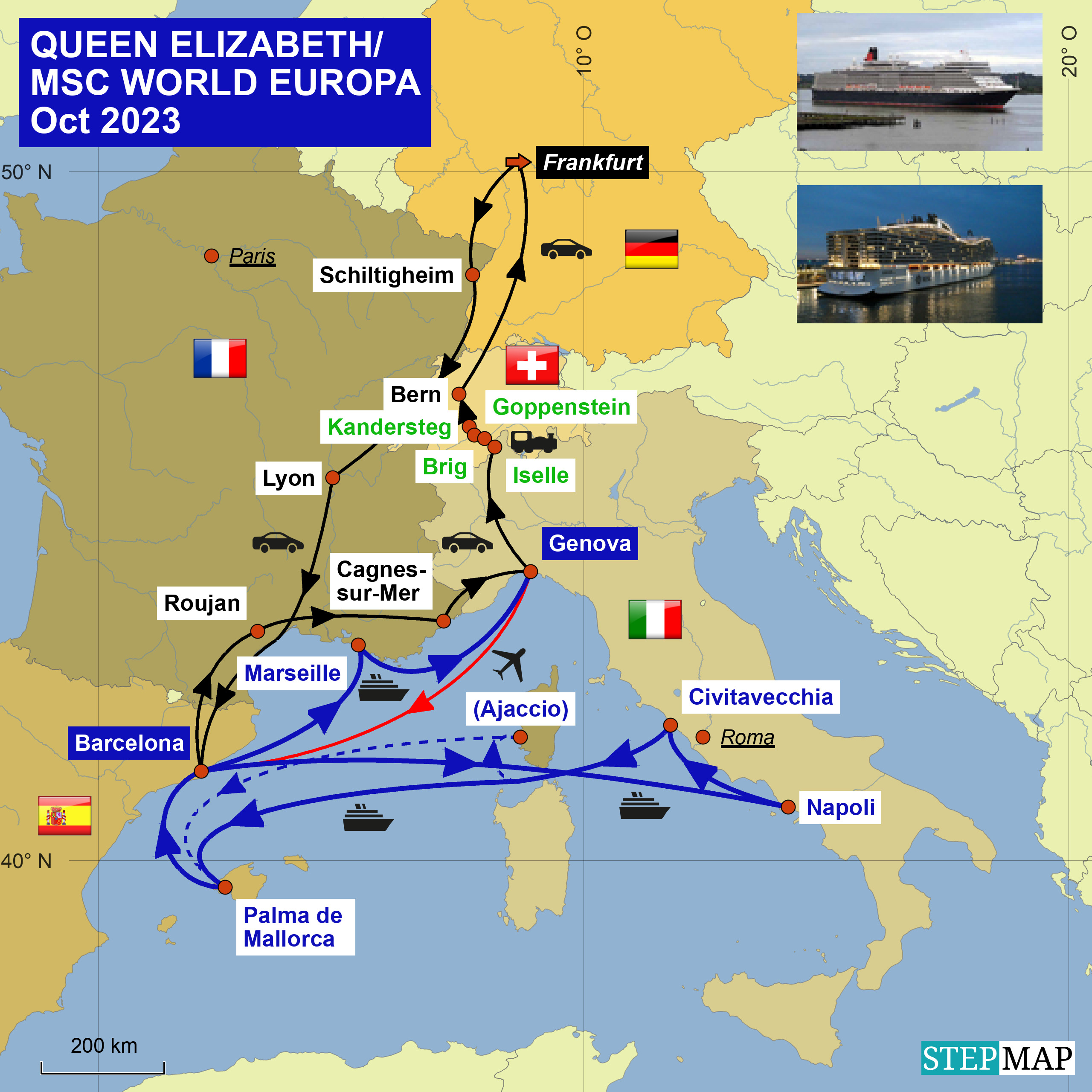 Ich fahre frühmorgens in den Industriehafen und sehe das Einlaufen der QUEEN ELIZABETH in Barcelona.

I go into the industrial port early in the morning and see the QUEEN ELIZABETH arrive in Barcelona.

We went back to the hotel to have breakfast.

Zurück geht es zum Hotel, um zu frühstücken.
Da wir ja immer öfters lesen, dass Passagiere mit Covid-19 von einer Kreuzfahrt kommen, machen wir mal sicherheitshalber vor der Einschiffung ein Covid-19 Test: negativ.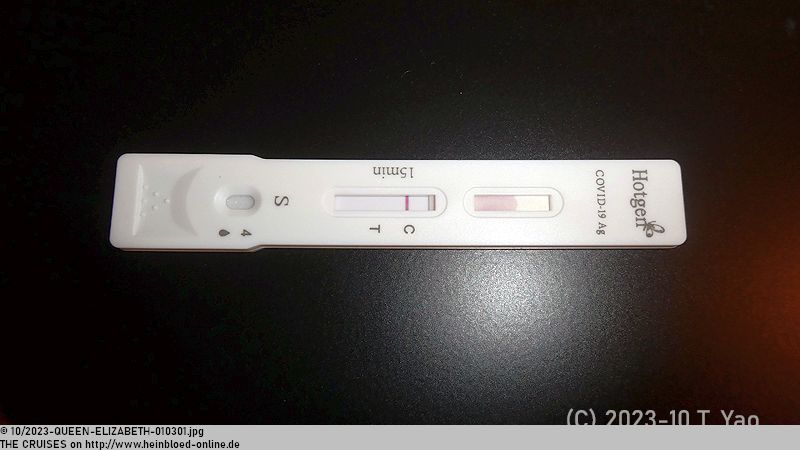 Since we read more and more often that passengers come from a cruise with COVID-19, to be on the safe side, we do a COVID-19 test before boarding: negative.

Since we are repacking something, the chocolate for the crew has to go in the suitcase. And for a good friend, a few little things from his homeland if he's in Australia thinking about Christmas at home.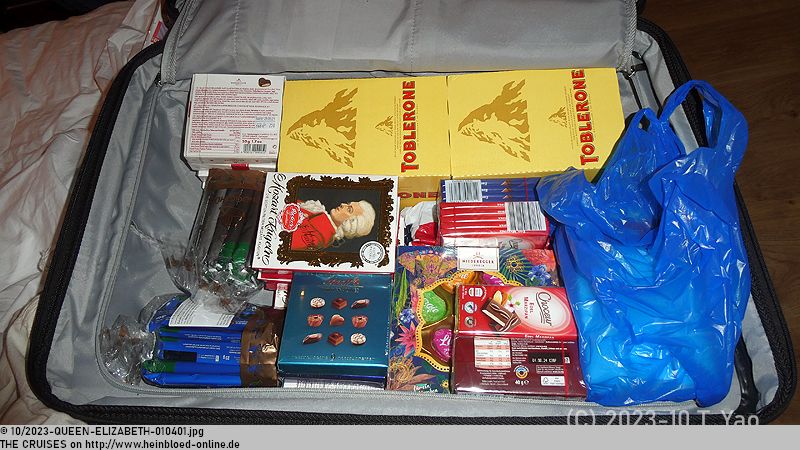 Da wir etwas umpacken: die Schokolade für die Crew muss in den Koffer. Und für einen guten Freund, ein paar Kleinigkeiten aus seiner Heimat, falls er in Australien, an Weihnachten zu Hause denkt.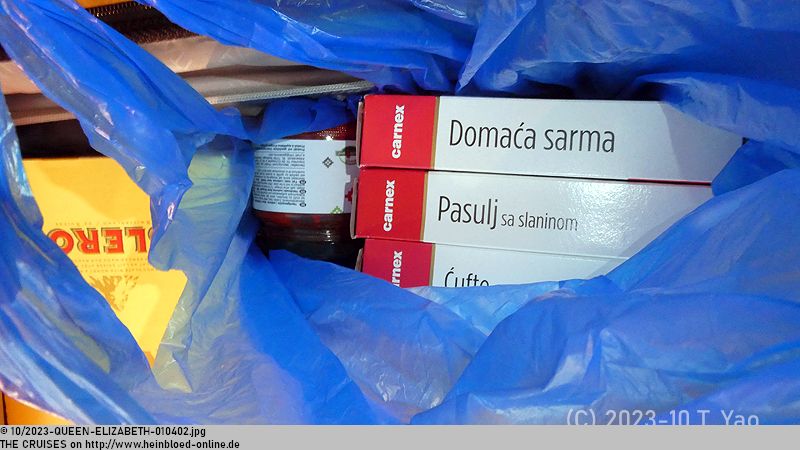 We booked a parking space at Terminal E (Costa) via the Port of Barcelona website. The parking lot is officially occupied. But when we ring the bell and give our license plate number, we are let in, and there are parking spaces reserved for those who book in advance. We paid 79.00 EUR for one week (2023). In the World Trade Center, it would have cost 87.00 EUR (2023). There are also charging stations at the terminals. And since we're leaving at Terminal D, we can walk over from here. Unbedingt vor Erreichen Barcelonas eine kostenpflichtige Umwelt-Registrierung für das Auto vornehmen.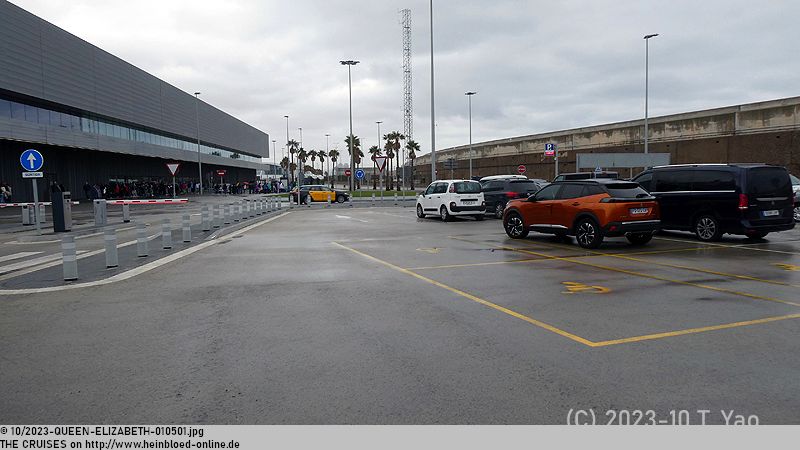 Wir buchen über die Homepage vom Hafen Barcelona einen
Parkplatz am Terminal E (Costa)
gebucht. Offiziell ist der Parkplatz besetzt. Aber als wir klingeln und unser Kennzeichen nennen, werden wir reingelassen und es sind tatsächlich Parkplätze für Vorausbucher freigehalten. Wir haben für eine Woche 79,00 EUR bezahlt (2023). Im
World Trade Center
hätte es 87,00 EUR (2023) gekostet. An den Terminals gibt es auch Ladesäulen. Und da wir am Terminal D ablegen, können wir einfach von hier rüberlaufen. Be sure to
register
your car for a fee before reaching Barcelona.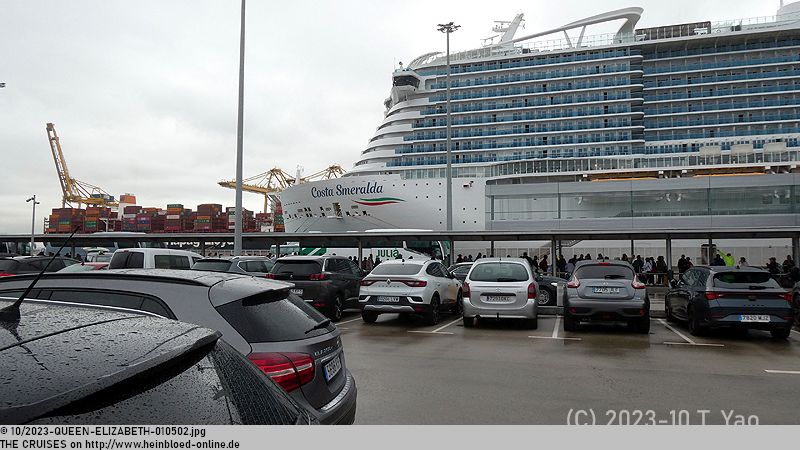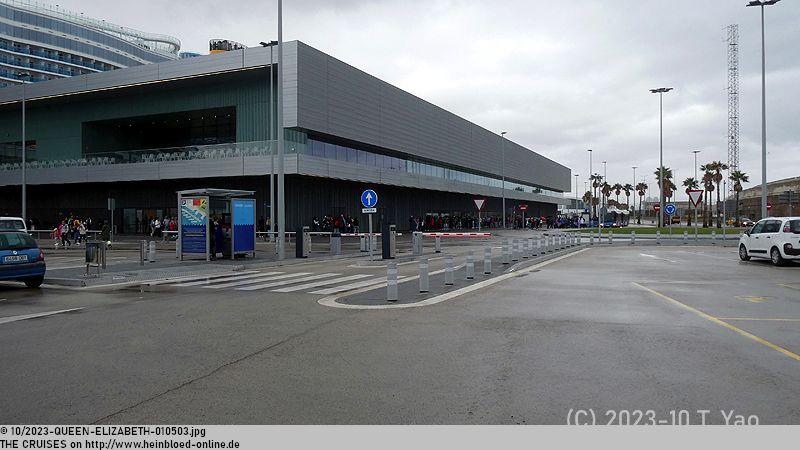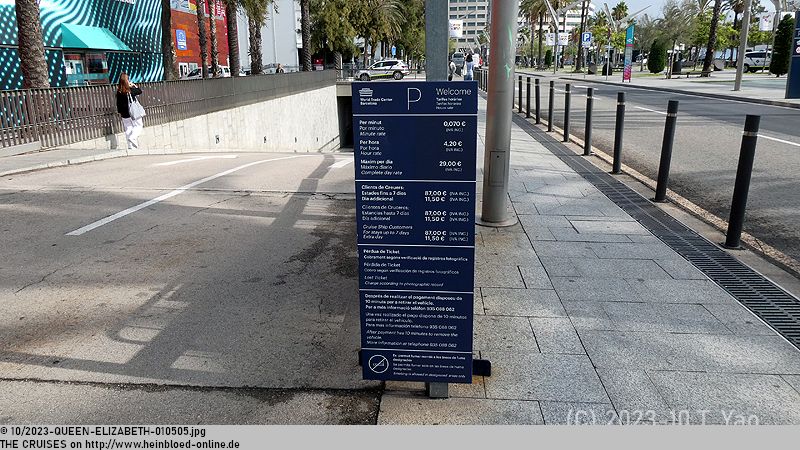 Wir kommen zufällig am Taxistand vorbei: 39,00 EUR (2023) für die Fahrt pauschal
vom Mol Adossat zum Flughafen - ohne weiteren Zuschläge - auch nicht für Personen, Gepäck, spezielle Wochenende, Uhrzeiten, Großraumtaxen
. So hat uns eine Woche später Eva auch nochmals bestätigt und auch, dass es jede Menge schwarze Schafe unter den Taxifahrern gibt, die die Touristen über den Tisch ziehen.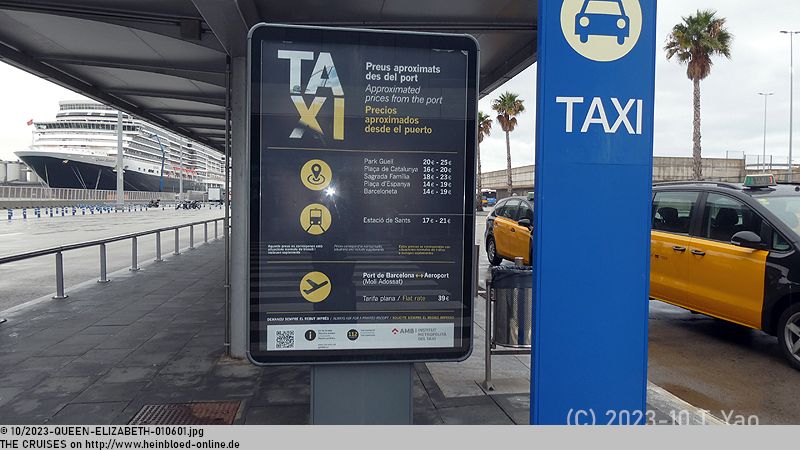 We passed the taxi rank: 39.00 EUR (2023) for the flat rate trip from Mol Adossat to the airport - without any further surcharges - not even for people, luggage, special weekends, times, and large-capacity taxis. A week later, Eva confirmed to us again that there are a lot of black sheep among the taxi drivers who are ripping off tourists.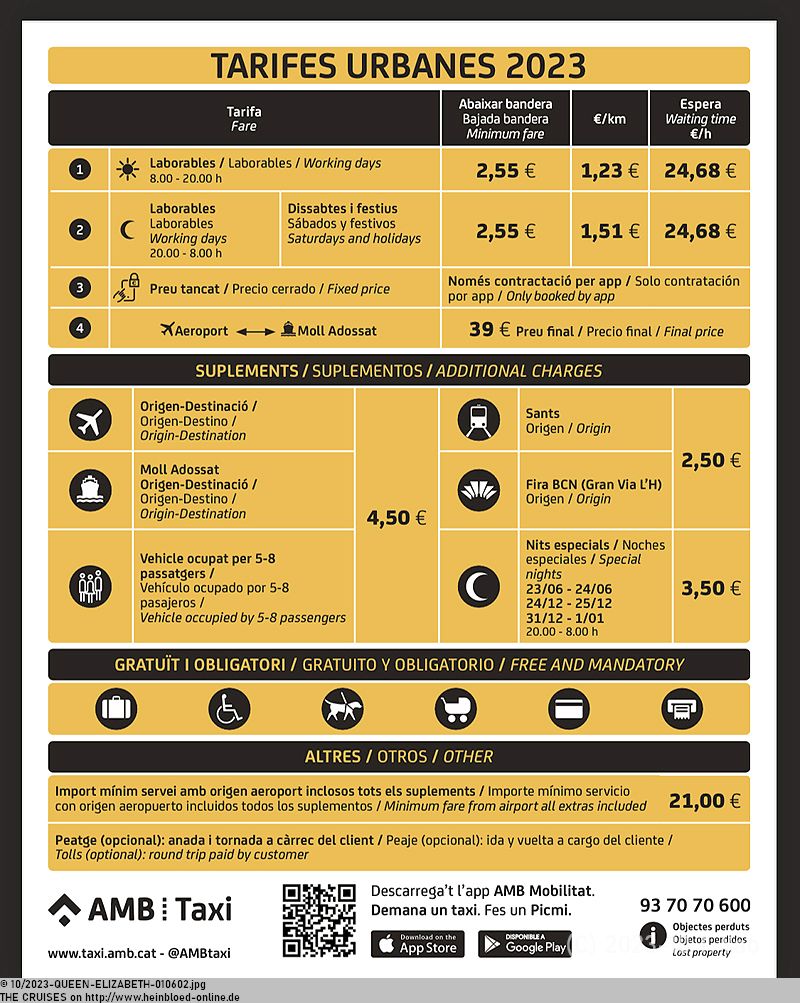 Dank
Dorothy von Cruise Brothers
haben wir für unter 2000 USD gebucht. Am Schluss hätte die Reise 3400 USD gekostet. Wir haben wir den Princess Grill geboten, aber da das Schiff voll war, wurde unser Gebot nicht angenommen.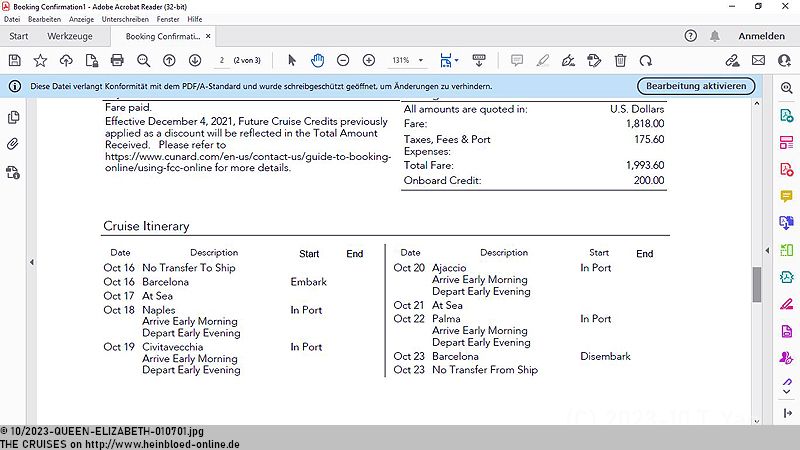 Thanks to Dorothy from Cruise Brothers, we booked for under 2,000 USD. In the end, the trip cost 3,400 USD. We bid on the Princess Grill, but since the ship was sold out, our bid was not accepted.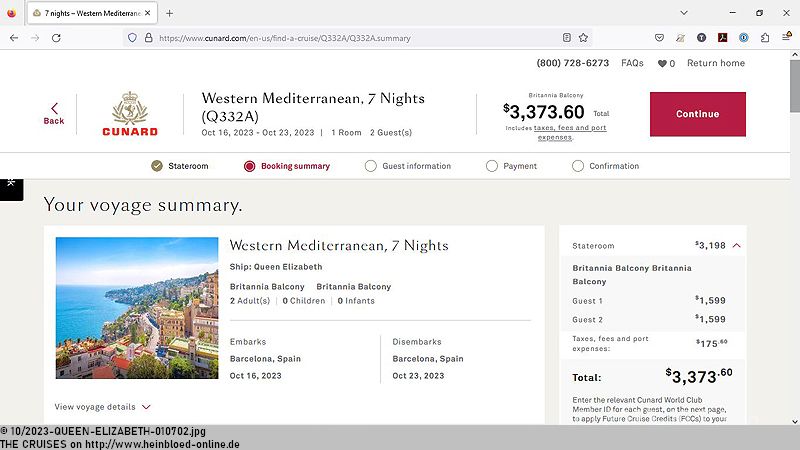 Since we leave at 23:00 hrs, we would have a time slot to check in at 16:15 hrs. However, check-in only begins at 12:30 p.m. Everything is prepared for us. Thanks to the chocolate and more, they have fond memories of it. We can order our first cappuccino in the Carinthia Café at 10:50 hrs.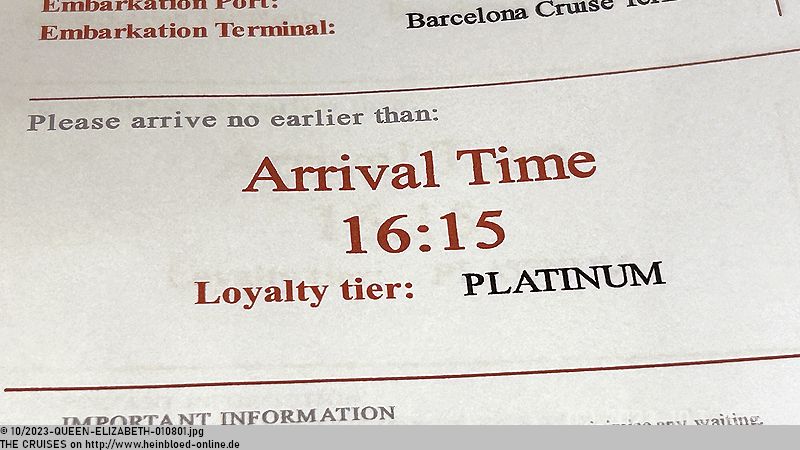 Da wir ja erst um 23:00 Uhr ablegen, hätten wir einen Zeitfenster zum Einchecken um 16:15 Uhr. Um 12:30 Uhr beginnt jedoch erst der Check-In. Für uns ist alles vorbereitet. Dank der Schokolade und mehr, hat man ins eben in guter Erinnerung. Bereits um 10:50 Uhr können wir den ersten Cappuccino im Carinthia Café bestellen.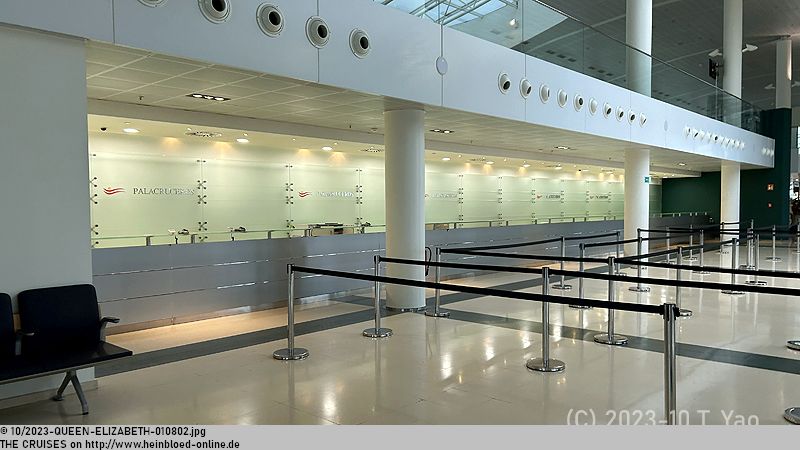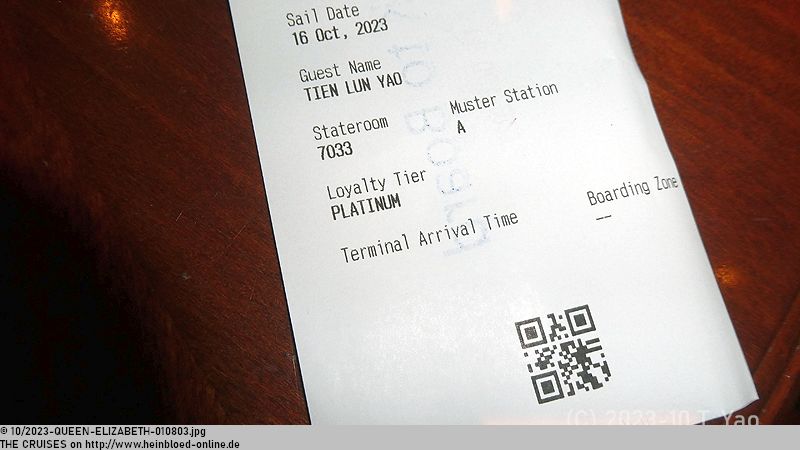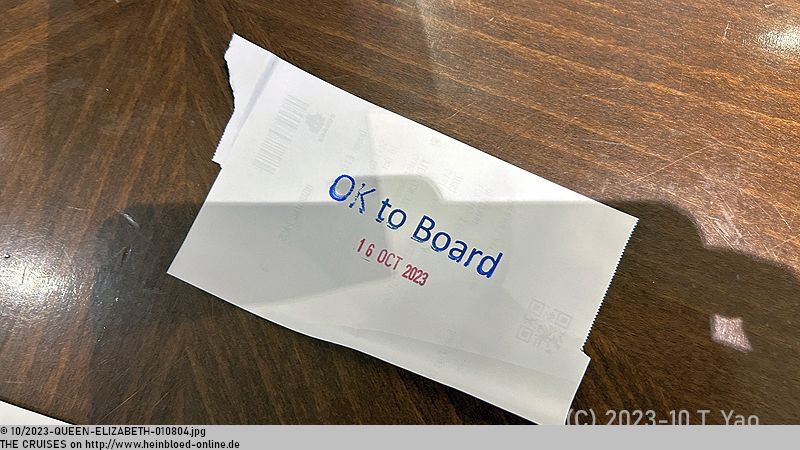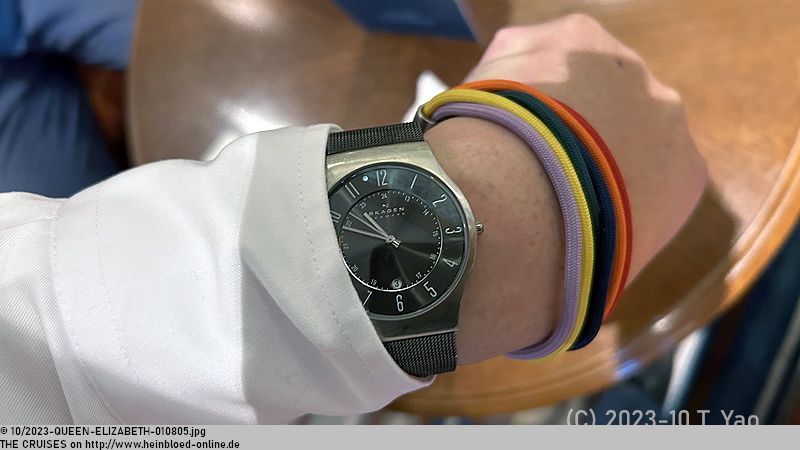 Irgendwie fühlen wir uns wieder zu Hause. Auch ohne Bordkarten und entsprechenden Sticker, erhalten wir bereits die ersten Getränke unseres Heißgetränke-Paketes gegen Nennung unserer Kabinennummer. Später bekomme ich noch ein Sandwich, nachdem ich nicht richtig satt geworden bin.

Somehow, we feel at home again. Even without boarding passes and corresponding stickers, we can receive the first drinks from our hot drinks package upon mentioning our cabin number. Later, I get another sandwich after I need more.

We look forward to our reunion celebrations: We know Nenad, Richard, and Faith from QUEEN VICTORIA 2022.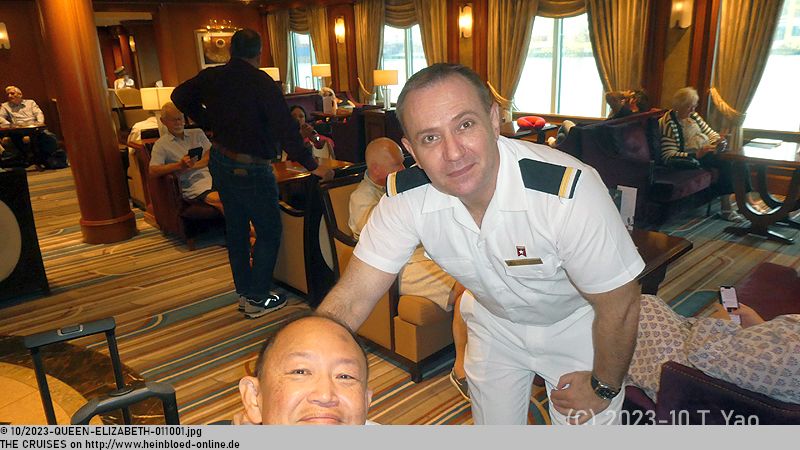 Wir freuen uns über unsere Wiedersehensfeiern: Nenad, Richard und Faith kennen wir von der
QUEEN VICTORIA 2022
.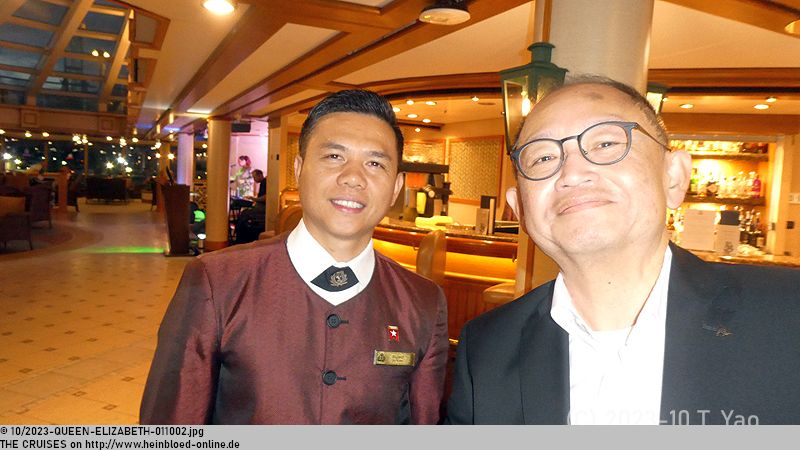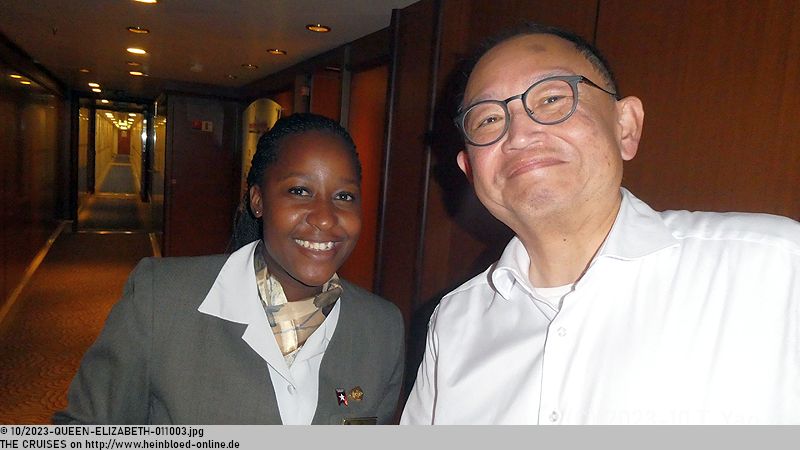 Wir müssen uns an den Sammelstation melden und registrieren. Der Rest findet am Bildschirm in der Kabine statt.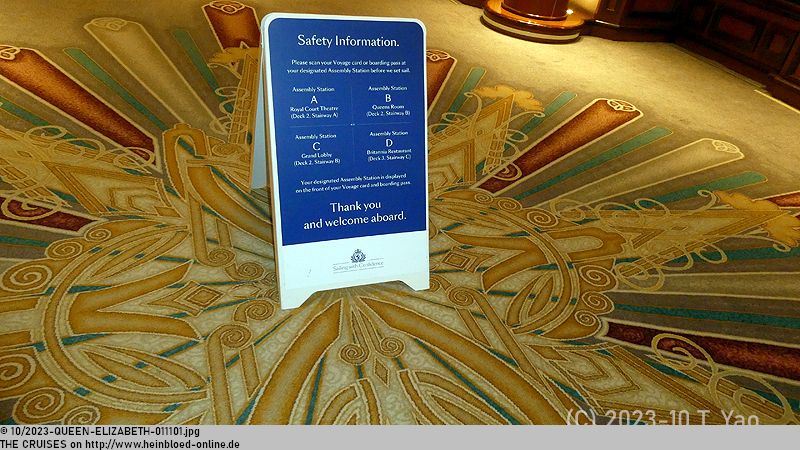 We have to report to the muster station and register. The rest takes place on the screen in the cabin.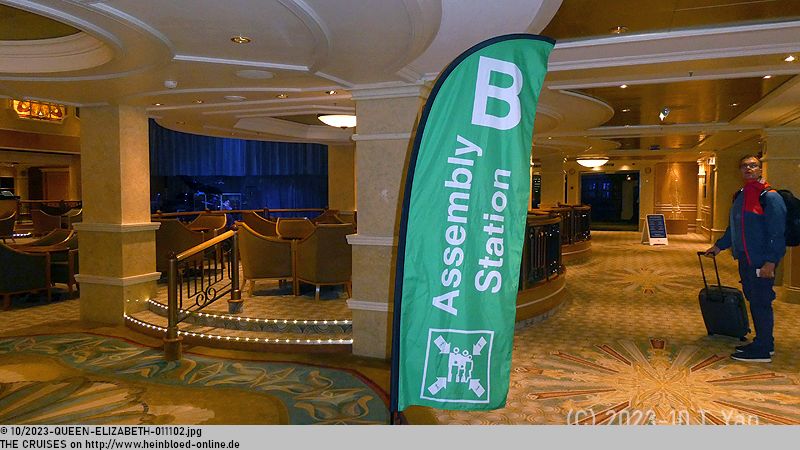 Wir haben Kabine 7033. Ich mag ja lagen in der Nähe eines Treppenhauses und immer an Ecken. Wir haben einen tollen Kabinensteward: Roberto. Er zieht es jedoch vor, nicht fotografiert zu werden. Das respektiere ich ich. Wir sehen ihn selten, weil seine restlichen Kabinen um die Ecke sind und so sieht er nicht, wenn wir beispielsweise vom Treppenhaus A direkt zur Kabine kommen. Andere, die uns sonst auf den anderen Reisen sehen, öffnen uns beispielsweise die Tür. Aber das geht in diesem Fall kaum, da er nur drei Kabinen "um die Ecke hat". Unser Gepäck kommt sehr schnell.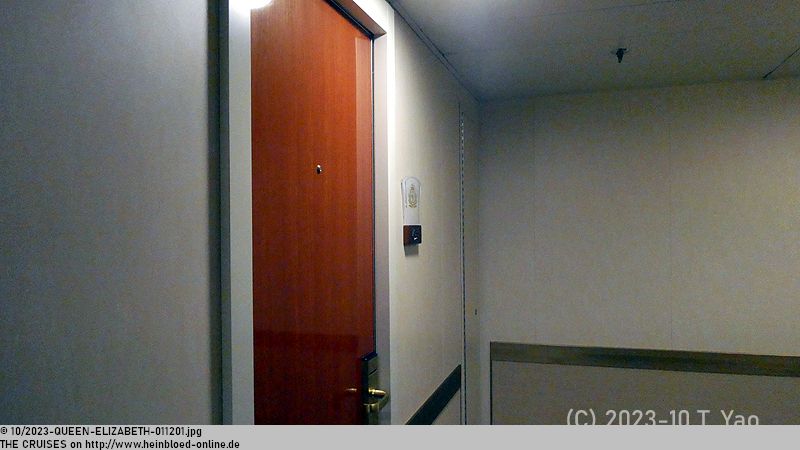 We have cabin 7033. I like to be close to a stairwell and always on corners. We have a great cabin steward, Roberto. However, he prefers not to be photographed. I respect that. We rarely see him because the rest of his cabins are around the corner, and so he doesn't notice when, for example, we come directly to the stateroom from stairhall A. For example, others who usually see us on other trips open the door for us. But that's hardly possible in this case, as he only has three cabins "around the corner". Our luggage arrives very quickly.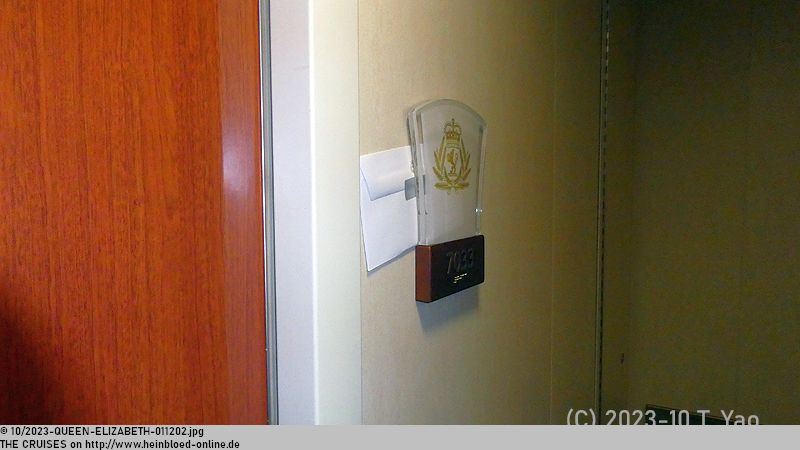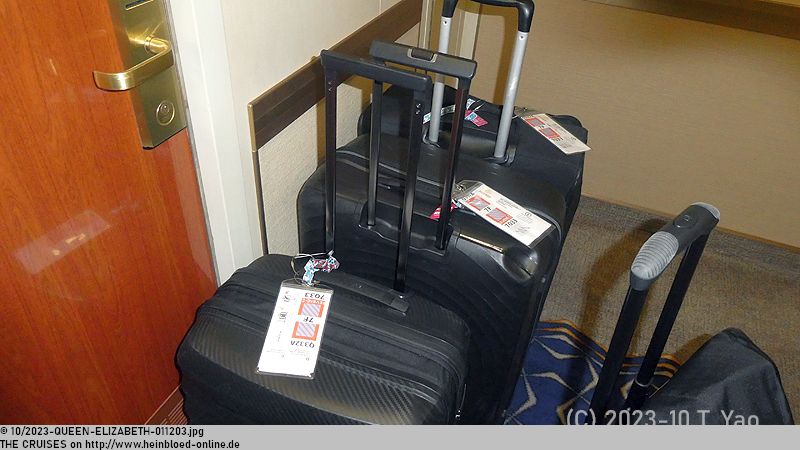 Our ship's cards are on the door. The stickers for our drinks packages are already attached. We receive more mail than ever before, from the Captain to the Hotel General Manager, and we also receive more champagne than usual. We want to use the US and UK sockets to create more USB ports and space for European protective plugs. That's how it works well. So, we have three outputs for European protective contact plugs with six USB-A and two USB-C ports. Perfect for us. Our restaurant reservations in the pay-to-pay restaurants are also there. We are assigned to Deck 2 in the Britannia Restaurant.

Unsere Bordkarten sind an der Tür. Die Sticker für unsere Getränkepakete bereits angebracht. Wir erhalten so viel Post, wie noch nie: vom Kapitän, vom Hotel General Manager und genauso bekommen wir mehr Champagner als normal. Wir wollen die US- und UK-Steckdosen nutzen, damit wir mehr USB-Ports und Platz für Schutzkontaktstecker schaffen. So klappt es ganz gut. So haben wir insgesamt drei Ausgänge für Schutzkontaktstecker mit sechs USB-A und zwei USB-C-Ports. Für uns perfekt. Unsere Restaurantreservierungen in den Zuzahlrestaurants sind auch da. Wir sind für das Deck 2 im Britannia-Restaurant zugeteilt.
Im Bad ist es so, wie wir es kennen.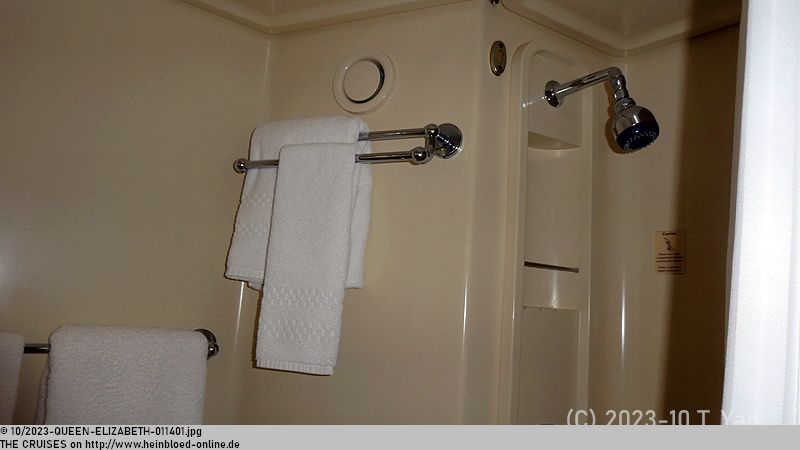 In the bathroom it is as we know it.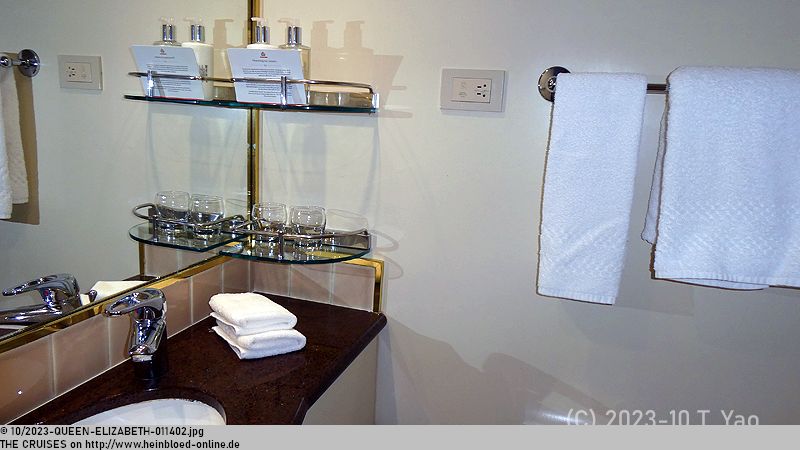 Da die Kabinen neben uns einfach tiefer sind, ist die Front identisch. Wir sehen also genauso viel, wie sonst auch.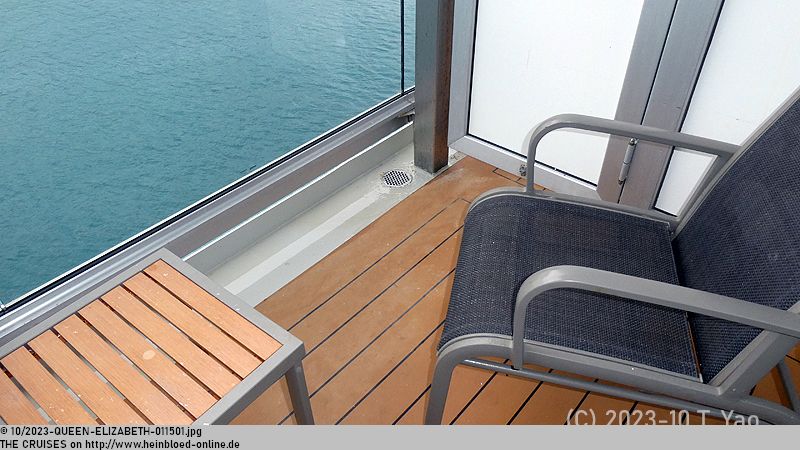 Since the cabins next to us are simply more profound, the front is identical. So we see just as much as usual.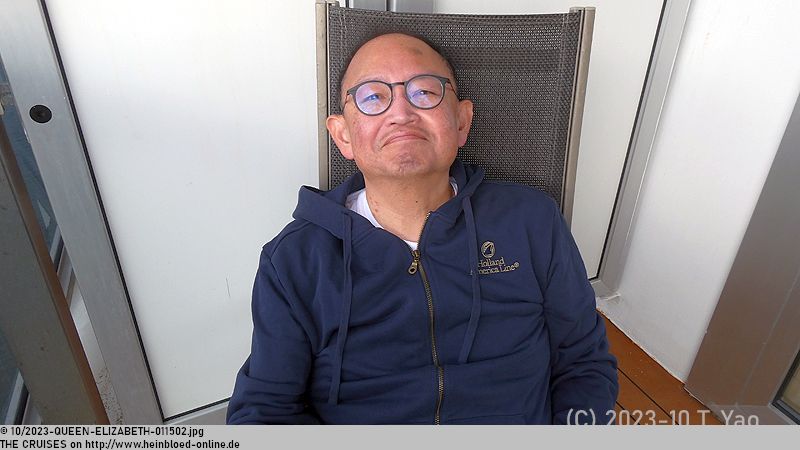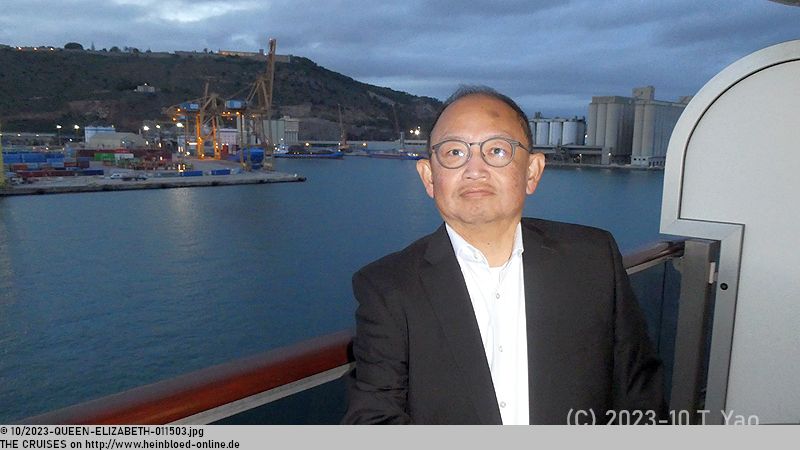 We also feel at home in the atrium. We have tons of photos, but they are taken again and again. So, in the evening, I met my fellow Japanese traveler, who allowed me to take a picture with her in her kimono. And it has to be with the Bellboy, too. As always, we find the music offered in the atrium very appealing. Only the harpist is missing.

Auch im Atrium fühlen wir uns zu Hause. Wir haben zig Fotos, aber sie werden immer wieder gemacht. So treffe ich am Abend die japanische Mitreisende, die mir erlaubt, ein Bild mit ihr im Kimono zu machen. Und auch mit dem Bellboy muss es sein. Das Musikangebot im Atrium finden wir wie immer sehr ansprechend. Nur die Harfistin fehlt.
Die anderen Reisen in diesem Blog/
The other voyages in this blog: