Früh am Morgen geht es nach Bayonne zum sog.
"Tränen Denkmal"
("To the Struggle against World Terrorrism") direkt neben dem
Cape Liberty Cruise Port
. Damals 2014 waren wir auf der QUANTUM OF THE SEAS als erster hier im neuen Terminalgebäude abgefertigt worden. Von hier kann man wunderbar die Einfahrt von den Schiffen fotografieren, die hier anlegen. Heute ANTHEM OF THE SEAS. Hier liegen i.d.R. die Schiffe der Royal Caribbean Gruppe an inkl. MEIN SCHIFF 6 im Jahre 2017.

Early in the morning I went to Bayonne to the so-called "Tears Memorial" ("To the Struggle against World Terrorrism") just next to the Cape Liberty Cruise Port. Then in 2014 we came on QUANTUM OF THE SEAS and we were the first who was handled here in the new terminal building. From here you can greatly spotting the ships which dock here. Today ANTHEM OF THE SEAS. Here the ships of the Royal Caribbean Group are docking inkl. MEIN SCHIFF 6 (German joint venture) in 2017.

Disadvantage: you make a left turn before you reach the Statue of Liberty.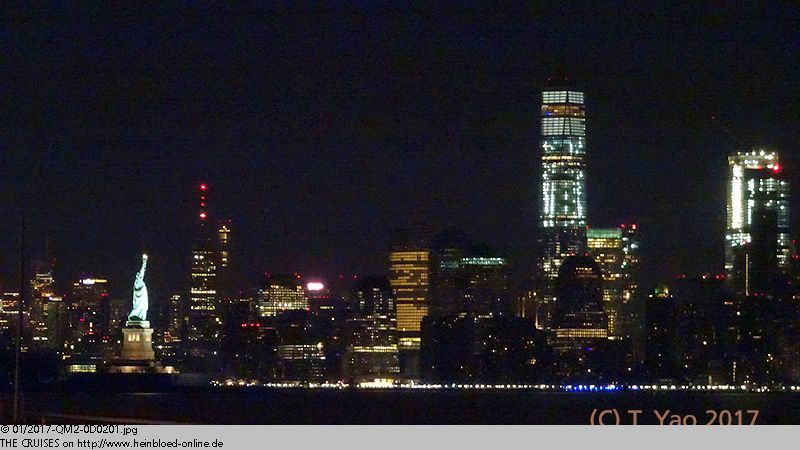 Nachteil: man biegt links ab, bevor man die Freiheitsstatue erreicht.
Ferner kommt noch fast gleichzeitig die NORWEGIAN BREAKAWAY rein. Mit der liefere ich mir eine Wettfahrt entlang des Hudson Rivers, um sie später vor der Skyline Manhattans noch besser zu fotografieren. Sie legt am Manhattan Cruise Terminal an. Auf der Höhe des Rockefeller Center.

Further around the same time NORWEGIAN BREAKAWAY arrived. With him I started a race alongside the Hudson River to make better shots in front of the skyline of Manhattan. She docked at Manhattan Cruise Terminal. At the latitude of Rockefeller Center.

I am working in Switzerland. On January 02 you have the so-called "Berchtoldstag", i.e. Post Offices, Banks are closed. The trains run like on Sundays. I was upset because nothing should be collected this day by Swiss Railways with my work place although we were working and producing. And here the first Manhattan bound ferry should leave at 10.00 hrs? Like on a Sunday??? The streets were deserted. Nothing was open to have breakfast. Also PATH ran like on Sundays. I. e. we need to change to get to World Trade Center. Not many strangers knew it. The trains were running very infrequent and the schedules of the remainling routes which were running were not well coordinated. The stations were not equipped with WiFi so you could not get any information. In the stations you could not find any information. Christoph attratcted our attention that we arrived in the so-called "Oculus" (World Trade Center Transportation Hub) which was designed by the Spanish-Swiss architect Santiago Calatrava. Actually it was currently the most expensive rail terminal building in the world.

Am 02.01. ist in der Schweiz Berchtoldstag. D. h. die Post, die Banken haben geschlossen. Die Züge fahren nach Sonntagsfahrplan. Ich habe mich darüber geärgert, weil nichts durch SBB Cargo in der Firma abgeholt wird, obwohl wir arbeiten und produzieren. Und hier soll auch erst um 10.00 Uhr die erste Fähre nach Manhattan fahren? Wie an einem Sonntag??? Die Straßen sind menschenleer. Nichts hat auf, um hier zum Frühstücken. Auch die PATH fährt nach Sonntagsfahrplan. D. h. wir müssen umsteigen, um zum World Trade Center zu kommen. Viele Fremde wissen es wohl nicht. Die Züge fahren sehr selten und die Fahrpläne der verbliebenen Linien sind nicht auf einander abgestimmt. Die Bahnhöfe sind nicht mit WLAN ausgestattet, so dass man sich kaum informieren kann. In den Bahnhöfen findet man so gut wie gar keine Informationen. Christoph macht uns darauf aufmerksam, dass wir im sog. "
Oculus
" (World Trade Center Transportation Hub) ankommen, der von dem spanisch-schweizerischen Architekten
Santiago Calatrava
entworfen wurde. Es gilt derzeit als der teuerste Bahnhofsbau der Welt.
Nochmals zu Daniel Boulud, der zufällig direkt am Ausgang der PATH das
Epicerie Boulud
betreibt. Endlich mal wieder ein gutes französisches Croissant und kein schweizerisches Gipfeli. Und andere leckere Sachen. Nur mein Eier-Sandwich ist mir dann doch zu provencal...

One more time to Daniel Boulud which was operated directy at the exit of the PATH-Terminal Epicerie Boulud. Finally again a good French Croissant and no Swiss so-called "Gipfeli" (looked same - tasted different due to different dough). And other yummy goodies. Only my egg-sandwich was too much Provence style for my taste...

Few months before the tragic incidents of the September 11 Bruno and I were in the World Trade Center. That day we visited the One World Observatory. Just simply taking the elevator up and down was worth. The intro after leaving the elevator was a wow-effect. Only sad that the weather that day was not anymore as nice as the day before. What a pity that QUEEN MARY 2 was not here today. We could made great pictures. So we could only make some pictures of the Brooklyn Cruise Terminal. Our hotel appered really tiny compared to all the tall buildings around. Simply a breathtaking experience.

Wenige Monate vor den tragischen Ereignissen des 11.09. waren Bruno und ich noch im World Trade Center. Heute besuchen wir das
One World Observatory
. Schon alleine die Fahrt in dem Fahrstuhl hoch und runter lohnt sich. Die Intro nach dem Verlassen des Fahrstuhls ist ein Wow-Effekt. Nur schade, dass das Wetter heute nicht mehr so toll ist, wie gestern. Schade, dass heute unsere QUEEN MARY 2 nicht hier ist. Wir hätten hier tolle Bilder machen können. So können wir nur Bilder vom Brooklyn Cruise Terminal machen. Unser Hotel wirkt ja wirklich winzig im Vergleich zu den ganzen Hochhäusern rundherum. Einfach nur ein atemberaubendes Erlebnis.
Von hier sehen wir die ANTHEM OF THE SEAS in Bayonne.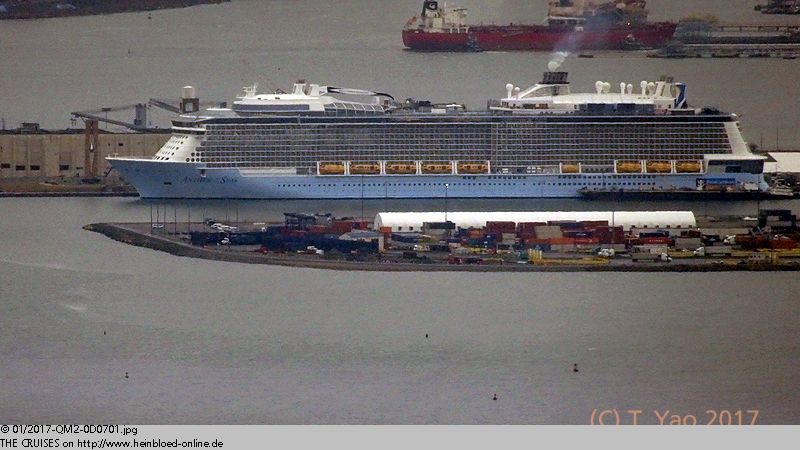 From here you could see ANTHEM OF THE SEAS in Bayonne.

You better see NORWEGIAN BREAKWAY from Empire State Building.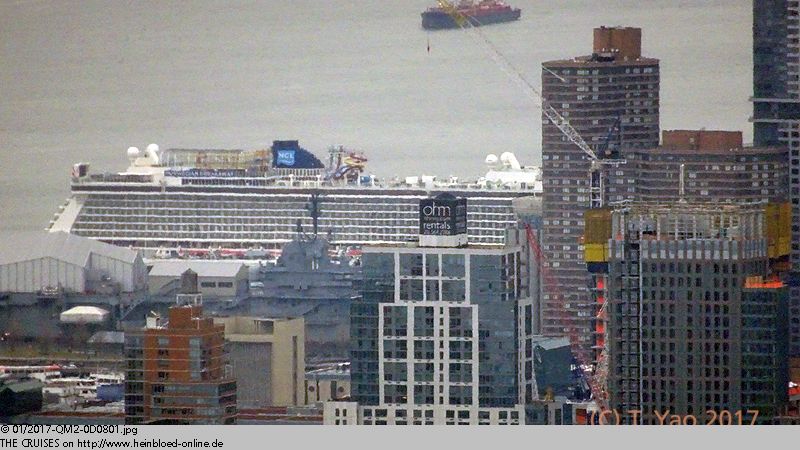 Die NORWEGIAN BREAKAWAY kann man besser vom Empire State Building fotografieren.
Wir brauchen mal ein Päuschen mit einer kleinen Stärkung. Das
Pret à Manger
liegt strategisch günstig auf dem Weg zurück. Sigi war ja mal zusammen bei Sofia zum Friseurtermin in Schwetzingen. Sie versucht mir eine Kopfmassage zu geben...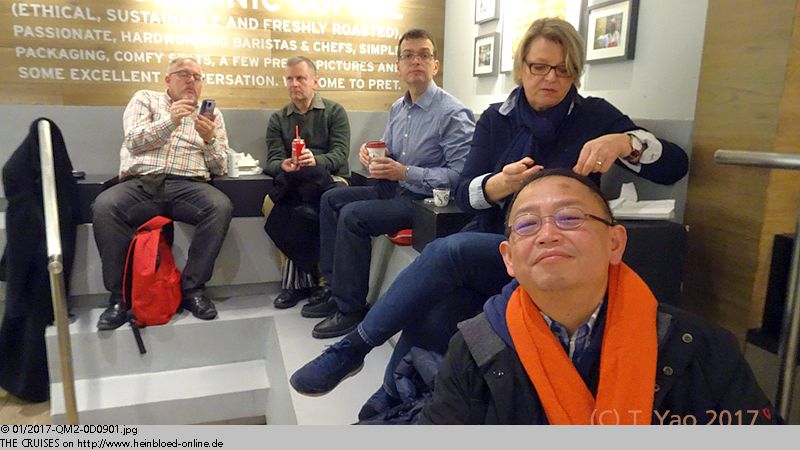 We need to have a little break and a small refreshment. Pret à Manger was well located strategiacally on the way back. Sigi was with us for an hair styling appointment in Schwetzingen, Germany. She tried to give me a head massage...

In the Oculus you did not only had the PATH-terminal but also a Westfield Shopping Center. Certainly we need to see with Apple. The address was 185 Greenwich Street. Then the addresses were One World Trade Center and Two World Trade Center.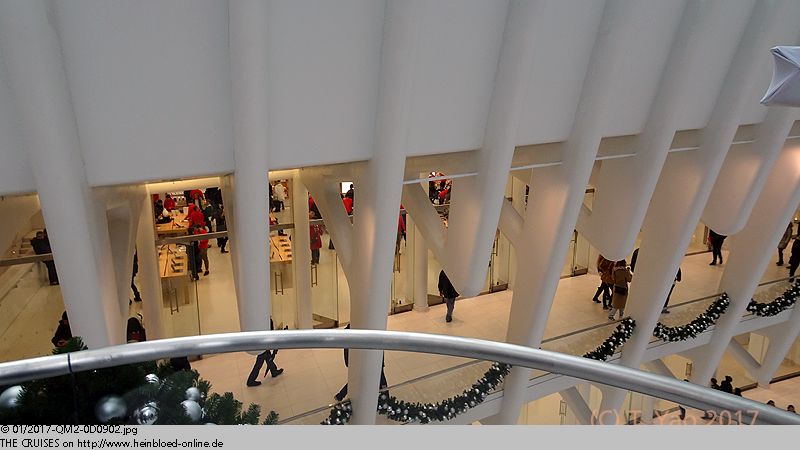 Im Oculus ist nicht nur der PATH-Bahnhof untergebracht, sondern auch das
Westfield Shopping Center
. Natürlich müssen wir bei
Apple
vorbeisehen. Die Adresse lautet 185 Greenwich Street. Damals hießen die Anschriften One World Trade Center und Two World Trade Center.
Die Architektur begeistert viele.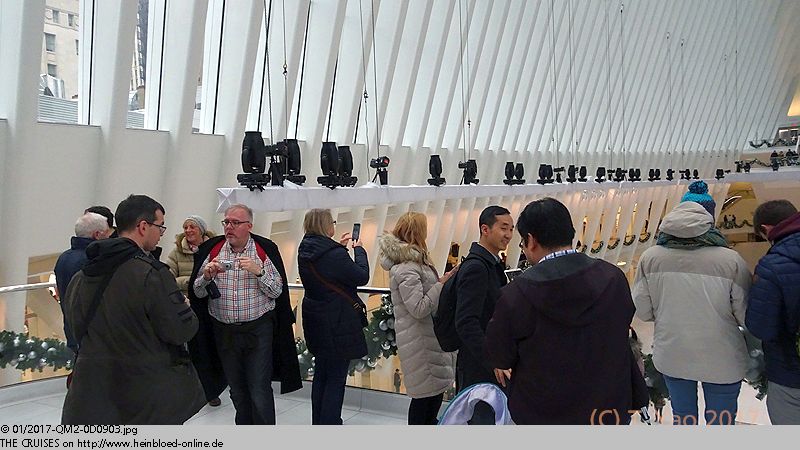 Many were excited on the architecture.

Everyone spreaded out. You had only shops of mid- and high-range price segments.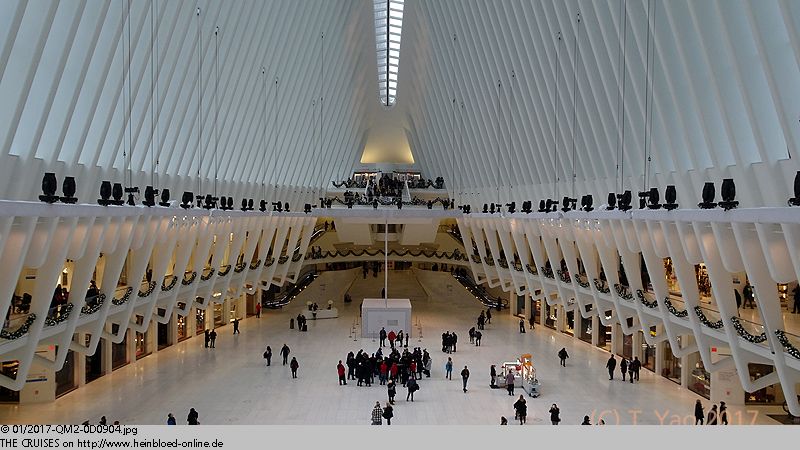 Alles zerläuft sich hier. Hier gibt es nur Läden im mittleren und höheren Preissegment.
Dort, wo mal die alten Türme des World Trade Centers standen, steht heute das
9/11 Memorial & Museum
. Wir haben Tickets inkl. geführter Tour. D. h. wir dürfen direkt durch einen seitlichen Eingang direkt rein. Alle Taschen müssen wir abgeben und noch ein wenig warten, bis dass unsere Gruppe aufgerufen wird, bleiben wir ein wenig sitzen. Und nach der Tour gehen wir schnell in die Cafeteria: für New Yorker Verhältnisse nicht so überteuert und nettes Angebot.

Where you had the towers of the World Trade Center before you had nowaday the 9/11 Memorial & Museum. We had tickets incl. guided tour. So we could enter directly through a side entrance. And after the tour we went for a quick bite to the cafeteria: for New York conditions not really overpriced and very nice variation.

The tour went under our skins. I cannot re-tell everything by words. You need to experience the tour by yourself. The guide told the story from a very personal point of view. The exhibition was created in a very professional and educational way for a museum. Not everywhere it was allowed to take pictures: in rooms where visitors were mourning. Certain rooms were restricted only for relatives of the victims.

Die Tour geht einem unter die Haut. Ich kann das nicht mit Worten wiedergeben. Man muss die Tour selbst erlebt haben. Der Führer erzählt alles aus einer persönlichen Sicht. Die Ausstellung ist sehr professionell und museumspädagogisch gut gestaltet. Nicht überall ist Fotografieren erlaubt: in Räumen, in den getrauert wird. Bestimmte Räume sind nur den Angehörigen der Opfer vorbehalten.
Nachmittags wollen wir noch in einem Outlet shoppen gehen. Dazu fahren wir ins
The Mills at Jersey Garden
.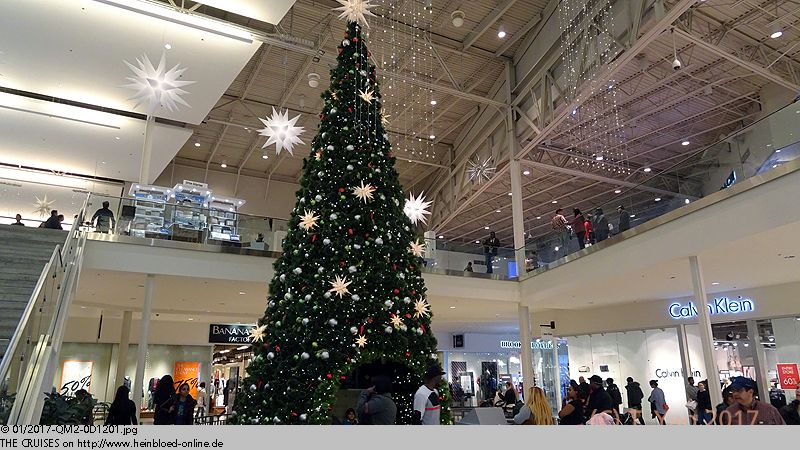 In the afternoon we wanted to go shopping. Therefore we went to The Mills at Jersey Garden.

The problem: the so called "Berchtoldstag" meant in the US: none who was working in the offices and everyone went out to go shopping. It took a long while until we found a parking. Long queues in front of the famous brands before you were allowed to enter the shops.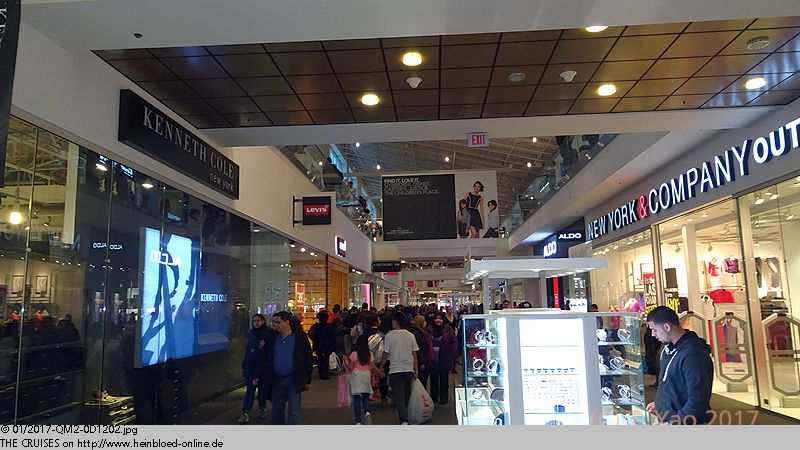 Das Problem: "Berchtoldstag" in den USA bedeutet: Niemand, der in den Büros arbeitet und alle sind am Shoppen. Es dauert schon ziemlich lange, bis dass wir einen Parkplatz finden. Lange Schlangen bei den berühmten Marken, bevor man überhaupt in den Laden rein darf.
Wir beschließen vorzeitig zurück zu fahren.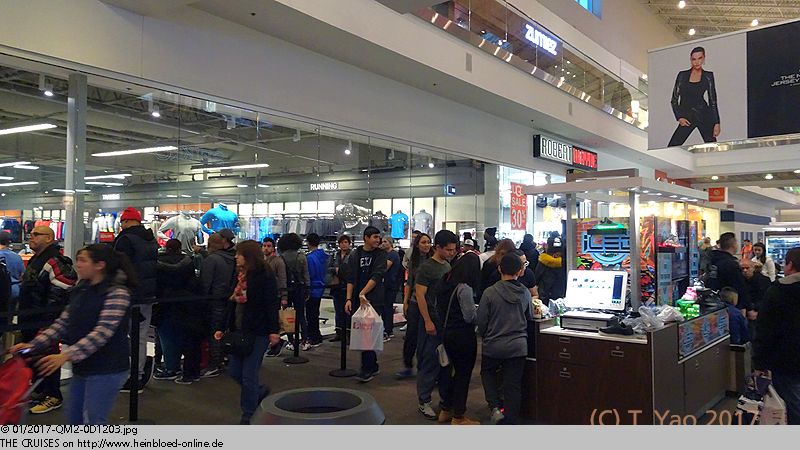 We decided to return earlier.

Few days before our visit Eddie Bauer closed the store. And so only bought our vitamins with Vitamin World. We had luck: BOGO: Buy One Get One Free. So foor us it was worth to visit: The annual supply.

Wenige Tage vor unserem Besuch hat Eddie Bauer den Laden geschlossen. Und so kaufen wir nur unsere Vitamine bei
Vitamin World
. Wir haben Glück: BOGO: Buy One Get One Free. So hat sich zumindest für uns der Besuch gelohnt: Der Jahresvorrat.
NORWEGIAN JADE 2011
: Eine tolle Kreuzfahrt, bei der wir sehr viele neue Freunde kennengelernt haben. Viele haben wir schon besucht. Mit anderen sind wir locker auf Facebook in Kontakt. Andrew und Eldred kennen wir von dieser Fahrt. Als wir Pläne für die Reise hatten, haben wir uns an Andrew gewandt, der auch auf der Bühne aktiv ist, um nachzufragen, was wir uns am Besten ansehen sollten. Dabei hatte dann Andrew gefragt, ob wir nicht Silvester zu denen zum Essen kommen wollten. Das hatte ich jedoch abgelehnt, weil wir als gute Gäste nicht sicherstellen können, dass wir wirklich aufmerksam genug sein können, wegen des Jetlags. So einigen wir uns auf unseren letzten Abend in New Jersey. Sie wohnen nur wenige Meilen von unserem Hotel. Allerdings gibt es dort kaum Parkplätze: so lassen wir das Hotel ein Auto für 5 bestellen. Sie bekommen es nicht hin. So müssen wir vier Schlanke uns zu viert auf die Rückbank quetschen. Ich wollte zwar immer einmal im Leben ein SM-Studio besuchen... aber so eng und fahrbar habe ich nicht erwartet. Wir probieren in den wenigen Minuten alle Möglichen Konstellationen und Stellungen aus, wer auf wem und wie... Auf jeden Fall haben wir alle viel hinten gelacht und vor Schmerzen geschrieen. Wir haben als erstes den Boden geküsst, als wir das Fahrzeug wieder verlassen konnten. Bei Andrew und Eldred hat uns dann ein leckeres Essen und nette Unterhaltungen erwartet. Eine Freundin von Andrew: Jessica ist auch mit dabei. Durch ihre Aktivitäten auf den Bühnen geben sie uns viel Hintergrundwissen zu den Rockettes. Eldred zeigt uns seine Bildbände, die uns zu weiteren Reisen animieren. Ich liebe Kreuzfahrten, weil man wirklich weltweit sehr viele nette Freunde findet. Hoffentlich kommen sie mal nach Deutschland (oder benachbartem Ausland), damit wir uns mal revanchieren und bedanken können.

NORWEGIAN JADE 2011: A great cruise where made a lot of new friends. We visited many of them already. With others we stayed in touch on Facebook. We knew Andrew and Eldred from this voyage. When we planned around this voyage we contacted Andrew who is also actively on stage to find out what would the best to see. So Andrew asked us if we would not like to come for New Year's Eve for dinner. But I declined it as we could not secure as good guests our full attention due to the jetlag. So we fixed the last night in New Jersey to meet. They lived only few miles away from our hotel. As there was no good parking available around I asked the hotel to book us a car for 5. They could not manage it. So four of us slim had to squeeze on the rear bench. I wanted to see once in a lifetime an SM-studio... but so narrow and mobile I never had expected it. We had not laughed so much but also screamed because of the pain. We first kissed the ground when we could leave the vehicle. Yummy food and nice conversation were waiting for us with Andrew and Eldred. A friend of Andrew: Jessica was joining us. Due to their activities on stage we could get many background information on the Rockettes. Eldred showed us his pictures books which anitmated us for further plannings. I love cruises because you find many nice friends around the world. I truly hope to have a chance to thank and repay them one day in Germany or adjoining countries.