Es geht zum Frühstück. Ab in den Keller. Immer mit Fernsehen im Hintergrund. 6,95 GBP für ein warmes englisches Frühstück. Der Rest ist kostenlos. Nur der Toaster läuft nicht richtig. Nur wenn der Toast etwa fünf Runden durchläuft, dann ist er wirklich braun und knusprig. Ich mache das Personal darauf aufmerksam, damit sie einen Techniker rufen. Sie meinen nur: "Es ist so, wie es ist."

Heading for breakfast. Down to the basement. Always a TV in the background. For 6.95 GBP you could get a hot English breakfast. All other items were complimentary. Only the toaster did not run properly. Only if you place five rounds in the toaster you get it brown and crispy. I attracted the attention to the staff members that they should call a technician. All they said was: "It is like it is".

Again into the subway. With the Oyster card you pay for every single ride. But you had a daily cap (6.60 GBP for the London inner zones / 2017)
depending to the zones you were using.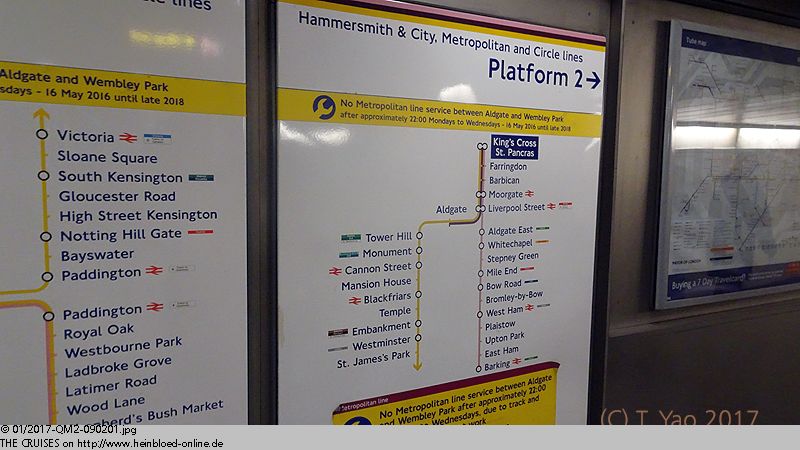 Es geht wieder in die U-Bahn. Mit der Oyster Karte zahlt man je Fahrt. Es gibt jedoch einen Tageshöchstsatz (6,60 GBP für den Londoner Innenraum / 2017), der von den Anzahl der Zonen abhängig ist.
Mit der Metropolitan Line geht es in den Osten der Stadt.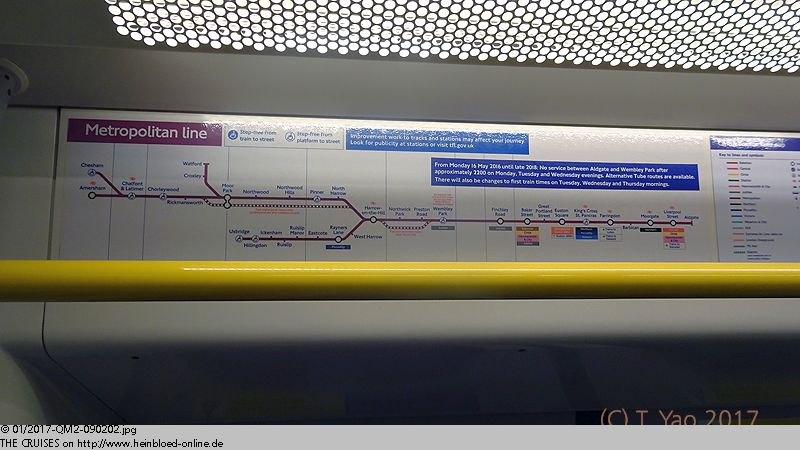 Eastbound by Metropolitan Line.

At the subway station Aldgate we get off.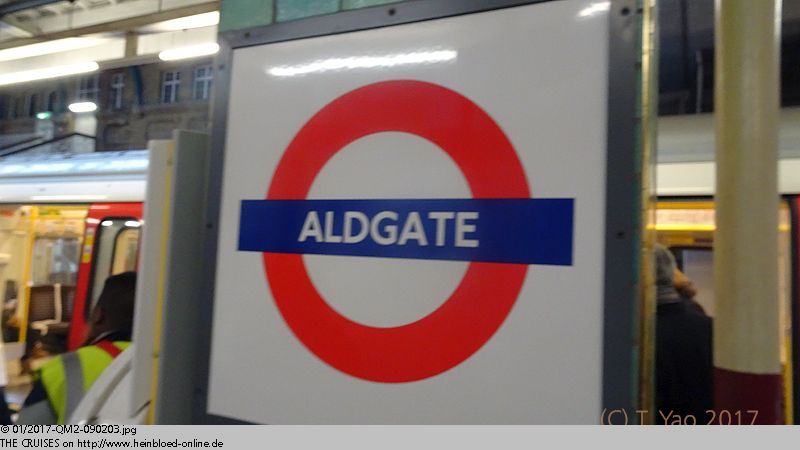 In
Aldgate
steigen wir aus.
Hier geht es mit dem Bus weiter. Und ein normaler Tourist kommt i. d. R. nicht hierher. Man hat einen tollen Blick auf das Hochhaus
20, Fenchurch Street
. Besser bekannt als "The Walkie-Talkie" bzw. "The Pint". Wir haben Glück, dass wir wieder mit
Ulla Thiessen
unterwegs sind. Sie ist eine offizielle Fremdenführerin, die wir bereits von unserer Reise auf der
OCEAN PRINCESS 2015
her kennen. Damals mit Auto und zweisprachig. Heute mit öffentlichen Mitteln und zu Fuß. Sie hat uns auch angeboten, uns im Hafen abzuholen und nach London zu fahren. So erzählt sie uns, dass wir uns das nächste Mal unbedingt in den
Sky Garden
müssen. Es ist kostenlos, aber eine vorherige Anmeldung ist notwendig. Wir warten auf
Bus 25
, weil Ulla mitbekommen hat, dass es eine Betriebsstörung gibt und sie sich für eine alternative Route entschieden hat. Wir sind hier auch abseits des Hochglanz-Londons und können so auch mal andere Seiten Londons sehen.

Here we continued by bus. A standard tourist normally would not get here. You had a good view to the building at 20, Fenchurch Street. Better known as "The Walkie-Talkie" or "The Pint". We had luck that we went again with Ulla Thiessen. She was an official tour guide whom we knew from our voyage on OCEAN PRINCESS 2015. Then by car and bilingual. Today by public transport and by walking. She also offered us to collect us in the port and to drive us to London. So she told us that we must see the Sky Garden the next time. The visit is complimentary but you need to re-register before. We waited for Bus 25 because Ulla noticed that there was a service disruption and decided to use an alternative route. We were off the beaten path and so we could make acquaintance with a different side of London.

Before we arrived in Stratford we got off and walked along the River Lea to the Queen Elizabeth Olympic Park. On the way we passed the route of Crossrail. Ulla gave us a lot of background information on this project. In the park they had a dog training.

Kurz vor Stratford steigen wir aus und laufen entlang des Flusses Lea zum
Queen Elizabeth Olympic Park
. Auf dem Weg dorthin passieren wir die Trasse von
Crossrail
. Ulla gibt uns viele Hintergrundinformationen zu diesem Projekt. Im Park selbst findet ein Hundetraining statt.
Direkt neben dem
London Stadion
(Heimat der
West Ham United
/ vormals Olympiastation) ist das
Arcelor Mittal Orbit
. Ulla sagte uns, dass wir online buchen sollten, damit wir für 5,00 GBP raufkommen. Es gäbe ein besonderes Online-Promo. Es gibt nur ein kleines Problem: Ich habe für 11.30 Uhr die Tickets gebucht, aber die Bestätigung kommt erst um 12.10 Uhr per Mail. Aber es ist kein Problem. Am Kartenschalter werden mir neue Tickets ausgestellt. Wir machen uns kleiner als 1,30 m. Aber wir dürfen nicht zum Kinderpreis hinein. Ist echt interessant, sich hier unten umzusehen. Aber auch Sigi und Bruno haben offensichtlich ihren Spaß.

Just next to the London Stadion (Home of West Ham United / former Olympic Stadium) was the Arcelor Mittal Orbit. Ulla told us to book online so we only need to pay 5.00 GBP. There should be an online-special. I had only a small problem: I booked tickets for 11.30 hrs but the confirmation mail arrived at 12.10 hrs. But it was not a problem at all. At the ticket counter they just released new tickets. We squeezed ourselves to be taller than 1.30 m. But they did not let us in for the admission price of children. Was very interesting to browse around here at the ground. Obviously Sigi and Bruno had fun too.

They had great information on the way to the top, great reflections and great views from the top. They offered us to use alternatively the stairway (it was too cold and windy) and we could slide down (against fee). It should be very funny. But it did not look like. Also other who paid already allowed their friends to have double fun by not going themselves at short notice when they saw how steep it was.

Es geht hoch mit tollen Informationen auf dem Weg nach oben, tollen Spiegelungen von sich und tollen Aussichten von oben. Uns hatte man ja angeboten, dass wir alternativ die Treppen runterlaufen können (viel zu kalt und windig) oder hinunter rutschen können (gegen Zuzahlung). Es soll sehr viel Spaß machen, hieß es. Danach sah es nicht danach aus. Auch andere, die bereits bezahlt haben, lassen ermöglichen Freunden so, ein doppeltes Vergnügen, in dem sie kurzfristig nicht selbst runterrutschen, als sie sehen, wie steil das ist.
Weiter geht es durch den Park zur anderen Seite am
London Aquatics Centre
zum
Westfield Stratford City
Einkaufszentrum. Ganz interessant: IKEA zum Anfassen (kleine Auswahl), Gucken (kleine Auswahl), Bestellen, Liefern lassen, Abholen - aber nichts mehr sofort:
IKEA Order and Collection Point
. Schöne Idee, die sich hoffentlich auch hier in Deutschland bzw. in der Schweiz Einzug hält. Und auch ein Lebensmittelladen von IKEA mitten im Einkaufszentrum. Fehlt bloß noch der HotDog-Stand für das Ende des Einkaufs.

We headed to the other end of the park passing the London Aquatics Centre towards Westfield Stratford City. Very interesting IKEA to touch (small selection), to see (small selection), to order, to let them deliver, to collect - but nothing for now: IKEA Order and Collection Point. Nice idea which hopefully also inaugurated in Germany and Switzerland too. They had an IKEA food store in the center of the shopping center. Only the hot-dog sales outlet was missing for the end of the purchase.

We were heading on by Dockland Light Railway. A driver-less rail in the Eastern Part of London. We passed the station Abbey Road. Unfortunately the DLR-station had nothing common with the famous Abbey Road Studios of the Beatles. So Ulla told us that many disappointed tourists were stranding here at this station. We went from Stratford International via Canning Town to Royal Victoria.

Es geht weiter mit der
Dockland Light Railway
. Einer fahrerlosen Bahn im Osten Londons. Wir kommen sogar an der Station
Abbey Road
vorbei. Leider hat diese DLR-Station nichts mit den berühmten
Abbey Road Studios
der Beatles zu tun. So erzählt uns Ulla, dass hier doch regelmäßig viele enttäuschte Touristen an diesem Bahnhof stranden. Wir fahren von
Stratford International
über
Canning Town
nach
Royal Victoria
.
Ohne Ulla wären wir vermutlich an den Entwertern vorbeigelaufen. Das ist jetzt ganz wichtig: Bei der DLR gibt es keine Sperren. Wenn man seine Fahrt abschließen will muss man jetzt sich einen Entwerter suchen, und seine Oyster-Karte nochmals davor halten. Erst oben auf der Treppe gibt es einen. Wir wollen jetzt mit Emirates "fliegen" und folgen den Schildern.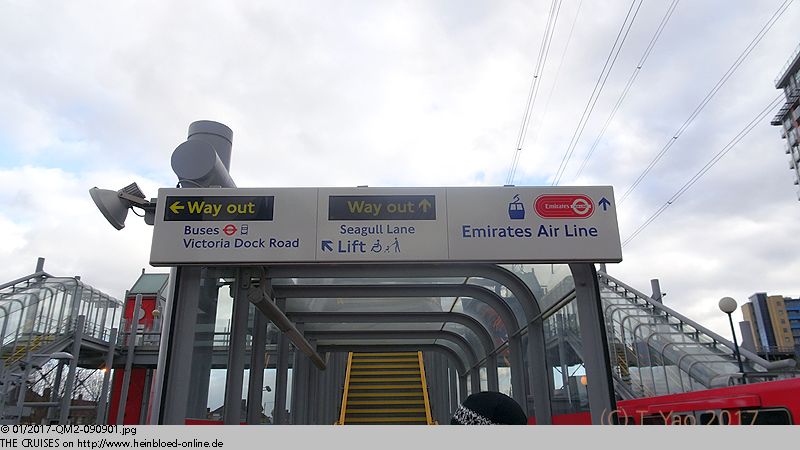 Without Ulla might passed without notice the validating devices. That was quite important: With the DLR you had no barriers. To complete a ride you must find a validating device and tap your Oyster Card one more time. You had to walk up the stairs to find one. We wanted to "fly" now by Emirates and followed the sign.

We passed The Crystal - an exhibition of Siemens on sustainable future. Unfortanately we had no time to enter. But we had one more reason to come back again.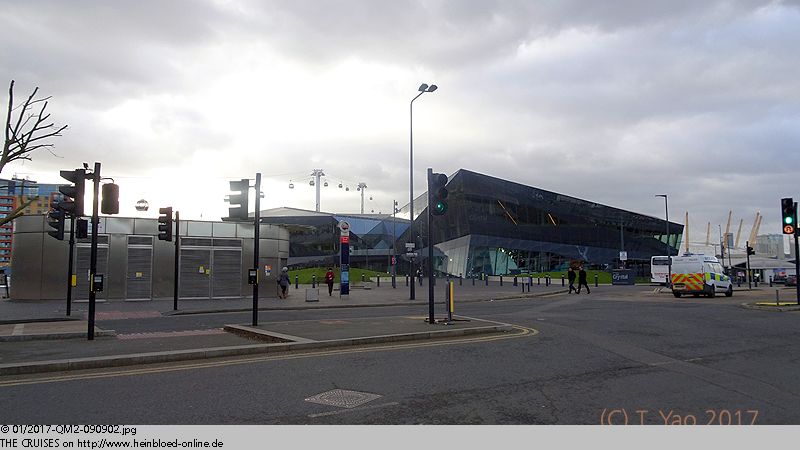 Vorbei geht es an
The Crystal
- eine Ausstellung von
Siemens
zum Thema nachhaltige Zukunft. Leider fehlt uns die Zeit, um reinzugehen. Dafür haben wir einen Grund mehr wiederzukommen.
Wir befinden uns jetzt mitten in den Docklands. Das Vorbild der Hamburger Hafen City. Hier könnte ich mir auch vorstellen, das nächste Mal in London zu wohnen.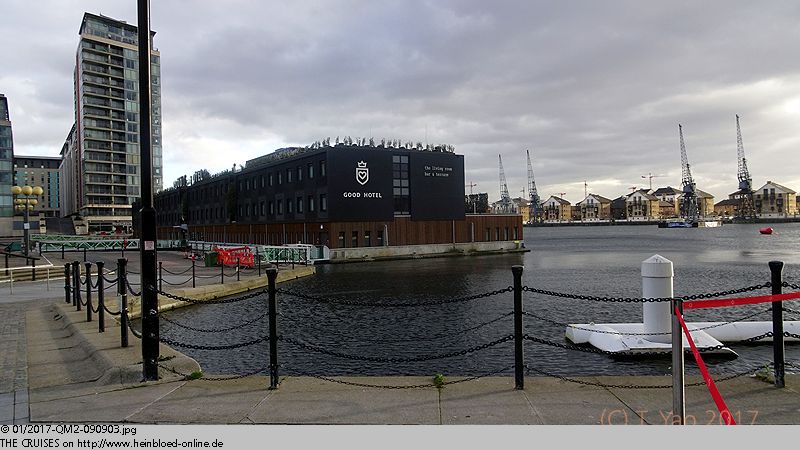 We were in the center of the Docklands. The model for the Hamburg Port City, Germany. Here we could imagine to stay here the next time.

We continued our tour by Emirates Air Line. A rope car which took you over the River Themse. Supported by the money of EU. Would we get back the support money if Great Britain leaves the EU? With Ulla we had an Europe-supporter who wanted to fight for the stay in the EU. It was a great tour where you could see a lot. We went from Royal Docks to Greenwich Peninsular. And so we arrived just net to The O2. Unfortunately we had no time to visit and one more reason to come back to London.

Weiter geht es mit
Emirates Air Line
. Eine Seilbahn, die über die Themse führt. Gefördert mit EU-Geldern. Bekommen wir eigentlich die Förderung zurück, wenn Großbritannien aus der EU ausgetreten ist? Wir haben auf jeden hier mit Ulla eine Europa-Befürworterin, die auch weiterhin für den Verbleib in der EU kämpfen wird. Es ist eine tolle Fahrt, auf der man sehr viel sieht. Wir fahren von Royal Docks bis Greenwich Peninsular. Und so kommen wir direkt neben
The O2
an. Leider fehlt uns hier auch die Zeit, um uns das anzusehen und dafür haben wir wieder einen Grund mehr nach London zu kommen.
Wir laufen weiter zum Busbahnhof. Mit dem
Bus 129
fahren wir von North Greenwich zum National Maritime Museum.

We were heading on to the bus terminal. By Bus 129 we went from North Greenwich to National Maritime Museum.

We went quickly thorugh the admission-free parts of the National Maritime Museums. We wanted to return after our lunch because they had great stuff to buy. Should we buy the socks for our Captain-friends???

Wir gehen kurz durch die kostenlose zugängliche Teile des
National Maritime Museums
. Wir wollen nach dem Essen wiederkommen, weil es so viele tolle Sachen zu kaufen gibt. Ob ich die Socken für unsere Kapitänsfreunde kaufen soll???
Die Tour gefällt uns so gut, dass wir während wir mit Ulla in der
The Brasserie
zu Mittag essen, beschließen die Tour mit Ulla noch zu verlängern. Uns gefällt es sehr gut: die Tour und das Essen: zeitgenössische britische Küche. Wir testen verschiedene Limonaden und erfreuen uns an der Milchkanne.

The tour was so good that we decided while we had lunch with Ulla in the The Brasserie to extend the tour. We liked it very much: the tour and the food: contemporary British kitchen. We tested several lemonades and was happy to have the milk jug.

We walked outside in the park. Very nice. Unfortunately we had no time to see the Royal Observatory. They film works around. Here and on the opposite site of the Old Royal Naval College. Ulla wanted to show us the ceiling painting but it was closed to construction works. So another reading to come back. Right now it was not impossible either to get to every place because they were working on the new Sherlock Holmes movie. It was interesting to see how they had to cover everything that it looked in a historical way. Movies they made here: Les Misérables, Skyfall, The King's Speech, The Queen, Four Weddings and a Funeral and many more from their list.

Wir laufen noch draußen im Park herum. Sehr schön. Aber leider auch hier die Zeit nicht um die
Königliche Sternwarte
zu sehen. Es finden hier Filmaufnahmen statt. Hier und auf der gegenüberliegenden Seite der
Old Royal Naval College
. Ulla wollte uns hier die Deckengemälde zeigen, aber die sind wegen Renovierungsarbeiten geschlossen. Also wieder ein Grund mehr wiederzukommen. Im Moment kommt man eh nicht überall hin, weil die Dreharbeiten für einen neuen Sherlock Holmes Film stattfinden. Mit Interesse sehen, was hier alles abgedeckt wird, damit es historisch aussieht. Von den Filmen, die ich kenne wurden hier gedreht:
Les Misérables
,
Skyfall
,
The King's Speech
,
The Queen
,
Vier Hochzeiten und ein Todesfall
und jede Menge mehr gemäß dieser
Liste
.
In einem Teil der
Royal Museums Greenwich
können wir dann kostenlos rein:
The Queen's House
.

In one part of the Royal Museums Greenwich we had free admission to the The Queen's House.

Unfortunately we had no time to see CUTTY SARK. At least we made one round around. And one more item for the next visit.

Leider fehlt ebenfalls die Zeit, um in die
CUTTY SARK
noch zu gehen. Zumindest schaffen wir es einmal außen rum. Und wir haben eine Sache mehr für den nächsten Besuch.
Auch wären wir gerne länger durch die Straßen Greenwichs und insbesondere vom Marktstand zu Marktstand gezogen. Aber auch dafür fehlt uns die Zeit. Ich muss kurz noch zu
Marks & Spencer
um meine Papadum Chips zu kaufen. Leider habe ich bis jetzt noch nicht herausgefunden, ob man so einen Lederdackel kaufen kann oder der Lederdackel als Schaufensterpuppe fungierte.

We really would love to browse longer through the streets of Greenwich and loved to move from one market stand to the next. I need to see quickly Marks & Spencer to buy my Papdum Chips. Unfortunately I did not find out if you could buy the Leather-Dackel-dogs or if they were display dummies only.

By DLR we went from Cutty Sark (for Maritime Greenwich) to Bank. We had to load some money because we used Emirates Air Line with our Oyster Card as we get a discount. This voyage did not count for the daily cap. On Continental Europe we stand right and walk left on the escelators. Once you left the escelator you should keep left. I hate the Bank station because I always too the wrong exit but we had luckily Ulla with us who took us out the shortest way.

Mit der DLR geht es von
Cutty Sark (for Maritime Greenwich)
nach
Bank
. Wir müssen ein wenig Geld nachladen, weil wir die Oyster Card für Emirates Air Line benutzt haben, weil es dafür einen Rabatt gibt.
Diese Fahrt zählt nicht zum Tageshöchstsatz.
Auf der Rolltreppe läuft es so wie auf dem Festland: rechts stehen, links gehen. Aber sobald man die Rolltreppe verlassen hat, soll man sich wieder links halten. Ich hasse den Bahnhof Bank, weil ich mich hier immer verlaufe, aber zum Glück haben wir ja Ulla dabei, die uns zielsicher rausführt.
Es geht zunächst in
The Royal Exchange
- vis-à-vis zur
Bank of England
. Es ist die ehemalige Börse und heute ein kleines Luxus-Einkaufszentrum.

At first we went to The Royal Exchange - opposite of Bank of England. It was the former stock exchange and today a small luxury shopping center.

Without Ulla we would passed that venue and would not visit the model exhibition of the City of London.

Ohne Ulla wären wir hier glatt vorbeigelaufen und hätten uns nicht die
Modellausstellung der Stadtverwaltung London
angesehen.
Vorbei geht es weiter an der
St. Lawrence Jewry-Kirche
.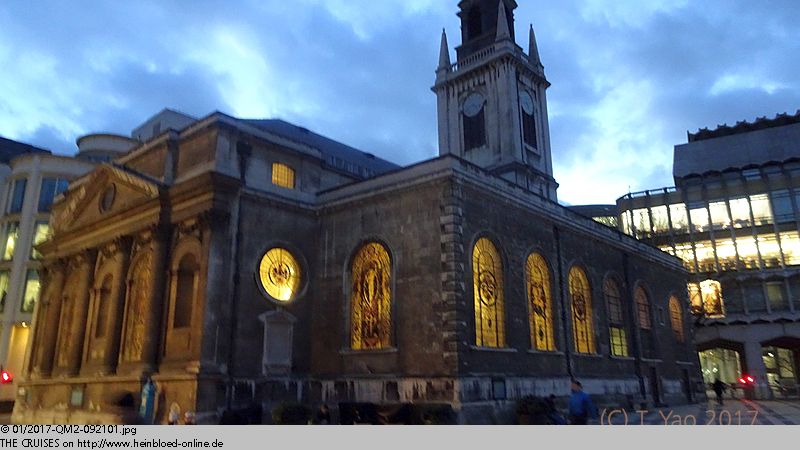 Past the St. Lawrence Jewry-Church.

Past the Guildhall.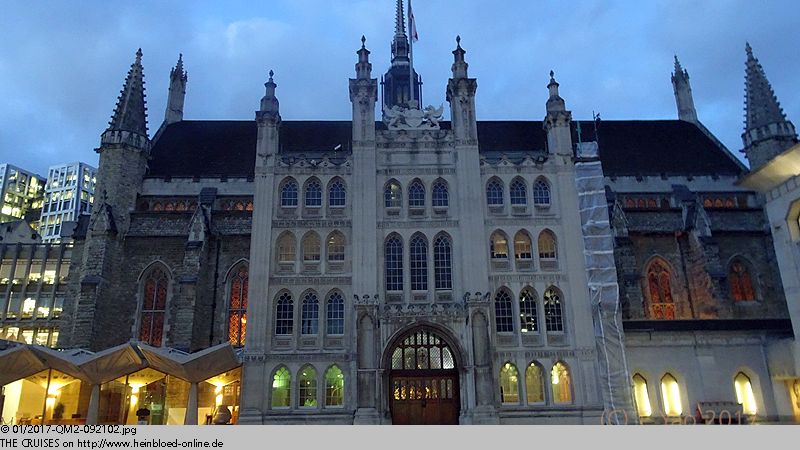 Vor bei an der
Guildhall
.
20, Gresham Street
. Etwas für Architektur Fans. Alt und neu stehen so nah beieinander.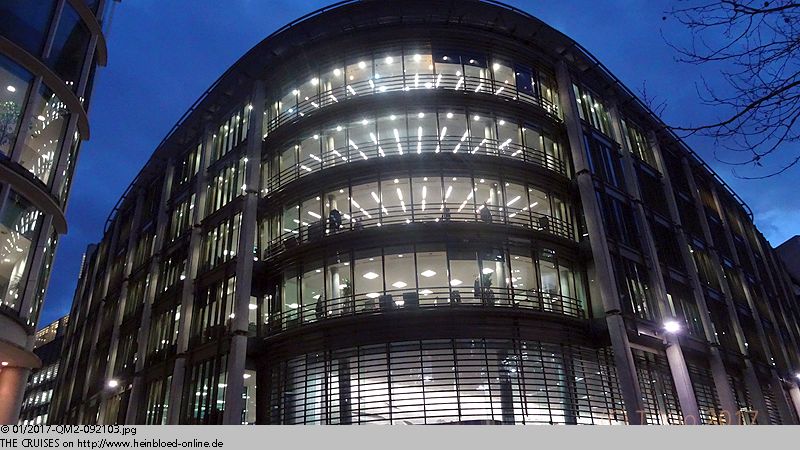 20, Gresham Street. Something for architecture fans. Old and new were standing close by eachother.

Another view to St. Mary-le-Bow.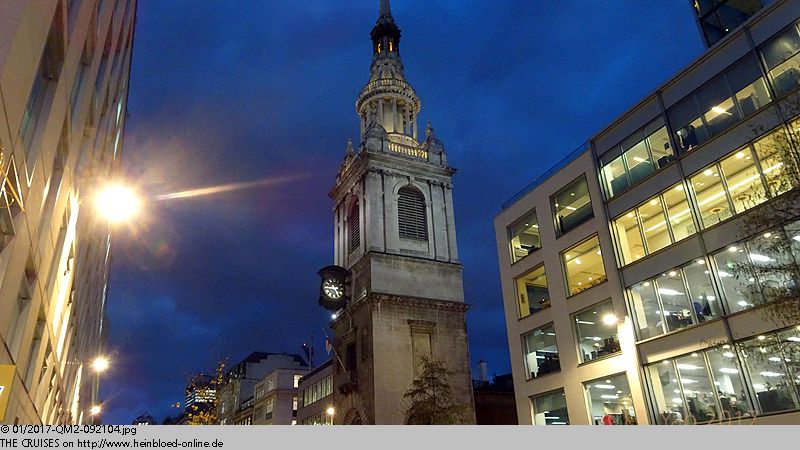 Nochmals ein Blick Richtung
St. Mary-le-Bow
.
Es geht für uns jedoch zur
St.-Pauls-Kathedrale
. Hier verabschieden wir uns von Ulla, die uns noch sagt, noch kostenlos zur
Abendandacht mit Chorgesang
können. Innen sind leider keine Aufnahmen erlaubt. Ulla hat es wieder toll gemacht: wir haben viel gesehen und aber auch viel gesehen, das wir noch nicht gesehen haben. Also immer wieder Gründe nach London wiederzukommen und Ulla zu buchen, damit sie so weiter macht.

For us we went to St.-Pauls-Cathedrale. Here we bid farewell to Ulla who recommended us to join free of charge the Choral Evensong. Inside no pictures were allowed. Ulla did a great job: we saw a lot and we also saw a lot what we did not see. So many reasons to return to London and to book Ulla again to continue.

Ulla knew that we had that night a table booked close-by and so the tour ended at St-Paul's-Cathedrale. The restaurant was located in the One New Change. Here they had Bread Street Kitchen. A restaurant of Gordon Ramsay. Celebrity in the press, broadcast and TV. The perfect end. In New York with Daniel Boulud. And here in London with Gordon Ramsay. The food was fantastic. Not cheap but a good value. Especially for 750.00 GBP for the bottle 1989 Château Mouton Rothschild, 1er Cru, Pauillac. But they also had wine by the glass.

Ulla weiß, dass wir heute Abend einen Tisch in der Nähe bestellt haben und daher das Ende am St-Pauls-Kathedrale. Das Restaurant befindet sich im
One New Change
. Hier befindet sich
Bread Street Kitchen
. Ein Restaurant von
Gordon Ramsay
. Bekannt aus Presse, Funk und
Fernsehen
. Das perfekte Ende. In New York bei Daniel Boulud. Und hier in London Gordon Ramsay. Das Essen ist klasse. Nicht billig, aber preiswert. Speziell für 750,00 GBP für die Flasche 1989er Château Mouton Rothschild, 1er Cru, Pauillac. Es gibt aber auch offenen Ausschank.
Da wir wegen Baustellen den direkten Bus nicht finden, steigen wir bei
Mansion House
in die U-Bahn.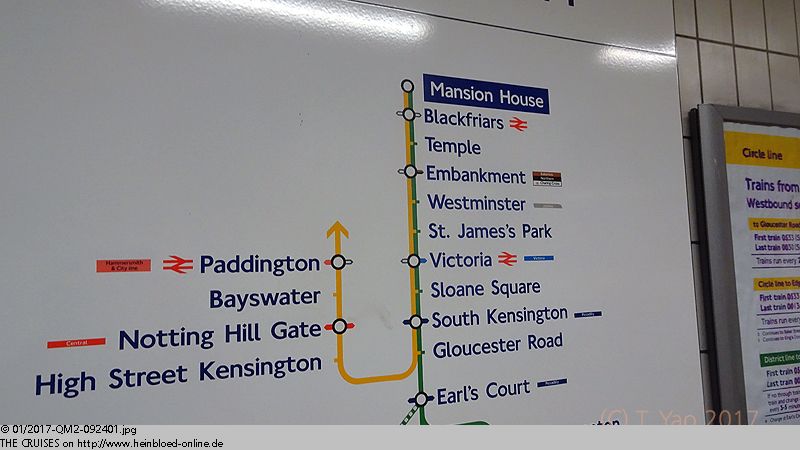 Due to construction work we could not find the direct bus so we boarded at Mansion House into the subway.

At station Embankment we had to change.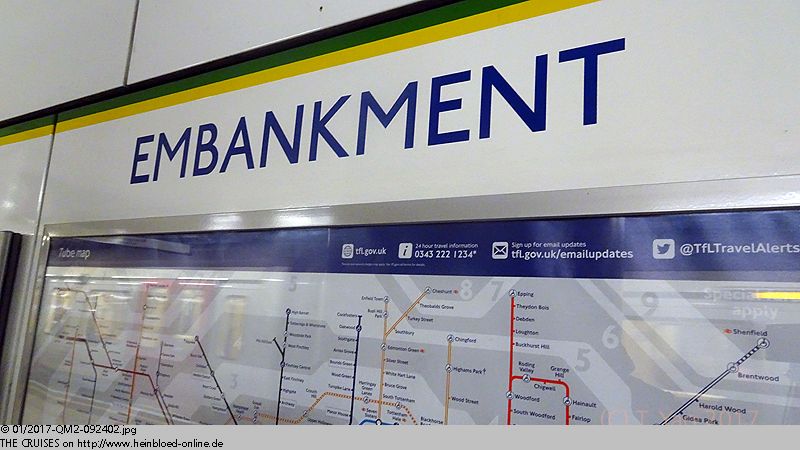 Im Bahnhof
Embankment
müssen wir umsteigen.
Und auf der Bakerloo-Linie geht es weiter.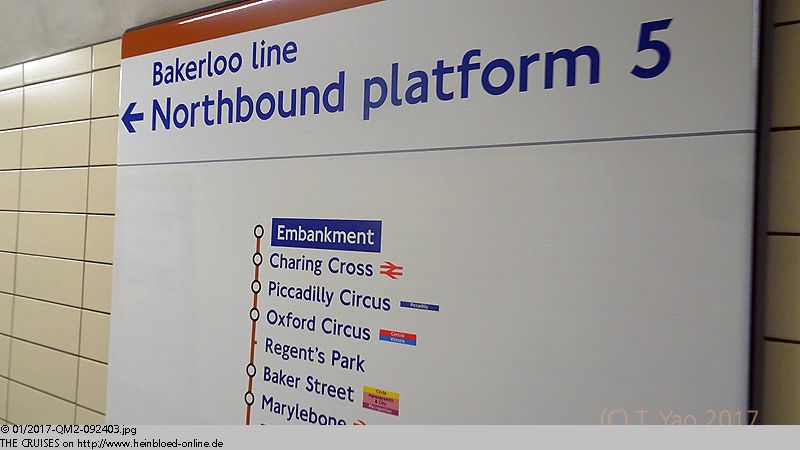 We had to continue on the Bakerloo-Line.

A must in London: Piccadilly Circus.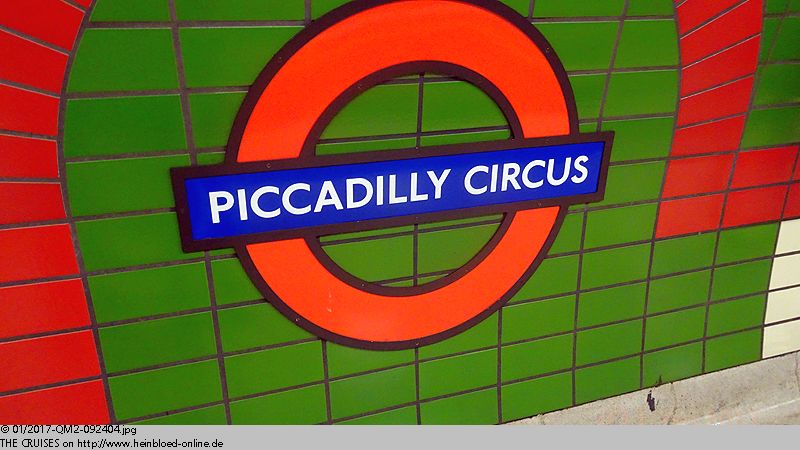 Ein Muss in London:
Piccadilly Circus
.
Am Anfang der Reise standen wir am Times Square in New York und nun am Piccadilly Circus in London.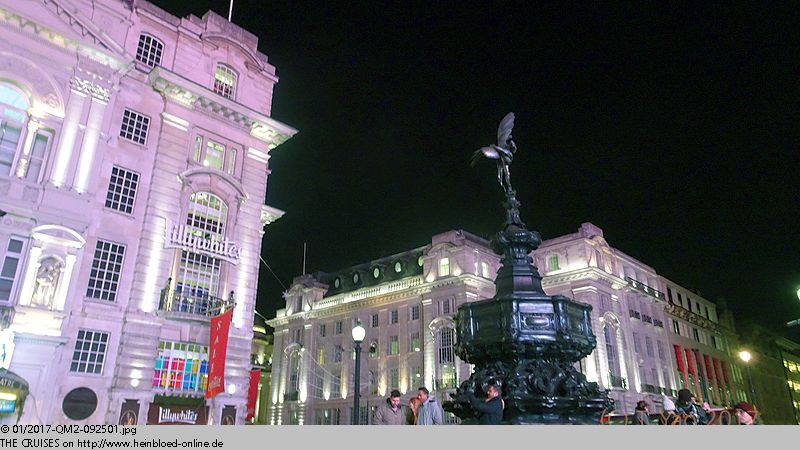 At the beginning of the voyage we stood at New York's Times Square and now at London's Piccadilly Circus.

A must.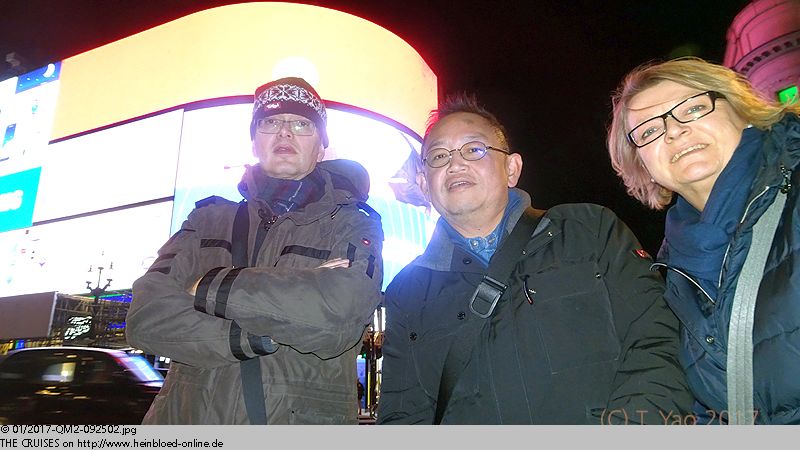 Ein Muss.
Und wir haben Glück: wenige Tage nach unserer Abreise werden die Lichter am Piccadilly Circus abgestellt, weil sie bis Herbst 2017 renoviert werden.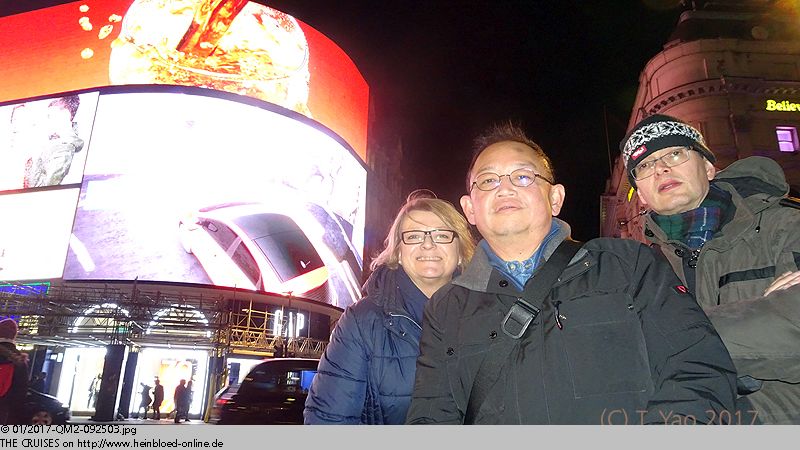 And we had luck: few days after we left they turned off the lights of Piccadilly Circus because they should be replaced by fall 2017.

By subway we returned.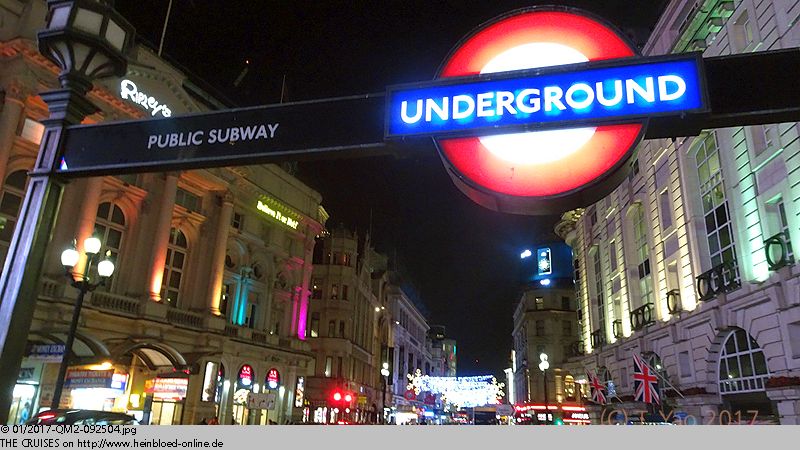 Mit der U-Bahn geht es wieder zurück.
Und unten geht es mit Live-Musik weiter. Die Künstler, die hier auftreten müssen auch vorher vorgespielt haben (
"Busking in London"
).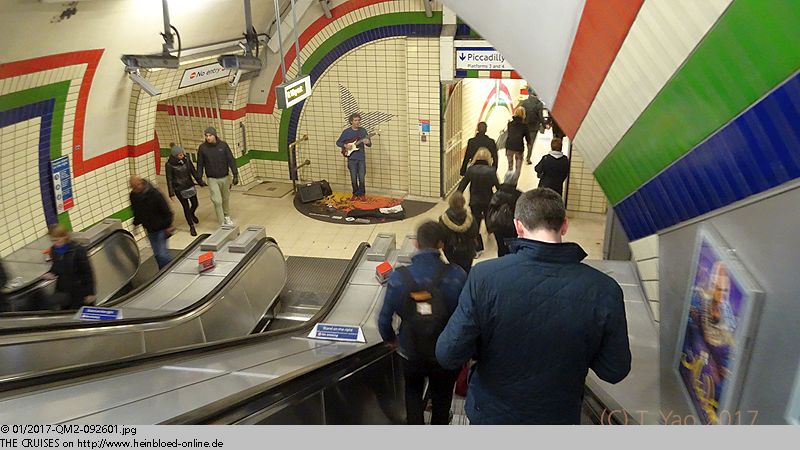 And downstairs they had some live-music. The artists who performed here need to pass a casting ("Busking in London").

From here we could directly get back to our hotel.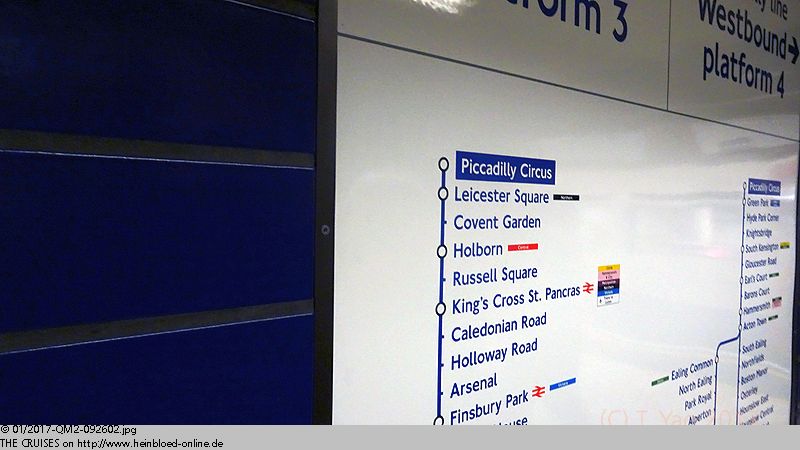 Von hier können wir direkt zurück zum Hotel fahren.
Alle sind schon müde.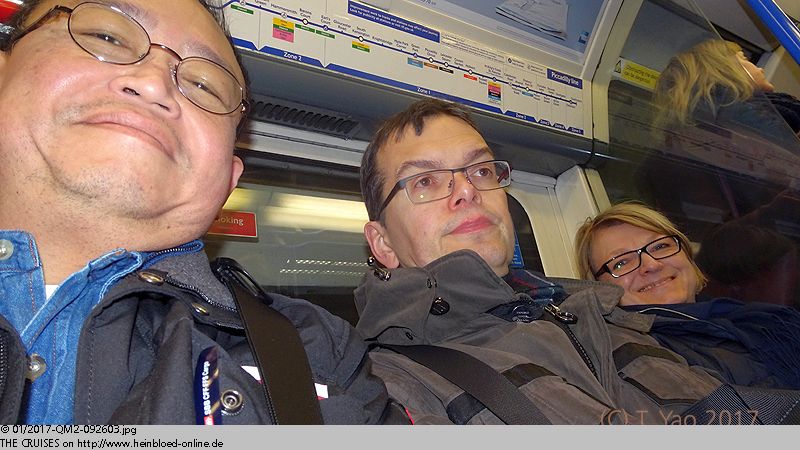 Each of us was already tired.

Luckily we found the map of the station King's Cross St. Pancras.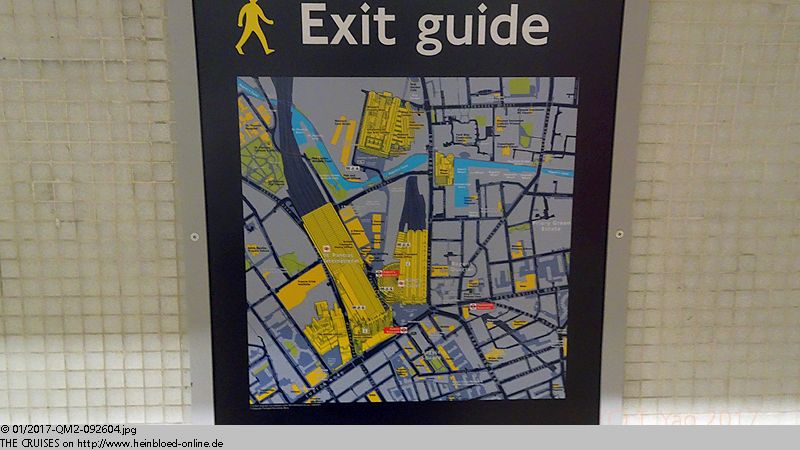 Zum Glück finden wir diese Karte vom U-Bahnhof
King's Cross St. Pancras
.
Schnell wissen wir, dass wir zur Euston Street rausmüssen, um zum Hotel zu kommen.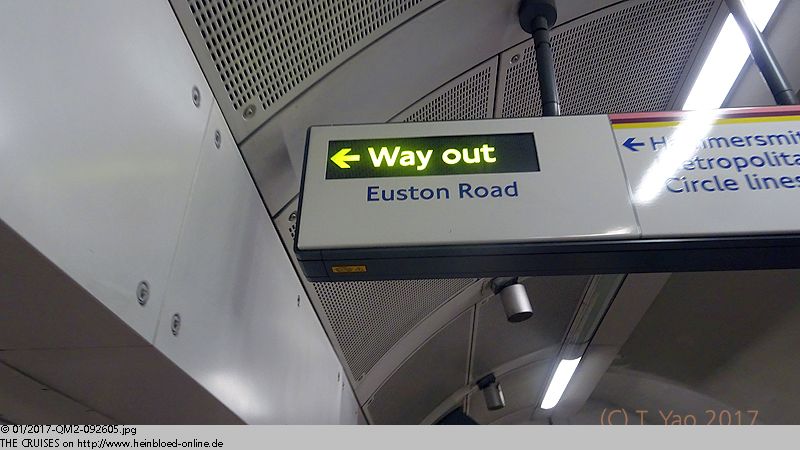 Quickly we learned that we need to exit towards Euston Street to get to our hotel.