Neben den selbstgemachten frischen Säften, gibt es bei Gerhalt auch industriell hergestellte Säfte.
V8
wollte ich allerdings schon immer seit meiner Kindheit probieren. Jetzt habe ich es endlich geschafft. Gerhalts frischer Saft ist besser.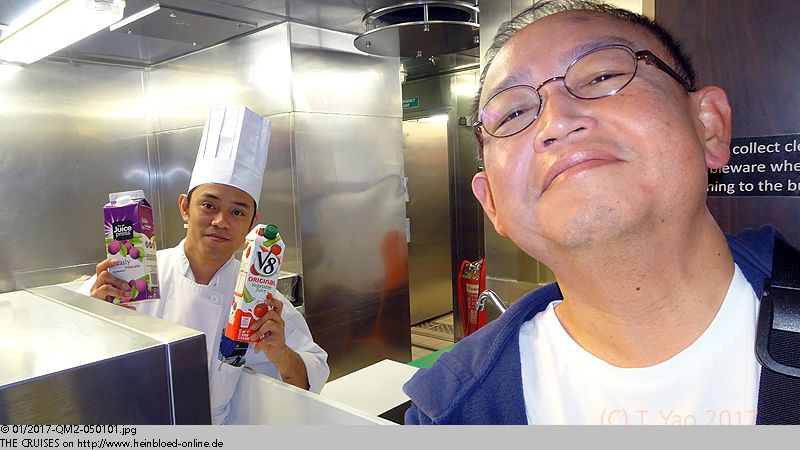 Further to the homemade juices you can get from Gerhalt also some industrial processed juices. V8 I wanted to try since my childhood. Now I finally made it. Gerhalt's fresh juice is better.

Somehow annoying: The rattle of the closets and ceiling in the hallway.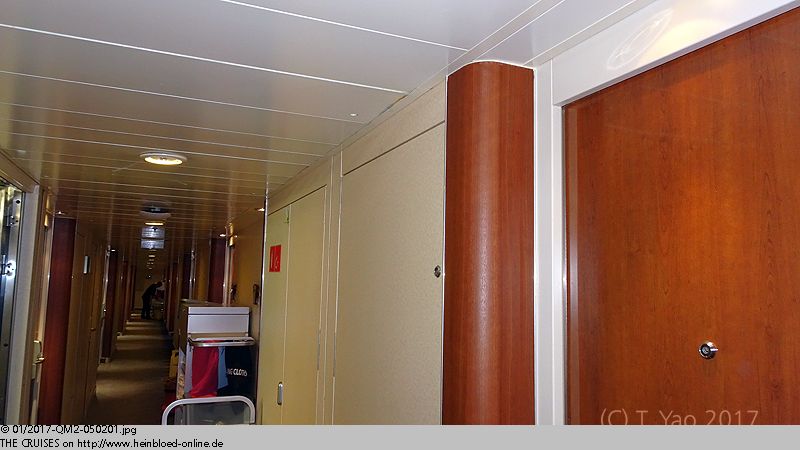 Etwas nervig: die Klapperei der Schränke und Decken im Kabinengang.
Wir werden zum gemeinsamen Mittagessen der deutschsprachigen Gäste eingeladen: warum nicht? Kann ja vielleicht auch ganz lustig werden. Wir werden zu der Party für die Platinum-Gäste und aufwärts eingeladen. Nächste Zeitzone Fernando de Noranha. Der Tag hält für uns Nebel und Sonnenschein parat. Im Fernsehen läuft einer meiner Lieblingsfilme:
Crazy, Stupid, Love
mit Steve Carell, Ryan Gosling und Julianne Moore. Im Film wird Steve Carell neu ausgestattet. Er beklagt sich darüber, als er jetzt in einem Skianzug stecken würde. Genauso fühle ich mich auch, seit dem ich den neuen Smoking gekauft habe: Dank Bekim von
Engelhorn
: er hat so ähnlich wie Ryan Gosling auch dafür gesorgt, dass ich mich wie Steven Carell sich in einem Skianzug fühle - der Schlabber-Look ist vorbei, sagt er. Ich liebe diesen Film. Wir bekommen die Ausschiffungsordnung. Das passt gar nicht. Warum fiel mir das damals nicht 2014 auf? Weil wir zufällig auf dem richtigen Deck zur richtigen Zeit runtergekommen sind. Damals Deck 11. Dieses Mal sind wir auf Deck 5. Deswegen wären wir so spät erst dran.

We were invited to the common lunch with the German speaking guests: why not? Might be maybe become funny. We were invited for the party for Platinum-guests and onwards. Next time zone Fernando de Noranha. The day kept for us fog and sunshine. In the TV they had one of my favorite movies: Crazy, Stupid, Love with Steve Carell, Ryan Gosling and Julianne Moore. In the movie Steve Carell was newly kitted up. He was claiming that he felt like going skiing. Exactly same way I felt since I bought my new smoking: Thanks to Bekim of Engelhorn: he was acting similiar like Ryan Gosling so that I felt like Steve Carell in a ski suit - the relax slappy look had gone. I love this movie. We got the debarkation order. That did not fit. Why did not I note it in 2014? Because we stayed at the right deck and left the ship at the right time. Then we had deck 11. That time we were on Deck 5. So that was why we supposed to leave so late.

Breakfast. I wanted to have a "traditional German hot breakfast" ("Strammer Max" = strong Max) and honey for my tea and could choose between multiple brands of honey. Bruno wanted actually a not too hot hard boiled egg. For Sigi Mufeed found all stock onboard of Little Scarlett-jam. We felt very comfortable with the service of Gregorio and Ryan.

Frühstück. Ich will Strammer Max und Honig zu meinem Tee und darf mir unter mehreren Honigmarken aussuchen. Bruno wollte eigentlich ein nicht zu heißes hartgekochtes Ei. Für Sigi hat Mufeeb die ganzen Vorräte Little Scarlett-Marmelade an Bord zusammengesucht. Insgesamt fühlen wir uns alle mit dem Service von Gregorio und Ryan sehr wohl.
Bei so einem Wetter bleiben wir drinnen und trinken Kaffee.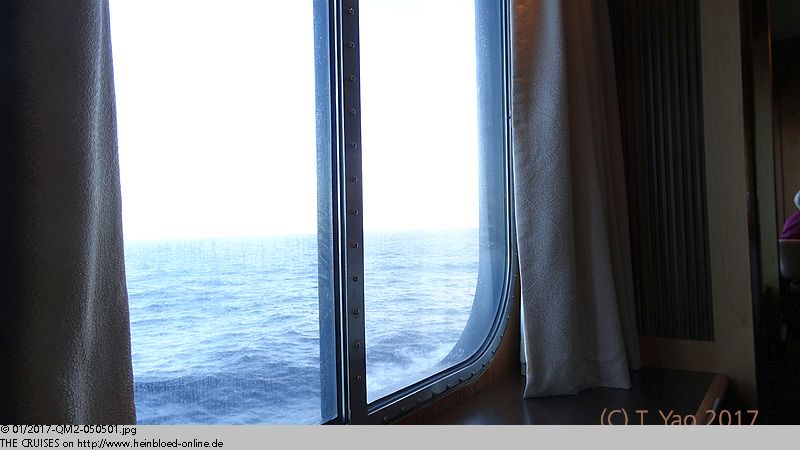 With such a weather we stayed inside and had our coffee.

I tried one of the iced coffee specialities.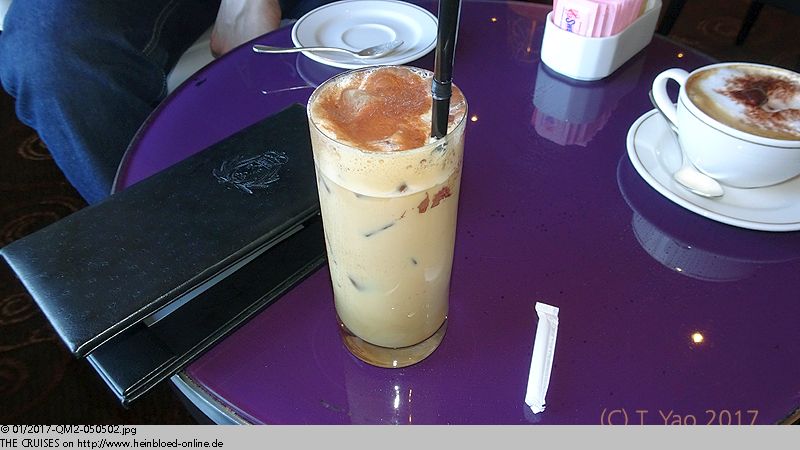 Ich versuche mich an den geeisten Kaffeegetränken.
Mit Alfret und Jelena haben wir sehr viel Freude. Nach ein, zwei Besuchen, wussten sie immer schon, was und wie wir es mochten... 1 Beutel Zucker in einem Espresso schon aufgelöst, bevor die laktosefreie Milch reinkommt... Kann ein Tag perfekter starten?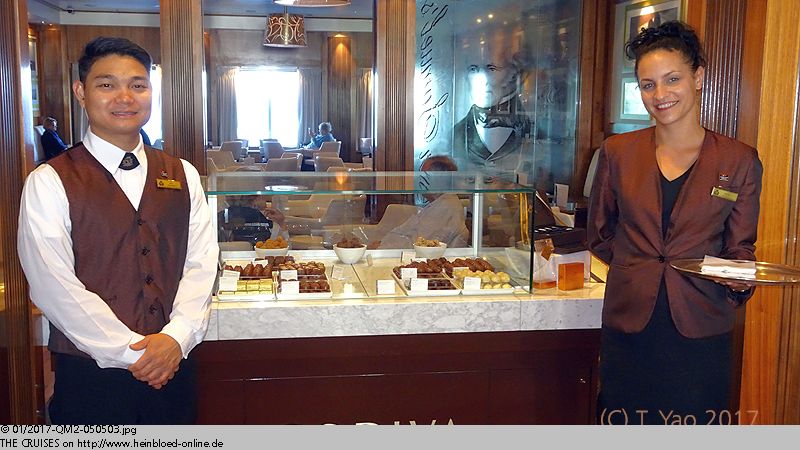 With Alfret and Jelena we had a log of joy. After one or two visits they already knew what we wanted... 1 bag of sugar in my espresso before topping up with the lactose free milk... Could a day start more perfect?

Time flied on board so quickly especially as one hour was taken away almost every day as we sat with lunch althoug we just came from breakfast. We loved the service of Rosemarie, Vijay and Kurana. Almost every wish I had they took care. Almost. But calling extra a port to buy a dragon fruit... the only thing they did not do for me. Apart of that I had no claims.

Die Zeit an Bord vergeht immer so schnell, vor allem, weil ja uns fast jeden Tag mittags eine Stunde weggenommen wird, dass wir schon beim Mittagessen sitzen, obwohl wir gerade beim Frühstück waren. Wir erfreuen uns am Essen und am Service von Rosemarie, Vijay und Karuna. Fast jeder Wunsch wird mir erfüllt. Fast. Nur extra den nächsten Hafen anzulaufen, um eine Drachenfrucht für mich zu kaufen... das machen sie nicht. Sonst kann ich mich kaum beklagen.
Nachmittags gehe ich draußen auf dem offenen Deck spazieren. Ich sehe mir die Fotopakete an, aber mir ist das alles zu teuer. Entweder es stehen zu wenige öffentliche Müllbehälter auf dem Schiff oder wir haben zu viele Idioten an Bord, die sich nicht benehmen können. Lt. Internet wiegt ein durchschnittlicher Mann 89 kg und eine Frau 79 kg. 6 x 79 kg + 6 x 89 kg = 1.008 kg. Wenn also 6 durchschnittliche Paare im Fahrstuhl fahren, wären sie mit 1.008 kg schon überladen... Eine Fahrstuhlsteuerung funktioniert nicht so richtig. Puneer von der Rezeption kommt mit, damit ich es ihm zeigen kann, was genau bei einem Fahrstuhl nicht funktioniert. Er ist der einzige, der für jede Antwort recherchierte und nicht nur vermutete.

In the afternoon I walked on the open decks. I checked the photo packages but that was too expensive. Either there were not enough public waste bins or we had too many idiots on board who had no behaviour. According t the internet an average man weighs 89 kg and a woman 79 kg. 6 x 79 kg + 6 x 89 kg = 1,008 kg. If 6 average couples use the elevator they would overweigh the elevator of 1,008 kg... One control panel did not work properly. Puneer of the Purser's Office came with me that I could show him what exatcly did not work at the elevator. He was the only one who researched for answers and not just assuming.

No Tea-Time but a afternoon snack.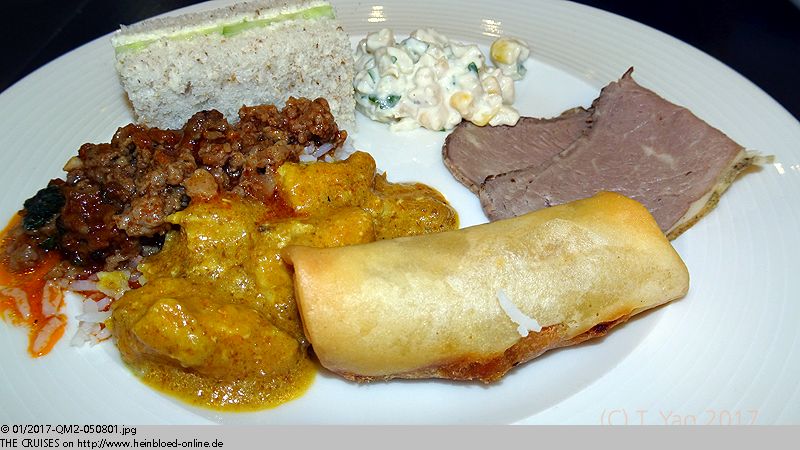 Keine Tea-Time, aber ein Nachmittagssnack.
Komisch: gibt es gar kein
Wedgewood
im King's Court?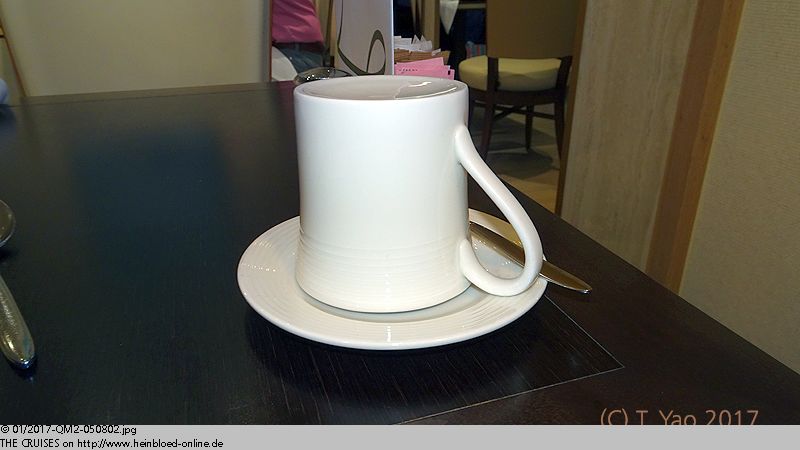 Strange: no Wedgewood in the King's Court.

Bruno prepared himself for the Spa-Area.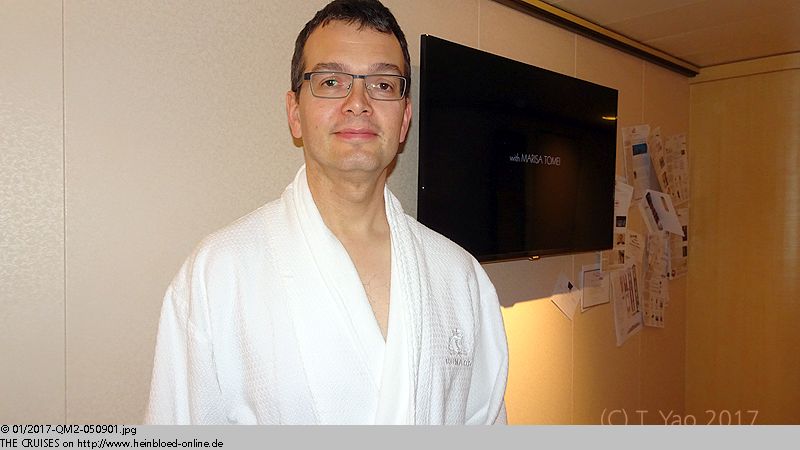 Bruno macht sich für den Spa-Bereich fertig.
Ich auch. Aber so richtig Spaß macht es nicht. Weil hier haben sie während des Trockendock-Aufenthalts nichts verbessert.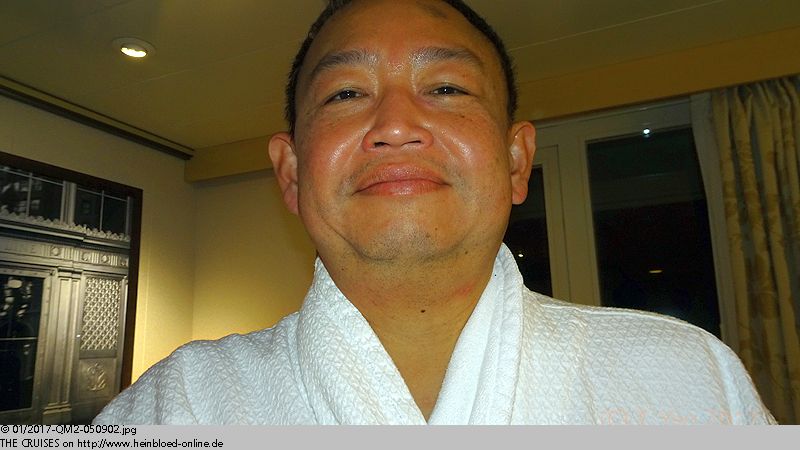 I did it too. But it was no real pleasure. Because there they had no improvements done while they were in the dry-dock-stay.

We loved to come back on a Cunard ship so we made a deposit with Petra. Because Sigi, Christoph and Karl were exited too they did a deposit too. Christoph and Karl went further and checked with Petra for another sailing on QUEEN MARY 2. Cunard made addicted.

Wir kommen gerne wieder auf ein Cunard Schiff, so haben wir heute bei Petra eine Anzahlung geleistet. Weil auch Sigi, Christoph und Karl begeistert sind, leisten sie auch sie eine Anzahlung. Christoph und Karl gehen noch weiter und prüfen mit Petra nach weiteren möglichen Reisen mit der QUEEN MARY 2. Cunard macht eben süchtig.
Abends lasse ich mir etwas von dem Angebot servieren, das es jeden Abend auf Anfrage gibt: Lachs, Hühnerbrust oder ein Steak. Ich nehme ein Steak.

For dinner I asked for something you can get every night on request: salmon, chicken breast or steak. I took a steak.

The team from The Verandah took very well care of us. So I need to have a picture of them to remember.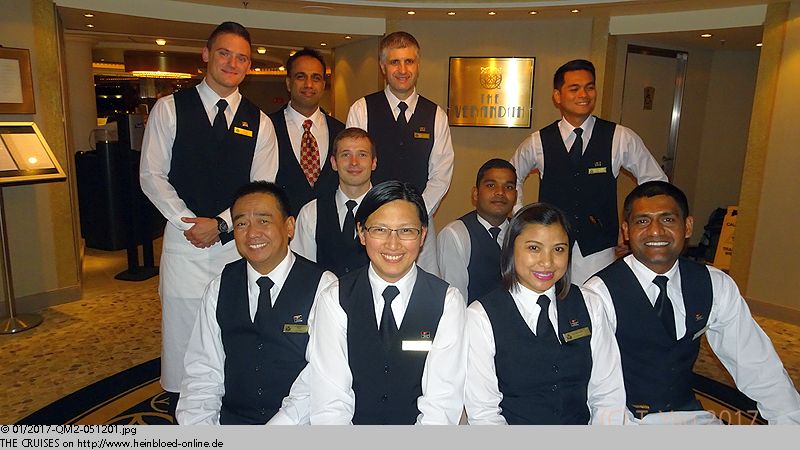 Das Team von The Verandah hat uns toll bedient, also brauche ich auch von denen ein Erinnerungsfoto.
Krishna (Head Waiter) und sein Team Ammar, Annamarie, Dren, Jane, Krishna (Sommelier), Larry, Noel, Panneer, Slawomir. Ihre Leistung bleibt unvergesslich.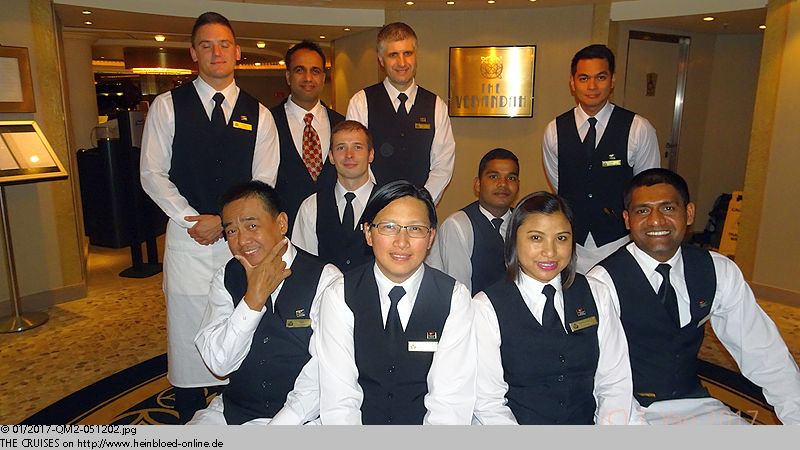 Krishna (Head Waiter) and his Team Ammar, Annamarie, Dren, Jane, Krishna (Sommelier), Larry, Noel, Panneer, Slawomir. Their performance was unforgettable.

One sneak view to the G32.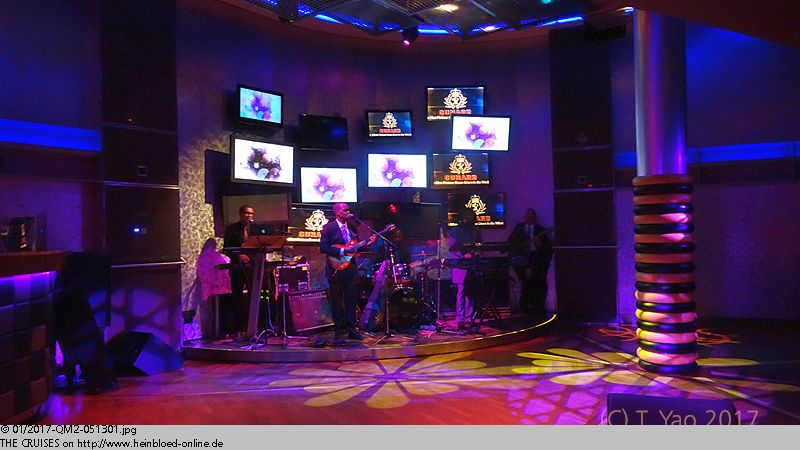 Noch ein kurzer Blick ins G32.
Aber wir entscheiden uns lieber für einen weiteren Cocktail im Queen's Room und amüsieren uns noch ein wenig. Auf jeden Fall: auch dieses Mal wieder haben alle ihren Spaß. Vom schwimmenden Altersheim kann nicht die Rede sein.

But we decided to have another cocktail in the Queen's Room and we had fun a little. Anyhow: that time all of us had fun. Nobody had the feeling to been on a floating senior residence.