Der Morgen beginnt für mich als Shipspotter. SAGA SAPPHIRE.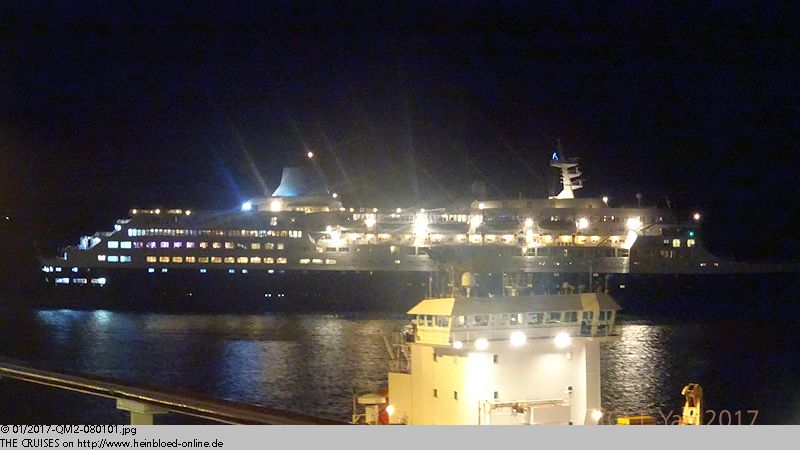 The morning started for me as shipspotter. SAGA SAPPHIRE.

No stranger in the German market: EUROPA (1981-1999).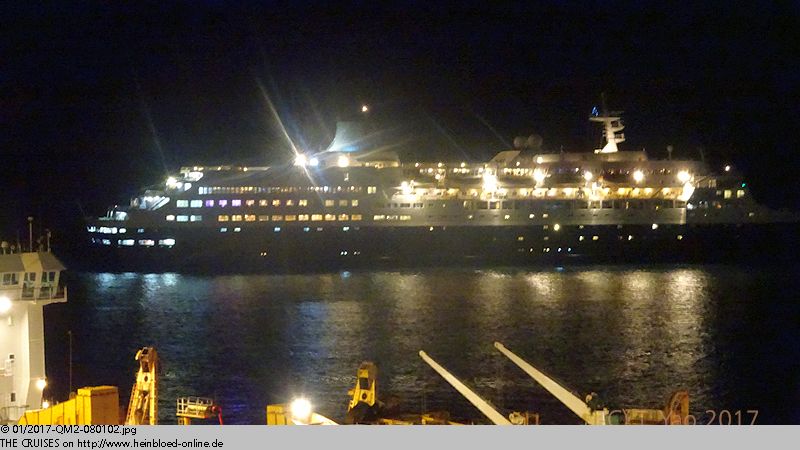 Keine Unbekannte auf dem deutschen Markt: EUROPA (1981-1999).
Ich bin 50 und darf endlich legal mit
Saga
buchen (Man muss 50+ sein).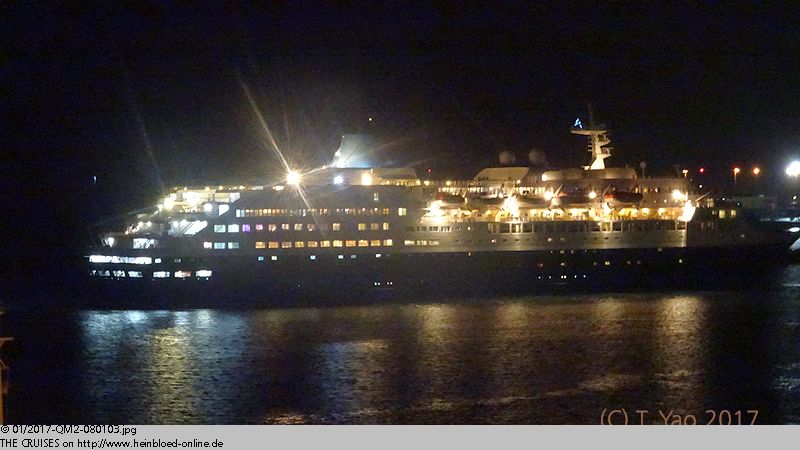 I was 50 already and was allowed to book Saga (You need to be 50+).

But I wanted to be always on SAGA RUBY which was not anymore part of the fleet.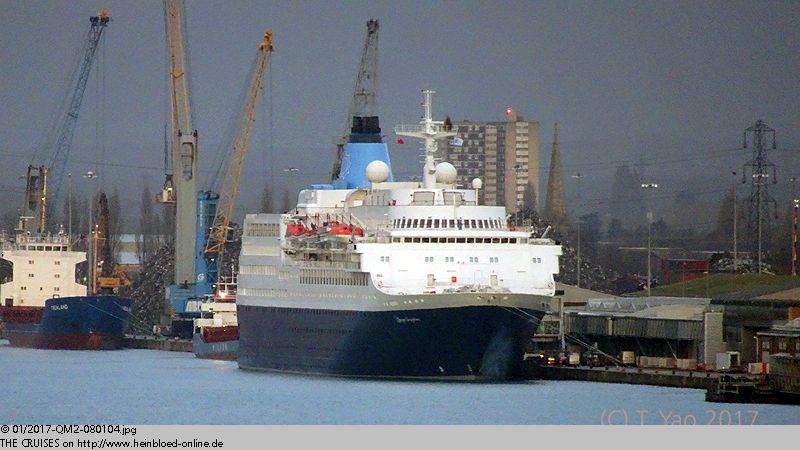 Aber ich wollte immer nur auf die SAGA RUBY, die leider nicht mehr in der Flotte ist.
Mein letzter Saft. Aber kein Gerhalt, um mich zu verabschieden.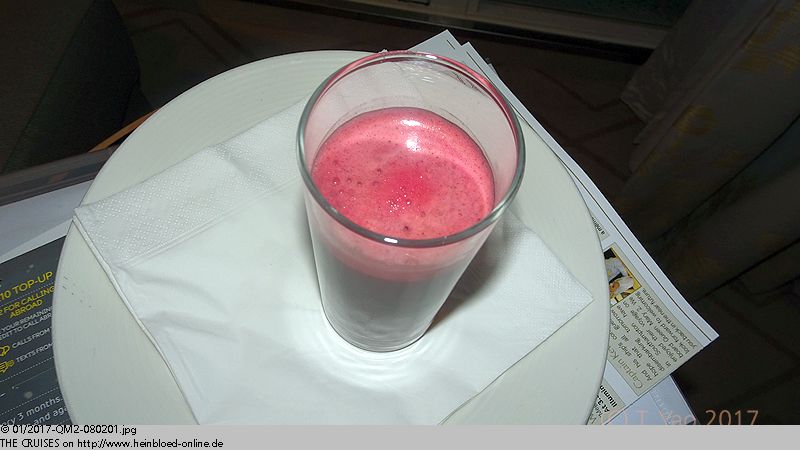 My last juice. But no Gerhalt to say good-bye.

I need to try at least one Danish.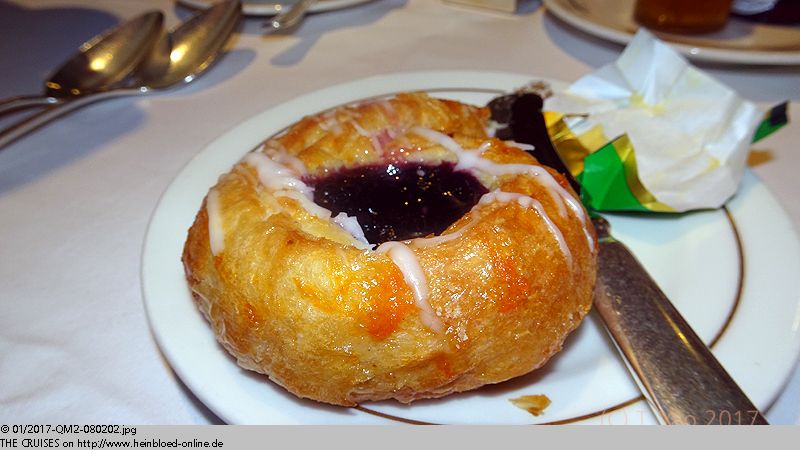 Ein Kopenhagener muss ich doch noch probieren.
Noch einmal Congee.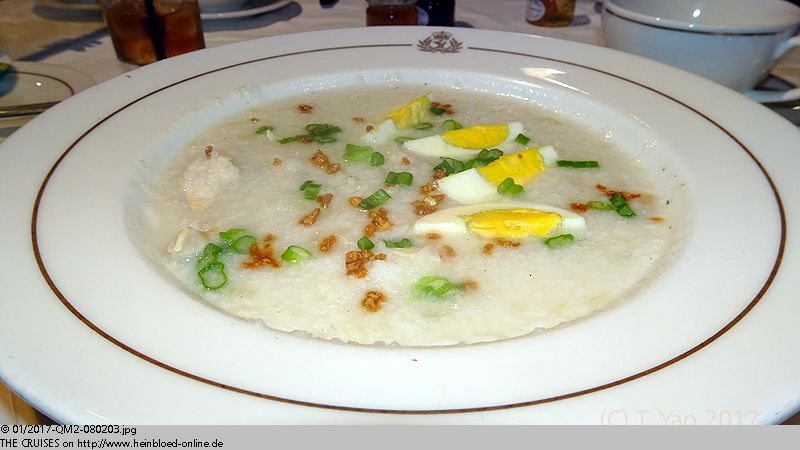 One more time congee.

As Platinum guest you were allowed to wait in The Verandah. Platinum were not allowed to leave seperately but to follow the debarkation order.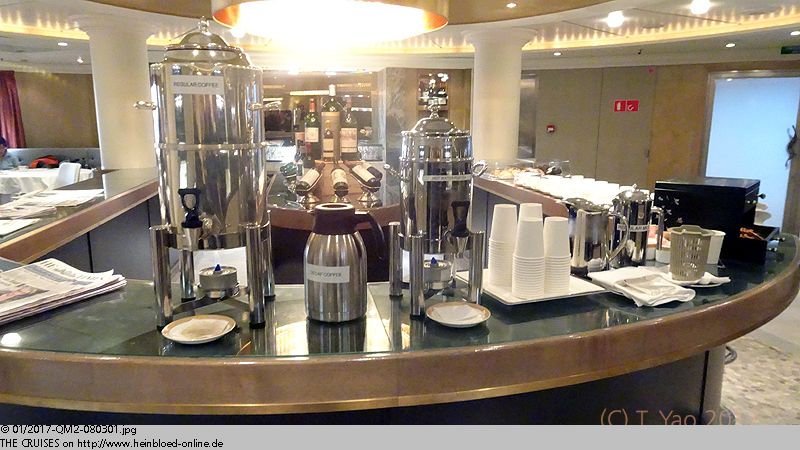 Wir dürften in The Verandah uns als Platinum Gäste aufhalten. Platinum dürfen nicht gesondert von Bord, sondern unterliegen der Ausschiffungsordnung.
Aber die Lage ganz vorne und mit all dem Handgepäck: wir lassen es.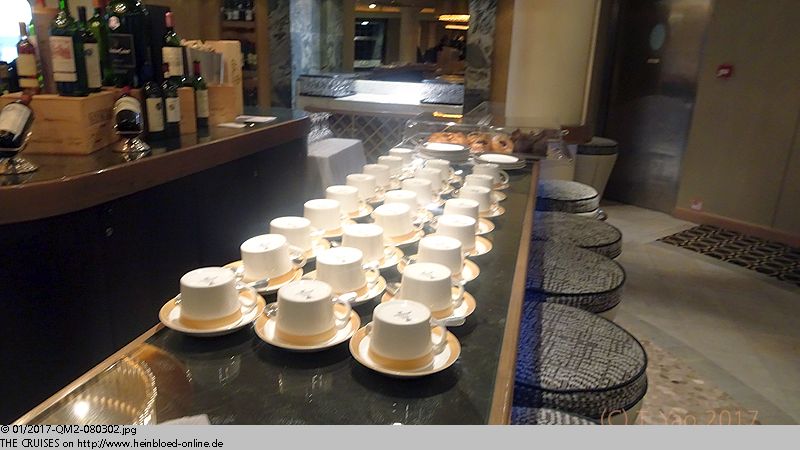 But the location far forward and with all the hand bags: we left it.

And it was now our turn to leave the ship.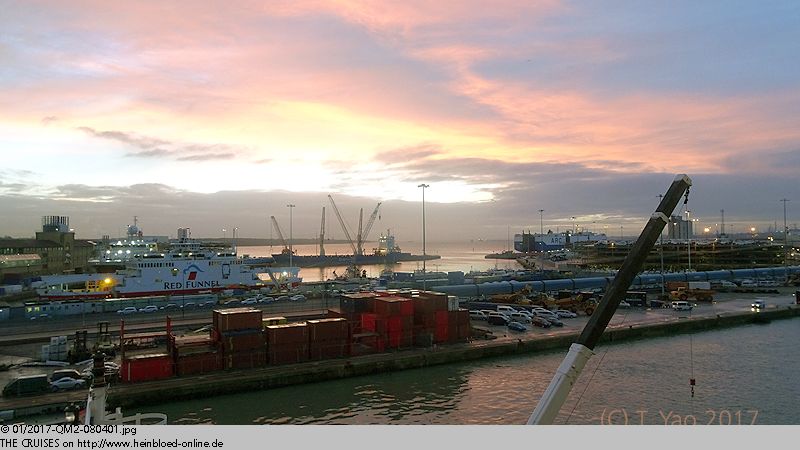 Und dann sind wir an der Reihe, um das Schiff zu verlassen.
Leider gilt das Schild nicht für uns.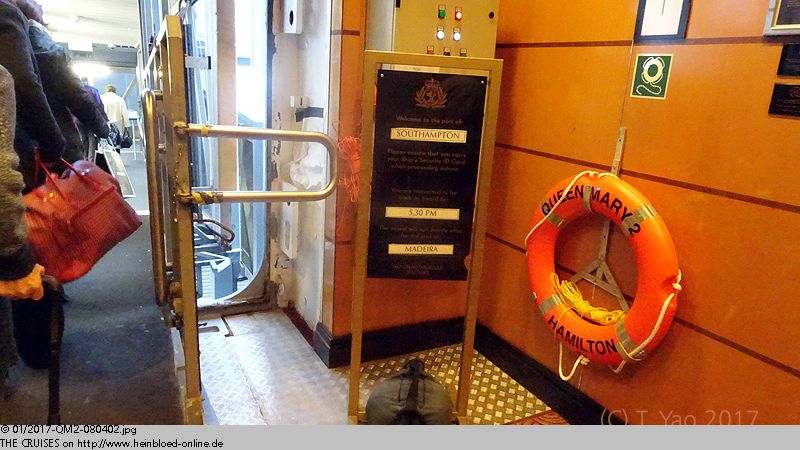 Unfortunately the sign was not for us.

Quickly we had all our bags together.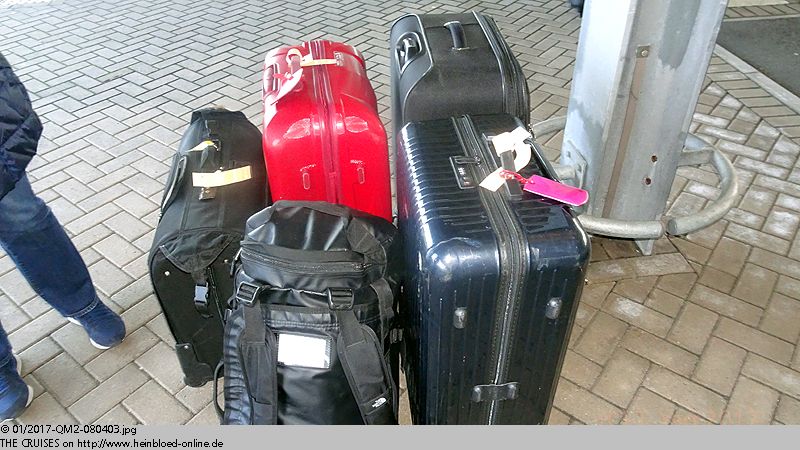 Schnell haben wir auch unser Gepäck zusammen.
Christoph und Karl nutzen den Cunard-Transfer zum Flughafen Gatwick, weil die Bahnen streiken. Sehr ärgerlich: Christoph als Eisenbahner hätte doch sehr gerne den Zug genommen. Wir haben unseren Privattransfer nach London. So können wir auch beliebig stoppen. Ein Stop, der vorgesehen war:
Highclere Castle
. Besser bekannt als Drehort von
Downtown Abbey
. Leider hat er geschlossen. Schade: es wäre nur ein kleiner Umweg auf dem Weg von Southampton nach London. Zumindest können wir den Wagen nochmals halten und endlich (mal wieder) ein Bild von der QUEEN MARY 2 zu machen.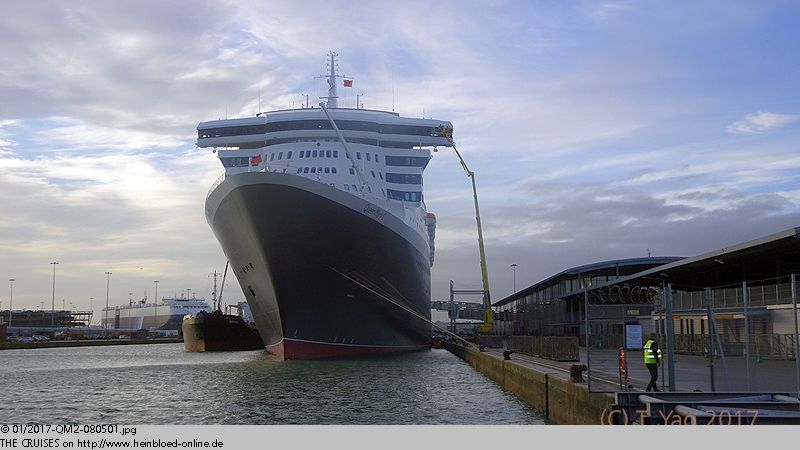 Christoph and Karl used the Cunard-Transfer to Gatwick Airport because the railway companies had an industrial action. Very angry: since Christoph was working with the Railway Company he was curious to use the train. We booked our private transfer to London. So we could stop at any time. One stop we planned to have: Highclere Castle. Better known as film set of Downtown Abbey. Unfortunately it was closed. Sad: it would be only small detour on the way from Southampton to London. At least we could stop one more time the car to have finally (and again) a picture of QUEEN MARY 2.

So again pictures of QUEEN MARY 2.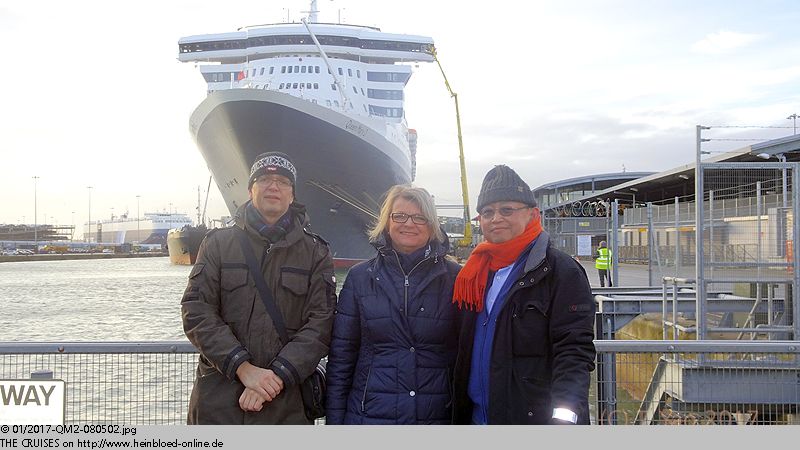 Und endlich auch mal Bilder vor der QUEEN MARY 2.
Schade, dass Christoph und Karl im Cunard-Bus sitzen und nicht auf dem Bild sein können. Wir hatten denen ja angeboten, sie bis London mitzunehmen, aber auch dort streiken die Bahnen der Linien, die zum Flughafen Gatwick führen.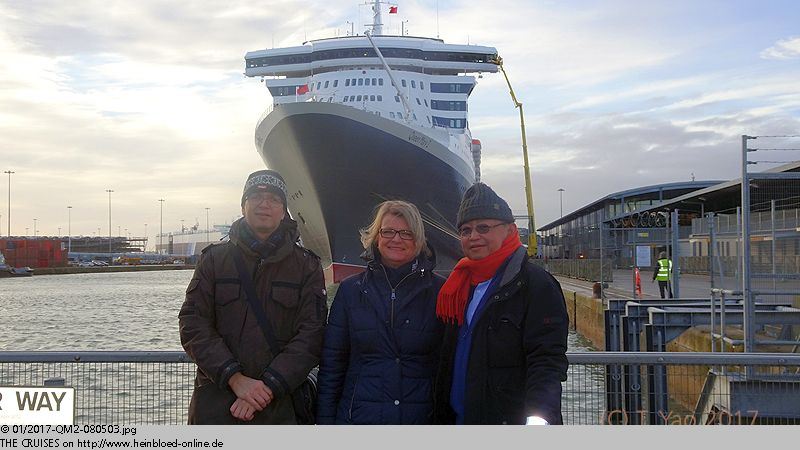 Sad that Christoph and Karl were in the Cunard-Bus and could not join us on the picture. We offered them to take them with us to London but unfornately also the lines toward Gatwick Airport were striking.

Due to the ton of bags we had we booked a van.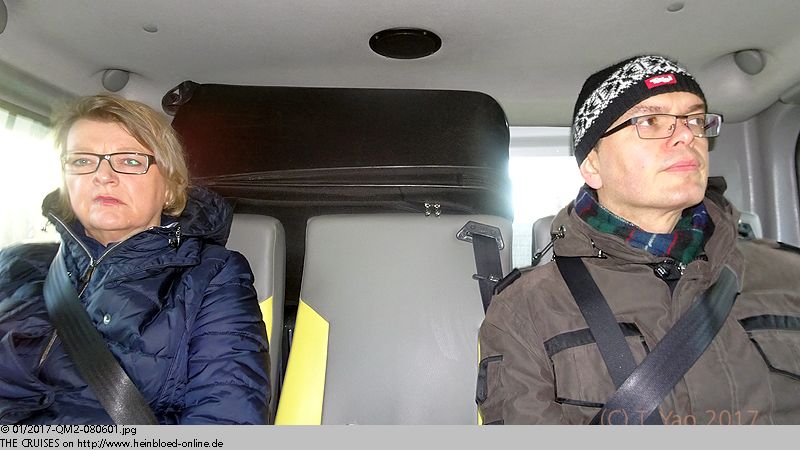 Wegen des vielen Gepäcks haben wir einen Van gebucht.
Ich habe vis-à-vis gesessen, so dass wir mehr Platz hatten.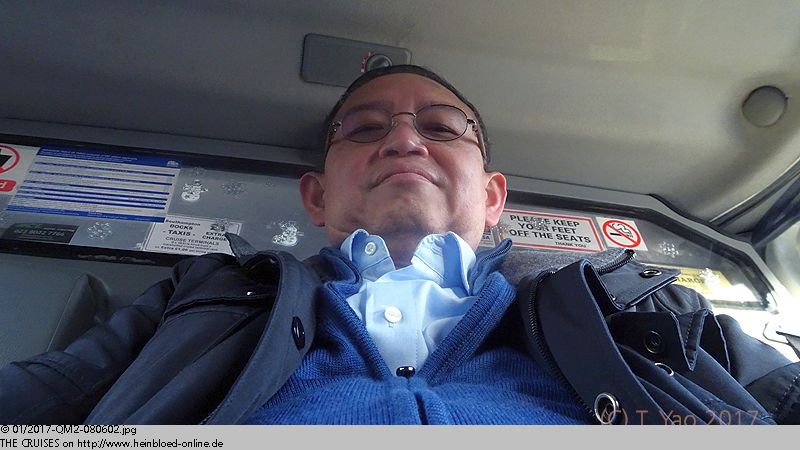 I sat adjustent to the other's face so we had more space.

As usual we booked with Clifford Cars. We only sent a text message to +44 7919 851979 and it worked quite well.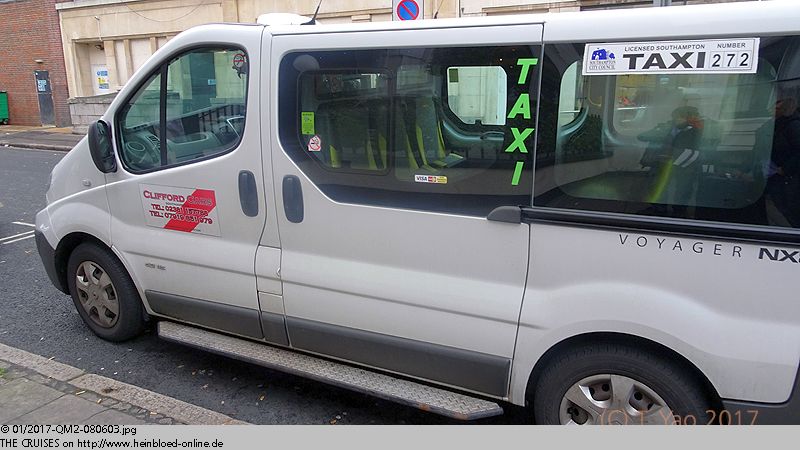 Wir haben wie üblich bei Clifford Cars gebucht. Wir schicken einfach eine SMS an +44 7919 851979 und es klappt immer gut.
Gebucht habe ich im
Kings Cross Inn Hotel
. Aus zwei Gründen: günstig für Londoner Verhältnisse - und vis-à-vis vom St. Pancras International. O.K. - das nächste Mal würde ich noch Einfluss auf die Lage des Zimmers nehmen. Die Zimmer im Sousterrain sind zu kalt (Boden). Sie waren sauber. Ein bisschen Rost an nicht rostfreien Teilen im Bad, aber sonst war alles da, was man eigentlich in einem so kleinen Zimmer für den Preis erwarten durfte.

I booked with Kings Cross Inn Hotel. Two reasons: quite cheap for London price level - and just adjustant of St. Pancras International. O.K. - next time I would try to influence the location of the rooms. The rooms in the lower level were too cold (floor). They were clean. A little rusty at the non-stainless parts in the bathroom but you had everything you need for a stay in a little room and you could expect to have for such a little price.

We started to look around in St. Pancras International Terminal.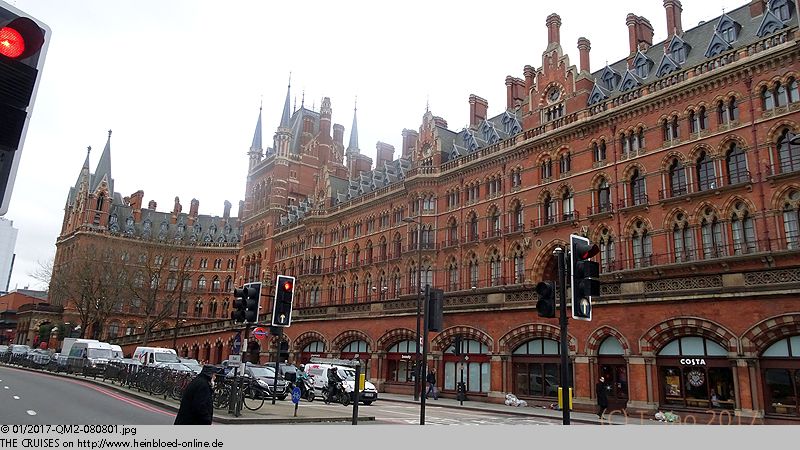 Wir sehen uns schon mal im Bahnhof
St. Pancras International
um.
Den Teil für den
Eurostar
finden wir schnell. Aber die Bordkarten bekommen wir erst am Abfahrtstag. Wir haben ja
London-Spezial-Fahrkarten der DB
und nicht von Eurostar.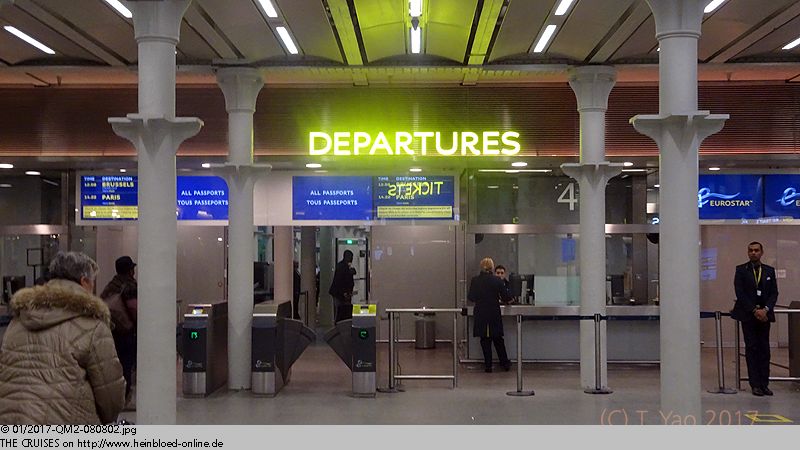 The part for the Eurostar we could find quickly. But the boarding passes we could get only the day of departure. We had tickets of German Railways DB (Saver Fares for London) and not such of Eurostar.

So we first need to get our Oyster Card. We could not load the other cards we got.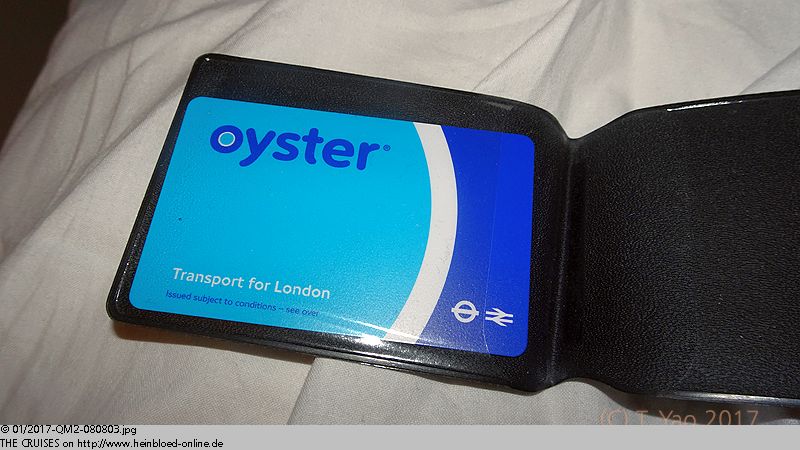 Wir besorgen uns zunächst die
Oyster Card
. Die anderen Karten konnten wir ja leider nicht laden.
Ich muss mir erstmal meinen Jahresvorrat an Erkältungsmitteln
Lemsip Max All in one
zulegen. Allerdings brauche ich sie auch mit sofortiger Wirkung.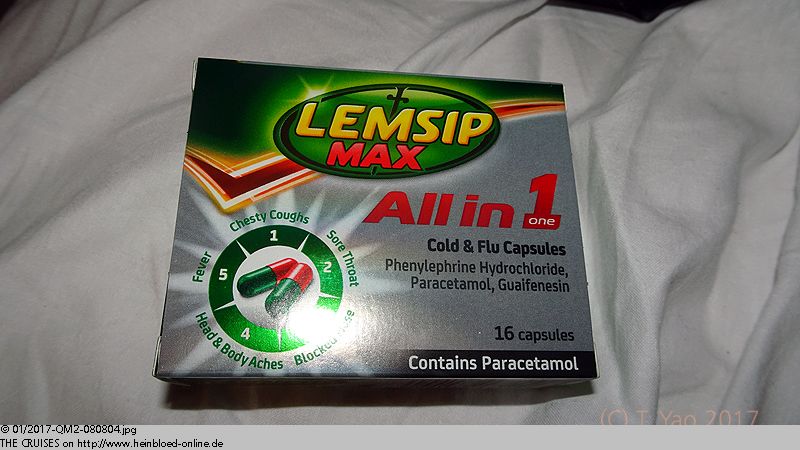 I need to get my annual supply of my anti-cold-medication Lemsip Max All in one. Anyhow I had immediate need of them.

The Tube (Subway) was running. They had no more industrial action anymore. That was good.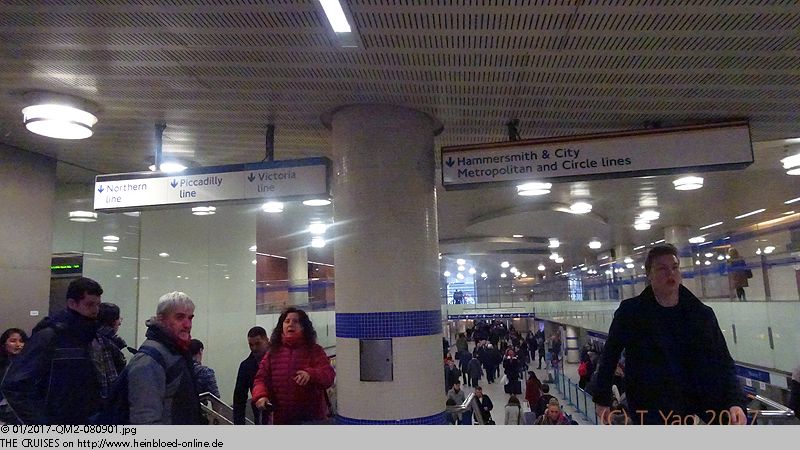 Die
U-Bahn
fährt. Zum Glück streiken sie nicht mehr. Das ist gut.
Wir müssen die Northern Line nehmen.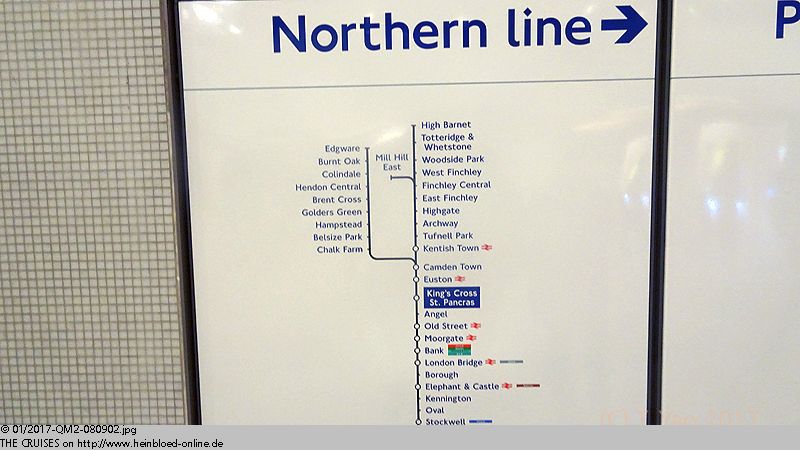 We had to take the Northern Line.

We need to get very deep down.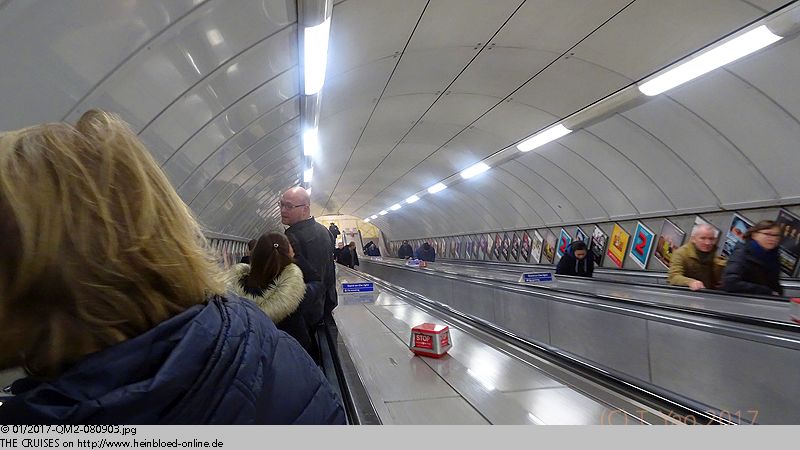 Es geht tief hinunter.
Bis zur nächsten Station
Angel
.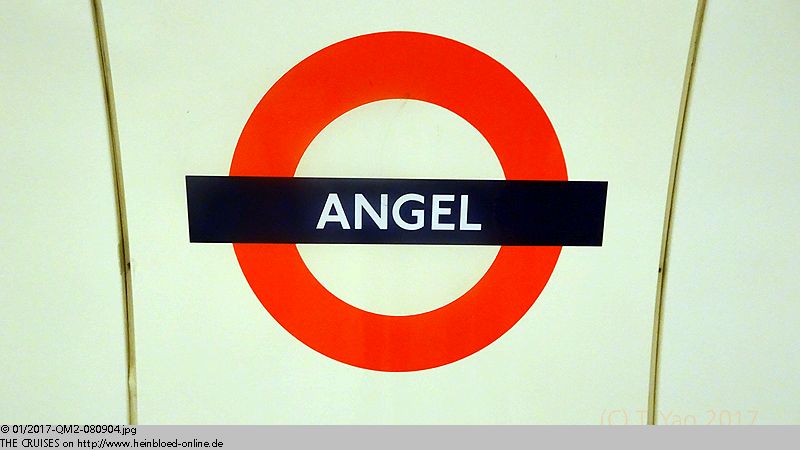 Just for the next stop Angel.

I loved the endless long escelators. When I was a little boy they were wood-made. I remember the sound and the smell.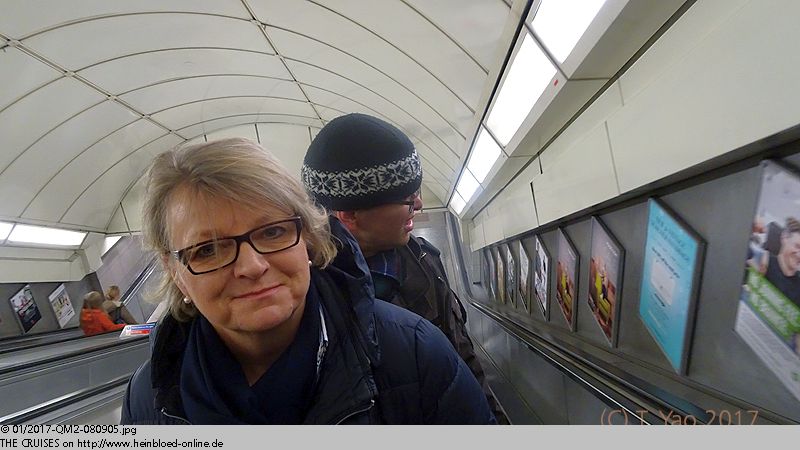 Ich liebe diese endlos langen Rolltreppen. In meiner Kindheit waren sie ja noch aus Holz. Ich erinnere mich an die Geräusche und den Duft.
Mittags geht es in
Jamie's Italian
von
Jamie Oliver
. Das Mittagsmenü ist für Londoner Verhältnisse günstig. Sicherlich nicht der 08/15-Italiener um die Ecke - eben Jamie Oliver. Ist einfach sein Stil, den man mitisst. Aber auf der
QUANTUM OF THE SEAS 2014
war es doch anders - irgendwie.

For lunch we went to Jamie Oliver's Jamie's Italian. The lunch menu was quite cheap for London price level. Definately not a typical Italian restaurant around the corner - but Jamie Oliver. It was his style you were eating too. But somehow it was different on QUANTUM OF THE SEAS 2014 - somehow.

After a good meal we walked back to our hotel and we need to have a nap. Later we took Bus 73 to get to the Westend.

Nach dem guten Essen gehen wir zu Fuß zurück zum Hotel und müssen doch mal uns ein wenig ausruhen. Später fahren wir mit
Bus 73
ins Westend.
Auf dem Weg fallen uns die Worte eines Mitreisenden ein, der meinte, dass man nicht mehr an jeder Ecke eine Fish and Chips-Bude findet. Ausgerechnet hier an der Ecke finden wir eine und gehen kurzerhand hier essen:
Munchkins
. Nichts aufregendes, aber es lag einfach gut auf dem Weg zum Theater.

On our way we remembered what a fellow-cruiser said: you cannot find any fish and chips location anymore at every corner in London. Just here we found one arond the corner and went in to have a quick bite: Munchkins. Nothing special just a good location on our way to our theater.

I really would love to browse in this shop.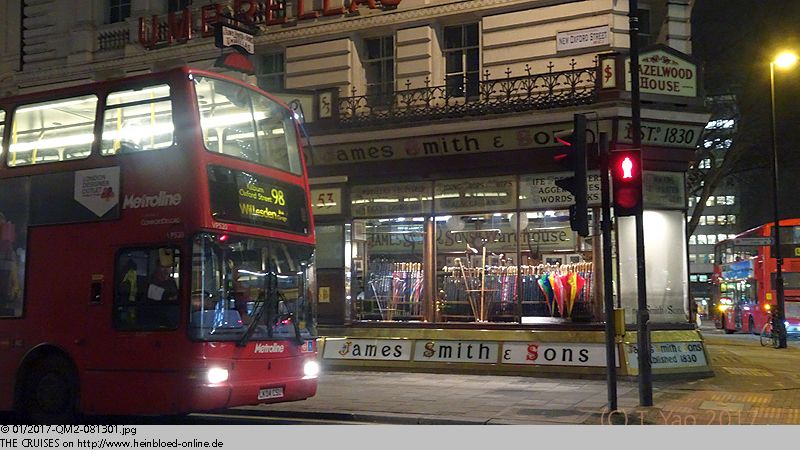 In diesem Laden würde ich ja zu gerne herumstöbern.
James Smith & Sons
muss ich mir für das nächste Mal merken.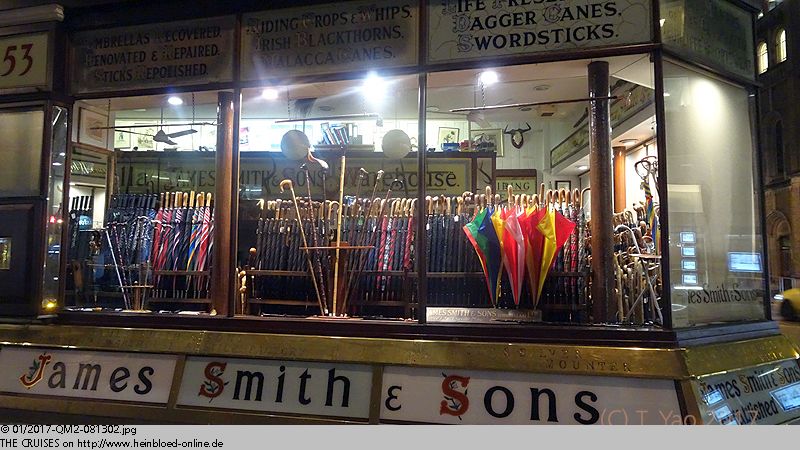 James Smith & Sons I need to remember for my next visit.

we went to the Shaftsbury Theater. We visited Motown - The Musical. With many popular songs to sing along, to clap, to dance (we could not because it was quite steep and narrow where we had our our seats). It was not allowed to take pictures from the performance. It was more narrow than flying with Ryanair. Und we sat so far distant taht occasionally I need some binoculars to rent. But the music was just great. At home I had to download many songs I did not listened for a while.

Wir gehen ins
Shaftsbury Theater
. Wir besuchen
Motown - The Musical
. Mit vielen bekannten Songs zum Mitsingen, Mitklatschen, Mittanzen (letztes ging nicht, weil es sehr steil und eng bei uns war). Bilder von der Aufführung dürfen nicht gemacht werden. Es ist auf jeden noch enger als bei Ryanair. Und wir sitzen doch so weit weg, dass ich auch mal ein Opernglas leihweise brauche. Aber die Musik ist echt gut. Und es hat sehr viel Spaß gemacht. Zu Hause werden viele Stücke heruntergeladen, die ich lange nicht mehr gehört habe.
In London muss man einmal mit dem
Londoner Taxi
gefahren sein.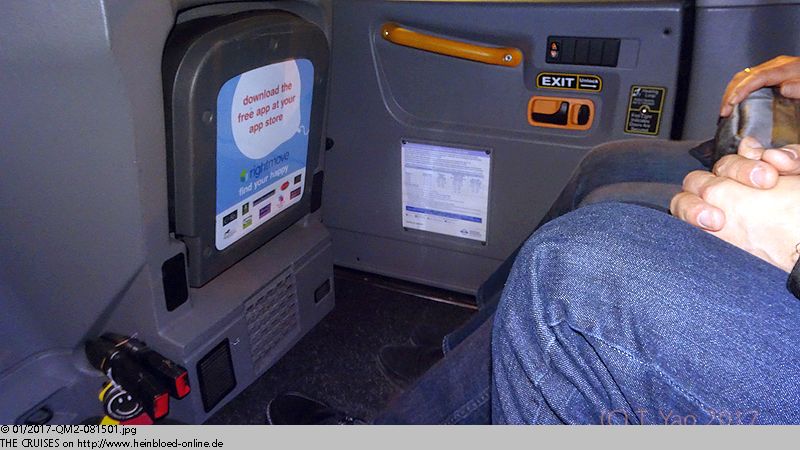 In London you need to have a ride with the London Taxi.

You had so much legroom... if you had no bags with you... which need also to fit in the passenger cabin.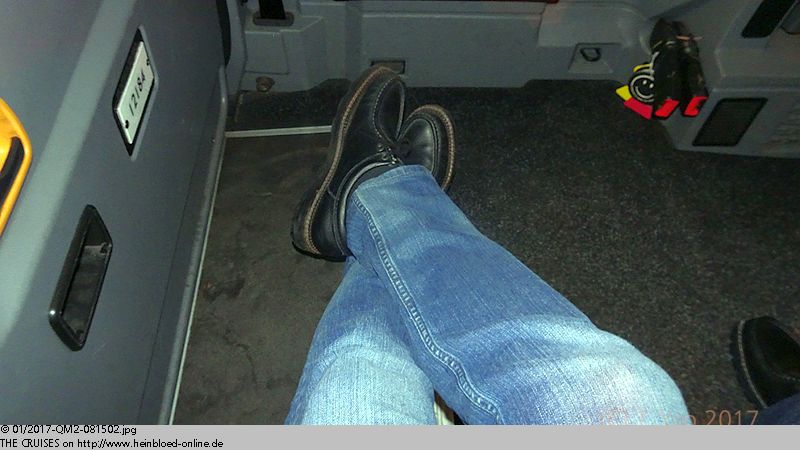 Man hat soviel Beinfreiheit... wenn man keinen Koffer hat... der auch in den Fahrgastraum müsste.
Zu dritt doch etwas eng nebeneinander.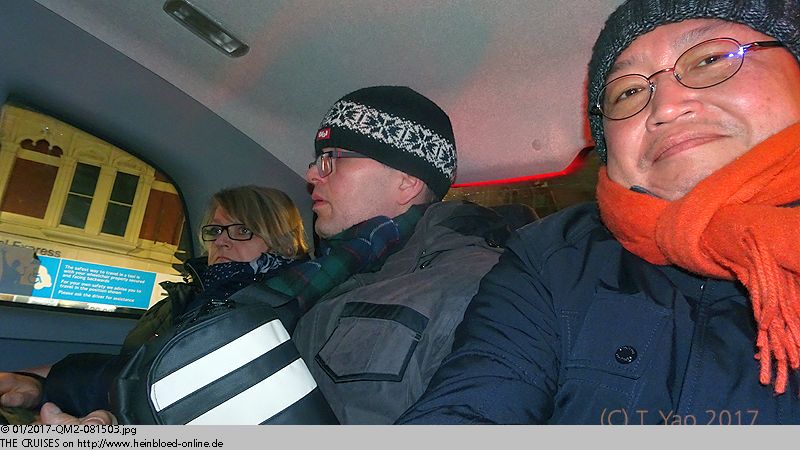 It was a little narrow with three next to each other.

So Sigi changed the side to stop the collective cuddling.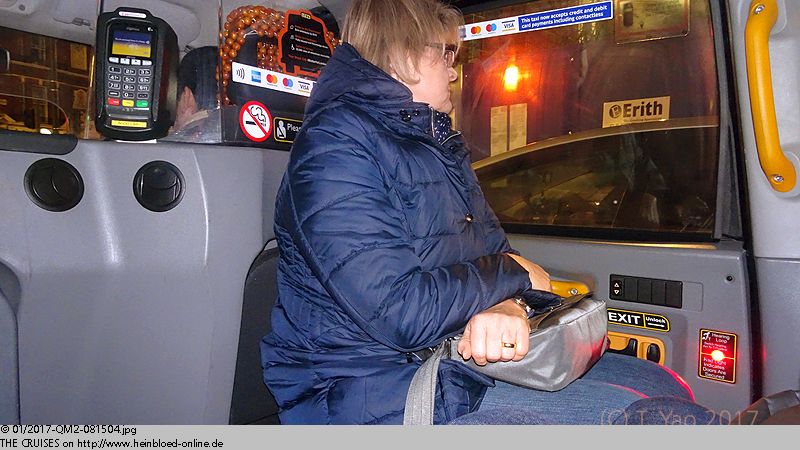 So wechselt Sigi die Seite, damit wir mit dem kollektiven Kuscheln aufhören.
Ist immer lustig in einem Londoner Taxi. Wir hätten in Jersey City in London anrufen sollen und von hier ein Taxi bestellen sollen.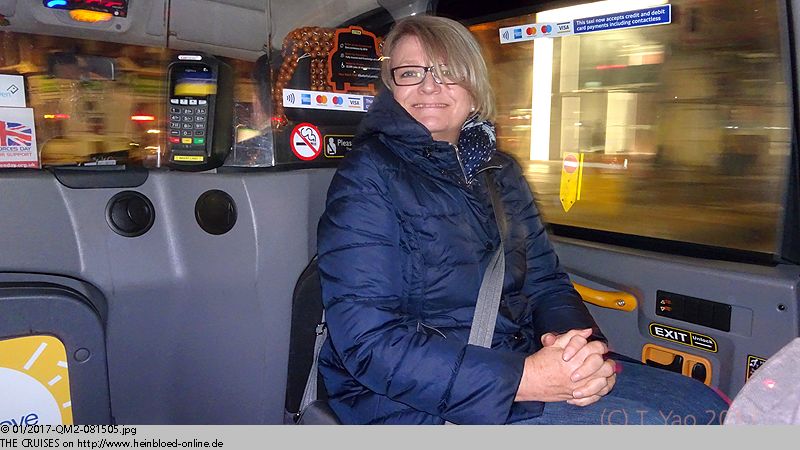 It was always funny in a London Taxi. We should call one in London, England while we were in Jersey City, NJ.

Bruno liked to go to bed but not Sigi and me. For one glass to Millers Pub. Our first experience with a bouncer who did not let us in immediately. Did we really appear like under 21 that they did not want to let us in immediately??? It was a little strange - like Ernie and Lefty in the Sesame Street...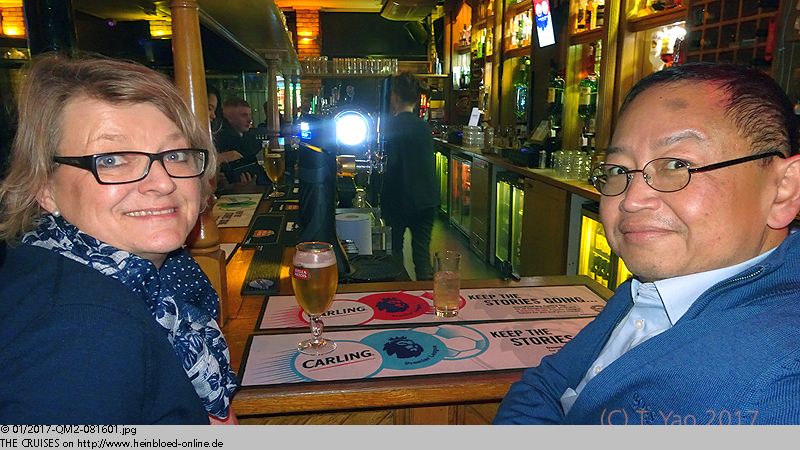 Bruno möchte ins Bett, Sigi und ich nicht. Auf ein Glas noch in das Millers Pub. Unsere erste Erfahrung mit einem Türsteher, der uns nicht sofort reinlassen wollte. Wirken wir wirklich wie unter 21, dass sie nicht sofort uns reinlassen wollten??? Etwas merkwürdig ist alles ja schon - fast wie
Ernie und Schlemihl in der Sesamstraße
...