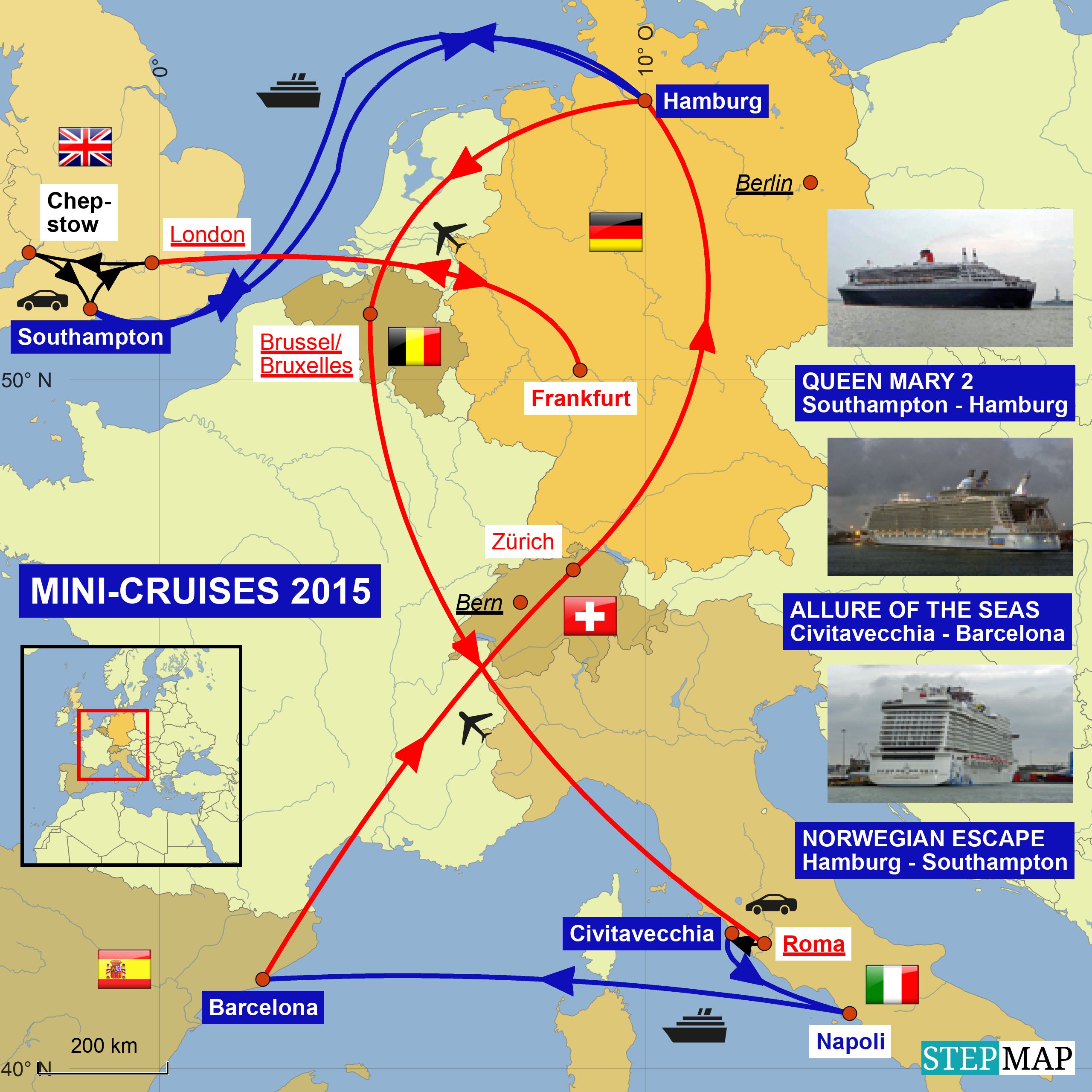 Es ging zum Frühstück. Im Zuge der Rugby-Weltmeisterschaft waren ein Haufen Fans aus aller Herren Länder da. Auch bei paar deutsche Fans, die meinten, wie auf dem Oktoberfest in München rumlaufen zu müssen. Deswegen haben wir mal im Kaminzimmer Platz genommen. Dort hatten wir unsere Ruhe.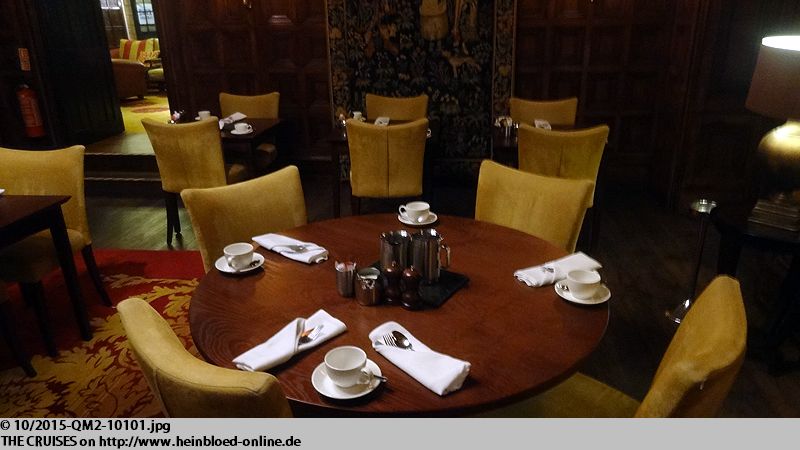 We went for breakfast. Due to the Rugby-World-Championship they accomodate tons of fans from every corner of the world. Few German fans too, who thought it was need to dressed up like on October Fest in Munich, germany. So we took a table next to the fireplace. There it was quite calm.

Again a nice offer.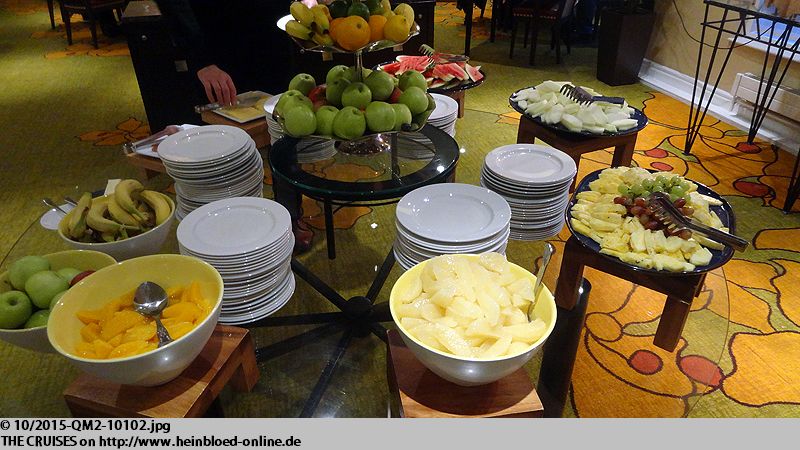 Wieder ein nettes Angebot.
Dieses Mal gibt es sogar pochierte Eier und ich tausche mich mit der Köchin aus, die mir erklärt, wie man mehrere pochierte Eier gleichzeitig machen kann, ohne dass man den Wasserstrudel erzeugt.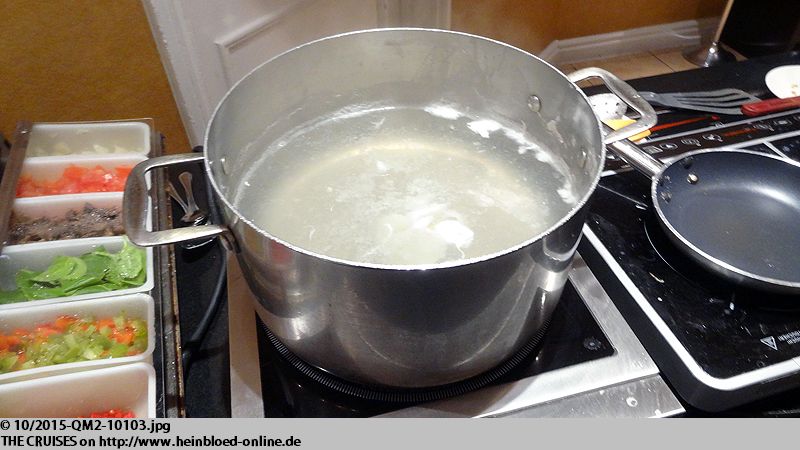 That time they also offered poached eggs and the chef shared their knowledge how to prepare mulitple poached eggs without a water swirl.

I had my "classic English" breakfast because I need to eat a lot of protein. So I took also a spoon of the beans which I normally did not like too much.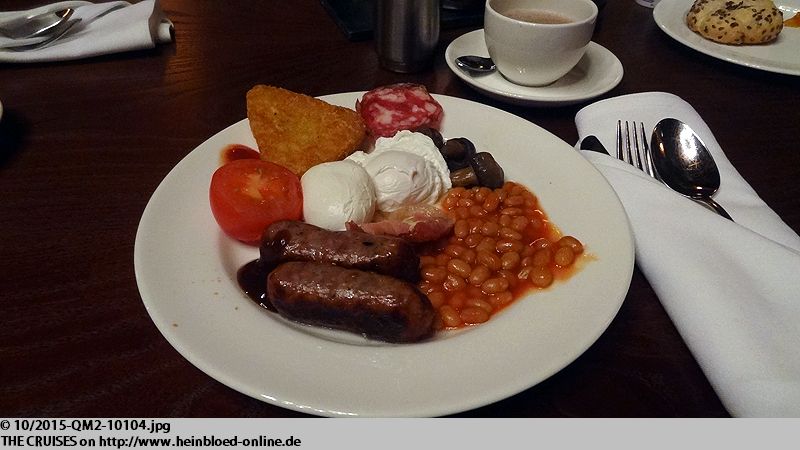 Ich habe dann "klassisch englisch" gefrühstückt, weil ich immer noch sehr eiweißreich essen muss. So nehme ich auch wieder einen Löffel von den Bohnen, die ich eigentlich nicht so mag.
Bruno hatte Glück: Seine hartgekochten Eier kamen dieses Mal zeitnah (im August dauerte es sehr lang). Aber wieder als Paar, wieder viel zu heiß, wieder ohne sie vorher abzuschrecken.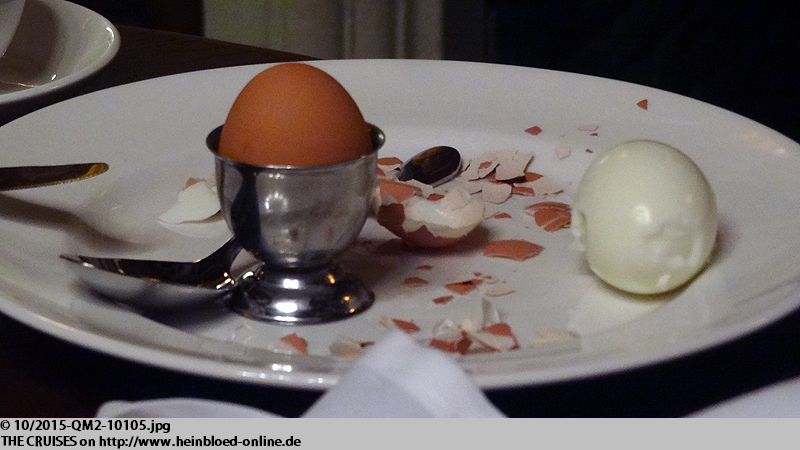 Bruno had luck. His hard-boiled eggs came timely (in August it took a while). But again as couple, again too hot as they did not rinse them with cold water before serving.

But meanwhile we were well trained and knew how to solve ourselves the problem.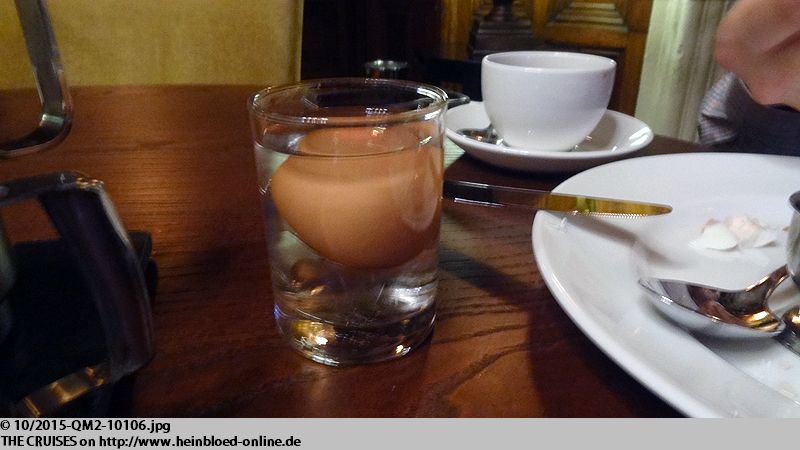 Aber mittlerweile haben wir auch darin Übung und wissen uns selbst zu helfen.
Manchmal braucht man eben Eiswasser für andere Zwecke als zum Trinken.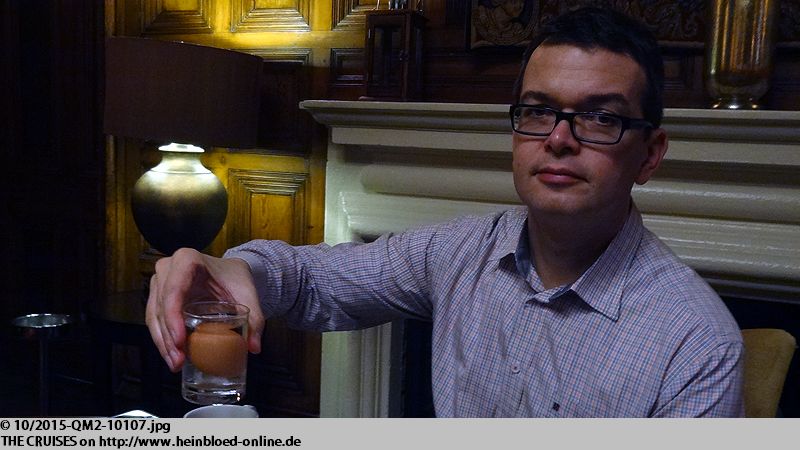 Occasionally you need ice water for other reasons but to drink.

Actually I wanted to see again Bath Abbey. But unfortunately it was closed for public visitors in the morning. So we had to post-poned the visit again. We had before in August unluck that you were not allowed to take any pictures during the service and so drove directly to Southampton and went shopping. With Marks & Spencer in the West Quay Shopping Centre we learned that you need to pay with all major UK chains 5 Pence for a shopping bag. So we bought a scarf and two ties which we forgot at home. We had luck that we came relatively early.
Later after 12.30 hrs on a Sunday we barely had a chance to get a parking and all the roads around were congested.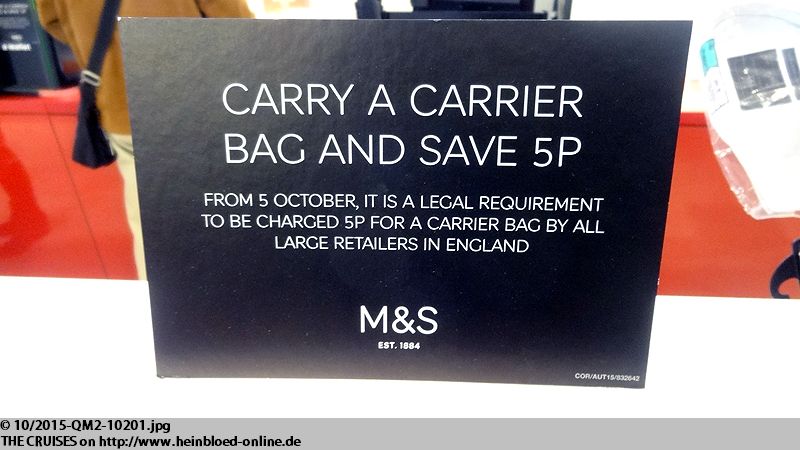 Eigentlich wollte ich noch auf dem Weg nach Southampton in die
Abtei Bath
. Aber leider hat es vormittags für den Besucherverkehr geschlossen. Also müssen wir es nochmals verschieben. Wir hatten nämlich im August auch schon Pech gehabt, weil man während der Gottesdienste nicht fotografieren darf und so fahren wir direkt nach Southampton und gehen noch ein wenig einkaufen. Bei
Marks & Spencer im West Quay Shopping Centre
lernen wir, dass man seit kurzem bei den großen Ketten in England für die Tüte 5 Pence bezahlen muss. So kaufe ich mir dort einen Schal und noch zwei Krawatten, die wir zu Hause vergessen hatten. Was für ein Glück, dass wir verhältnismäßig früh hierher gekommen sind. Später nach 12.30 Uhr bekommt man sonntags kaum noch einen Parkplatz und es herrscht immer Stau.
Wir wollen lieber später an Bord zu Mittag essen. Aber wir entdecken noch eine Saftbar im
West Quay Shopping Centre
:
Fuel Juice Bar
.

We wanted to have lunch later onboard. But we discovered a juice bar in the West Quay Shopping Centre: Fuel Juice Bar.

They understood us immediately whe we asked what they processed through the juicer.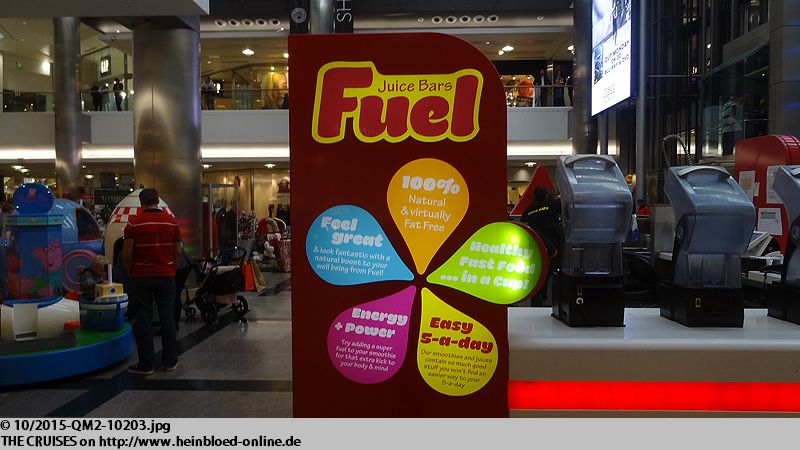 Sie verstehen uns auf Anhieb, als wir anfragen, was sie durch den Entsafter jagen.
Wobei sie panschen immer ein wenig... nach dem Entsafter kommt alles nochmals in einen Mixer und wir ein wenig aufgepeppt. Wir ziehen den reinen Saft vor.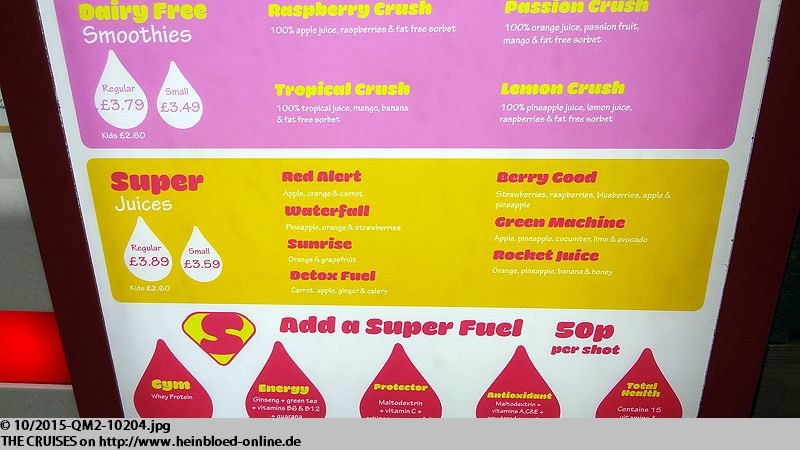 But they were adulterating a little... after juicing they put it into a mixer and add something inside. We prefer the pure juice.

Anyhow I was happy to get a fresh squeezed juice.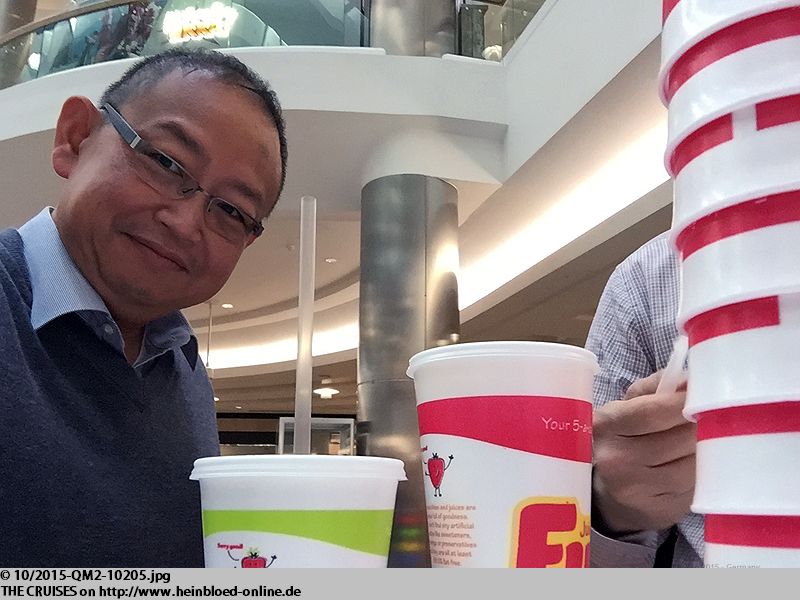 Auf jeden Fall freue ich mich nochmals über einen frischen Saft.
Und Bruno auch.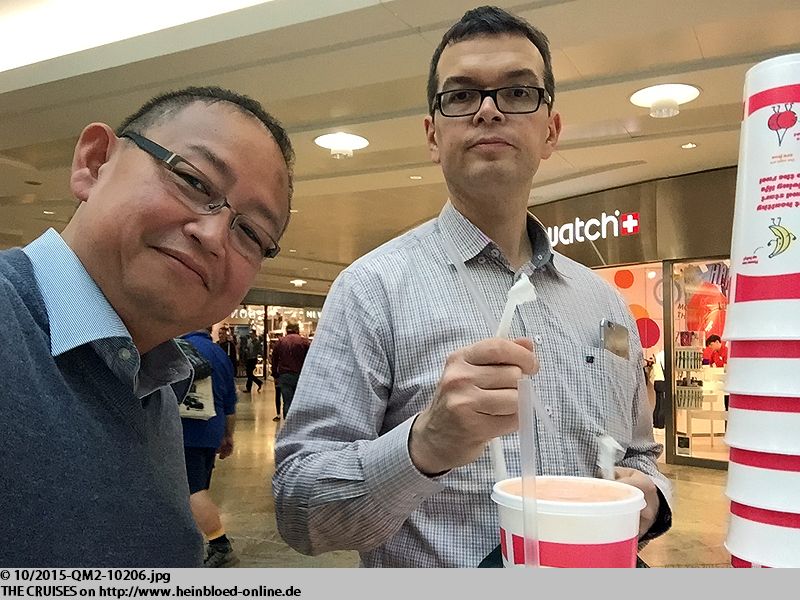 And Bruno too.

As it was Sunday we need to return our car at the airport. At the airport there was only one company who had the license to offer taxi-services and they add the office rental to the costs of the ride. The last time we had a car of Clifford Cars. They drove us around when we were here on QUEEN ELIZABETH 2012. It worked quite well and it costed only 18 GBP (2015): Tony was there right on time although he asked to give him a call from the airport because the parking situation did not allow to stay a long time to wait for guests. It was cheaper than to use the taxi-company based at the airport and it was cheaper than to rent from a different car rental company to allow to return the car in the port area on a Sunday.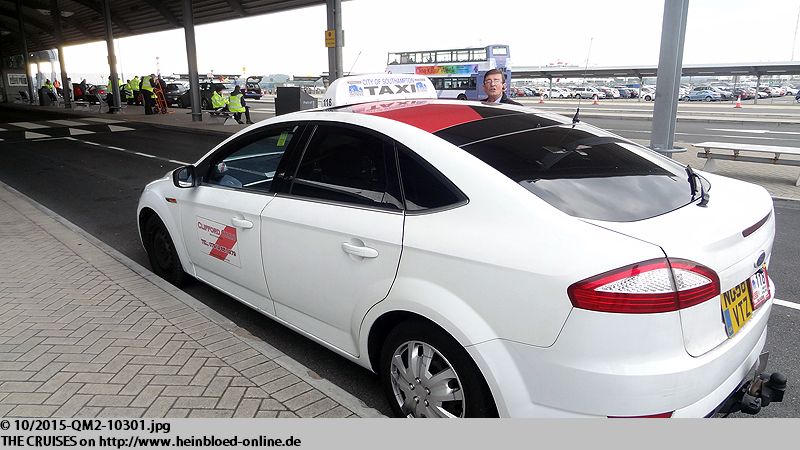 Da Sonntag ist, müssen wir unseren Wagen am Flughafen zurückgeben. Am Flughafen selbst hat nur ein Unternehmen die Lizenz, um dort die Taxi-Dienste anzubieten und die schlagen ganz schön die Miete ihres Schalters auf die Fahrtkosten darauf. Das letzte Mal hatten wir einen Wagen von
Clifford Cars
. Sie hatten uns rum gefahren, als wir auf der
QUEEN ELIZABETH 2012
unterwegs waren. Das klappte auch ziemlich gut und kostete bloß 18 GBP (2015): Tony war pünktlich da, wobei man uns vorher gebeten hat, am Flughafen anzurufen, weil dort die Parksituation es nicht erlaubt, lange auf Gäste zu warten. Auf jeden Fall einiges billiger als der Taxi-Dienst vom Flughafen und auch billiger, als wenn wir von einer anderen Gesellschaft den Wagen gemietet hätten, bloß um ihn sonntags in Hafennähe zurückzugeben.
Da wir am
Ocean Terminal
liegen, hätten wir eh ein Taxi gebraucht, wobei wir unser Gepäck bereits auf dem Weg zum West Quay Shopping Centre abgegeben haben.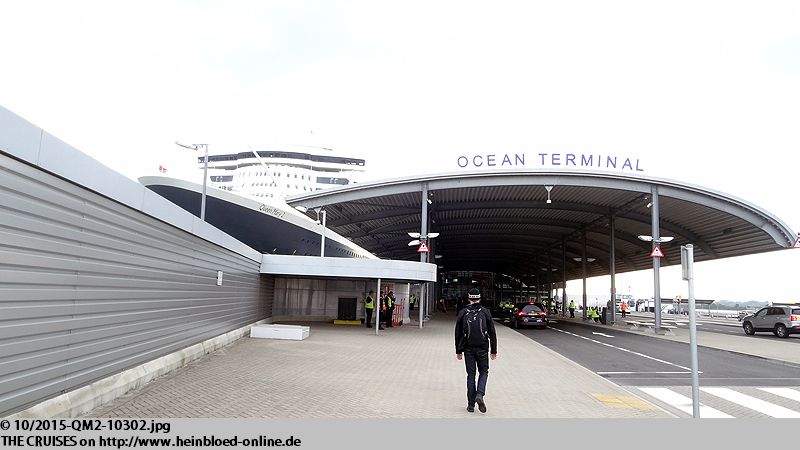 As we docked at Ocean Terminal we almost would need a taxi, although we drop off our bags already on the way to the West Quay Shopping Centre.

The nice side at the Ocean Terminal.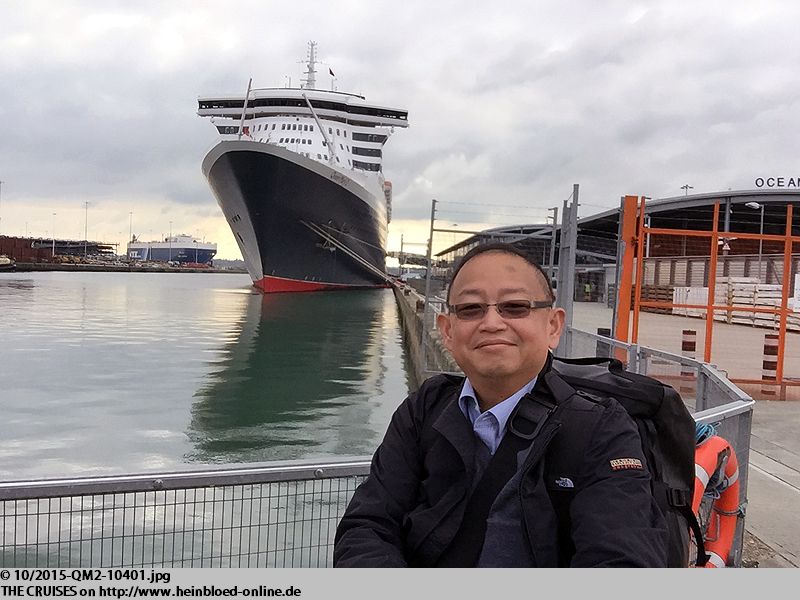 Die schöne Seite am Ocean Terminal:
Man kann immer in Ruhe das Schiff fotografieren.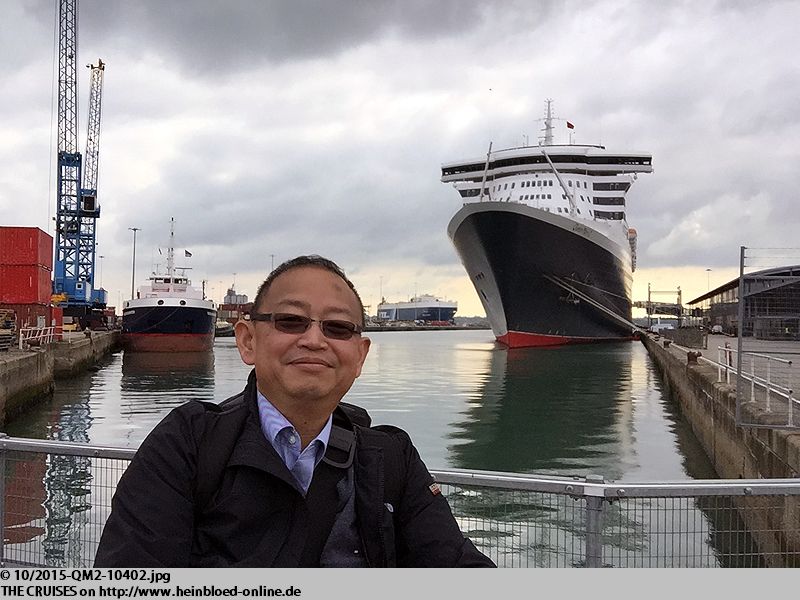 You could take pictures of the ship.

This time only as selfie.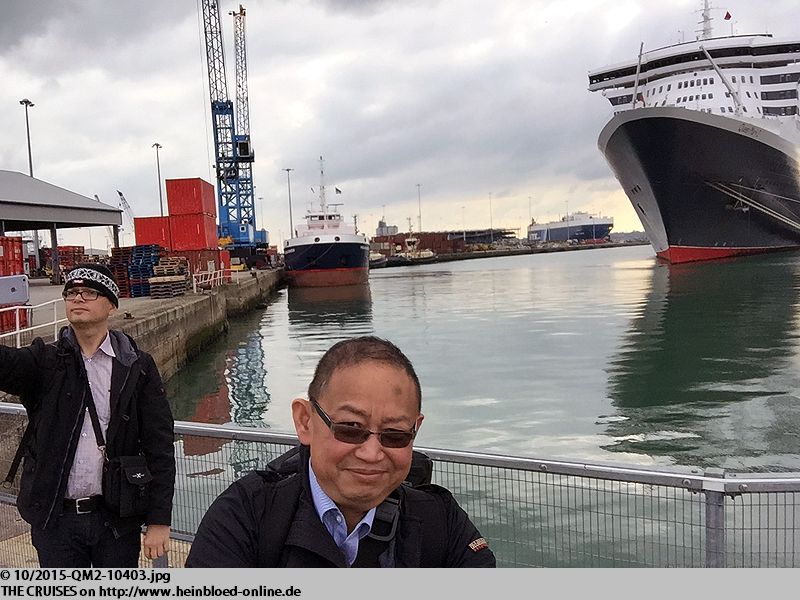 Dieses Mal nur als Selfies.
Im vergangenen Jahr habe ich ja nun genügend Bilder von der QUEEN MARY 2 gemacht. Und in den Jahren zuvor auch. Aber sie ist ja auch immer wieder schön. Ein Mythos irgendwie, den man gerne mitbezahlt. Gute Arbeit der Cunard-Marketing-Abteilung.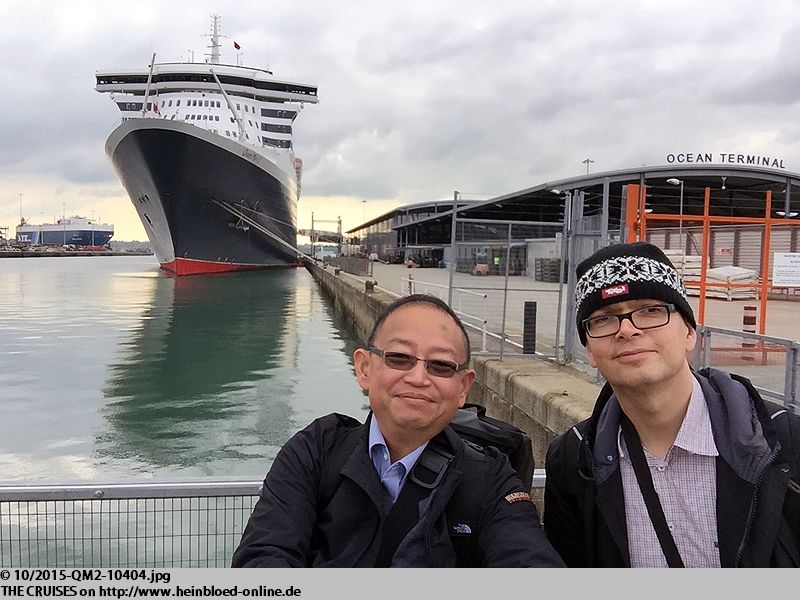 In the year before I took enough pictures of QUEEN MARY 2. And also in the years before. But she was always beautiful. A myth somehow which you liked to pay for. Good job of Cunard's Marketing Department.

The day before I nearly missed my London-bound flight because they found residues of explosives on my bag. And happily they forgot to dispose the test strip and so I might be again the person to check. But luckily I found it and before I went on my next flight the German police that I could dispose it as regular waste and not as special waste.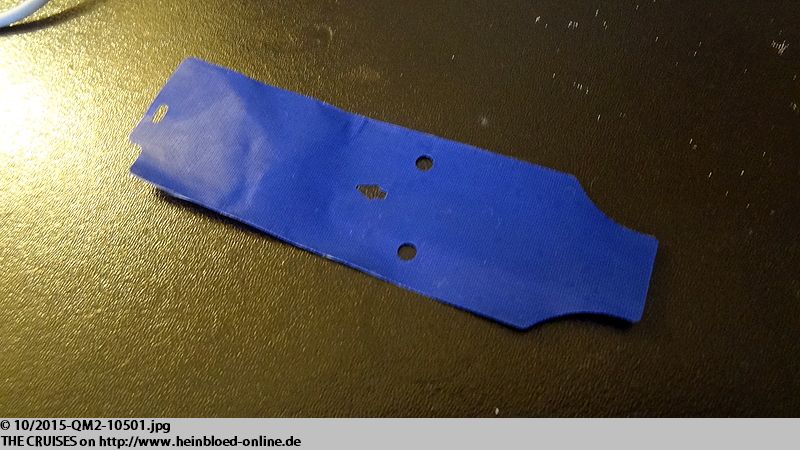 Gestern hätte ich beinahe den Abflug nach London verpasst, weil bei mir Sprengstoffanhaftungen an meiner Tasche waren. Und die haben freundlicherweise vergessen den Teststreifen zu entsorgen und somit wäre ich dann wieder fällig. Aber zum Glück habe ich ihn entdeckt und vor meinem nächsten Flug informiert mich die Bundespolizei, dass ich ihn im Hausmüll entsorgen darf und nicht extra zum Sondermüll fahren muss.
Als wir ankommen, werden nicht einmal mehr Einschiffungs-Buchstaben ausgegeben.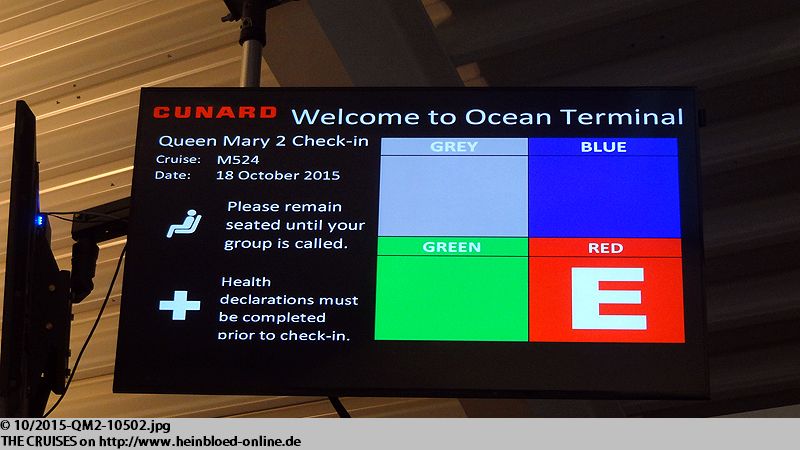 When we arrived they even did not release anymore an embarkation letter.

Two days ahead of our flight we got from Cunard the notification that there was no need to stay in our inside cabin on Deck 12 but got an upgrade.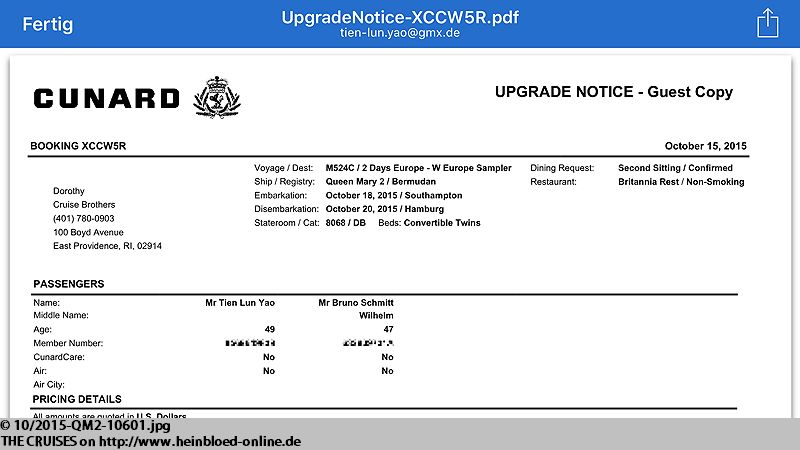 Zwei Tage vor Abflug erhalten wir von Cunard die Benachrichtigung, dass wir nicht in unserer Innenkabine auf Deck 12 bleiben müssen, sondern ein Upgrade erhalten haben.
QUEEN MARY 2 hat Balkonkabinen mit Sichteinschränkung. Ich sage mal: Es hätte uns härter treffen können.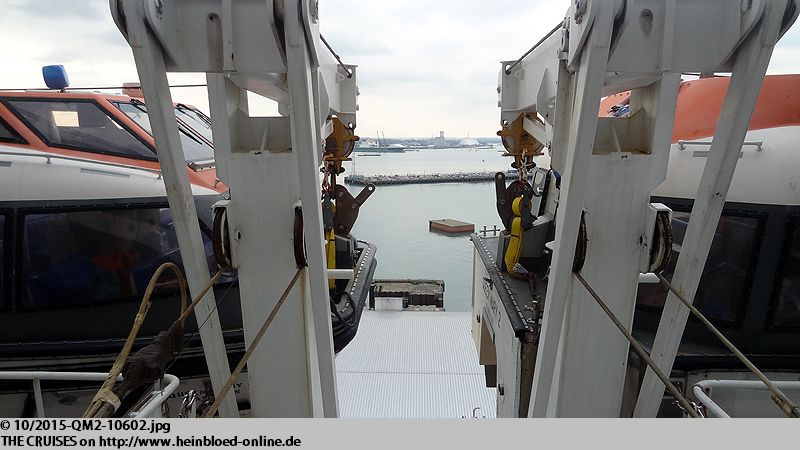 QUEEN MARY 2 had balcony cabins with obstructed view. I would say: we could get it worse.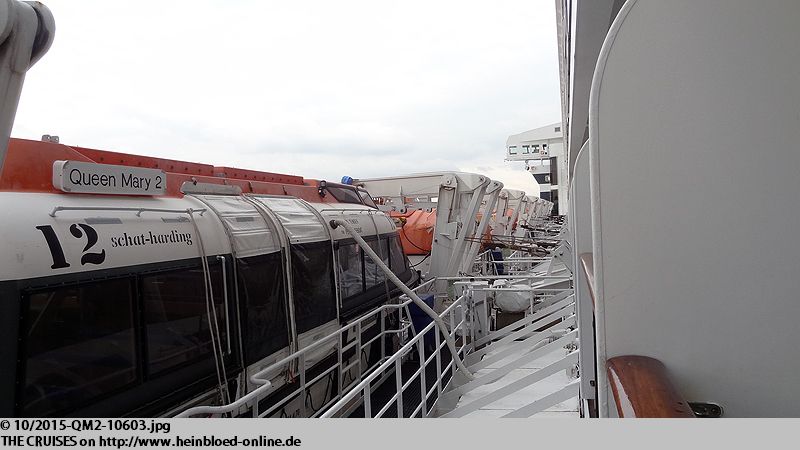 Falls wir doch mal in Seenot geraten, können wir schnell uns in die Rettungsboote begeben.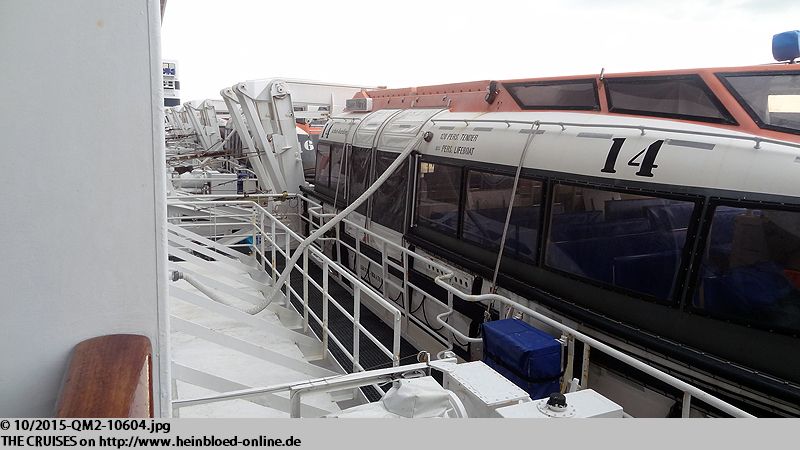 In case we had an emergency at sea we can get quickly into the lifeboats.

Full service was available too for short cruises (Small gibe to my NORWEGIAN friends): We got a bottle of champagne and OF COURSE there was no need to carry our bags ourselves into our cabin!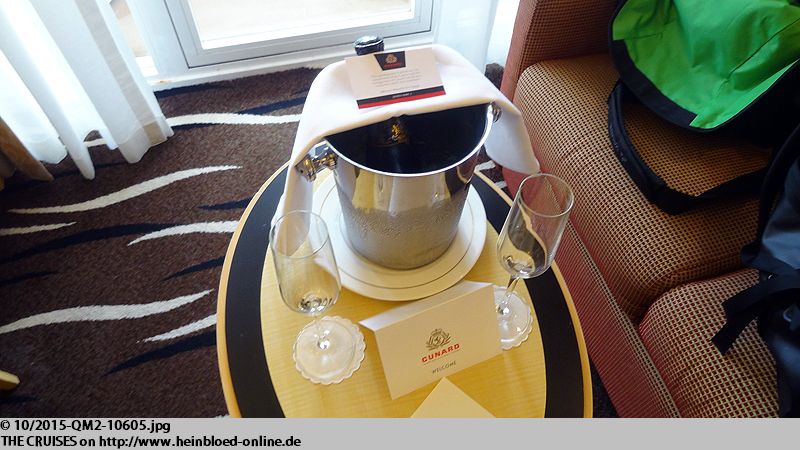 Voller Service auch bei Kurzkreuzfahrten (Kleiner Seitenhieb an die Freunde von NORWEGIAN): wir bekommen die Sektflasche und auch unser Gepäck mussten wir SELBSTVERSTÄNDLICH nicht selbst au die Kabine tragen!
Im Bad ist alles da, was ich mir wünsche (Kleiner Seitenhieb an die Freunde von ROYAL CARIBBEAN und CELEBRITY).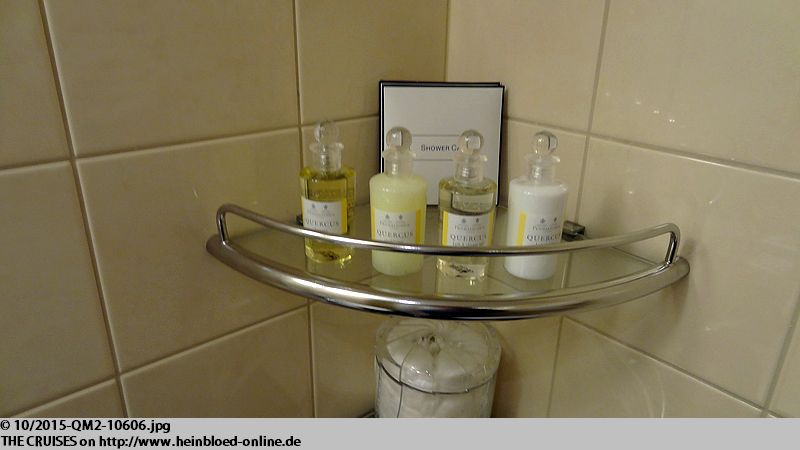 In the bathroom there ws everything I need to be happy (Small gibe to my ROYAL CARIBBEAN and CELEBRITY friends).

I could take the soap with me and place it when I am sailing ROYAL CARIBBEAN again...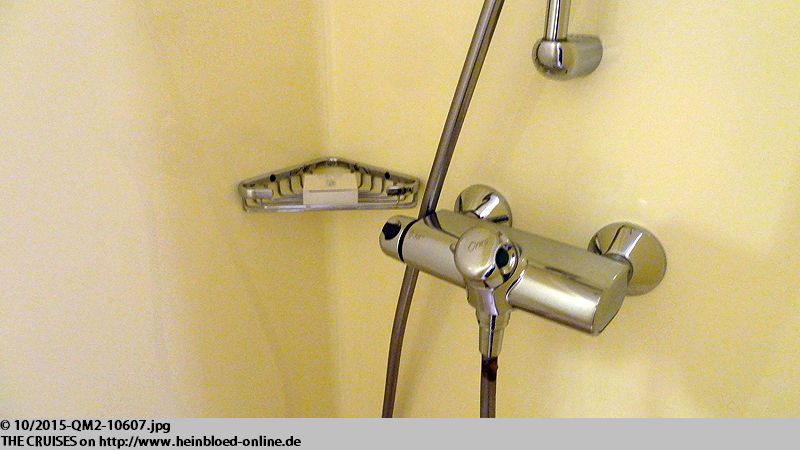 Die Seife könnte ich ja mitnehmen und dann bei ROYAL CARIBBEAN deponieren...
Und nochmals ein kleiner Seitenhieb an die Freunde von NORWEGIAN: Selbstverständlich bekomme ich auch bei zwei Nächten die Möglichkeit in meiner Kabine zu frühstücken.

And aagain a small gibe towards my NORWEGIAN friends: Of course you can get breakfast in your cabin when you sail two nights only.

We went to King's Court to have a bite. You could feel that many Germans on board. So you had long queues which took you from the stairways to the 1st food station while I simply walk to another food station close to the Wintergarden where it was absolutely calm. After seven nights you were familiar with this place.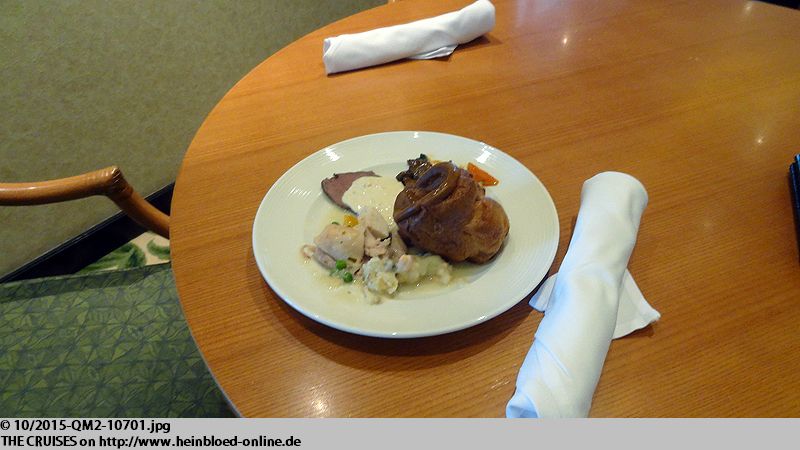 Wir gehen im King's Court eine Kleinigkeit essen. Man merkt, dass viele Deutsche an Bord sind. So sind die Schlangen, die direkt von den Treppenhäusern zur 1. Essensausgabe führen sehr lang, während ich in Ruhe nach der Essensausgabe im Bereich des Wintergartens gehe, wo gar nichts los ist. Nach sieben Nächten kennt man sich halt aus.
Bruno inspiziert das Fitness-Studio.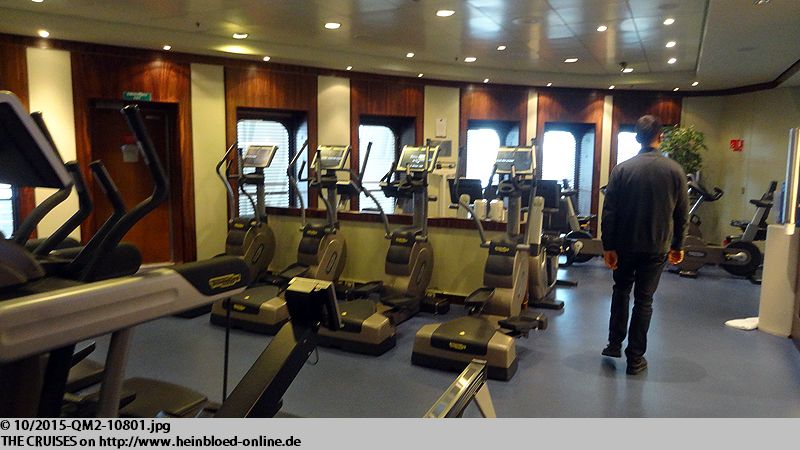 Bruno inspected the gym.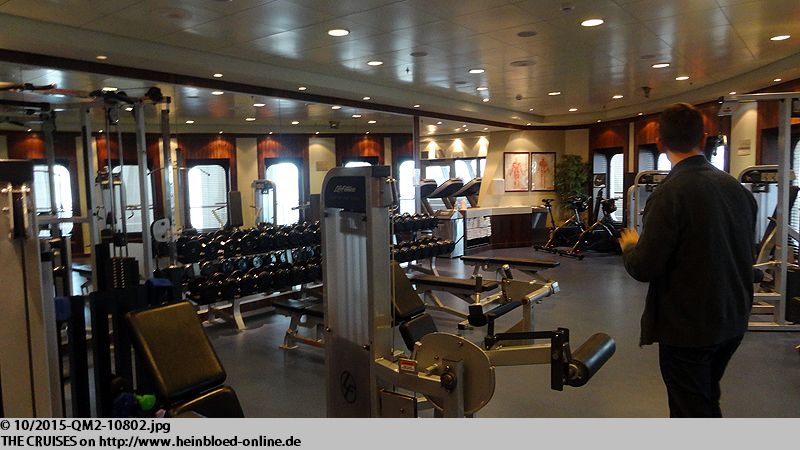 Leider fehlen die Geräte für ein sinnvolles Rückentraining. Da hatte die
ALLURE OF THE SEAS
später die Nase vorne.

Unfortunately the devices to train the back were missed. Later ALLURE OF THE SEAS was leading.

We used the glass elevator at the forward to get into the Commodore Club.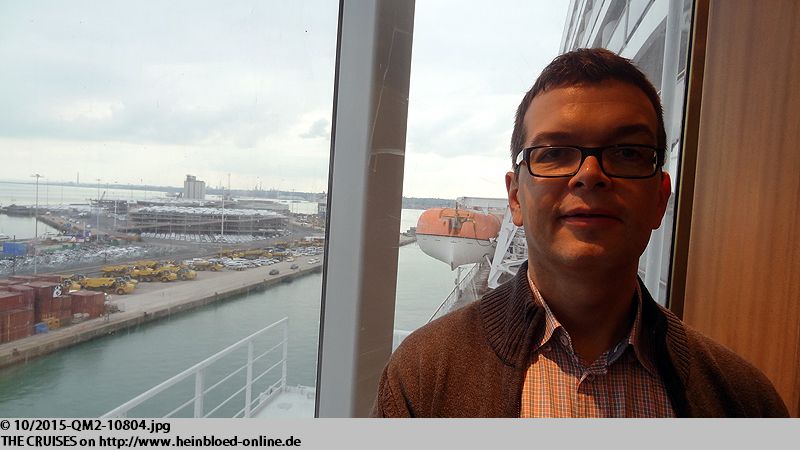 Mit dem gläsernen Fahrstuhl am Bug fahren wir in den Commodore Club.
Aber für einen Kaffee und ein Stückchen Kuchen war es zu früh (war offiziell noch nicht im Angebot, aber zum Glück erkannte mich jemand und sagte bloß: "Für Sie selbstverständlich Mr. Tien!")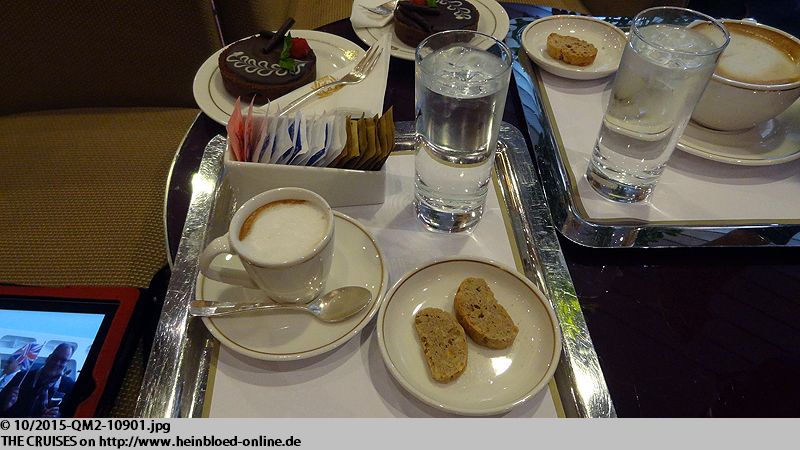 But we were too early for some coffee and a piece of cake (it was not officially offered yet but luckily someone remembered me and only said: "For you of course Mr. Tien!")

Life drill No. 1 within one week.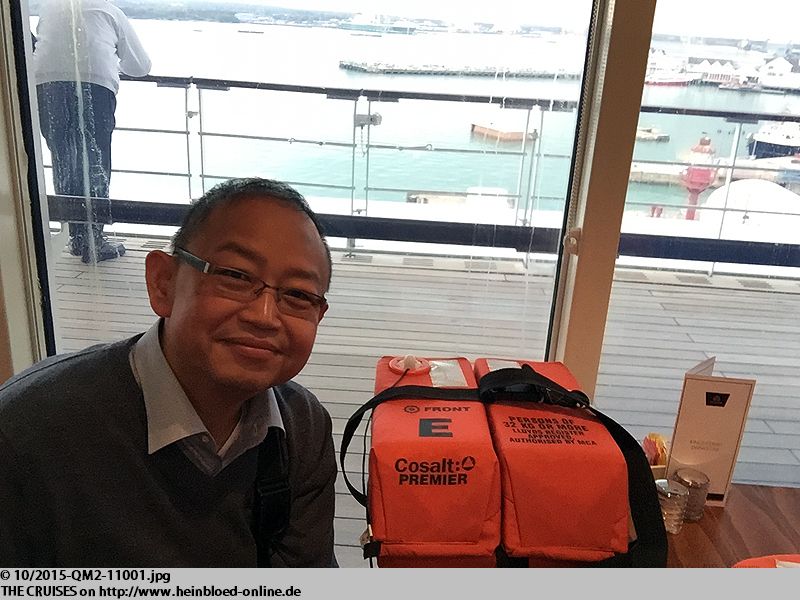 Seenotrettungübung Nummer 1 innerhalb von einer Woche.
Im King's Court. Lief aber alles sehr entspannt.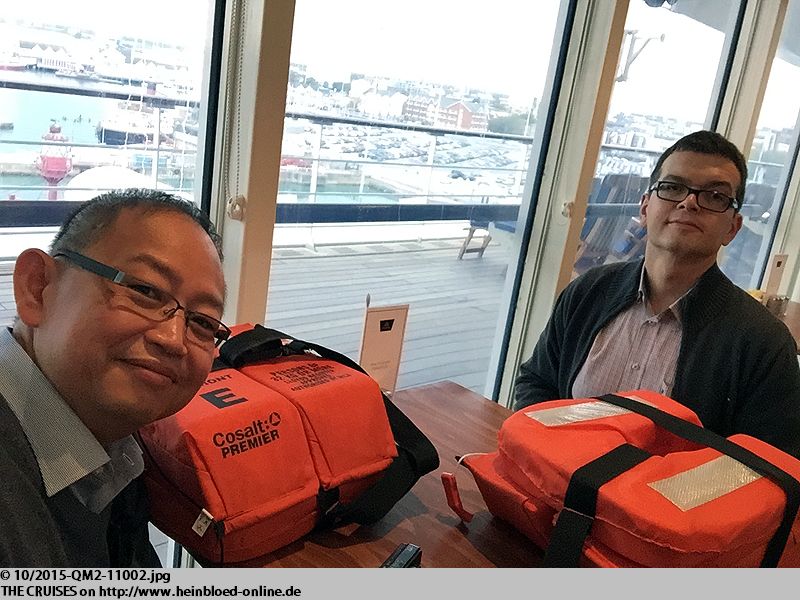 In the King's Court. Was very relaxing at all.

We went to the Commodore Club. For the Friends of Dorothy-Meeting nobody showed up. Maybe that was meeting of the fans of my travel agent Dorothy Decker von cruisebrothers.com, whom I need to thank for some upgrades...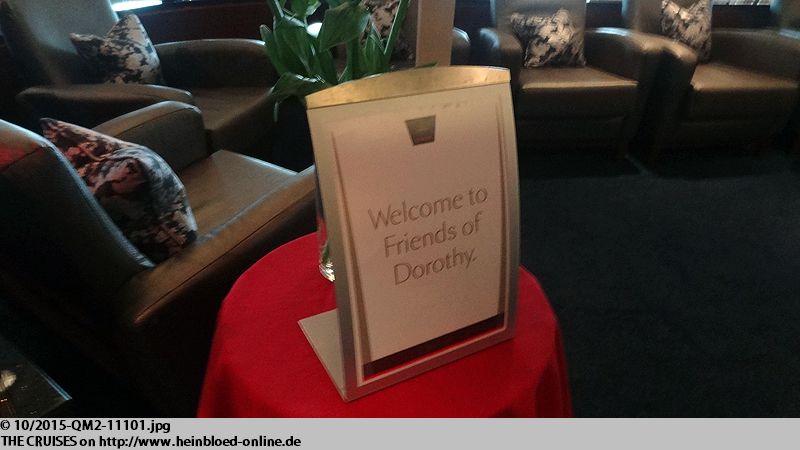 Wir gehen hoch in den Commodore Club. Zum Friends of Dorothy-Treffen kommt keiner. Vielleicht ist das ja auch ein Treffen der Fans meiner Reisebüroagentin
Dorothy Decker von cruisebrothers.com
, der ich schon manches Upgrade zu verdanken habe...
Wir bekommen noch einen schönen Tisch mit Blick nach vorne und können so in Ruhe die Ausfahrt hier abwarten.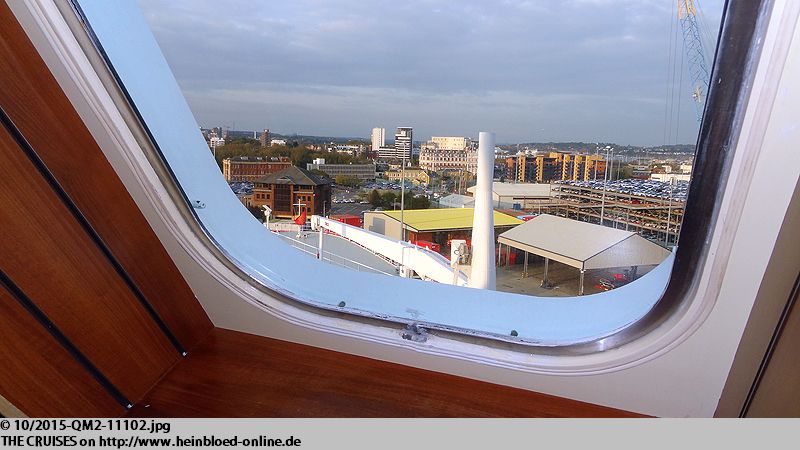 We got a nice table with a view to the forward and so we could wait for the set sail from here.

So we got some canapés to start the night.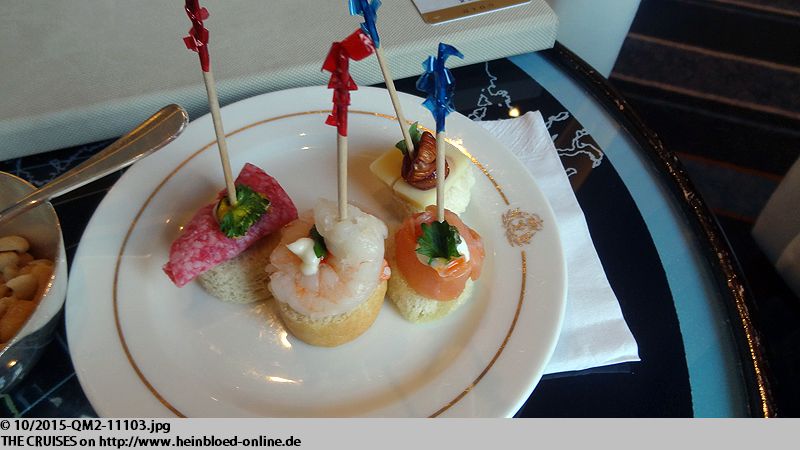 Dazu gibt es ein paar Canapés zur Einstimmung auf den Abend.
Und ein Tässchen Tee. Der kostet zwar extra, weil es an Hafentagen keine Tea-Time angeboten wird.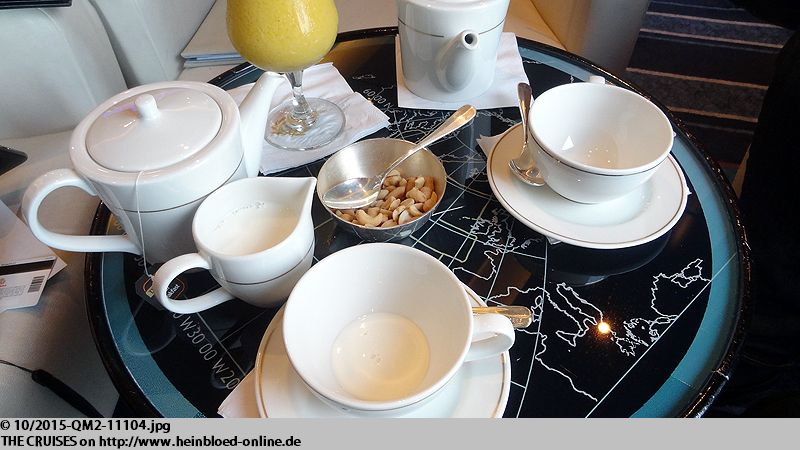 And a cup of tea. You had to pay extra but they had no tea-time on port days.

Bruno was reading newspaper.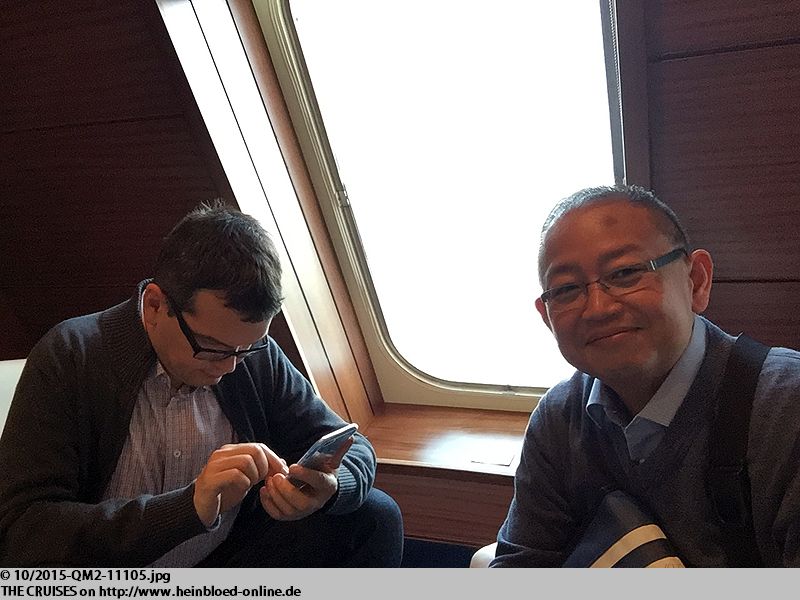 Bruno liest wieder Zeitung.
Und ich erfreue mich an meinen ersten alkoholfreien Cocktail, der mir allerdings viel zu kalt ist.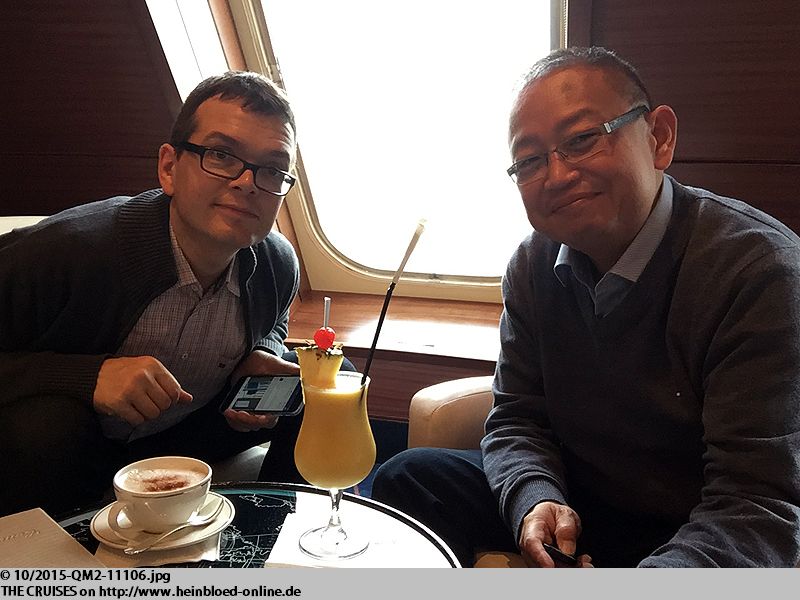 And I was happy to have my first alcohol-free cocktail which was too cold.

Outside they bid farewell to Southampton.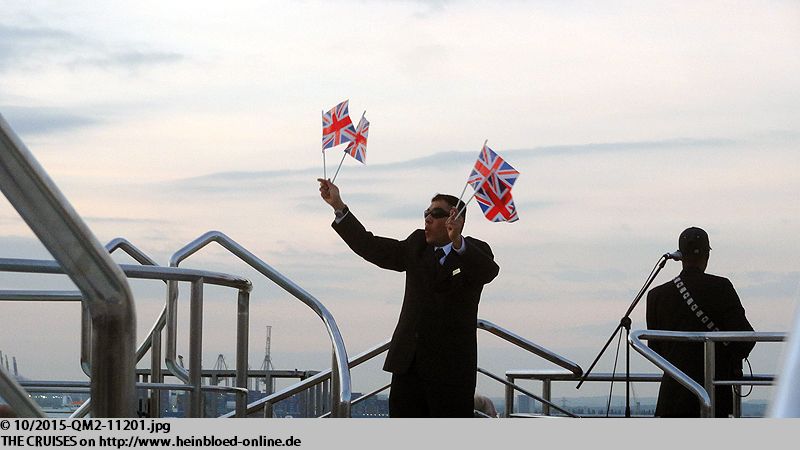 Draußen verabschiedet man sich von Southampton.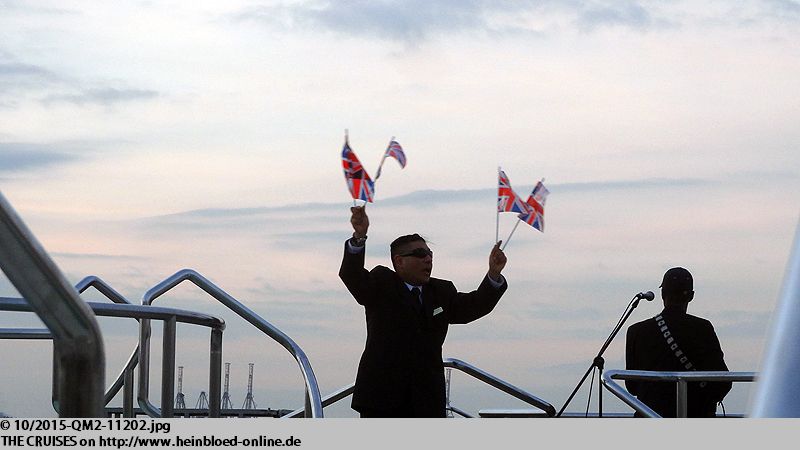 The wish to have a table for 2 for 2nd sitting was well accepted. I was not a fan of fixed sittings but with Cunard it was o.k.. Was part of the experience when you were not willing to spend the money for Britannia Club or higher. But it was everything good to me and I was looking forward to be feed well for tow days on QUEEN MARY 2.

Den Wunsch nach einem 2-er Tisch zur 2. Tischzeit hat man gerne entsprochen. Ich bin kein Fan von festen Tischzeiten, aber bei Cunard ist es in Ordnung. Gehört halt mit dazu, wenn man sich keinen Britannia Club oder aufwärts gönnen will. Für mich stimmt wieder alles und ich freue mich auf zwei Tage Aufpäppeln auf der QUEEN MARY 2.
Die Kosten an Bord sind ja sehr erträglich: Nur 15% Service-Charge auf Getränke. Bloß bei der Coca-Cola in der klassischen Glasflasche überziehen sie etwas. Die gibt es als Alternativangebot zu den Pepsi-Getränken, die es sonst aus dem Zapfhahn gibt.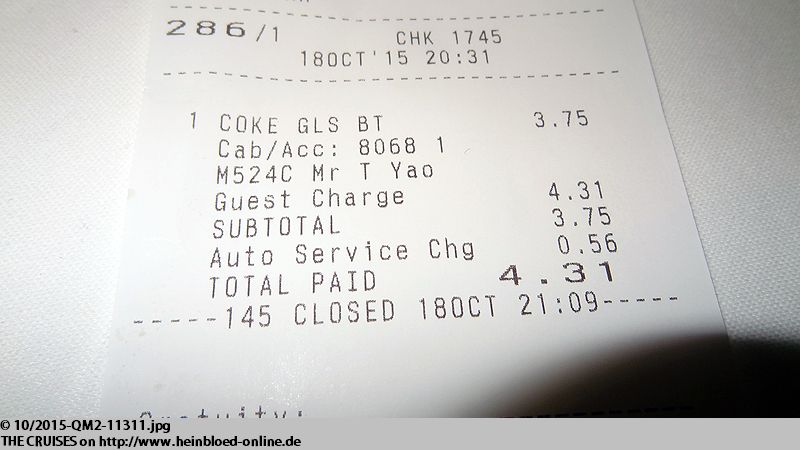 The costs on board were acceptable: Only 15% service-charge on top of the beverages. Only the Coke in the iconic glass bottles were overpriced. You could have it as alternative to the Pepsi-beverages which you can get from the tap.

Before I went to bed I went to say hello to Miguel in the Winter Garden. Unchanged.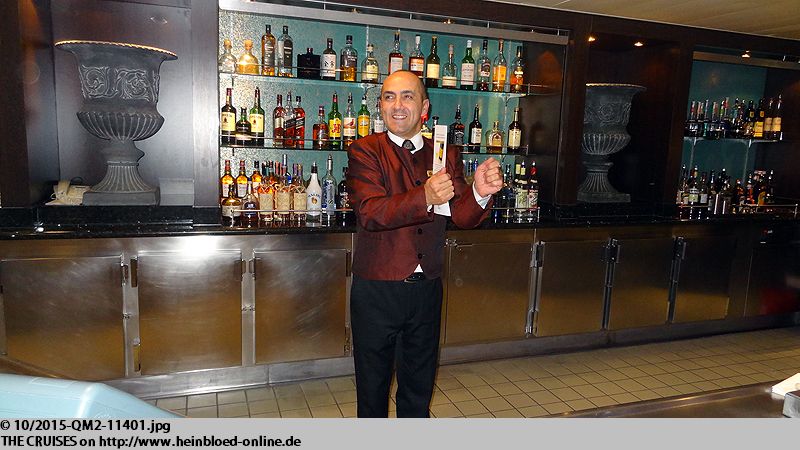 Bevor es ins Bett geht, besuche ich noch Miguel im Winter Garden um schnell Guten Abend zu sagen. Unverändert.