Scroll down for English explanations - alternates with German explanations.

Als ich zum ersten Mal aufwache (so gegen 03.30 Uhr) war es echt arschkalt am Teppichboden. Ich hole sogar die Cunard-Pantoffeln raus, deren Mitnahme Bruno verweigert, weil ihm die Einsicht fehlt, dass wir einen neuen großen Schuhschrank bestellt haben, und ich ihn für Gäste mit Cunard-Pantoffeln vollstopfen will.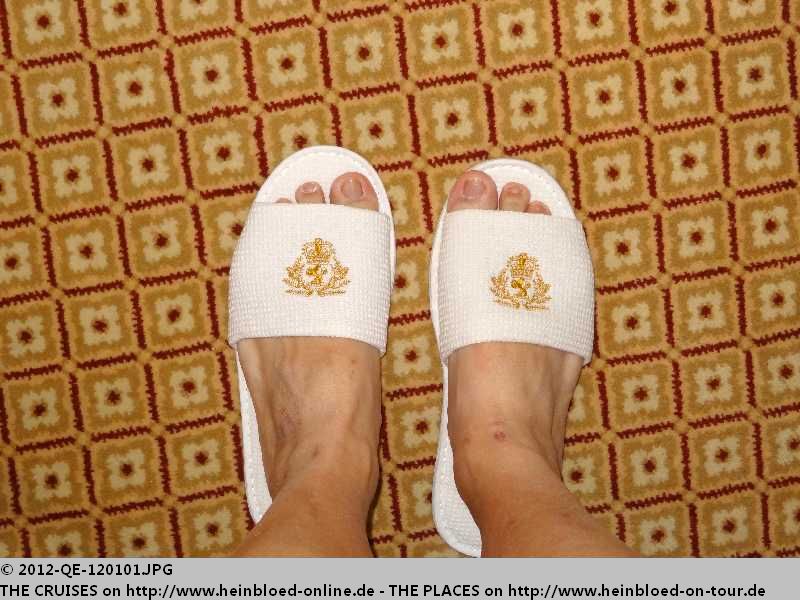 When I woke up the first time (around 03.30 hrs) the carpet was ice-cold. So I really need to have the Cunard-Slippers Bruno forbid to take home because he said that we did not ordered a new large closet for shoes just to store all slippers from all cruise-lines. But I would like to impress all our guests with Cunard-slippers.

When I took the shower I saw that they did not change anything. So in case we would have sea movements the little bottles of shampoo and shower gel will slip out of placement area.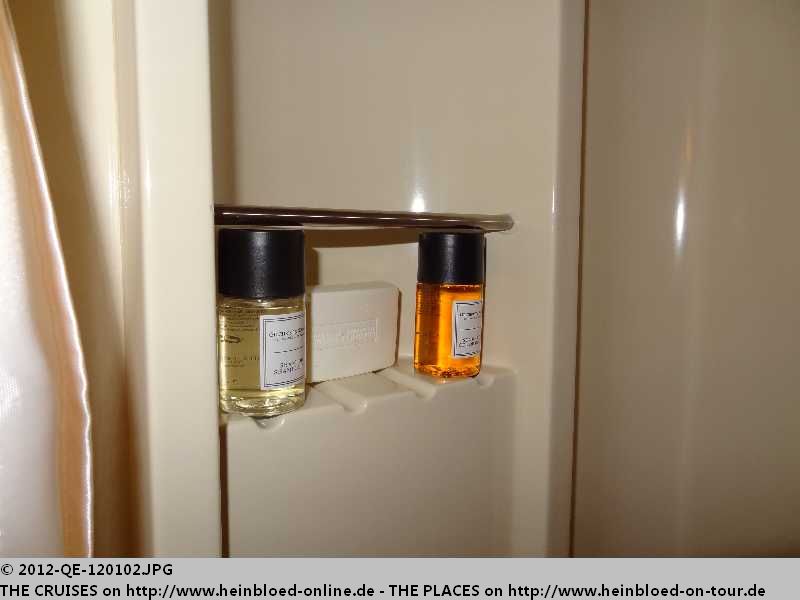 Beim Duschen fällt auf, dass auch hier nichts geändert wurde. Im Fall eines Seegangs würden die Fläschchen mit Shampoo und Duschgel durchrutschen.
Wir gehen zum Frühstück. Unser Kellner hatte uns dringendst angeraten, dass wir nicht ins Britannia Restaurant gehen sollten, weil sie dort immer am ersten Morgen der Reise eine Überfüllung erwarten. O. K. Es ist kurz nach 08.00 Uhr. Das Schiff liegt seit mehr als einer Stunde im Hafen und die meisten Ausflügler nach Paris sind auch von Bord. Was sollen wir in Paris? Der ICE von Mannheim braucht weniger Zeit als der Bus von Le Havre. Außerdem kostet er bloß 29,00 EUR derzeit im Angebot.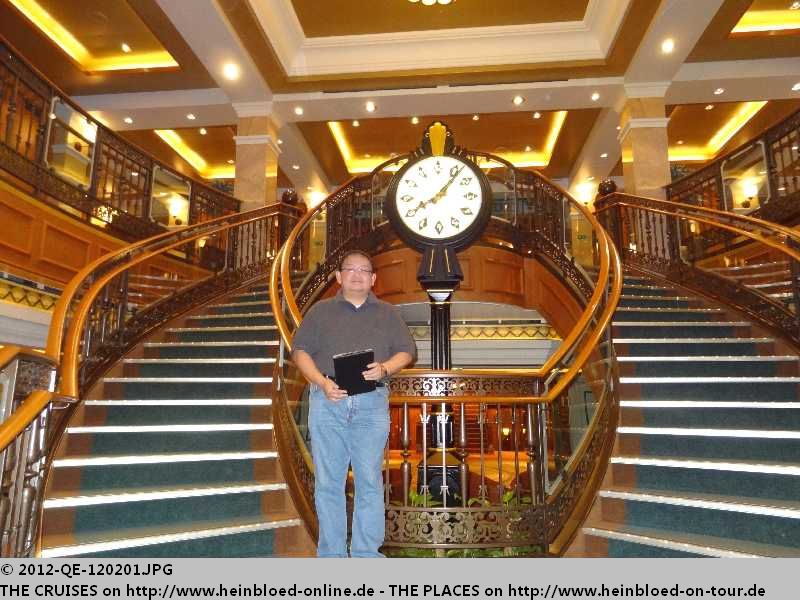 We went for breakfast. Our waiter recommended us urgently not to see the Britannia Restaurant for breakfast as it would be very crowded the very first morning after embarkation. O.K. but it was after 08.00 hrs. Our ship arrived an hour ago and so most of the shore excursion participants for Paris should be gone from the ship already. But what should we do in Paris? Taking the high-speed-train from our place use less time that the bus from Le Havre. And if we had great bargains we might get it for 29.00 EUR the tickets.

Within a moment we were beamed into the year 2008 on QUEEN VICTORIA in New York City.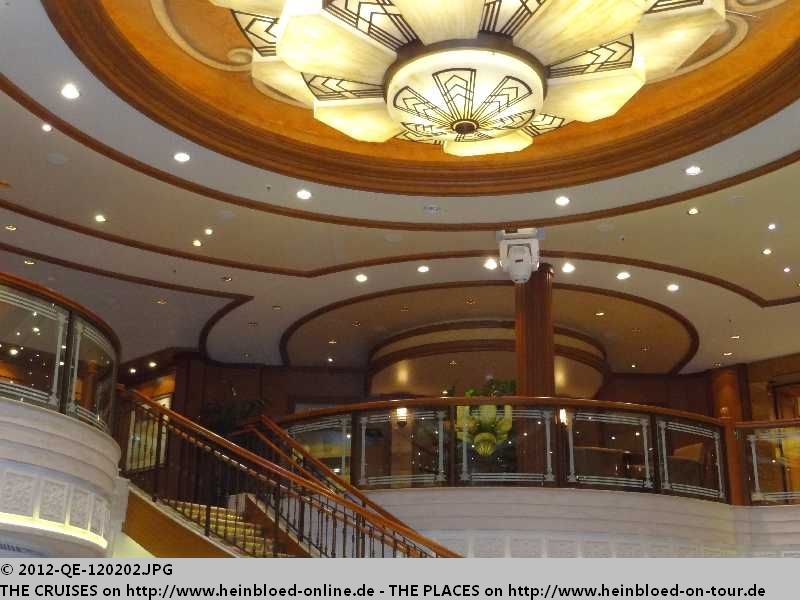 Trotzdem werden wir von einer Sekunde auf die andere ins Jahr 2008 auf die QUEEN VICTORIA in New York katapultiert.
Es ist genauso kalt wie damals: Windfang gibt es im Atrium immer noch nicht. Selbst an der Rezeption und an der Sicherheitskontrolle arbeiten sie im Mantel.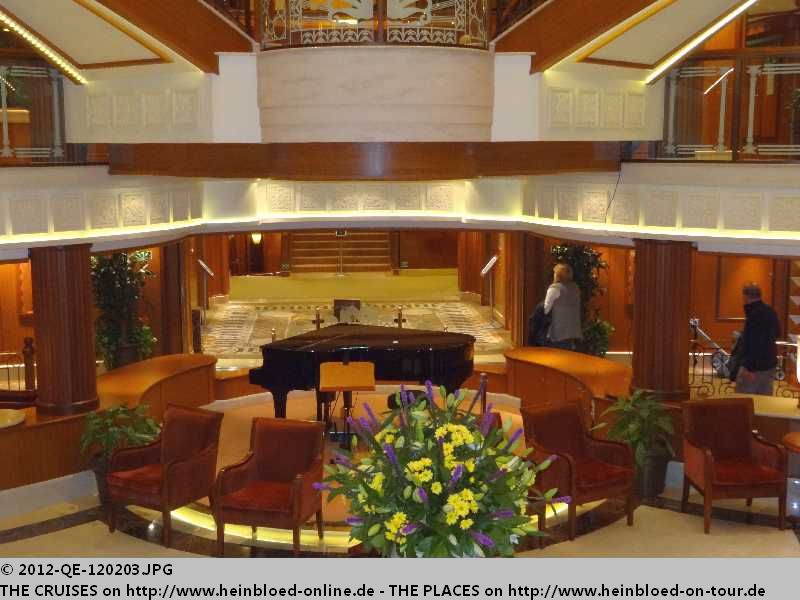 It was as cold as we experienced then: there was still no wind lock in the atrium. Even at the reception desk and the security check the worked in winter coats.

It was so nice, calm and empty that I used the occasion to take pictures of Bruno in front of QUEEN ELIZABETH. But he refused to look nice and gentle into the camera because it was just unpleasantly cold and chilly.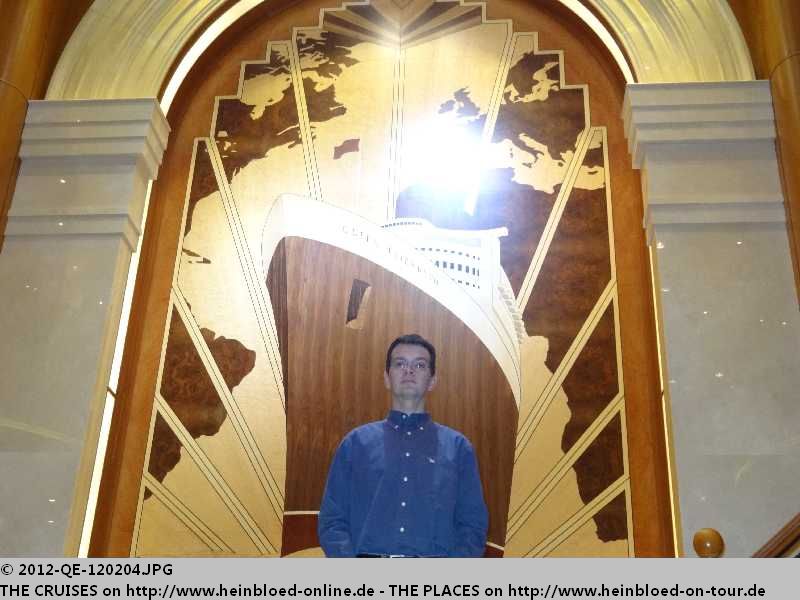 Es ist so schön leer, dass ich die Ruhe nutze, um Bruno vor der QUEEN ELIZABETH zu fotografieren. Aber er weigert sich, weiter lieb und nett in die Kamera zu gucken, schlicht und einfach, weil es ungemütlich kalt ist und zieht.
Es zieht so sehr durch, dass ich mit der Kamara darauf warte, dass die Pflanzen (Topfplanzen und Blumen) im Atrium umkippen.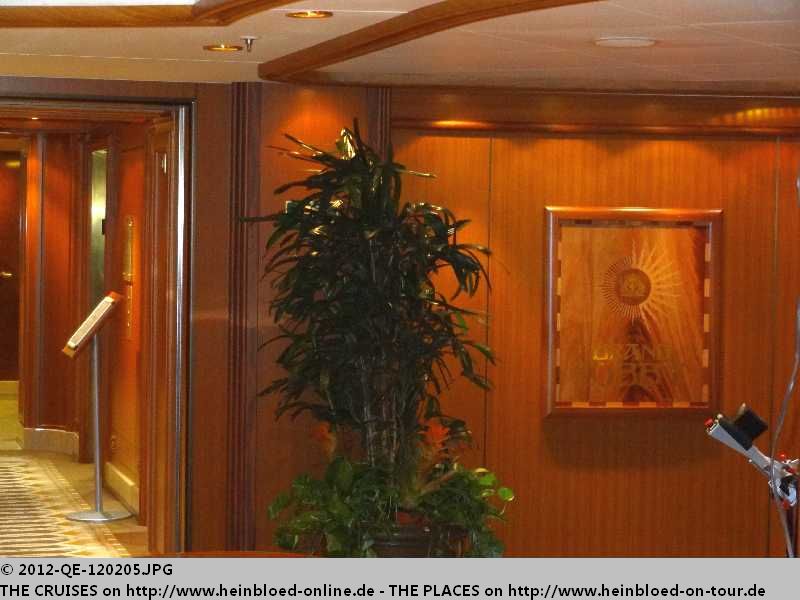 It was so breezy, windy, chilly so I waited with my camera to see the plants in the atrium turning down.

Bruno was not very much interested that I had an unique chance to have all the atrium just for myself to take pictures. He wanted to have a hot coffee now.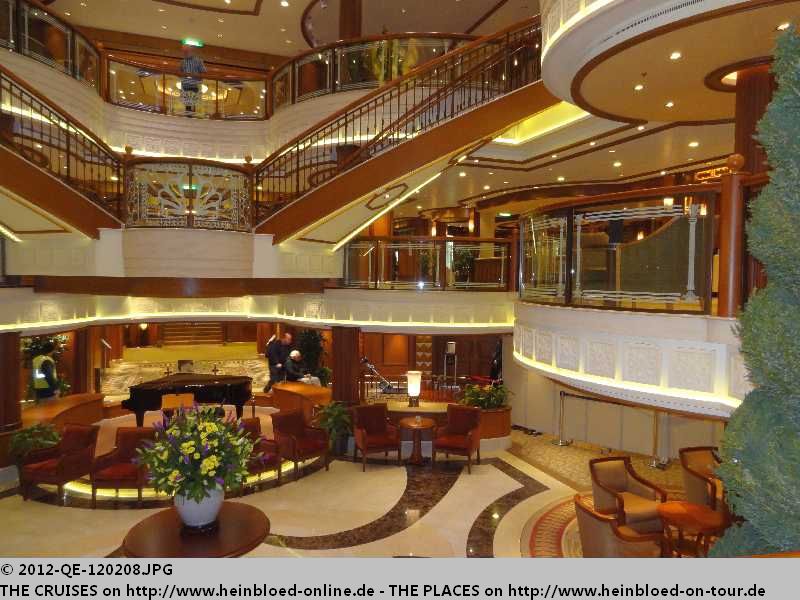 Bruno ist es egal, ob ich mal die Chance habe das Atrium so leer zu fotografieren oder nicht. Er will jetzt endlich einen heißen Kaffee.
Im Britannia Restaurant ist nichts los. Unseren Wunsch einen eigenen Tisch zu bekommen, wird ohne Diskussion entsprochen.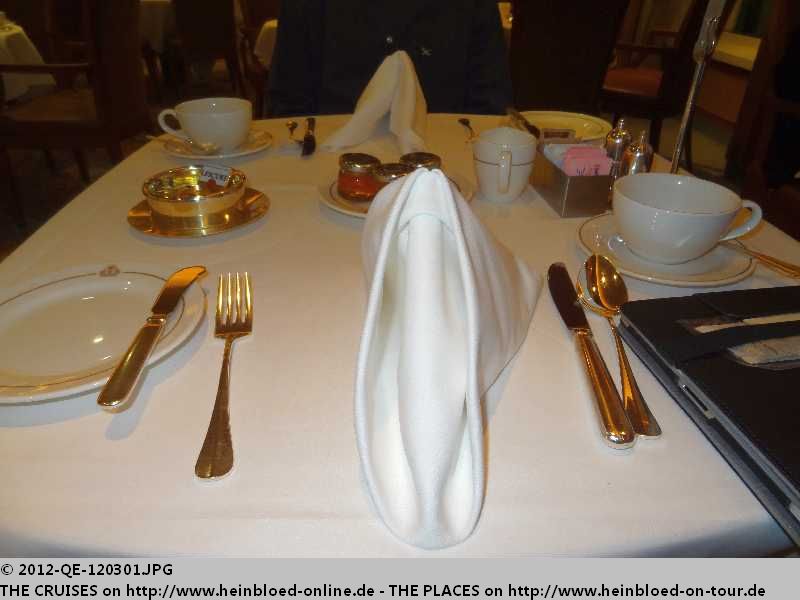 It was empty with the Britannia Restaurant. So our request to have a table by ourselves was accepted without major discussion.

I had the impression that their offer was more English than on the New York bound itinerary on QUEEN VICTORIA.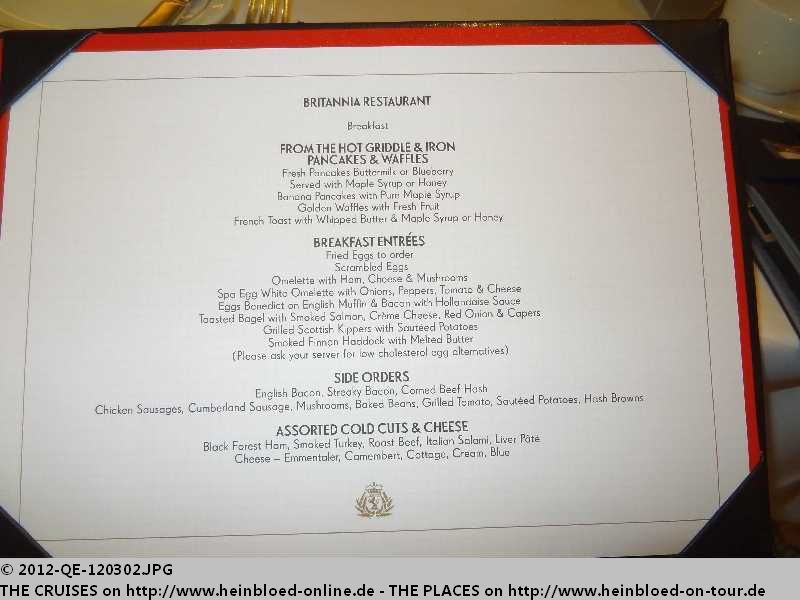 Ich habe den Eindruck, dass das Angebot etwas englischer ist, als auf der Route nach New York auf der QUEEN VICTORIA.
Bruno ist beim Anblick der Muffins ganz begeistert.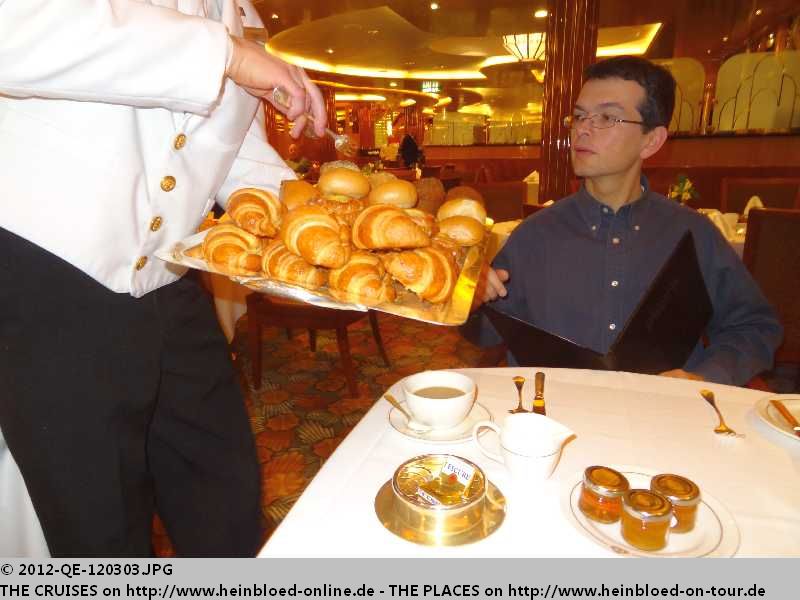 Bruno was more than happy to see the muffins.

Uschi Drechsler is sales manager with Cunard Germany. She kept her promise to send someone from Cunard's bakery to an Holland-America-Ship for training purposes: It looked like a blue-cheese-muffin but it was a blueberry muffin Bruno liked very much. So 50% of his world was o.k..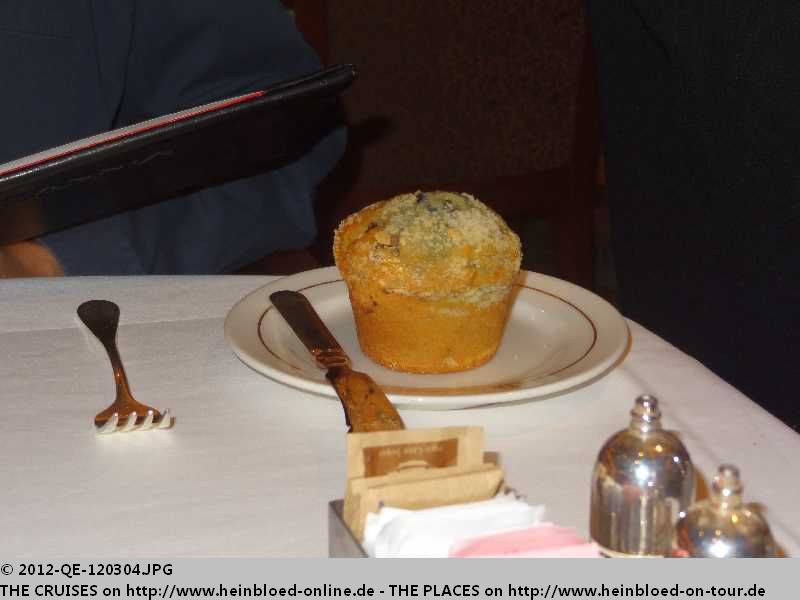 In der Tat hat wohl Uschi Drechsler wie versprochen extra einen Bäcker von Cunard auf ein HAL-Schiff geschickt. Das was wie ein Blauschimmel-Muffin aussieht, ist aber ein Blueberry-Muffin, den Bruno gut findet. Für ihn ist damit die Welt zu 50% in Ordnung.
Auch der Kaffee, der serviert ist, ist in Ordnung. Also seine Welt ist in Ordnung, während ich mir an der Teekanne die Finger verbrenne. Die Kellner nutzen Stoffeservietten, nur nehmen sie ihn mit, wenn sie die Kanne abgestellt haben und überlassen mich dann meinem Schicksal. Da auch oben der Knopf zum Aufziehen fehlt, verbrenne ich mir die Finger, um meinen persönlichen Teebeutel reinzutun.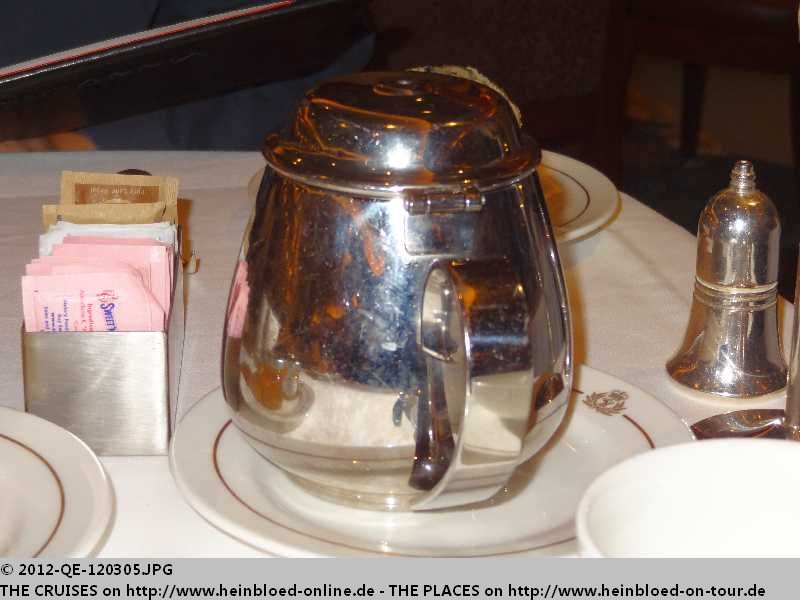 Even the coffee they served here was fine. So his world was o.k. while I burned my fingers with the tea pot. The waiters used the napkins to serve but they took them with themselves away once they placed them on the table and left me alone with my destiny. As there was also missing on the top I burned my fingers when I tried to place my personal tea-bag into the water.

Cranberry-Juice-Spritzer: no problem.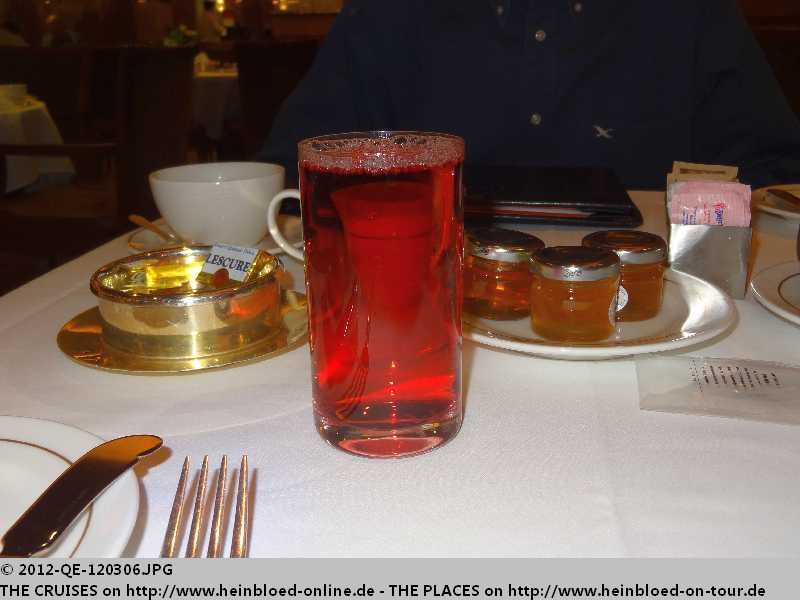 Cranberry-Juice-Schorle: kein Problem.
Meine Softbrötichen... Lecker... Bei NCL sind sie ja im Grand Pacific abgeschafft worden.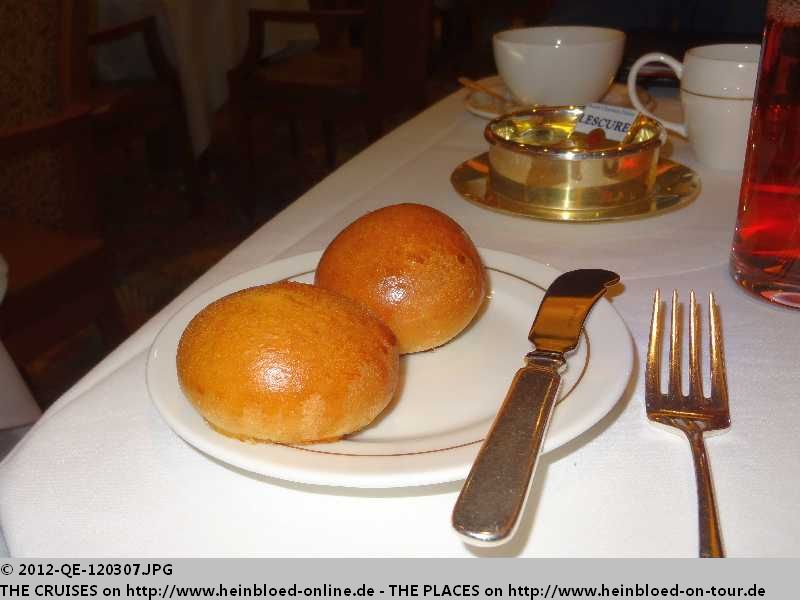 My soft rolls... yummy... With NCL they withdrew them in the Grand Pacific.

The fruit plate was much better on selection of fruits and quality compared to others. There are differences if you go on Cunard or on other cruise lines.

Der Früchteteller ist ja nun doch reichhaltiger, was Auswahl und Qualität betrifft. Es gibt also durchaus Unterschiede, ob ich mit Cunard oder mit anderen fahre.
Bruno bekommt seinen Joghurt stilgerecht in Porzellan serviert.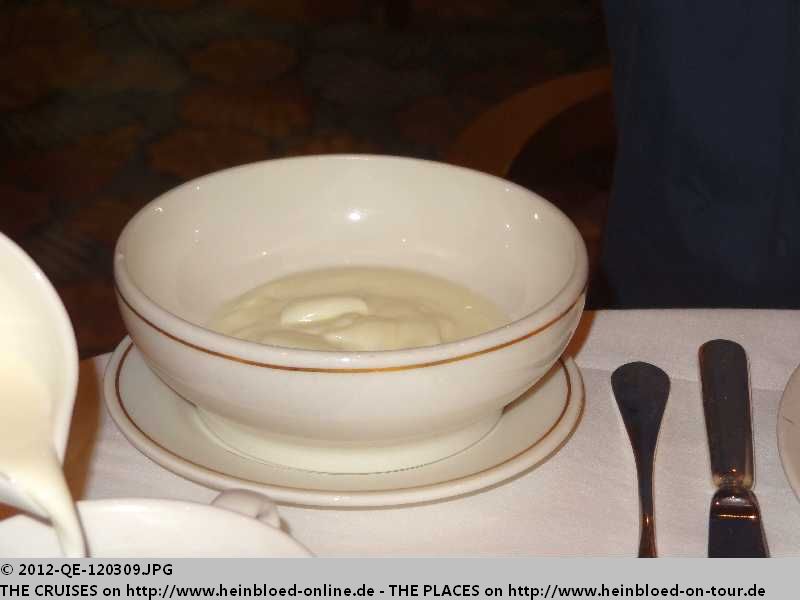 Bruno's yoghurt was served in style in china.

Hans-Hermann came after us. As there was no table next to us available they placed him around the corner.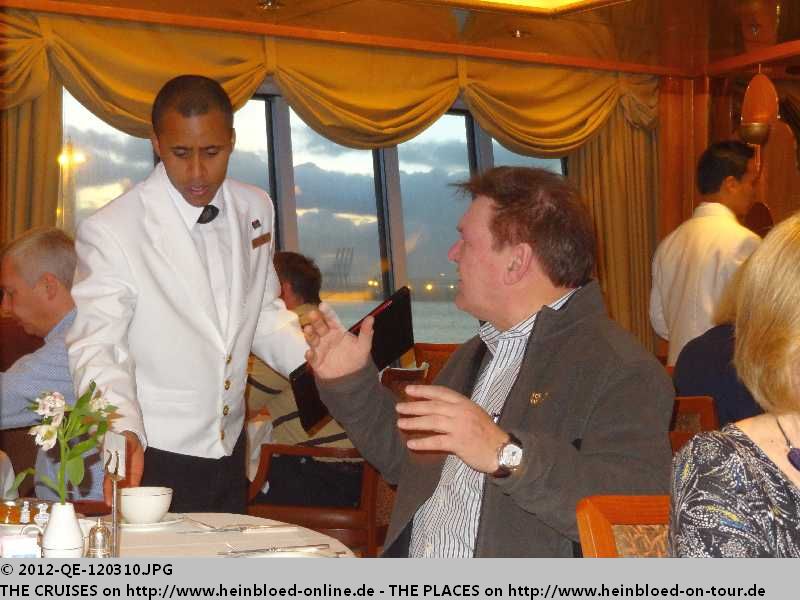 Hans-Hermann kommt sogar nach uns. Da leider direkt neben uns kein Tisch mehr frei ist, wird er um die Ecke von uns platziert.
Bruno nimmt das Bircher Müsli.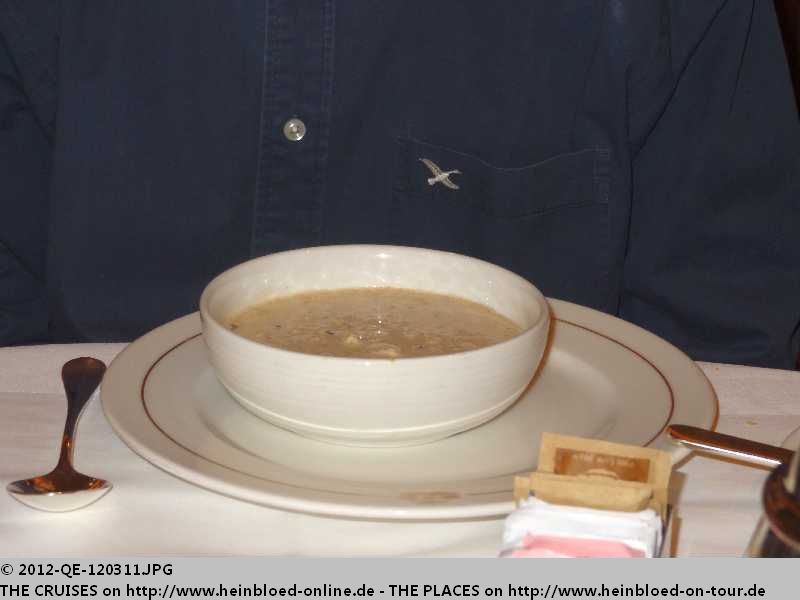 Bruno took the Bircher (Swiss) Müsli.

Egg Benedict on salmon I only eat with NCL. So I took a regular one.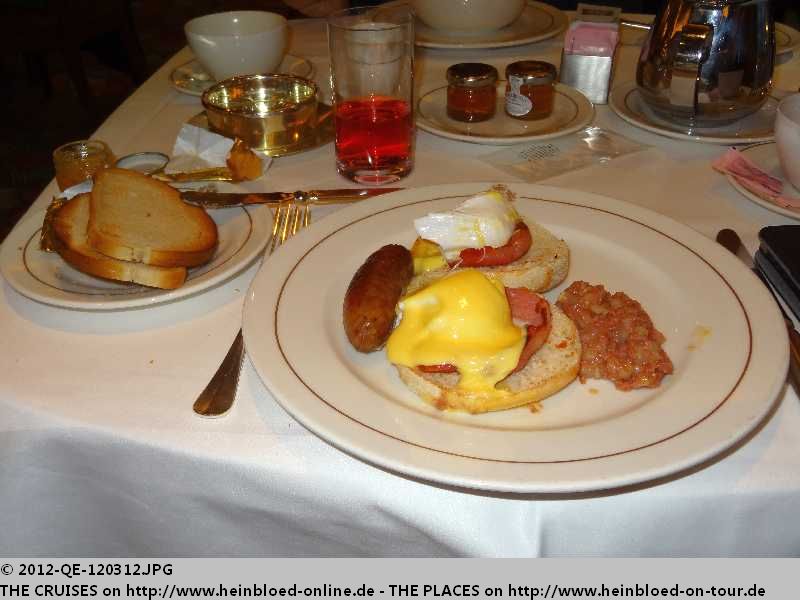 Egg Benedict auf Lachs esse ich ja nur noch bei NCL. So nehme ich hier ein normales.
Noch strahlt er über seinem Müsli. Aber das war wohl noch nie in der Schweiz und daher nicht wusste, wie es zu schmecken hatte.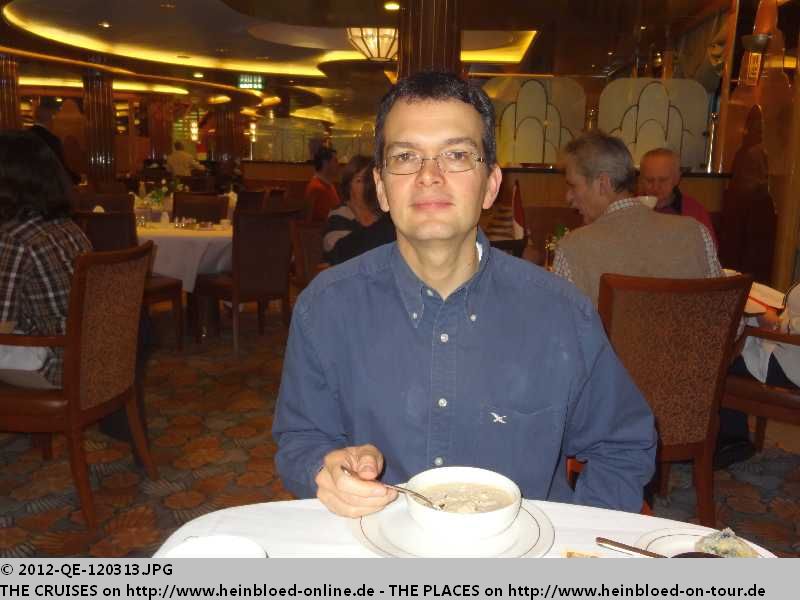 At this time he was happy with his Müsli. But this one never saw Switzerland and so it did not know how it should taste.

Hans-Hermann used the waiting time to take few pictures of us.

Hans-Hermann nutz die Wartepause, um ein paar Bilder zu machen.
Und das ist das Resultat: weil bei meinem Blog alles auf 4:3 voreingestellt ist, kommen Bilder im 16:9 Format so raus. Ich müsste also meine Makros umprogrammieren. Deswegen will ich keine 16:9-Bilder.

And that is the result because my blog is made for 4:3. So pictures in 16:9 format appear like this one. I need to re-edit all my makros. That is why I do not want to have 16:9-pictures at all.

They served the replacement with style.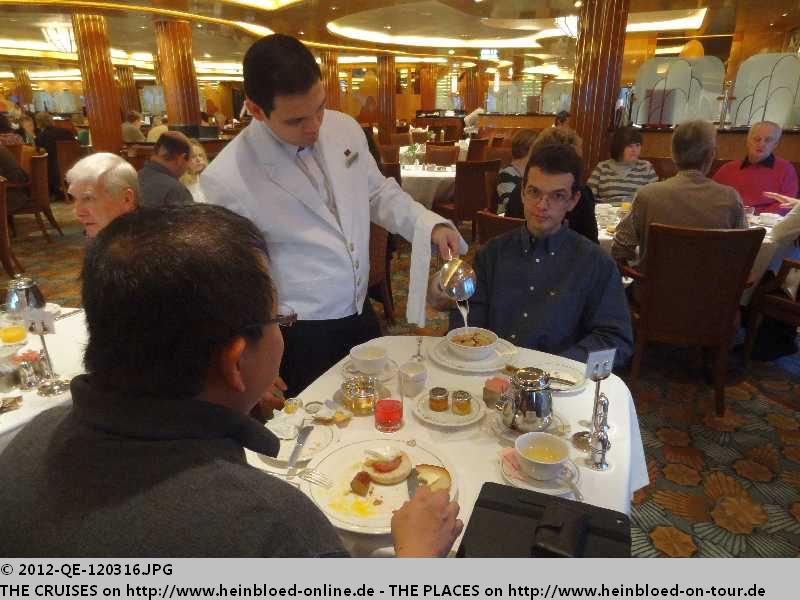 Stilgerecht wird Ersatz serviert.
Kellogs Special K.

Kellogs Special K.

In Café Carinthia you can get small goodies for breakfast.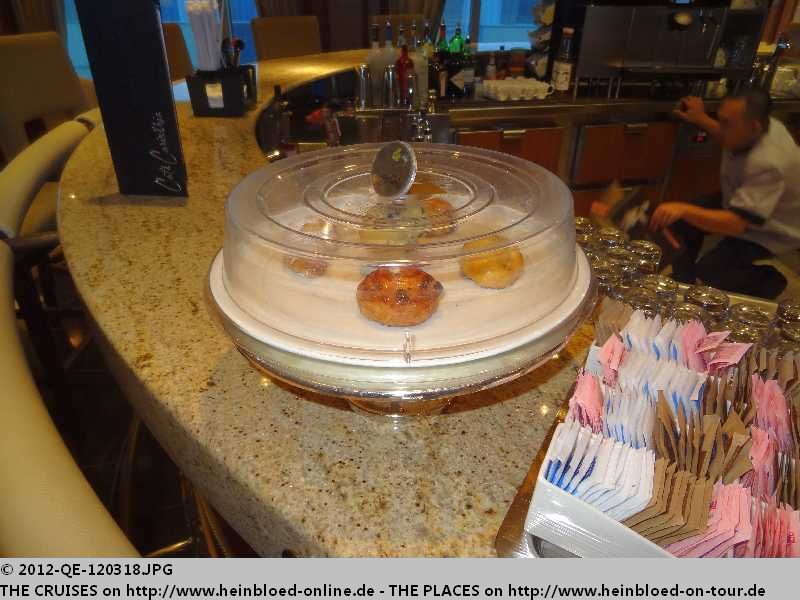 Im Café Carinthia gibt es auch immer Kleinigkeiten zum Frühstück.
Hier gönnt sich Bruno noch einen Kaffee gegen Zuzahlung. Da aber der Geschmacksunterschied zwischen dem Gekauften und dem Kaffee beim Frühstück nicht besonders groß ist, lohnt es sich nicht, dass wir mit vorher gekauften Kaffee ins Restaurant marschieren.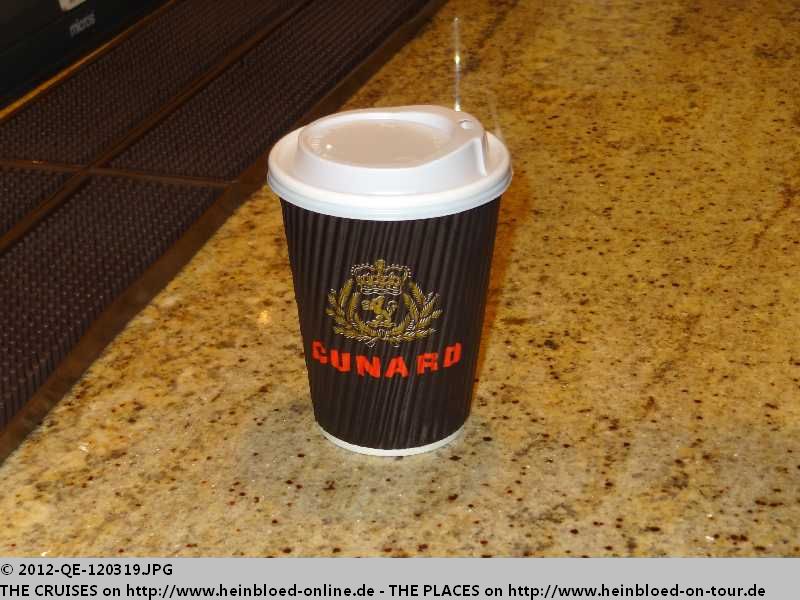 Here Bruno pampered himself with a coffee against fee. But there was not a big difference of taste between the coffee he had for breakfast and now he had to pay for. So it would not make too much sense to buy a coffee and carry it to the restaurant.

You get here fresh towels without exchanging. Who need one just take one. Small differences you can find compared to the mass markets.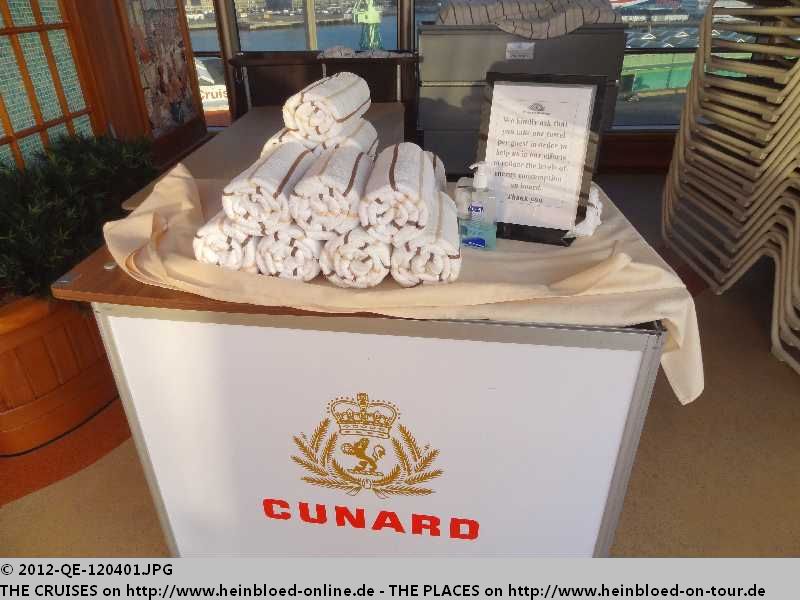 Hier gibt es noch Handtücher, ohne Hin- und Hertauscherei. Wer eins braucht, nimmt sich eins. Auch ein Unterschied zu den Massenmärkten.
Auch hier konnte man gut windgeschützt sitzen.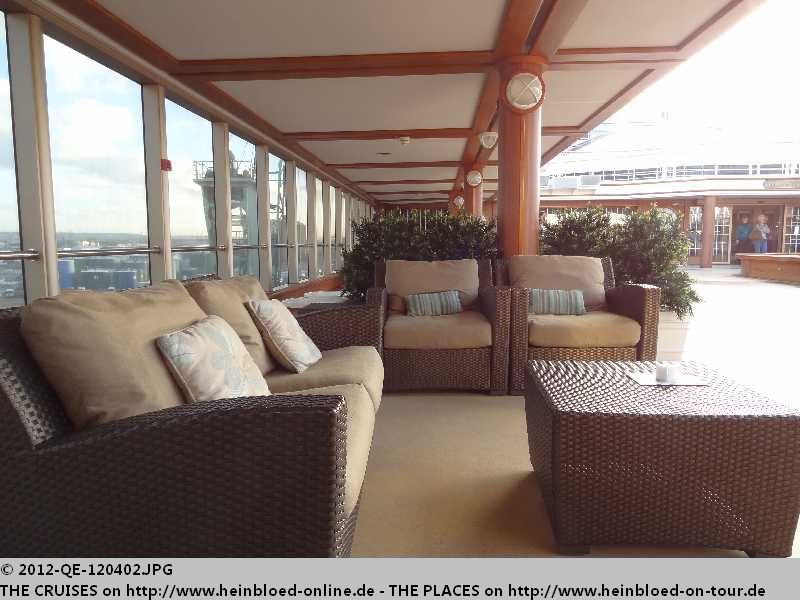 Here you could also sit protected against the wind.

I booked a neck-shoulder-massage.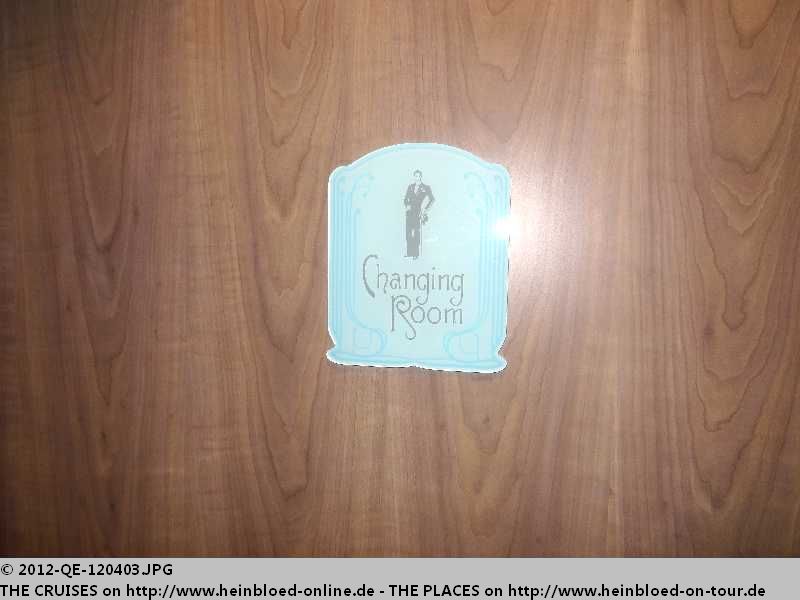 Ich hatte mir eine Hals-Nacken-Schulter-Massage gebucht.
In der Herrenumkleide sieht es doch etwas edler aus, als auf anderen Schiffen.

In the men's changing room it looked much more elegant than on other ships.

They kept towels for the sauna ready.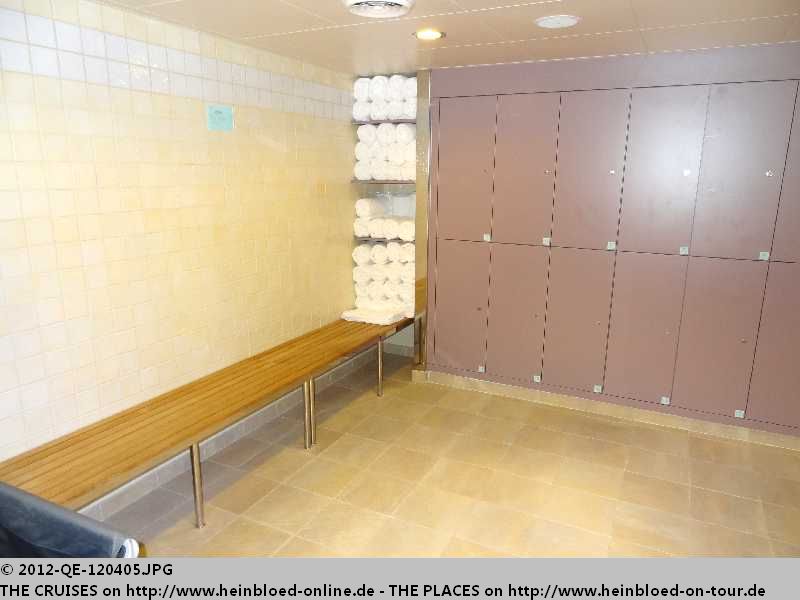 Handtücher für die Sauna werden bereitgestellt.
Mit einem schönen Ausblick.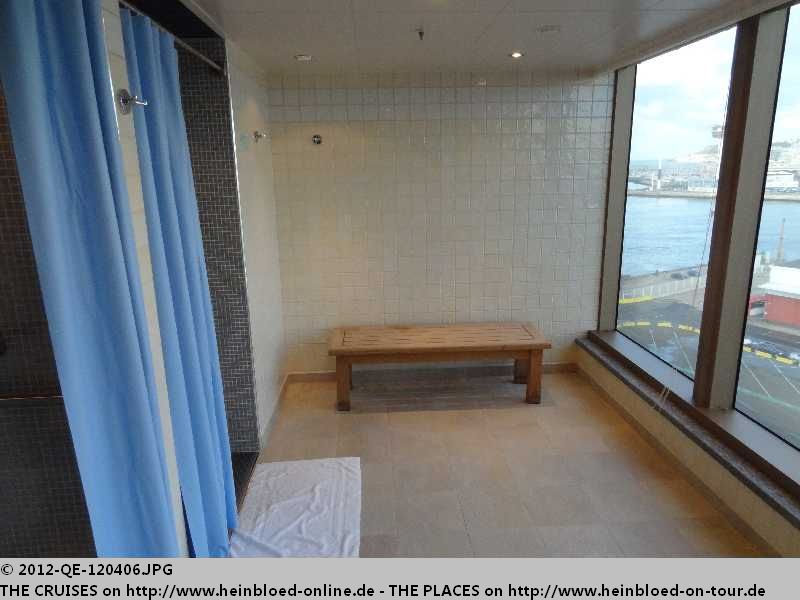 With a nice view.

Sauna was complimentary.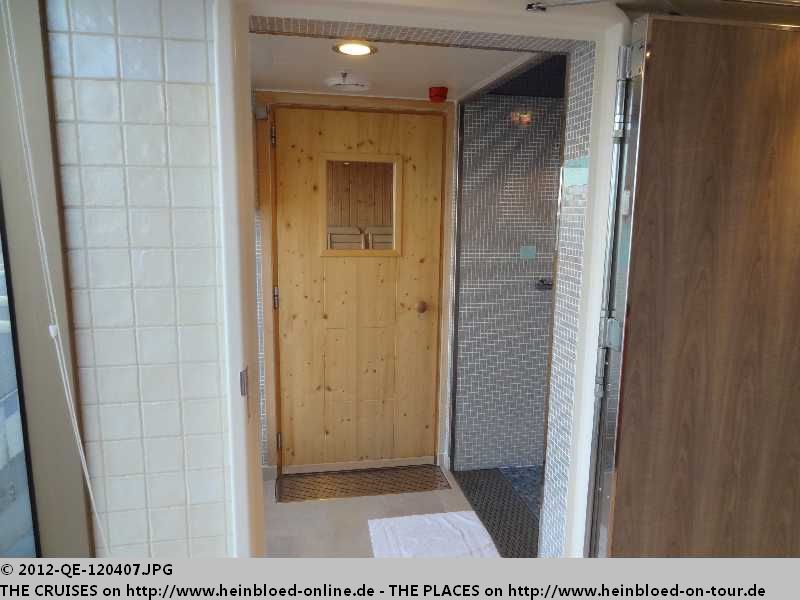 Die Sauna ist kostenfrei.
Klein mit schönem Ausblick, aber wenig Möglichkeiten außer Saunieren.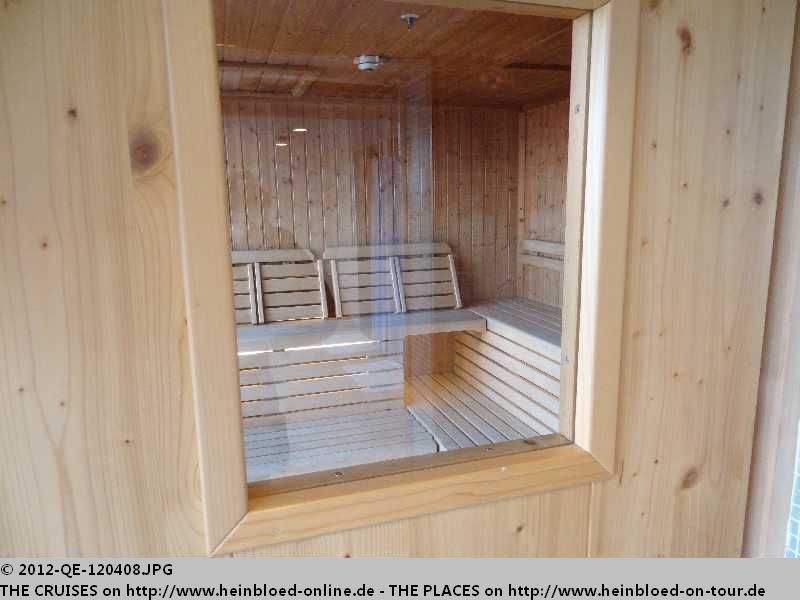 Small with a beautiful view but not so many options but just taking a sauna bath.

In the closet I found a towel and a bath rope.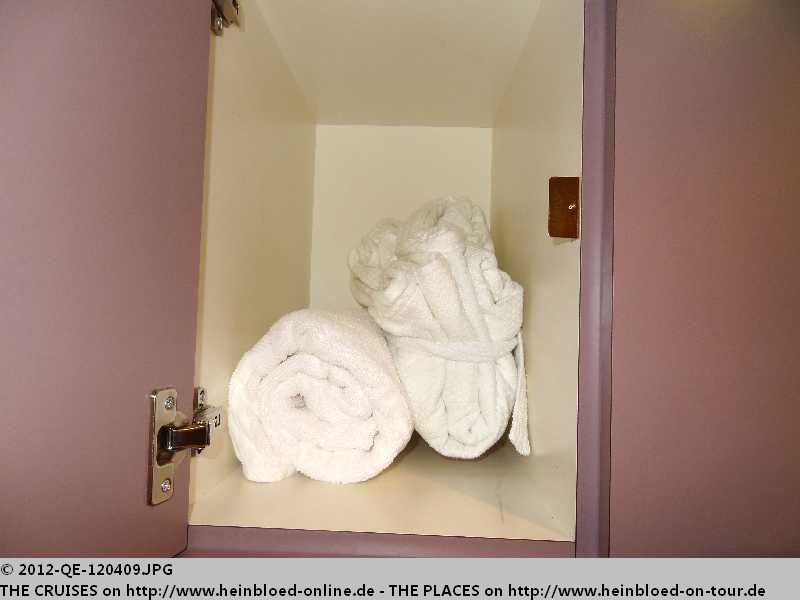 Im Schrank gibt es für mich ein Handtuch und einen Bademantel.
Nur Pantoffeln fehlen irgendwie.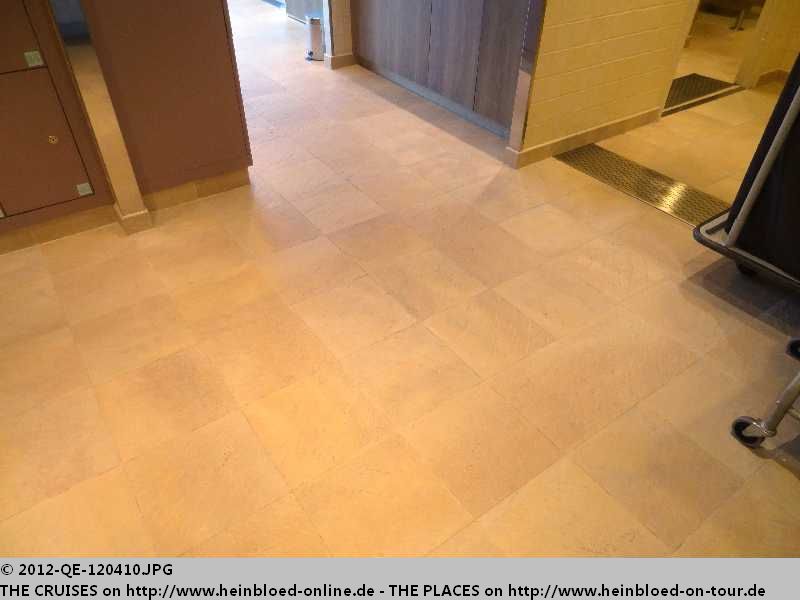 Somehow there were no slippers.

I was taken to the waiting area and could help myself with some water or tea.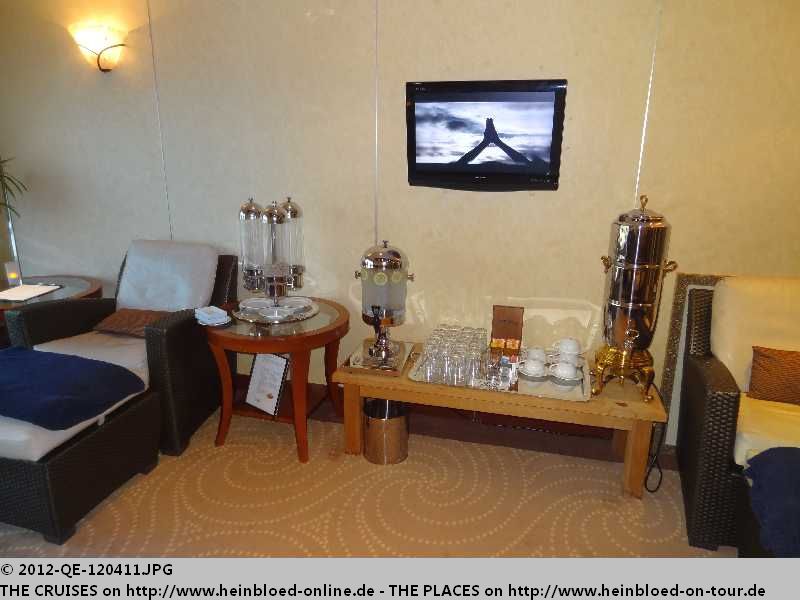 Ich werde in den Wartebereich geführt und kann mich erst mal am Wasser und am Tee bedienen.
Zunächst muss ich jedoch den Fragebogen ausfüllen, damit sie erstmal alle Klagegründe ausschließen können.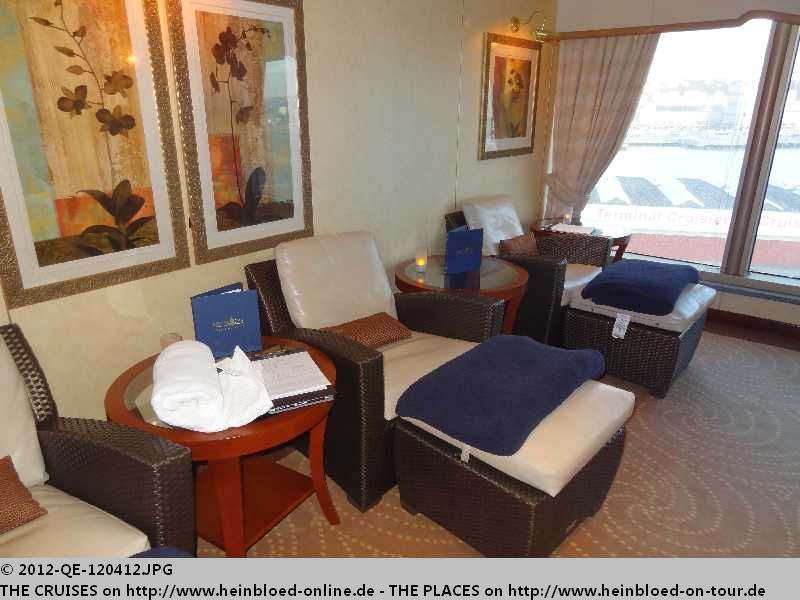 First I had to fill out the questionaire so they could exclude all reasons to sue them later.

When I asked for I got some slippers which I should have found by myself in a box. When I changed my clothes again I could not find the box either.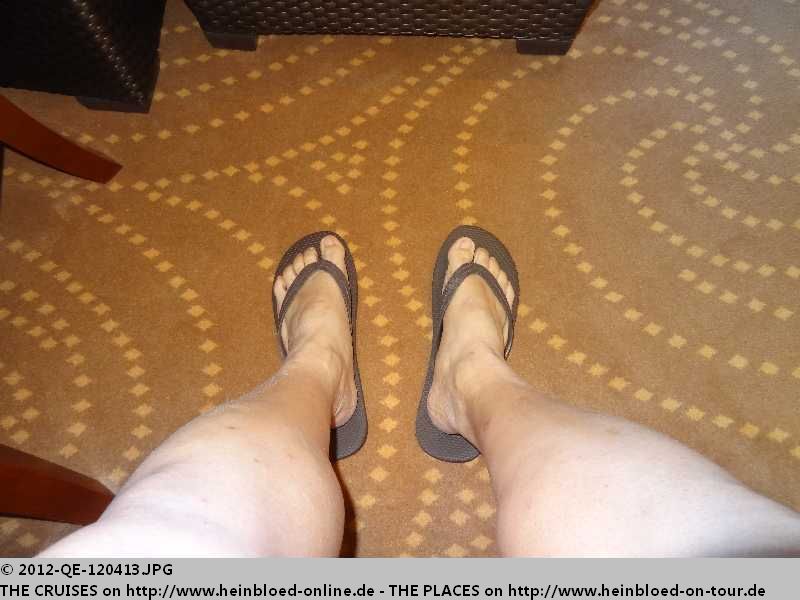 Als ich nachfrage, bekomme ich Badelatschen, die angeblich in einer Kiste gewesen sein sollen. Als ich mich wieder anziehe, finde ich auch dann diese ominöse Kiste nicht.
Wir müssen ein Deck höher. In meiner Behandlungskabine hätte ich sogar ein eigenes Dampfbad.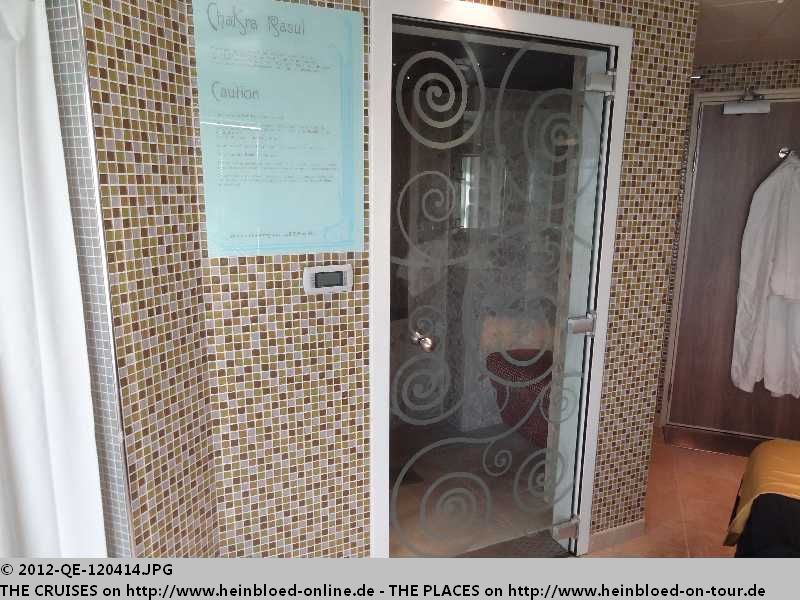 We need to go one deck up. I had in my treatment room a steam room just for me.

Was very nice for 109.00 USD for 50 minutes.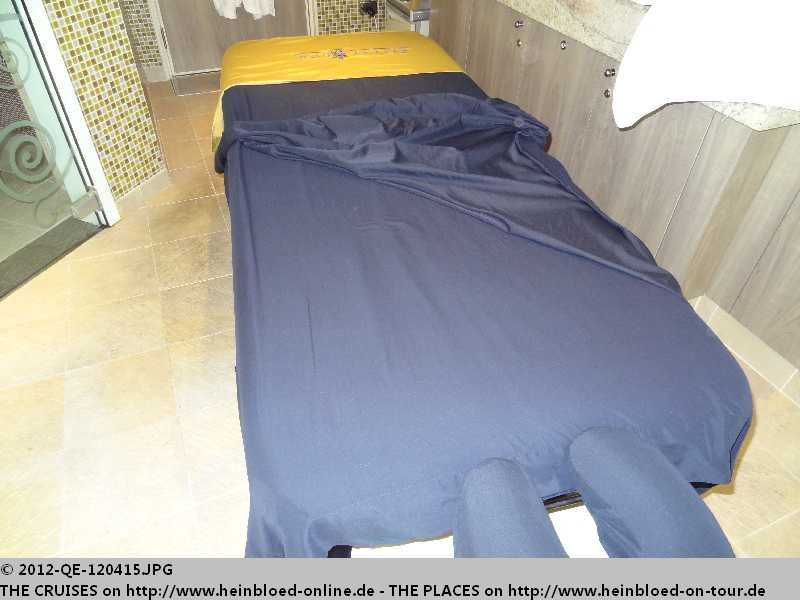 War ganz nett: 109,00 USD für 50 Minuten.
Theoretisch hätte ich mich hier noch abduschen können, aber ich werde wieder in die öffentliche Umkleidekabine geführt.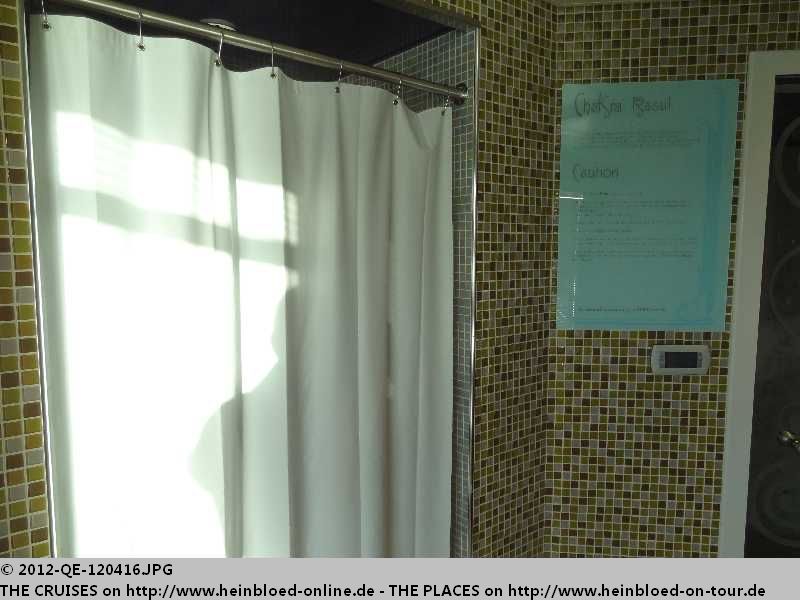 In theory you could have your shower here too but I was sent down to the public locker rooms.