Scroll down for English explanations - alternates with German explanations.

Der Besuch begann etwas merkwürdig: wir fanden das The Verandah gar nicht auf den Deckplänen.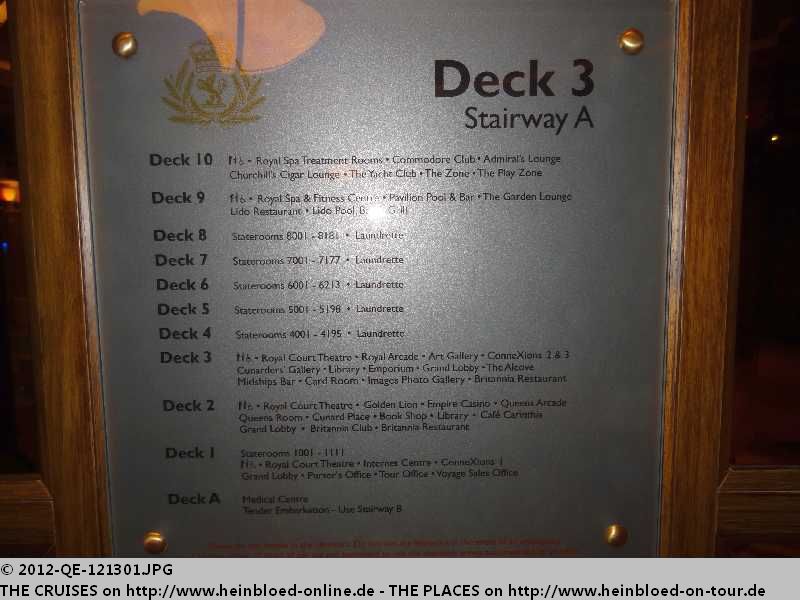 The visit started a little strange as The Verandah was not marked on any deckplans.

Indeed: even with the use of the glasses: Todd English was on Deck 2. But there was no The Verandah on Deck 2.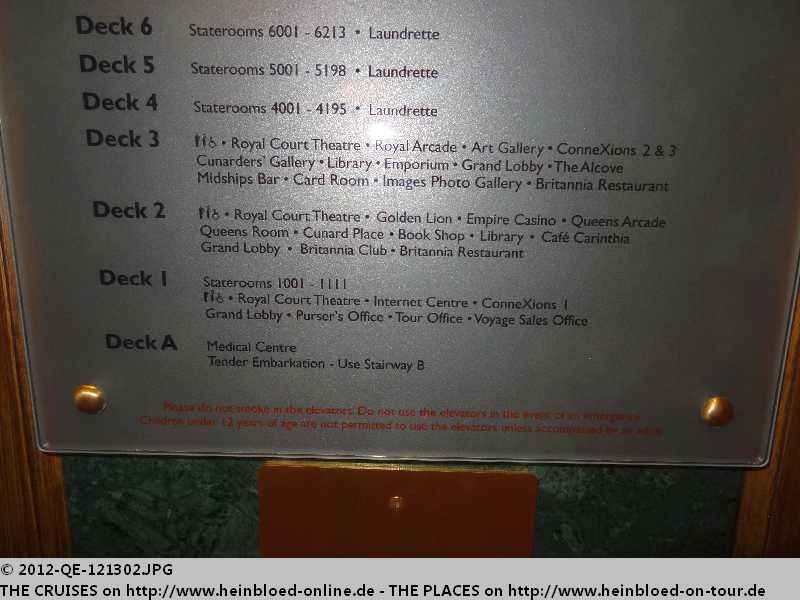 In der Tat: auch nach Aufsetzen der Brille: Todd English war auf Deck 2. Aber The Verandah ist auf Deck 2 nicht zu finden.
Für 19.30 Uhr haben wir den Tisch gebucht. Von einigen vom FOD-Treffen wissen wir, dass wir beneidenswert sind. Sie haben nämlich keine Reservierung mehr für The Verandah bekommen.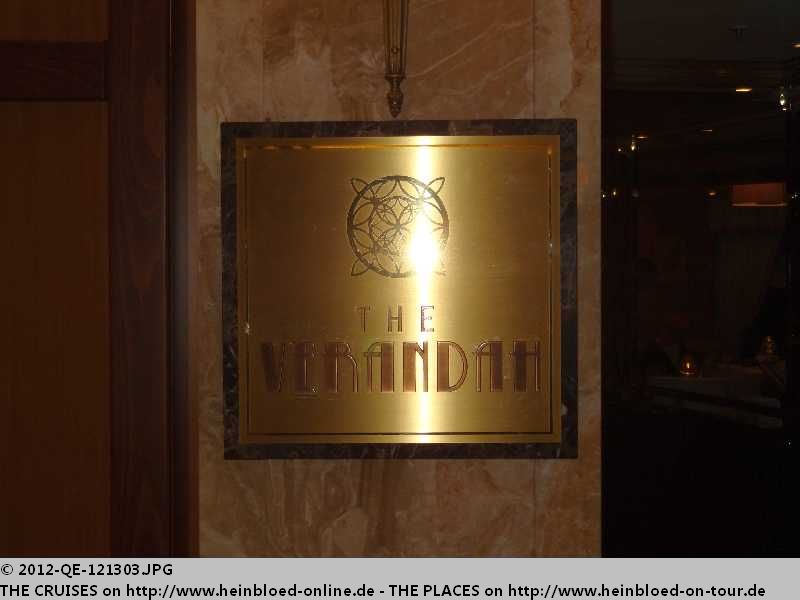 We booked a table for 19.30 hrs. From some of the FOD-meeting we knew that they were jealous as they could not get a confirmation for their booking requests in The Verandah.

We were allowed to choose between a table at the window or in the center. Of course we choosed the table at the window even it was already dark and we could not see anything. Around 19.45 hrs the announcement was made that we set sail although one passenger was still missing.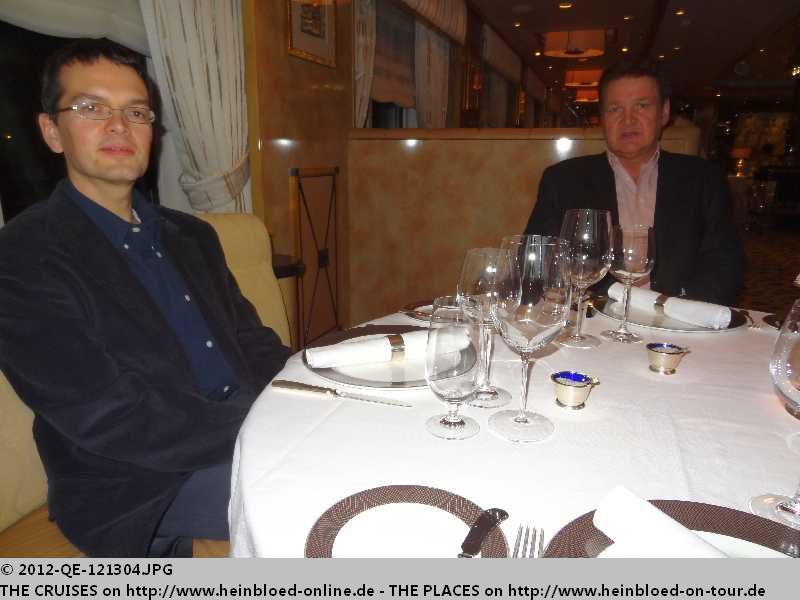 Wir dürfen uns einen Tisch am Fenster oder einen mittendrin aussuchen. Natürlich wählen wir den am Fenster, auch wenn wir draußen eh nichts mehr sehen können. Gegen 19.45 Uhr kommt bereits die Ansage, dass wir ablegen, obwohl noch ein Passagier vermisst wird.
Mit Erstaunen stelle ich fest, dass die Serviette nicht auf mein Schoß gelegt wird, sondern nur auf den Brötchenteller. Der Serviettenring wird jedoch schon mal sicherheitshalber mitgenommen, damit ich ihn nicht als Souvenir mit nach Hause nehme.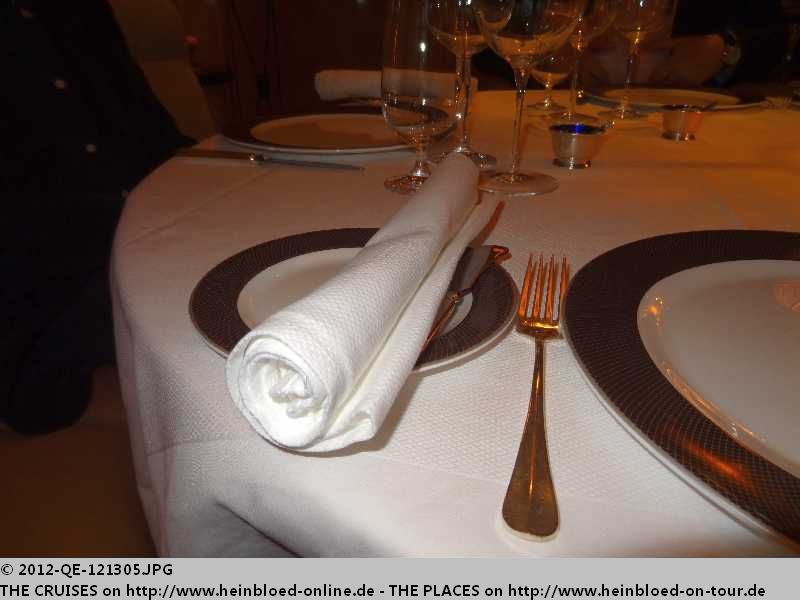 I was really surprised that there was no napkin service. They were placed next on the little plates for the bread. But the napkin ring were taken away for safety reason to make clear that this is no part of the cover charge and you are not allowed to take them home as souvenir.

So far I read everywhere that it was an à-la-carte-restaurant and the prices should be accordingly. But they offered also a 7-course-degustation-menu for 35.00 USD which I took.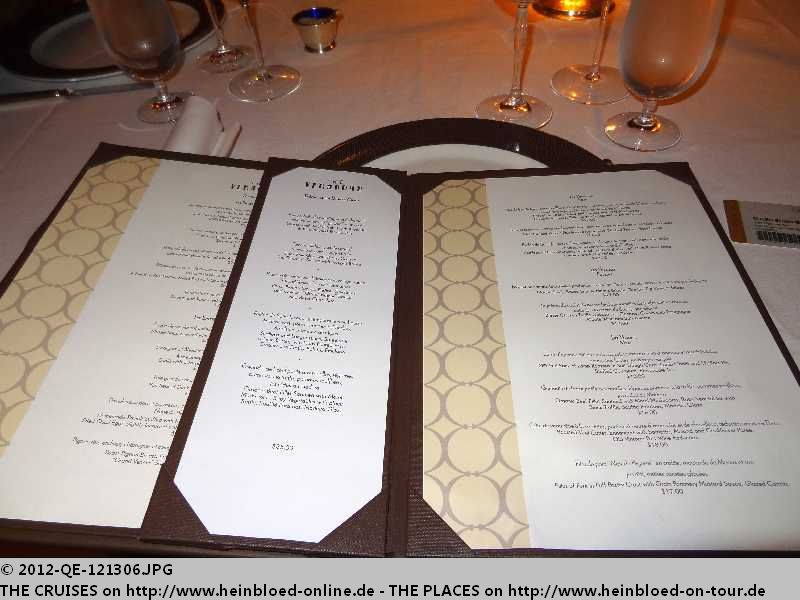 Bis jetzt las man überall, dass es sich um ein à-la-carte Restaurant mit entsprechender Bepreisung handelt. Aber es gibt auch ein 7-Gang-Degustations-Menü für 35,00 USD, das ich auch nehme.
Es beginnt zunächst einmal mit einem Amuse Bouche. Als ich anmerke, dass das Objektiv der Kamera zu groß ist und Schatten wirft, ziehe ich mir den Zorn von Bruno und Hans-Hermann zu, die natürlich Kritik an der Kamera nicht zulassen und mir die Schuld geben. Während beide der Meinung sind, dass ich nicht nah genug dran bin, meine ich, dass ich viel zu nah dran bin.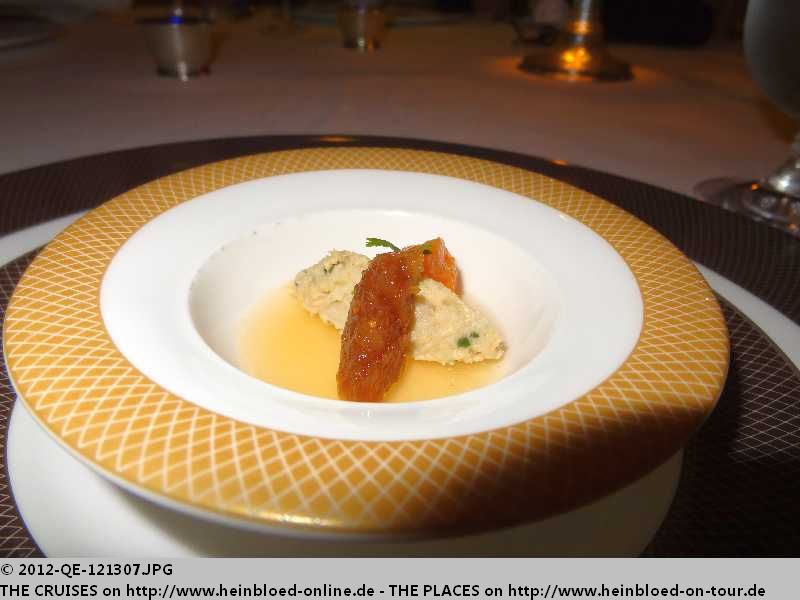 They started with an Amuse Bouche. When I remarked that the objective of the camera was too large and occured some shadows I pulled the anger of Hans-Hermann and Bruno who did not allow any criticism of the camera and told me that I was not prepared to use the camera. Both said I need to be as close as possible while I thought I need to be as far as possible.

Then the bread came.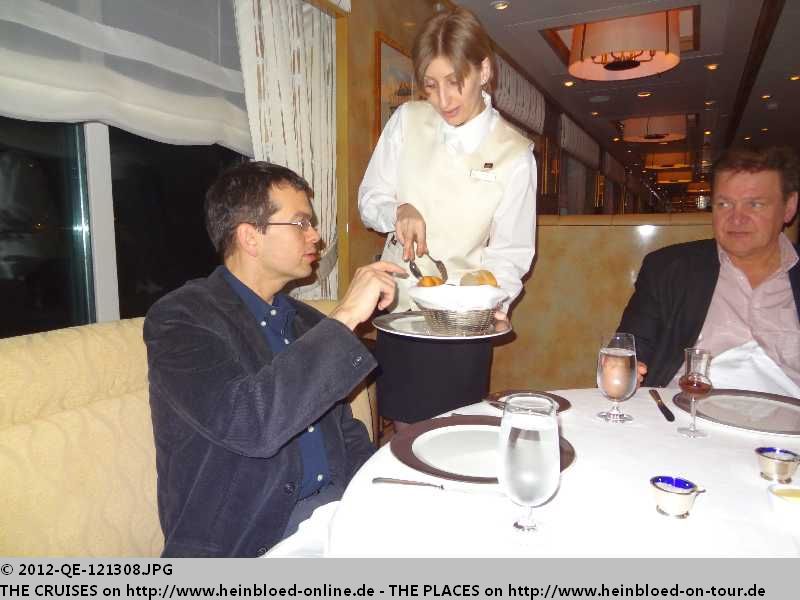 Dann erst kommt das Brot.
Ich wundere mich, dass eigentlich die weltweite Feministinnen-Bewegung noch nicht hier eingeschritten ist. Unter Carol Marlow hätte es diese Brioche-Brötchen (sehr sehr lecker) bestimmt nicht gegeben. Sie erinnern mich doch sehr an den Besuch der Erotic Bakery in Brügge...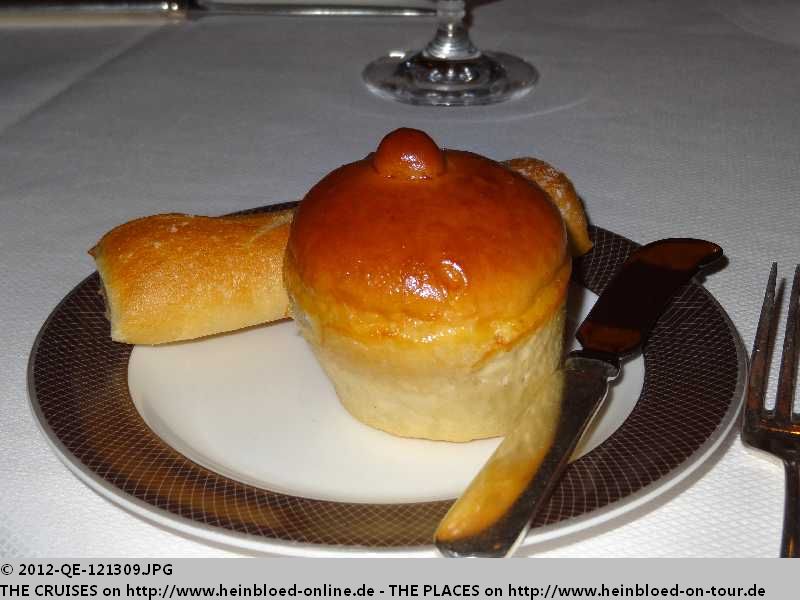 I was really surprised that the global feminist movement did not intervene already. Under the management of Carol Marlow I am sure that they would not offer this brioche-rolls in this shape (but they were very tasty). They reminded me very much to a visit of an erotic bakery in Brugge, Belgium...

The service was very friendly and attentive.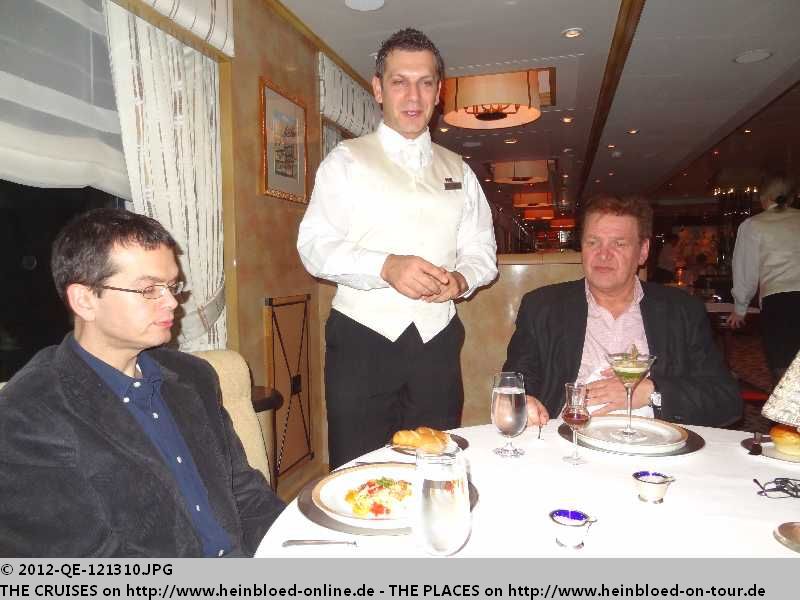 Der Service ist sehr freundlich und aufmerksam.
Hans-Hermann fängt an zu kränkeln und möchte nur zwei Vorspeisen - kein Problem.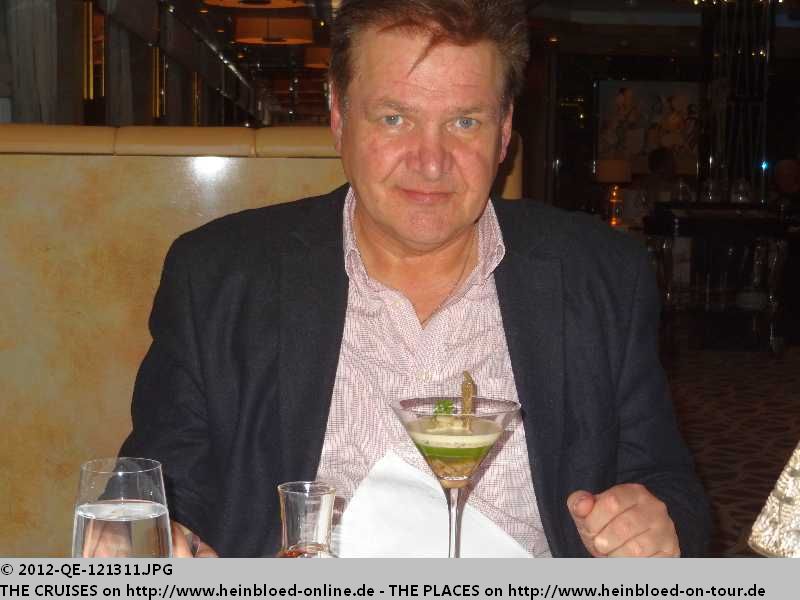 Hans-Hermann became a little sick and liked to have two starters only - no problem at all.

Our salad with scallop... yummy, yummy, yummy...

Unser Salat mit Jakobsmuscheln... Lecker, lecker, lecker...
Im Atlantic Hotel SailCity in Bremerhaven gab es auch dieses Salz. Nur da kam es aus der ganzen Welt: Himalaya, Hawai'i usw. Als ich nachfrage, woher das Salz kommt, stoße ich aber auf leichtes Unverständnis... Überraschend war allerdings, dass es keinen Pfeffermühlenservice gab und auch kein Pfeffer auf dem Tisch stand.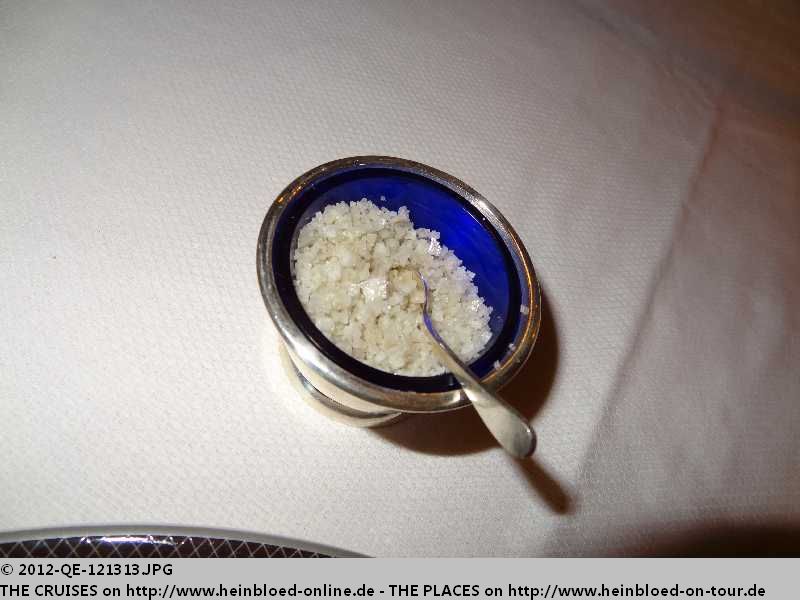 In the Atlantic Hotel SailCity in Bremerhave they also had this kind of salt. But it was from all over the world: Himalaya, Hawai'i etc. When I asked for the origin I was surprised that they did not understand my request... To my surprise there was no pepper mill service available but there was no pepper on the table either.

Salty and sweet... 2/3 was very nice. Only the spoon with the caramelized royale or whatever it was tasted a little strange to me.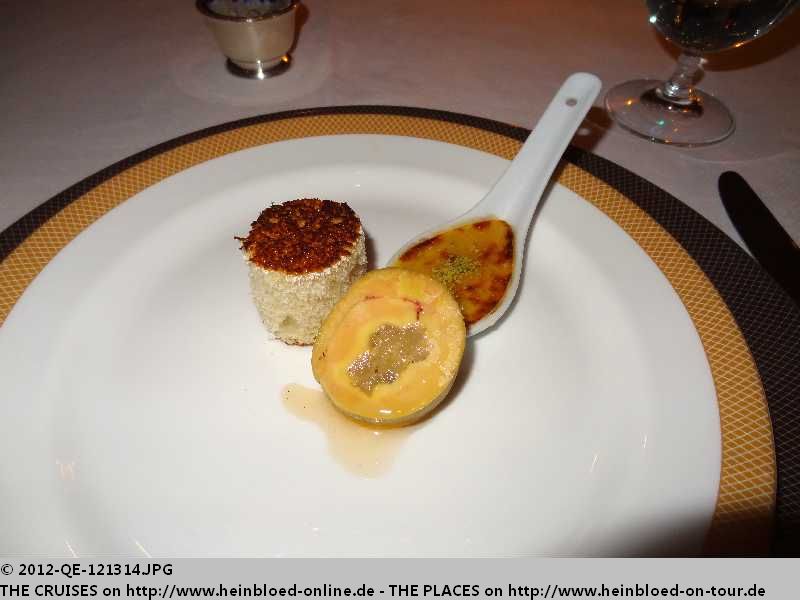 Salzig und süß... 2/3 war sehr lecker. Nur mit dem karamelisierten Eierstich-Löffel oder was es auch immer war, kann ich persönlich nichts anfangen.
Springmesser... was kommt als nächstes?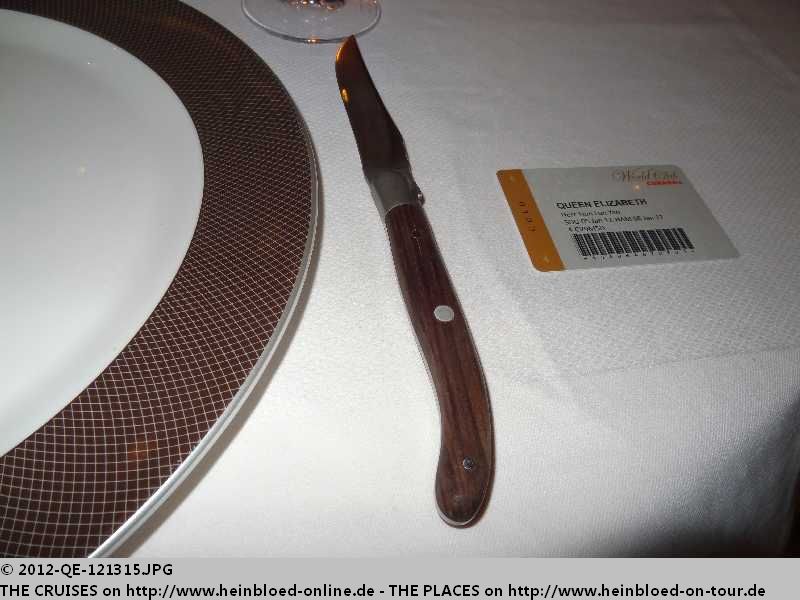 A switchblade... what's next?

The the pigeon breast on bitter chocolate sauce followed. They carried the course on one tray. A trolley will be placed and the tray will be lifted on the trolley.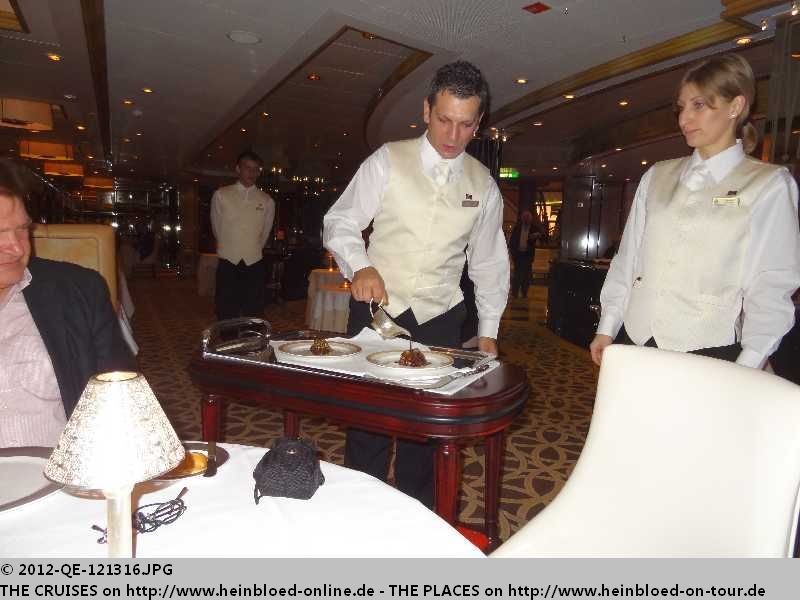 Es kommt die Taubenbrust mit Bitterschokoladensauce. Auf einem Tablett wird der Gang reingetragen. Ein Wagen wird vorgefahren und das Tablett abgestellt.
Danach wird das Servieren zelebriert.

Thereafter they celebrate the serving.

So a famous German TV cook would say that it tasted interesting (for everything he disliked). I am not a fan of game. The flavour of the meat was too strong to me. So I was quite jealeous to everyone who got a scope of sherbet between the course. I felt a little sorry that I even could not get one on request. I was told that serving the sherbet was limited to guests who ordered à-la-carte. I had the extreme wish to neutralize my mouth before the next course arrived.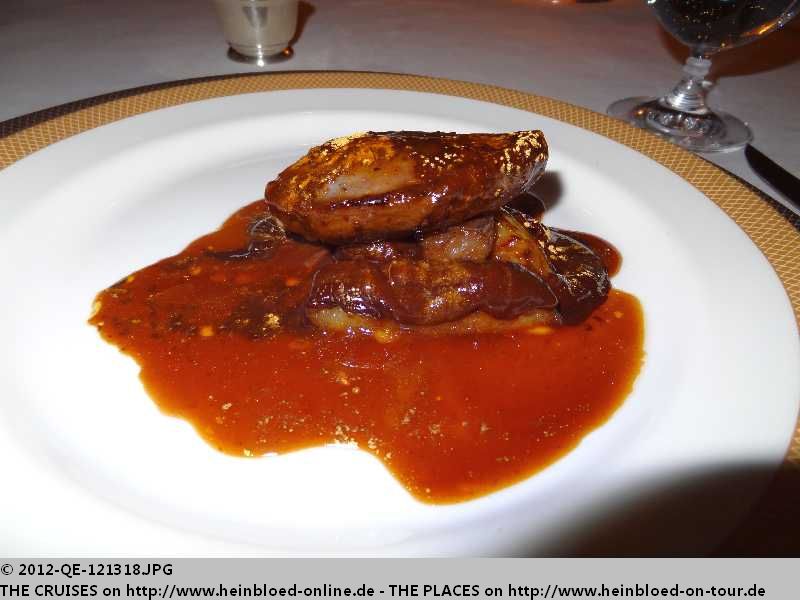 Nun - Bio hätte gesagt, dass es interessant schmeckt. Ich bin nicht so der Wild-Freund. Mir war das Fleisch zu intensiv. Deswegen habe ich alle beneidet, denen zwischendurch ein Sorbet serviert wurde. Schade, dass ich auch auf Anfrage keines bekommen habe. Man erklärt mir, dass das Sorbet den à-la-carte Gästen vorbehalten ist. Ich hätte aber sehr gerne vor dem nächsten Gang den Geschmack im Mund neutralisiert.
Überrascht sind wir über echte Kerzen am Tisch. Echtes Feuer.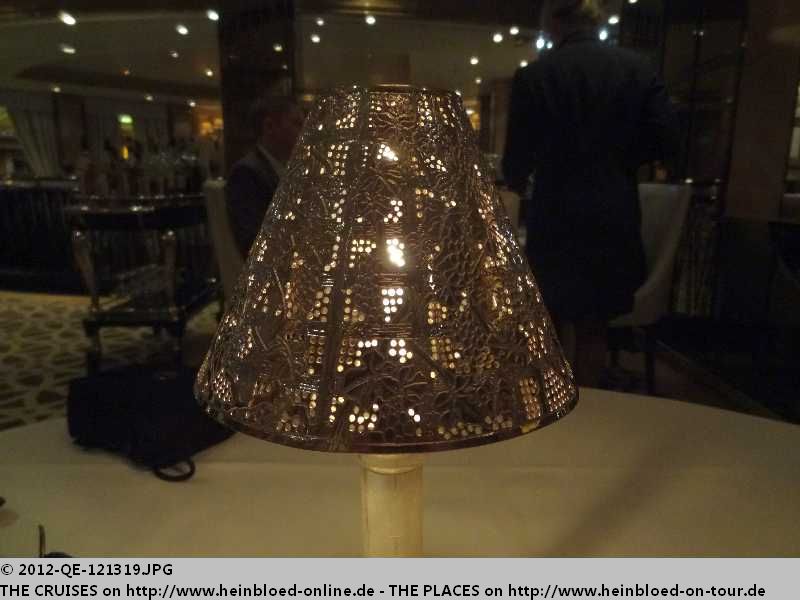 We were surprised to find true candles on the table. True fire.

My very first cover charge restaurant was Le Bistro on NORWEGIAN DREAM. Then also with the silver cover.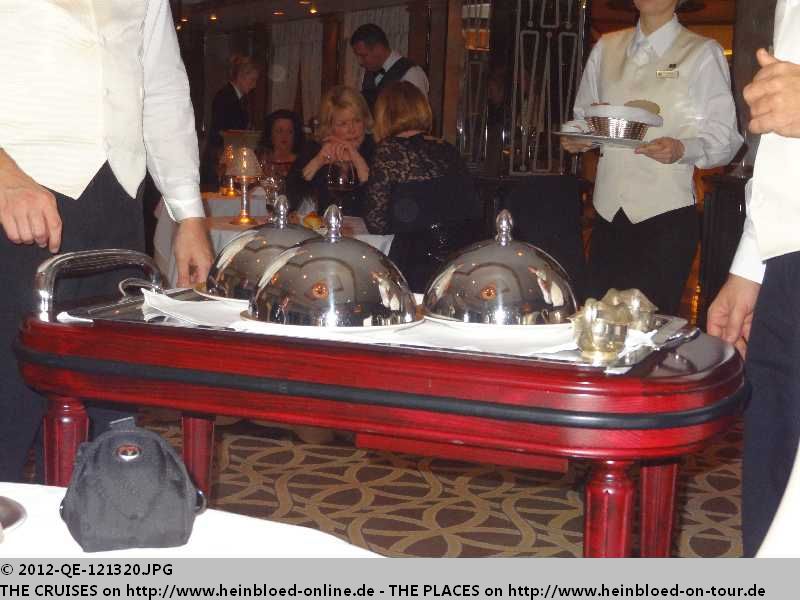 Mein erstes Zuzahlrestaurant war damals das Le Bistro auf der NORWEGIAN DREAM. Damals auch mit den Silberhauben.
Drei Kellner mit drei Essen für drei Gäste: so muss es sein.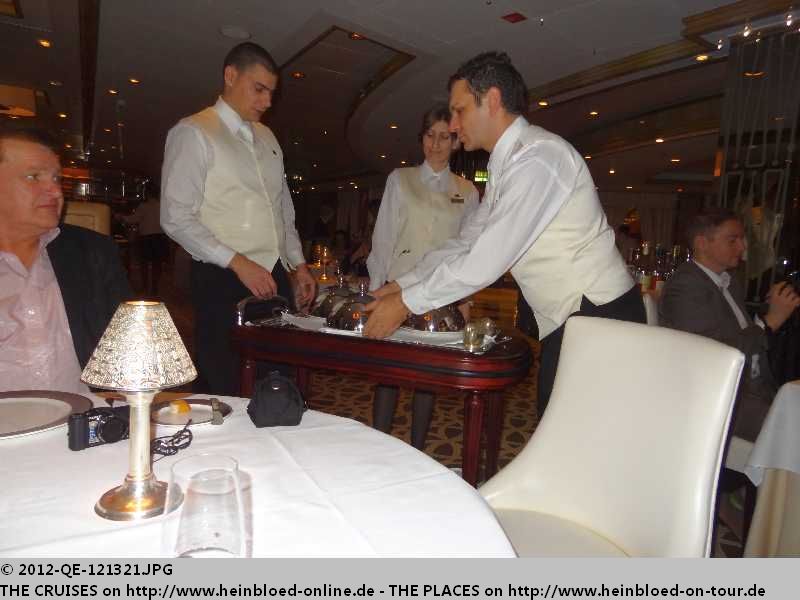 Three waiters for three guests: that it should be.

Un - deux - trois... I love this ceremony. A good reason again to go again on QUEEN ELIZABETH.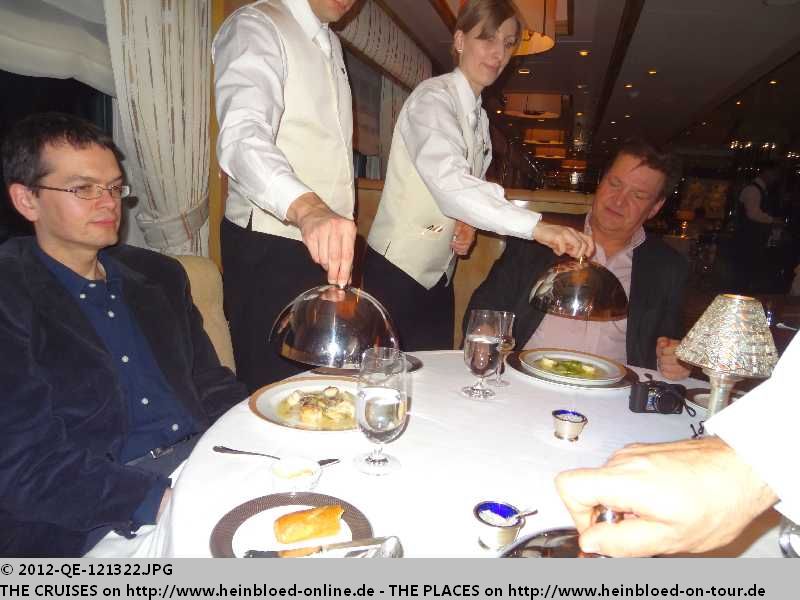 Un - deux - trois... ich liebe diese Zeremonie. Grund für mich auf jeden Fall wieder QUEEN ELIZABETH zu fahren.
Hans-Hermann hat die Raviolis.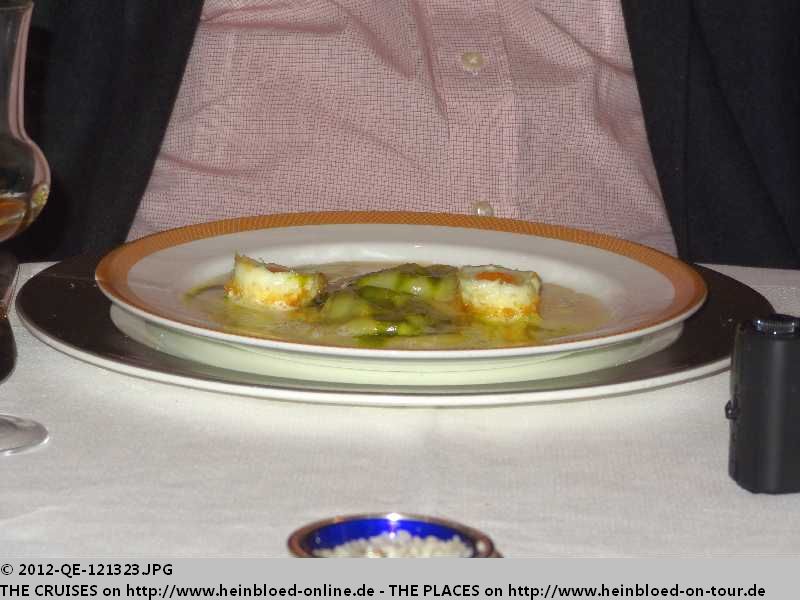 Hans-Hermann had the Raviolis.

"My wife had the fish...and it was good as usual." (It's a running gag since our cruise on MSC MUSICA in 2006).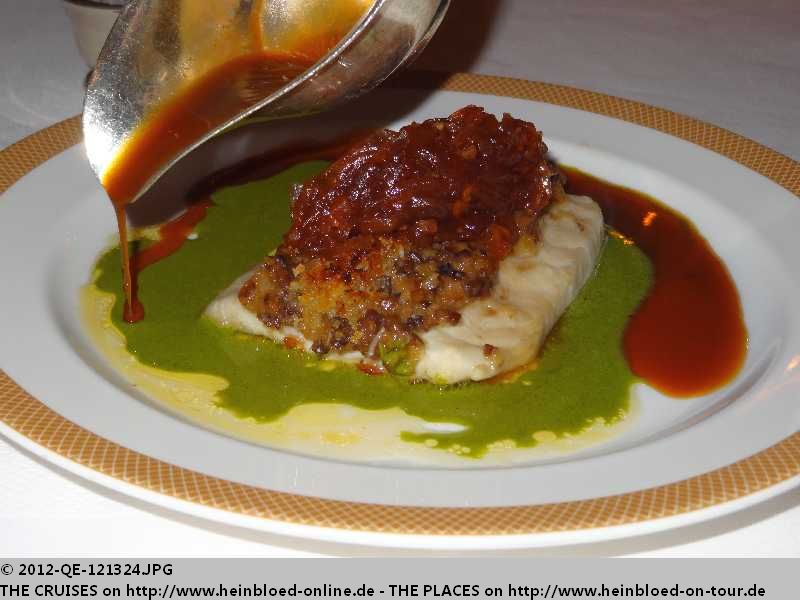 "Meine Frau hatte den Fisch... und der war wie immer gut!"
Drei glückliche Männer vor einem fantastischen Gang.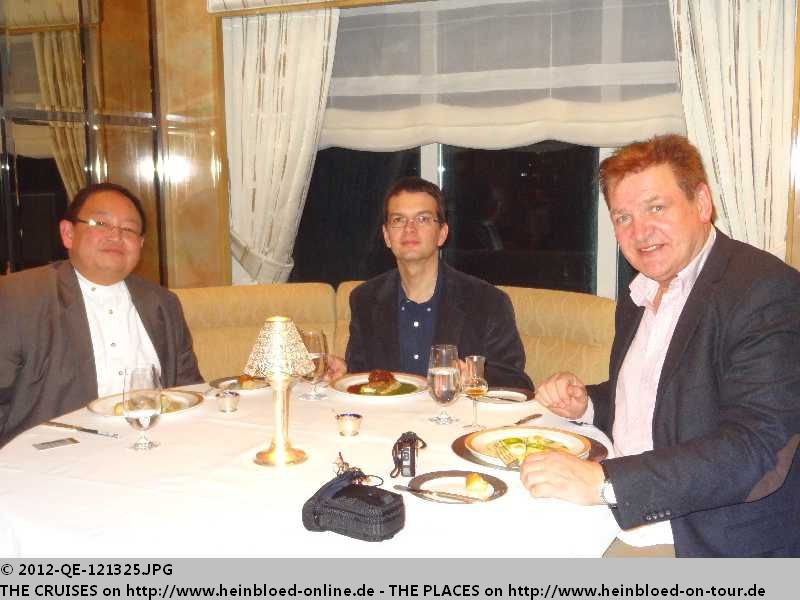 Three happy men infront of a fantastic course.

This was my first main course: Pasta with scallops and shrimps.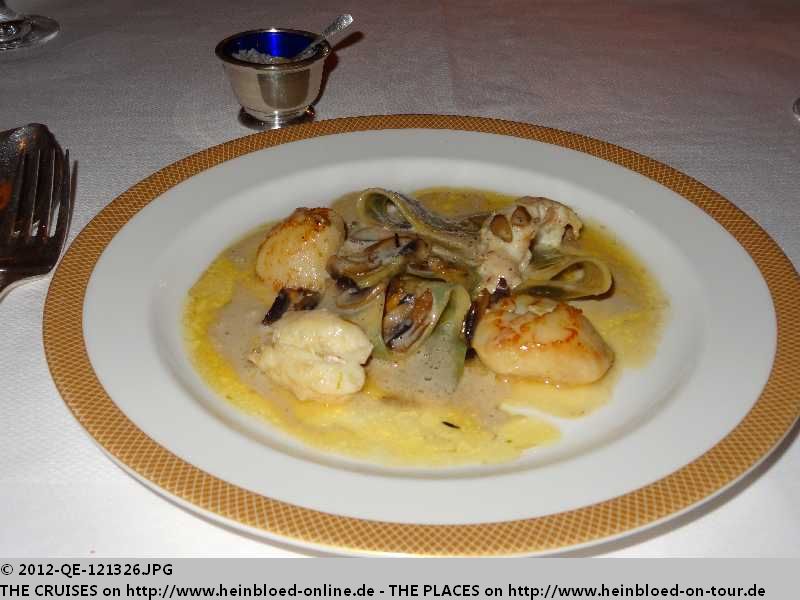 Das war mein 1. Hauptgang: Pasta mit Jakobsmuscheln und Shrimps.
Als mein Wasser im Glas sich dem Ende neigte, war sich unser Maître nicht zu schade, selbst auch mal nachzuschenken und auch immer am Tisch nachzufragen, ob alles in Ordnung ist.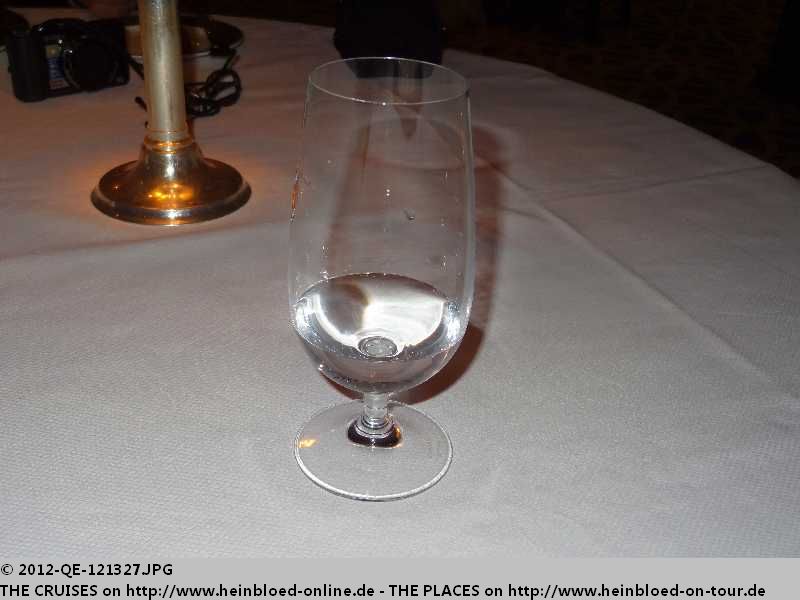 When the water in my glass was nearly empty our Maître was not afraid to fill up my glass herself and always checked from time to time with our table if everything was fine.

Then my second main course came: finally meat.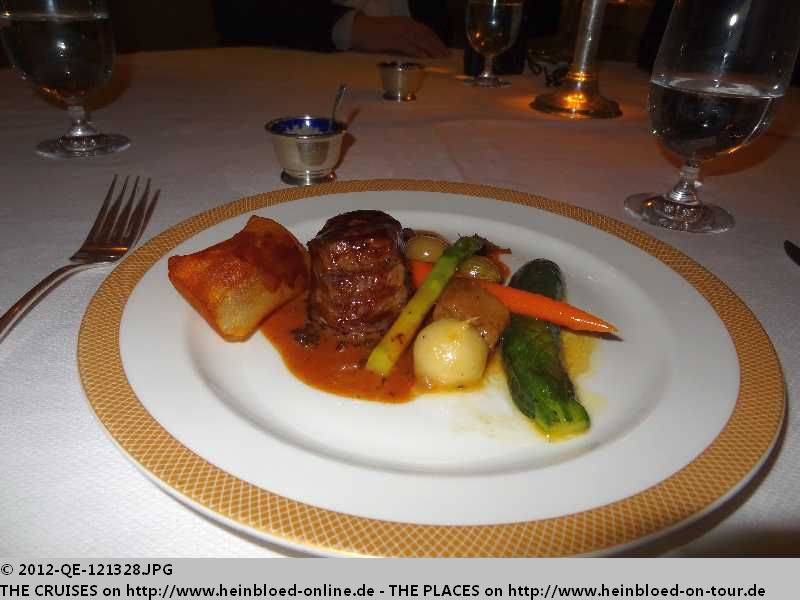 Dann kommt mein 2. Hauptgang. Endlich gibt es Fleisch.
Ich bin glücklich.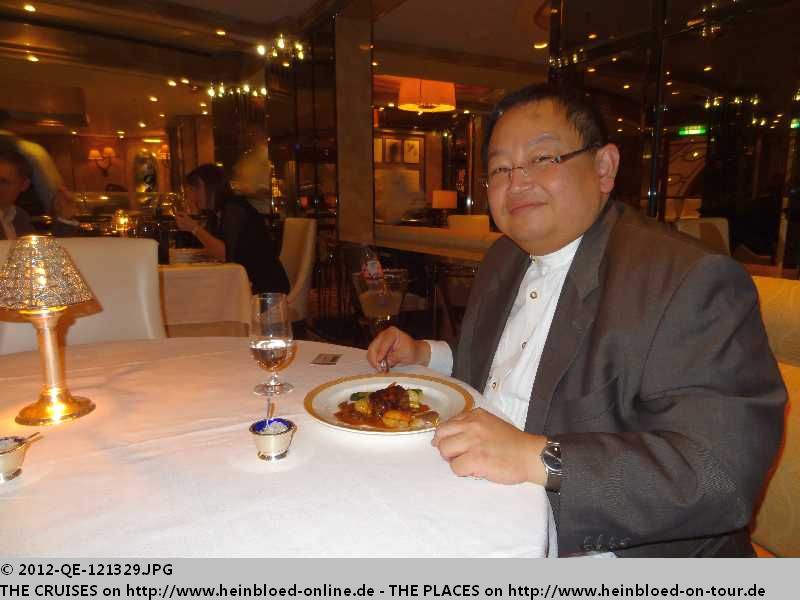 I was just happy.

As Hans-Hermann was interested to have a soufflé for dessert which need 20 minutes for preparation the waiter offered that I should take the cheese first.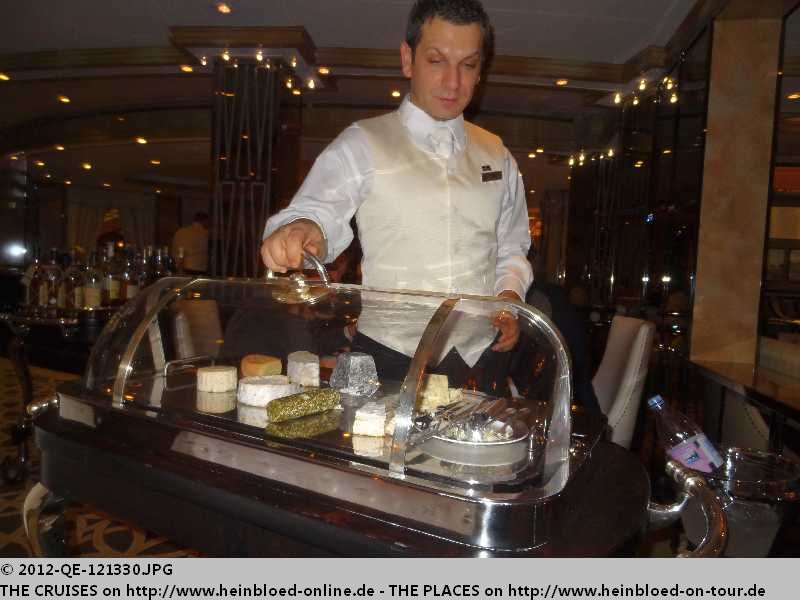 Da Hans-Hermann gerne ein Soufflé zum Nachtisch möchte, das 20 Minuten Zubereitungszeit braucht, bietet mir unser Kellner an, dass ich zunächst den Käsegang nehme.
Er stellt mir alle Käsearten vor.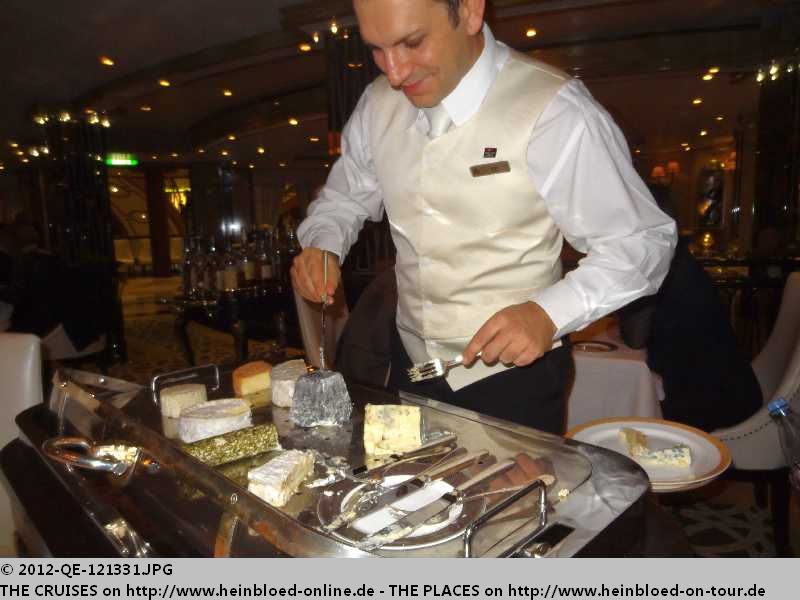 So he introduced all type of cheese he could offered.

I really asked for one little bite from each to taste but that was too much.

Ich wollte aber bloß von jedem Käse nur einen Bissen zum Probieren. Aber das war zuviel.
Die Präsentation des Soufflés wird zelebriert.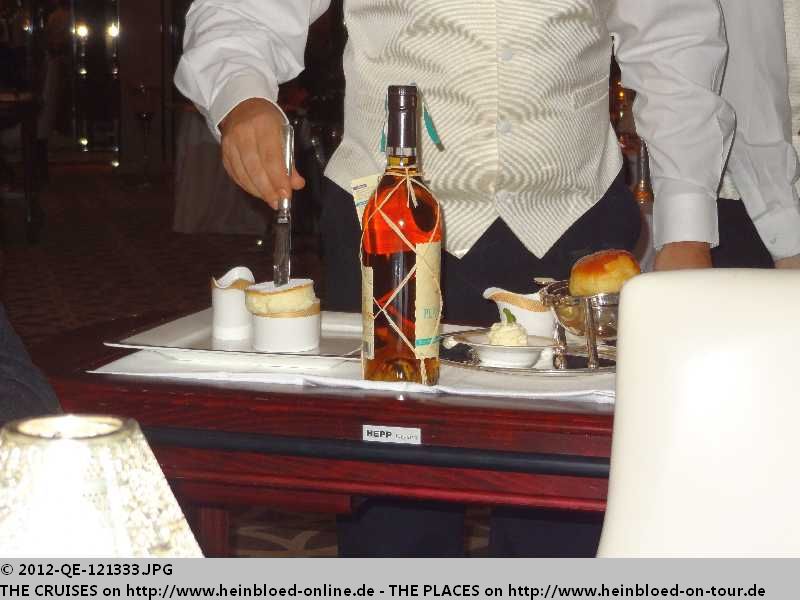 They celebrated the presentation of the soufflé.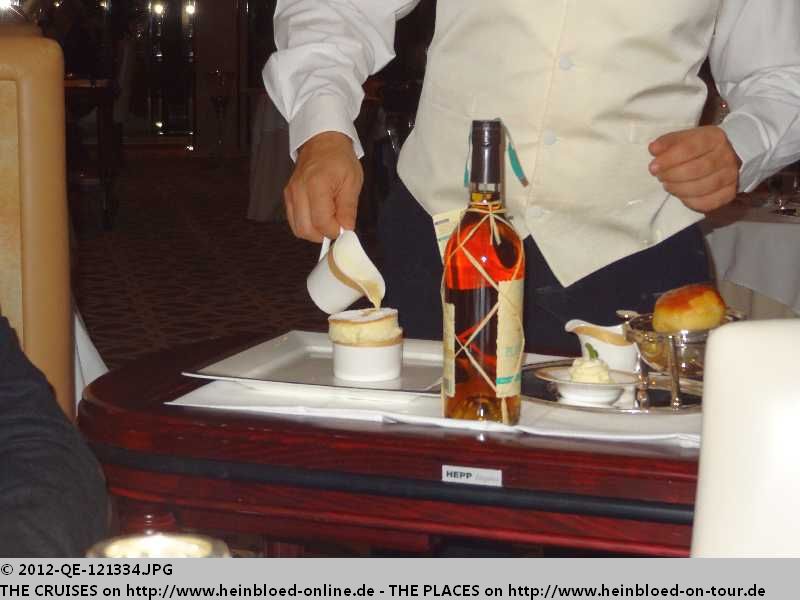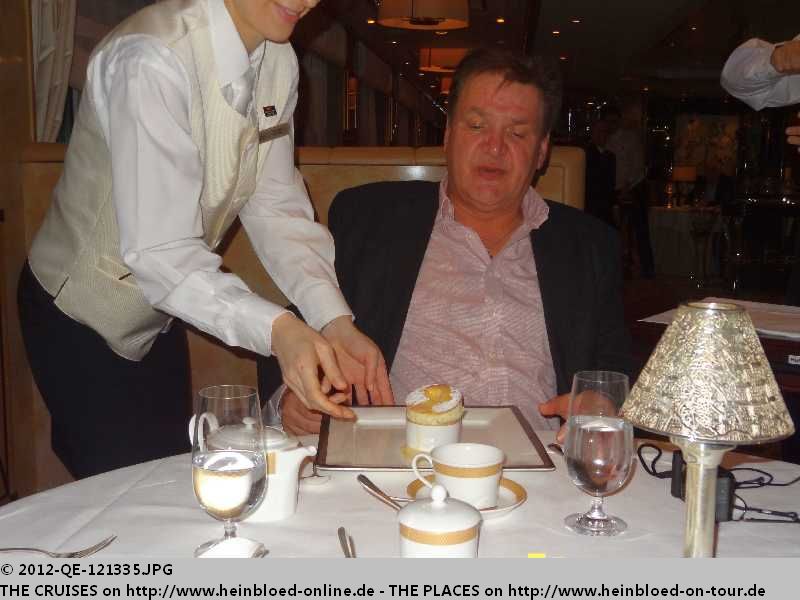 Bruno ordered a Babaorom (French cake with some rum).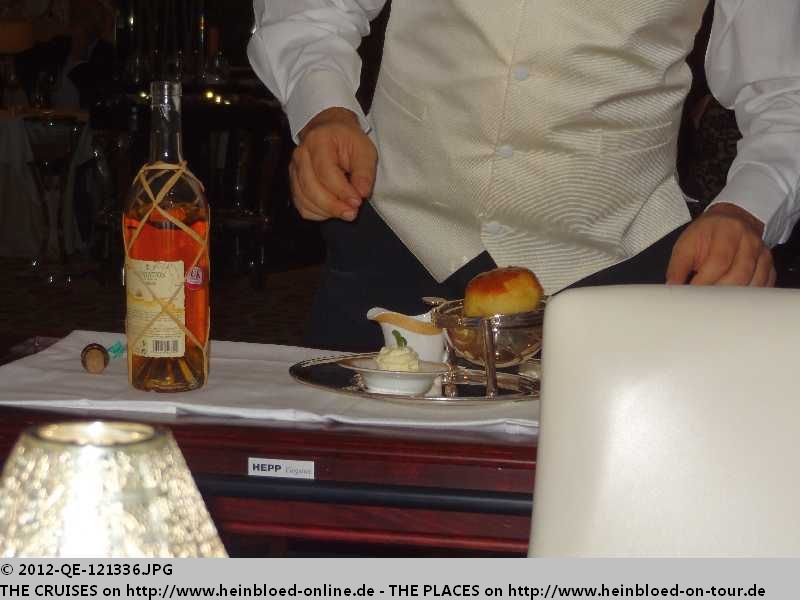 Bruno hat sich ein Babaorom bestellt.
Aber normalerweise wird er mit Rum beträufelt.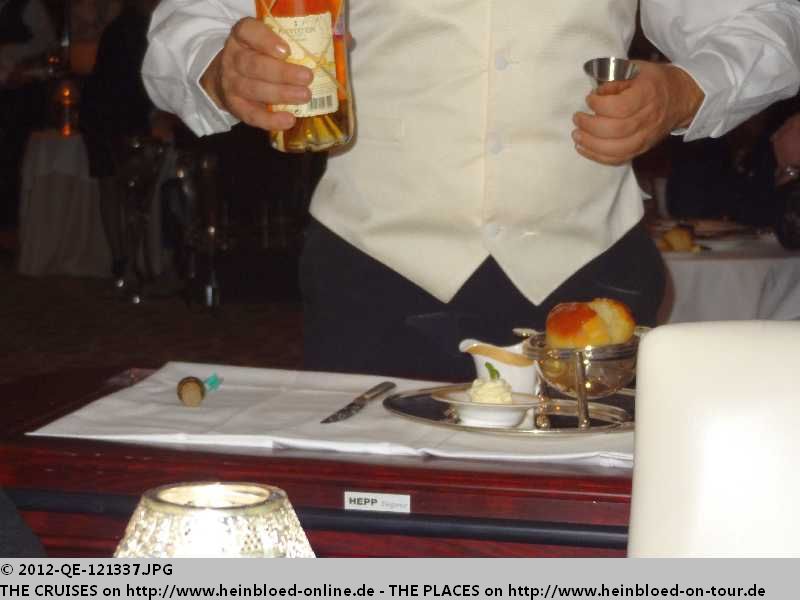 Normally you get only a little few drops of rum to flavour the cake.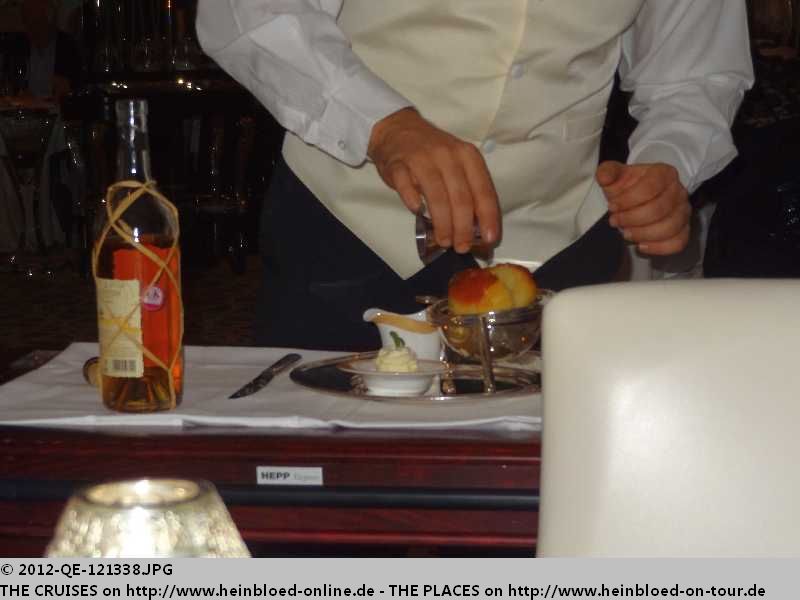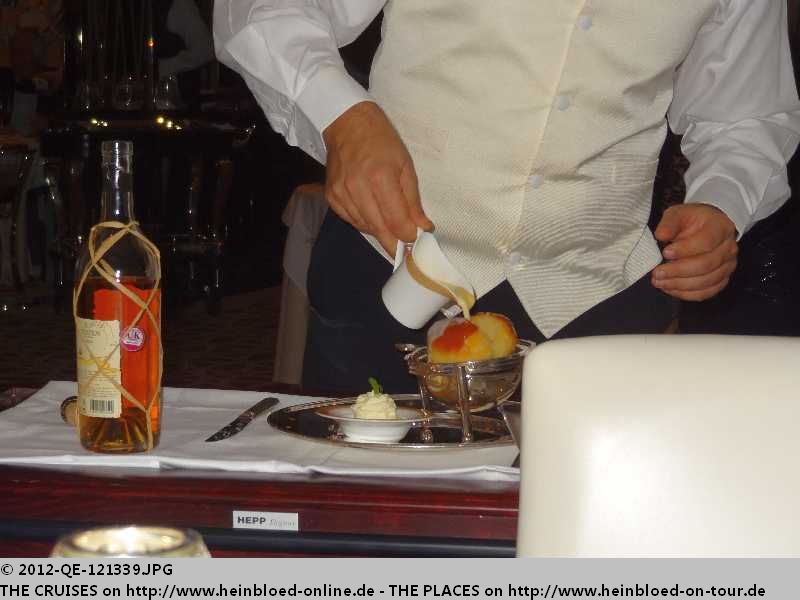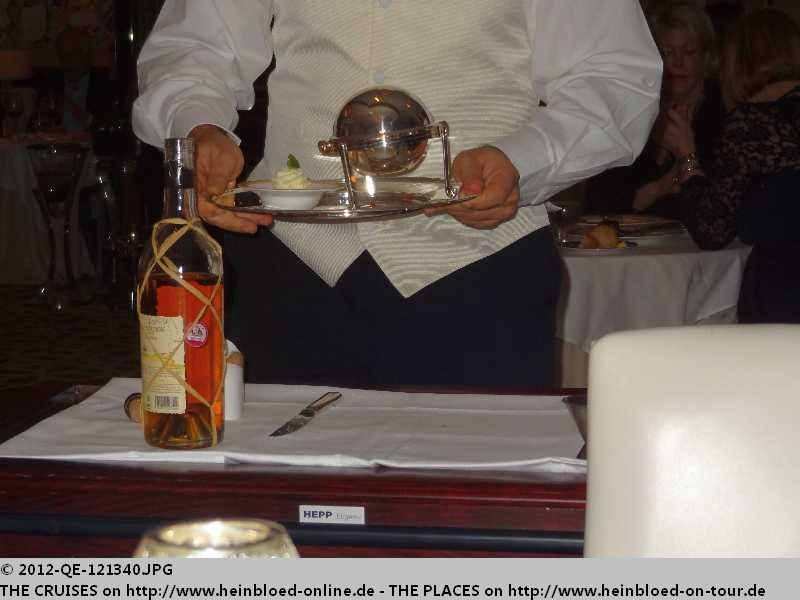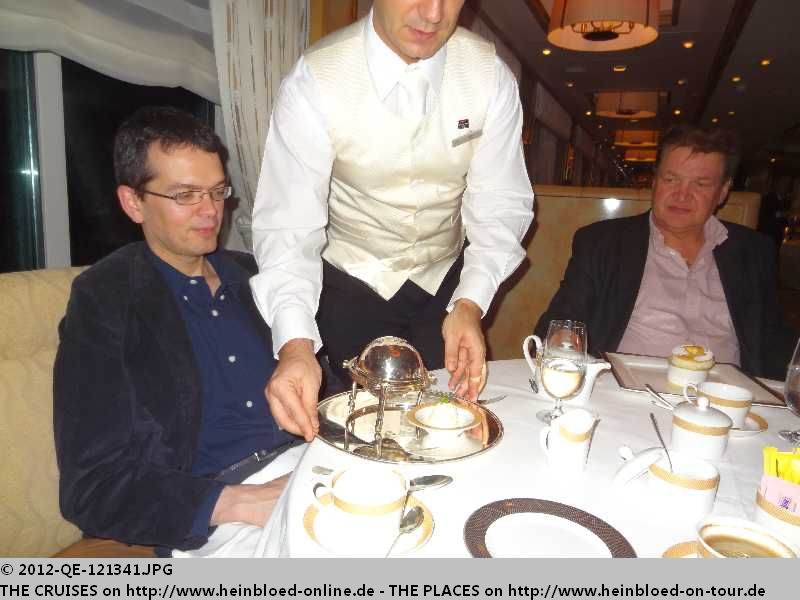 But even Bruno said that it was too much rum inside.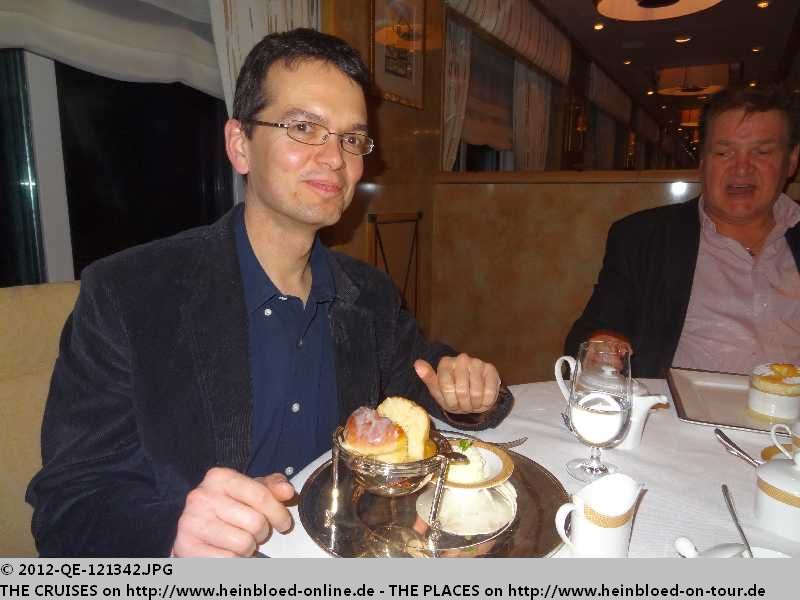 Aber da ist euch Bruno zuviel Rum drin.
Er ist nach einem Bissen schon fast betrunken.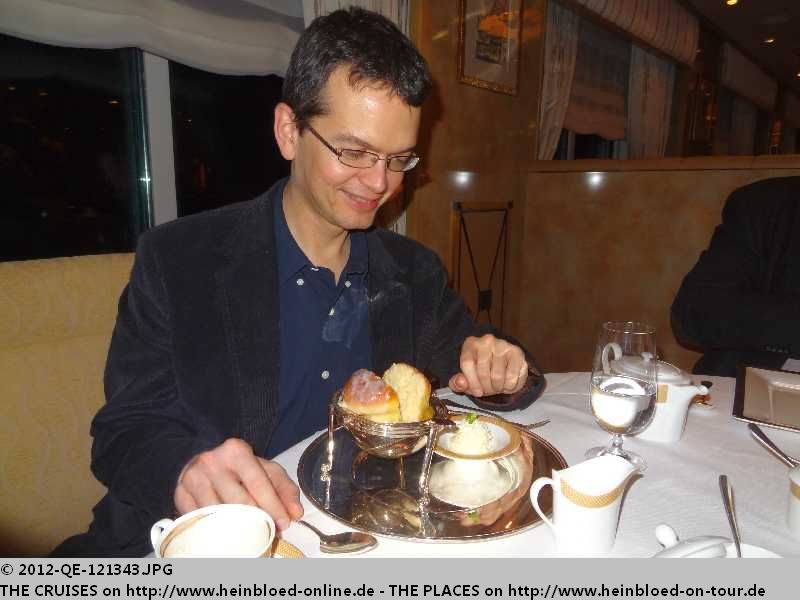 After one bite he was more or less drunk.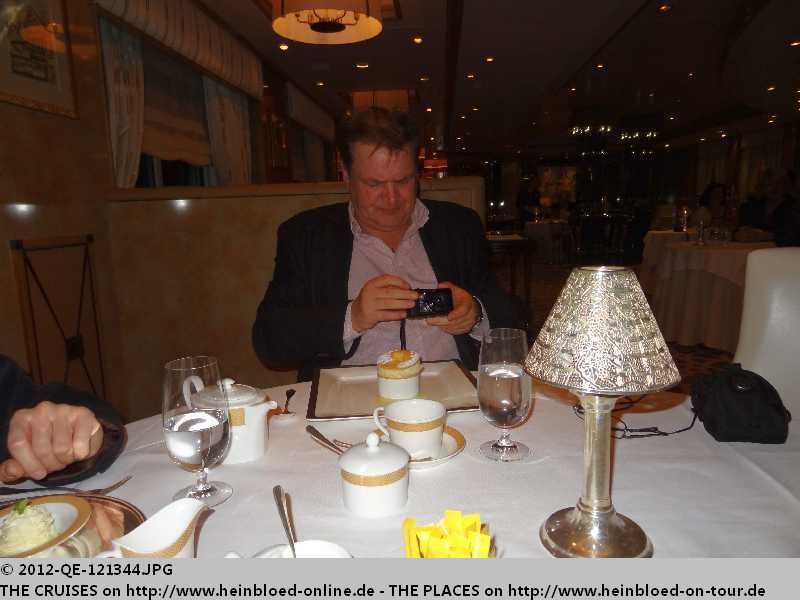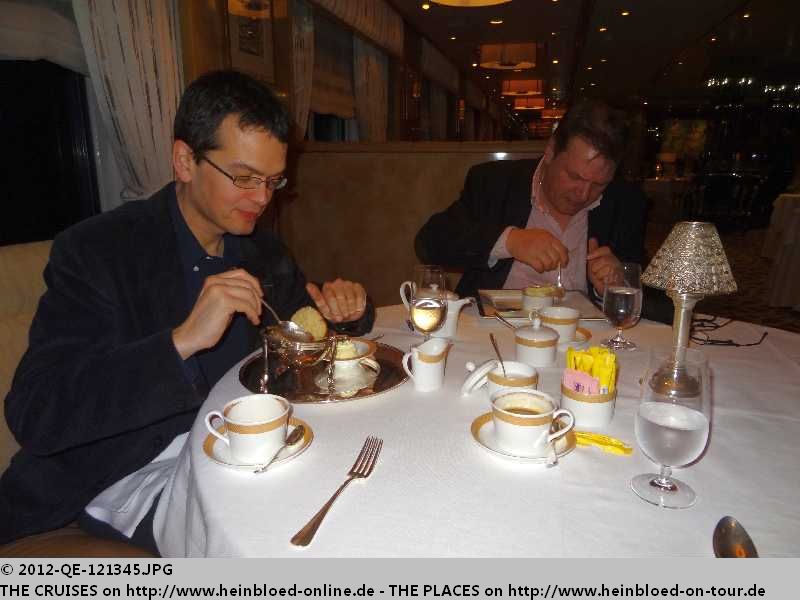 That was looking and tasting great too.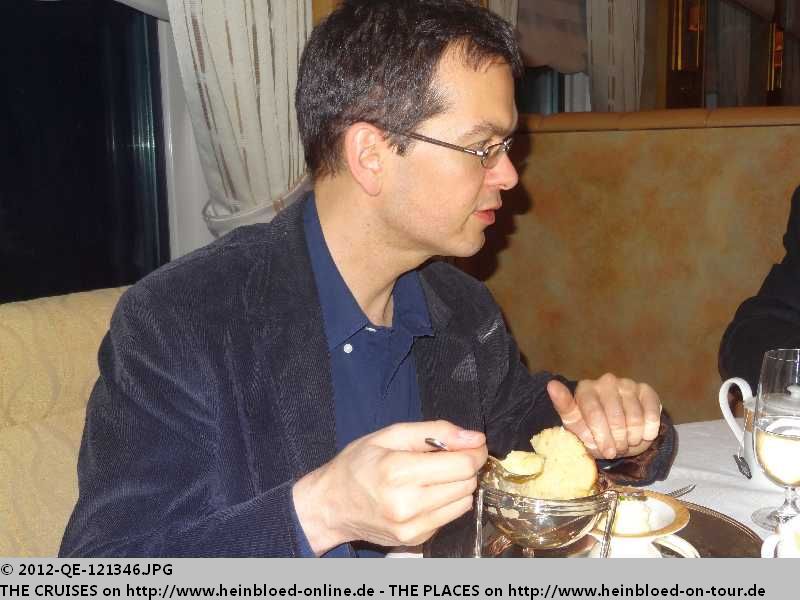 Es sieht aber klasse aus und schmeckt auch.
Ich bekomme dann meinen Sampler-Teller und darf eben vieles probieren, was mir sehr liegt. Aber nur ein Bissen. Mehr geht nicht mehr.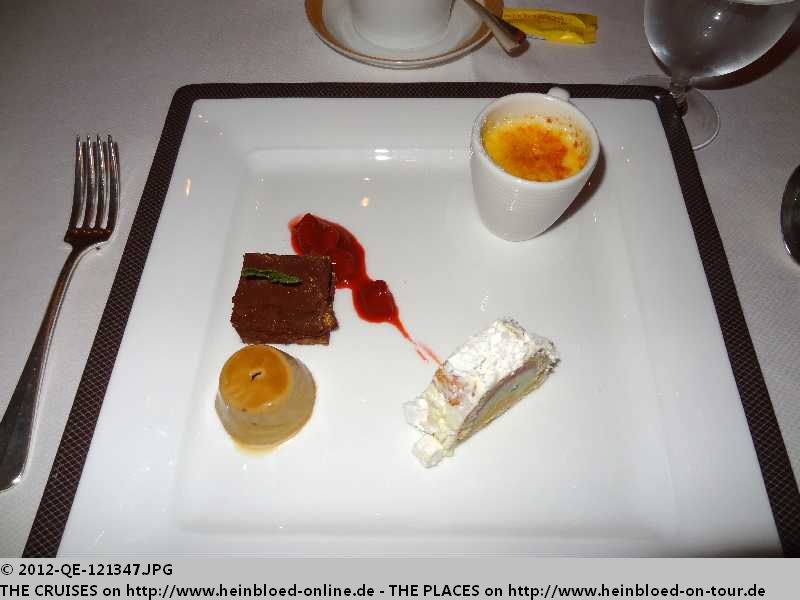 I got a sampler plate and could try many what I liked. But always one bite only. More I was unable to eat.

Last not least we got the trolley with all petit-fours.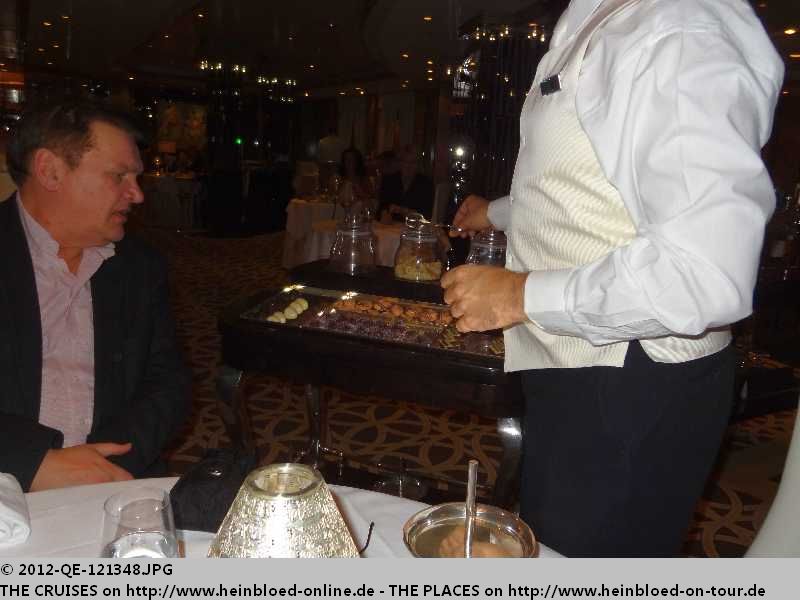 Am Schluss kommt noch der Wagen mit den Petit Fours vorbei.
Selbverständlich dürfen wir unsere selbst aussuchen.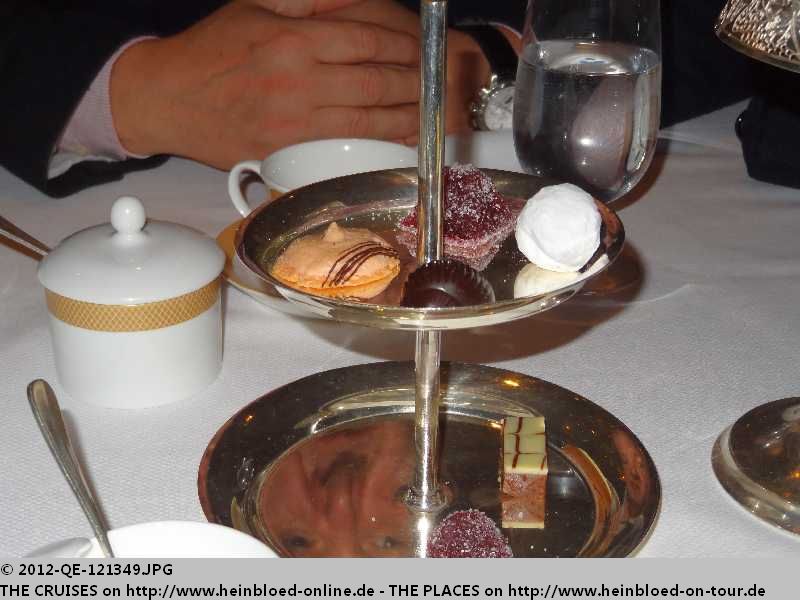 Of course we were allowed to choose our preferred ones.

When the bill came we placed some tip and more for the group performance. Because the service was so wonderful we had some Mon-Cheris for the whole team ready. I payed for Bruno and me about 80 USD. A menu of this style would have been in Frankfurt much much more.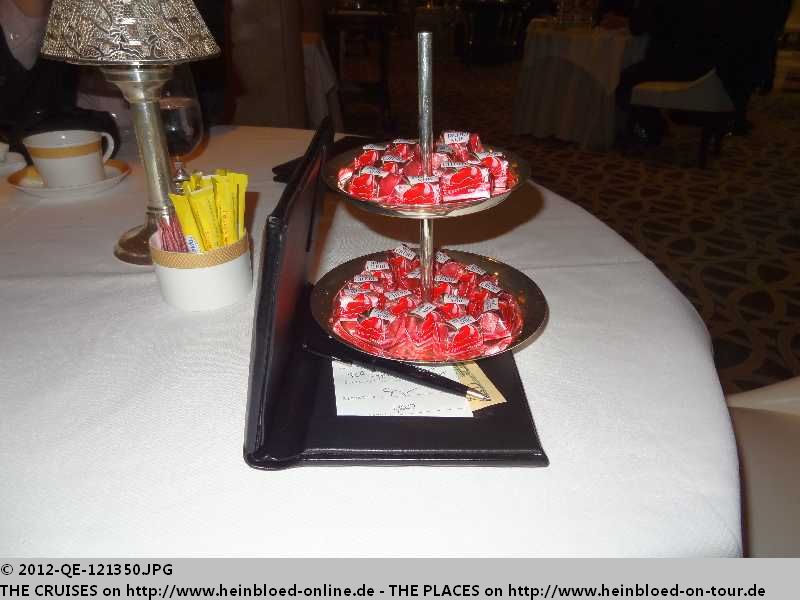 Als die Rechnung kommt, legen wir für die Gruppenleistung ein entsprechendes Trinkgeld noch rein. Und weil der Service so toll war, legen wir für das Team eine entsprechende Menge Mon-Cheris rein. Bruno und ich zahlen zusammen ca. 80 USD. Ein vergleichbares Menü hätte in Frankfurt uns sehr viel mehr gekostet.
Besonders haben wir den Service genossen. Es gibt immer welche, die meinen, dass man so etwas an Bord nicht braucht. Ich kann nur sagen: sie wissen nicht was sie verpassen: es gibt Riesenunterschiede beim Essen und beim Service und man sollte es einfach mal selbst erleben. Vielen Dank dem tollen Team. Uns hat es gefallen und ein besonderer Höhepunkt unserer Reise auf der QUEEN ELIZABETH.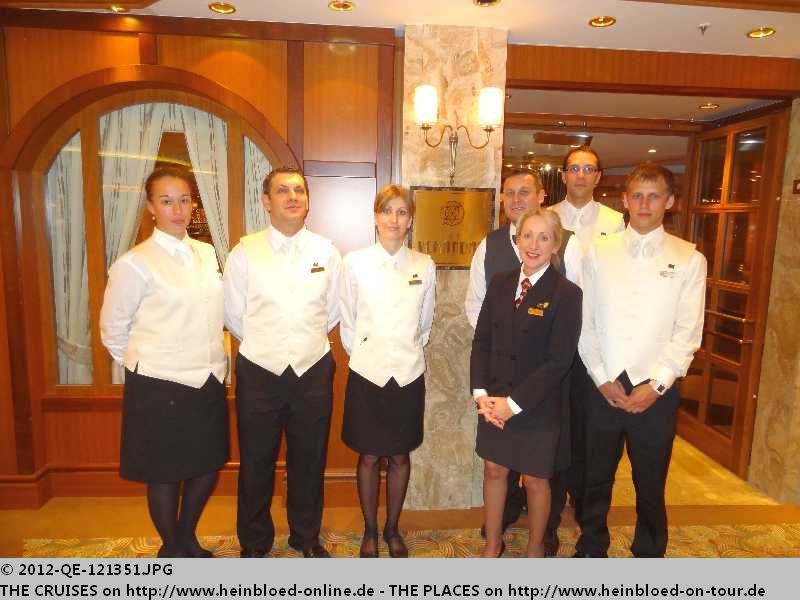 We enjoyed very much the outstanding service. I know few cruisers who think that you do not need this kind of venues and food on board. I can only say: they do not know what they miss: there is a giant gap between the food and service and you better experience it yourself. Thanks to a great team. We loved it and it was a special highlight of our voyage on QUEEN ELIZABETH.