Scroll down for English explanations - alternates with German explanations.

Gegen 00.50 Uhr gibt es zunächst Code Alpha (Medizinischer Notfall). Unser Gepäck wird gerade abtransportiert. Blöderweise war wohl noch meine Cruise-Card im Smoking. So muss ich zur Rezeption laufen, um mir eine neue Cruise-Card zu holen. Zum Glück hatte ich mein Portemonainne in der Hosentasche, so dass ich mich ausweisen konnte.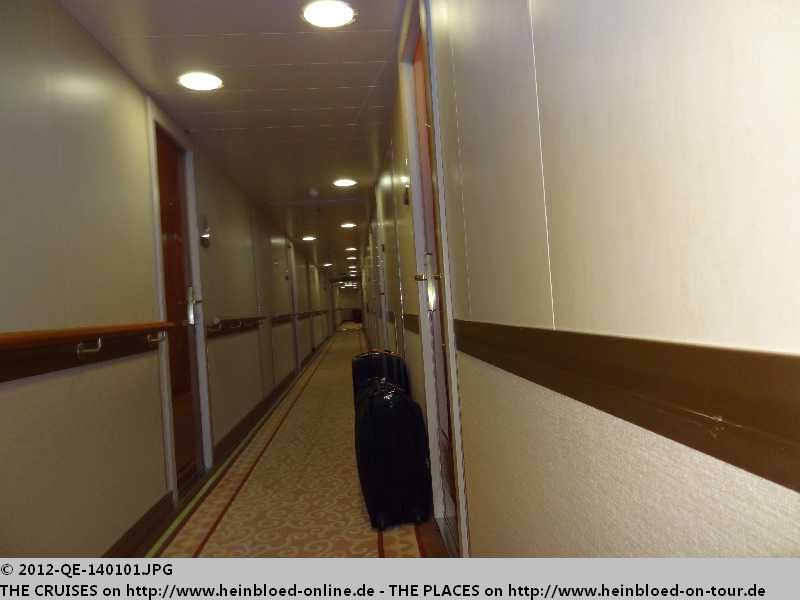 Around 00.50 hrs we had a Code Alpha (Medical Emergency). Our bags were just carried away. Somehow it was stupid that my cruise card was in my tuxedo. So I need to see the reception again to have a new cruise card. I was lucky that I had my wallet with my ID in my pocket.

When our final bill came the next morning it was really that they credited the internet-access to each of us. A really good system.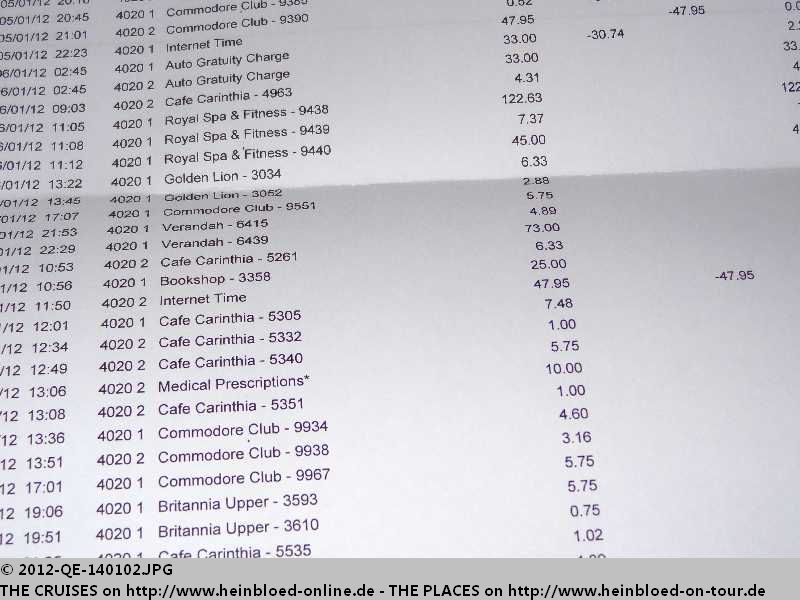 Als am nächsten Morgen die Rechnung kam, war es in der Tat so, dass die Internetnutzung für jeden von uns beiden einmalig kreditiert wurde. Das ist ein gutes System.
Was uns allerdings sehr überraschte: Loyalty Discount - konnten wir nirgendst bei den Unterlagen vom World Club finden. Wir sollten doch mal öfters mit ihnen fahren... (Später fanden wir heraus, dass es die zwei Internet-Guthaben waren.)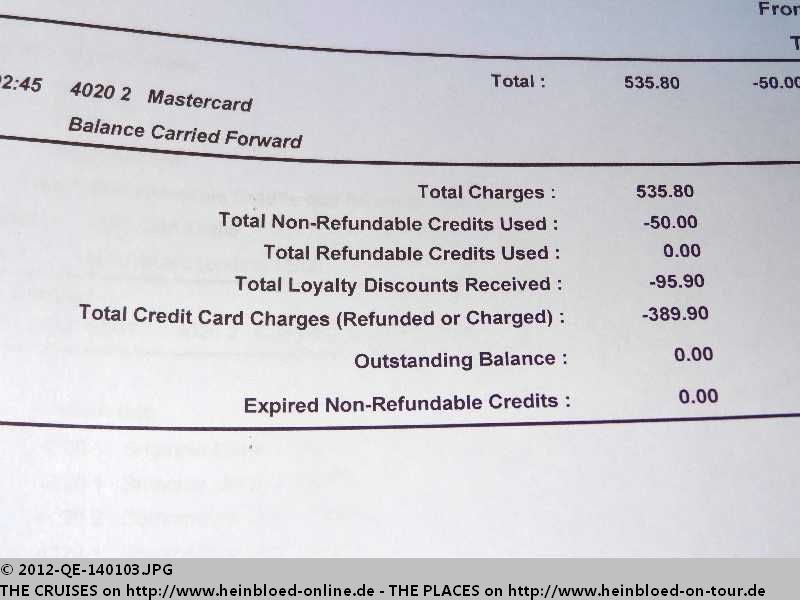 what was surprising to us: Loyalty Discount - we could not find anything in our World Club records. We should go more frequent with them... (later we knew that this was the two internet-credits.)

On my iPad I followed our entry. In the Welcome Point there was no reaction.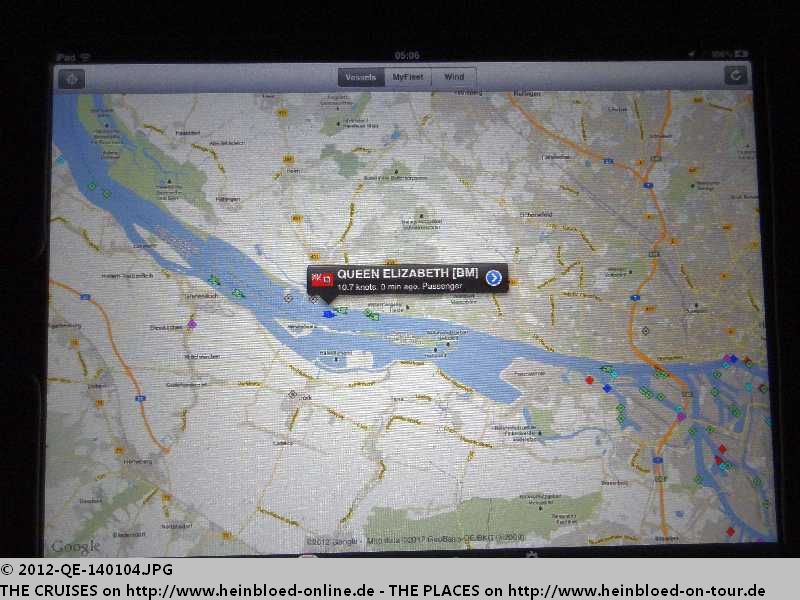 Auf meinem iPad verfolge ich unsere Einfahrt mit. Im Willkommshöft tut sich nichts.
Blankenese liegt im Dunkeln. Mir tut der ältere Herr von gestern Abend leid, der doch glatt 20 Minuten an der Rezeption mit der Rezeptionistin ausdiskutiert hat, wann er aufstehen und auf welchem Deck er stehen muss, um die Einfahrt zu genießen und zurückzuwinken, wenn sie uns von Land zuwinken.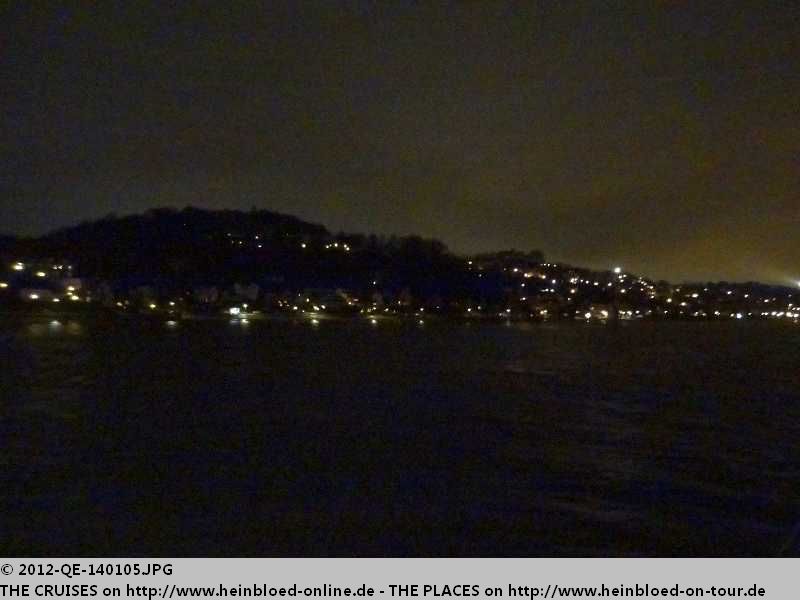 Blankenese (a very wealthy neighbourhood of Hamburg) was dark. I felt sorry for the older gentleman who discussed 20 minutes with the receptionist when he had to wake up and where to stay on an open deck to enjoy the entry and to wave back the people who should wave from the shore side.

There was not so much too see.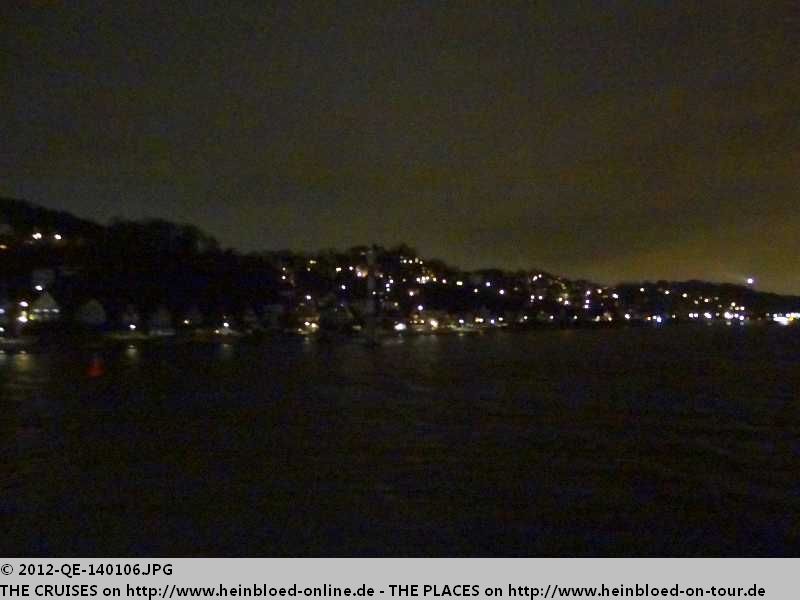 Viel gab es wirklich nicht zu sehen.
Nach dem unser Lotse für die Elbe bereits in Le Havre an Bord genommen wurde, sehe ich dass jetzt wohl der Hafenlotse ankommen müsste.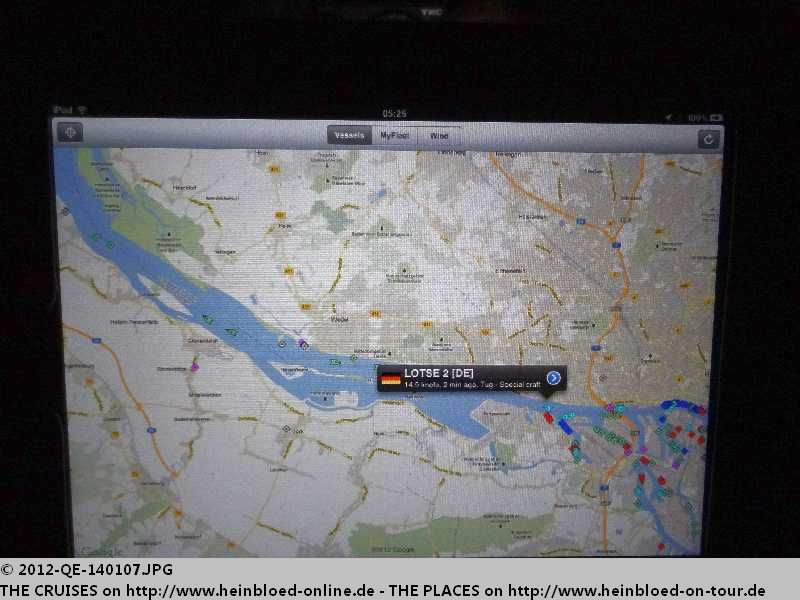 Our river pilot already joined us in Le Havre. Now it should be the port pilot who should join us.

So just here in Blankenese he entered the ship.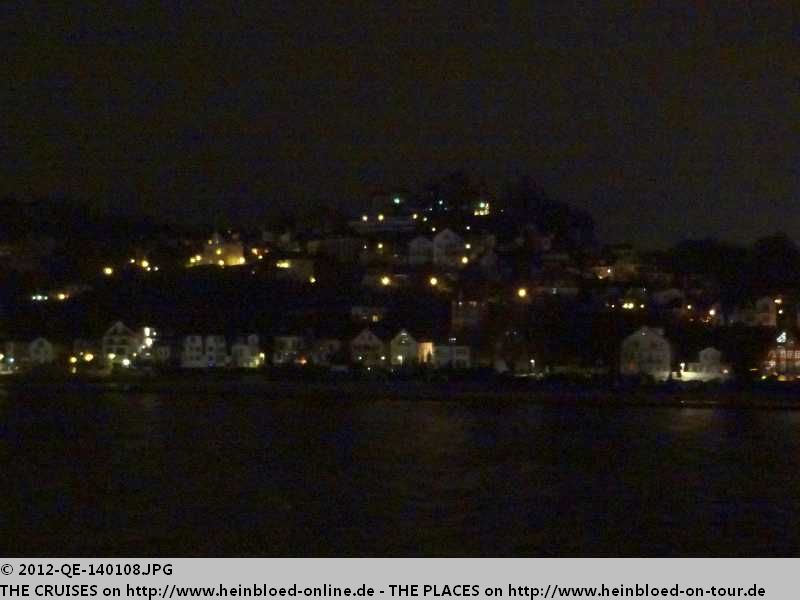 Vor Blankenese passiert es denn, dass er zusteigt.
Auf dem AIS von marinetraffic wird ja alles leicht verzögert dargestellt, so dass er hier noch nicht eingetroffen ist.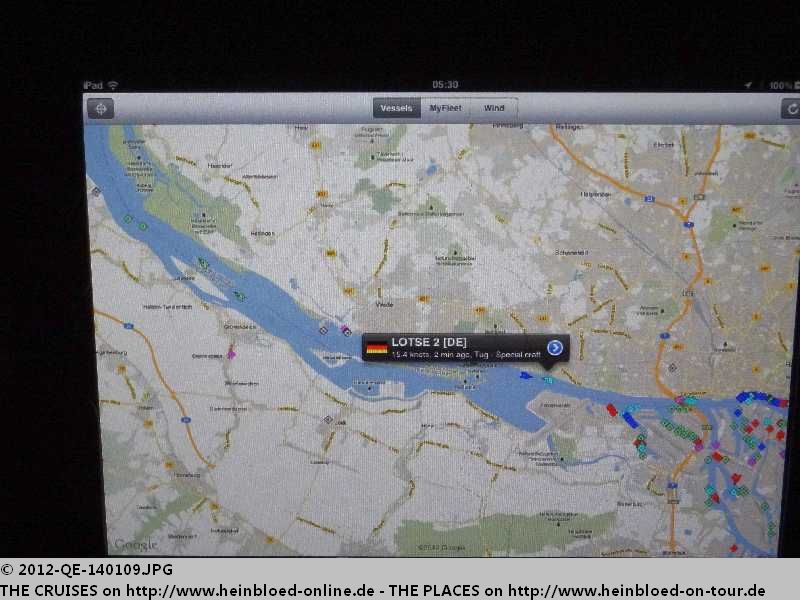 On the AIS of marinetraffic you see everything a little later than reality so we have not met yet on the screen.

In the front you could already see Hamburg.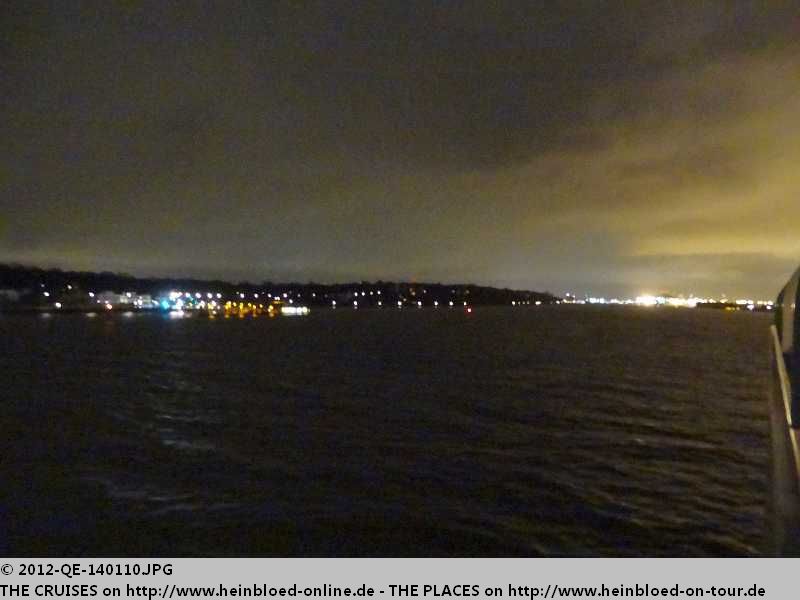 Vorne ist schon Hamburg zu sehen.
Wir bleiben vor Waltershof stehen und drehen leider.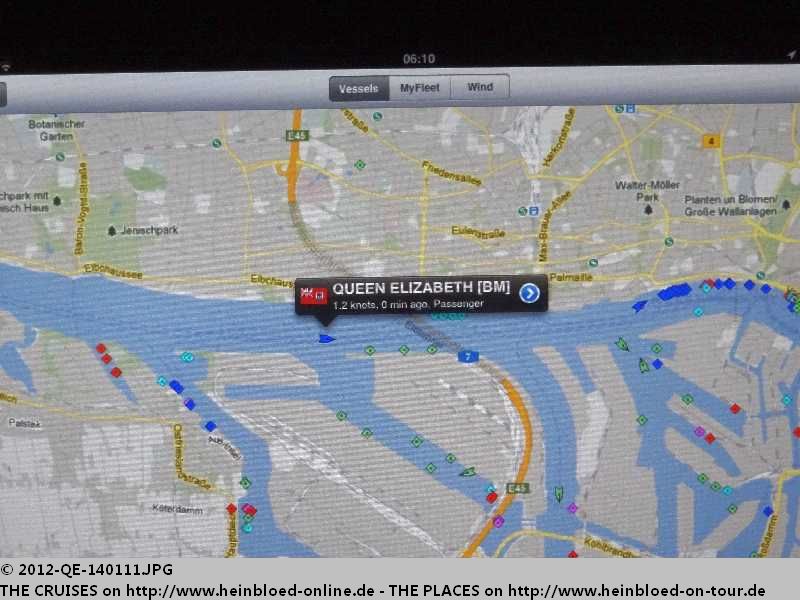 Unfornuately we stopped at Waltershof Container Terminal and made a U-turn.

The first thing to see: just MSC.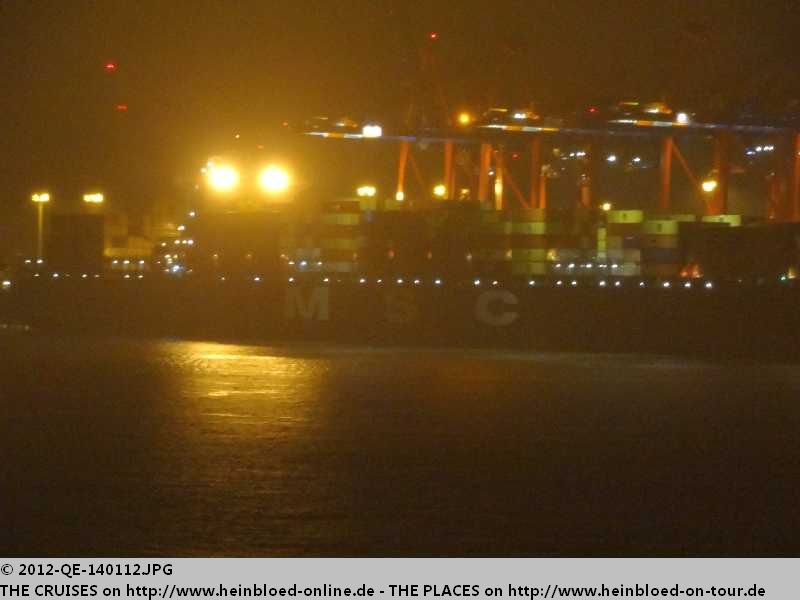 Der 1. Anblick: ausgerechnet MSC.
Es sah aber trotzdem beeindruckend aus.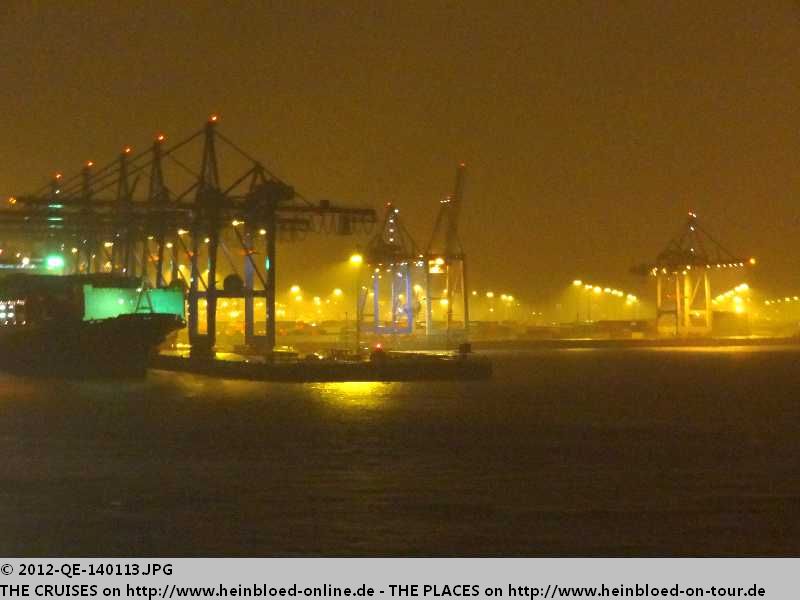 But it looked quite impressive.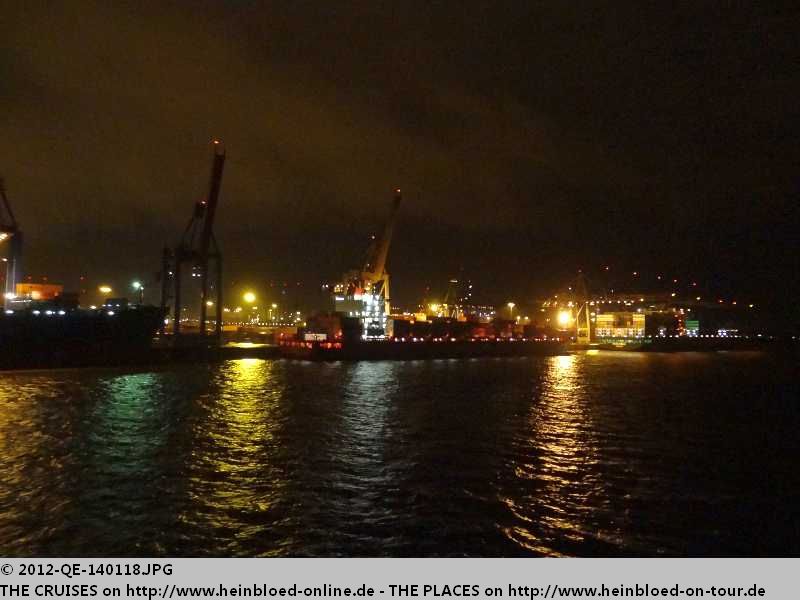 Although we were sailing backwards you could not see it on AIS.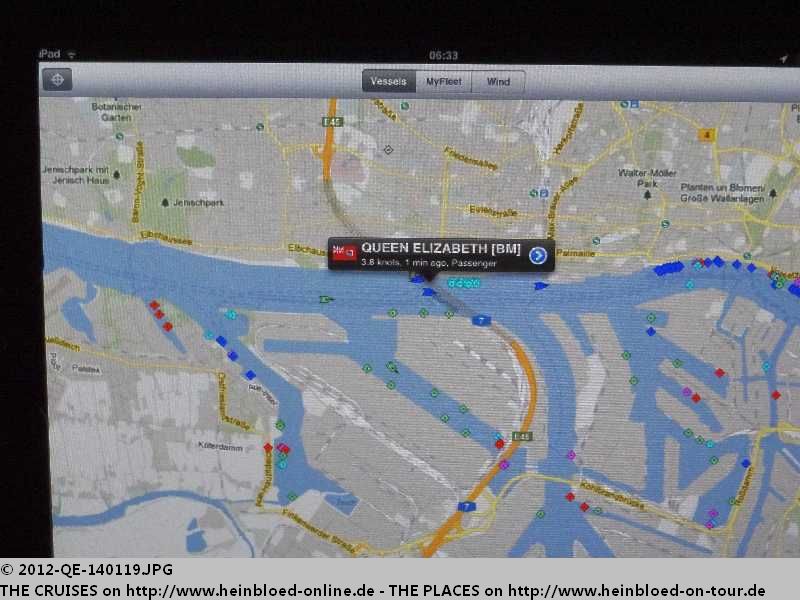 Obwohl wir jetzt rückwärts fahren, wird es auf dem AIS nicht so dargestellt.
Wir kaufen uns noch die letzten Bilder von gestern Abend, die wir als gut erachten.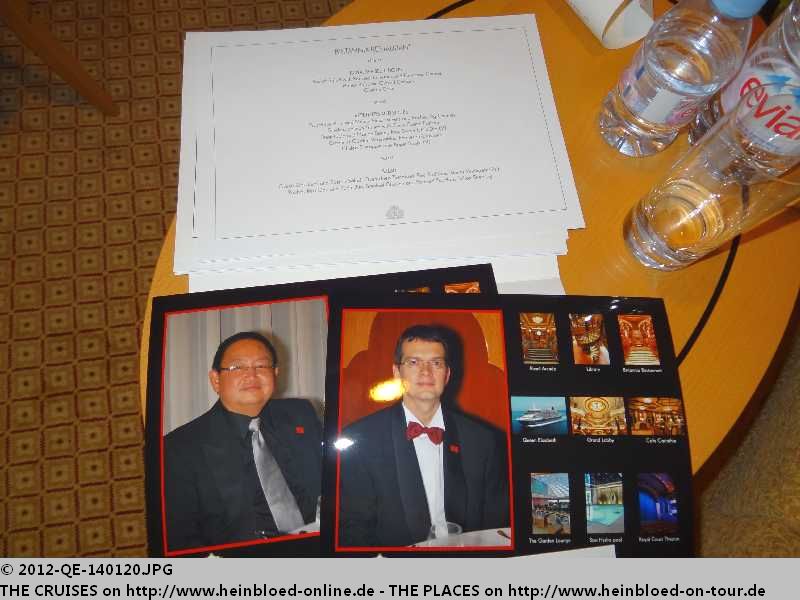 We purchased the last pictures from last night which came out quite well.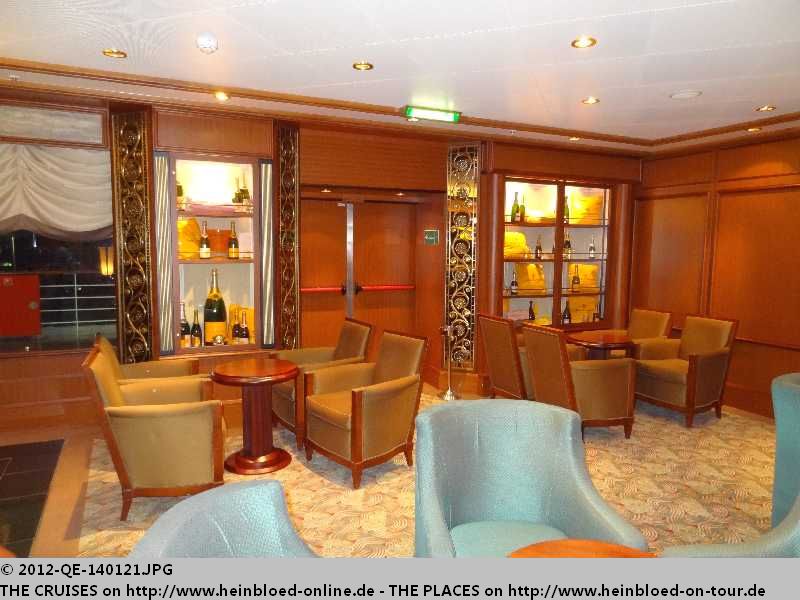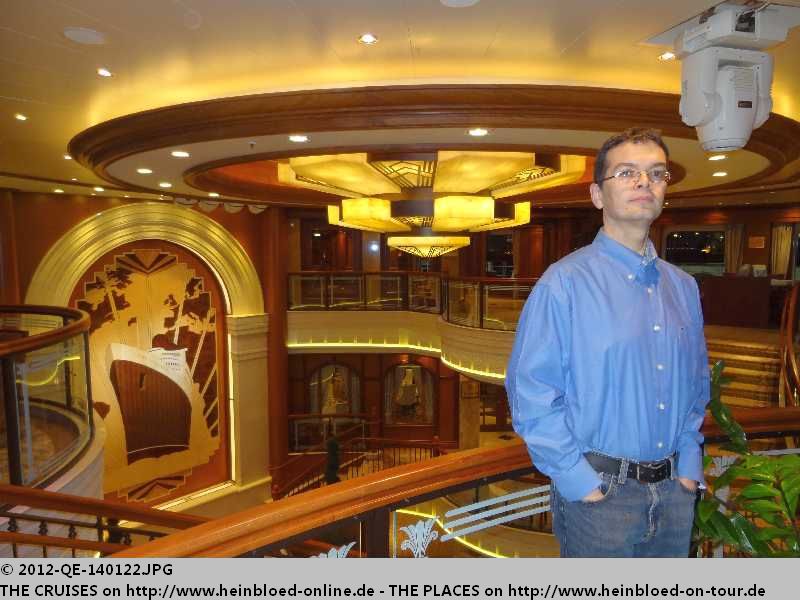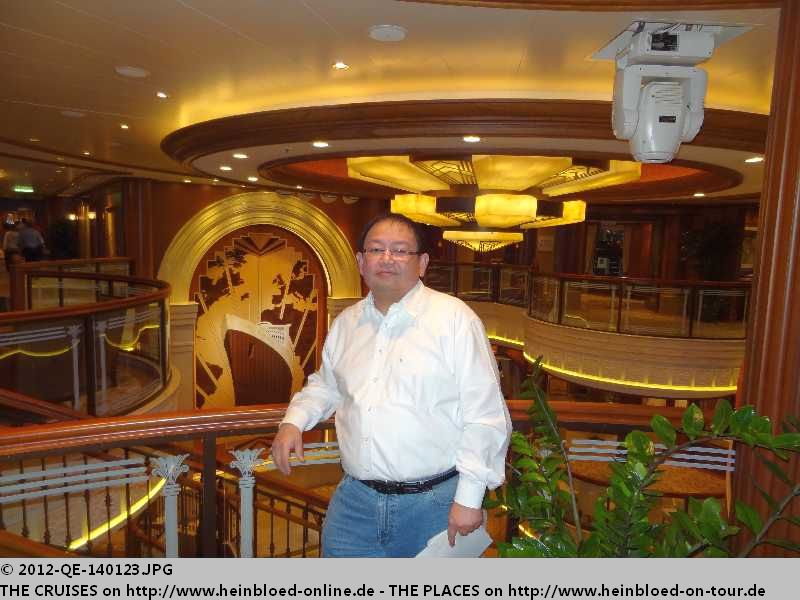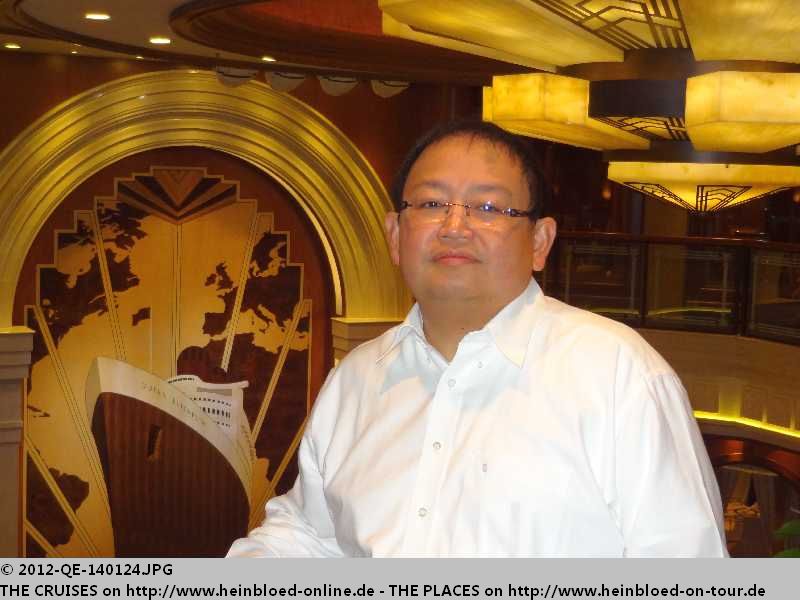 So our last impressions from the ship.

Noch ein paar letzte Ansichten vom Schiff.
Es geht nochmals zum Frühstück. Dort werden wir von unserem Maître aus The Verandah begrüßt.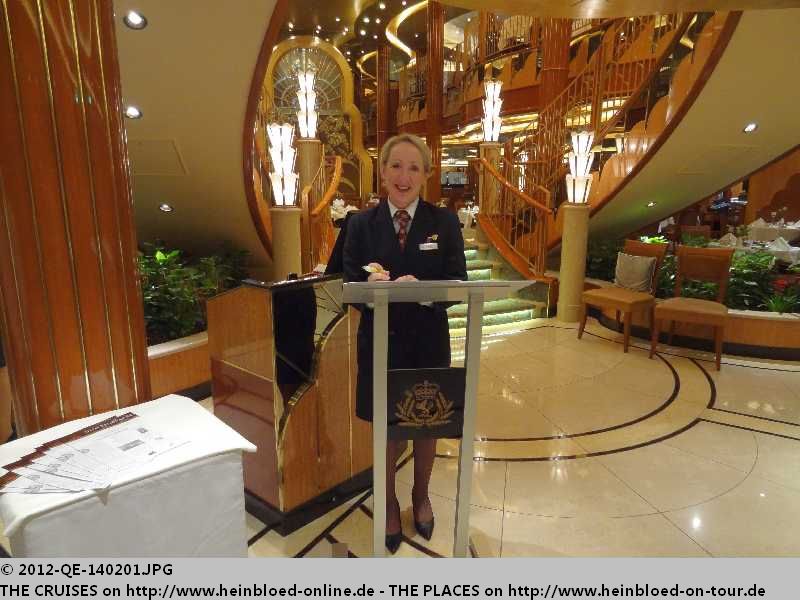 A very last time we went for breakfast. Here our maître from The Verandah welcomed us.

Although it was debarkation: nobody was there.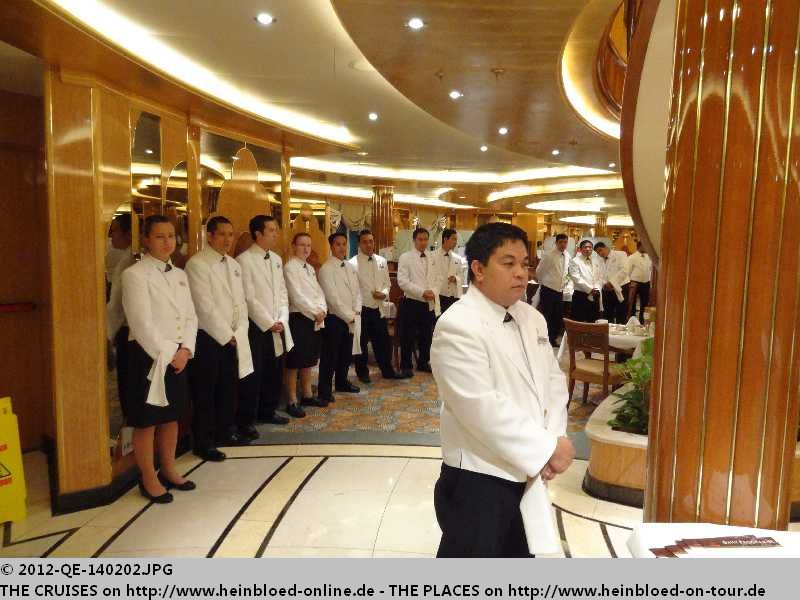 Trotz Ausschiffung: es ist kaum jemand da.
So bekommen wir auch den besten Tisch für uns alleine am Heck.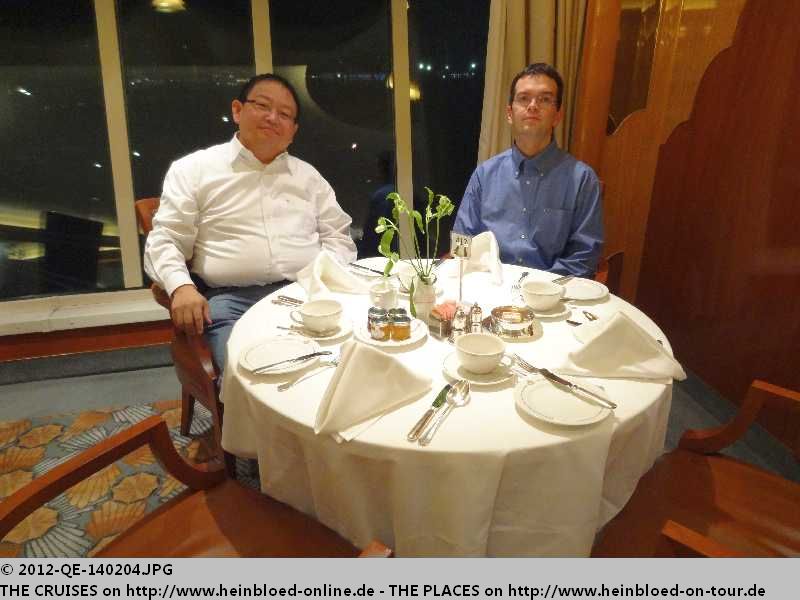 So we got the very best table at the stern just for us.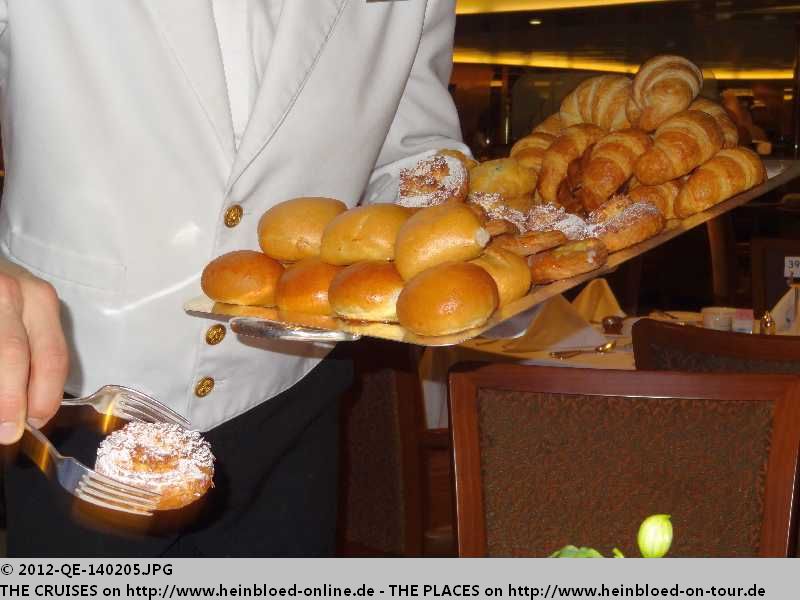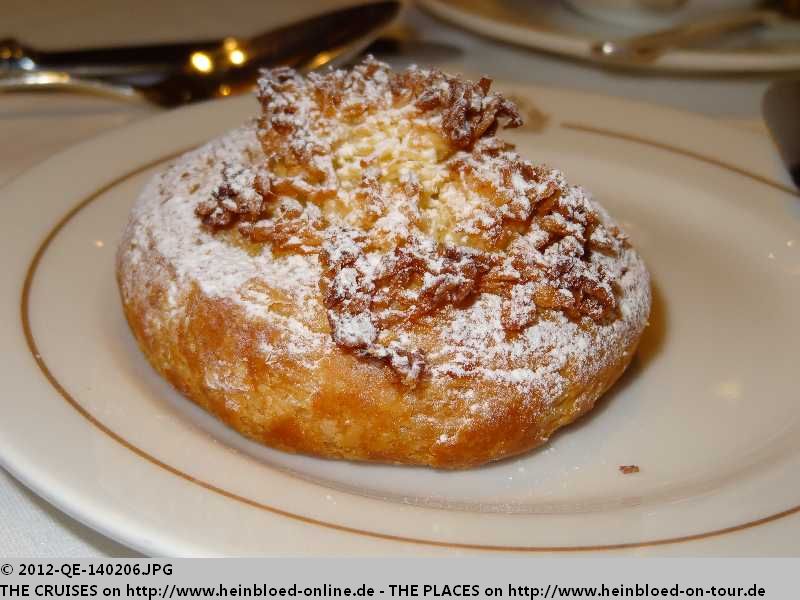 Next to us Phil was sitting there. We knew him from our FOD-round and he would debark in Hamburg too.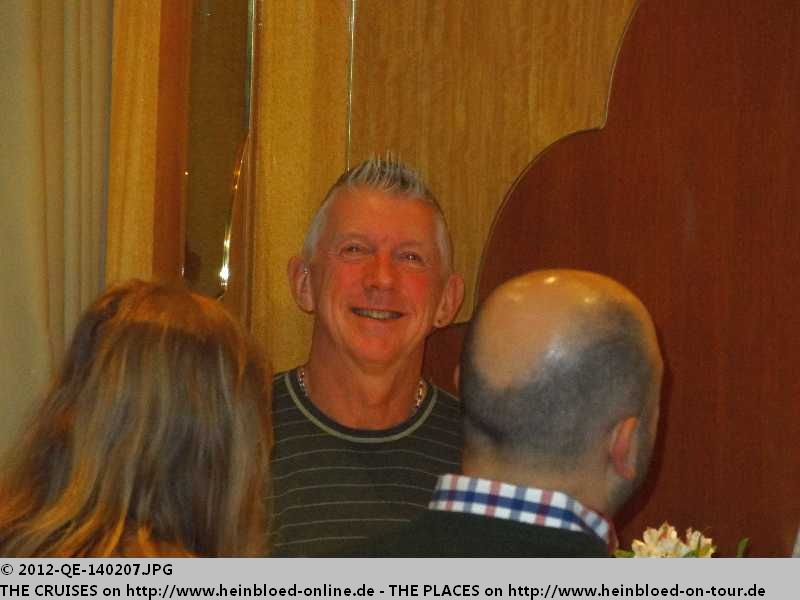 Am Nachbartisch ist Phil, den wir von der FOD-Runde kennen und hier auch in Hamburg aussteigt.
Weil die Gangway bereits anliegt, zieht es sogar bis ins Restaurant durch.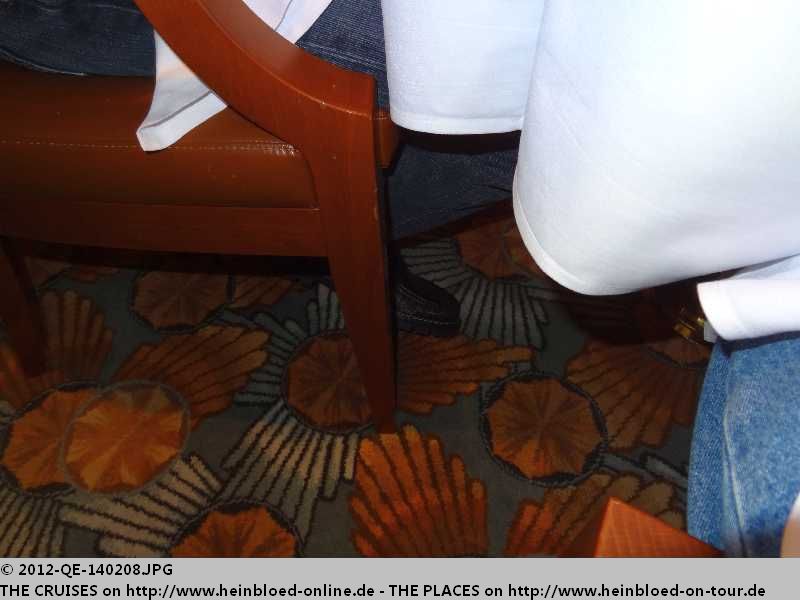 Because the gangway was already connected it was breezy and cold upto the end of the restaurant.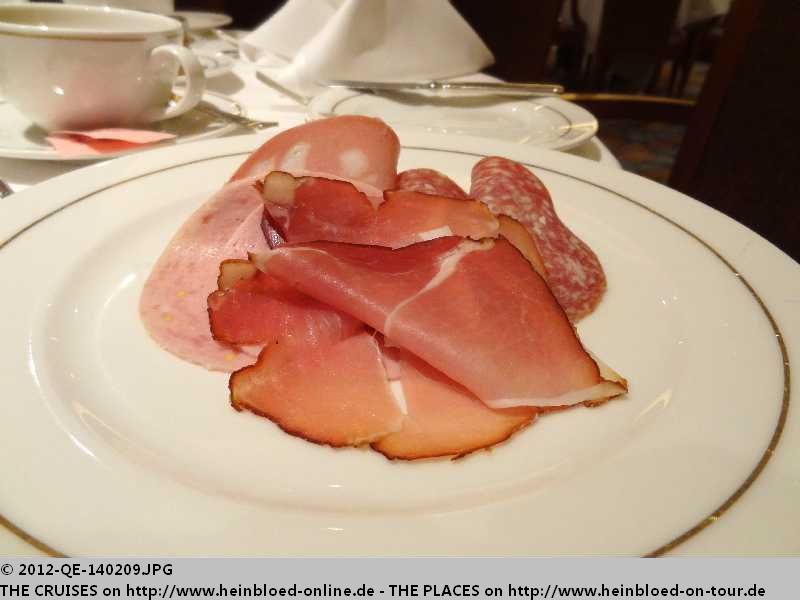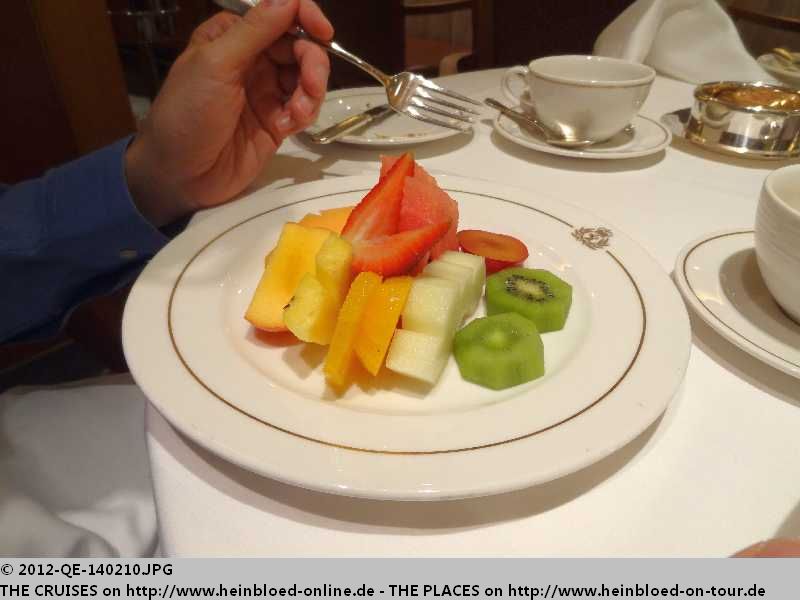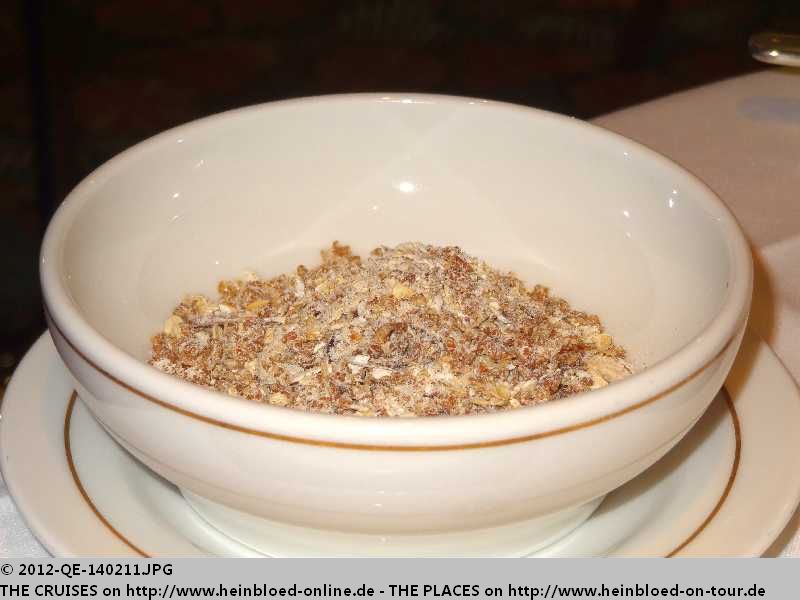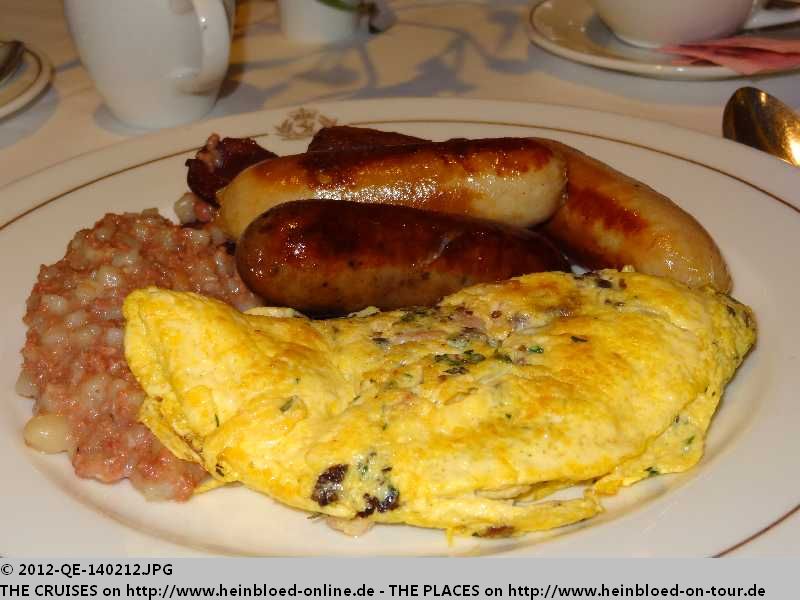 Bye-bye my beloved rye-bread...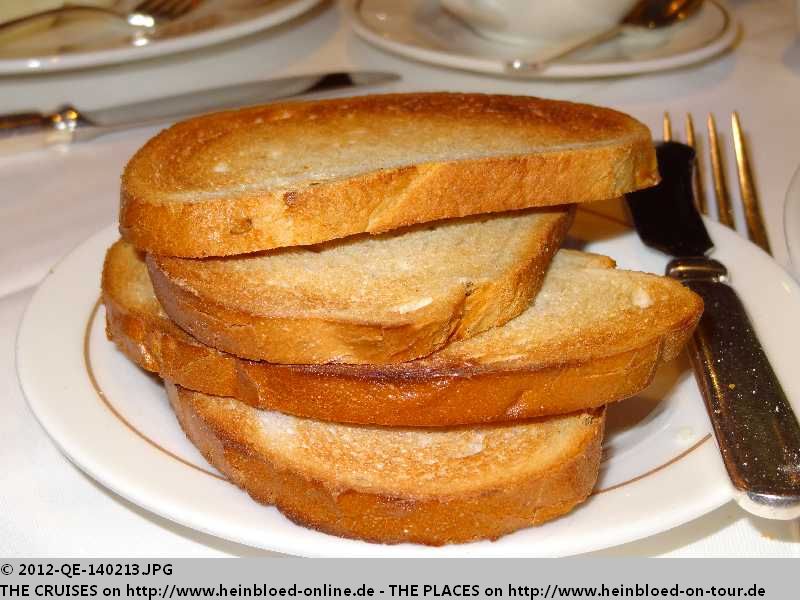 Tschüss mein geliebtes Kümmelbrot...
Noch ein paar Bilder zum Schluss vom Restaurant. Es ist schon beeindruckend.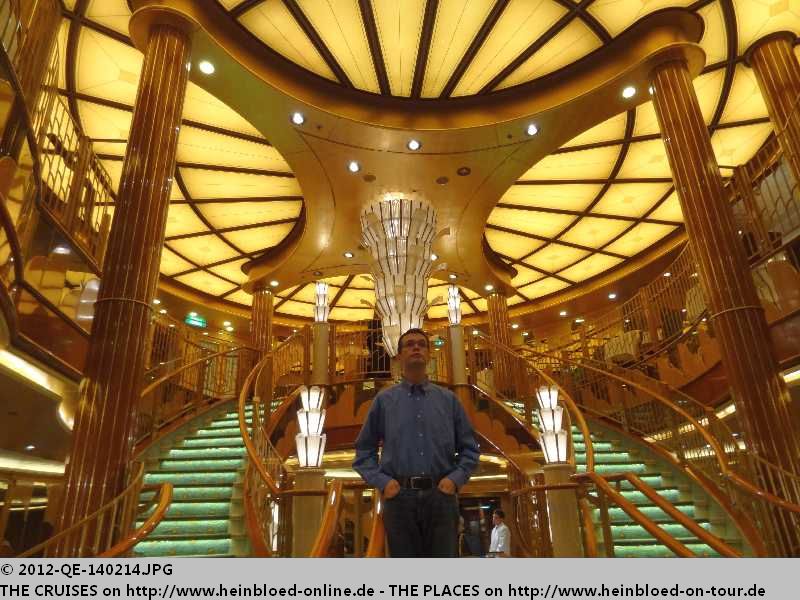 Finally few shots from the restaurant which was really impressive.