Scroll down for English explanations - alternates with German explanations.

Nun um 16.00 Uhr geht es zur Seenotrettungsübung. Westen müssen mitgenommen werden.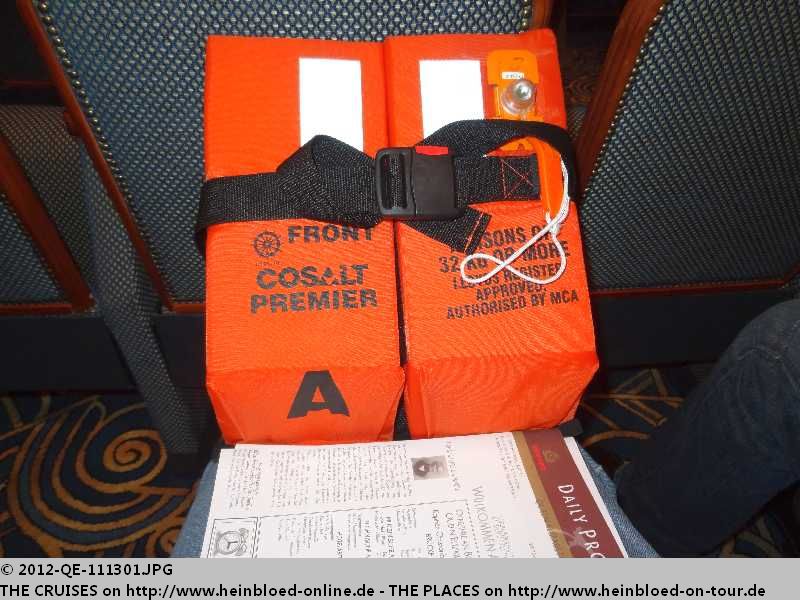 Now around 16.00 hrs we had to attend the life drill. We still had to carry our life vests with us.

To keep it short: at the end everybody had to wear them.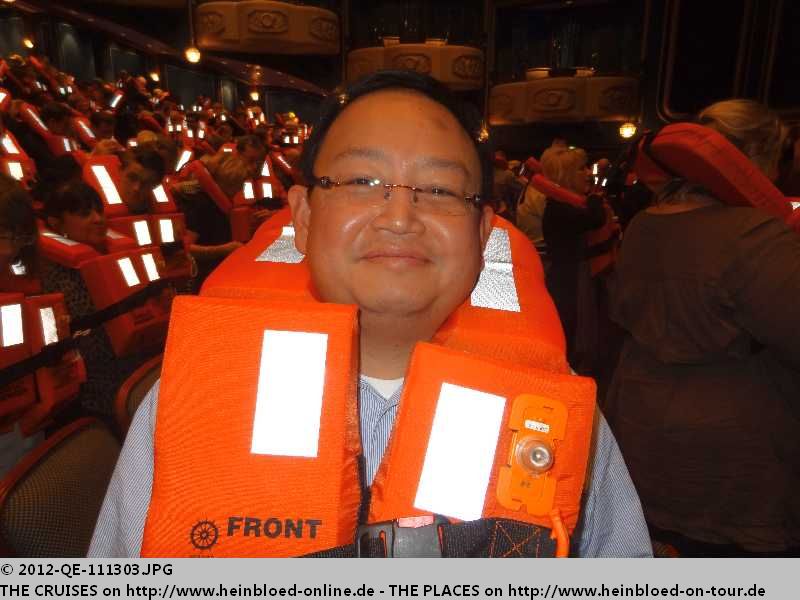 Um es kurz zu machen: Sie werden am Schluss gemeinsam angelegt.
Und bis dahin ist es ein Vortrag in Englisch und Deutsch, den man einfach sitzend folgen kann. Ich hatte die Tagesprogramme mitgenommen und nutze die Zeit, um sie mir durchzulesen.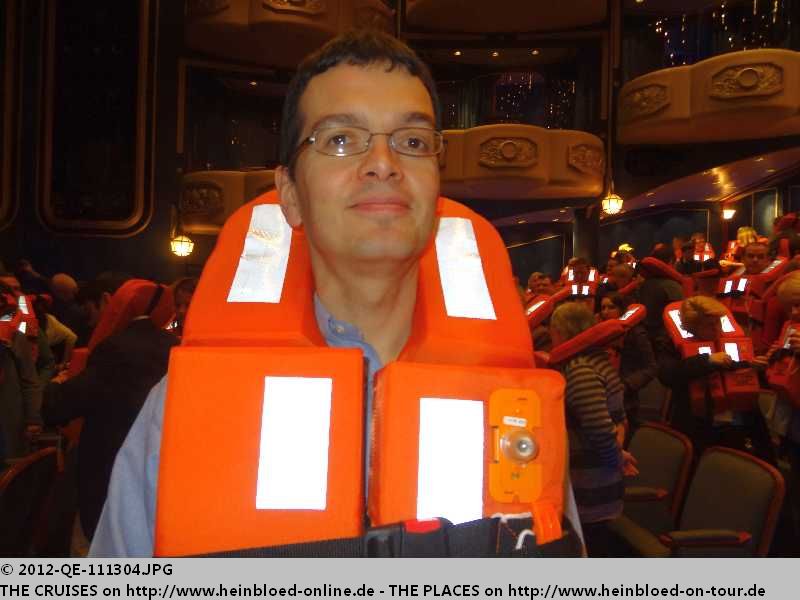 So far you get all announcements in English and German so you can just sit and follow. I had the daily programmes with me and used the time to read them.

As we were in the theater these posters attracted my attention.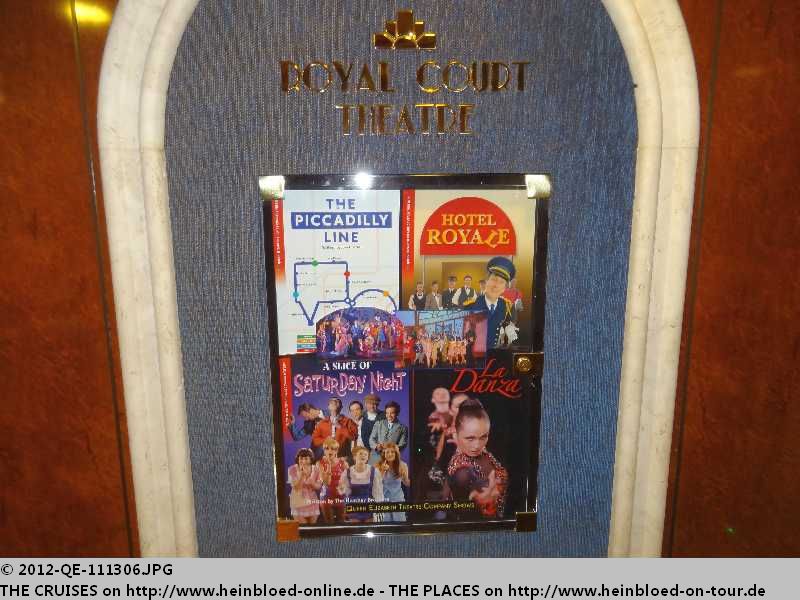 Da wir im Theater sitzen fallen mir die Plakate auf.
Sind das etwa alle Stücke, die an Bord gezeigt werden?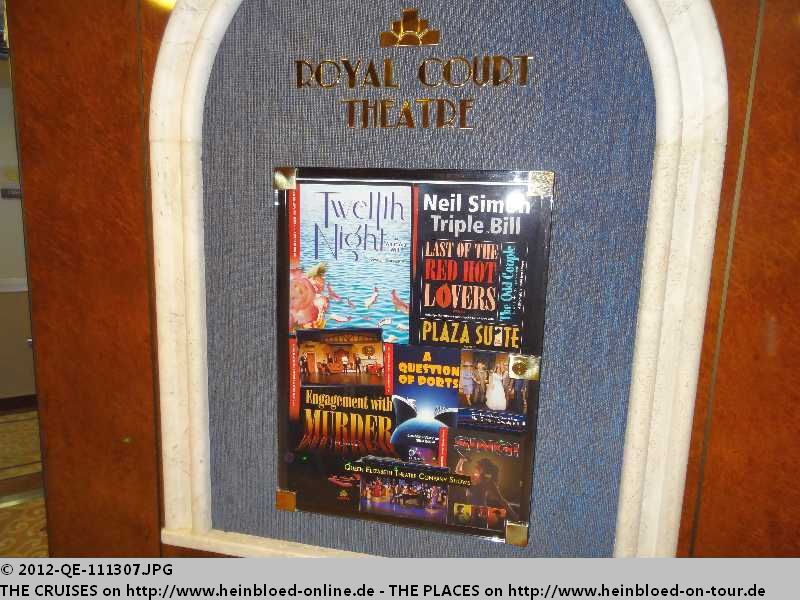 Do they present all the shows here on board?

I could not remember how it was on QUEEN VICTORIA then but here you had one queue and a sign.

Ich erinnere mich nicht mehr wie es auf der QUEEN VICTORIA war aber hier gibt es eine Schlange für alle und ein entsprechender Hinweis.
Ich gebe meinen Douglas Ward ab und bitte darin den Captain mein Buch zu signieren. Und da wäre noch eine weitere Nachricht für die Cruise Direktorin, mit der Anfrage, ob sie etwas für die cruisecritic.com-Mitglieder tun kann. Amanda ruft am nächsten Morgen zurück und sagt zumindest zu, dass ein Teil des Commodore Clubs für uns gesperrt wird, damit wir nicht suchen müssen.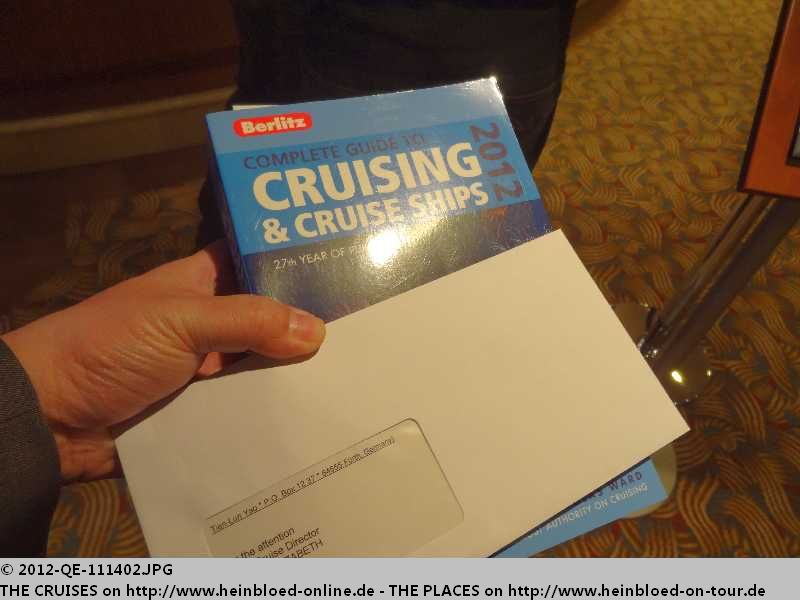 I gave them my Douglas Ward and asked the Captain to sign my book. And I had another message for the Cruise Director with the request if she can do anything for us cruisecritic.com-members. Amanda called the next morning and told us that they will block a part of the Commodore Club so we must not walk around to find the others.

Although it was only one more hour to the first sitting: I ordered a sandwich for my cabin. I need. Only the salad was very sour for my taste.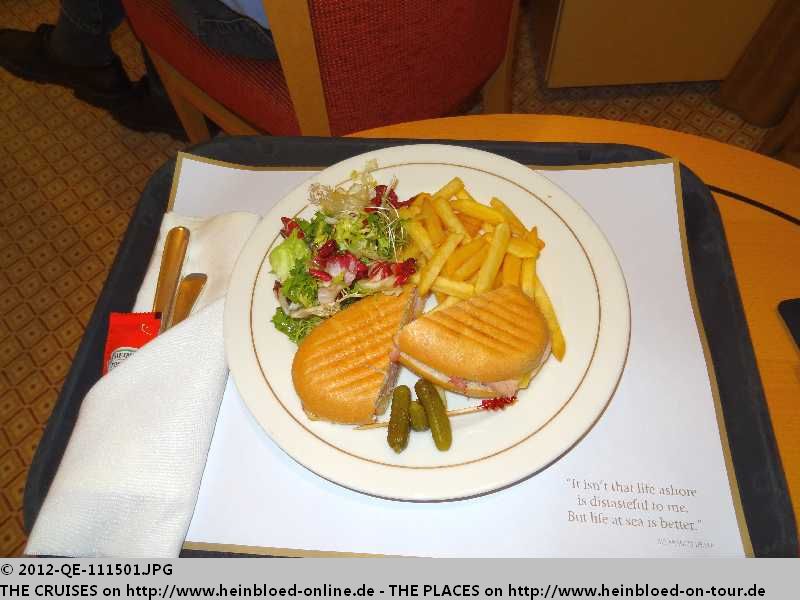 Obwohl es nur noch eine Stunde bis zur 1. Tischzeit ist: Ich lasse mir auf die Kabine ein Sandwich kommen. Muss sein. Nur der Salat ist etwas zu sauer für meinen Geschmack.
Auf dem Weg zum Restaurant möchte einen Soda-Pass kaufen, aber der wird an die Gäste, die nur bis Hamburg mitfahren nicht verkauft. Es wird aber dafür geworben. Ich finde so etwas nicht richtig. Wenn es ein Fehler war, sollte man dazu stehen und die Gäste nicht benachteiligen. Ich spreche später nochmals an der Rezeption vor, weil ich diesbezüglich doch mal den Public Room Manager (also der F&B-Manager ist nicht zuständig) bewegen will, die Sticker doch zu verkaufen. Aber um 20.00 Uhr hat er bereits Dienstschluss und die Rezeptionistin schreibt ihm ein Mail in meiner Anwesenheit. Das ist Kundendienst bei Cunard... (wir kennen es aber auch anders - damals auf der QUEEN MARY 2)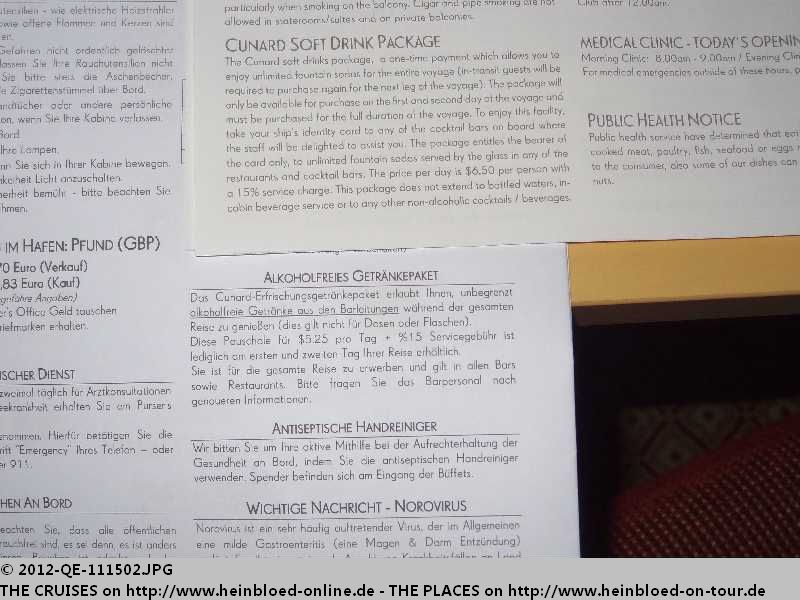 On the way tot he restaurant I wanted to buy a soda-pass but they did not sell it to guests who disembark in Hamburg. But they advertised them. I did not think that this is correct. If they did something by mistake they should not let the guests suffer. I reported again at the front desk because I would like to talk with the Publc Room Manager (it's not the F&B-Manager here with Cunard who is in charge for such a subject) and to ask to him to sell such a sticker. But it's already 20.00 hrs and he was already off. All the receptionist did was writing an e-mail while I am standing at the counter. That is customer service Cunard style... (but we experienced already a great customer service then on QUEEN MARY 2)

We went for dinner. At our table for 8 there were also allocated Tinamama (Christina and her husband Axel) and another German couple. Originally we asked for a table for the 2nd sitting but when you start with the dining it's almost 22.00 hrs in Germany due to the time difference and that was too late to eat. We asked for a large table to make new acquaintances.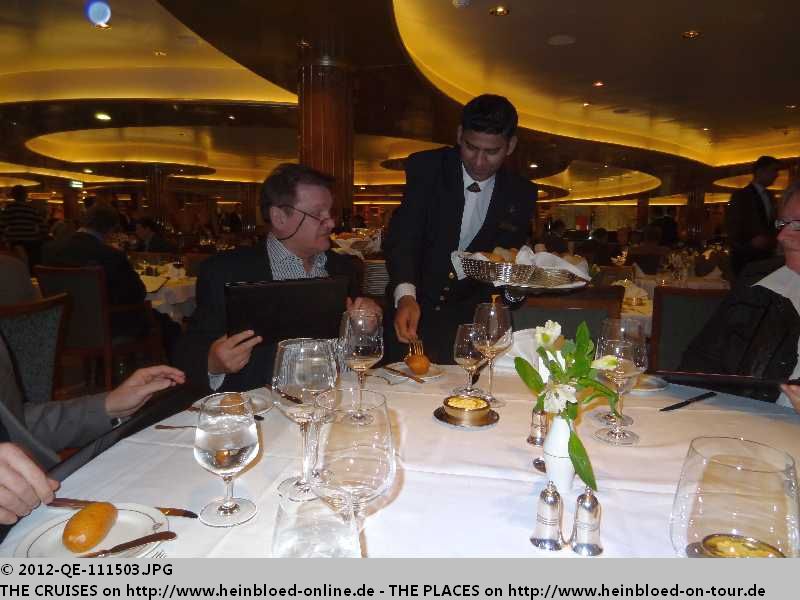 Wir gehen zum Essen. An unserem 8-er Tisch sitzen noch Tinamama (Christina und ihr Mann Axel) sowie ein Ehepaar aus Euskirchen (nein - "die zwee" (Guido und Ulrike) sind nicht gemeint, da sie sich mitlerweile nach Kiel abgesetzt haben). Ursprünglich wollten wir zur 2. Tischzeit. Wegen der Zeitumstellung wäre aber das Essen aber erst um 22.00 Uhr deutscher Zeit gekommen. Wir hatten einen möglichst großen Tisch angefragt, um neue Kontakte zu knüpfen.
Ich gebe zu, dass ich mit dem Service nichts anfangen konnte. Das liegt aber daran, dass ich eben überzeugter Freestyler bin und daher nicht mehr mit dem Takt und mit den Abläufen einer 1. Tischzeit klarkomme.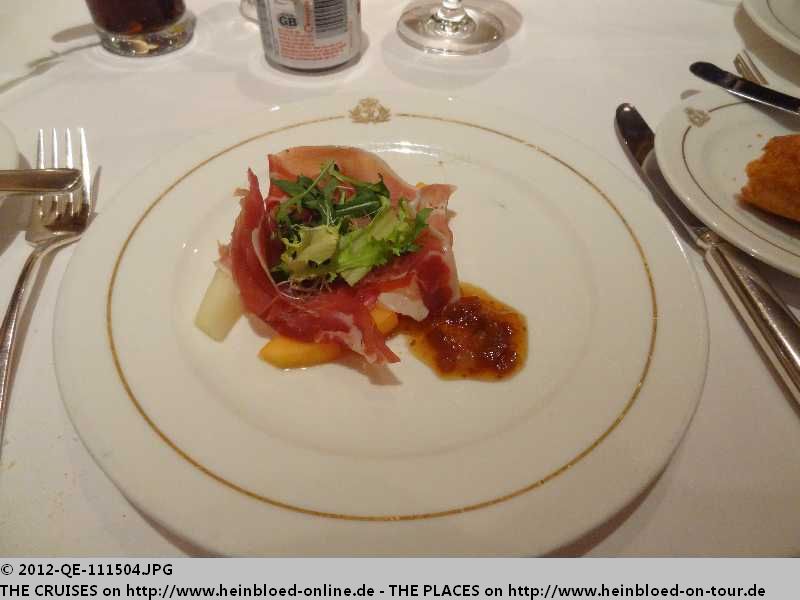 I need to say that the service was not mine. But that is only because I am a Freestyle guru so it was not in my beat nor my speed of a 1st sitting.

It was a chilled soup. To my surprise there is no big selection of soups. Just one hot and one chilled and both vegetarian.

Die Suppe war kalt. Zu meiner Überraschung gab es kaum Auswahl an Suppen. Eine warme und eine kalte und immer beide vegetarisch.
Weil wir eben unter dem Zeitdruck der 1. Tischzeit waren, wurde ich gefragt, ob ich akzeptieren würde, dass der Salat zum Hauptgang serviert wird. Ich bin so derjenige, der ja nun durchaus kalte und warme Vorspeise, Suppe und Salat nimmt.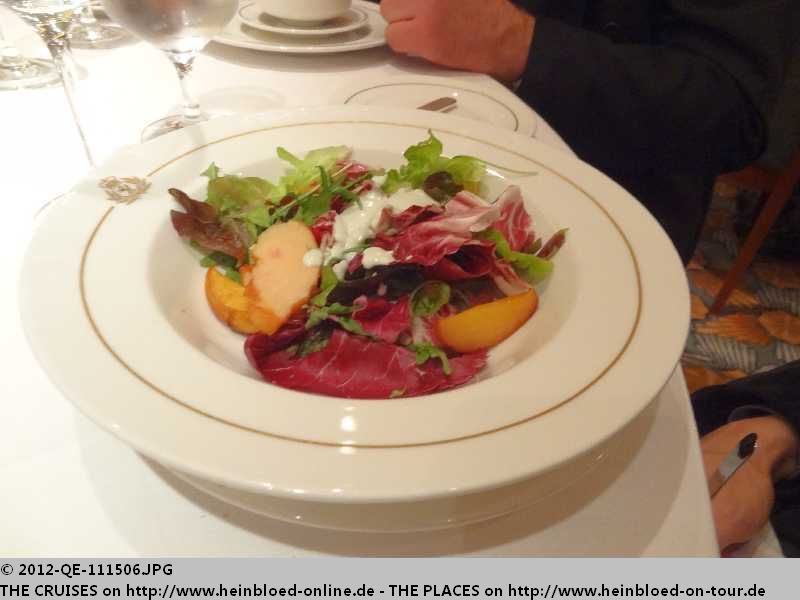 Because we were under the time pressure of the 1st siting I was requested if I would accept that I get my salad as side with my entree. I am the person who takes a cold, a hot starter, a soup and a salad.

"My wife had the fish... and it was good as usual" - a running gag from another cruise-mate's blog on MSC MUSICA in 2007 and since Bruno mostly takes fish...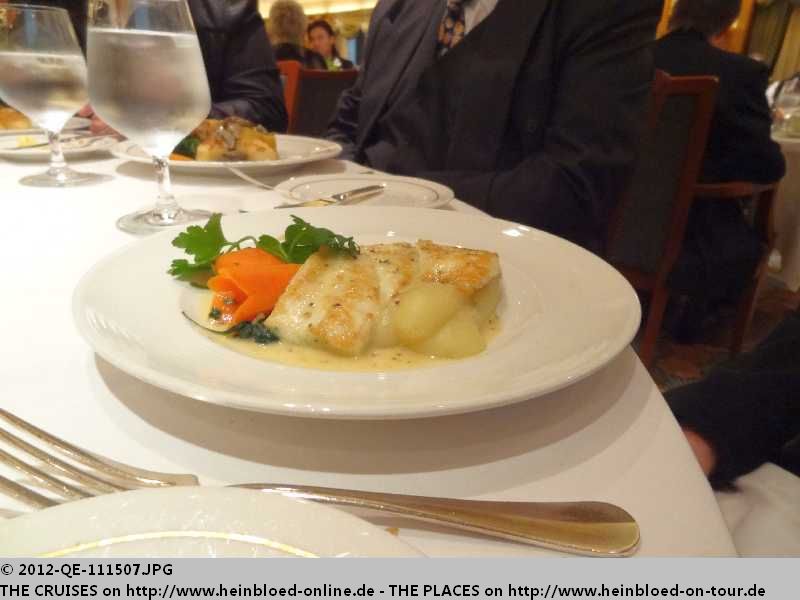 "Meine Frau hatte den Fisch... und der war wie immer gut"...
Was natürlich Zeit kostet, war ein Silverservice bei bestimmten Sachen, wie Salatsoßen oder anderen Beilagensaucen. Dafür wiederum gab es bei uns keinen Pfeffermühlenservice. Den gab es nur auf Anfrage. Am Nachbartisch haben sie wohl sehr oft angefragt.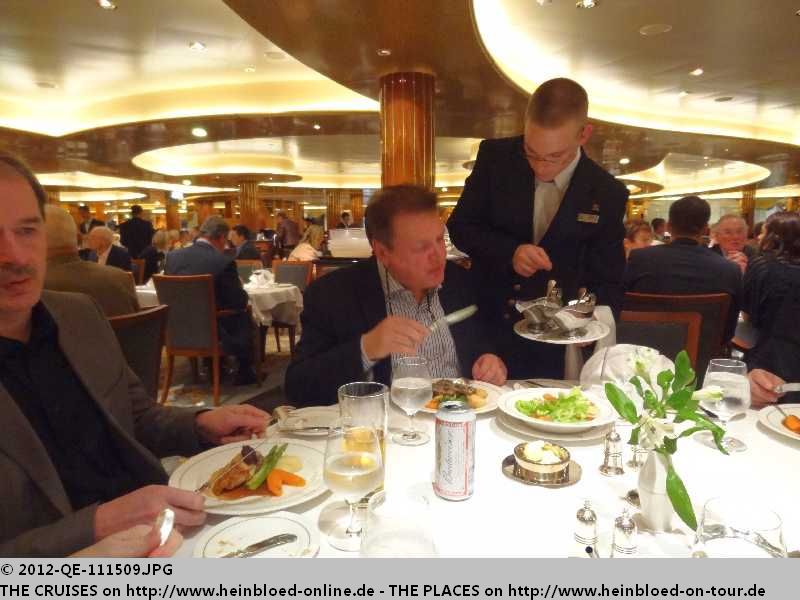 What occured additional time is a silver service for adds-on like salad-dressing or other sauces. But they do not provide a peppermill-service. You get it only on request. At a table next to us they must request it very frequently.

Here we got additionally apple sauce to our potatoes.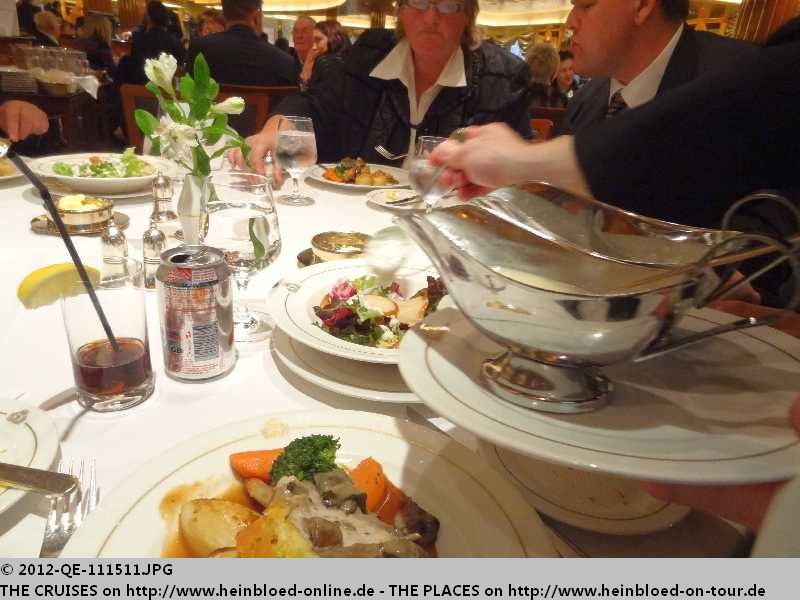 In diesem Fall gab es zu den Kartoffeln auf Wunsch noch Apfelmus.
Ich hatte das Schwein und das war auch sehr gut. Leider gab es keine "täglichen" Gassenhauer, wenn man mal gar nichts gefunden hatte. Aber das war eigentlich schon schwierig, dass man gar nichts mochte.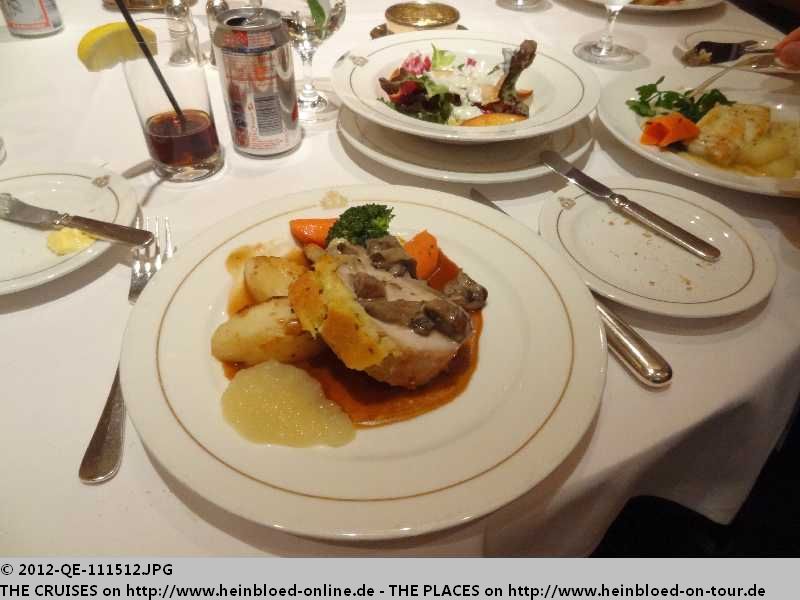 I had the pork and it was very good. There was no everyday's favorites on the menu if the selection does not fit to your personal preferences. But that was quite difficult that you dislike everything.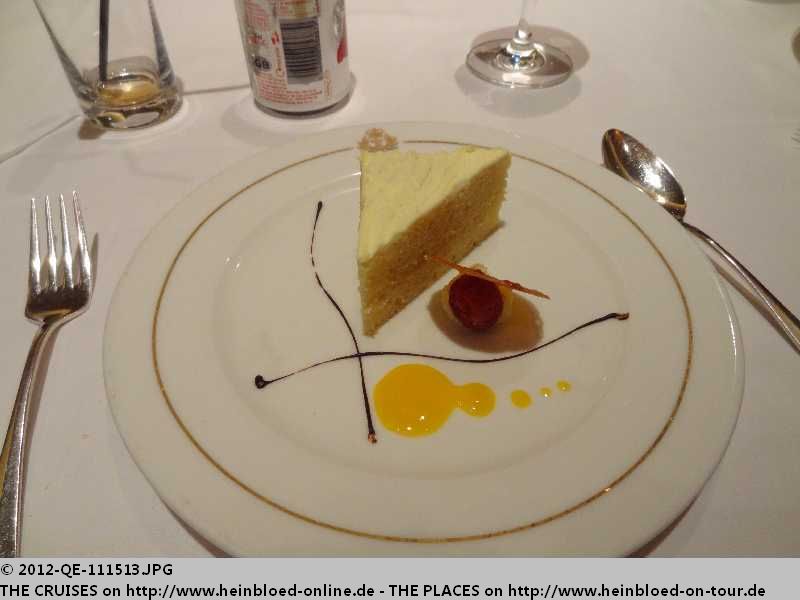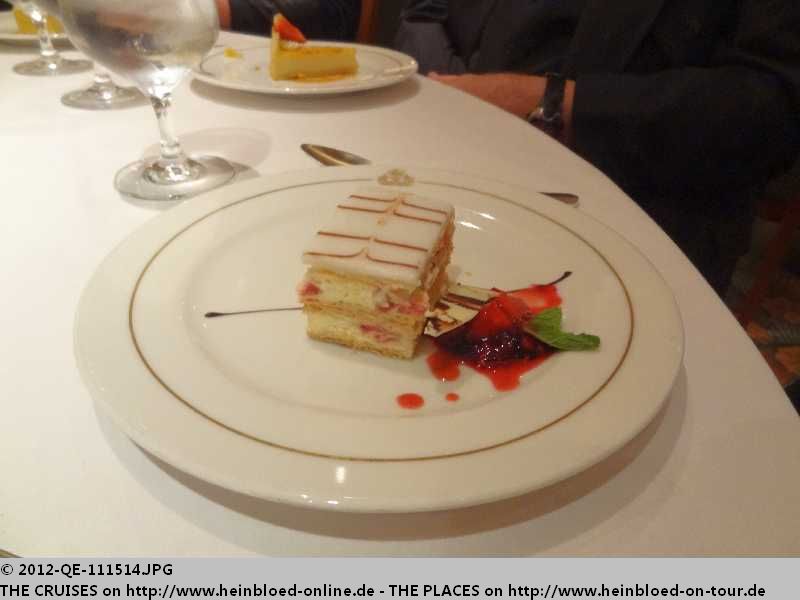 5.25 USD should be the soda-pass and a can of Coke was 2.50 USD. So breakeven is after the 2nd can and they denied the access to the pass. We were lucky and had a sommelier who accepted that we do not drink wine and so we used the tipping-line to add a little more but the 15% auto-tipping.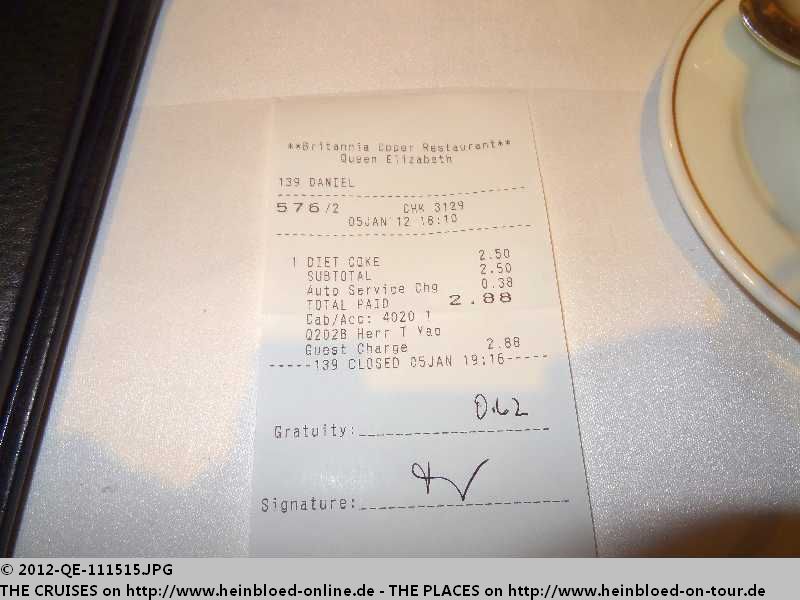 5,25 USD hätte der Soda-Pass pro Tag gekostet und eine Dose Cola kostet 2,50 USD. Also nach zwei Dosen hätte sich das gelohnt und mir wird der Zugang hierzu verweigert. Zum Glück hatten wir einen Sommelier, der gut damit klar kam, dass wir eben keinen Wein trinken und so nutzen wir das Zusatzfeld um zusätzlich zum Auto-Tip von 15% noch immer etwas drauf zu legen.
Den doppelten Espresso gab es sogar ohne Aufpreis. Das waren wir ja von NCL her nicht gewohnt.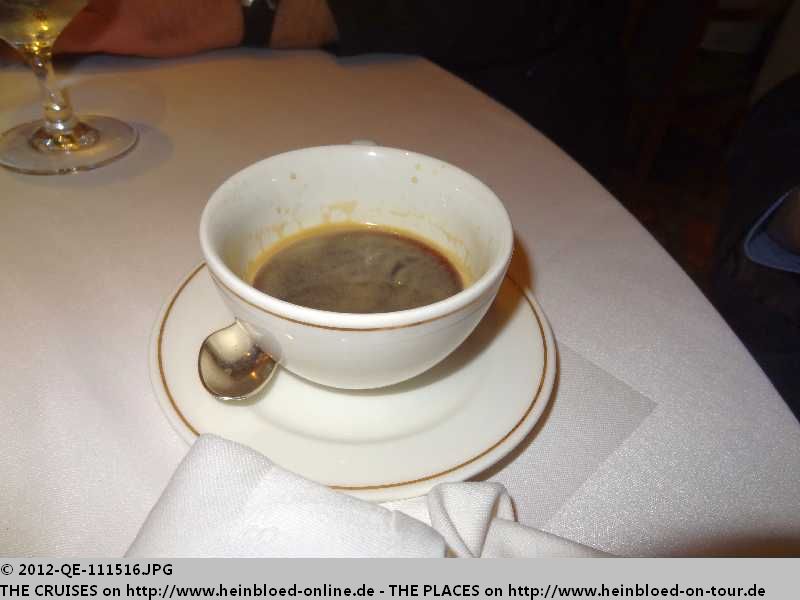 You even got a double espresso without additional costs. Something we do not know from NCL.

Finally we could choose our favourite petit fours.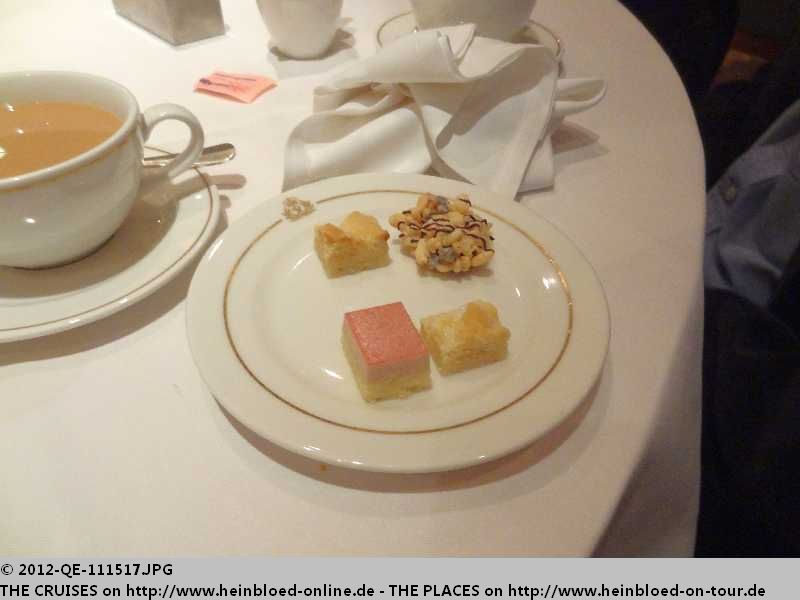 Am Schluss durften wir uns unsere Lieblings Petit Fours auswählen.
Und am Ausgang gab es Zahnstocher, Ingwerstücke und das berühmte Pfefferminzplättchen am Schluss.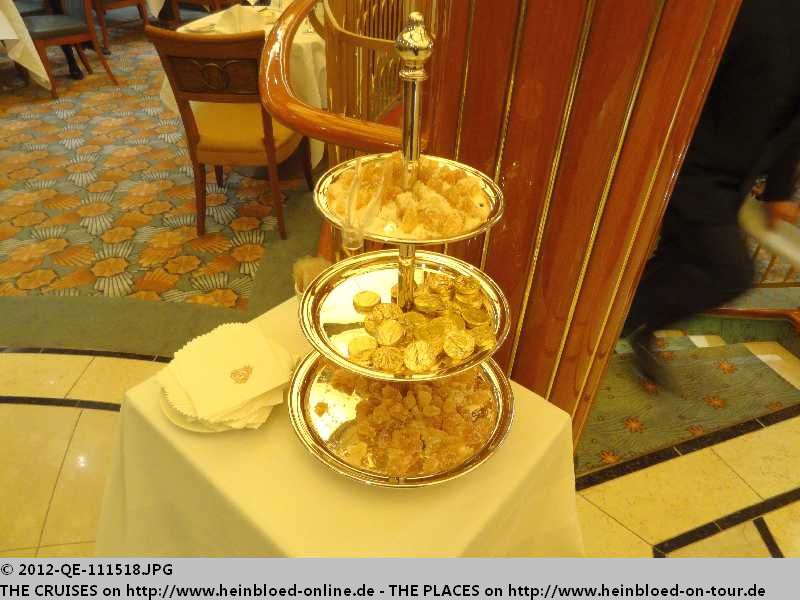 At the exit you found dental sticks, ginger bites and the famous mint chocolate at the end of a meal.

You may like the food or not but the dining room has a certain elegance.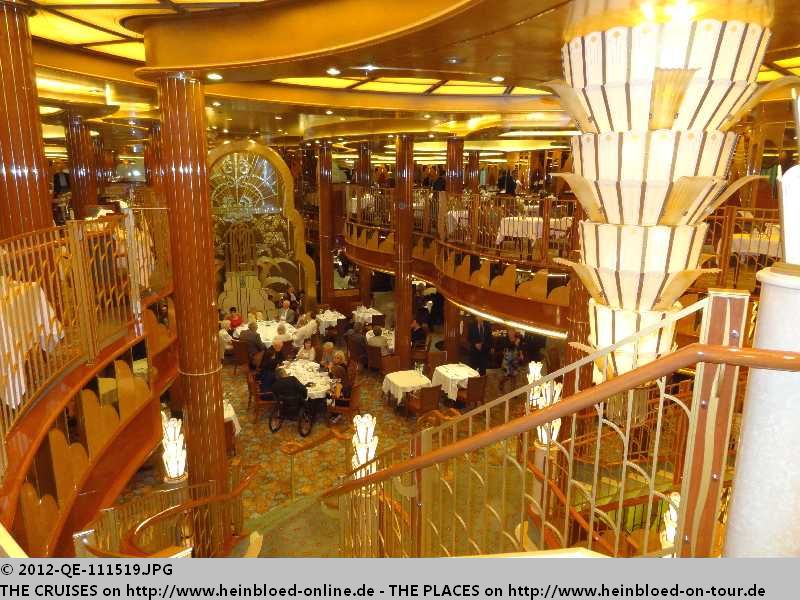 Egal wie man zum Essen steht: der Raum hat eine gewisse Eleganz.