Scroll down for English explanations - alternates with German explanations.

Gegen 05.00 Uhr wache ich auf, und beschließe meinen nächtlichen Rundgang zu machen. Während die beiden Jungs die Kamera loben, fluche ich: sie hat sich nämlich nachts entladen, weil sie sich nach der Übertragung der Bilder nicht selbst abschaltet. Man kann sie über die USB-Schnittstelle des PCs laden, aber wie gesagt, nur im ausgeschaltetem Zustand. Einen 2. Akku hatten wir gekauft. Allerdings ein Nachbau von Hama, der jedoch von der Sony-Kamera abgelehnt wird. Und auch ein externes Akku, mit dem wir sonst unterwegs unsere iPhones aufladen, wenn keine Steckdose in der Nähe ist, wird nur akzeptiert, wenn man zufällig entdeckt, dass es ein Hintertürchen gibt.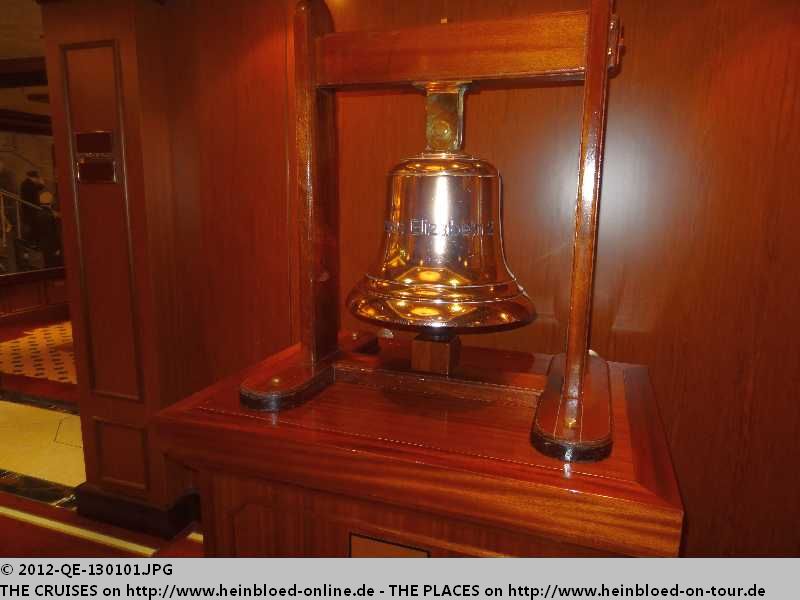 Around 05.00 hrs I woke up and decided to do my nightwalk around the ship. While the two boys loved the camera I started to hate her: during the night she decharged because I did not switch off the camera after transferring the pictures from the camera to the netbook. You can normally charge the camera via the USB-interface by your PC but only if the camera is switched off. We bought a second battery. But it was not an original from Sony but from Hama which the camera did not accept. We have also a mobile external charger which we use for the worst case for our iPhones if there is no power outlet around. But even this was only accepted as I discovered by conincidence a back door to get access to the camera.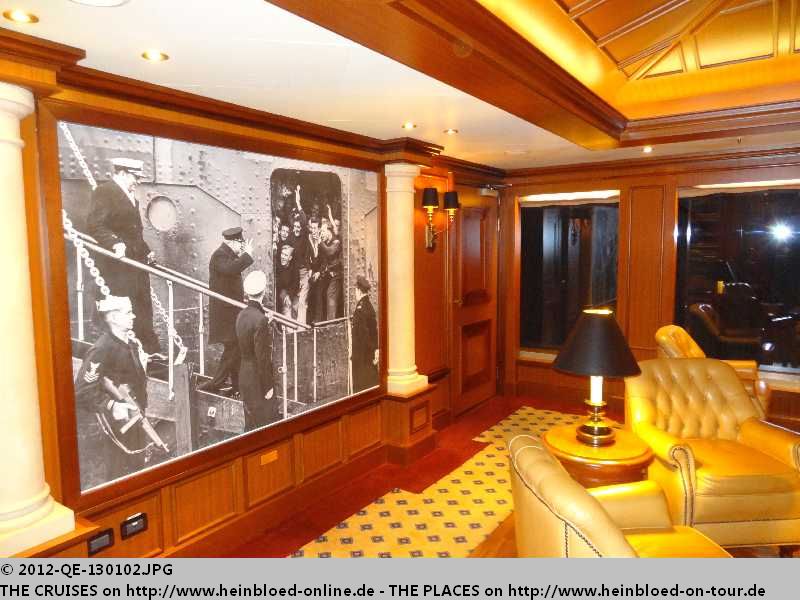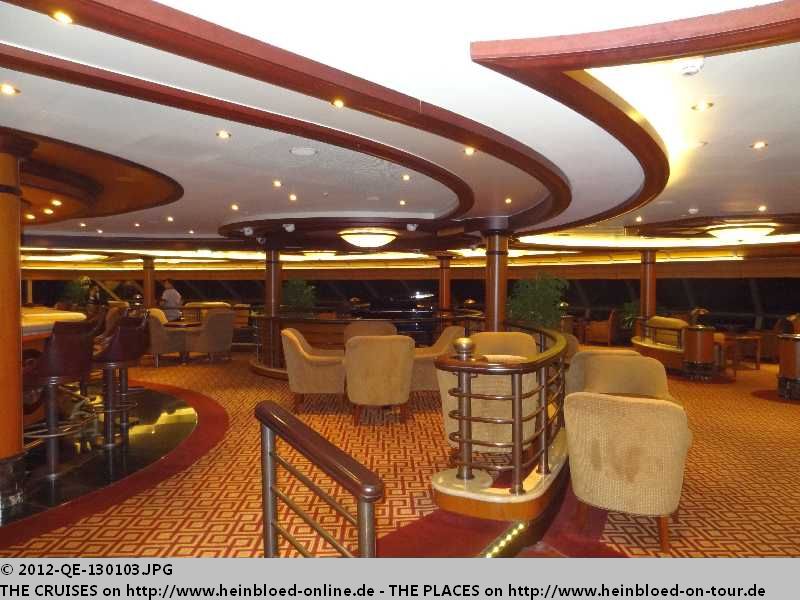 I was nicely surprised that for many pictures for which I need a tripod before I can take great pictures now without additional equipement.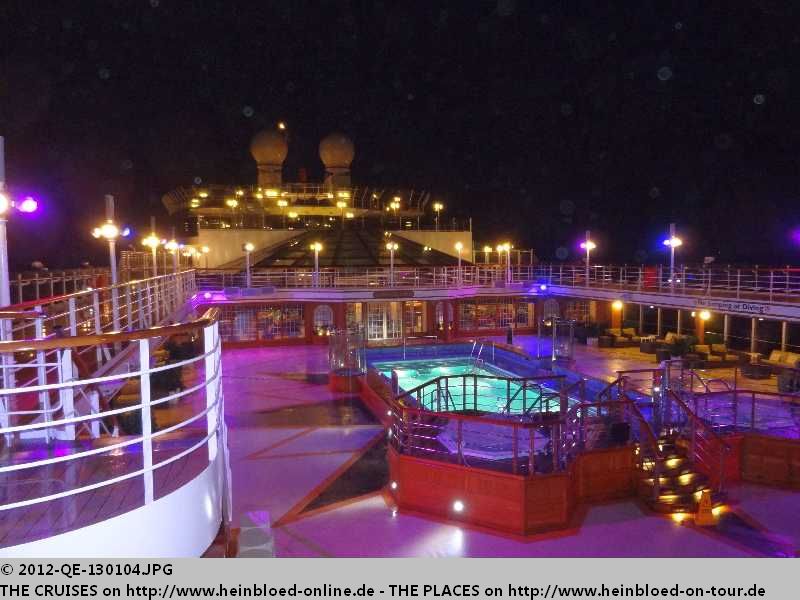 Ich bin aber positiv überrascht, dass für viele Bilder, für die ich bislang ein Stativ brauchte, nun solche Bilder so hinbekomme..
Wirklich nicht übel.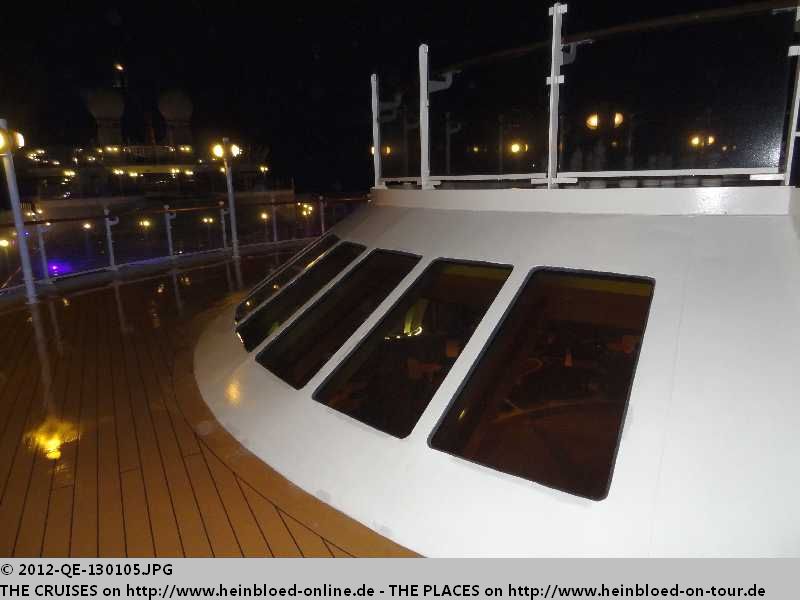 Really not bad.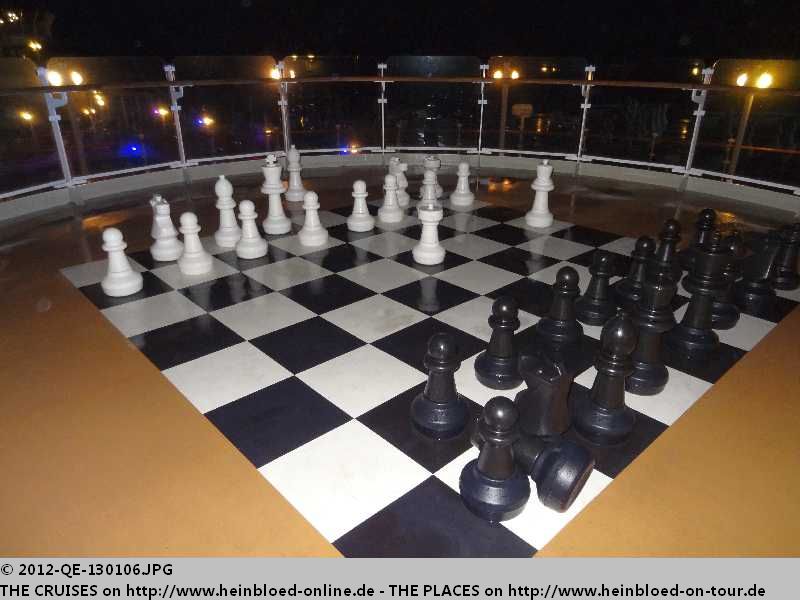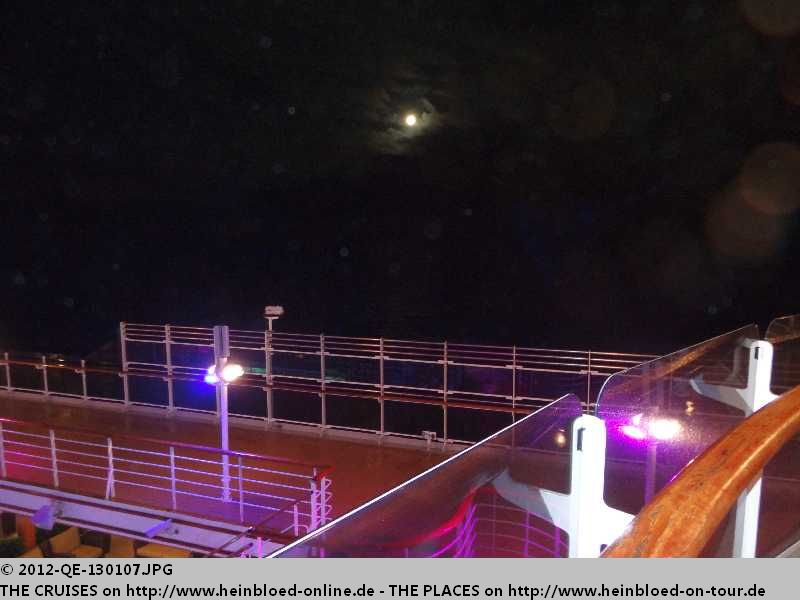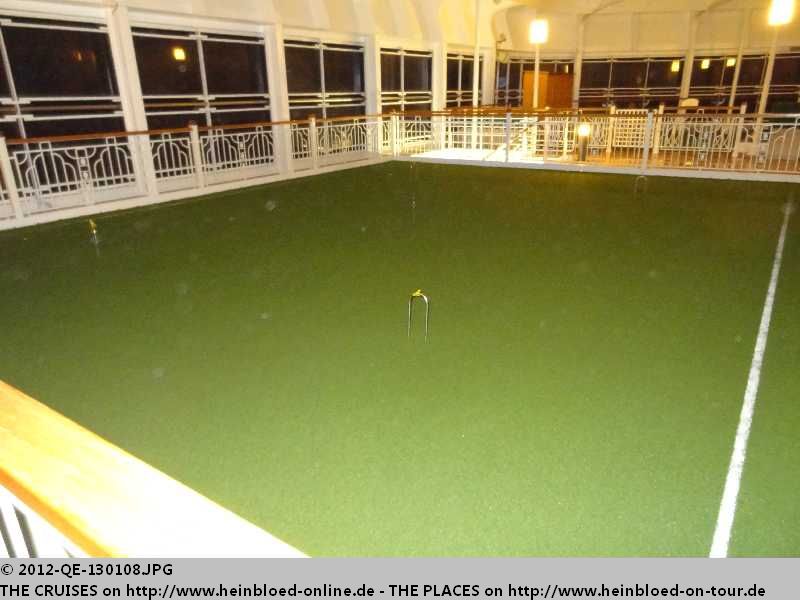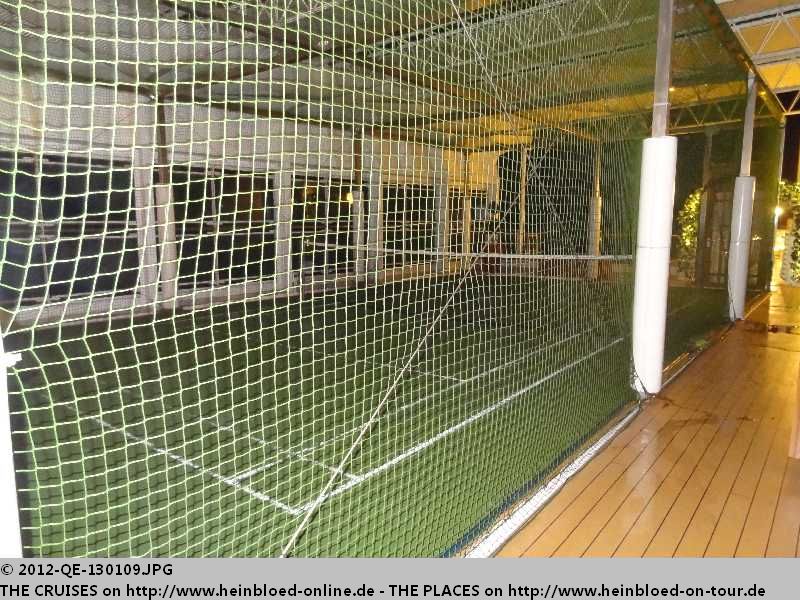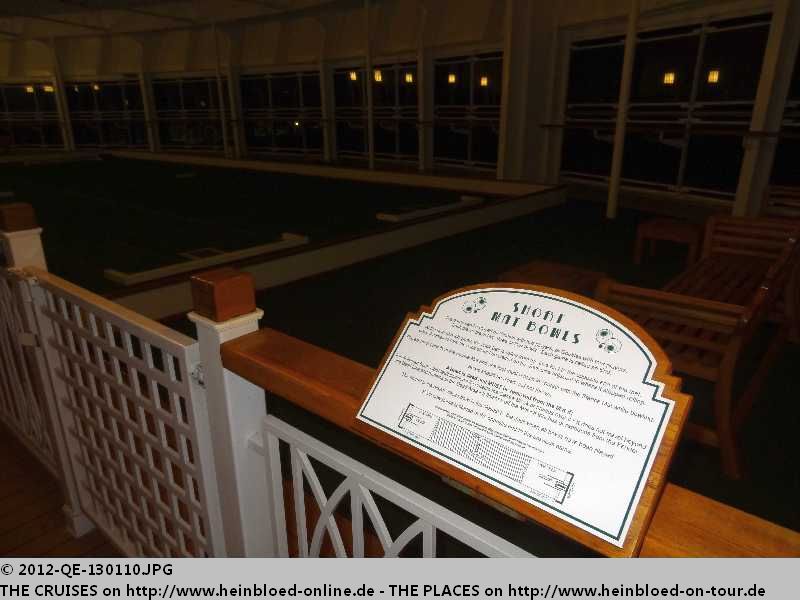 The boys who were cleaning the open decks moved the signpost. So I was directed to the open decks of the Grill area. Without any glasses I was unable to see where I was walking to.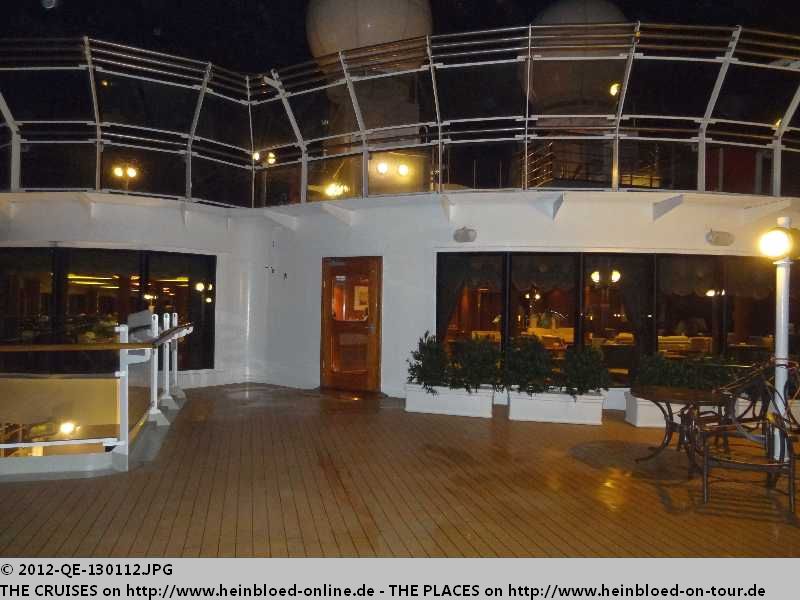 Die Jungs, die gerade auf dem offenen Deck saubermachen, verschieben die Beschilderung. So werde ich geradewegs auf die Decks für den Grillbereich umgeleitet. Ohne Brille konnte ich nämlich nicht so genau sehen, wohin ich laufe.
Ärgerlich war bloß, dass ich zwischen den Bildern die Kamera immer für 1-2 Minuten aufladen musste und erwartete, dass man mich rauswarf.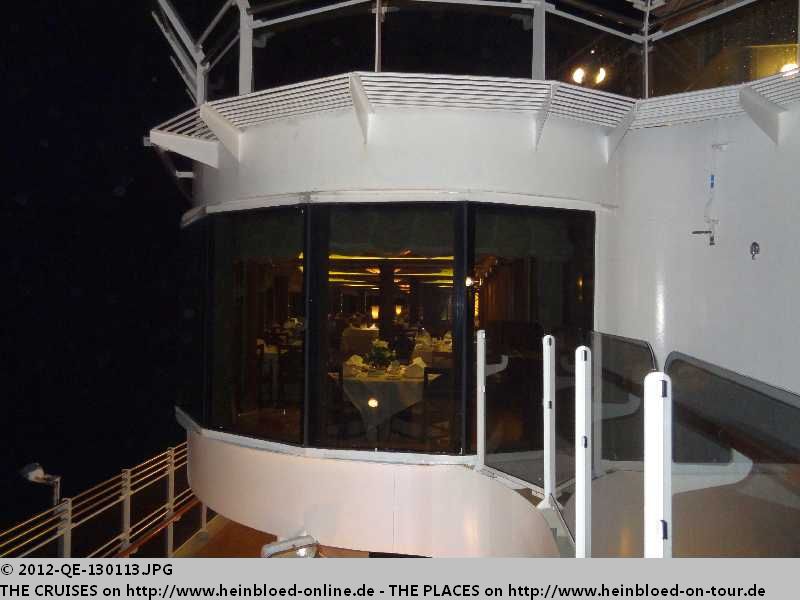 It was only very angry that I need 1-2 minutes between the single pictures to charge and expected someone who would ask me to leave.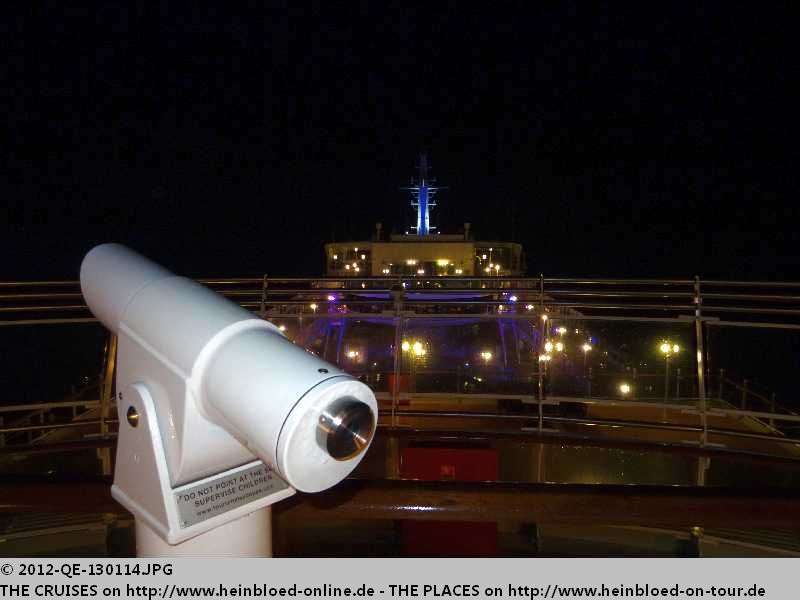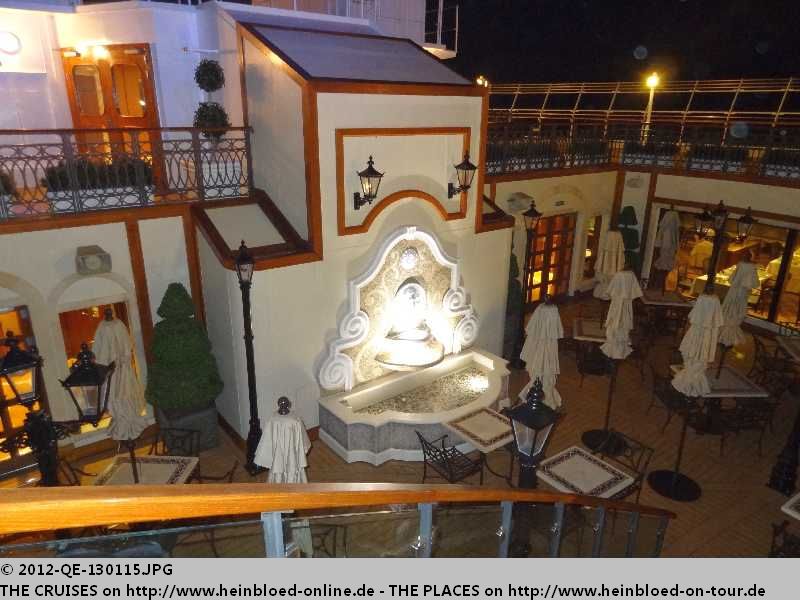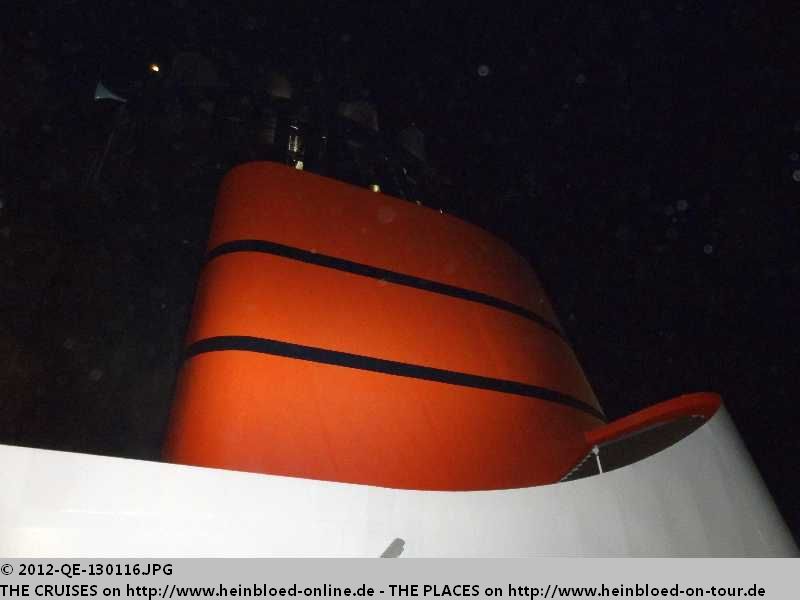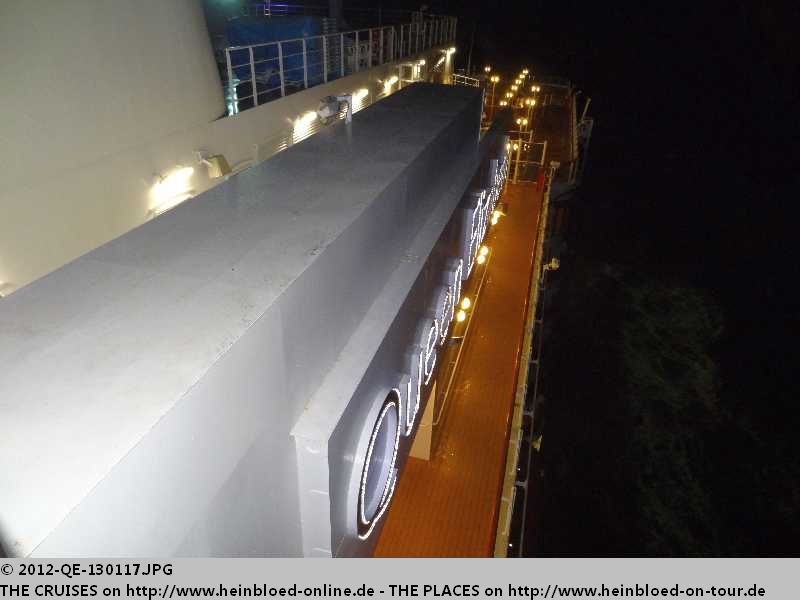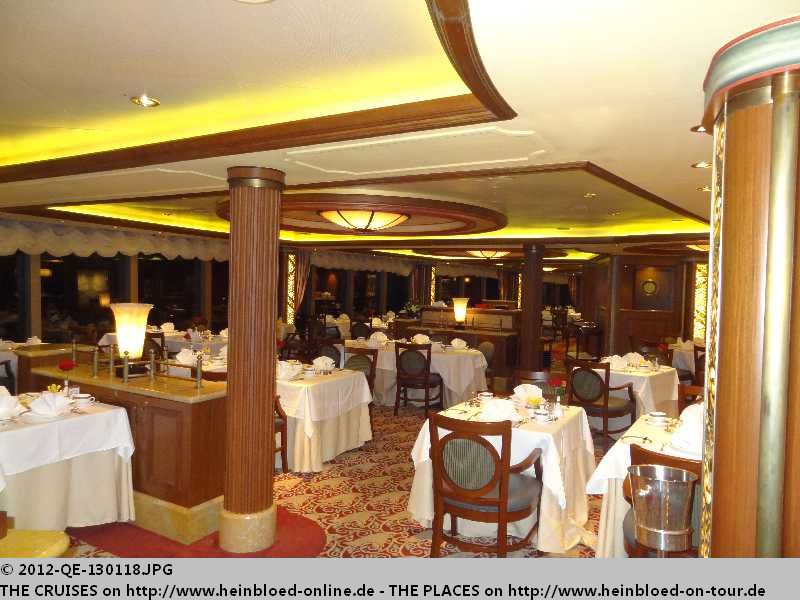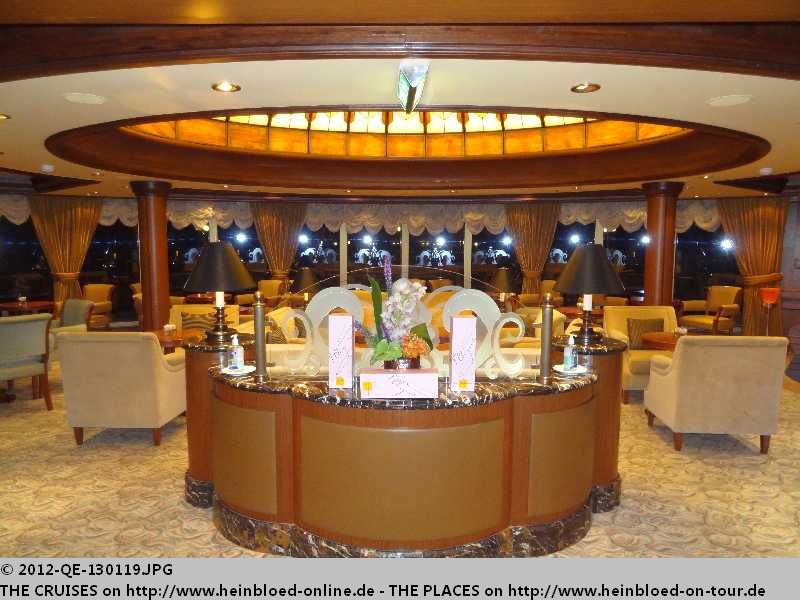 Let us see when we are allowed to eat here.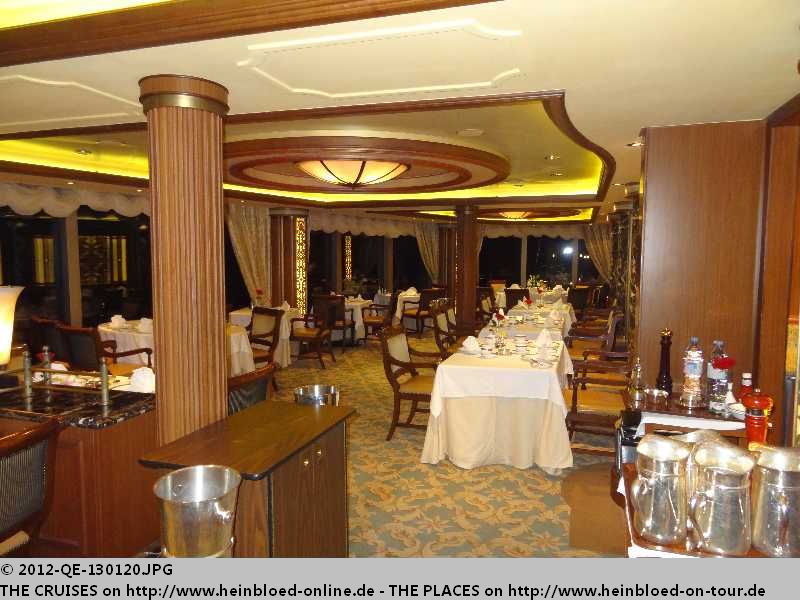 Mal gucken, wann wir hier mal essen dürfen.
Ich gehe in das Lido Café und gucke mir mal an, was es hier schon so alles gibt.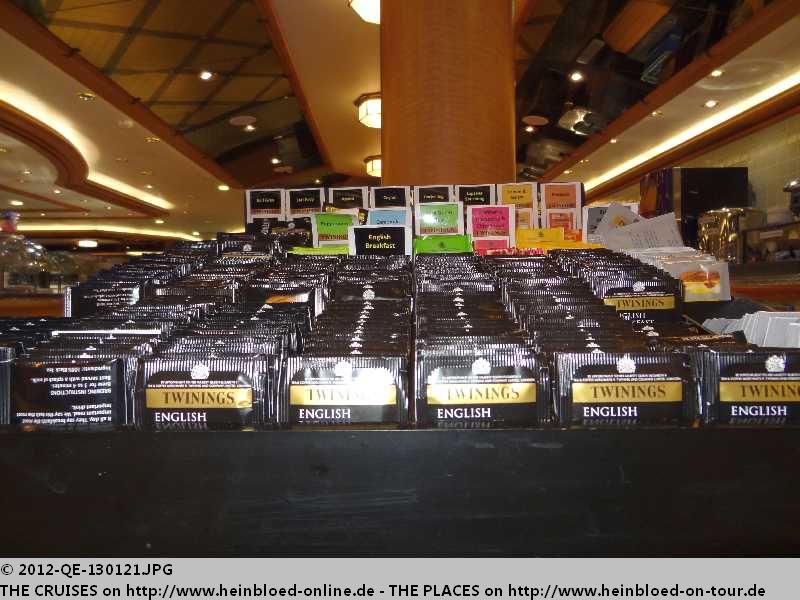 I went to the Lido Café and looked around what I could get here at this time of the day.

On the menu you could see that one part will be converted to an alternative dining venue at charge (Asian, South-American and Mexican). The other part remains as themed buffet restaurant. As we passed by the Channel: British Carvings.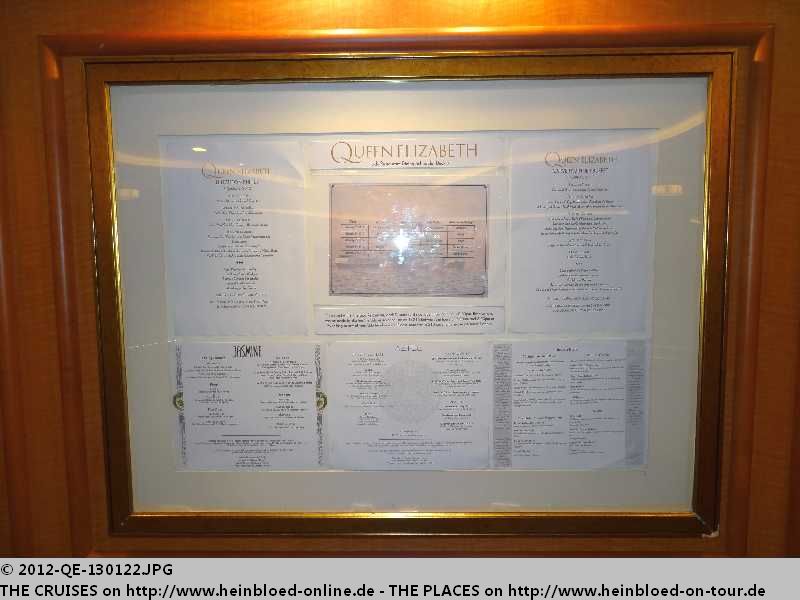 Auf der Karte wird gezeigt, dass ein Teil abends ein Zuzahlrestaurant ist (asiatisch, südamerikanisch und mexikanisch). Der andere Teil bleibt jeweils ein themenbezogenes SB-Restaurant. Da wir heute am Kanal vorbeifahren: Britische Grillspezialitäten.
Was mir auffällt: zu dieser Zeit war bei NCL vieles schon in großen Mengen vorproduziert. Aber hier finde ich keine Rühreier-Berge.

What attracted my attention: at this time many things in great volume were already pre-prepared with NCL.But here I could not find any tons of scrambled eggs.

As there is also a full-night-service the waiter offered to see the early riser section at the buffet or to wait a little until they open the full service. I declined and was looking forward to our breakfast in our cabin.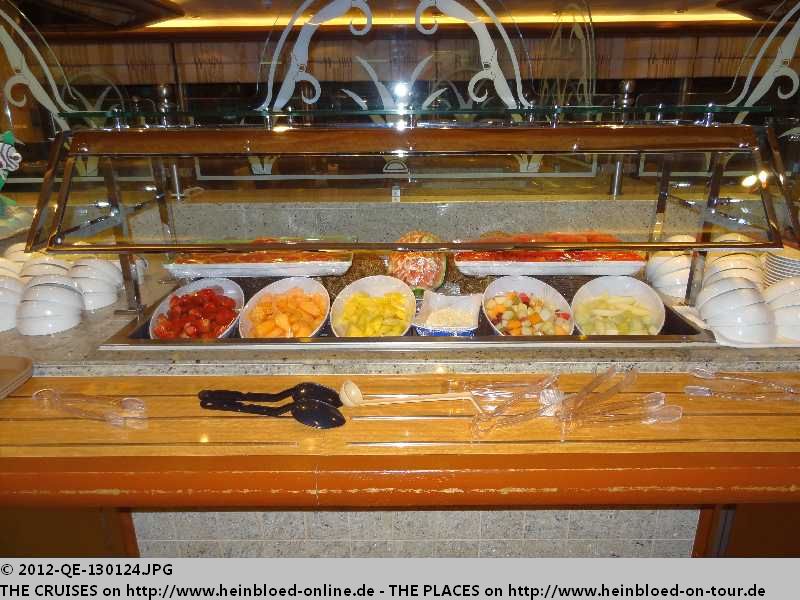 Da es dort einen Nachtbetrieb gibt, bietet mir der Kellner an, dass ich mich schon am Frühaufsteherbüffet stärken kann oder dass ich mich noch etwas gedulden möchte. Ich lehne jedoch ab, und freue mich auf mein Frühstück in der Kabine.
Kurzerhand gehe ich wieder nach draußen.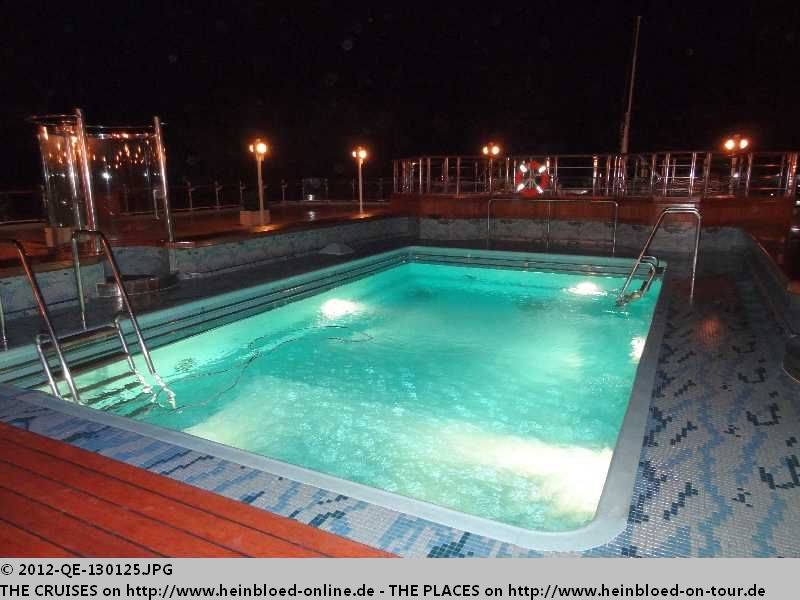 So I went again out.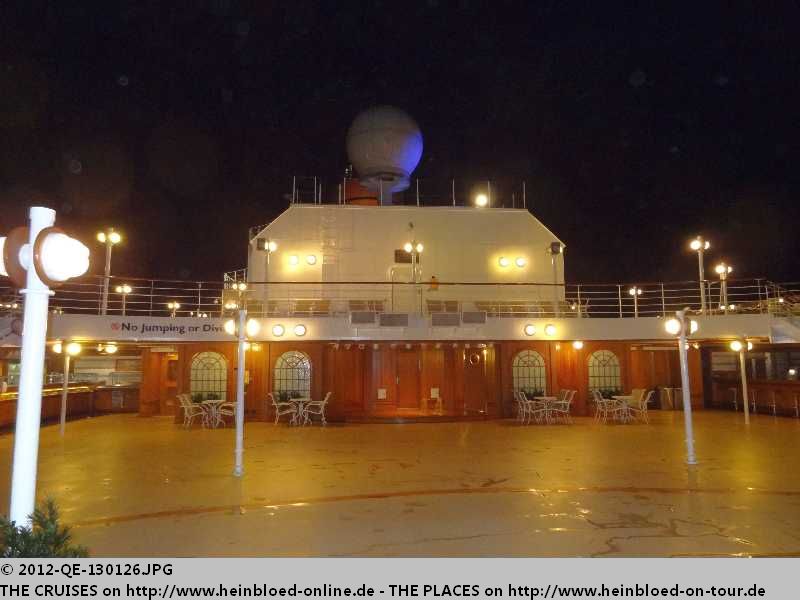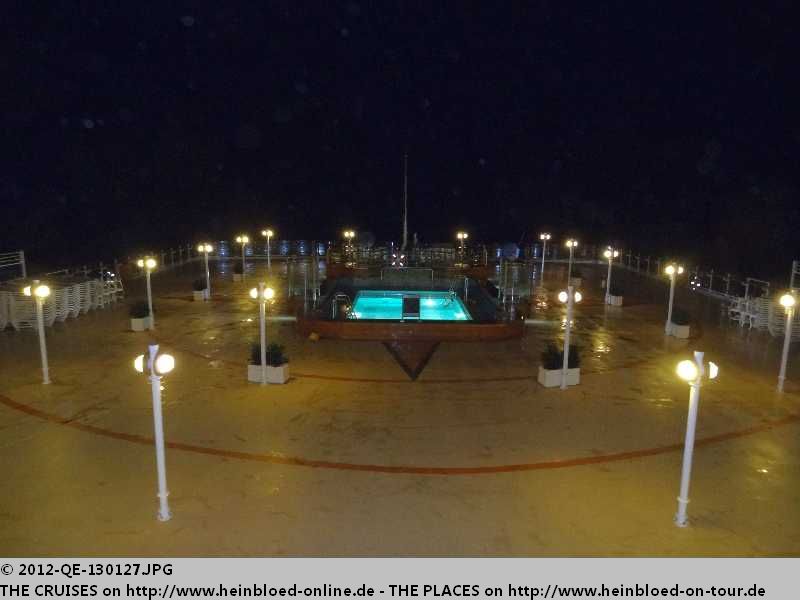 Honestly spoken: somehow QUEEN ELIZABETH is a really great ship.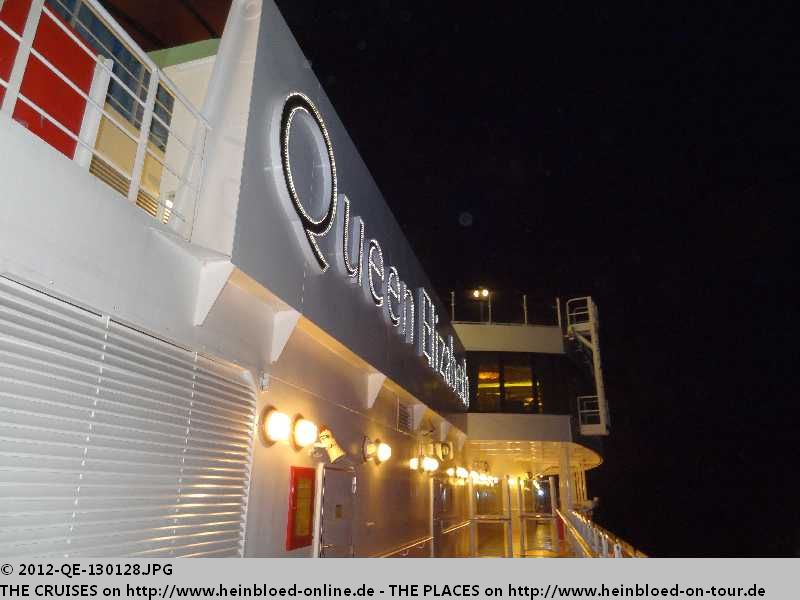 Offen und ehrlich: irgendwie ist die QUEEN ELIZABETH schon ein tolles Schiff.
Ich meine, dass es auf der QUEEN VICTORIA noch ein Schiebedach gab, das man bei Bedarf öffnen konnte. Aber hier gibt es das wohl nicht mehr.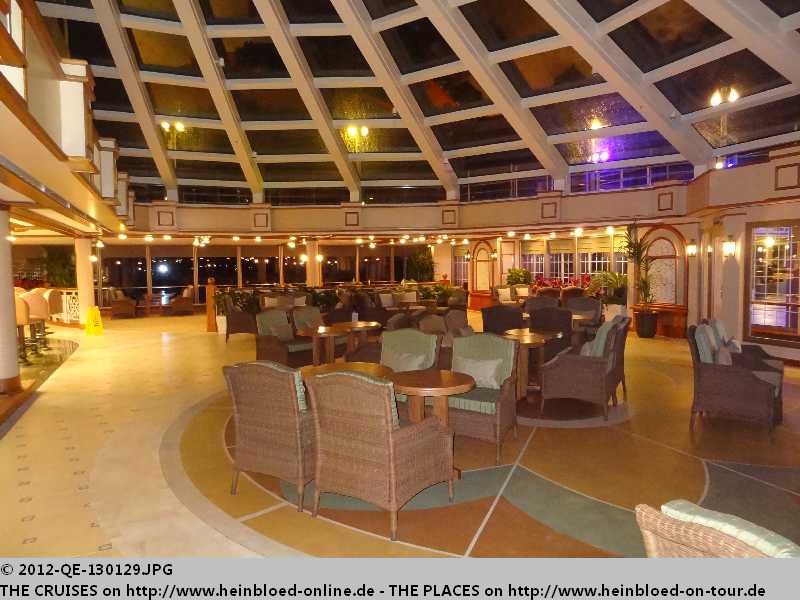 Somehow I remember that QUEEN VICTORIA has a sliding room which you can open or close on demand. But it looks like that this construction is not available here anymore.