Scroll down for English explanations - alternates with German explanations.

Ich denke mal, wenn es nicht Cunard wäre, könnte man einfach schreiben, dass es toll war und das Thema wäre durch.
Nun war es aber Cunard, deren Marketing-Strategen natürlich die Erwartungen besonders hoch schrauben und die es sich ja auch bezahlen lassen.
Es war toll, aber alle Problemchen, die wir hatten, waren individuelle Problemchen - trotzdem bleiben sie uns in Erinnerung und werden eine Rolle spielen, wenn wir wieder buchen.
Wert einer Flasche Wasser im Verkauf 3,95 USD und vermutlich sehr viel Geld gespart, wenn der Kunde vorab erklärt, dass er lieber Wasser statt Sekt hätte. Diese Diskussion musste echt nicht sein, zumal es ja auf der QUEEN MARY 2 auch möglich war. Genauso die Diskussion mit dem Soda-Pass, dass es ihn nicht für Teilstrecken gibt. Ich musste Januar 2008 auch nicht den Soda-Pass für die gesamte Weltreise kaufen, auch wenn ich nur von New York bis Southampton an Bord war. Zwei Tage Reaktionszeit sind für eine längere Fahrt akzeptabel, aber auf einer 3-Nächte-Fahrt, will man sofort eine Stellungnahme.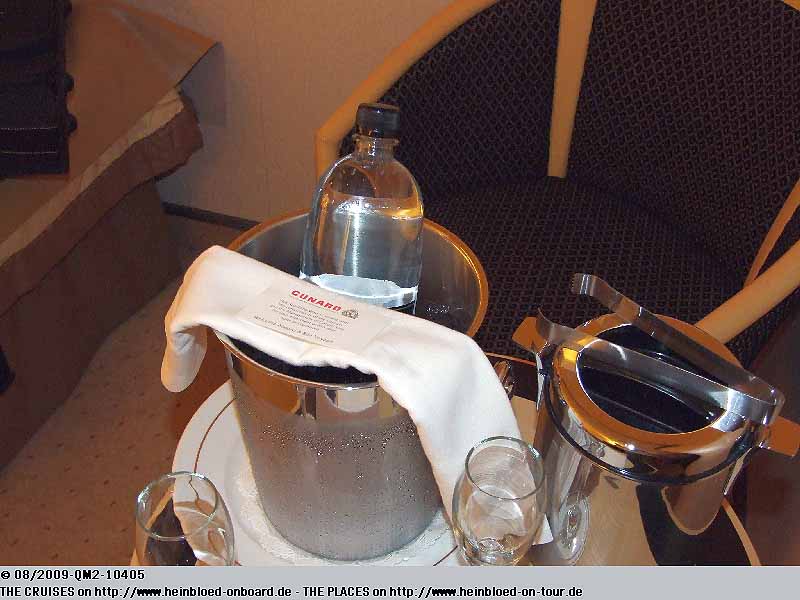 If it would not be Cunard you could just write that it was great and that's it.

But it was Cunard whose Marketing-Strategists screw up your expectation extremely high and let you pay for it.

It was great but all the minor problems we had were individual problems - but we will keep them still in our memories and they will influence the decision when we book again.

Value of a bottle water for sale: 3.95 USD and we guess that they would have saved a lot of money if the customer said before that he prefers water but champagne. Such an unnecessary discussion especially it was possible on QUEEN MARY 2. Same with the discussion on the Soda-Pass that you cannot get it for segments. I did not need to buy a Soda-Pass for the world voyage in January 2008 although I only stayed between Southampton and New York. Two days reaction time are acceptable for a longer voyage but on a 3-night-cruise you want to have an immediate statement.

Obviously there are few reasons why QUEEN MARY 2 is rated higher than QUEEN ELIZABETH or QUEEN VICTORIA. Even in the inside cabin you have a reasonable shower.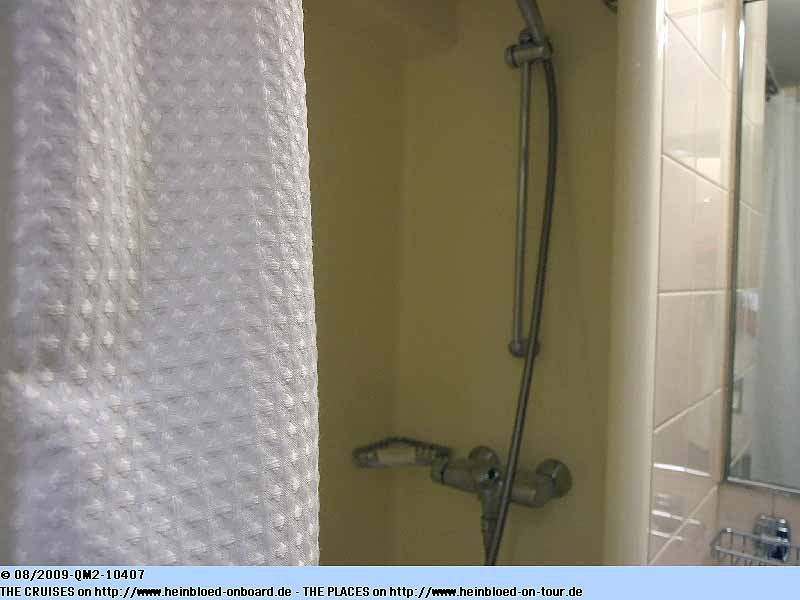 Zurecht ist es anscheinend so, dass die QUEEN MARY 2 höher bewertet wird, als die QUEEN ELIZABETH bzw. QUEEN VICTORIA. Dort habe ich ja sogar in der Innenkabine eine vernünftige Dusche.
Noch nie hatten wir so eine laute Klimaanlage, an der man fast nichts machen konnte. Das Kreppband hatten wir mit, aber wir müssen uns irgendwo noch etwas anderes mitbringen, um die Luft abzuleiten. So direkt über dem Bett war es nichts. Auf der QUEEN MARY 2 konnten wir uns noch selbst behelfen. Da war es danach angenehm.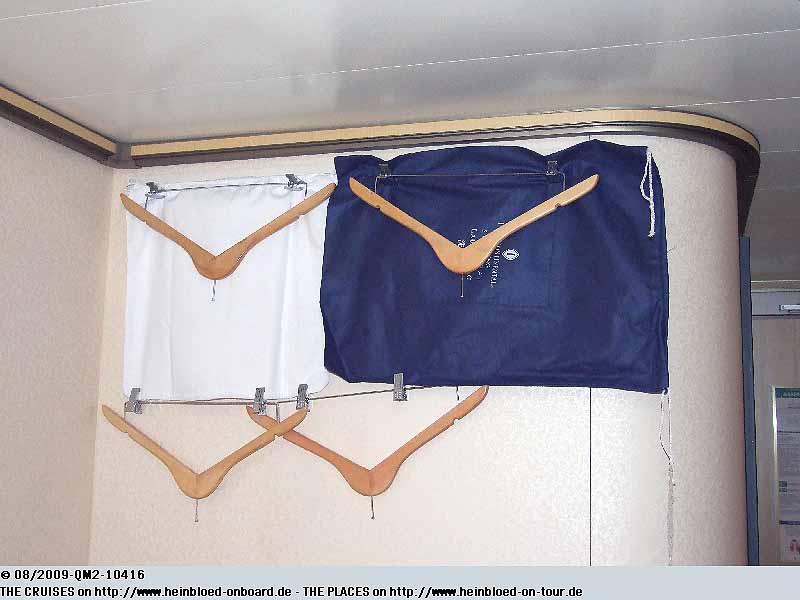 Never we had before a noisier air-condition you cannot do anything. We had the tape with us but we need to have more with us to divert the air outflow. So just above of the bed it was not nice. On QUEEN MARY 2 we could help ourselves somehow. After that it was acceptable.

On QUEEN MARY 2 they spent more effort even with the fruit plate.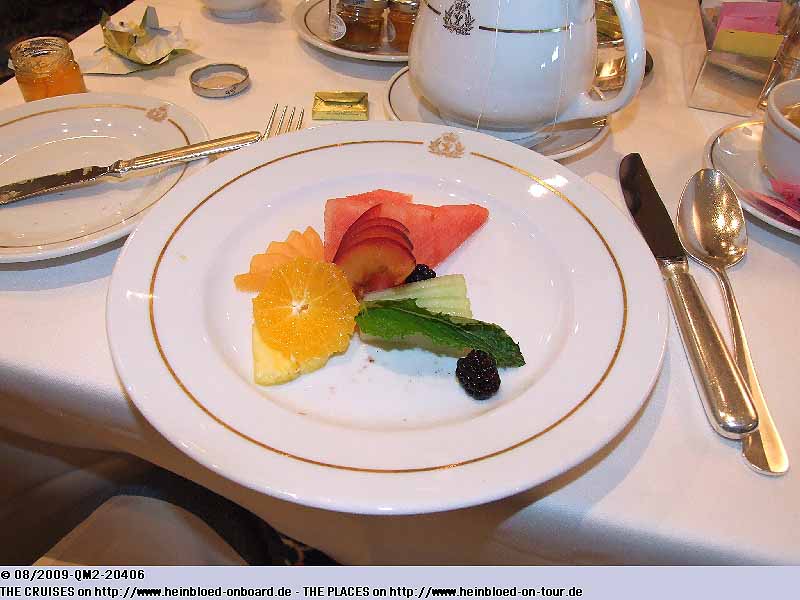 Auf der QUEEN MARY 2 wird sich beim Früchteteller noch ein wenig mehr Mühe gegeben.
Und die Auswahl damals auf der QUEEN VICTORIA war auch gut, wenn nicht besser.

On QUEEN VICTORIA the choices were great, maybe even better.

Even we had a Surf and Turf on QUEEN VICTORIA like you "normally" would expect it: having a half lobster.

Zumal es auf der QUEEN VICTORIA auch Surf und Turf gab, wie man es "normalerweise" erwarten würde: Mit einem einem halben Hummer.
Und das gab es sogar auf der WESTERDAM.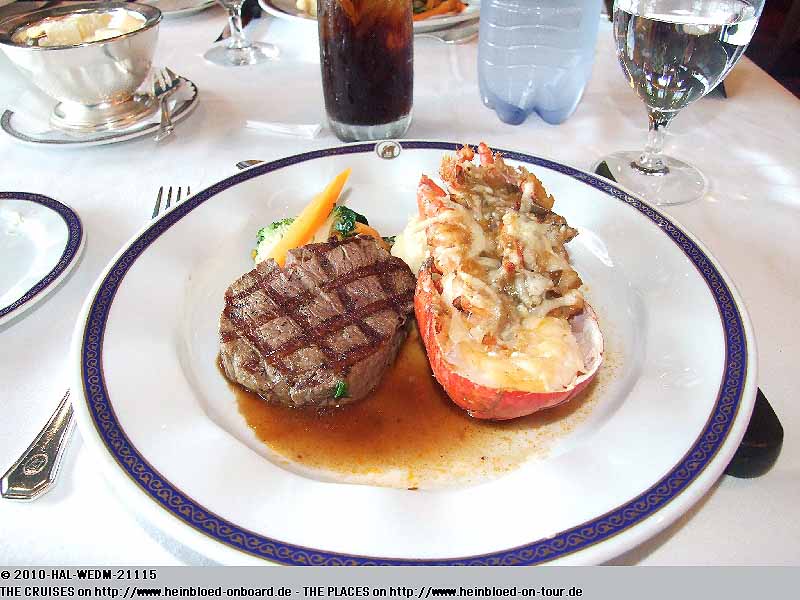 We had even the lobster on WESTERDAM.

A minor personal disappointment was the missing sides to a curry you even had on GRAND PRINCESS. The mayer disappointment was that they did not accept our offer to pay for the theater box. But anything else was great and I caught already myself back on Cunard's website to find the next voyage to book.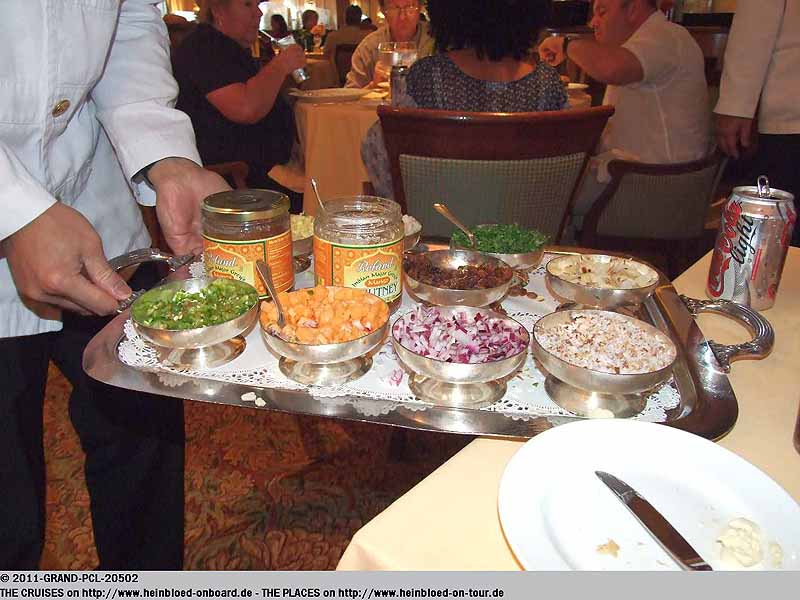 Eine kleine persönliche Enttäuschung waren die fehlenden Beilagen zum Curry, die es sogar auf der GRAND PRINCESS gab. Die größere Enttäuschung war allerdings, dass wir unsere Loge trotz Angebot, dass wir dafür zahlen, nicht bekommen haben. Ansonsten war es toll und ich habe mich schon dabei erwischt, wie ich auf der CUNARD-Homepage nach einer neuen Reise gesucht habe.
Und nun noch ein Panorama-Bilder (Nur für einen Eindruck/Einfach auf die Bilder klicken, um sie ohne überliegende Werbung zu sehen):
Der Weg vom Hotel zu der öffentlichen Bushaltestelle (kostenlose Busse nach Heathrow)

And now few panorama-picture (Just for impression/Click on the pictures to see without overlaying ads):

The way from our hotel to the public bus stop (free transport to Heathrow)

Windsor Castle


Windsor Castle.
Ich bin positiv überrascht, was die Kamera leistet.

I am positively surprised on the performance of the camera.

Not all objects are good for panorama pictures.


Nicht alle Objekte eignen sich jedoch für Panorama Bilder.
Meine Hand ist zu unruhig für solche Objekte.

My hands were not calm enough for such objects.

But still it looks very nice.

Sieht aber trotzdem sehr gut aus.
So kann man aber auch Wege sehr gut erklären.


So you could explain very well how to walk around.

Queen's Room


Queen's Room
Die See erscheint weiter.


The sea looked wider.

Commodore Club


Commodore Club
Royal Theater

Royal Theater

A really great escort service for breakfast. By the way all pictures were taken by a SONY DSC-HX9V. The blog from ZAANDAM in March 2012 will start in 16:9-format. And here we us again on MEIN SCHIFF 2 (formerly CELEBRITY MERCURY) in May 2012.


Ein richtig großartiger Begleitservice zum Frühstück.
Übrigens alle Bilder sind mit einer
SONY DSC-HX9V
aufgenommen. Der Blog von der ZAANDAM im März 2012 startet in 16:9-Format. Und hier geht es im Mai mit MEIN SCHIFF 2 weiter.