Scroll down for English explanations - alternates with German explanations.

Wie schön: wir sind im Paradies. Es gibt eine große Auswahl von Molton Brown Artikeln.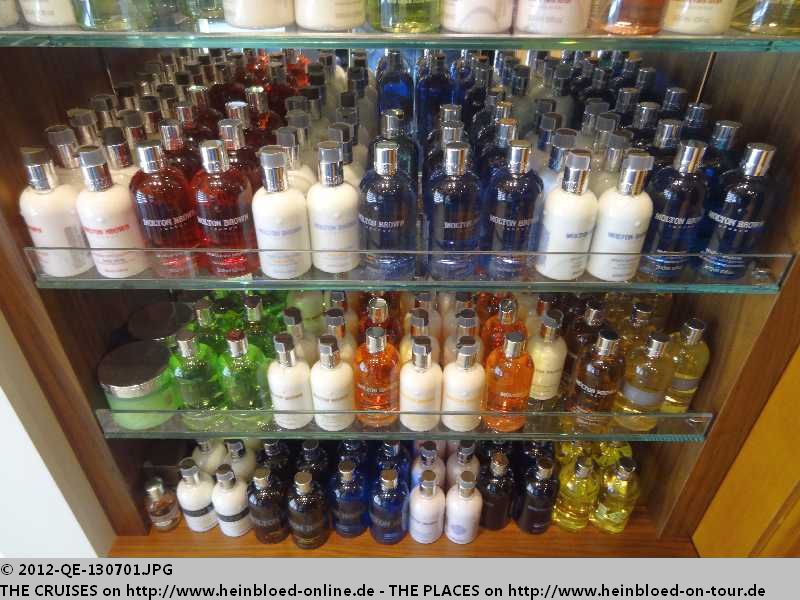 How nice: we were in paradise. They had a great selection of Molton Brown products.

But unfortunately it's an intra-EU cruise: so 20% VAT applied to all purchases. Could not they call in Guernsey or Helgoland?

Leider ist es eine innegemeinschaftliche Kreuzfahrt: so fallen 20% MWSt. noch zusätzlich an. Hätten sie nicht Guernsey oder Helgoland ansteuern können?
Der Seegang ist so groß, dass zwischenzeitlich die Promenaden gesperrt wurden.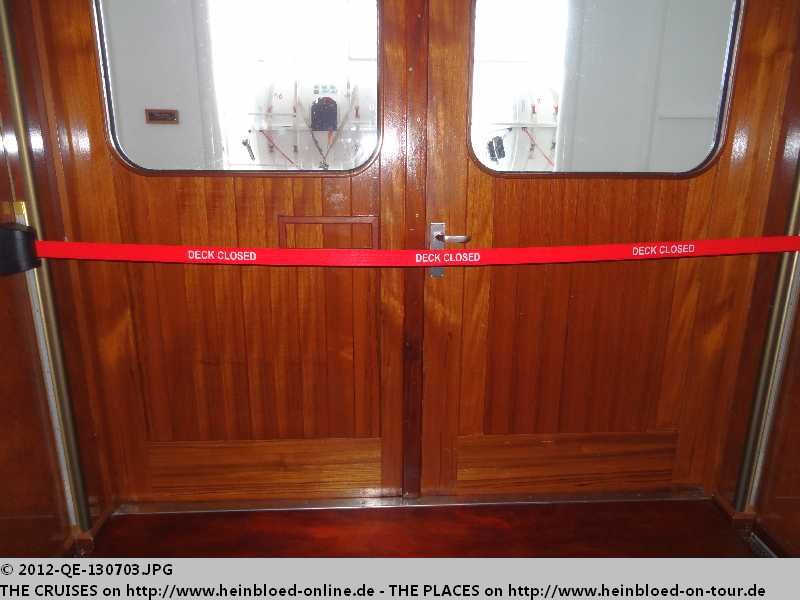 The seamovement was meanwhile so strong that they had to close the promenade.

I got a message. The Public Room Manager let me know that I could only purchase the soda-package for the whole voyage and not for segments. They will hear from me soon. Last time I did not need to buy for the whole world voyage and could get the soda-package for the transatlatic only from Southampton to New York on QUEEN VICTORIA.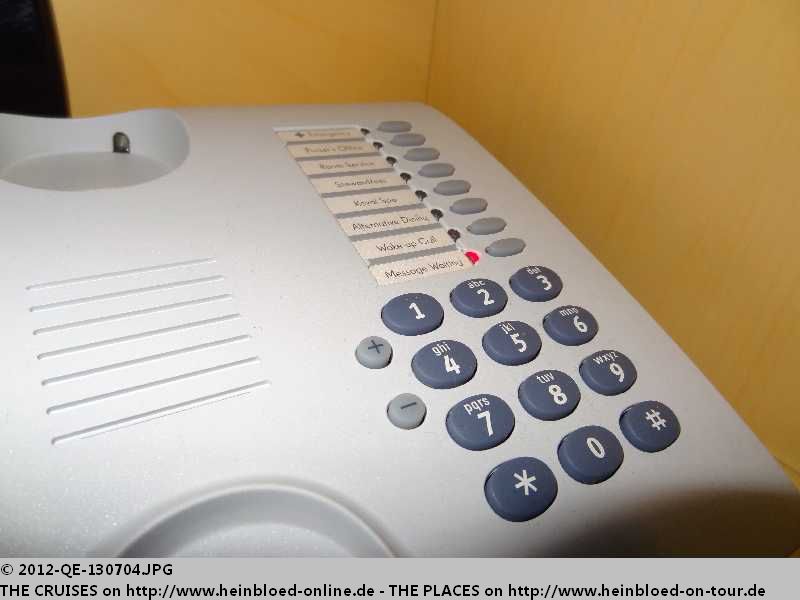 Eine Nachricht liegt für mich vor. Der Public Room Manager läßt mir ausrichten, dass ich das Soda-Package nur für die Gesamtreise kaufen könnte und nicht für Teilabschnitte einer Reise. Die bekommen von mir noch etwas zu hören. Schließlich musste ich nicht für die gesamte Weltreise damals auf der QUEEN VICTORIA meinen Sodapass kaufen, sondern bekam es ja auch für meinen Teilabschnitt von Southampton nach New York.
Nun kamen die gleichen Ausschiffungsinformationen, die wir gestern Abend schon bekommen haben, auch nochmals in personalisierter Form.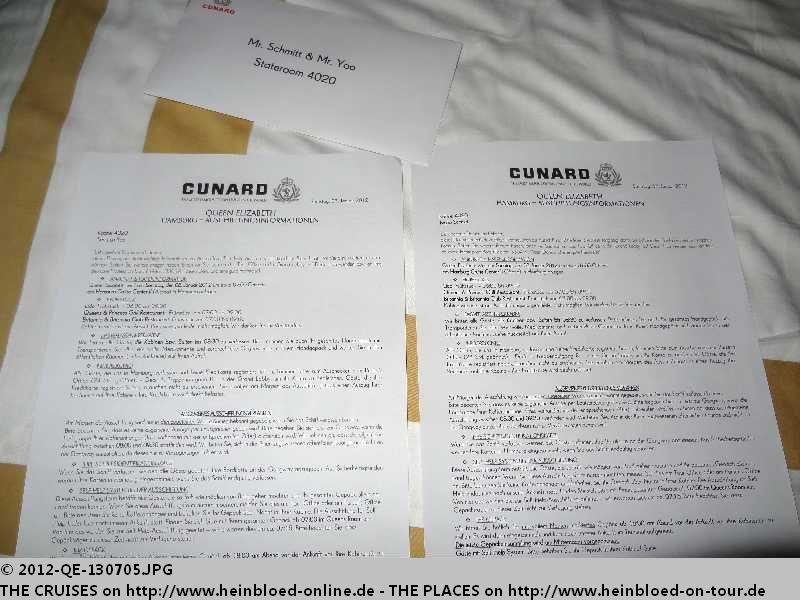 Now we got again the same disembarkation information we got already last night but in a personalized way.

They had to reschedule the production-show. All bookings for the boxes will be rescheduled automatically. Obviously they did not notice that we would not be anymore on the ship. They delivered the tickets for tomorrow. We offered to pay for the box for tonight but they did not accept it. Maybe Lady Margrethe Thatcher is in the Supervisory Board of Cunard. Was not she called Madame No.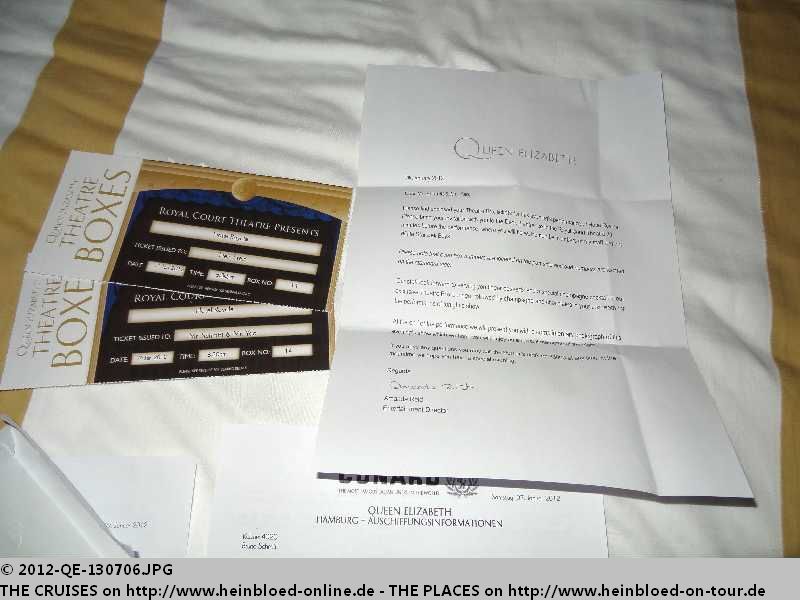 Leider musste die Produktion-Show verschoben werden. Alle Buchungen für die Logen werden automatisch umgebucht. Nur, dass wir morgen gar nicht mehr an Bord sind, haben sie gar nicht bemerkt. Uns werden die Logentickets für morgen zugestellt. Wir bieten ihnen an, dass wir heute abend mit der anderen Show auch die Loge zu dem Preis nehmen würden. Aber man lehnt strikt ab. Ist Magrethe Thatcher vielleicht im Aufsichtsrat von Cunard? Sie wurde doch Madame No genannt.
Durch den Blog von millis glashaus wurde ich darauf aufmerksam, dass wir bislang noch nie die Nadeln für unsere Gold-Mitgliedschaft bekommen haben. Ausnahmsweise gab es keine lange Diskussionen und wir bekamen sie sofort. Es gibt zwischenzeitlich auch ein Anzahlungsprogramm. Allerdings Kunden im Euroraum haben nur 1 Jahr Zeit für die Neubuchung. USD-Kunden haben 4 Jahre Zeit. Was der Unsinn wieder soll?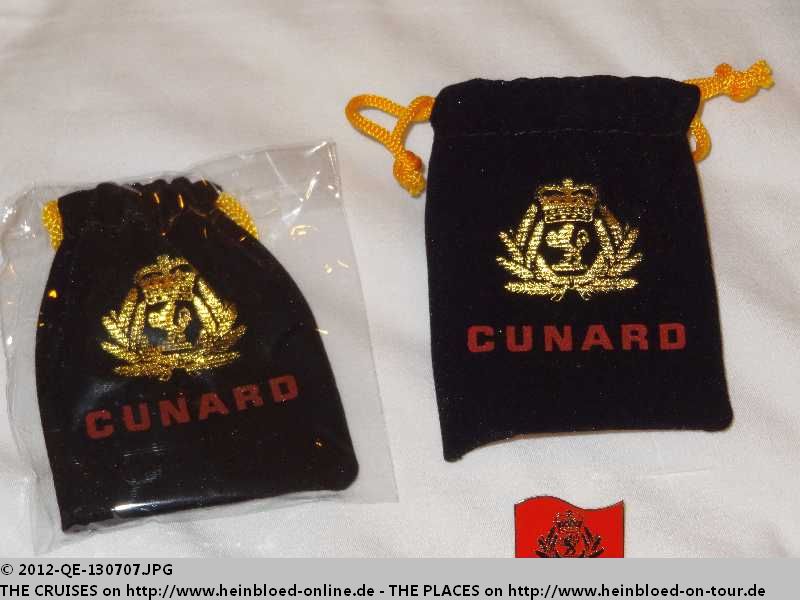 Due to the blog of millis glashaus I was attracted to the fact that we have not never gotton our pins for our Gold-membership. This time we had no longer discussion and got them immediately. Meanwhile they also offer a blind deposit programme. But customers from the Euro-area have only 1 year time to book. Customers from the USD-area have four years time to book. No idea what kind of nonsense this should be?

I was surprised that there was no exchange machine like on QUEEN MARY 2 or QUEEN ELIZABETH 2.

Was mich erstaunt: es gibt hier gar keinen Wechselautomaten, wie auf der QUEEN MARY 2 oder QUEEN ELIZABETH 2.
Ab in den Smoking. Ich habe mich seit der letzten Fahrt für ein schwarzes Hemd mit silberner Krawatte entschieden.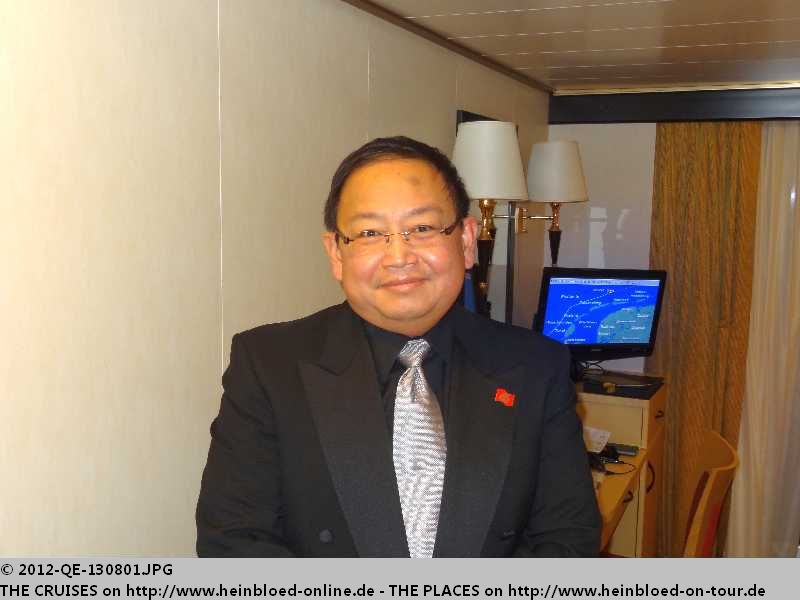 Let's slip into the tuxedo. Since our last voyage I decided to have a black shirt with a silver tie.

Bruno stayed in his classical tuxedo-shirt in white with a bow-tie.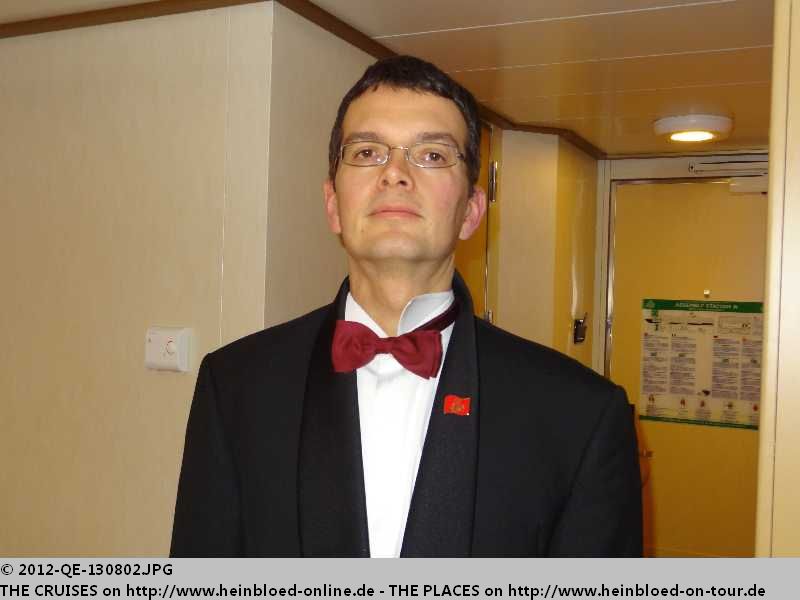 Bruno bleibt beim klassischen Smoking-Hemd in weiß mit Fliege.
Im Fahrstuhl fiel uns auch auf, dass auch hier The Verandah fehlte.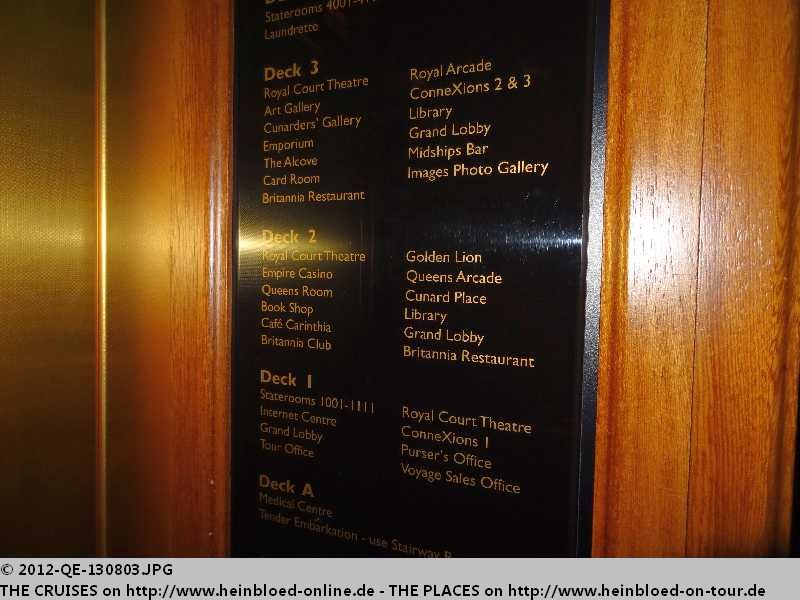 In the cabin of the elevators there was The Verandah missing somehow.

We went again for some minutes to the FOD-meeting to say bye-bye as we wanted to go to the Captain's reception. I tried on board an (American) Ginger Ale. But this was the same taste like in Germany.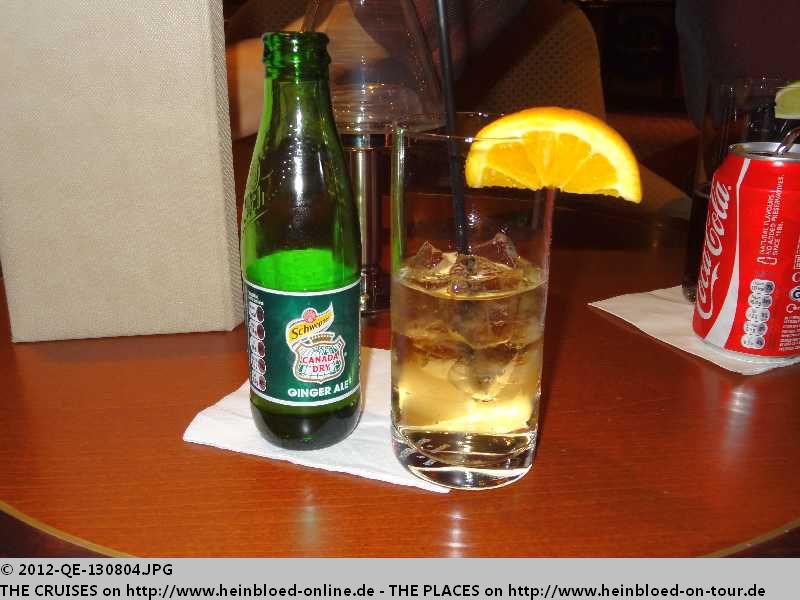 Wir gehen nochmals kurz zum FOD-Treffen und sagen tschüß, da wir in ein paar Minuten noch zum Kapitänsempfang wollen. Ich probiere an Bord (American) Ginger Ale aus. Aber das schmeckt, wie in Deutschland.
Zwei Treffen bieten leider nicht genügend Zeit, um großartig Kontakte zu knüpfen. So vermissen wir unsere Runde auf der NORWEGIAN JADE.

Two short meetings were not enough to start new friendships. So we missed our meetings on board of NORWEGIAN JADE.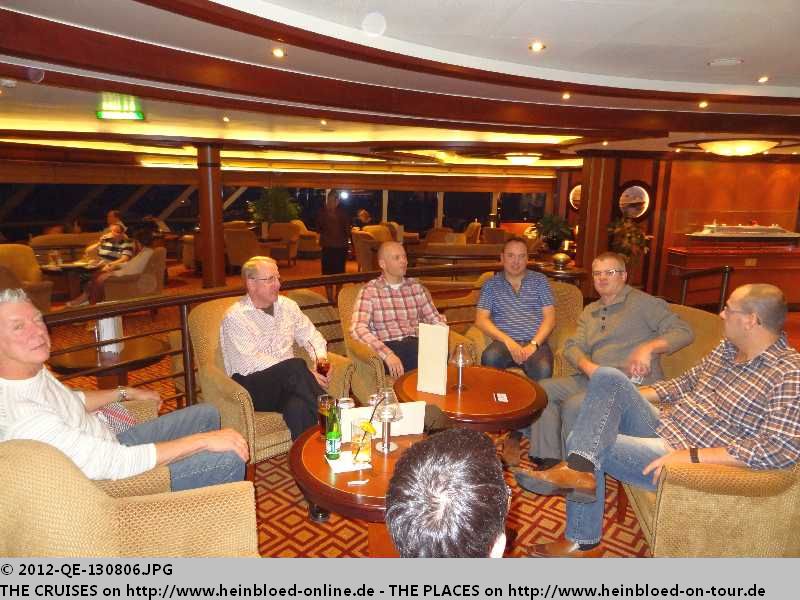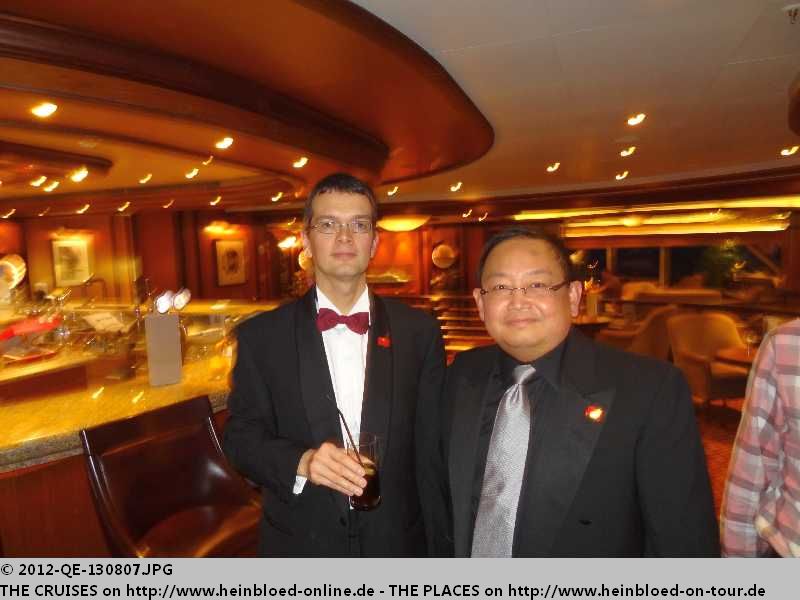 We went to the Captain's Reception. As we came in the wrong side we had "only" the Hotel Manager (to the right)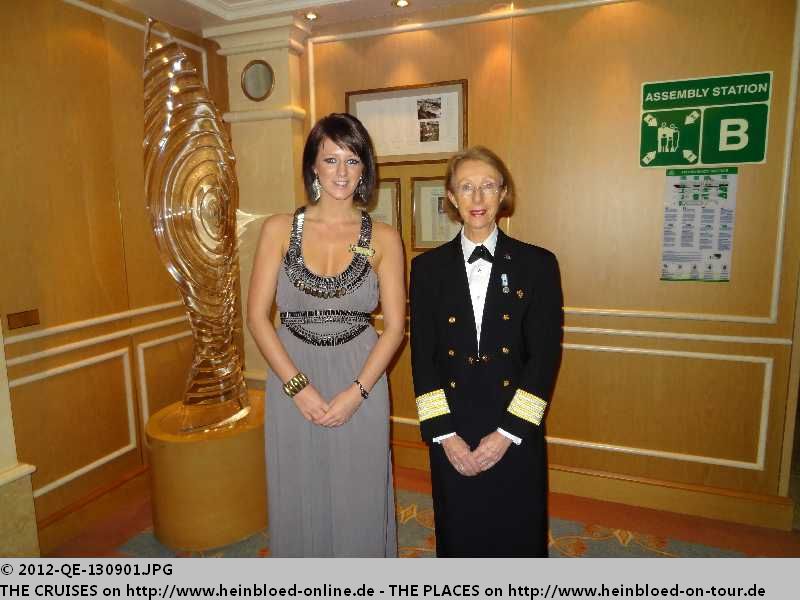 Wir gehen zum Kapitänsempfang. Da wir von der falschen Seite kommen, bleibt uns "nur" die Hoteldirektorin (rechts)
und die Kreuzfahrtdirektorin.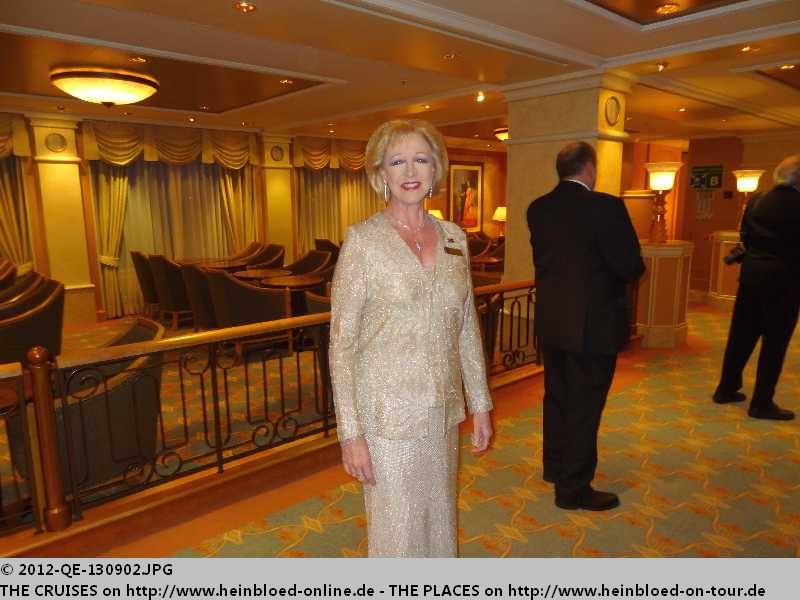 and the Cruise Director.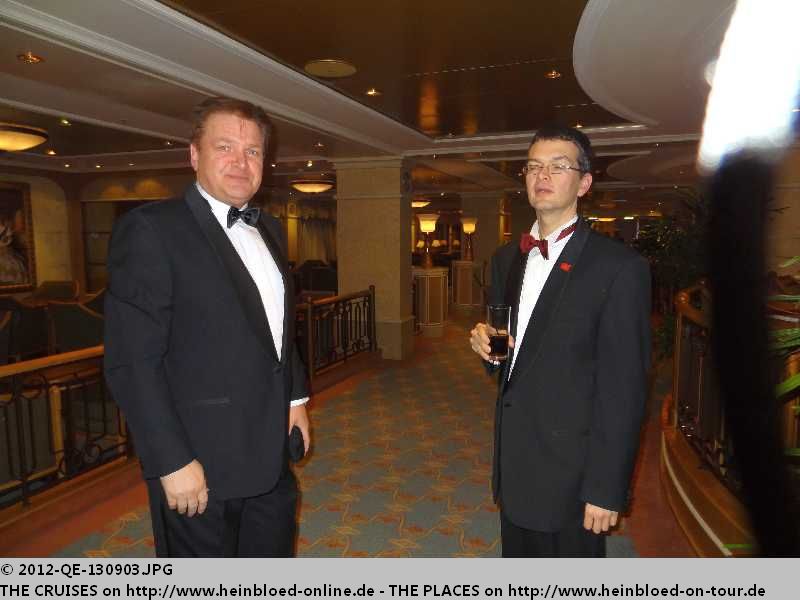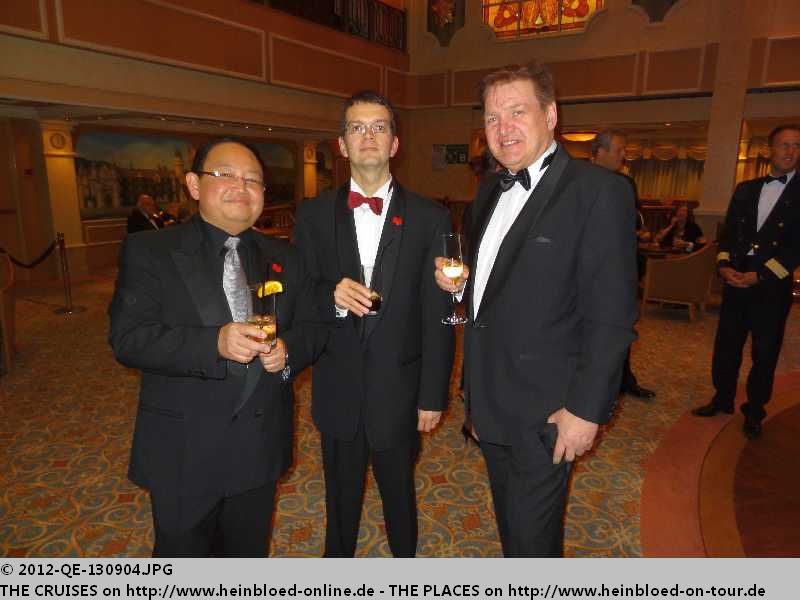 Do not ask me.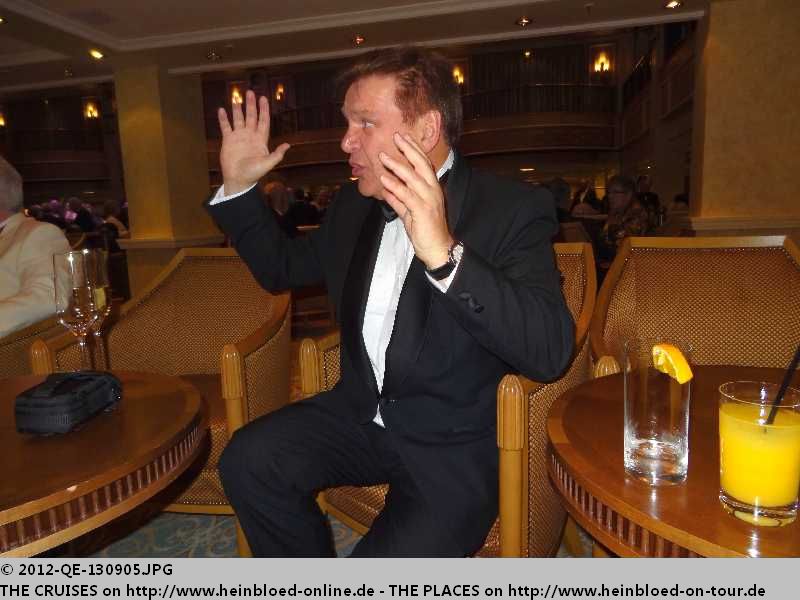 Fragt mich bitte nicht.
Ich weiss eh nicht mehr, um welche Detail es bei der Kamera es ging...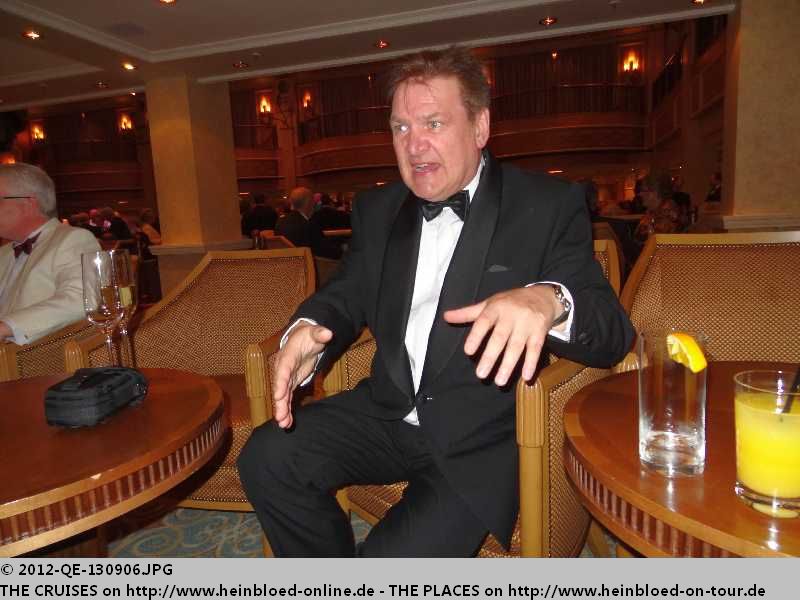 I had no idea which detail of the camera they were discussing...

But the time of silence came.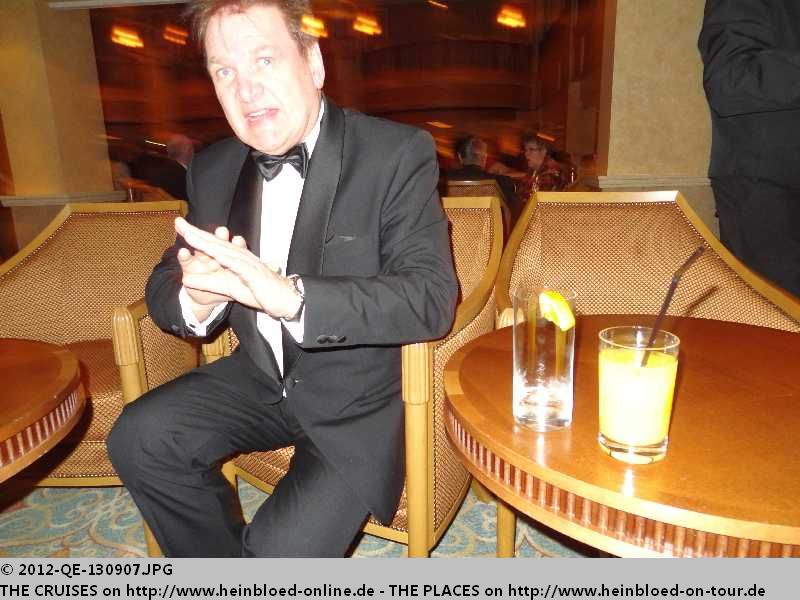 Irgendwann war denn doch Ruhe.
Als nämlich die Canapés kamen.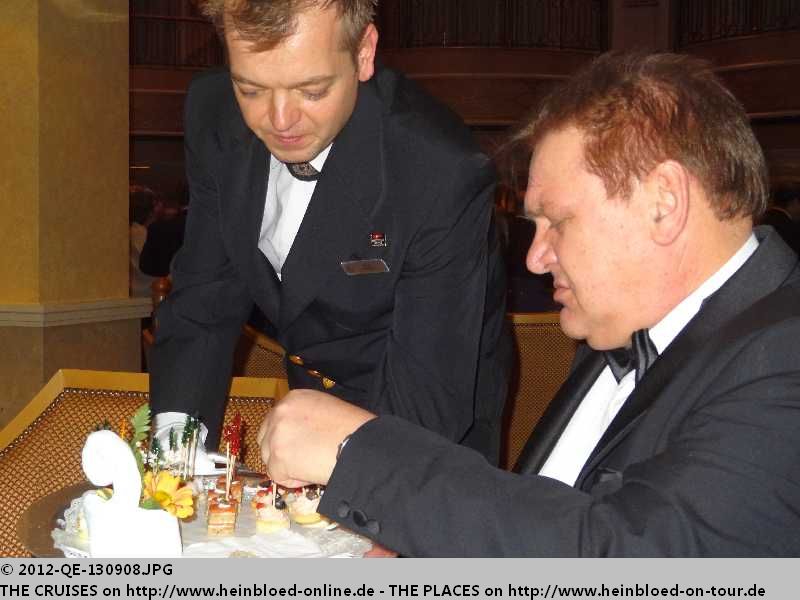 Of course when the canapés came.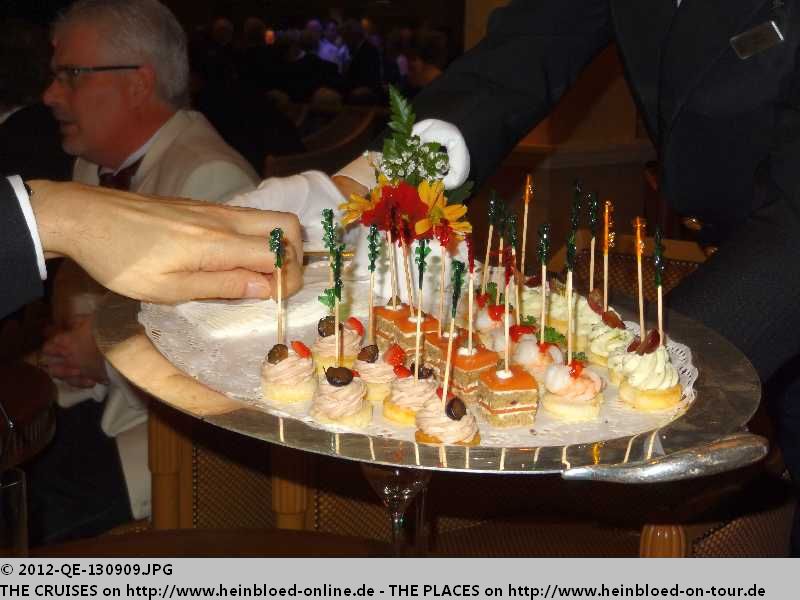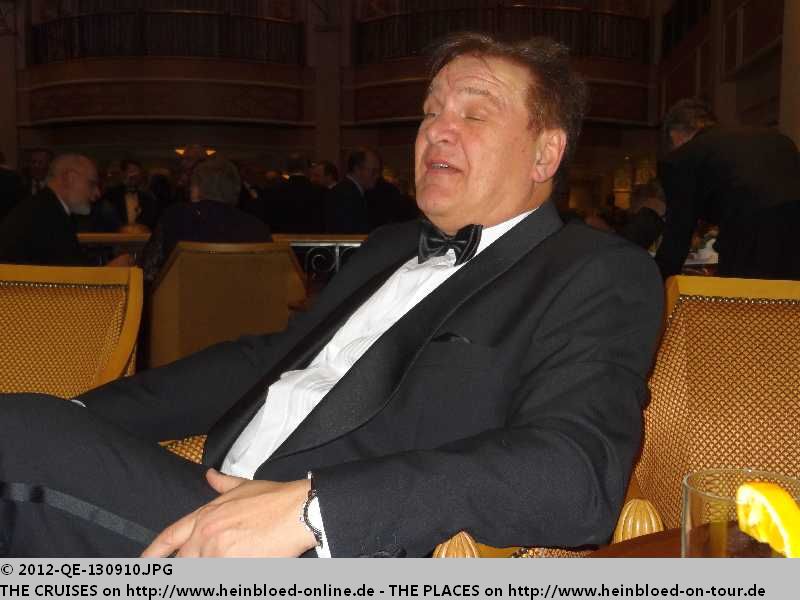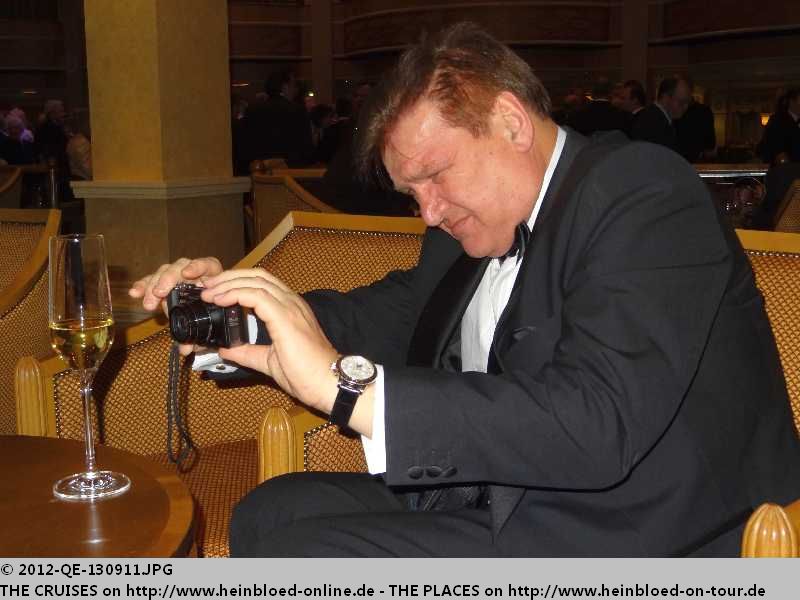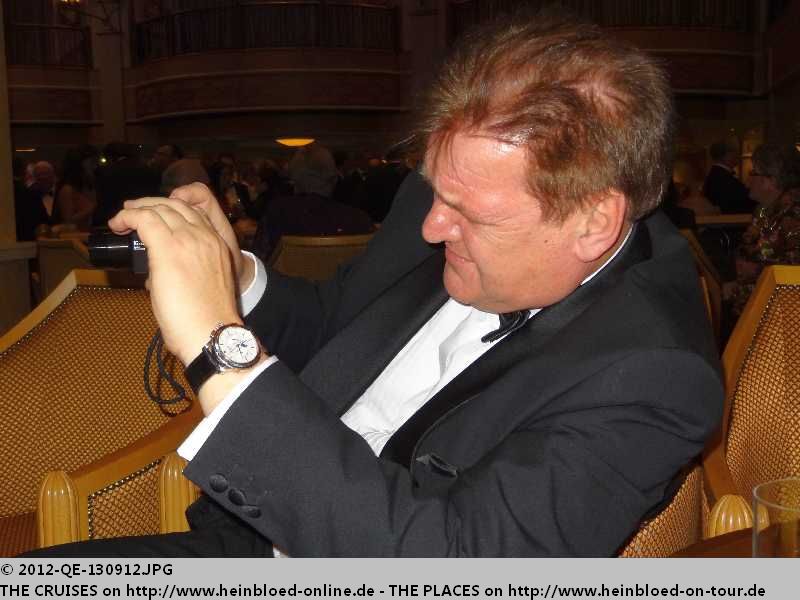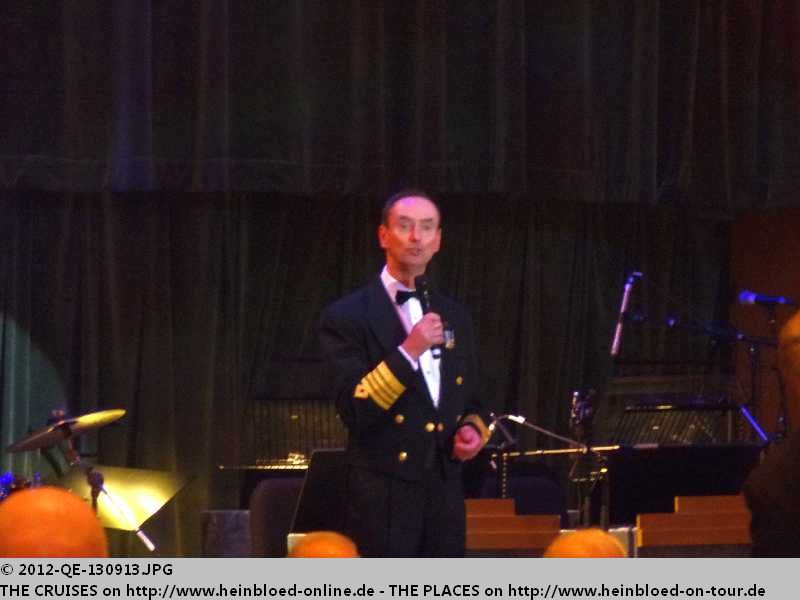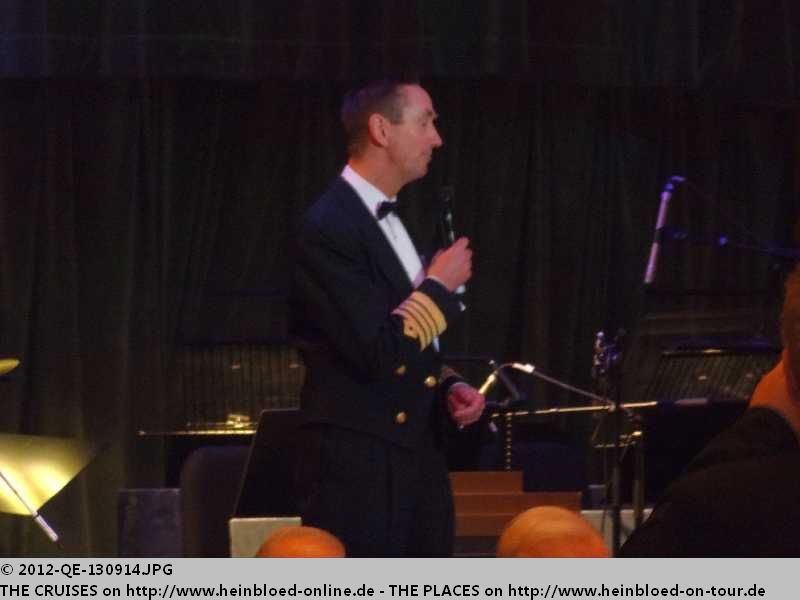 What was not so nice: they had also hot canapés which they did not offer us. I did not have the impression that there was any Maître checking that all guests had something to drink and to eat.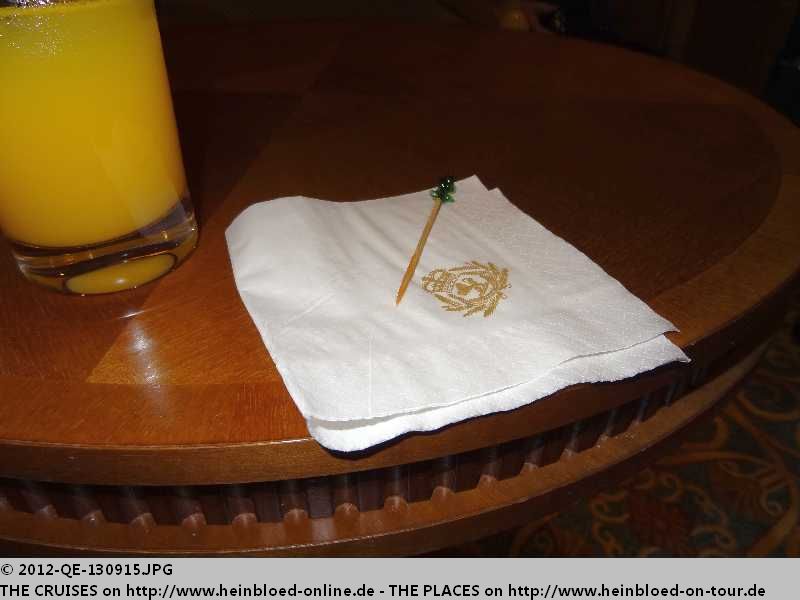 Was übrigens nicht besonders nett war: es gab auch warme Canapés, aber die wurden uns nicht angeboten. Ich hatte nicht so den Eindruck, dass ein Maître präsent war, der darauf achtete, dass alle Gäste etwas zu Trinken und zu Essen hatten.
Übrigens ist das die Dame, die die deutschen Ansagen macht. Hans-Hermann, der ja auch aus dem Südwestfälischen kommt, meint dass es ein Siegerländer Akzent wäre.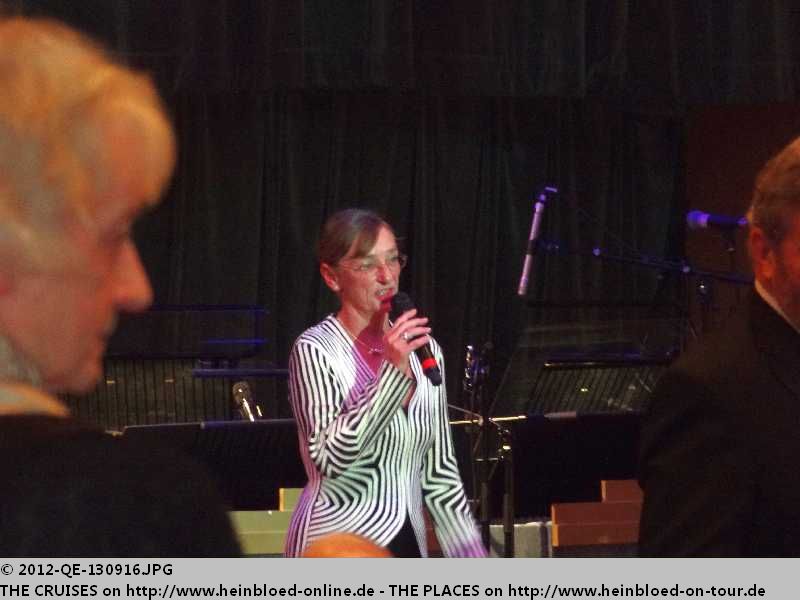 By the way: this was the female crew memeber who did all announcements in German. Hans-Hermann came from the Soutern Westphalia area and could easily identify her origin from her Siegen-area accent.