Scroll down for English explanations - alternates with German explanations.

Nach ein paar Stunden Schlaf, bin ich auch wieder für den neuen Tag fit.
Unsere Kabinenstewardess Mariebeth. So nett und gründlich... würde ich glatt mit auf jede Reise mitnehmen. Dafür hat sie Brunos Nomierung zum Star bekommen.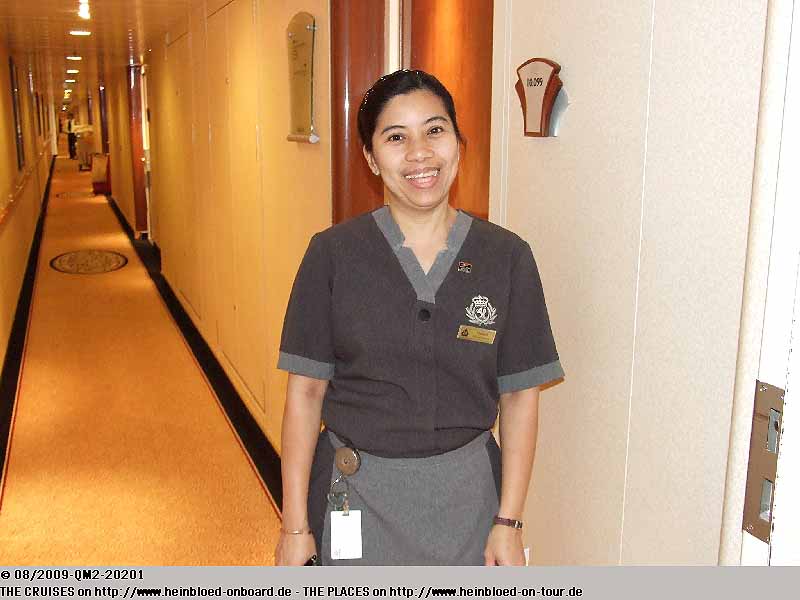 After few hours of sleep I felt well prepared for the new day.

Our stateroom stewardess Mariebeth. So nice and clean... I would kidnap her for all my voyages. She got Bruno's nomination for a star.

We did not want to smuggle water onboard but as it was unclear if we get some water or not and if the mini-bar is available or not we wanted to be sure. So we used it for the homebound journey in the car.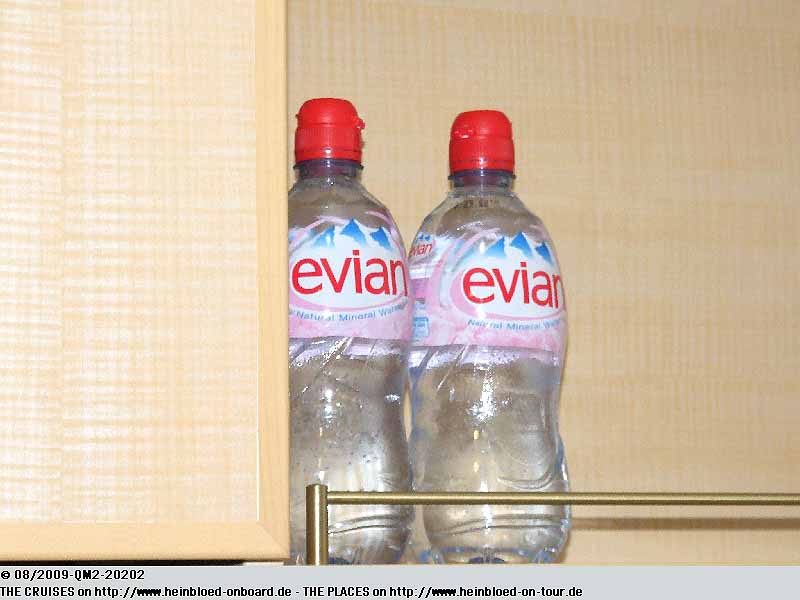 Wir wollten ja kein Wasser an Bord schmuggeln, nachdem nun unklar war, ob wir nun Wasser bekommen und ob nun die Mini-Bar während einer Mini-Cruise abgeschlossen wird oder nicht, wollten wir auf Nummer sicher gehen. Das haben wir halt auf der Autofahrt zurück nach Hause dann benutzt.
Nun gab es eigentlich auch ein paar Kleinigkeiten, die mich störten...
Das war der Waschraum zu Todd English...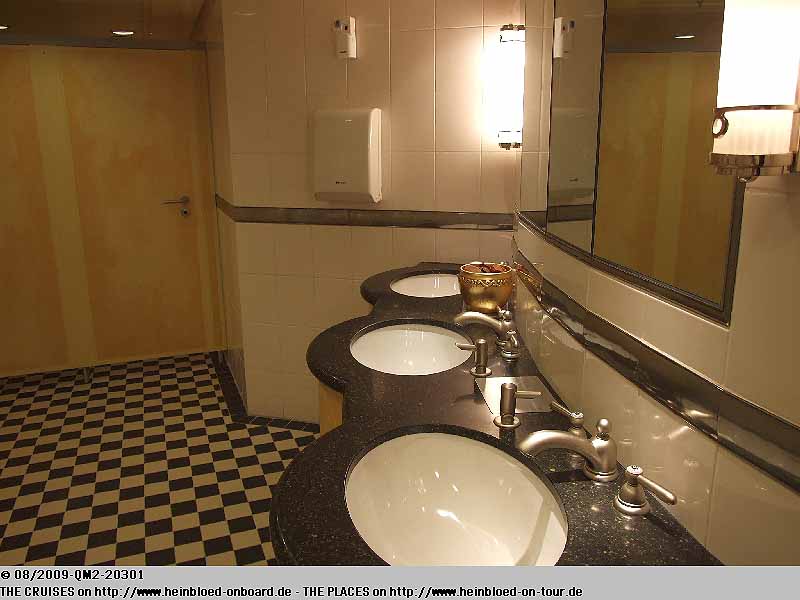 Few little things I did not like on this ship:

This was the washroom for Todd English guests.

Why do it I get textile towels only there where I do not need to pay extra but in a high-class restaurant like Todd English you get only paper towel from the dispenser.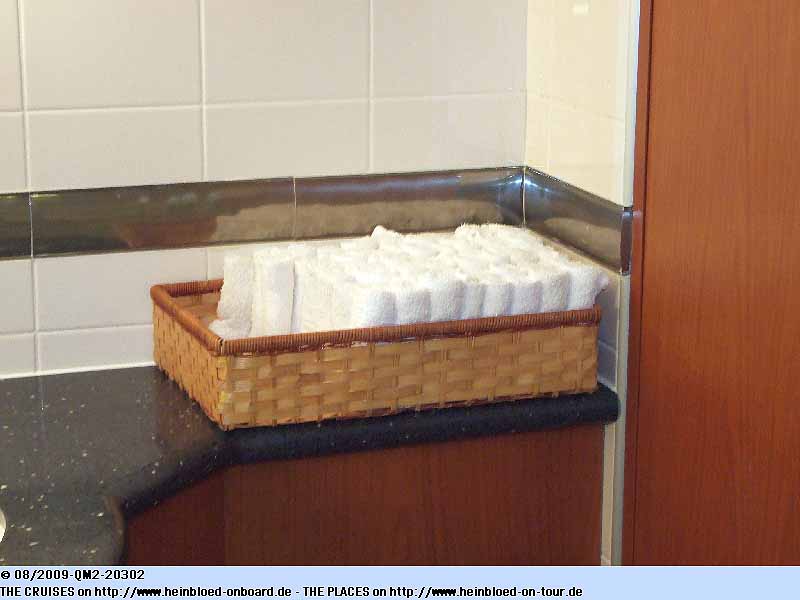 Warum bekomme ich Stoffhandtücher nur dort, wo ich nichts zu zahlen muss, aber in einem Edel-Restaurant wie Todd English nur Papierhandtücher aus dem Spender???
Und schade war, dass die Lüftung in den Fahrstühlen nicht funktionierte. War oft stickig und feucht. Das Problem kann man durch eine intelligente Umprogrammierung ändern:
Lifte, die gerade nicht gebraucht werden, warten mit offenen statt geschlossenen Türen: So findet ein Luftaustausch statt und das Problem wäre auch erledigt... Sehr viel mehr ist mir eigentlich gar nicht aufgefallen.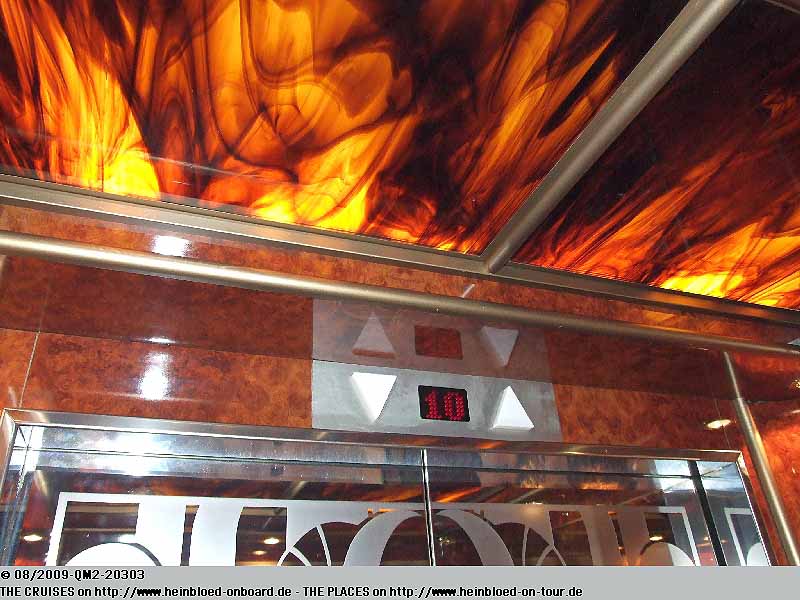 It was a shame that the ventilation in the elevators did not work. It was sticky and humid. This problem can be solved with an intelligent programming.

When the lift are stand-by and wait for the next call they should open the door: so the air will be exchanged and the problem is solved... I could not find much more.

Typical English marmelade and jam were already on the table. We could not find out if they try to meet Bruno's expectations for a home diary brand again.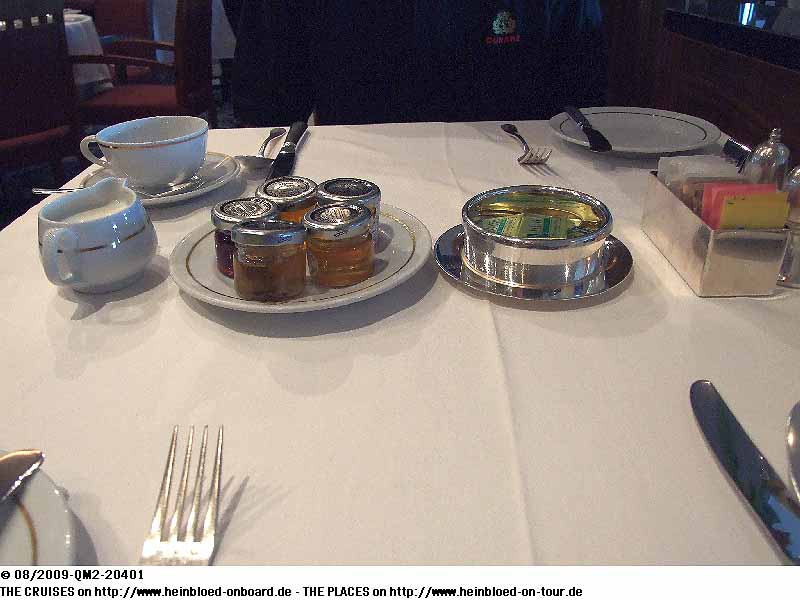 Uns erwartet bereits englische Marmelade am Tisch. Ob die Milch auch extra wieder für Bruno aus seinen Heimatregionen beschafft wurde, entzieht sich meinen Kenntnissen.
Dieses Lächeln von Inna und dieses Tablett voller Leckereien: kann ein Tag schöner und freundlicher anfangen???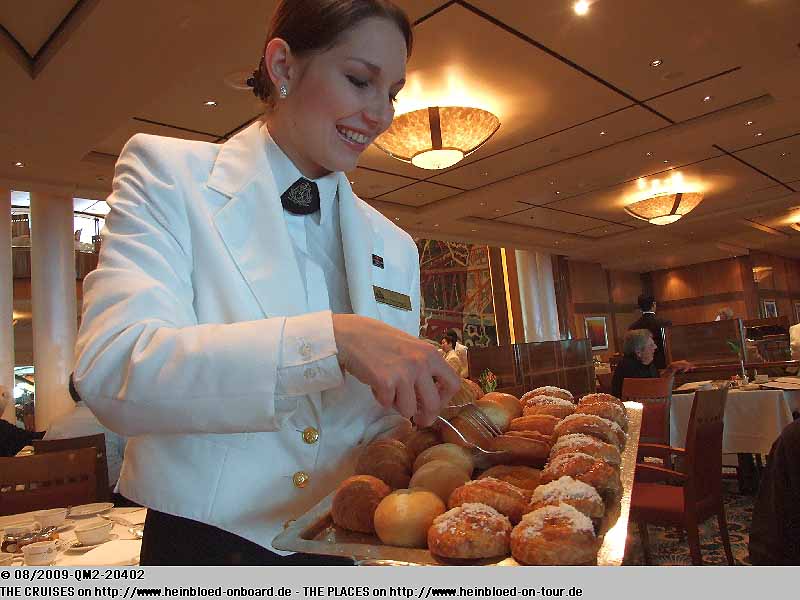 Inna's smile and a tray full of yummy pastries... is there a nicer and friendlier start you can have for the day???

I wanted the brioche roll I was waiting 1 1/2 years for... And Inna walked the extra mile to get me some.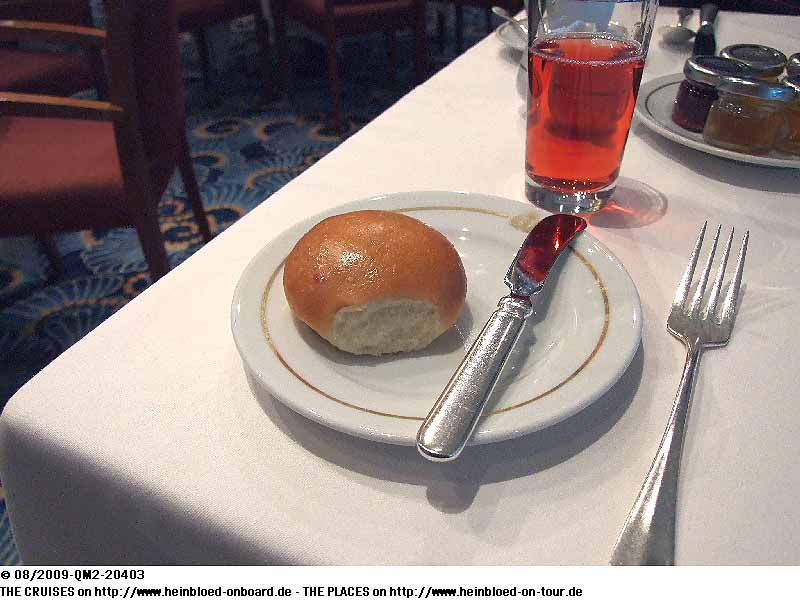 Ich wollte aber unbedingt ein Brioche-Brötchen, auf das ich seit 1 1/2 Jahren warte... Und Inna läuft extra die Extrameile, um mir ein Brioche-Brötchen zu besorgen.
Grüner Tee war wieder kein Problem. Genausowenig wie ein Cranberry-Juice.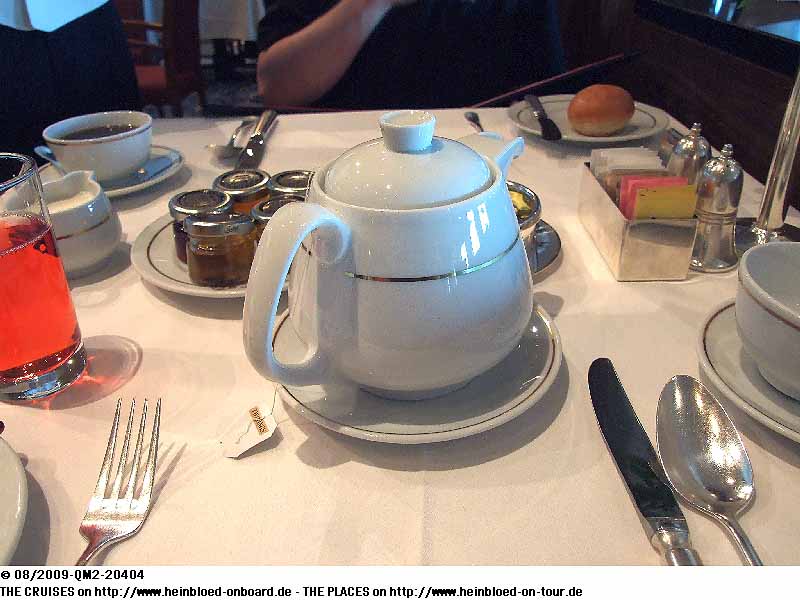 Green tea was no problem at all. The cranberry-juice either.

Bruno had unluck. His criterias for good and bad ships: Blueberry-muffins. But here they are no part of the daily offer but part of the every-day-changing offer. He was offered Hobson's choice: no blueberry-muffin or one which was not from the same day. But there were many alternatives and he could wait another day for his blueberry-muffin.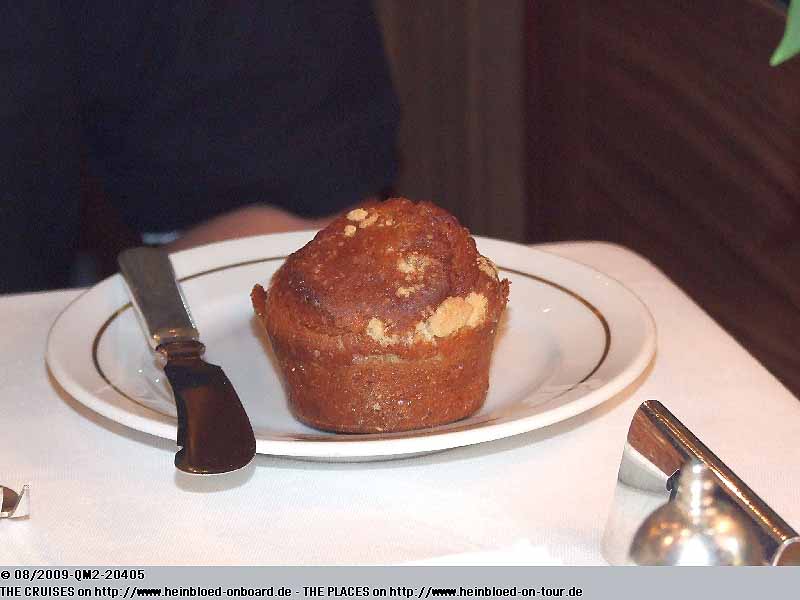 Bruno hatte Pech: Er wählt ja Schiffe nach dem Kriterium Blueberry-Muffin aus. Die gehören jedoch nicht zum täglichen Angebot sondern wechselndem Angebot. Da gab es heute Pest oder Cholera in Form von kein Blueberry-Muffin oder einen nicht mehr ganz so frischen. Aber es gab ja genügend Alternativen bis zum nächsten Tag... da gab es ganz frische Blueberry-Muffins...
Die Früchteplatte steht immer noch nicht auf der Speisekarte aber wir wissen ja, dass es sie gibt... und bekommen sie.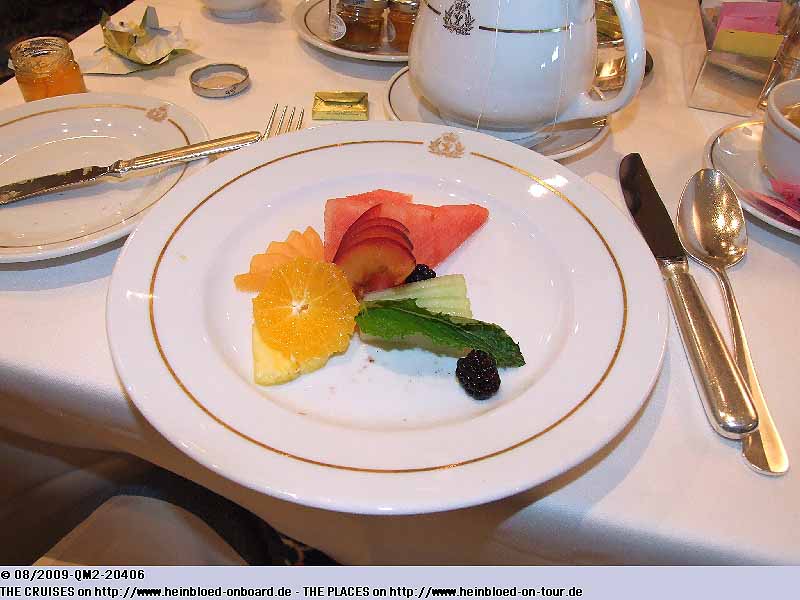 The fruit plate is not part off the menu but we know that this is available and we got it...

I am sure that I would get also my Egg Benedict on salmon if I would have asked them. But I kept this for NCL. This was also very nice and Corned Beef Hash the style I was familiar with.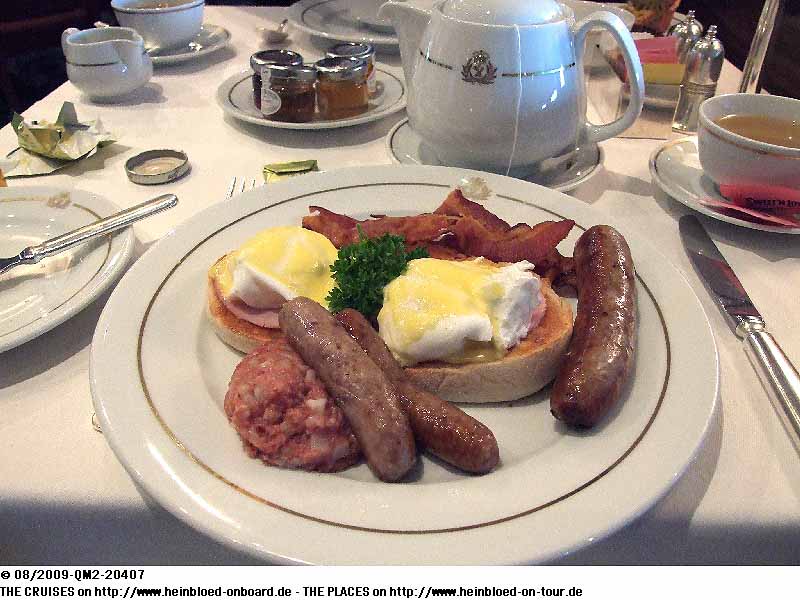 Sicherlich hätte ich auch mein Egg Benedict auf Lachs bekommen, wenn ich danach gefragt hätte. Aber das hebe ich mir doch für NCL auf. Auch das war ganz lecker und Corned Beef Hash, so wie ich es kenne.
Und das ist unsere Nathalie... wären alle damals auf der QUEEN VICTORIA zu uns so nett gewesen wie sie, dann hätten wir ein besseres Verhältnis zu Cunard. Sie schafft es jedoch, dass wir sie als neuen Standard akzeptieren und in Zukunft bei Cunard erwarten, dass es immer so läuft, wie bei dieser Reise mit Nathalie. Großartige Arbeit. Sie hat meine Nominierung zum Star.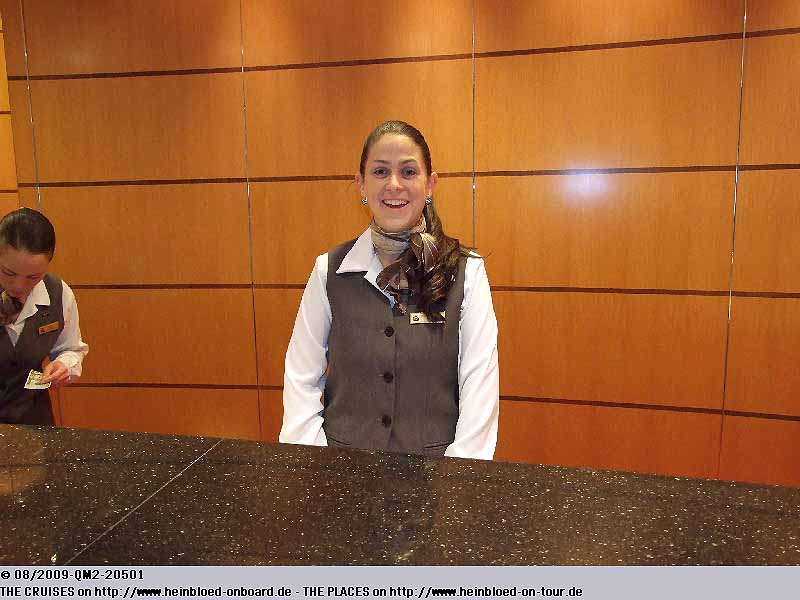 And this is our Nathalie... if all of them on QUEEN VICTORIA would be as nice as she was we would had all the time a better relationship to Cunard. She made us accepting her service level as new standard and we are expecting with Cunard that in future it should work like it worked with Nathalie. A great work. She got my nomination for the star.

We went again to the Commodore Club. As it would open at 10.00 hrs we first enjoyed the silence and the view.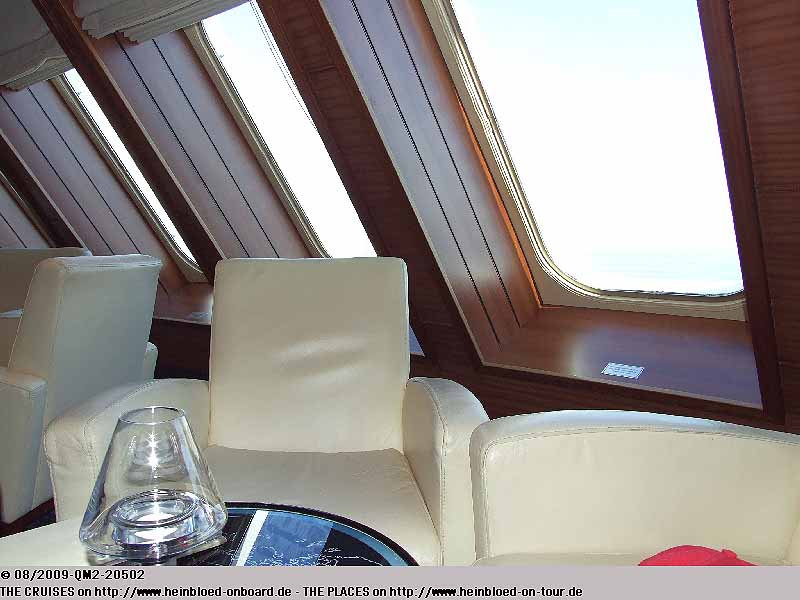 Wir gehen wieder in den Commedore Club. Nur da er erst um 10.00 Uhr öffnet, genießen wir zunächst die Stille und Aussicht.
Man könnte doch die Attraktivität steigern, in dem man hier ins Wasser ein paar Fische einsetzt...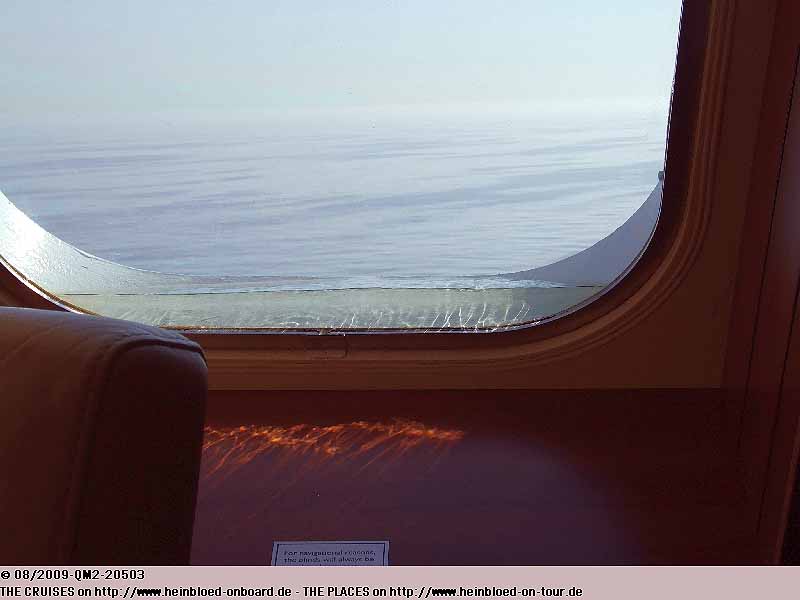 You can increase the attractivity by putting some fishes into the water...

Is not it a nice view from the top.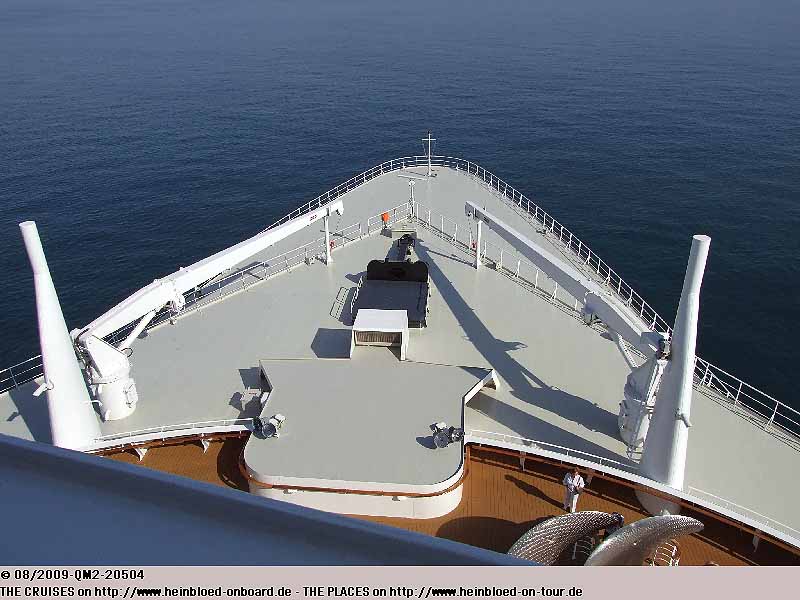 Ist das nicht ein schöner Ausblick von oben???
Und falls wir immer noch frühstücken wollten: im Sir Samuel's gibt es immer auch etwas an Kleinigkeiten. Hier sind wir mit arosablau verabredet und tauschen uns mit ihm und seiner Reisebegleiterin aus. Aber das kann er euch ja selbst schildern, wie er die QUEEN MARY 2 wahrgenommen hat.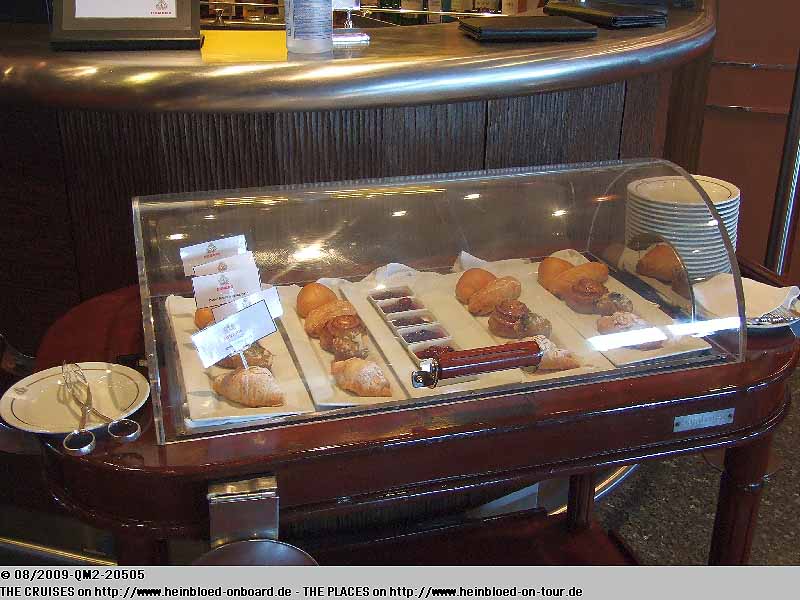 And for those who still did not have enough breakfast: at Sir Samuel's you can get small breakfast pastries. Here we met with arosablau (a German cruise forum participant) and his companion. They did not like too much QUEEN MARY 2 but he should himself his story behind his impressions.

We asked in the morning if there were no activities with Marek Erhardt (German actor) and Jo Brauner (retired German newsreader). On this day on sea there was nothing offered with them. In Cunard's magazine "Queens" they were announced as guest lectures until August 7, 2009. I was happy to have a reason for a claim against Cunard. So we get money again for our next voyage.... or???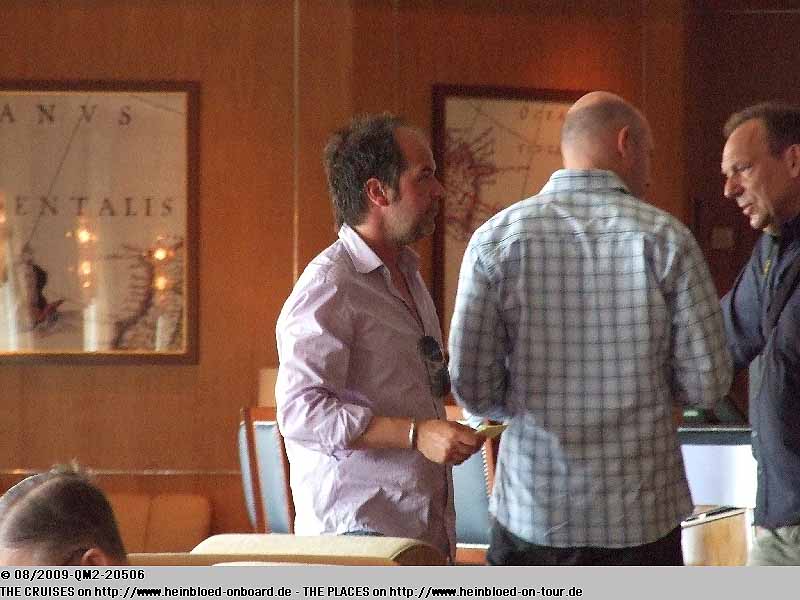 Morgens hatten wir danach gefragt, ob es gar keine Termine mit Marek Erhardt und Jo Brauner gibt. Es gibt an diesem Seetag leider keine Programmpunkte mit denen. In deren Magazin Queens waren sie jedoch als Gastlektoren bis zum 07.08.2009 angekündigt. Wenn ich jetzt Cunard verklage, bekomme ich dann wieder Geld für die nächste Reise mit denen zurück???
Es artet in Stress aus, denn wir sind um 11.30 Uhr im Pub mit Fllady aus dem cruisecritic.com-Forum verabredet. Wir übergeben ihr ein paar Unterlagen zu Hamburg und tauschen 25 EUR gegen 35 USD aus. Und das ohne Kommission... Auch hier hätten wir wieder lecker zu Mittag essen können. Da die Zeit mit denen beiden äußerst knapp bemessen ist, verabreden wir uns wieder mit denen zum einem Pre-Dinner-Drink. Weil ihr Mann aber gerne raucht, bleibt es auch wieder beim Pub, weil es hier eine Raucherecke gibt.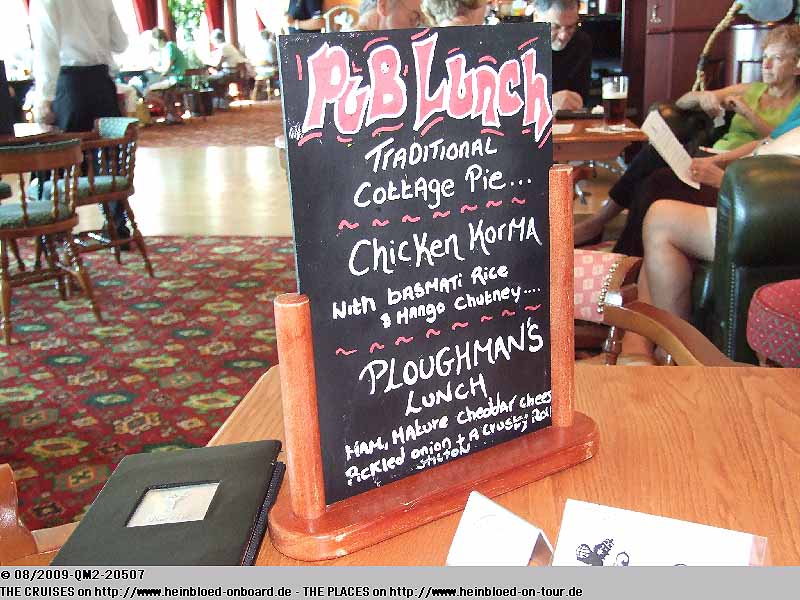 It was stress as we had an appointment with Fllady from cruisecritic.com. So we handed them over some information on Hamburg and exchanged 25 EUR against 35 USD. No commission... And here would also a good occassion to have a nice lunch. As the time with them was very short we would like to meet them again for a pre-dinner-cocktail. Because her husband likes to smoke we had no problem to meet in the pub again because there is a smoker's corner.

We bought some bingo tickets for the 14.00 hrs draw.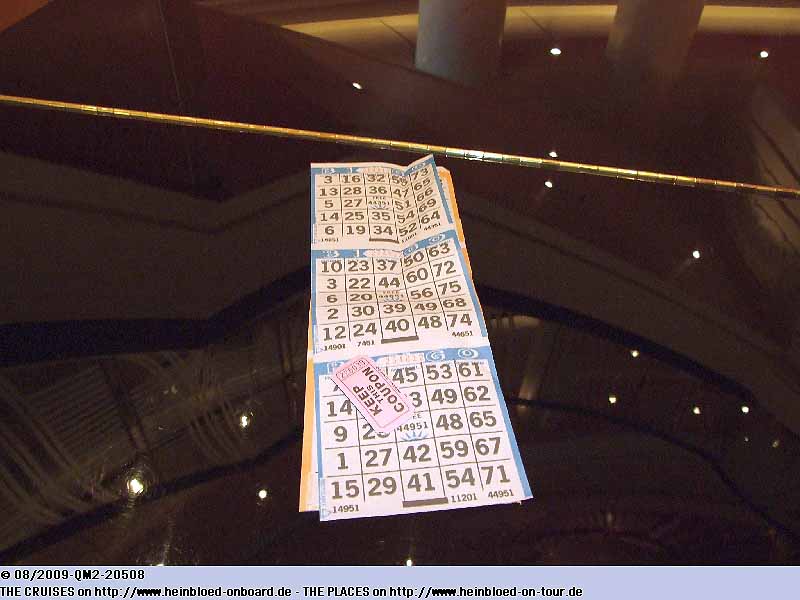 Wir kaufen noch schnell Bingo-Lose für die Veranstaltung um 14.00 Uhr.
Als ich später hingehe, wurde bereits für die Tea-Time geworben. Die Bingo-Veranstaltung fiel aus, weil nur sieben Tickets verkauft wurden. Und für das nächste Mal: es werden nicht die Lochvarianten verkauft. So hätten wir einen Bingo-Stift hinzukaufen müssen. Also das nächste Mal stecken wir noch einen Textmarker in unser Gepäck.
An der Tea-Time nehmen wir nicht teil, weil wir ein wenig Luft brauchen zum Erholen. Es wurde soviel angeboten, dass ich am Seetag mehr Termine hatte, als in meinem Büro... Aber unsere Tischnachbarn, denen wir den Besuch empfohlen hatten, waren restlos begeistert.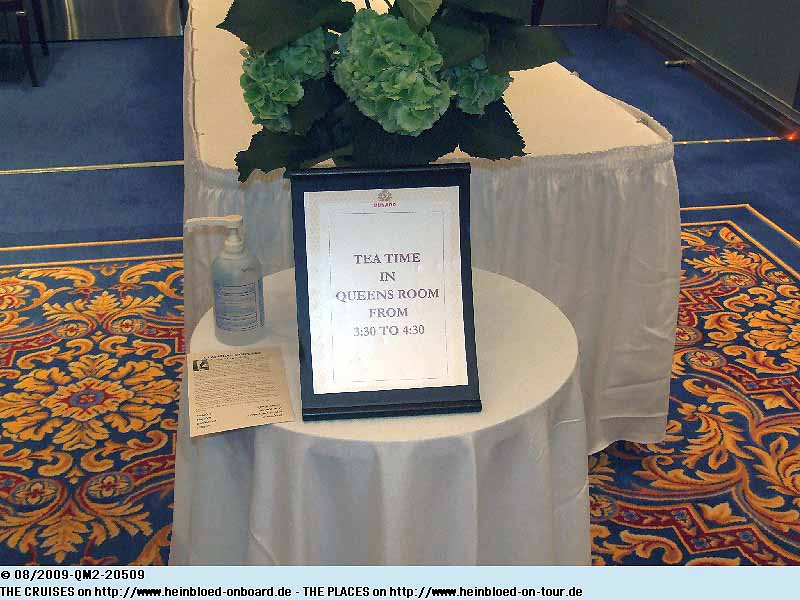 When I went there later they promoted already tea-time. The bingo-event was cancelled because only seven tickets were sold. For the next time: they do not sell the version with the holes. So you need to buy a special marker. Next time we will add a text-marker to our baggage.

We did not join the tea-time as we need some time for relaxing. There were so many activities available that I had more appointments than in my office... But our table-mates whom we recommended to see the tea-time were very excited.

Later the day at 16.00 hrs we were again in the Commodore Club and enjoyed the cocktail.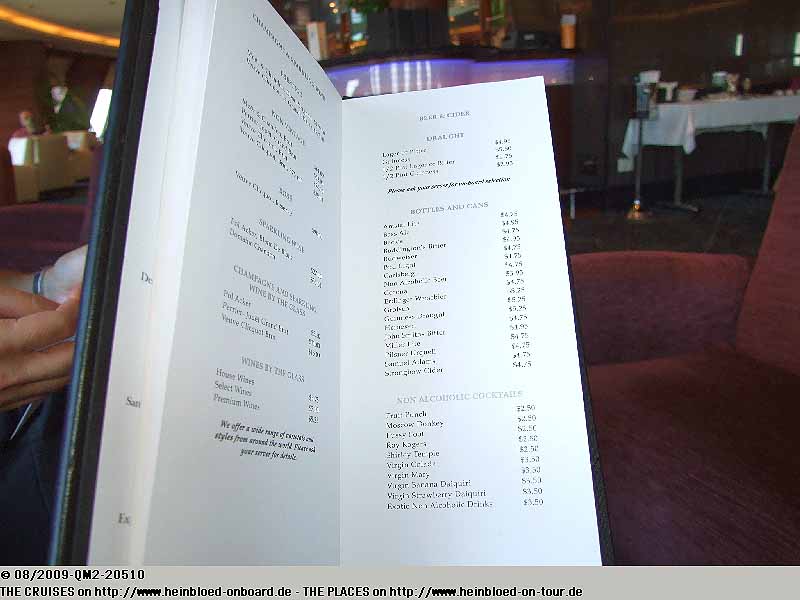 Wir sind später gegen 16.00 Uhr wieder in den Commodore Club und genießen einfach mal einen Cocktail.
Dort sind wir allerdings die einzigen, die sich zum FOD-Treffen angefunden haben.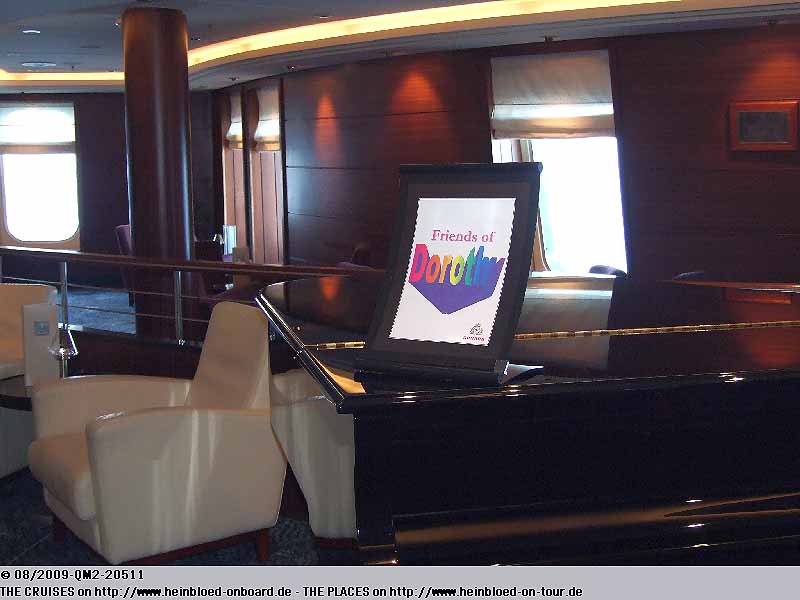 We were the only gathered there for FOD-meeting.

Let's jump back to our lunch at Todd English at 12.00 hrs.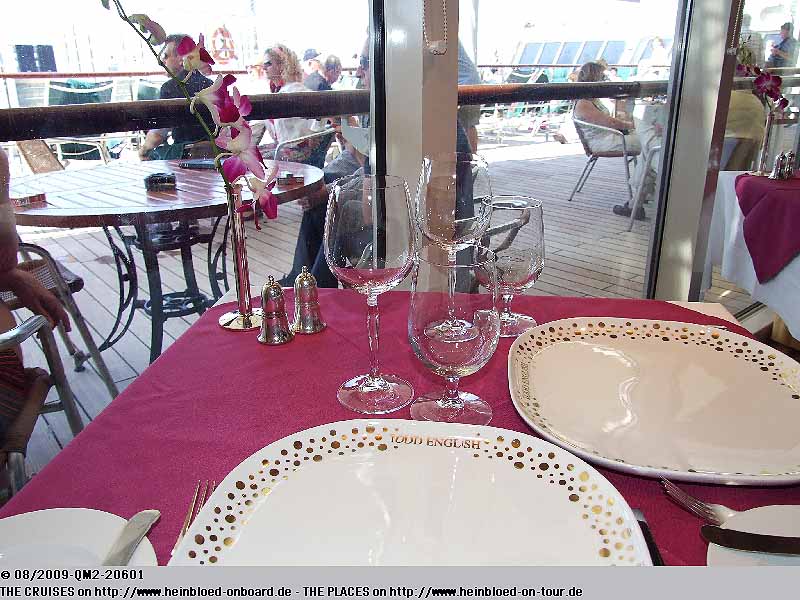 Springen wir zurück zu unserem Mittagessen um 12.00 Uhr im Todd English.
Ein wunderbarer Tisch, eine wunderbare Aussicht und wunderbares Brot und Olivenaufstrich und vor allem eine wunderbare Crew verwöhnt uns.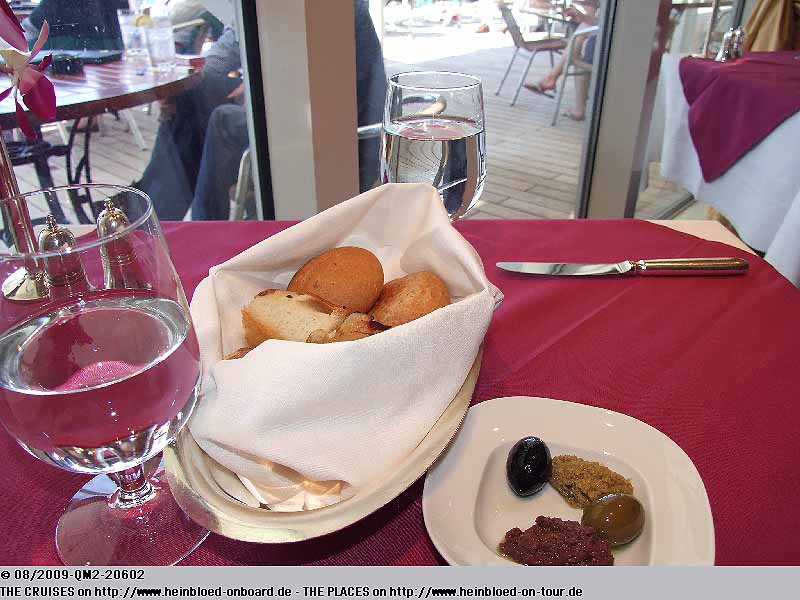 A wonderful table, a wonderful view and wonderful bread with olive spread and especially a wonderful crew pampered us.

We both started with crab cake.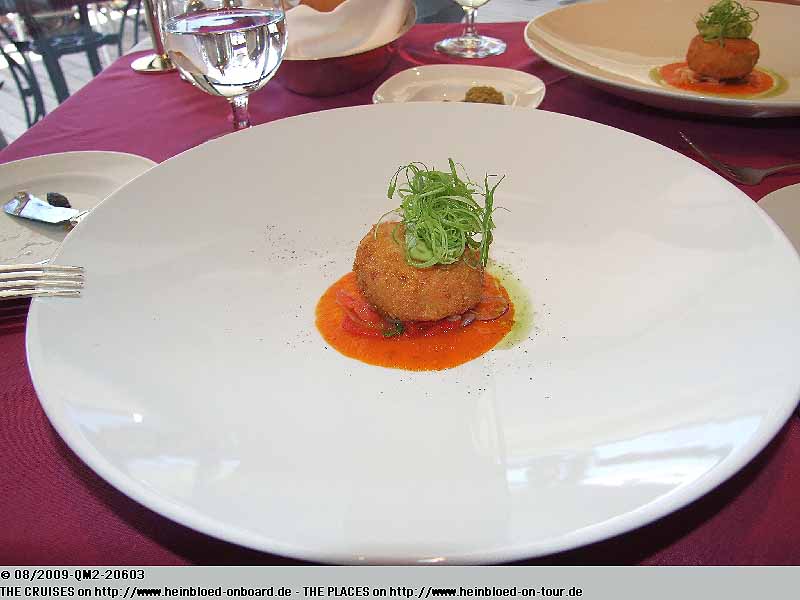 Wir fangen beide mit Crab Cake an.
Und das ist keine Pizza, sondern ein Fladenbrot mit Spargel und Pilzen. Das war sehr lecker, aber leider nicht mein Essen, das ich mir bestellt habe...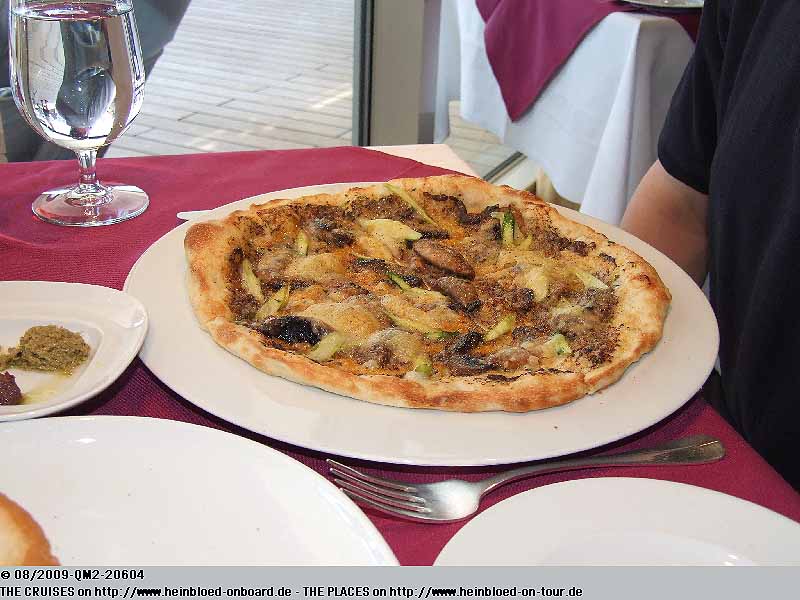 That was no pizza. Flat bread with aspargous and mushrooms. This was very nice but not the meal I ordered.

I had this wonderful sirloin-steak... wonderful... just wonderful...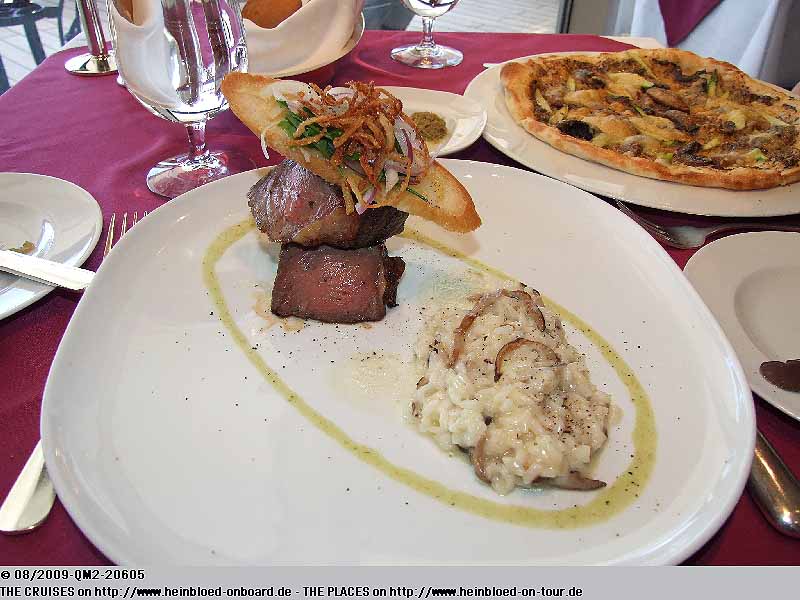 Ich hatte dieses wunderbare Sirloin-Steak... wunderbar... einfach wunderbar...
Besser wäre es gewesen, wenn ich mich nicht darüber geärgert hätte, dass wir nichts von ihm zu sehen bekommen...
Prompt hatte ich ihn vor unserem wunderenbaren Tisch, wie er dort raucht und uns die wunderbare Aussicht verstellt...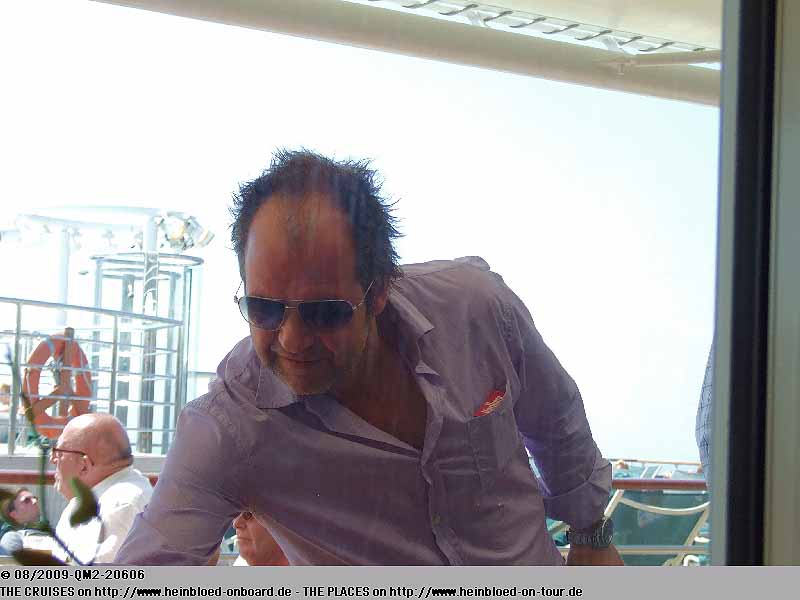 It would have been better that I was not angry not having seen from him anything.

I just had him in front of our wonderful table when he smoked and blocked our wonderful view.

Grrr...

For 13.00 hrs we have tickets for the planetarium show. Originally we did not want any dessert. But it was so nice there that we had a strange request: if it would be possible to continue with coffee and dessert after the show.

The answer: As long as we return before 14.00 hrs we should enjoy our show and they will prepare everything for us.

When we returned, everything was set up for us.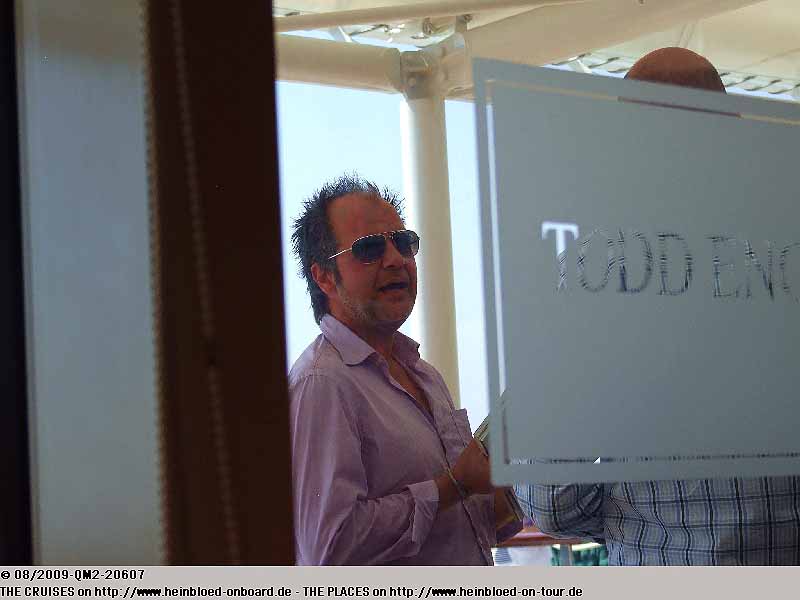 Grrr...
Um 13.00 Uhr haben wir Karten für die Planetariumsshow. Eigentlich wollten wir gar keinen Nachtisch. Aber das war hier so klasse, dass wir einen ungewöhnlichen Wunsch äußerten: ob wir unseren Kaffee und Nachtisch nach der Show weiter einnehmen dürfen.
Die Antwort: Solange Sie vor 14.00 Uhr wieder da sind, können Sie gerne die Planetariumshow genießen gehen und wir bereiten schon alles für sie vor.
Als wir wiederkommen, ist bereits alles für uns eingedeckt.
Dieser Nachtisch wird uns empfohlen. Wir suchen gar nicht erst weiter und vertrauen direkt dem Personal und werden nicht enttäuscht.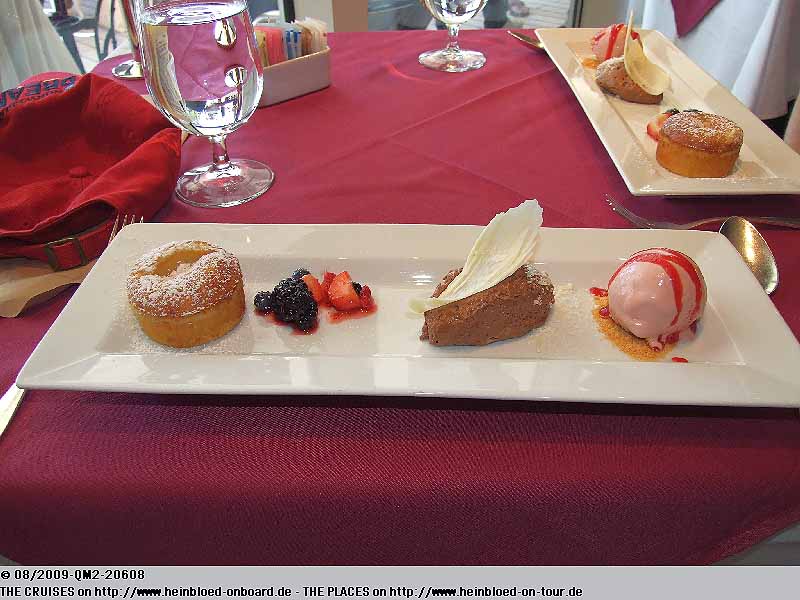 They recommended us this dessert. We did not try to find something else and trust the restaurant stewards and they did not disappoint us.

Now you might understand why we did not need to have tea-time.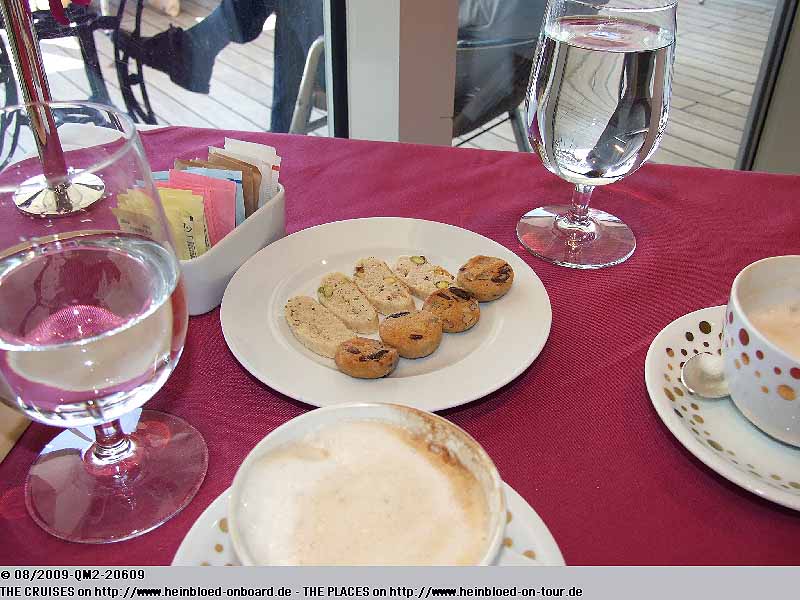 Nun versteht ihr hoffentlich, warum wir kein Problem damit hatten auf Tea-Time zu verzichten.
Und hier haben wir noch die wunderbare Chefin des Todd English getroffen. Ich habe natürlich erwähnt, dass ich mein Hummersalat-Croissant vermisst habe, aber sie meint, dass wir mal abends vorbeikommen sollen, um uns noch mehr verwöhnen zu lassen. Es gebe noch so viele neue leckere Sachen. Wir kommen gerne wieder, nicht mehr heute Abend, aber auf der nächsten Reise.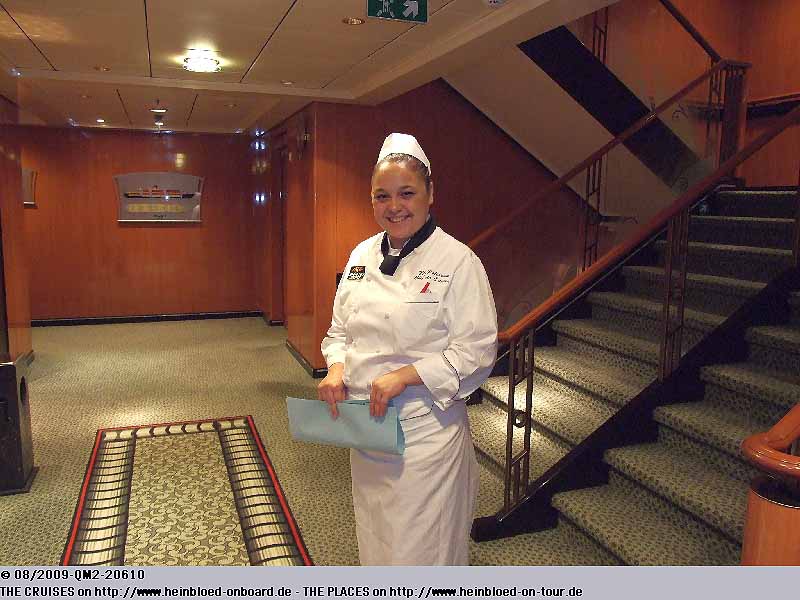 And this is Todd English's Chef. Of course I told her how much I miss the lobster salad on croissant but she responded that we should come for dinner and get really pampered. There are so many yummy dishes. We would like to come back but not this night, but on our next voyage.

Let's see what we would have got with Sir Samuel's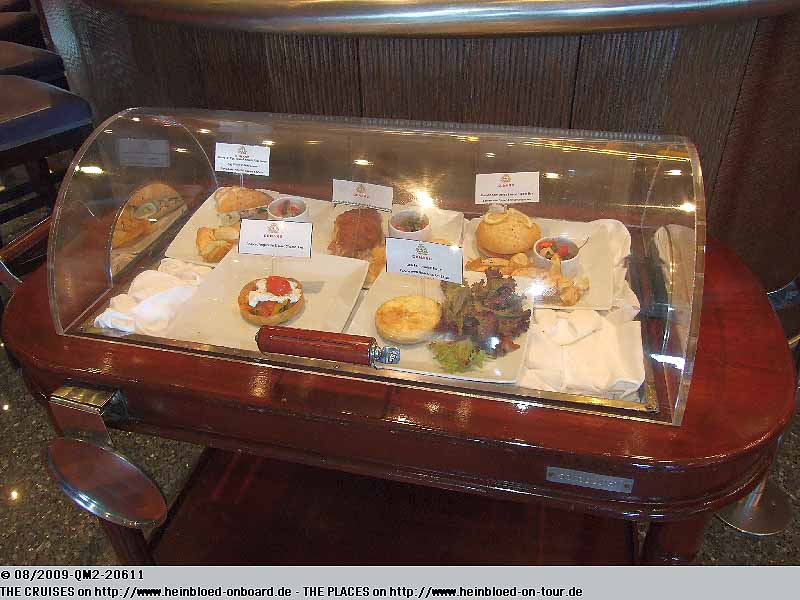 Und wieder mal ein Blick zu Sir Samuel's was wir dort bekommen hätten...
Aber nun zu der Planetariumshow, für die jeweils nur 150 Karten je Vorstellung morgens ausgegeben werden. Kein Einlass ohne Karte.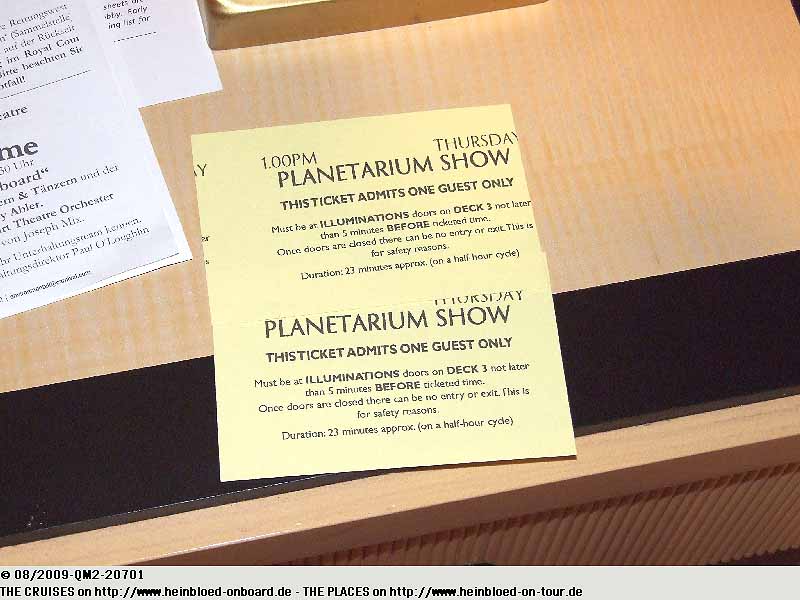 Let's go to the planetarium show for which you need to have one of the 150 tickets per show. No admission without ticket. You had to collect the tickets in advance.

There are others in the various internet forums who might better describe what are on the pictures than me. We watched the show in English as I planned to be at 14.00 hrs at the Bingo which was cancelled. At the same time there would have been a German presentation of the show.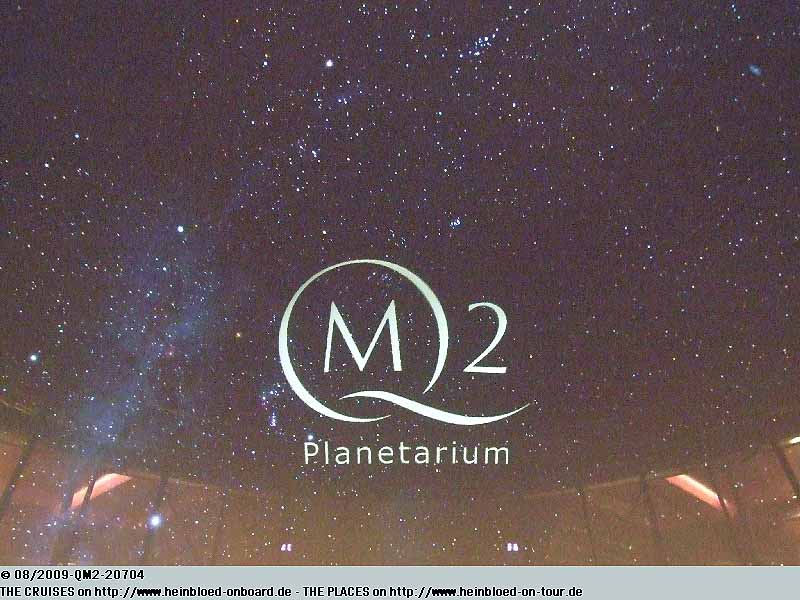 Es gibt bestimmt kompetentere in den Foren, die das besser beschreiben können, was wir hier sehen. Die Show haben wir uns in Englisch angesehen, da ich ja um 14.00 Uhr beim Bingo sein wollte, das dann abgesagt wurde. Um 14.00 Uhr und 14.30 Uhr hätte es sie auch in Deutsch gegeben.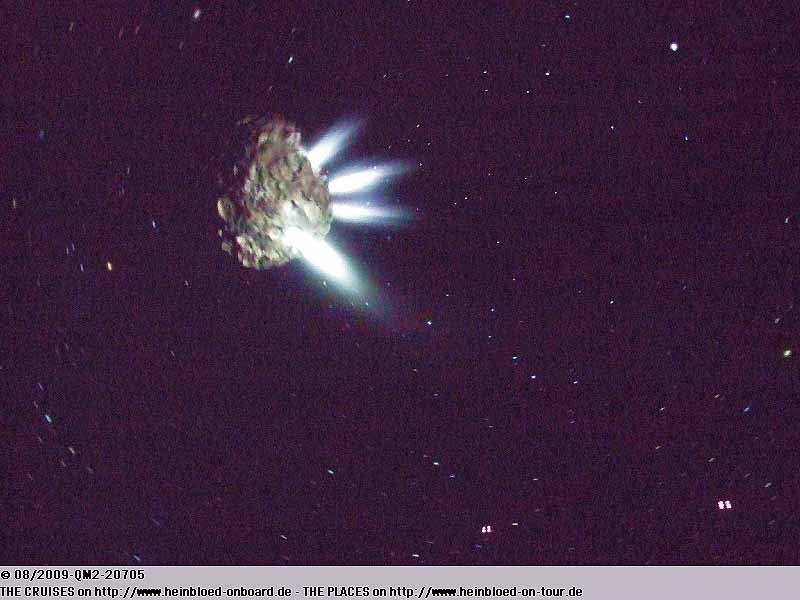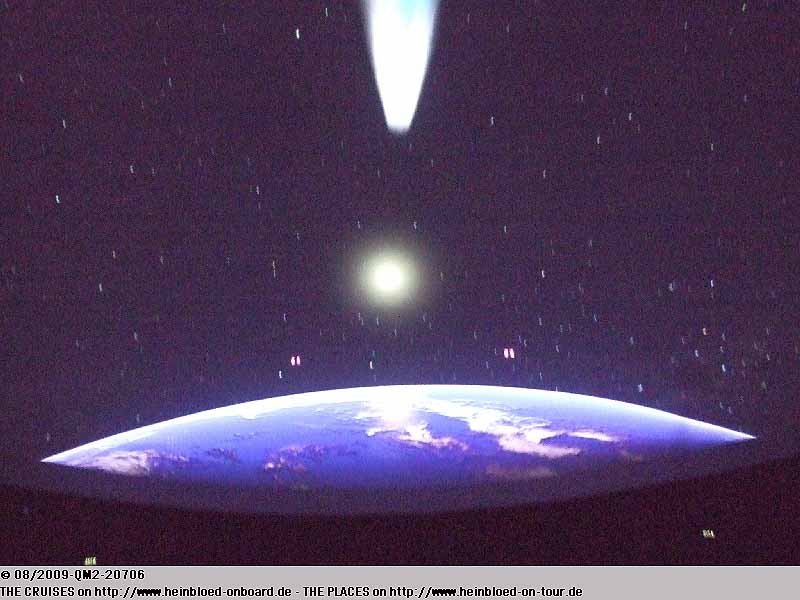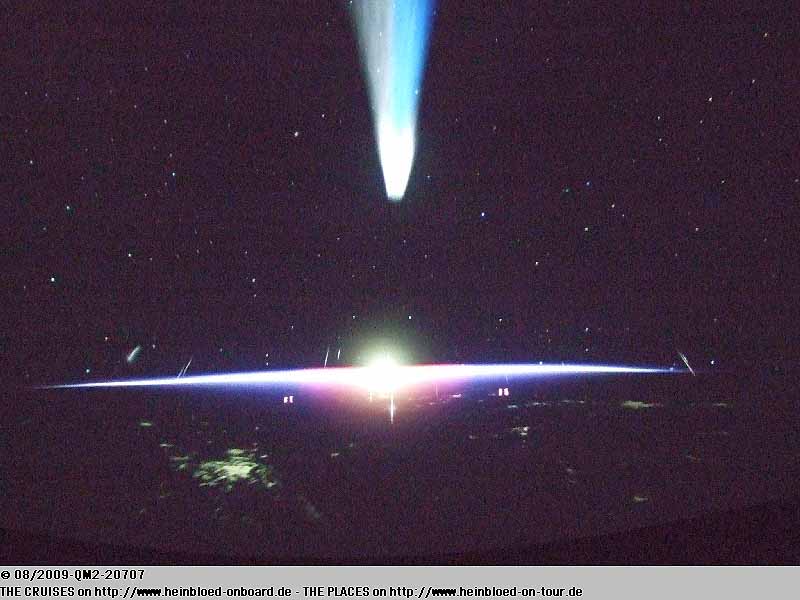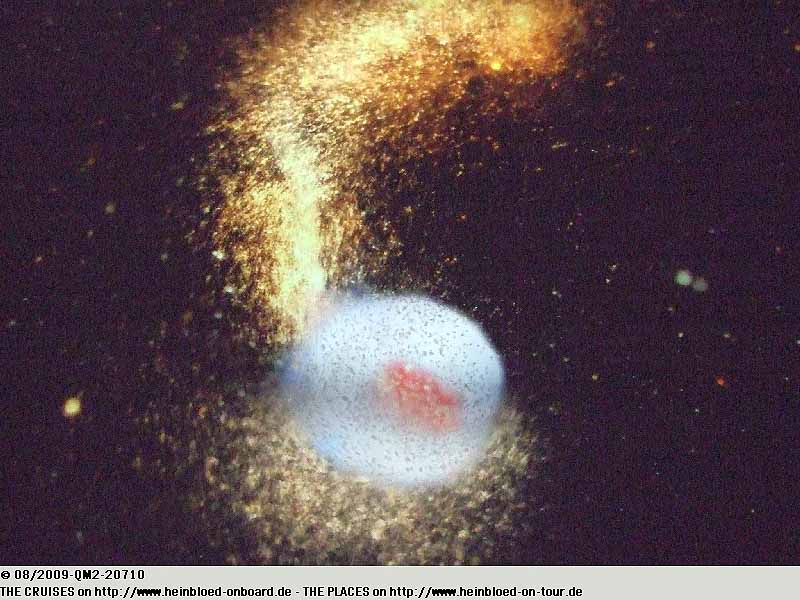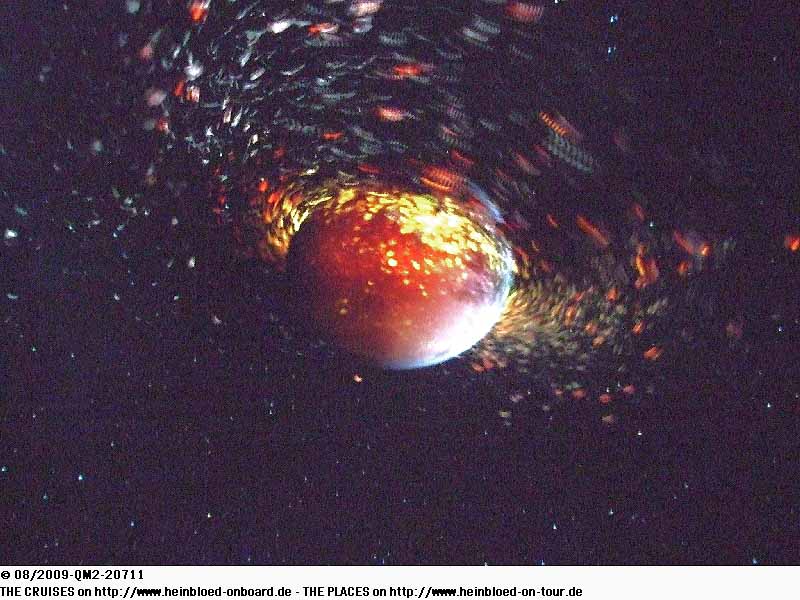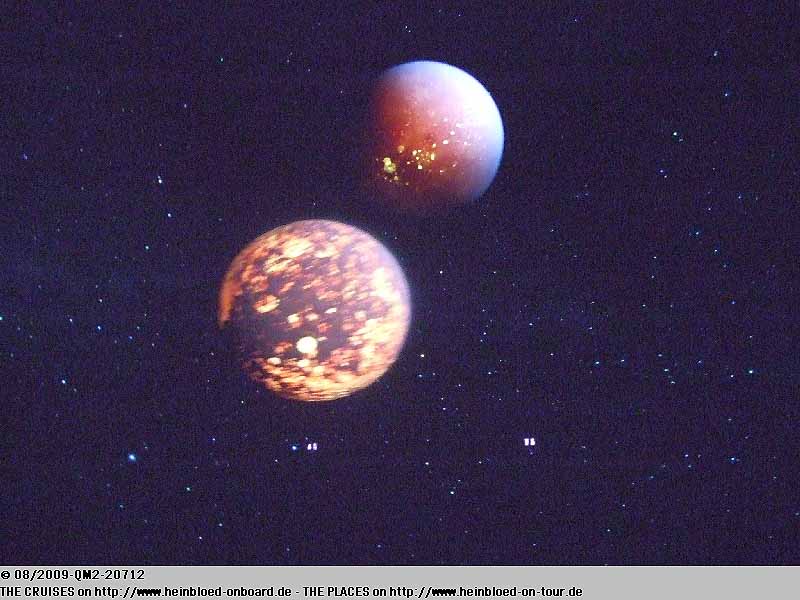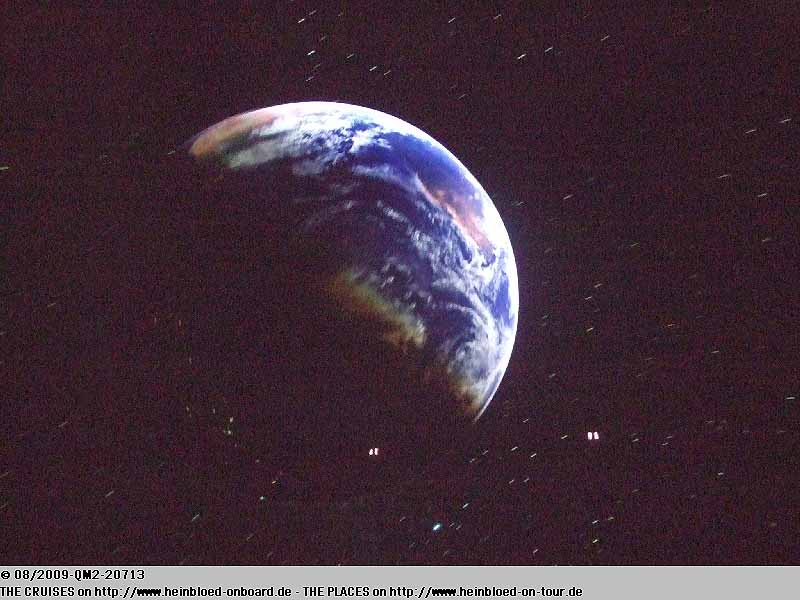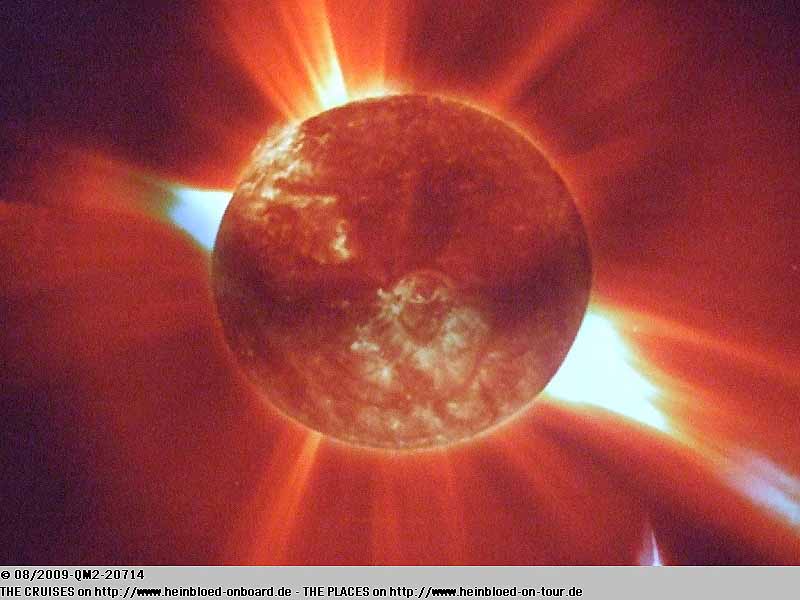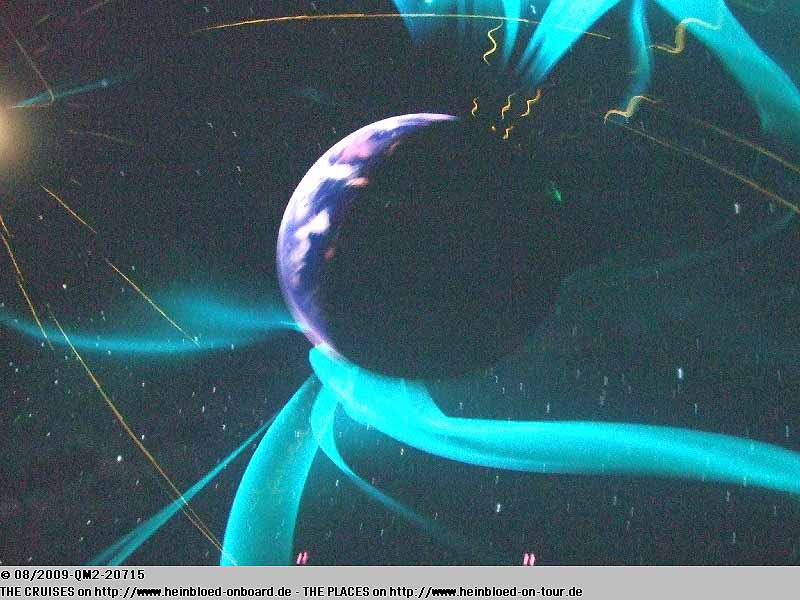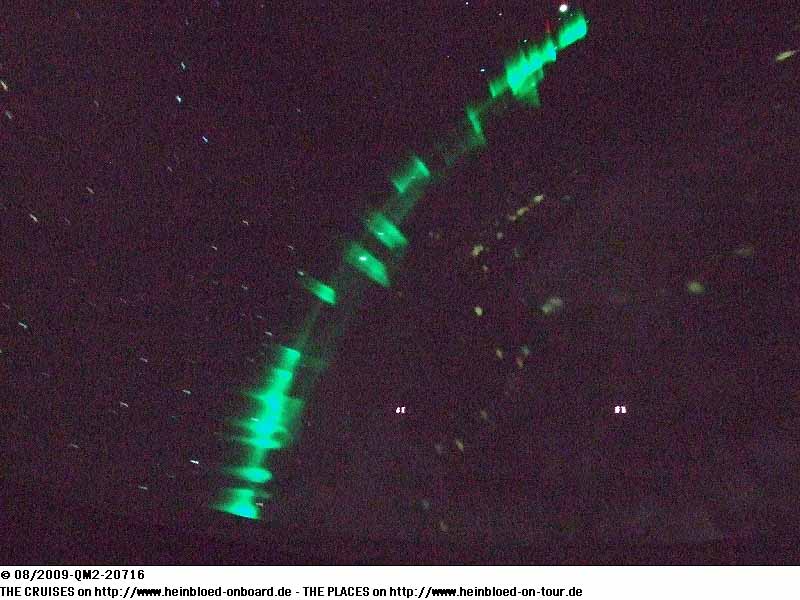 So habe ich auch endlich mal die Nordlichter gesehen...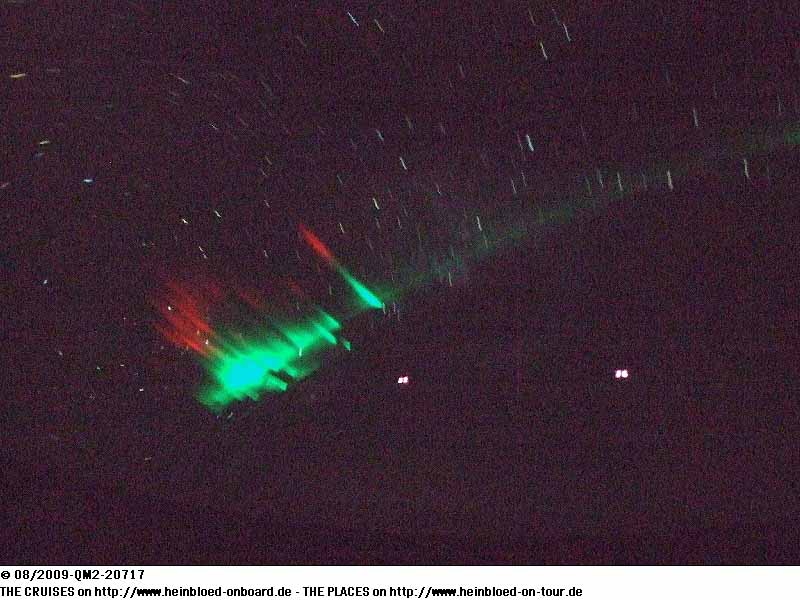 So I had see the Northern Lights (Aurora borealis) too.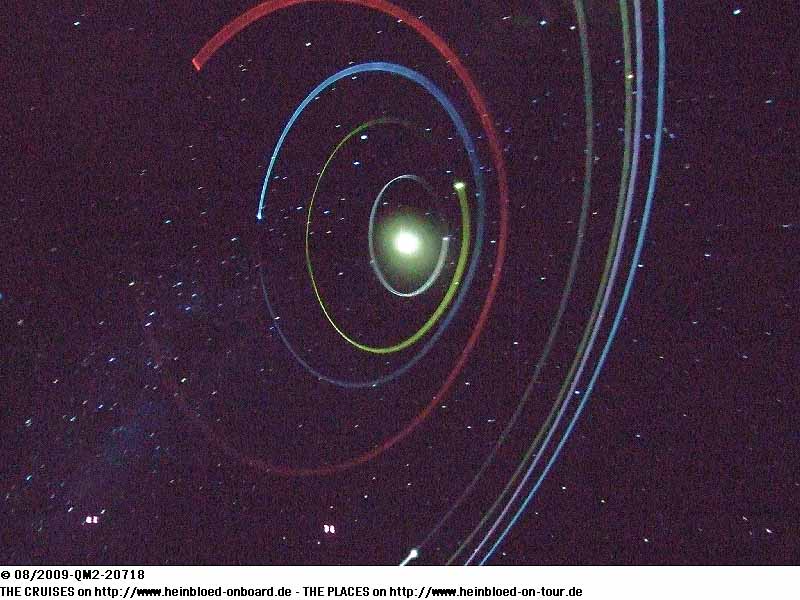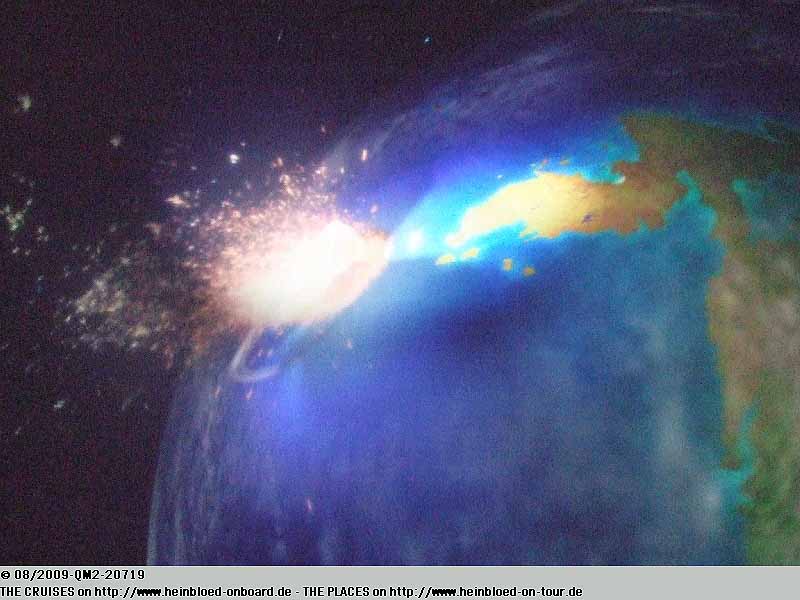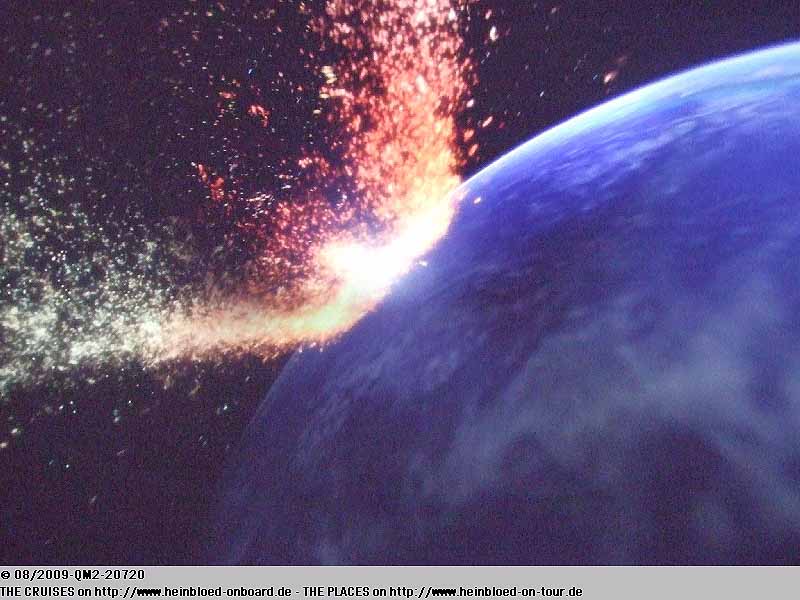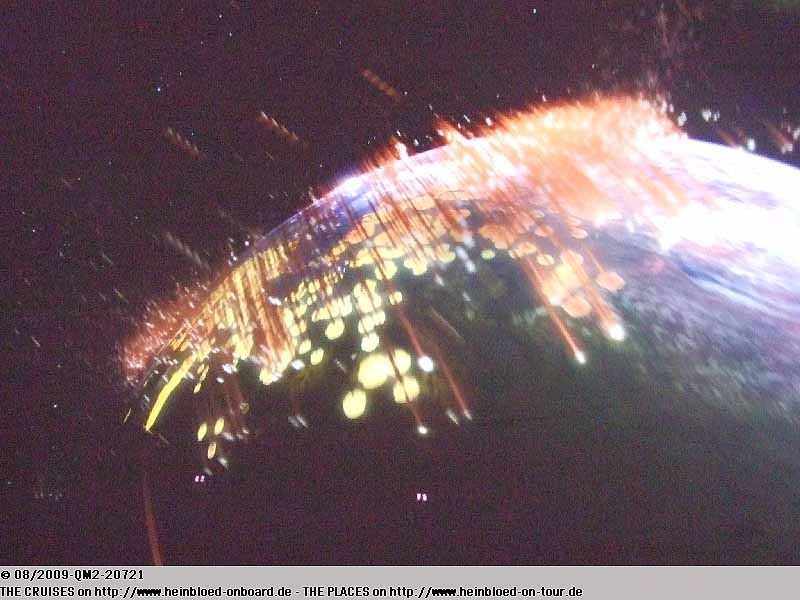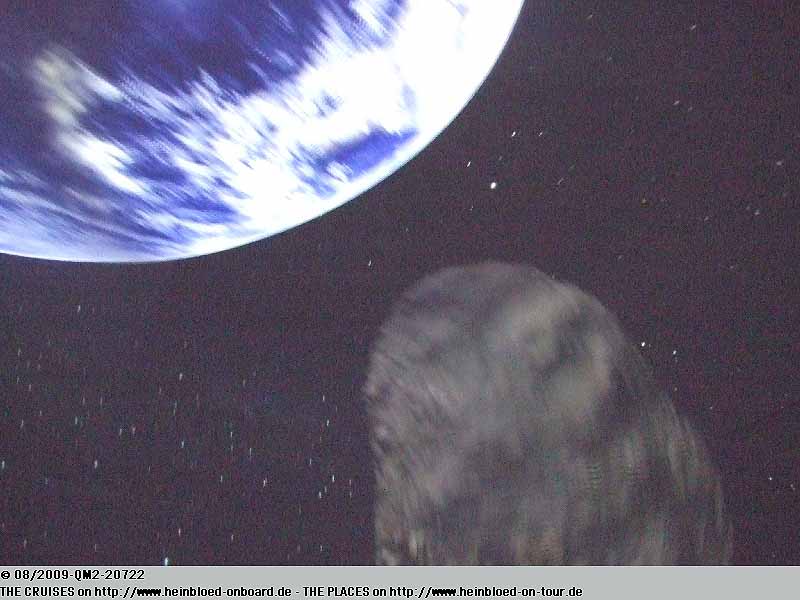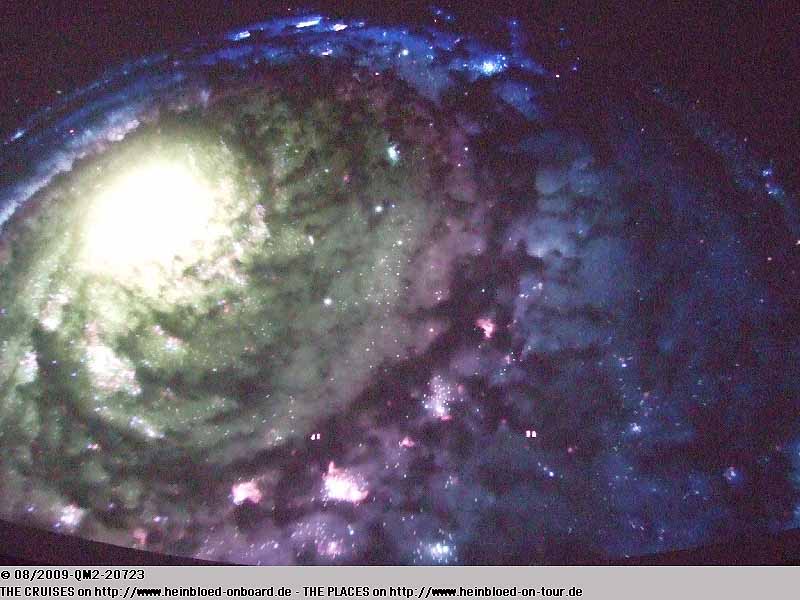 The show was great. Just this makes the QUEEN MARY 2 unique.

By the way: all pictures were taken without flash. This was allowed. Who thinks that the pictures are not hot enough: put some tabaso on the screen.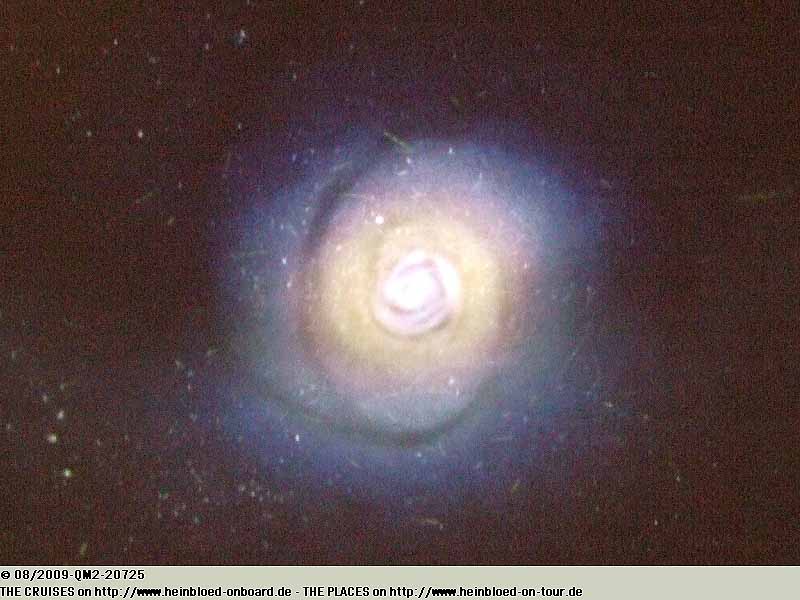 Die Show war klasse. Schon alleine das macht die QUEEN MARY 2 einzigartig.
Übrigens alle Aufnahmen wurden ohne Blitz gemacht. Das war gestattet. Wem es nicht scharf genug ist: ein wenig Tabasco auf den Bildschirm spritzen.
Wir gehen in den Raum, um zuzugucken, wie auf der Brücke gearbeitet wird.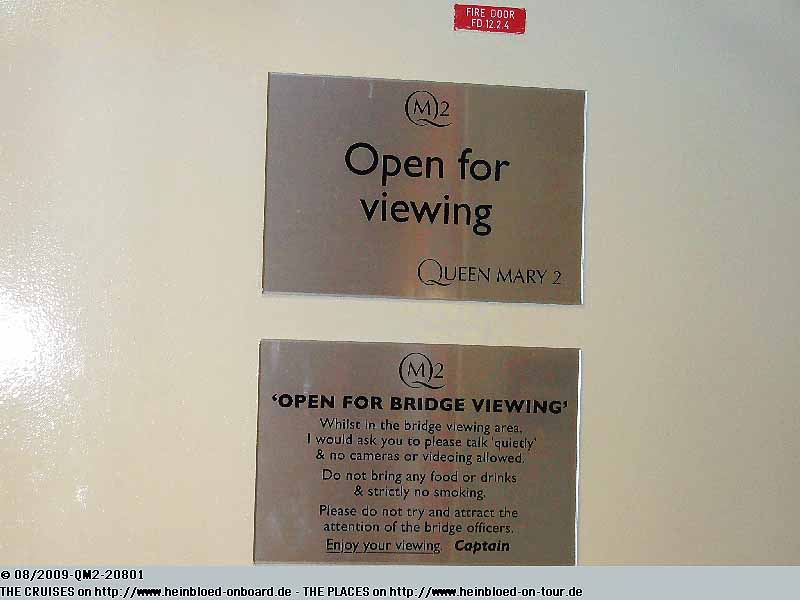 We went to the room to observe how the bridge works.

Although we have not left the ship: it's not the last time we are on QUEEN MARY 2. We can fully understand other cruiser's fascination and passion for the ship. Maybe the captain use the wrong way and extend a little bit our voyage. There is still a weekend left over before we need to return to our offices and canteens.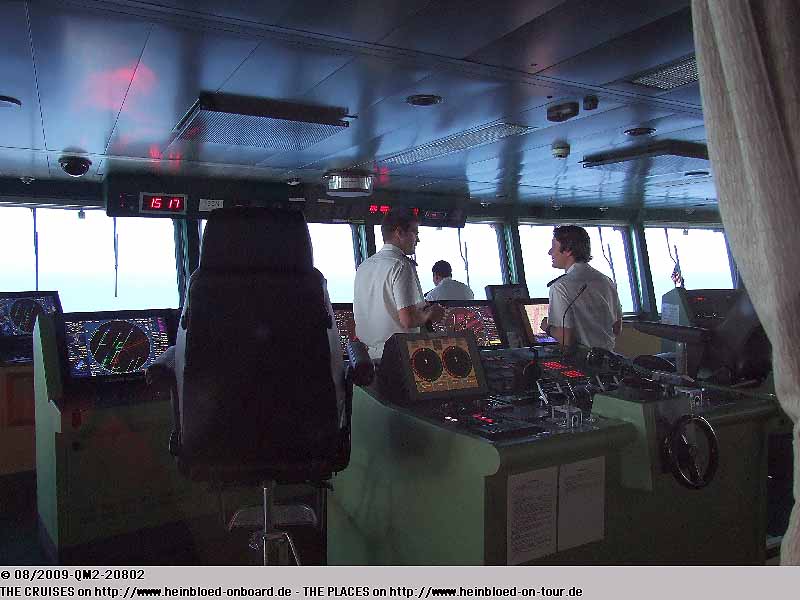 Und obwohl wir noch gar nicht von Bord sind: wir sind bestimmt nicht zum letzten Mal auf der QUEEN MARY 2. Die Faszination der anderen, die sie lieben können wir nachvollziehen. Kann der Kapitän sich nicht verfahren und so unsere Reise ein wenig verlängern... Das Wochenende hätten wir ja noch Zeit, bevor wir wieder ins Büro und in die Kantine müssen...